Chiang Mai, located in the northern part of Thailand, is a popular destination for jungle trekking, getting up close with elephants, visiting hill tribes, and so much more. Like Krabi, there are so many things to do here…tons of activities to keep an active family busy. Our family spent five very busy days here and we composed a list of our ten favorite things we did while in Chiang Mai.
10 Fun Things to Do in Chiang Mai
Visit an Elephant Sanctuary
Many people travel to Chiang Mai just to get up close with elephants. There are numerous places offering excursions allowing people to spend a full day with elephants, learning how to ride and command them, bathe them, feed them, and trek through the jungles with them.
But is it ethical to ride elephants?
In recent years there have been numerous articles and videos on the internet portraying the torture an elephant endures while being trained to carry humans. Whereas it's not forbidden to ride elephants, it's deeply frowned upon.
There are still elephant parks in Chiang Mai that offer elephant rides. But for a more ethical experience, consider visiting Elephant Nature Park, an elephant rescue and rehabilitation center where you can volunteer and help with the elephants.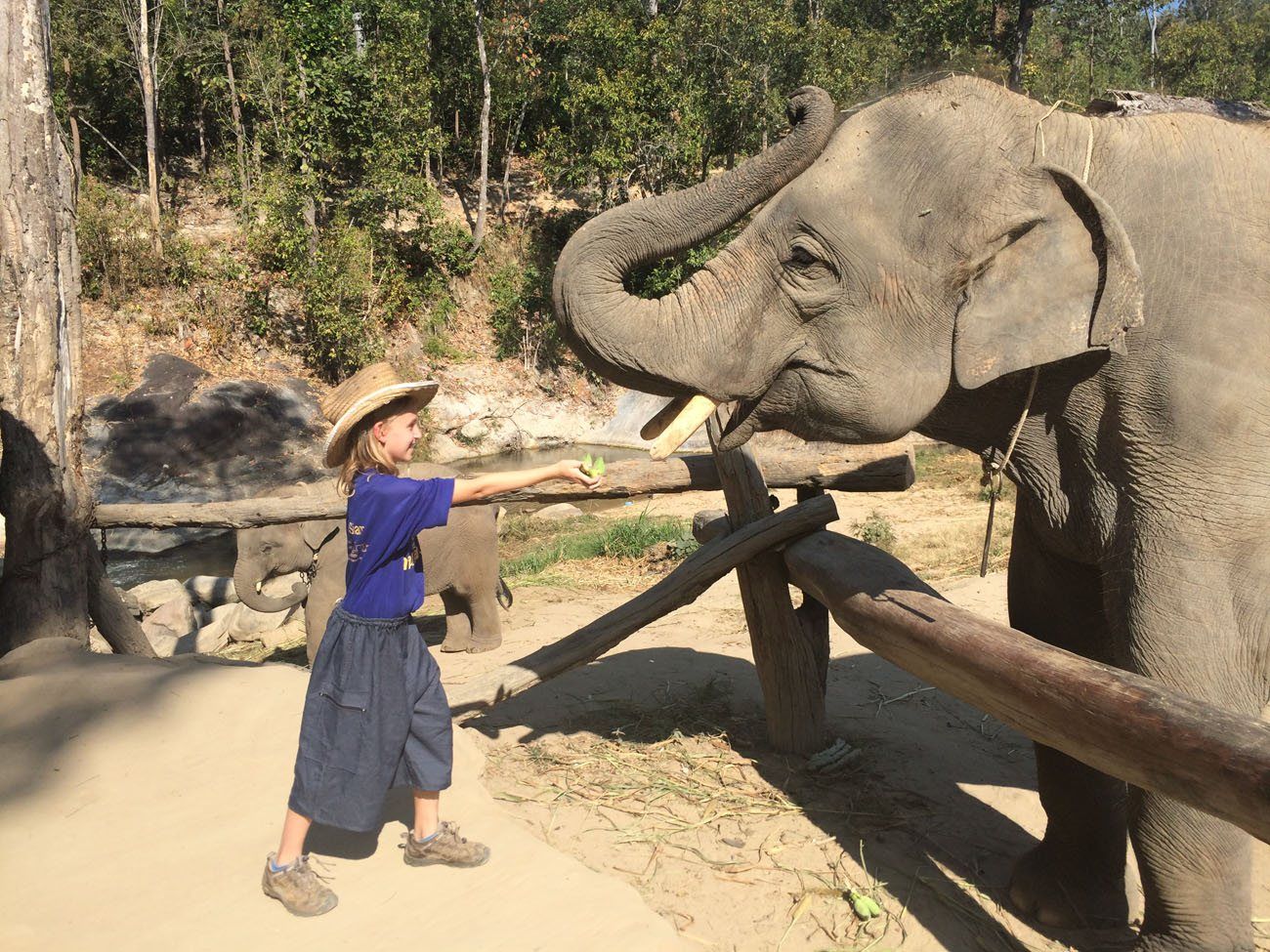 Launch Some Lanterns on New Year's Eve
When coming up with our around the world itinerary we really wanted to do something special for New Year's Eve. Chiang Mai was the perfect place. Thousands of lanterns, made out of tissue paper, wire, and wicks made from toilet paper, are launched into the sky on New Year's Eve.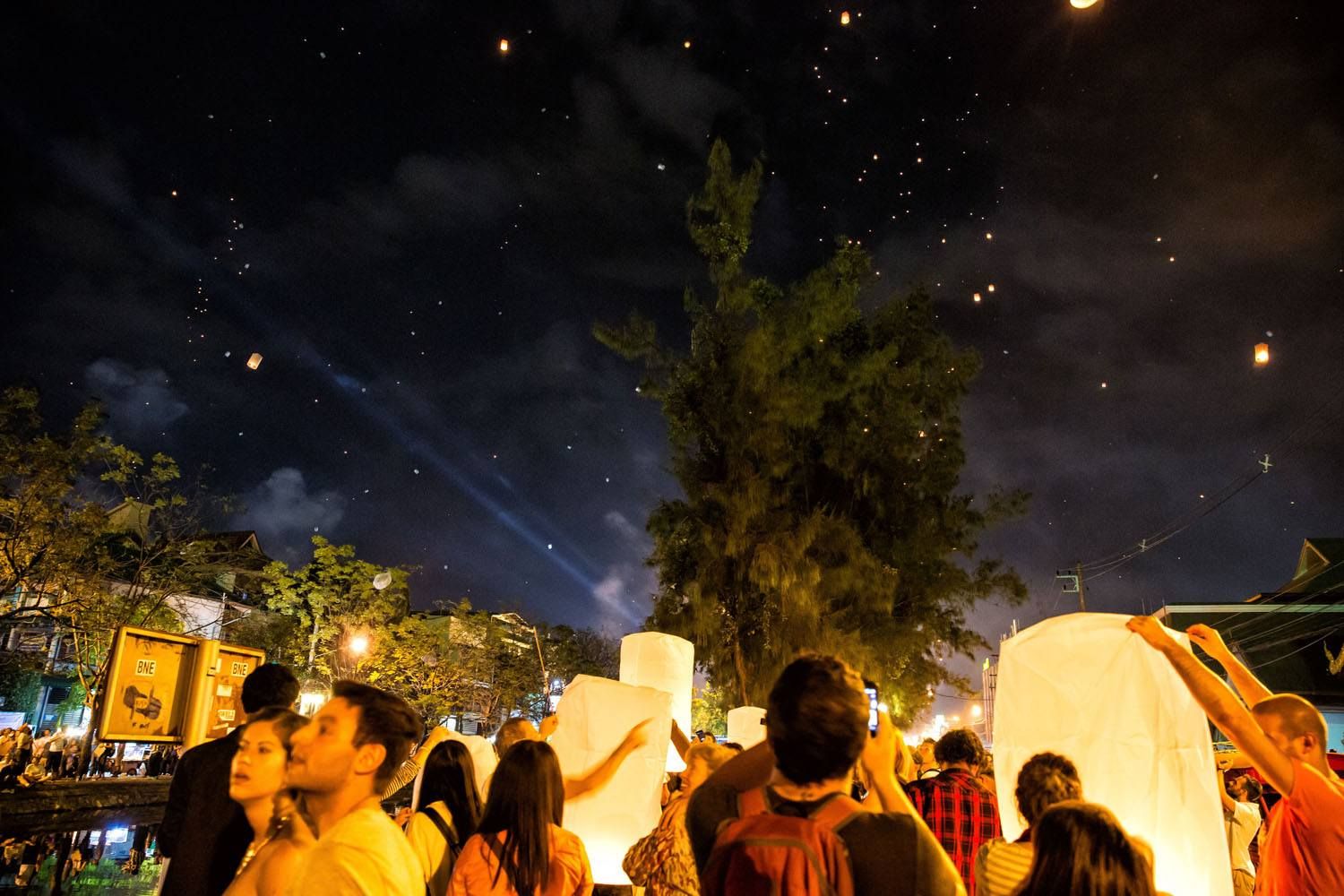 We bought several of these lanterns, and at 40 baht each, or just over one US dollar, this was bargain entertainment. Lighting the lanterns and launching them into the sky with fellow travelers and local Thai people was tons of fun, giving us our most memorable New Year's Eve ever. It was a beautiful sight, looking up into a sky that was filled with lanterns.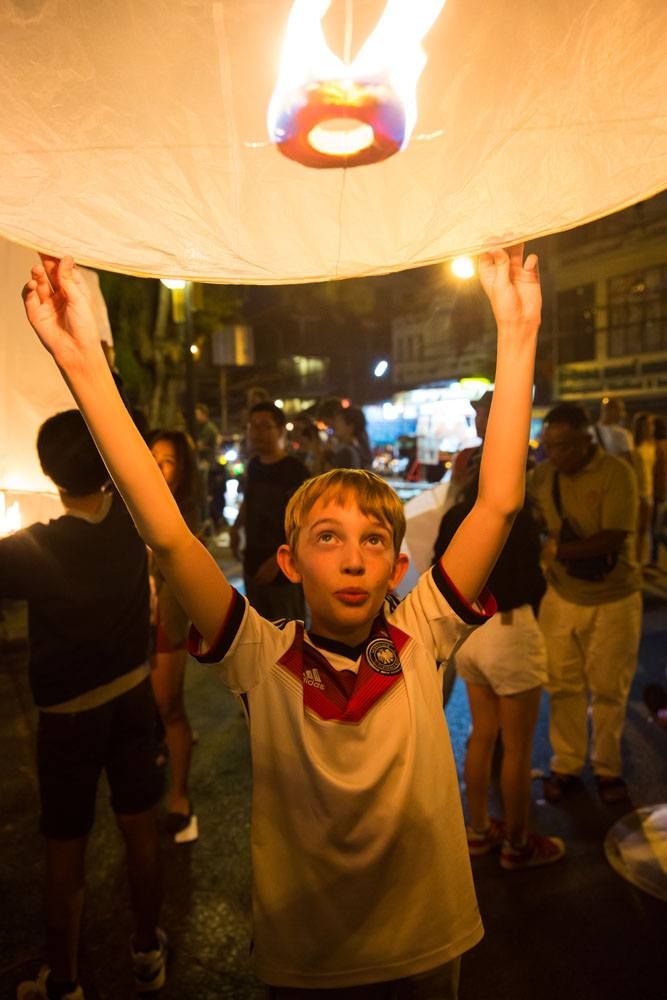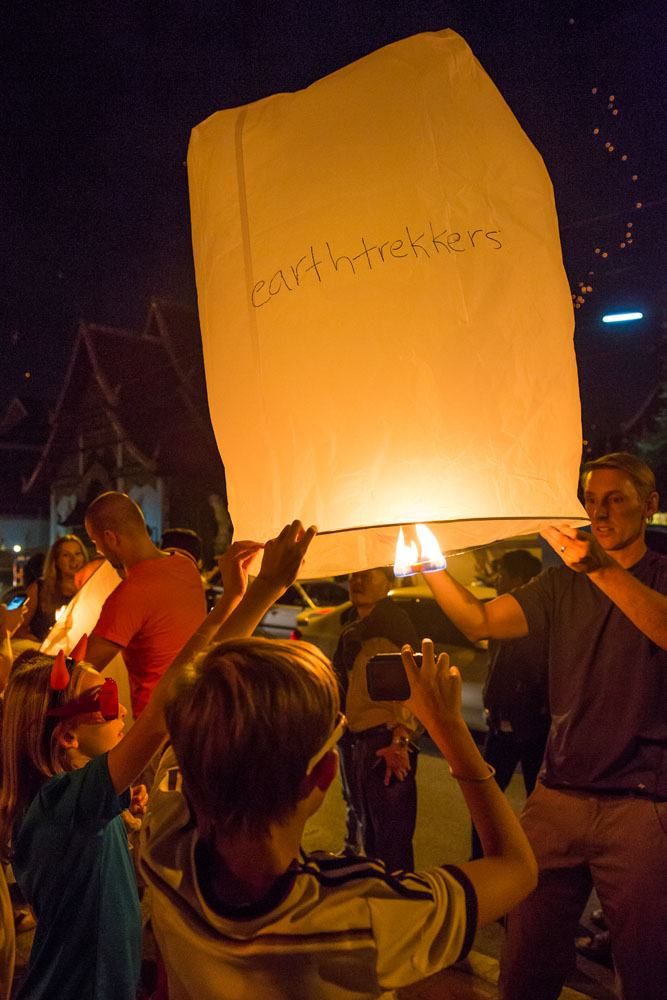 There is an element of danger in participating in this activity. If a lantern is released too soon, before it got hot enough to ascend into the sky, it just drifts over the crowds of people, getting caught in power lines or trees, then igniting into flames. While we lit our lanterns, there were people nearby lighting off fireworks and shooting sparklers out of long tubes. The less intelligent people were shooting them right over our heads, and at one time a firework went off right next to Tim's head. Even so, risking burns and other nasty injuries, it was tons of fun and a highlight for us in Chiang Mai.
Want to see more? Check out our Chiang Mai New Year's Eve video:
Go Shopping at a Local Market
Local markets are awesome to visit and one of my favorite activities when traveling. Where else can you go shopping for coconuts, whole chickens, cow intestines, durian fruit, and some of the best fruit in Southeast Asia?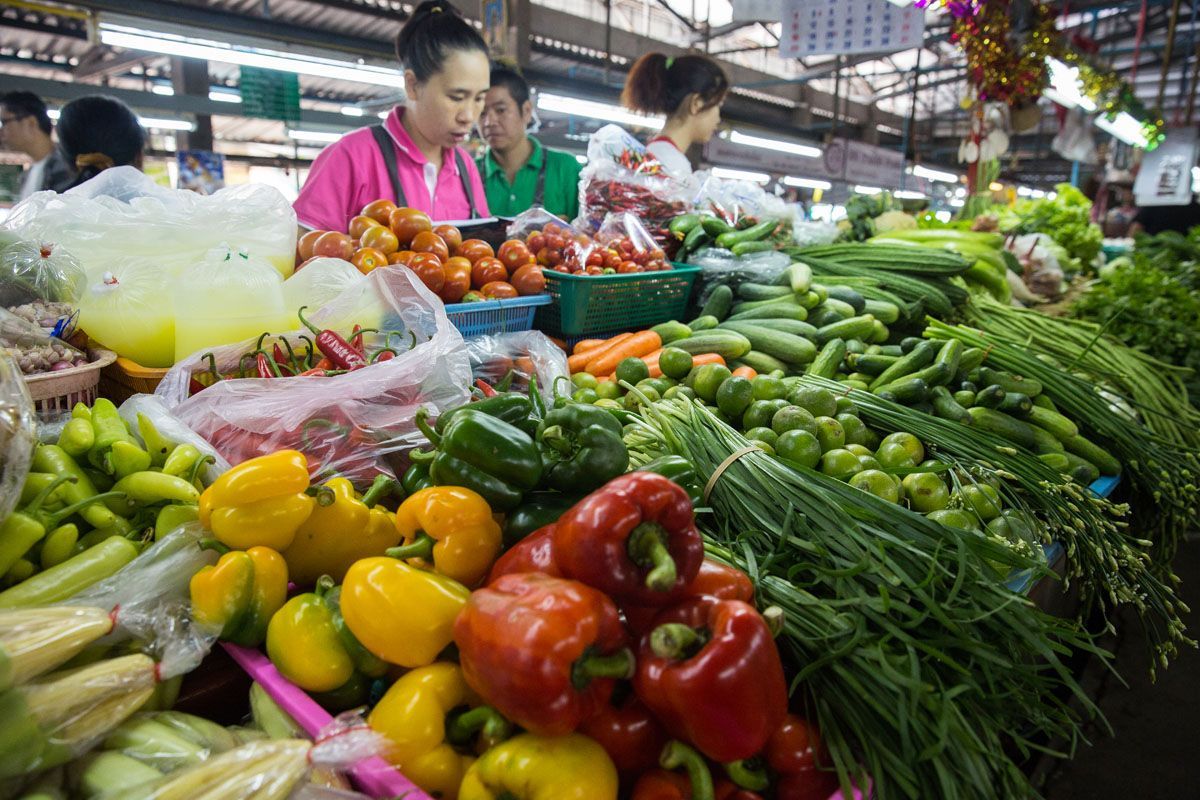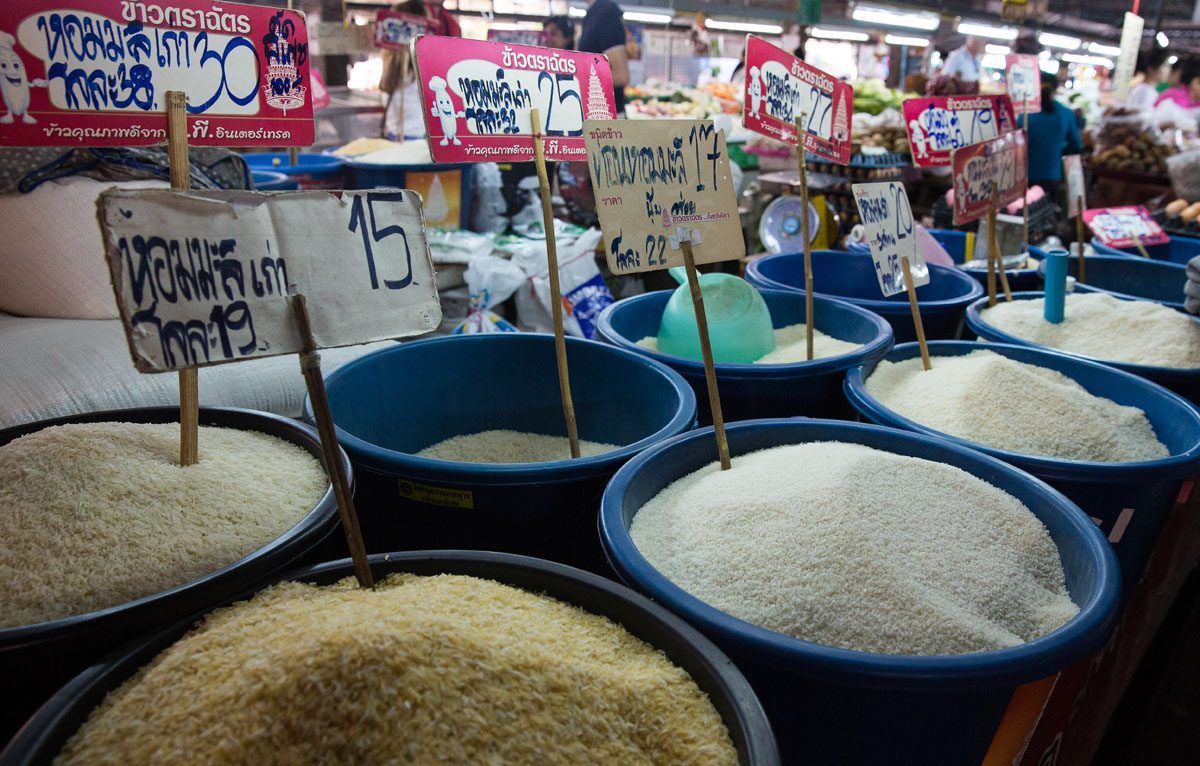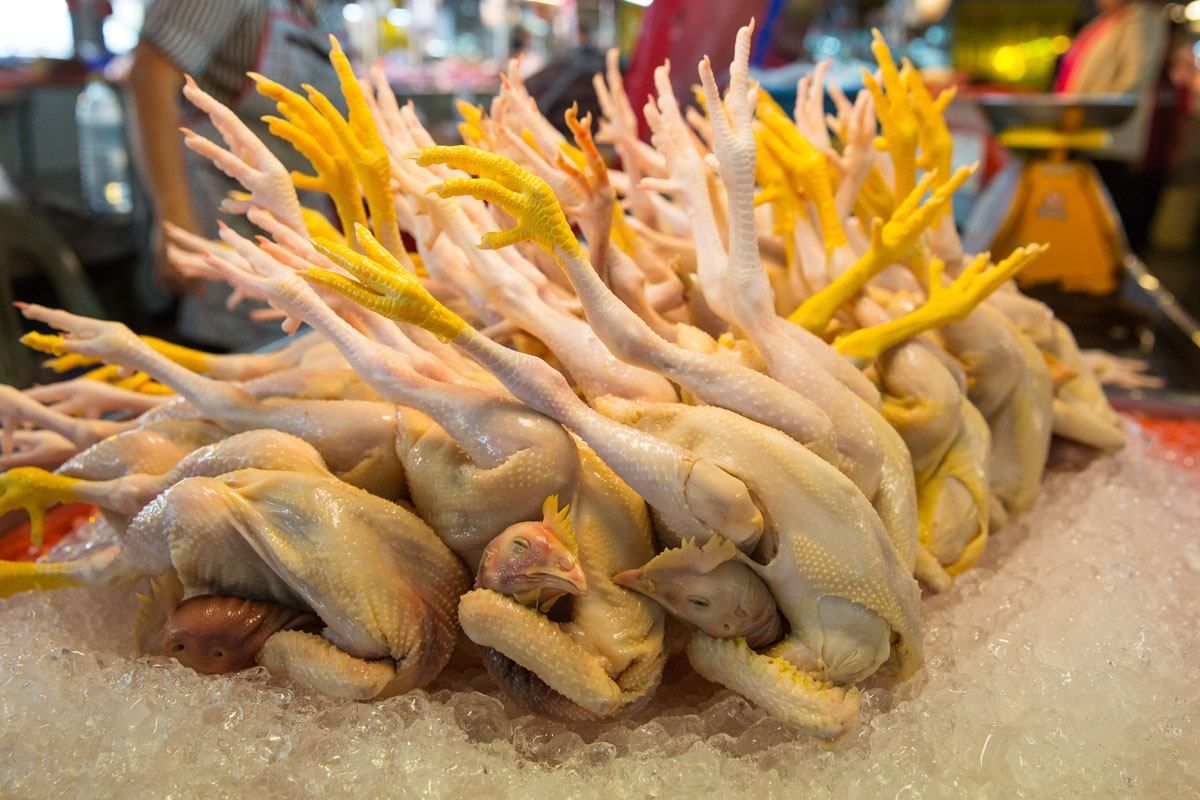 Take a Thai Cooking Class
Kara was my buddy for the day. During our cooking class Kara learned how to wield a large and very sharp knife as well as cook over gas flames, making spicy Thai curries and soups.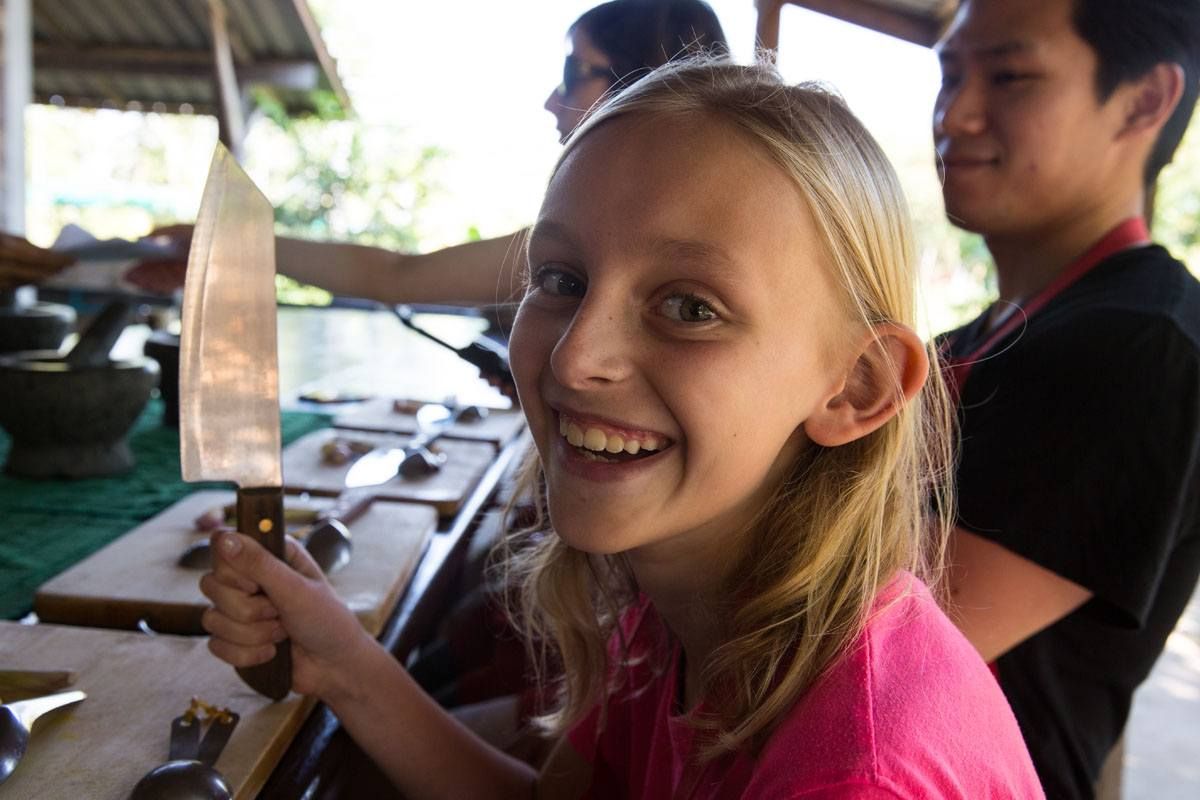 Thai food is one of my favorites in the world so I was really looking forward to cooking some of these dishes that I had been gobbling up the past three weeks.
We attended a full day cooking class at Thai Farm Cooking School. Kara and I cooked red and yellow curries, coconut soup, sweet and sour chicken, pad thai, and mango sticky rice. Everything was delicious. Thai food, as long as you go light on the oil and coconut milk, is very healthy. Every dish contains vegetables and we added smelly fish sauce to everything we made.
It was a long day cooking in a hot kitchen but Kara and I loved every minute of it. I am hoping Kara retains what she learned…now she can cook dinner once we get home!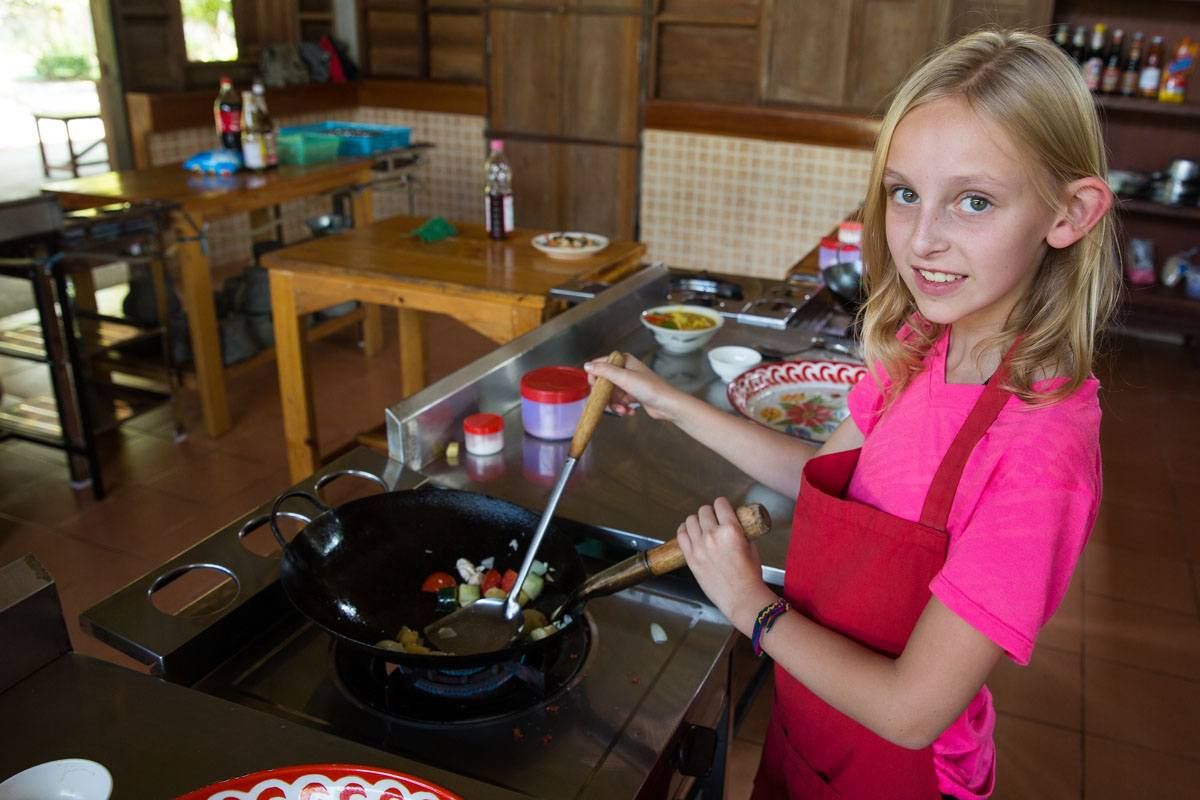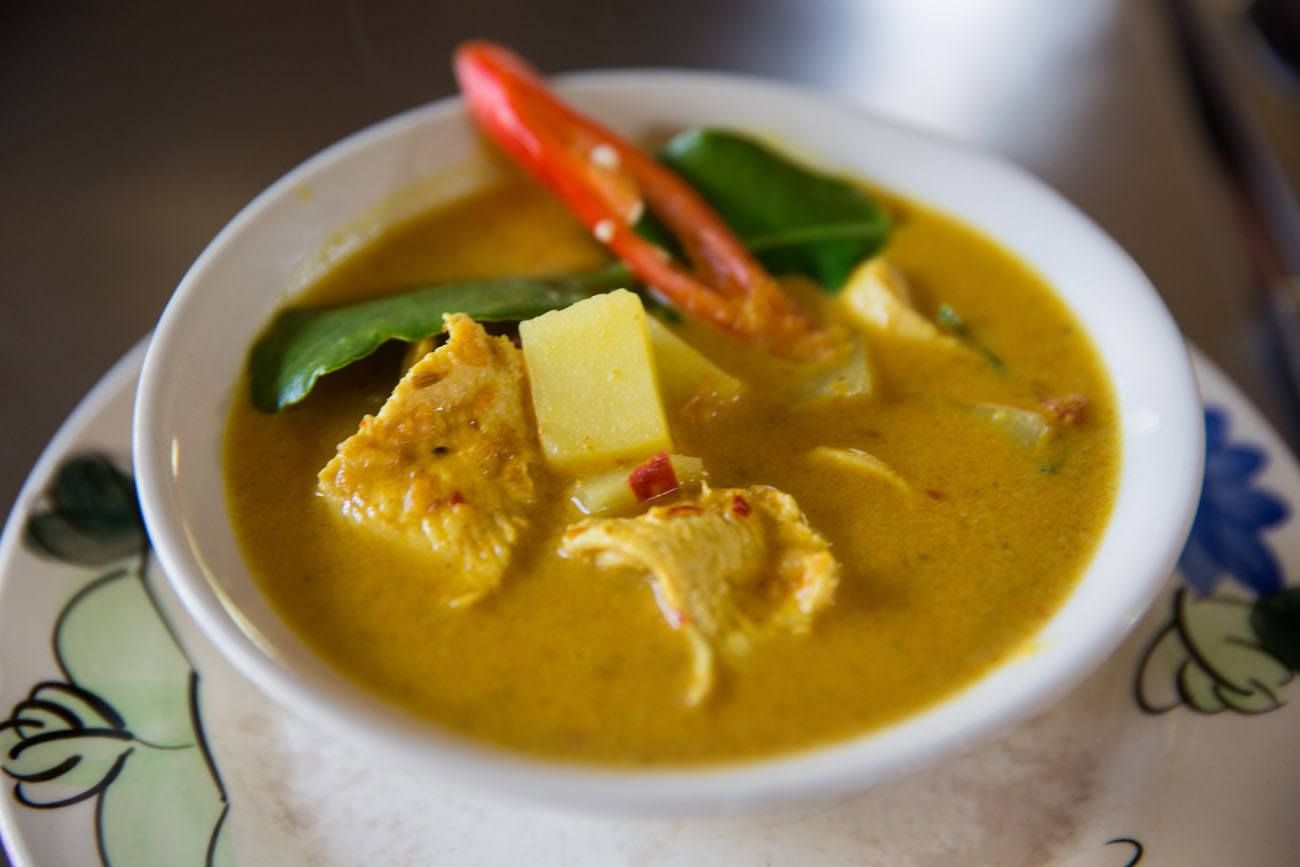 Go Bamboo Rafting
Honestly, I wasn't looking forward to this one very much. I imagined bamboo rafting to be a slow, uneventful journey down a lazy river. Boy was I surprised!
For one hour the four of us drifted downstream on a bamboo raft. Our driver, standing on the front of the raft, used a long bamboo pole to steer us and to propel us forward. For the most part, it was a lazy river, but there were short sections of small rapids. At times we went cascading down these rapids, hitting the rocks that lined the edge of the water.
Tim and Tyler kept things interesting when they dropped our point and shoot camera into the water. We thought the camera was lost and gone forever but somehow our driver found it for us. Knock on wood, we have had several close calls but haven't lost anything valuable on this trip yet.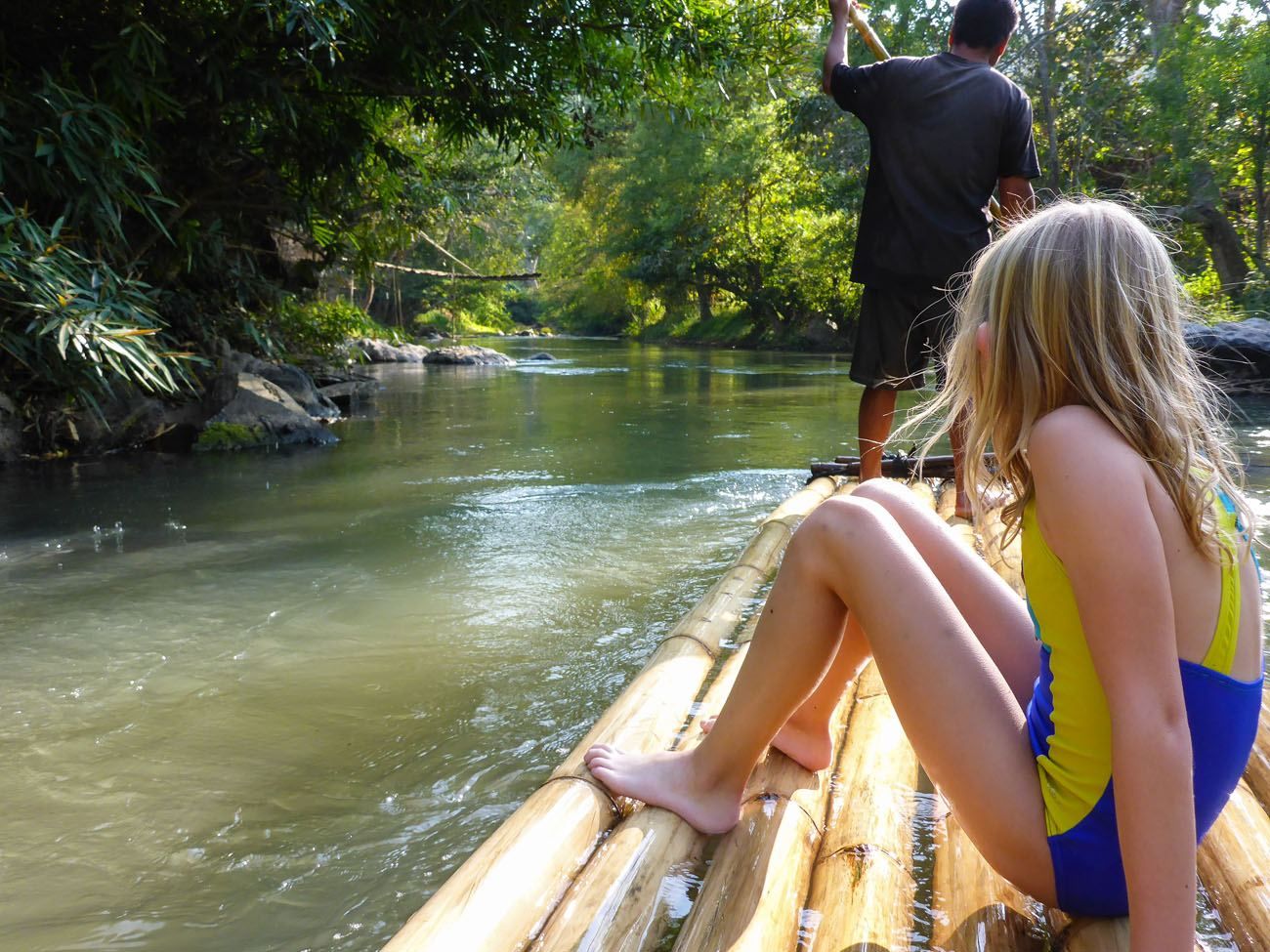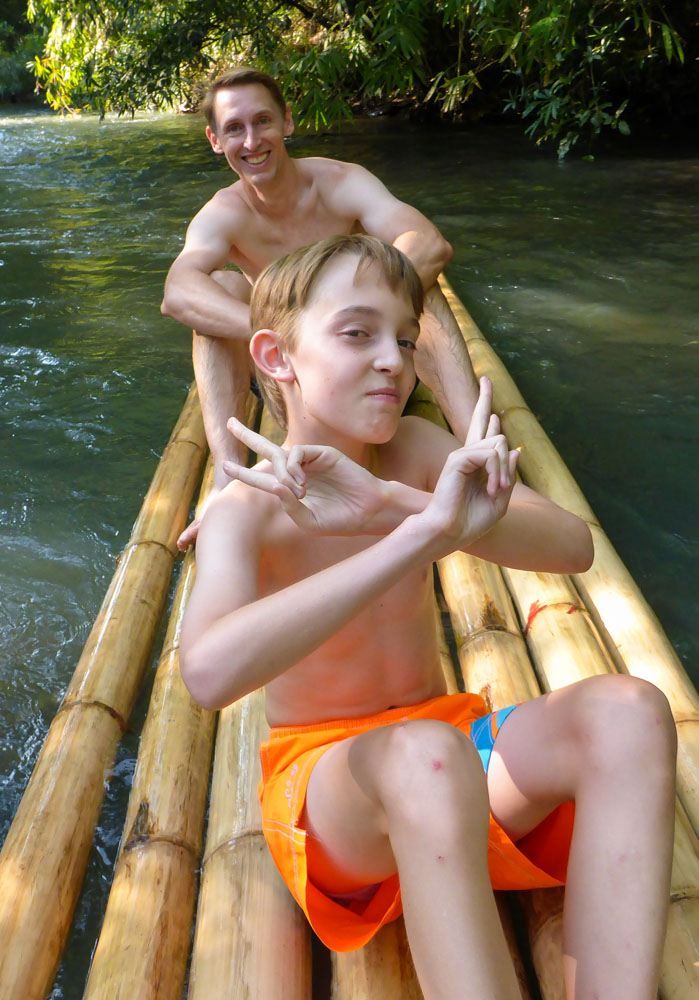 Go Zip Lining
Like the numerous places offering elephant tours, there are almost as many zip lining facilities trying to cash in on the tourists that flock to Chiang Mai for some fun and adventure. We chose to go zip lining with Skyline Adventures, one of the cheaper operations in town, and loved almost every minute. The only part that I didn't like was the hour and a half drive it took to get from downtown Chiang Mai out into the jungle to their zip lining facility. It was here that we did 28 zips and 4 abseils. It took four hours and was loads of fun, especially for Tyler and Kara.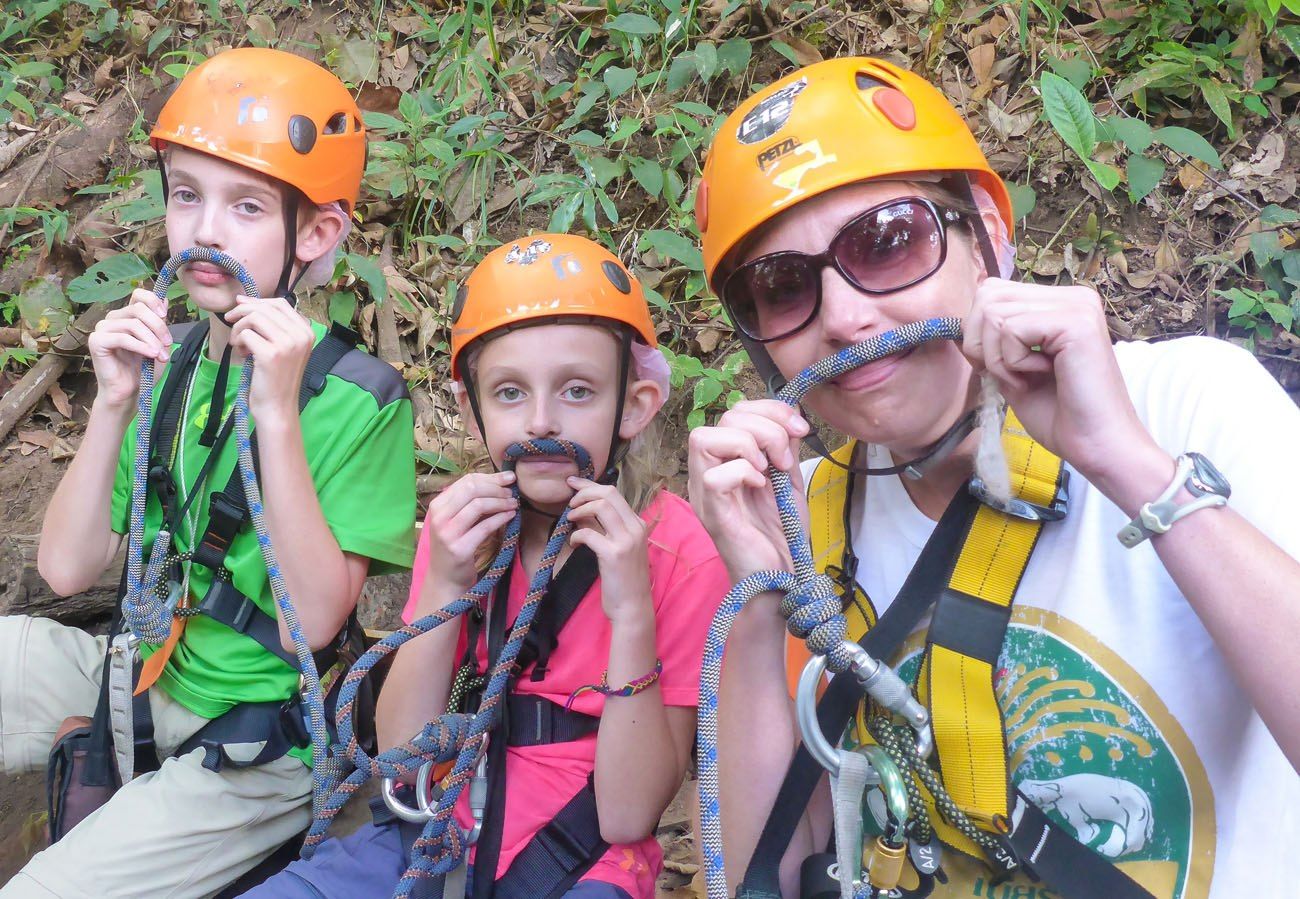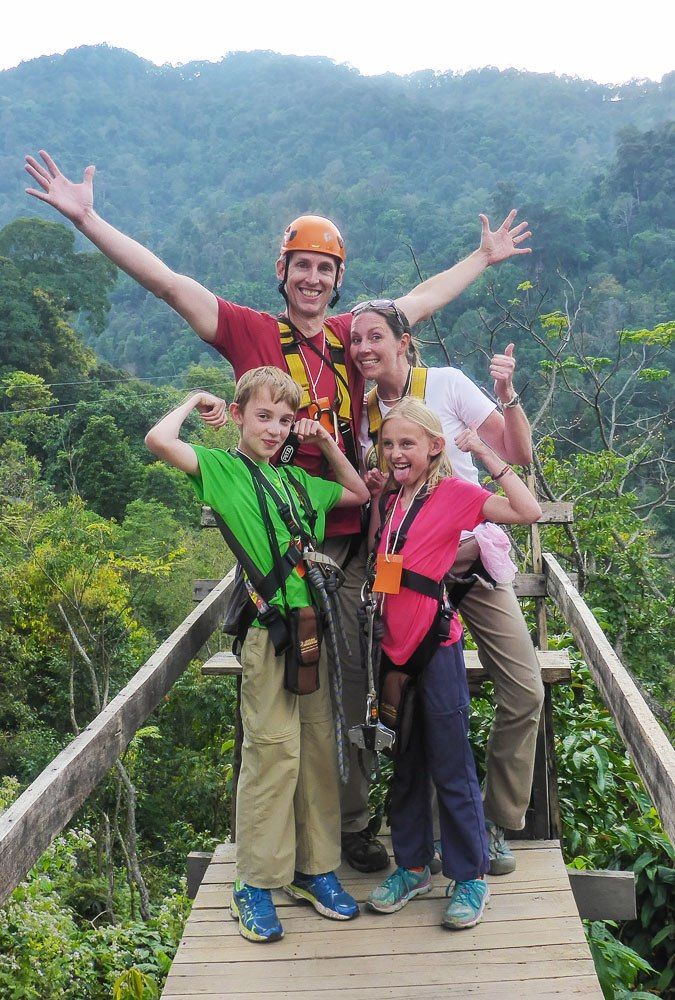 Visit the Poo Poo Paper Park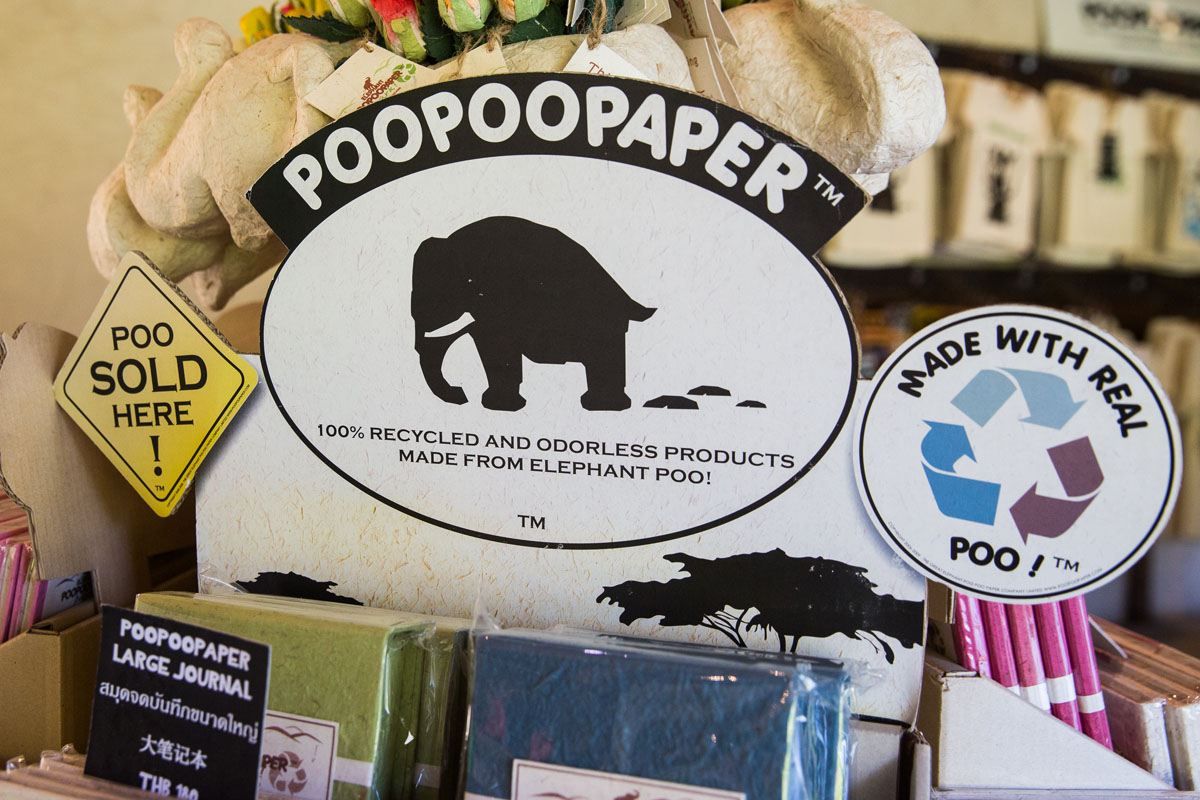 This place caught our attention and we just had to visit it. What can be better than a place that makes paper and clothing out of elephant poo (which they have quite a bit of in Chiang Mai). I have been writing so much and flying through journals so quickly that I am always looking for something unique in which to do my writing. This was the perfect place.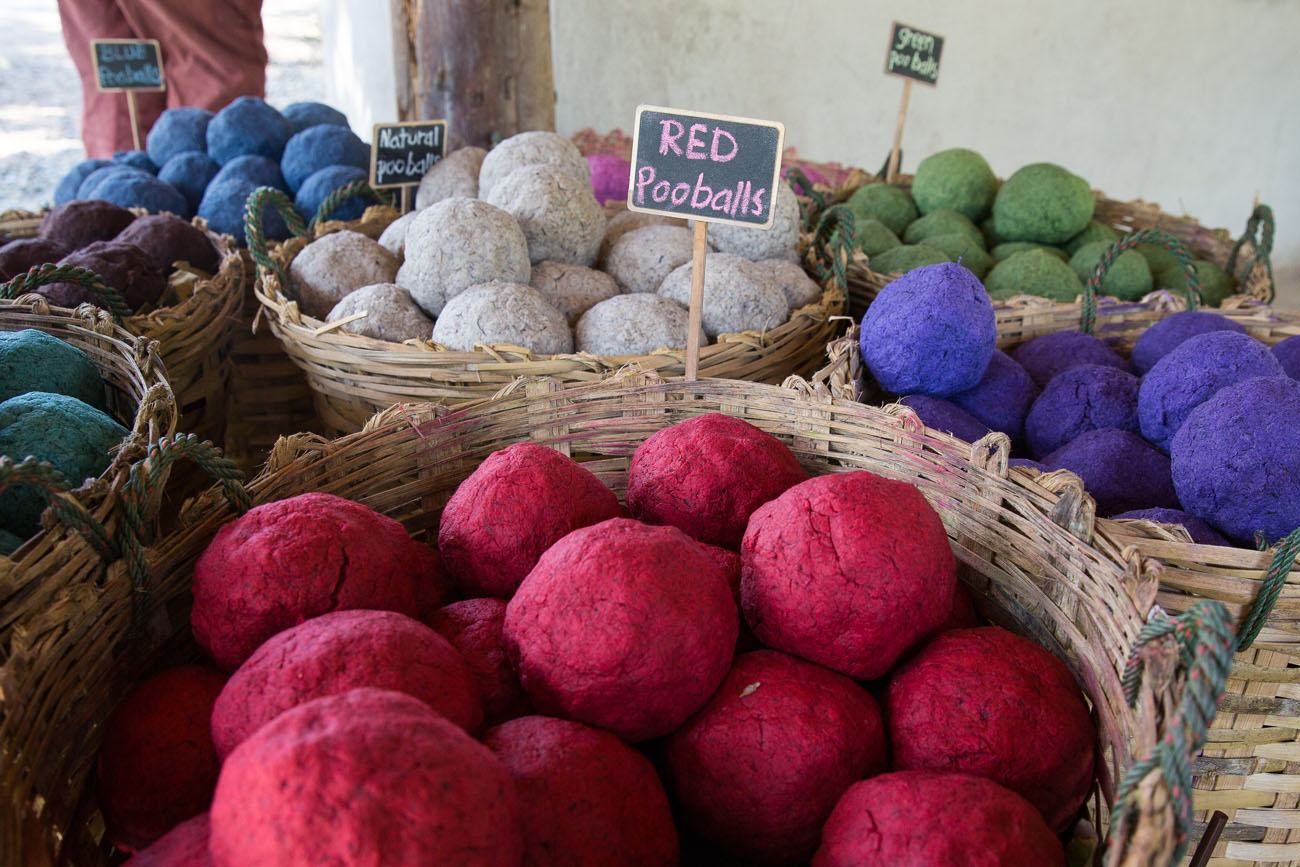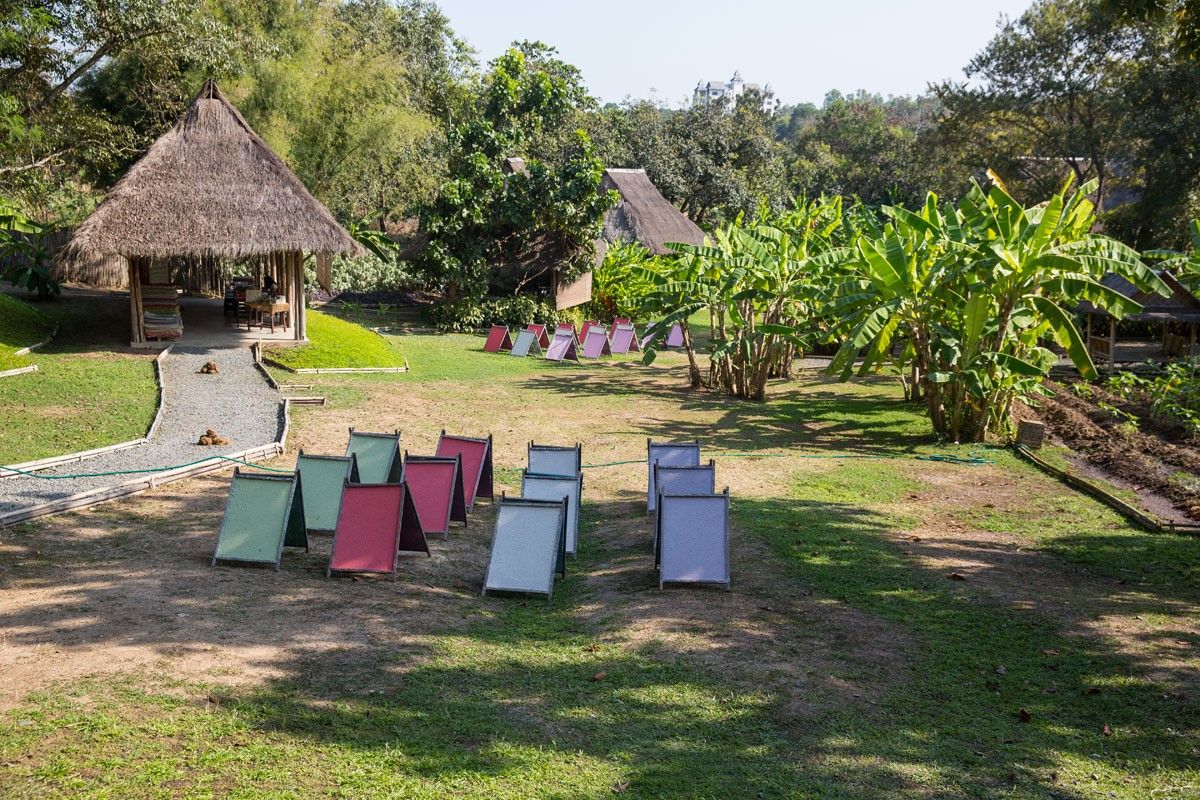 If anyone has ever seen elephant poo, it mostly contains undigested fibers of grass and wood. The poo is cleaned of the nasty stuff, combined with other raw materials, cooked, dyed, and then set out to dry on screens, making paper. It was very educational and very fun. There was even an arts and crafts station set up where Kara could make cards and journals out of the very same paper. For a quick, educational, and interesting visit while in Chiang Mai, come here!
Visit Wat Chedi Luang
Thailand is filled with temples and you can't go more than twenty feet without seeing a Buddha. OK, that's an over-exaggeration, but not much of one.
There are several temples worth visiting in Chiang Mai, but the only one we managed to find time for was Wat Chedi Luang. This temple is over 600 years old. Proper temple attire is long pants, no sleeveless shirts, and bare feet. I went in by myself to take a few photos, leaving behind Tyler and Kara, who were suffering from major cases of temple fatigue. Little do they know, we have many, many temples to visit during the next three months.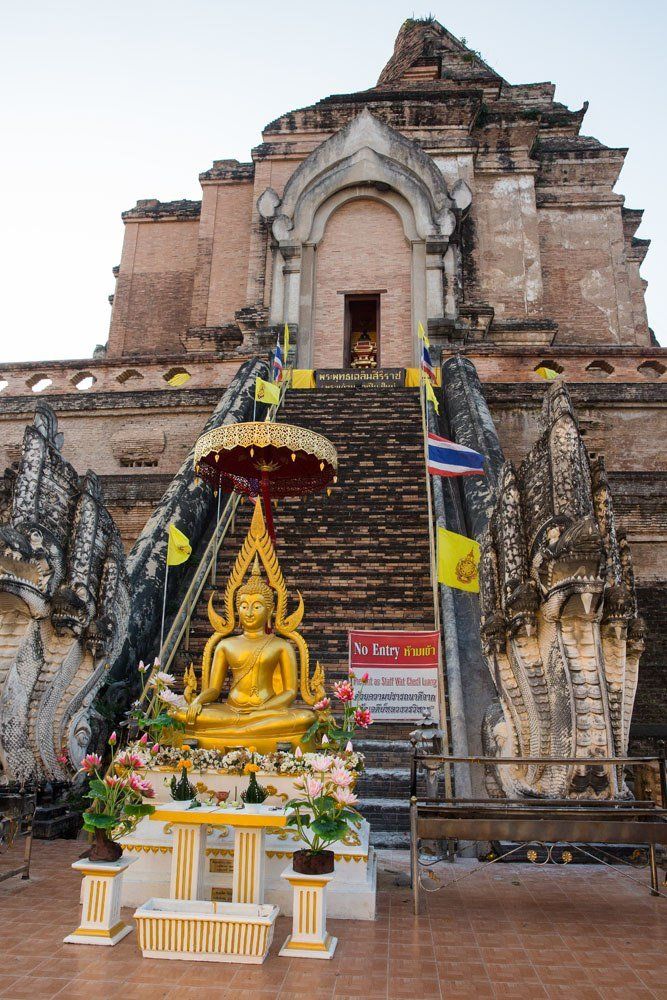 Another temple worth visiting is Wat Phra That Doi Suthep. This temple is located 15 km outside of Chiang Mai, situated on a mountaintop overlooking Chiang Mai. You have to climb a long staircase to visit the temple, but from what I have read the temple and the views over Chiang Mai are worth it. Guess we'll have to come back some day…
Get a Drink at the Cocktail Car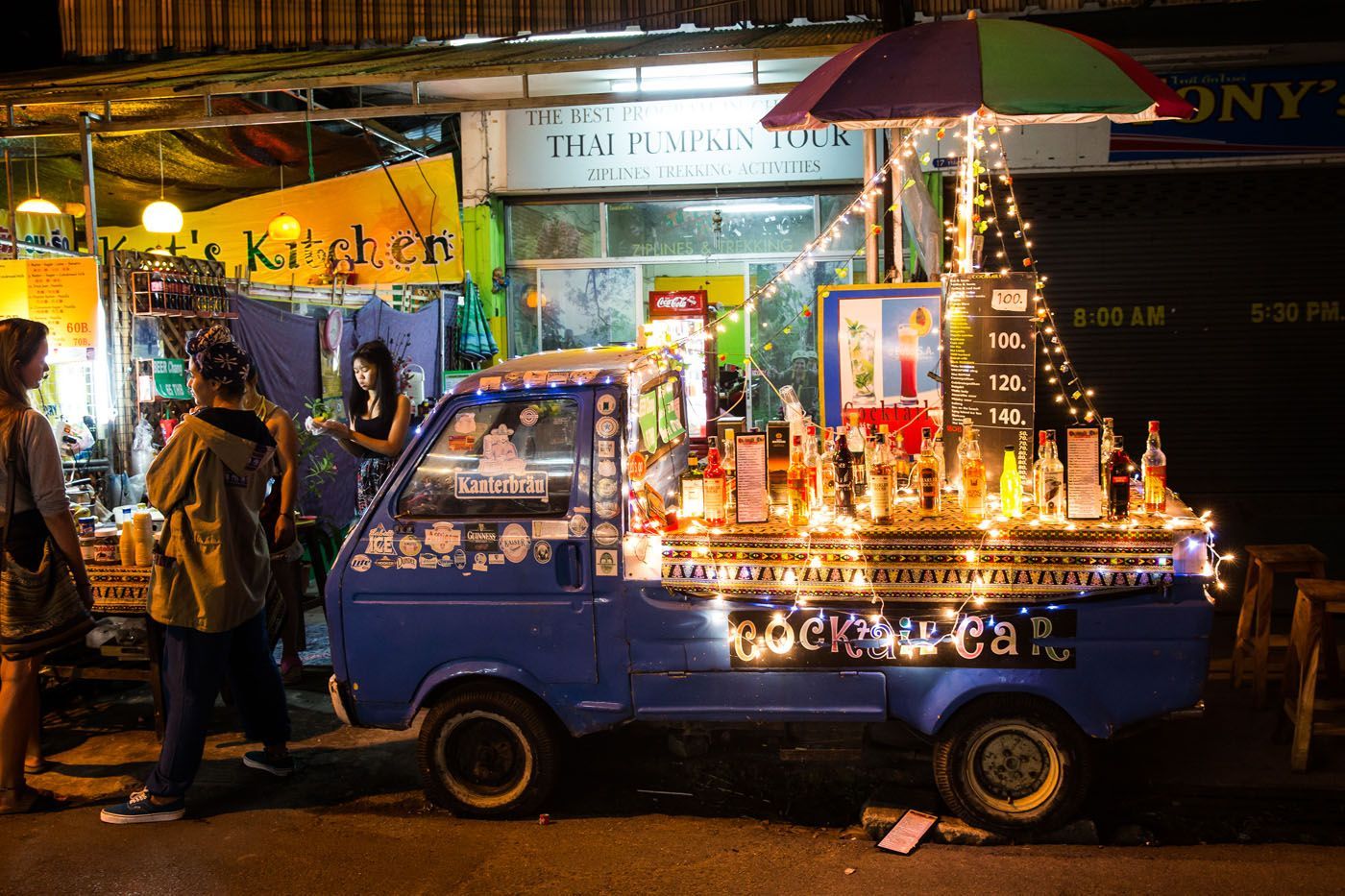 How cool is this? This outdoor bar, located on Ratmakka Road, and just a short walk from our hotel, was a great place to get a drink. The bartender is the sweetest Thai woman who makes great drinks. She may not have top shelf liquor but this place was so fun that Tim and I didn't care!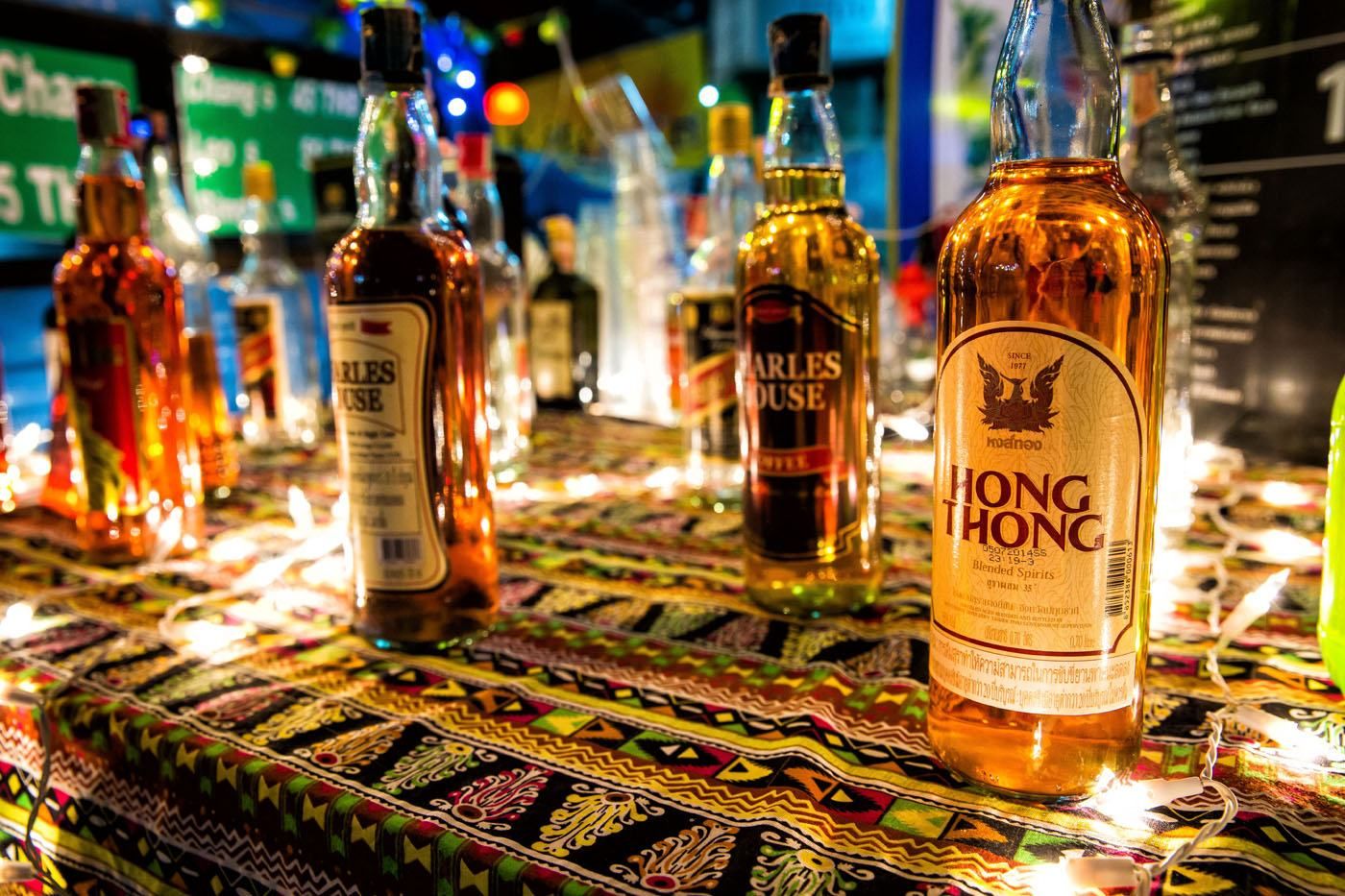 Go Shopping at the Sunday Walking Street Market
Every Sunday evening, from 4 pm to midnight, a large section of downtown Chiang Mai is closed to traffic. Along these streets a market magically appears, with vendors selling souvenirs and arts and crafts from northern Thailand. Come early…the later it gets, the more crowded it gets. Tim and I did some shopping and then escaped once the real crowds of people showed up after 9 pm.
Our family loved Chiang Mai. I am amazed at how many awesome places there are to visit in Thailand. There's something here for everyone, but for an active family, Chiang Mai should be near the top of the list (it is going to be very hard to beat Krabi…Tyler and Kara still can't stop talking about it).
Where We Stayed
For five nights we stayed at Thongran's House, a small bed and breakfast located in the center of Chiang Mai. The location was perfect, close enough to walk to many shops and restaurants, and it was also very easy to catch a songthaew (local taxi). The rooms were spotlessly clean and very comfortable. The wifi worked well, we had a flat screen TV with movie channels, and the hotel staff left gifts for Tyler and Kara.
On our sixth and final night in Chiang Rai we stayed at GORD Chiang Mai. Due to a change in our plans we had to add an extra night in Chiang Mai and Thongran's House did not have availability for this day. At GORD, we had a very large room with a loft, two bedrooms, and two bathrooms. We payed more for this place but it was great having the extra space. This place wasn't quite as clean as Thongran's House but it was acceptable.
If I returned to Chiang Mai I would choose Thongran's House over GORD. Cleanliness is more important than space to me, plus Thongran's House was closer to the good restaurants.
---
More Information about Thailand
BANGKOK: For a list of top experiences, check out our article Best Things to Do in Bangkok. We also have an article about where we ate and drank in Bangkok.
AYUTTHAYA & SUKHOTHAI: These two ancient cities are important historical sites in Thailand. Learn how to visit them in our guide to Ayutthaya and Sukhothai.
CHIANG RAI: One of the best things to do in Chiang Rai is visiting the White Temple.
SOUTHEAST ASIA ITINERARY: If your visit to Thailand is part of a bigger trip through Southeast Asia, don't miss our 3-month Southeast Asia itinerary and travel planner.
Note: This post contains affiliate links. When you make a purchase using one of these affiliate links, we get paid a small commission at no extra cost to you.
All rights reserved © Earth Trekkers. Republishing this article and/or any of its contents (text, photography, etc.), in whole or in part, is strictly prohibited.