Chiang Rai was our final stop in Thailand. This very small town is located in the far northeast of Thailand, not far from Laos and Myanmar. Here the terrain was mountainous and very lush, with lots of palm trees, tea and rice plantations, and banana trees. Since it was January, it was the cool, dry season, but daytime temperatures still got into the 90's on several days. It was on one of these hot and sunny days that we decided to cycle to the White Temple.
Cycling to the White Temple
Our home stay (Homestay Chiangrai), rented us bicycles and gave us printed directions for a 38 km (24 miles) round trip tour of the countryside, with a stop at the White Temple. This is the furthest Tyler and Kara have ever been on a bicycle, and for Kara in particular, it was a very challenging day.
Our bikes were very nice but sized for adults. Kara's bicycle was much too large for her. With the seat as low as it could go she could just reach the ground. The bigger problem was her reach to the handlebars. This tiny girl would bike 38 km with her arms stretched way out in front of her for the duration of the ride. Kara was not happy about it, but managed to control this oversized, heavy bike, propelling it uphill when necessary. Because of her position, her hands fell asleep frequently, so we needed to take breaks every four to five kilometers.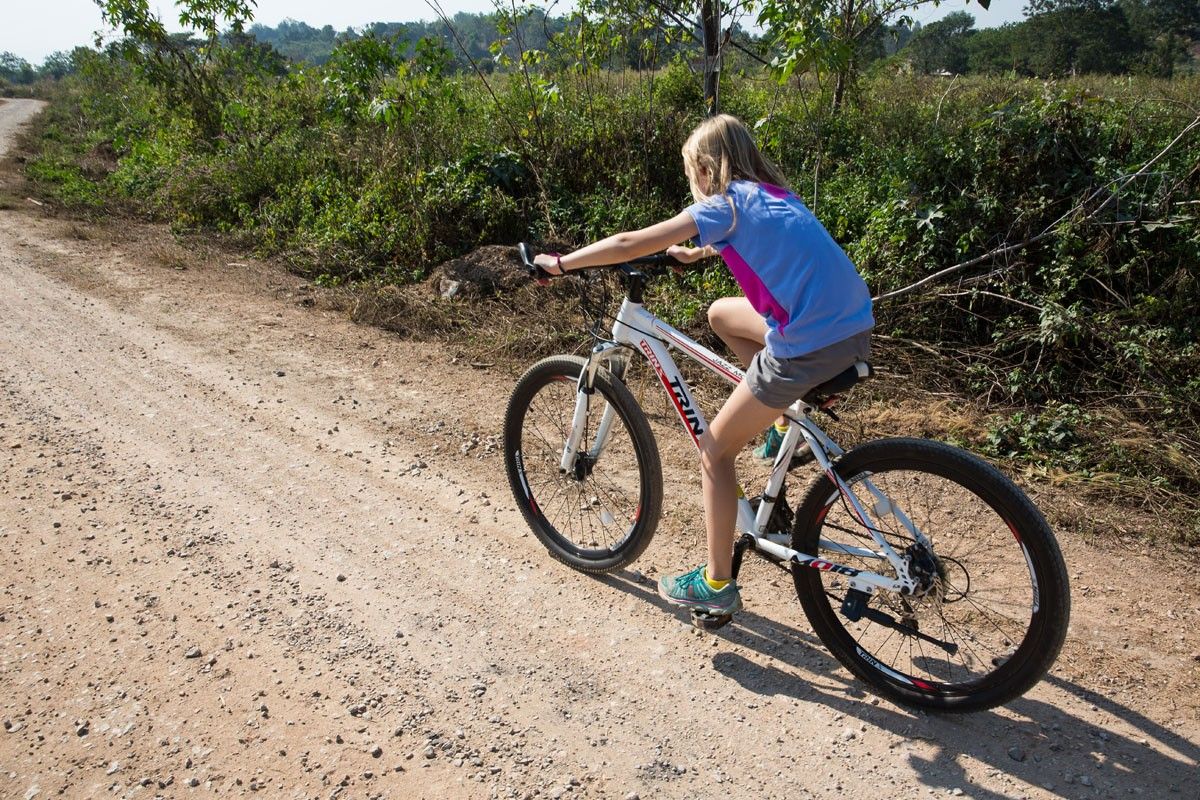 First Stop: Buddhist Temple
Our tour first took us to a nearby Buddhist temple, complete with a cave to explore. We are able to see this temple and limestone mountain while sitting at our pool. Tyler and Kara are completely "templed out" and dread touring temples now. You would think that they are torture chambers. Add in a long bike ride to a temple and they become very grumpy kids.
Tyler had a sour look on his face from the very beginning, so we skipped the temple, only exploring the cave. Tim flipped the light switch, illuminating the cave, revealing a series of Buddhist shrines. It went back fairly far, and we walked through narrow, damp passageways. The cave was filled with small Buddha statues covered with dust and cobwebs. Tyler and Kara's mood improved from here, and we resumed our cycling trip.
Cycling to the White Temple
As we cycled to the White Temple, we rode past rice fields, tea plantations, and a very tropical countryside. We made a pitstop at the nearby Mae Kok River, where we walked across a very rickety bamboo bridge out to someone's dormant farm.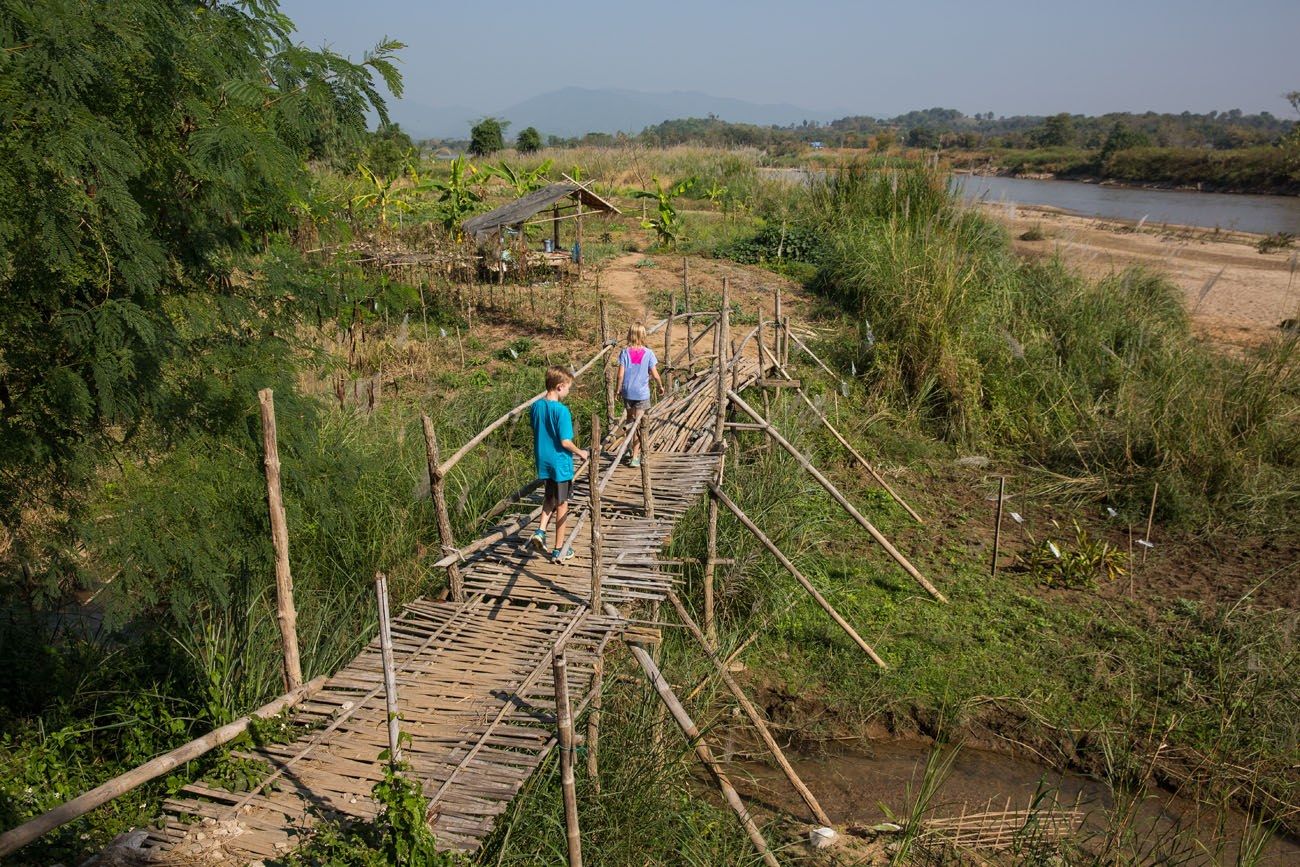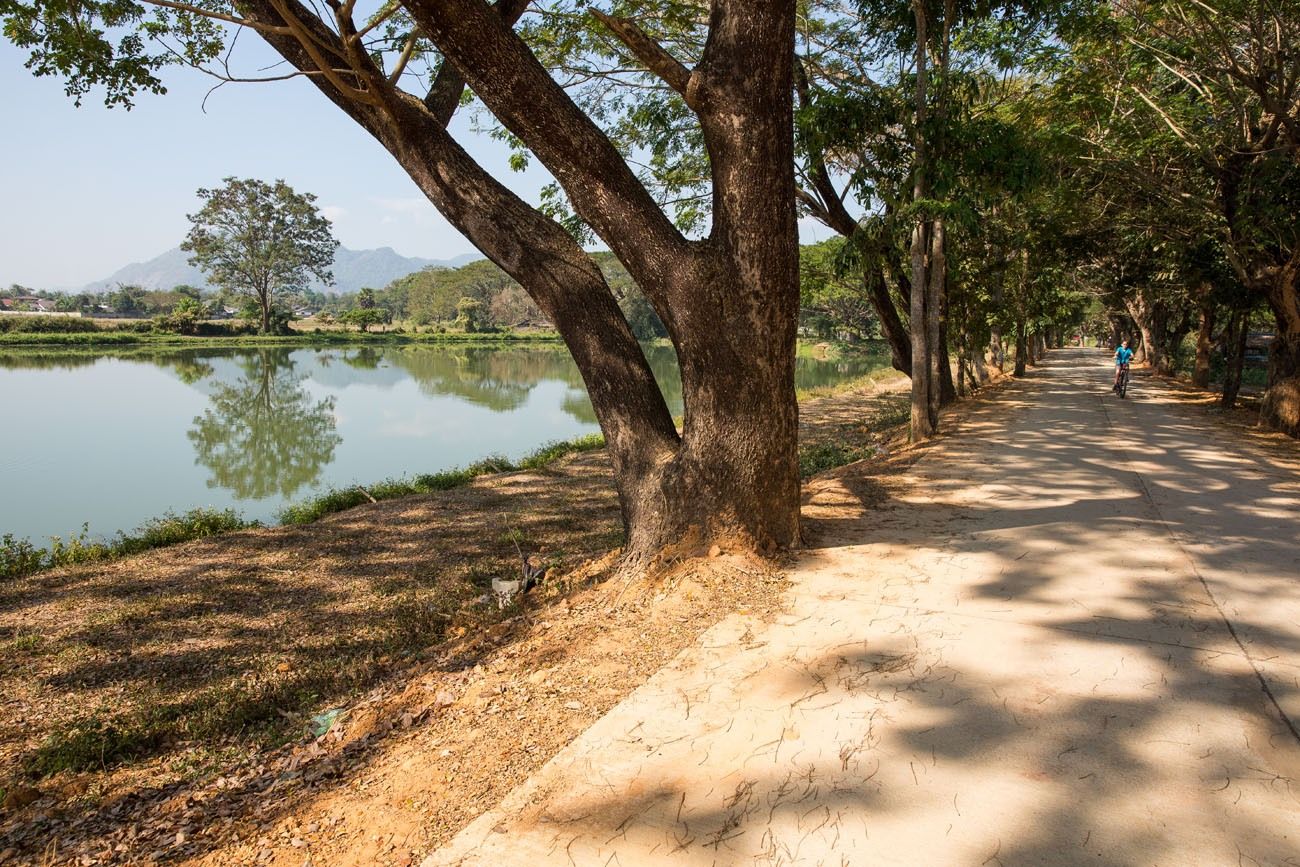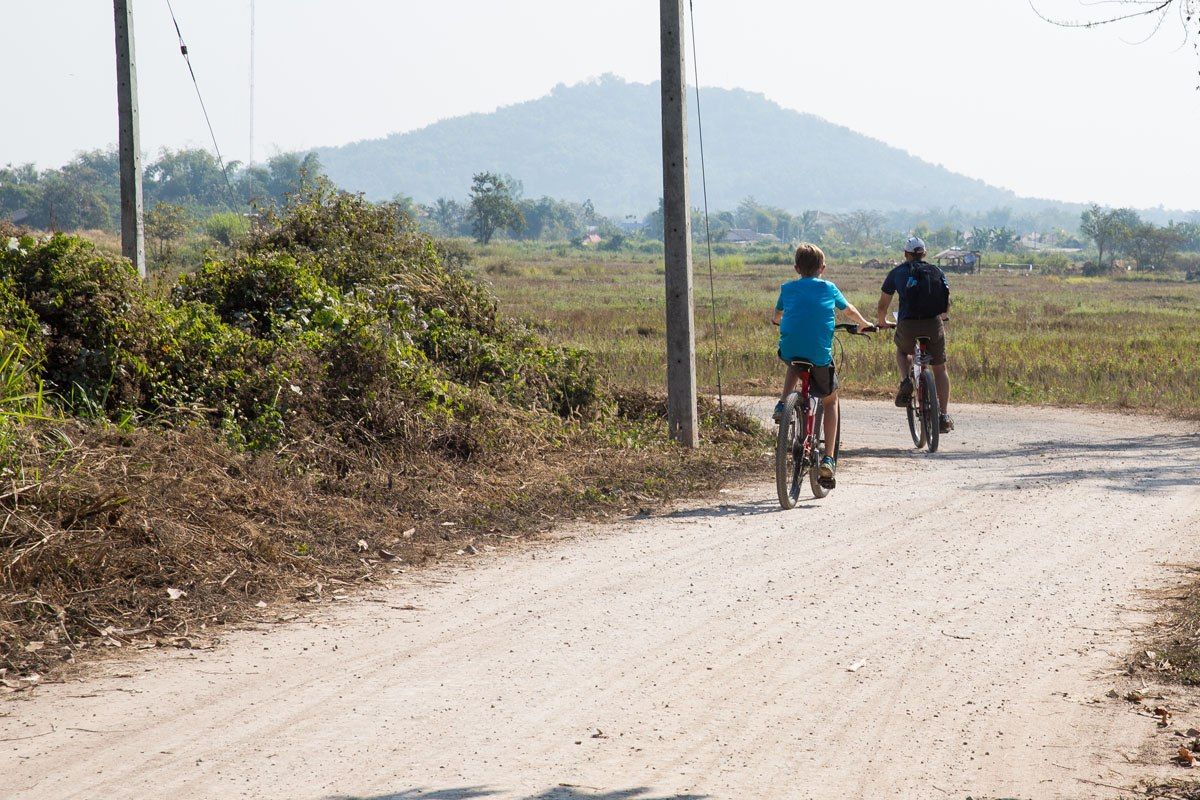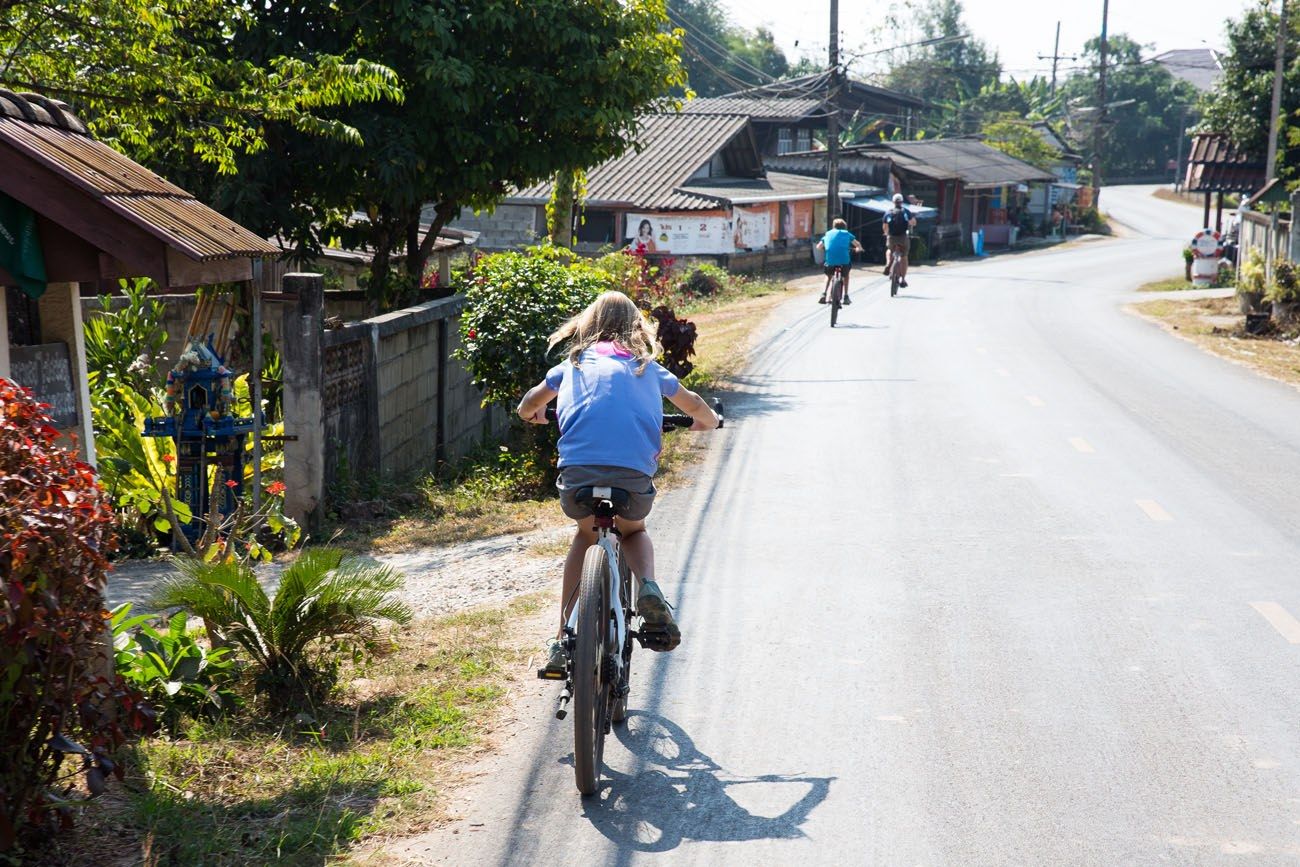 The White Temple
The journey to the White Temple took about an hour. We arrived at midday, cooled off by drinking ice cold Coca-Cola's, and then joined the other visitors at the White Temple.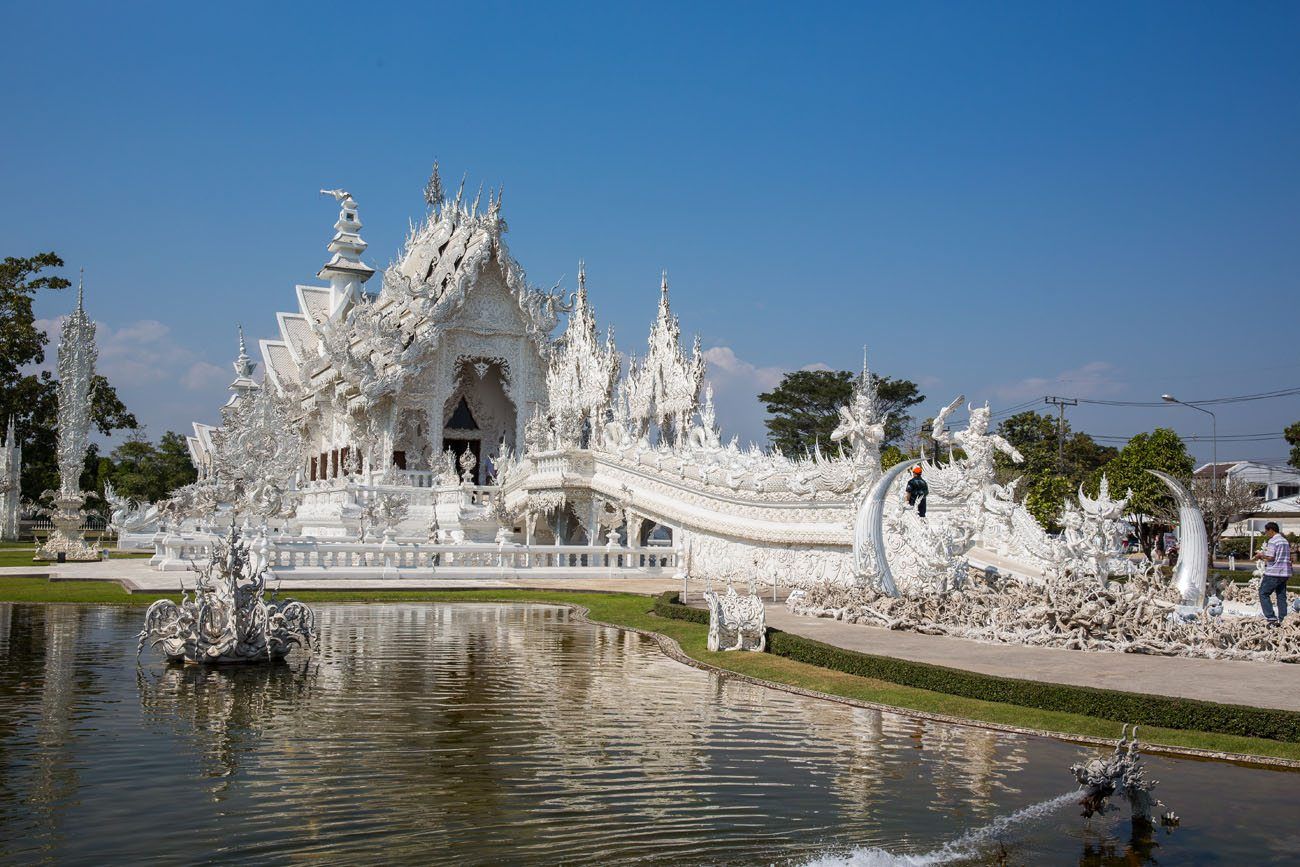 The White Temple, also known as Wat Rong Khun, is wild! It is so different from anything we have seen yet.
Tyler and Kara probably don't want to admit it but I think that they actually liked it. The White Temple, as its name implies, is completely white, but it is also covered in glass mirrored tiles, making it shimmer in the sunlight.
The temple is fairly new, having been built in 1997. It is a very unconventional temple. We walked past hands reaching up from the ground, through a pair of oversized elephant tusks, and past ceramic heads of famous movie characters hanging from the trees.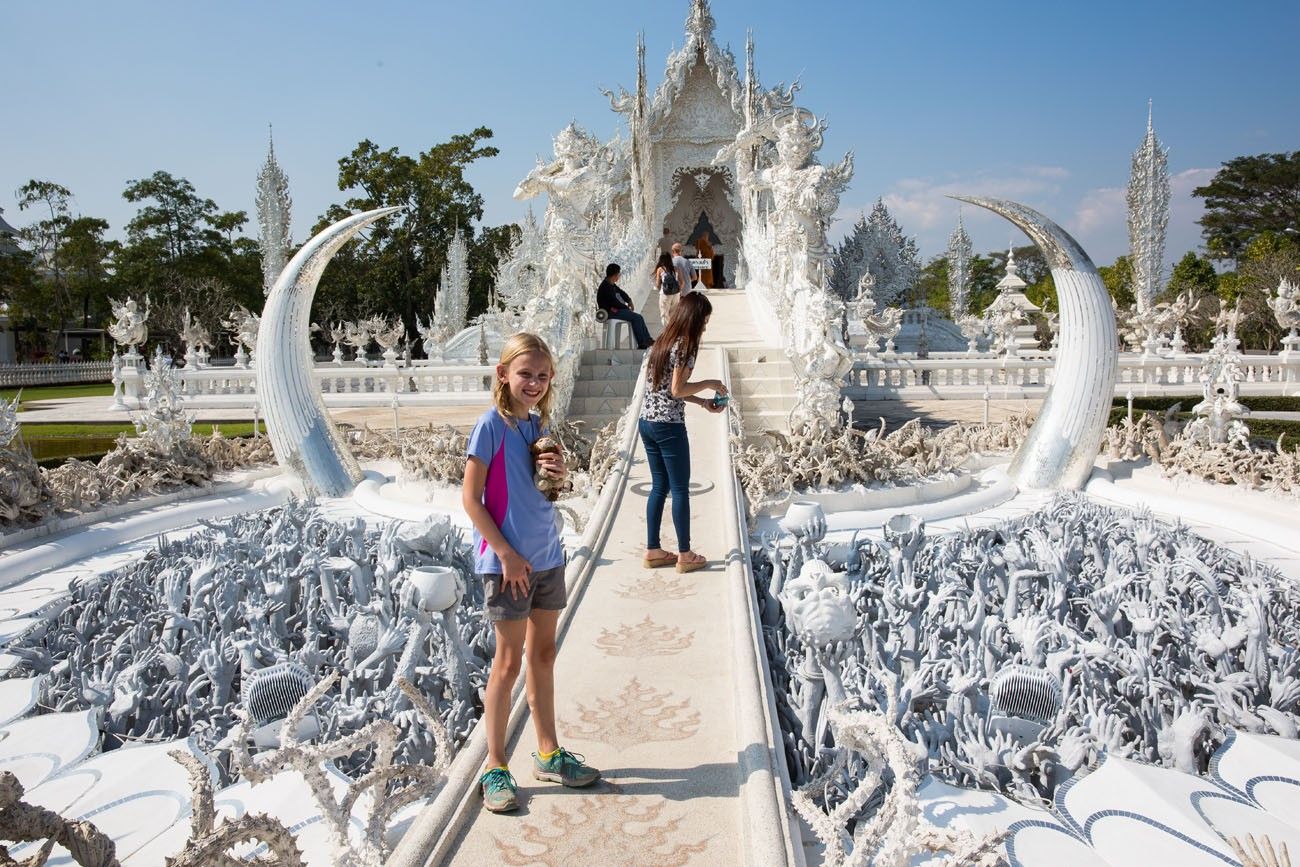 The temple was damaged in an earthquake in May 2014. It was going to be demolished, but a team of experts are now working to restore the temple. Because of this damage we were not allowed to photograph the interior of the temple, which is a shame, because it was amazing.
Like all temples, a giant Buddha peered down at us from the far wall. This golden Buddha was much more simple than the others we have seen. Sitting in front of him was a very realistic statue of a Buddhist monk. This statue looked like it came from Madama Tussaud's it was so realistic.
On the back wall of the temple was a mural painting, complete with a scene of the Twin Towers on fire, being attacked by a gigantic gasoline nozzle. Most of the mural dealt with death and destruction, and appearing in the scenes were famous movie characters like the minions from Despicable Me, Michael Jackson, Neo from The Matrix, Po from Kung Fu Panda, Harry Potter, Elvis Presley, Superman, Freddie Kruger…there is quite a lot of American influence on this temple. For kids, this just may be the most exciting temple ever.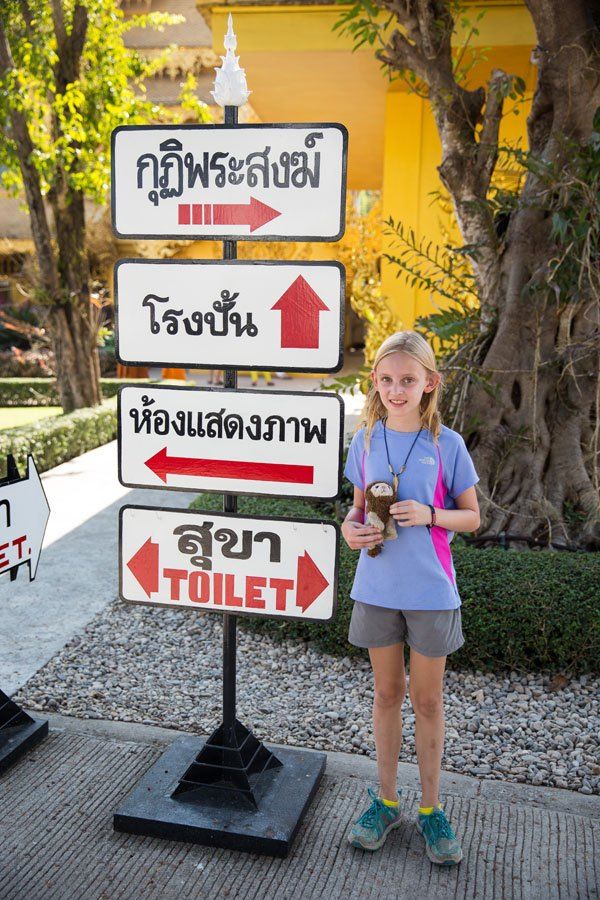 Visiting the White Temple
Admission is 100 baht for foreigners, free for Thai nationals.
Dress Code: Shirts should at least cover your shoulders. Pants (or a skirt) should be knee length or longer. We all wore short-sleeved shirts and shorts (above our knee) and were admitted into the temple.
Cycling Back to our Homestay
Now it was time to head back to our home stay. We cycled back on a different route. This time we cycled past more tea and rice plantations, as well as a gravel factory. It was 1 pm and very hot now; the sun was beating down on us and it was about ninety plus degrees. Kara was very tired and needed more frequent breaks. Tyler was still hanging in there and having a good time.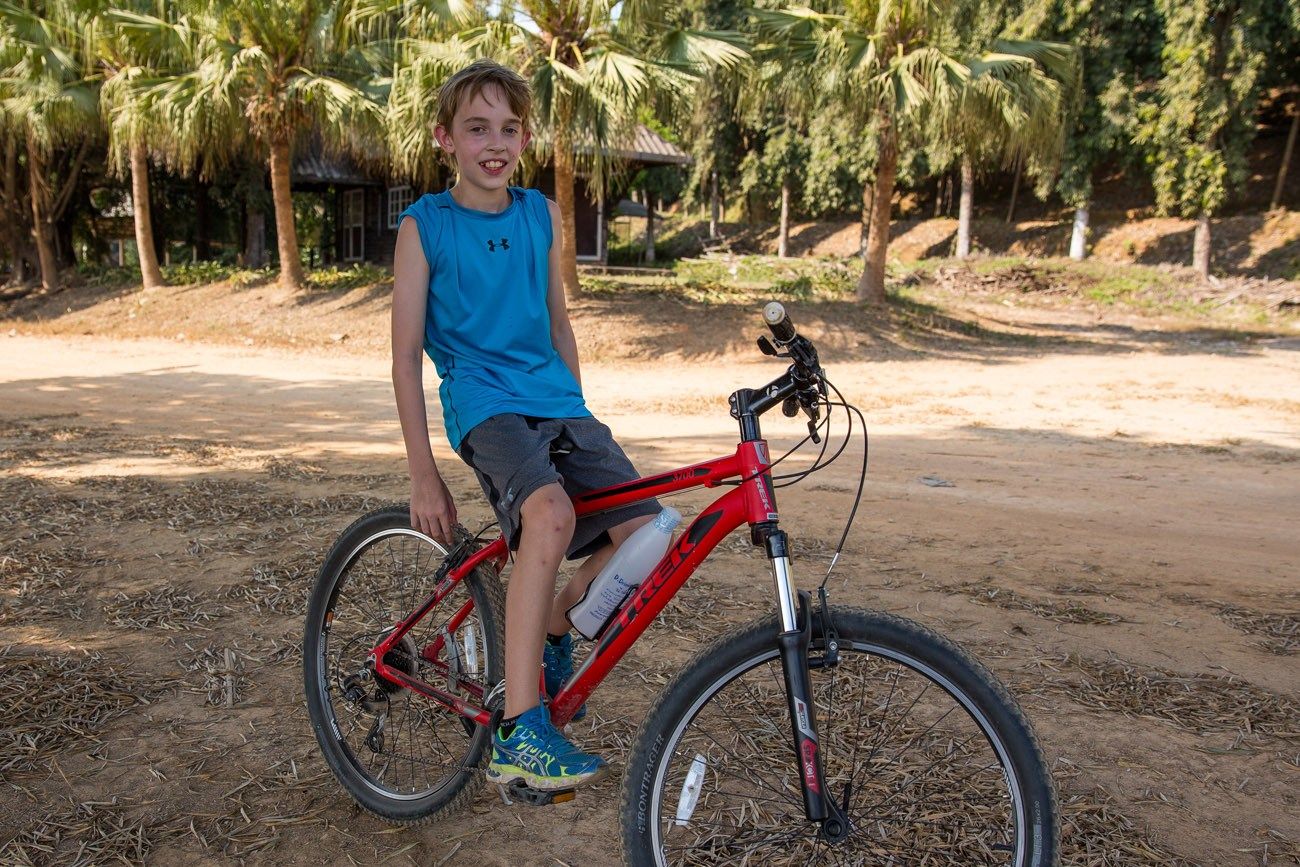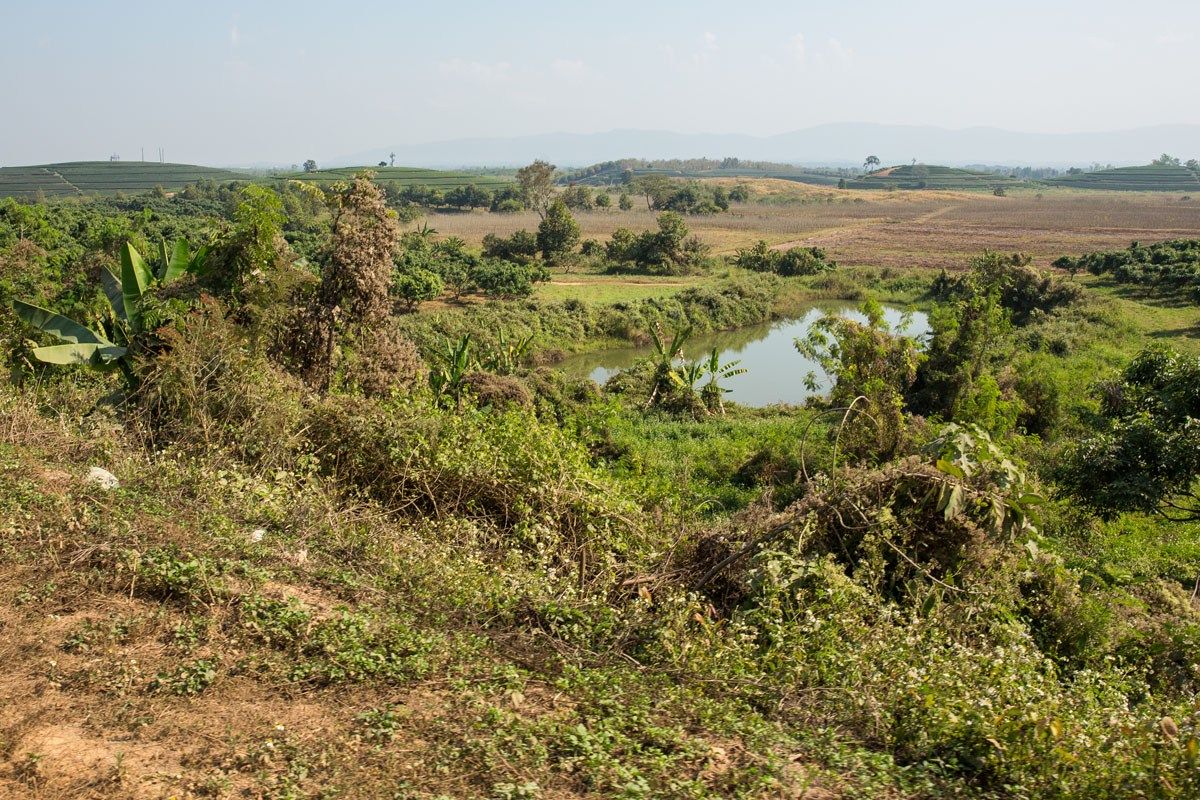 Finally, we arrived back at the home stay at 3 pm, hot, sweaty, with legs covered in dirt. Tim and I enjoyed our long cycling tour of the Thai countryside, but Tyler and Kara not so much. Kara has declared that she will never ride a bicycle again!
This long journey deserved a swim in the pool followed by ice cream sundaes poolside.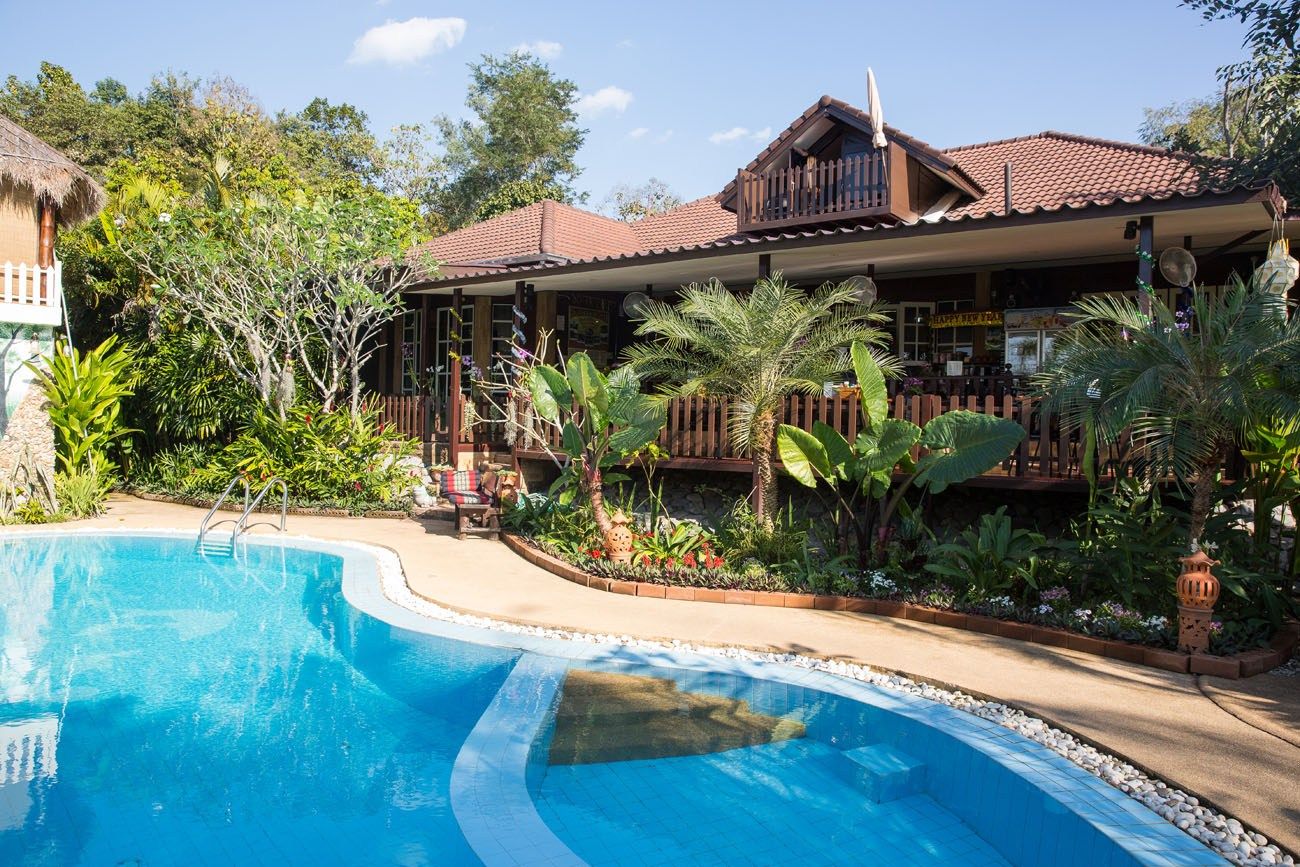 Where We Stayed
We spent five nights at Homestay Chiangrai. Here we had a queen bed with bunk beds, flat screen TV, and a swimming pool. Homestay Chiangrai is located about ten minutes outside of Chiang Rai and a free shuttle service was provided to take us into town when needed.
We loved staying outside of town, exploring the nearby countryside by foot or by bicycle. From the deck we overlooked rice fields and a Buddhist temple. The homestay is run by Tony, who is Dutch, and Phaet, who is Thai. They served Dutch and Thai food, which was nothing special, but very convenient as it saved us taking more trips into town. We all enjoyed our stay here and recommend it for people who want friendly, clean, laid back accommodations.
---
More Information about Thailand
KRABI, THAILAND: One of the best things to do in Krabi is to go island hopping to the small islands and beaches. Rock climbing is another popular activity to do. We have a recap of our best experiences in our Favorite Moments in Krabi article.
BANGKOK: For a list of top experiences, check out our article Best Things to Do in Bangkok. We also have an article about where we ate and drank in Bangkok.
CHIANG MAI: Going to Chiang Mai? Here are 10 must-have experiences to have in Chiang Mai.
AYUTTHAYA & SUKHOTHAI: These two ancient cities are important historical sites in Thailand. Learn how to visit them in our guide to Ayutthaya and Sukhothai.
DESTINATIONS AROUND THE WORLD: For more places to visit around the world, check out our Destinations page.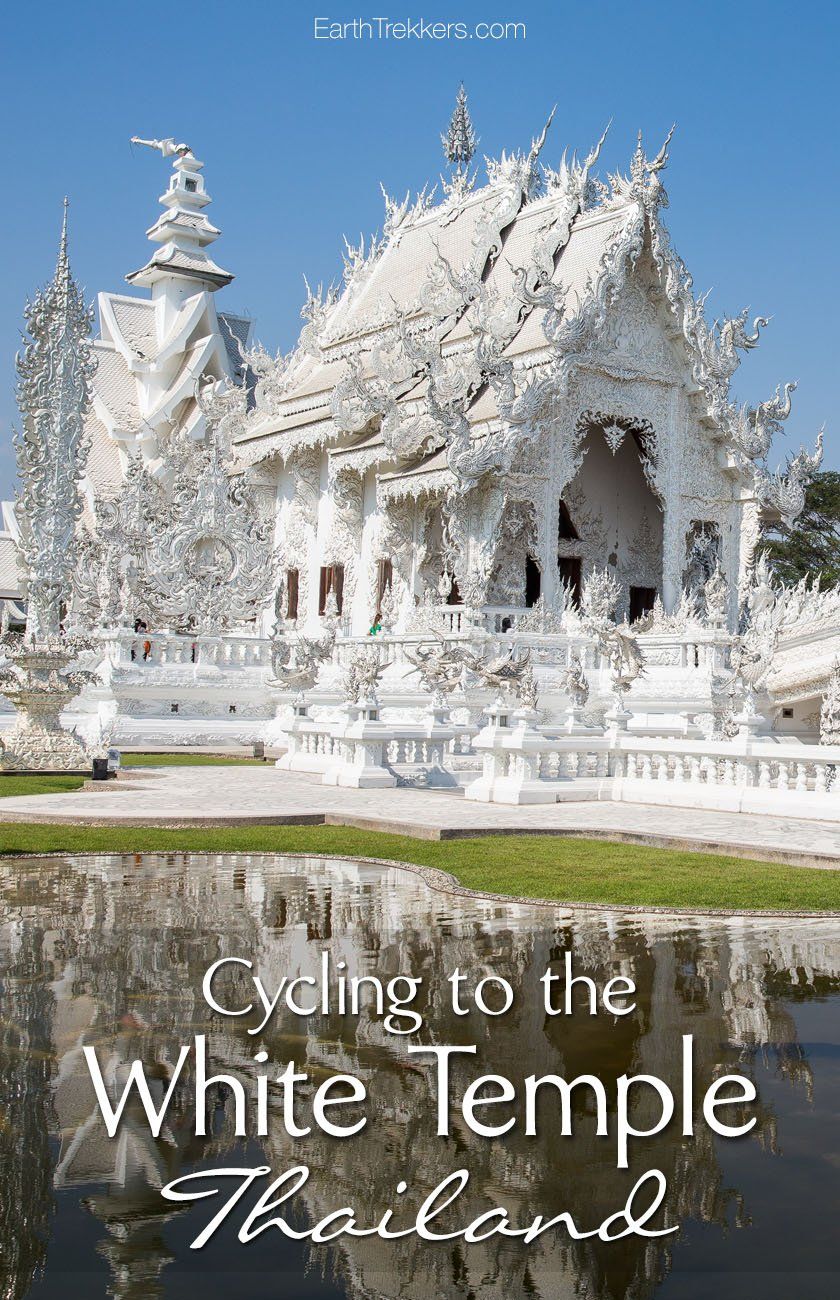 Note: This post contains affiliate links. When you make a purchase using one of these affiliate links, we get paid a small commission at no extra cost to you.
All rights reserved © Earth Trekkers. Republishing this article and/or any of its contents (text, photography, etc.), in whole or in part, is strictly prohibited.