Springing up around the city, just weeks before Christmas, are the London Christmas markets. Filled with stocking stuffers, holiday decorations, clothing, and street food, these small markets are the perfect place to browse for gifts for friends and family, try some new foods, sip on mulled wine, and get into the holiday spirit.
The Christmas markets are located throughout central London. Some markets are erected just for a few weeks, but others, like Covent Garden and Borough Market (which are open all year), get a Christmas facelift in November.
About the London Christmas Markets
There are two types of Christmas markets in London: permanent markets and pop-up markets.
Permanent markets are open all year but get a major Christmas makeover come November.
Pop-up markets are temporary markets that are erected just for the Christmas season. These markets are made up of a series of wooden huts, with each hut either selling food, drinks, or gifts.
In the pop-up markets, there are some common items for sale across most of them, such as mulled wine, Christmas ornaments, hats, and sausages. Each market is then varied based on additional food items and handmade items it offered. And each market has a different vibe to it.
Overall, after visiting the markets in the downtown London area, we concluded that it isn't necessary to visit all of them, since they get to be repetitive. Many shops offer the exact same things from market to market.
We recommend visiting the ones that are convenient to the other sites you plan to visit. For each market, we list the nearby places to go to help you with your planning.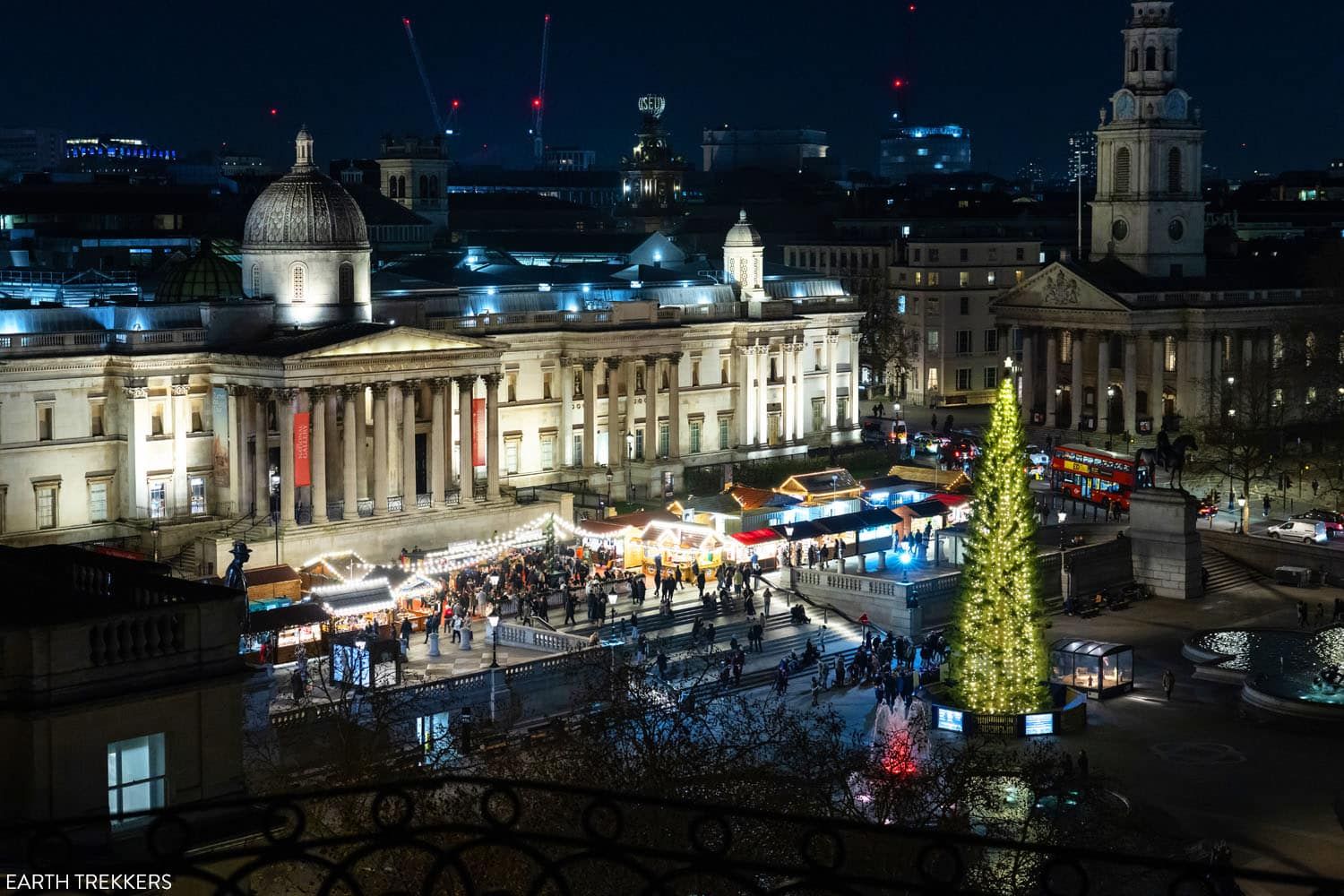 Trafalgar Square at Christmas (View from The Rooftop bar at the Trafalgar St. James)
Best London Christmas Markets
1. Christmas in Trafalgar Square
Located on the terrace in front of The National Gallery, this small market was one of our favorites in London. In the stalls are Christmas ornaments, hats and gloves, various types of street food, and unique gift ideas for friends and families. While here, you can also see the Trafalgar Square Christmas tree.
What we loved most about Christmas in Trafalgar Square was the setting. The view of Trafalgar Square and down Whitehall to Big Ben and Parliament is amazing.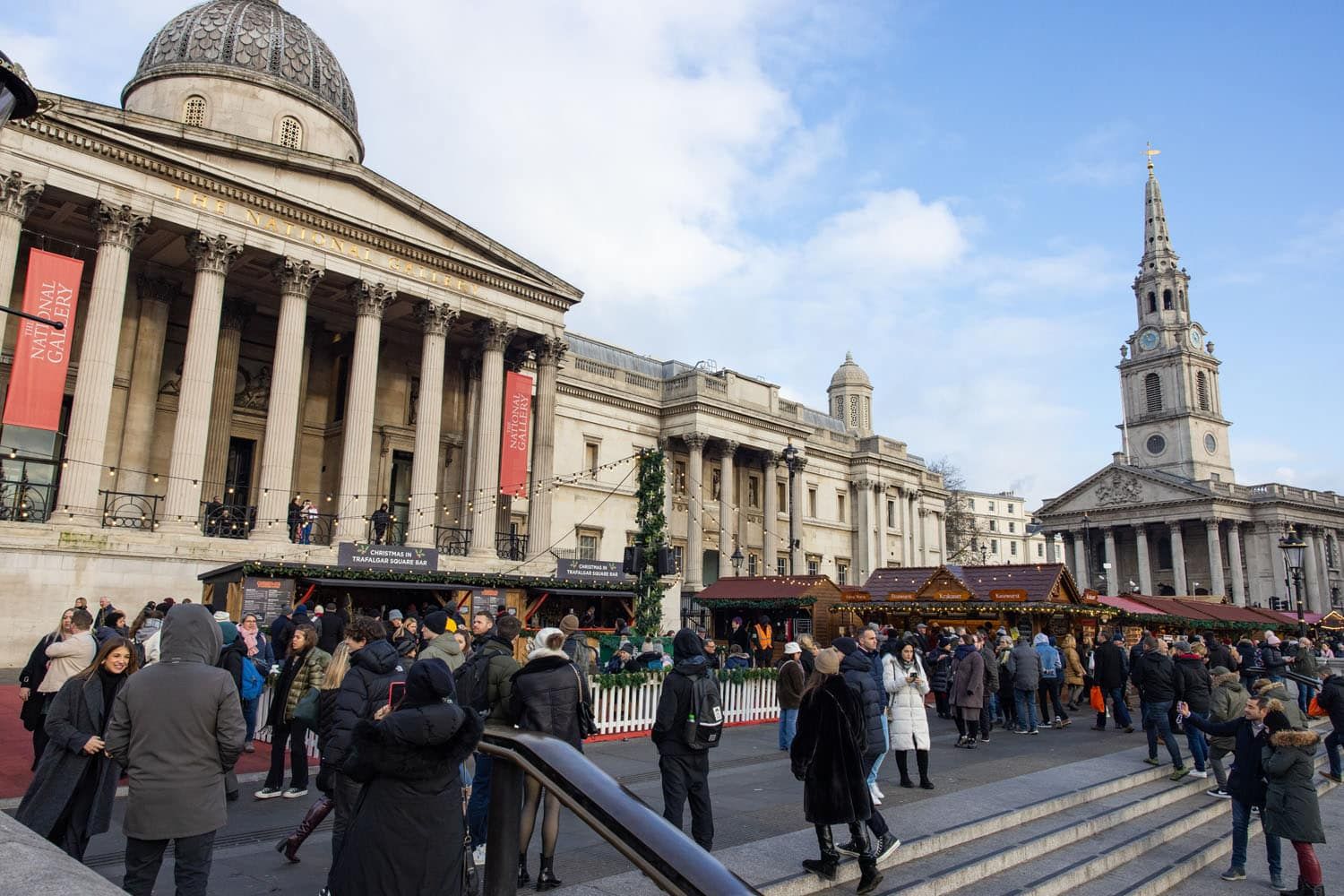 Trafalgar Square Christmas market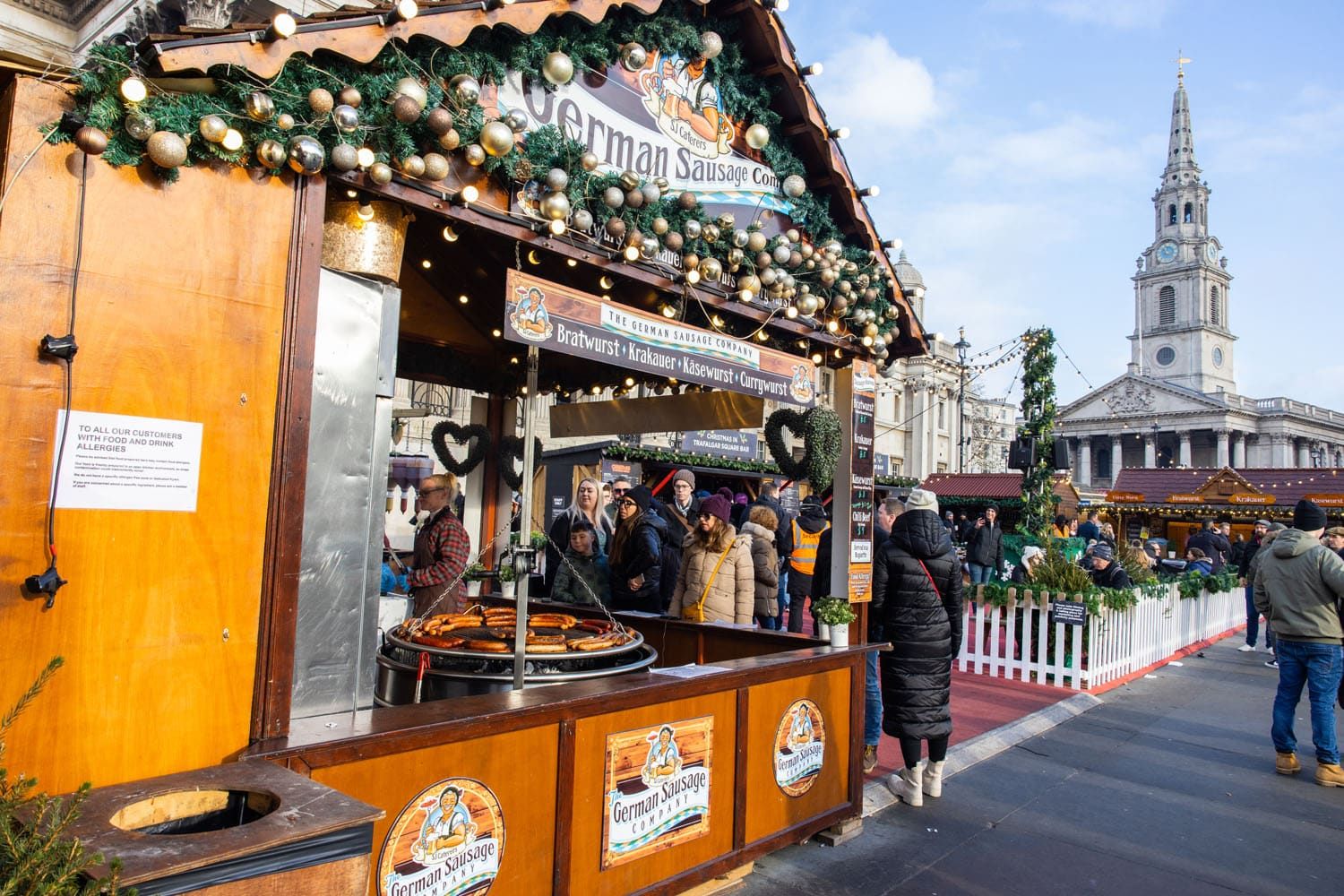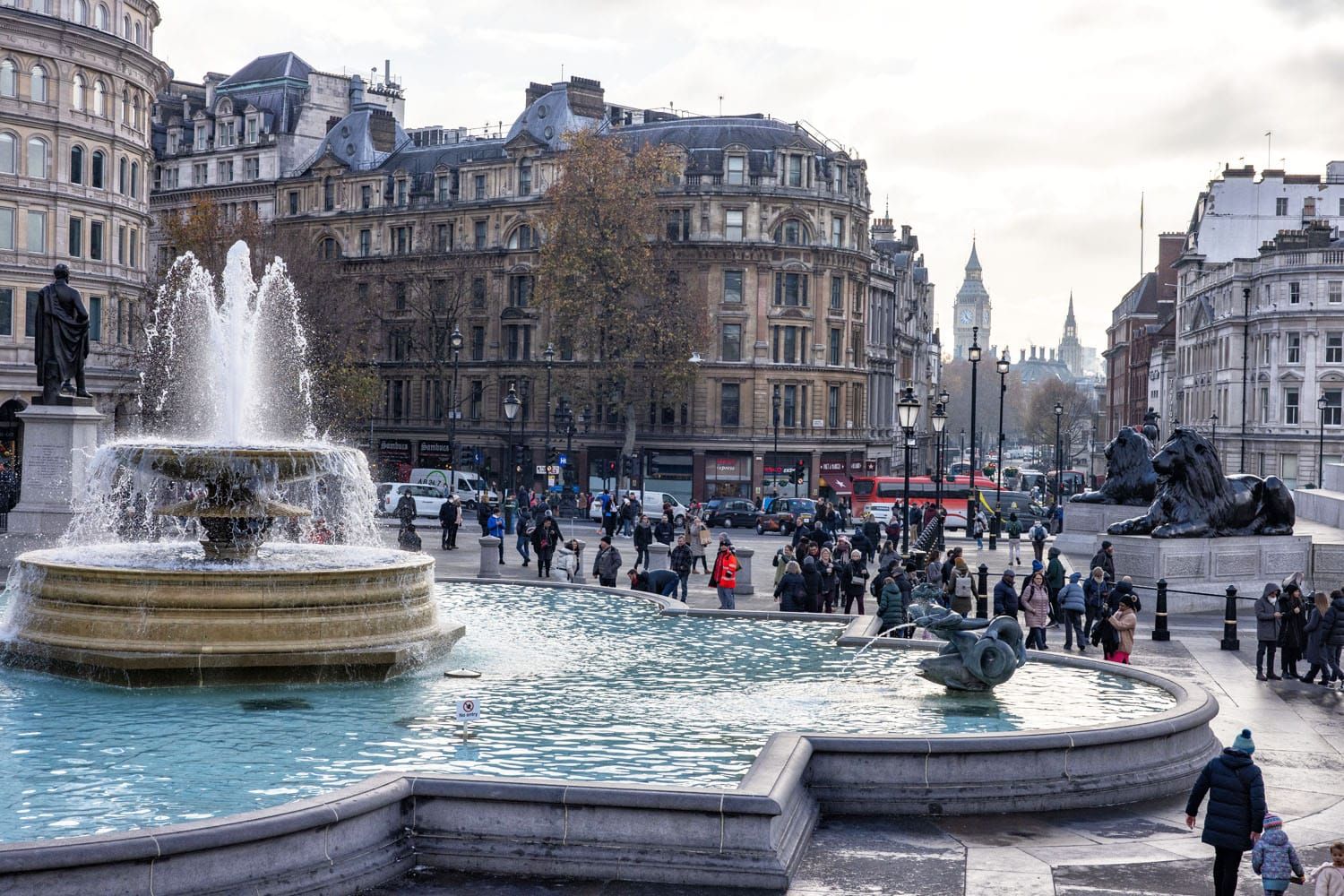 Trafalgar Square
Combines well with: The National Gallery, The National Portrait Gallery, a stroll down Whitehall to Big Ben and Westminster Abbey, the Benjamin Franklin House
Closest Underground station: Trafalgar Square
---
2. Southbank Centre Christmas Market
Just steps away from the London Eye, on the bank of the River Thames, is the Southbank Centre Christmas Market. This is one of the smallest Christmas markets that we visited in London and it only takes a few minutes to stroll past the few shops it contains. This market is more about food and drinks rather than purchasing gifts or souvenirs.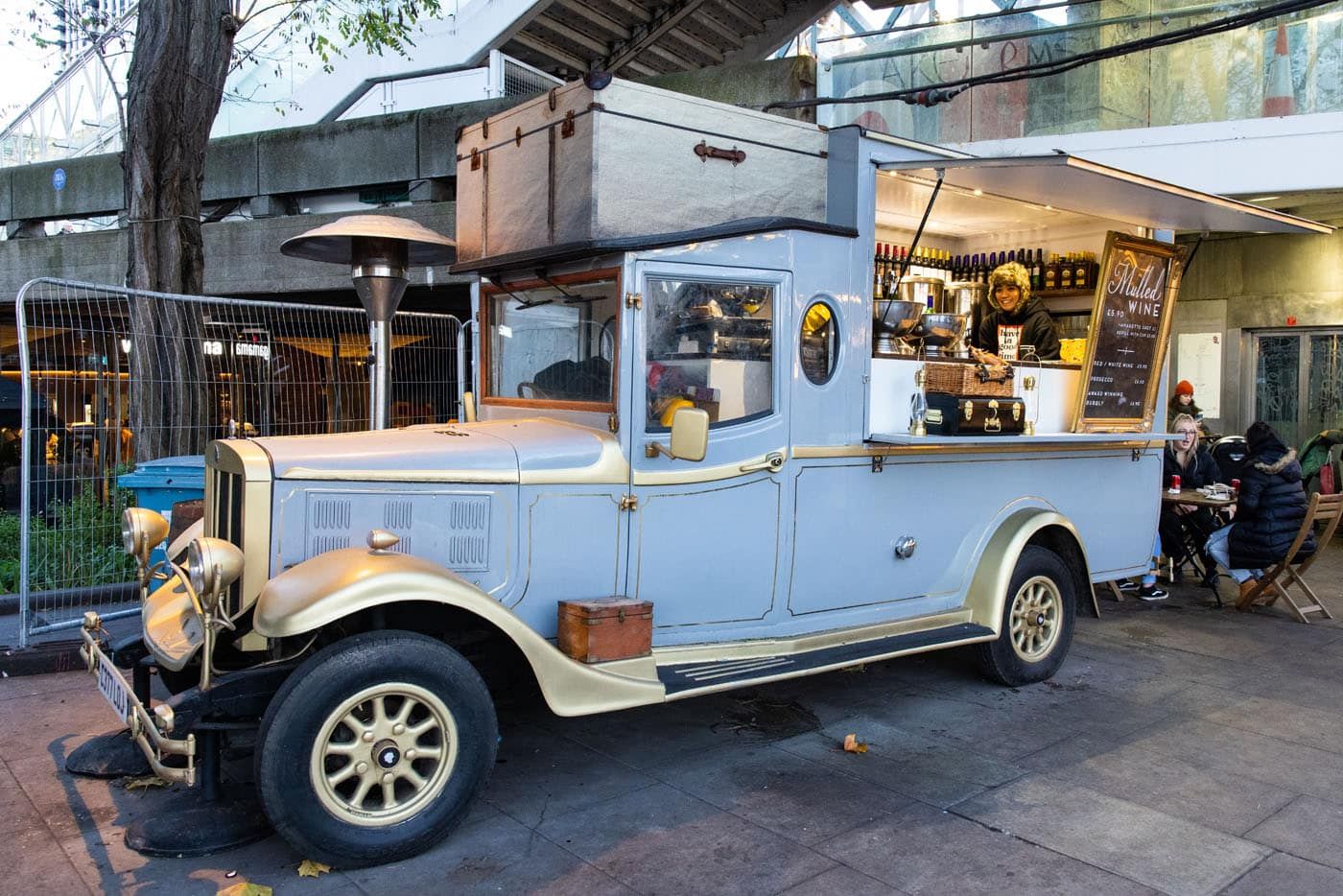 Mulled wine stand at Southbank Centre Christmas Market
However, the views from here across the river to Parliament and Big Ben are spectacular and if you have plans to ride the London Eye, it's worth the quick stroll to get here and do a little shopping, or at least warm up with a cup of mulled wine.
Combines well with: the London Eye, Westminster Bridge and Big Ben, Sea Life
Closest Underground Station: Waterloo
---
3. Christmas By the River at London Bridge City
This pop-up market is located on the south bank of the River Thames, between the London Bridge and Tower Bridge. For sale are the usual goodies, such as Christmas ornaments, sweet treats, and handmade gifts.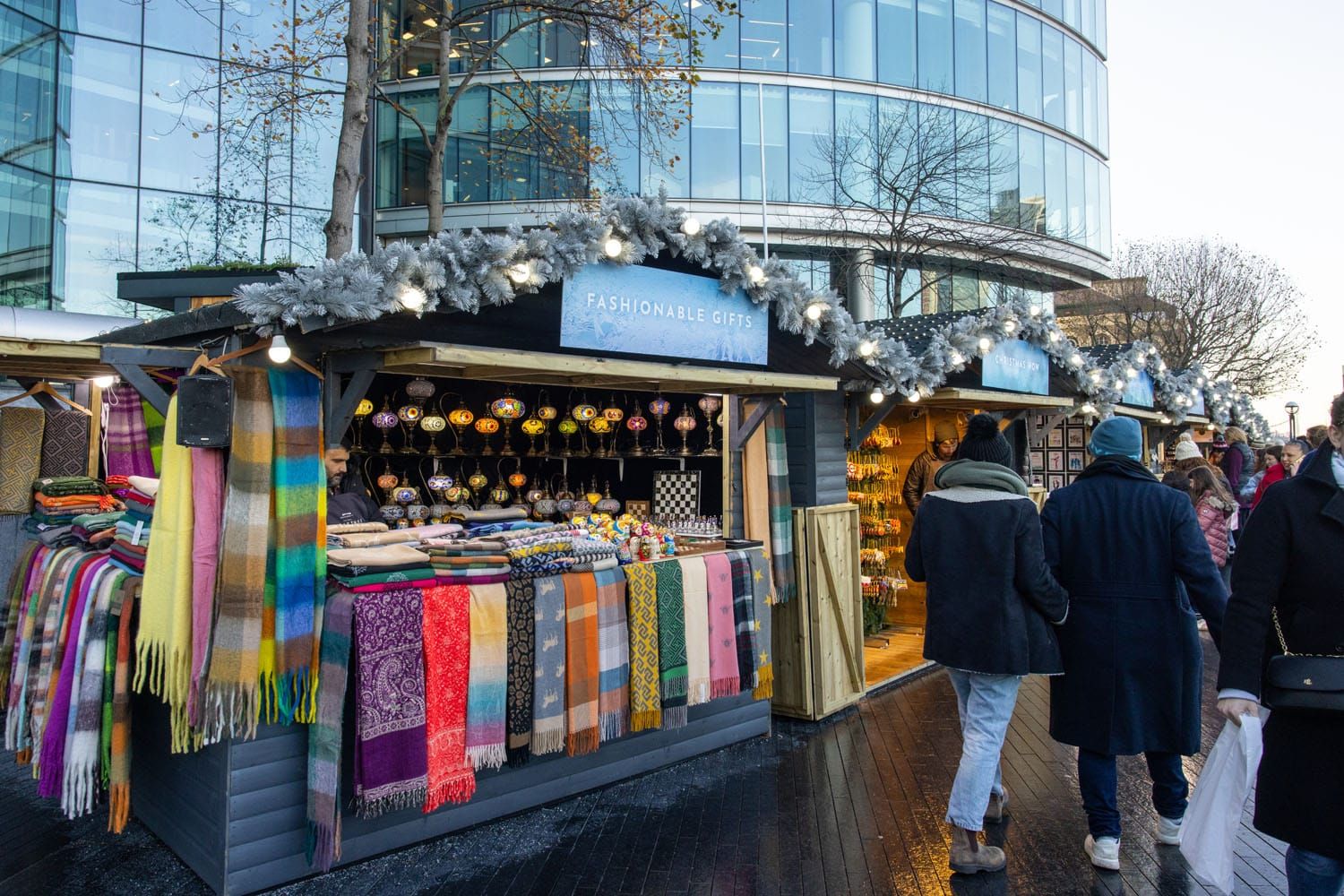 London City Christmas Market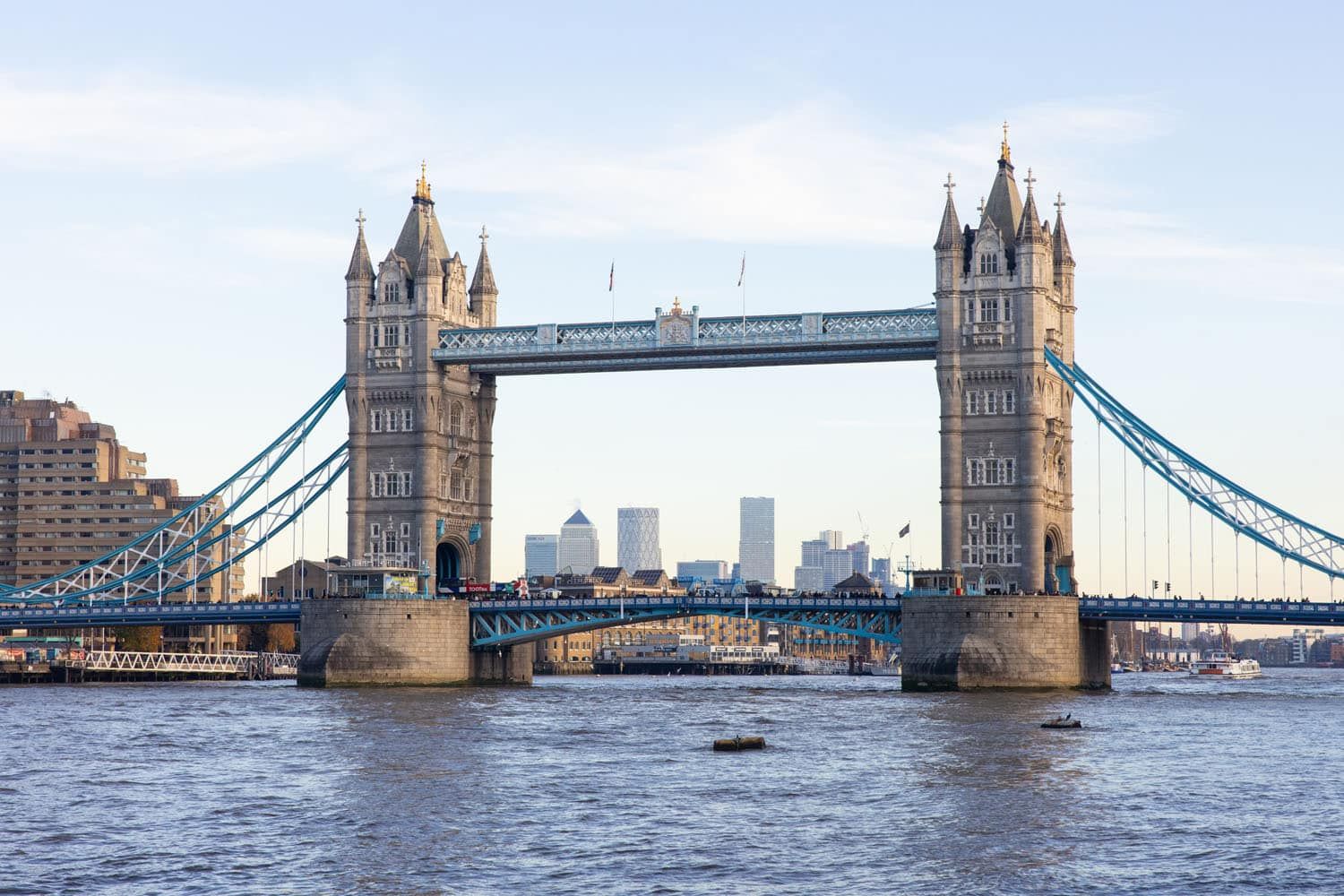 The view of Tower Bridge from London City Christmas Market
Even though the views of Tower Bridge are spectacular, this was one of our least favorite London Christmas markets.
We visited this market twice, both during the daytime, and both times it was incredibly crowded. One long strip of pop-up stalls runs along the promenade. There isn't much room to walk, and with people stopping at the stalls to go shopping and others stopping for views of the bridge, this market becomes a crowded, congested spot, at least in our experience.
Combines well with: Tower Bridge, the Shard, Borough Market
Closest Underground station: London Bridge
---
4. Christmas at Borough Market
Borough Market is open all year. This food market is well worth the visit, even outside of the Christmas season. With small restaurants and food shops, you can dine on everything from raw oysters to freshly baked bread to Taiwanese or Indian street food to French pastries.
In December, the Borough Market is decorated for Christmas. This is the perfect place to sample some new foods or shop for gifts for family and friends, ranging from olive oils to condiments to wine and liquor to foods from around the world.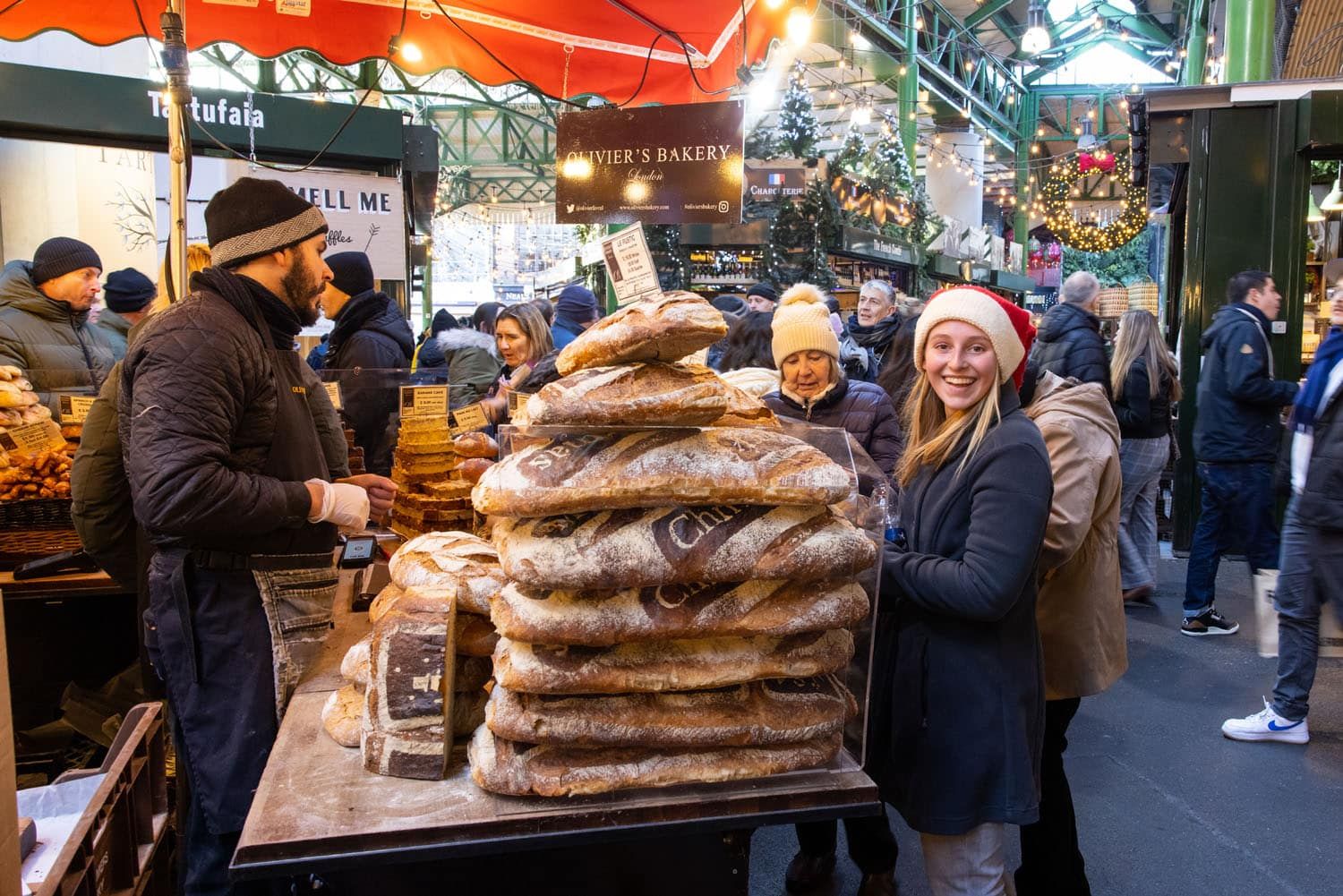 Borough Market at Christmas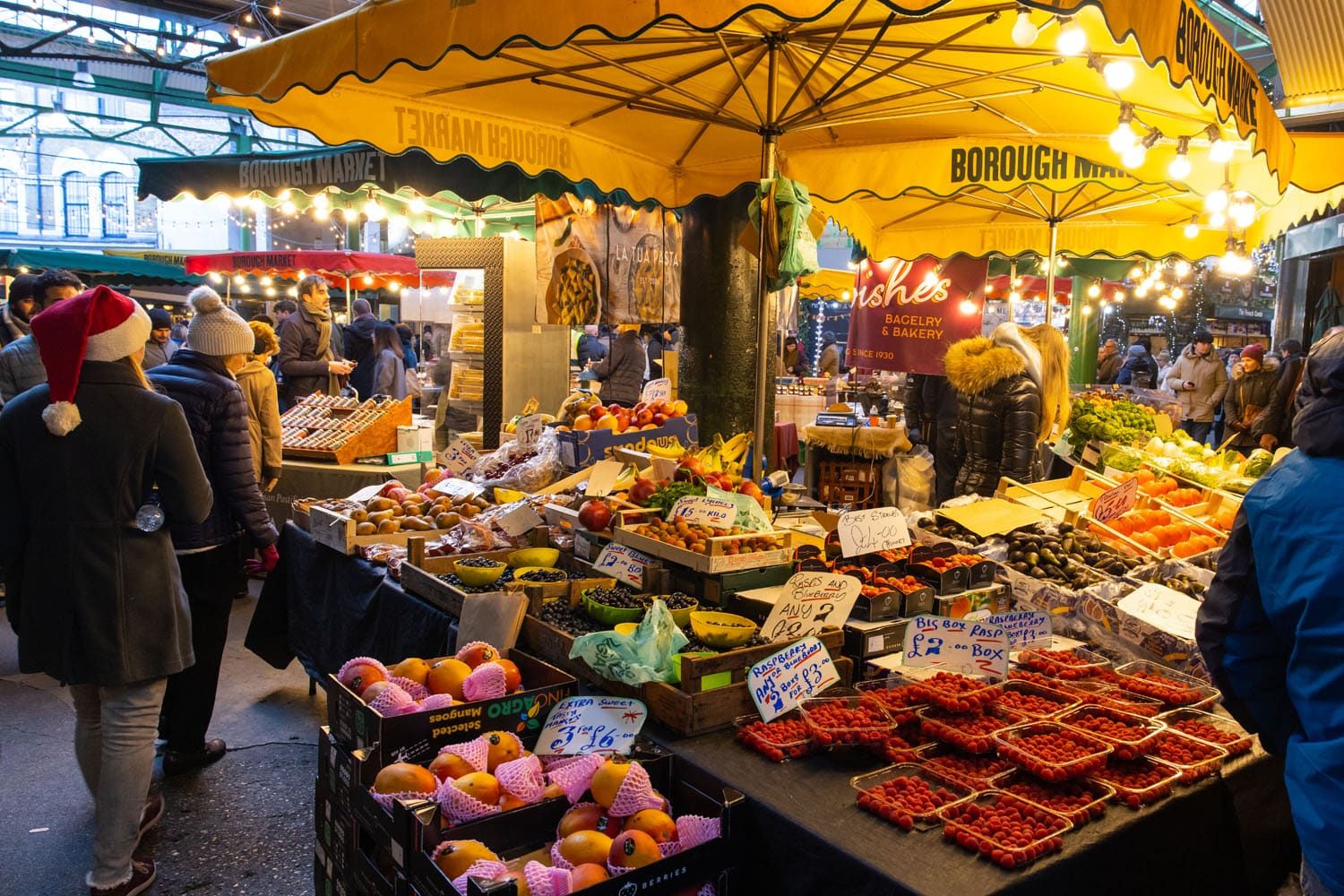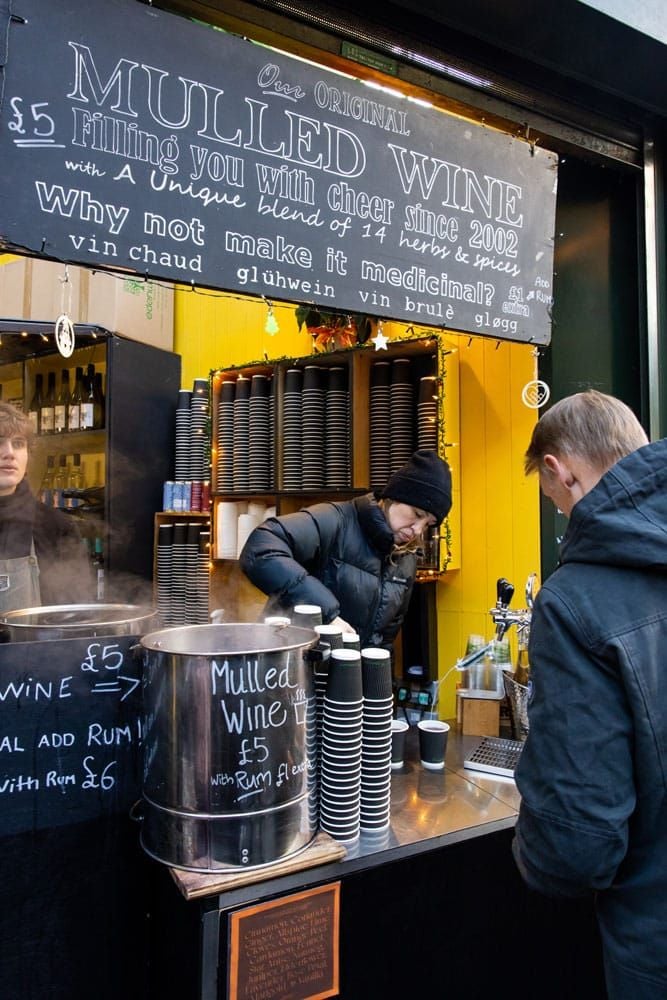 Combines well with: The Shard, Tate Modern, Tower Bridge
Closest Underground station: London Bridge
---
5. Christmas at Leicester Square
This pop-up market in Leicester Square was another one of our favorites. It's small, it's beautifully decorated, and it had some unique shops that we didn't see at other Christmas markets.
Toast marshmallows over an open fire (the smell is amazing!), shop for handmade goods (we loved the shop selling handmade hats and gloves), drink mulled wine, and try the street foods.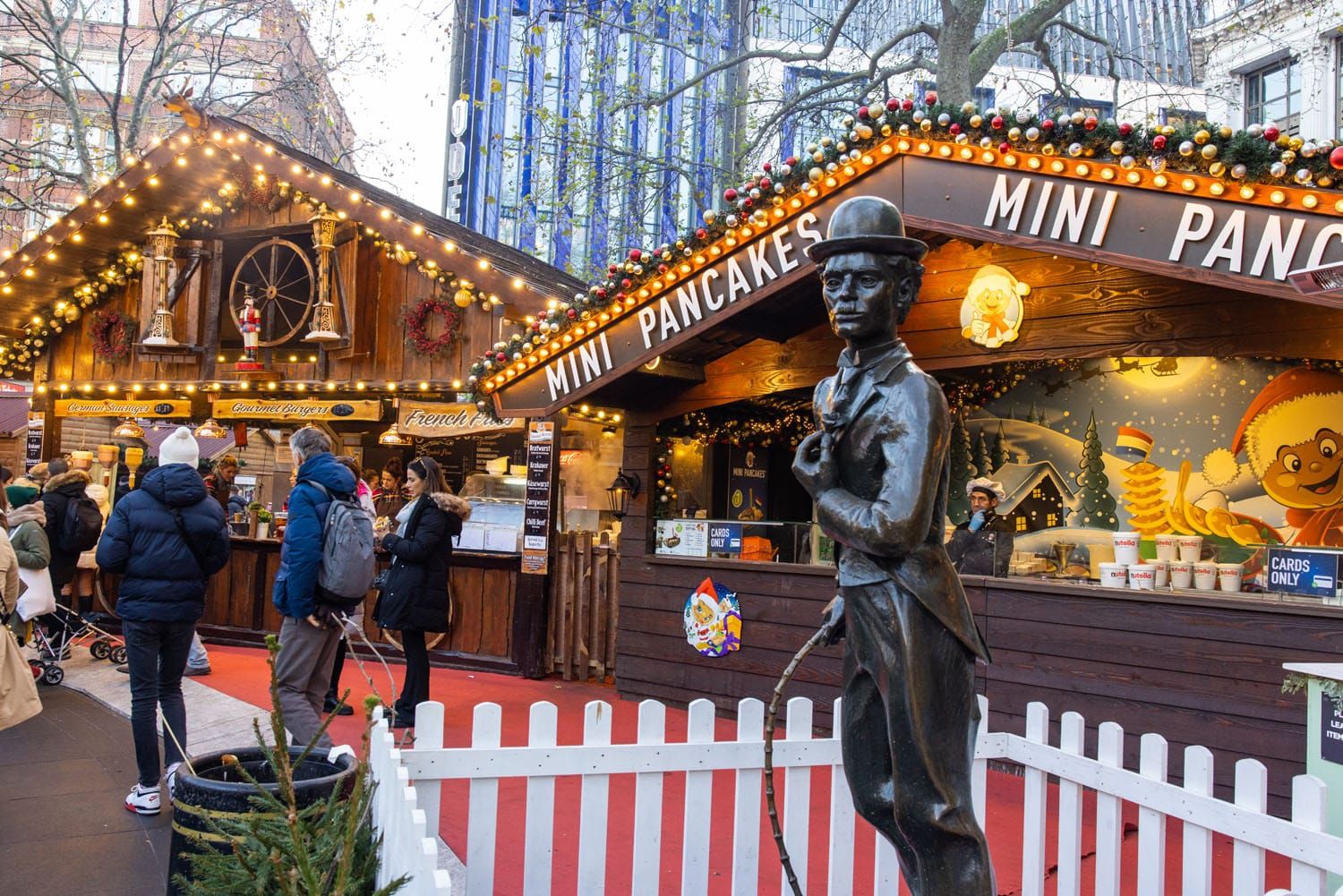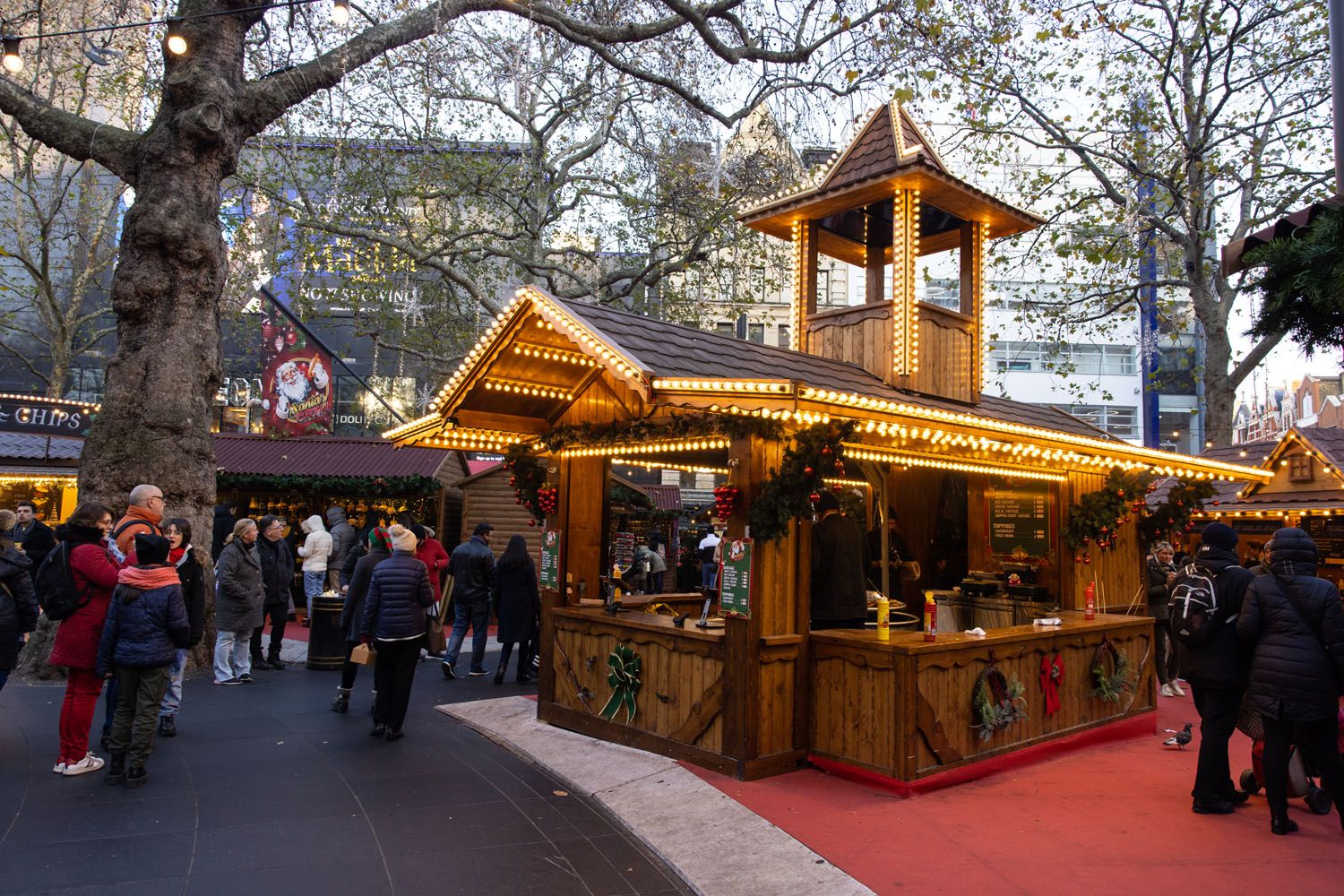 PRO TRAVEL TIP: In the mood for cocktails and Japanese food? 8 at the Londoner is a rooftop bar on top of The Londoner hotel, which is a very short walk from Leicester Square. They serve small plates of Japanese food and creative cocktails. We recommend the Lychee Rosé cocktail, the beef tataki, and the lobster tacos. It's pricey but everything we had was phenomenal.
Combines well with: Piccadilly Circus, The National Gallery, The National Portrait Gallery, Trafalgar Square, Regent Street Christmas lights, and Covent Garden
Closest Underground station: Leicester Square and Piccadilly Circus
---
6. Christmas at Covent Garden
Covent Garden is another market that is open all year but becomes a magical Christmas destination in December.
With hundreds of Christmas lights, holiday decorations, street performers, and a Christmas tree that gets bigger and more brilliantly lit year after year, this is one of the most festive places in London.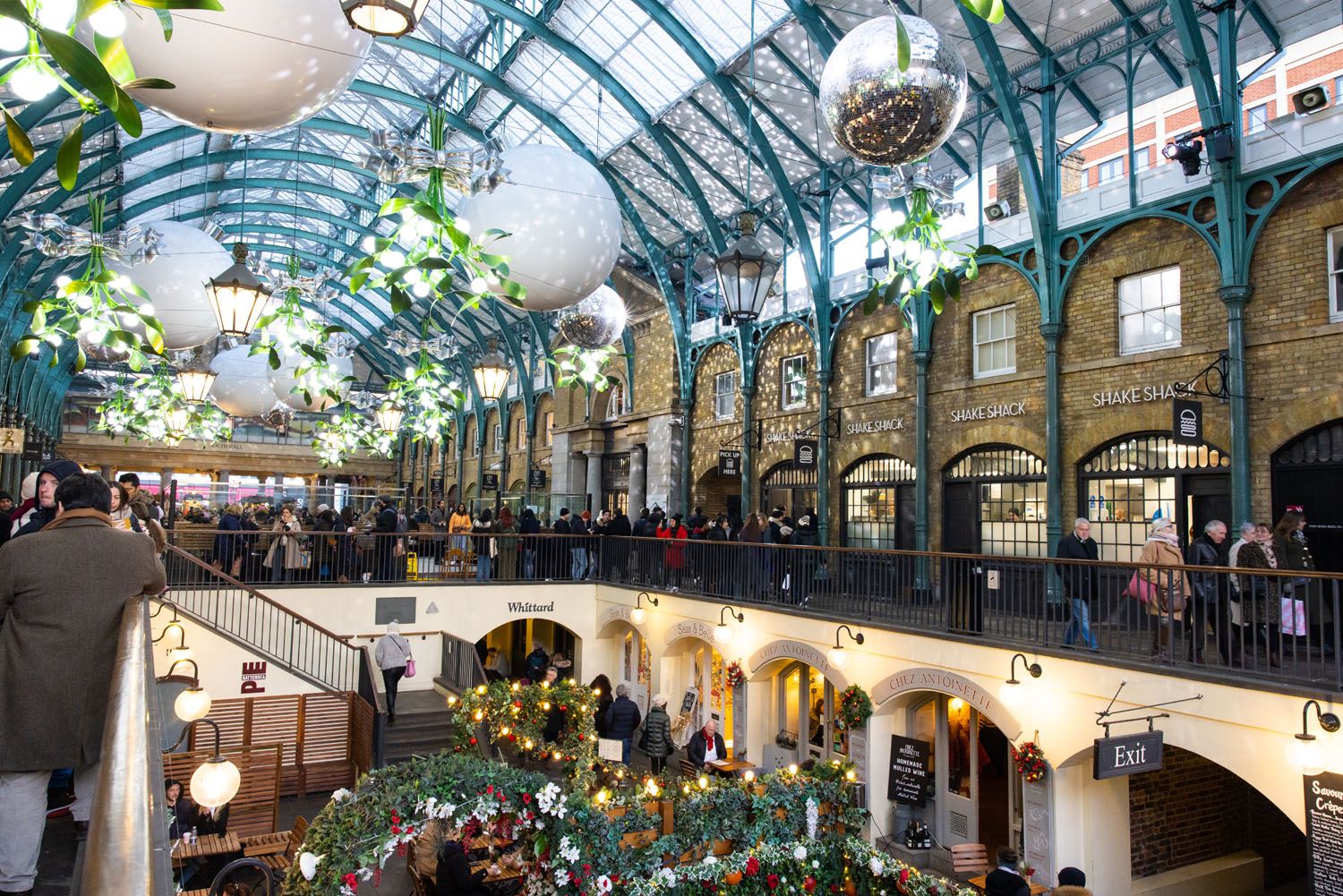 Covent Garden is a wonderful mix of shops and restaurants. Most shops are small boutique shops, but you'll also find Apple, Chanel, Free People, L'Occitane, Pandora, and Tom Ford.
For food, purchase macarons at Ladurée, have a seasonal cocktail at Frenchie's, taste the chocolate at Neuhaus and Godiva, or have mulled wine at Chez Antoinette.
For a full listing of shops, restaurants, cafes, and bars, visit the official Covent Garden website.
Combines well with: Ice skating at Somerset House, Seven Dials and Neal's Yard, Leicester Square Christmas market, The National Gallery, The National Portrait Gallery, and Trafalgar Square
Closest Underground station: Covent Garden
---
7. Christmas Markets at Winter Wonderland
Winter Wonderland is a massive Christmas amusement park/Christmas market. People either love it or hate it. It tends to be crowded and expensive.
We visited Winter Wonderland midday on a weekday in early December and had a great experience. Crowds were low and prices seemed to be on par with other Christmas markets and shops we visited in London. However, in the evenings (after 4 pm), crowd levels really pick up. It you want a quieter experience, visit midday like we did.
Winter Wonderland has a little bit of everything. There's an ice rink, a small Christmas market, a Bavarian village, an ice bar (called Bar Ice), rides, shows, and a Magical Ice Kingdom. Santa Clause makes a daily appearance at Santaland.
Ice rink at Winter Wonderland
The Christmas market was basically the same as the other pop-up markets we visited around London, so if your only reason to visit Winter Wonderland is for the market, we recommend visiting one of the other ones instead. You will have to pay an entrance fee to enter Winter Wonderland and the fee is only worth it if you plan to do more here.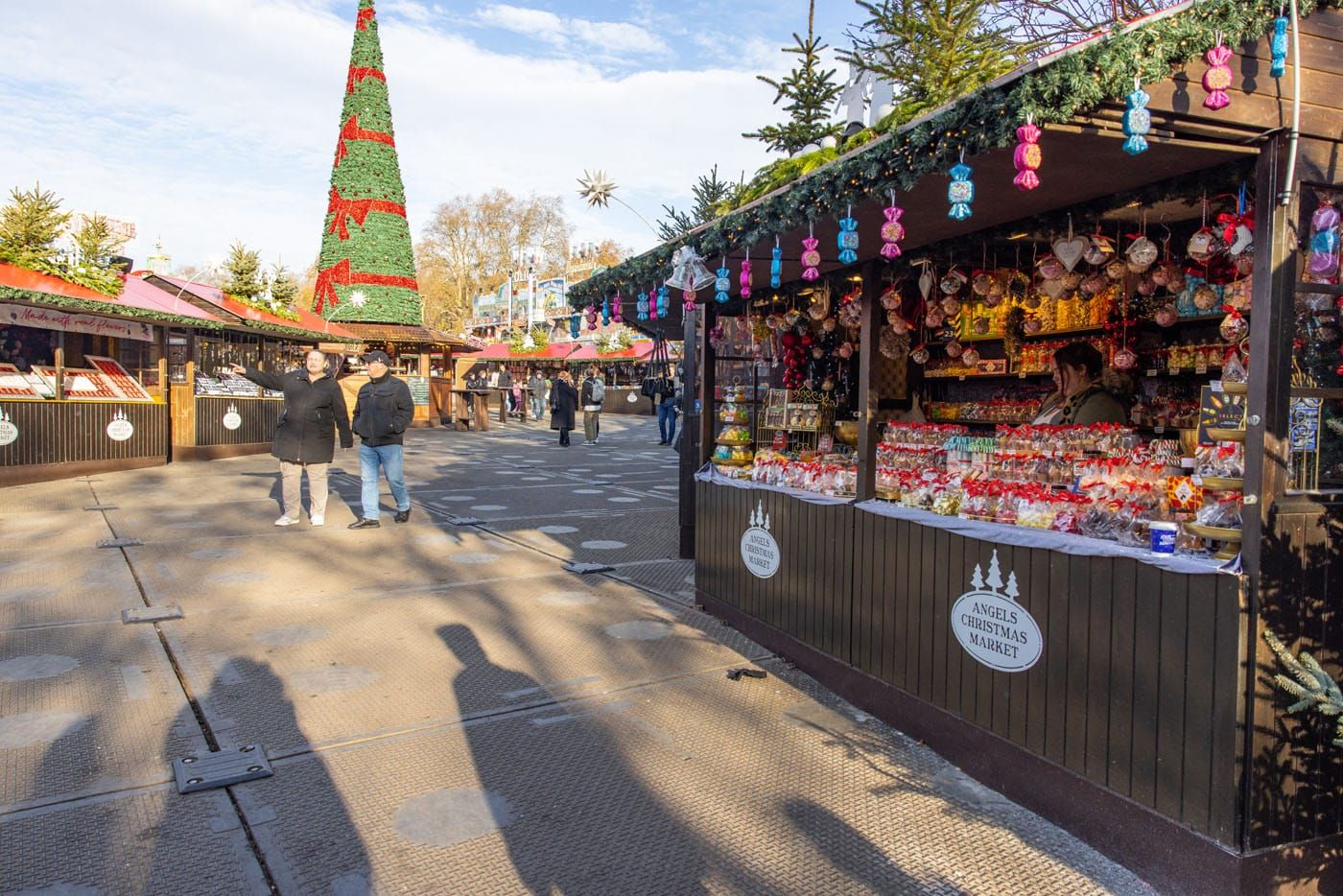 Winter Wonderland Christmas Market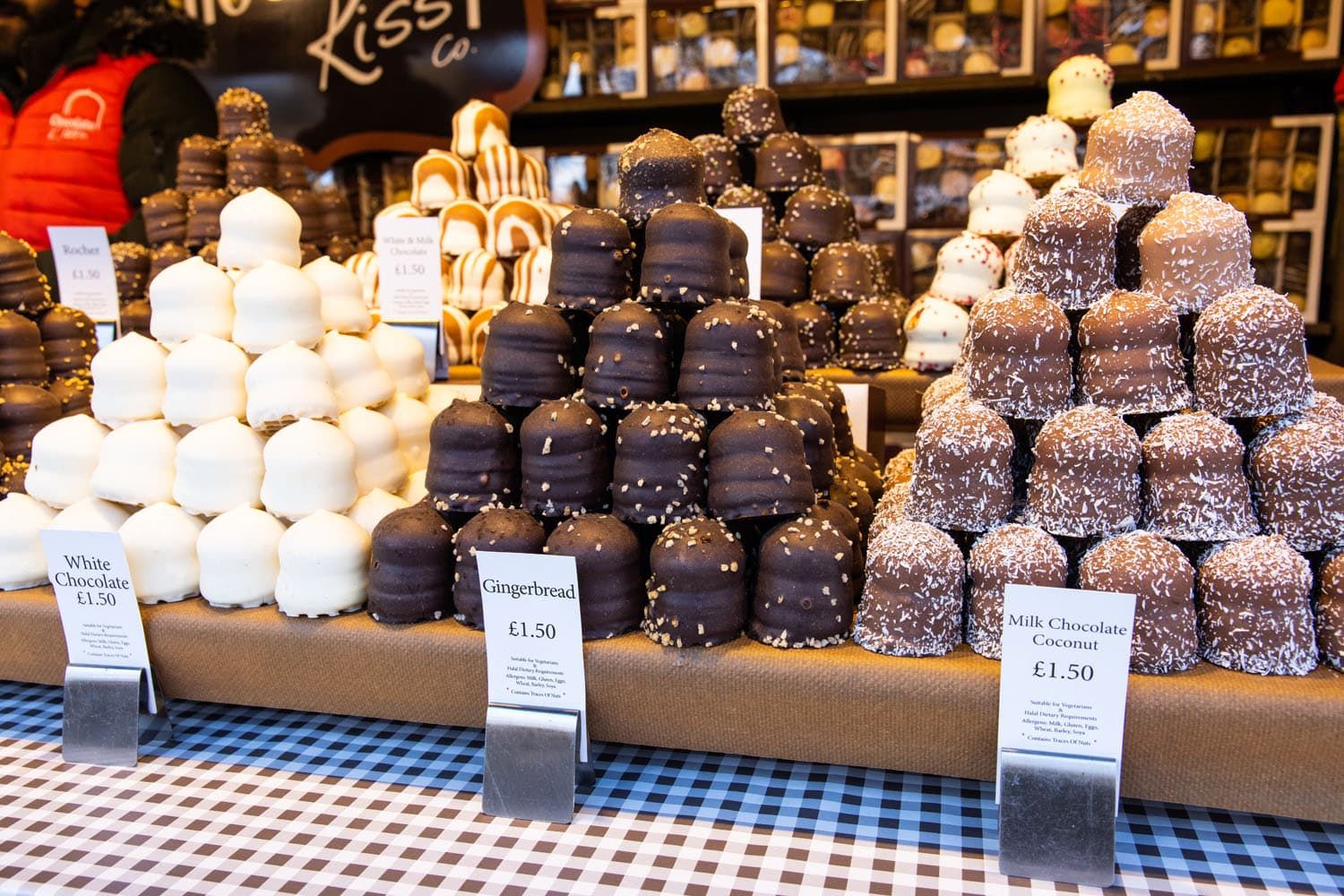 Chocolate covered marshmallows. We saw these at most of the London Christmas markets.
The Bavarian Village is wonderful. Dine on German food and have a beer in the covered beer hall.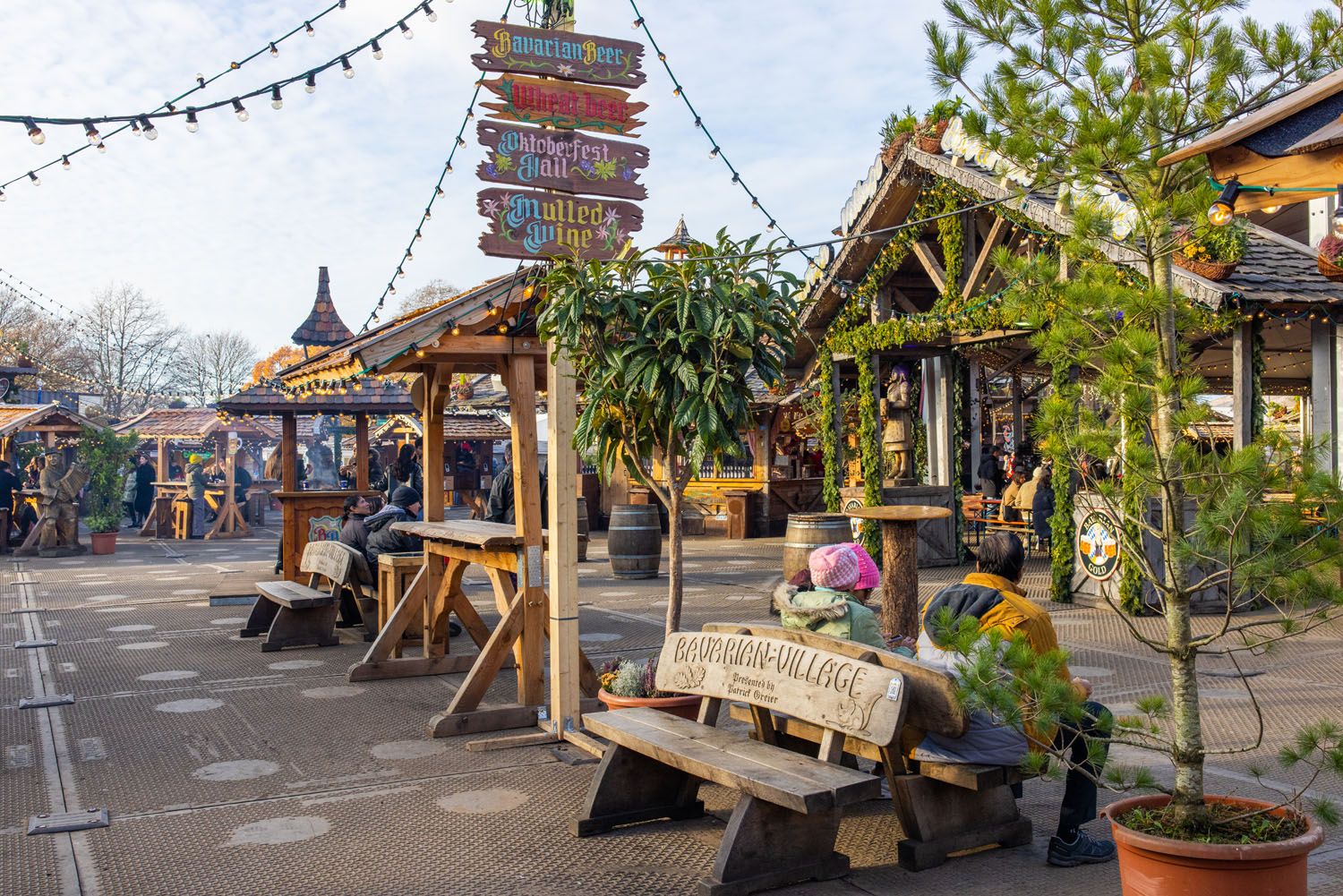 Bavarian Village
Bavarian Village
Kara and I rode the Blizzard and loved it (the view of London while you are sitting at the top, before it starts swinging you around, is incredible). Other highlights were the Magical Ice Kingdom (the best ice sculptures we have seen) and Bar Ice.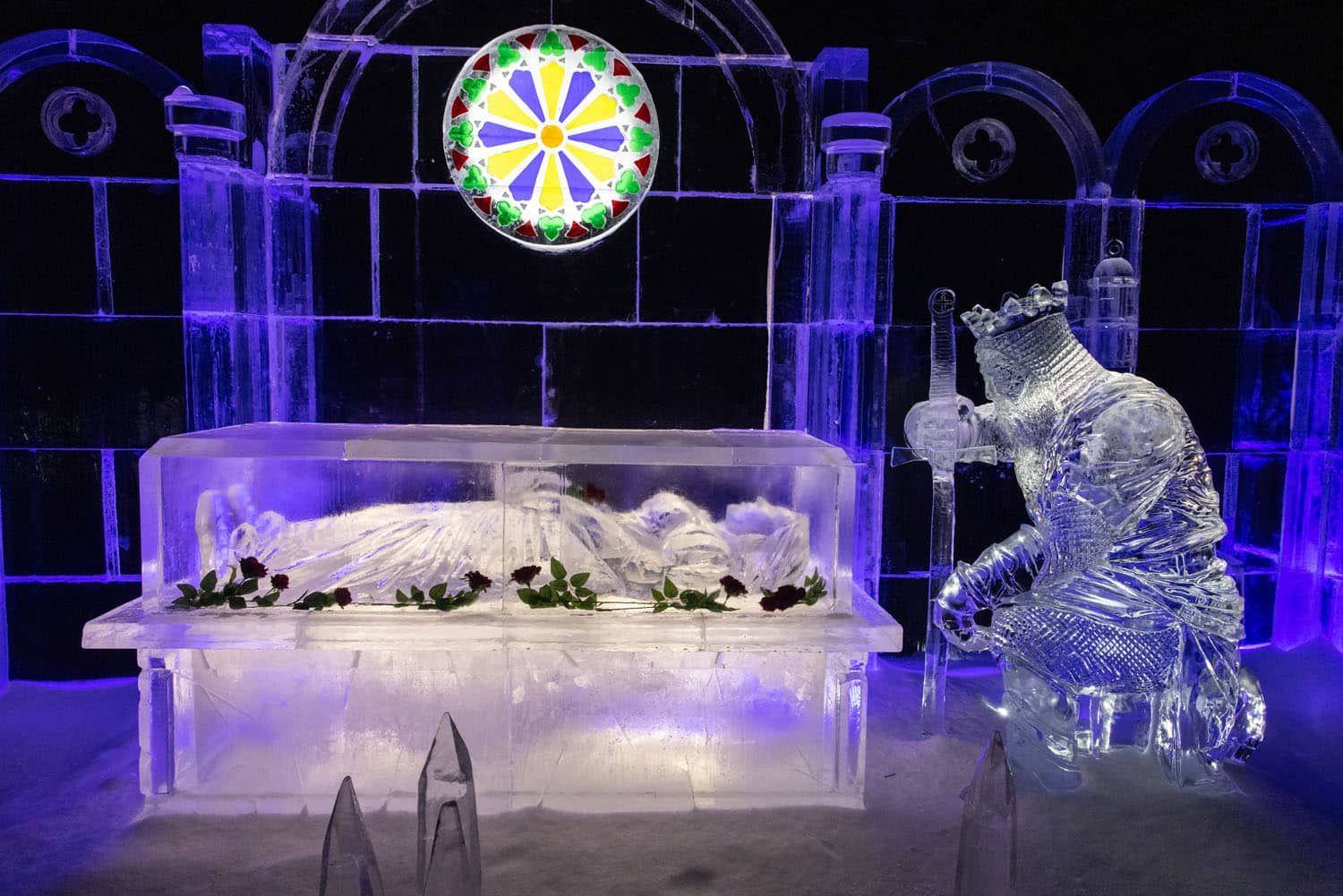 Magical Ice Kingdom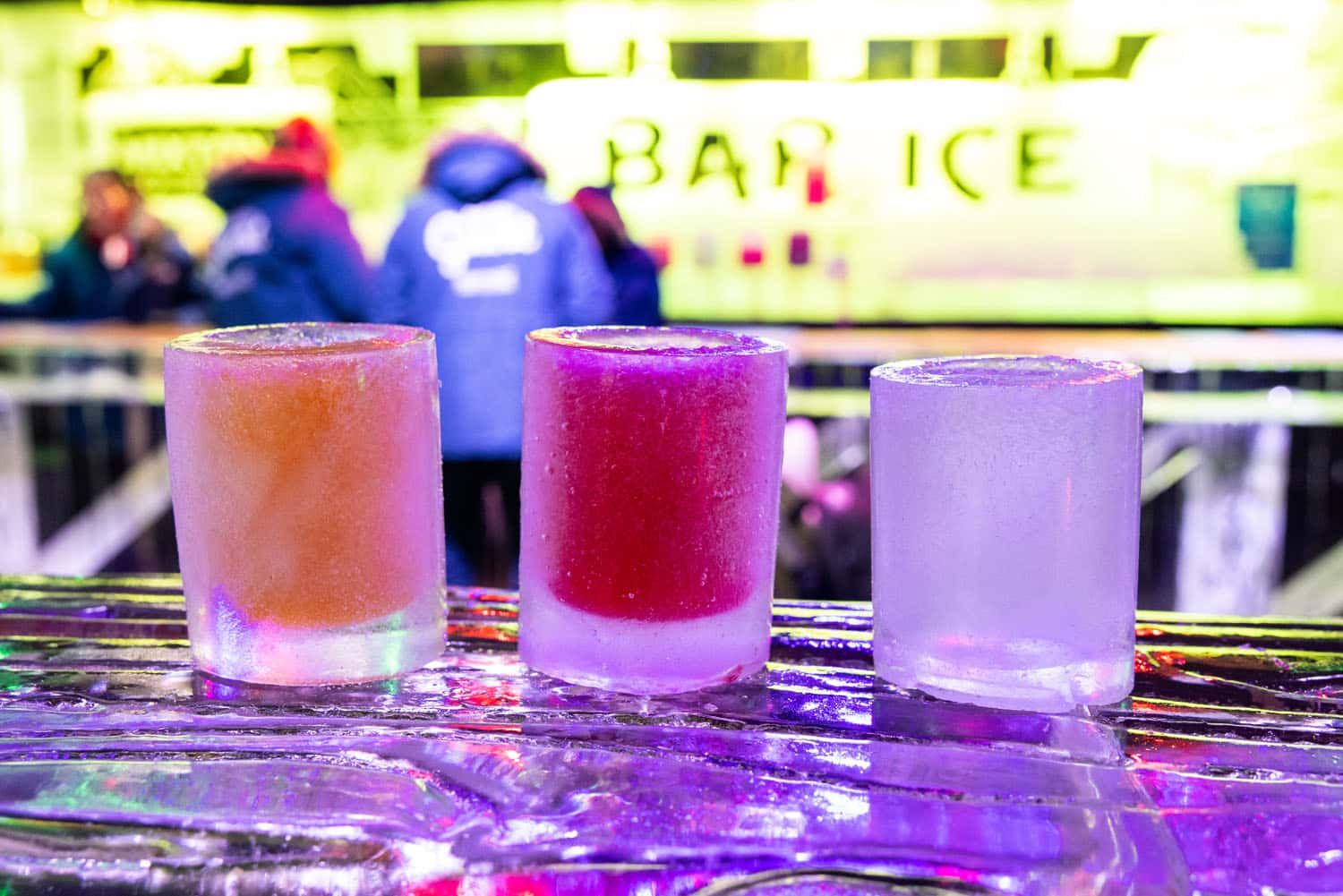 Bar Ice
If you are visiting London with kids, Winter Wonderland is a must-do. But if you don't have kids, have no desire to go ice skating, ride the rides, visit the Bavarian Village, or visit the ice bar, then skip Winter Wonderland.
Combines well with: Buckingham Palace, Mayfair, Harrods
Closest Underground station: Hyde Park Corner, Marble Arch, Knightsbridge
Best London Christmas Markets: On a Map
How to Use This Map: Click the tab in the top left hand corner of the map to view the layers (places to go and the walking routes). You can click the check marks to hide or show layers. If you click the icons on the map, you can get more information about each point of interest.

If you click the star next to the title of the map, this map will be added to your Google Maps account. To view it on your phone or computer, open Google Maps, click the menu button, go to "Your Places," click Maps, and you will see this map on your list.
---
If you have any questions about the London Christmas markets, let us know in the comment section below.
More Information for Your Trip to London
LONDON ITINERARY: In our article 5 Days in London, we include detailed daily itineraries for exploring London. You can do all five days or follow just a day or two, if you have less time in the city.
BEST OF LONDON: For a list of the top experiences in London, read our article Best Things to Do in London. Tour Westminster Abbey in photos and plan your visit in our Guide to Westminster Abbey. And learn how to plan a day trip to Windsor Castle from London.
LONDON TRAVEL ADVICE: Here are 12 important things to know if it will be your first time in London.
WHERE TO STAY: Take the guesswork out of where to stay in our article Best Places to Stay in London.
LONDON AT CHRISTMAS: For an overview of what to do, here are 15 things to do in London at Christmas. We also have guides to the best Christmas lights and best Christmas markets. Learn how to put it all together in our London Christmas Itinerary.
ITINERARIES WITH LONDON: London and Paris can be combined into a wonderful 7 or 10 day trip. With 10 days, you can also visit London, Amsterdam, and Paris.
TRAVEL INSPIRATION: Here are 15 fairytale destinations to visit around the world. And if you are considering a trip to Europe, check out our article 30 Beautiful Places to Visit in Europe.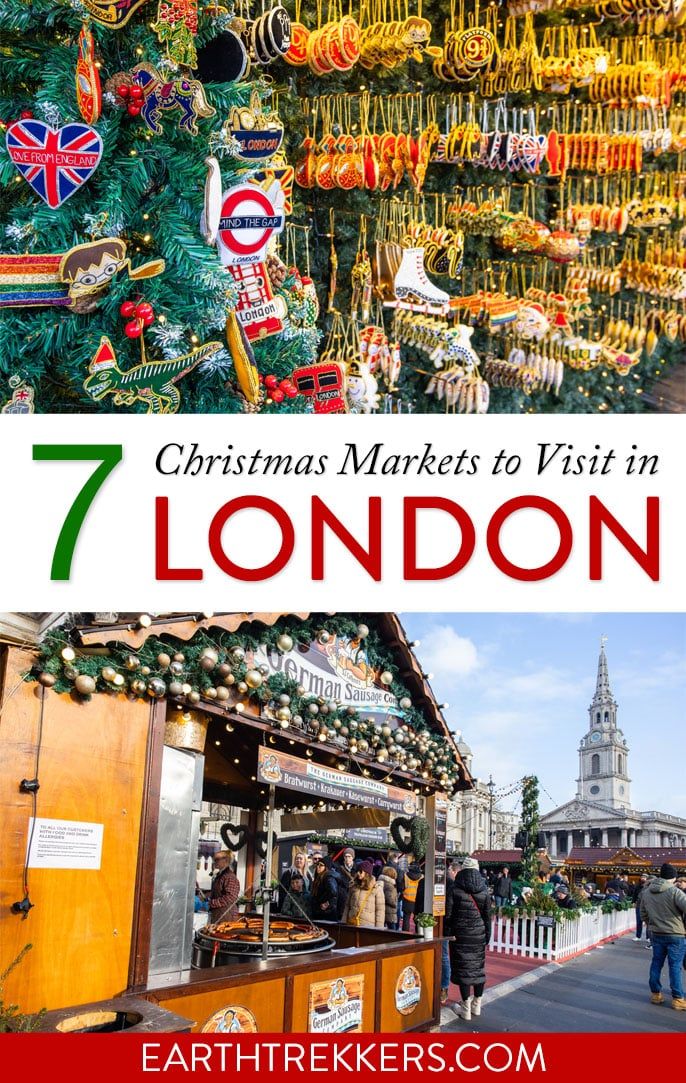 All rights reserved © Earth Trekkers. Republishing this article and/or any of its contents (text, photography, etc.), in whole or in part, is strictly prohibited.