Christmas markets, holiday themed afternoon tea, dazzling displays of Christmas lights, ice skating, shopping, and cozy pubs decorated for the holidays…these are all things to see and do in London at Christmas.
London is magical at Christmas. The city streets sparkle with thousands of Christmas lights, famous department stores create elaborate holiday themed window displays, and Christmas markets pop up throughout town.
London at Christmas is a wonderful trip idea for all ages. Kids will love seeing Santa and riding the rides at Winter Wonderland, ice skating, and Christmas-themed afternoon tea. Adults will love dining in a restaurant beautifully decorated for Christmas, shopping in the Christmas markets, and sipping on mulled wine.
If you are planning a visit to London in December, in this guide we cover 15 festive things to do in the city. For even more things to do, don't miss our London Bucket List, where we list the top experiences in London, regardless of the time of year.
Best Things to Do in London at Christmas
1. The London Christmas Markets
In November, Christmas markets pop up throughout central London. Filled with stocking stuffers, holiday decorations, clothing, and street food, these small markets are the perfect place to browse for gifts for friends and family, try some new foods, sip on mulled wine, and get into the holiday spirit.
We have a guide to the best Christmas markets in London, but here is an overview of four popular markets.
Christmas Market at Trafalgar Square
Located on the terrace in front of The National Gallery, this small market was one of our favorites in London. What we loved most about Christmas in Trafalgar Square was the setting. The view of Trafalgar Square and down Whitehall to Big Ben and Parliament is amazing.
For sale are Christmas ornaments, hats and gloves, various types of street food, and unique gift ideas for friends and families.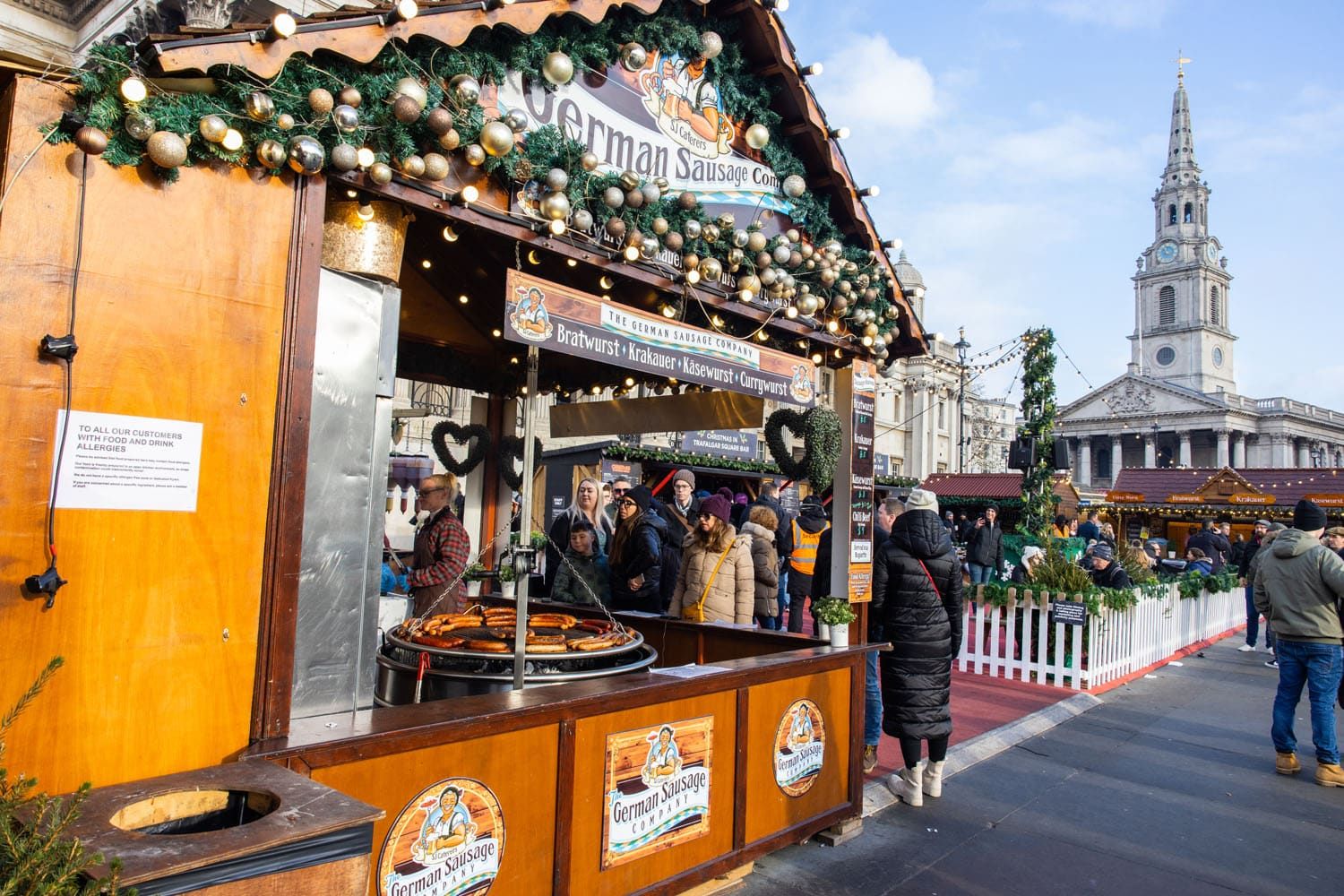 Trafalgar Square Christmas market
Southbank Centre Christmas Market
Just steps away from the London Eye, on the bank of the River Thames, is the Southbank Centre Christmas Market. This is one of the smallest Christmas markets in London and it only takes a few minutes to stroll past the few shops it contains. This market is more about food and drinks rather than purchasing gifts or souvenirs.
If you have plans to ride the London Eye, it's worth the quick walk to this market, to try some new foods, or warm up with a cup of mulled wine or hot cider.
Christmas at Leicester Square
This pop-up market in Leicester Square was another one of our favorites. It's small, it's beautifully decorated, and it had some unique shops that we didn't see at other Christmas markets.
Toast marshmallows over an open fire (the smell is amazing!), shop for handmade goods (we loved the shop selling handmade hats and gloves), drink mulled wine, and try the street foods.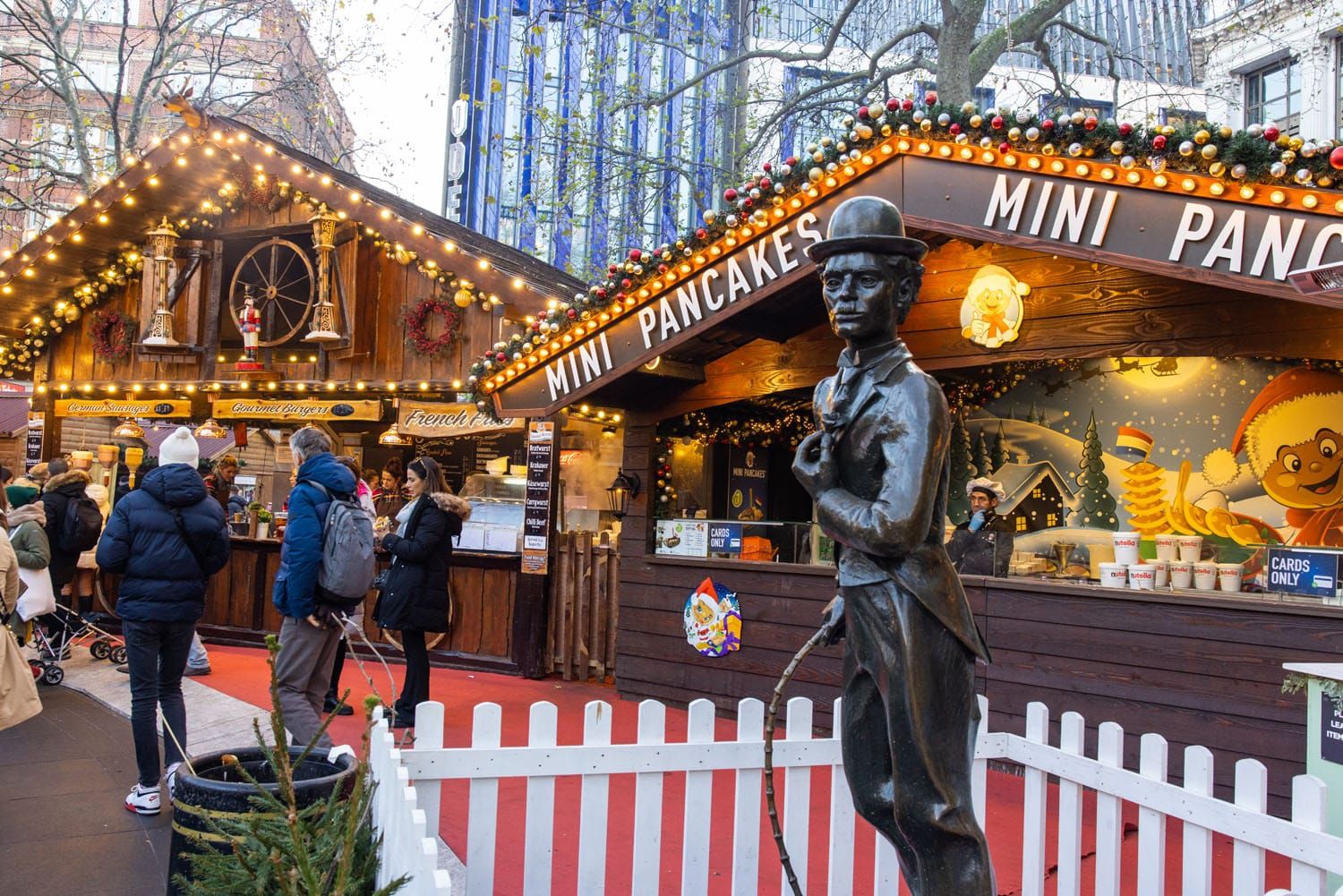 Leicester Square Christmas market
Christmas By the River at London Bridge City
This pop-up market is located on the south bank of the River Thames, between the London Bridge and the Scoop. For sale are the usual goodies, such as Christmas ornaments, sweet treats, and handmade gifts. The best part about this market is the amazing view of Tower Bridge.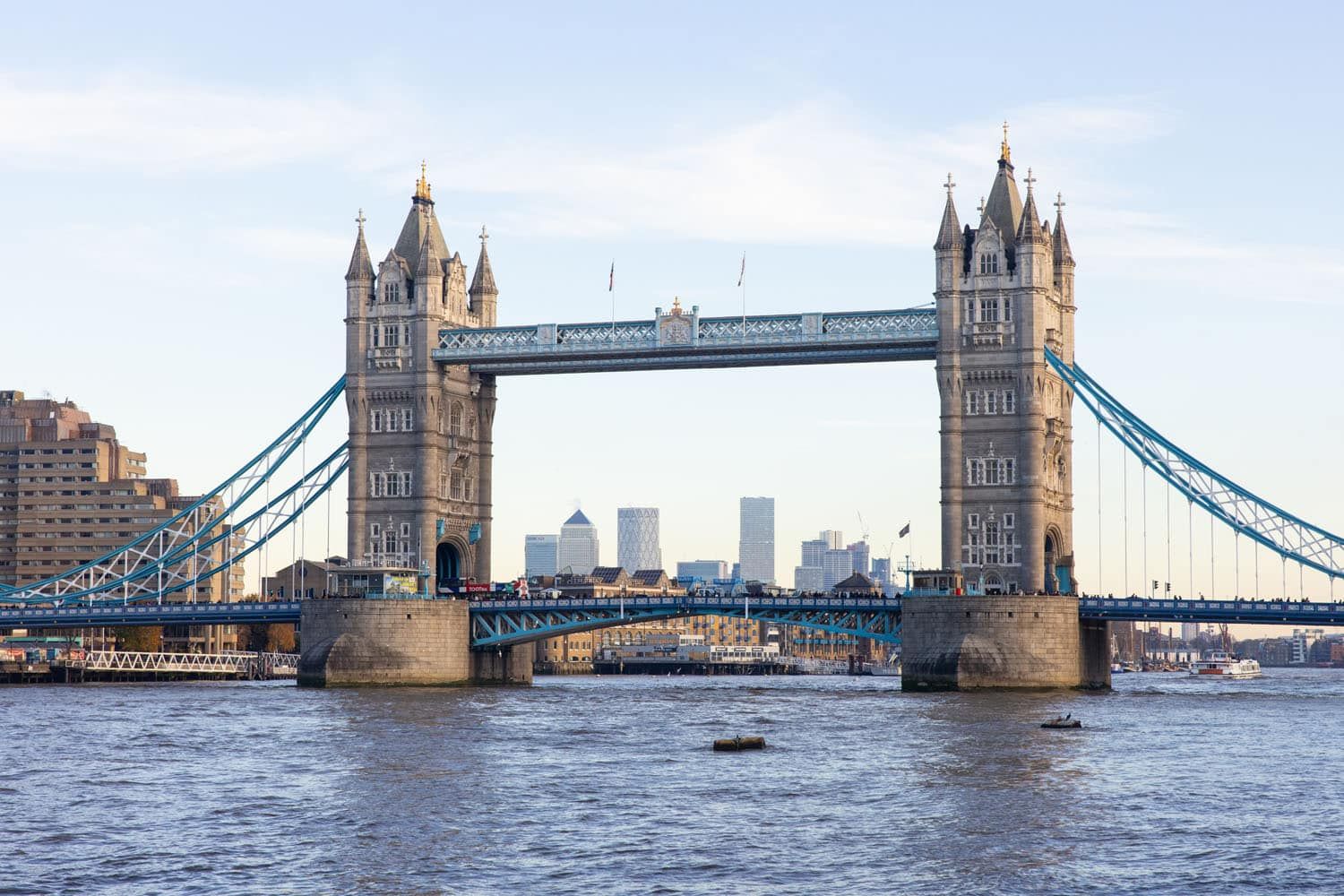 The view of Tower Bridge from London Bridge City Christmas market
2. Shopping at London's Department Stores
In December, many of the department stores throughout London have elaborate window displays and decorations throughout their stores.
Harrod's
Harrod's is London's premiere department store. Seven floors are filled with luxury items to purchase from all around the world. They even offer afternoon tea. Harrod's is located in Knighstbridge on Brompton Road.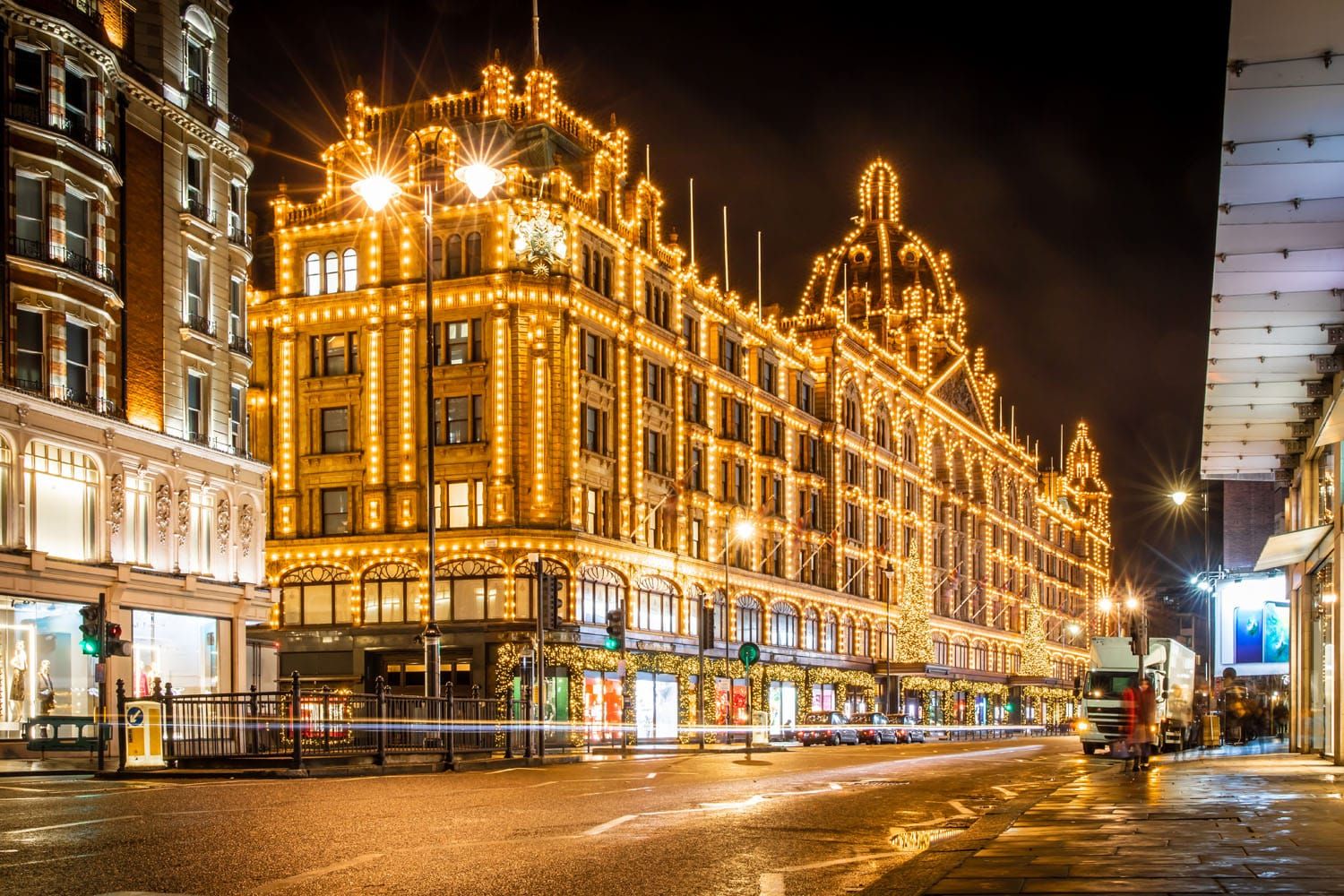 Harrod's | Alexey Fedorenko/shutterstock.com
Liberty London
It's worth just seeing this department store from the outside. Its exterior façade resembles a Tudor building. Inside, for sale are men's and women's clothing, jewelry, and Liberty fabric, which is famous for its bold, colorful prints. Liberty London is located in the West End on Great Marlborough Street.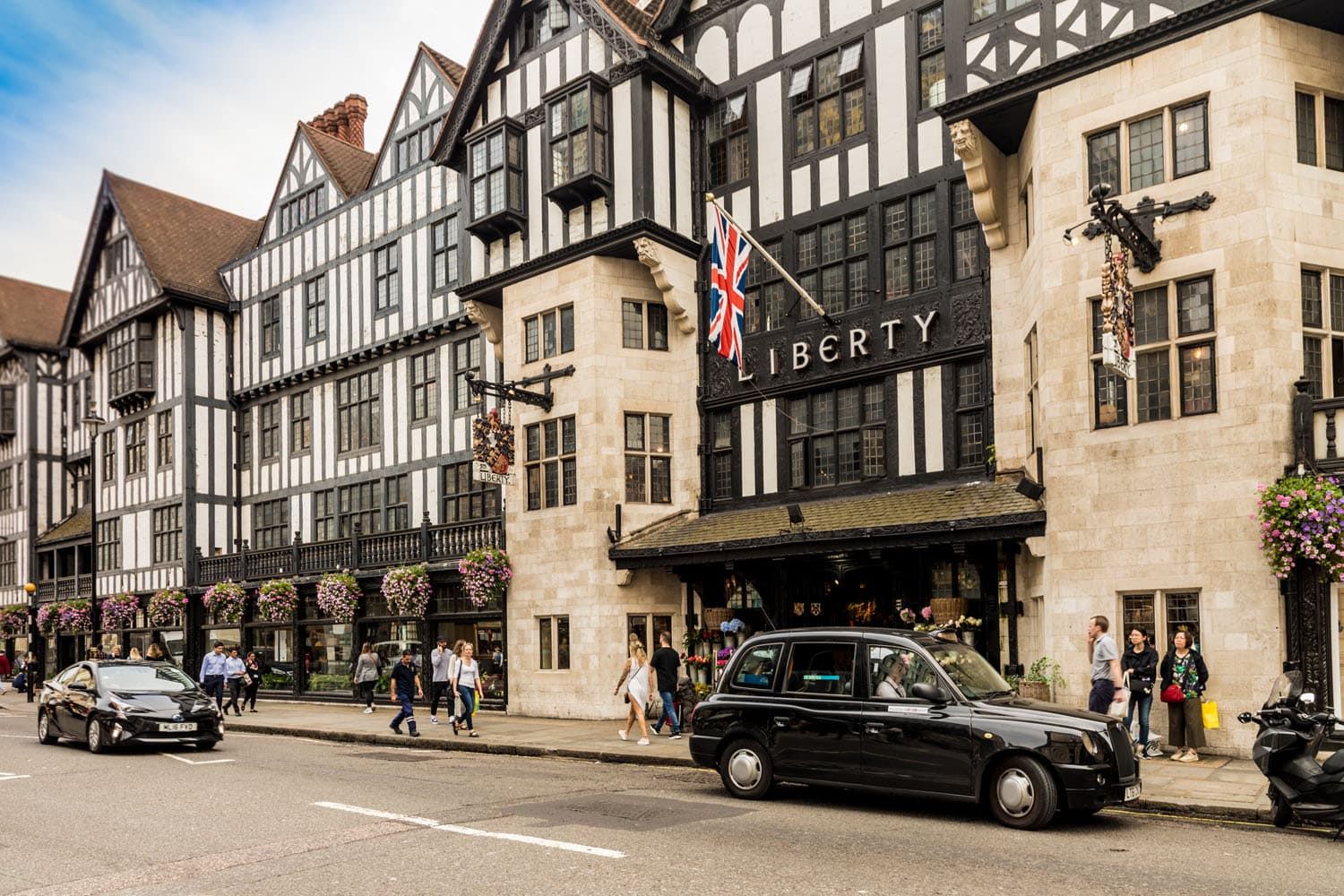 Liberty London | Chrispictures/shutterstock.com
Selfridges
Selfridges is a high-end department store that is located on Oxford Street. This store is famous for its creative window designs, so much so that they have been photographed and featured in Vogue, Icon, Harper's Bazaar, and The New York Times. In December, the window displays take on a Christmas theme.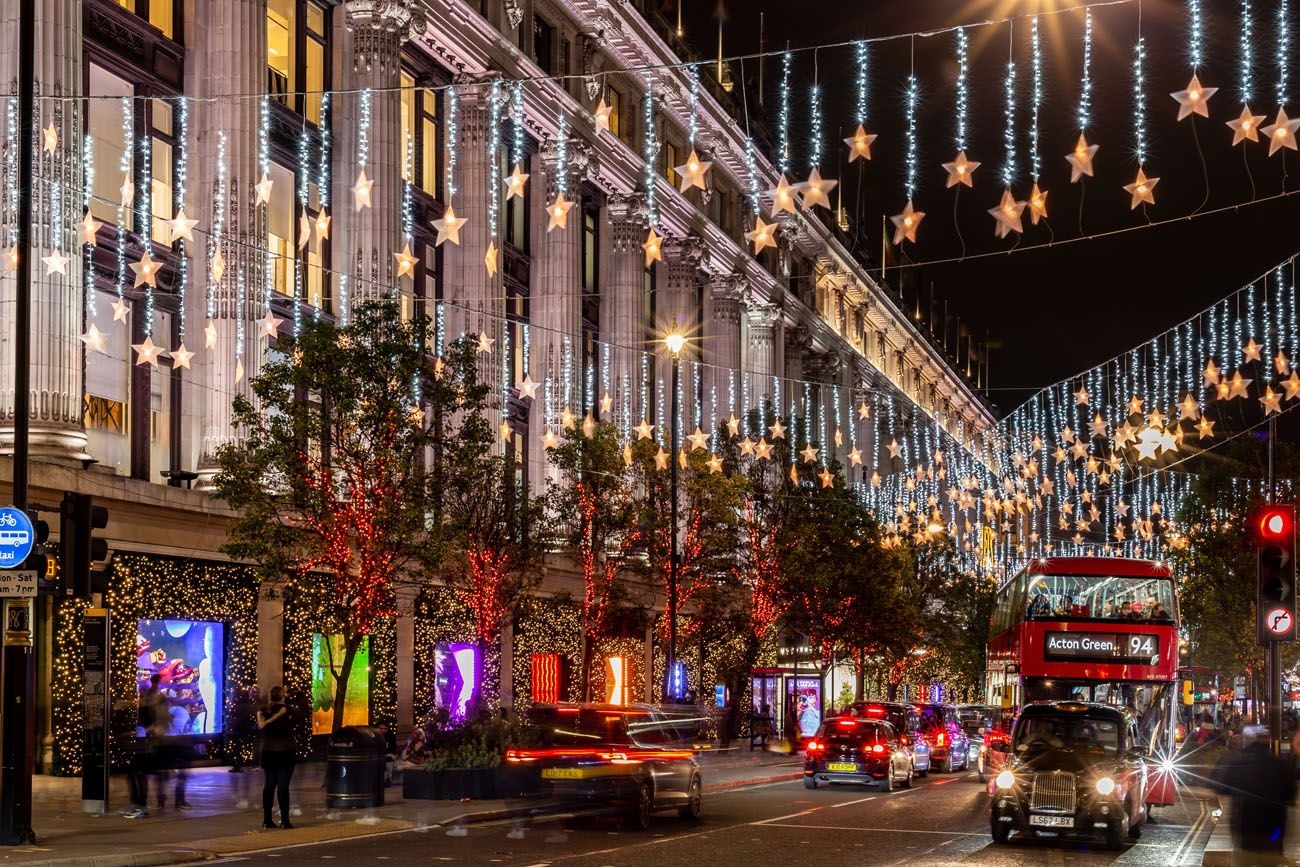 Selfridges and Christmas lights on Oxford Street | Dave Jacobs/shutterstock.com
Fortnum and Mason
This department store started off as a grocery store, dating back to the 1700's. It first sold exotic goods from around the world, imported by the East India Company. Now, it is one of the best places in London to shop for tea and biscuits. During the holiday season, the outside of Fortnum and Mason is decorated as an advent calendar. Each day in December, another window is illuminated, counting down the days until Christmas.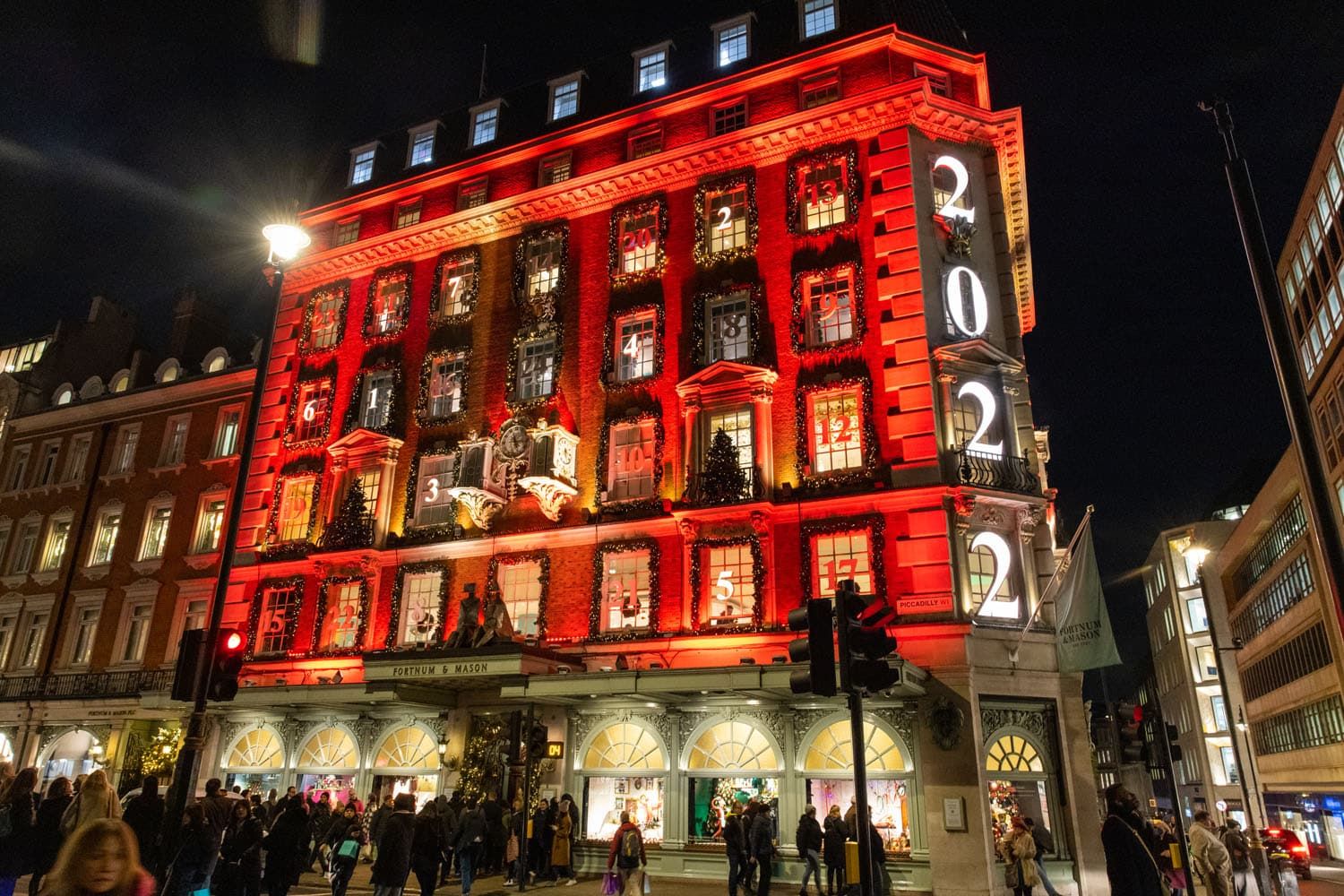 Fortnum and Mason | Things to do in London at Christmas
Hamley's
Hamley's is London's largest toy store. If you are visiting London with kids, don't miss this colorful, somewhat chaotic store during the holiday season. It is located on Regent Street.
3. The London Christmas Lights
From November through early January, the city streets of London are adorned with brilliant displays of twinkling lights and holiday decorations. Seeing the Christmas lights is one of the best free things to do in London at Christmas.
In our guide to the London Christmas lights, we list 15 places to see these displays. Below is an overview of the best streets and neighborhoods to visit in London to see the Christmas lights.
PRO TRAVEL TIP: In December, sunset is at 3:50 pm, which gives you plenty of evening hours to see the lights.
Regent Street
With a theme of "The Spirit of Christmas," a canopy of twinkling spirits run the length of Regent Street, from Langham Place, through Oxford Circus, to Waterloo Place. Add in few red double decker buses and shops decorated for Christmas and you have one of the best places in London to see the Christmas lights.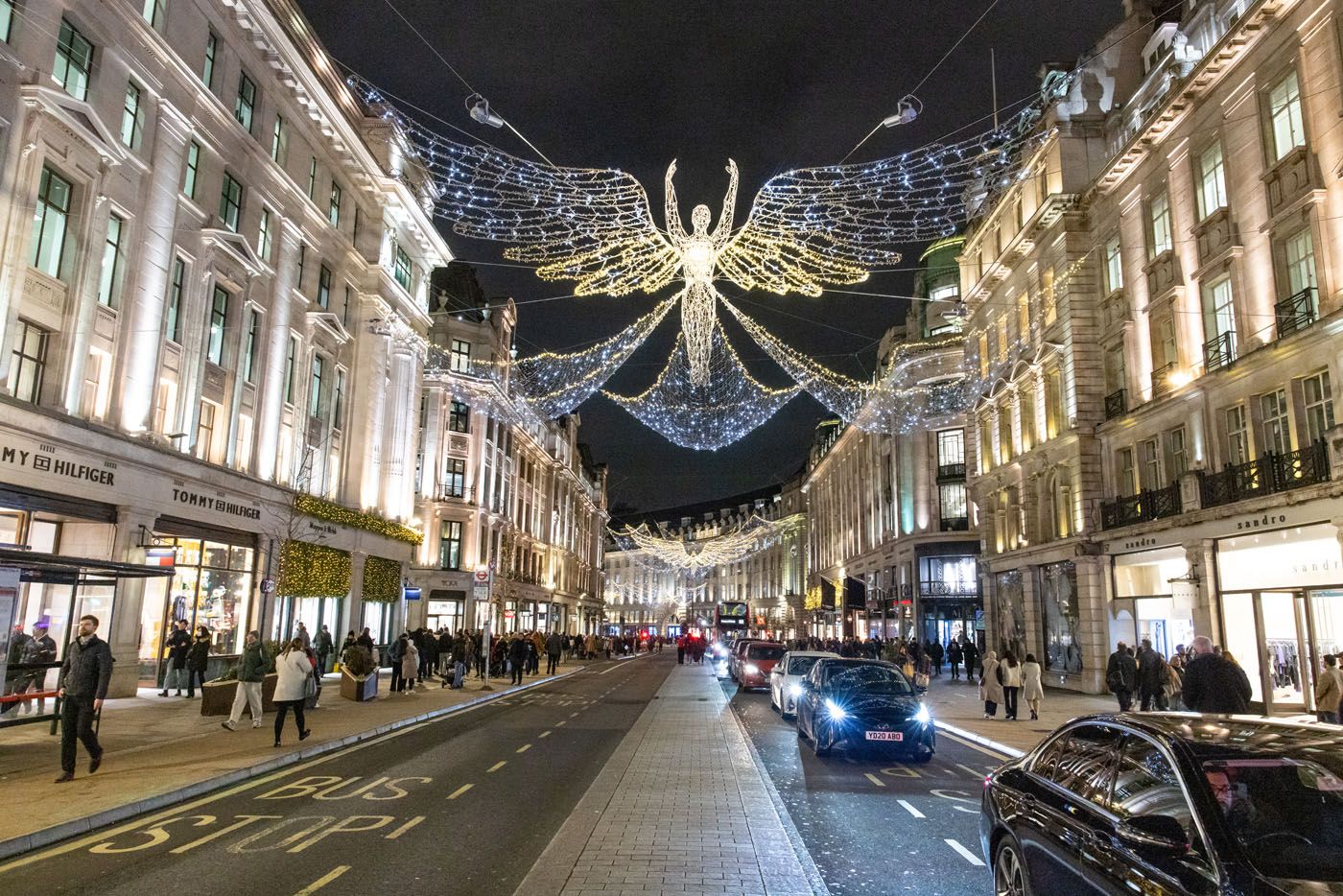 Regent Street | Things to do in London at Christmas
Piccadilly Street
Running from Green Park to Piccadilly Circus, illuminated figures of Anteros, the Greek god requited love, sparkle overhead.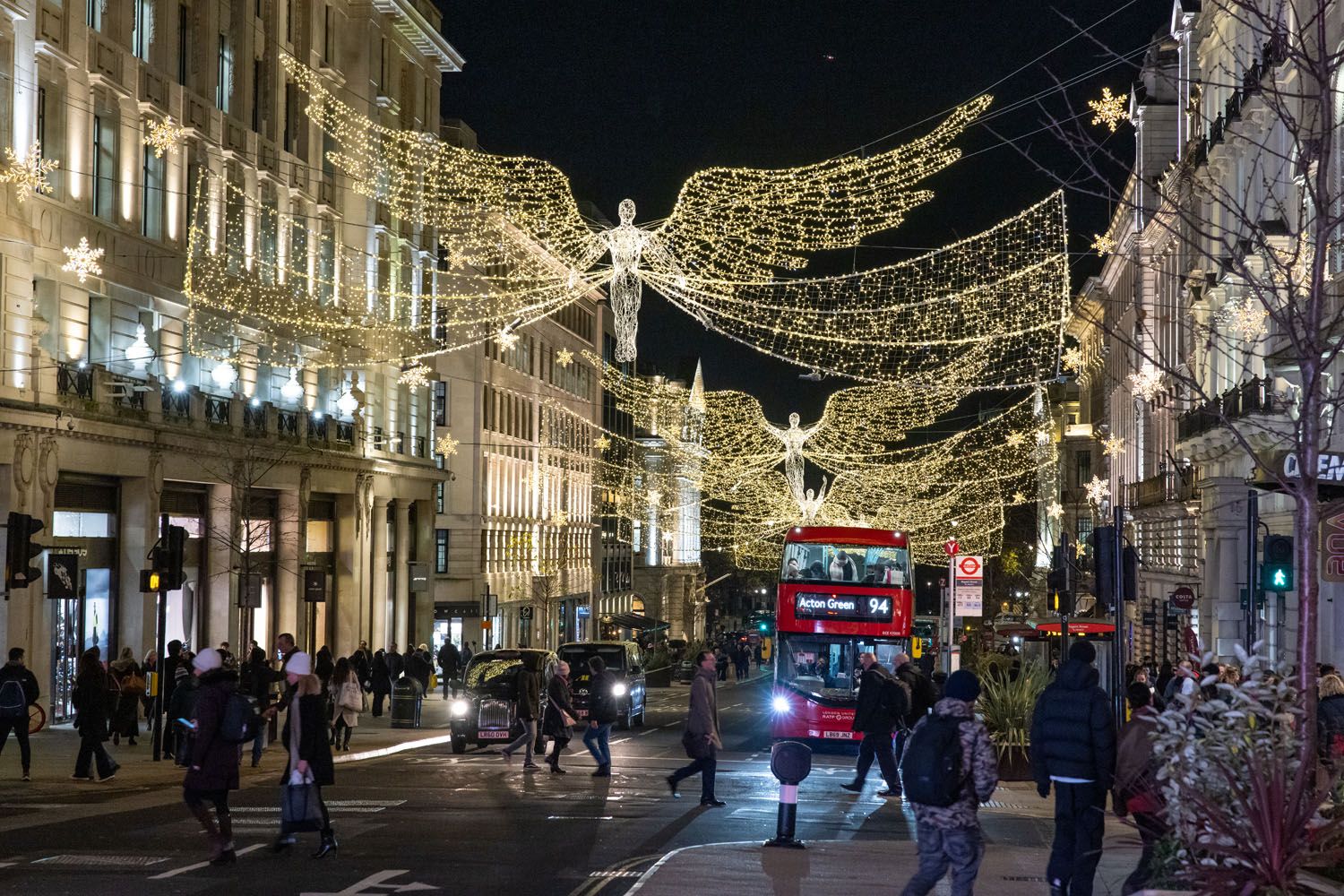 Piccadilly Street | Things to do in London at Christmas
Oxford Street
On Oxford Street, one of the busiest shopping streets in London, hundreds of illuminated stars twinkle overhead. While on Oxford Street, make sure you see the holiday window displays at Selfridges department store.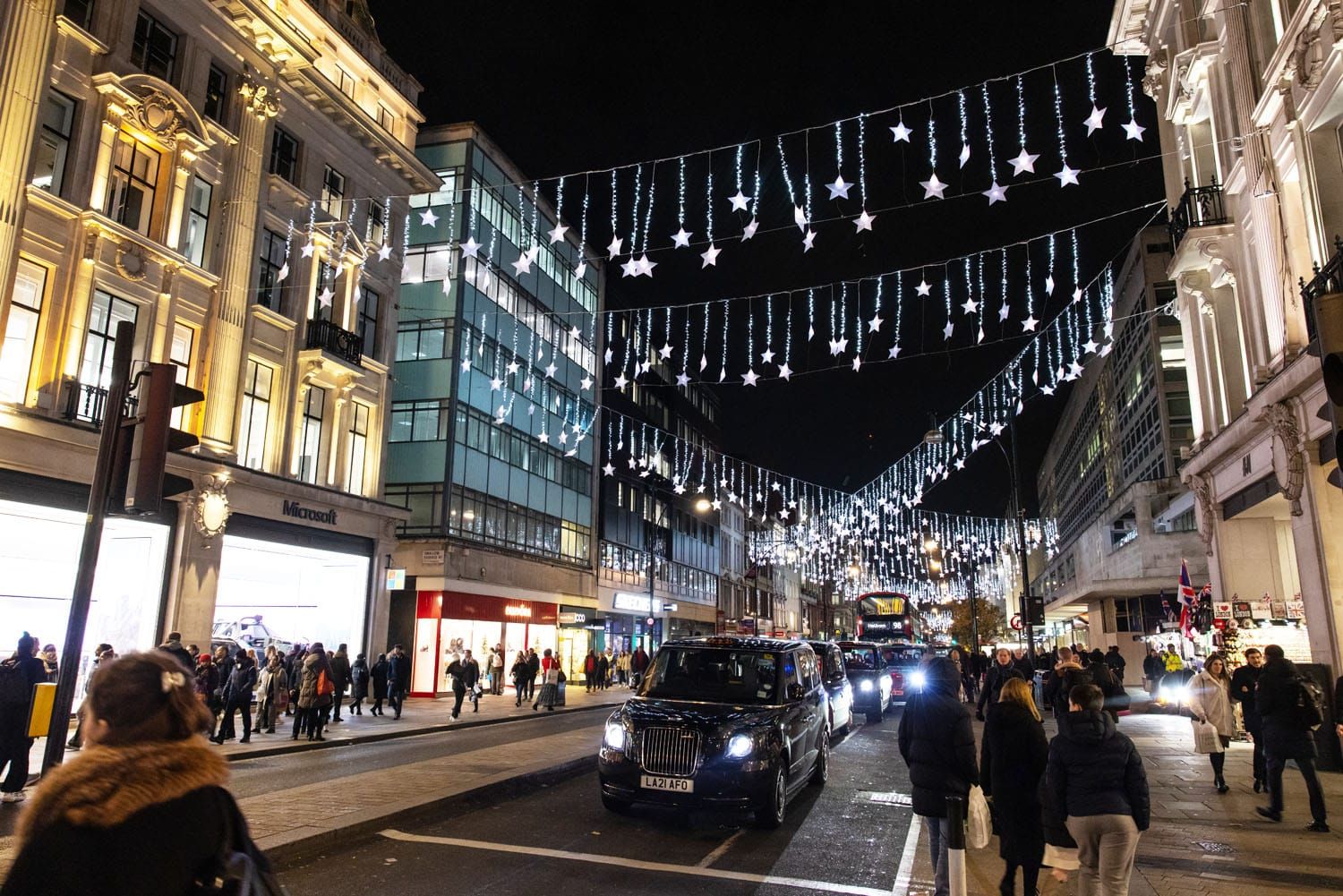 Oxford Street | Things to do in London at Christmas
South Moulton Street in Mayfair
Running along this pedestrian street are illuminated blue LED arches. It's a beautiful sight to see, since it's different than the spirits, stars, and crowns that adorn many of the other streets in London.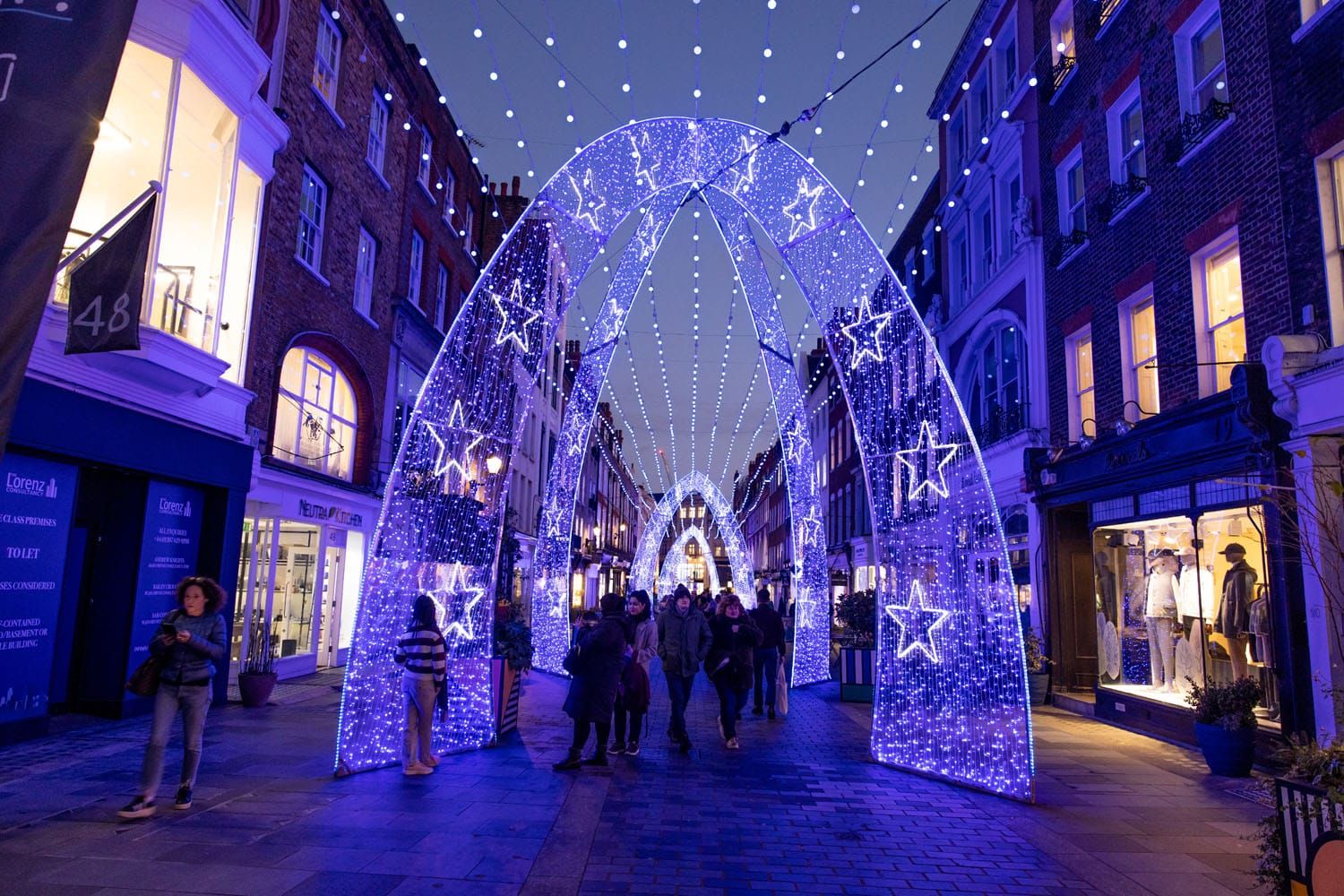 South Moulton Street | Things to do in London at Christmas
New Bond and Old Bond Streets
Overhead, sparkling crowns and crown jewels illuminate the street. But the best part of a visit to New and Old Bond Streets is seeing the spectacular window displays, some of the best in the city.
Cartier, Dior, and Tiffany spared no expense in decorating their storefronts with elaborate holiday displays. It's worth a stroll down this swanky street to see the London Christmas lights and holiday decorations, and maybe do a little window shopping.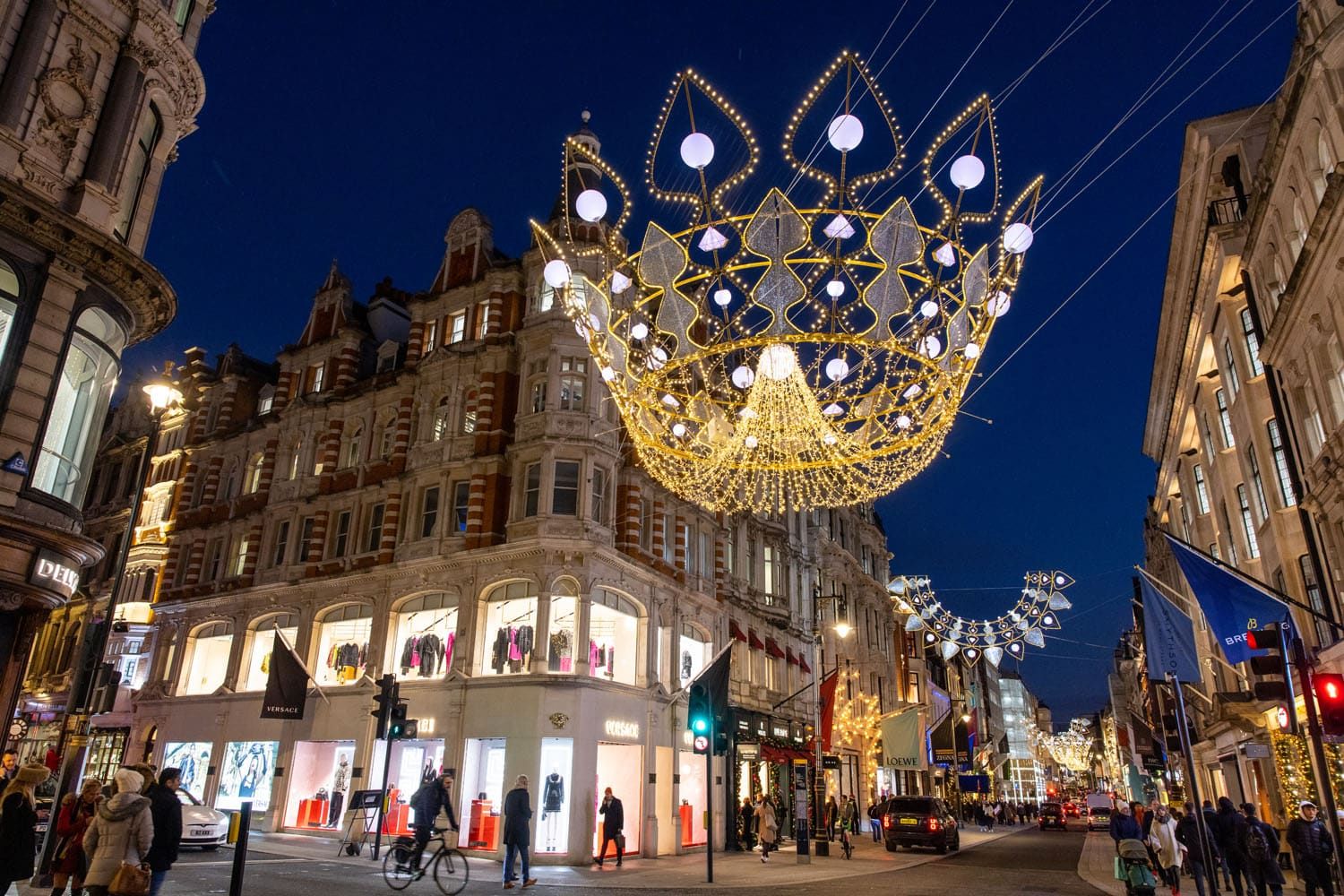 Bond Street | Things to do in London at Christmas

Dior storefront
Cartier storefront
Carnaby Street
Carnaby Street is a trendy pedestrian shopping street in Soho, just a few blocks east of Regent Street.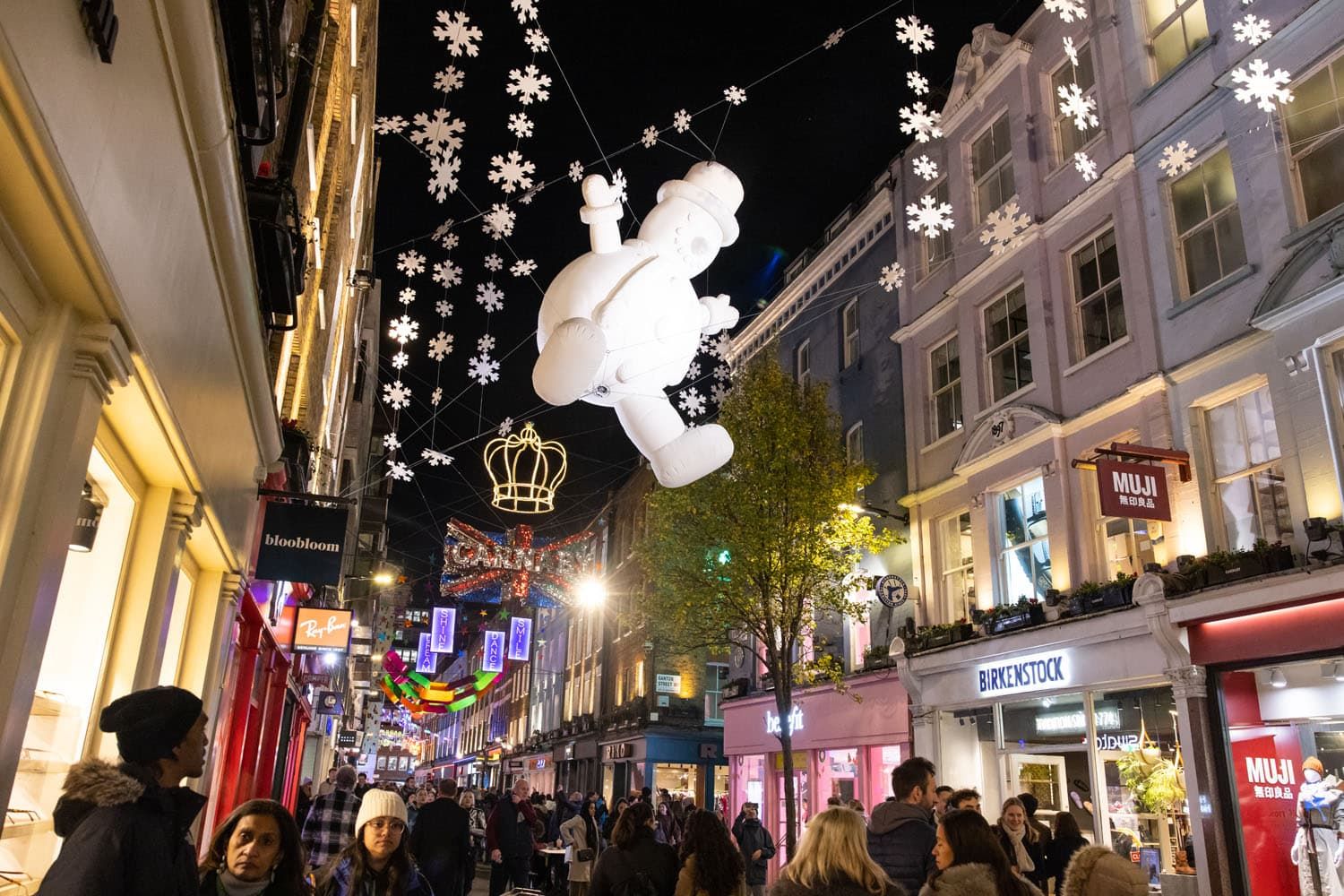 Carnaby Street
The lights that illuminate this street have a different theme each year. In 2022, the theme was "Carnaby Celebrates," with lights used from the past 25 years as well as installations celebrating the Rolling Stones and Queen.
BUS TOUR OF THE LONDON CHRISTMAS LIGHTS: A popular thing to do in London at Christmas is to take a bus tour of the Christmas lights. It's a great way to see the lights without doing a lot of walking, or spreading the experience out over several nights, if you are short on time.
4. See the Famous Trafalgar Square Tree
Every year, a tree is gifted from Norway to Great Britain, a tradition that has been going on since 1947.
This tradition began just after WWII. Norway gifted the tree to London as a thank you for British support during the war. The tradition stuck and every year, Norway sends a Norway spruce to London.
The lighting ceremony takes place the first Thursday of December. It's a popular event to attend, with Christmas carols and a band.
The tree is decorated in a traditional Norwegian style, with lights running from the top to the bottom of the tree. It frequently gets picked on, with some people calling the Trafalgar Square tree the "world's tallest cucumber."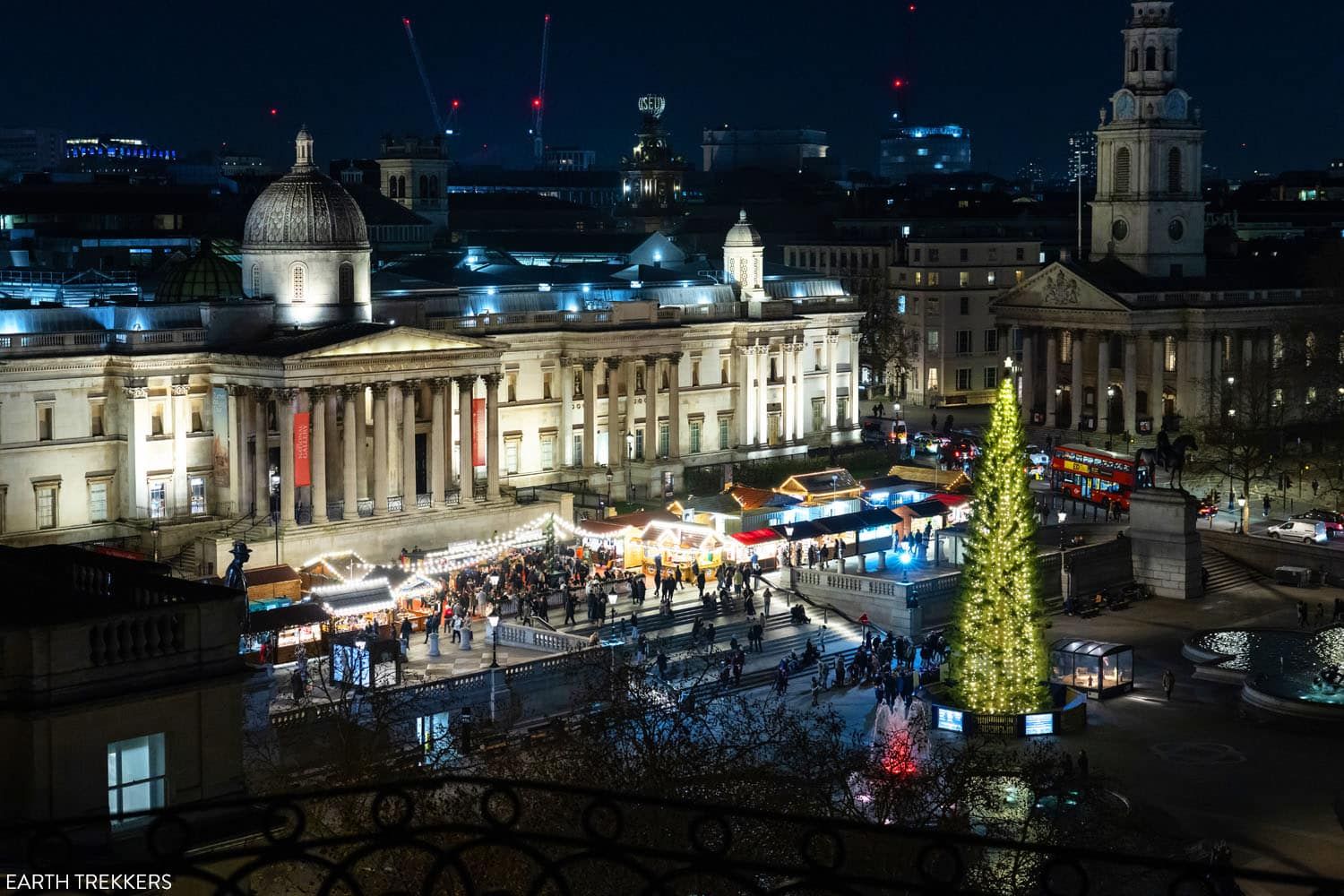 Trafalgar Square | Things to do in London at Christmas
5. Dine in an Igloo
One of the most unique things to do in London at Christmas is to dine in an igloo. It's much cozier than it sounds, since these small glass pods are well heated and most provide blankets, just in case you are still a bit chilly.
There are various places around town that you can do this.
We had an early dinner at the Aviary Rooftop Restaurant, which is located on top of the Montcalm Royal House hotel. We had holiday inspired drinks and dined on cheese and chocolate fondue. Since the Aviary is on the rooftop, we had wonderful views of the London skyline, despite the cloudy skies. It snowed the night before, which made the experience even more magical.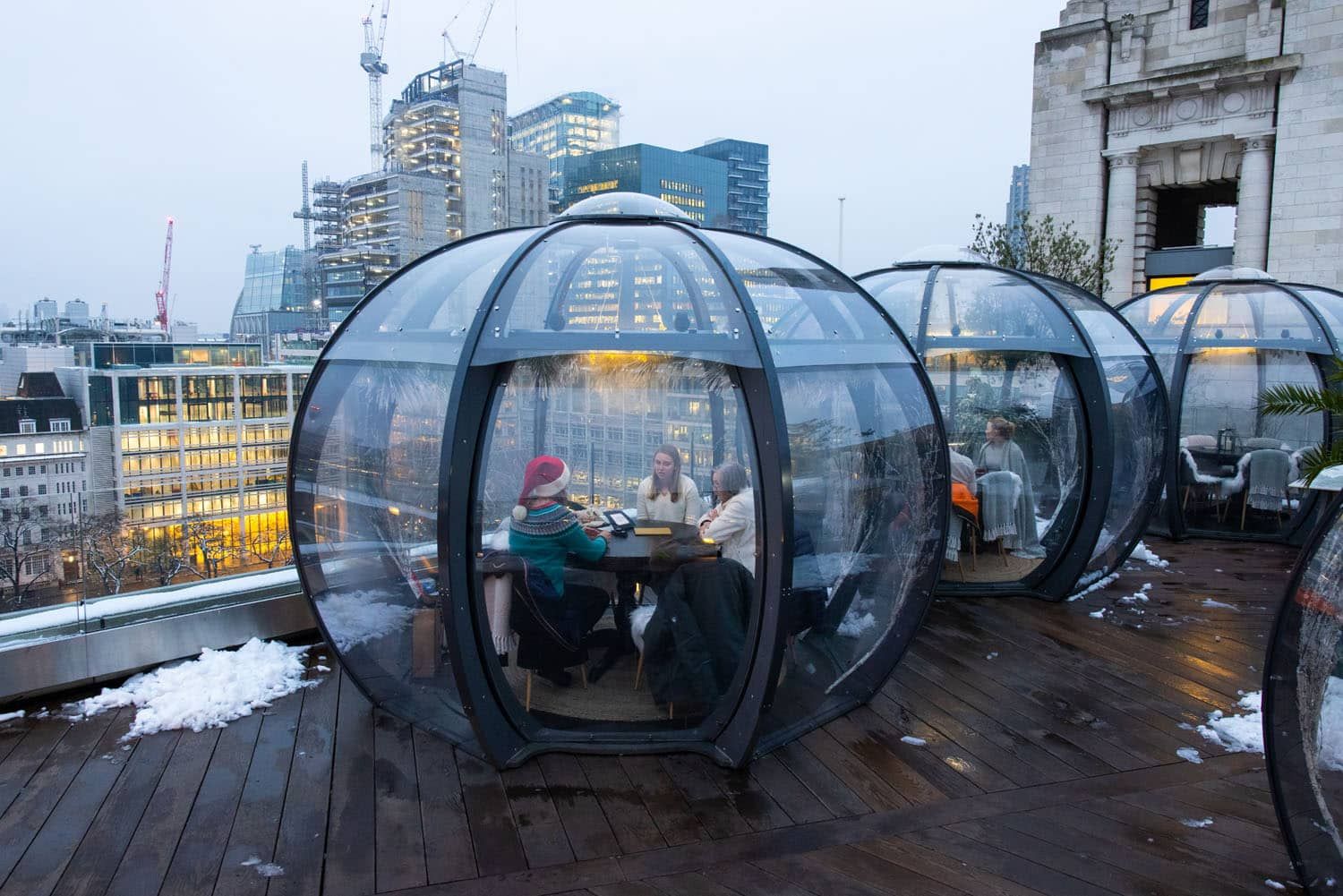 Aviary Rooftop Restaurant | Things to do in London at Christmas
We highly recommend the Aviary, but the Coppa Club was also high on our list. This restaurant is located on the River Thames and some igloos have views of Tower Bridge.
Other igloo restaurants that came up in our search are the Skylight Tobacco Dock, the Snow Globes at Jimmy's Lodge, and Winterland at the Alpine Club.
6. Go Shopping at Covent Garden
Covent Garden is a popular place to visit all year but in December, it becomes a festive holiday destination in London.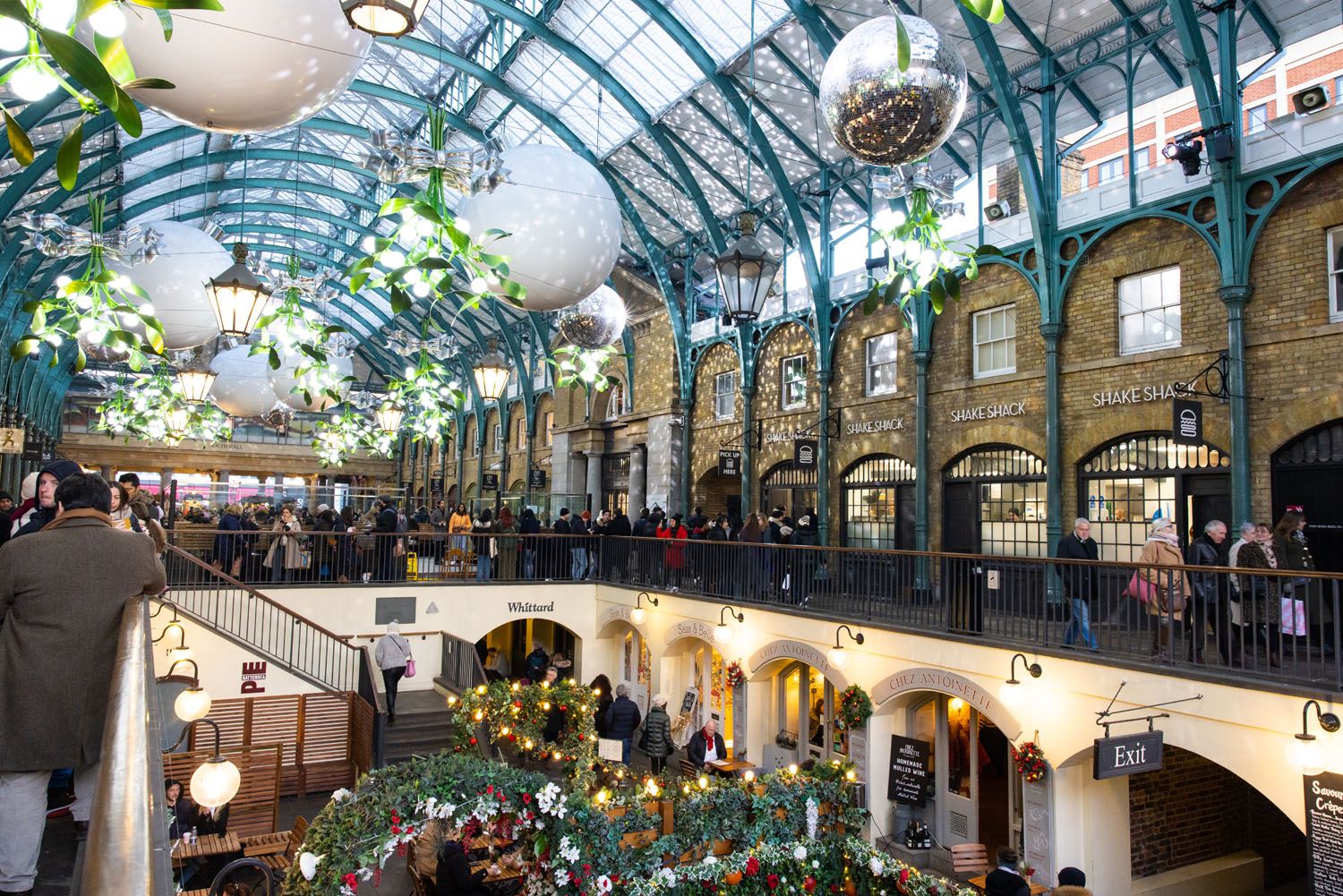 Covent Garden | Things to do in London at Christmas
With hundreds of Christmas lights, holiday decorations, street performers, and a Christmas tree that gets bigger and more brilliantly lit year after year, this is one of the most festive places in London.
Covent Garden is a wonderful mix of shops and restaurants. Most shops are small boutique shops, but you'll also find Apple, Chanel, Free People, L'Occitane, Pandora, and Tom Ford.
For food, purchase macarons at Laduree first e has accent, have a seasonal cocktail at Frenchie's, taste the chocolate at Neuhaus and Godiva, or have mulled wine at Chez Antoinette.
For a full listing of shops, restaurants, cafes, and bars, visit the official Covent Garden website.
7. Sip on Mulled Wine
Mulled wine can be found throughout London, at the Christmas markets and on the menus of many restaurants. It's a great way to warm up while walking through the chilly Christmas markets. Most places will add rum, bourbon, or other spirits to your wine, if you prefer your drink a bit stronger.
Mulled Wine
8. Go Ice Skating
Like the Christmas markets, ice rinks pop up all around London.
One of the best places to go ice skating is SKATE at Somerset House. This large ice is surrounded by shops and restaurants. If not everyone in your group wants to go skating, they can relax at one of the restaurants next to the ice rink and sip on coffee, mulled wine, or a holiday cocktail. Get pricing and hours on the official website.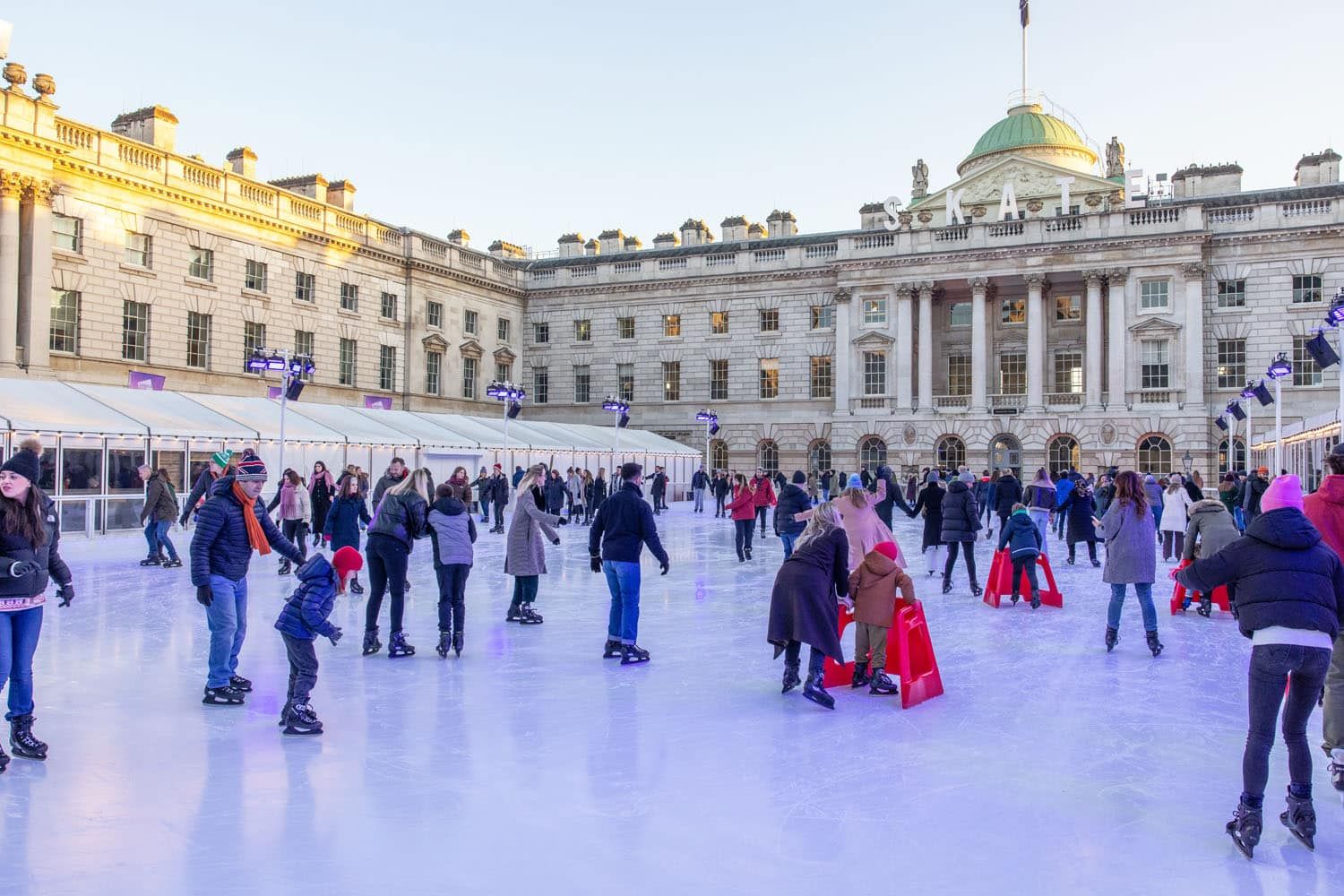 SKATE at Somerset House | Things to do in London at Christmas
Other places to go ice skating are at Winter Wonderland (mentioned later in this guide), the Queen's House (an ice rink in Greenwich), at Canary Wharf, and at Glide at Battersea Power Station.
9. See a Holiday Themed Show
Each December, holiday-themed musicals and theater shows come to London. Some are perfect for the whole family, such as Elf or Frozen, while others have a more adult theme, such as La Clique in Leicester Square. Get the listing of what's on here.
10. Afternoon Tea with a Christmas Theme
One of the best things to do in London at Christmas is to have afternoon tea with a holiday theme. And there is a long list of places offering this experience.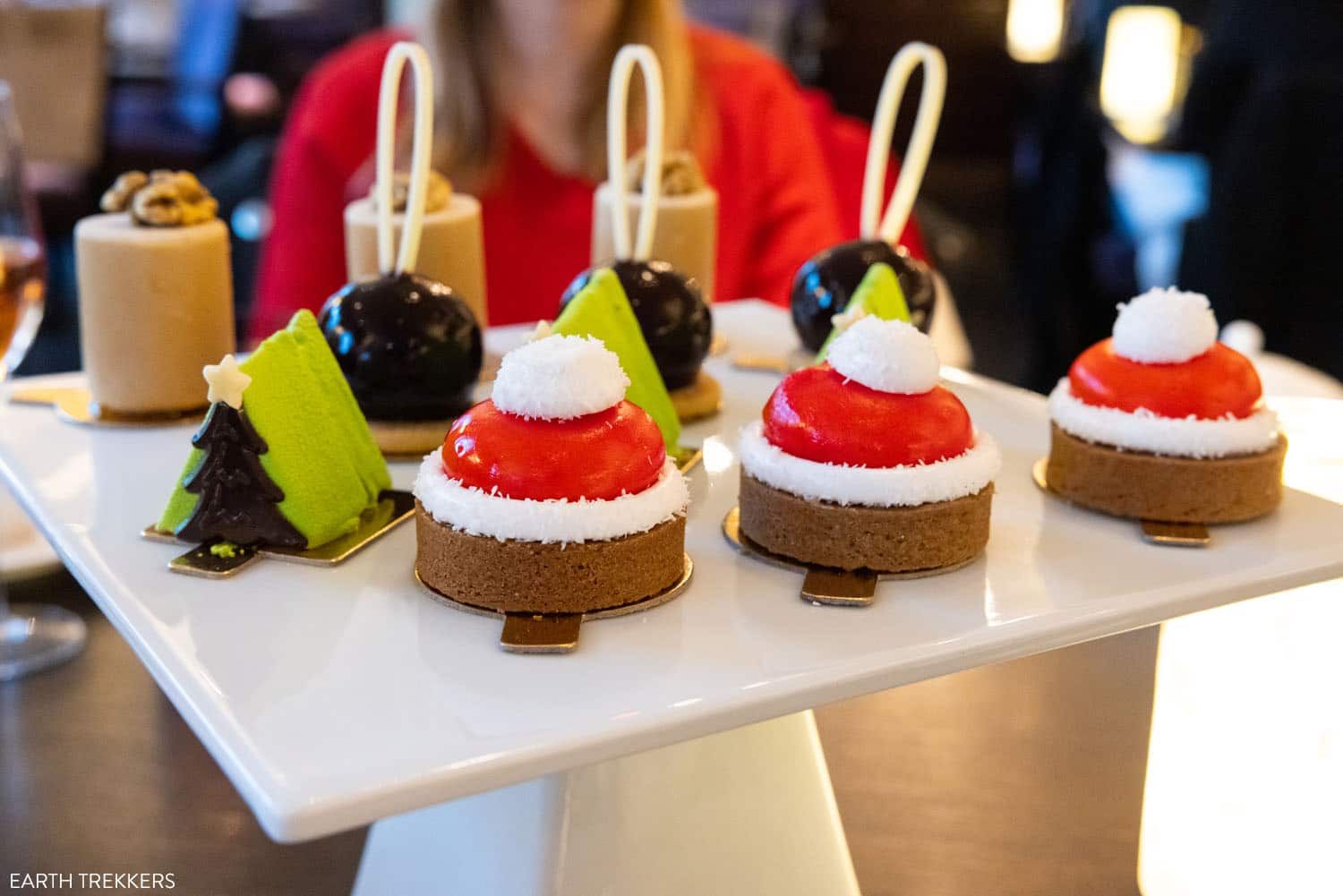 Afternoon tea at the Montagu Kitchen & Lounge | Things to do in London at Christmas
We had three afternoon teas on our most recent to visit to London.
We had afternoon tea at The Dilly, at the Montagu Kitchen & Lounge at Hyatt Regency London – The Churchill, and at the Wellington Lounge at the InterContinental London Park Lane.
At afternoon tea, you get a mix of sandwiches, scones with clotted cream and jam, and small cakes and desserts. This is served with tea, of course, and you have the option to add on champagne or a cocktail.
In our experience, there wasn't an afternoon tea that stood out above the others. The service and the food were very good at each place. Below are photos from each tea.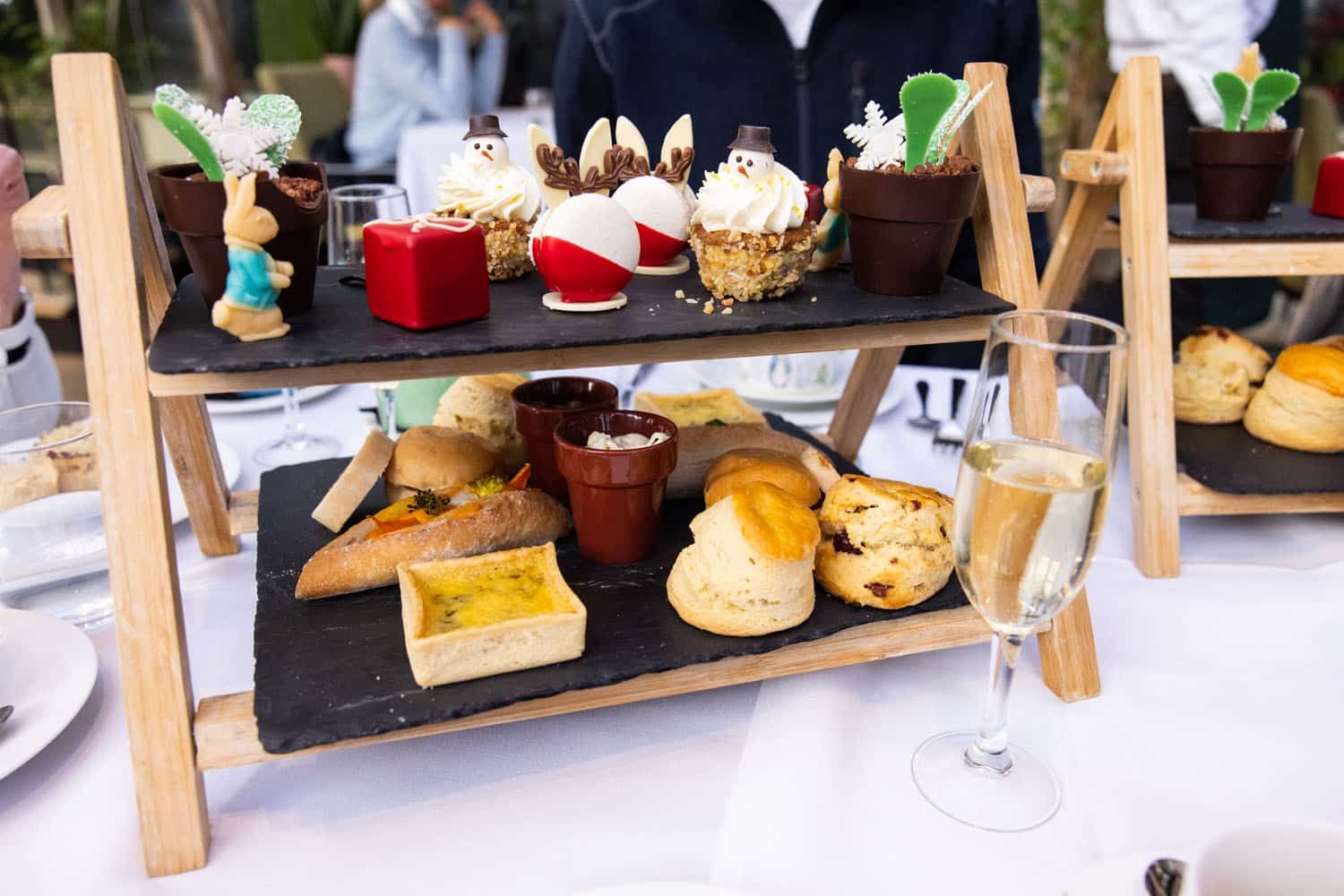 Afternoon tea at The Dilly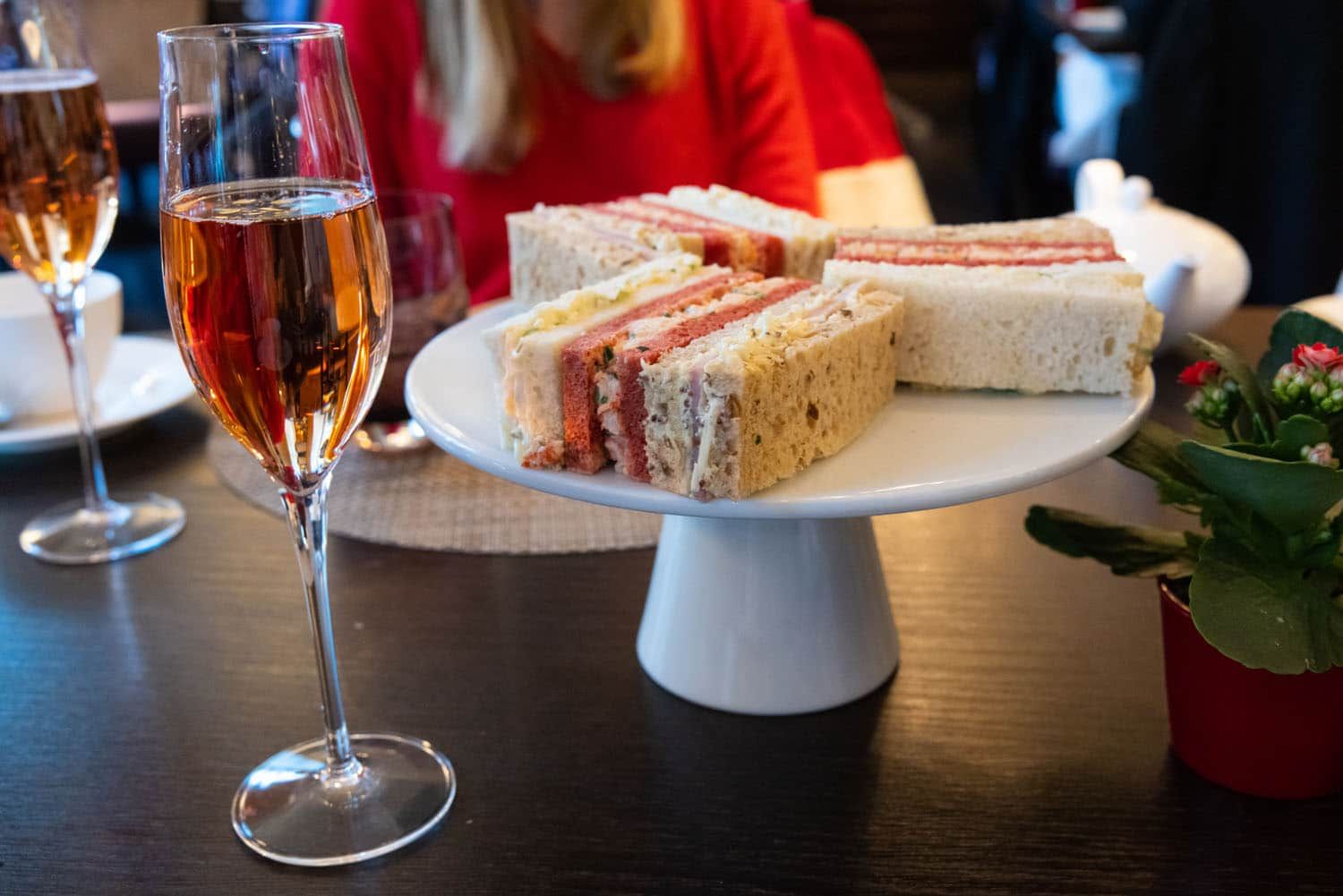 Sandwiches at the Montagu Kitchen & Lounge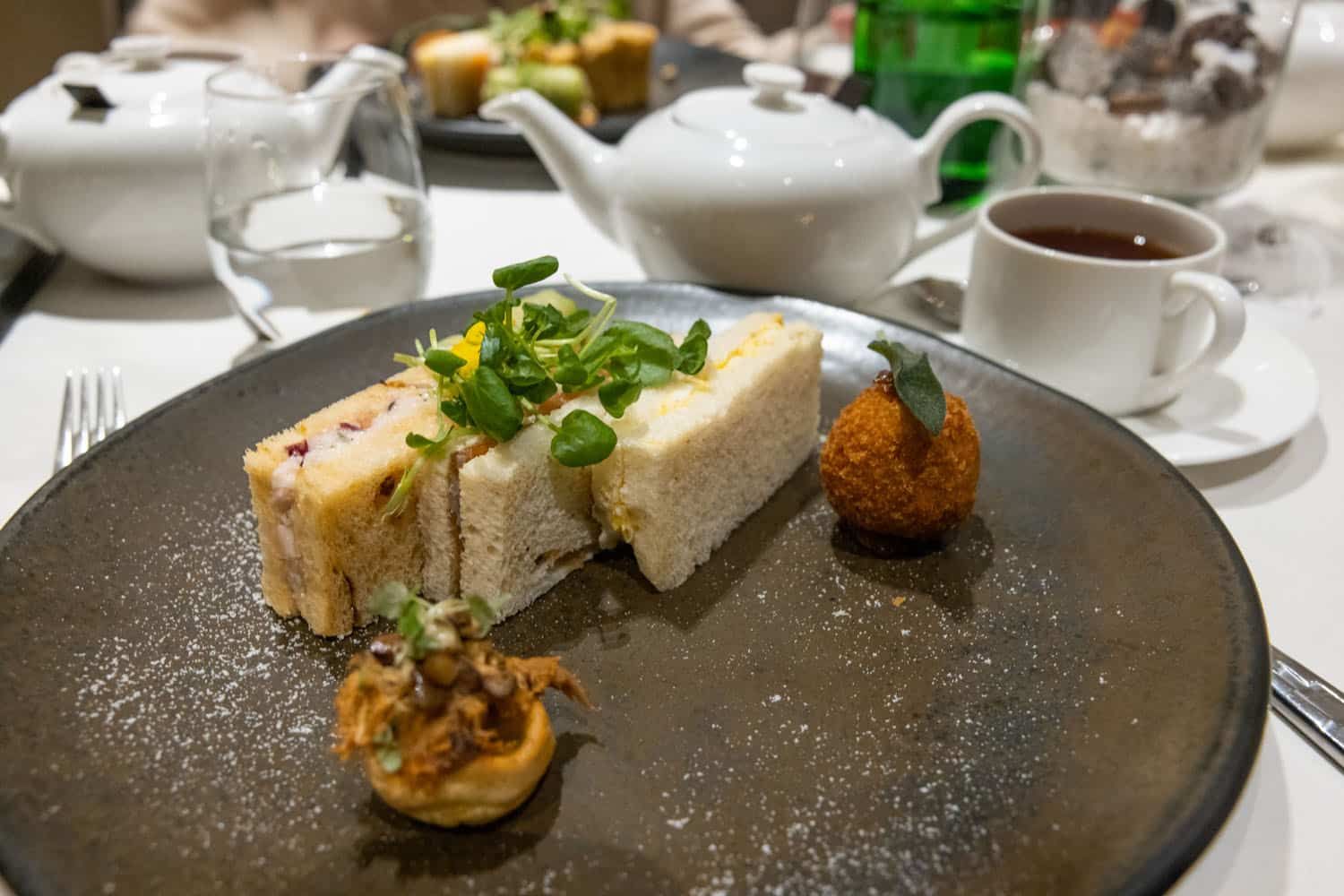 Sandwiches at the Wellington Lounge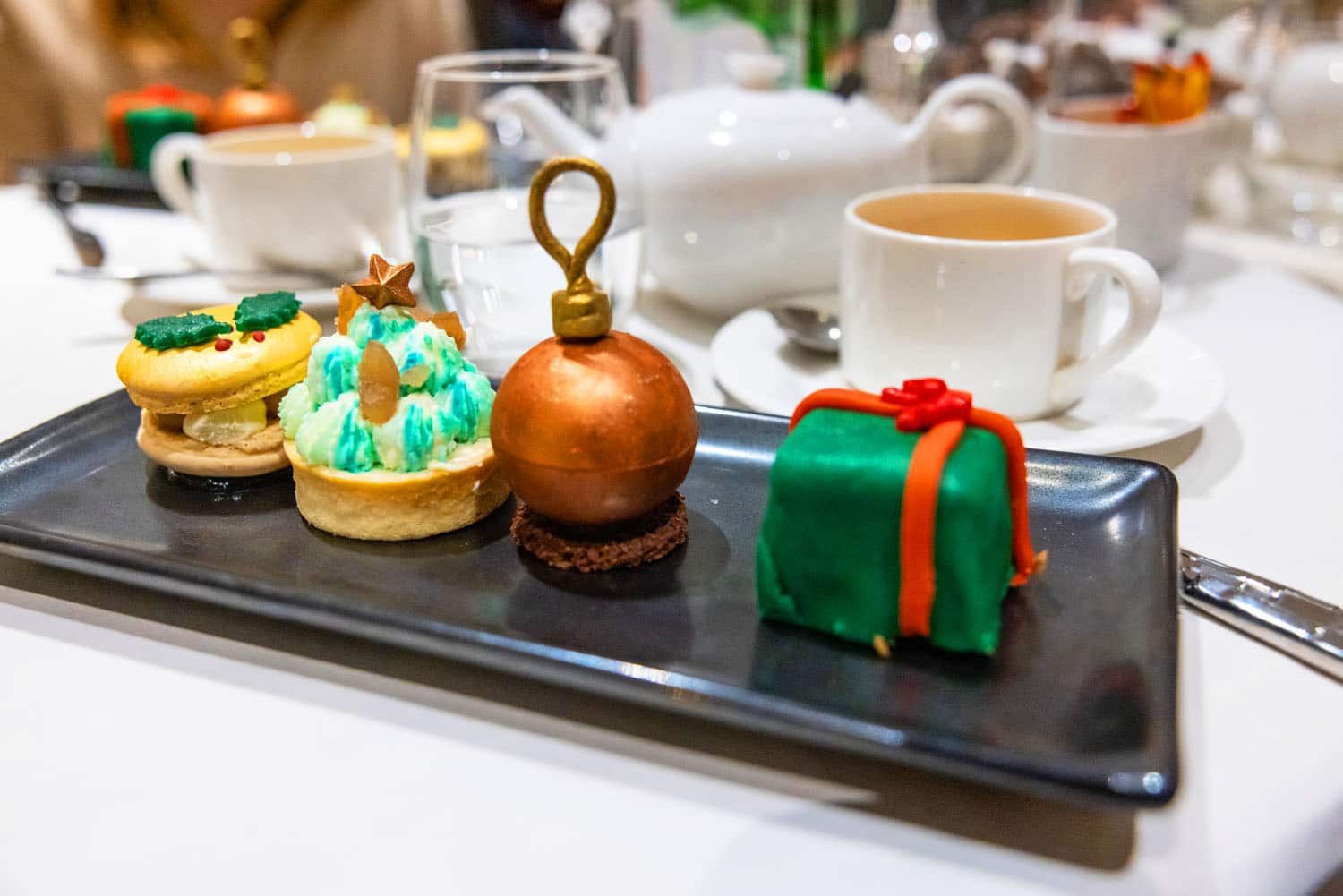 Cakes at the Wellington Lounge
11. Christmas at Kew
Kew Gardens is an enormous botanical garden that sits west of central London.
If you have a few days on your itinerary, it's worth the visit to see one of the best displays of Christmas lights in London. Installations change from year to year, but various parts of the gardens are illuminated in a dazzling display of Christmas lights and it takes several hours to see everything. Learn more on the official website.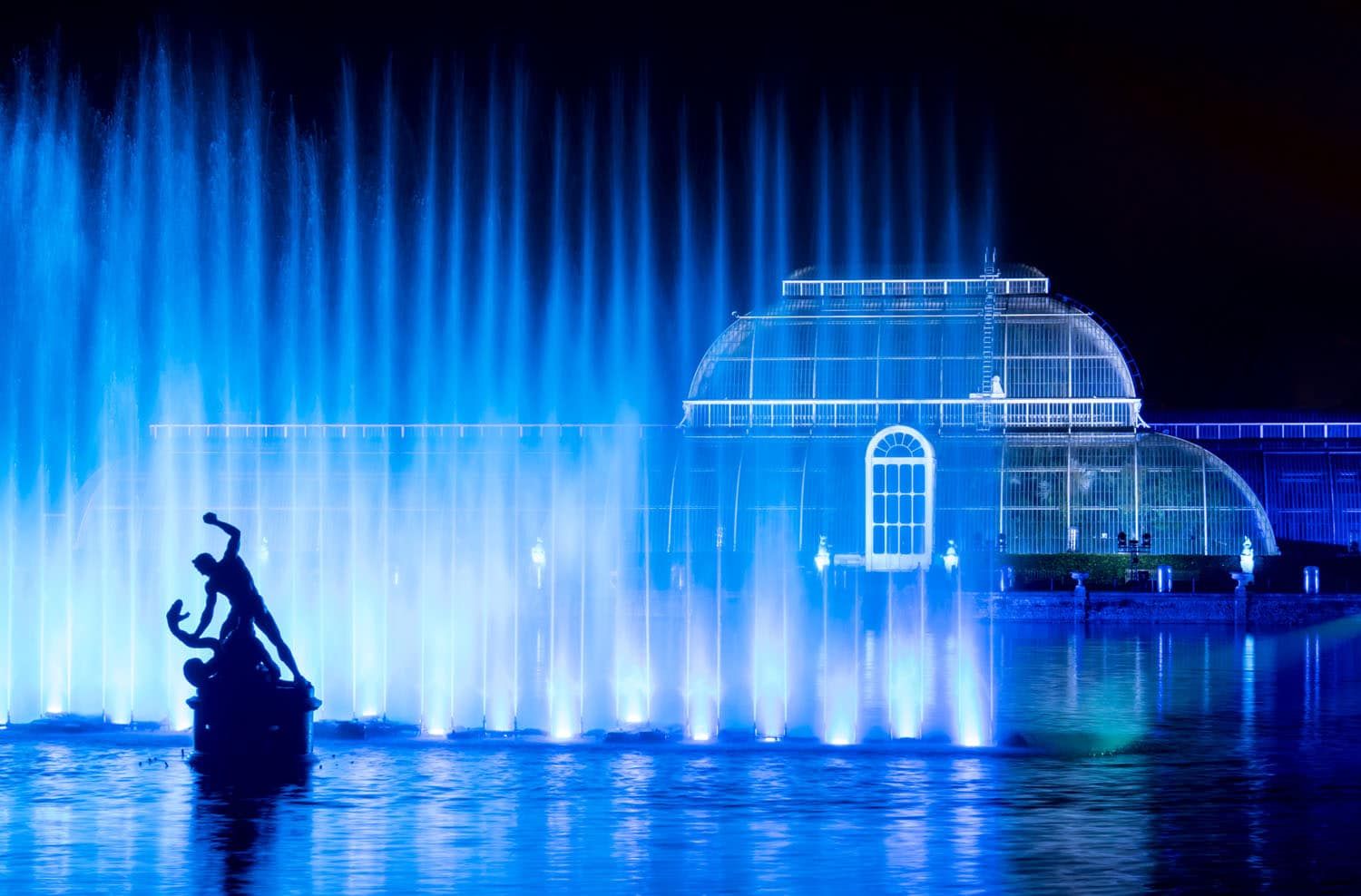 Kew Gardens at Christmas | Charles Bowman/shutterstock.com
12. Hyde Park Winter Wonderland
Winter Wonderland at Hyde Park is a massive Christmas amusement park/Christmas market. People either love it or hate it, since it tends to be crowded and expensive.
We visited Winter Wonderland midday on a weekday in early December and had a great experience. Crowds were low and prices seemed to be on par with other Christmas markets and shops we visited in London. However, in the evenings (after 4 pm), crowd levels really pick up. If you want a quieter experience, visit midday like we did.
Winter Wonderland has a little bit of everything. There's an ice rink, a small Christmas market, a Bavarian village, an ice bar (called Bar Ice), rides, shows, and a Magical Ice Kingdom. Santa Clause makes a daily appearance at Santaland.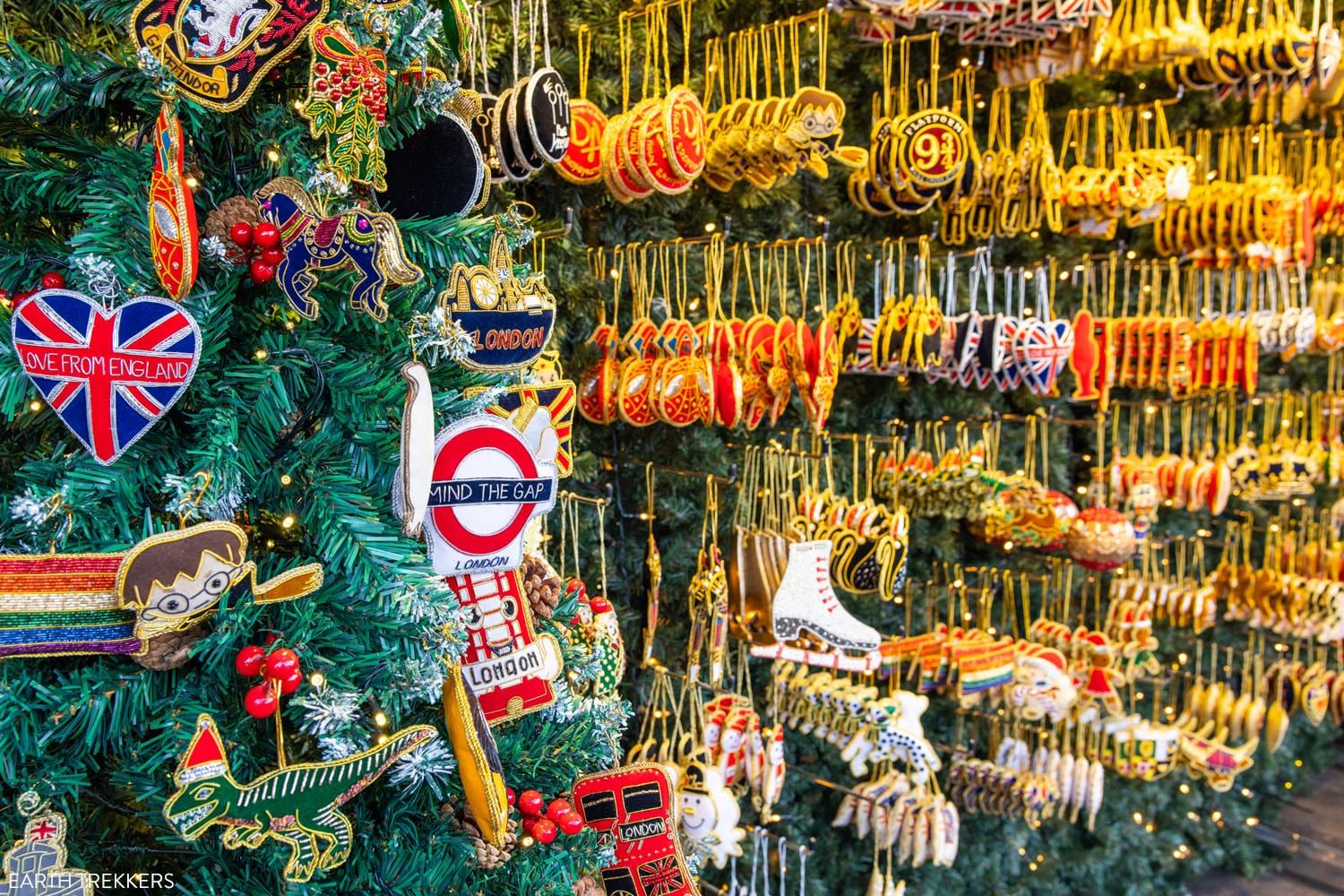 Christmas ornaments for sale at the market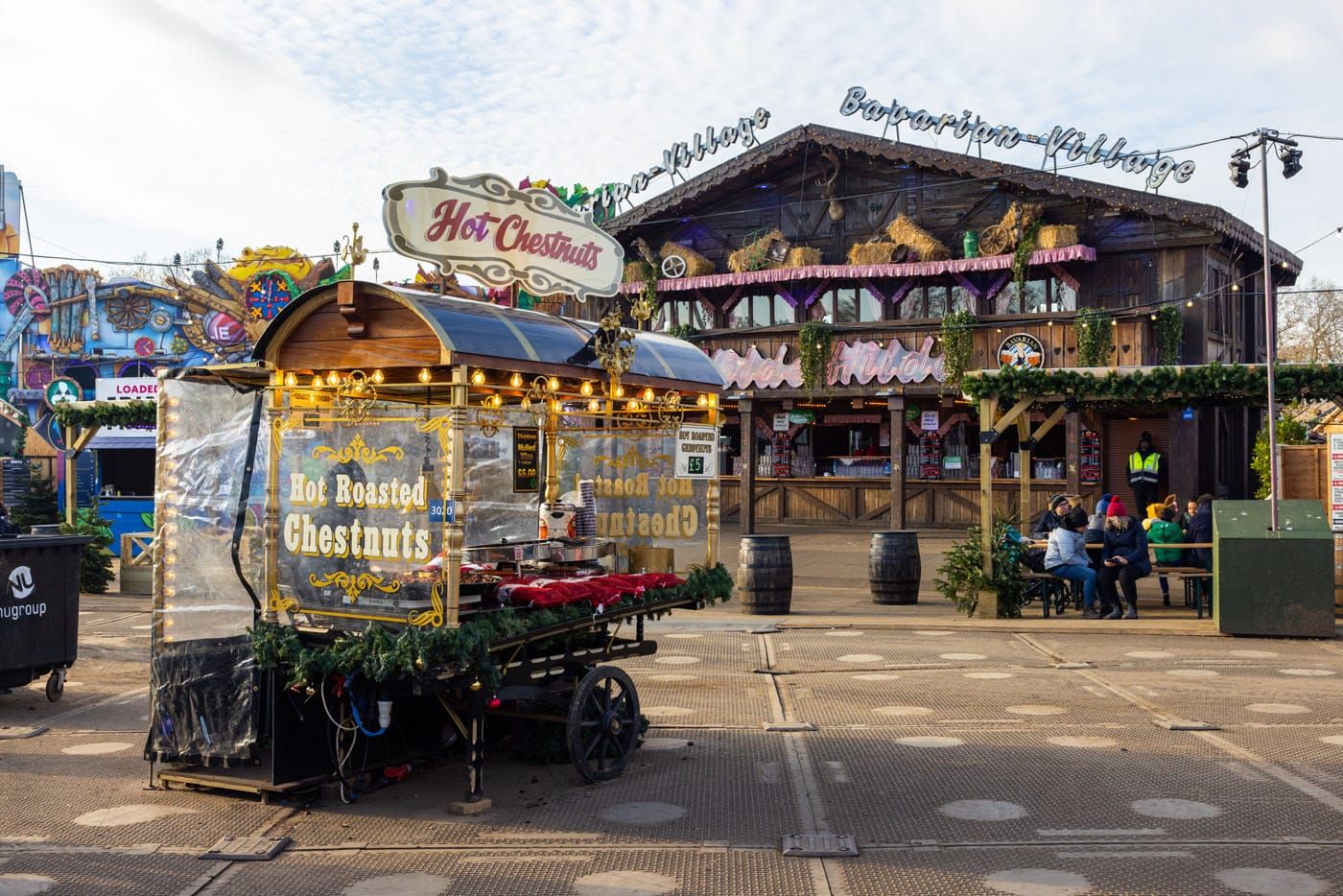 The Bavarian Village is wonderful. Dine on German food and have a beer in the covered beer hall.
Kara and I rode the Blizzard and loved it (the view of London while you are sitting at the top, before it starts swinging you around, is incredible). Other highlights were the Magical Ice Kingdom (the best ice sculptures we have seen) and Bar Ice (a sub-zero lounge, made of ice, where you sip on cocktails in cups carved from the ice).
If you are visiting London with kids, Winter Wonderland is a must-do. You could easily spend a full day here, shopping, riding the rides, visiting the Magical Ice Kingdom, seeing Santa, and dining in the Bavarian Village.
Before you go, visit the official website and purchase your tickets in advance, because time slots for the more popular days and times can sell out.
13. Attend a Service at Westminster Abbey
Westminster Abbey one of London's most popular landmarks. This is where kings and queens are crowned, where famous people are buried, and where marriages take place. Thousands of people are buried in Westminster Abbey, including Charles Darwin, Geoffrey Chaucer, Stephen Hawking, Mary Queen of Scots, and the past kings and queens of England.
King Charles will be coronated here on May 6, 2023.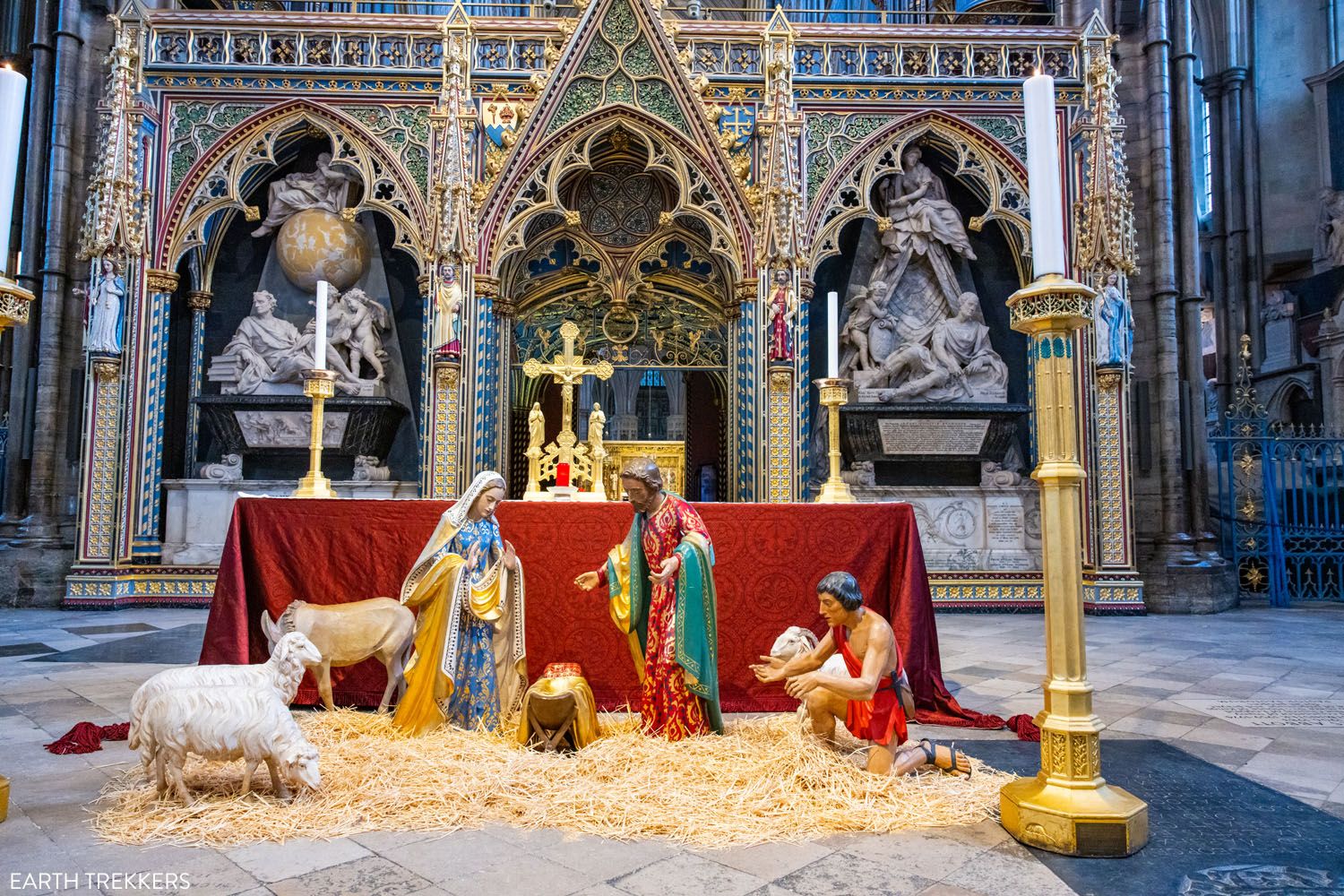 Westminster Abbey at Christmas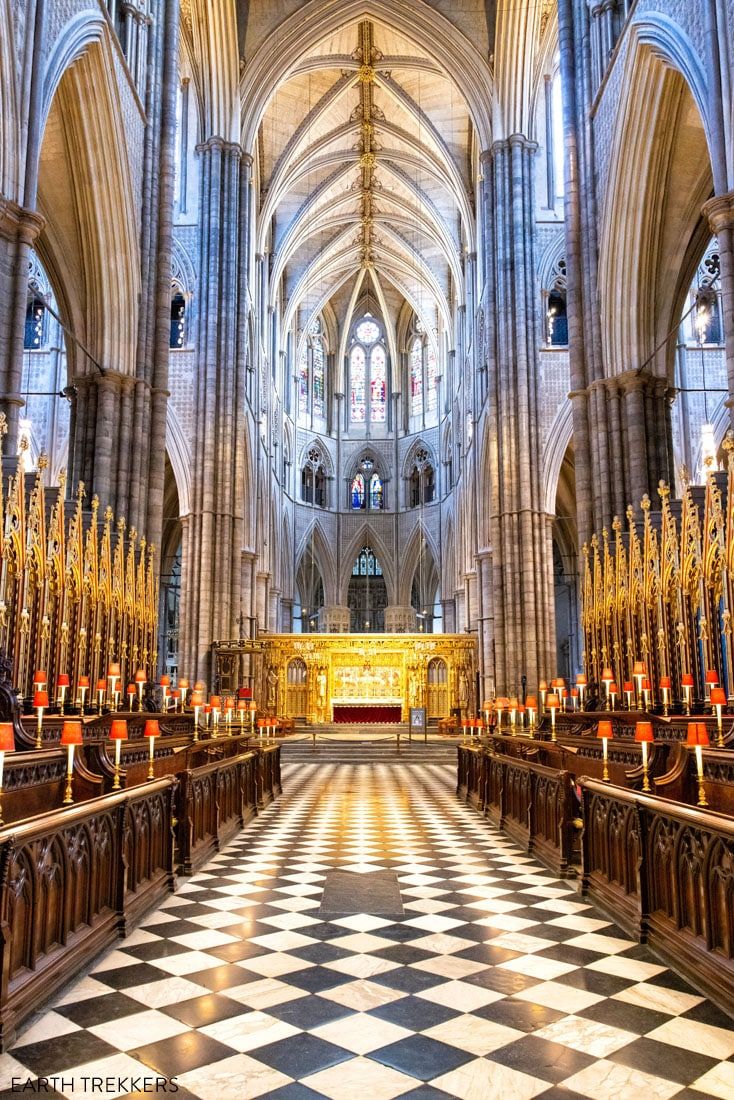 Like many places throughout London, Westminster Abbey is decorated for Christmas. During the month of December, there are a few special holiday events that visitors can attend, such as caroling and Christmas concerts. You can also attend mass, which is held on a daily basis, or attend mass on Christmas Eve or Christmas day.
For more information, read our Guide to Westminster Abbey.
14. Visit the Gingerbread City
This is another very unique thing to do in London at Christmas. On display is a mouthwatering, whimsical village made completely of gingerbread. Over 100 architects, designers, artists and engineers work together to create an urban Christmas village made of gingerbread, icing, and candy.
Each year has a different theme. We visited the Gingerbread City in 2022. On display were five villages, each in a different climate zone.
A visit to the Gingerbread City is quick, taking about a half an hour or less. It is located in Belgravia at 6-7 Motcomb Street. Get hours and pricing on the official website.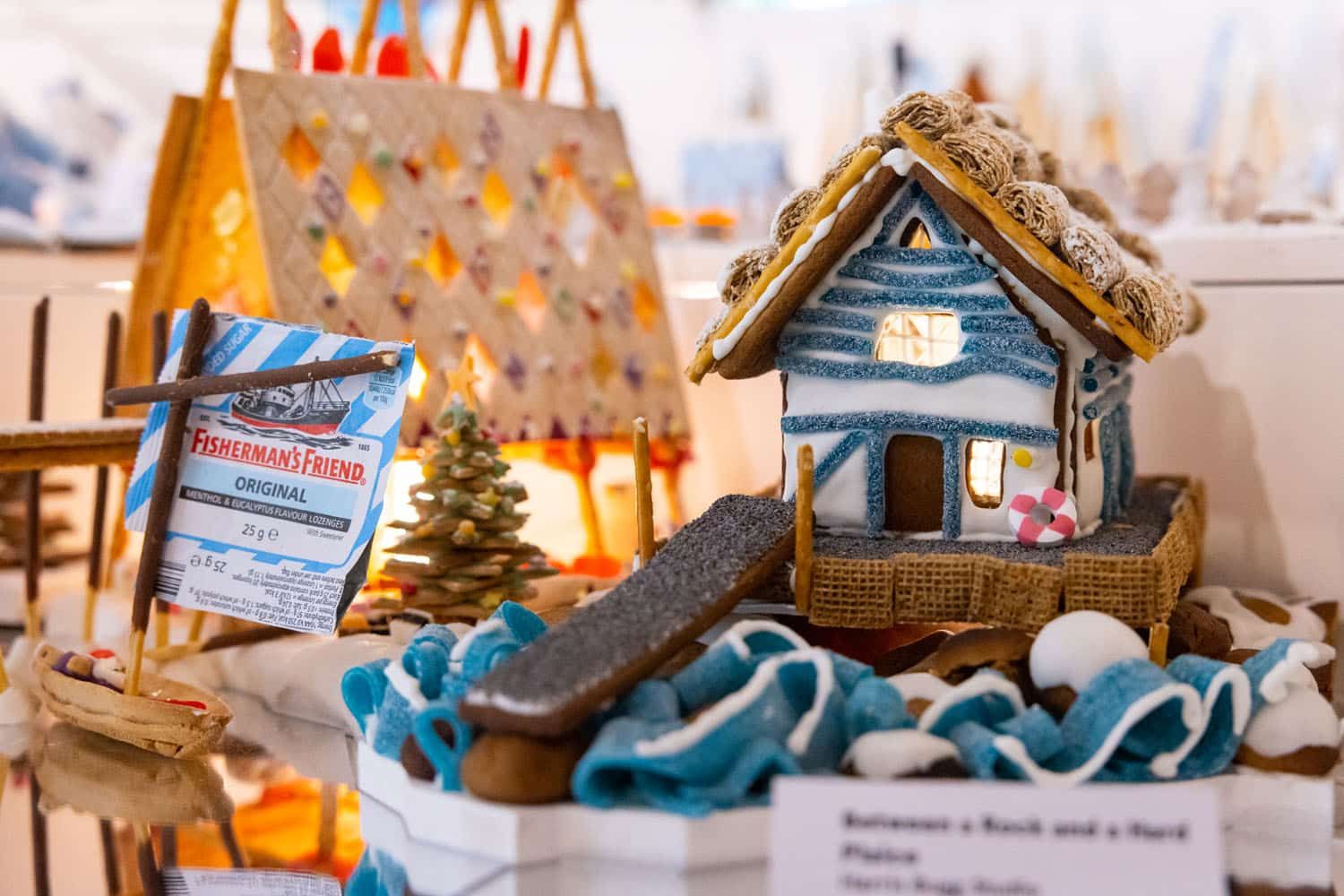 Gingerbread City | Things to do in London at Christmas
15. Have Lunch or Dinner at a Cozy Restaurant
Many restaurants in London are decorated for Christmas, but some take it up a notch.
34 Mayfair is one of the most festive restaurants in the city. The decorations change a little bit every year, but the restaurant is decked out in décor from floor to ceiling. We had lunch here and it was one of our favorite holiday dining experiences in London.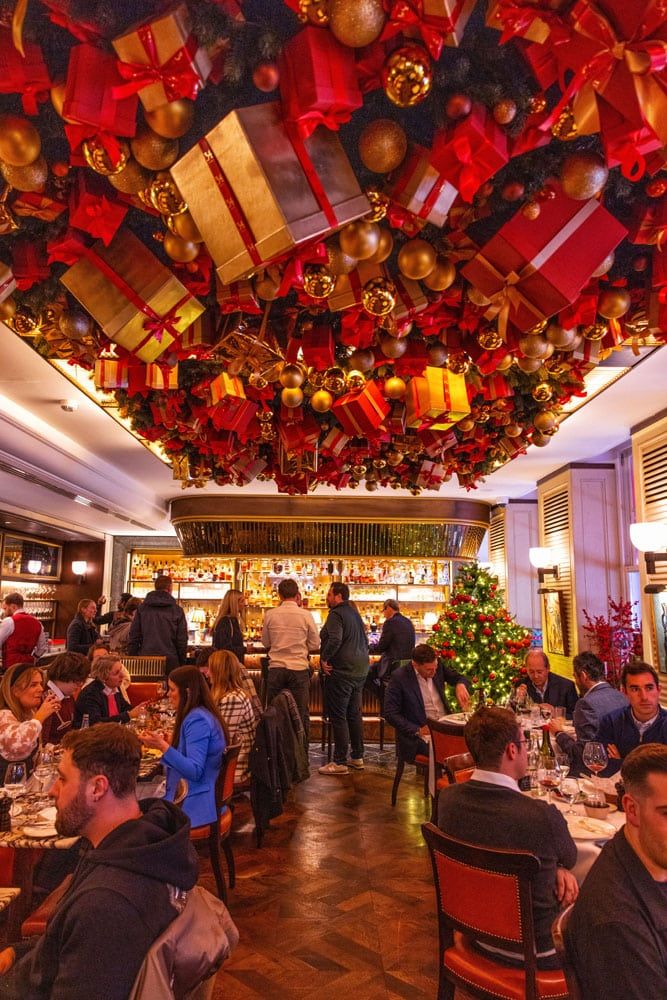 34 Mayfair | Things to do in London at Christmas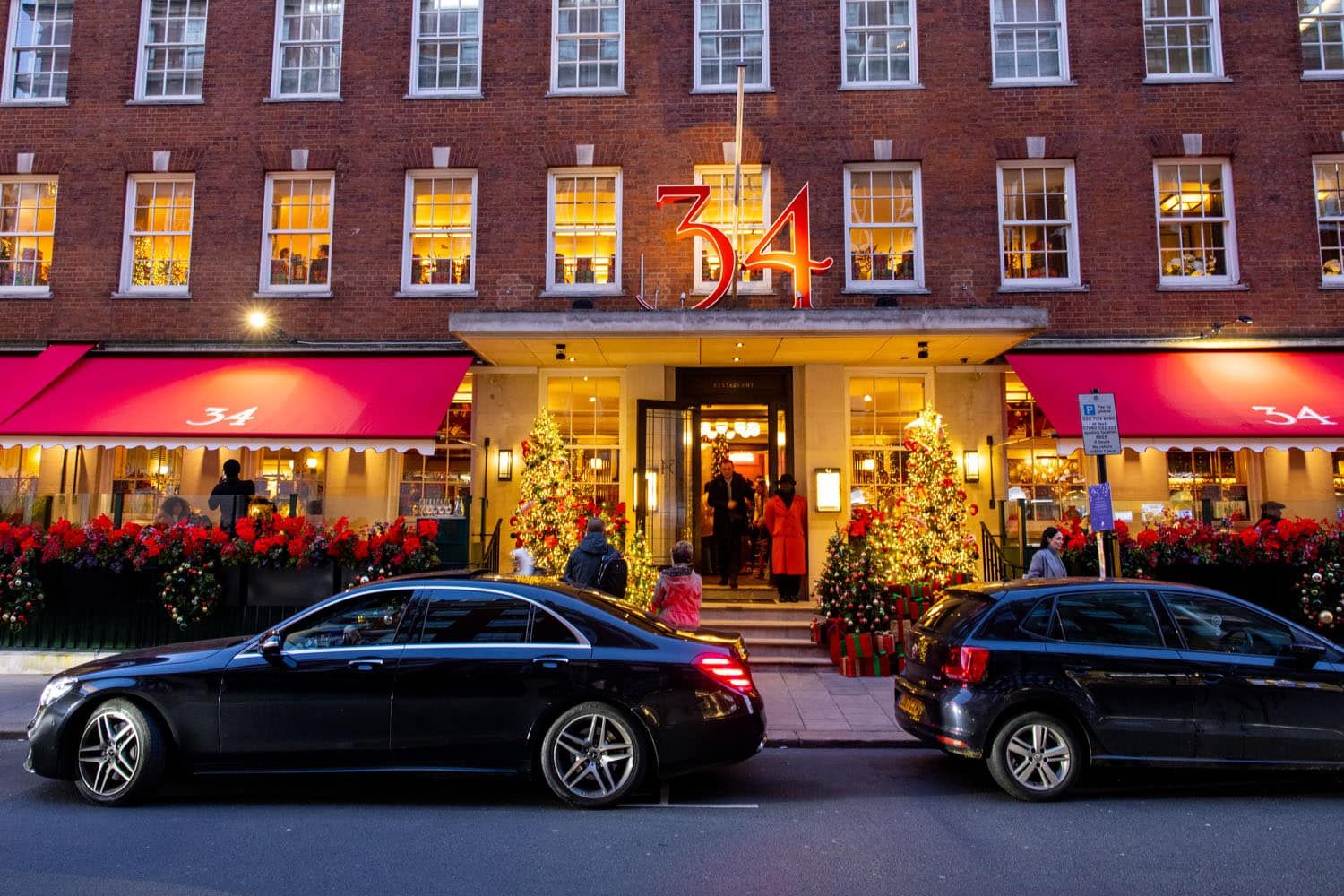 Many pubs are also decorated, with lights twinkling in the windows. One of the most elaborately decorated pubs is Churchill Arms.
Churchill Arms is one of the oldest pubs in London, dating back to 1750. It gets its name because Winston Churchill's grandparents were regular visitors here.
The exterior of Churchill Arms is decorated 365 days of the year with flowers, making it also one of the most photographed pubs in London.
In December, thousands of lights are strung along the outside of Churchill Arms and the inside gets a covering of lights as well, plus some Christmas decorations here and there.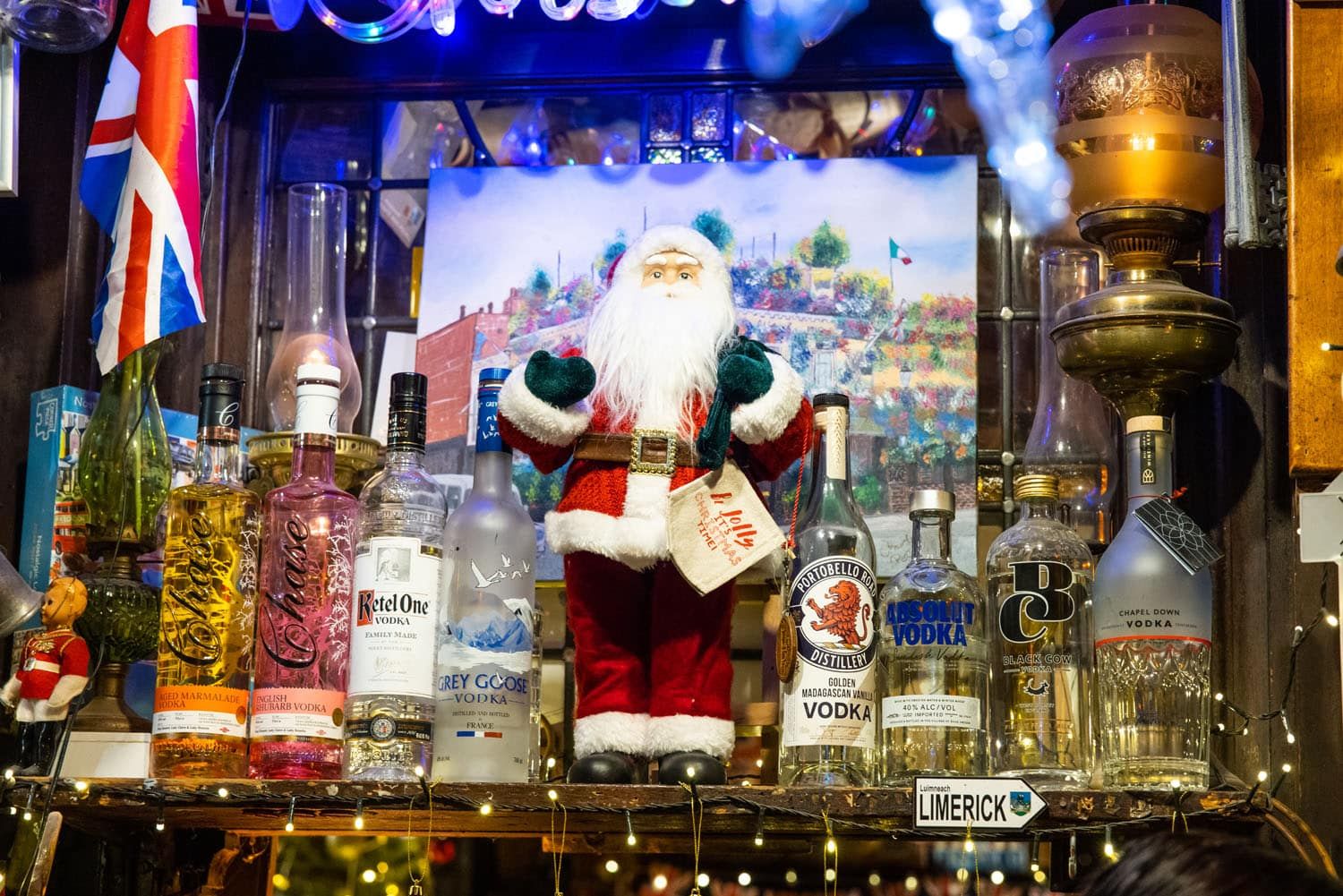 Inside Churchill Arms
The Churchill Arms is one of the most festive pubs to have a pint of beer. If you're hungry, Thai food is on the menu.
The exterior Christmas lights do not come on until 6 pm (at least during our visit in 2022), even though it is dark by 4 pm. Keep this in mind when planning your visit.
London at Christmas: On a Map
How to Use This Map: Click the tab in the top left hand corner of the map to view the layers (Christmas lights, markets, places to go and the walking routes). You can click the check marks to hide or show layers. If you click the icons on the map, you can get more information about each point of interest.

If you click the star next to the title of the map, this map will be added to your Google Maps account. To view it on your phone or computer, open Google Maps, click the menu button, go to "Your Places," click Maps, and you will see this map on your list.
Frequently Asked Questions
Is it worth visiting London at Christmas?
Absolutely! London is a magical place to visit during the Christmas season, with its dazzling light displays, markets, ice skating rinks, Christmas-themed teas, and unique dining experiences.
What are the best things to do in London at Christmas with kids?
If you will be visiting London during the Christmas holiday season, there is plenty to do here with kids. Visit Hyde Park Winter Wonderland, have Christmas-themed afternoon tea, go ice skating, visit Hamley's, see the Christmas lights, and watch a holiday musical.
What kind of weather should I expect in London?
For the month of December, the average high is 9°C/49°F and the average low is 5°C/41°F. December is one of the cloudiest and rainiest months of the year in London, with rain falling about 9 days during the month. The days are short, with sunrise is at 8 am and sunset at 3:50 pm. Snowfall is rare, but magical when it happens. During our visit, London got a dusting of snow which really added to the beauty of the city.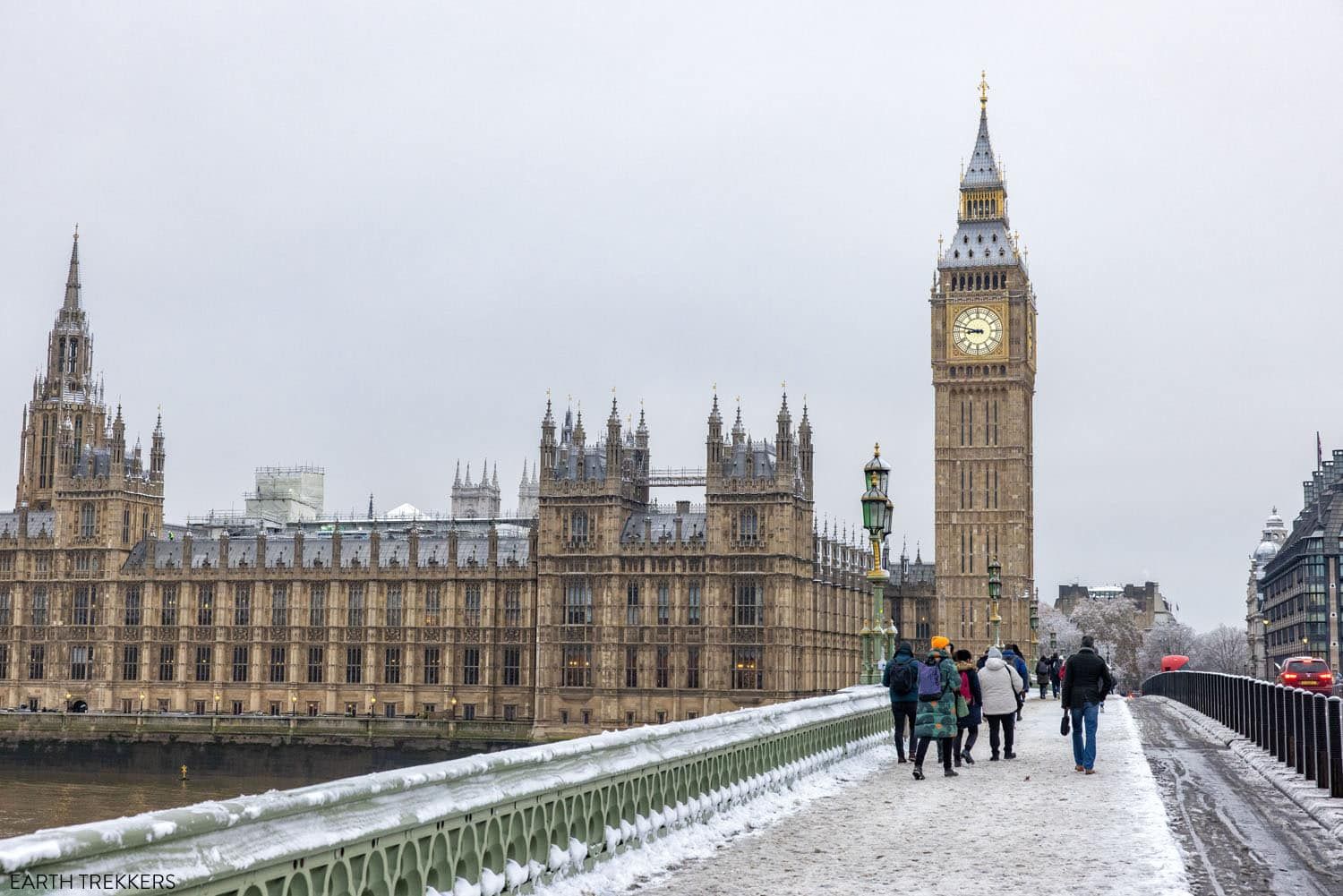 Westminster Bridge in the snow
Buckingham Palace in the snow
---
If you have any questions about the best things to do in London at Christmas, let us know in the comment section below.
More Information for Your Trip to London
LONDON AT CHRISTMAS: For an overview of what to do, here are 15 things to do in London at Christmas. We also have a guide to the best Christmas lights. Learn how to put it all together in our London Christmas Itinerary.
WHERE TO STAY: Take the guesswork out of where to stay in our article Best Places to Stay in London.
BEST OF LONDON: For a list of the top experiences in London, read our article Best Things to Do in London. Tour Westminster Abbey in photos and plan your visit in our Guide to Westminster Abbey. And learn how to plan a day trip to Windsor Castle from London.
LONDON ITINERARY: In our article 5 Days in London, we include detailed daily itineraries for exploring London. You can do all five days or follow just a day or two, if you have less time in the city.
LONDON TRAVEL ADVICE: Here are 12 important things to know if it will be your first time in London.
TRAVEL INSPIRATION: For more travel ideas, here are 10 unique destinations to put on your travel wish list and 10 destinations to visit during the winter holiday season.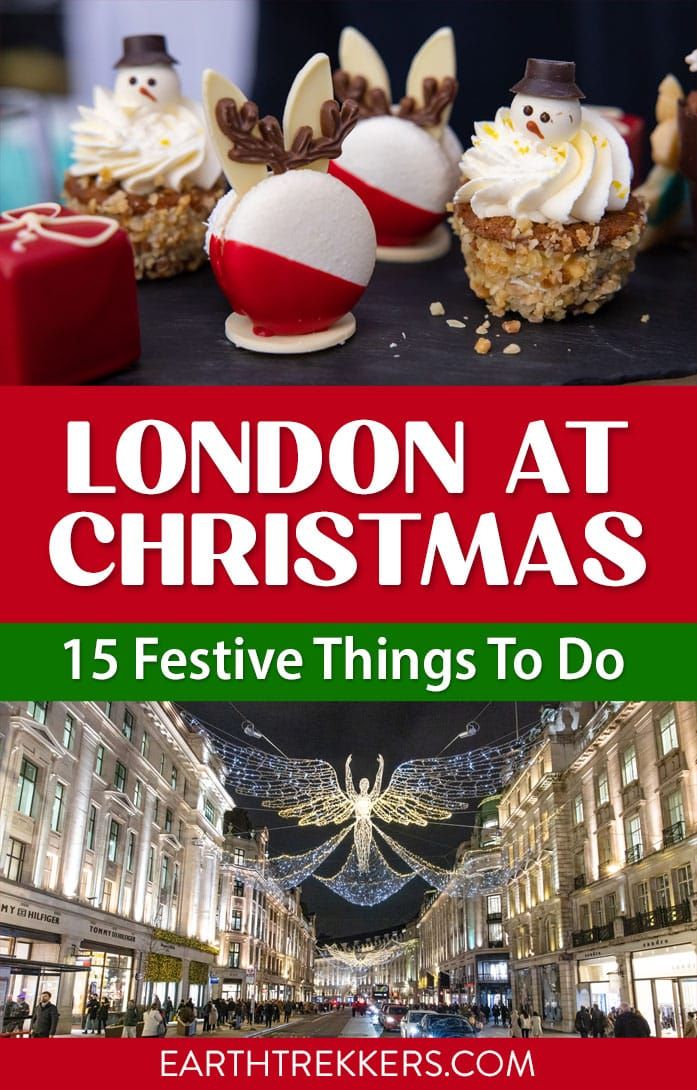 Note: This post contains affiliate links. When you make a purchase using one of these affiliate links, we get paid a small commission at no extra cost to you.
All rights reserved © Earth Trekkers. Republishing this article and/or any of its contents (text, photography, etc.), in whole or in part, is strictly prohibited.