When it comes to Christmas lights, London is one of the brightest cities in the world. From November through early January, the city streets sparkle with brilliant displays of twinkling lights and holiday decorations. If you are planning a visit during this holiday season, seeing the London Christmas lights is one of the best things to do while you are here.
In this guide, we list 15 places to see the London Christmas lights, with photos of each so you know what to expect. At the end of this guide, you can see them all on a map (or skip ahead now).
Note: Our photos were taken in December 2022.
Best Way to See the London Christmas Lights
In December, the sun sets at 3:50 pm, which gives you plenty of evening hours to see the London Christmas lights.
With the exception of Kew Gardens, everything on our list is located in central London, so you won't have to go far to see the London Christmas lights. You can get to all of these with very short walks from the Underground and while sightseeing in London.
It would be very challenging to get to all of these in one evening, and it would get somewhat repetitive, so we think it is best to see the London Christmas lights over a 2 to 3 days. At the end of this guide, we list two walking loops that include visits to the best of the London Christmas lights.
But if you are short on time or what to see them all in one night, there are several bus tours of London that take you to the long list of illuminated streets.
Seeing the London Christmas lights is one of best free things to do during the holiday season. Simply walk the streets, gaze up at the brilliant displays, and fill your camera's memory cards with lots of festive photos.
When Are the London Christmas Lights Turned On and Off?
The London Christmas lights are turned on sometime between early and mid-November (between November 7 and November 17). If you want to see the city fully illuminated, plan your visit for November 18 or later.
The lights are usually on from 3 pm through 11 pm, although this can vary by location.
The London Christmas lights are turned off during the first week of January, usually around January 6 or 7.
London Christmas Lights
1. Regent Street
One of the best displays of Christmas lights in London is along Regent Street.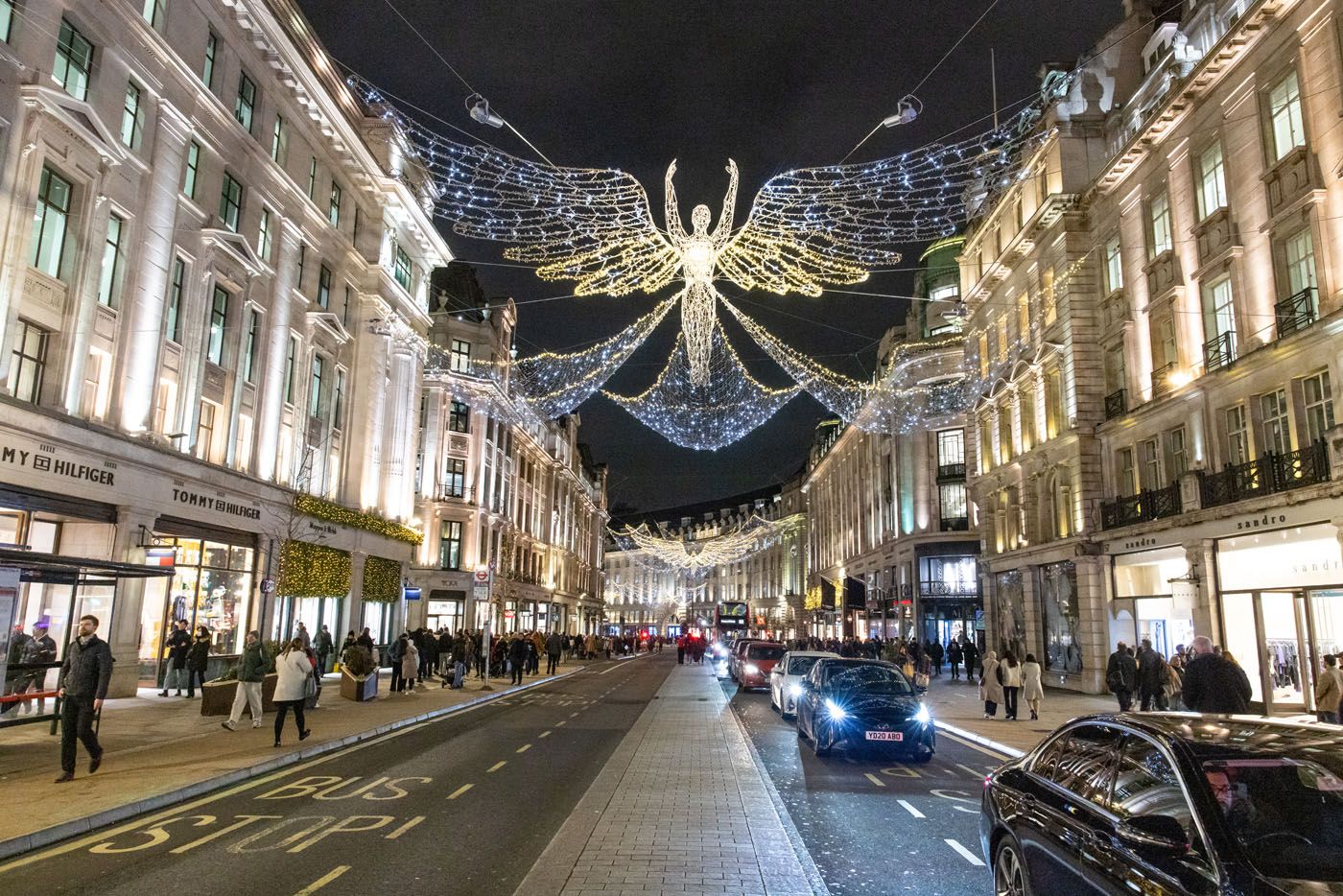 Regent Street | London Christmas Lights
This is where it all started…the tradition of hanging Christmas lights in London started on Regent Street in 1954.
With a theme of "The Spirit of Christmas," a canopy of twinkling spirits run the length of Regent Street, from Langham Place, through Oxford Circus, to Waterloo Place. Add in few red double decker buses and shops decorated for Christmas and you have one of the best places in London to see the Christmas lights. Regent Street was also the cover photo for this article.
2. Piccadilly
Running from Green Park to Piccadilly Circus, illuminated figures of Anteros, the Greek god requited love, sparkle overhead.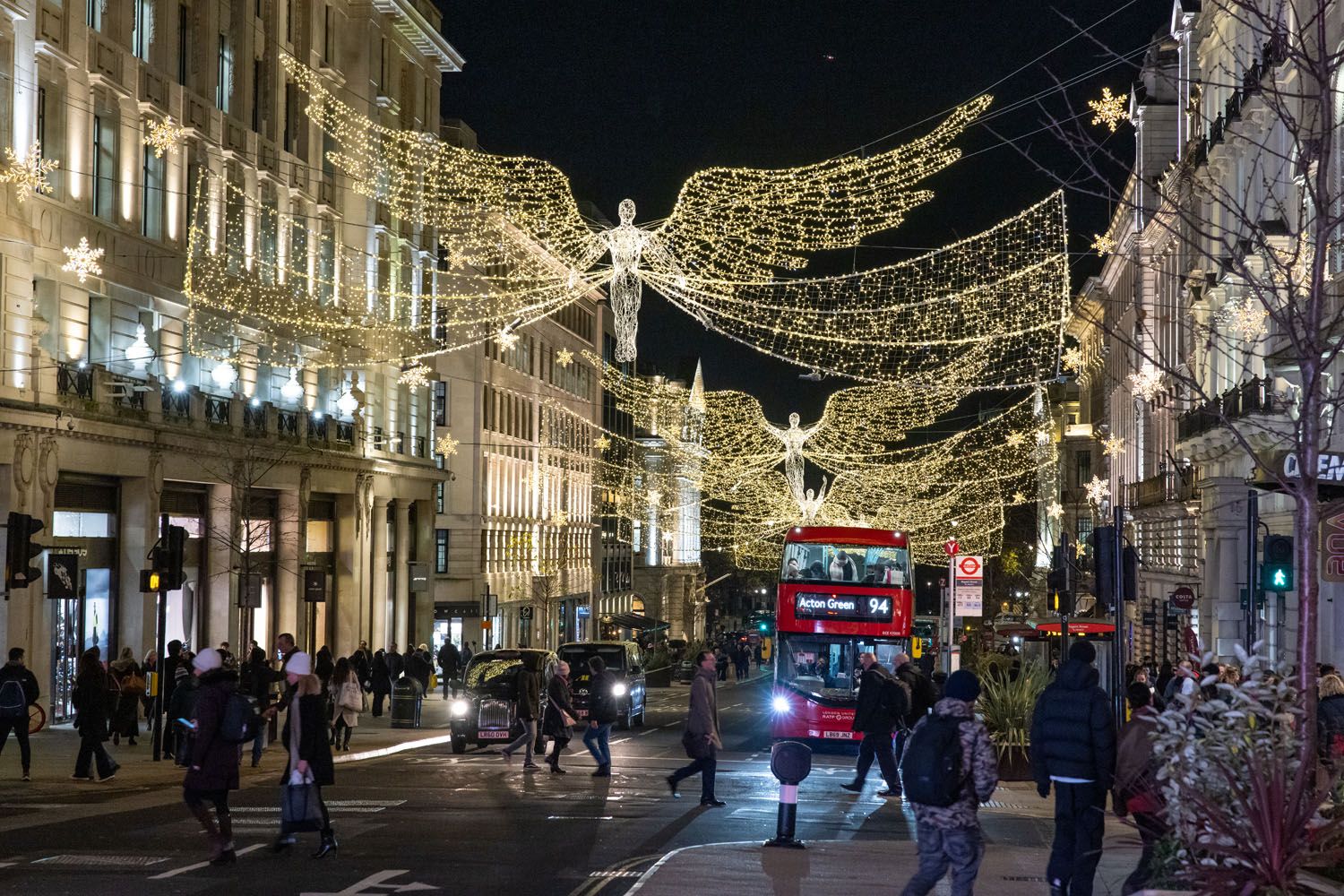 Piccadilly Street
Don't miss another holiday favorite, Fortnum and Mason, which is located on Piccadilly. The outside of this store is decorated as an advent calendar. Each day in December, another window is illuminated, counting down the days until Christmas.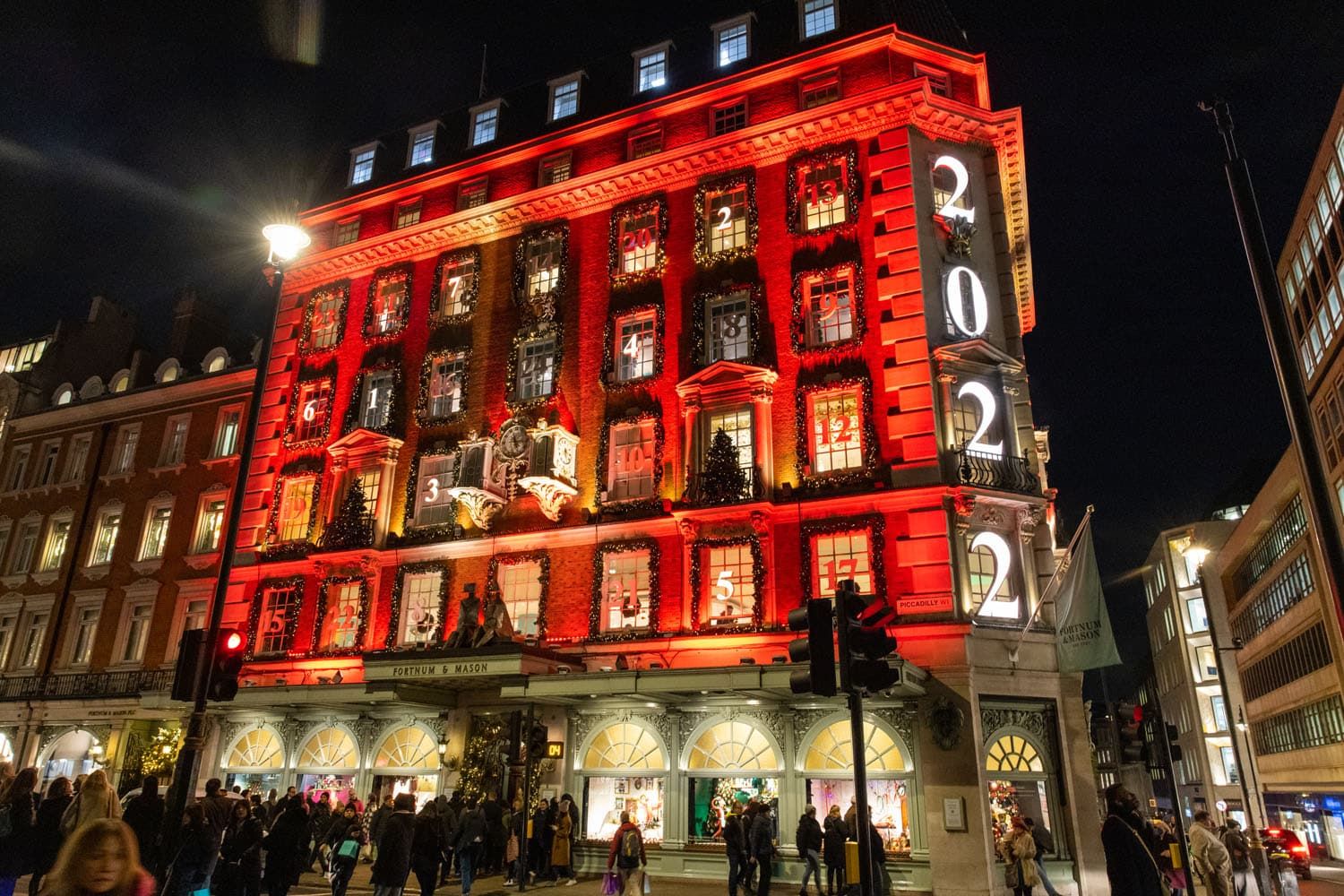 Fortnum and Mason
Also on Piccadilly is the Burlington Arcade. This covered walkway is decorated for Christmas and inside, go shopping for jewelry, leather goods, and clothing.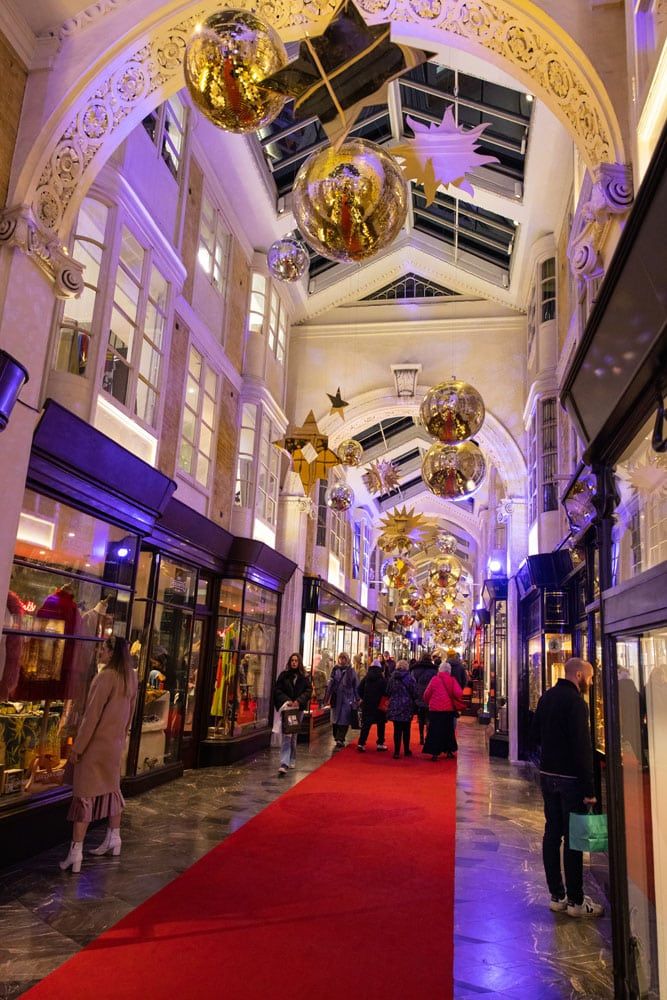 Burlington Arcade
3. Oxford Street
On Oxford Street, one of the busiest shopping streets in London, hundreds of illuminated stars twinkle overhead. While on Oxford Street, make sure you see the holiday window displays at Selfridges department store.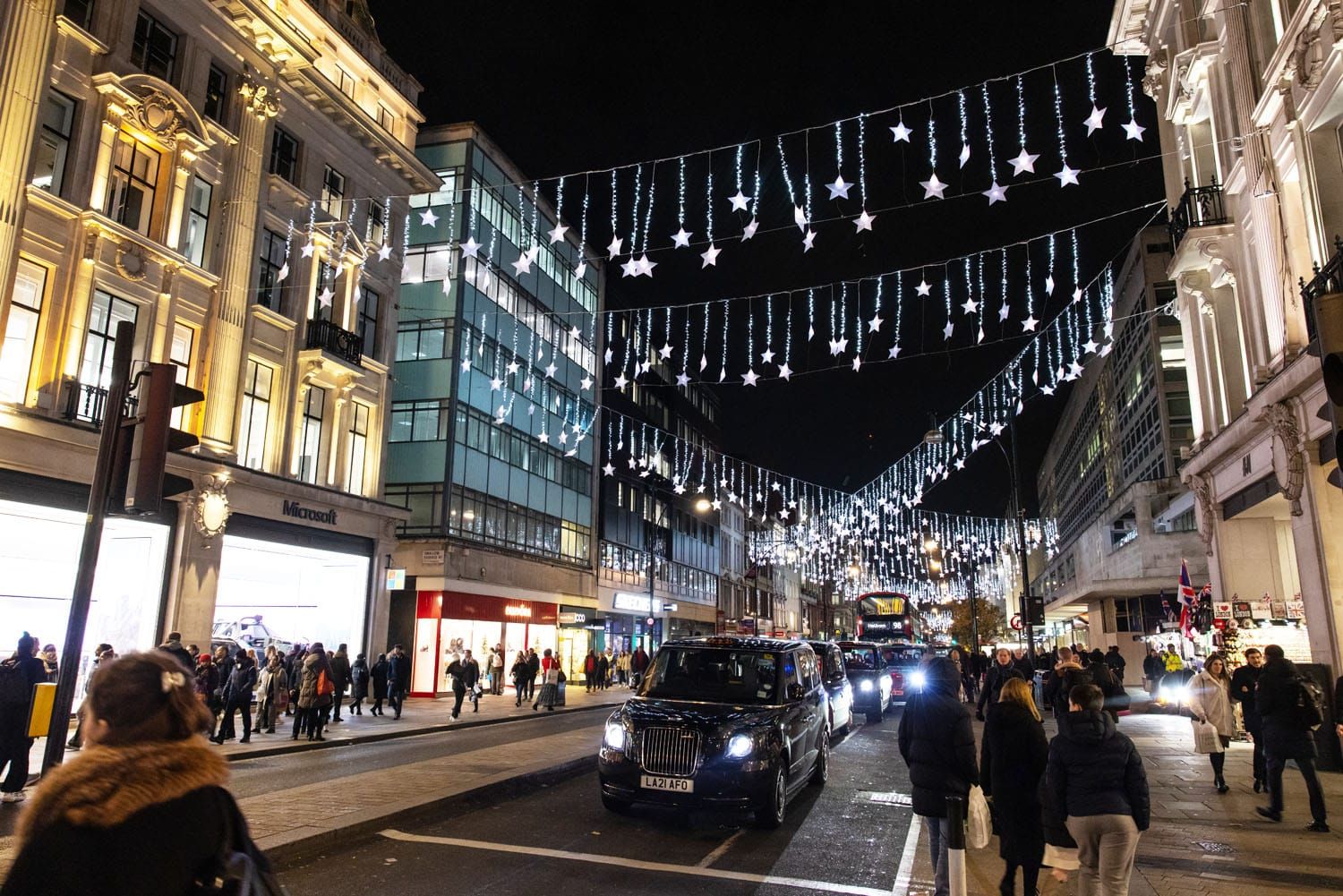 Oxford Street
4. Grosvenor Square
At Christmas time, Grosvenor Square is transformed into the Ever After Garden. More than 20,000 illuminated white roses carpet the square. Entrance is free and visitors can make a donation to dedicate one of the roses in honor of a lost loved one. The money that is raised is then donated to the Royal Marsden Cancer Charity.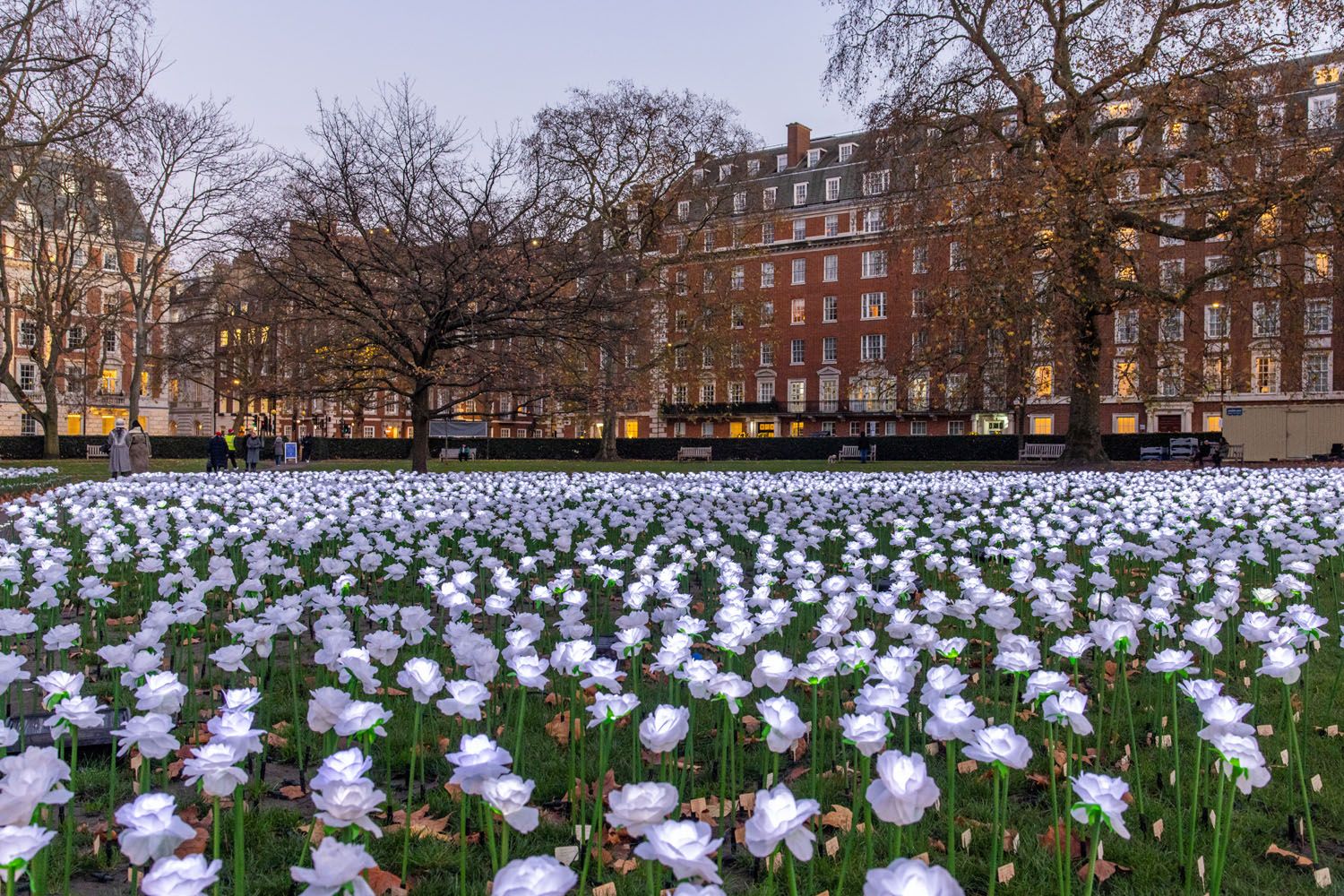 Grosvenor Square
5. South Moulton Street in Mayfair
Running along this pedestrian street are illuminated blue LED arches. It's definitely a beautiful sight to see, since it's different than the spirits, stars, and crowns that adorn many of the other streets in London.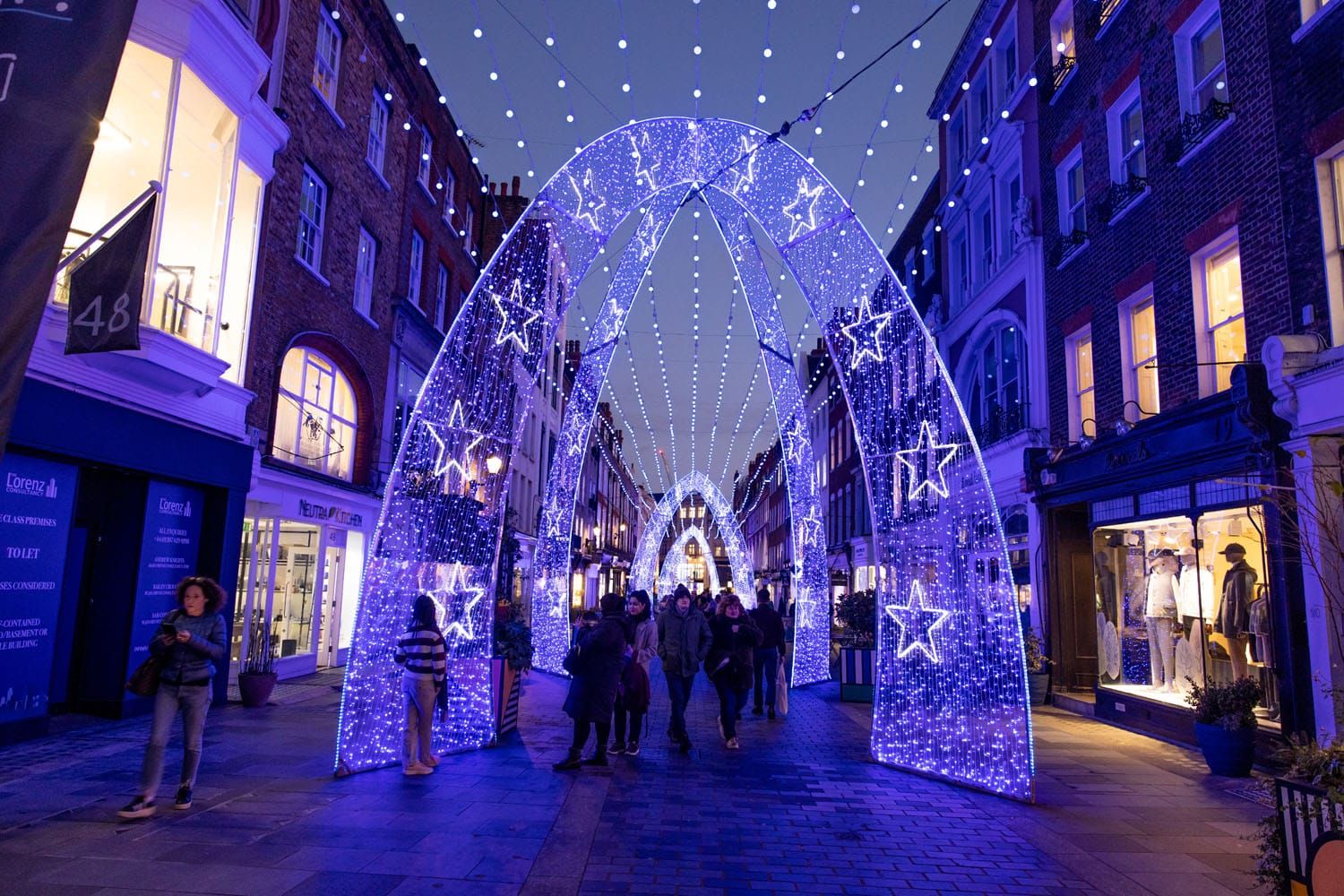 South Moulton Street
6. New Bond and Old Bond Streets
New Bond Street starts at Oxford Street, running south until it changes to Old Bond Street. This street is home to some of the most high-end shopping stores in London.
Overhead, sparkling crowns and crown jewels illuminate the street. But the best part of a visit to Bond Street is seeing the spectacular window displays, some of the best in the city.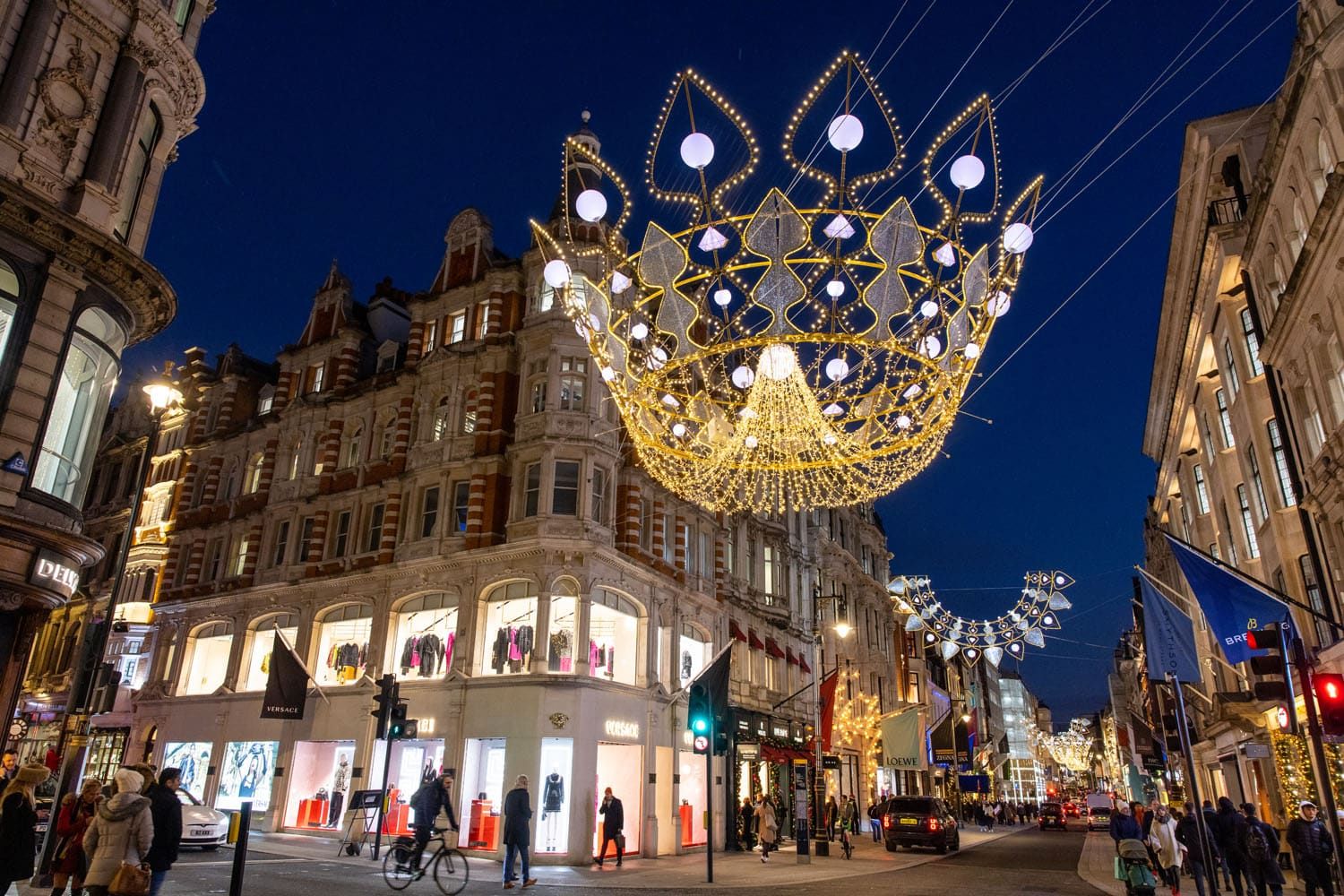 New Bond Street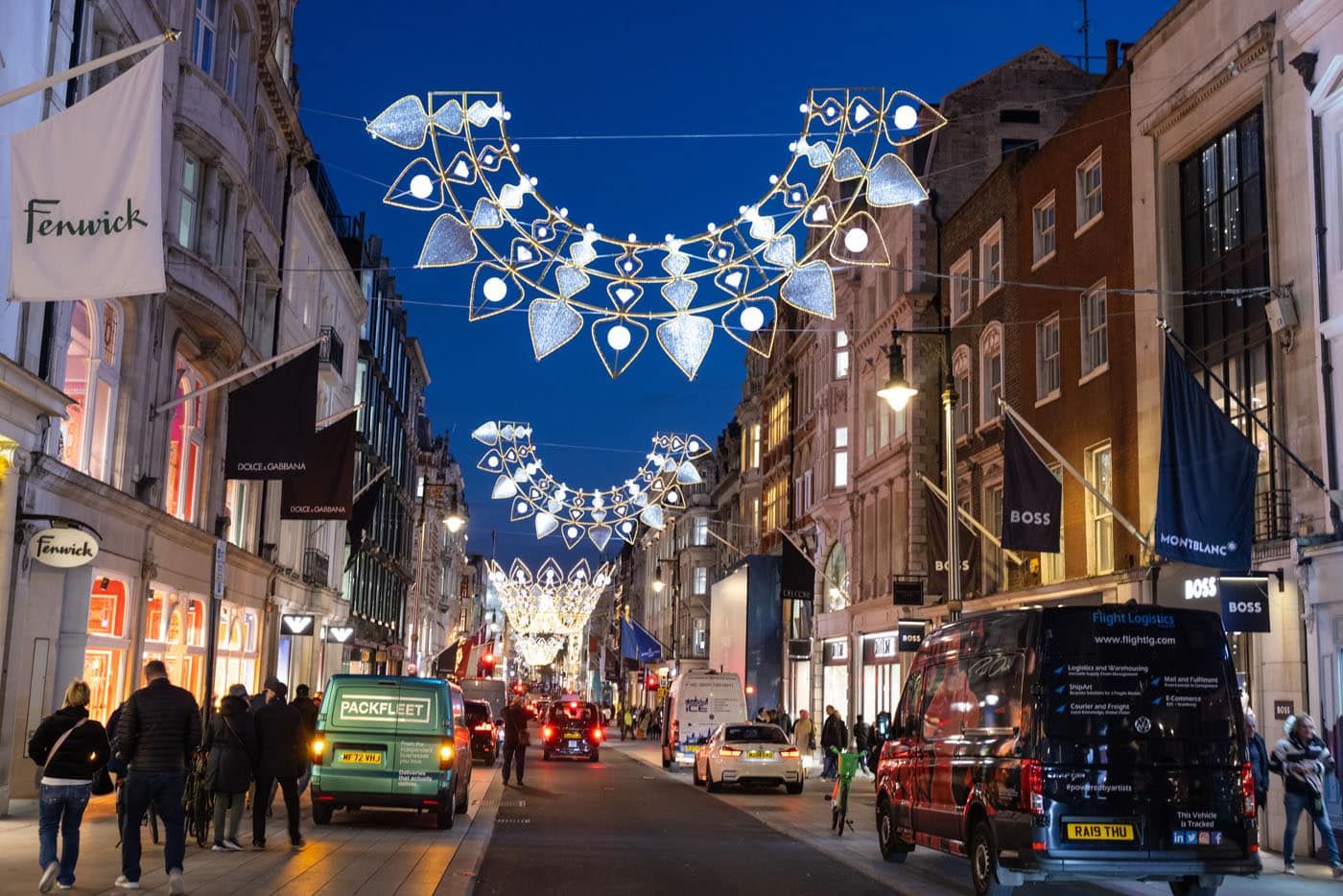 New Bond Street
Cartier, Dior, and Tiffany spared no expense in decorating the storefronts with elaborate holiday displays. It's worth a stroll down this swanky street to see the London Christmas lights and holiday decorations, and do a little window shopping.


7. Carnaby Street
Carnaby Street is a trendy pedestrian shopping street in Soho, just a few blocks east of Regent Street.
The lights that illuminate this street have a different theme each year. In 2022, the theme was "Carnaby Celebrates," with lights used from the past 25 years as well as installations celebrating the Rolling Stones and Queen.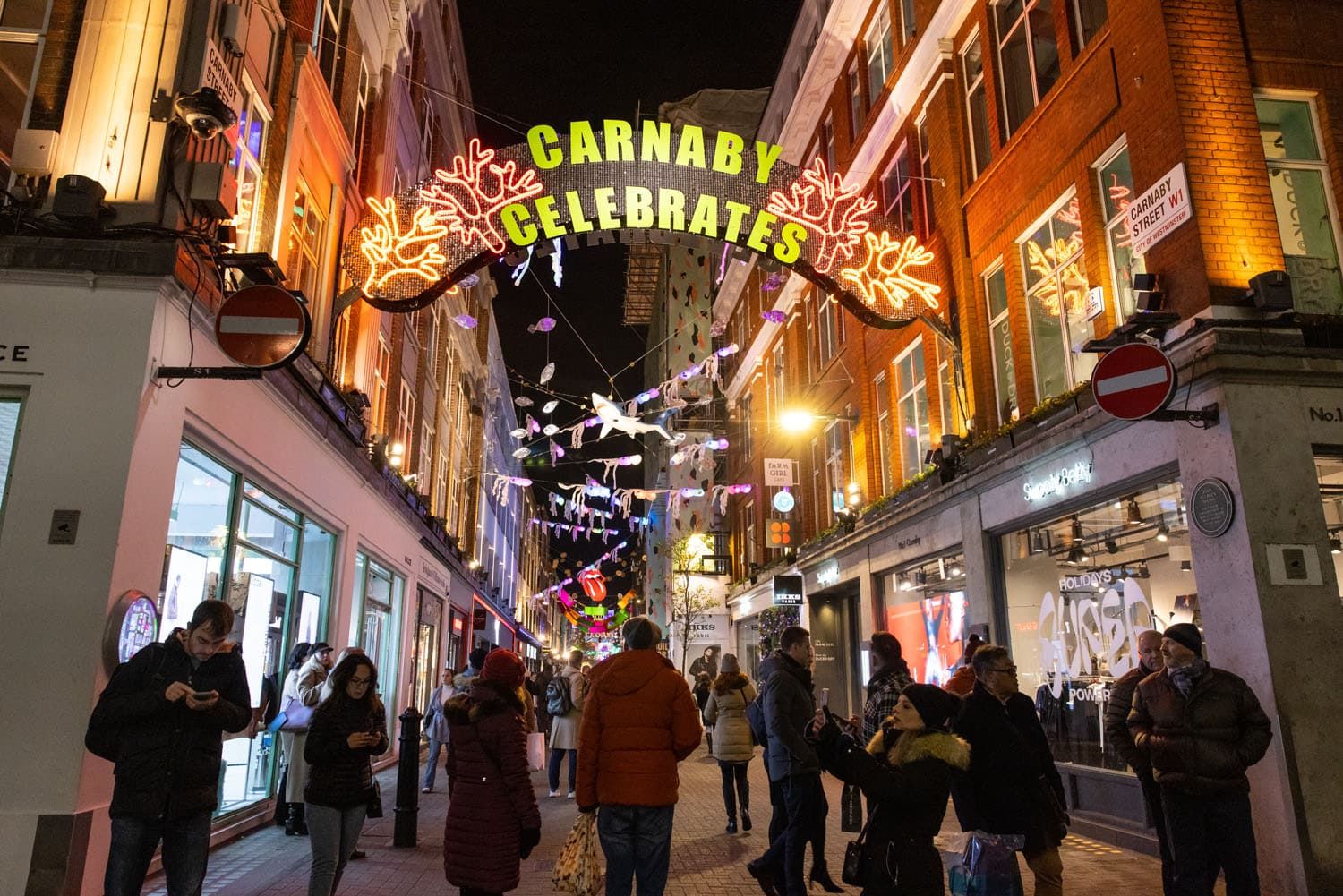 Carnaby Street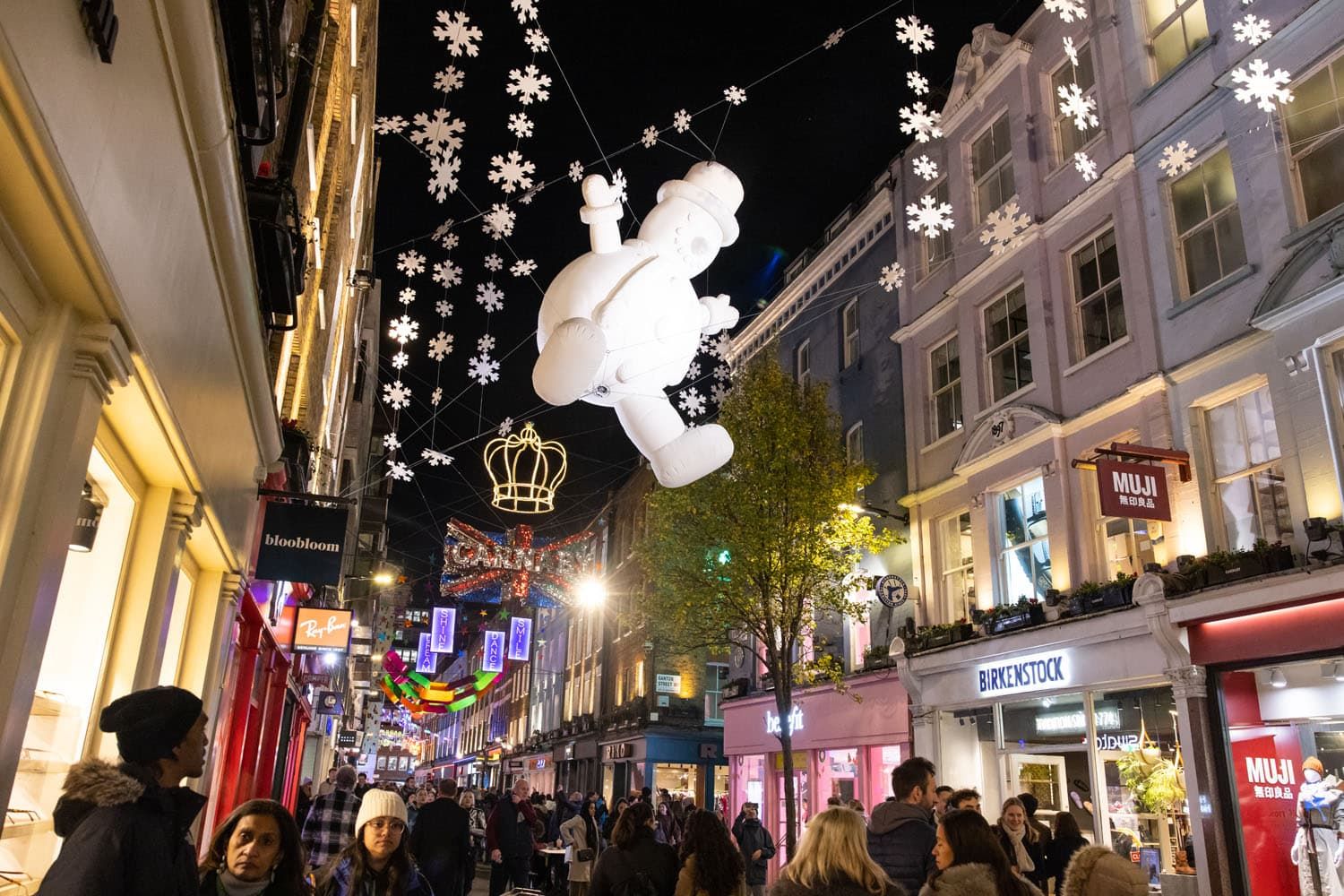 Carnaby Street
8. Trafalgar Square
Every year, a tree is gifted from Norway to Britain, a tradition that has been going on since 1947. It is usually a 50-year-old Norway spruce that is adorned with over 500 white lights. The tree stands in Trafalgar Square from the first Thursday in December through early January.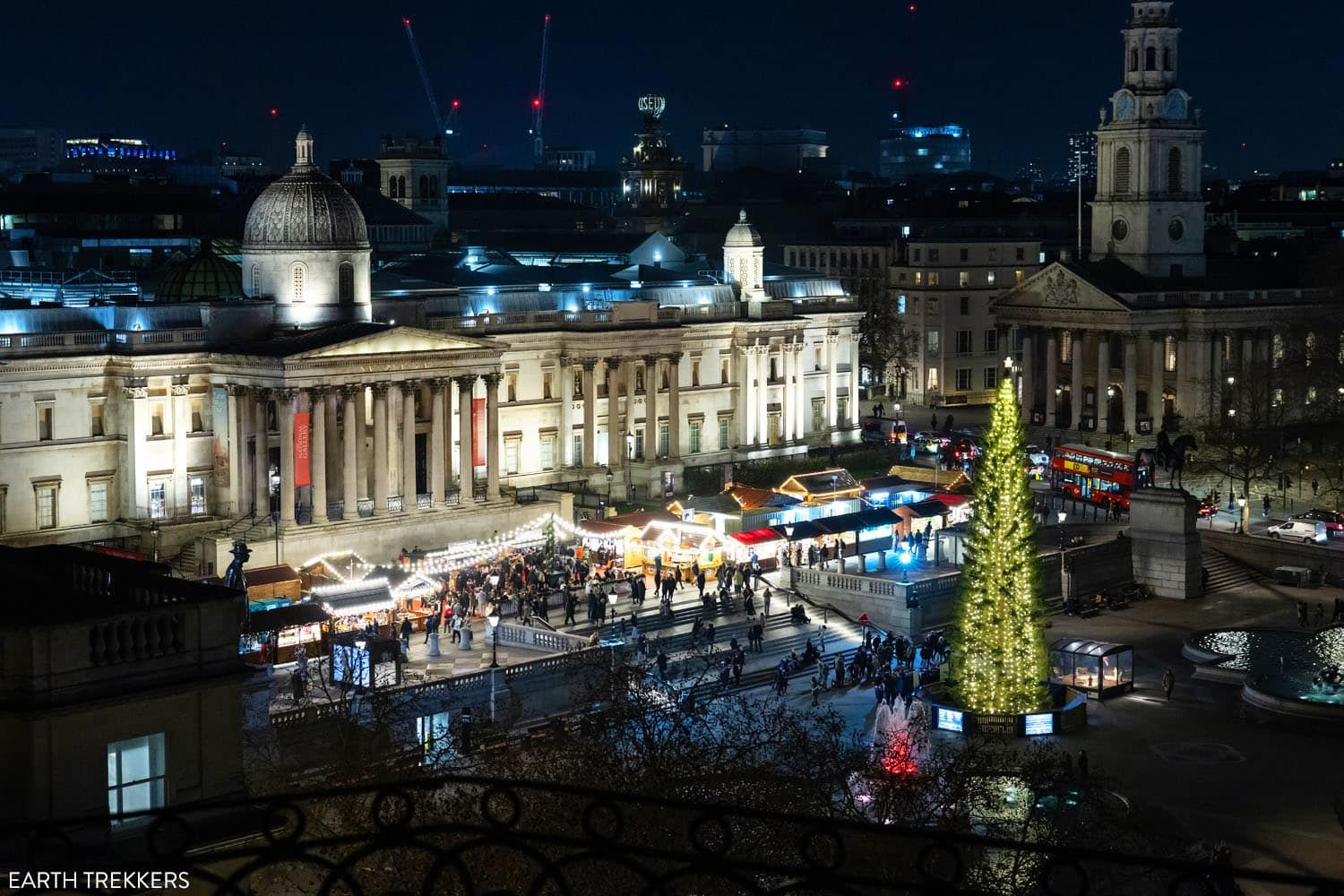 Trafalgar Square at Christmas
Also in Trafalgar Square is a Christmas market, where you can do some shopping, see more Christmas lights, and listen to carolers.
9. Churchill Arms
Churchill Arms is one of the oldest pubs in London, dating back to 1750. It gets its name because Winston Churchill's grandparents were regular visitors here.
The exterior of Churchill Arms is decorated 365 days of the year with flowers, making it also one of the most photographed pubs in London.
In December, thousands of lights are strung along the outside of Churchill Arms and the inside gets a covering of lights as well, plus some Christmas decorations here and there.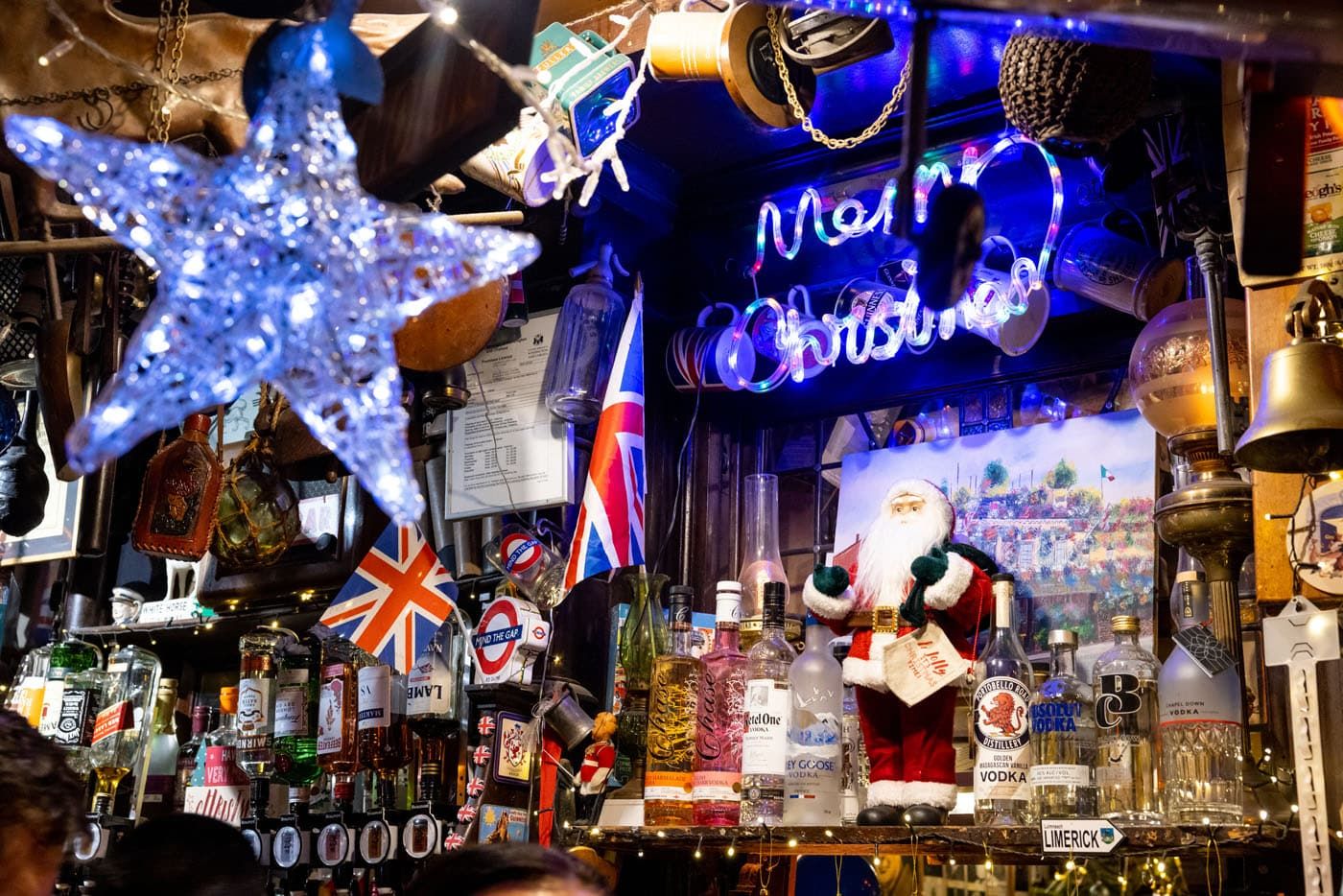 Inside Churchill Arms
The Churchill Arms is one of the most festive pubs to have a pint of beer. If you're hungry, Thai food is on the menu.
The exterior Christmas lights do not come on until 6 pm (at least during our visit in 2022), even though it is dark by 4 pm. Keep this in mind when planning your visit.
Churchill Arms at 3:45 pm (go later in the day to see the lights turned on!).
10. Elizabeth Street, Belgravia
Belgravia is a neighborhood that sits to the west of Buckingham Palace and to the south of Hyde Park. This area is quieter than places like Oxford Street and Covent Garden and has more of a residential vibe.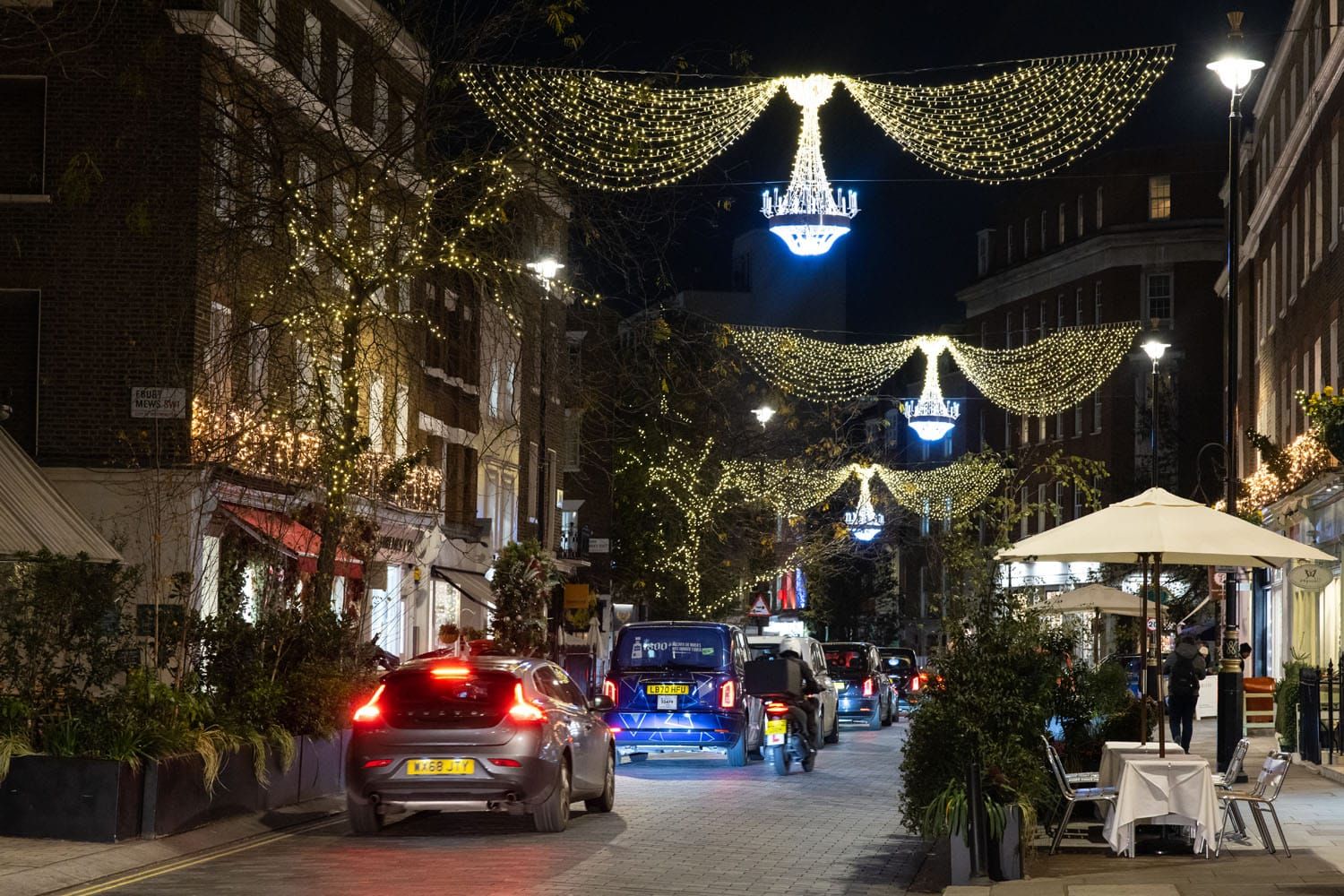 Elizabeth Street
We strolled along Elizabeth Street and the highlight was a visit to Peggy Porschein Belgravia, which serves decadent holiday-themed cupcakes.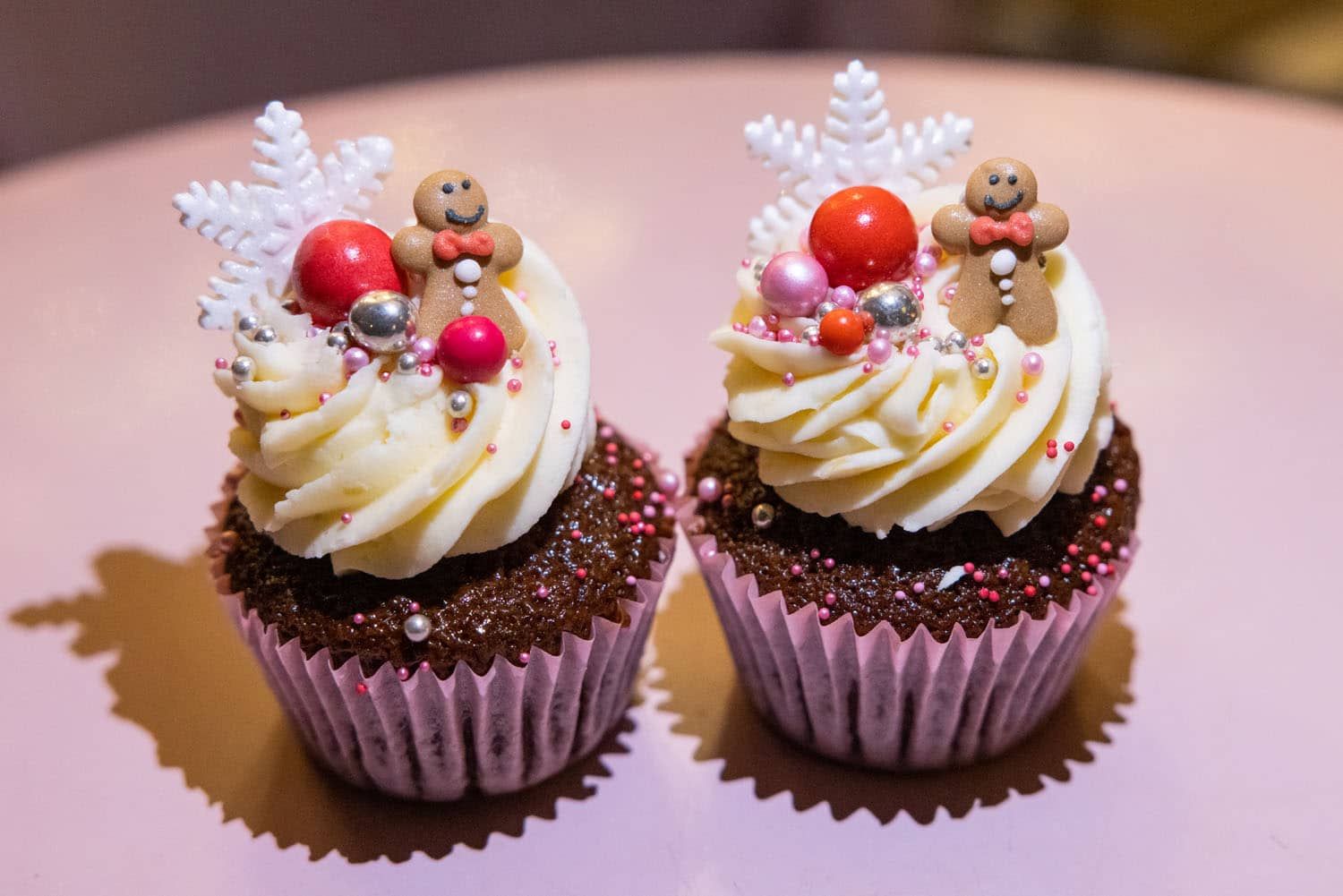 Christmas cupcakes at Peggy Porschein Belgravia
11. South Bank & the London Eye
During the Christmas holiday season, the London Eye is illuminated with a variety of colors.
One of the best places to see and photograph the London Eye is from the west end of Westminster Bridge, near the Westminster tube station.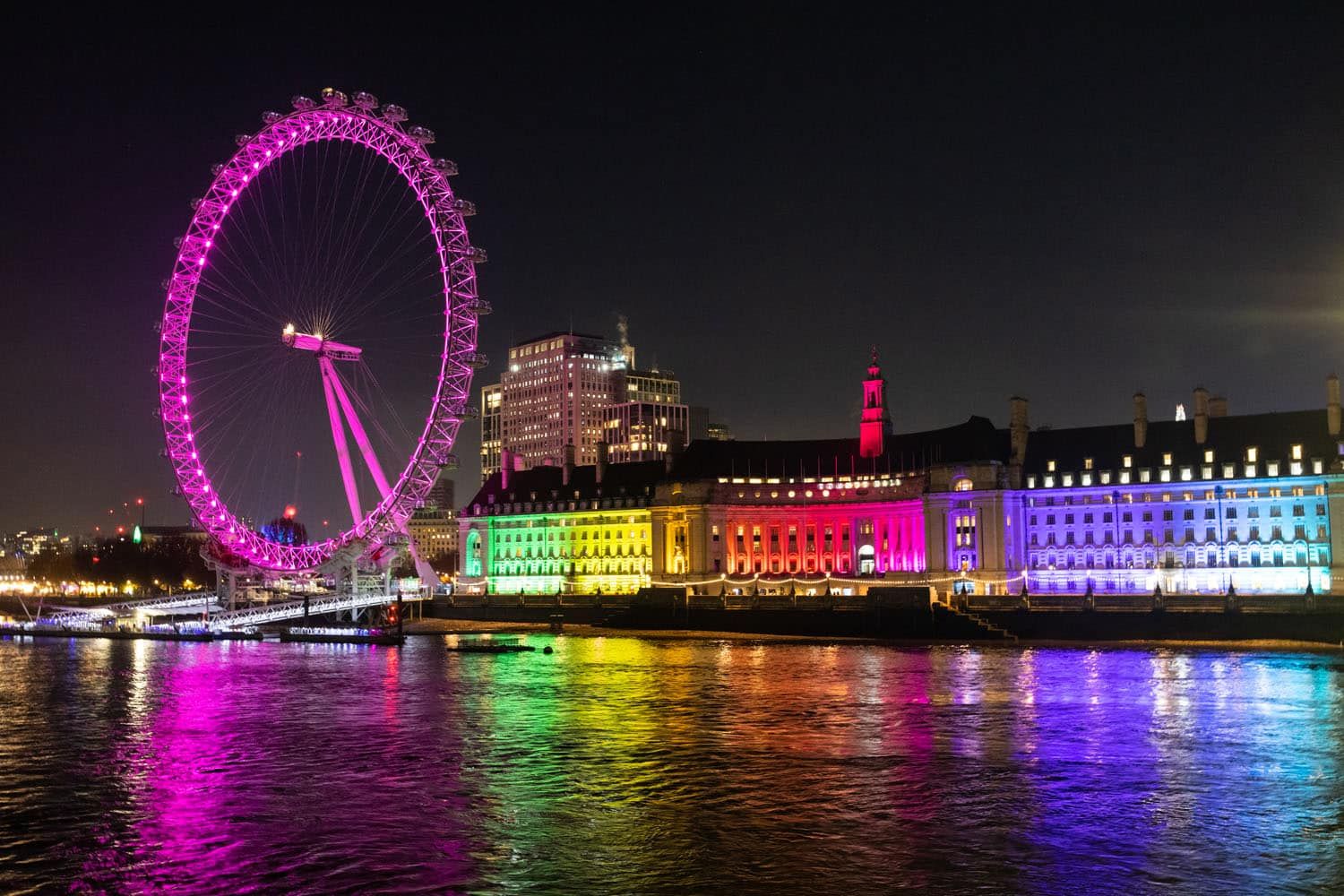 London Eye from Westminster Bridge
There is also a Christmas market on South Bank, just a few steps from the London Eye, which has an array of colorful Christmas lights on the trees. The photo below was taken from Belvedere Road, looking back to the London Eye.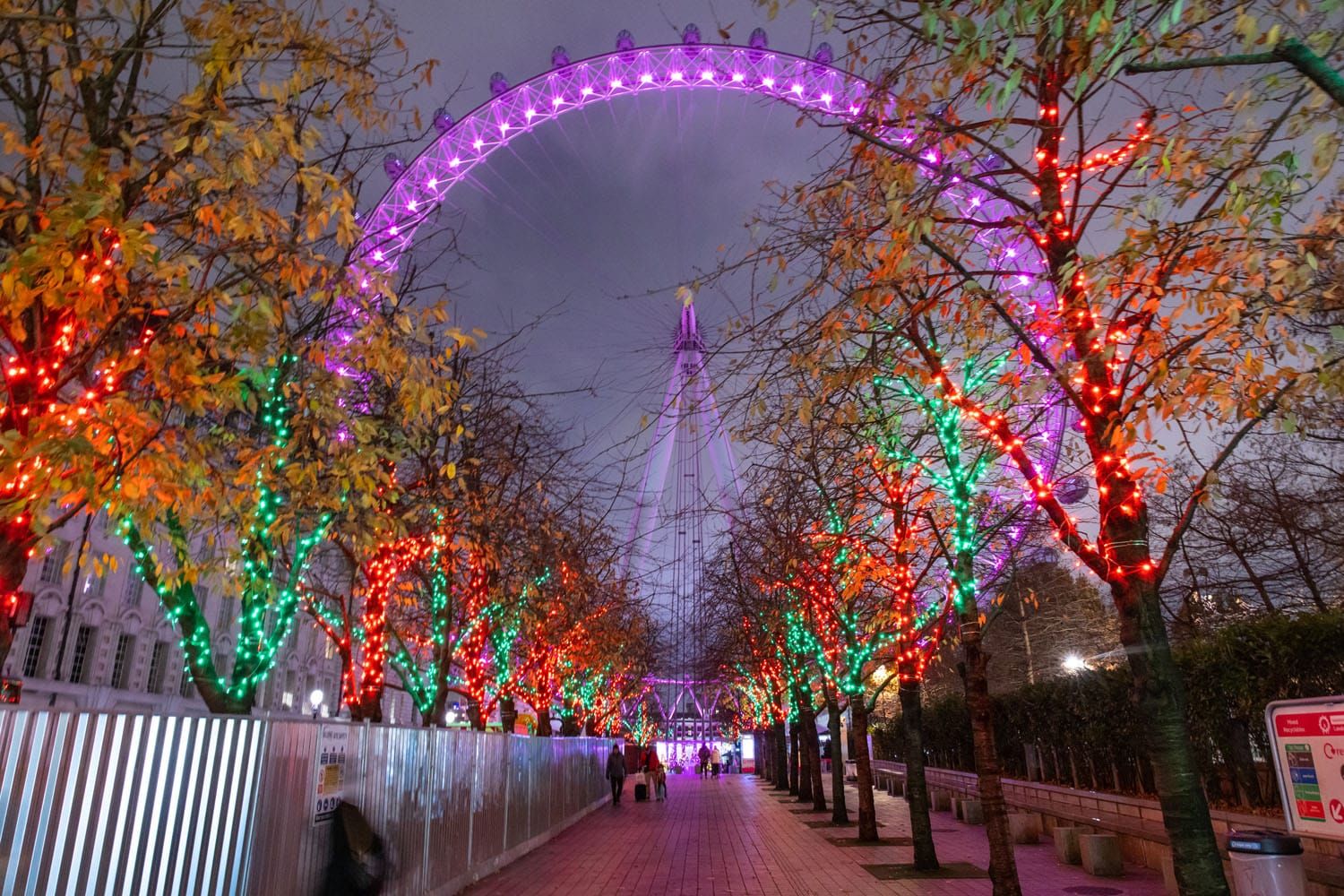 London Eye from Belvedere Road
12. Seven Dials
Seven Dials, located in the West End of London, is another shopping area in London. At Seven Dials, seven streets converge on a roundabout. Standing within this roundabout is a pillar with six sundials.
This area is covered in Christmas lights, not just the roundabout, but also the seven streets that lead off of the circle.
Seven Dials
13. Neal's Yard
Neal's Yard is an alleyway that is located in the Seven Dials neighborhood of London. This is a colorful place to visit all year but in December, the Christmas lights make it even more festive.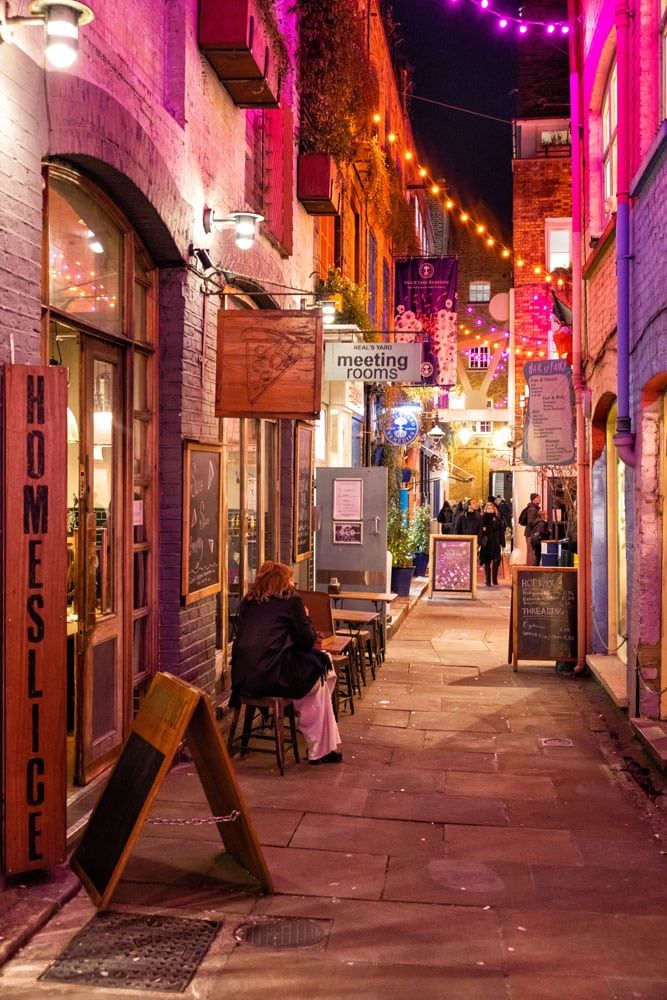 Neal's Yard
One of our favorite shops in London is just off of Neal's Yard. Neal's Yard Dairy sells amazing British and Irish cheeses.
14. Covent Garden
Covent Garden is one of London's most popular shopping locations. With hundreds of Christmas lights, holiday decorations, street performers, and a Christmas tree that gets bigger and more brilliantly lit year after year, this is one of the most festive places in London.
See the lights, go shopping, take a break and have mulled wine or hot cider, or dine at one of the restaurants or outdoor cafes. Covent Garden is a must-see while in London.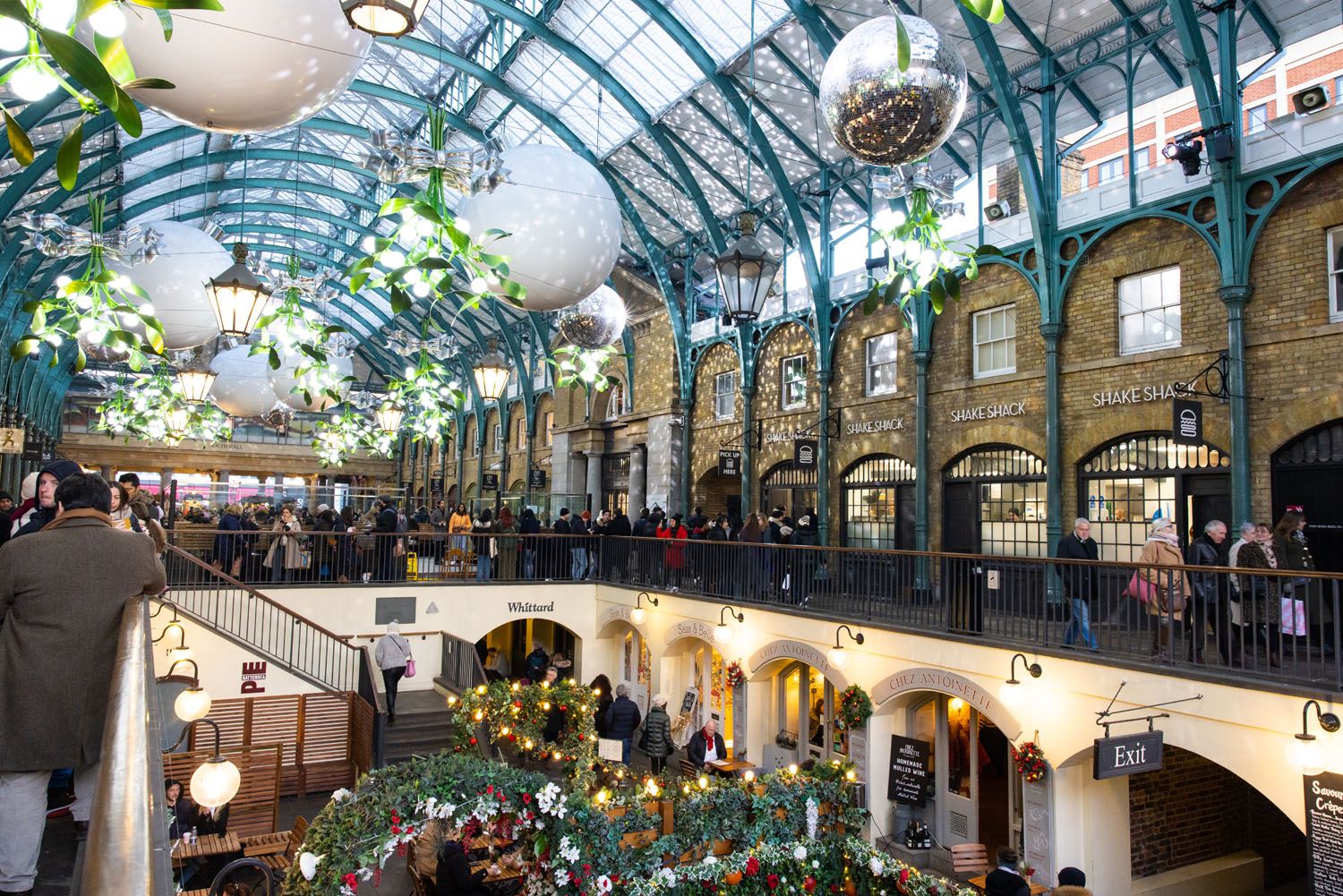 Covent Garden
15. Kew Gardens
Kew Gardens is an enormous botanical garden that sits west of central London.
If you have a few days on your itinerary, it's worth the visit to see one of the best displays of London Christmas lights. Installations change from year to year, but various parts of the gardens are illuminated in a dazzling display of Christmas lights and it takes several hours to see everything. Learn more on the official website.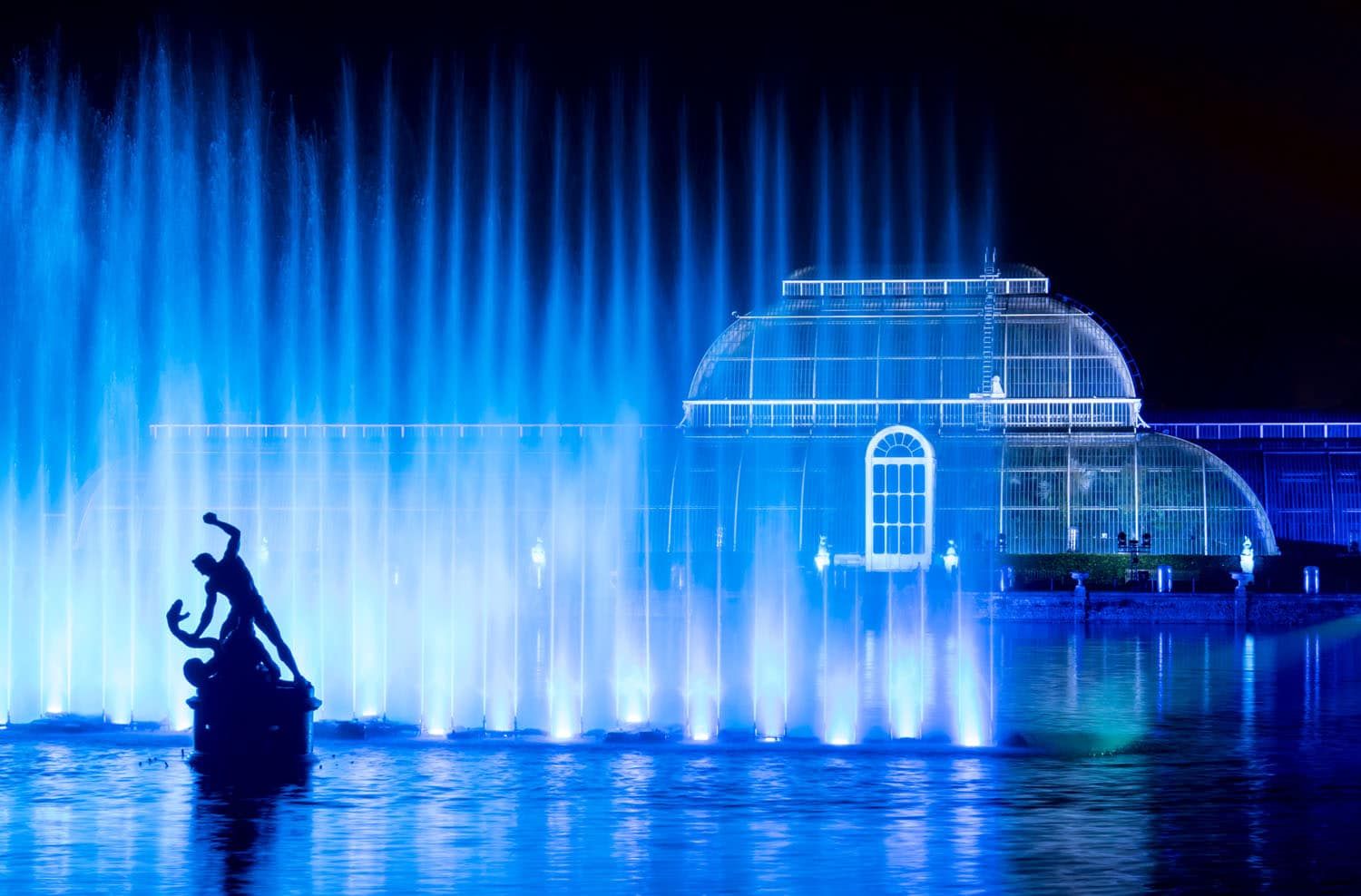 Kew Gardens at Christmas | Charles Bowman/shutterstock.com
London Christmas Lights: On a Map
How to Use This Map: Click the icons on the map to get more information about each point of interest. Click the star next to the title of the map to add this map to your Google Maps account. To view it on your phone or computer, open Google Maps, click the menu button, go to "Your Places," click Maps, and you will see this map on your list.
Our Favorite London Christmas Lights
That's a long list of Christmas lights. If you need help narrowing it down, here are our five favorite London Christmas lights displays:
Regent Street
Covent Garden
New & Old Bond Streets (more for the window displays than the Christmas lights)
Churchill Arms
South Moulton Street (Mayfair)
Walking Tours of the London Christmas Lights
Trying to fit all of these Christmas lights into one day is very ambitious and would get to be repetitive. As an alternative, we have two walking loops that include most of the places listed above. Both of these are a loop, so you can start at any point, depending on your plans before or after seeing the Christmas lights.
You can see each of these walking loops on our map above.
Walking Loop #1: Piccadilly, Bond Street, Oxford & Regent Street
This walking loop is 3.2 km/2 miles and takes about 40 minutes, without stops.
Starting at Piccadilly Circus (closest Underground station: Piccadilly Circus), walk west down Piccadilly (towards Green Park), visiting the Burlington Arcade and Fortnum and Mason on the way. Turn right onto Old Bond Street and as you walk up Old and New Bond Streets, enjoy the views of the festive storefronts of Cartier, Dior, and Tiffany. From New Bond Street, turn left onto Brook Street and then turn right onto South Moulton Street, to see the illuminated blue archways and lights. This will take you to Oxford Street. Turn right, walk to Oxford Circus, turn right on Regent Street, and take this back to Piccadilly Circus.
Optional: Before walking up South Moulton Street, you can take Brook Street two blocks to see the lights at Grosvenor Square. 34 Mayfair, a restaurant that is beautifully decorated for Christmas, is located near Grosvenor Square.
Walking Loop #2: Leicester Square, Trafalgar Square, Covent Garden & Seven Dials
This walking loop is 0.6 km/1 mile and takes 30 minutes, without stops.
Starting at Leicester Square (there is a Christmas market here), walk south to Trafalgar Square. In Trafalgar Square, see the Christmas tree, visit the Christmas market, and you have the option to visit The National Gallery and the National Portrait Gallery. From Trafalgar Square, walk east along the Strand, turn left onto Bedford Street, and walk to Covent Garden. After spending some time at Covent Garden, walk north on James Street, continue straight onto Neal Street, and turn left onto Short's Gardens, and then turn right to enter Neal's Yard. Once finished at Neal's Yard, walk west down Short's Gardens to Seven Dials. From Seven Dials, walk down Monmouth Street, turn right on Cranbourn Street, and take this back to Leicester Square.
From Leicester Square, have dinner at the Leicester Christmas market, watch an evening show at one of the nearby theaters, or have drinks and appetizers at 8 at the Londoner (great cocktails and Japanese food with rooftop views of London).
---
If you have any questions about the London Christmas lights or if you want to share your experience, let us know in the comment section below.
More Information for Your Trip to London
LONDON AT CHRISTMAS: For an overview of what to do, here are 15 things to do in London at Christmas. We also have a guide on the best Christmas markets. Learn how to put it all together in our London Christmas Itinerary.
BEST OF LONDON: For a list of the top experiences in London, read our article Best Things to Do in London. Tour Westminster Abbey in photos and plan your visit in our Guide to Westminster Abbey. And learn how to plan a day trip to Windsor Castle from London.
LONDON ITINERARY: In our article 5 Days in London, we include detailed daily itineraries for exploring London. You can do all five days or follow just a day or two, if you have less time in the city.
WHERE TO STAY: Take the guesswork out of where to stay in our article Best Places to Stay in London.
LONDON TRAVEL ADVICE: Here are 12 important things to know if it will be your first time in London.
ITINERARIES WITH LONDON: London and Paris can be combined into a wonderful 7 or 10 day trip. With 10 days, you can also visit London, Amsterdam, and Paris.
EUROPE ITINERARIES: If you have 10 days for a trip to Europe, check out our 10 Days in Europe Itinerary, which lists 10 itineraries for your next trip to Europe. If you have less time, we also have an article that lists 25 different ways to spend one week in Europe.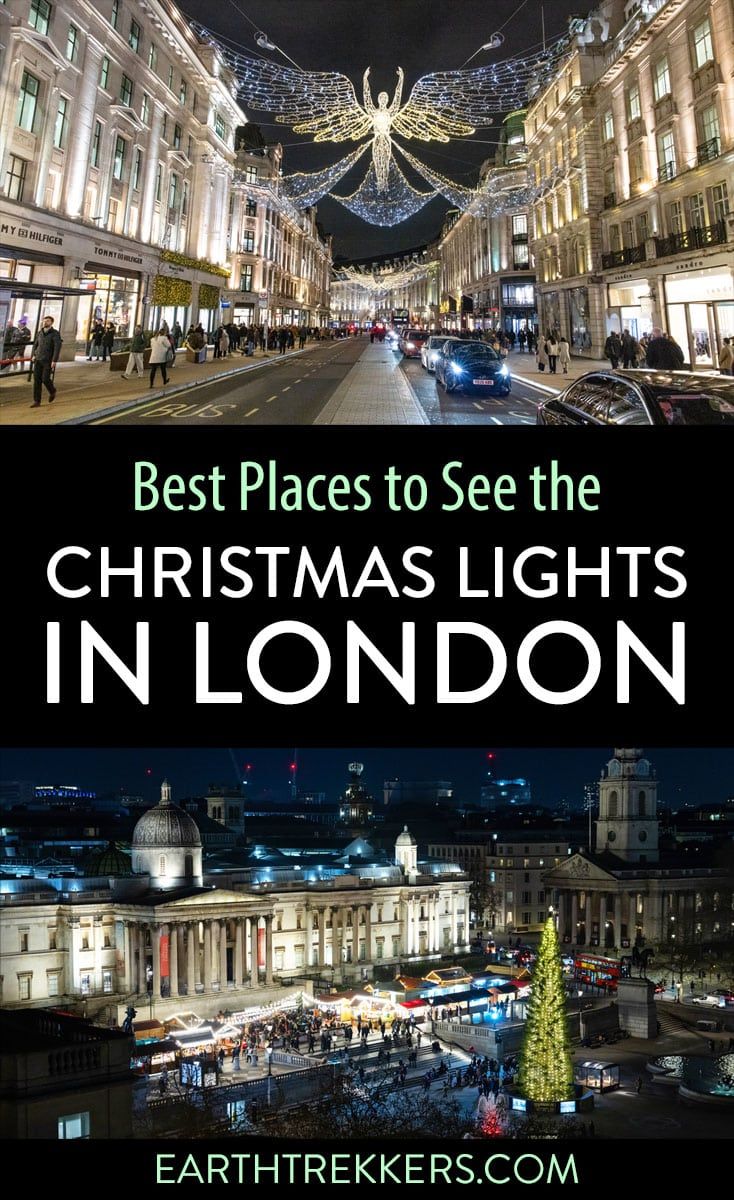 Note: This post contains affiliate links. When you make a purchase using one of these affiliate links, we get paid a small commission at no extra cost to you.
All rights reserved © Earth Trekkers. Republishing this article and/or any of its contents (text, photography, etc.), in whole or in part, is strictly prohibited.