If you are planning your first trip to London, you may have a lot of questions running through your head. Where should I stay? Should I get the London Pass? How much time do I need? What should I do?
If it will be your first time in London, there are some important things to know before you go.
In this guide, we hope to answer any questions you may have about how to visit London, and maybe answer some questions you didn't even know you had. If we missed something, feel free to ask us in the comment section at the end of this article.
First Time in London: Important Things to Know
Best Things to Do Your First Time in London
On your first visit to London, there is a relatively long list of landmarks, world-class museums, and essential British experiences to put on your to-do list.
For first timers to London, here are the top 10 things to do:
British Museum
Tower of London
Stroll across Westminster Bridge for iconic views of Big Ben and Parliament
St. Paul's Cathedral
Westminster Abbey
Have afternoon tea
Visit the Shard, Sky Garden, or ride the London Eye for a bird's eye view of London
Tower Bridge
Covent Garden
Buckingham Palace
London is massive with an incredibly long list of things to do. There are more museums to visit, neighborhoods to explore, pubs to visit, department stores and markets to go shopping, and parks to visit then what is listed above. You won't be able to get to everything, unless you have at least a week here, and even then, you probably won't get to everything.
For a longer list of things to do, check out our London Bucket List.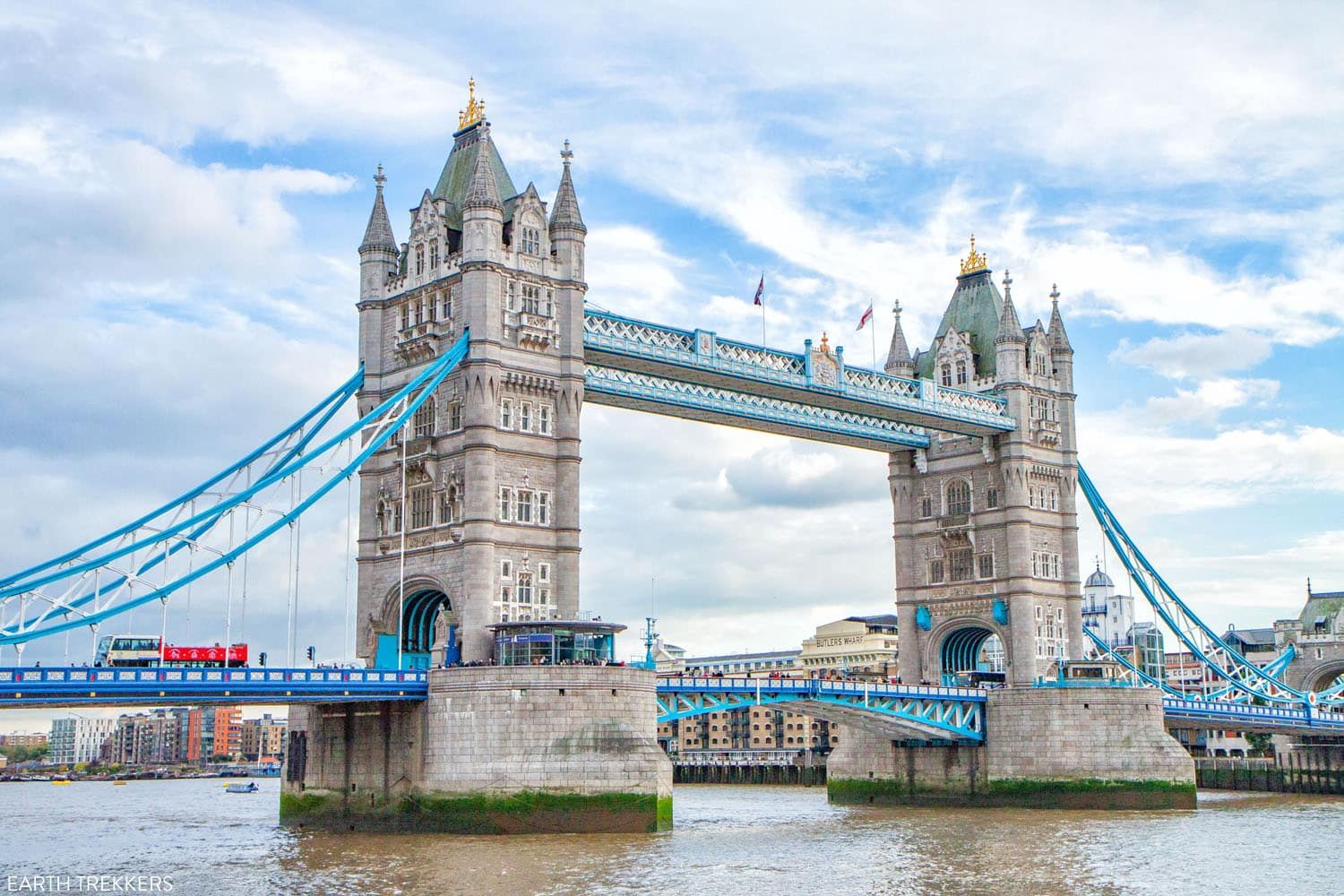 Tower Bridge
How Many Days Do You Need in London?
Ideally, plan on spending a minimum of 3 days in London. As you can see, the list of things to do in London is very long, and it would take one busy week to get to everything.
Three days gives you enough time to see what's listed on our London Top 10 List.
For a first visit to London, 5 days is a nice amount of time to spend here. You can use all five days to visit London or use one day to take a day trip to Stonehenge, Windsor Castle, Bath, the Cliffs of Dover, or Oxford.
So far, we have visited London twice. Our first visit was in 2012 for 5 days. One of these days included a day trip to Stonehenge and Bath. Our second visit was in December 2022. We spent 7 days in London, repeating a few of our favorite experiences, day tripping to Windsor Castle, and exploring new spots in London. That's a total of 12 days and we still have a lot of new places we plan to explore on our next visit to London.
When is the Best Time to Visit London?
For clear skies and the warmest weather, visit in June, July and August, but be aware that this is also the busiest time to visit London. May and September have very nice weather and slightly lower crowds. London in December is magical, with Christmas lights and markets and a very festive vibe in the city.
SPRING: In spring, temperatures rise, the skies begin to clear, and rainfall chances go down. The average high temperature in March is 12°C (53°F) but this rises to 19°C (67°F) by the end of May.
SUMMER: Summer is the warmest, driest time of the year to visit London. The average high temperature is 23°C (73°F), but during heat waves it can get much warmer than this. In recent years, London has seen temperatures reach 38°C (100°F).
FALL: Fall is the reverse of spring. Temperatures cool off and rain chances increase. The average high ranges from 19°C (67°F) to 12°C (53°F) and October is one of the rainiest months of the year, with 9 days of rain.
WINTER: Winter in London tends to be cold, cloudy, and drizzly. The average high temperature is 9°C (48°F) and the average low is 4°C (40°F). Rain falls about 8 or 9 days a month, making winter one of the wettest times to visit London. Snowfall is rare, but when it occurs, it's magical. We were lucky to experience London with a dusting of snow on our most recent visit.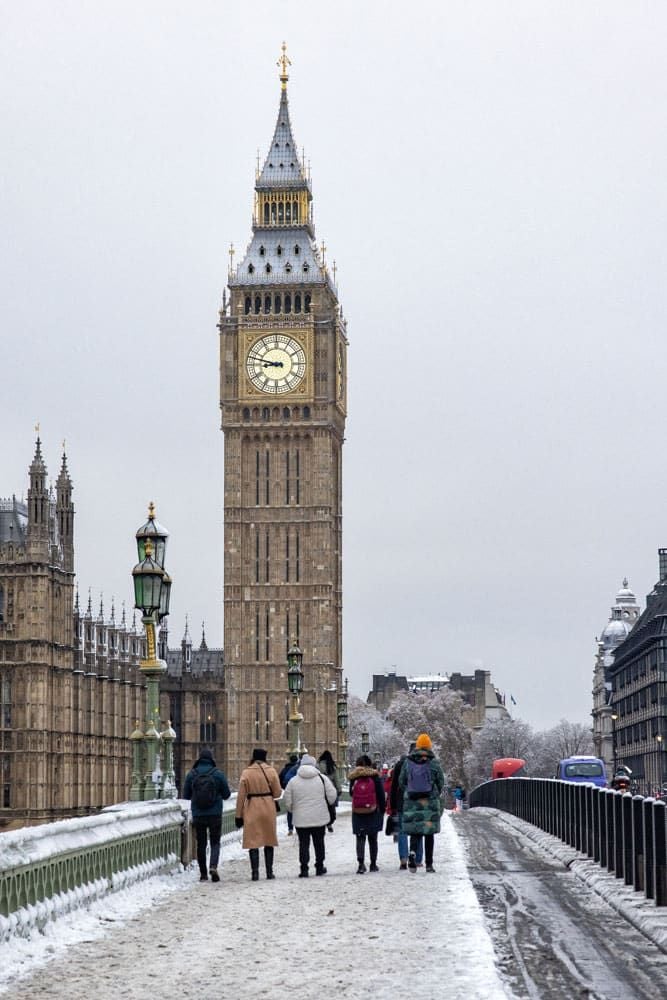 Snow in December
PRO TRAVEL TIP: Avoid school holidays if possible, since London is a lot more crowded during these times. You can get a list of the dates here.
Getting to London: The Best Airports
There is not one, not two, but SIX international airports located in and around London.
The two main airports are London Heathrow and Gatwick.
Heathrow is one of the busiest airports in the world and the most popular choice for many international travelers. To get to central London, you can ride the Underground (cheap, about 45 minutes to 1 hour), ride the Heathrow Express to Paddington Station (15 minutes) and continue on the Underground to your hotel, or hire a taxi or private driver (expensive, 45 minutes to an hour and a half, depending on traffic).
Gatwick is the second busiest airport. It takes roughly 35 minutes to travel to central London on the Gatwick Express train.
London City Airport is located near central London, so travel times to your hotel are short. It is usually used by business travelers making short hops to and from other destinations in Europe.
Stansted, Luton, and Southend are smaller airports located farther from the city center. Travel times to get to and from these airports are longer with fewer flight options for international travelers.
For most international travelers, particularly those from outside of Europe, Heathrow and Gatwick are the best airports to use.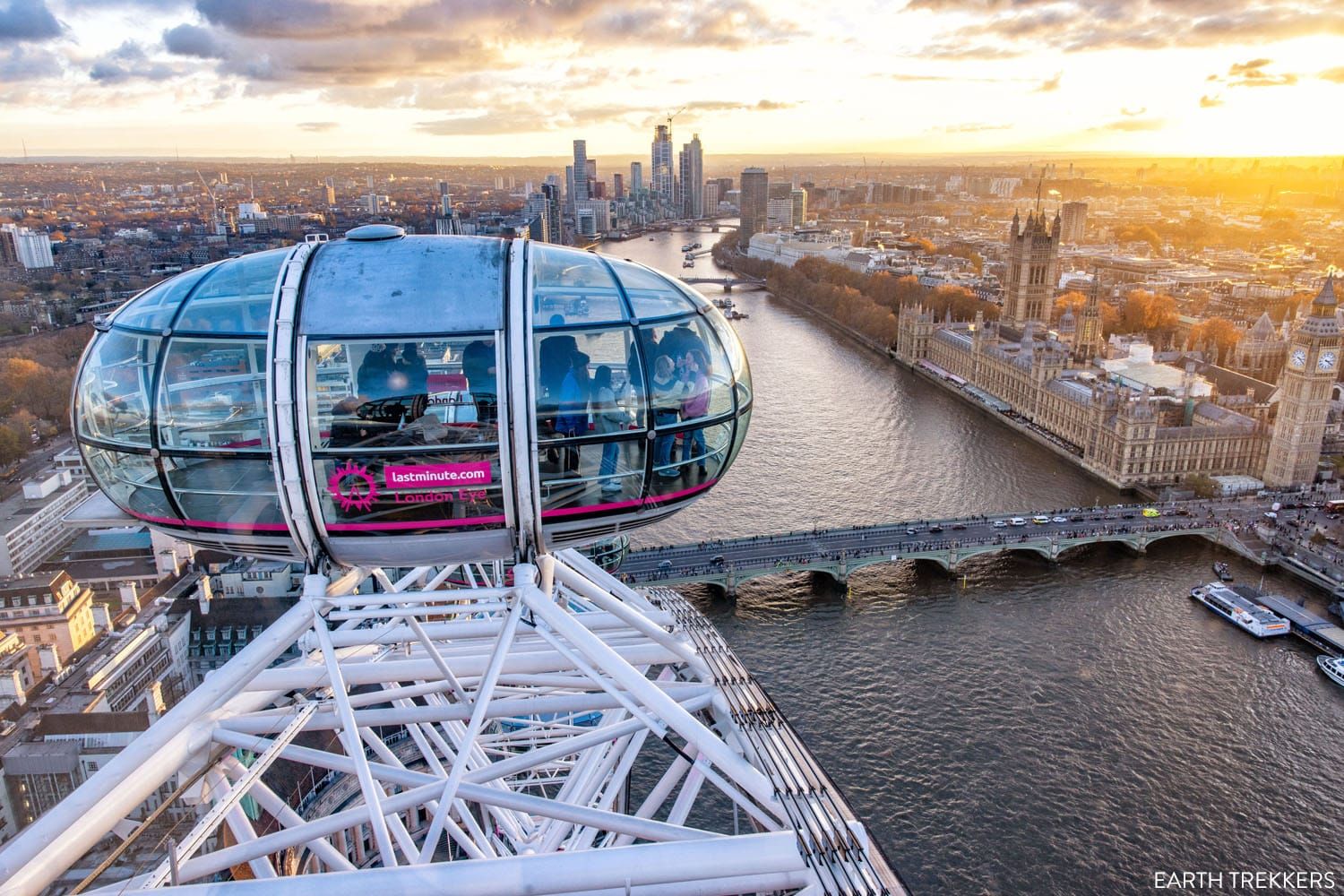 The London Eye
Best Way to Get Around London
London is enormous so at some point, you will be connecting your points on the map with the Underground, the public buses, trains, taxis, and/or Uber.
The Underground, also called the tube, is London's metro.
It is the world's first metro, opening way back in 1863. It is also the world's second longest metro, with over 400 kilometers of tracks (Shanghai takes first place for the world's longest metro, with a whopping 800+ kilometers of tracks).
The Underground connects the top sites in the city center. It's fast, efficient, and cheap. The trains are timed such that you usually don't have to wait longer than 5 minutes until the next train arrives, but they typically run more frequently.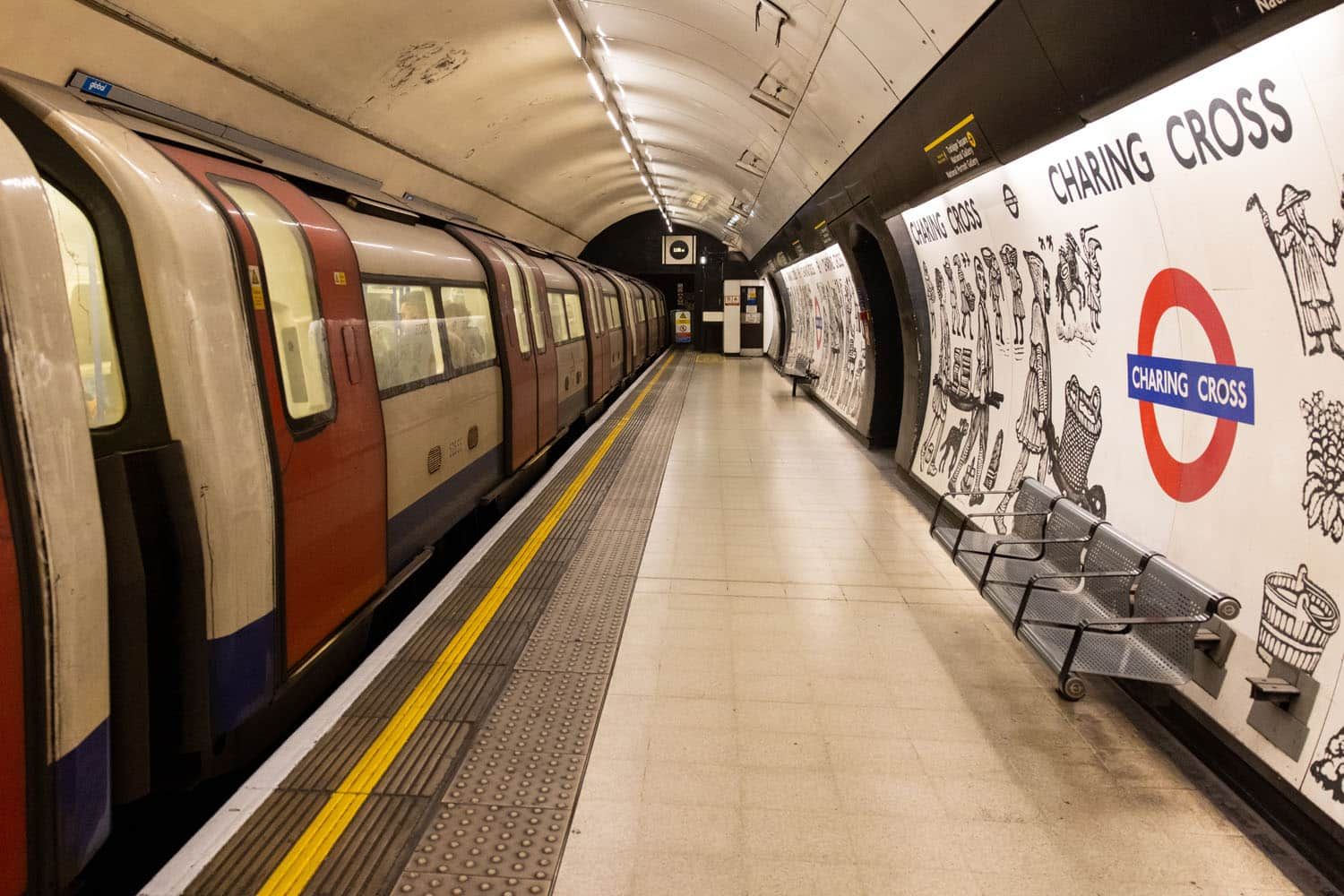 Charing Cross station on the Underground
If it's your first time in London, the Citymapper app takes a lot of the guesswork out of how to get around. You can enter your starting location (for example, the name of your hotel) and where you want to go (for example, the British museum) and the app will list suggested routes, using the various modes of transportation. It's a great app if you aren't familiar with the geography of the London.
We also use Google maps plus an Underground app. On our most recent trip, I used the free version of the app called Tube Map but the TfL Go app is another highly rated app for planning public transportation routes in London.
To get around London, we primarily use the Underground. Occasionally we will hire a taxi or use Uber, to save us some time walking to and from tube stations, depending on the energy level of the group we are traveling with. Taxis in London take credit cards.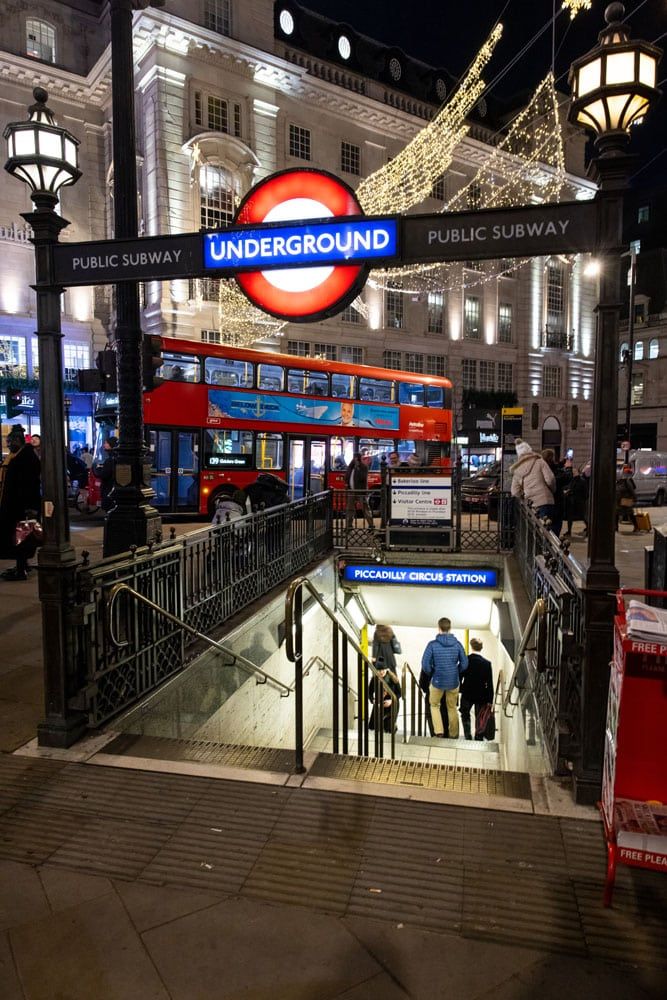 The entrance into Piccadilly Circus Underground station
Get an Oyster Card
The Oyster Card is a smartcard that you use to pay for transportation in London, including the Tube, trams, buses, and more.
Before you travel to London, you can purchase an Oyster Card online and have it shipped to your home. Or, you can buy an Oyster Card at Underground Stations, Gatwick Airport, and Heathrow Airport. There is a one-time £5 fee to purchase the card. We purchase our Oyster Card at the first Underground station we visit.
For an article that explains the Oyster Card in great detail, click here.
You will preload the card with money (pay-as-you-go). Each time you scan the card to enter the Underground or board a bus, the fare will be deducted from the card. There is a daily max which means once you hit the max, you can travel as much as you like in a single day and the amount you pay is capped.
For a four day stay in London, £30 on the card is a good place to start. You can always add more money as you go (do this in the Underground stations). And if you don't use it all, you can get a refund on the last day of your visit.
You can also load the Oyster Card with a 7-day Travelcard. This is beneficial for those who will be in London for 5, 6, or 7 days.
If you have plans to be in London for 5 or more days, load a 7-day Travelcard onto the Oyster Card. If you have plans to be in London for 4 or less days, do pay-as-you-go, adding money to the Oyster Card as you need it. If you load too much money, you can get a refund at the end of your trip.
To use the Oyster Card, you will scan it at the entrance gate to enter the Underground and then scan it again, at the end of the journey, to exit the Underground.
A single journey on the Underground costs £3 to £4, depending on travel times, and the Oyster Card saves you money if you ride the Underground at least 3 times a day. Plus, having an Oyster Card saves you time, since you don't have to visit the ticket machine every time you want to ride the Underground.
Save Money with a London Pass
The London Pass is a money saving pass that includes your entrance fees into many of the top sites in London. It is worth it if you plan to visit many of the places included on the London Pass.
It includes the Tower of London, the View from the Shard, Westminster Abbey, a hop-on-hop-off bus tour, Tower Bridge, St. Paul's Cathedral, Kew Gardens, and a tour of the Chelsea FC Stadium. For the full list of included sights, visit the official website.
To make the London Pass worth it, you can group together the included sights into two to three days and purchase the pass for this time period. Save the places with free entrance (like most museums) and visit them on a separate day.
PRO TRAVEL TIP: Our 5 Day London itinerary groups many of the included sights on days 2, 3, and 4, to help save you money with the London Pass.
Another advantage of having the London Pass is that you do not need to order numerous tickets online in advance. Purchasing the London Pass not only saves money but also time.
We do not recommend adding on the Oyster Card through the London Pass. It is slightly cheaper if you purchase the Oyster Card separately.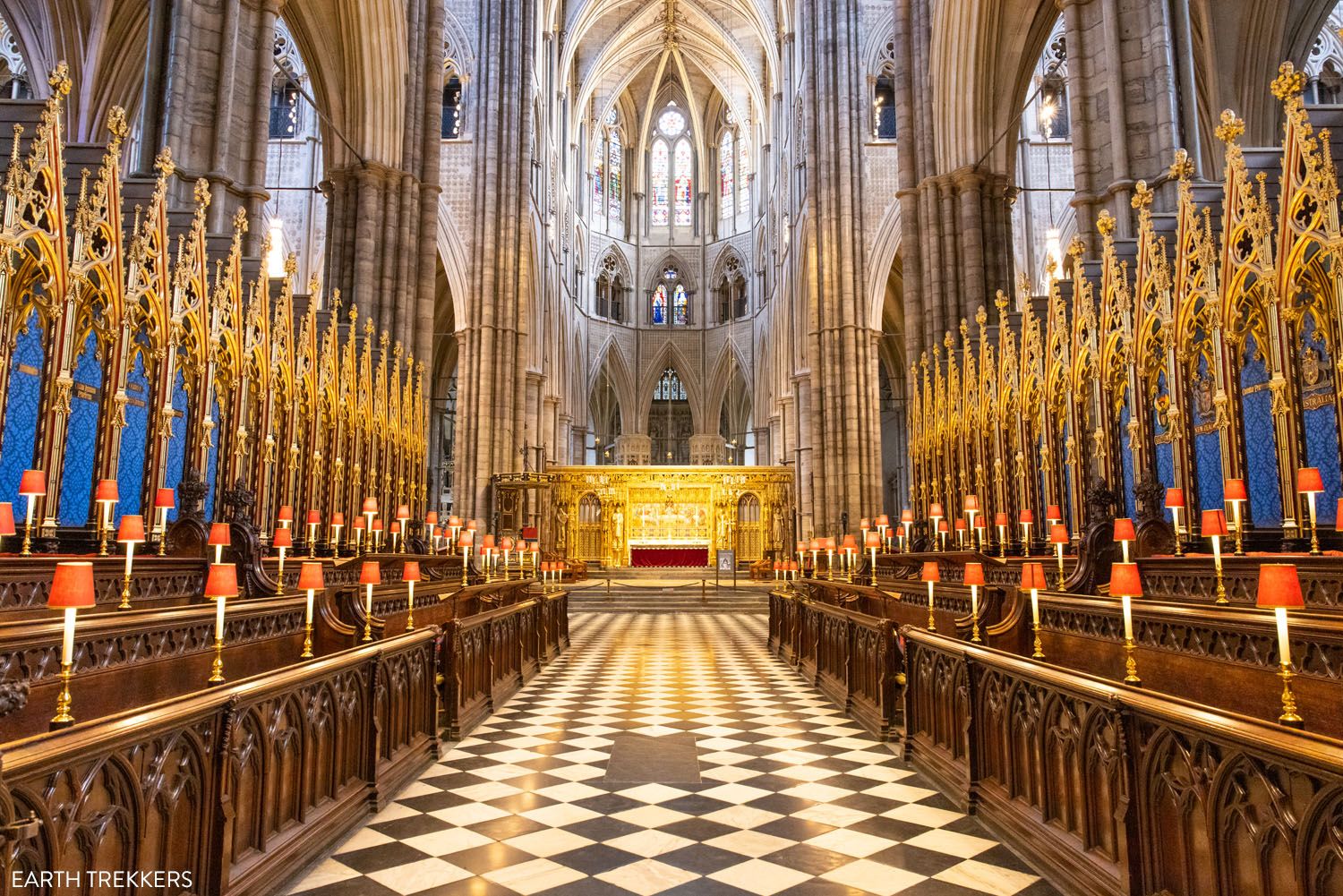 Look Right When Crossing the Street
This is an easy one. And that's because it's written in plain sight.
When you approach a crosswalk, painted on the ground are instructions on which way to look before crossing the street. If you live in a country where you drive on the right, it can get very confusing which way to look to cross the street in London. Good thing it's painted on the ground!
At each intersection, there are instructions painted on the ground for which way to look.
Make Your Reservations in Advance
London is a popular place to visit all year. The last thing you want to do is to spend your precious time waiting in line to purchase tickets. You can avoid this by either purchasing the London Pass or purchasing your tickets online in advance.
If you only plan to visit a few sights, skip the London Pass and make your reservations online using the official websites.
But if you plan to spend several days in London, visiting the must-see places like the Tower of London, St. Paul's Cathedral, and Westminster Abbey, the London Pass will save you time and money.
I recommend comparing what is included on the London Pass with your to-do list. If there is a place you want to visit that is not included on the London Pass, then make that reservation in advance.
We also highly recommend making your hotel reservation in advance plus your dinner reservations or reservations for afternoon tea.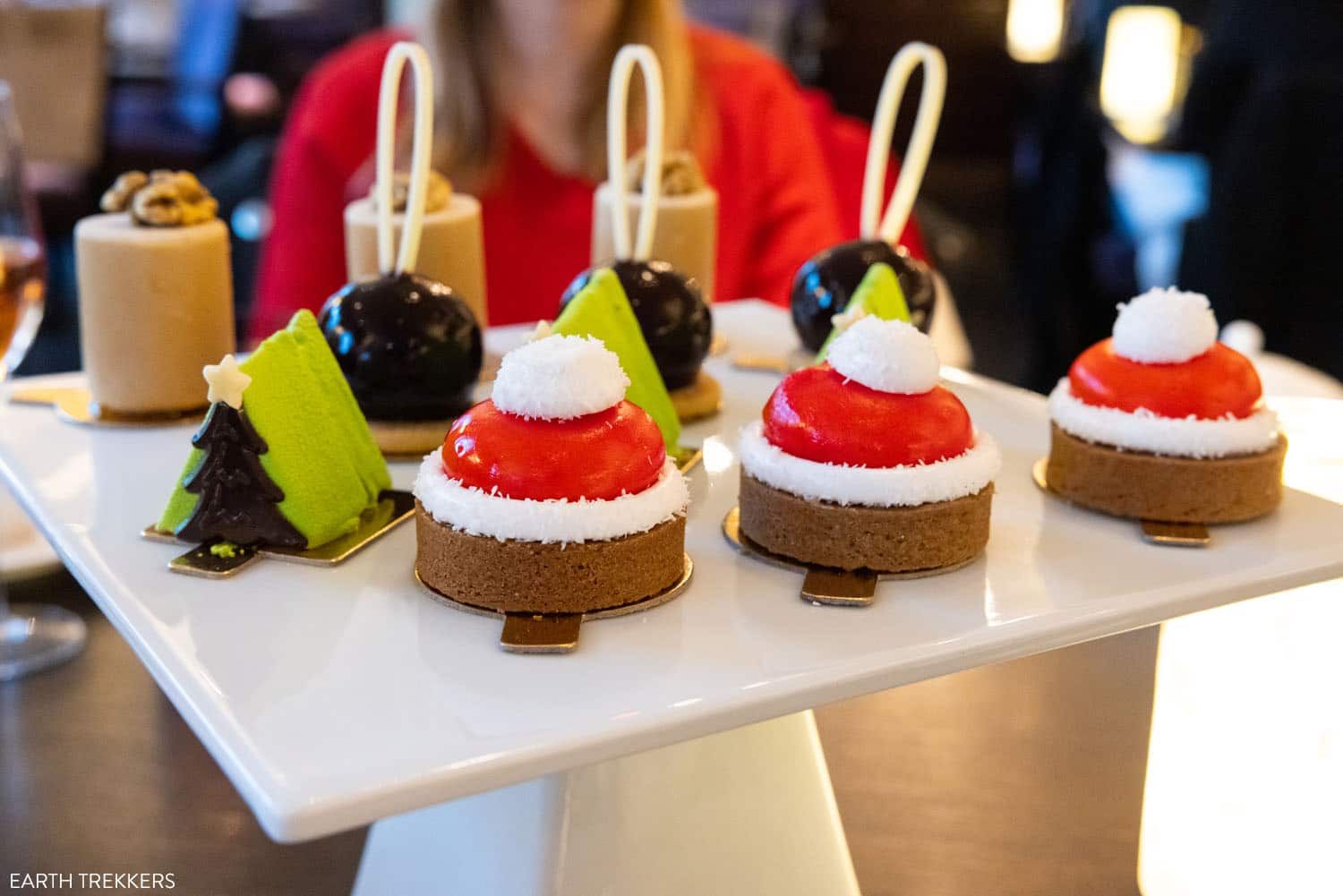 Christmas themed afternoon tea
Where is the Best Place to Stay in London?
The best place to stay in London, if it works for your budget, is central London. By staying in central London, it is a short walk or ride on the Underground to get to London's landmarks and must-visit places.
We have a guide to the Best Places to Stay in London, but to make things easy, take a look at the London Marriott Hotel County Hall. We stayed here on our most recent visit and the location is unbeatable. This hotel is located on the River Thames, between Westminster Bridge and the London Eye. Some rooms have views of Parliament and Big Ben. It is a 5-to-10-minute walk to two handy Underground stations, Westminster and Waterloo.
It's a great pick if it is your first time in London, since you get the iconic views, a short walk to the London Eye and Westminster Abbey, and it's easy to get around the rest of London from the nearby tube stations.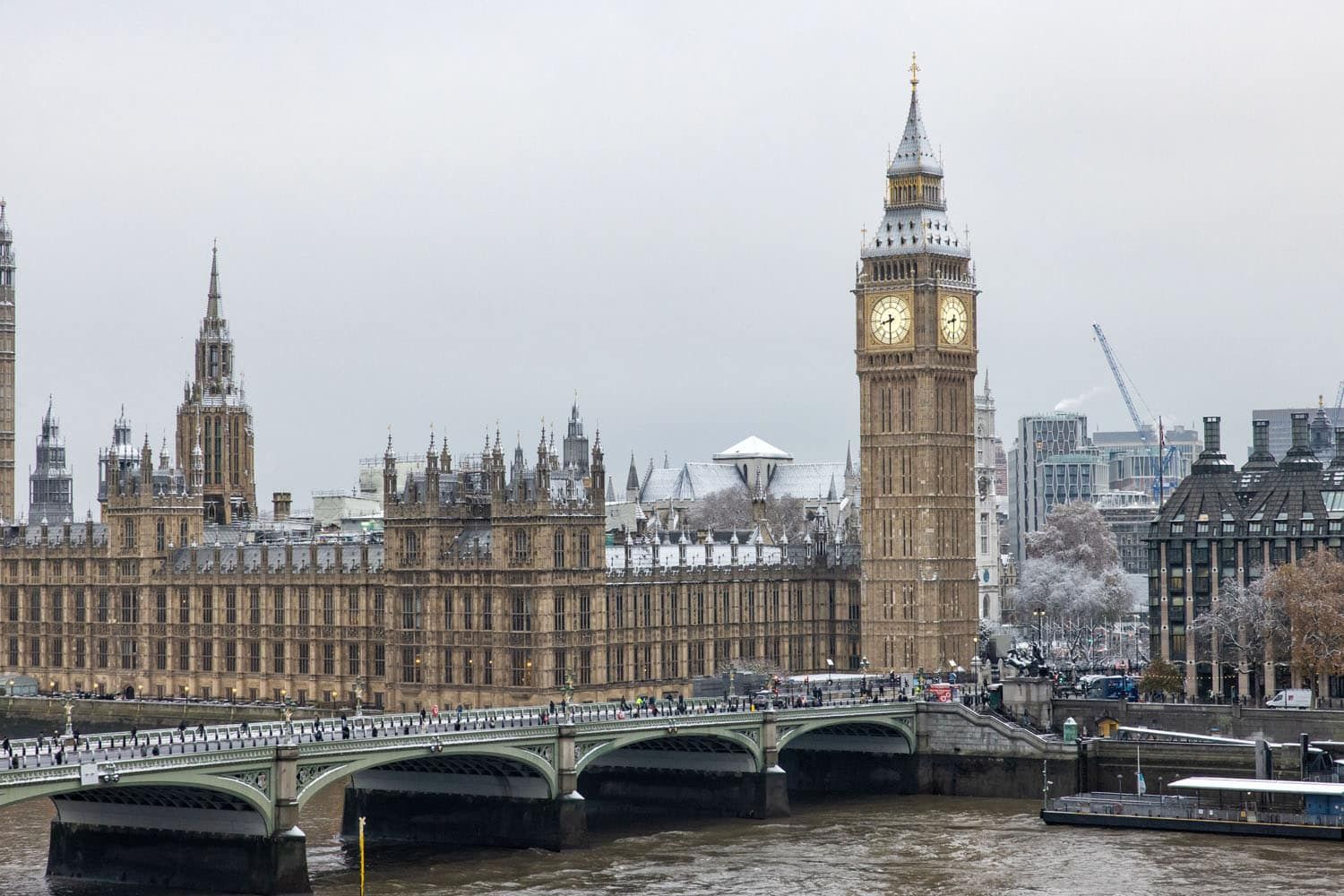 The view from our room at the London Marriott Hotel County Hall
Do You Tip in London?
In London, it is customary to tip 10 to 15% in restaurants. But first, see if there is a service charge. If so, the tip is already included in your bill.
It's also customary to tip bellhops a few pounds if they helped you with your luggage, to tip taxi drivers by rounding up the fare, and to tip your guide at the end of a tour.
Apps, SIM Cards & Adapters
Before you travel to London, there are a few things you need before you get here.
You'll need a Type G power adapter. If your device isn't dual voltage, you will also need a converter. We bring along several Type G power adapters and one or two small power strips, to charge our devices.
If you want to stay connected, you will need a SIM card. We use Airalo, which is an eSIM that can be purchased before your visit. As soon as we land, we have cellular data, without going through the hassle of visiting a local phone shop. We have used Airalo in Italy, France, Switzerland, and the UK and it has worked brilliantly.
We also recommend getting the Citymapper app plus an app of the London Underground, like Tube Map, before you go.
More Information about London
Here are links to London content on our website.
BEST OF LONDON: For a list of the top experiences in London, read our article Best Things to Do in London. Tour Westminster Abbey in photos and plan your visit in our Guide to Westminster Abbey. And learn how to plan a day trip to Windsor Castle from London.
LONDON ITINERARY: In our article 5 Days in London, we include detailed daily itineraries for exploring London. You can do all five days or follow just a day or two, if you have less time in the city.
WHERE TO STAY: Take the guesswork out of where to stay in our article Best Places to Stay in London.
LONDON AT CHRISTMAS: For an overview of what to do, here are 15 things to do in London at Christmas. We also have guides to the best Christmas lights and best Christmas markets. Learn how to put it all together in our London Christmas Itinerary.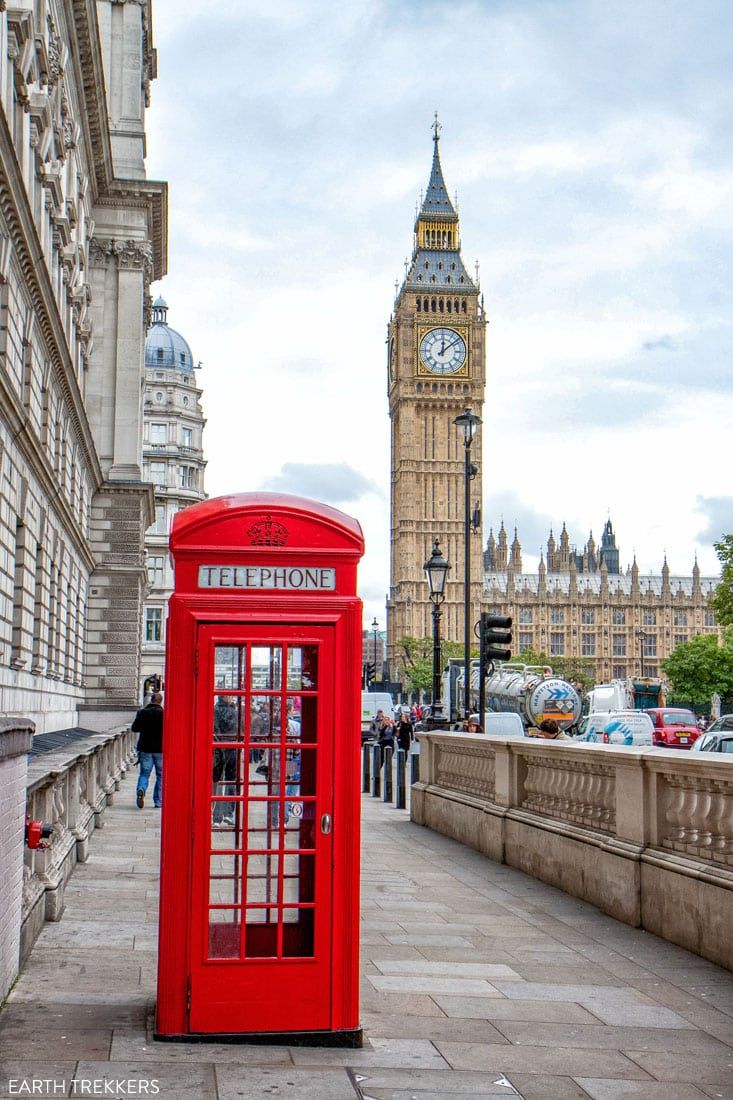 Frequently Asked Questions
How many days do you need in London if it is your first visit?
If it is your first time in London, we recommend spending at least three days here. That gives you just enough time to see the main highlights of London. More time allows you to day trip out of the city or more thoroughly explore the neighborhoods and museums in London.
What is not to be missed on a first trip to London?
If it will be your first time in London, be sure to visit St. Paul's Cathedral, the Tower of London and Tower Bridge, the British Museum, Westminster Abbey, stroll across Westminster Bridge and up The Mall to Buckingham Palace, go shopping at Covent Garden, have afternoon tea, and get a bird's eye view of London from the London Eye, Sky Garden, and/or the View from the Shard.
Do you tip in London?
Yes, it is customary to tip 10 to 15% at restaurants and tip taxi drivers and bellhops one to two pounds for their assistance.
What are the best free things to do in London?
Many museums in London are free, including Tate Modern, The National Gallery, and the British Museum. Other free things to do in London include watching the Changing of the Guard, strolling across Westminster Bridge and the south bank of the River Thames, enjoying the view from Sky Garden, seeing Piccadilly Circus and Trafalgar Square, and window shopping along Regent, Oxford, and Bond Streets.
---
If you have any questions related to your first time in London, whether it is where to go, where to stay, how to plan your time, or how to get around, let us know in the comment section below. And if you have any tips you would like to offer, we would love to hear those too!
More Information for Your Trip to London
If your trip to London is part of a bigger trip to Europe, or if you just want more travel ideas, here is a little more travel inspiration.
ITINERARIES WITH LONDON: London and Paris can be combined into a wonderful 7 or 10 day trip. With 10 days, you can also visit London, Amsterdam, and Paris.
PARIS: For the top experiences in the city, read our article Best Things to Do in Paris. Learn how to visit Pere LeChaise Cemetery, plan your time with our 3 Day Paris Itinerary, learn where to get the best views of Paris, and read our Paris Food Guide for information on what to eat in Paris.
SCOTLAND: Edinburgh, the Isle of Skye, and Glasgow all are essential places to visit on a first visit to Scotland. Learn how to put these all together into a 10 day Scotland road trip.
IRELAND: For a list of top experiences in Ireland, read our post Best Things to Do in Ireland. Walk the Cliffs of Moher, drive the Ring of Kerry, visit Dublin, and explore the Dingle Peninsula. Learn how to put all of this together in our 10 Day Ireland Itinerary.
FIRST TIME IN EUROPE: If this is your first time in Europe, don't miss our article 7 Things to Know when Planning Your First Trip to Europe.
Note: This post contains affiliate links. When you make a purchase using one of these affiliate links, we get paid a small commission at no extra cost to you.
All rights reserved © Earth Trekkers. Republishing this article and/or any of its contents (text, photography, etc.), in whole or in part, is strictly prohibited.