Our around the world journey began with a flight from New York City to Copenhagen, Denmark. We had a six hour layover here until a later flight would take us to Rome, Italy. Six hours is a long time to spend hanging out in an airport so we decided to make the most of our layover in Copenhagen.
Layover in Copenhagen
The four of us visited Copenhagen during our tour of Scandinavia, so we were familiar with the city and its public transportation. We loved Nyhavn, Copenhagen's iconic harbor, and decided this would be a good place to get some lunch (it was 1:30 pm local time, 7:30 am EST).
Getting to Nyhavn from the Airport
A convenient metro line runs directly from the Copenhagen airport to Nyhavn. In just fifteen minutes we were walking through downtown Copenhagen, each of us carrying a daypack. Fortunately, our two large backpacks were checked in at the airport, waiting for transfer onto our next plane.
This was a different experience for us, and one we would have to get used to. We had already been traveling for almost 24 hours so we could really use a little freshening up. The best we could manage was brushing our teeth and combing our hair. Plus, trying to get some sleep on a plane doesn't come too easy, unless you are Tyler, who somehow managed to curl up in his seat and sleep the entire flight. So, the four of us, backpacks in tow, tired, maybe a little smelly, made our way to Nyhavn.
The weather was perfect. It was a crystal clear day with temperatures in the low 70's. Nyhavn was packed with tourists taking in the views, waiting in lines to board the canal cruise, and having drinks and lunch at the outdoor cafes that line the harbor. It was so nice to be back!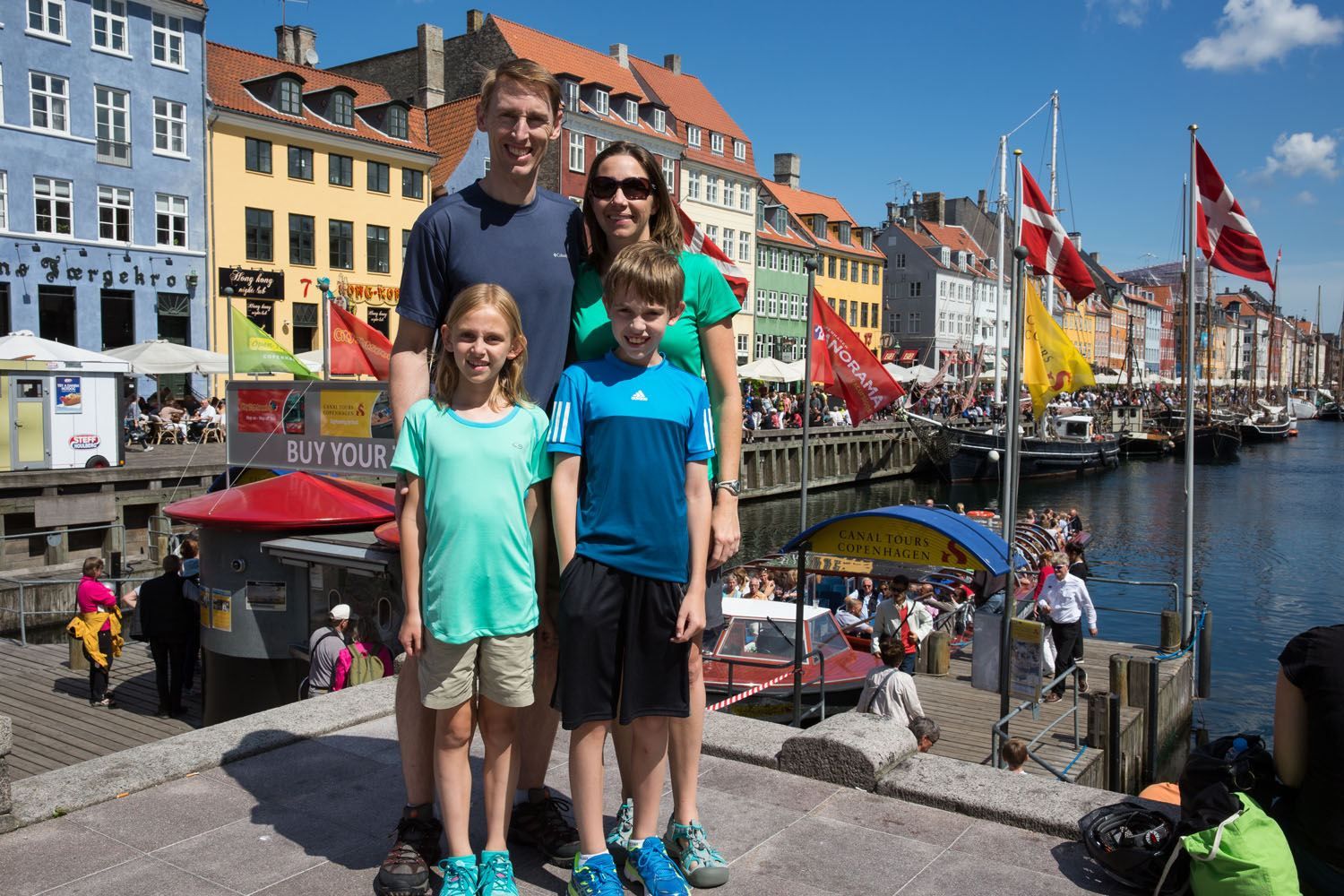 We picked a restaurant with an open table and ordered our first meal of the trip. The food was mediocre but the atmosphere was awesome. Lunch here definitely blows away any airport food we would have ordered.
We didn't have long to linger in Nyhavn until we had the catch the metro back to the airport. Our quick trip into Copenhagen was a much needed break from the airport and it was a fun afternoon in a great European city.
And now we are off to Rome, where the real adventure begins!
Getting from the Copenhagen Airport to Nyhavn:
A direct metro line connects the Copenhagen Airport (Lufthavn) to Nyhavn. Tickets can be purchased at the Ticket Machines (Billetter) located at various points inside of the airport as you walk to Baggage Claim. Purchase a ticket to Kongens Nytorv station. The ticket doesn't need to be validated upon entering the metro car but keep it on you in case you are asked to show it by a metro attendant. It is a fifteen minute ride to the Kongens Nytorv station, and from here it is a five minute walk to Nyhavn.
---
More Information for Your Trip to Europe
DENMARK: Learn how to spend one perfect day in Copenhagen and our first experience in Copenhagen.
NORWAY: For a list of top experiences in Norway, don't miss our Norway Bucket List. If you are a hiker, we also have a hiking guide with 14 epic day hikes to do in Norway.
SWEDEN: Learn how to spend one perfect day in Stockholm and how to day trip to Sandhamn.
LUXEMBOURG: In our One Day in Luxembourg Itinerary, learn about the best things to do in Luxembourg City and how to plan your time.
MORE CITIES AROUND THE WORLD: Visit more cities around the world with our guides to Rome, Paris, New York City, London, Barcelona, and Athens.
All rights reserved © Earth Trekkers. Republishing this article and/or any of its contents (text, photography, etc.), in whole or in part, is strictly prohibited.