Norway is the land of fjords, quaint fishing villages, Vikings, trolls, the northern lights, the midnight sun, scenic drives, and some of the best hikes in the world. If you are planning a visit to this amazing country, here are 20 of the best things to do in Norway.
Best Things to Do in Norway
In no particular order, here is our list of the best things to do in Norway. At the end of this post, you can see them all on a map.
#1 Explore the Fjord Region
Exploring the fjords is one of the best things to do in Norway. There are several ways to do this…by cruise, by car, by hiking trail, or by ferry.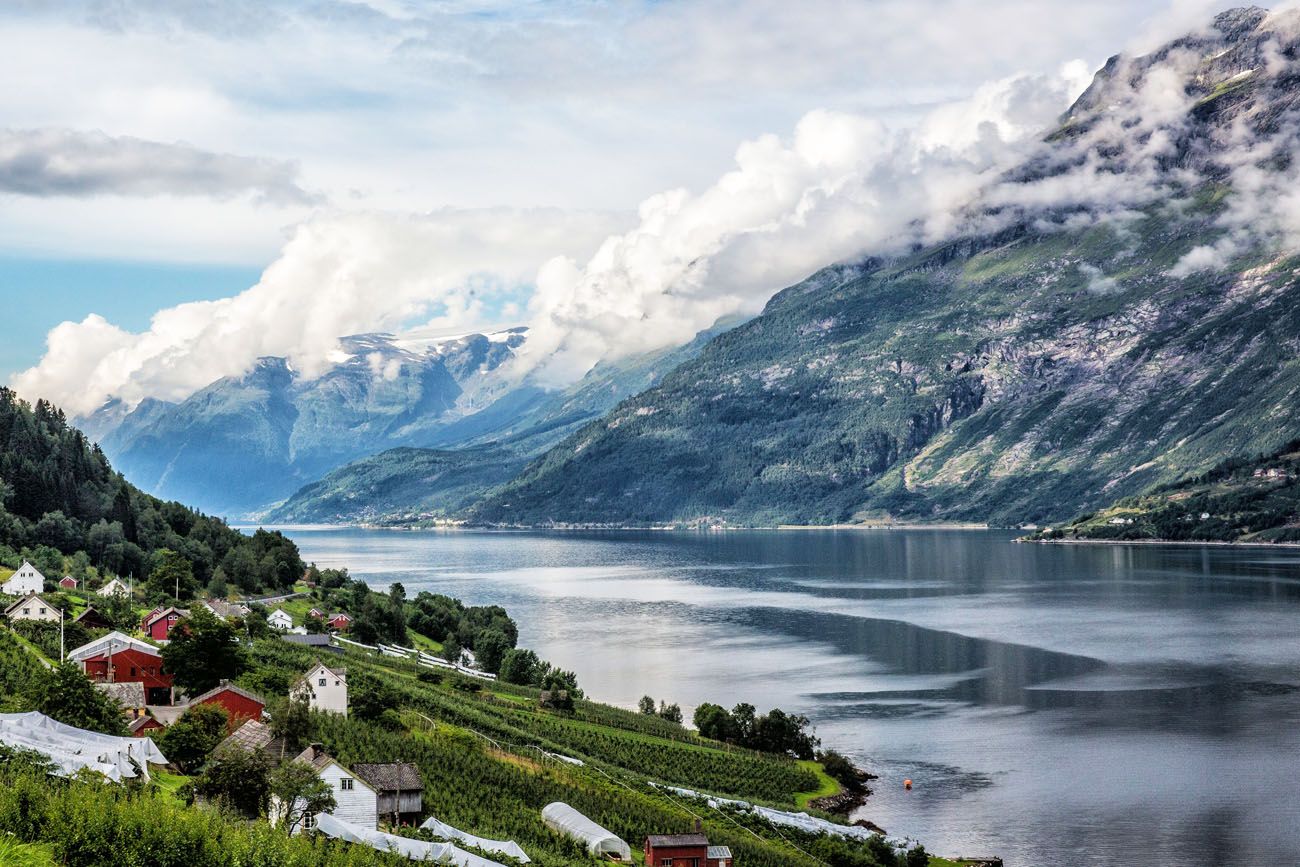 Hardangerfjord | Best Things to Do in Norway
If you are planning a road trip through southern Norway, you will drive along many of these fjords. Southern Norway is laced with fjords and waterways and most likely, you will also cross these fjords by car ferry while driving through this part of the country.
On some of the hikes on this list, you will get a bird's eye view out over the fjords. Pulpit Rock and Kjeragbolten both offer amazing views of Lysefjord.
Finally, Hurtigruten offers various cruises through the Norwegian fjords.
---
#2 Norway in a Nutshell
Norway in a Nutshell is a packaged tour that combines a ferry ride on Naeroyfjord (one of the narrowest and most scenic fjords in Norway) with one of the world's most scenic train rides, the Flåm railway.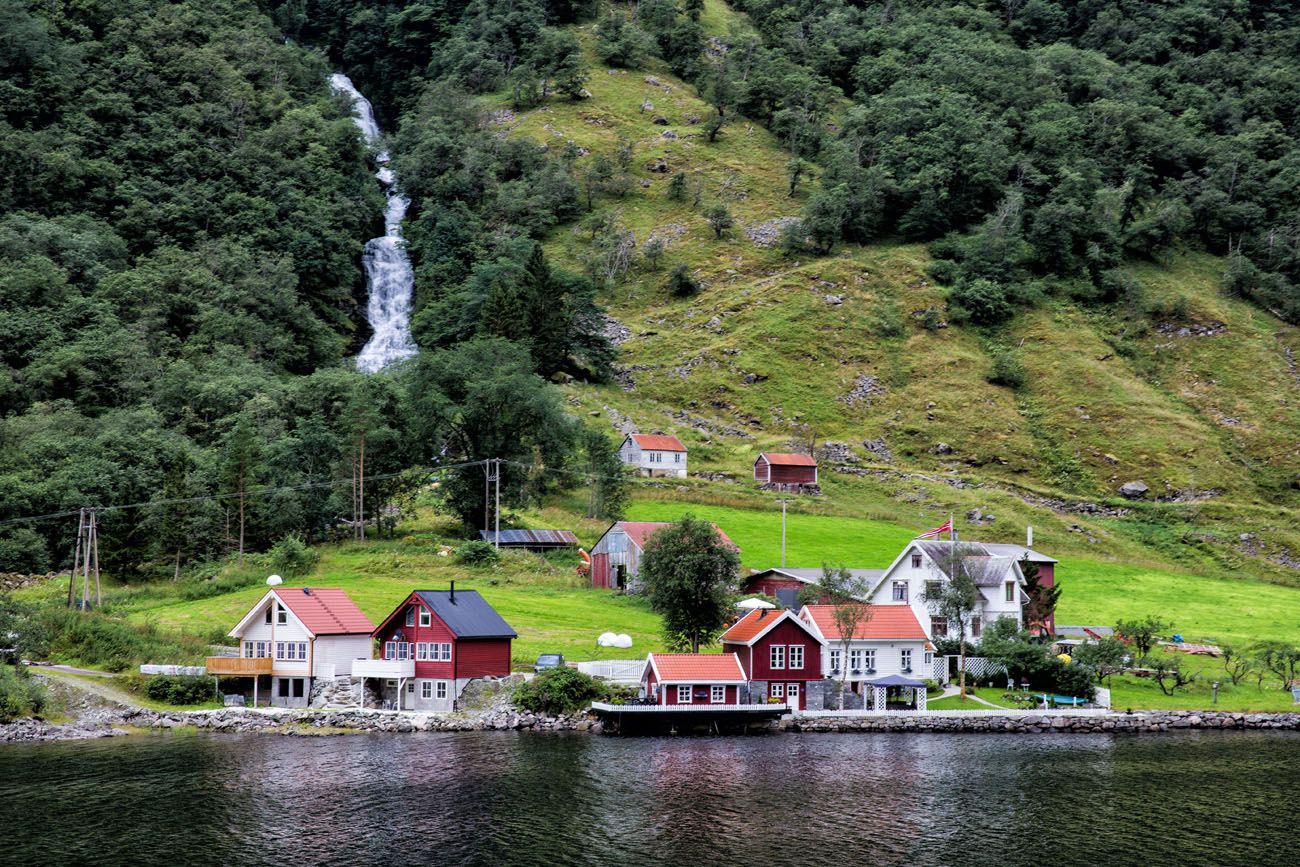 Naeroyfjord | Best Things to Do in Norway
If you have limited time in Norway, this is a great excursion to do. You can start and end this tour at several of Norway's most popular cities, with all transportation included. This excursion has a big price tag, but for travelers with limited time, it is a very easy and convenient way to experience this part of Norway. Learn more about the official Norway in a Nutshell tour here.
If you are planning a road trip and will have a rental car, you can piece together your own Norway in a Nutshell tour, and save some money in the process.
---
#3 Pose for Photos on Trolltunga
Trolltunga is one of Norway's most popular hikes. It is an incredibly scenic hike, ending at the Troll's tongue, a thin sliver of rock that is perfect for creative photographs.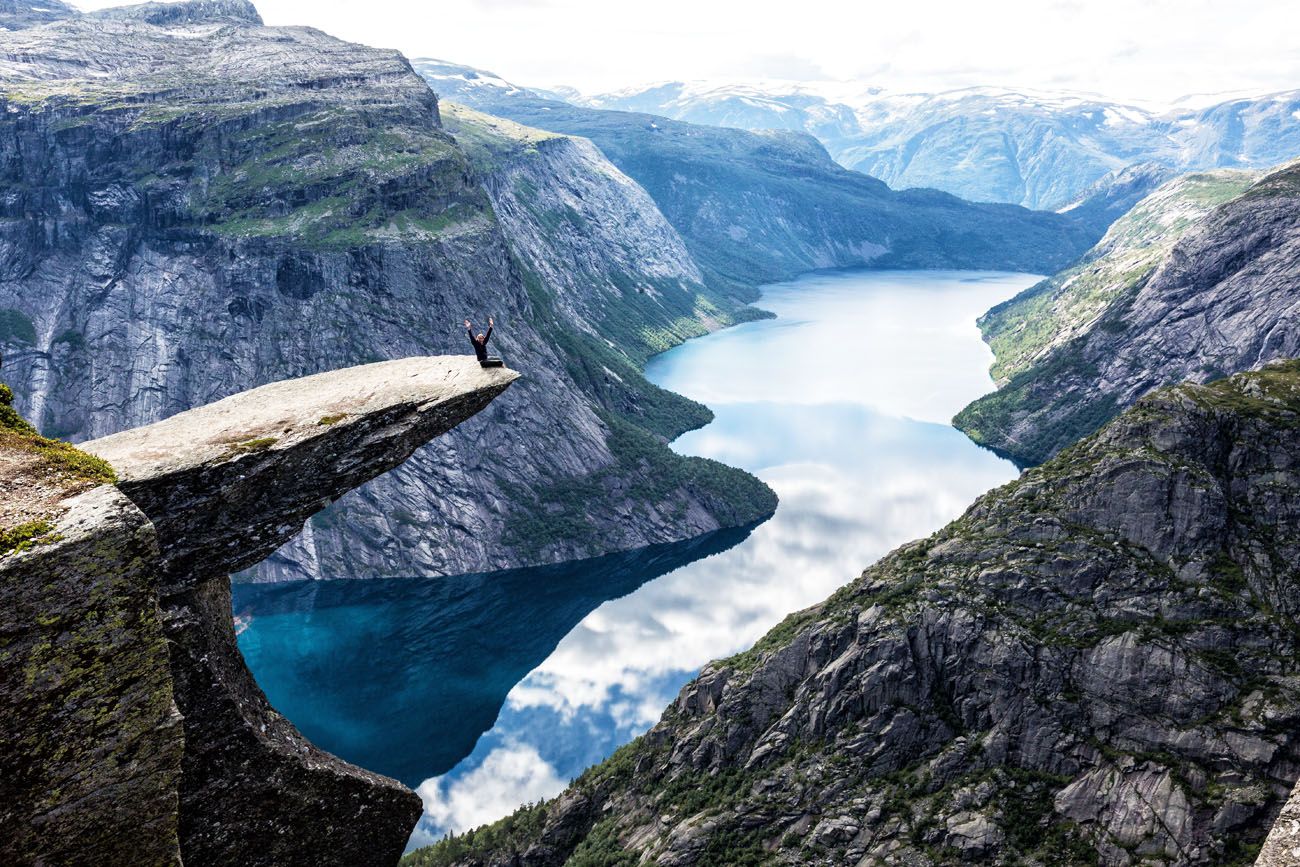 Trolltunga | Best Things to Do in Norway
It is a long, strenuous hike to get to Trolltunga…28 km (17.4 miles) round trip. This hike will take a full day of your time, but it's worth it. Not only will you come home with a memory card full of unique photographs, but you will also get to spend the day hiking through a beautiful part of Norway.
---
#4 Visit Historic Bryggen
Bryggen is a historic harbor district in the coastal town of Bergen. This is the location of the colorful red, orange, and white Hanseatic Houses, commercial buildings that were used from 14th to 16th centuries for the trading of stockfish. Bryggen is a UNESCO World Heritage Site and many of these buildings date back to 1702.
While in Bergen, explore Bryggen, visit the fish market, and ride the Fløyen funicular for a bird's eye view over the town.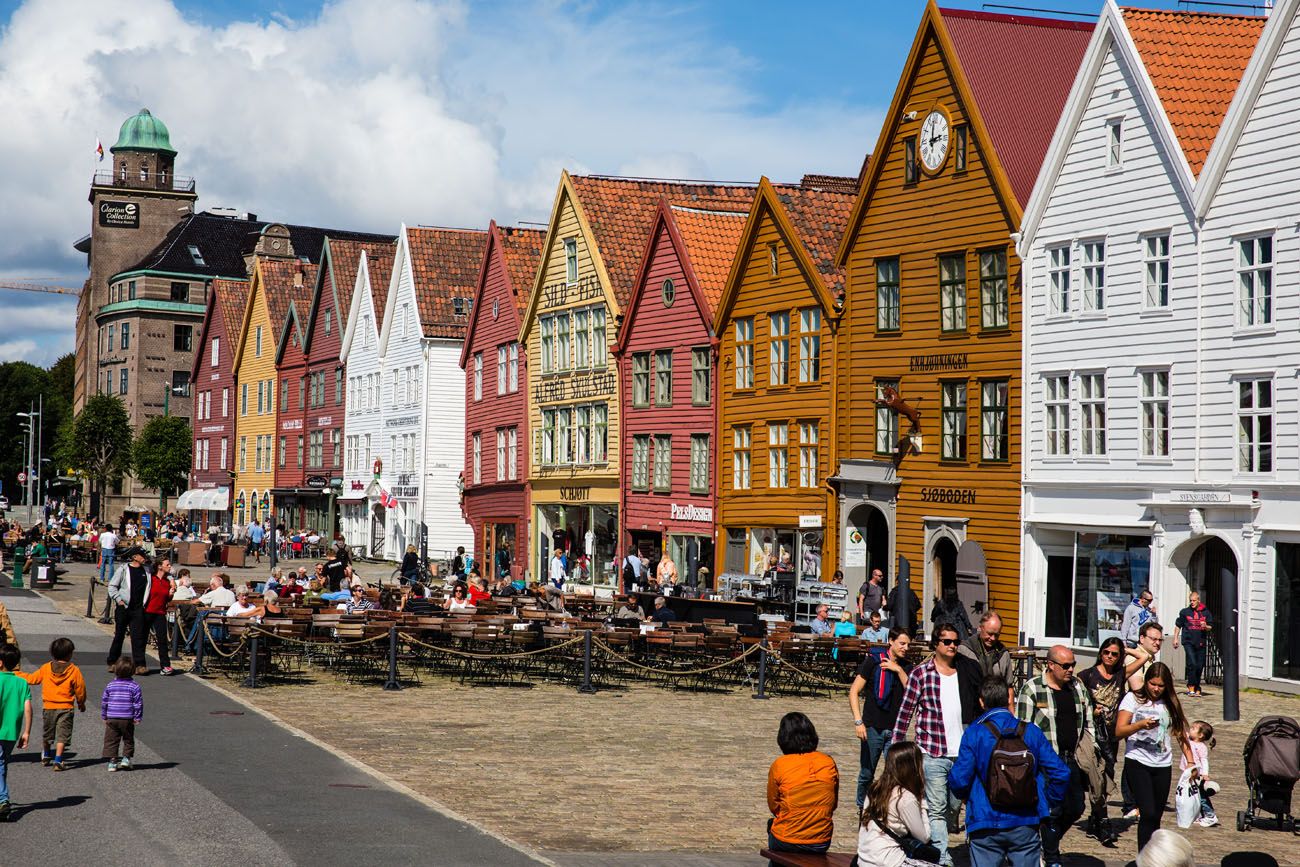 Bryggen | Best Things to Do in Norway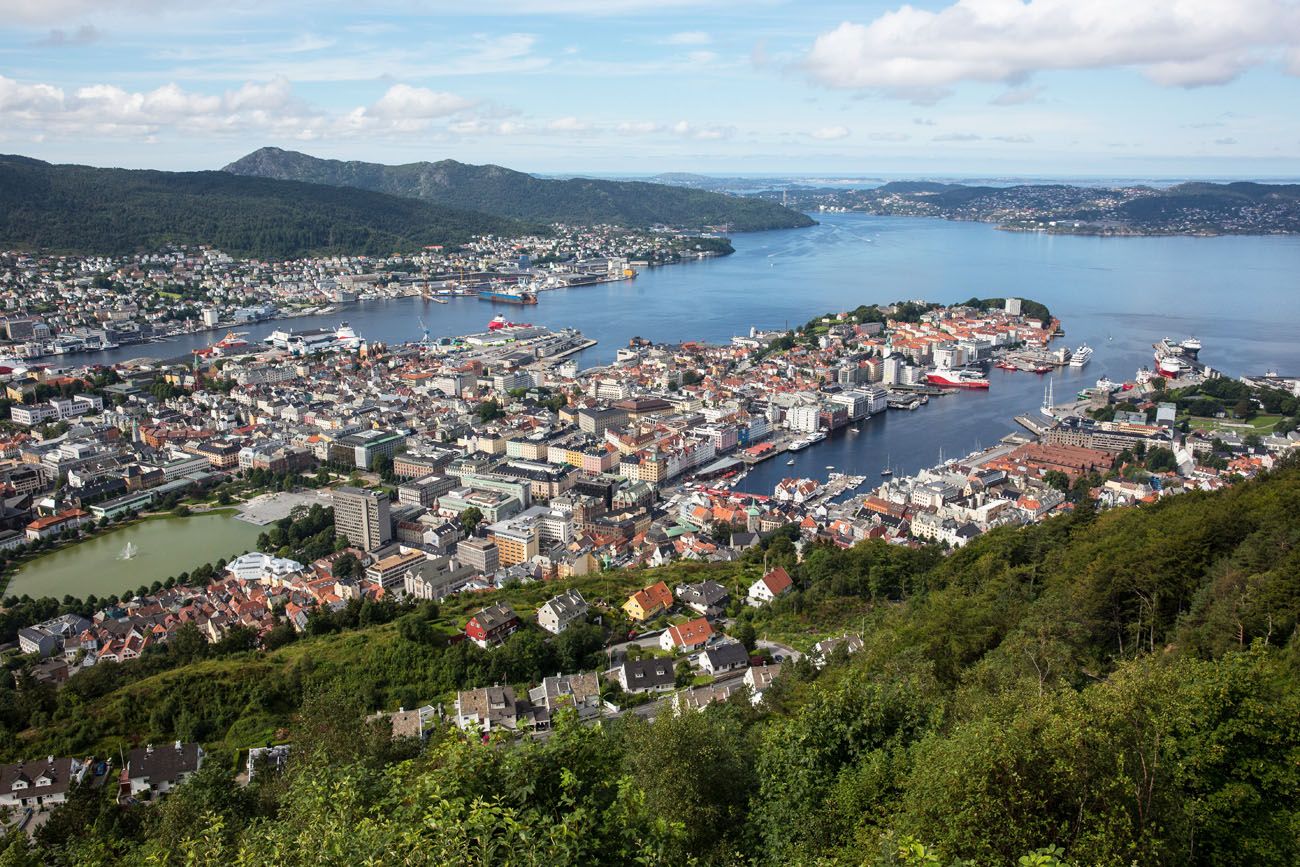 Bergen | Best Things to Do in Norway
---
#5 Road Trip through the Lofoten Islands
The Lofoten Islands are a wonderland of jagged mountains, rocky coastlines, and white sandy beaches. This is a spectacular part of Norway to explore, especially for those who love scenic drives, hiking, and being outdoors.
Lofoten Islands | Best Things to Do in Norway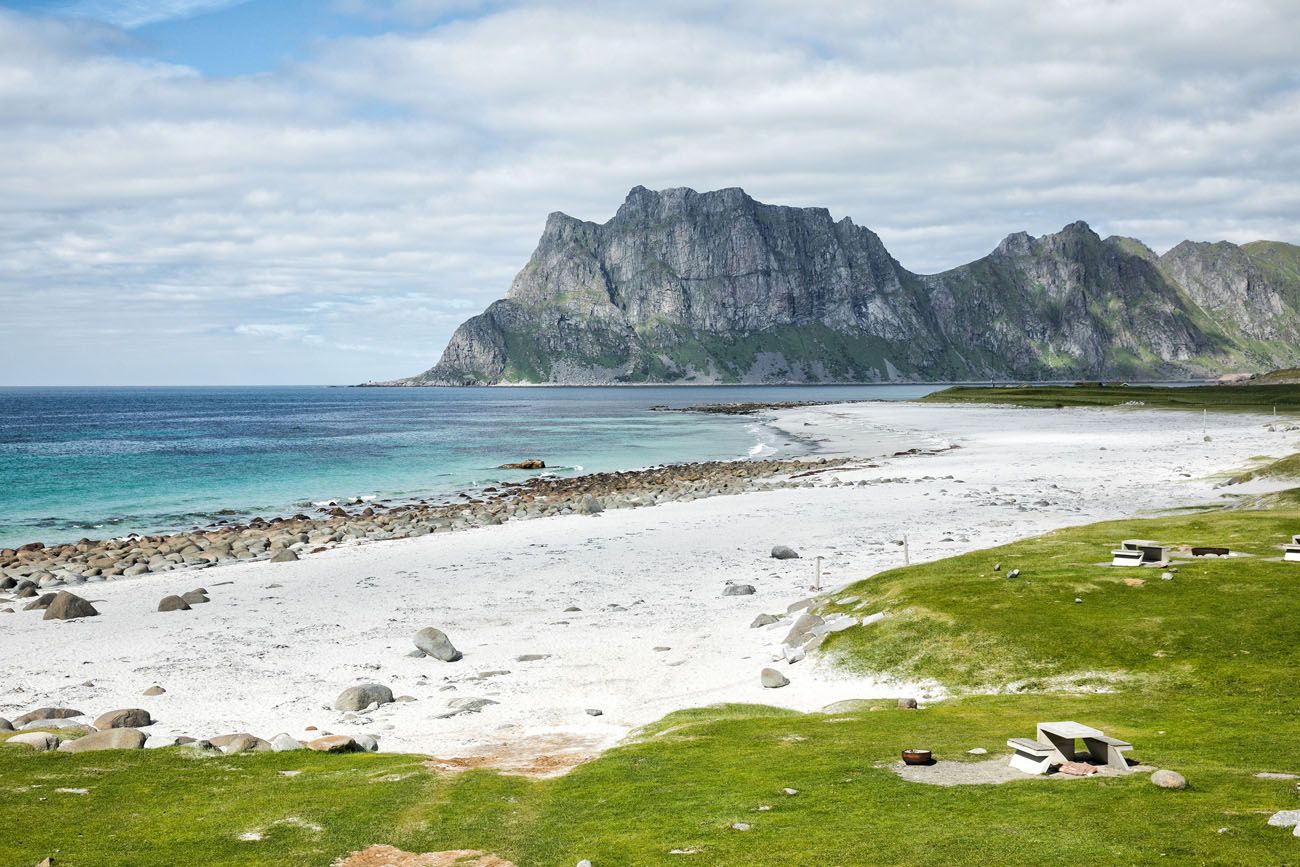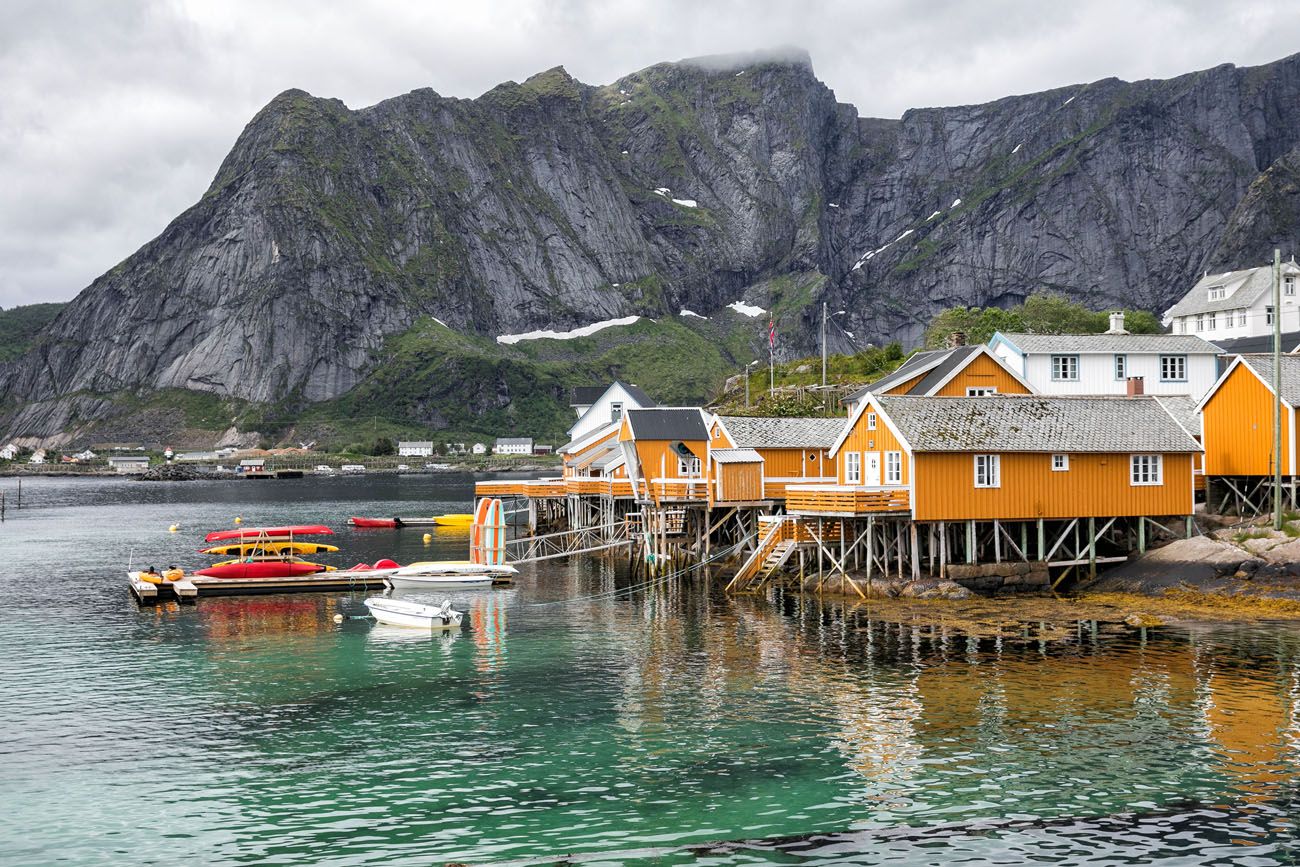 If you plan to road trip through the Lofoten Islands, set aside a minimum of four days in order to have the best experience. This area might look small on a map, but it is packed with beaches, hiking trails, and scenic detours that can easily fill several days of your time.
---
#6 Explore Oslo
Oslo is the capital of Norway and the largest city in the country. Most likely, you will spend a little bit of time here, either when you arrive and/or depart Norway.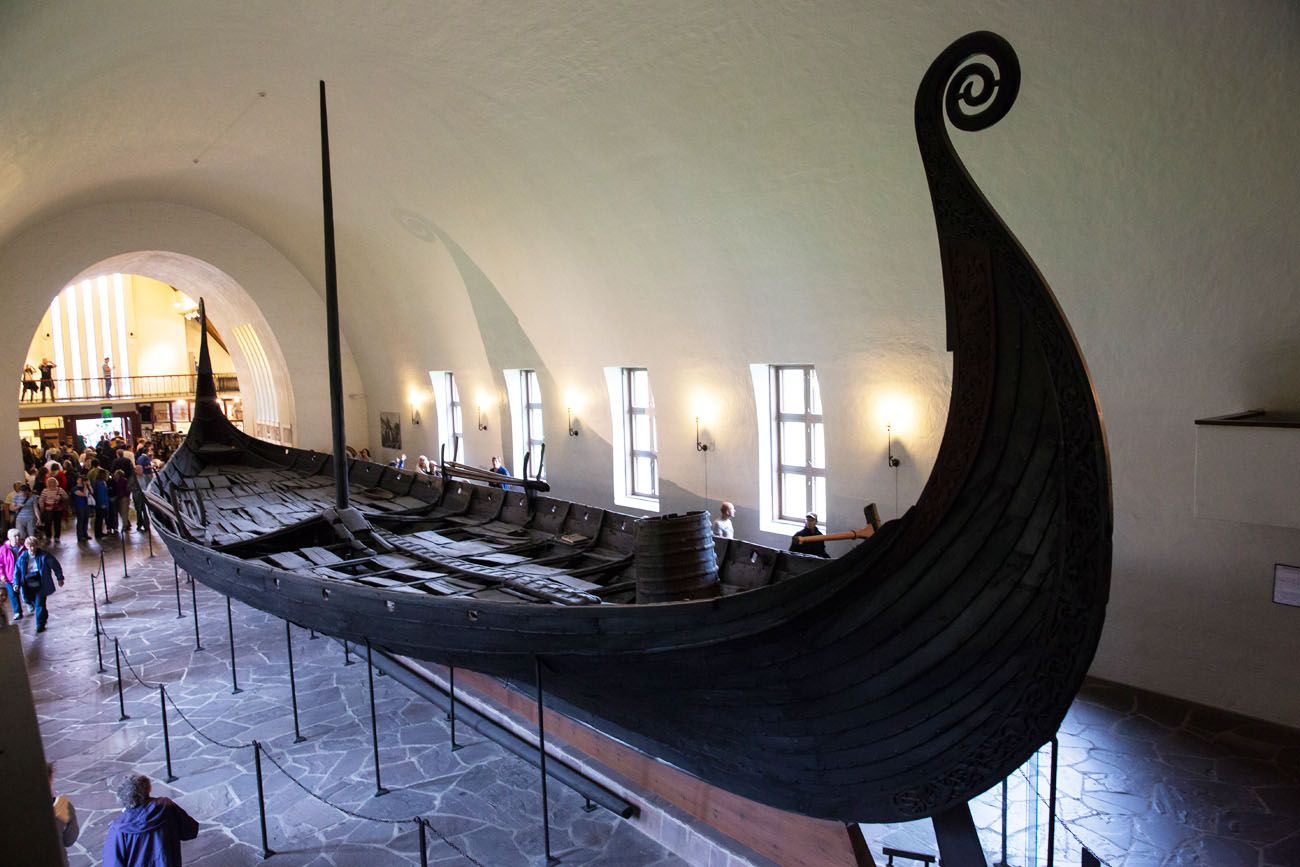 Viking Ship Museum | Best Things to Do in Norway
Top sights in Oslo include the Viking Ship Museum, the Kon-Tiki Museum, the Holmenkollen ski jump, Akershus Fortress, and the Oslo Opera House.
---
#7 Drive the Atlantic Road
The Atlantic Road has been called the world's most beautiful drive and has been voted as the "Norwegian construction of the century."
This coastal road connects the island of Averøy with the mainland. It is just 8.3 km (5 miles long), and hops from island to island along a series of bridges. The Atlantic Road is located between Trondheim and Ålesund.

---
#8 Go Hiking in Vesterålen
Vesterålen is a quieter, less touristy version of the Lofoten Islands. This archipelago sits just north of the Lofoten Islands in northern Norway.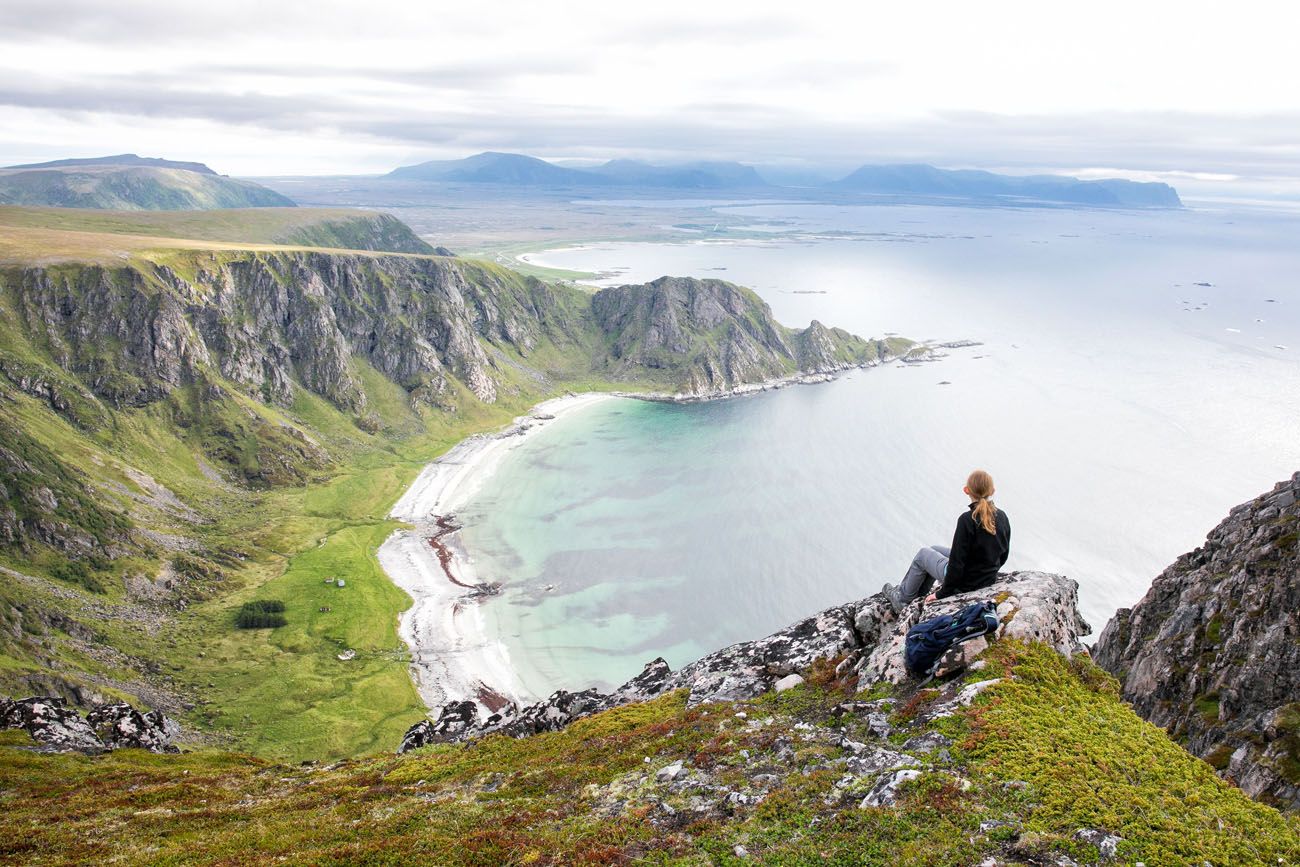 Stave-Bleik Coastal Trail | Best Things to Do in Norway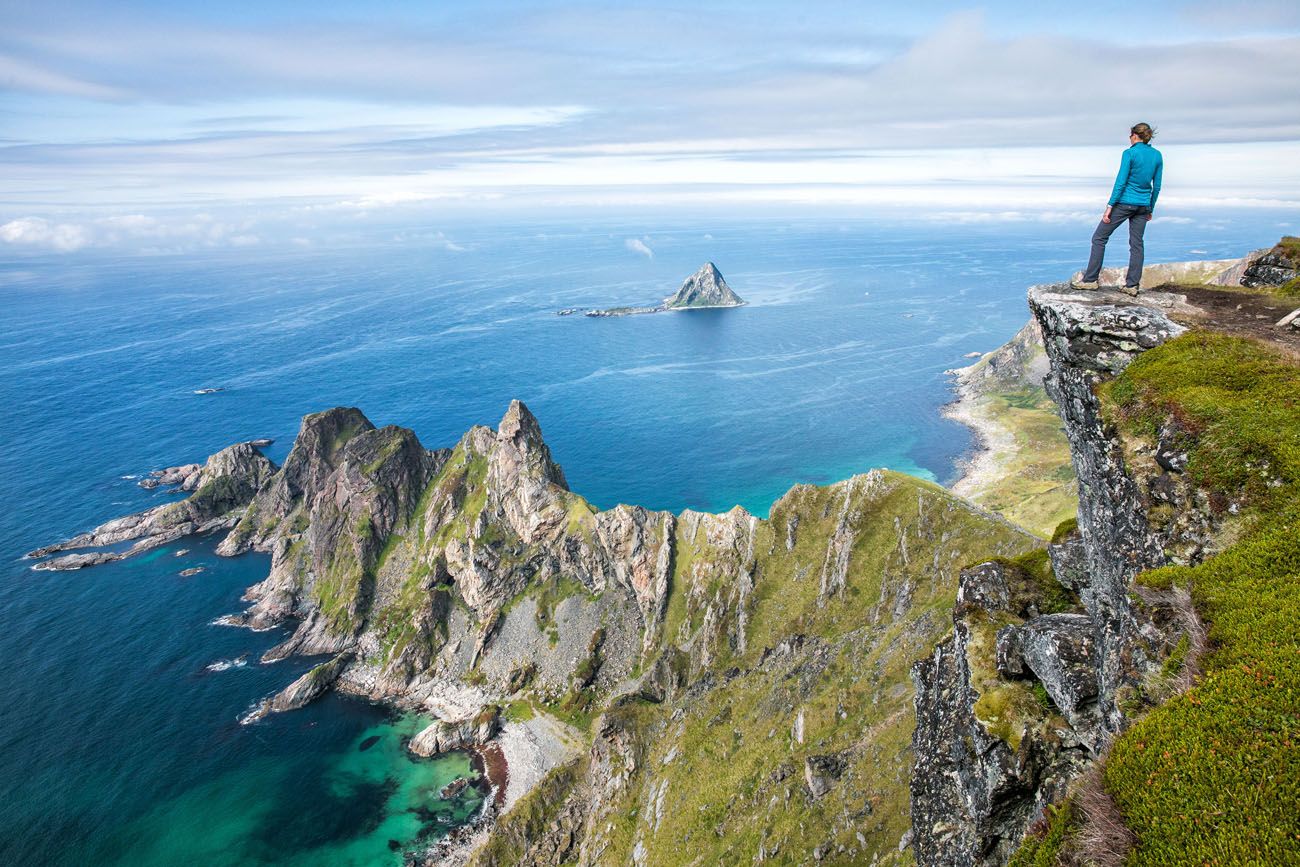 View from Måtind | Best Things to Do in Norway
For jaw-dropping views of the coastline, hike the easy trail to Måtinden. This hike takes just 3 to 4 hours of your time and it is filled with spectacular coastal views.
---
#9 Visit Tromsø
Located at 69° North in the Arctic Circle, this small northern city offers a lot to do. During the summer months, you get to witness the midnight sun. In the winter, the northern lights shimmer and dance over the town. Take in the view from Fløya, go shopping, visit the Arctic Cathedral, or use Tromsø as a home base for exploring the fjords and mountains in the area.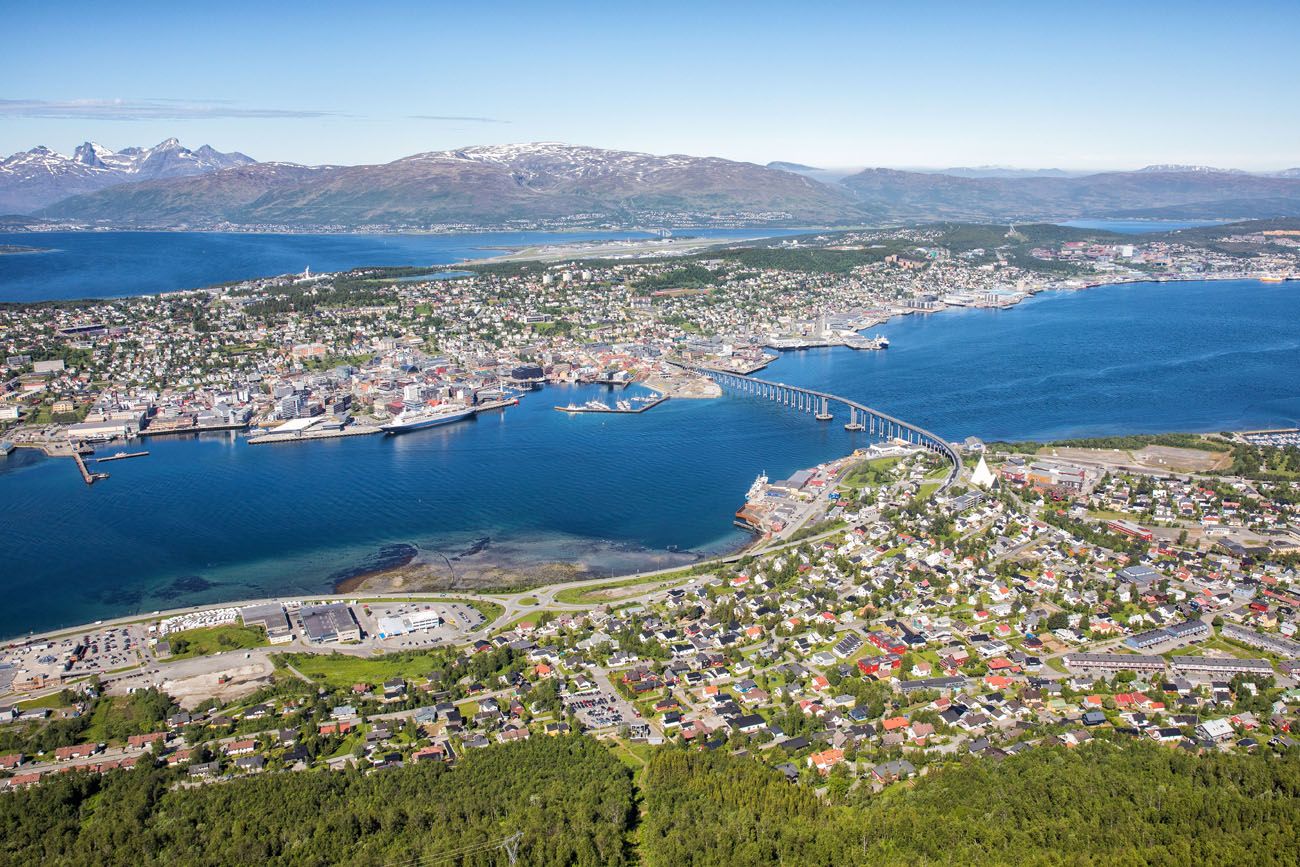 Tromsø | Best Things to Do in Norway
---
#10 Hike to Pulpit Rock
Pulpit Rock, also called Preikestolen, is a uniquely shaped rock that towers 604 meters over Lysefjord. It has been featured in Mission: Impossible – Fallout, not to mention thousands of photos on Facebook and Instagram.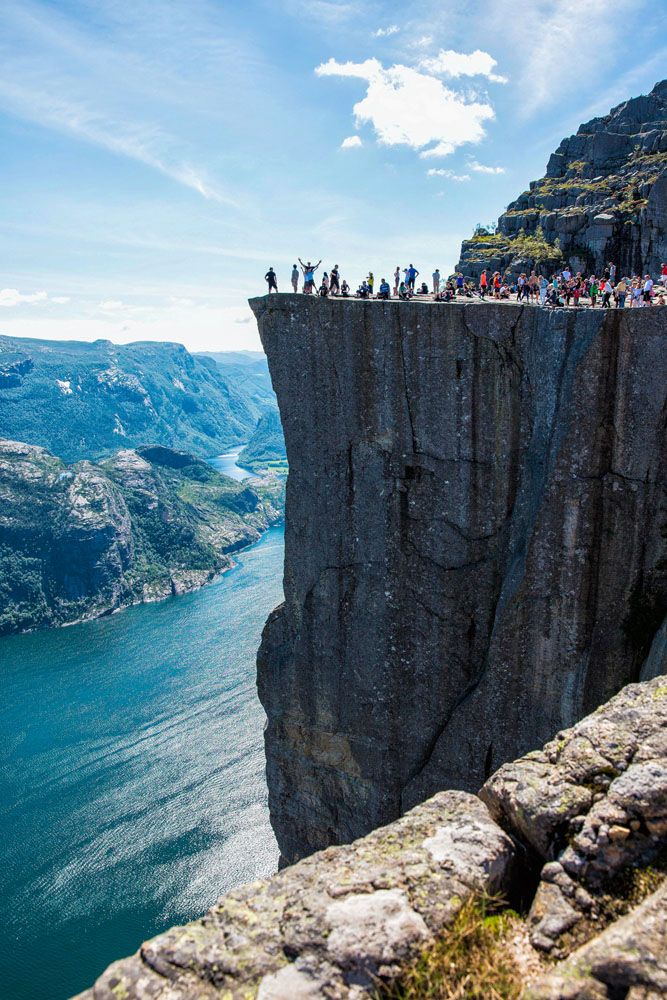 Pulpit Rock | Best Things to Do in Norway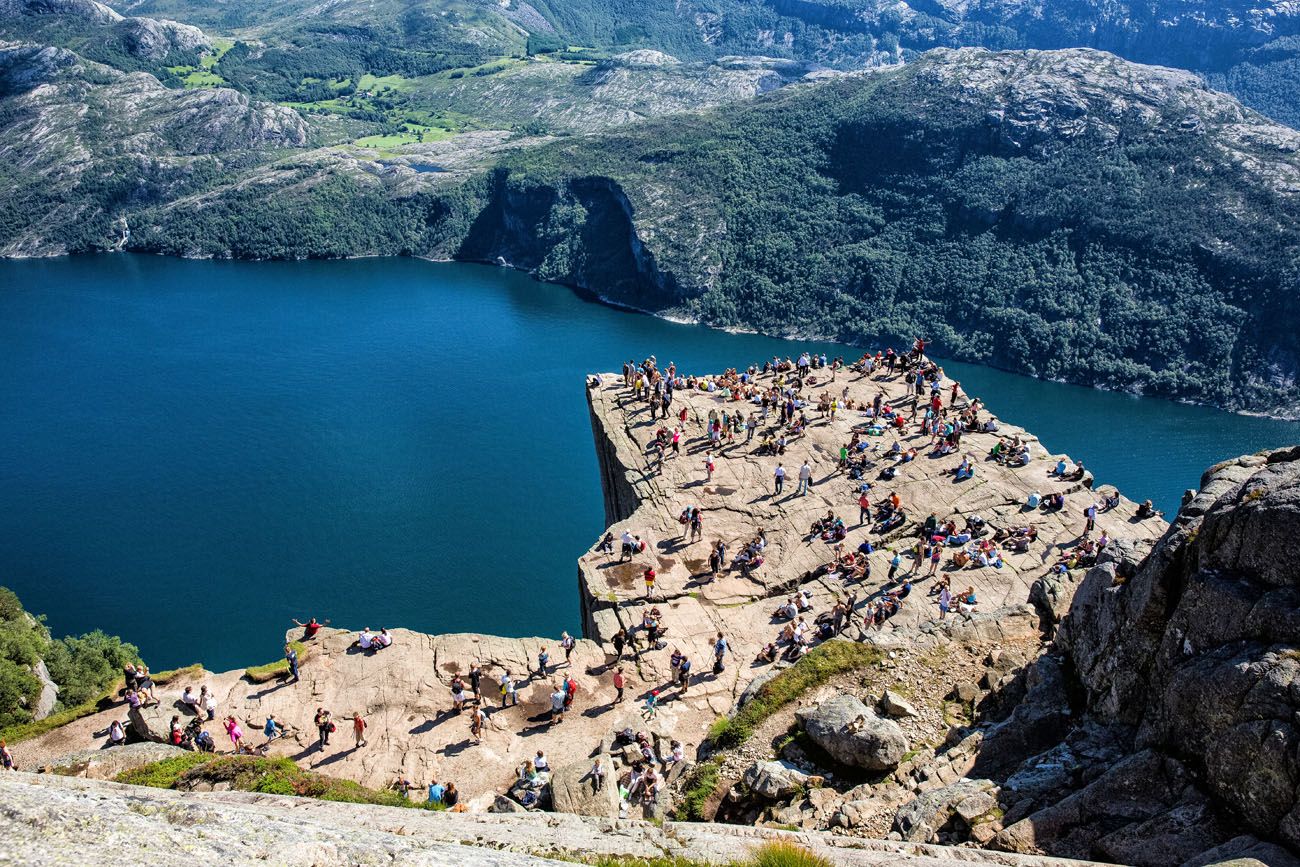 With its great views, relatively easy hiking trail, and convenient accessibility from the town of Stavanger, this is another very popular hike in Norway.
---
#11 Drive Trollstigen
Trollstigen, aka "The Troll's Road," twists and turns as it climbs up from the Romsdal Valley. This short stretch of road features 11 hairpin turns, several viewpoints, and views of the Stigfossen waterfall. It is part of the National Tourist Route that connects Geirangerfjord with Åndalsnes.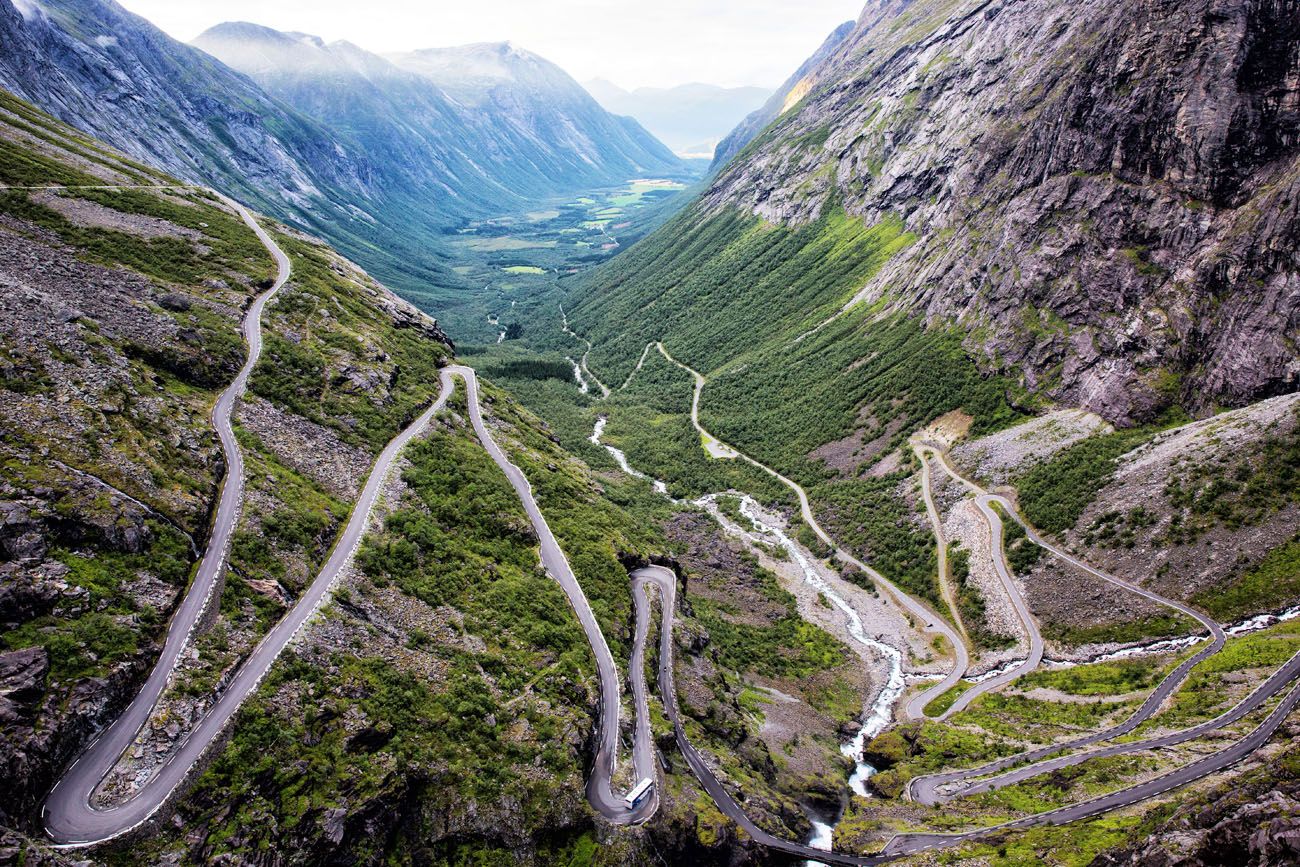 Trollstigen | Best Things to Do in Norway
---
#12 Journey to Svalbard
If you look at Svalbard on a globe, it looks like it is just a hop, skip, and jump away from the North Pole. Longyearbyen, at 78° North, is the world's northernmost community.
In Svalbard, many adventures await. Go hiking, kayak past glaciers, explore the snowy landscapes by snowmobile, or go on a multi-day sled dog expedition. If you have lots of time (and money), take a one-week cruise around Svalbard in search of polar bears.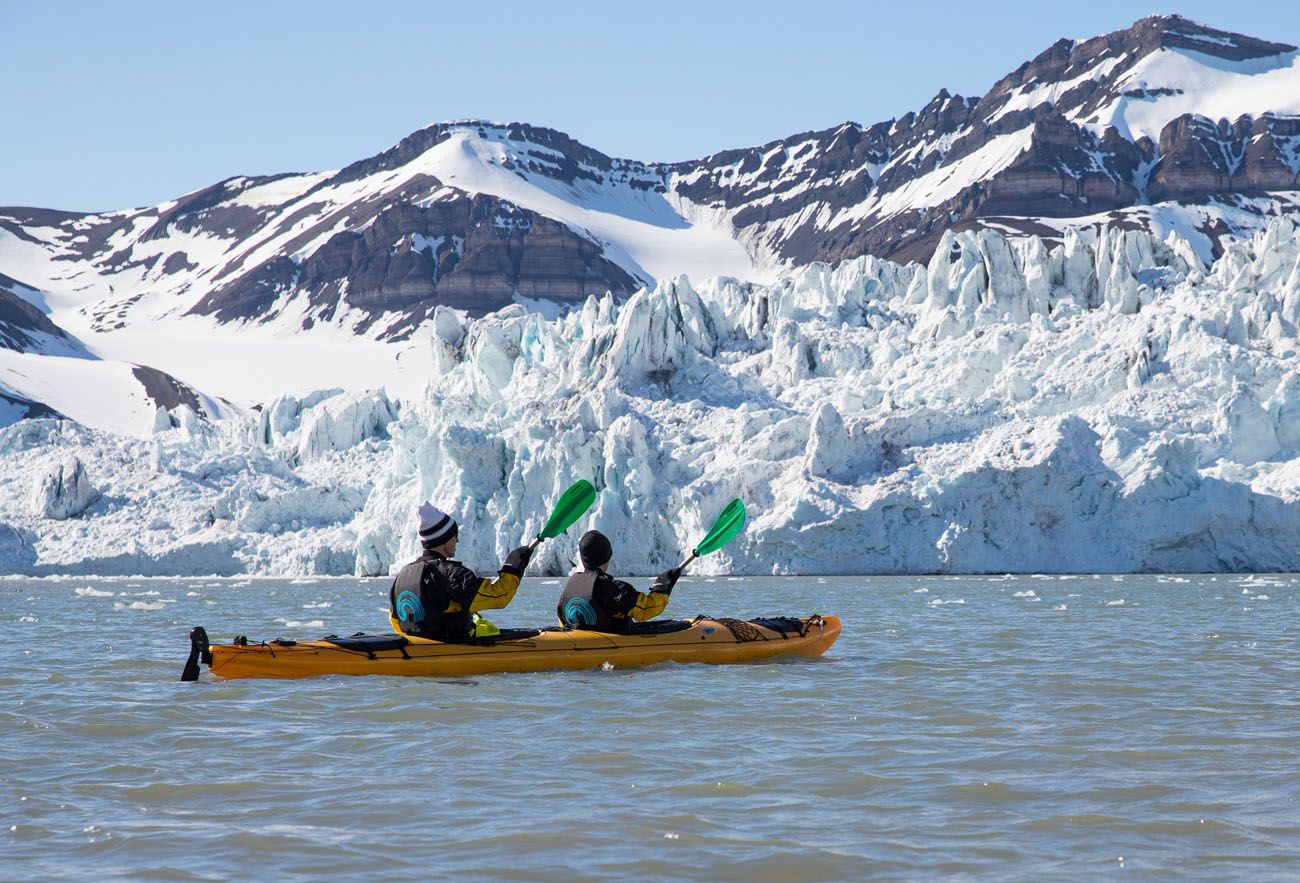 Glacier Kayaking in Svalbard | Best Things to Do in Norway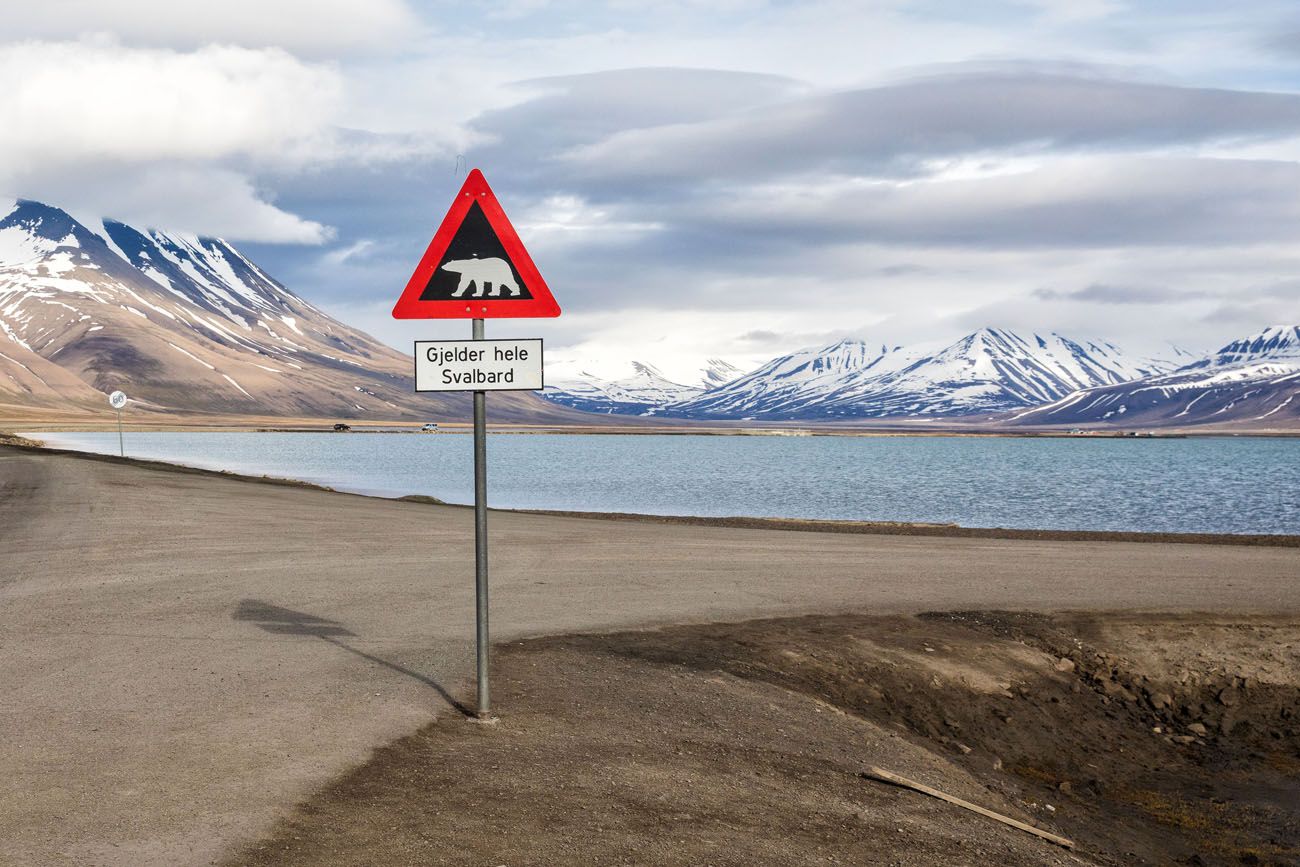 Svalbard feels like an adventure. New landscapes, new experiences…a trip here is one of the coolest things to do in Norway (pun intended).
---
#13 Climb Svolvaergeita
Here is another adventure for your Norway bucket list. Svolvaergeita, also called "The Goat," is a pinnacle of rock that is a popular rock climbing spot in the Lofoten Islands.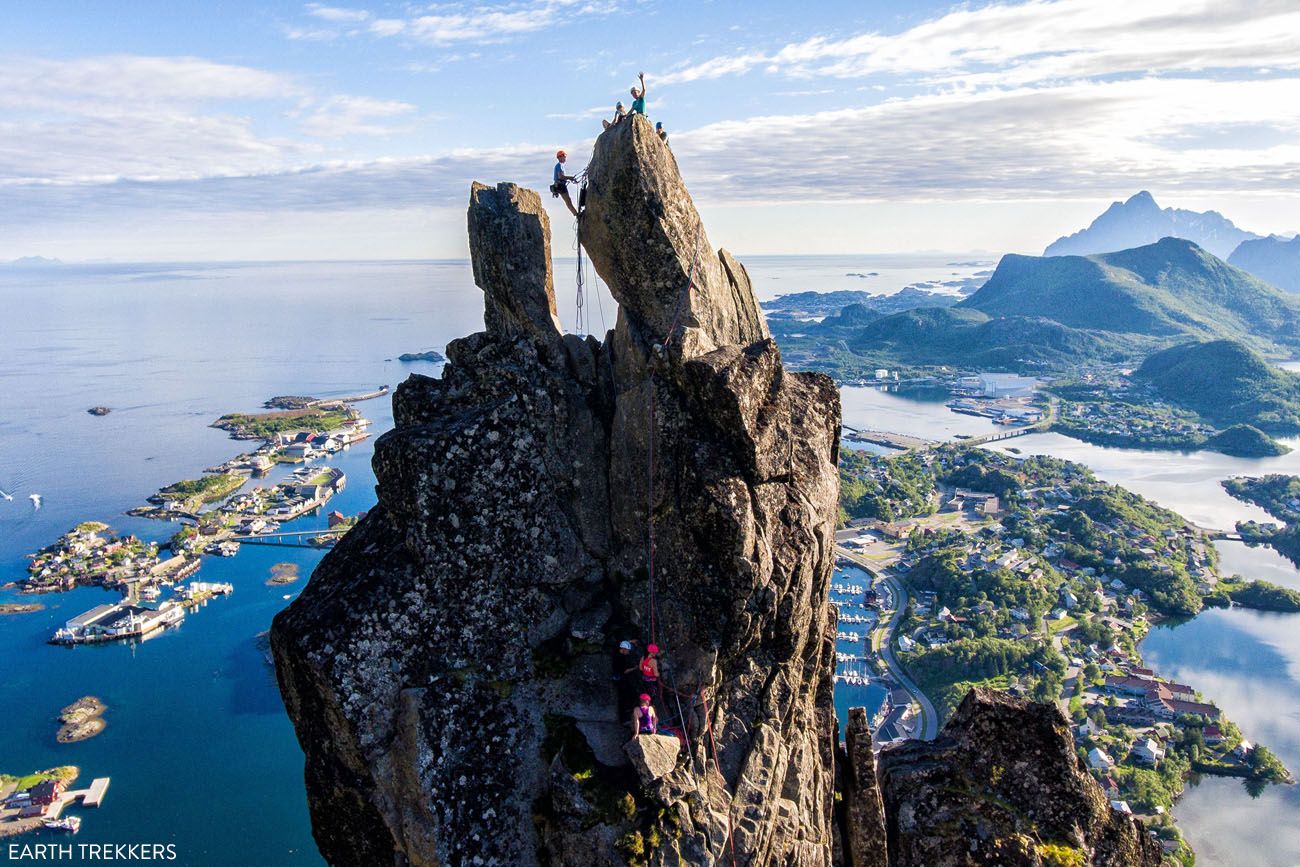 Svolvaergeita | Best Things to Do in Norway
This was our favorite experience in the Lofoten Islands. The view from the top of Svolvaergeita is incredible! And if you are a beginner rock climber, you can do this.
---
#14 Enjoy the View over Ålesund
Ålesund is a beautiful coastal town in southern Norway. This Art Nouveau town is scattered across several islands along the Atlantic Ocean. A highlight of a visit to Ålesund is the view from Fjellstua.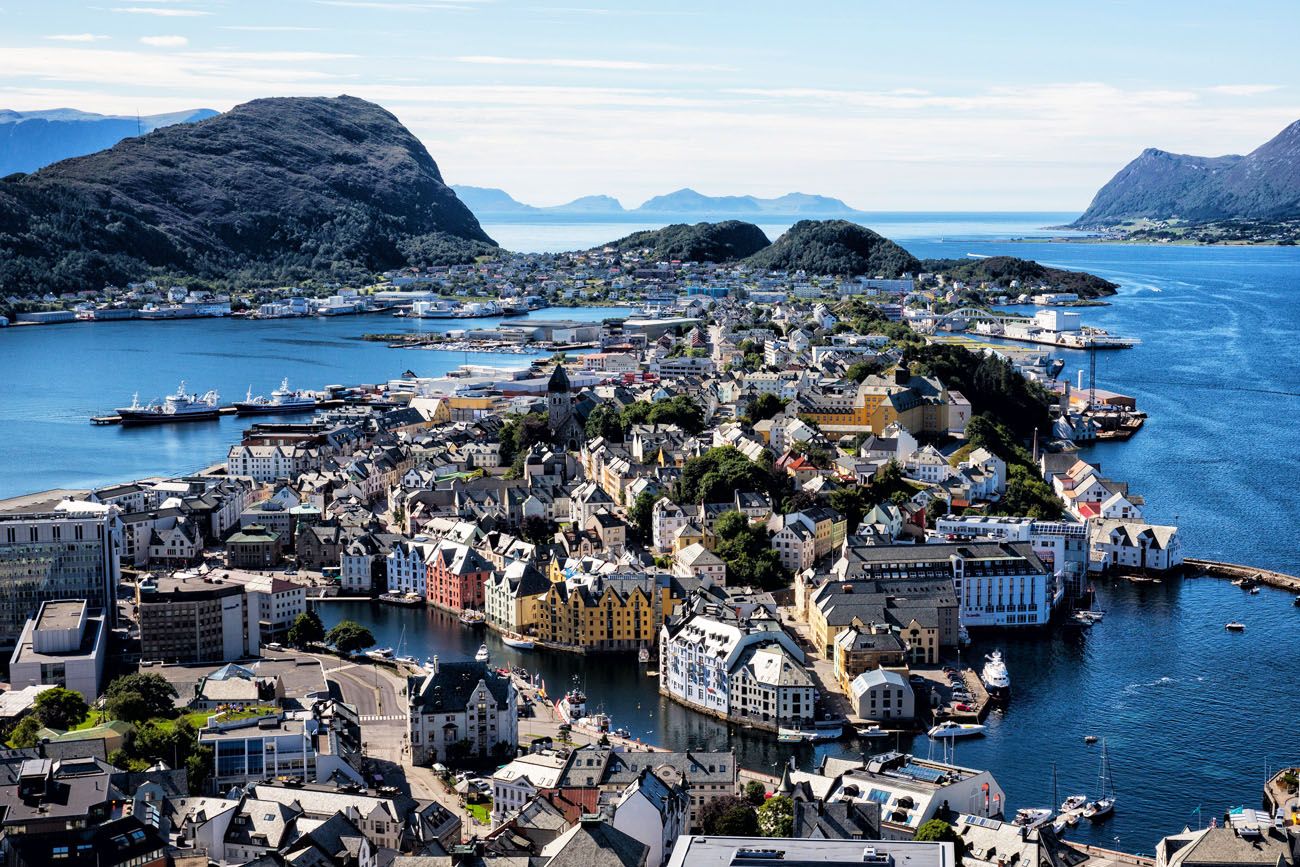 Ålesund | Best Things to Do in Norway
---
#15 Relax in Sommarøy
Sommarøy is a hidden treasure in northern Norway. I like to think of it as Norwegian paradise. Hiking trails, amazing views, tiny islands with white sandy beaches, and picture-perfect red cabins dotting the water's edge…can it get any better than this?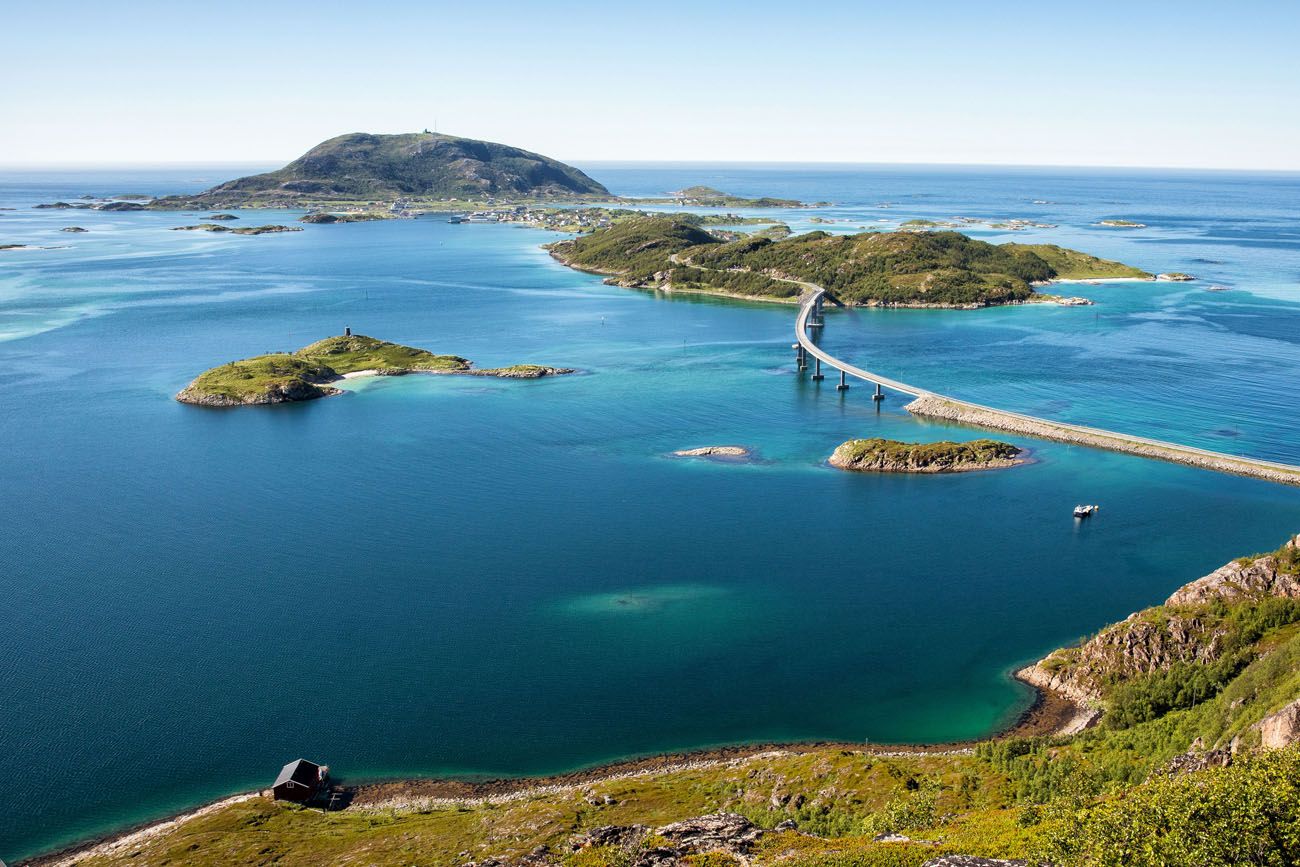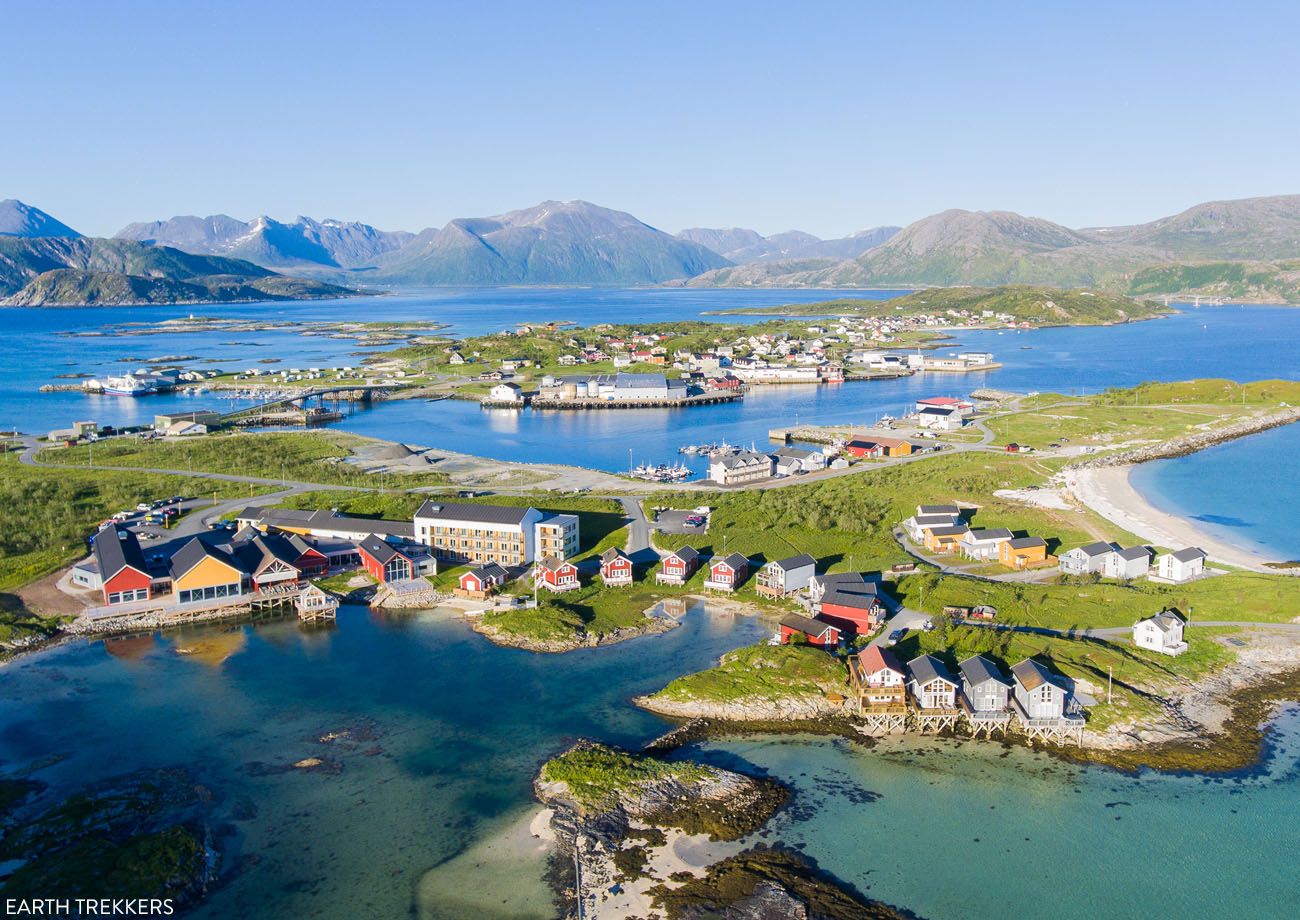 Drone photo of Sommarøy
It's easy to day trip here from Tromsø, but for a quieter, more relaxing experience, spend the night at the lovely Sommarøy Arctic Hotel. For the best view over Sommarøy, it's a short, easy hike up to Ørnfløya.
---
#16 Explore the Lovely Island of Senja
Not far from Tromsø and Sommarøy is the lovely island of Senja. This is another great spot to add to your northern Norway road trip.
Drive the Norwegian Scenic Route from Bothhamn to Gryllefjord, visiting Tungeneset, Bergsbotn, and the Senja Troll on the way.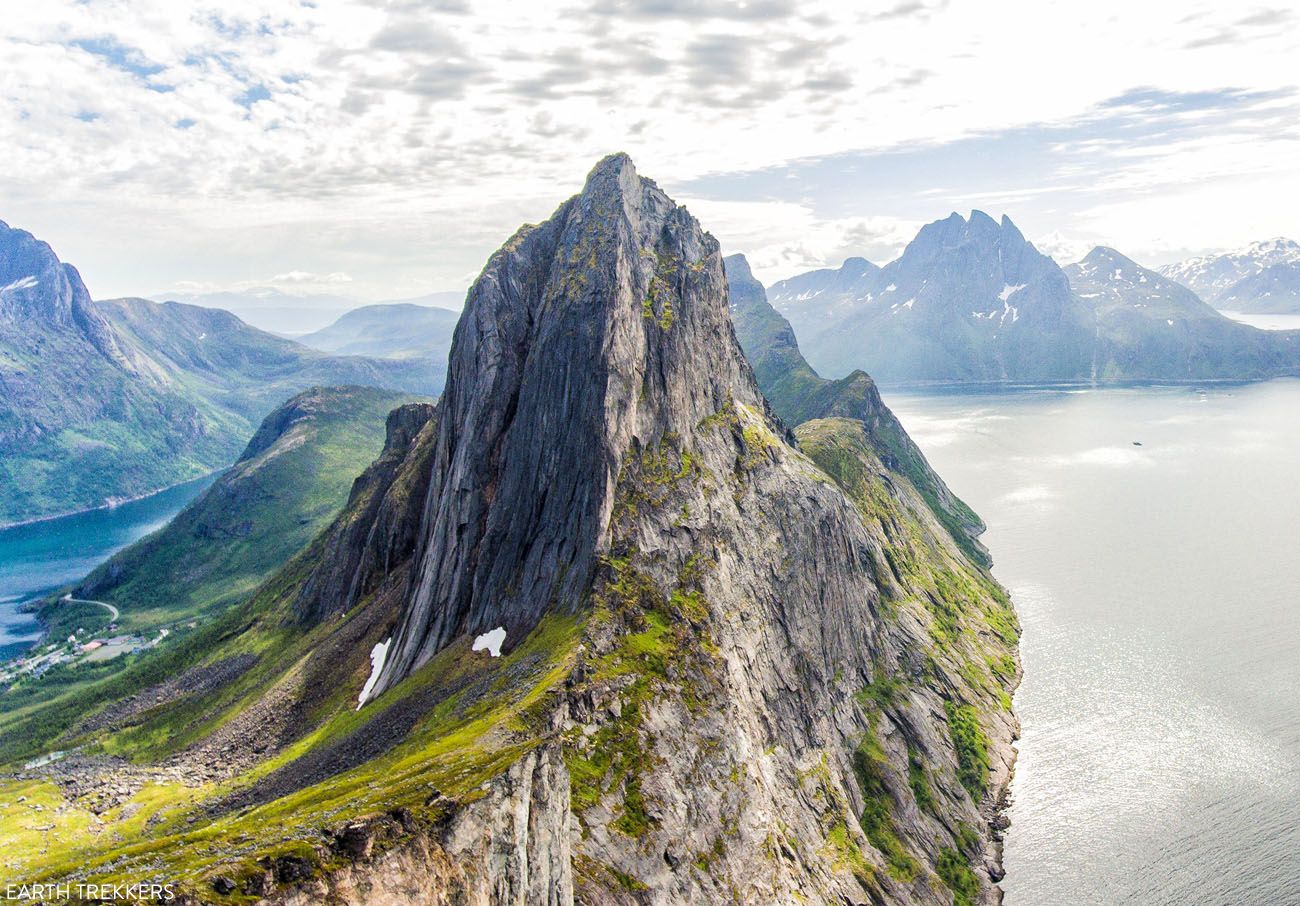 Drone photo of Segla
There are also several great hikes to do on the island. We hiked the short but challenging trail up Segla for unbeatable views over the island.
---
#17 Visit Geirangerfjord
Geirangerfjord is a UNESCO World Heritage Site and a fjord known for being one of the most beautiful in Norway.
For an amazing view of the fjord, you have several options. Go to the Dalsnibba viewpoint for the highest view of the valley and fjord (best on a clear day). The Flydalsjuvet rock is an outcropping of rock where you can get iconic photos of Geirangerfjord. The Ørnesvingen viewpoint on the Eagle Road is also another great spot to visit.
For a unique experience, you can kayak in Geirangerfjord. When we did this, we saw dolpins!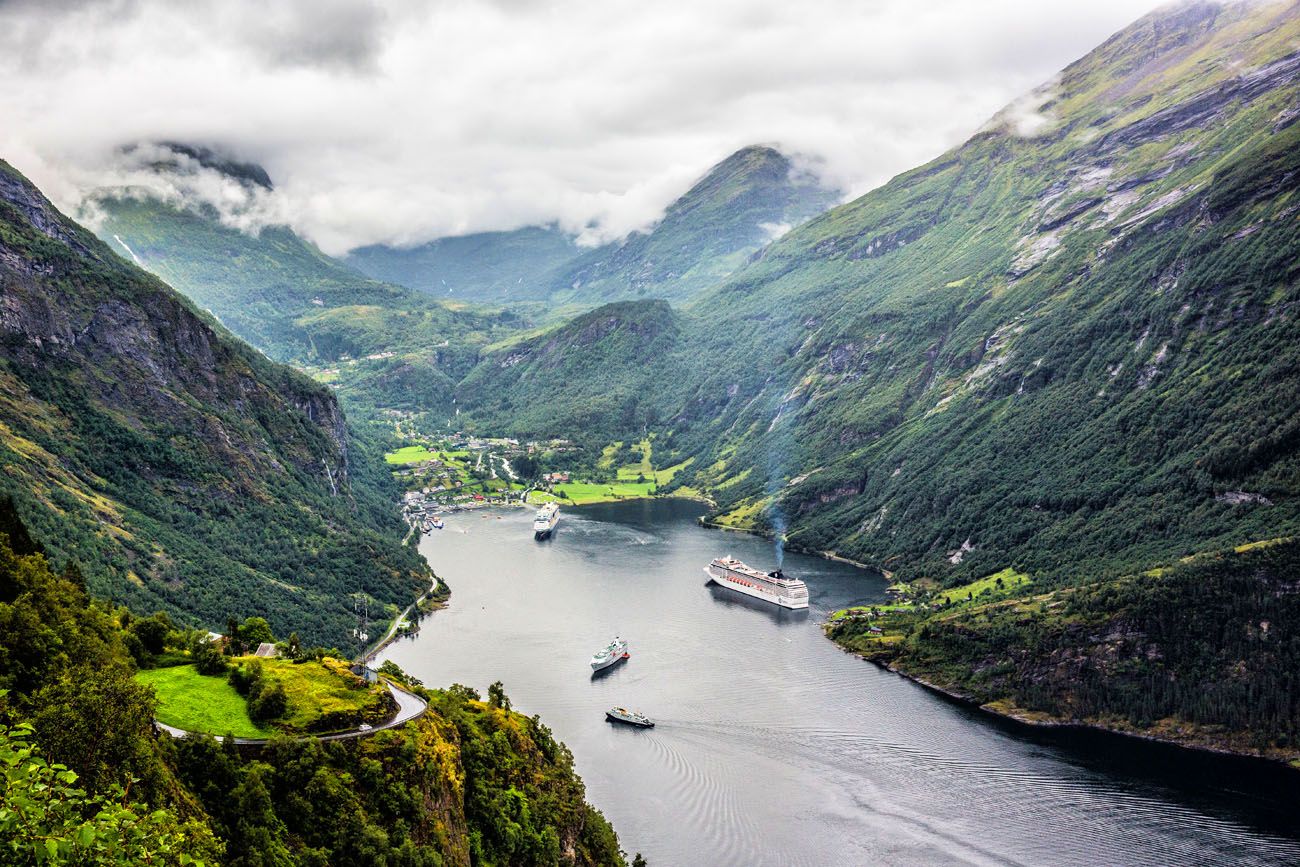 Geirangerfjord | Best Things to Do in Norway
---
#18 Stand on Kjeragbolten…Do You Dare?
Hiking to Kjeragbolten is one of the best things to do in Norway. Not only do you get the chance to do something absolutely crazy, stepping out onto the boulder, but this hike is just downright fun. From climbing sheer granite faces with the aids of chains, to descending down into valleys inhabited by sheep and their clanging bells, to views out over some of the most spectacular scenery in Norway, this hike is a pure joy.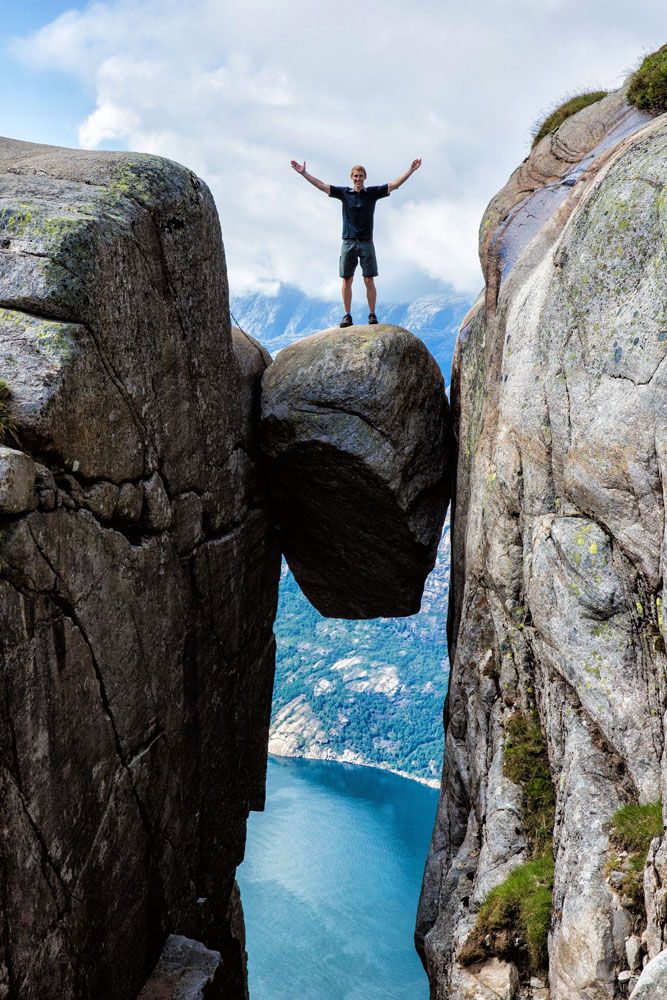 Kjeragbolten | Best Things to Do in Norway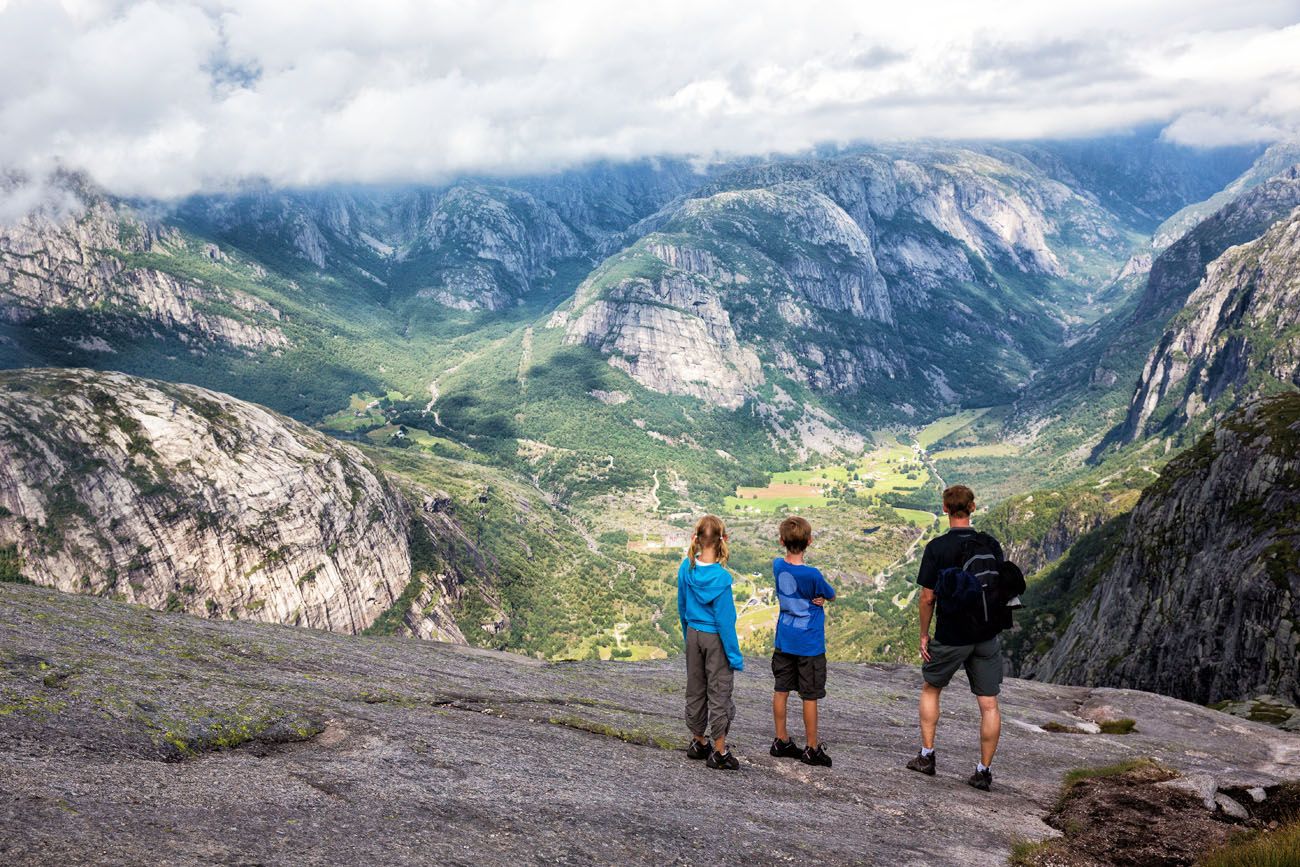 ---
#19 Get the Postcard View of Hamnøy
Hamnøy, with its collection of red fishing cabins on the water, is one of the most picturesque spots on the Lofoten Islands.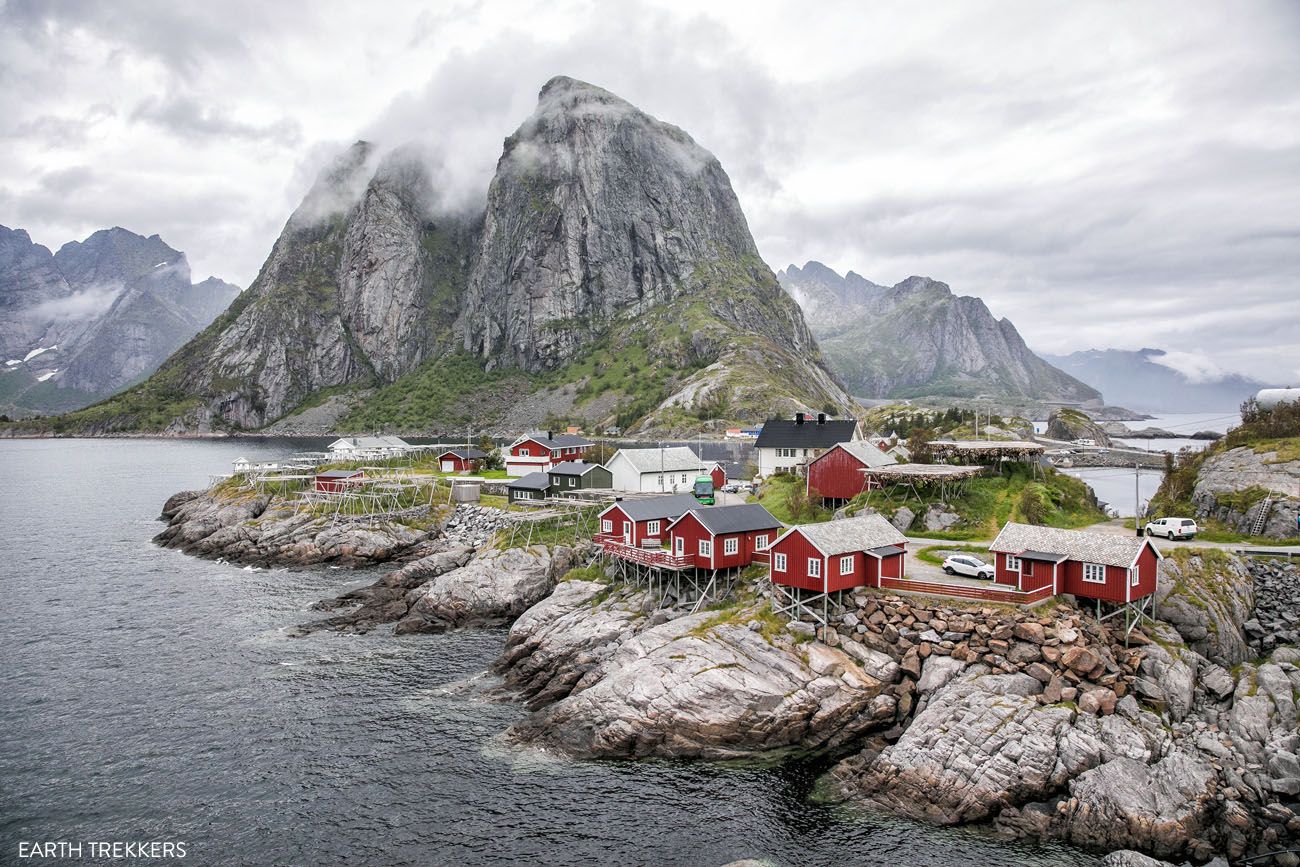 The exact spot to get this photograph is labeled on Google Maps as Hamnøy Bridge Photospot Viewpoint.
---
#20 Visit Trondheim
Trondheim is the third largest city in Norway. University students make up a sizable portion of the population. This colorful city is filled with museums, the world's northernmost tram, boutique shops, and an excellent food and nightlife scene. Learn more here.
---
Best Thing to Do in Norway: On a Map
---
Comment below if you have any questions about the best things to do in Norway or if you want to share your experience.
More Information for Your Trip to Norway:
10 DAYS IN THE FJORD REGION: On this 10 day itinerary through the fjord region, visit southern Norway: Bergen, Geirangerfjord, and Stavanger and hike Trolltunga, Pulpit Rock and Kjeragbolten.
NORTHERN NORWAY ITINERARY: On this 10 day Norway itinerary, road trip through Senja and the Vesteralen Islands, two beautiful off the beaten path destinations, and visit the Lofoten Islands.
BEST OF NORWAY ITINERARY: In this guide, we share two different ways to plan a 10 day trip that includes both the Lofoten Islands and southern Norway.
TRAVEL PHOTOGRAPHY: For more information about the camera gear we carry, check out our Travel Photography Gear Guide. And tips and tricks for taking great photos in our article How to Take Better Photos while Traveling.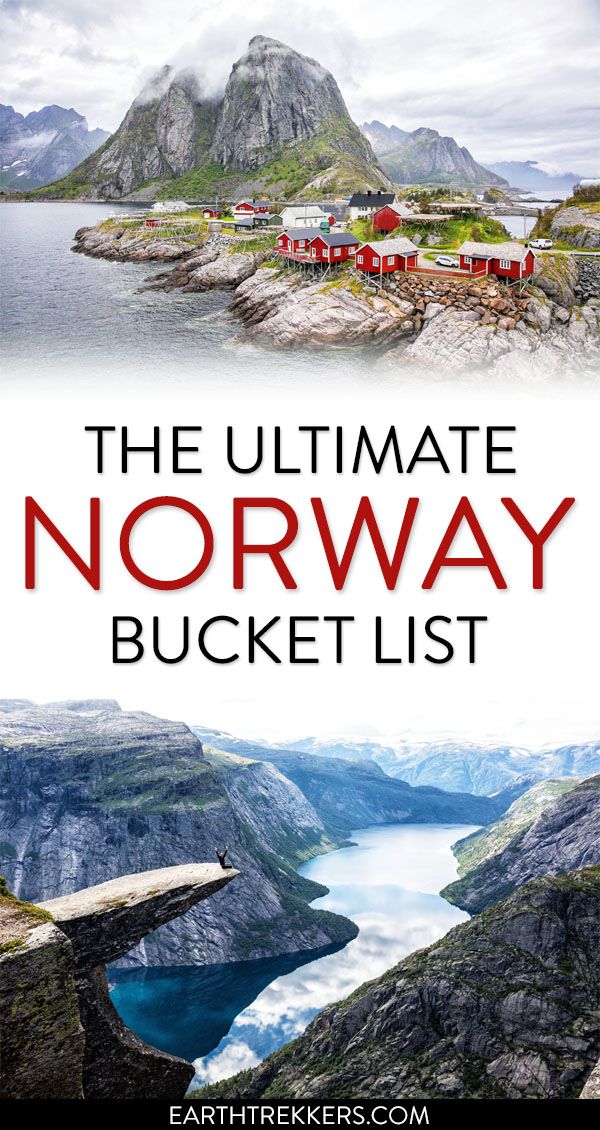 All rights reserved © Earth Trekkers. Republishing this article and/or any of its contents (text, photography, etc.), in whole or in part, is strictly prohibited.