Copenhagen, with its colorful buildings, fabulous food scene, and laid-back atmosphere, is a great city to visit on a European tour. With one day in Copenhagen, you have just enough time to stroll through charming Nyhavn, sample some local cuisine, and visit a museum, all while exploring the city by bicycle. And if you are here with kids, they will love a visit to Tivoli Gardens, one of the oldest amusement parks in the world.
An Overview of Copenhagen
Denmark, even though it is attached to mainland Europe, is one of the three Scandinavian countries (along with Norway and Sweden). Centuries ago, this was the land of Vikings. Powerful Vikings. For a time, Denmark ruled over Norway and parts of Sweden.
Now, the country of Denmark is consistently ranked as one of the happiest countries in the world. Denmark has a high GDP per capita and a national health care system. In Copenhagen, fifty percent of the people ride a bike to work. These happy, healthy people volunteer regularly and have the highest percentage of voters during elections compared to any other democratic country in the world. Add in a long list of Michelin-starred restaurants and the world's first amusement park in the heart of a city and you have a great destination in Europe.
Copenhagen is a large city but for visitors the main sites are located in the historic city center. You can get around by walking and public transport, but for our perfect day in Copenhagen, we recommend getting around by bicycle. It's cheap, it's fun, and you'll feel more like a local.

Recommended sites, restaurants, and hotels.
How to Use This Map: Click the tab in the top left hand corner of the map to view the layers (points of interest, restaurants, and hotel recommendations). You can click the check marks to hide or show layers. If you click the icons on the map, you can get more information about each point of interest.

If you click the star next to the title of the map, this map will be added to your Google Maps account. To view it on your phone or computer, open Google Maps, click the menu button, go to "Your Places," click Maps, and you will see this map on your list.
One Day in Copenhagen
8 am: Breakfast
Start the day off with a Danish style breakfast: coffee, rye bread with cheese, jam, or salmon, or a pastry. Oatmeal, porridge, and eggs are also common breakfast foods.
A few of the popular breakfast and brunch spots in Copenhagen include Mad & Kaffe (in Vesterbro), and Kalaset.
9 am: Rent a Bicycle for the Day
With one day in Copenhagen, the most efficient (and the most fun) way to get around the city is by bicycle. With designated bicycle lanes and traffic lights, getting around Copenhagen is safe and easy.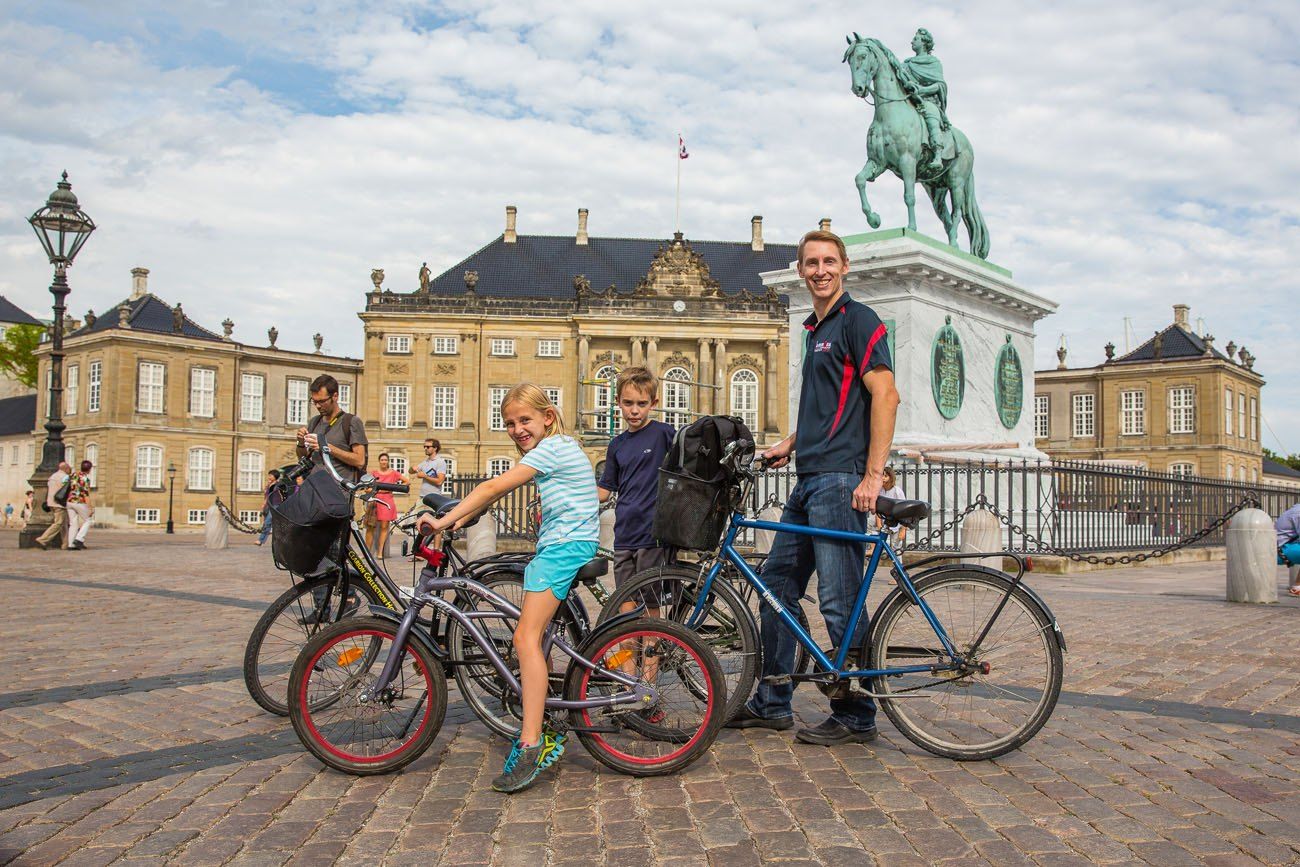 At Amalienborg Palace
Renting from a bike shop: There are numerous bike shops in town. Who you choose depends on your starting point in the city. We used Copenhagen Bicycles, located in Nyhavn. For the convenience of following this itinerary, we recommend renting bikes near Nyhavn. For a list of the bicycle shops in Copenhagen, click here.
Copenhagen also has a public bike share system called Bycyklen. You can rent a bike from one of 100 kiosks in town and then return it to a different kiosk. Simply set up a user account on their website before you arrive in Copenhagen and payment will be taken care of once you start your bike rental. Get all of the details here.
If you are traveling with kids, renting from a bike shop is your best bet since they offer kid-sized bikes and bikes for families. The public bike share program works best for adults and teenagers.
9:30 am: The Little Mermaid
Start off by biking to the Little Mermaid Statue (also called Den Lille Havfrue), a bronze statue inspired by Hans Christian Andersen's fairytale by the same name. Sure, this is Copenhagen's most touristy thing to do, but it's worth a quick visit. By getting here early in the day you will miss the huge crowds that tend to gather midday.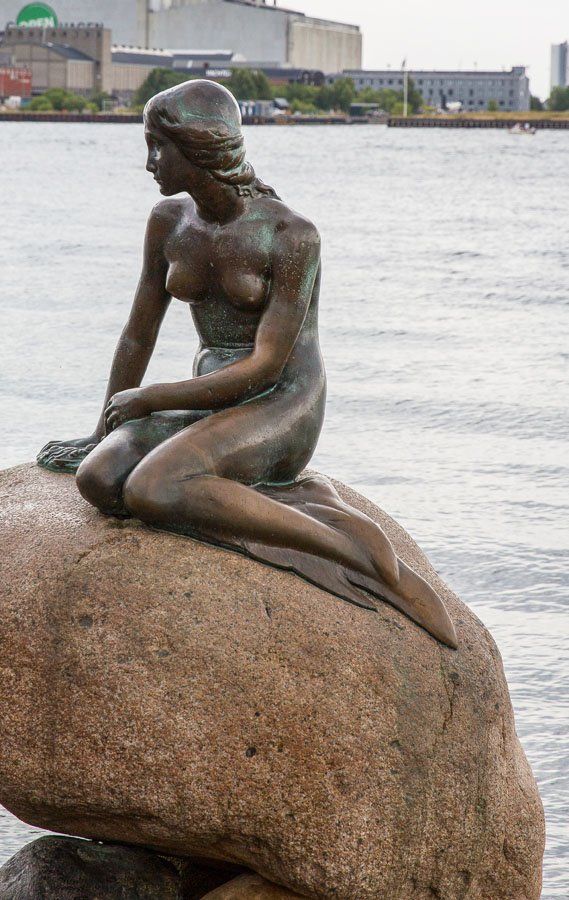 If you start at or near Nyhavn, cycle along the waterfront on Larsens Place to get to the Little Mermaid Statue (2 km, 10 minutes). This is an easy spot to ride a bike, the perfect place to refresh your bike handling skills, especially if it's been a little while since you have done something like this. Also, by taking this route, you will avoid the city streets and have a nice view of the harbor.
This is also your best chance to see Amalienborg Palace, the residence of the royal family. You can make a quick detour and cycle through this complex of four palaces on your way to the Little Mermaid Statue.
10 am: Take Your Pick: Museum or Castle?
Spend the rest of the morning at one of Copenhagen's top museums or at Rosenborg Castle.
Designmuseum Danmark
This is not your typical museum. Learn about the history of Danish design and decorative arts. This museum is perfect for interior designers and those with an interest in design.
Location: Bredgade 68, between Kastellet and Amalienborg Palace
Website: Get pricing and hours on the official website
Rosenborg Castle
This 400-year old castle is located in the King's Garden. Tour the castle, visit the Great Hall, and see the crown jewels.
Location: King's Garden
Website: Get pricing and hours here
The David Collection
This is an amazing collection of Islamic art, early Danish art, and European art from the 18th and 19th centuries. It's located next to the Rosenborg Castle, so you can pedal by Rosenborg Castle and then visit this museum.
Cost: Free!
The National Museum of Denmark
This is the place to immerse yourself in Danish culture and history. It's an extensive, detailed museum and perfect for those with an interest in history.
Website: Get pricing and hours on the official website
Ny Carlsberg Glyptotek
This is Scandinavia's largest art museum. Tour the gorgeous buildings and enjoy Denmark's largest collection of French Impressionist paintings, as well as Greek, Etruscan, and Egyptian artwork.
This museum is the furthest away from The Little Mermaid statue, but for art lovers it's worth the extra pedaling to get here.
Website: Get pricing and hours on the official website
Noon: Lunch at Torvehallerne
Hopefully you have worked up a good appetite because now it's time to explore one of Copenhagen's best food halls. Torvehallerne is filled with food stalls selling fish, produce, and bread. This is a great place to sample some of Denmark's most popular foods.
While you are here, try smørrebrød. Smørrebrød is rye bread with butter and topped with a variety of ingredients, including pickled herring, fresh fish, cold cuts, thin slices of cheese, boiled eggs, or pork-liver pate. Think of it as an open-faced sandwich, Danish-style. One of the best places in Torvehallerne is Hallernes Smørrebrød.
1 pm: The Round Tower, Stroget, and the center of Copenhagen
Spend the early afternoon cycling around the center of Copenhagen, between Torvehallerne and the harbor.
You can climb the Round Tower (Rundetaarn) for a good view over the city. To get to the top, you walk up a spiral ramp rather than taking endless flights of stairs.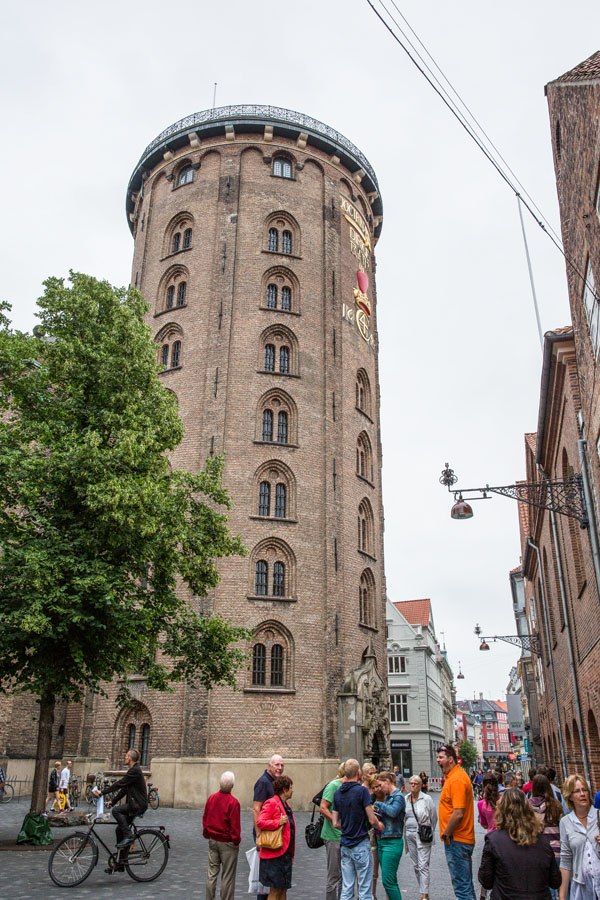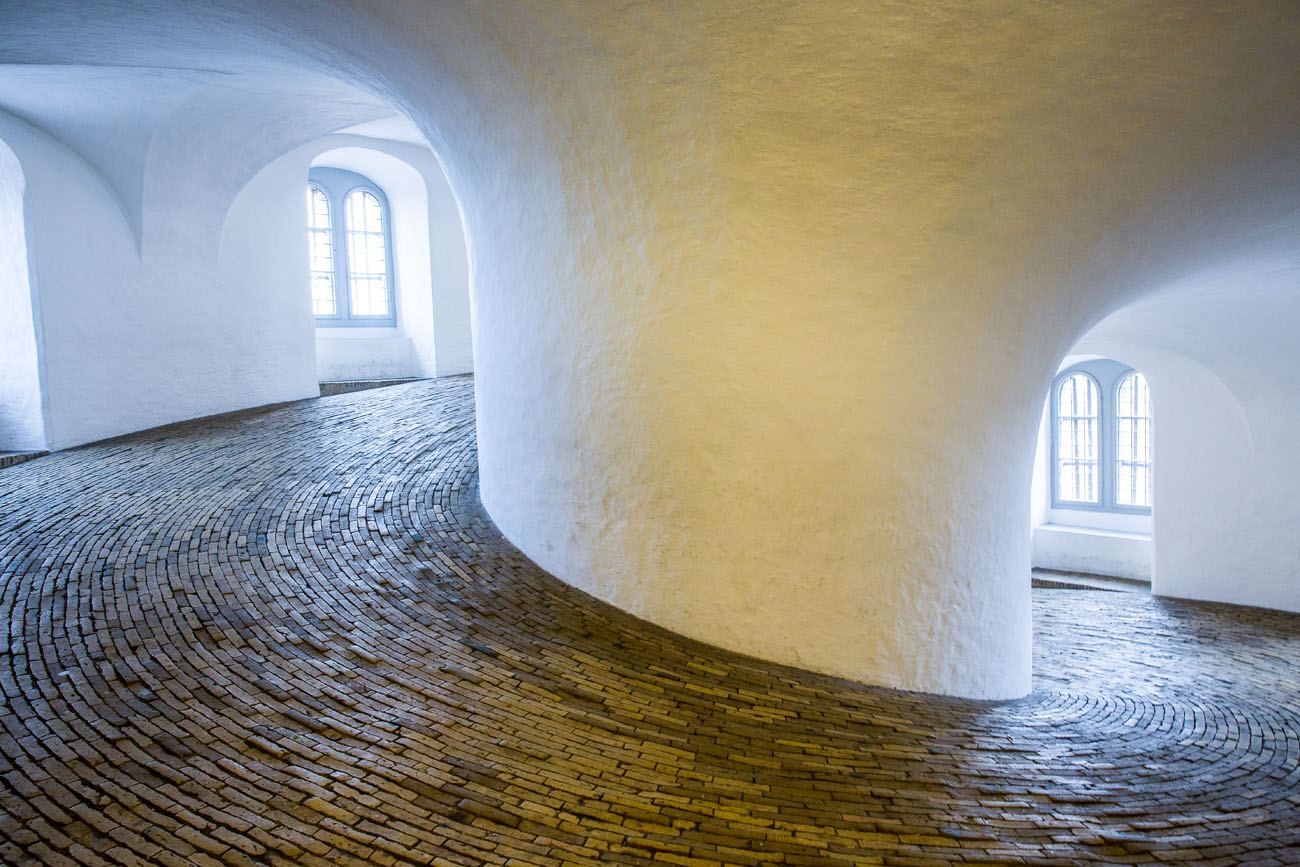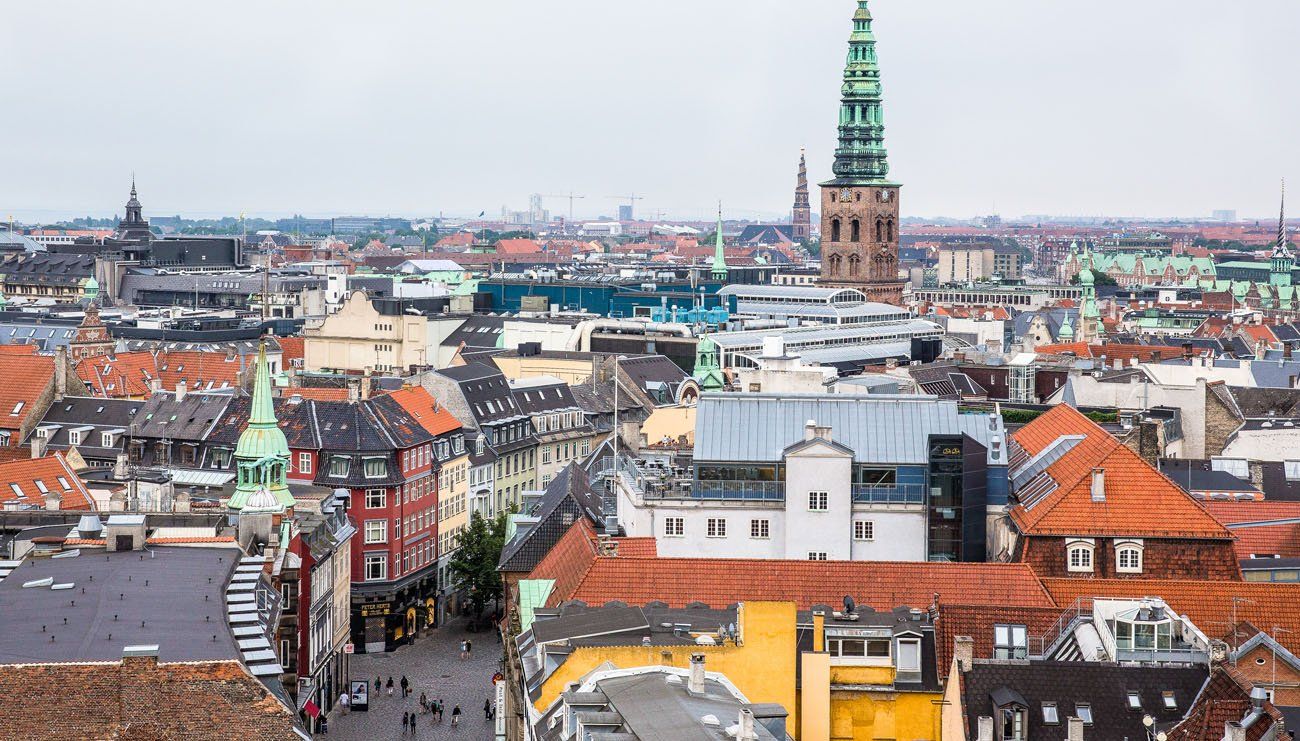 Later in the day, you will have the option to climb the bell tower of the Church of Our Savior. If you think you will only have the energy for one climb, you might want to wait. In our opinion, the view from the top of the Church of Our Savior is better than the Round Tower.
Website: rundetaarn.dk
After the Round Tower, cycle towards the Stroget. The Stroget is 1 km pedestrian shopping street that runs through the heart of Copenhagen. Riding your bike down Stroget will be frowned upon, so park your bike nearby and go for a stroll.
The Stroget runs from City Hall in the west to Kongens Nytorv in the east. Strolling the Stroget gets a lot of hype, so expect to join the crowds here.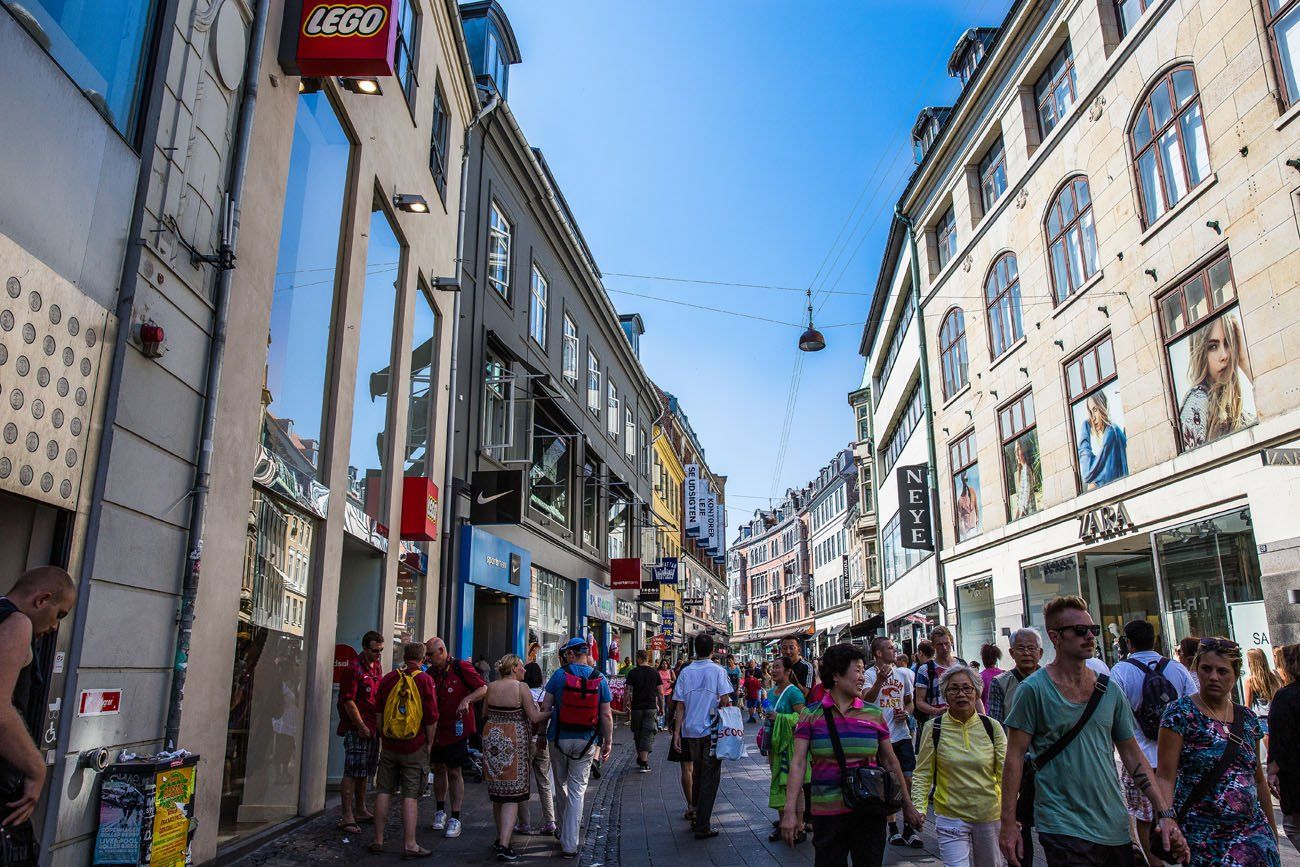 3 pm: Christianshavn and Church of Our Savior (Vor Frelsers Kirke)
Hop back on your bike and cross over the harbor into Christianshavn. This is a wonderful area of Copenhagen to explore by bicycle or by foot. This neighborhood was once a working class neighborhood. Now, it's a trendy part of Copenhagen with homes, shops, cafes, and canals. Spend some time exploring, but save time to visit the Church of Our Savior.
Seeing the inside of the Church of Our Savior is worthwhile but the real reason to visit it is to climb the tower. After ascending a series of interior staircases (the last one is very steep), you step outside and get to enjoy an amazing view of Copenhagen. From here, there is one last outdoor spiral staircase to climb. As it winds its way up, you get 360° views of Copenhagen. This was our favorite view of the city.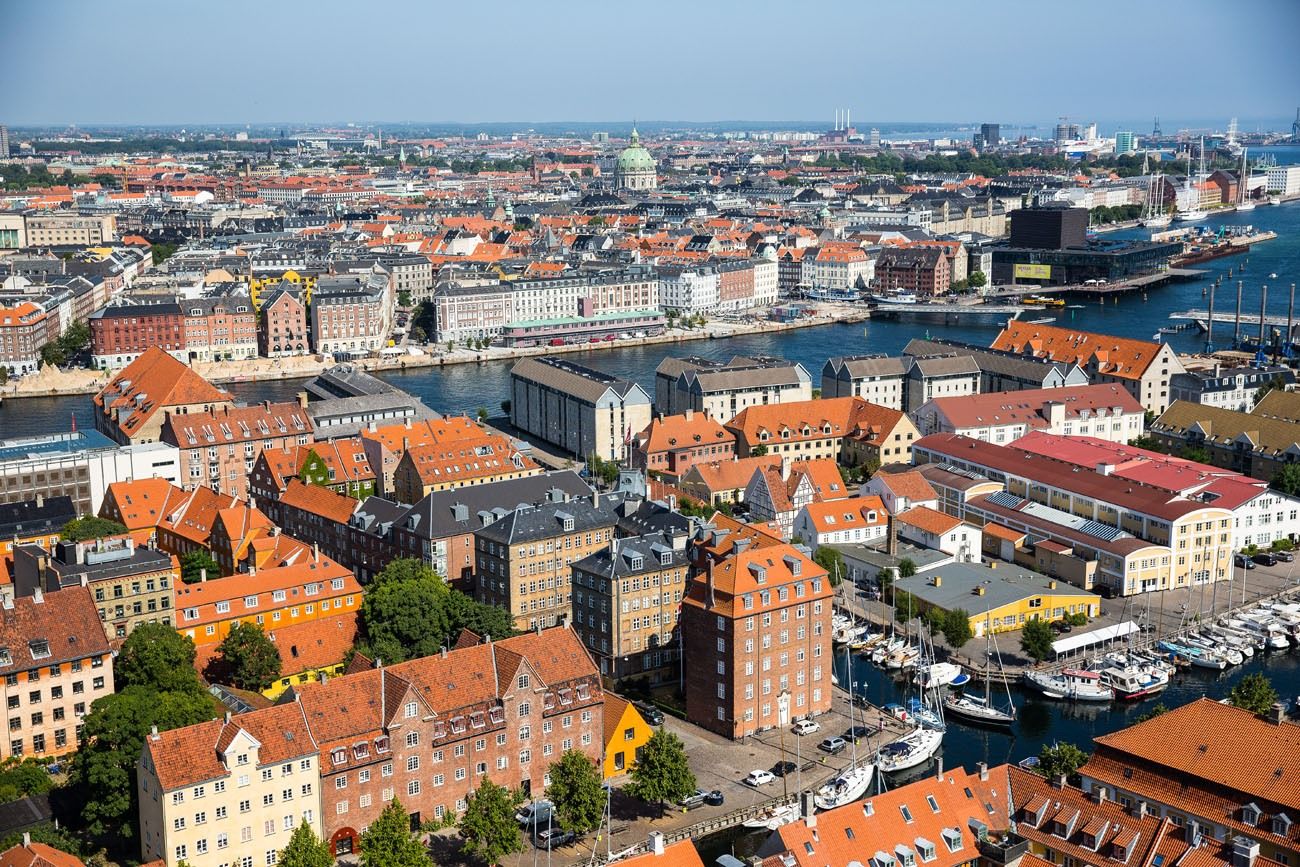 Get pricing and hours on the official website.
5 pm: Nyhavn
Cycle over to Nyhavn, return your bikes, and take your time walking along the waterfront. This is Copenhagen's most iconic spot and it's worth spending some time here to enjoy this place.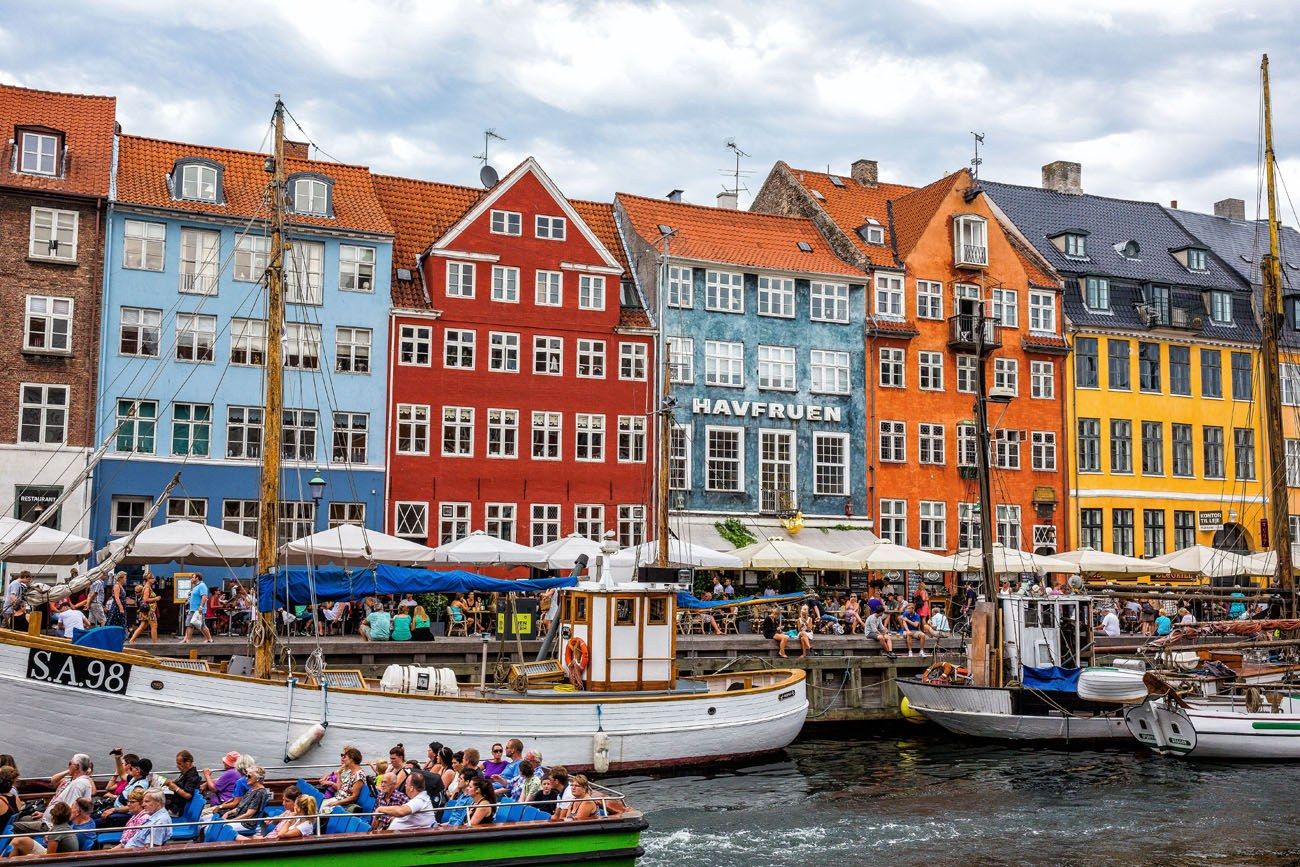 You have the option to have dinner here. In our experience, the restaurants in Nyhavn are overpriced and the food is mediocre (we have eaten here on two different occasions on two different trips to Copenhagen). The food may not be the best but the setting is unbeatable. We loved sitting outside, enjoying the view, and watching people stroll by and boats come and go.
If you want the best of both worlds, grab a table, have a drink, and enjoy the atmosphere. It's still a bit early for dinner, anyway. Once you had your fill of Nyhavn, you can continue your tour of Copenhagen.
6:30 pm: Gourmet Dinner or Tivoli Gardens
Once again, I am giving you a choice. Either end the day with a gourmet meal or by getting your thrill on at Tivoli Gardens.
There are more Michelin starred restaurants in Copenhagen than in any other city in Europe. For some travelers, that's a big deal. If you want to end your visit to Copenhagen with an unforgettable meal, you have plenty of restaurants to choose from.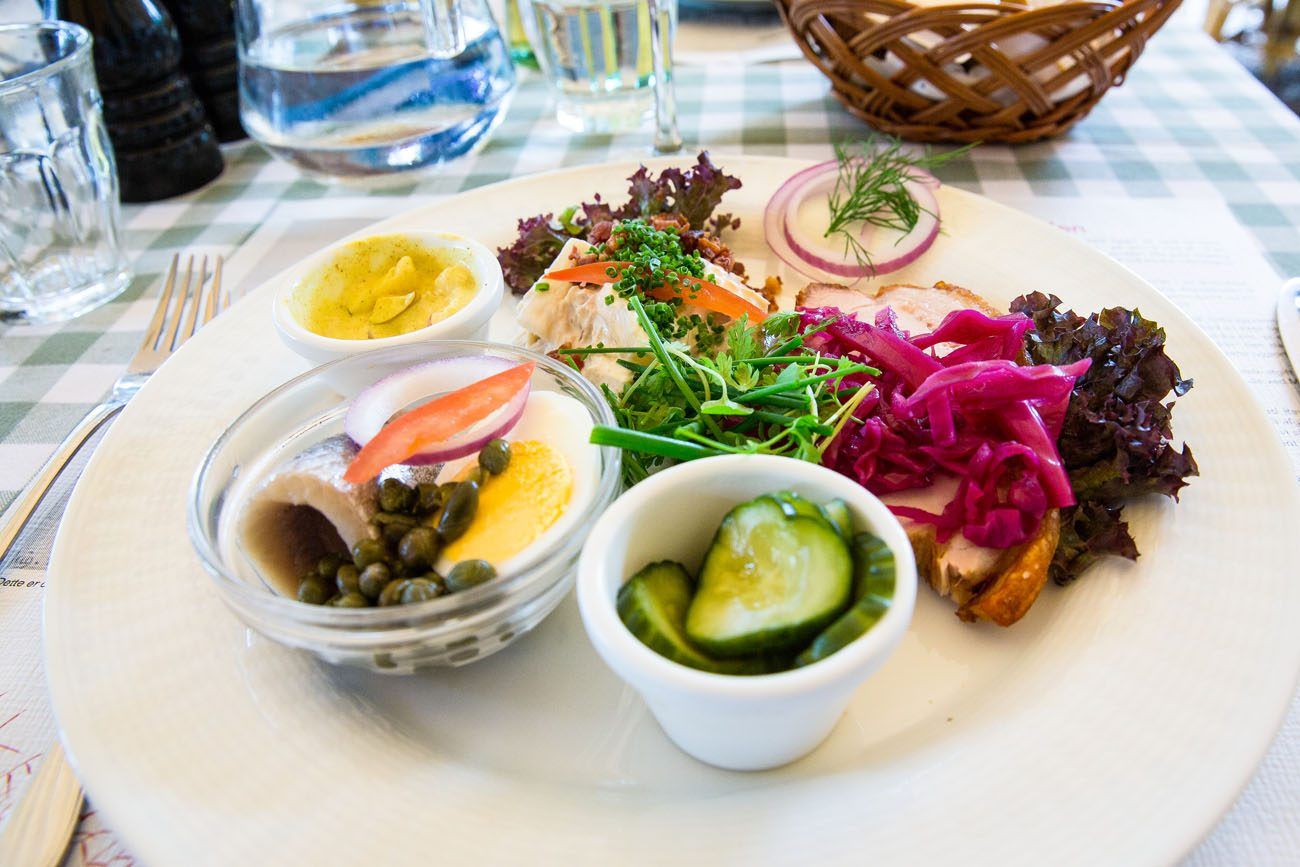 Noma was ranked as the #1 restaurant in the world in 2010, 2011, 2012, and 2014. It recently moved to a new location in Copenhagen and reopened in May 2018. Here is the link to their website so you can make your reservation.
Two more top choices are Geranium, the first restaurant in Copenhagen to receive 3 Michelin stars and #1 on the list of the World's 50 Best Restaurans List, and Kiin Kiin, the only Thai restaurant outside of Thailand to have a Michelin star.
For more information on Michelin-starred restaurants in Copenhagen, visit the Visit Denmark website. If you plan on dining at one of these restaurants, make your reservation as far in advance as possible.
Another option for dinner is Ravelinen. It's not a Michelin-starred restaurant but it is a great place for traditional Danish food. It can be a little hard to find. To get here, we took the metro to the Christianshavn station then walked down Torvegade away from the city center. Torvegade crosses over a body of water and the restaurant is located off to the left on a tiny island.
Tivoli Gardens
Tivoli Gardens is one of the oldest amusement parks in the world (the oldest, Bakken, is also in Denmark). You don't have to be an adrenaline junkie to enjoy a visit here. It's a beautiful park, with gardens, restaurants, an outdoor beer garden (in the summer), and of course, thrill rides.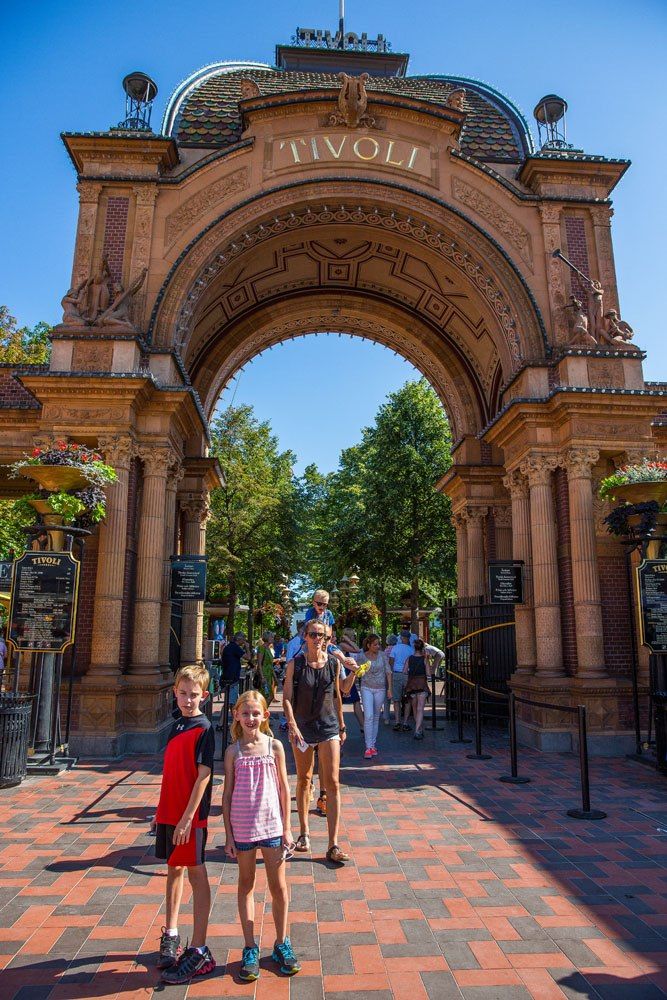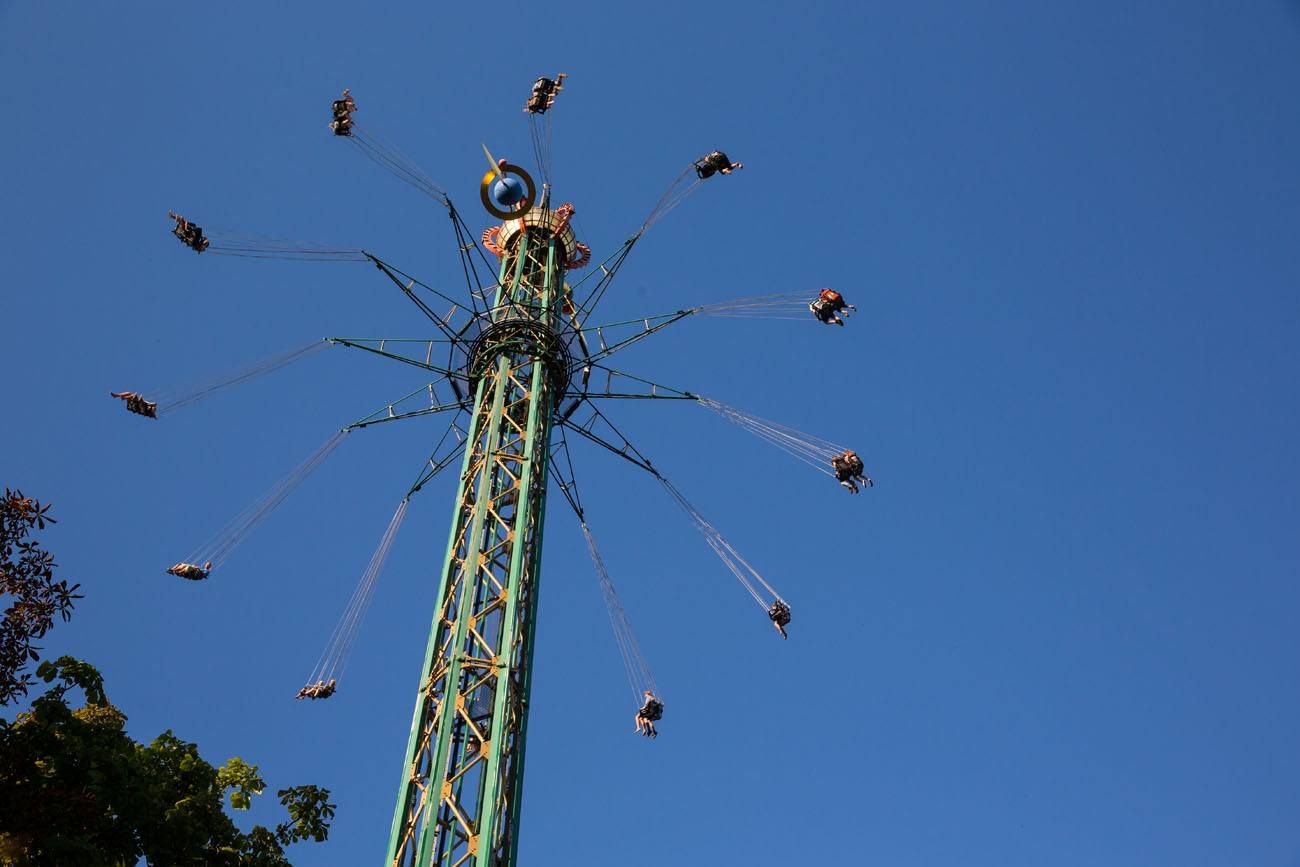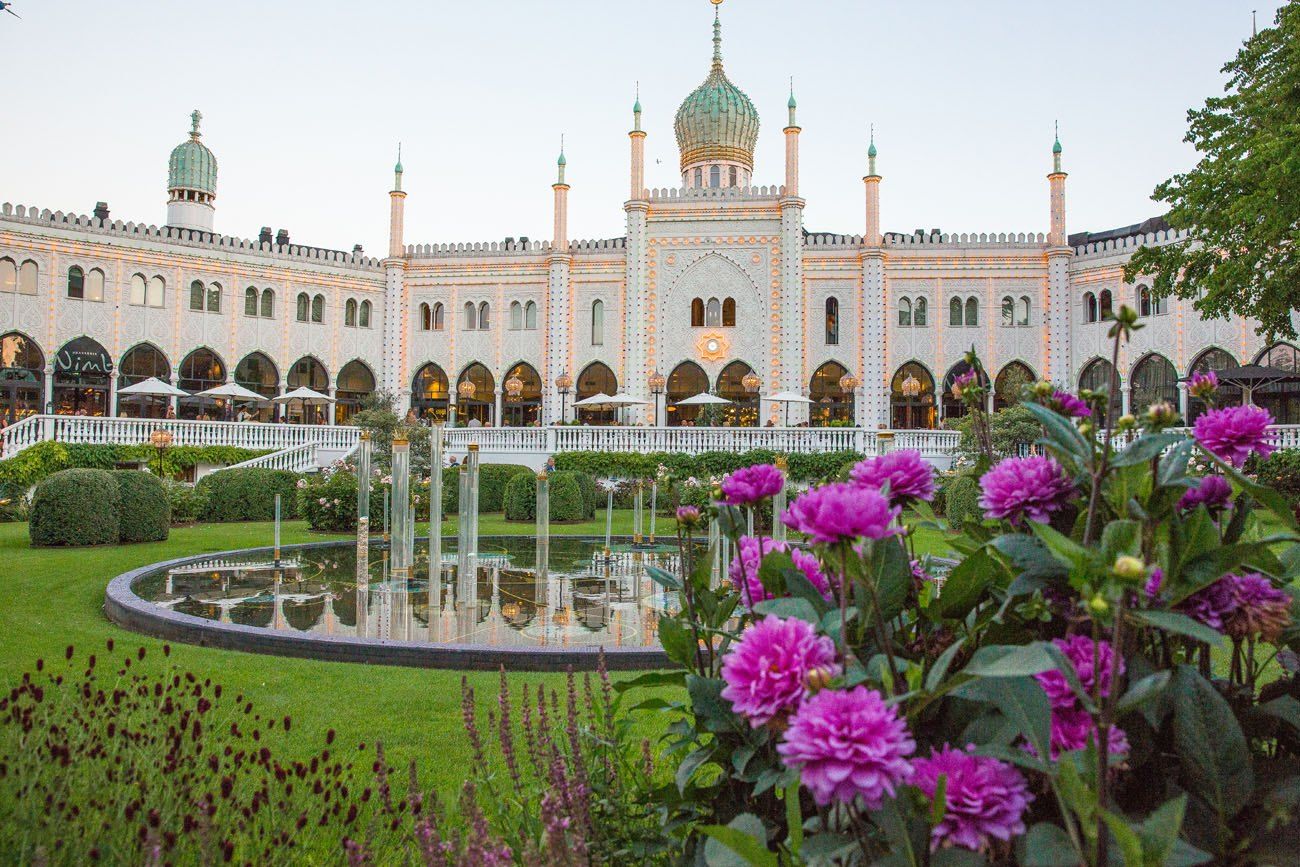 You can purchase an entrance ticket and pay for rides individually (best option if you only plan on riding a few) or purchase the unlimited rides ticket (best for kids, families, and those who plan on riding the rest of the day).
Tivoli Gardens is open year round. However, during the winter months, many of the rides are closed, so purchasing the unlimited ride pass is a waste of money. However, Tivoli Gardens is still worth a visit in the winter. The park is beautiful, with winter decorations, millions of lights, and snow on the ground.
Website: Get pricing and hours on the official website.
With More Time
Freetown Christiania
Freetown Christiania is an autonomous neighborhood in Copenhagen. Also referred to as "The Green Light District," this is an area where marijuana and other soft drugs are sold. This area was "settled" by hippies in 1971. Since that time, the people have established their own set of rules and remain independent of the Danish government.
There is a much different vibe here than other neighborhoods in Copenhagen. Wander among the small, run-down buildings covered with graffiti and murals, have a meal at one of the cafes, and go shopping at the art galleries.
You could spend a few hours strolling through the neighborhood or you could zip through it on a bike. Photography is not allowed in Christiania, so while it's a very interesting place to visit, don't expect to leave with a memory card of photographs.
Walking Tour of Copenhagen
If you like the idea of taking a tour of Copenhagen, here are several options to consider.
Copenhagen with Kids
If you are visiting Copenhagen with kids, consider modifying this itinerary. The things Tyler and Kara enjoyed the most were riding bikes through Copenhagen, seeing the colorful buildings at Nyhavn, climbing the bell tower of the Church of Our Savior, and of course, riding the rides at Tivoli Gardens.
In the morning, rent bikes and see The Little Mermaid Statue. Skip the museums, spend some time cycling through the city center of Copenhagen, and visit the Church of Our Savior in Christianshavn. Then, end the day at Tivoli Gardens.
If you are looking for a fun spot to ride bikes, there is a grid of cobblestoned streets lined with orange buildings and red shutters. It's a jarring, bumpy ride but Tyler and Kara loved it here. Cycling these streets was one of the highlights for them, maybe almost as good as Tivoli Gardens. We just happened to stumble across this neighborhood as we were exploring Copenhagen.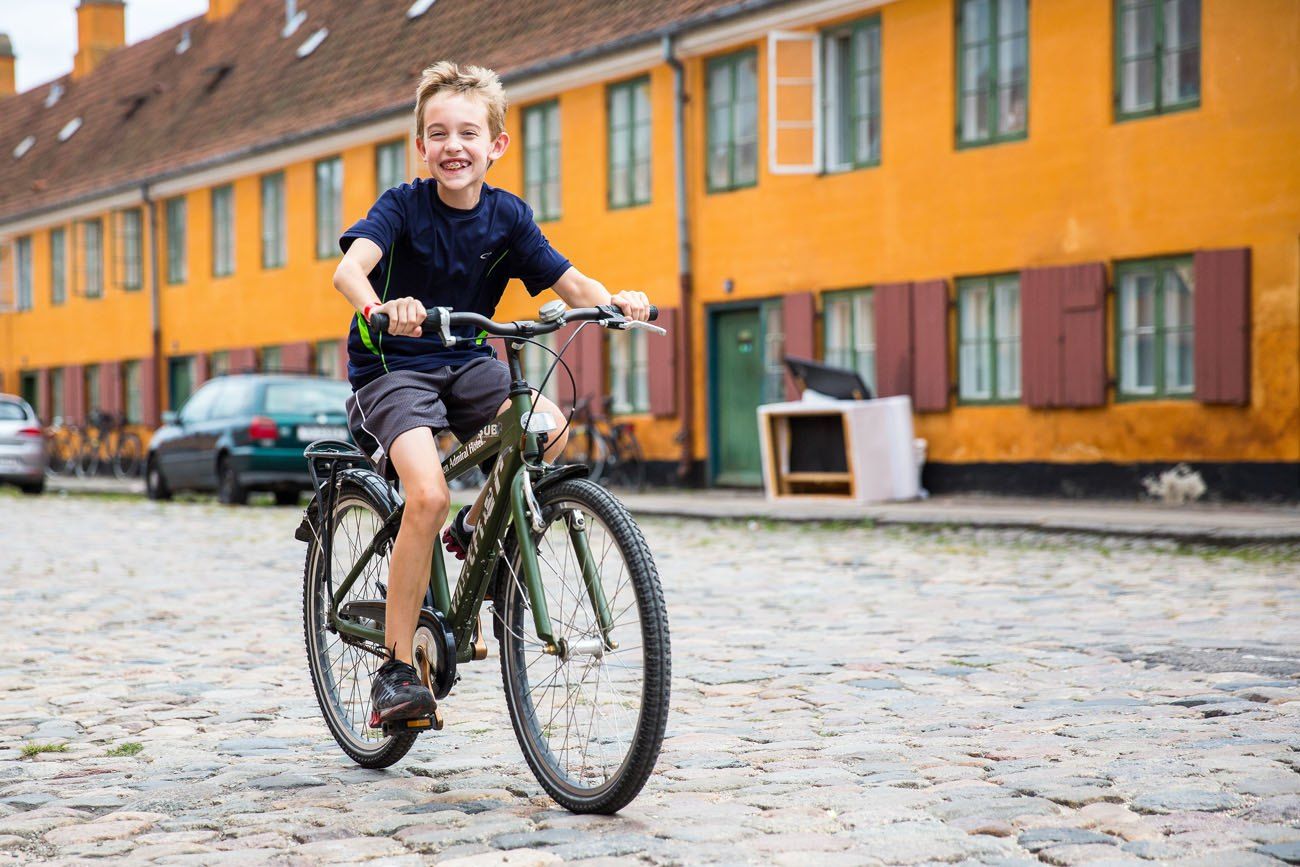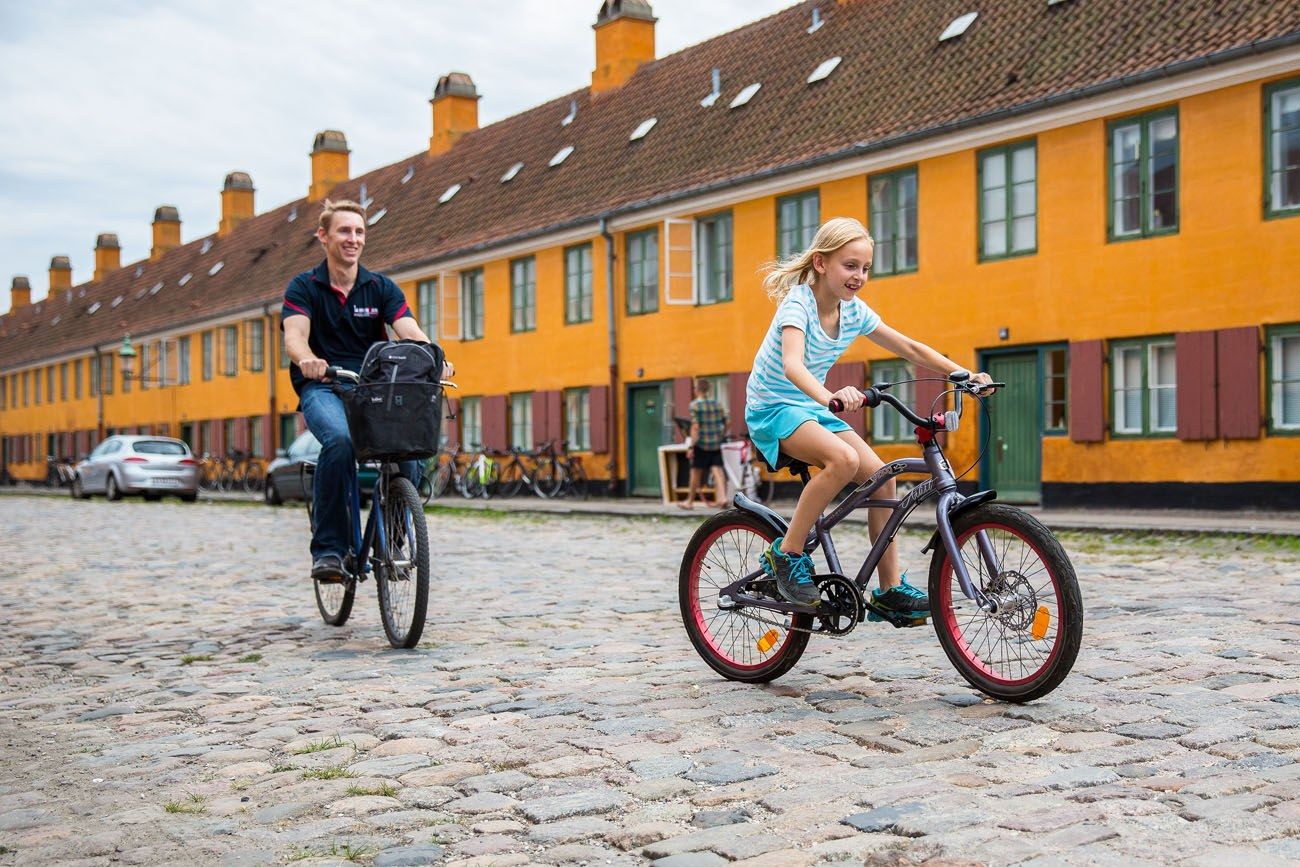 Location: between Kastellet and King's Garden, these photos were taken on Suensonsgade.
Arriving in Copenhagen
By Plane. Flights arrive into Copenhagen Airport (Kobenhavns Lufthavn). Getting to the city center is fast and easy: simply take the metro to Kongens Nytorv (the closest metro stop to Nyhavn, 10 minutes by metro).
By Train. Copenhagen's main train station is Kobenhavn H, located next to Tivoli Gardens. If you are in Copenhagen just for the day, you can store your luggage at the train station while you tour the city. To get to the city center, you can walk or use the buses or trains (S-tog) to save some steps.
By Cruise. Cruise ships do not dock directly in the heart of Copenhagen. To get into the city center, you can take a shuttle (provided by some cruise lines), bus #26, or the S-tog train. It takes approximately 30 minutes to travel from the cruise docks to the city center.
How to Get Around Copenhagen
The best way to get around Copenhagen is by bicycle (details covered earlier in this post).
But what if you don't like the idea of cycling around Copenhagen? Fortunately, Copenhagen also has an efficient public transportation network.
You can use the network of trains (S-tog), the metro, and buses to get anywhere in the city. Single tickets start at 24 DKK. If you plan on using public transportation several times during your stay, your best bet is to purchase the City Pass for 24 hours. This pass gives you unlimited rides on the bus, trains, and metro in the city center and to/from the airport. Click here for full details on the City Pass and how to order it online.
Taxi's are available if you need them for a short hop or to get to a place that is difficult to reach with public transportation.
Should You Buy the Copenhagen Card?
The Copenhagen Card is a pre-purchased card that gets you free admission into most sites in Copenhagen, as well as free transportation in the city. If you follow this one day in Copenhagen itinerary and visit Rosenborg Castle, the Round Tower, Church of Our Savior, and Tivoli Gardens, plus purchase a 24 hour City Pass, you would break even with the Copenhagen Card. If you skip one of these attractions or visit the David Collection (free!), then the Copenhagen Card is not worth it.
The Copenhagen Card covers your entry into Tivoli Gardens but it does not cover the unlimited rides pass.
If you want to learn more about the Copenhagen Card, click here.
Tips for Visiting Copenhagen
Many Museums are closed on Mondays
Try to avoid visiting Copenhagen on a Monday if you only have one day in the city, especially if visiting the museums are important to you.
Is the Canal Cruise Worth It?
We took the canal cruise on our first visit to Copenhagen. It lasts about an hour and it's a nice way to see the canals and the harbor. You get to see The Little Mermaid Statue from a distance.
Cycling (or walking) through the streets was a much better way to see Copenhagen, in our opinion. However, if you're tired and just want a relaxing activity at the end of the day, a canal cruise is a nice way to chill out and watch the city glide by.
Book your tickets in advance with this 1 hour canal cruise.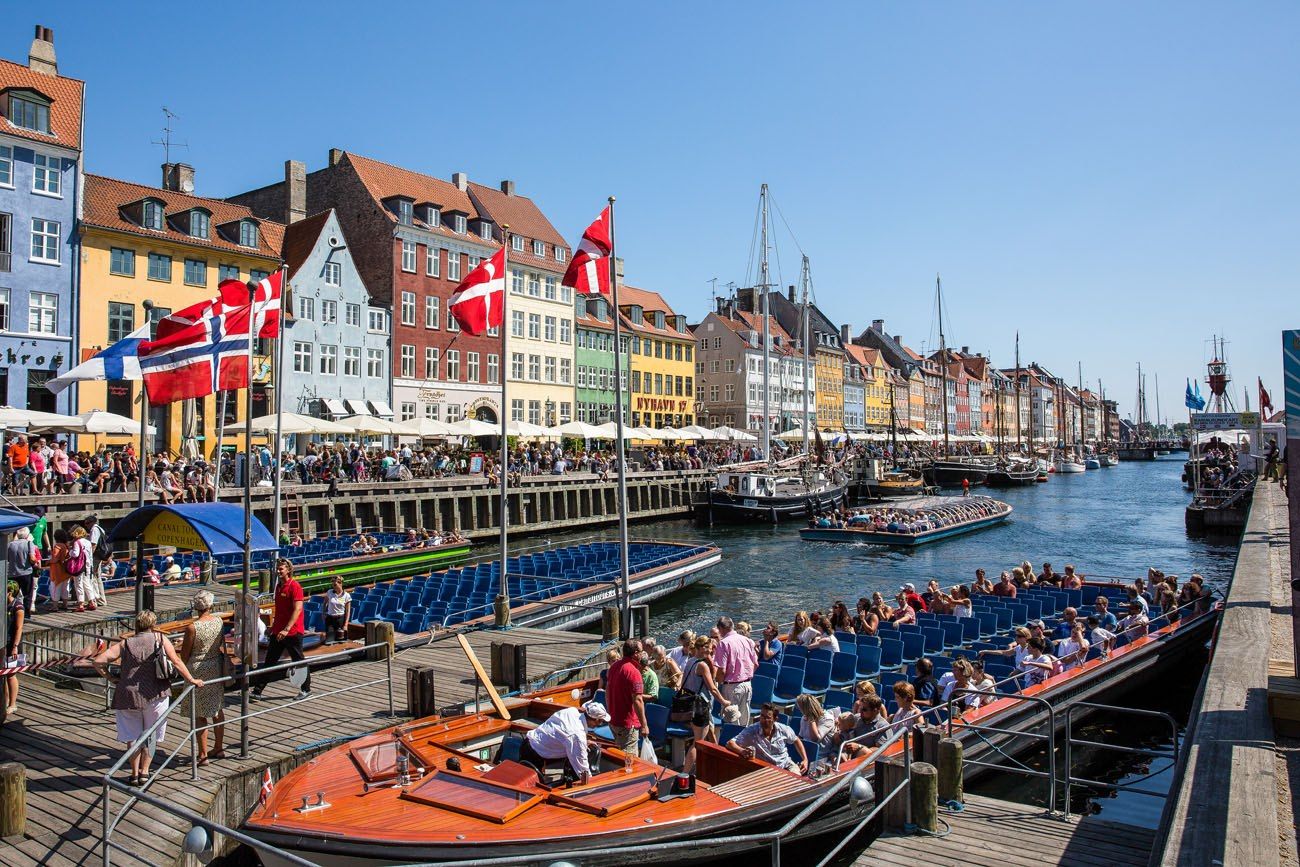 When to Go to Copenhagen
From May to September, temperatures are warm, the skies are clear, and the days are long. This is also peak season, so travel costs and crowd levels will be higher. The winter months are cold and dark but have fewer visitors. The spring and fall seasons are wonderful times to visit if you want to avoid the crowds.
Where to Stay
LUXURY: Hotel D'Angleterre is a 5-star hotel located in the heart of Copenhagen. With a gourmet breakfast, a spa, and a Michelin-starred restaurant (Marchal), it may be hard to tear yourself away and explore Copenhagen.
UPSCALE: 71 Nyhavn Hotel. Located right in Nyhavn, it's hard to beat this location. The hotel is an old warehouse that has been converted into a boutique hotel. Rooms are a bit small but feature exposed beams and modern furnishings. They offer rooms that can accommodate up to four people.
MID-RANGE: Crowne Plaza Copenhagen Towers. This is where we stayed and had a great experience. This hotel is located near the airport. In just 10 minutes, you can be standing in the city center of Copenhagen (by taking the metro). The rooms are large, clean, and quiet. If you are just visiting Copenhagen for one day and arriving and/or departing by plane, the Crowne Plaza is one of the most convenient hotels to stay in.
BUDGET: Copenhagen Downtown Hostel. Located in the city center, this hostel is clean and comfortable with a friendly atmosphere.
---
If you have any questions about how to spend one day in Copenhagen, let us know in the comment section below.
Where are You Going Next?
If you plan to continue your tour of Scandinavia or Europe, check these out:
DENMARK: Learn how to spend a long layover in Copenhagen.
SWEDEN: Learn how to spend one perfect day in Stockholm and how to day trip to Sandhamn.
GERMANY: Go on a 10 day road trip through Bavaria, learn about the best things to do in Berlin, and how to visit Neuschwanstein Castle.
NETHERLANDS: Learn how to spend 2 perfect days in Amsterdam and the best things to do in Amsterdam. We also have a guide on Where to Stay in Amsterdam and how to visit Utrecht and The Hague.
EUROPE ITINERARIES: Check out our article 10 Days in Europe: 10 Amazing Itineraries for 10 different ways to visit the best places in Europe. And if you have less time, check out our guide to 25 Ways to Spend One Week in Europe.
Recommended Reading and Travel Guides: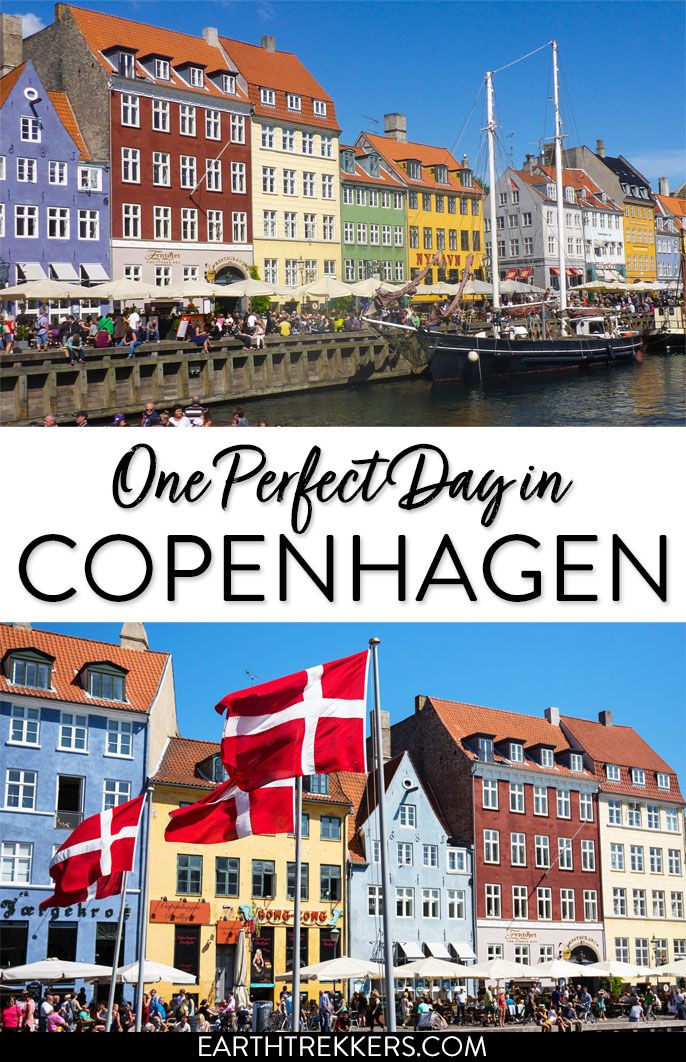 Note: This post contains affiliate links. When you make a purchase using one of these affiliate links, we get paid a small commission at no extra cost to you.
All rights reserved © Earth Trekkers. Republishing this article and/or any of its contents (text, photography, etc.), in whole or in part, is strictly prohibited.