Luxembourg City is easy to visit if you only have one day, since it is a compact city with just a few big sites. With one day in Luxembourg, visit the old town, tour the old fortifications of the city, walk the Chemin de la Corniche, and explore the Grund.
An Overview of Luxembourg
Luxembourg, also called the Grand Duchy of Luxembourg, is a small, hilly country that is bordered by France, Germany, and Belgium. The capital city, aptly named Luxembourg City, is one of three official capital cities of the European Union (along with Brussels and Strasbourg).
Luxembourg is one of the wealthiest countries in the world. In 2021, Luxembourg's GDP per capita ranked 1st in the world. The people here speak French, German, and Luxembourgish.
Luxembourg City is a very walkable city. During your visit, you will spend most of your time in the compact old town of Luxembourg, on the casemates (the old fortifications of Luxembourg), and exploring the Grund.
How to Use This Map: Click the tab in the top left hand corner of the map to view the layers. You can click the check marks to hide or show layers. If you click the icons on the map, you can get more information about each point of interest.

If you click the star next to the title of the map, this map will be added to your Google Maps account. To view it on your phone or computer, open Google Maps, click the menu button, go to "Your Places," click Maps, and you will see this map on your list.
One Day in Luxembourg Itinerary
This itinerary is perfect if you arrive in Luxembourg City in the morning, coming in from another city in Europe. However, if you stayed in town last night, you have that much more time to enjoy Luxembourg.
Arrive in Luxembourg
Most likely, you will arrive either by train, plane, or car.
If you have a car there are numerous parking garages located in the central part of the city. On weekends and holidays, these garages can fill up fast so you may have to park a little ways from the heart of the city. If you are arriving by car, I recommend marking the parking garages on Google Maps before you get here, so you don't drive around aimlessly looking for a place to park. I marked the most convenient parking garages on our map (above).
From the airport, you can take a taxi into town.
From the train station, you can walk into town or take a taxi. I recommend walking, because it's just a short distance to our first stop, the Viaduc Bridge.
Noon: The Viaduc Bridge (Passerelle)
This bridge is a great spot to get your first view of Luxembourg City. The city is really two levels. The upper level is the old town, a maze of pretty streets, restaurants, museums, and great places to go shopping. In the lower part of the city you will find more restaurants and bars, houses, plus gardens and canals that are very picturesque.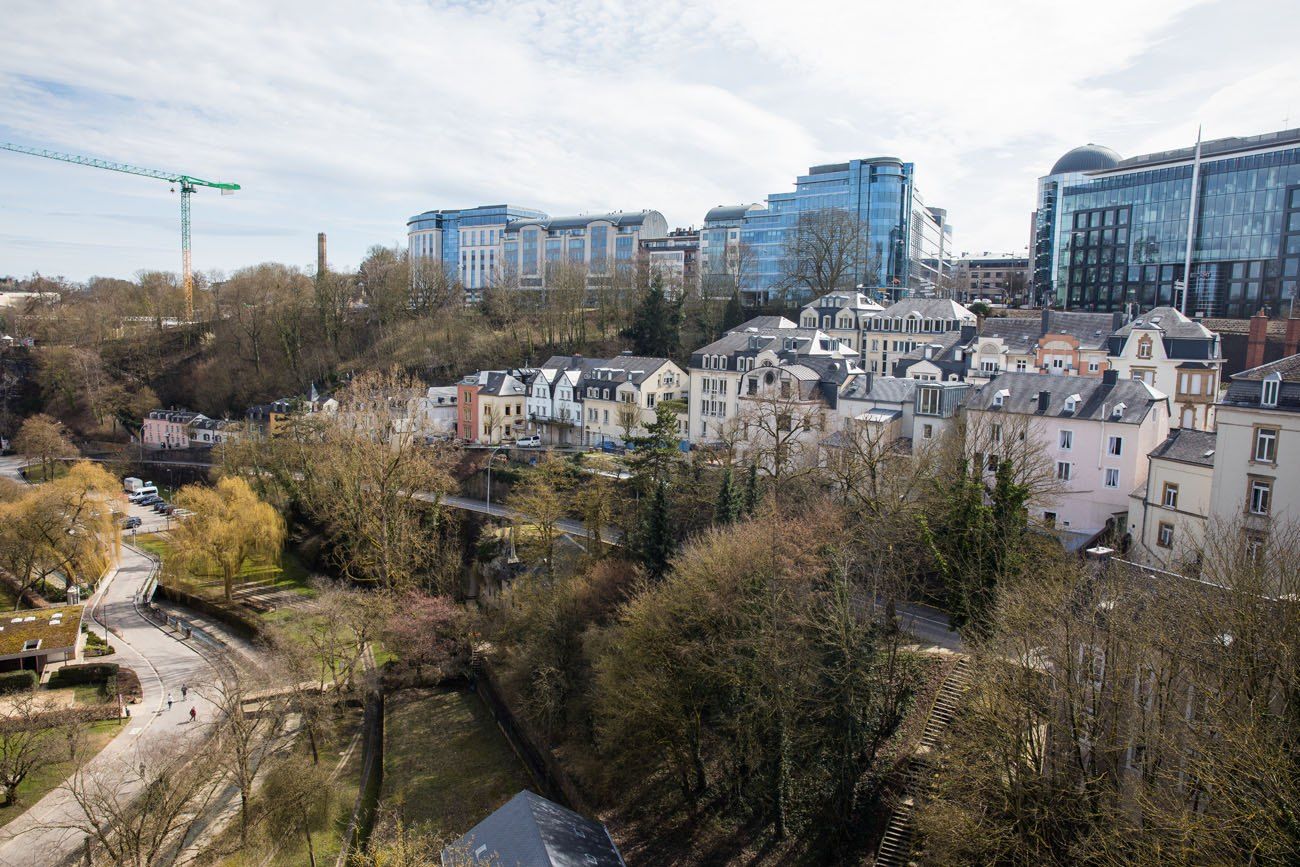 12:30 pm Lunch
For lunch, we have several recommendations.
Lux'Burgers, located between the Viaduc and the train station, is an great place to get excellent burgers and fries. This was #1 on our list but it was closed during our visit (we were here on a holiday). Closed Saturday and Sunday.
Matelots. Located in the old town, this restaurant serves French food and gets great reviews on Trip Advisor. It's open for lunch seven days a week.
If you want to try something different than French or European food, there are bunch of great international restaurants located outside of the old town, within walking distance of the train station. Go to Athena for Greek food, Fu Lu Shou Inn for Chinese, and Restaurant Tibet for Tibetan/Indian food.
1:30 pm: The Old Town
Spend part of the afternoon strolling through the old town of Luxembourg. The old town is very compact. It only takes 10 minutes to walk from one side to the other.
We visited Luxembourg the day after Easter and the old town was mobbed with people and street food stalls and stands selling arts and crafts. It was uncomfortably crowded so we did not last long here. But there are a few important places to visit. Take your pick from what sounds the most interesting.
The Place d'Armes is a pretty square in the center of town. The square is lined by restaurants, hotels, and small shops.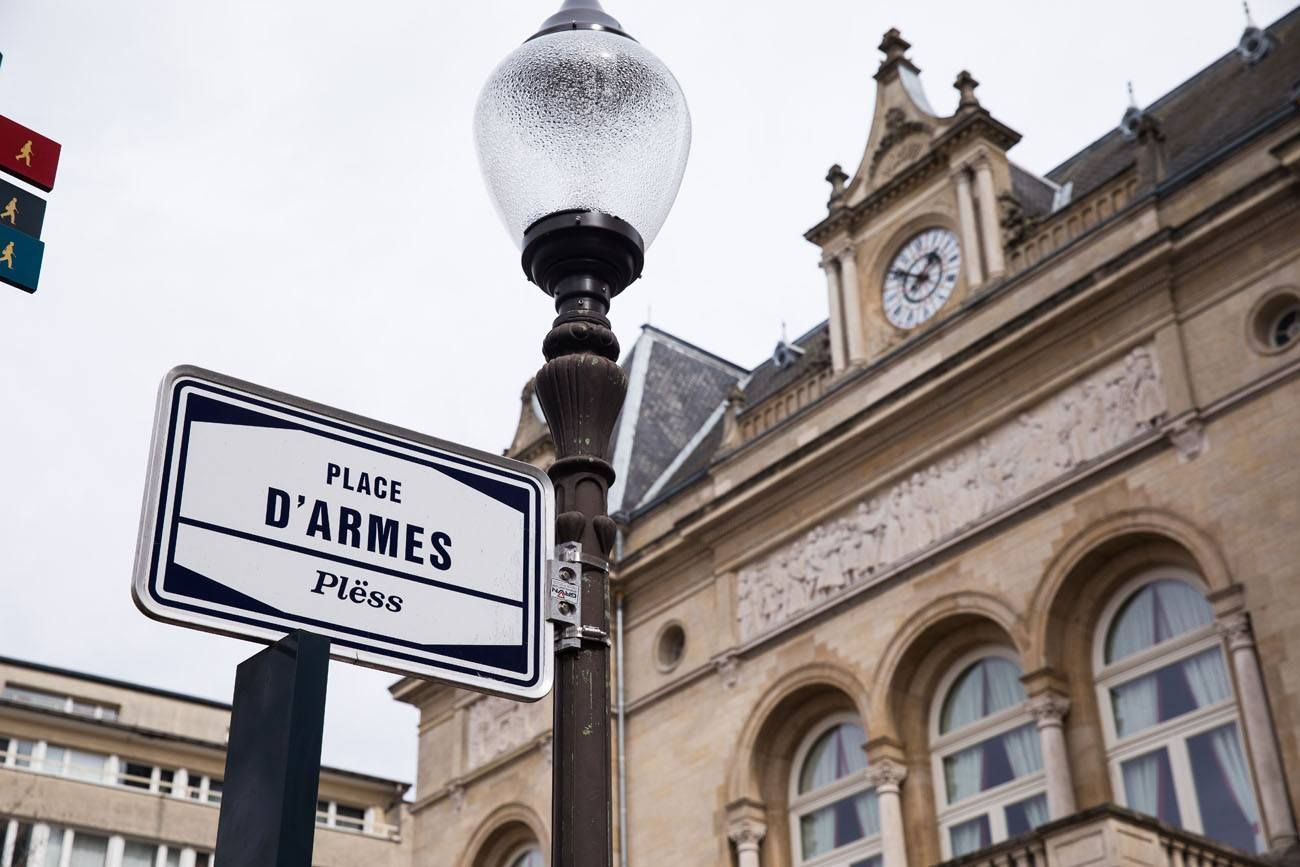 Notre Dame Cathedral is gorgeous on both the inside and the outside. It's definitely worth a quick visit.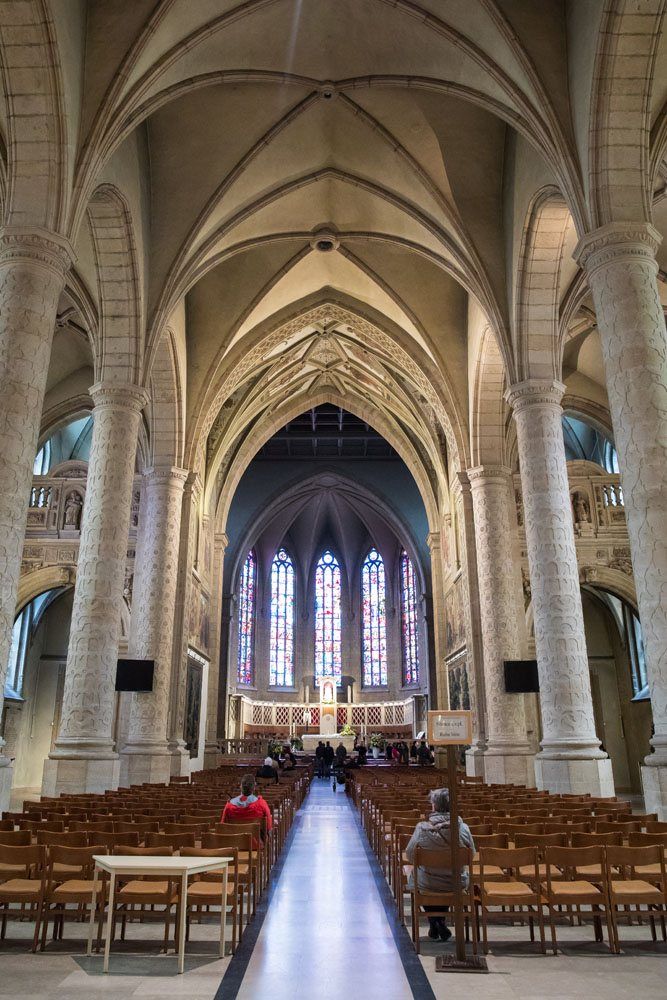 The Palace of the Grand Dukes (Palais Grand-Ducal) is the official residence of the Grand Duke of Luxembourg. From mid-July to the end of August you can take a guided tour of the Palace.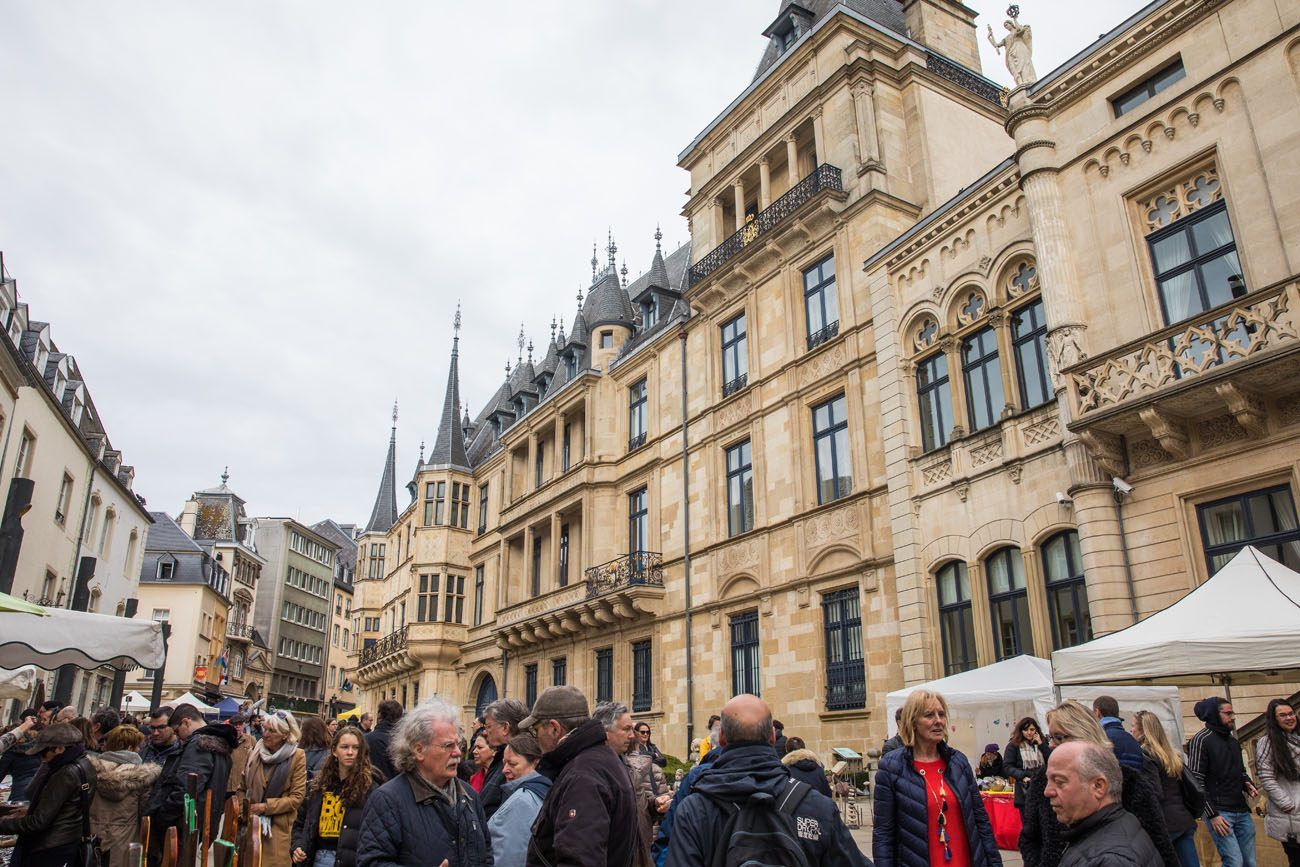 The Luxembourg City History Museum (Musee d'Histoire de la Ville) is a must-visit if you want to learn more about the city of Luxembourg.
The National Museum of Art and History (Musee National d'Histoire et d'Art) is a small, well laid out art museum. A worthwhile visit for art lovers.
3:00 pm Pfaffenthal Lift
From the old town it's just a short walk to the Pfaffenthal Lift. This is a glass bottom elevator that can be a thrill to ride and provides amazing views of the area. It connects the upper level to the lower level and is free to ride.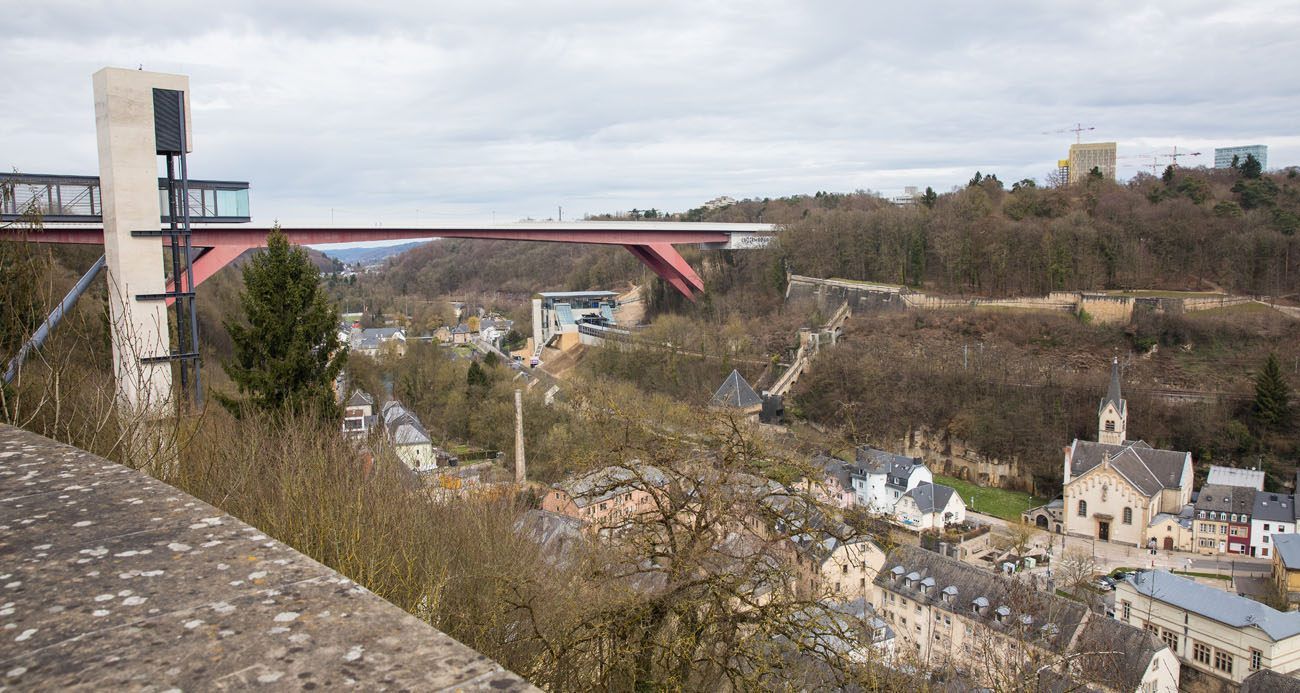 The elevator is the stone, metal, and glass structure on the left of this photo.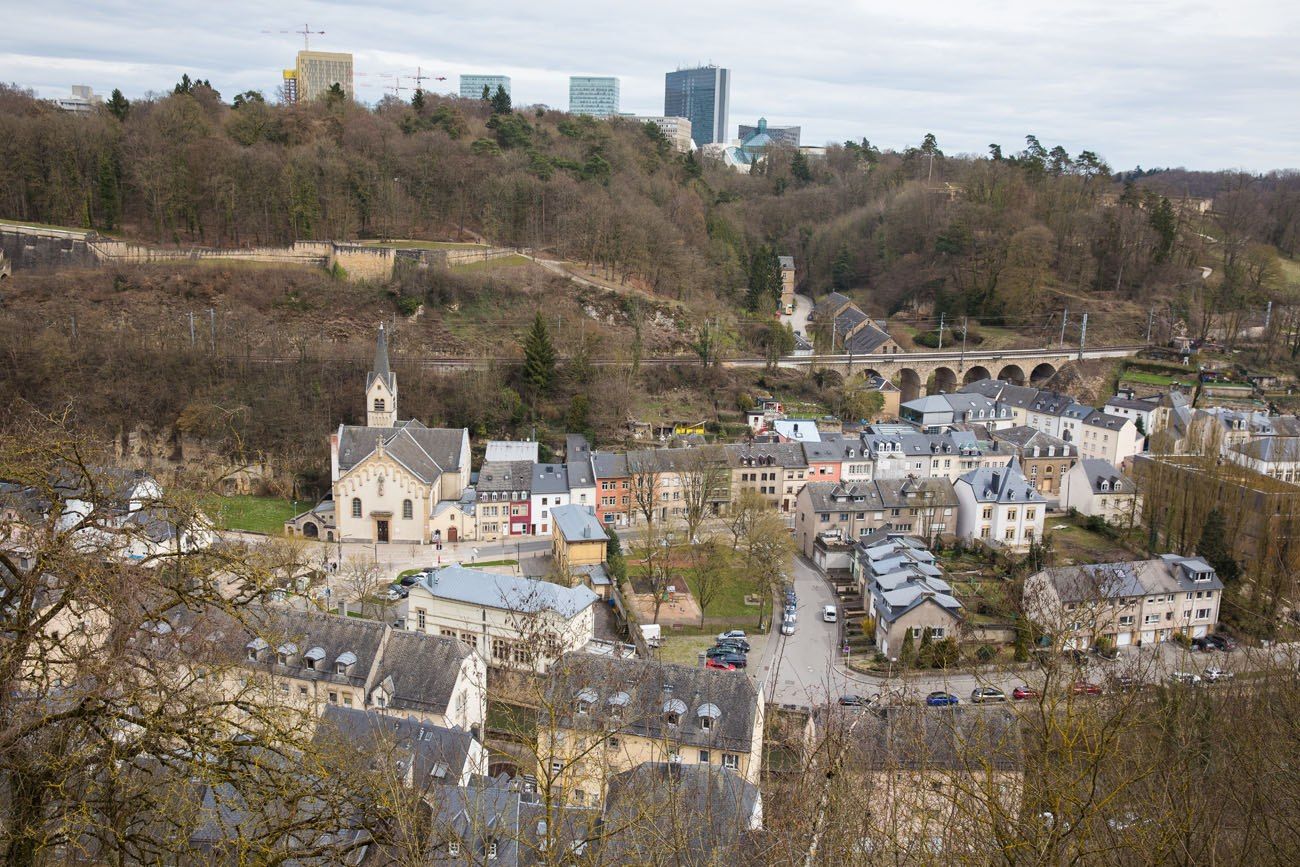 Consider taking a ride on the elevator, down to the bottom and then back up, and enjoy the view.
3:30 Casemates du Bock
From the Lift, walk to the Casemates du Bock.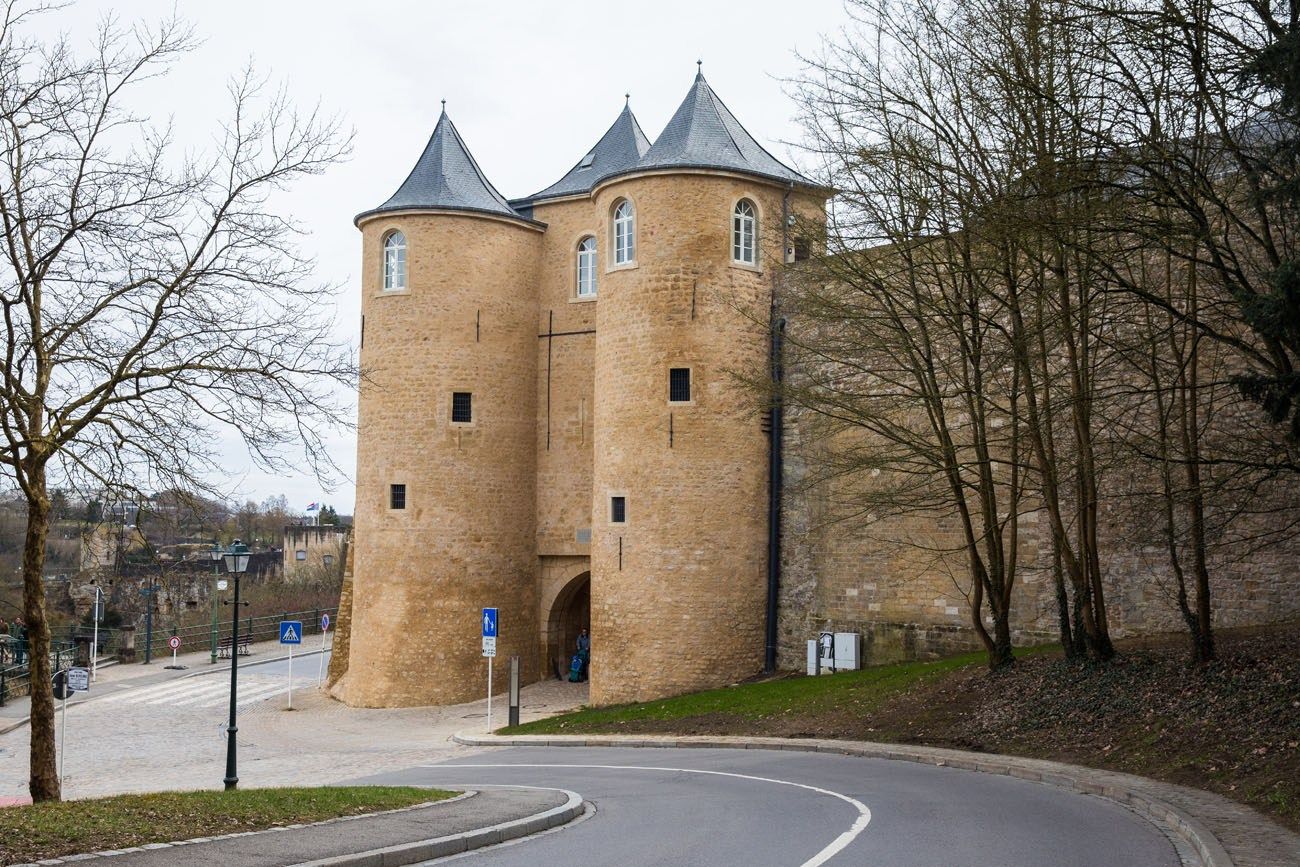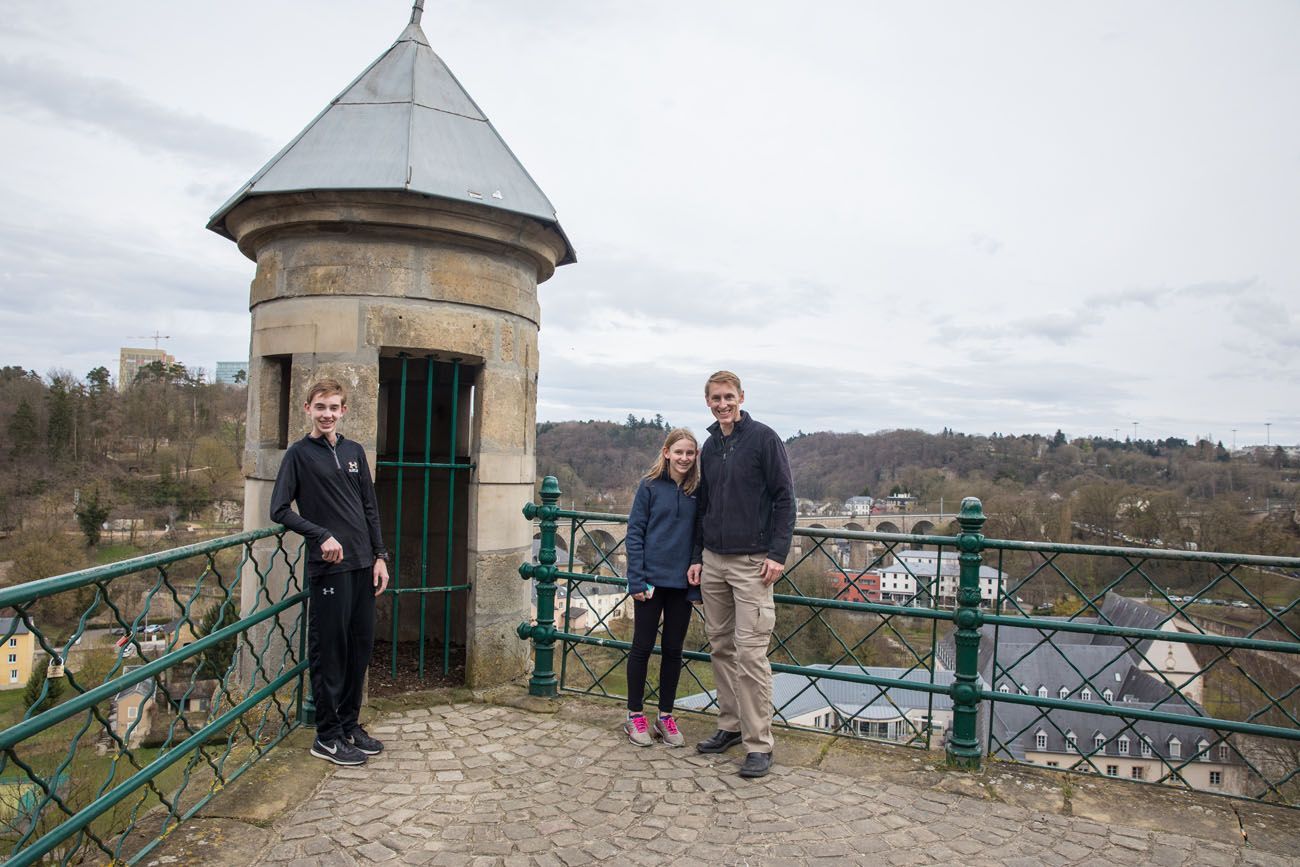 From the top of the Casemates you have one of the best views of Luxembourg.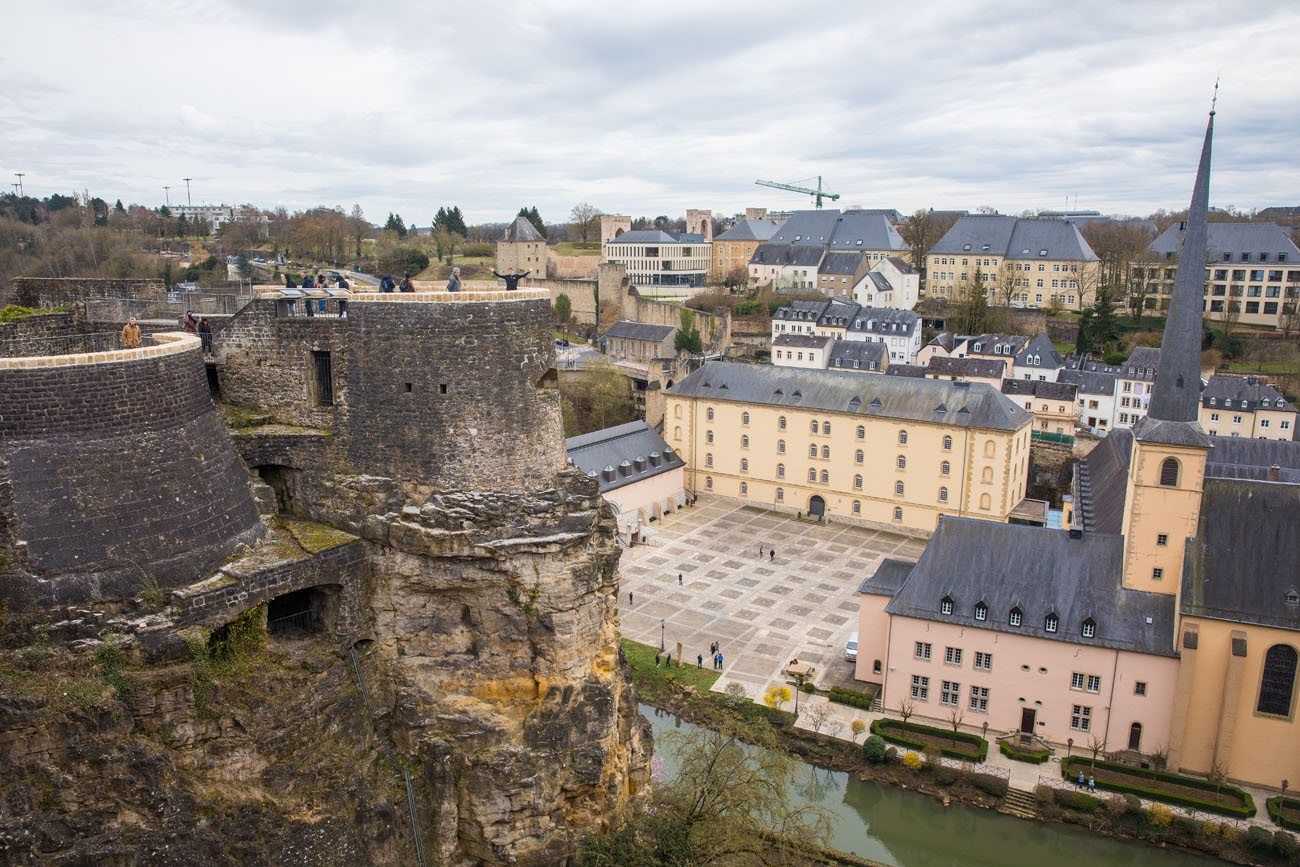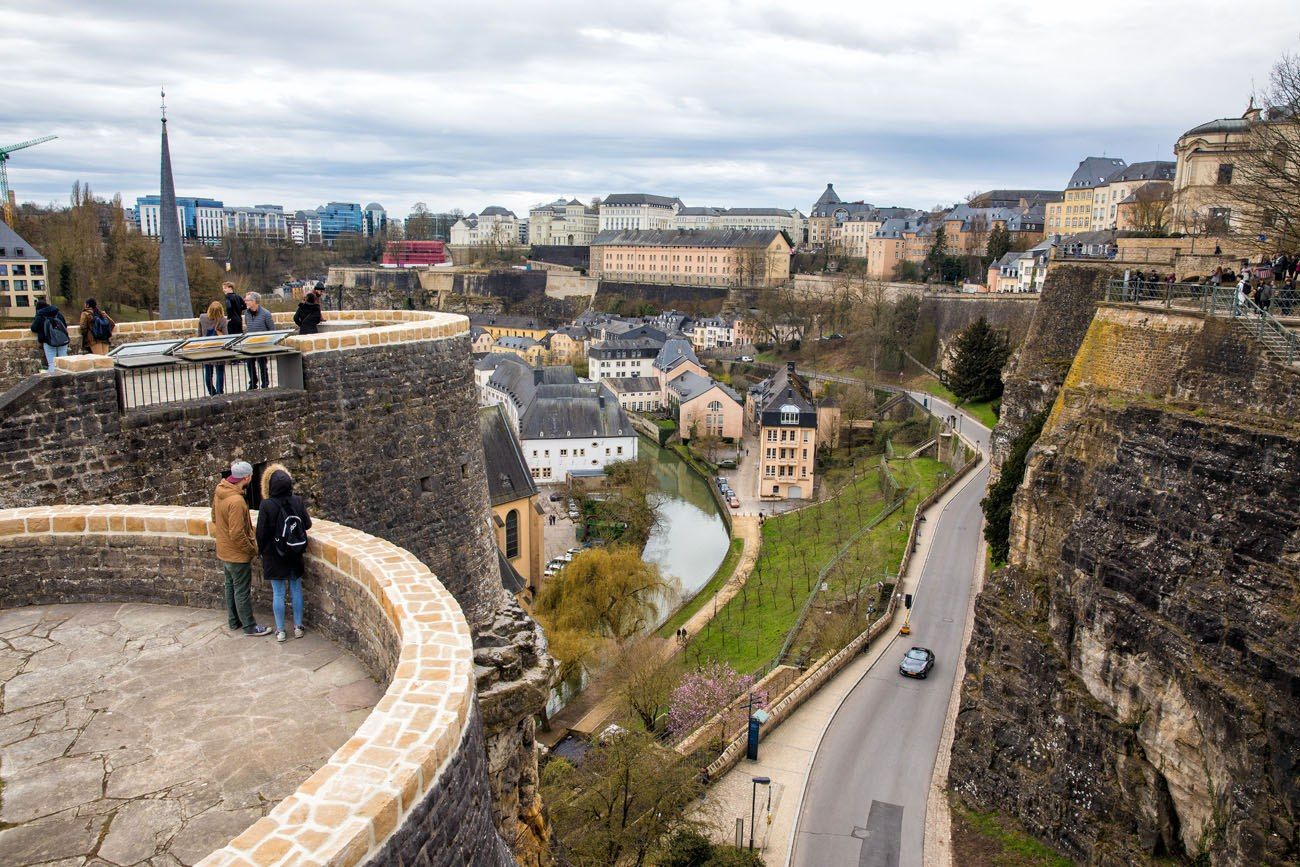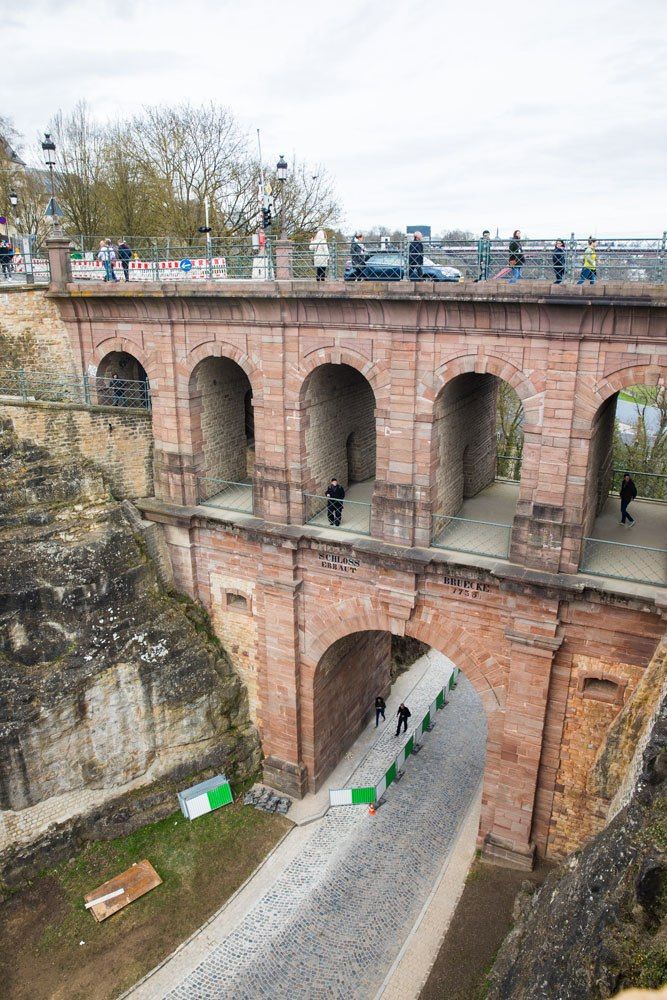 You have the option go down one level to explore the series of underground tunnels that were used as fortifications to defend the city in numerous wars. These tunnels were also used in WWII as bomb shelters.
Huelen Zant is the ruin of one of the ancient towers. Next to it is another small tower you can climb for a higher view over the area.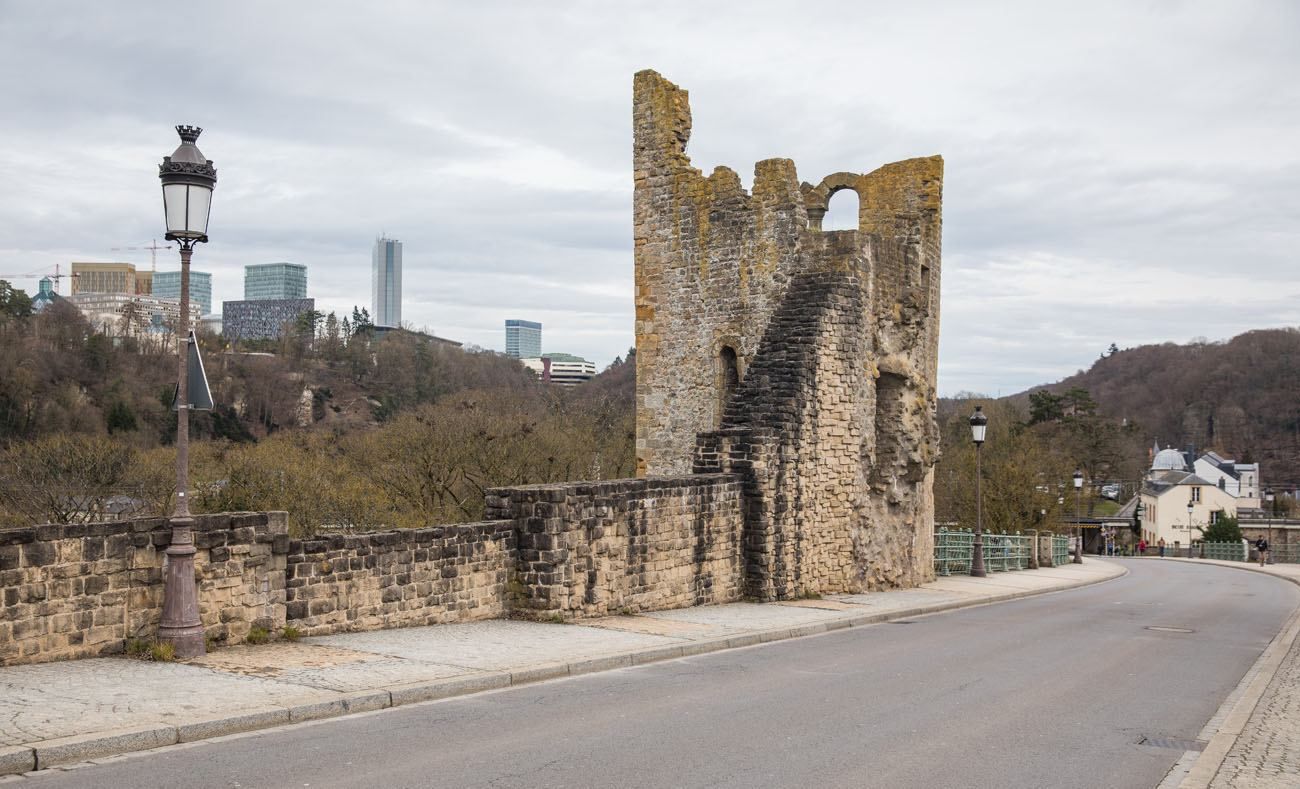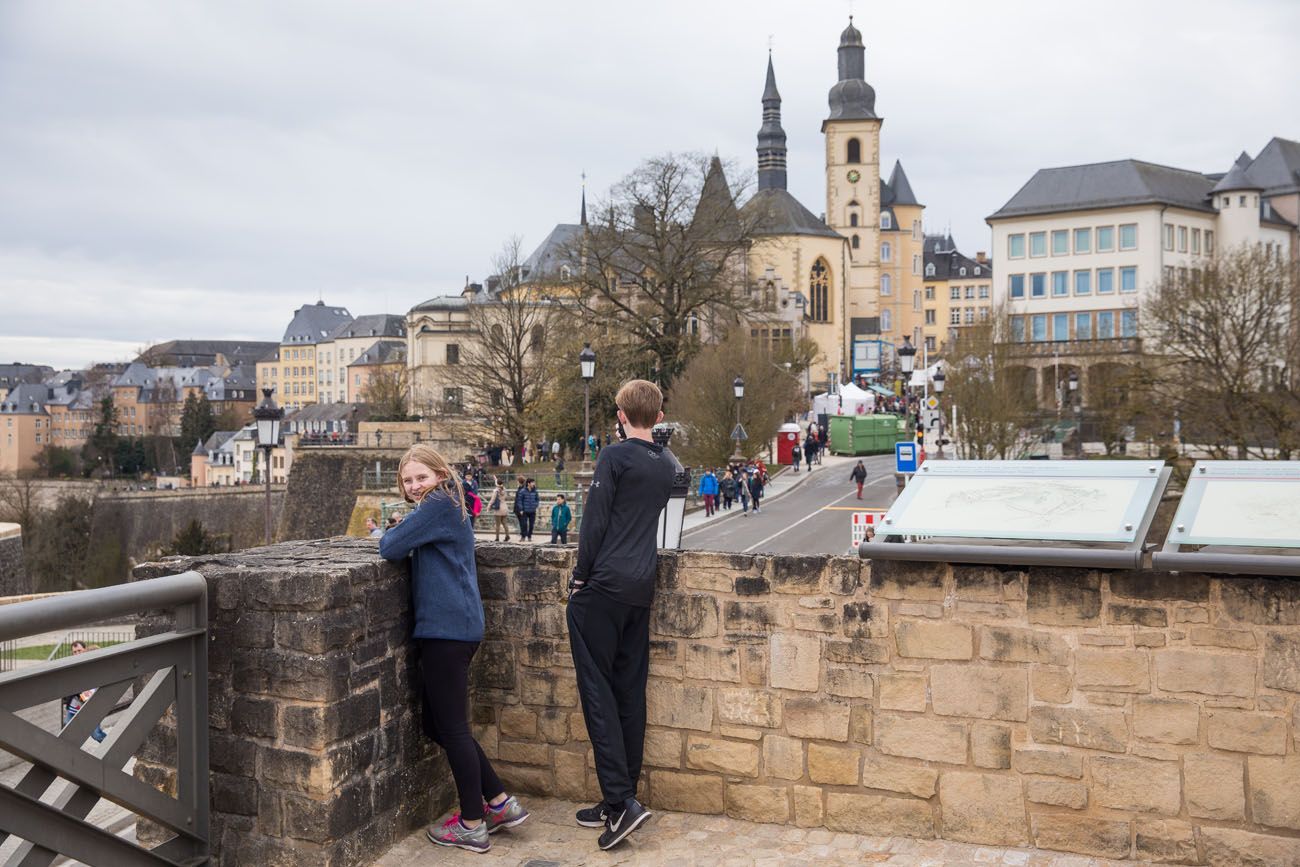 4:15 pm: Chemin de la Corniche
From the Casemates, take a scenic walk down Chemin de la Corniche. This is a very pretty walk as you pass historic houses and get to enjoy more wonderful views of Luxembourg.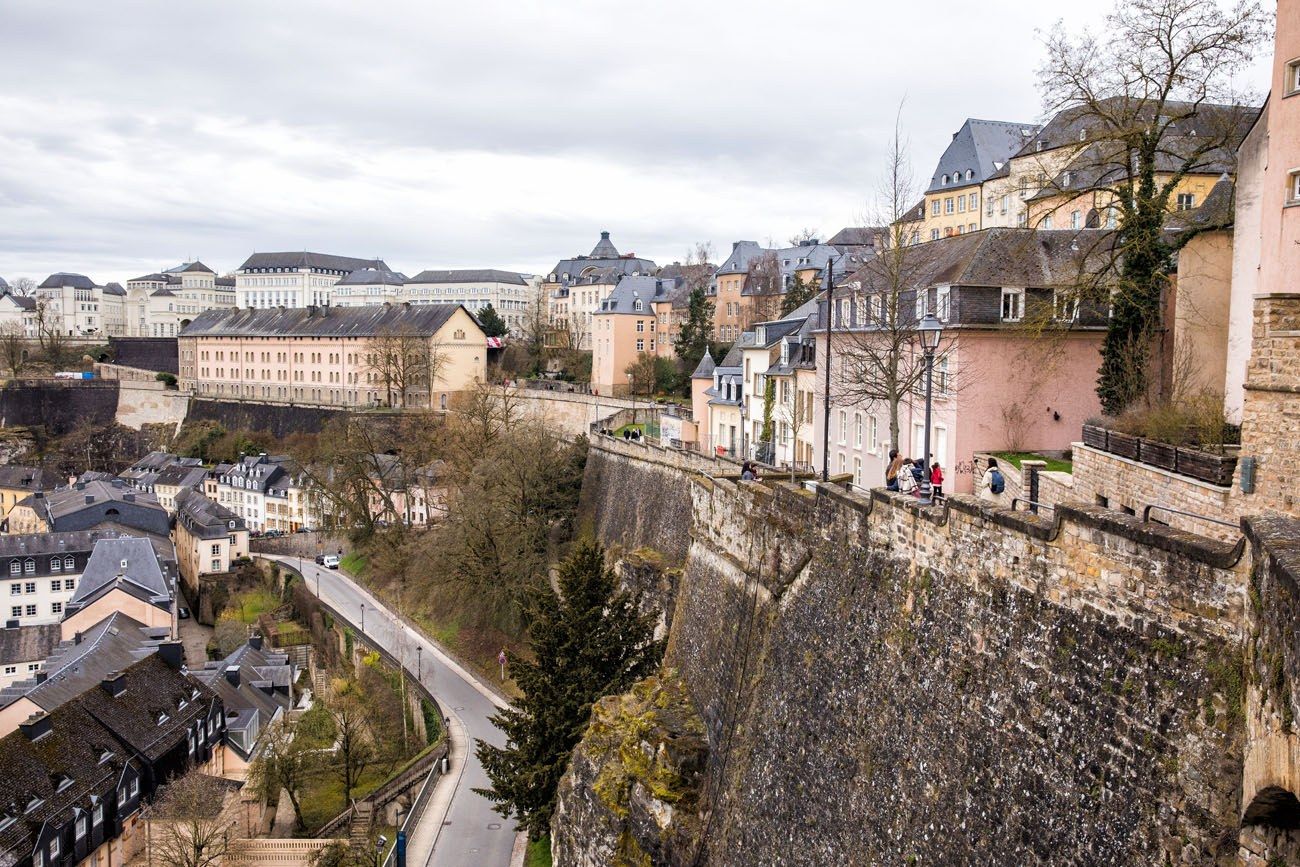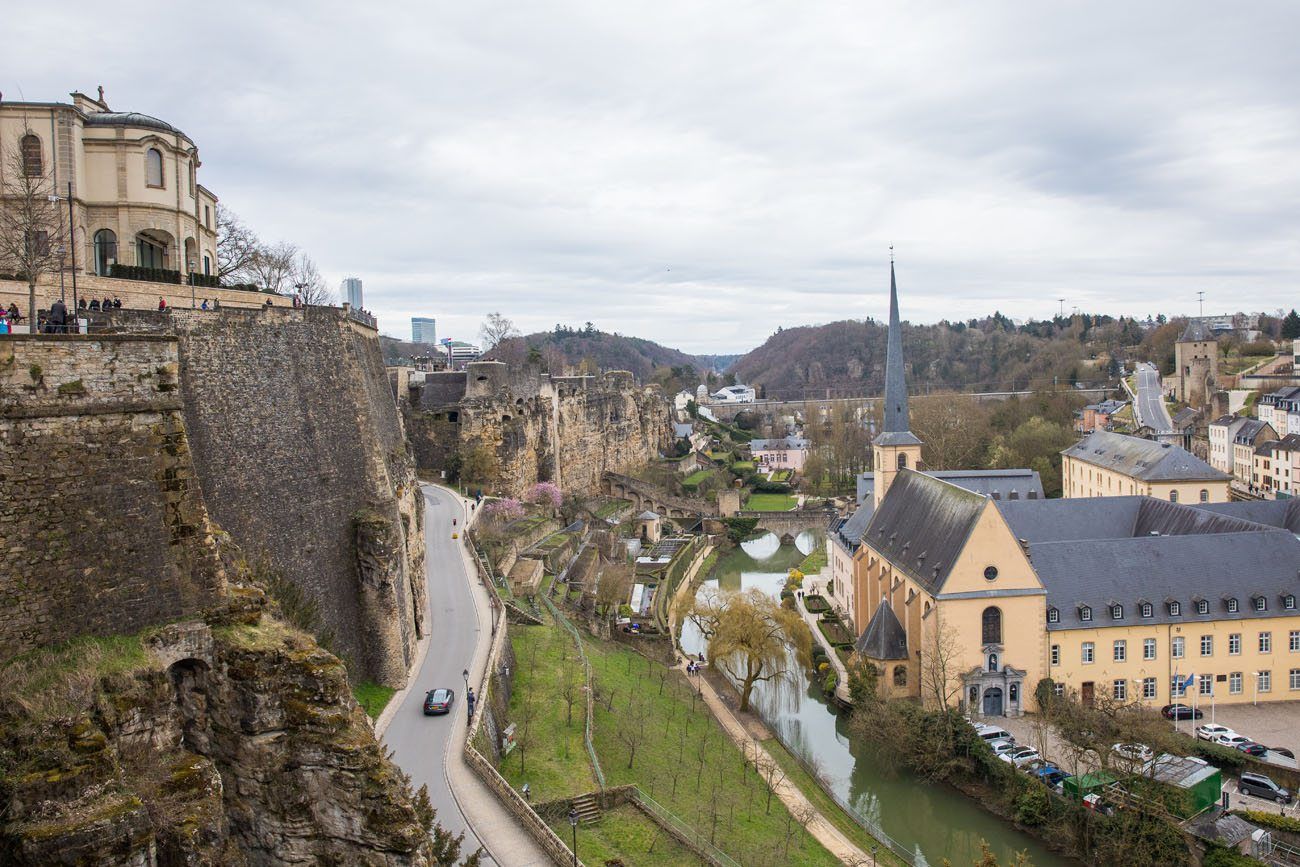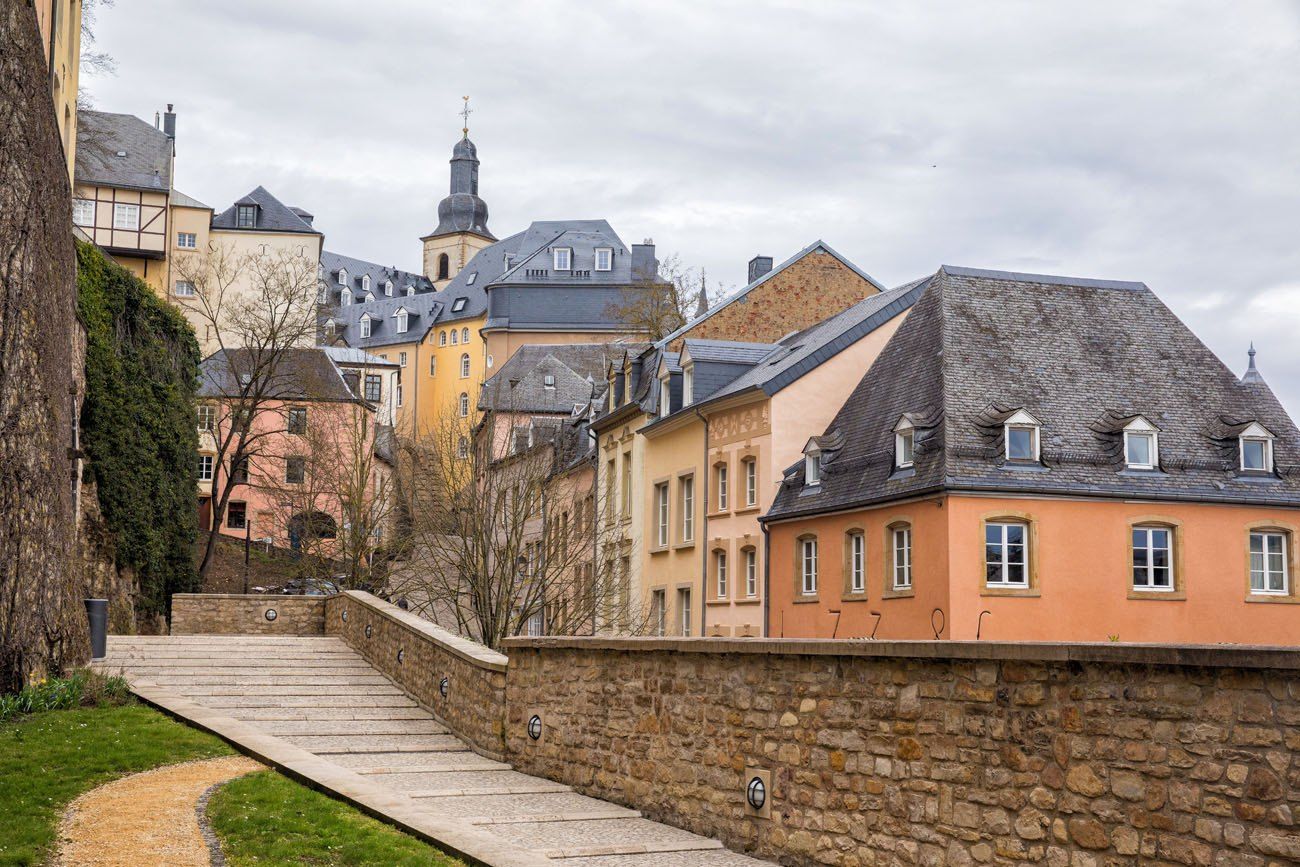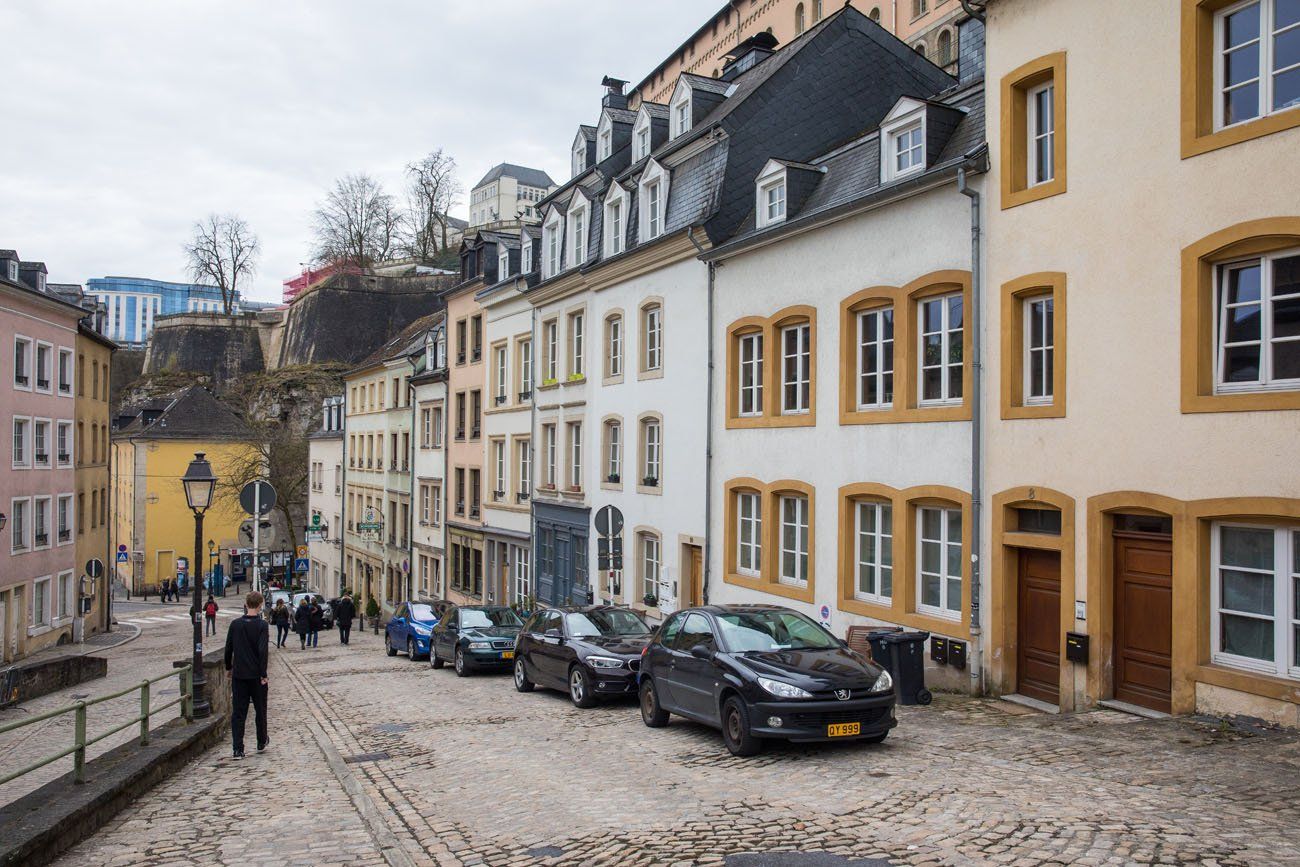 Take Montee du Grund to the lower level of the city.
4:45 pm: The Grund
Now you are standing in the Grund. This area feels different than the old town. Now it feels like you are visiting a small village, with canals, gardens, and cafes. Feel free to explore and grab a drink in a café.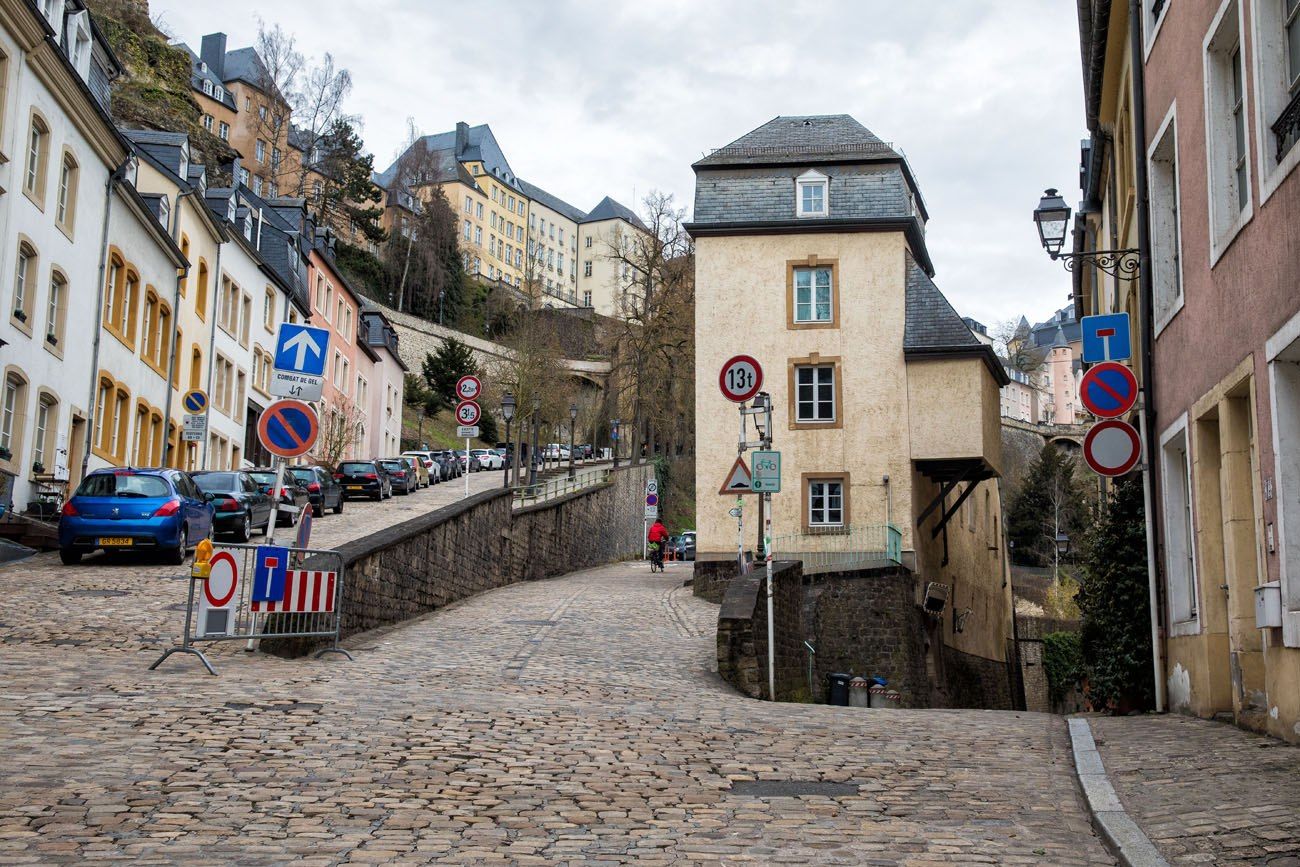 To get back up to the old town, there is an elevator (and it's free!) that will whisk you up to Plateau St. Esprit. The elevator is located near the intersection of Montee du Grund and Rue Munster.
5:45 pm: Place de la Constitution
Walk along Boulevard Franklin Delano Roosevelt until you get to Place de la Constitution. This is a memorial to the Luxembourgers who died during WWI. Now it symbolizes freedom for the Luxembourg people.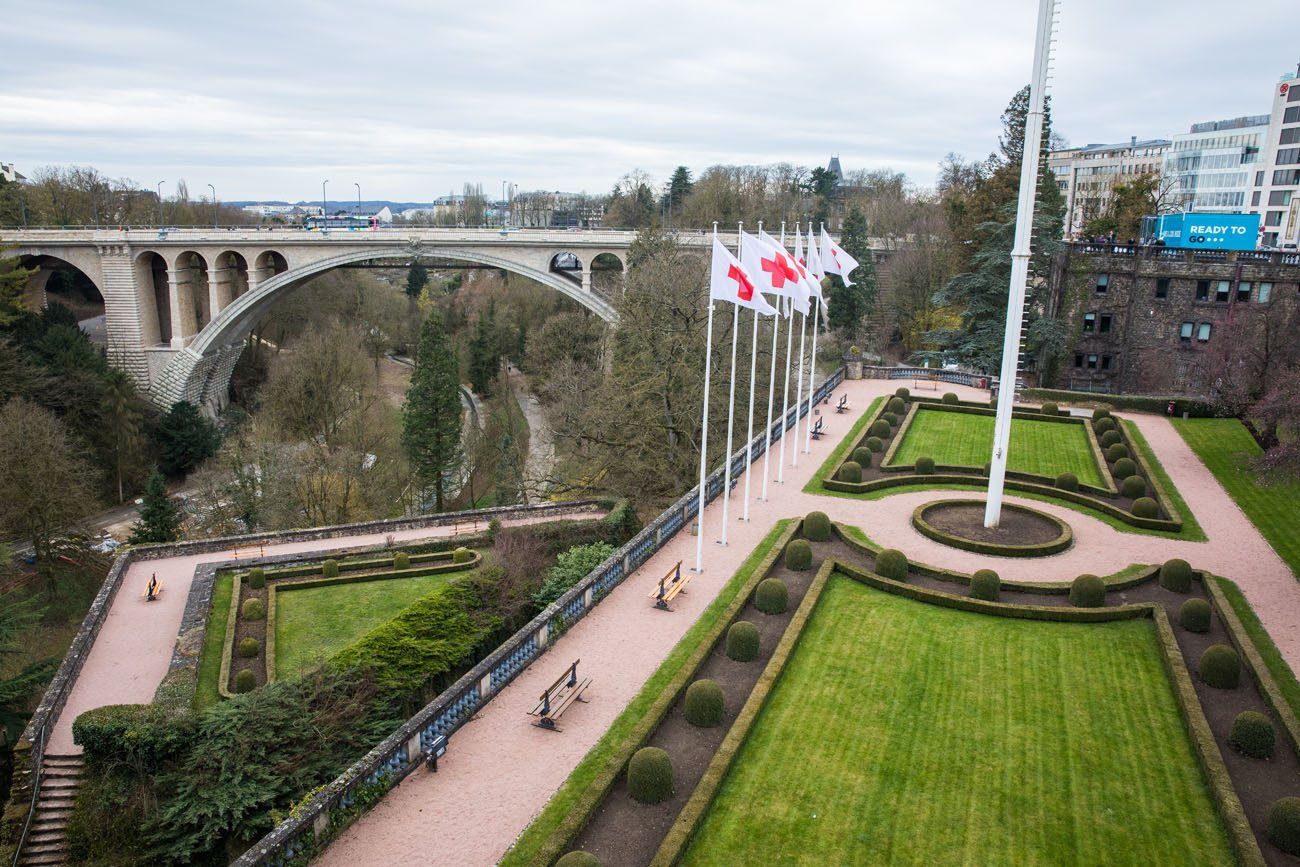 The Petrusse Casemates are located at Place de la Constitution. These are much smaller than the Bock Casemates but worth a quick visit if you are interested.
Enjoy another great view. The valley below this spot is Petrusse Valley, a great place to go for a walk on a nice day. To get down into the Valley, continue down the road towards Adolphe Bridge until you get to steps that take you down into the valley.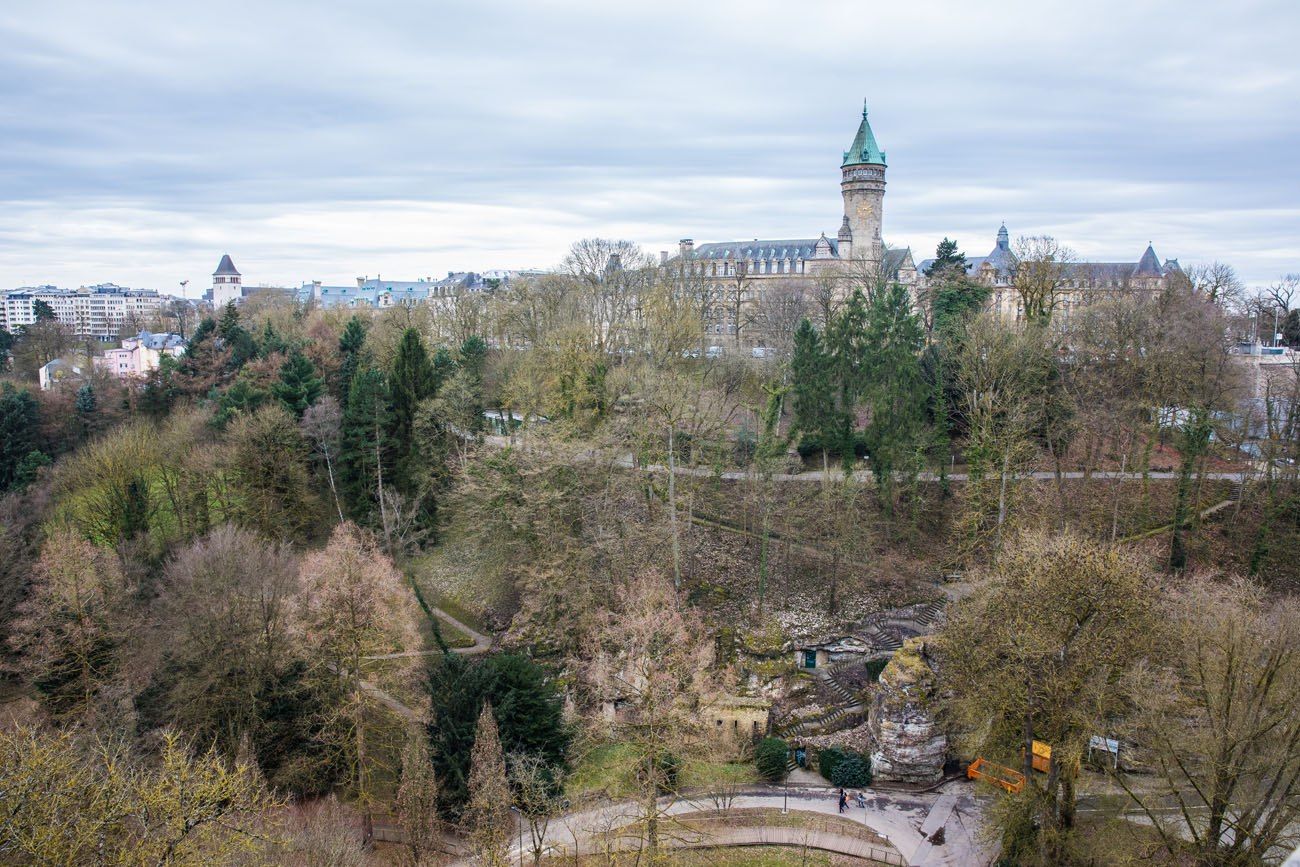 You can also walk across Adolphe Bridge, a landmark of Luxembourg and yet another spot to get an awesome view of the city.
7:00 pm: Dinner
Have dinner in town. We recommend Essenza if you like Italian or Ambrosia if you want Greek food. Try Clairfontaine if you want to splurge. All of these restaurants are located in the old town.
One Bonus Location: Luxembourg American Cemetery Memorial
We never got to this, and this may not appeal to everyone, but there is a cemetery located a short distance from the old town that is a tribute to the Americans who fought and died for Luxembourg in the Battle of the Bulge. You can see General Patton's grave here as well. The easiest way to get here is by car or bus. It is open from 9 am to 5 pm. Visit the official website for details on how to get here.
How to Modify this Itinerary
It is possible to do a whirlwind tour of Luxembourg City, visiting it as a day trip from another country or visiting it in transit between two cities.
If you want to travel to another city in the evening, I recommend skipping the museums (unless you find one of them fascinating) and focusing on the casemates, walking the Chemin de la Corniche to the Grund, and walking around the old town. This gives you enough time to take a train or drive to your next destination.
We visited Luxembourg while traveling between Paris and Brussels. In the morning, we took a high-speed train from Paris, getting into Luxembourg at 10:54 am. We toured the city and left in the late afternoon and drove to Brussels. We did not take a train because our only option was to return back to Paris and then take a second train to Brussels. Driving, in this circumstance, was our fastest option.
Below are rough time estimates of how long it takes to travel to nearby cities. These times can vary a lot depending on the day of the week and the time you are traveling.
From Luxembourg by Train:
To Paris: 2h 10m by high speed train
To Brussels: 3 hours direct

To Cologne:

3h 30m with one connection

To Frankfurt:

4 hours with 1 to 2 connections
To Strasbourg: 1.5 hour direct
From Luxembourg by Car:
To Paris: 375 km, 3.75 hours
To Brussels: 230 km, 2.5 hours
To Cologne: 212 km, 2.75 hours
To Frankfurt: 272 km, 3.25 hours
To Strasbourg: 220 km, 2.25 hours
When to Go to Luxembourg
The best time to visit Luxembourg is between April and October. The weather is generally warm and pleasant. The summer months of July and August are the most crowded.
We visited Luxembourg on Easter Monday, a big holiday here. The old town was packed with people. We were actually quite surprised how crowded it was. The restaurants we wanted to try were closed and those that were open had long waits. It was a disappointment and we honestly wondered if we were wasting our time in Luxembourg. That is, until we left the old town and strolled the walls and casemates. This, we loved. In the end, we enjoyed our time here, but if you only have one day to spend in Luxembourg, you might want to avoid Easter Monday and the other big holidays.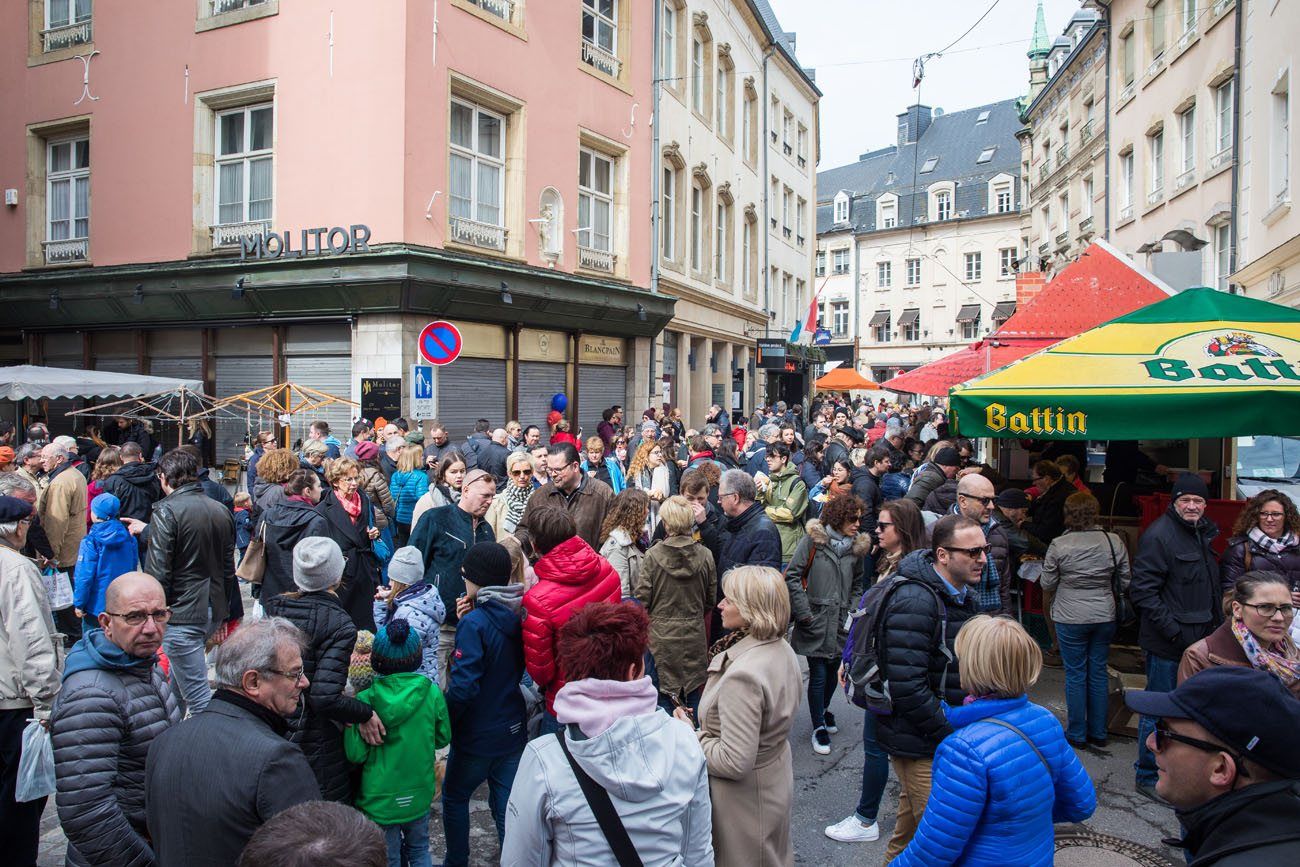 The crowds on Easter Monday.
Where to Stay
LUXURY: Hotel Le Place d'Armes. This boutique hotel looks amazing with its uniquely decorated rooms. Most rooms have beamed ceilings and fireplaces. There is an upper level terrace where you can enjoy views over the city. It's located in the center of the old town so it's hard to beat this location.
MID-RANGE: Park Inn by Radisson. This hotel is located near the train station, so it's perfect if you are traveling by train. Rooms are spacious and clean and people love the breakfast here.
BUDGET: Best Western Plus Grand Hotel Victor Hugo. If you're on a budget and want to stay within walking distance of the old town, this hotel is a good pick. From here, it's a 10 to 15 minute walk into the old town.
Where are You Going Next?
If you plan to continue your tour of Europe, you might like:
PARIS, FRANCE: Start with our article Best Things to Do in Paris for ideas of what to do in Paris. Plan your time in the city with our 2 Day Paris Itinerary and 3 Day Paris Itinerary. We also have a Paris Hotel Guide, advice on visiting Paris with kids, a Paris Food Guide, and advice for visiting Paris at Easter.
BELGIUM: Don't miss our guide on how to take a self-guided chocolate tour of Brussels that also includes the top sights in town. We also have a article about how to day trip to Bruges and Ghent.
NETHERLANDS: Learn how to spend 2 perfect days in Amsterdam and the best things to do in Amsterdam. We also have a guide on Where to Stay in Amsterdam and how to visit Utrecht and The Hague.
GERMANY: Go on a 10 day road trip through Bavaria, learn about the best things to do in Berlin, and how to visit Neuschwanstein Castle.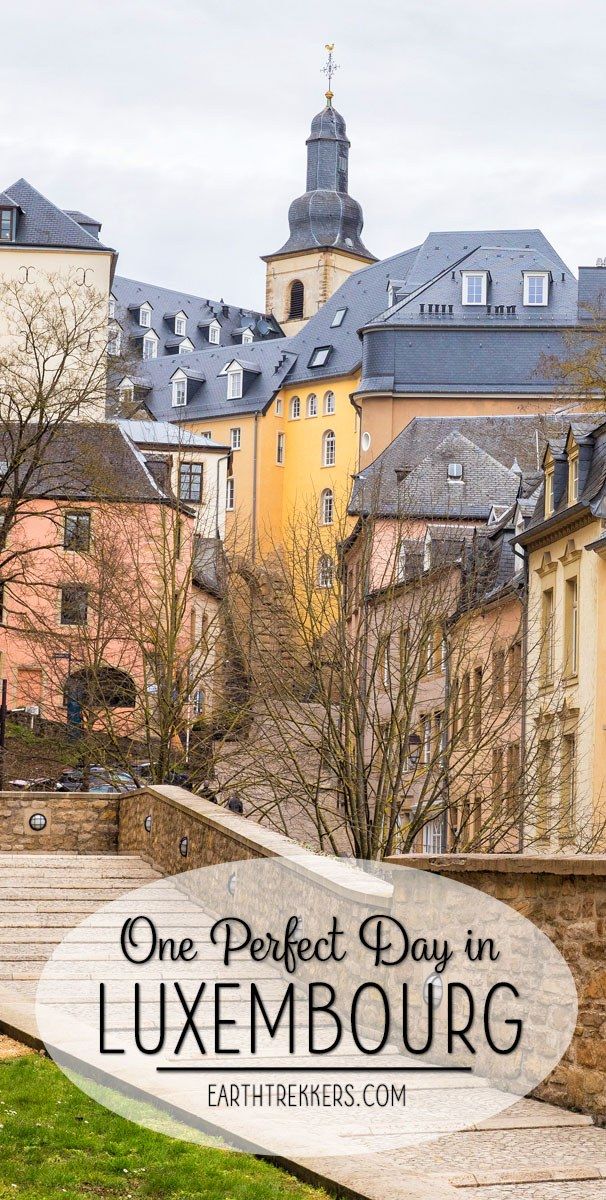 Note: This post contains affiliate links. When you make a purchase using one of these affiliate links, we get paid a small commission at no extra cost to you.
All rights reserved © Earth Trekkers. Republishing this article and/or any of its contents (text, photography, etc.), in whole or in part, is strictly prohibited.