In this post, find out what we carry with us on day hikes. Whether you are a new hiker, shopping for a friend or family member, or just curious about what hiking gear you should bring on a day hike, we have a lot of great information to share with you.
We have hiked thousands of miles across six continents, with day hikes ranging from just a few miles all the way up to 25 miles. We have trekked to Everest Base Camp, hiked the Walker's Haute Route across the French and Swiss Alps, hiked from rim-to-rim across the Grand Canyon in one day, hiked the Zion Narrows from the top-down, and so much more.
Over the years, we have tried and tested lots of hiking gear. In this post, find out what we carry in our day packs and what we wear on the trails. If you have any questions, we are more than happy to answer them in the comment section at the end of this post.
Hiking Gear Guide
Day Pack
Day packs come in a wide range of sizes and brands. Most of our day packs have a capacity of roughly 20 to 24 liters, which is the mid-range size. These are big enough to carry some food, extra clothing, and up to 4 liters of water.
Having a dedicated space for a water reservoir is a must (more on this soon). A day pack with a waist strap is also a necessity, since this takes some of the weight off of your shoulders. I prefer to have a day pack with a ventilated back panel, to help keep cool while hiking on hot days. And I think it's a must to have an open, outside pocket, to stuff things into while you're on the move and don't feel like taking your pack on and off.
We currently use two different brands of day packs, Camelbak and Osprey.
Tyler and Kara both use Osprey day packs and these have been great. Kara carries the Tempest 9 and Tyler carries the Talon 22 on shorter hikes. Both of these packs are super lightweight and have proven to be very durable.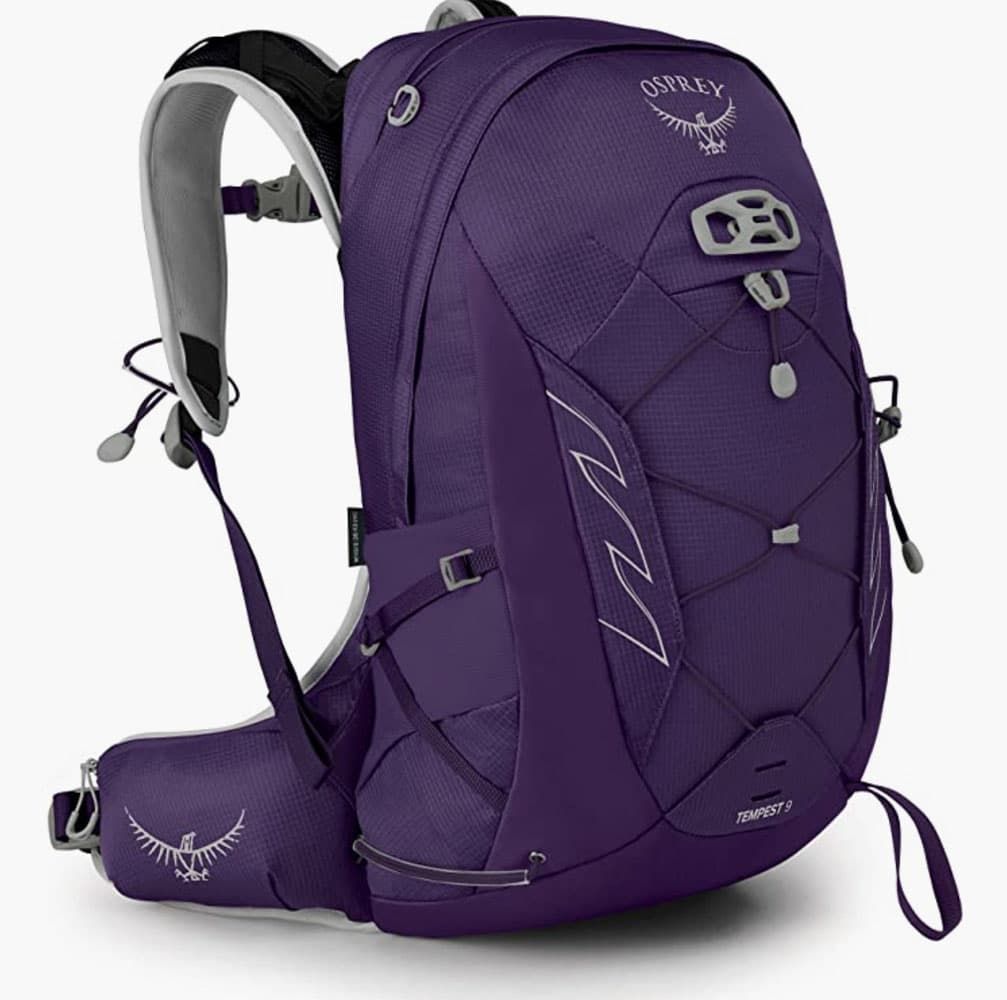 Osprey Tempest day pack | Hiking Gear Guide
Tim and I both use Camelbak day packs. I carry the Sequoia 24 and Tim carries the Fourteener 24. We love these packs, however, they are five years old and since our purchase, the packs have undergone a redesign.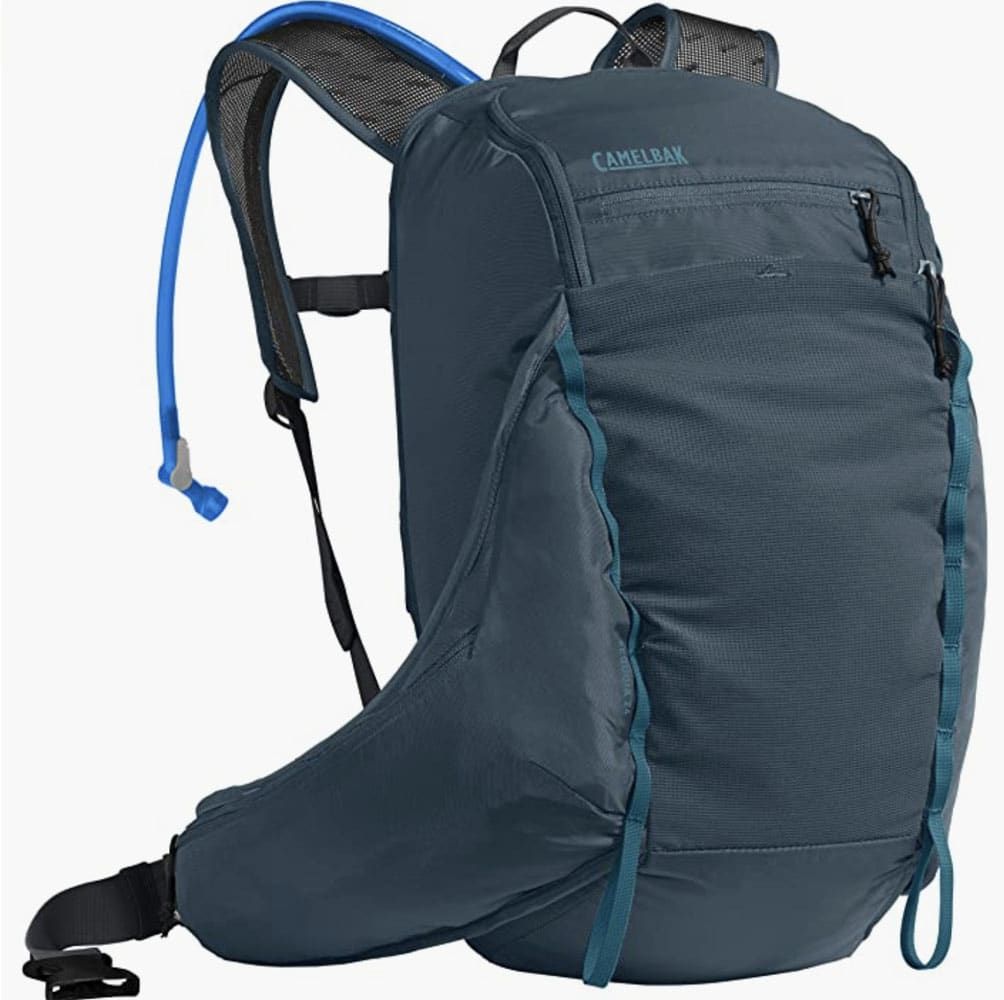 Camelback Sequoia 24 | Hiking Gear Guide
More recently, Tyler also began using the Osprey Manta day pack, which comes in both 34 liters and 24 liters. Tyler carried the 34 liter pack on the Walker's Haute Route, to help carry some of the extra clothing and gear that we needed. He loves this pack and it now replaces his Talon 22. However, the Manta is significantly larger and for most day hikes, the 34 liter size is a bit more than most people would need.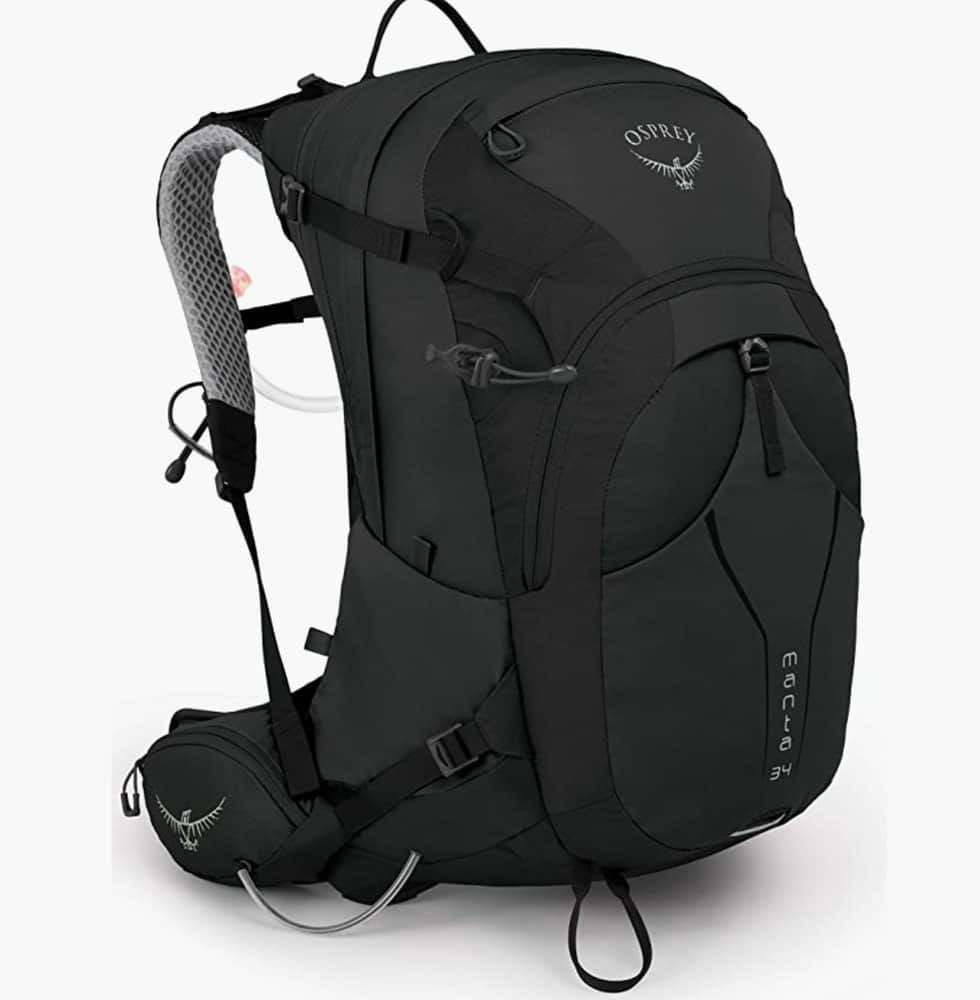 Osprey Manta 34 | Hiking Gear Guide
PRO TRAVEL TIP: If you make your purchase at your favorite outdoor store, a sales associate can help size your day pack to your frame for the best fit.
Hiking to Half Dome in Yosemite National Park.
Hydration Vest
If you are going on a short hike on a hot day and don't need to carry a lot of extra gear, consider carrying a hydration vest. These are very small versions of a day pack. The have a small water reservoir and just enough room to carry a few snacks, your phone, and your car keys.
Tim and I use these on long training runs at home but they also work great on the trail. We both use Nathan hydration vests. I use the Nathan Quickstart 4L and Tim uses the Nathan Vaporswift 4L. The 4 liters refers to the total capacity of the vest but these only hold up to 1.5 liters of water. Nathan also makes hydration vests specifically for trail running and these have more capacity for water and extra gear.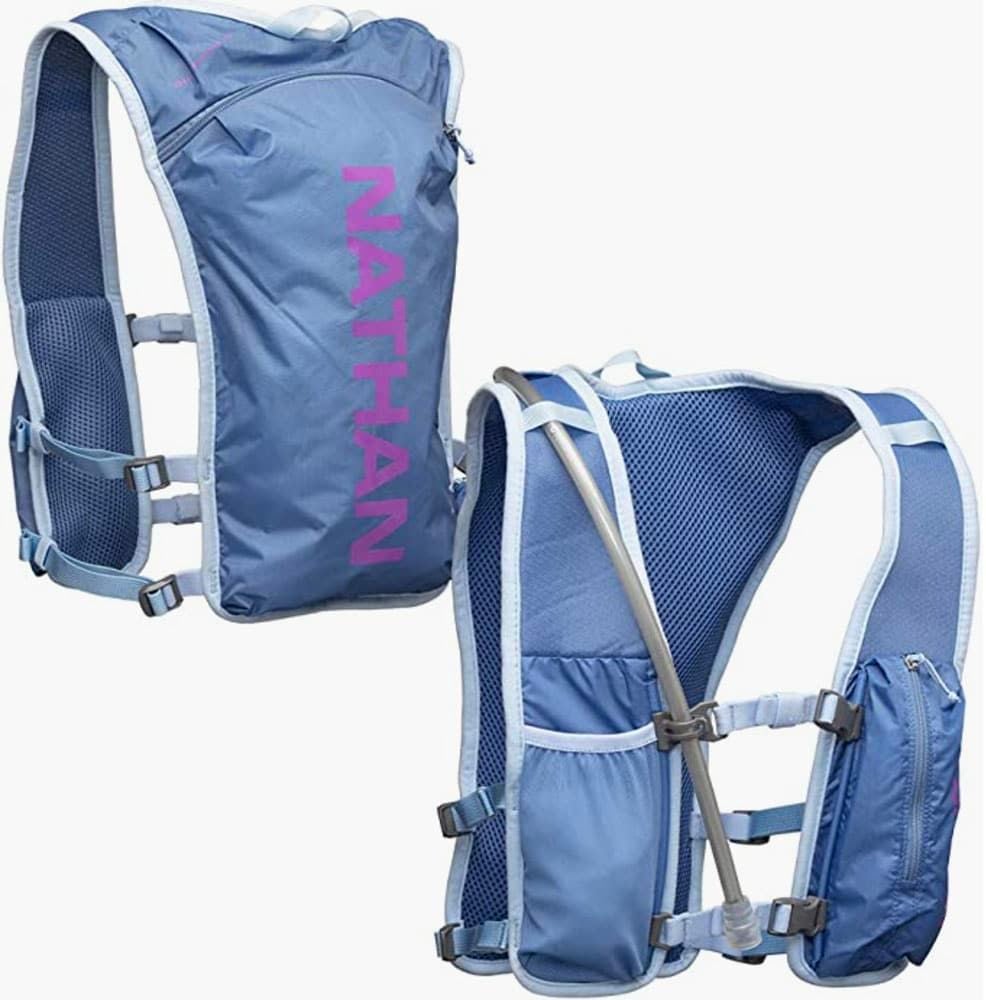 PRO TRAVEL TIP: Hiking as a family? The adults can wear day packs and carry extra clothing and essential gear. Kids can wear the smaller and lighter hydration vests. They can carry some of their own weight, and their own water, without being weighed down by a day pack.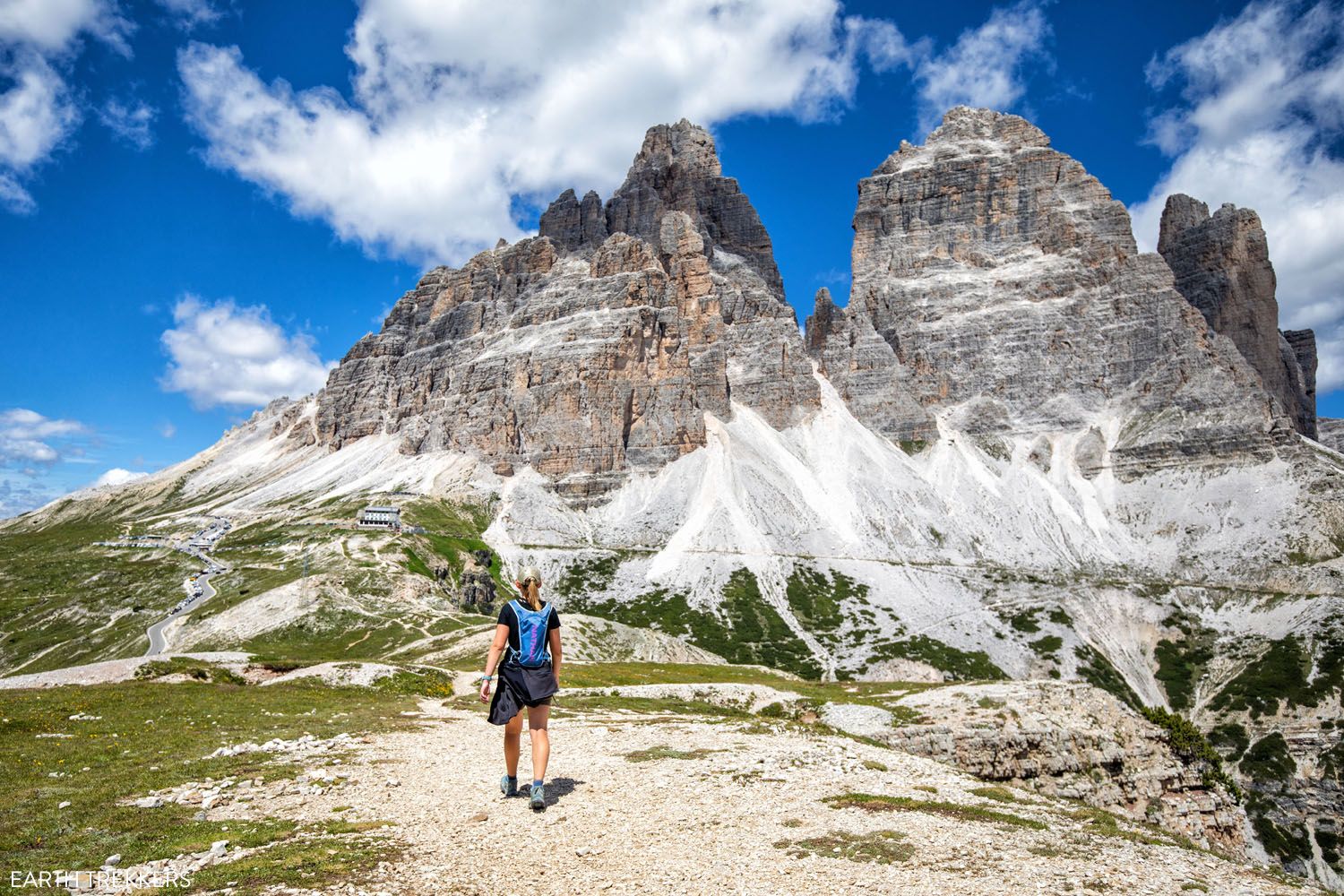 Kara wearing a hydration vest while hiking in the Dolomites of Italy.
Hydration Reservoir
A hydration reservoir is a large bladder that you fill with water. The bladder goes into your day pack or hydration vest and the straw attaches to your shoulder strap. Whenever you get thirsty, you simply drink water right from the straw. It's much easier than always reaching for a water bottle.
We use both the Camelbak and the Osprey hydration systems, since these two hydration systems came with our day packs. Both work great and we really don't have a preference of one over the other. It is possible to interchange the hydration systems with different brands of day packs. Just make sure you check the specifications before making your purchase.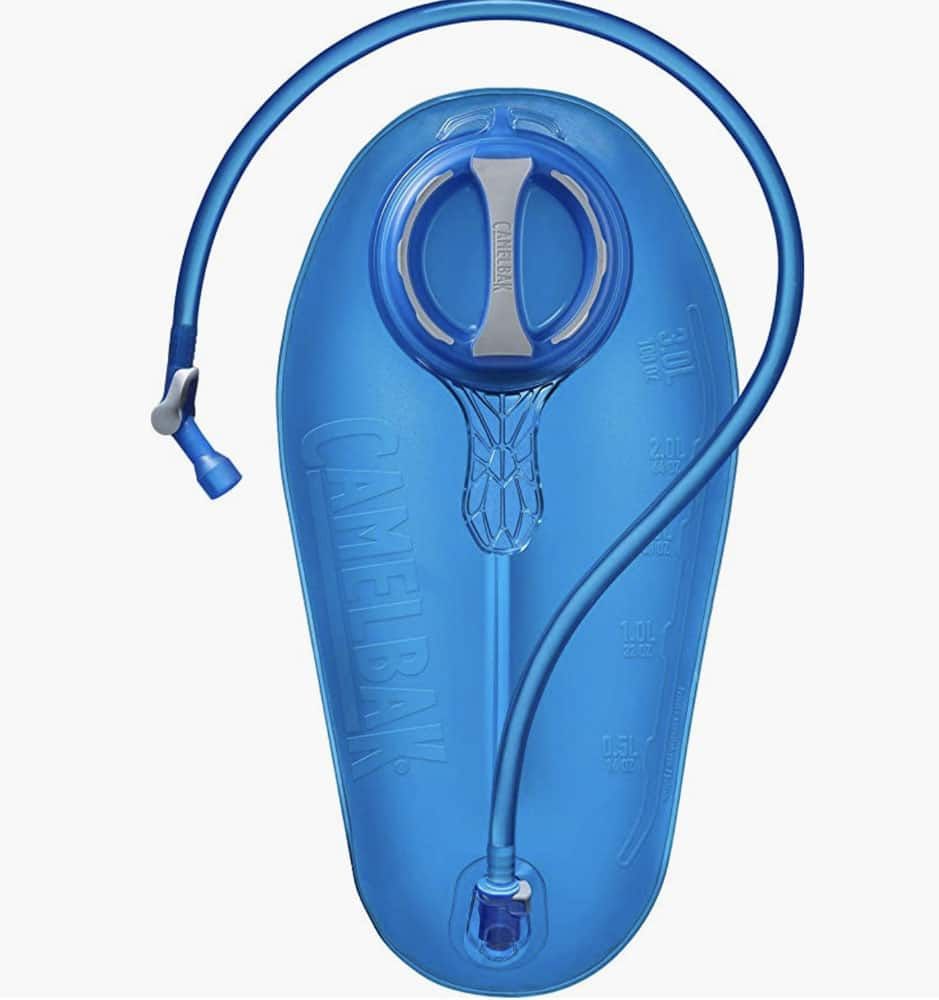 Camelback reservoir | Hiking Gear Guide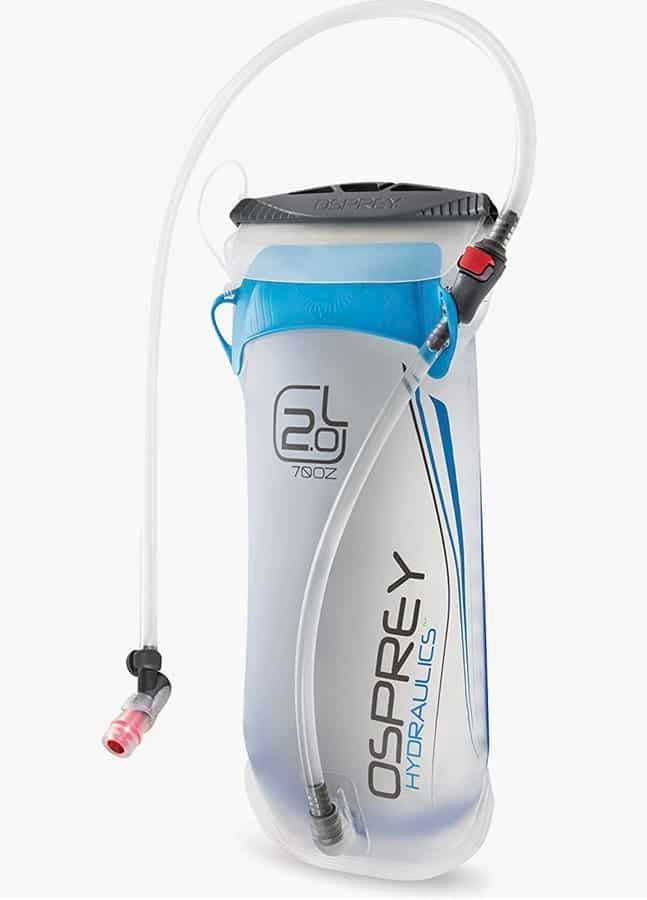 Osprey reservoir | Hiking Gear Guide
As far as what size to purchase…I recommend at least a 3 liter bladder. Three liters will get you through most day hikes. Four liters is sometimes necessary for very long hikes or in very hot weather, but four liters of water is also very heavy to carry.
HIKING TIP: If you will be in an environment where no water is available (for example, if you are hiking in the desert), make sure you bring extra water. Bring at least one liter more than you think you will need.
Water Purification
What happens if you run out of water while hiking? In most places, you can't safely drink the water. You will need to purify it first.
We always carry iodine tablets. This tiny bottle adds minimal weight to your pack and is a great way to purify water in case of an emergency.
Iodine Tablets | Hiking Gear Guide
Another lightweight backup is the Katadyn BeFree Collapsible Water Filter Bottle. We carry this one with us on long hikes, such as the Zion Narrows. It takes less than 30 seconds to fill one water bottle with this filter.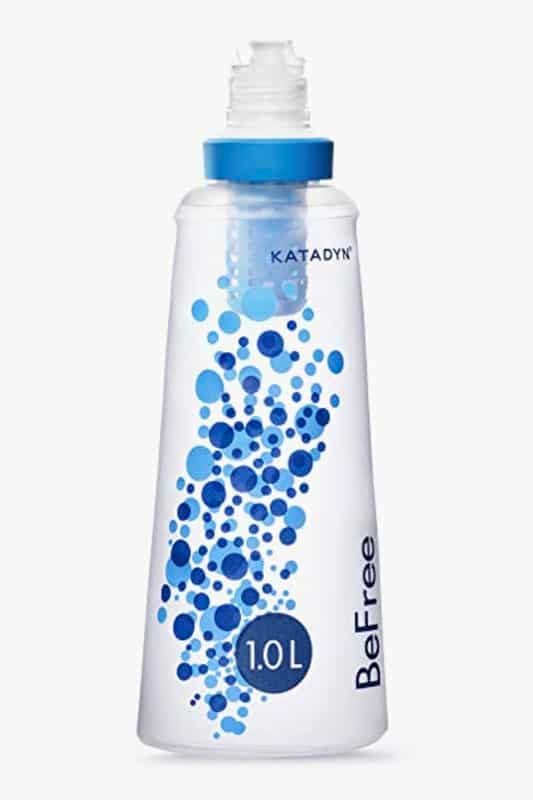 Katadyn BeFree | Hiking Gear Guide
We have had good results with the MSR Trailshot Pocket-Sized Water Filter. It's a bit slow and you have to do a lot of hand pumping to prime the filter and fill your water reservoir, but it is small and lightweight.
MSR Trailshot | Hiking Gear Guide
The Grayl Geopress Water Purifier Bottle gets rave reviews and is one of the top rated water purifiers on the market.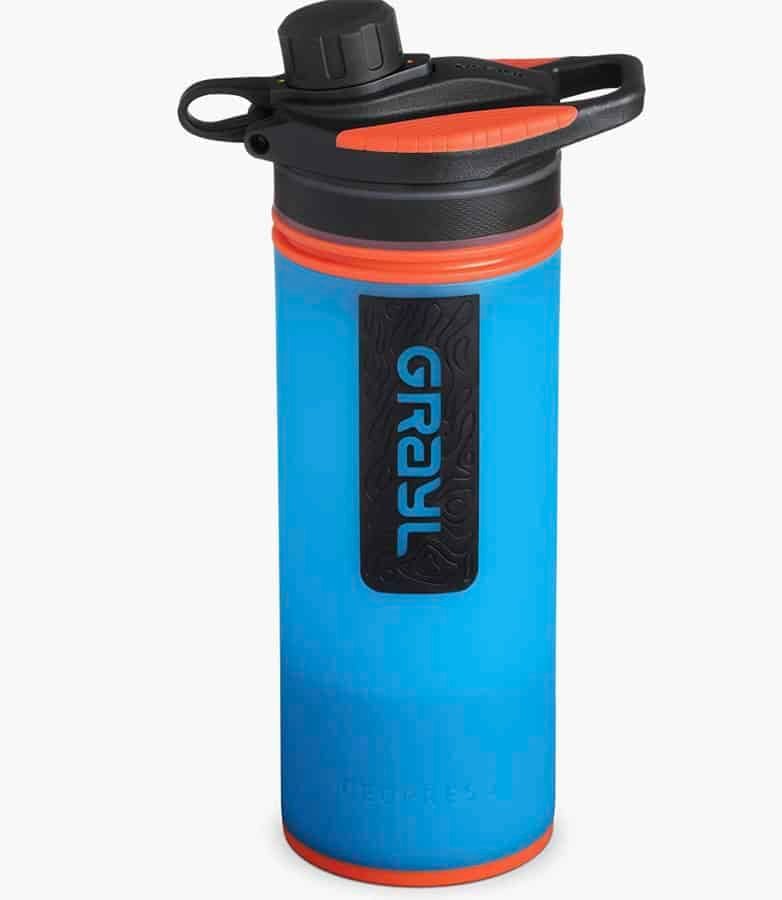 Grayl Water Purifier | Hiking Gear Guide
Headlamps
A headlamp is an essential piece of hiking gear. If you plan to get an early start, or if there is a chance that you will be out on the trail past sunset, you need to have a light source.
We use Petzl headlamps. The more money you spend, the more features you get (overall brightness, beam patterns, number of bulbs). For most people, the Petzl Tikka is sufficient, but if you want one of the brightest headlamps on the market, go for the Petzl Actik Core.
Day Pack Rain Cover
These covers shield your day pack from the rain. Simply throw it over your day pack to keep your pack nice and dry. These covers compress down into a small carrying bag and don't add much weight to your day pack.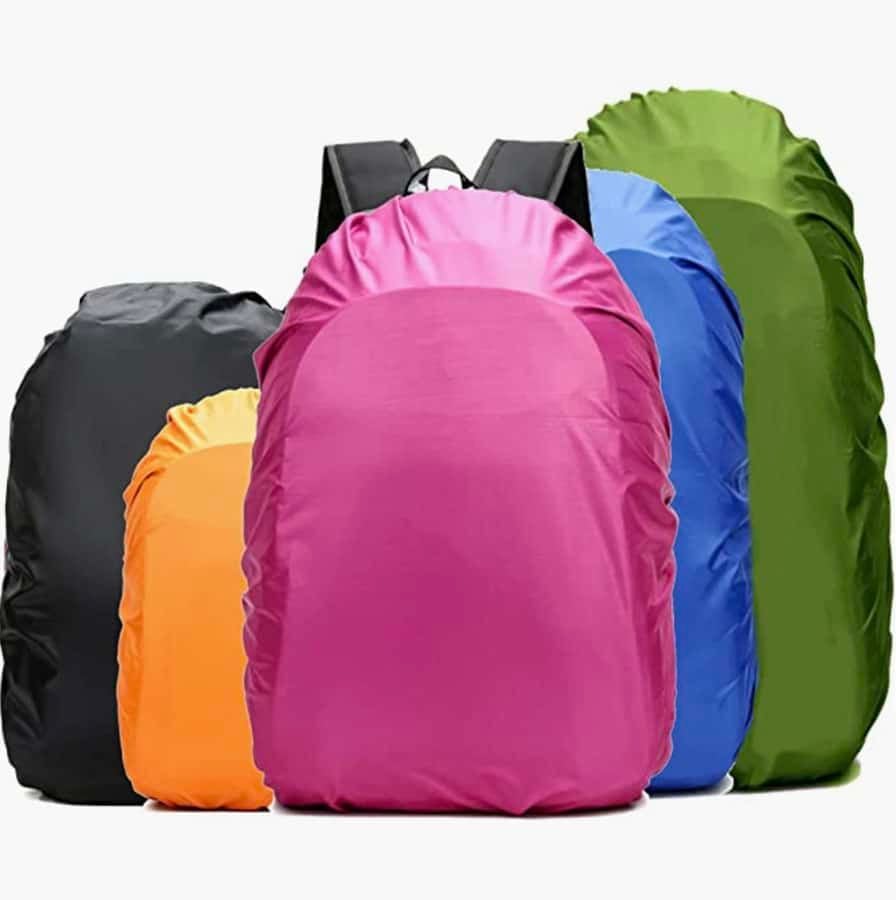 Note: Some of the more expensive day packs will come with a rain cover so you might not need to purchase this separately.
First Aid Kit
This is the item that you hope you will never need but should carry with you at all times. We never go without a first aid kit while hiking.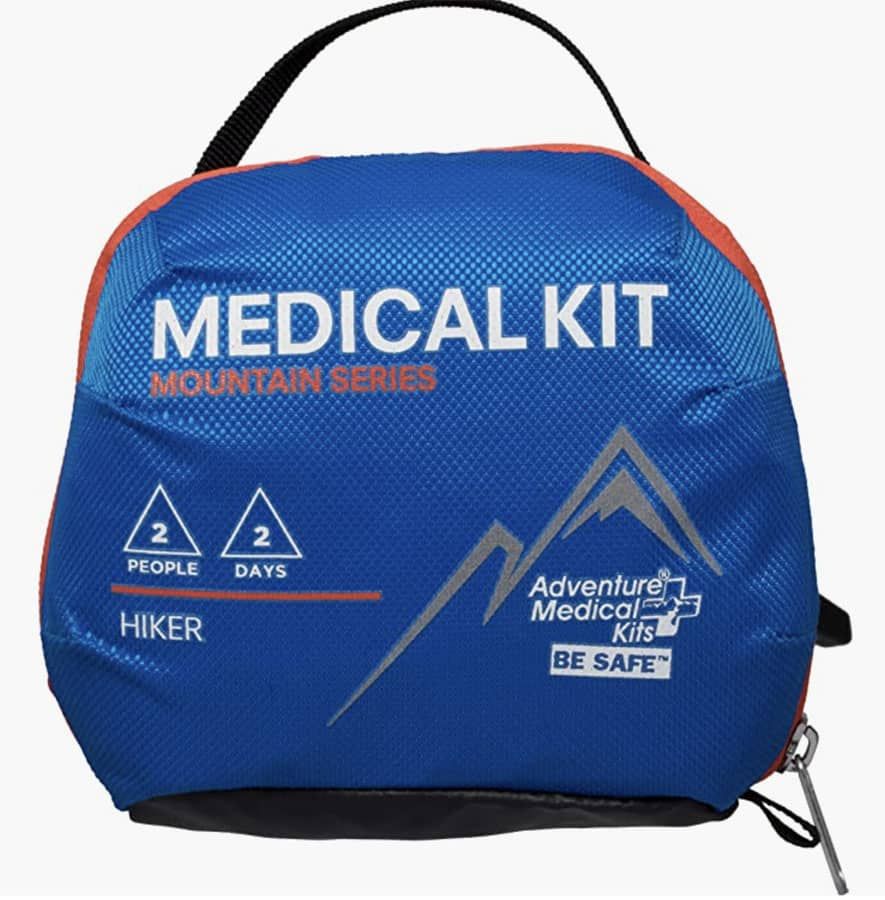 Trekking Poles
Trekking poles take 30% of the weight off of your legs as you descend, easing knee pain and other symptoms. They also help you keep your balance on rocky, rugged trails and during river crossings.
They can also be a lifesaver should you get injured on the trail. I sprained my ankle with five miles left to go while hiking the Enchantments in Washington state. If I didn't have hiking poles, I don't know how I would have finished the hike. The poles allowed me to take a lot of the weight off of my injured ankle so I could complete the hike.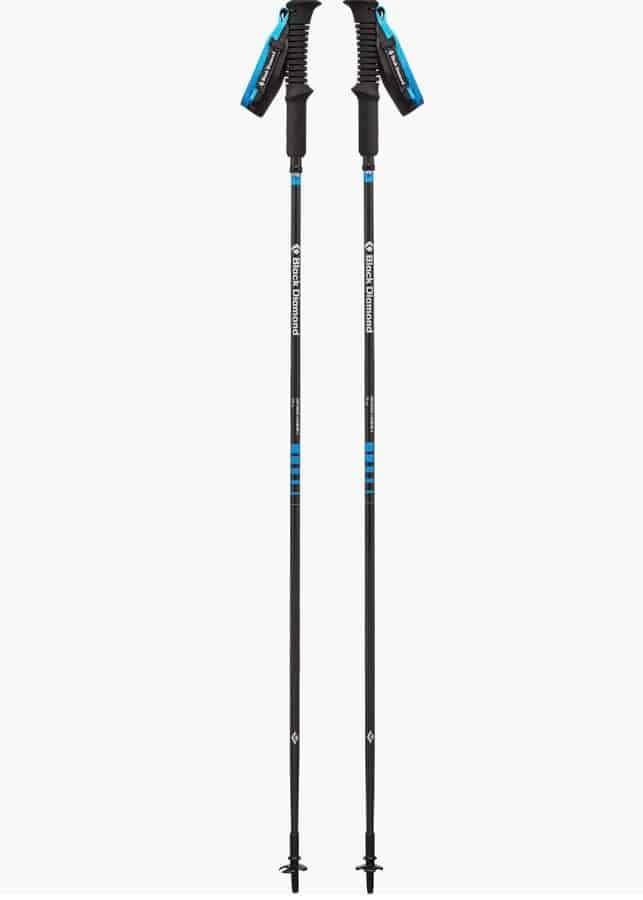 I use Black Diamond Distance Z poles and highly recommend them. They easily collapse down to fit in your luggage and hiking backpack, plus they are extremely lightweight. The poles come in several different sizes, so make sure you pick the right length based on your height.
GPS Device
A GPS device is an essential item of hiking gear, for several reasons.
Most importantly, it can help you navigate the hiking trail and keep you from getting lost. There have been several occasions where we have lost the hiking trail and our GPS device helped get us back on track. As you hike, the GPS is recording your exact route. If you stumble off the trail, you can follow the GPS track to retrace your steps back to the trail.
The GPS will give you lots of data about your hike: distance, total ascent, moving time, resting time, and more. It will output a GPX file that you can share with your friends. You can also upload a GPX file of a hike that you plan to do, so that you follow the route using your GPS device.
We use the Garmin 64s and the GPS is very accurate. In fact, it provides the data that we use for all of our hiking posts.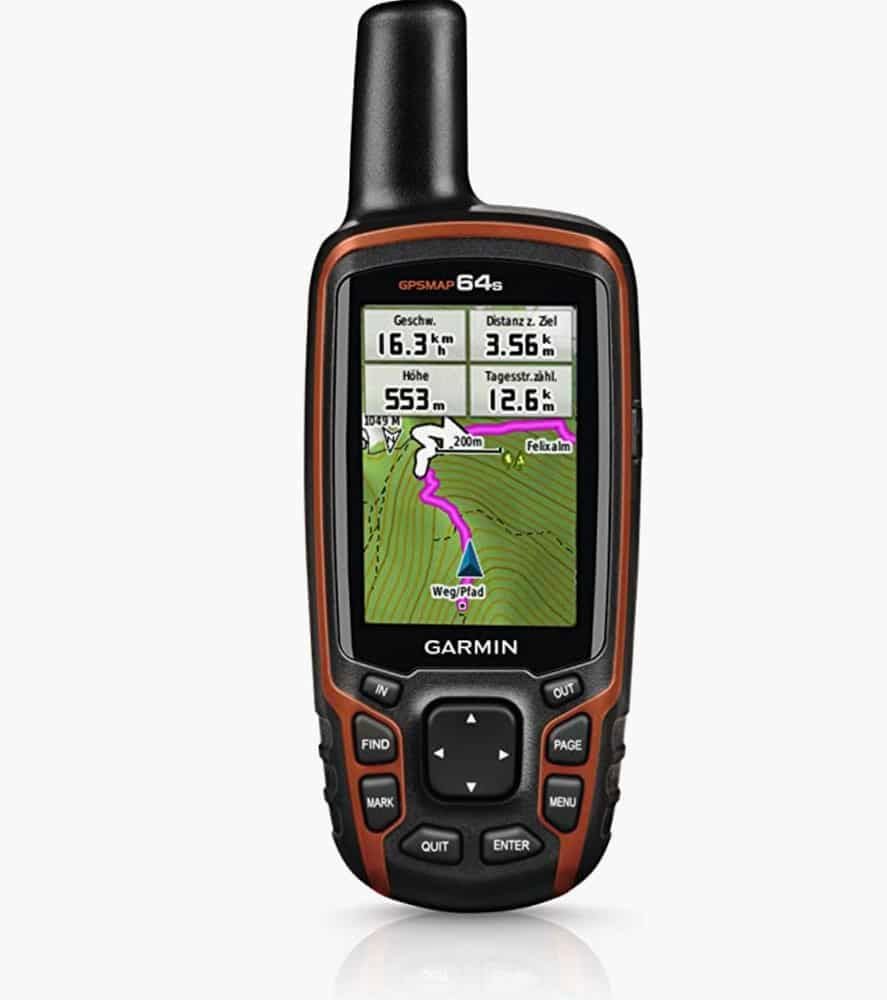 A step up from the Garmin 64 series is the Garmin inReach Explorer+, which provides GPS navigation and topographic maps, as well as the ability to communicate with satellites. Iridium satellite coverage enables two-way texting from anywhere in the world, making it possible to call for help if you are out of cell phone range. This is the newest addition to our hiking gear and we love it. There have been times when Tim was out hiking on his own. This GPS device sends out a signal every few minutes so I could track his progress around the trail in real time, using my computer or phone.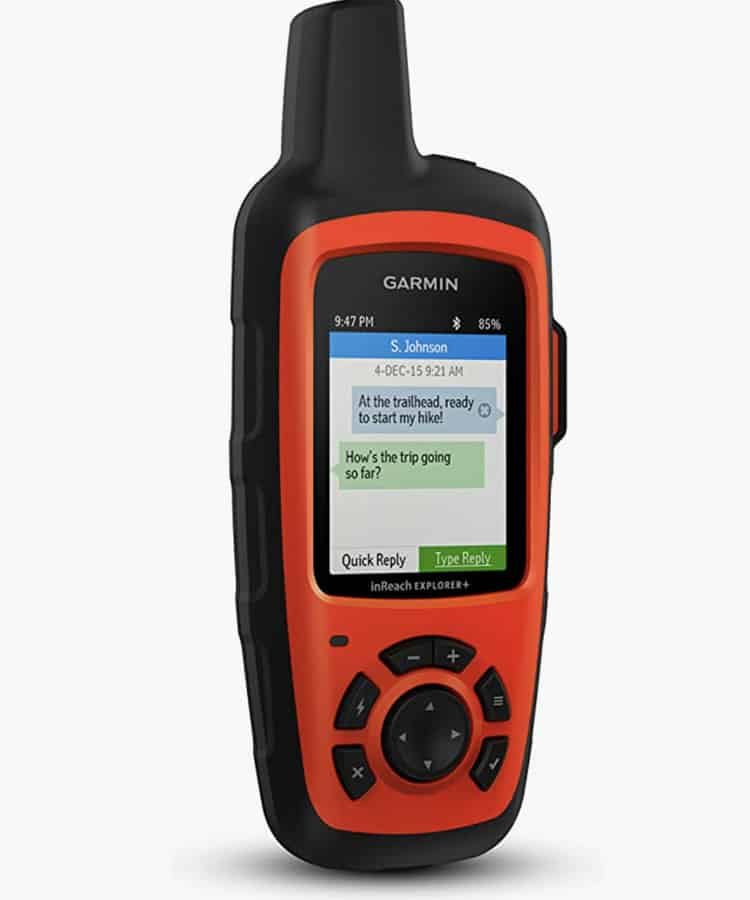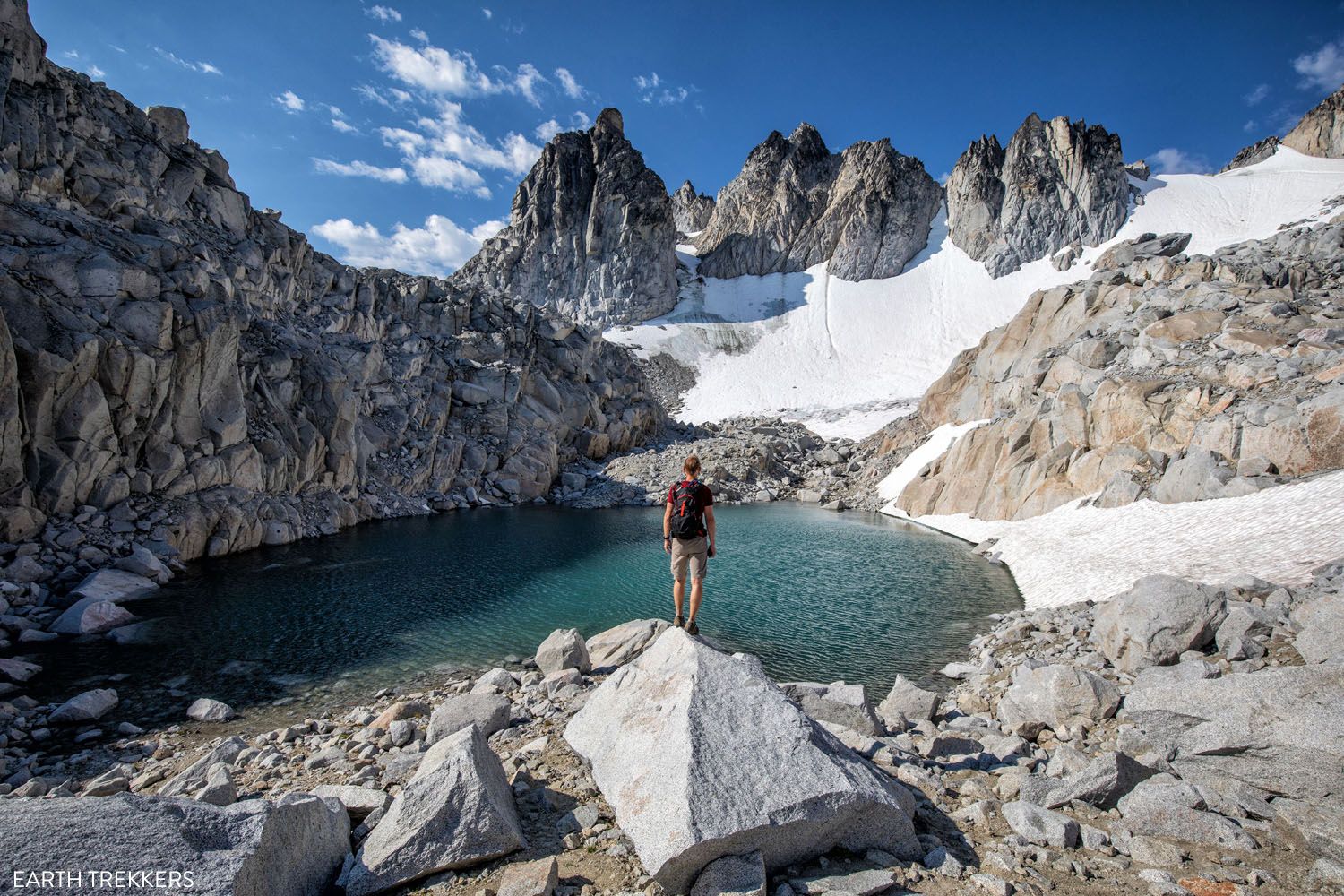 Hiking the Enchantments in the Alpine Lakes Wilderness, Washington state.
Garmin Fenix Watch
The Garmin Fenix watch is like having a small GPS device on your wrist. Most versions of the Fenix watches come with topographic maps, so you can follow the hiking trail right from your watch.
On sketchy, backcountry hikes, it's nice to see the trail on your watch, to make sure you are moving in the right direction. And the other data it provides…total distance, elevation, speed, and heart rate, is good to know, too. The GPS is very accurate, although it does have a hard time in canyons or dense forests, when it can briefly lose the GPS signal. But for a small device you can easily wear on your wrist, I think it works great.
If you do more than hike, the Garmin Fenix also tracks your runs, cycling workouts, swims, and a multitude of other sports.
Garmin Fenix 6 | Hiking Gear Guide
Tim wears the Garmin Fenix 5 and I wear the Garmin Fenix 6. The Garmin Fenix 6 has much better battery life. There is also a version that has a solar charging lens that provides an additional 10-15% of battery life. The Garmin 6 has several other upgrades, such as a larger screen, thinner design, and better tracking and pacing (important for runners, not so much for hikers).
Trowel
If you hike long enough, it will eventually happen…the time will come when you have to go #2 on the trail. You have two options…bury it or carry it out with you. If you carry a small trowel, digging a hole will be much easier than using your hands, a stick, or whatever else you might find.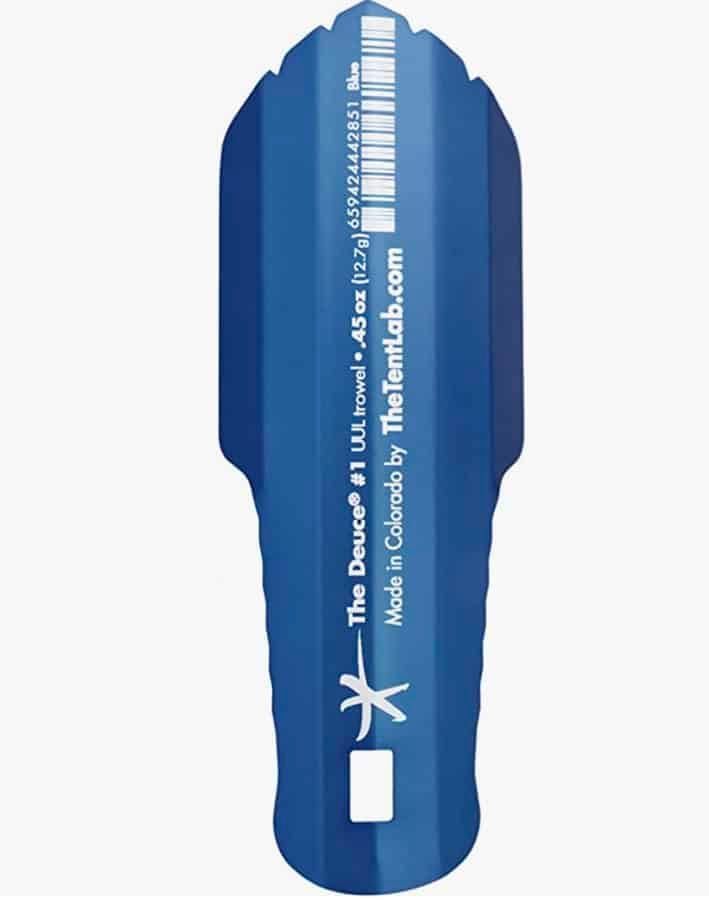 However, there will be times that you cannot did a hole. Either the ground will be too compact or the terrain is such that there is no place to dig a hole. In that case, you will have to carry out your waste. We always carry a zip lock bag, some extra toilet paper, and Purell, for this purpose.
Emergency Whistle
Costing just a few dollars, safety whistles serve several purposes. They are extremely loud and can be heard up to one mile away, so you can use them to signal for help, whether you are hiking, canoeing, paddle boarding, or kayaking. If you are on a hiking trail and see a bear, you can blow the whistle to scare the bear away. We have one strapped to the outside of Tim's day pack.
Miscellaneous Hiking Gear
In our day packs, we also carry sunblock, sunglasses, and bug spray. Typically, we munch on energy bars (Rx Bars, Larabars, and Luna bars are our favorites), trail mix, dried fruit, or pretzels on shorter hikes. On full day hikes we pack sandwiches, fruit, and salty chips.
And of course, the number one thing that I bring on a hike is my camera. For a full list of our camera gear, check out our Travel Photography Gear Guide.
What We Wear on the Trail
Hiking Shoes/Boots
Which is better…hiking shoes or hiking boots? What you choose to wear is really just a matter of personal preference. There are advantages and disadvantages to both.
As a family, we all prefer hiking shoes. For us, they just feel more comfortable.
However, hiking boots do have several advantages over shoes. They support your ankles, so if you are prone to ankle sprains, hiking boots are a better choice. Also, since they come up higher on your leg, they can help keep your feet warm and dry when hiking through shallow streams and snow.
It's worth spending the extra money for waterproof hiking shoes and boots. There will come a time when you will hike through a stream, bog, or snow and it's worth the extra money to keep your feet dry.
When sizing your hiking shoes/boots, it's best to go up one size from what you normally wear. This gives you extra room for swelling (some people's feet swell after standing/walking all day). The extra room also helps protect your feet on big descents, so your toes aren't slamming into the front of your shoe.
What We Wear
Tim and Tyler both wear Merrell Moab hiking shoes. They have worn these from the very first days we started hiking and they are their go-to hiking shoes.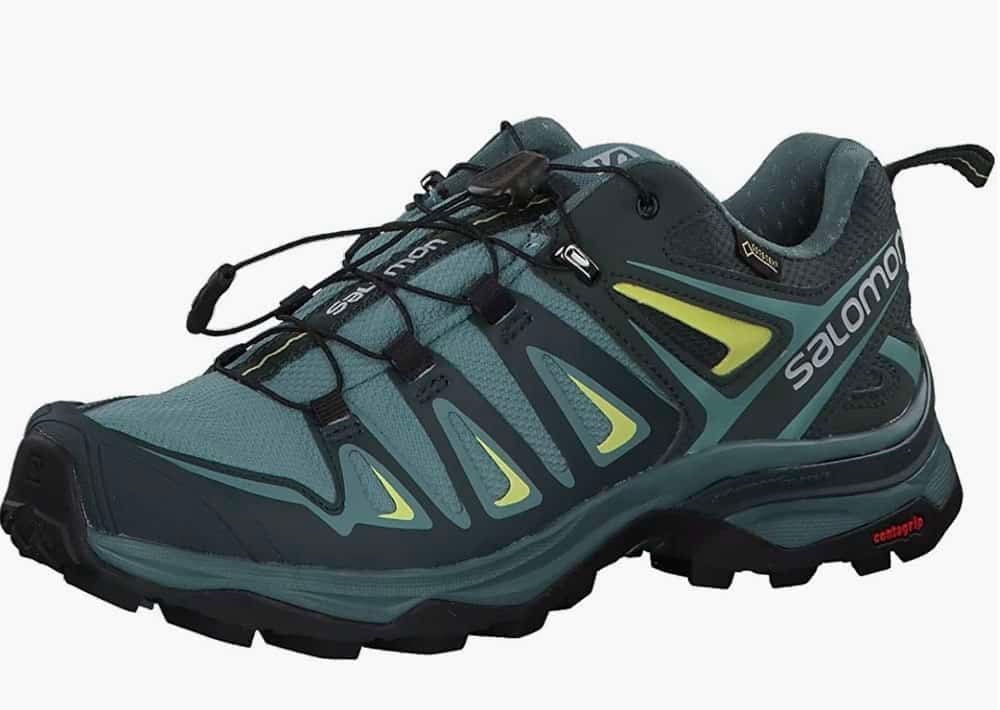 Salomon GTX hiking shoe | Hiking Gear Guide
Kara and I switched from Merrell to Salomon GTX hiking shoes and we love them. I have also worn Keen Targhee III waterproof hiking shoes which I also think are great. However, the Salomon GTX hiking shoes aren't too bulky, are comfortable, waterproof, and have a cinch rather than laces, so you don't risk a shoelace getting caught on a stick.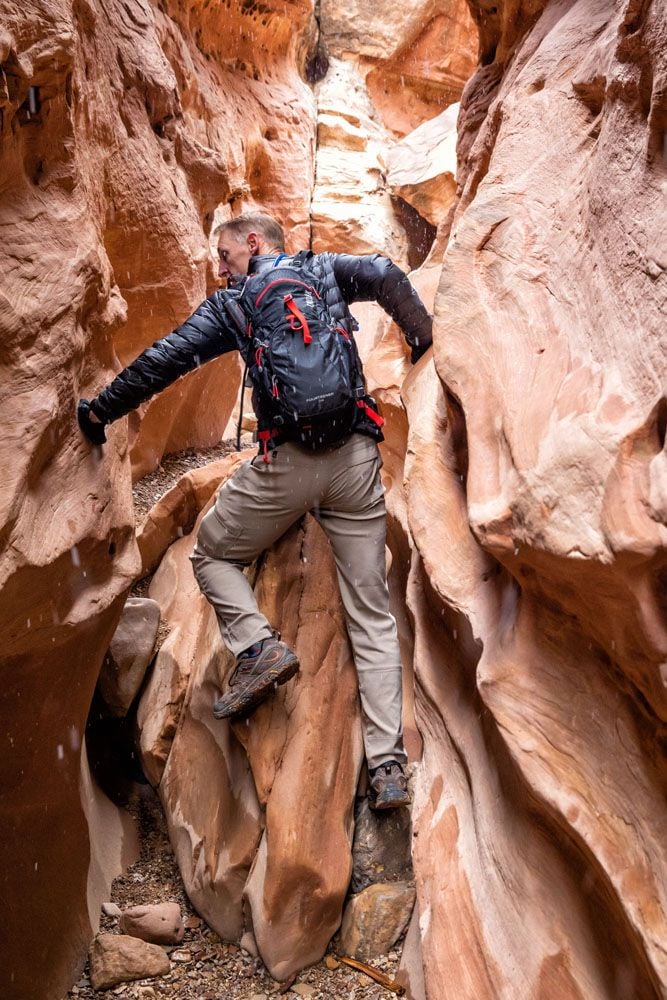 Hiking Little Wild Horse Canyon in Utah
Clothing
Pants
We all wear and love Prana hiking pants. They are comfortable, durable, and they look great. The girls wear Halle pants and the guys wear the Stretch Zion pants. The men's pants are available in a zip-off version, so the long pants can be converted into shorts. The Halle pants roll up at the bottom and become capris.
I am also a big fan of Prana leggings and Athleta leggings while hiking (and lounging at home).
Socks
Darn Tough and Smartwool are our go-to brands for hiking socks.
Stay Warm
We LOVE Patagonia down jackets (called the Patagonia Down Sweater Jacket) on colder days. These jackets are warm but extremely lightweight and you can easily stuff them into you day pack once you warm up.
On cold days, make sure you pack a hat and gloves. Charcoal handwarmers are nice to stuff into your gloves on cold mornings.
Ten Essentials for Day Hikers
There is also a list called the Ten Essentials for Hiking. Originally put together by The Mountaineers in the 1930's, this list includes ten essential items to prepare people for an emergency situation while outdoors.
1. Navigation: compass, map, altimeter, and/or GPS device
2. Headlamp
3. Sun protection: sunblock, sunglasses, hat
4. First Aid Kit
5. Knife, plus a kit to repair your gear
6. Fire (matches)
7. Shelter, can be as simple as a large plastic trash bag
8. Extra food
9. Extra water
10. Extra clothing
We don't carry everything on this list with us, especially for shorter hikes. However, if you plan to do a longer hike (over 10 miles) or will be entering the backcountry, you should carry everything listed here.
---
This concludes our hiking gear guide. If there is anything we missed, or if you have any questions, let us know in the comment section below. Happy hiking!
Check Out These Great Day Hikes from Around the World
For more great hikes from around the world, check out our Hiking page.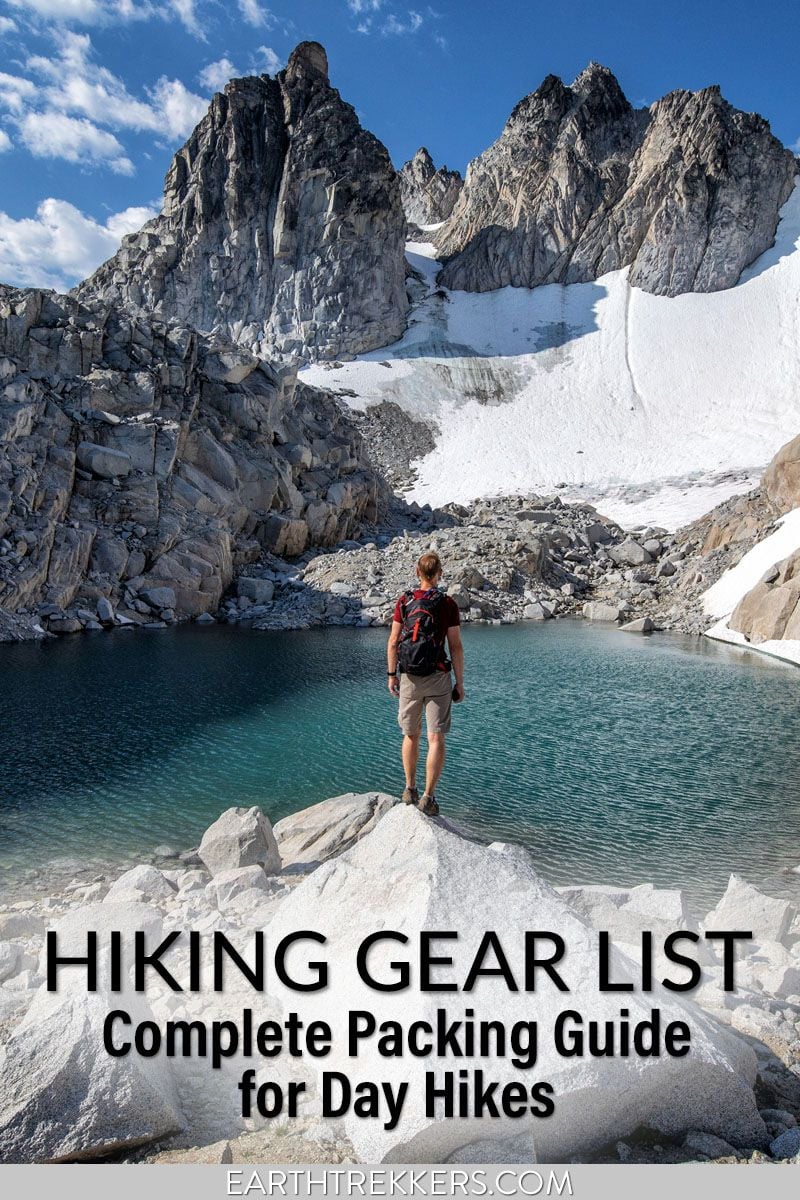 Note: This post contains affiliate links. When you make a purchase using one of these affiliate links, we get paid a small commission at no extra cost to you.
All rights reserved © Earth Trekkers. Republishing this article and/or any of its contents (text, photography, etc.), in whole or in part, is strictly prohibited.