Nestled in the foothills of the Alps, Salzburg is a compact city that is easy to explore in just one day. It's the perfect blend of history and culture, being home to Mozart, an ancient fortress, and several Sound of Music sites. With one day in Salzburg, explore the old town, enjoy the view from Hohensalzburg, and visit Mozart's birthplace.
Many people visit Salzburg as part of road trip or rail trip through Europe. For the best experience, plan on spending one night here. This allows you to enjoy Salzburg at sunset after the day-trippers leave.
I do my best to keep the hours of operation and pricing up to date for each attraction, however, these can change at any time. I recommend getting updated hours and pricing for your dates of travel. The link to the official website is provided for each site.
Overview of Salzburg
The name Salzburg means "salt fortress." For thousands of years, salt has been mined from the area around Salzburg. This "white gold" made Salzburg a powerful trading city.
The city is famous for its baroque architecture that can be seen throughout the old town. Salzburg survived World War II with very little damage, so most of these old, Baroque buildings remain in their original condition. In 1997, the city of Salzburg became a UNESCO World Heritage Site.
Salzburg is located at the foot of the Alps on the border with Germany. It's the largest city in the area, so if you have more time, this makes a great home base to explore places like Berchtesgaden and Hallstatt.
How to Use This Map: Click the tab in the top left hand corner of the map to view the layers (best things to do, restaurants, hotel recommendations). You can click the check marks to hide or show layers. If you click the icons on the map, you can get more information about each point of interest.

If you click the star next to the title of the map, this map will be added to your Google Maps account. To view it on your phone or computer, open Google Maps, click the menu button, go to "Your Places," click Maps, and you will see this map on your list.
One Day in Salzburg Itinerary
This itinerary includes the top sites in Salzburg. It's a relatively short list so this itinerary works well if you will be day tripping to Salzburg from nearby towns in Austria and Germany. If you plan the spend the night in Salzburg, you will have more time, so you can add on one or two places that we list under our "With More Time" section of this guide.
Hohensalzburg Fortress
Dominating the city of Salzburg is the Hohensalzburg Fortress. Built in 1077, it was one of Europe's largest castles at the time.
This is Salzburg's main tourist attraction, so getting here at opening time helps to avoid waiting in line (and it also saves you a few euros). We have been to Salzburg twice and we love starting the day with this view.
You have two ways to get up to the fortress: ride the funicular (Festungsbahn) or walk up the steep path leading to the entrance. If you choose to walk up, you will save a little bit of money off of the ticket price and you get to enjoy the view over Salzburg along the way.
Once you make it to the fortress, there are a handful of small museums and rooms to tour. For us, the best part of visiting the fortress was the awesome view over Salzburg and the countryside. We also toured the museums but honestly did not find them all that interesting.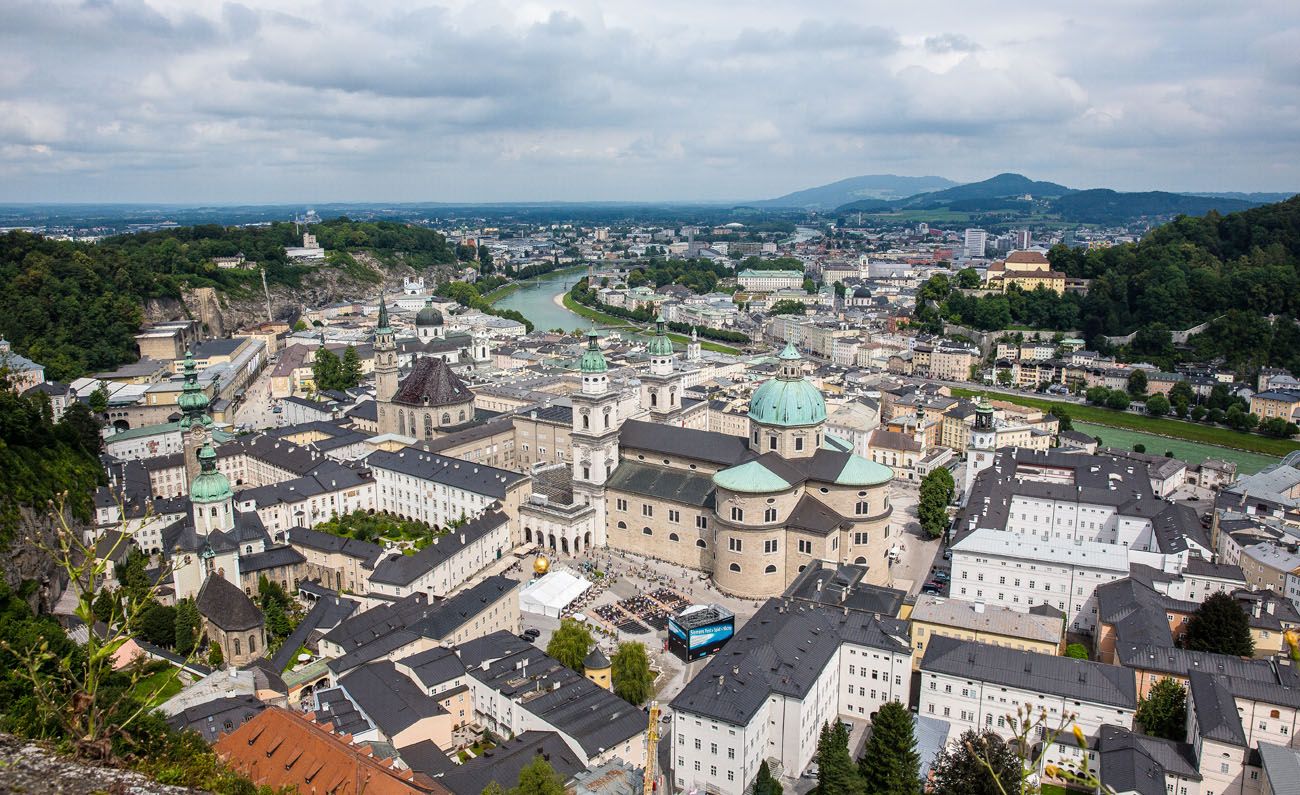 The view from Hohensalzburg Fortress | One Day in Salzburg Itinerary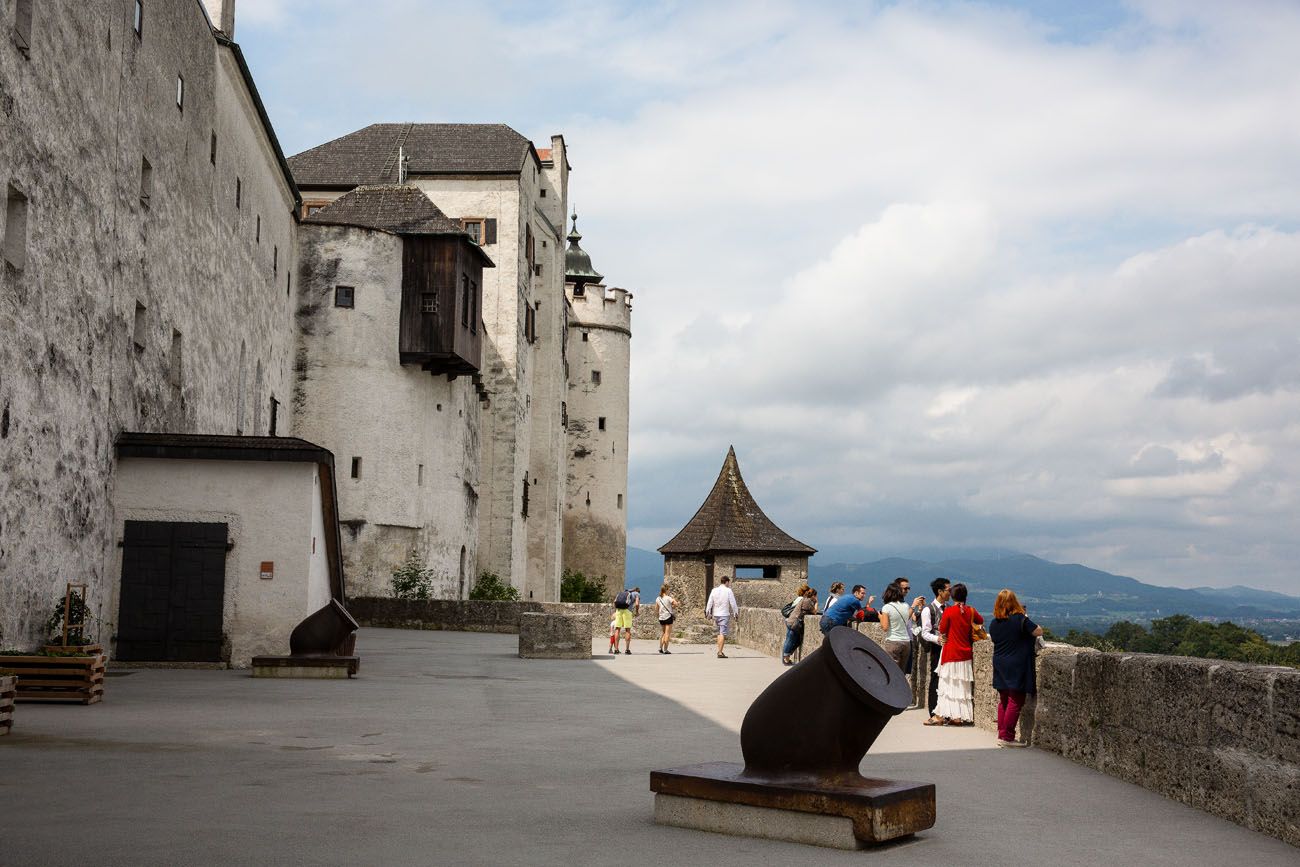 Hohensalzburg Fortress | One Day in Salzburg Itinerary
A visit to Hohensalzburg usually lasts about an hour, although it can take longer if you choose to tour all of the rooms.
Cost: All-inclusive ticket is €16.60 online
Hours: October through April 9:30 am to 5 pm; May through September 8:30 am to 8 pm; 9 am to 6 pm
Website: Click here
Scenic Walk through Salzburg
Rather than taking the same path back into town (or the funicular), there is a nice, easy scenic walk you can do. There is a walking path that follows the high ridge around the west side of town. Along this walk, you have very nice views across the city. The best views come at the end of the walk, once you reach the Modern Art Museum.
From the fortress, walk downhill in the direction of the funicular. The trail is called Monchsberg. Follow the trail along the top of the ridge until you reach the Modern Art Museum. The best view comes from the terrace right in front of the museum.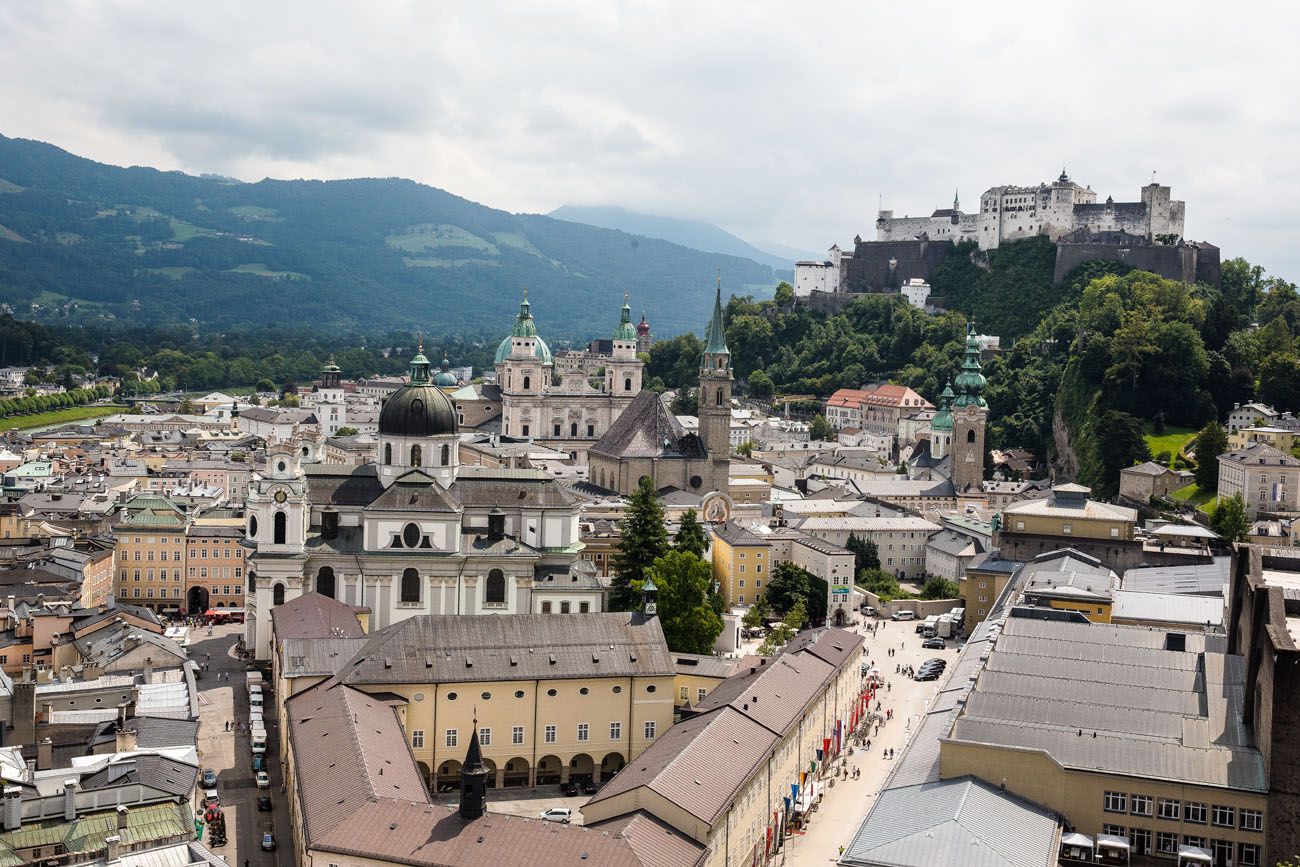 The view from Monchsberg | One Day in Salzburg Itinerary
From here, you can visit the museum if you like. To get back to the city level, take the steps or the Monchsberg lift down into town to begin exploring the old town.
Lunch
If you are getting hungry, you can take your pick from the cafes and restaurants as you walk through the old town.
However, if you want to try a unique restaurant that gets rave reviews, pop into Afro Café. It's very close to the Modern Art Museum so you won't have to walk far to get here. This brightly decorated restaurant serves burgers and wraps and African cuisine. Bet you didn't know you could have an ostrich burger in Salzburg!
Location: Buergerspitalplatz 5
Spend the Afternoon in Altstadt
Altstadt is the old town of Salzburg. It's compact, easy to walk, and filled with things to do.
Here are the best things to do in the old town of Salzburg.
Salzburg Cathedral
Salzburg Cathedral was first built in 774 and then it was completely rebuilt several times. Mozart was baptized here in 1756. This cathedral sits smack in the center of town so it's impossible to miss.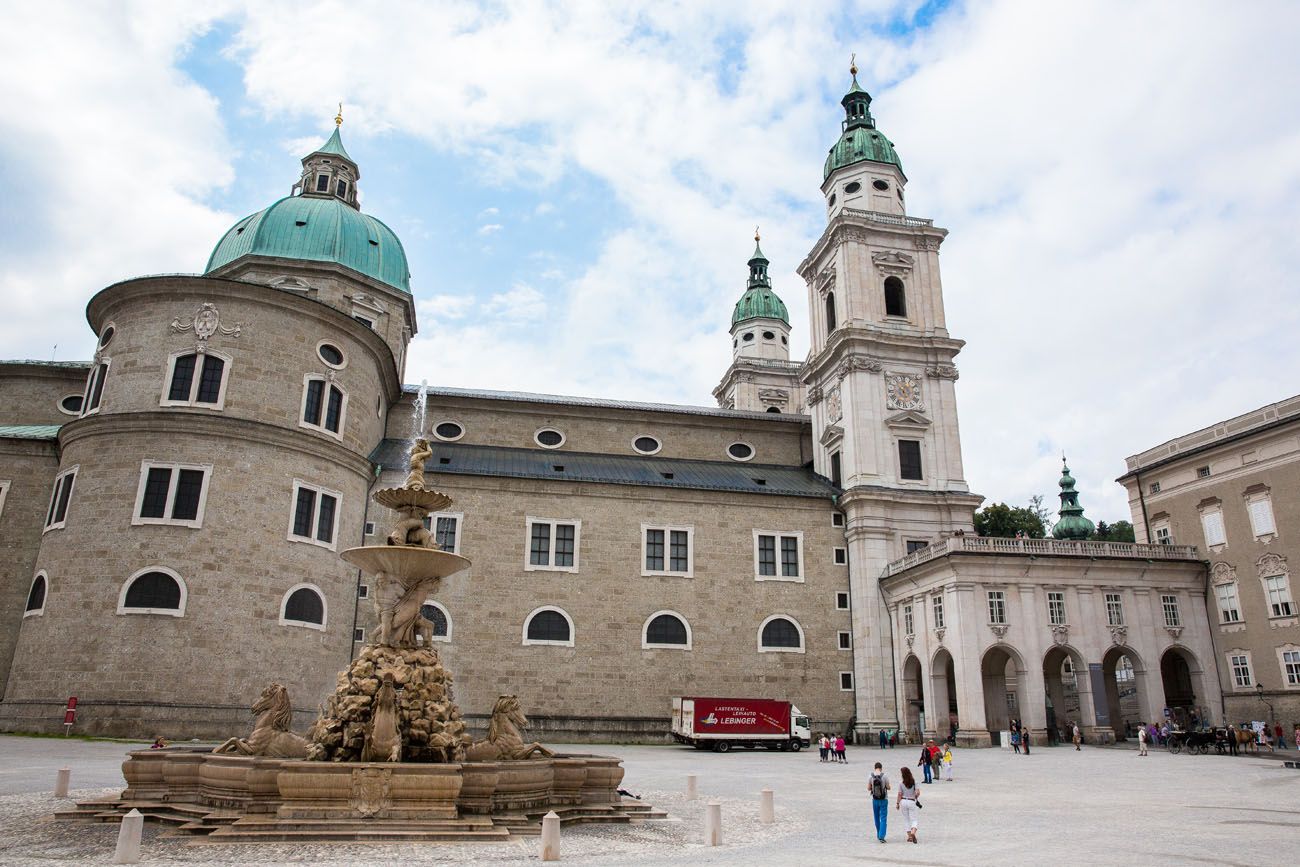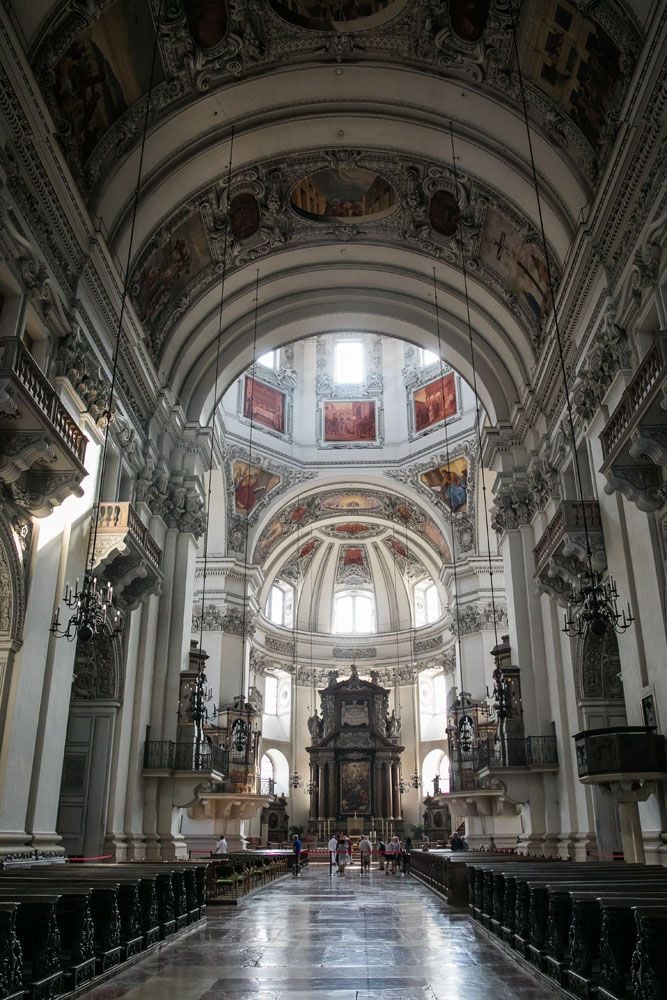 Salzburg Cathedral
Mozart's Birthplace and Museum
Wolfgang Amadeus Mozart was born and raised in Salzburg. For almost 30 years, the Mozart family lived on the third floor of 9 Getreidegasse Street in the heart of Salzburg. This building is now a museum. See where Mozart was born and raised, the violin he played as a child, and the clavichord he used while composing The Magic Flute.
If you have an interest in music, this is a great place to spend an hour of your time.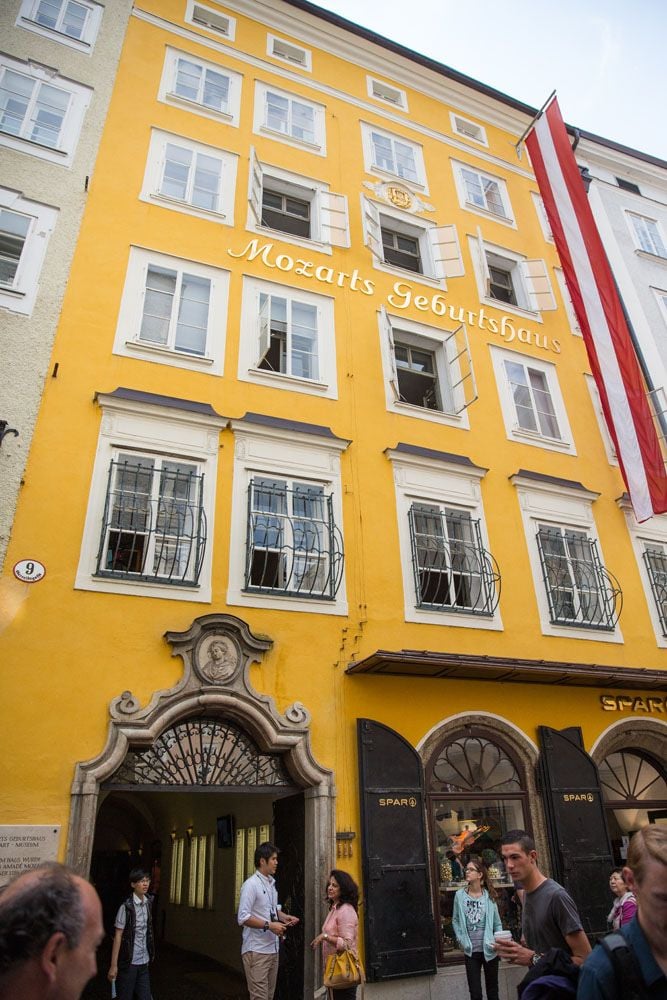 Mozart's Birthplace | One Day in Salzburg Itinerary
Cost: Adults €12, children 6 – 14 years €3.50, youth 15 – 18 €4
Hours: 9 am to 5:30 pm, last entrance at 5 pm
Entrance Ticket: Purchase your tickets online in advance to avoid waiting in the ticket line.
Website: Visit the official website for updated pricing and hours.
Stroll Down Getreidegasse
This is Salzburg's most famous shopping street. Eye-catching guild signs line the street, making this one of Salzburg's most photographed spots.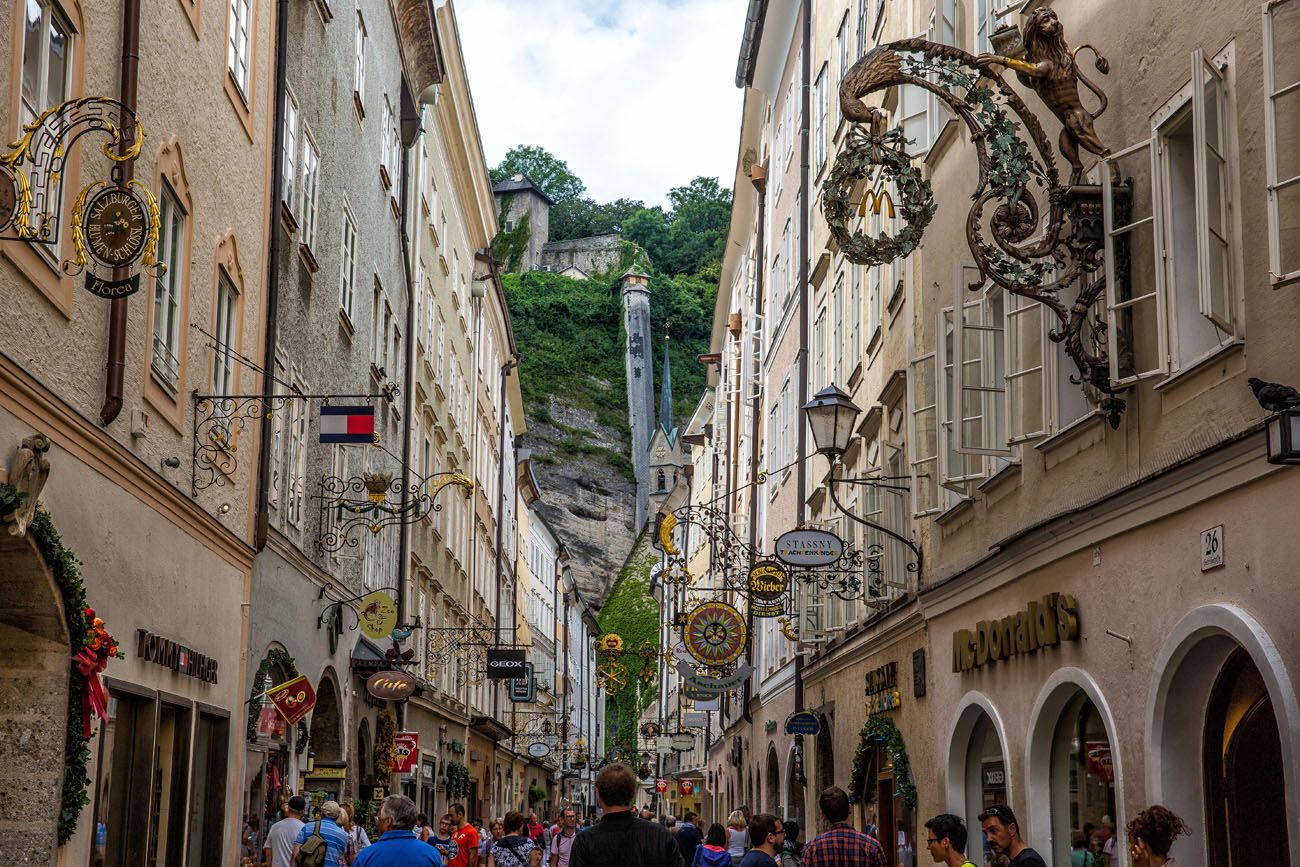 Getreidegasse | One Day in Salzburg Itinerary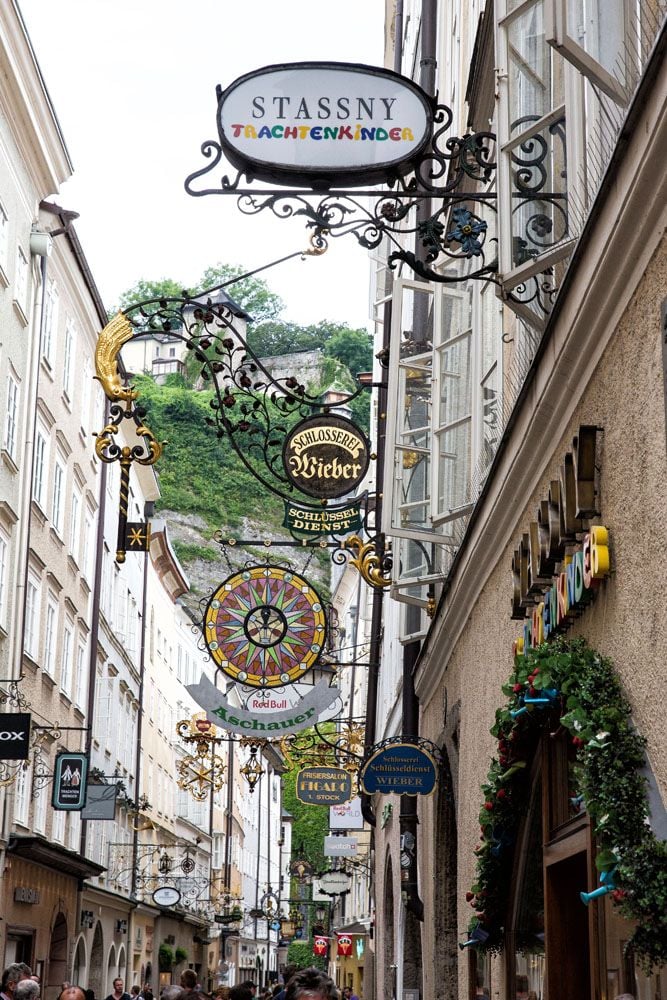 St. Peter's Abbey
St. Peter's Abbey is a beautiful yet quiet spot to visit in Salzburg. The cemetery is gorgeous, with elaborately decorated gravestones and colorful arrangements of flowers. If you are a Sound of Music fan, then you may recognize this from the movie. The Trapp family fled through the cemetery, hiding here from the Nazi's before escaping to Switzerland.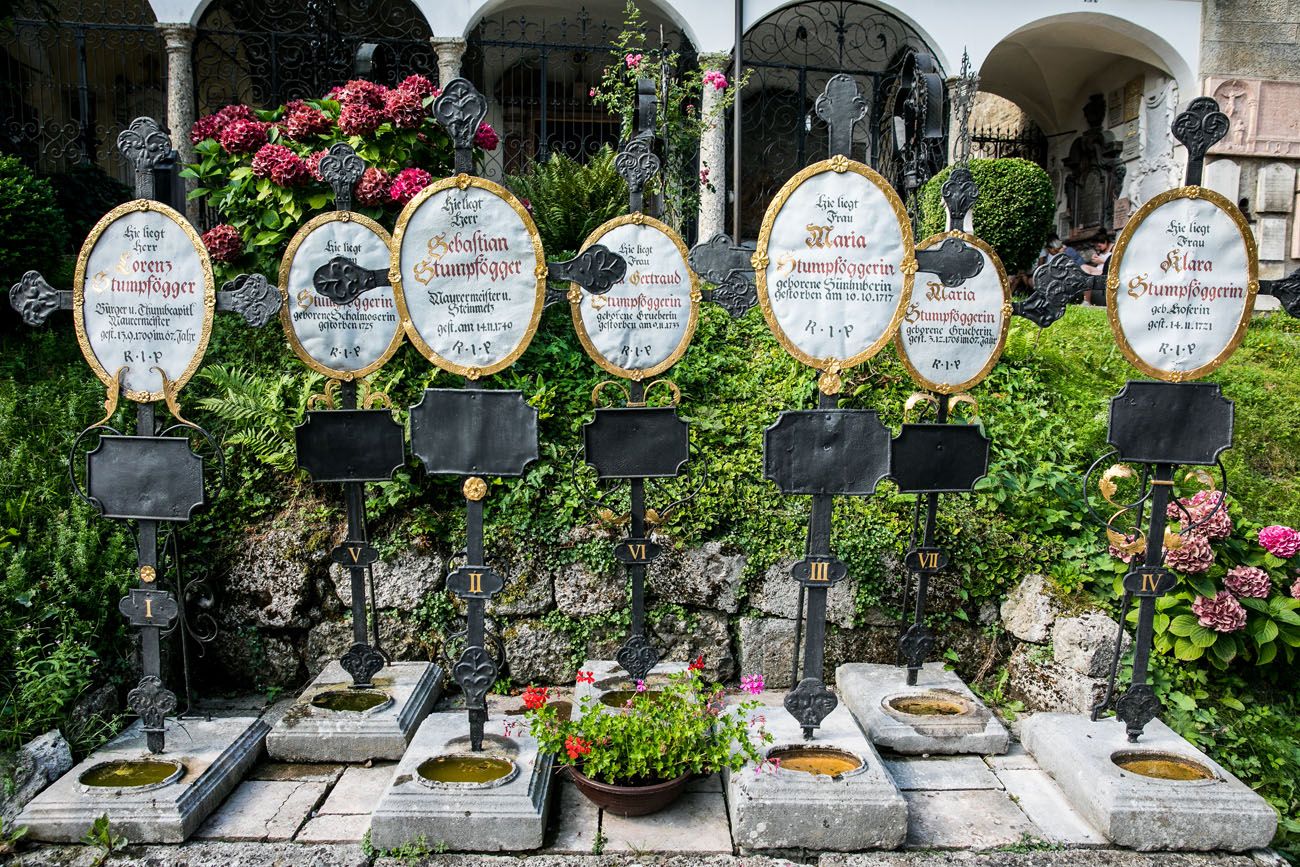 St. Peter's Abbey | One Day in Salzburg Itinerary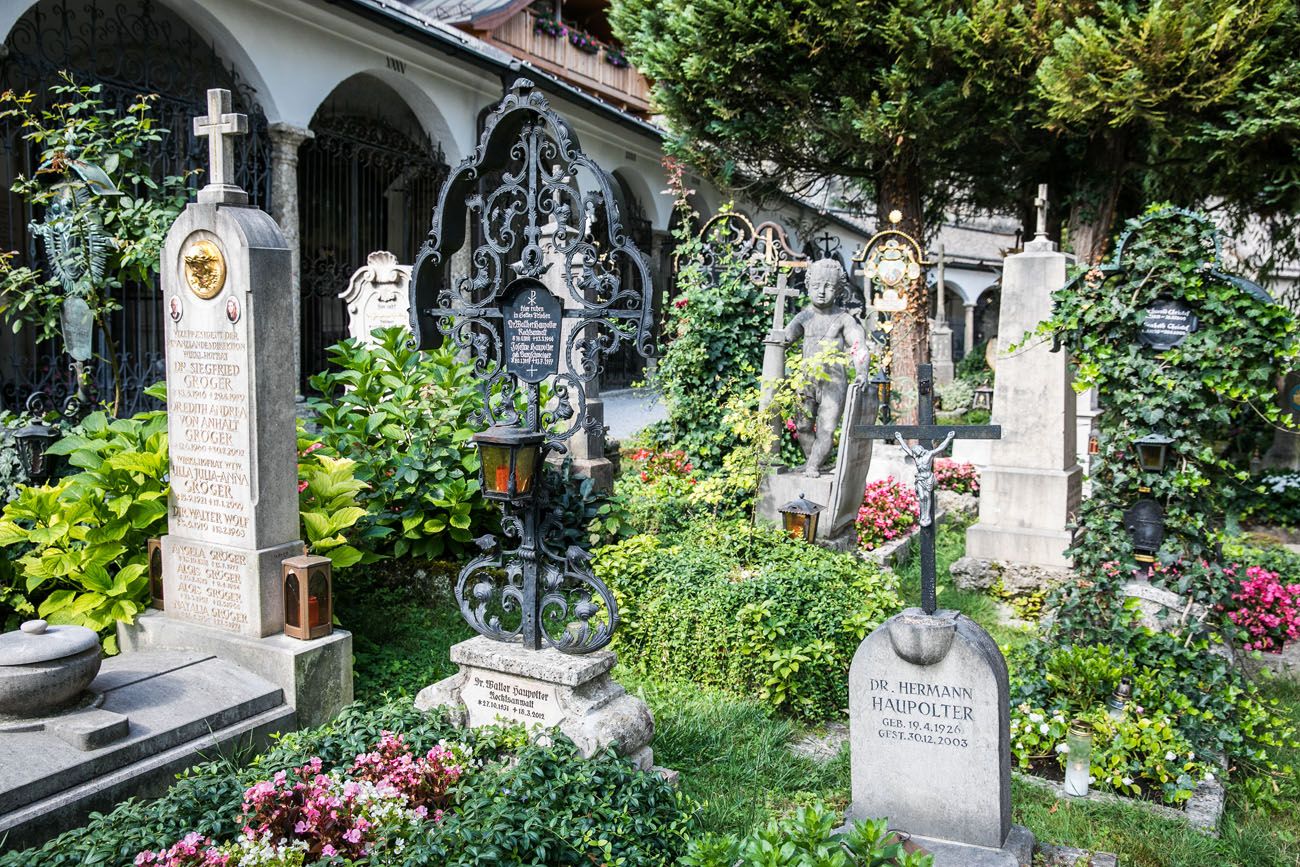 Cost: Adults €2, children 6 – 15 years €1.50
Hours: Hours vary over the course of the year. Click here for updated hours.
The Main Squares of Salzburg
There are several open squares in Salzburg.
Mozartplatz is one of the smaller ones and features a statue of Mozart in the center of the square.
Residenzplatz is the largest and most famous. It is bordered by the Salzburg Cathedral, Panorama Museum, and the Residenz Gallery, and features a large fountain in the center of the square. This is also a Sound of Music site.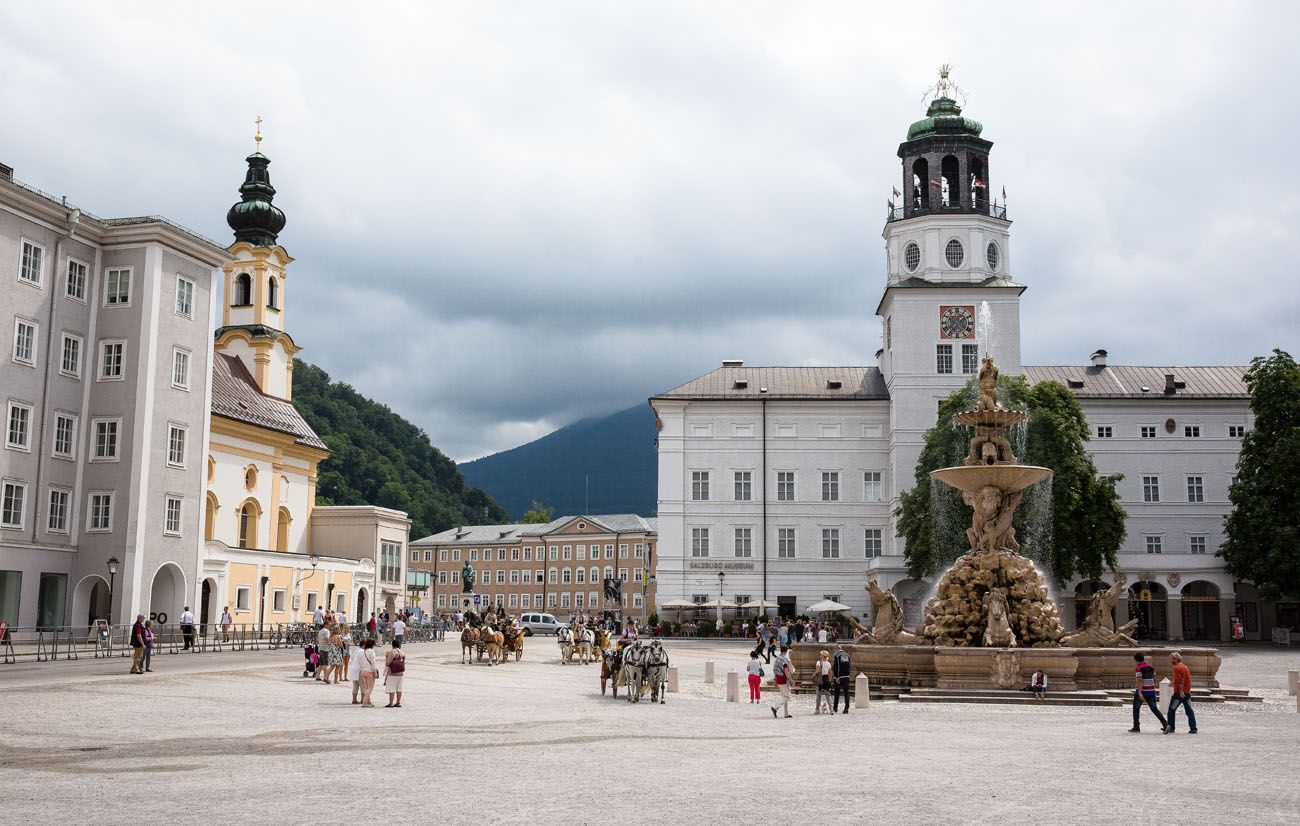 Residenzplatz | One Day in Salzburg Itinerary
Kapitelplatz features an oversized chessboard.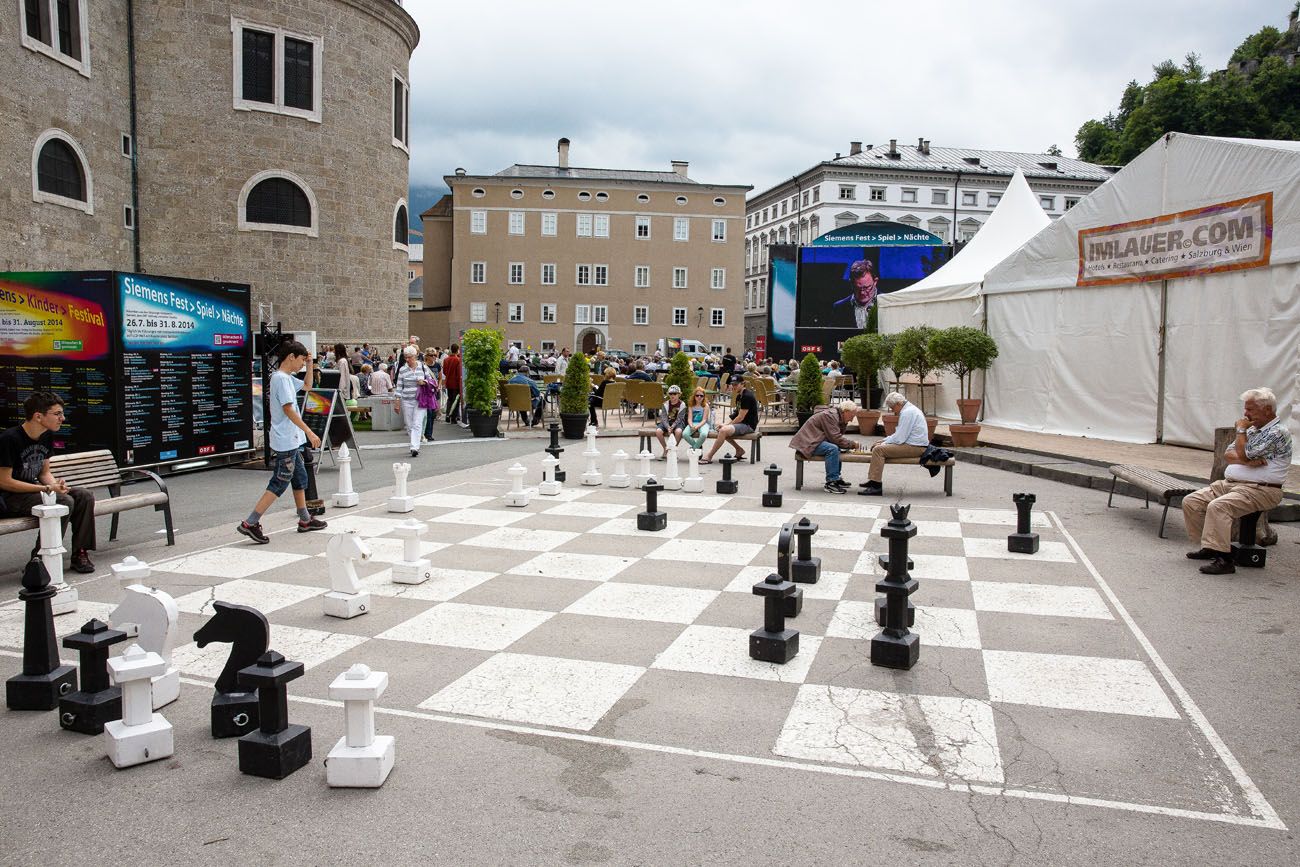 Kapitelplatz | One Day in Salzburg Itinerary
If you want to try some oversized pretzels, go to University Square and take your pick from a number of different flavors from the pretzel food truck.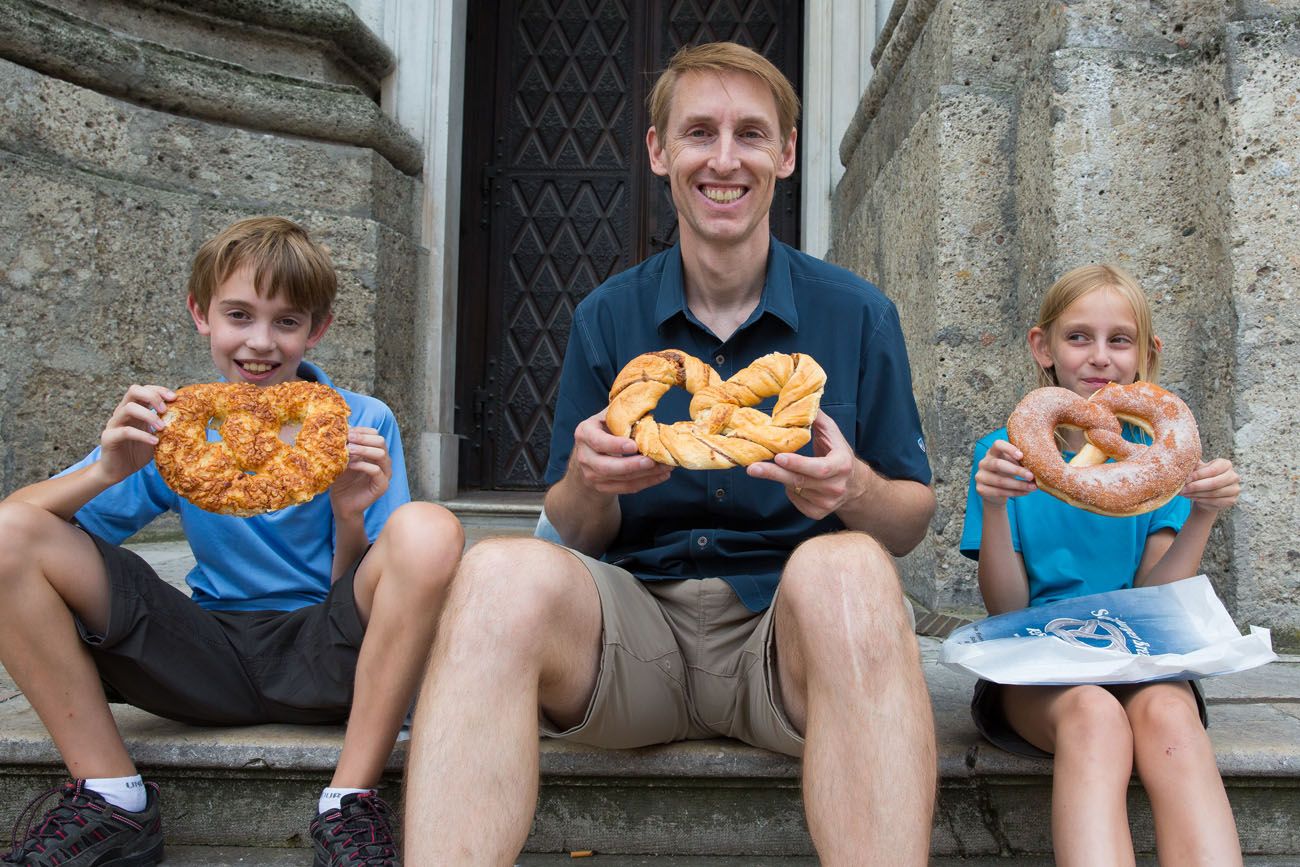 Franciscan Church
Worth a quick peek, this is one of the oldest churches in Salzburg.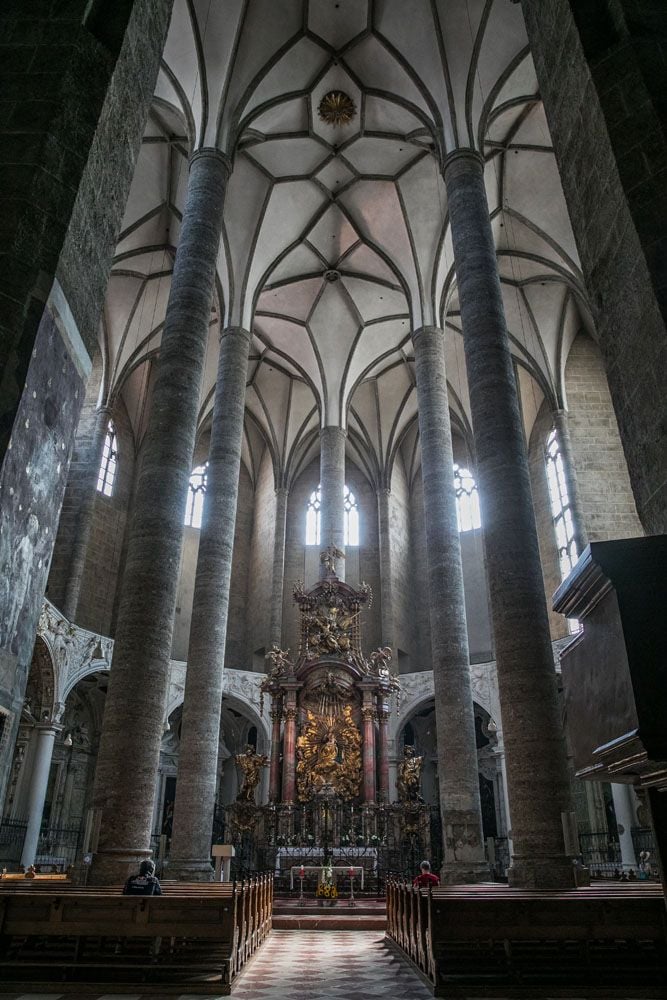 Franciscan Church | One Day in Salzburg Itinerary
Mirabell Palace and Gardens
After wandering the old town, cross the river and spend the rest of the afternoon in the beautiful gardens at Schloss Mirabell.
The Marble Hall is a banquet hall that has been labeled as one of the most beautiful concert halls in the world. Mozart concerts are frequently held here. Click here to check dates and to reserve your tickets.
For Sound of Music fans, Mirabell Gardens is not to be missed. The Pegasus fountain is featured in the movie. This is where the children danced around the fountain and sang "Do Re Mi."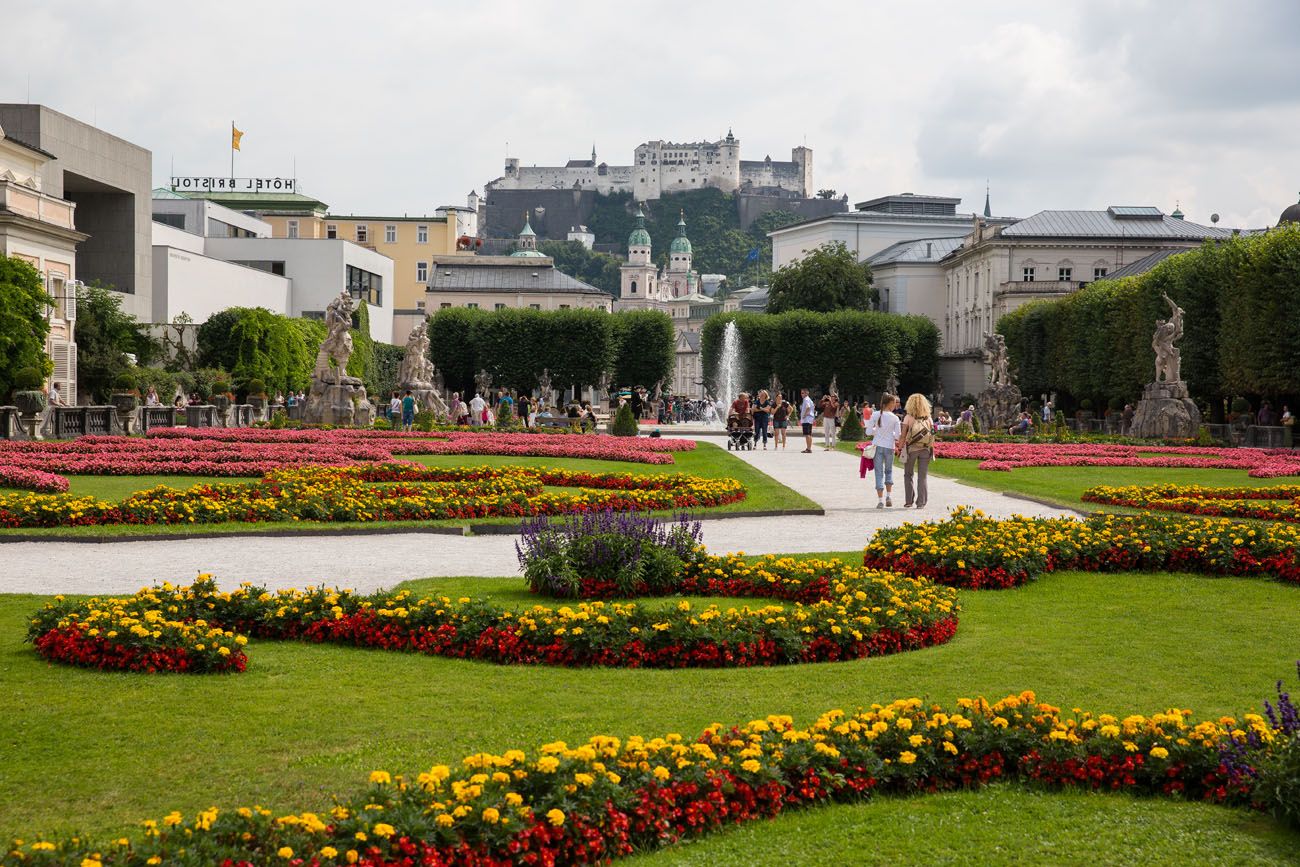 Mirabell Gardens | One Day in Salzburg Itinerary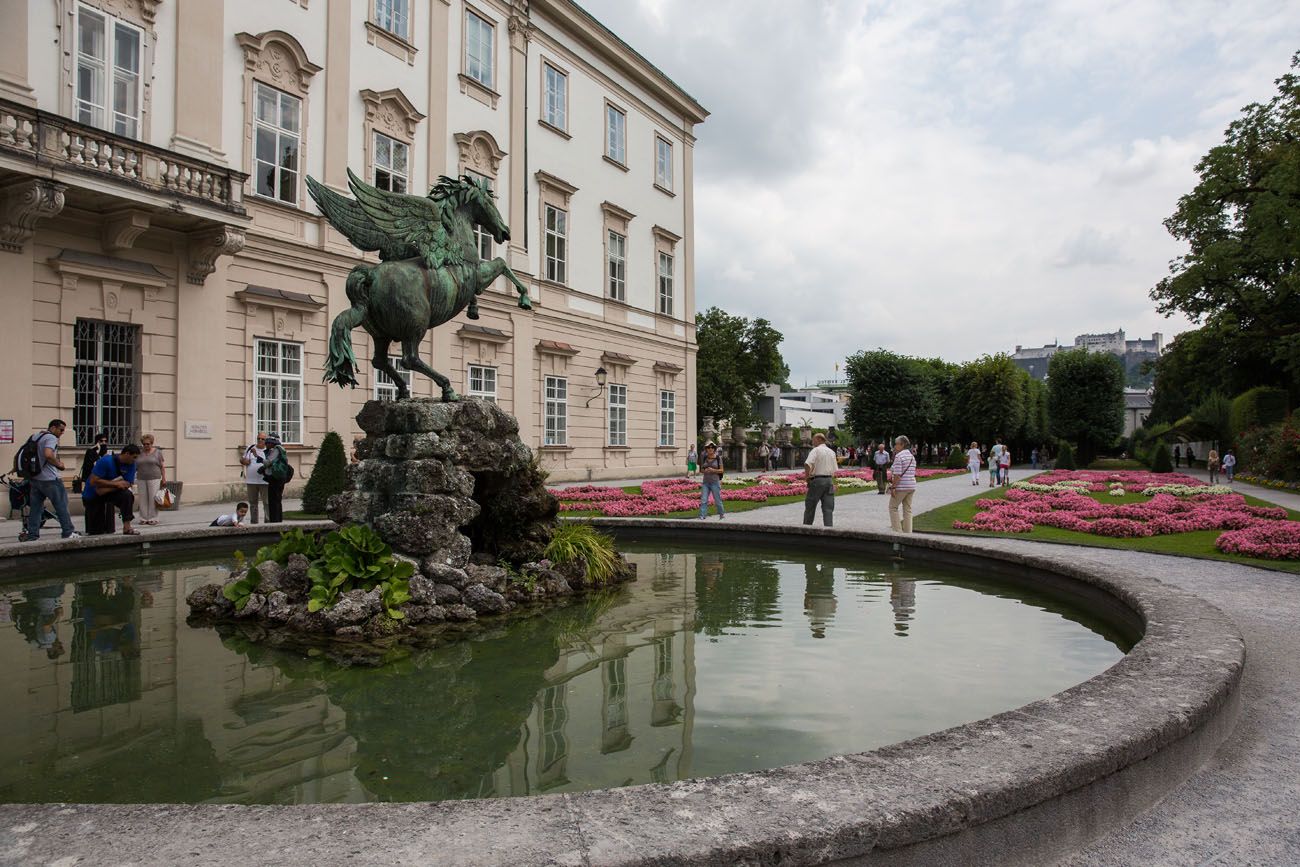 Cost: free
Hours: The gardens are open from 6 am to dusk. The palace is open from 8 am to 6 pm. The marble hall is open from 8 am to 4 pm Monday, Wednesday, and Thursday and from 1 pm to 4 pm on Tuesday and Friday.
End the Day with Dinner and Drinks
Here are some spots to try for dinner.
Augustiner Braustubl. We have not had the pleasure of dining here, but wish we had! Many people rave that this is their favorite experience in Salzburg. This beer garden and restaurant has a long history in Salzburg. Drink locally brewed beer and dine on local cuisine. If you are looking for fun hang out spot and a great way to end the day, this is your place.
Johanneskeller. If you are looking for good, local food in a cozy setting, this is a good spot to try.
Esszimer Restaurant. This Michelin-starred restaurant is perfect if you want to end the day with a gourmet meal.
With More Time
If you have more time (you will be spending the night in Salzburg or tend to move quickly), you can add on a museum or one or two spots near Salzburg that are worth visiting. You can squeeze one of them into this one day visit, if you tend to visit places quickly. Sound of Music fans may want to add on a tour the Sound of Music sites.
DomQuartier Salzburg
This museum is a UNESCO World Heritage Site that contains the State Rooms of the Residenz, an art gallery with European works of art from the 16th to 19th centuries, the Cathedral Museum (works of art from the Salzburg Archdiocese), and St. Peter's Museum (medieval church treasures from St. Peter's Abbey). This museum is located on Residenzplatz and is worthwhile for those with an interest in the history of Salzburg. It can be visited before Hohensalzburg Fortress or in the afternoon as you stroll through the old town.
Hellbrunn Palace
Located just 20 minutes south of Salzburg by car, Hellbrunn Palace was the summer day residence of the Archbishop of Salzburg. The palace is famous for its trick fountains, which are hidden water fountains that surprise guests and spray them with water as they tour the palace.
Hellbrunn Palace | One Day in Salzburg Itinerary
To get here, it's a 20-minute drive or you can take bus 25 from the main train station in Salzburg. For a unique experience, go on a boat ride from Salzburg to Hellbrunn Palace on the Salzach River. This tour includes the boat transportation to and from Salzburg and then tour the palace.
For updated hours and pricing, visit the official website.
Untersberg
Untersberg is a mountain peak located just a short distance south of Salzburg. It's best to do this only if the weather is clear, you have extra time, and you want to ride a cable car up into the mountains above Salzburg.
You can ride the cable car and then simply enjoy the awesome view. From here, you can look out over Salzburg and nearby Berchtesgaden, Germany. On a very clear day, you can even see all of the way to Dachstein, the mountain that sits next to Hallstatt. If you are a hiker, you can spend hours exploring the hiking trails on top of Untersberg.
For updated pricing and hours, visit the official website.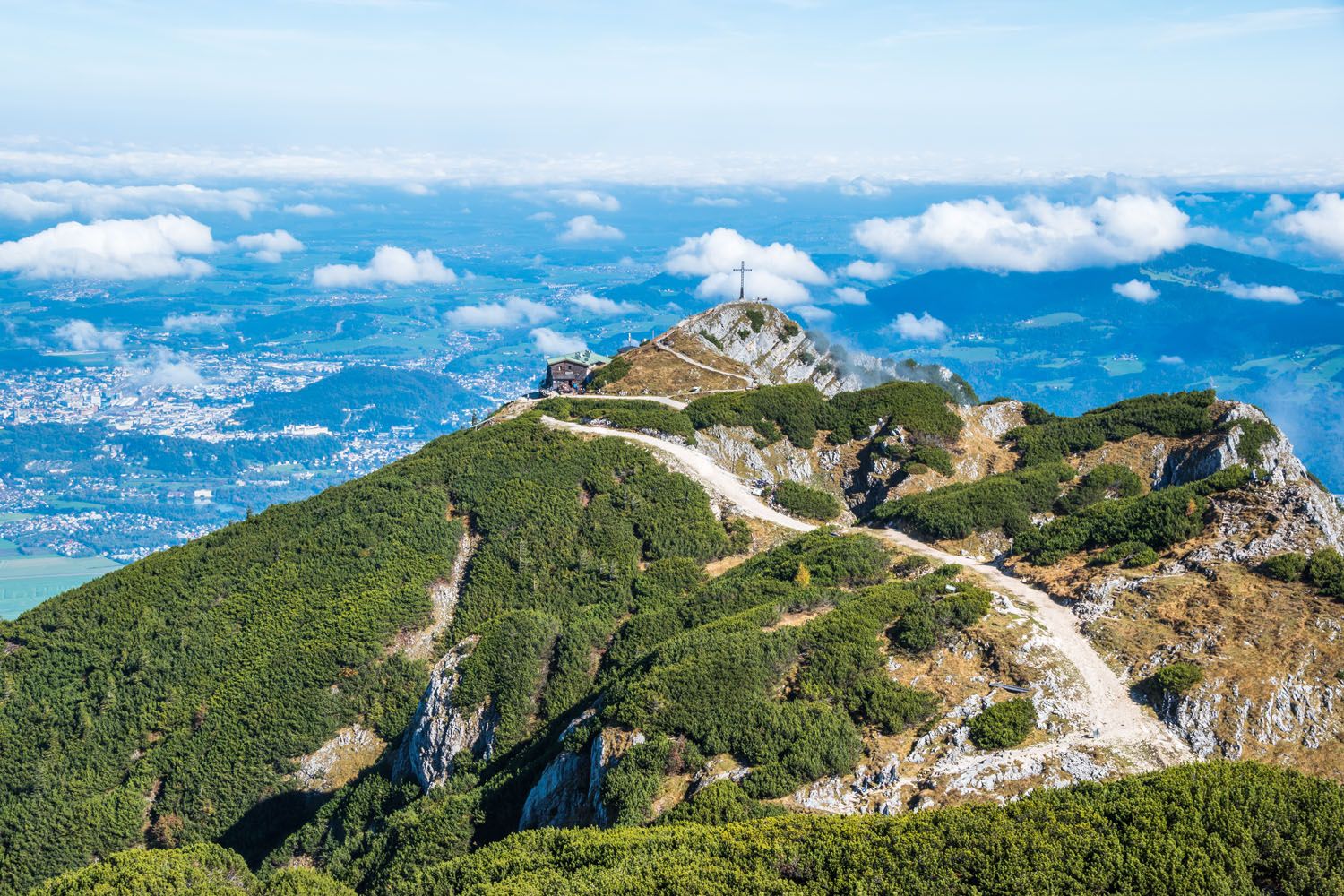 Untersberg | Bernard Barroso/shutterstock.com
Take a Sound of Music Tour
Sound of Music tours are big money makers in Salzburg. There are lots of companies that can take you around the area to visit the main sites. We have not done this so we don't have enough experience to recommend one tour company over another. If a Sound of Music tour sounds like something you would like to do, take a look at this highly rated Sound of Music Tour.
How to Get to Salzburg
By Car
The easiest way to get here is by car. Salzburg makes a great day trip destination if you are road tripping through Austria and Bavaria.
Here are driving distances and times from nearby towns.
Vienna: 300 km, 3 hours

Hallstatt:

72 km, 1 hour and 15 minutes

Berchtesgaden:

35 km, 35 minutes

Munich:

145 km, 2 hours

Cesky Krumlov:

220 km, 2 hours and 20 minutes
Parking in Salzburg
There are a bunch of parking garages located just outside of the old town. We have visited Salzburg twice and both times had a good experience parking at the Linzer Gasse Parking Garage. From here it is just short walk down a pedestrian street into the old town.
By Train
You can get to Salzburg by train. Here are estimates of travel times between cities.
Vienna:

2.5 hours

Innsbruck:

1.75 hours

Munich:

1.5 hours

Budapest:

5.5 hours
By Bus
You can travel to Salzburg by bus. Flixbus offers lots options. The most popular routes are from Vienna and Munich.
Should You Buy the Salzburg Card?
The Salzburg Card gets you free admission into all museums and city tourist attractions. It includes public transportation, even the rides on the Festungsbahn funicular (the funicular to Hohensalzburg) and the Untersberg Cable Car. At some attractions, you will be able to bypass the ticket line. The card is available for 24, 48, and 72 hours.
24 hours:

€30

48 hours:

€39

72 hours:

€45
If you visit the main sites in Salzburg over 24 hours, you break even with the Salzburg Card. However, if you have plans to visit Hellbrunn Palace and/or ride the Untersberg Cable Car, then the Salzburg Card is worth it.
Visit the Salzburg Info website for full details and to buy your card online.
When to Go to Salzburg
Salzburg can be visited year round. Peak season is July and August. The Salzburg Festival is held during this time. Another busy but magical time to visit Salzburg is in December when you can go shopping at the Christmas markets. If you want nice weather but fewer crowds, consider May, September and October. During the late winter and spring months, crowds will be low, but so will daytime temperatures.
Where to Stay
LUXURY: Hotel Schloss Monchstein. This five-star hotel is located on top of Monchstein, providing awesome views over Salzburg. Rooms are spacious and elegantly decorated. From the hotel, it is a 7-minute walk to get to the old town.
MID-RANGE: Star Inn Hotel Premium Salzburg Gablerbrau. This property has an unbeatable location right in the heart of the old town. The rooms are large and have a modern décor. If you are traveling as a family, there are suites that can accommodate up to four people.
BUDGET: Institut St. Sebastian. This hostel is located in the old town. It offers private rooms that can accommodate solo travelers, private rooms that can accommodate up to four people, and shared dormitory rooms if you are looking for the most budget-friendly option.
Need an Idea for a Day Trip?
Just around the corner is beautiful Berchtesgaden, Germany. Tour the Eagle's Nest (Hitler's command post during World War II), visit the salt mines, and explore Lake Konigsee. Or, stay in Berchtesgaden and day trip to Salzburg (that's what we did on our first visit to Salzburg). Click here for a day trip to Berchtesgaden and the Eagle's Nest from Salzburg.
Just a short drive from Salzburg is Hallstatt. This tiny town has become quite the popular tourist destination. Ideally, this is another place where you should plan to spend the night. During the summer months, this town is mobbed with tourists midday. For the best experience, get here early or tour the town in the evening once the day trippers have left. However, if you have limited time, here is a day trip to Hallstatt from Salzburg.
Tours of Salzburg
Here are a few highly rated tours of Salzburg, several of which are day trips from Munich and others are things you can add on to your visit to Salzburg.
Recommended Reading and Travel Guides
---
If you have any questions about how to spend one day in Salzburg, comment below if you have any questions.
Where are You Going Next?
Here are more places to visit near Salzburg, Austria:
AUSTRIA: Learn how to spend one day in Hallstatt and get a list of the top 10 things to do in Vienna. We also have a guide to the best things to do in Innsbruck.
CENTRAL EUROPE ITINERARY: Learn how to put together Budapest, Vienna, and Prague together in our 10 day Central Europe Itinerary.
BAVARIA, GERMANY: Take an amazing 10 day road trip in Bavaria, visiting Munich, Neuschwanstein, Berchtesgaden, Salzburg, Innsbruck, and drive the Romantic Road in Germany.
EUROPE ITINERARIES: Check out our article 10 Days in Europe: 10 Amazing Itineraries for 10 different ways to visit the best places in Europe. And if you have less time, check out our guide to 25 Ways to Spend One Week in Europe.
Note: This post contains affiliate links. When you make a purchase using one of these affiliate links, we get paid a small commission at no extra cost to you.
All rights reserved © Earth Trekkers. Republishing this article and/or any of its contents (text, photography, etc.), in whole or in part, is strictly prohibited.