Hallstatt is a picture-perfect town in Austria. This was once a quiet place, off of the radar of many European visitors. However, in recent years, Hallstatt has become one of the most popular places to visit in Austria. Spending one day in Hallstatt can be a wonderful experience, there are just some things you should know before you go.
This post could have been called a lot of things…"Surviving Hallstatt in the Summer," "Is Hallstatt Worth It?" or "7 Tips to Escape the Crowds and Actually Enjoy Your Visit to Hallstatt." During the summer months, Hallstatt feels more like a crowded amusement park than a quaint, European town.
Our visit to Hallstatt was an eye-opening experience. We will let you know what it was really like and how to plan your day so you really can enjoy your visit to Hallstatt.
Our Experience in Hallstatt
We visited Hallstatt on a Monday in August. We drove up from Slovenia, getting to town late in the morning, which we knew was a bad idea, but it was our only option.
Parking in town was completely full. The closest we could get was over a mile away, not a good start to our "fairytale experience."
Once in Hallstatt, we knew to expect crowds, but it was mobbed with people. Plus, Europe was in the midst of a freak heat wave, so temperatures were in the mid-90's. It felt more like a summertime visit to Disney World than to a quaint, European fairytale town.
We spent several hours touring the main sites and honestly counted down the minutes until we could leave. That is not the experience I want you to have.
Best Things to Do in Hallstatt
Hallstatt is a very small place. You can walk from one end to the other in just fifteen minutes. And with just a handful of sites, you only need a few hours here.
Wander the Old Town
Exploring the old town is the best thing to do in Hallstatt. With streets that look like they are lined with colorful gingerbread houses and a gorgeous setting on Hallstatter See, it's hard to believe that this place is real.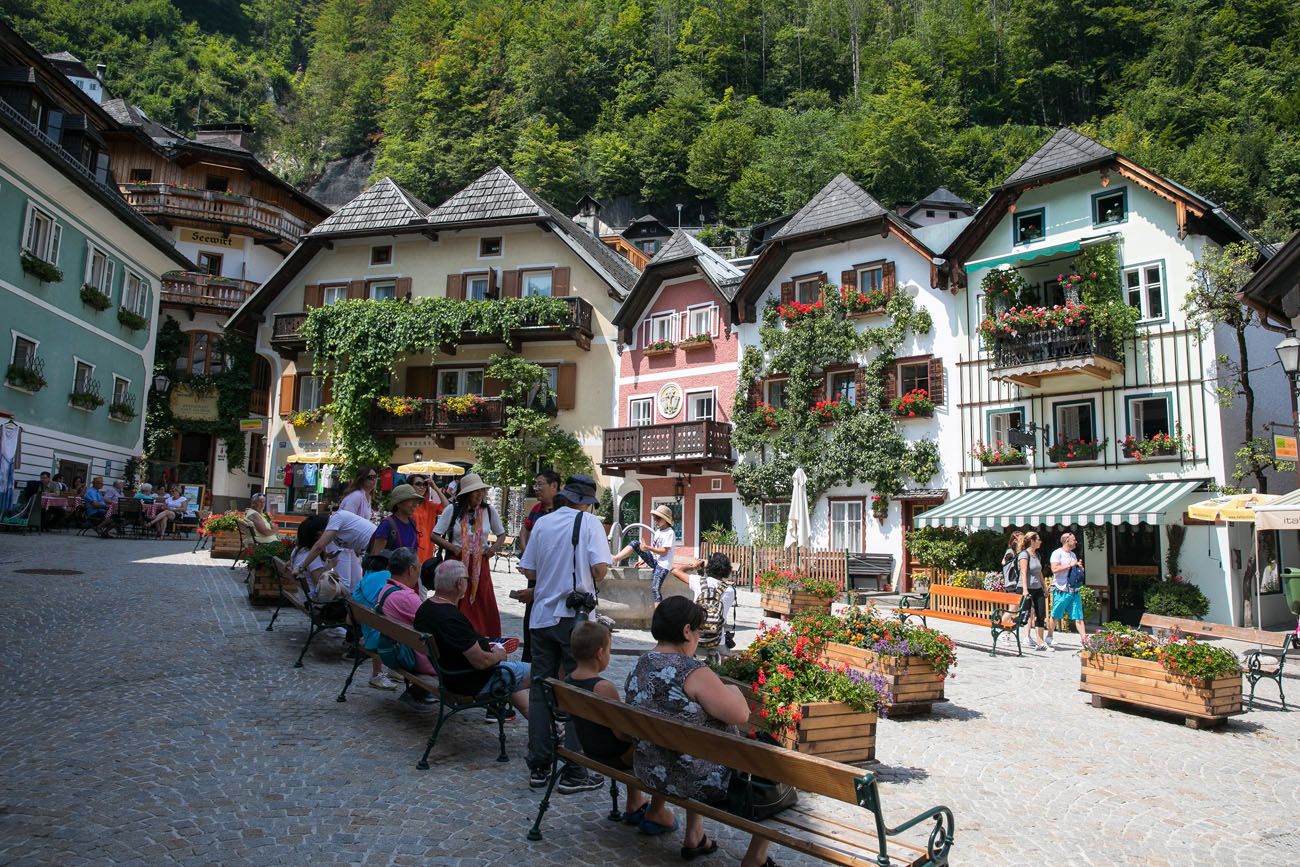 Old town of Hallstatt | Best things to do in Hallstatt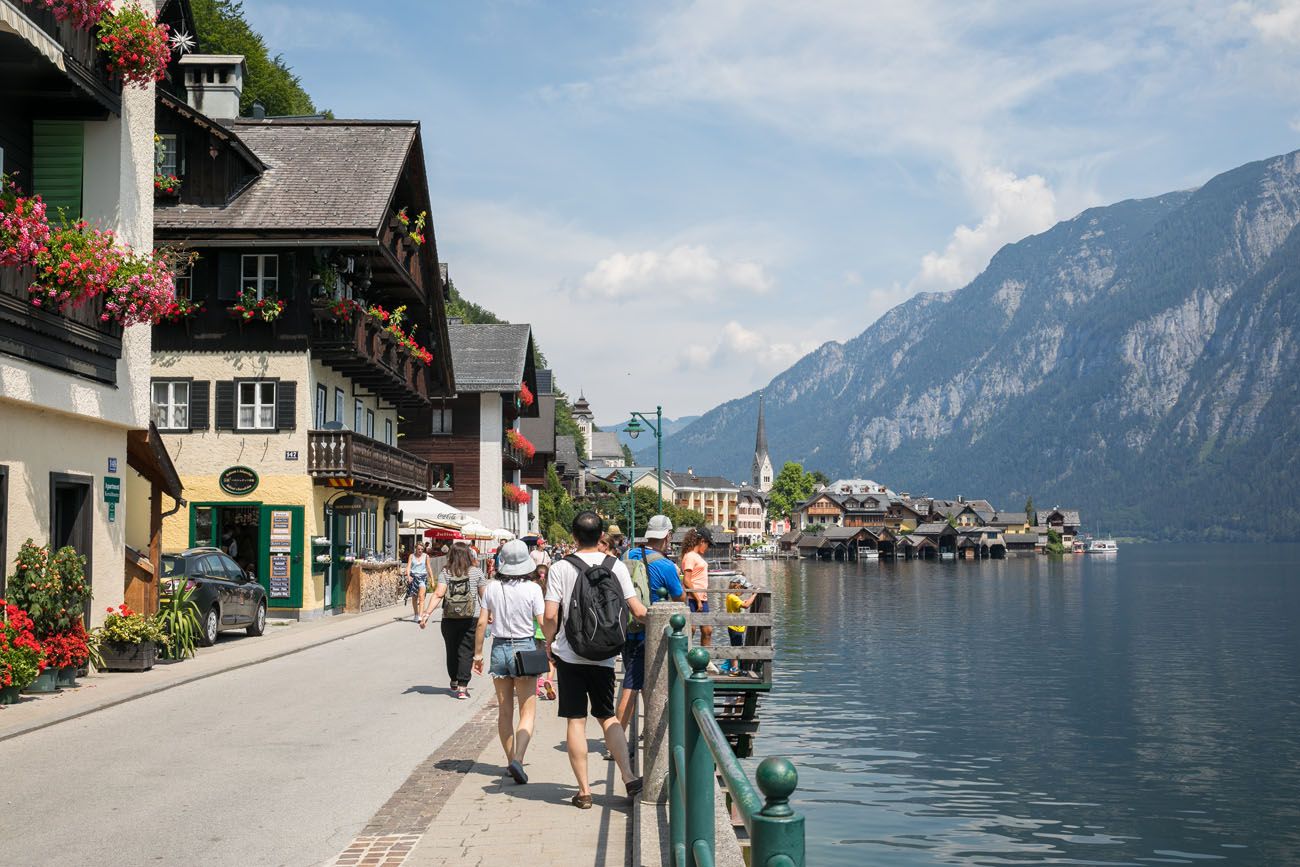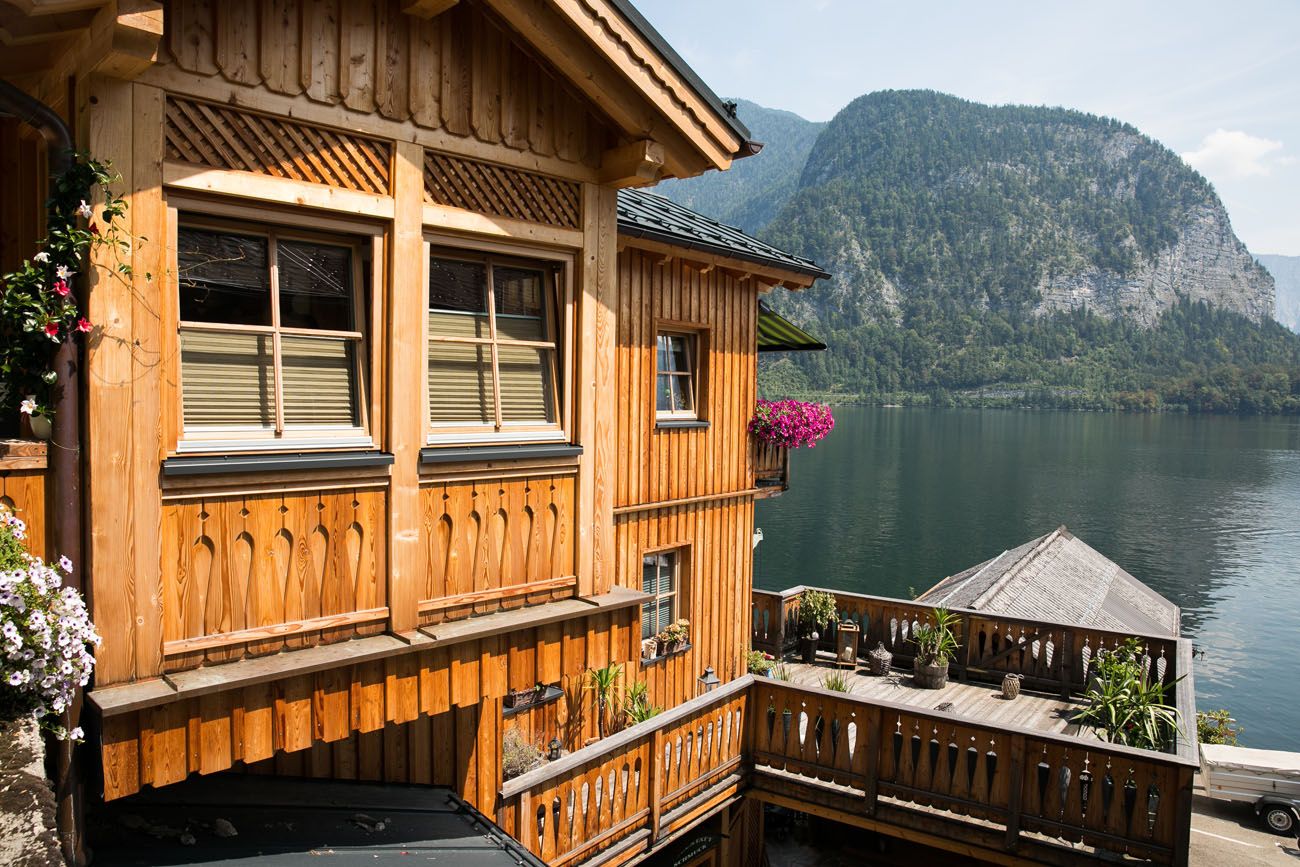 Get the Postcard Views of Hallstatt
There are two great photo spots in town. For the iconic photo you see on postcards (and at the top of this post), walk to the north side of town (the viewpoint is labeled as Aussichtspunkt Hallstatt on Google Maps).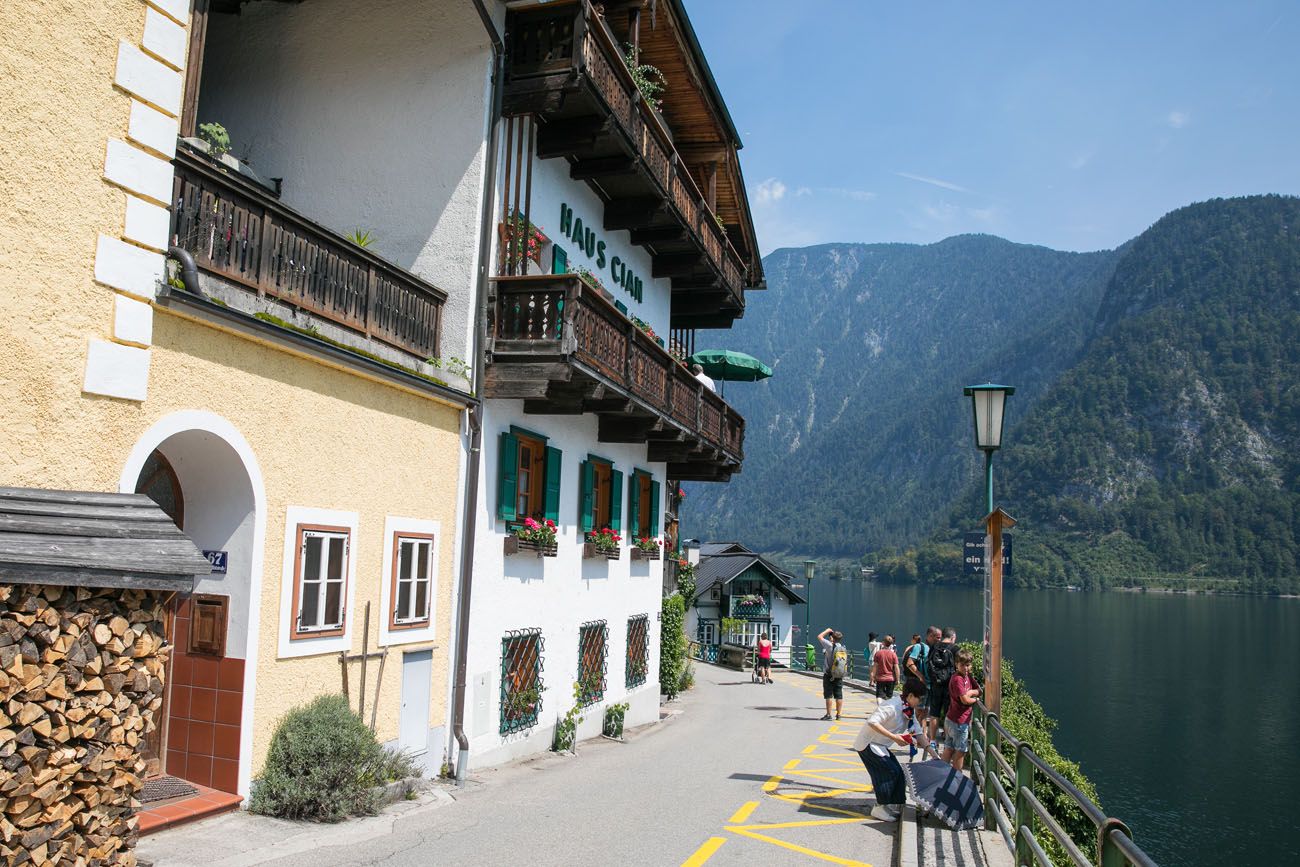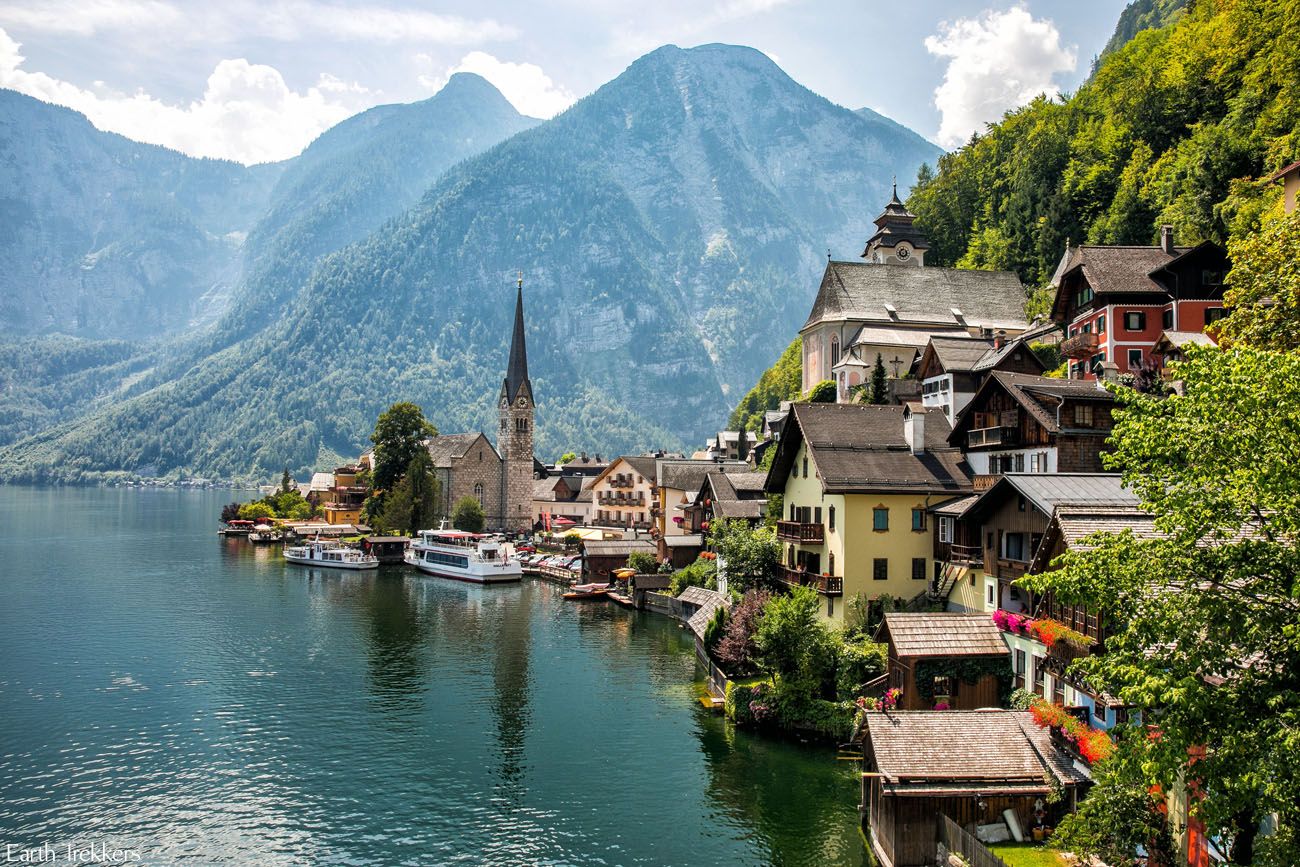 Postcard view of Hallstatt | Best things to do in Hallstatt
There is a second viewpoint on the south side of town (labeled Badestrand on Google Maps).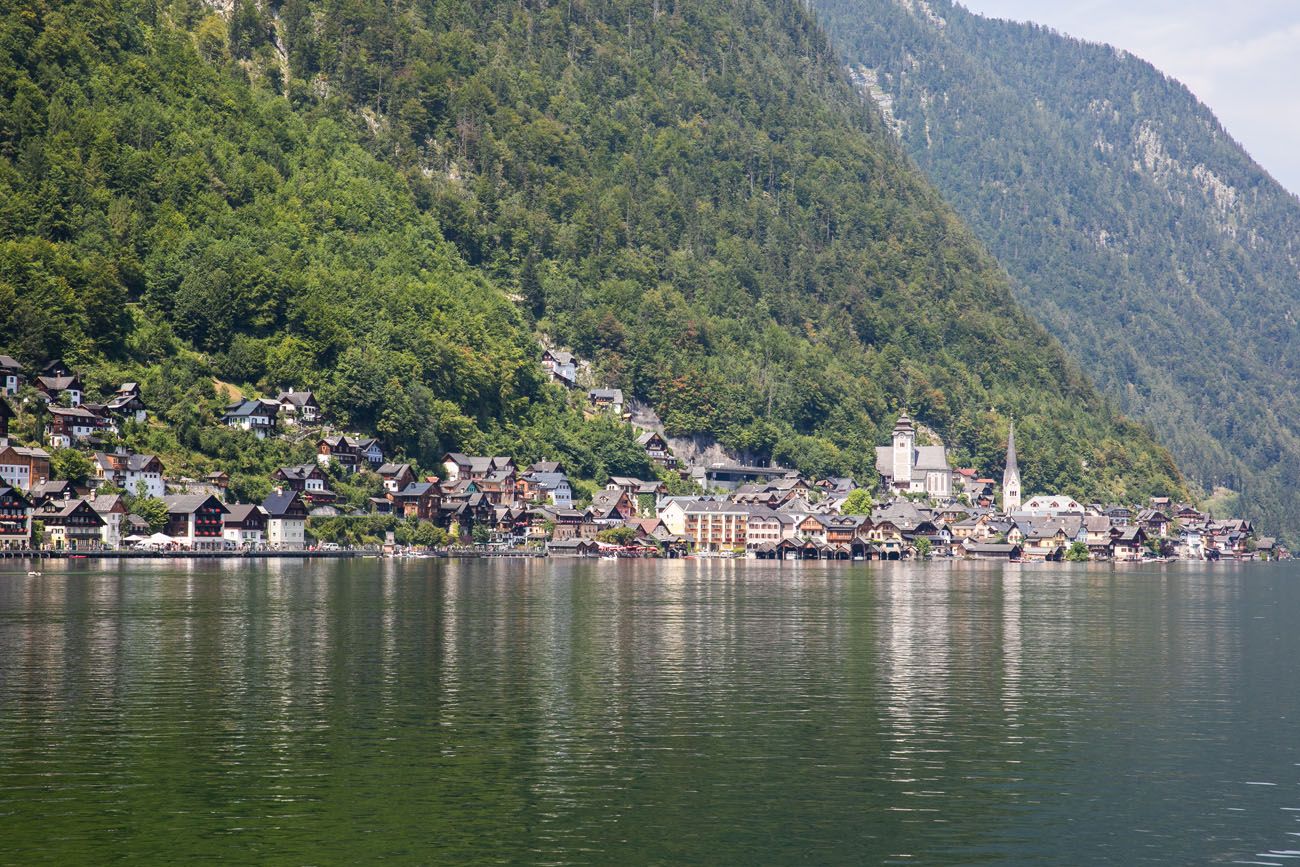 The World Heritage Skywalk, Another Great View of Hallstatt
This platform sits 350 meters over the tops of the Hallstatt houses, offering panoramic views of the entire Dachstein Salzkammergut region.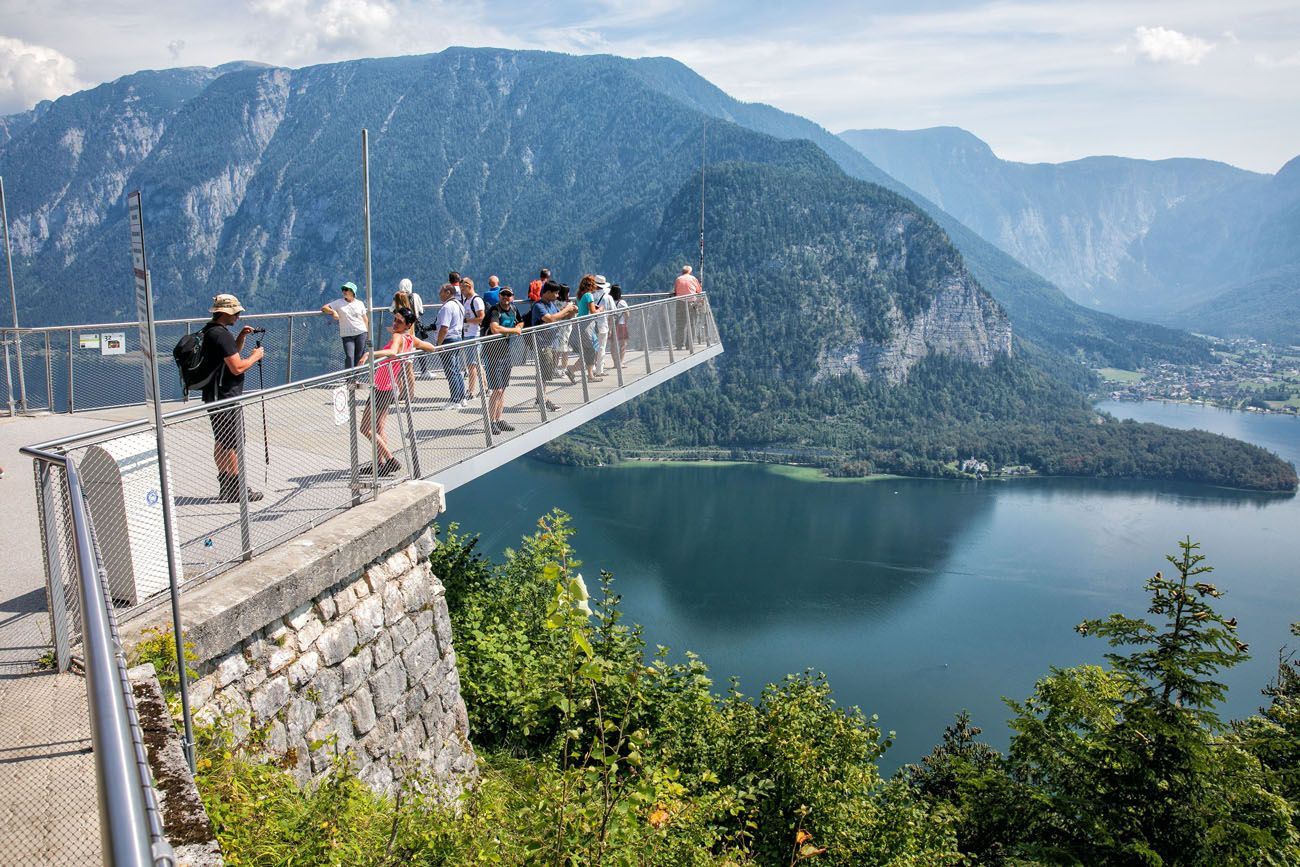 World Heritage Skywalk | Best things to do in Hallstatt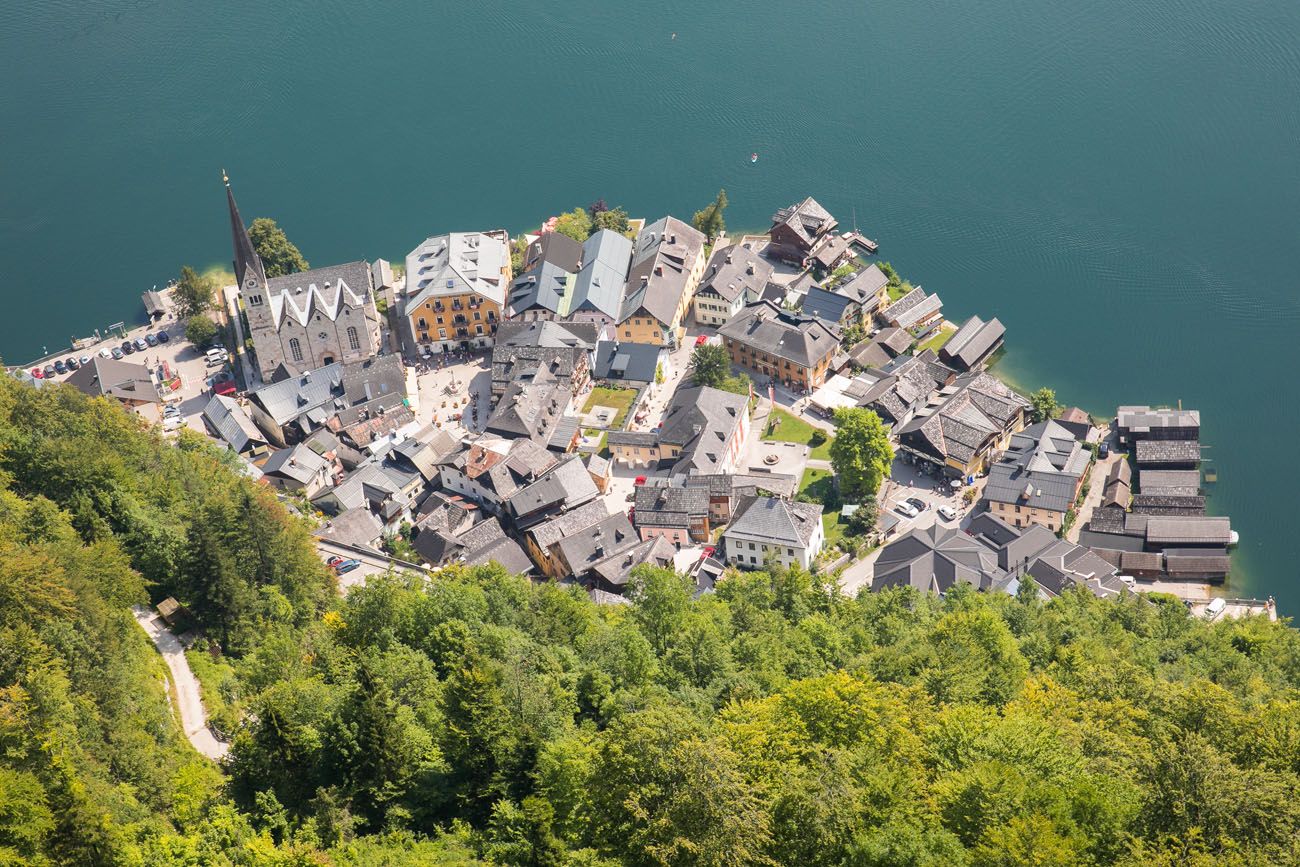 The view from the World Heritage Skywalk | Best things to do in Hallstatt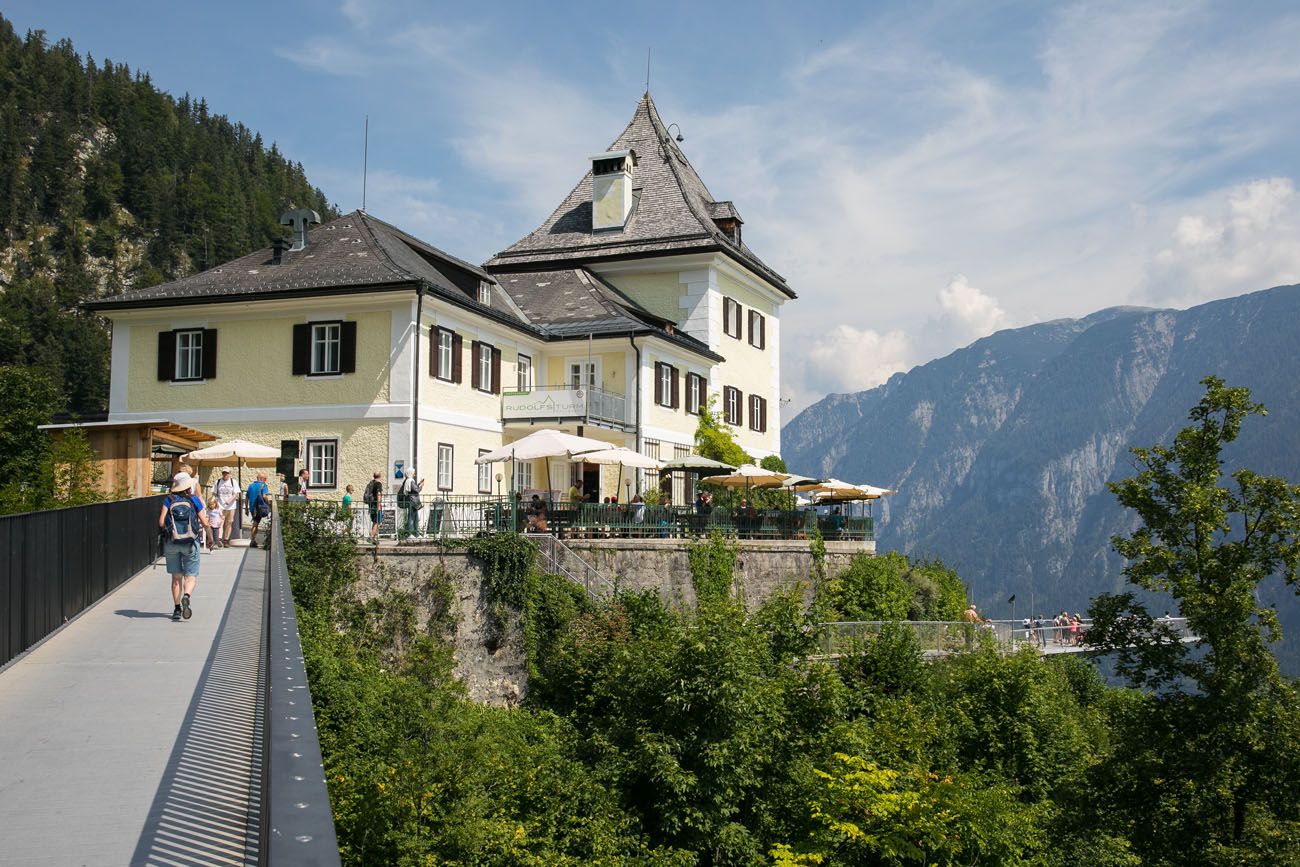 To get here, take the funicular or hike (roughly 1 hour of walking). A ride on the funicular costs €20.
Tour the Salt Mine
For thousands of years, salt has been mined from the mountains around Hallstatt and Salzburg. While in Hallstatt you can tour one of these salt mines.
The salt mine can only be visited on a tour. Tours last 70 minutes and start near the Skywalk. For the entire experience, including the tour and the round trip ride on the funicular, budget 2.5 hours of time. Learn more on the official website.
Hallstatt Ossuary
The Hallstatt Ossuary, also called Charnel House or the Bone House, is the most unusual spot to visit in Hallstatt. In this small cave-like room, over 2,100 skulls and other various human bones are perfectly stacked along the walls.
Hallstatt is a small place with a small burial ground. As cemeteries filled, bodies were exhumed in order to make room for the more recently deceased. The bones were painstakingly stacked in the charnel house and the skulls were painted with roses, wreaths, and crosses.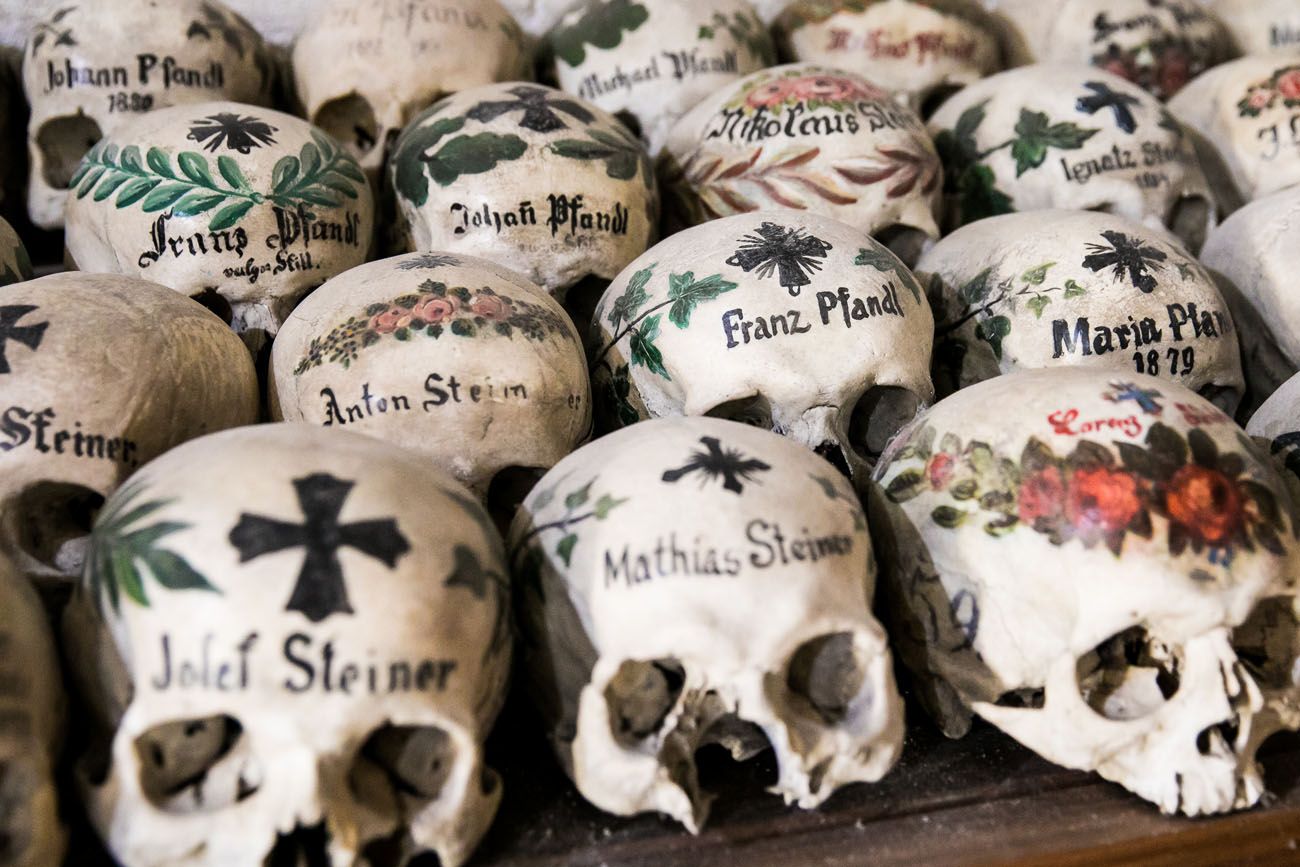 Hallstatt Ossuary | Best things to do in Hallstatt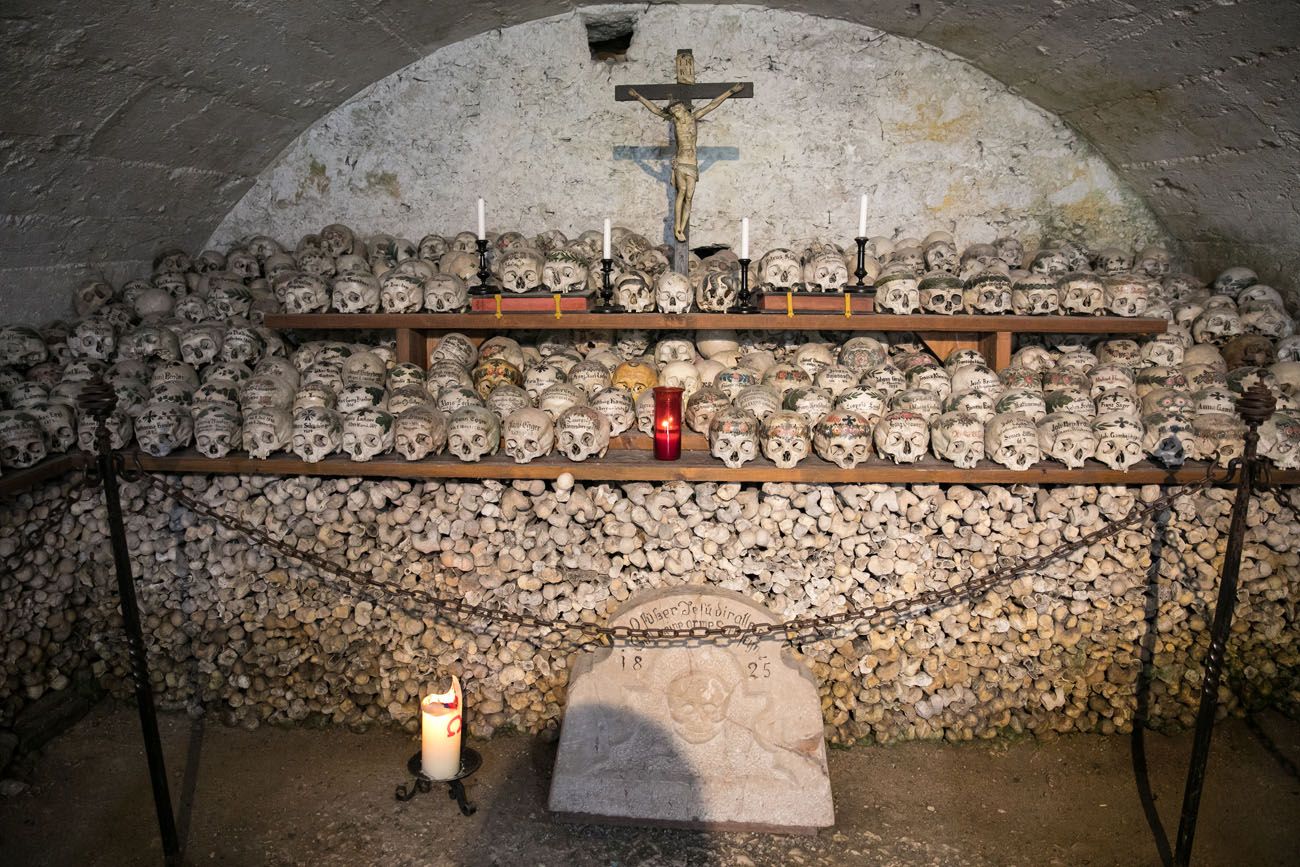 Hallstatt Ossuary | Best things to do in Hallstatt
Get Out on the Water
Rent a boat and get out on the water. You can rent a swan paddleboat, a small motorboat, or even go stand up paddle boarding. Learn more here.
Visit Dachstein Krippenstein
Journey up into the Alps and add a little adventure to your visit to Hallstatt. Located just a few minutes away from Hallstatt, this is a great spot to see alpine scenery, go hiking, enjoy spectacular views across the Alps, and even escape those Hallstatt crowds. You can simply ride the gondola and enjoy the view, or spend hours here doing short hikes or exploring the giant ice cave.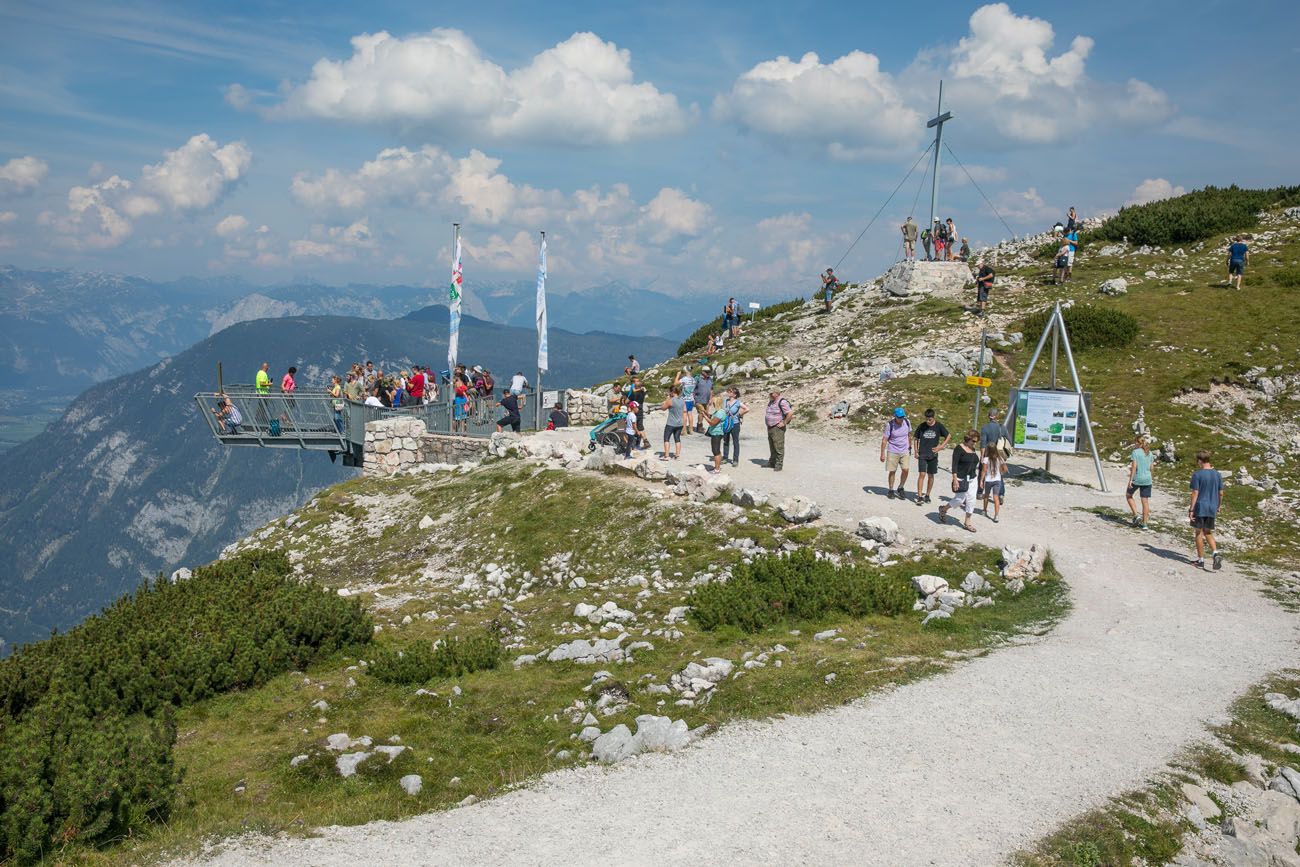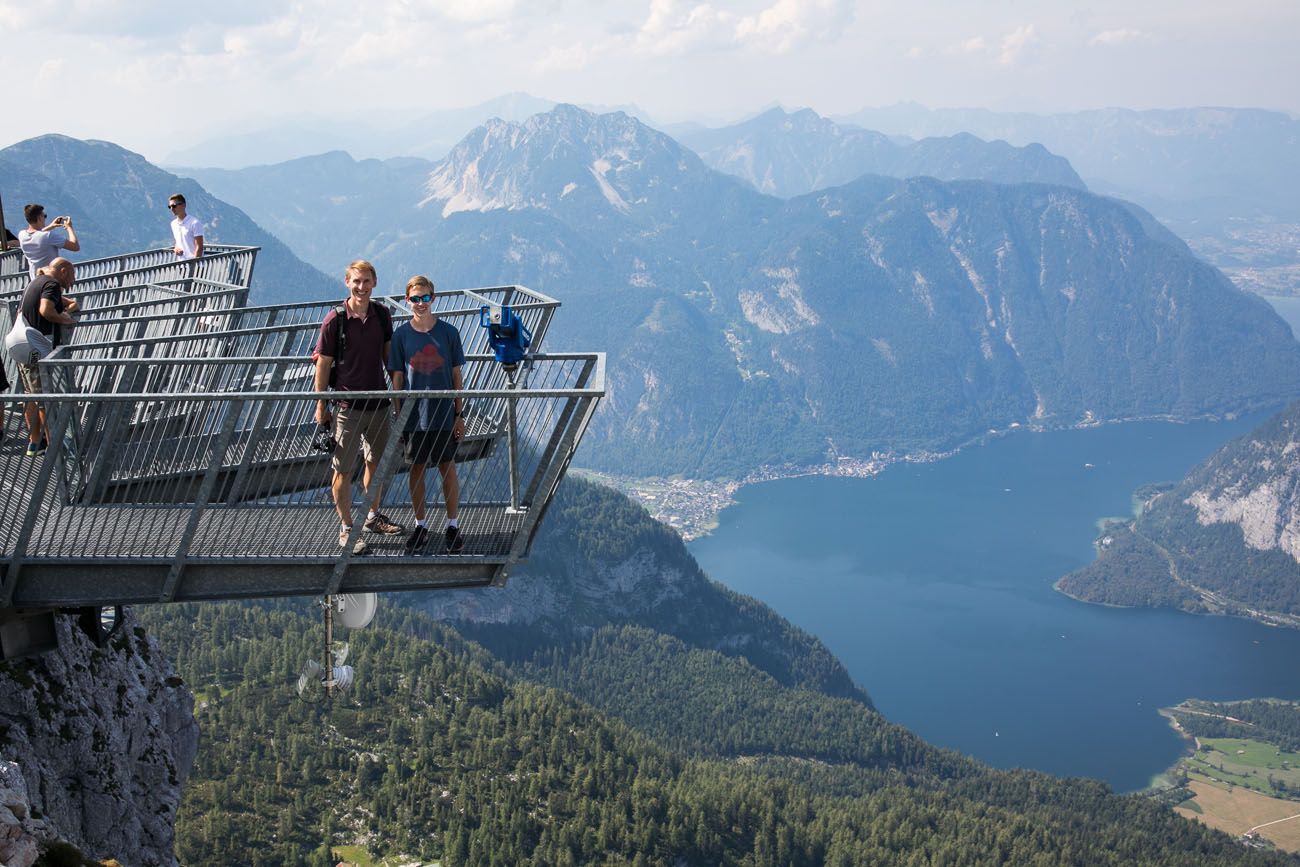 Dachstein Krippenstein | Best things to do in Hallstatt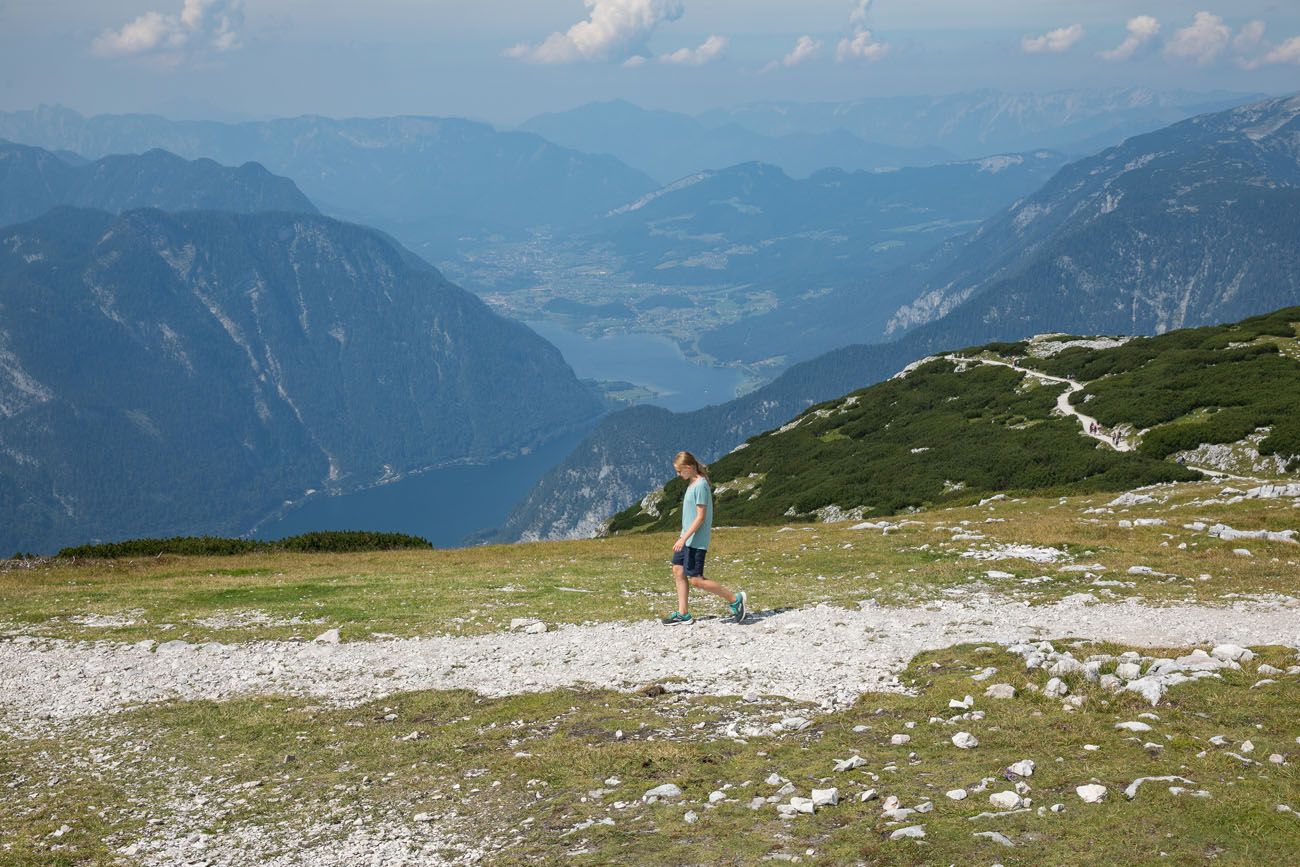 Best Things to do on Dachstein Krippenstein
Enjoy the view from the 5Fingers viewing platform
Take a tour of the Giant Ice Cave
Climb the via ferrata
Hike the family friendly Heilbronner Circular Trail
Go paragliding
In the winter, go skiing or snowshoe hiking
You could spend an entire day here, and it's something worth considering, especially if you like the idea of exploring the ice caves and climbing the via ferrata. We spent just a few hours here, mostly walking the alpine trails and enjoying the view, but the via ferrata and the ice cave sound like fun!
Learn more on the official website.
PRO TRAVEL TIP: If it is a cloudy day, consider skipping Dachstein. The best part of a visit here is the view, but if it's cloudy, you won't see much.
One Day in Hallstatt Itinerary
Hallstatt Day Trip Itinerary
Here is our recommendation if you will be visiting Hallstatt on a day trip.
Summer is peak season in Hallstatt. Crowds will be at their highest from 11 am to 4 pm. If you can, avoid these hours and explore Hallstatt in the morning and evening hours.
For the best experience, arrive in Hallstatt by 9 am. By getting here early, you'll avoid issues parking (if you are traveling by car) and you can explore Hallstatt for an hour or two before it really gets busy.
In the morning, explore the old town, tour the salt mine, and enjoy the view from the Skywalk. Have lunch in Hallstatt.
If you like the idea of visiting Dachstein, do this in the middle of the day, when Hallstatt is the most crowded.
PRO TRAVEL TIP: Consider using public transportation to get to the Dachstein cable car station in Obertraun so you do not have to give up your parking space. You can hire a taxi or take bus 542 or 543 from Hallstatt.
Return to Hallstatt in the late afternoon. Rent a boat and drift on the lake for an hour or two and then end with dinner in town. Return to your starting city.
Alternative Hallstatt Day Trip Itinerary
Visit Dachstein in the morning and Hallstatt in the afternoon. This works well during the off-season months when Hallstatt is less crowded. Doing it in this order saves you from having to travel back and forth between Hallstatt and Dachstein. Just note that if you do this in the summertime, finding a parking spot in the afternoon in Hallstatt may be a challenge.
Ideal Itinerary: Plan an Overnight Stay in Hallstatt
For the best experience, plan on spending one night in or near Hallstatt. This puts you in town in the evening and the early morning hours, the best times to explore Hallstatt crowd free.
Arrive in Hallstatt in the morning of day one. Spend the day touring Hallstatt and Dachstein. On the morning of day two, before leaving for your next destination, you can visit whatever you missed the day before.
How to Get to Hallstatt
From Salzburg
If you want to visit Hallstatt as a day trip, Salzburg is your best option. Salzburg is the closest city to Hallstatt and there are several options if you are traveling by public transportation.
By Car
This is the easiest and most convenient option, assuming you get to Hallstatt early enough to find parking. It takes about an hour and a half to drive from Salzburg to Hallstatt.
Once in town, there are three public parking areas all within easy walking distance of the old town. All parking lots have an electronic display showing how many spaces are available. Parking P1 and P2 are located next to the old town. P3 is located 1 km south of the old town, roughly a 15 minute walk.
The closest we found parking was at Parkplatz Landbettler, 2.2 km south of the old town (a 30-minute walk).
By Bus
It takes about 2 hours and fifteen minutes to travel by bus to Hallstatt. Use bus 150, 542, or 543.
By Train
It takes roughly 2 to 2.5 hours, plus time for the ferry across the lake (the train station is located on the other side of the lake). Start at Salzburg Bahnhof, change trains in Attnang-Puchheim, and then disembark at Steeg-Gosau in Bad Goisern. From Bad Goisern, take bus 170 to Hallstatt.
Click here to use the OBB route finder and book your tickets.
Even though Salzburg is relatively close to Hallstatt, you will have to leave very early in the morning if you want to arrive in Hallstatt by 9 am.
On a Tour
Visit the highlights of Hallstatt on this guided tour from Salzburg.
From Vienna
You can also do this from Vienna but it's a very long day. By car, it takes 3.5 hours and by train it takes 4 hours (one way). I would only recommend doing this if you plan to stay overnight in Hallstatt.
If you are staying in Vienna and want to visit Hallstatt for the day, take a look at this tour. Travel to and from Vienna by bus and visit the highlights of Hallstatt.
Tours of Hallstatt from Vienna and Salzburg
When to Go to Hallstatt
Peak season is the summer months of June, July and August, and sometimes this busy season spills over into September. During these months, expect large crowds and higher prices. We visited Hallstatt in August and were shocked at the number of people here.
The winter months of December through February can also be busy, particularly around Christmas. Hallstatt is gorgeous in a fresh blanket of snow. Just note that the salt mines and the funicular are closed during the winter months.
The months of March, April, May, October, and November are the best time to visit if you want to avoid the crowds (although I have even heard that October is getting quite busy).
Where to Stay
This is the view from Dachstein over Hallstatter See. This photo is perfect to see where Hallstatt is located relative to Obertraun and Bad Goisern.
In Hallstatt
Ferienhaus Salzberg. This lovely little property offers apartments that can accommodate 3 to 6 people. It gets rave reviews and it's just a short walk to the old town. They also offer parking, a nice perk while visiting Hallstatt during the busy season.
I da Mitt. Located in Hallstatt, this very highly rated and relatively new property offers spacious double rooms. It's a property well worth considering if you want to stay in the city center.
In Obertraun
Obertraun is located just 3 miles from Hallstatt. It is also easily accessible by bus or train if you are traveling by public transportation.
Haus Salzkammergut. People who stay here rave about the views, the excellent location, and the awesome breakfast. This is one of the highest rated properties in Obertraun.
Haus Hepi. This newly renovated property also gets rave reviews. They offer rooms for two to four people and some rooms offer panoramic views of the mountains.
PRO TRAVEL TIP: During my research, I could not find hotels in this area that offer air conditioning. And usually this is not an issue, since normal high temperatures in the summer months only reach 25°C (77°F). But there is a chance that you could visit Hallstatt during a heat wave, just like we did. Unfortunately, there is not much you can do about it, since no one offers air conditioning. This is just something to be aware of…and keep your fingers crossed for nice weather. 🙂
In Bad Goisern
Hotel Moserwirt. This is where we stayed. This hotel is located in the small town of Bad Goisern. We had a family room on the top floor, which had two bedrooms, a living area, and a balcony that overlooked the town.
We liked Hotel Moserwirt, but if we did it again, we would stay at one of the two recommended hotels in Obertraun. They look like a nice escape from busy Hallstatt and it's easy to get around by car or public transportation. Just book your hotels way in advance!!
Is Hallstatt Worth It?
So, is Hallstatt worth it?
Yes, with proper planning and the right expectations, Hallstatt can be a wonderful experience.
Try to spend one night in town (or nearby), so you can wander the streets before and after the day trippers leave. And on a clear day, the side trip to Dachstein is awesome, especially if this is your first time seeing alpine scenery.
---
If you are planning a trip to Hallstatt and have questions, let us know in the comment section below. And if you have already been here and would like to share your experience, we would love to hear about it!
More Information for Your Trip to Austria
AUSTRIA: Get a list of the top 10 things to do in Vienna, how to spend one perfect day in Salzburg, and learn about the best things to do in Innsbruck.
CENTRAL EUROPE ITINERARY: Learn how to put together Budapest, Vienna, and Prague together in our 10 day Central Europe Itinerary.
BAVARIA, GERMANY: Take an amazing 10 day road trip in Bavaria, visiting Munich, Neuschwanstein, Berchtesgaden, Salzburg, Innsbruck, and drive the Romantic Road in Germany.
EUROPE TRAVEL INSPIRATION: For more great ideas on where to go in Europe, check out our article 30 Beautiful Places to Visit in Europe and the 20 Best Hikes in Europe. You can also get more travel ideas in our 10 Days in Europe itinerary guide, which has 10 great itineraries for your next trip to Europe.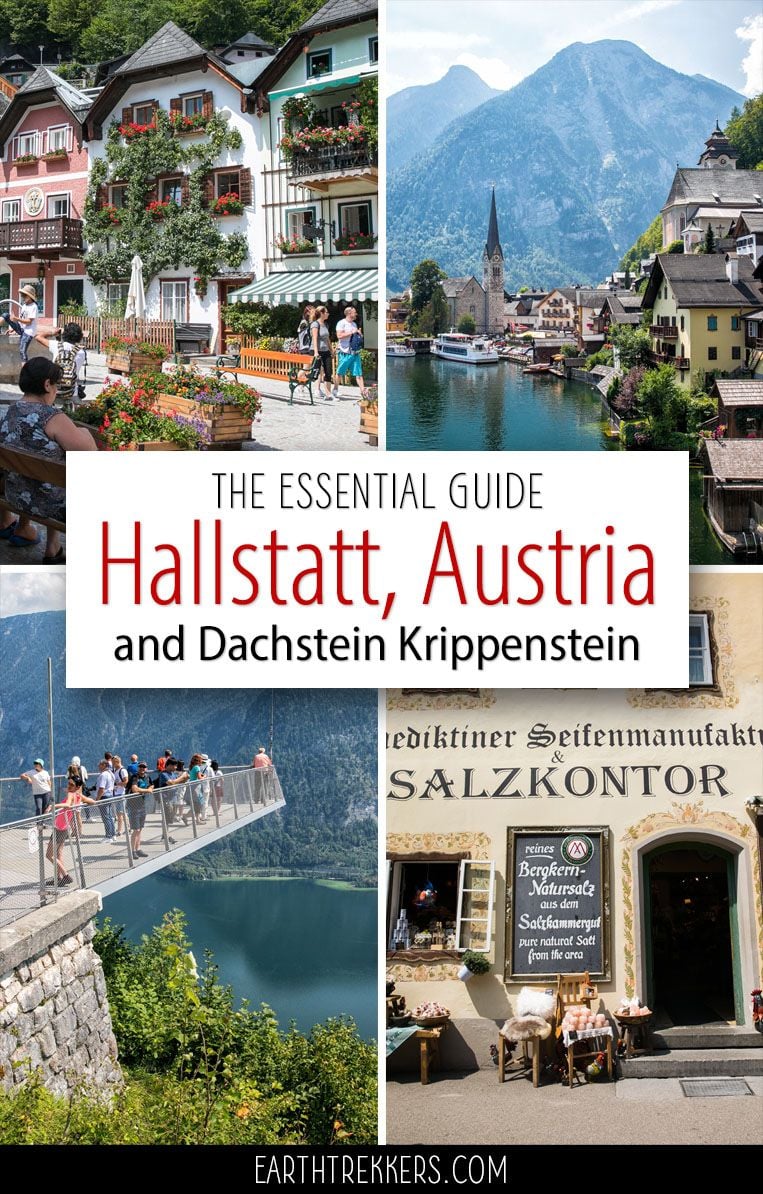 Note: This post contains affiliate links. When you make a purchase using one of these affiliate links, we get paid a small commission at no extra cost to you.
All rights reserved © Earth Trekkers. Republishing this article and/or any of its contents (text, photography, etc.), in whole or in part, is strictly prohibited.