There are many different ways to spend one week in South Dakota. This itinerary focuses on the southwestern corner of the state, visiting sights located in and around the Black Hills.
There is a long list of things to do in this part of South Dakota. Here are the things you will see on this South Dakota itinerary:
Mount Rushmore
Crazy Horse Memorial
Custer State Park
Badlands National Park
Wind Cave National Park
Devils Tower
Mammoth Site
Deadwood & Lead
Spearfish Canyon
This trip is extremely easy to plan. You will fly in and out of one airport, stay in two different locations, and there is no need for special vehicle, such as a 4×4 or high-clearance vehicle.
This is also a great trip for families. Kids will love exploring Custer State Park, hiking the short trails in the Badlands, seeing the bison and prairie dogs, and visiting several of the most iconic landmarks in the USA.
And if one week in South Dakota is too much time, you can easily shorten this itinerary by eliminating the days of little interest to you.
Day 1
Arrive in Rapid City, Drive to Badlands National Park
On the Road: 72 miles, 1.5 hours (this includes the drive to Wall and the Pinnacles Overlook in Badlands National Park)
On this South Dakota itinerary, you will fly in and out of Rapid City Regional Airport. Try to plan your flight so you arrive in the morning or the early afternoon.
Pick up your rental car at the airport. There is no need for a 4WD vehicle or high-clearance vehicle…all of the roads you will drive are either paved or they are gravel roads suitable for standard cars.
From the airport, drive to Wall, South Dakota on Interstate 90 (55 miles, one hour). This very small town is the gateway into Badlands National Park. It has several hotels and restaurants to choose from.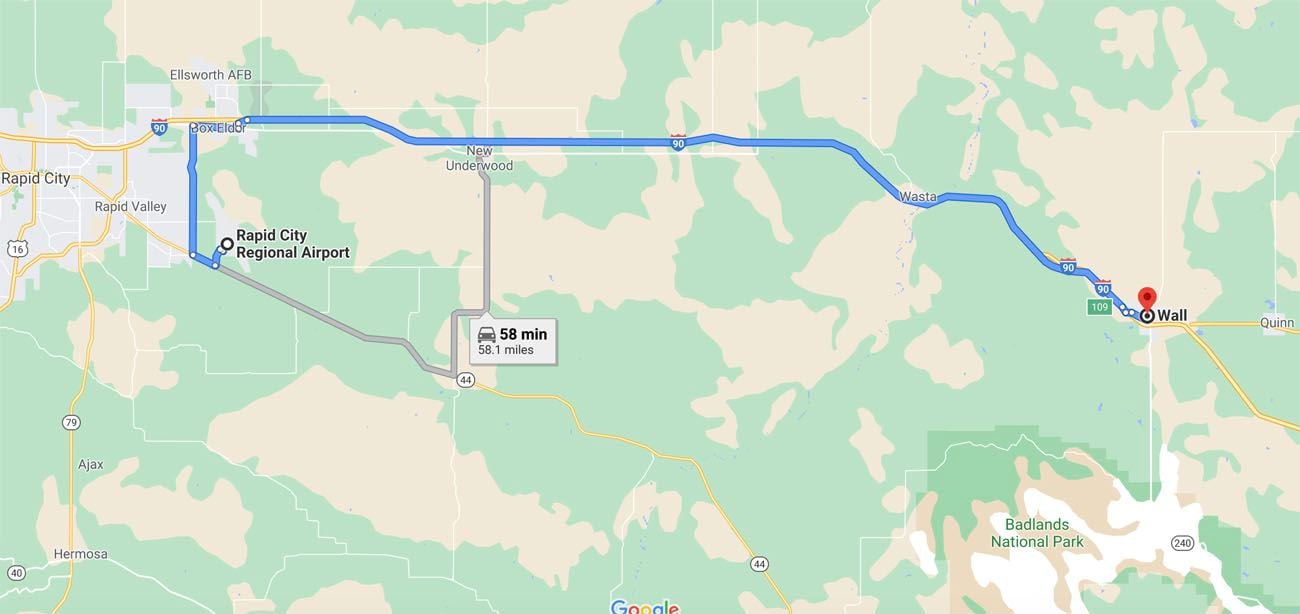 As you drive to Wall, it's impossible to miss the huge number of billboards along the highway advertising Wall Drug. Wall Drug started in 1931 as a small drug store in a very small town. Through self-promotion, Wall Drug grew into a cowboy-themed mall. Now, it has several restaurants, shops, and art gallery, and even a small chapel.
Due to its popularity, it is worth checking out Wall Drug while you are in town. We had lunch here and weren't impressed but I still think it is worth a quick visit.
If you get to Wall and the sun is still shining in the sky, I highly recommend visiting Badlands National Park. Watching the sunset is one of the best things to do in Badlands National Park.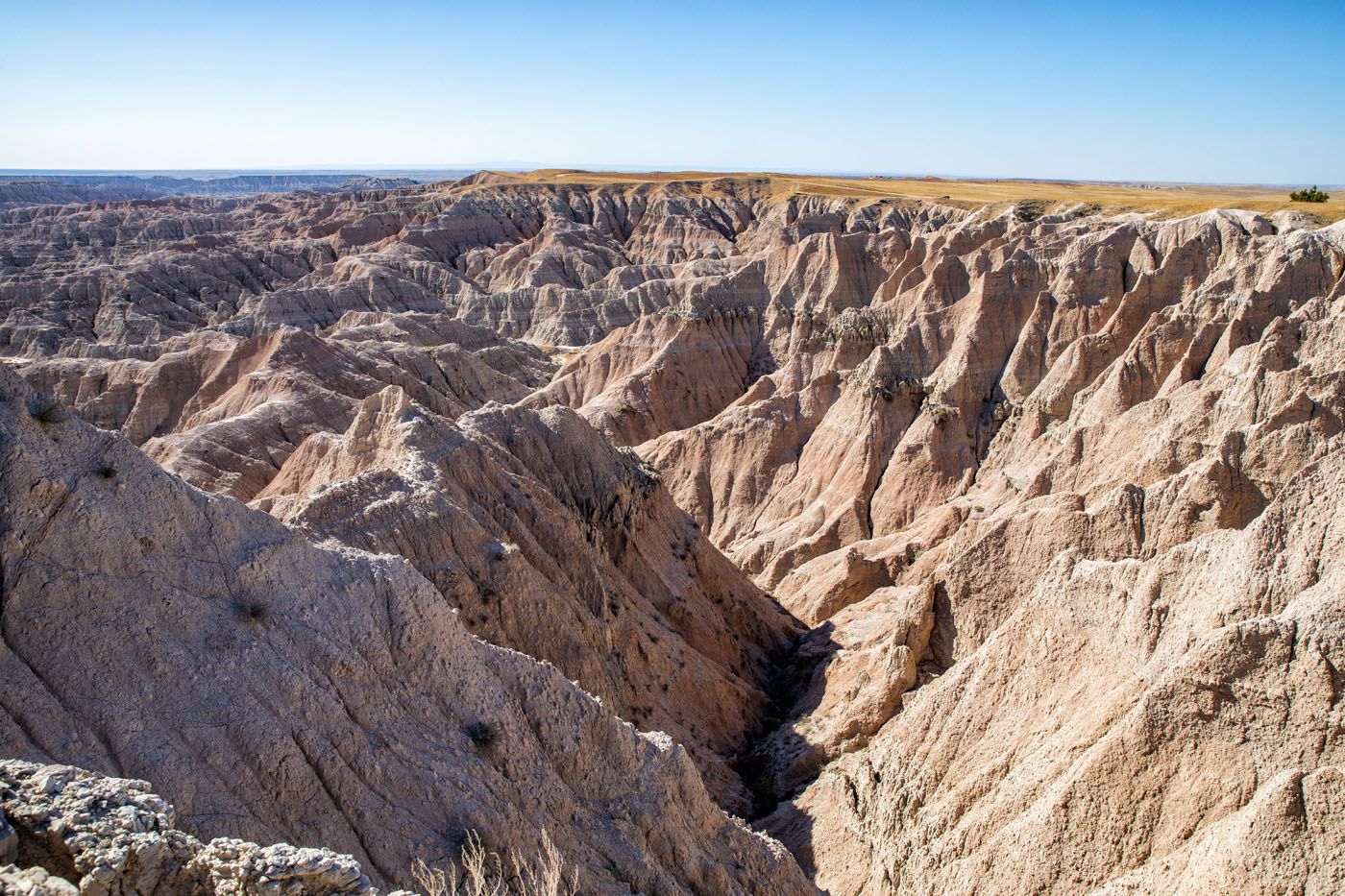 Pinnacles Overlook
From Wall, it takes just 15 minutes to drive into the park and just 5 minutes later you will reach the Pinnacles Overlook, one of the best spots to watch the sunset in Badlands National Park.
Have dinner in Wall and get settled into your hotel.
Where to Stay and Eat in Wall
On this South Dakota itinerary, you will stay in Wall for one night.
PRO TRAVEL TIP: You can visit Badlands National Park on a day trip from Rapid City or the Black Hills, however, you will do a lot of driving and it will be more difficult to see the Badlands at sunset or sunrise, which I think is one of the best experiences in the park.
We stayed at the Best Western Plains Motel, which is one of the highest rated properties in town. Rooms are nothing fancy but they are clean and quiet and the WiFi was decent. America's Best Value Inn and the Days Inn get mediocre reviews.
In Wall, you can have lunch at Wall Drug (they close at 6 pm so don't expect to get dinner here). We ate at Badlands Saloon and Grille twice for dinner and enjoyed it. Amigo's Cantina was recommended to us by our hotel staff.
You can also stay in Badlands National Park. The only lodge in the park is the Cedar Pass Lodge. There are also two campgrounds in the park. The Cedar Pass Campground has some sites for RV's but the Sage Creek Campground does not.
Day 2
Badlands National Park
On the Road: 125 miles, 3 hours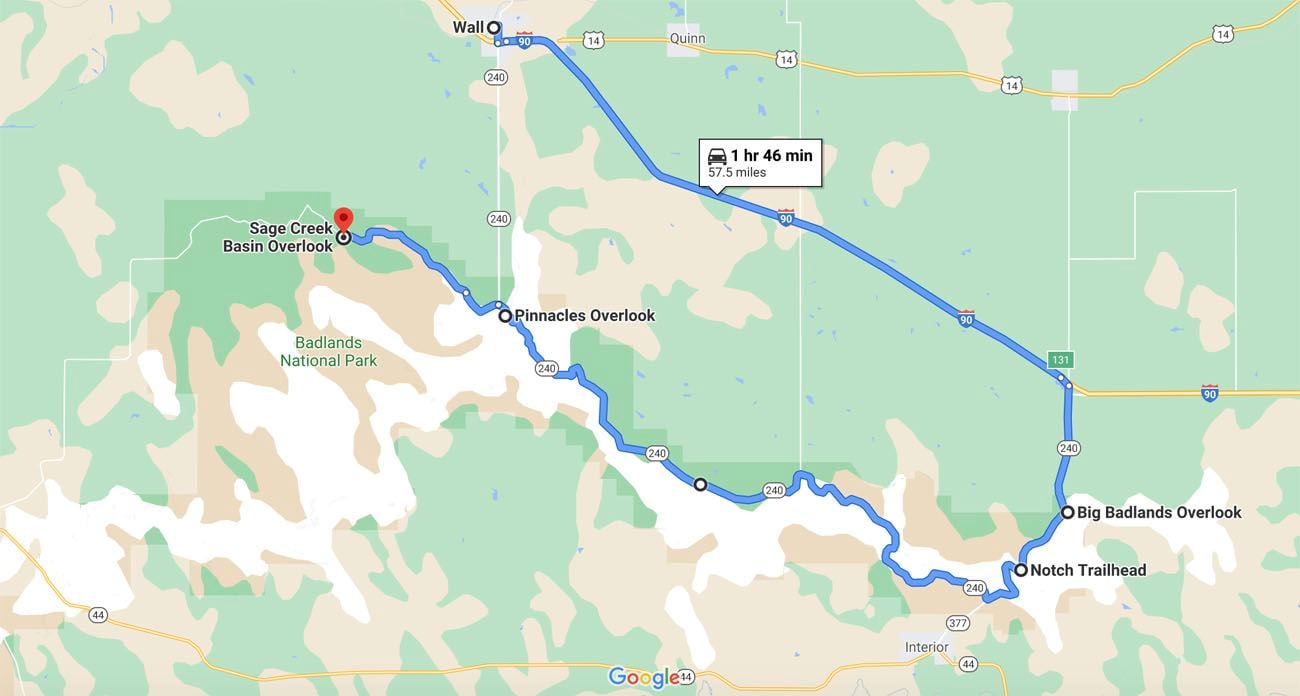 Today, you will spend the day in Badlands National Park and in the evening get settled in your hotel in the Black Hills or Rapid City.
If you can, I recommend setting your alarm clock and rolling out of bed early. Watching the sunrise is a magical experience in Badlands National Park. You can check sunrise and sunset times here.
From Wall, drive Interstate 90 east and then take SD-240 south to enter the park. It takes 30 minutes to get to the entrance of Badlands National Park.
Immediately past the entrance station is the Big Badlands Overlook. This is one of our favorite views of Badlands National Park and one of the top spots to watch the sunrise. Even if you don't get here right at sunrise, it is still a spectacular viewpoint.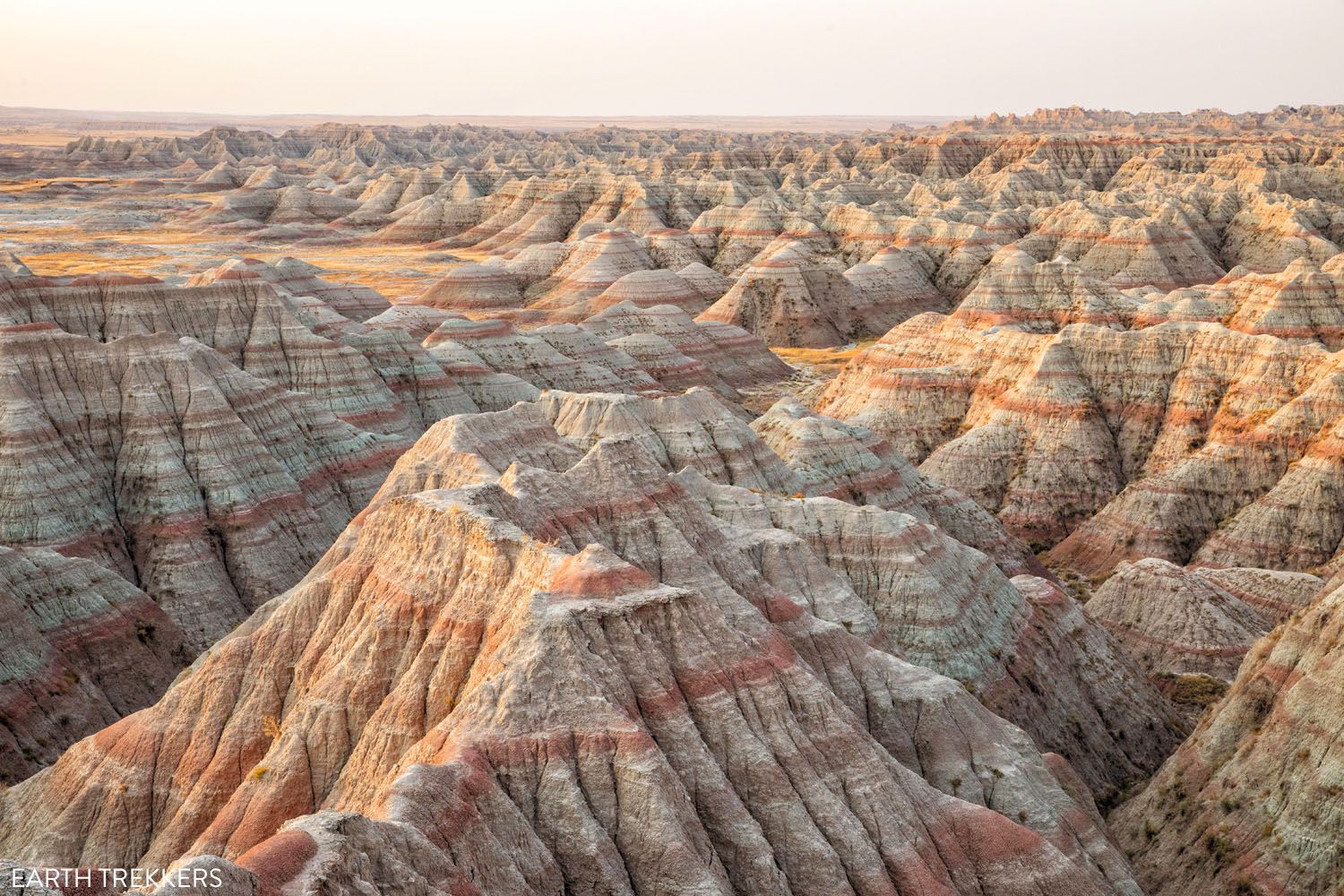 Big Badlands Overlook
For the rest of the day, you will drive Badlands Loop Road (Highway 240), visiting the overlooks along the way and taking your pick from the short hiking trails. For a complete list of what to do in the park, take a look at our post Best Things to Do in Badlands National Park.
As you drive through the park, the next place you will reach are the trailheads for several hiking trails. The Notch Trail is the most thrilling hike in the park and it is very short. If you do one hike today, this is the one that I recommend. The Door and Window Trails are very easy walks that take you up close to the rock formations.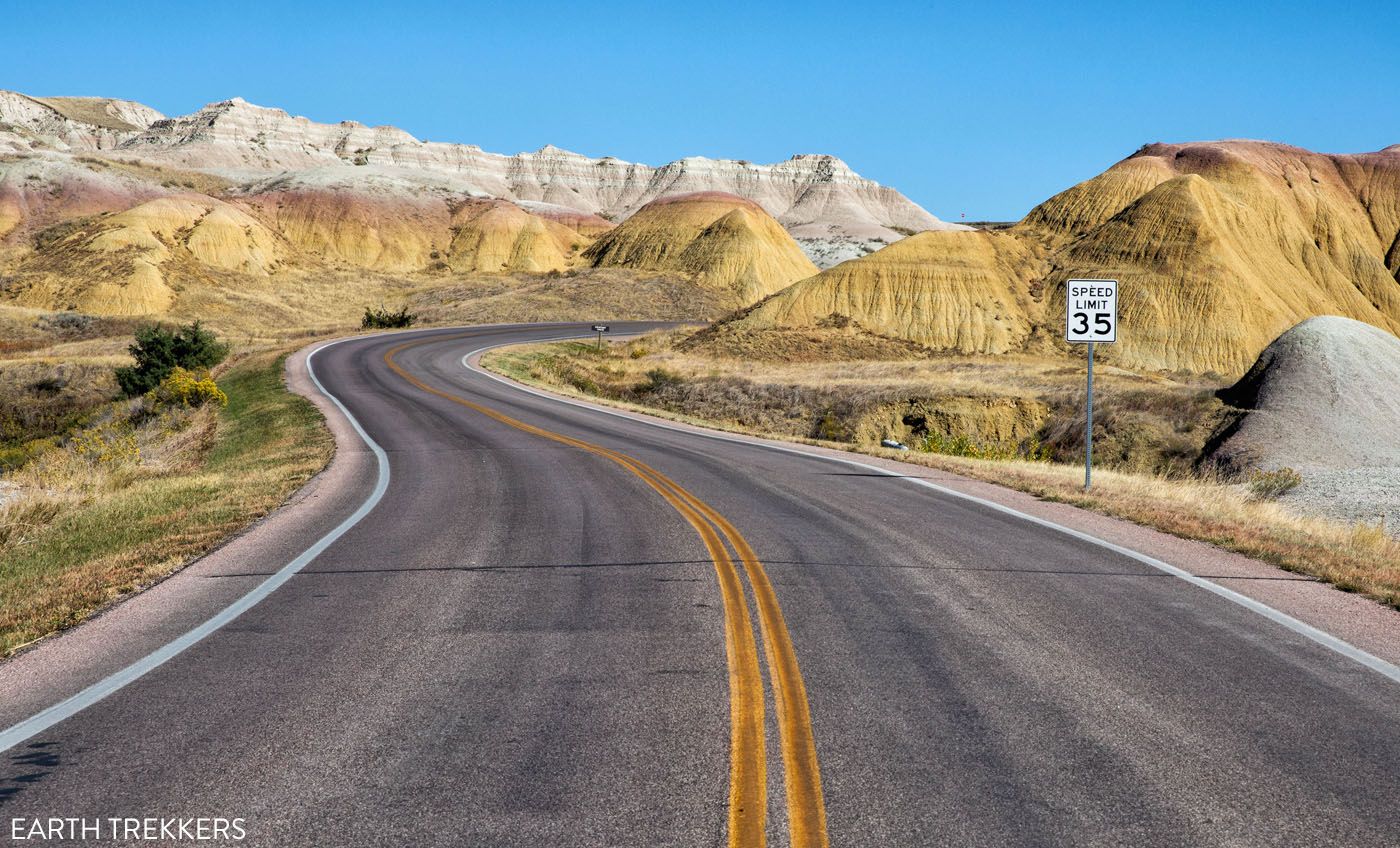 Continue the drive on Badlands Loop Road, visiting the overlooks as you go. The Fossil Exhibit Trail and Saddle Pass are two more walks/hikes to consider doing.
Just past the Pinnacles Overlook, Highway 240 turns north and heads to Wall. At this point, you can drive Sagecreek Rim Road farther into the Badlands. This gravel road is suitable for standard cars. The views of the Badlands aren't quite as good as they are along Badlands Loop Drive, but on Sagecreek Rim Road you have a much better chance to spot wildlife like bison, bighorn sheep, coyote, and prairie dogs (we saw all of these animals here during our visit).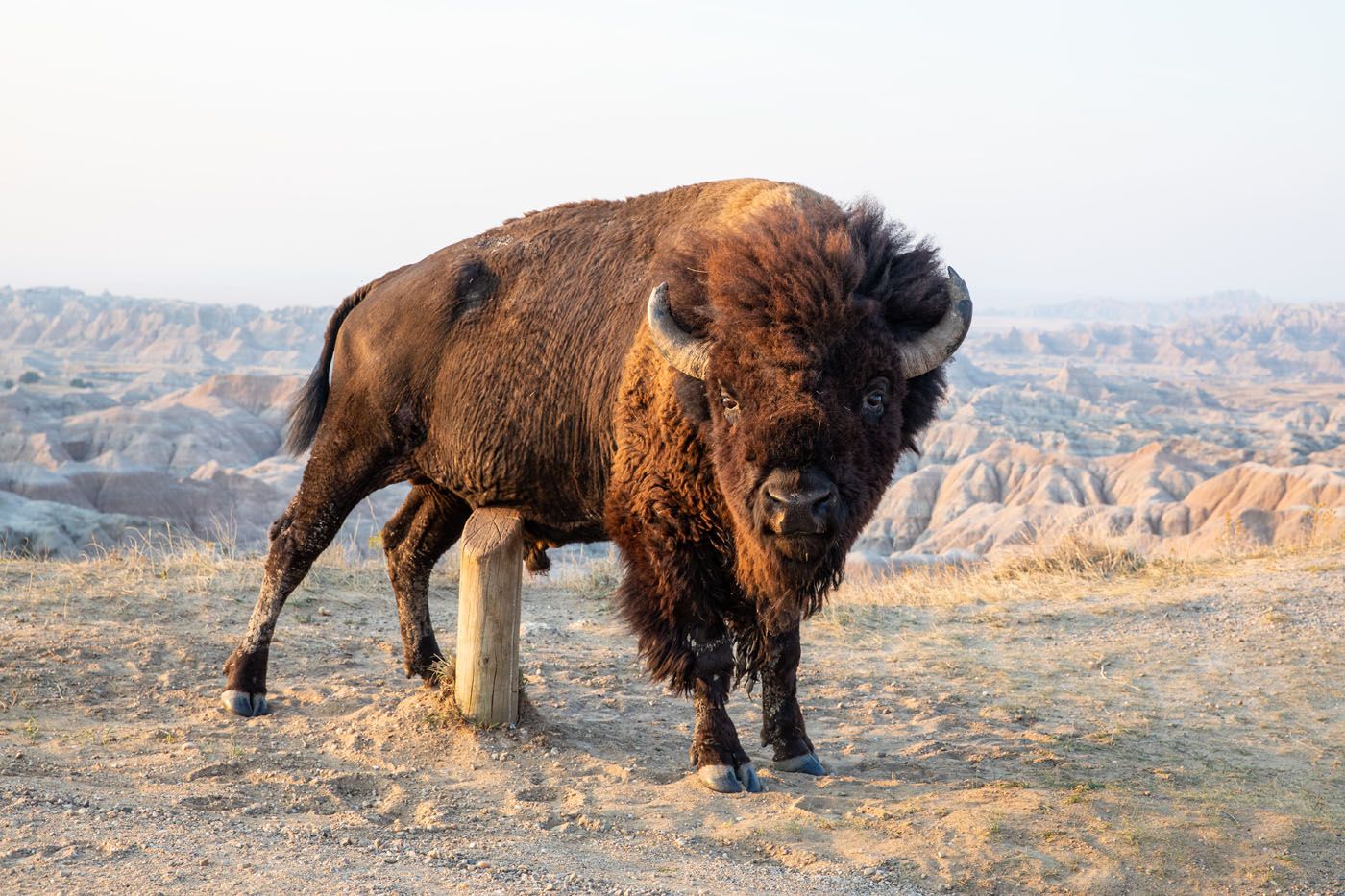 To get the Black Hills and Rapid City, you have two options.
#1 The Fast, Direct Route: take Highway 240 to Wall and then drive Interstate 90 to Rapid City. This drive takes one hour and fifteen minutes if you go to Rapid City and an hour and forty minutes if you will be staying in the Black Hills.
#2 The Scenic Route (literally): Drive Sagecreek Rim Road west until it ends on Highway 44 right outside of Scenic. Scenic is a "ghost town," a collection of abandoned buildings. From Scenic, drive Highway 44 to Rapid City and the Black Hills. This drive takes an hour and a half if you go to Rapid City and one hour and 45 minutes if you will be staying in the Black Hills.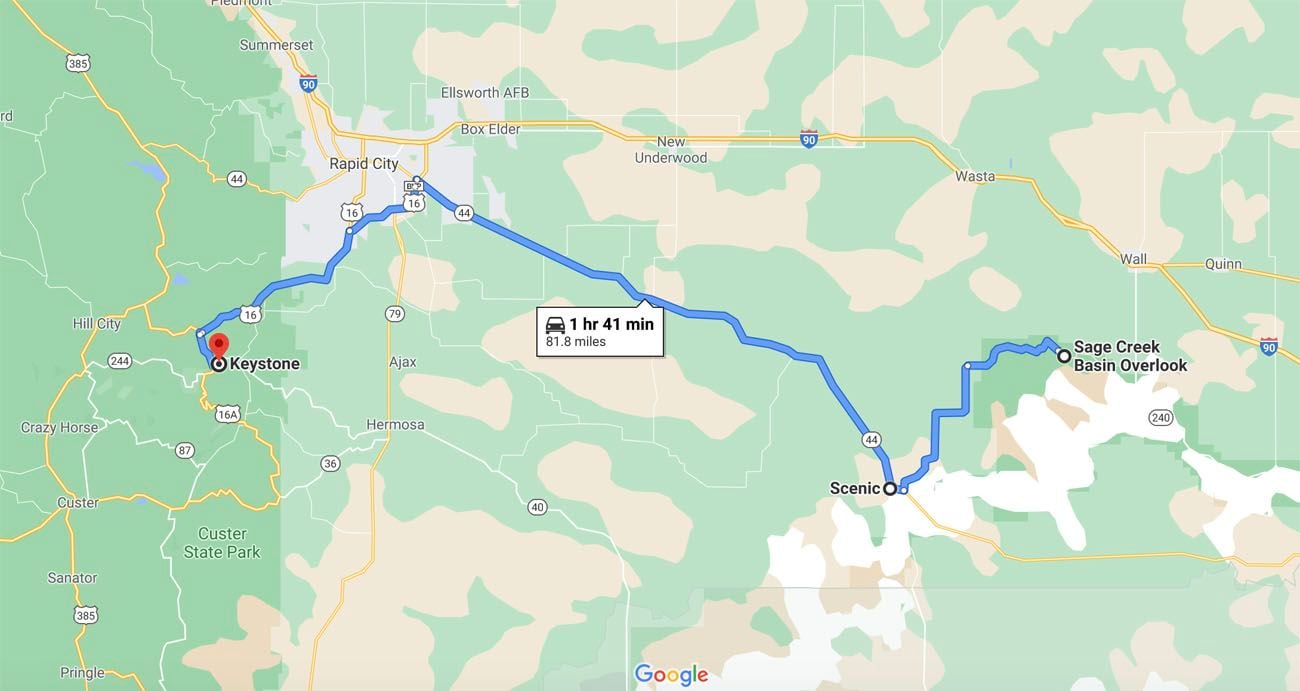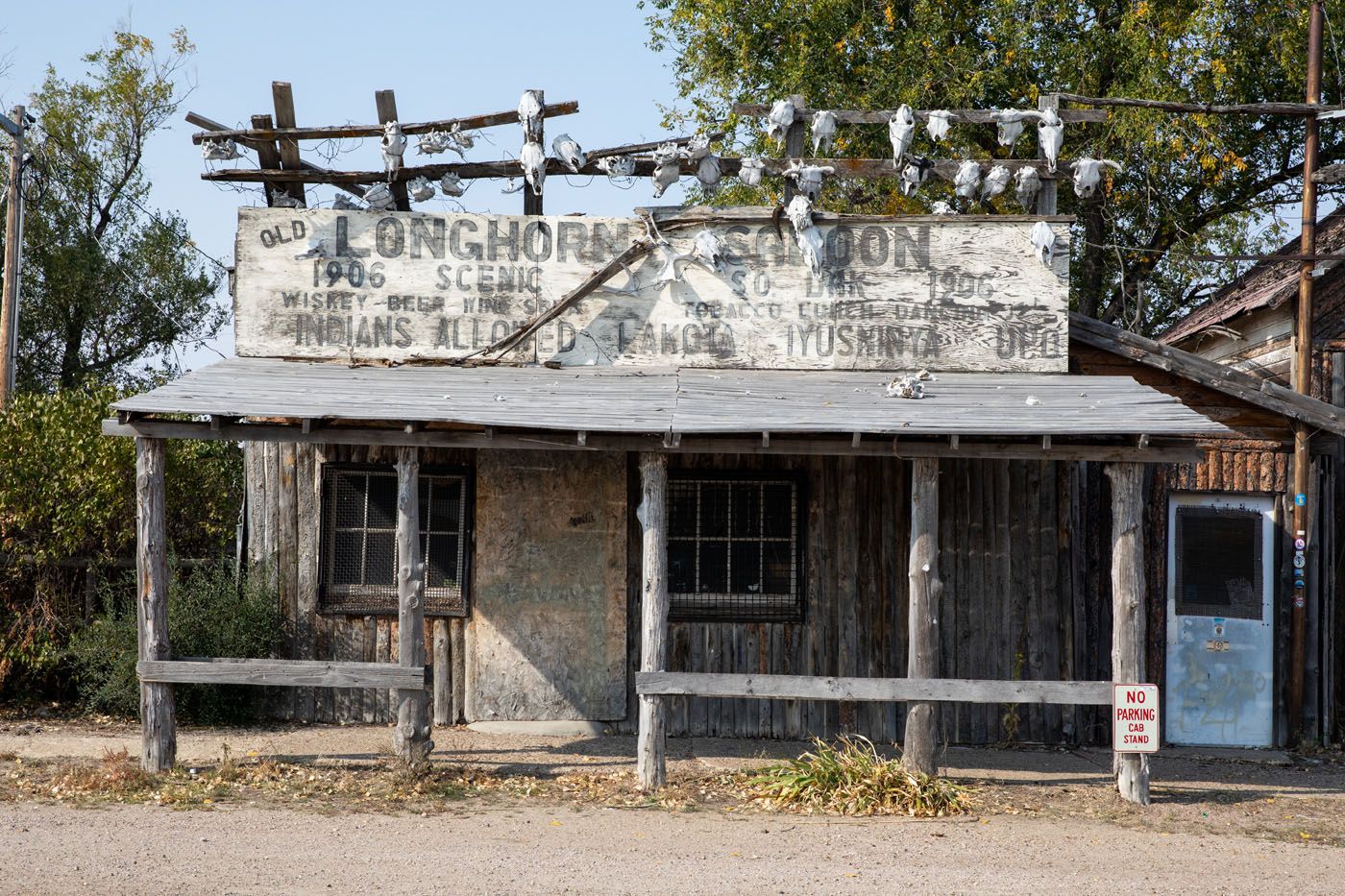 Scenic, South Dakota
Where to Stay: Rapid City or the Black Hills?
For the remainder of this South Dakota itinerary, you will stay in either the Black Hills or Rapid City. Which one is better?
When we did this, we stayed in Rapid City, going for the convenience of being located next to a major interstate and having a large choice of restaurants and hotels. However, we did a lot of extra driving going back and forth between the Black Hills most days. It wasn't a big deal, but if we did it again, we would pick the Black Hills.
Where to Stay in the Black Hills
The town of Custer is located just outside of the park, on the west side. The Bavarian Inn is a beautiful property that gets rave reviews and the Rocket Motel is a nice pick if you are looking for a budget property that gets good reviews.
Keystone is located north of Custer State Park, near Mount Rushmore. It is located near the end of Iron Mountain Road. This town has a very touristy feel to it but it does have a nice, central location for exploring the Black Hills. We recommend the K Bar S Lodge and the Rockerville Lodge and Cabins.
Hill City is another small town to consider. The Comfort Inn & Suites and the Black Elk Resort are two of the highest rated properties in this town.
You can also stay in Custer State Park. There are four lodges within the park, the State Game Lodge, the Sylvan Lake Lodge, the Legion Lake Lodge, and the Blue Bell Lodge. There are also numerous campgrounds scattered throughout the park and several campsites have cabins.
Where to Stay in Rapid City
There are several highly rated chain hotels with a great location right on Interstate 90. We stayed at the Courtyard by Marriott but the Best Western Plus, the Residence Inn, and the Staybridge Suites all get very good reviews.
Day 3
Black Hills of South Dakota
Today, you will visit the iconic landmarks and historical sites that are tucked away in the beautiful Black Hills of South Dakota.
Mount Rushmore
In the morning, visit Mount Rushmore National Memorial. A visit here can last as little as 30 minutes, if you just want to walk up and snap a selfie with Washington, Jefferson, Roosevelt, and Lincoln. I recommend spending more time here, walking the Presidential Trail and learning more about the history of Mount Rushmore in the visitor center.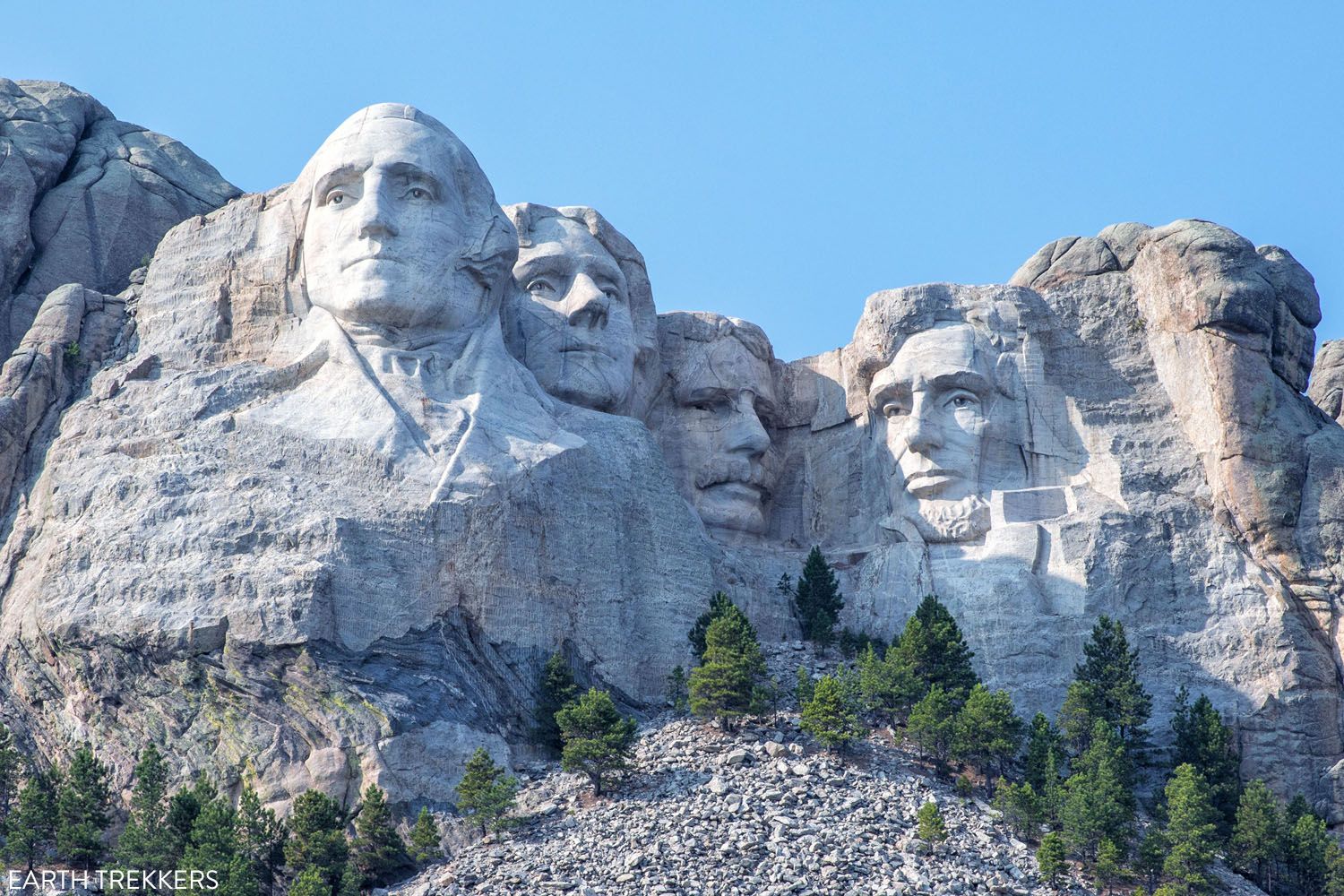 For lunch, you can either pack a picnic lunch or go to Keystone, the closest town to Mount Rushmore.
In the afternoon, drive to the Crazy Horse Memorial. To get there, you will drive Highway 244 and Highway 385, two roads that make up part of the Peter Norbeck Scenic Byway. This byway has been named one of the 10 Most Outstanding Byways in America. You will drive more of this byway when you visit Custer State Park (later in this South Dakota itinerary).
Crazy Horse Memorial
The Crazy Horse Memorial is currently under construction. When it is finished, it will depict Crazy Horse, an Oglala Lakota warrior, riding a horse and pointing towards his tribal lands.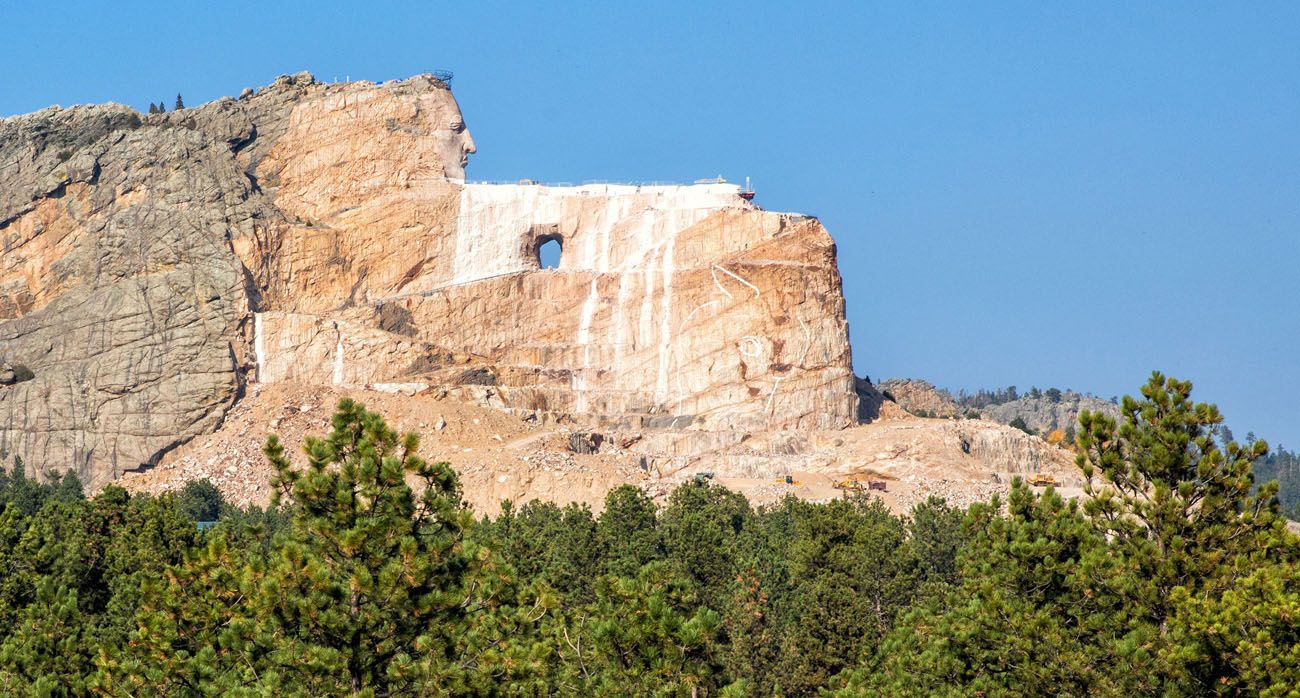 Even though it is still a work in progress, the Crazy Horse Memorial is open to visitors. You can simply view the monument from afar, from the terrace of the Welcome Center, or you can take a van ride to the monument for a closer view. For updated pricing and hours, visit the official website.
Rapid City
After your visit to the Crazy Horse Memorial, go to Rapid City for dinner and nice stroll around town. Standing on the street corners of downtown Rapid City are life-sized statues of the US presidents and you can try to see them all on this walking tour.
Have dinner in town and then return to your hotel. For dinner, we recommend Que Pasa (Mexican), Everest Cuisine (Indian and vegetarian), Murphy's Pub and Grill (gastropub), and Tally's Silver Spoon (America and vegetarian).
Day 4
Custer State Park
Custer State Park is truly a gem of a state park. For many visitors to South Dakota, Custer State Park is the highlight of their visit, topping Mount Rushmore and the Badlands.
This state park has a little bit of everything…thrilling hiking trails, picturesque lakes, and an abundance of wildlife that rivals that in neighboring national parks.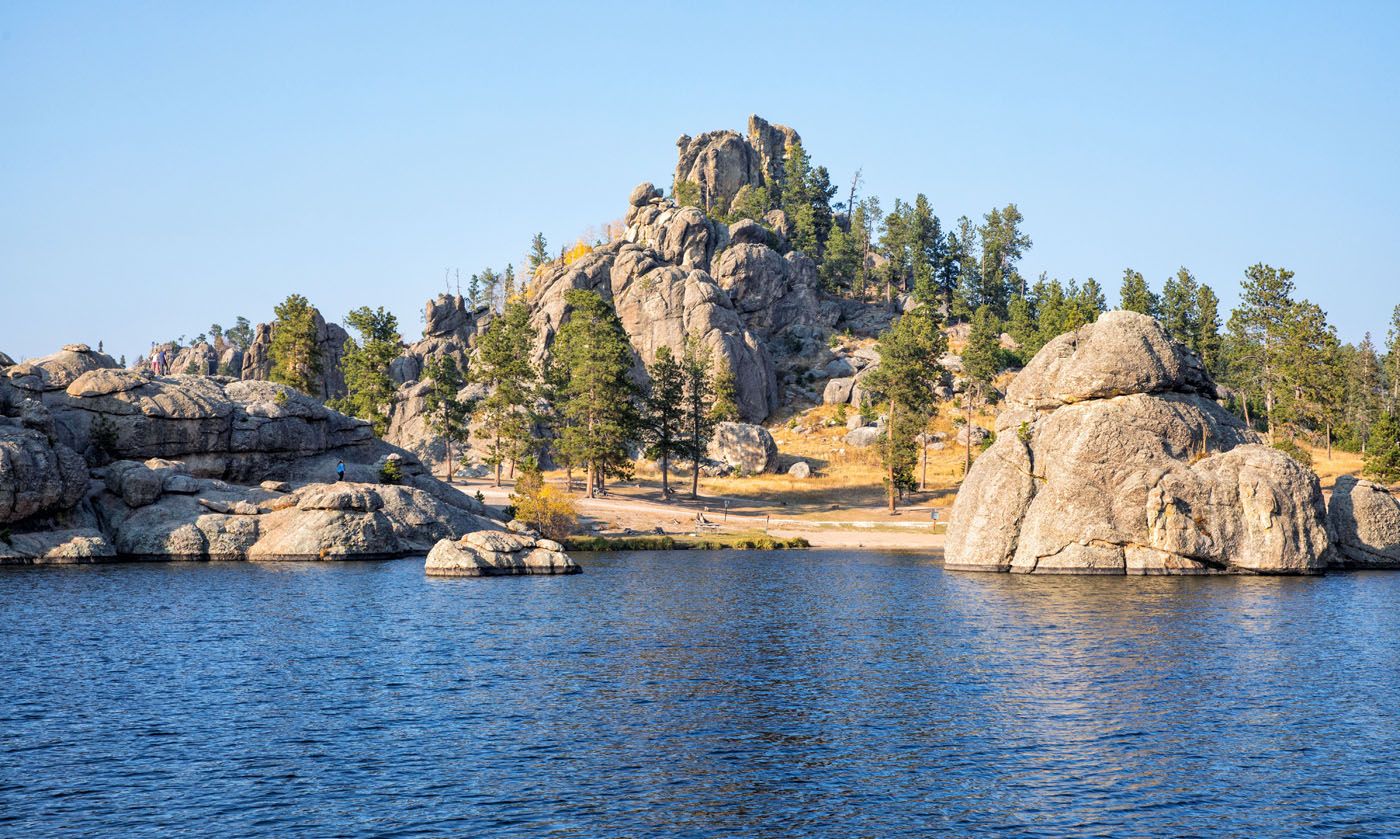 Sylvan Lake
Bison in Custer State Park
One day in Custer State Park gives you enough time to drive the scenic drives, hike a short trail or two, and see how many bison you can count on Wildlife Loop Road.
Below are two different ways to spend your time in Custer State Park. Option #1 is perfect for families and those who want to see the best of the park without doing a lot of hiking. Option #2 is for avid hikers.
#1 Highlights of Custer State Park
Morning:

Starting at the Visitor Center, drive Wildlife Loop Drive in a clockwise direction.

Late Morning:

Drive Needles Highway to Sylvan Lake. If you like the idea of doing a short hike in the park, I recommend the Cathedral Spires hike. You will pass the parking lot for Cathedral Spires Trailhead on the way to Sylvan Lake.

Midday:

Spend some time at Sylvan Lake. Consider the easy stroll on the Lake Shore Trail or renting kayaks or paddle boards here (great in the summer months). Have a picnic lunch, dine at Sylvan Lake Lodge, or grab something quick to eat at the General Store.

Afternoon:

Backtrack down the Needles Highway. If you are doing good on time, and are looking for some solitude, visit Center Lake.

Late Afternoon:

Drive Highway 16A towards the Game State Lodge. If you are visiting with kids, consider visiting the Peter Norbeck Outdoor Education Center, just note that it closes at 5 pm. Then exit the park on Iron Mountain Road. If it is getting dark, stop by Mount Rushmore if you have not yet seen it at night.
#2 Custer State Park for Hikers
Morning:

Hike to Black Elk Peak, Cathedral Spires, and/or Little Devils Tower. This can be done from Sylvan Lake or the Cathedral Spires trailhead parking lot.

Midday:

Visit Sylvan Lake and have lunch at Sylvan Lake Lodge.

Afternoon:

Drive Needles Highway and then drive Wildlife Loop Road counter-clockwise. This drive ends near the Visitor Center and the Game State Lodge, so if you need food, drinks, or to use the restrooms, you can do this here.

Late Afternoon:

Exit the park by driving Iron Mountain Road. Consider stopping to see Mount Rushmore at night, if the sun will be setting soon.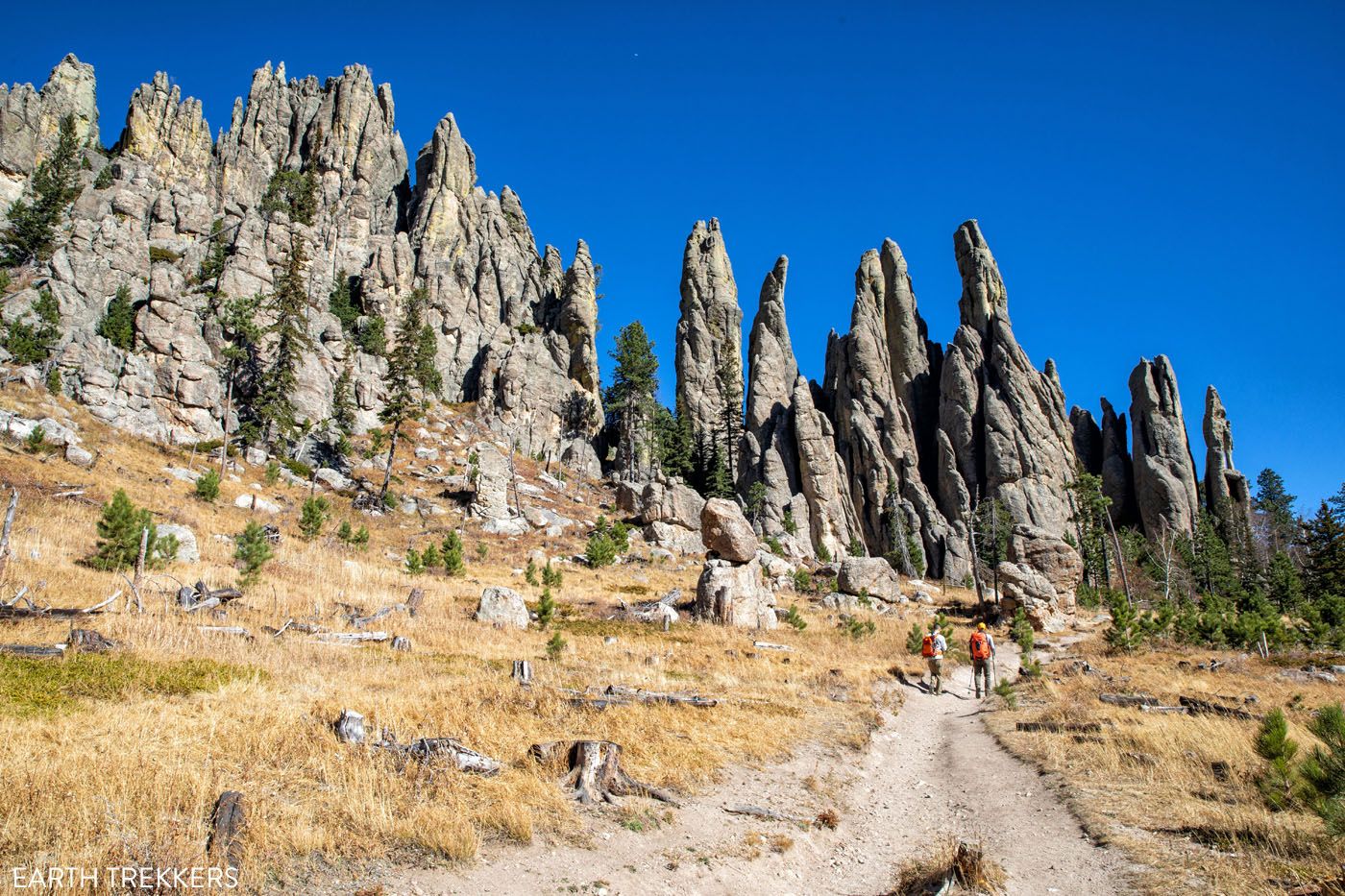 Cathedral Spires Trail
Day 5
Wind Cave National Park
Wind Cave National Park is home to one of the longest cave systems in the world. Touring the cave is the main reason for visiting this park but there is a lot more to do here than explore this underground world.
Above ground, Wind Cave National Park is home to one of the largest mixed-grass prairies in the United States. Miles and miles of hiking trails crisscross through these prairies. Bison, pronghorn, elk, coyotes, and prairie dogs can be found in abundance here, along with many other animals.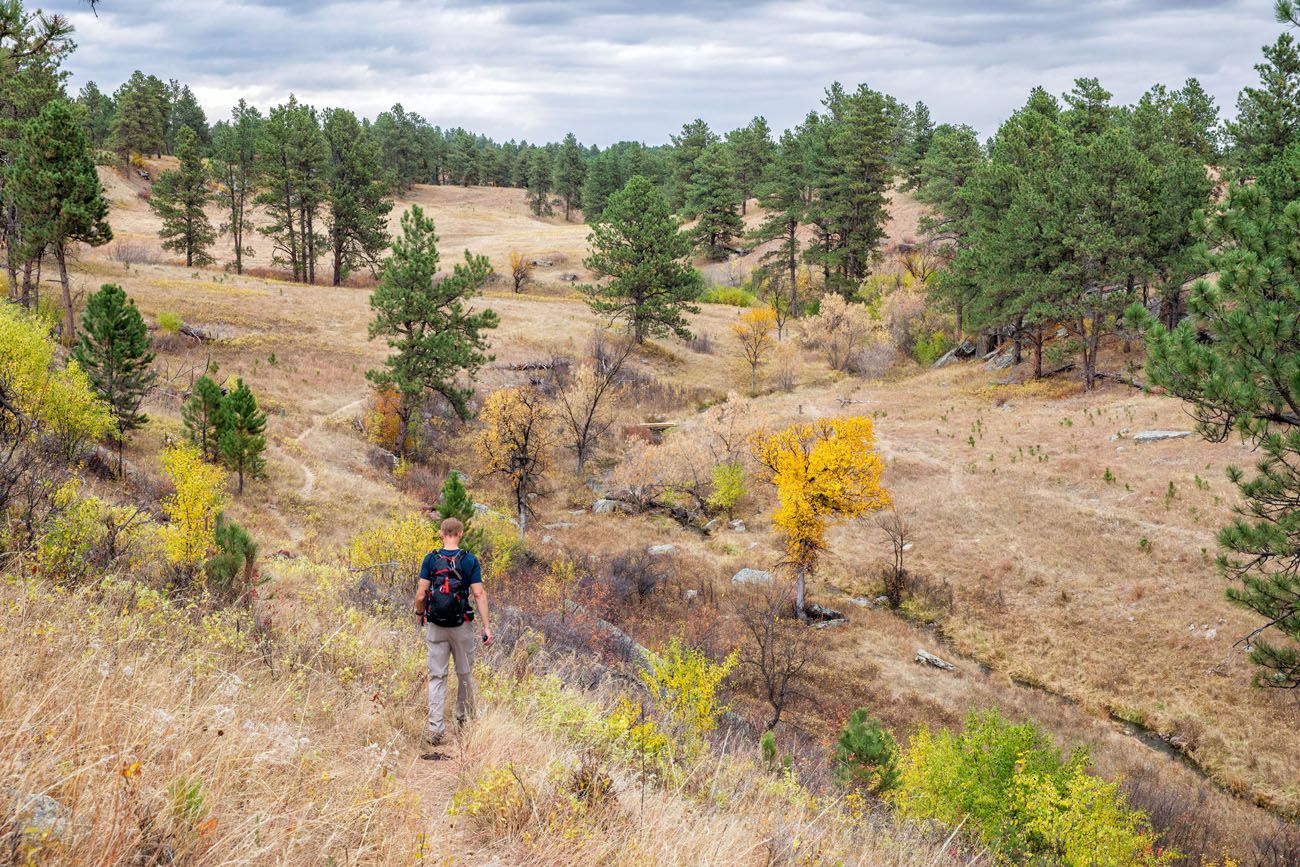 With one day in Wind Cave National Park, you can split your day by hiking an above ground trail in the morning and taking a ranger-guided tour of the cave system in the afternoon. If you will be visiting during the warm summer months, it is best to do the hike in the morning while temperatures are still cool.
If it is not too late in the day and want to visit one more very unique place in South Dakota, this is a good time to add on the Mammoth Site. This archaeological site contains the remains of over 60 mammoths, making it the site with the largest in-situ mammoth remains in the world. Learn more here.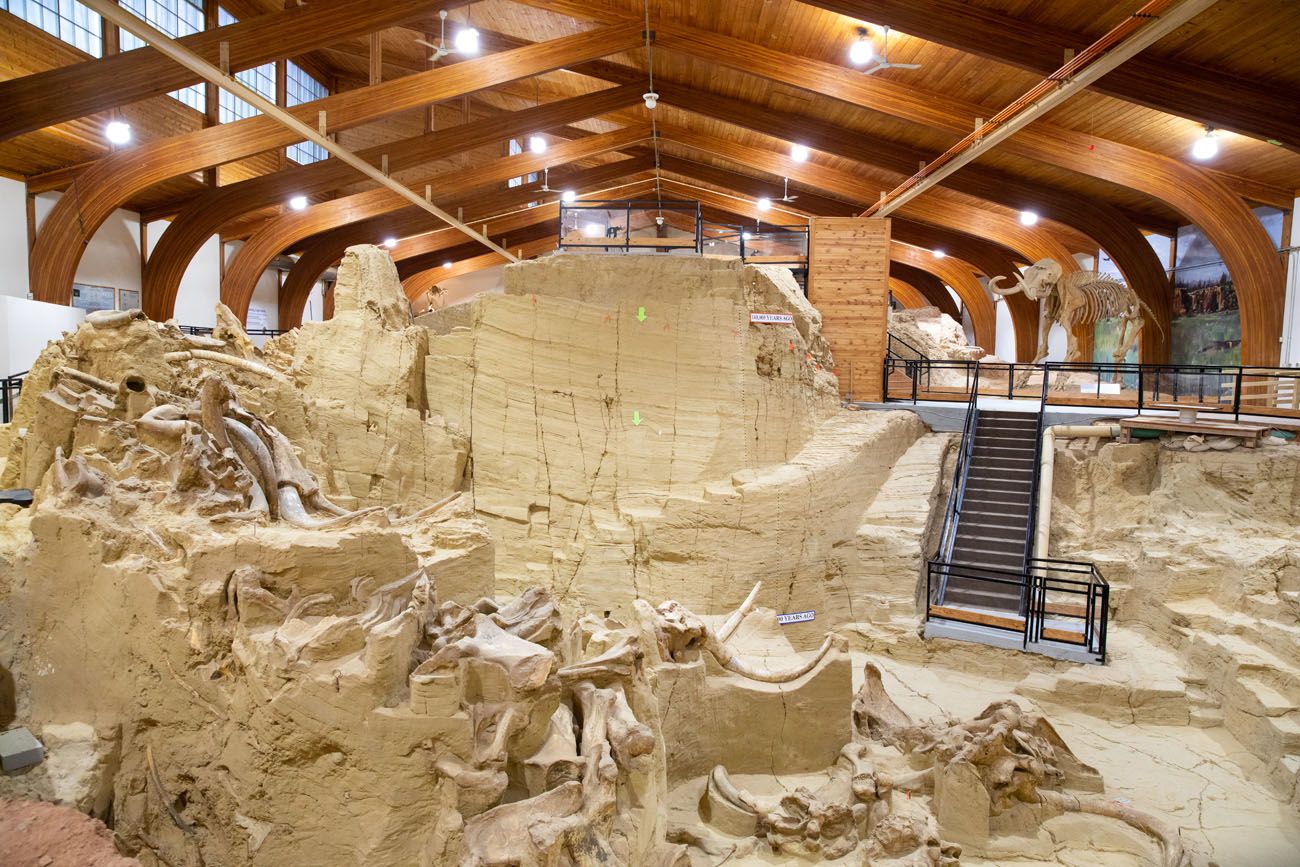 Day 6
Devils Tower Day Trip
Devils Tower National Monument is an iconic landmark that is located in Wyoming. It makes a great day trip from Rapid City and the Black Hills of South Dakota.
By adding on Spearfish Canyon, Deadwood, and Lead, you can turn this day trip into an epic road trip. With historic towns to visit, waterfalls, and hiking trails, there's something for everyone.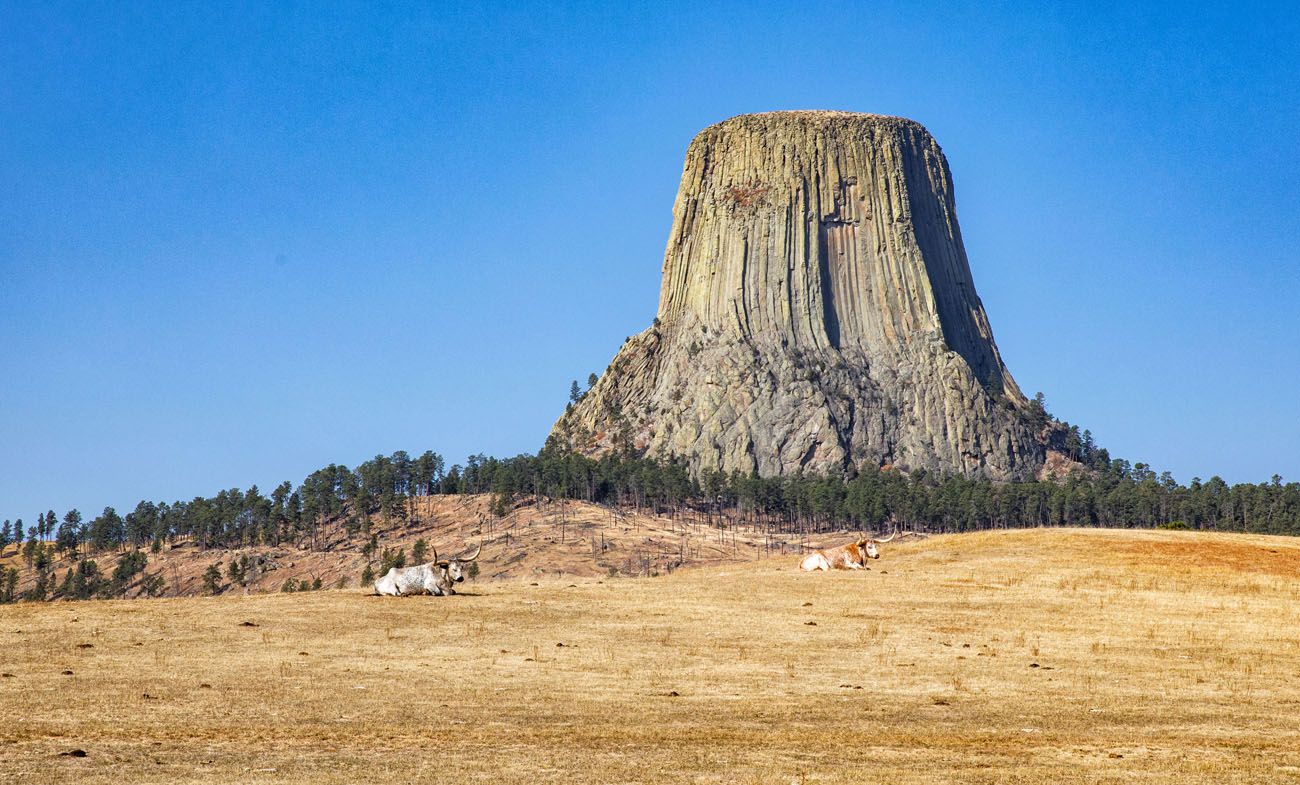 Day 7
Fly home
Today, you will return to Rapid City Regional Airport and fly home, or, continue your travels.
If your visit to South Dakota is part of a bigger road trip through the United States, read this post by Amanda Williams to learn how to visit South Dakota, Yellowstone, and Grand Teton National Park in one amazing road trip.
Best Time for this South Dakota Itinerary
Spring, summer, and fall are great times to do this South Dakota itinerary.
In the spring and fall, daytime temperatures range from the 50's to the 70's. Rainfall is more likely during the spring months, so if you want to drier weather, go in autumn.
Fall colors peak in South Dakota from late September into early October. We visited South Dakota the second week of October and fall colors were just past peak.
During the summer months, temperatures can be blazing hot in Badlands National Park. However, in the Black Hills, temperatures are more moderate, with daytime high's reaching 80°F.
The winter months in South Dakota are very cold. Needles Highway in Custer State Park closes during the winter months due to snow.
More Information about South Dakota
---
If you have any questions about this one week in South Dakota itinerary, let us know in the comment section below.
You Might Also Like: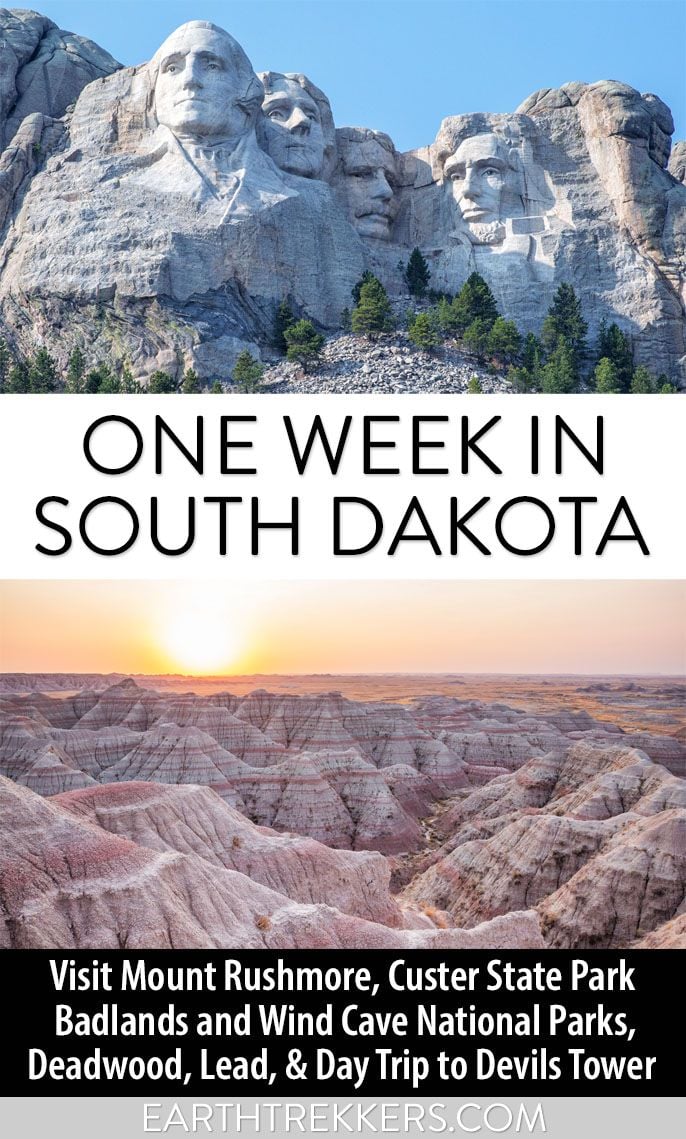 Note: This post contains affiliate links. When you make a purchase using one of these affiliate links, we get paid a small commission at no extra cost to you.
All rights reserved © Earth Trekkers. Republishing this article and/or any of its contents (text, photography, etc.), in whole or in part, is strictly prohibited.