If you are planning a Devils Tower day trip from South Dakota, we have a great loop for you to drive.
This is an awesome road trip…not only do you get to visit Devils Tower but you will also visit historic towns and waterfalls, go on a wonderful scenic drive, and even have the option to add in a short hike or two. This road trip is a great way to experience some of the most scenic and historic places in southwestern South Dakota.
About this Devils Tower Day Trip Route
In addition to Devils Tower, here are the places you can visit on this drive:
Spearfish Canyon Scenic Byway
Spearfish Falls
Bridal Veil Falls
Hike to Devil's Bathtub
Deadwood
Lead
Round trip, this drive is 240 miles long and it takes four and a half hours to do the full drive, not accounting for the stops along the way.
If you drive the fastest route from Rapid City to Devils Tower and back, it is 215 miles that takes three and a half hours. With a little extra driving and time, you can visit some very cool places.
I recommend getting somewhat of an early start, to give you enough time at each site. Plan on leaving Rapid City no later than 8 am. Earlier is better if you want to visit the museums in Lead or Deadwood.
Our driving directions start and end in Rapid City but this can just as easily be done from the Black Hills of South Dakota.
Devils Tower Day Trip: Driving Route
How to Use This Map: Click the tab in the top left hand corner of the map to view the layers (places to go and the driving route). You can click the check marks to hide or show layers. If you click the icons on the map, you can get more information about each point of interest.

If you click the star next to the title of the map, this map will be added to your Google Maps account. To view it on your phone or computer, open Google Maps, click the menu button, go to "Your Places," click Maps, and you will see this map on your list.
8 am: Drive to Devils Tower
Distance: 100 miles
Time: 1 hour 45 minutes
If you look at driving directions on Google, you will see two options. For this Devils Tower day trip, take the northern route. This adds a minimal amount of extra time and distance. You will return on the southern route, so you will get to see slightly different scenery without repeating much of the drive.
This drive out to Devils Tower goes by fast. The prettiest part of the drive is between Aladdin and Devils Tower, as you drive along farmland, rolling hills, small towns, and ranches.
Fifteen minutes before arriving at Devils Tower, you will drive through Hulett, a western themed town.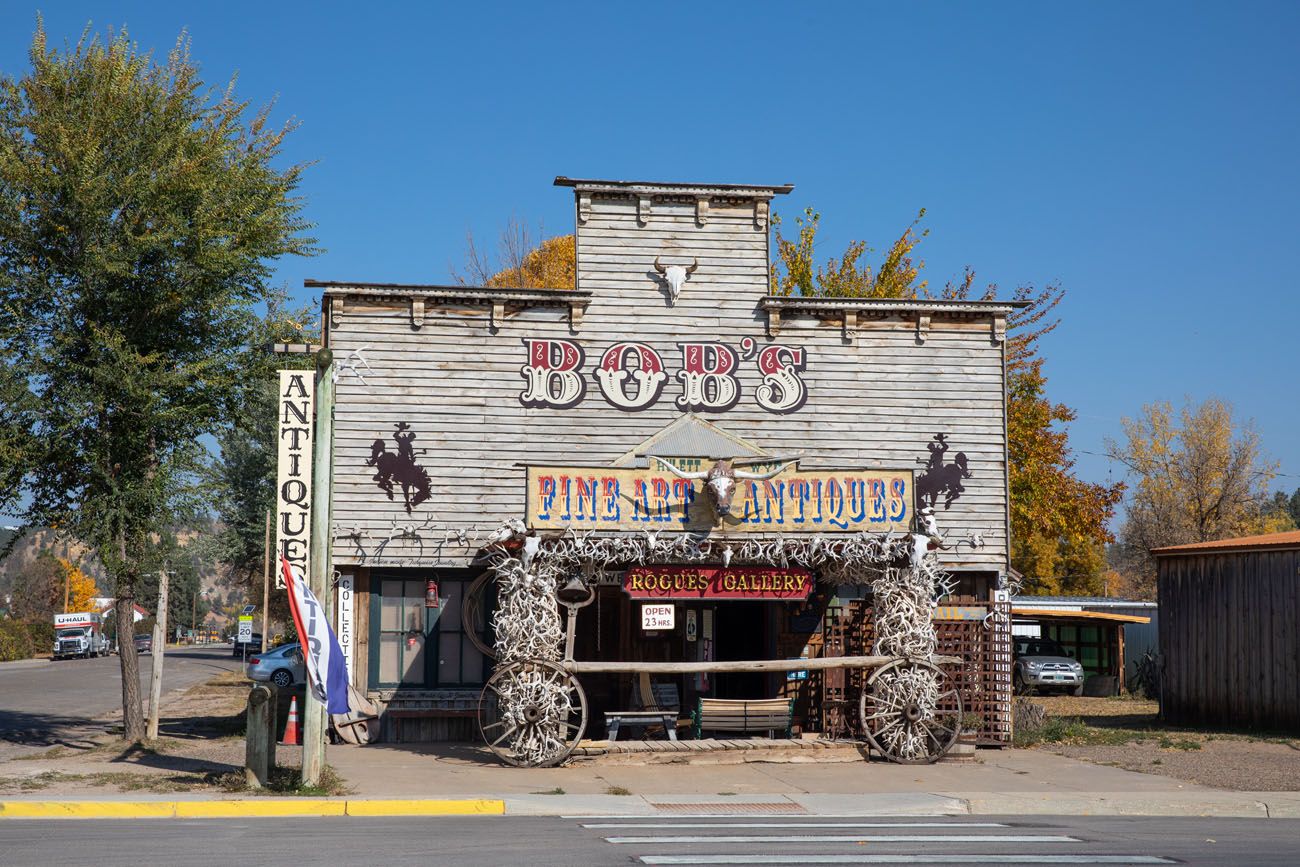 Just past Hulett, you get your first views of Devils Tower.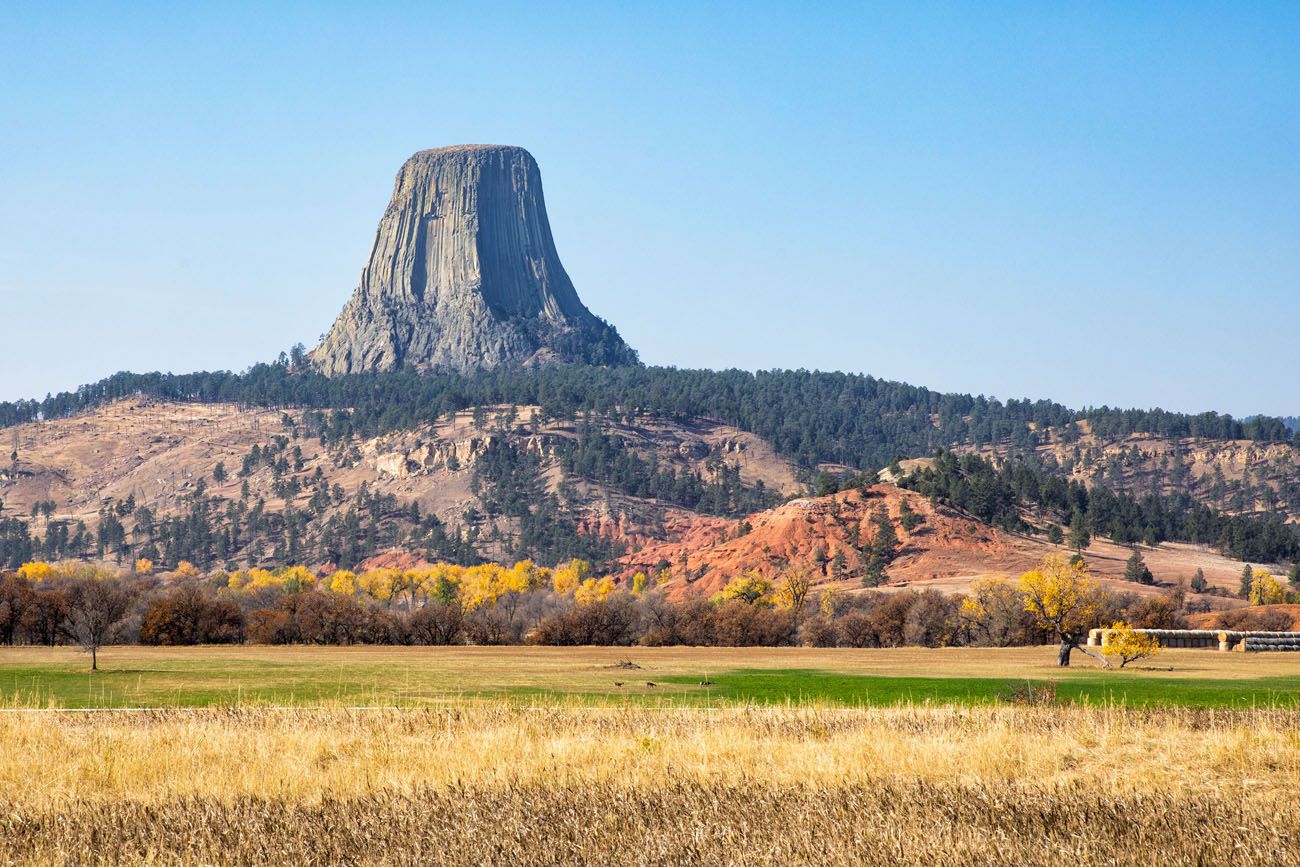 10 am: Devils Tower
On this day trip, I recommend spending several hours at Devils Tower. There are numerous ways to spend your time.
At the bare minimum, hike the Tower Trail, a 1.3 mile paved trail that loops around the base of the tower. For those looking for more solitude and more great views, I recommend the Red Beds Trail, a 2.8 mile loop that takes about 2 hours.
For more things to do in Devils Tower and tips on how to plan your visit, take a look at our Guide to Devils Tower.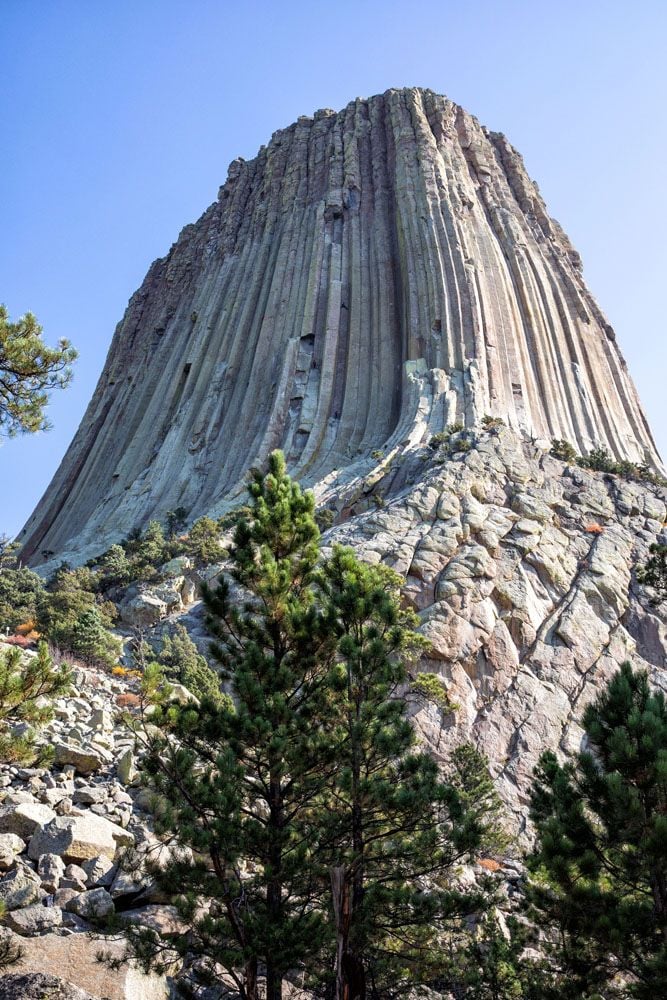 View of Devils Tower from the Tower Trail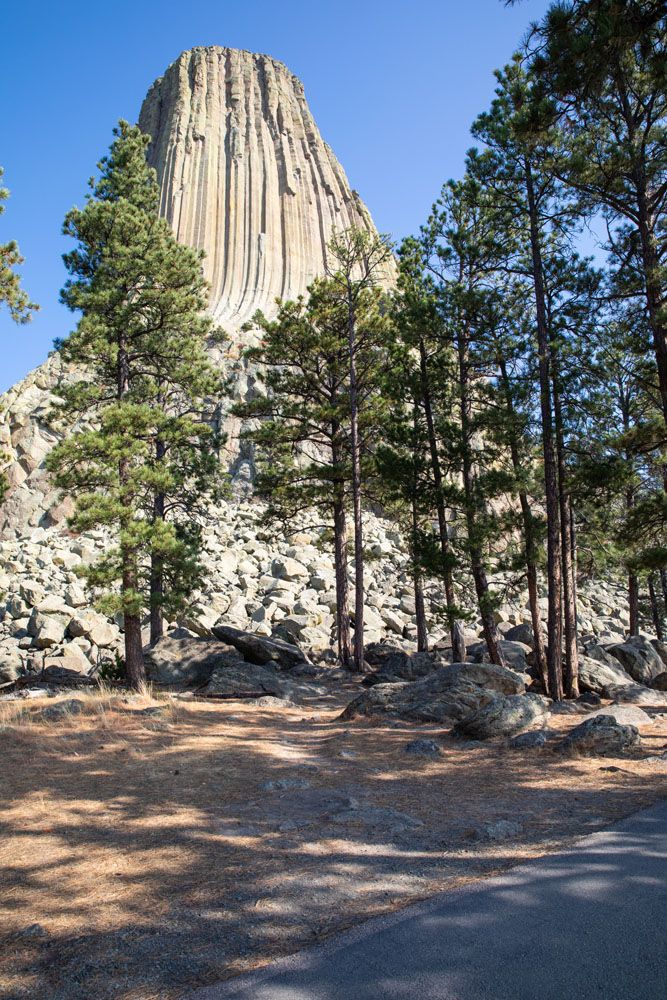 Tower Trail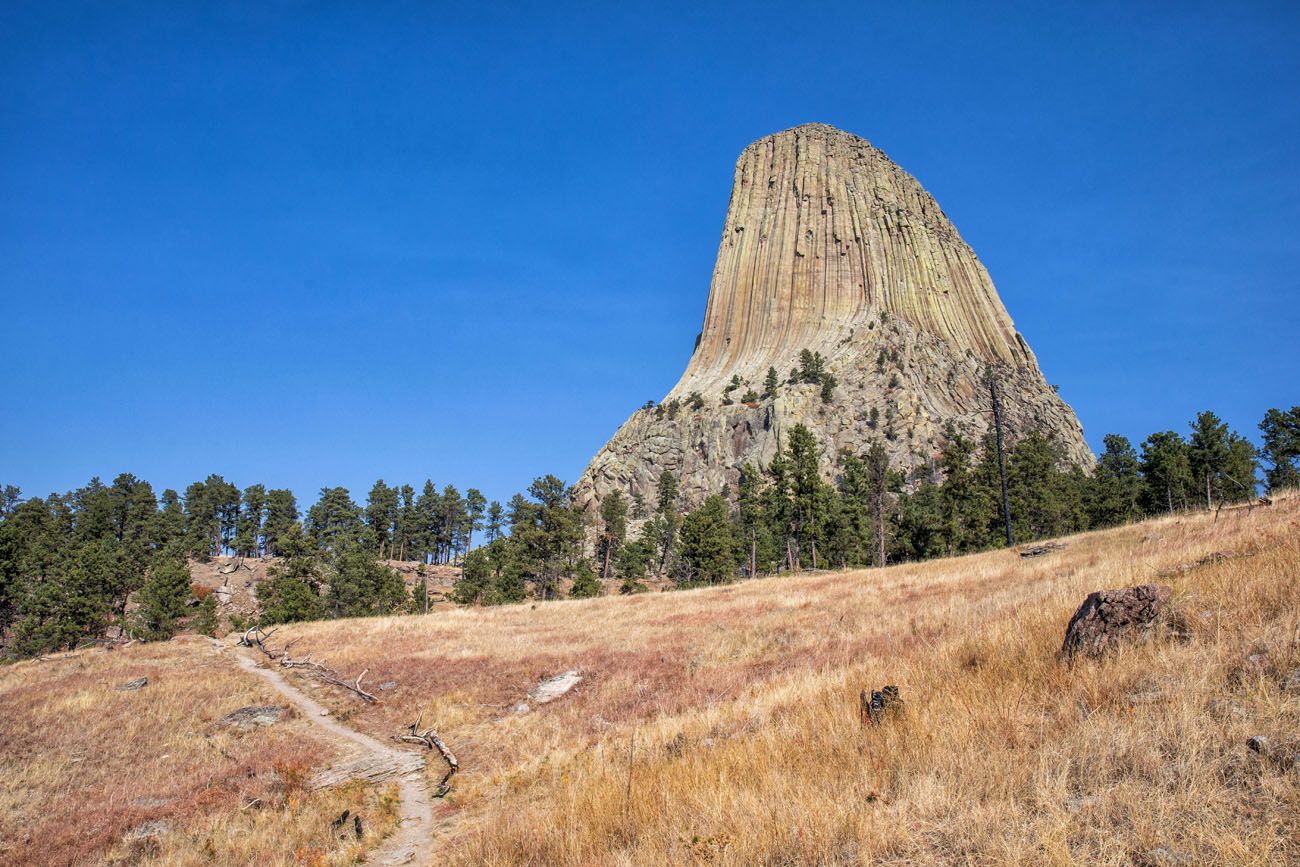 For a different perspective, consider hiking the Red Beds Trail
Lunch
You can either bring a picnic lunch or have lunch at one of the small restaurants located at the entrance to Devils Tower.
1 pm: Drive to Spearfish
Distance: 60 miles
Time: 1 hour
Drive south from Devils Tower, heading through more rolling hills and farmland. Once you reach Sundance, turn onto Interstate-90 and it is a straight shot to Spearfish.
There's not much to do in Spearfish, but if you never had a chance to get lunch, there are plenty of places in town to pick up a quick bite to eat.
2 pm: Spearfish Canyon Scenic Byway
Distance: 20 miles
Time: 30 minutes, not including stops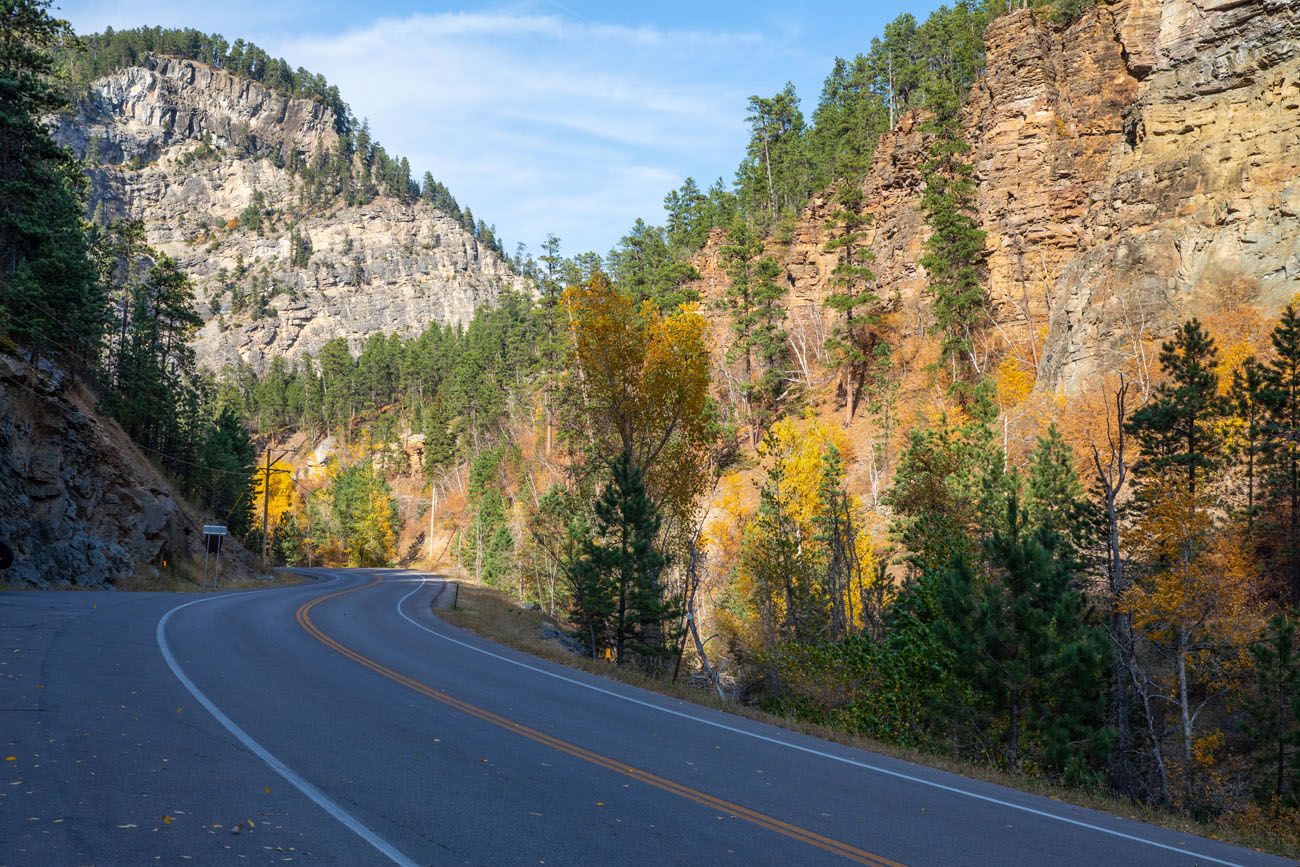 Spearfish Canyon Scenic Byway is a 20 mile long road that weaves its way along Spearfish Creek. Along the drive, limestone cliffs that are a 1,000 feet tall tower overhead. During the drive, you can stop at overlooks, waterfalls, and you have the option to add on a short hike.
Here are some things to see along the drive.
Bridal Veil Falls
This waterfall can be seen right from the roadside. Park in the turn-out and cross the street for a view of the waterfall. It wasn't very impressive during our visit but it had been dry for quite some time in South Dakota.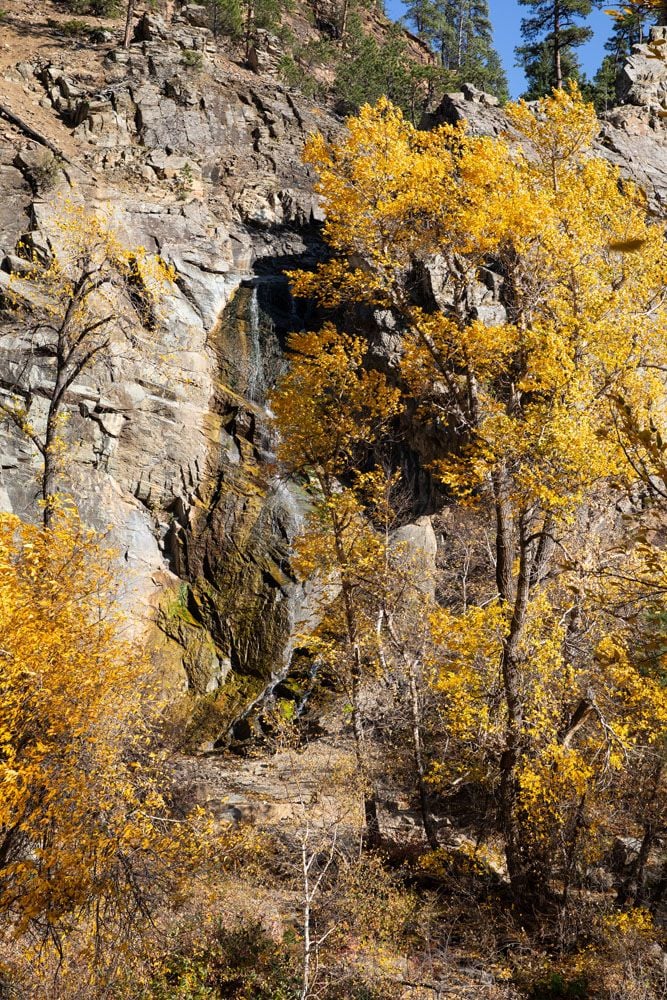 Devils Bathtub
This short hike is lots of fun. For the most part, it is a flat trail that loops back and forth across Squaw Creek numerous times. You will hop, skip, and jump over the creek quite a few times.
The trail ends at the Devils Bathtub, a pool of water that makes a great swimming spot when the weather is warm.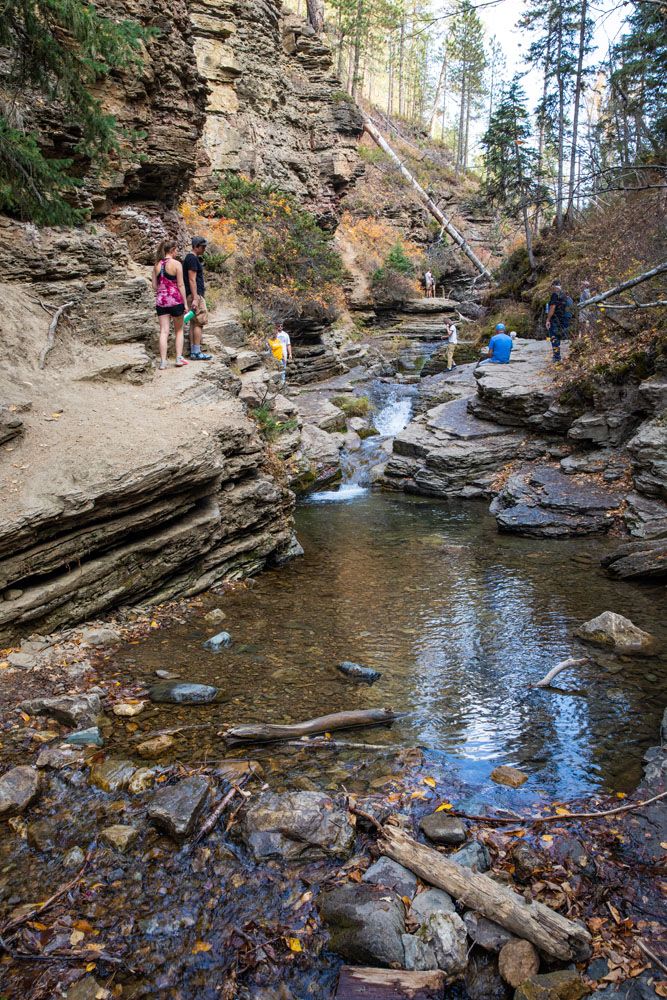 Park at the Devils Bathtub Trailhead. There is a trail that heads north, right alongside Spearfish Canyon Byway. Turn right onto Cleopatra Place, cross the bridge, and the trail continues to the right, along Squaw Creek.
HIKING STATS: The hike is 2 miles round trip (including the walk from the parking lot to Squaw Creek) and takes 1 to 1.5 hours. Your feet might get wet, depending on how well you can cross the creek on the stepping stones, so consider bringing an extra pair of shoes.
Roughlock Falls
This is a popular waterfall to visit but we weren't fans. To get here, drive 1-mile on the dirt road to the Roughlock Falls State Nature Area. There are short trails here leading to an overlook of the waterfall. You can also hike the Roughlock Falls Trail along Little Spearfish Creek. We liked Devils Bathtub a lot more than Roughlock Falls.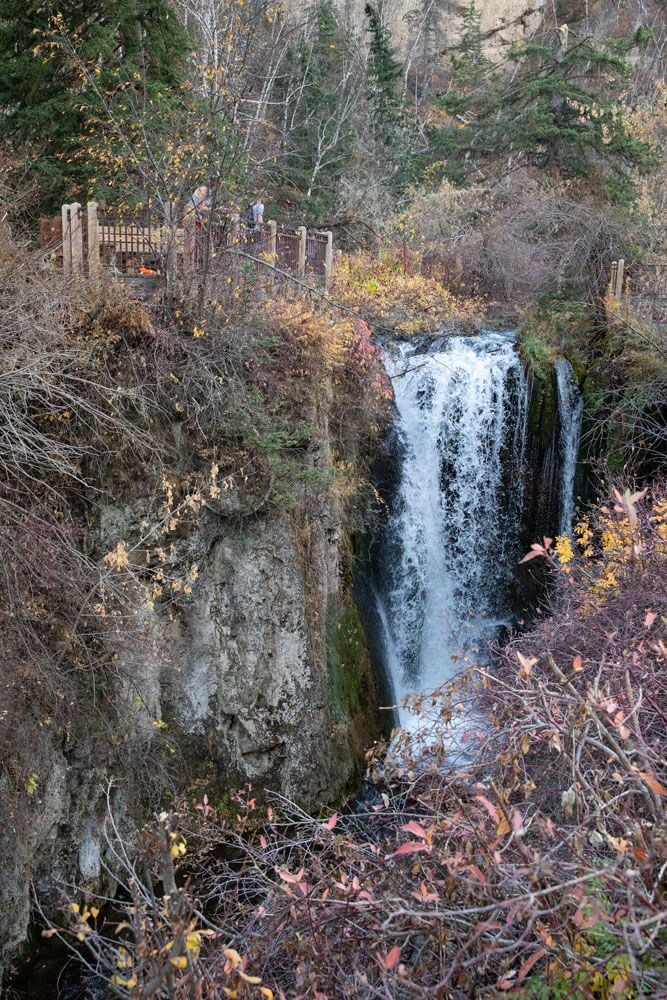 Spearfish Falls Trail
In Savoy, you can hike the Spearfish Falls Trail for views of Spearfish Falls. This is 1.5 miles round-trip and moderately difficult.
4:30 pm: Drive to Lead
Distance: 14 miles
Time: 20 minutes
To get to Lead, it is a very nice drive through the Black Hills National Forest.
Lead's claim to fame is its history in gold mining. This small town was home to the Homestake Mine, the largest, deepest, and most productive gold mine in the Western Hemisphere. It was closed in January 2002.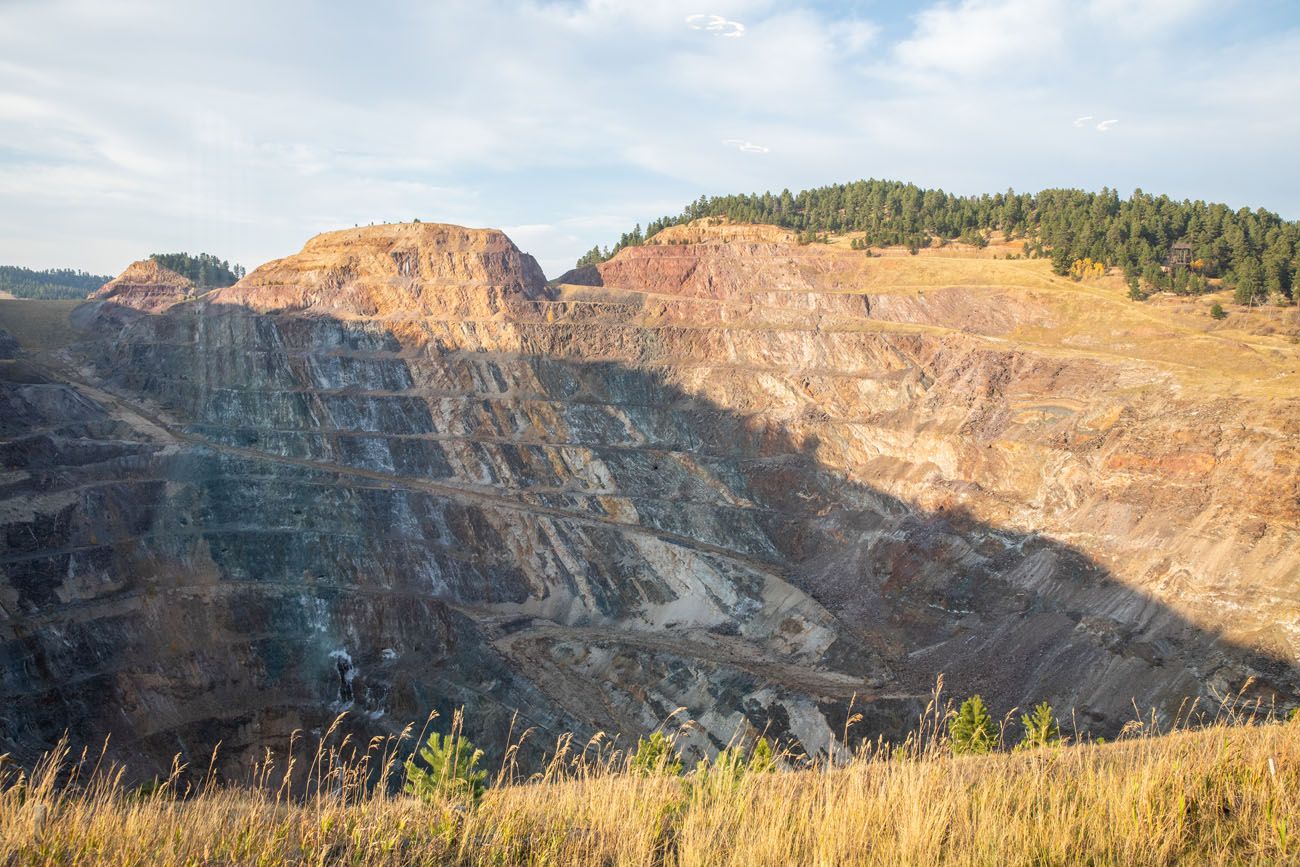 In 1974, Lead was added to the National Register of Historic Places.
Things to do in Lead include visiting the Sanford Lab Homestake Visitor Center, the Black Hills Mining Museum, and the Historic Homestake Opera House. However, many of places close at 5 pm. If these sound like places you would like to visit, skip the Devils Bathtub hike or get an earlier start today.
5:00 pm: Deadwood
Distance: 5 miles
Time: 10 minutes
Deadwood sits right next to Lead, so it's just a short drive to get here. This makes a great place to end the day, with shops, restaurants, and bars.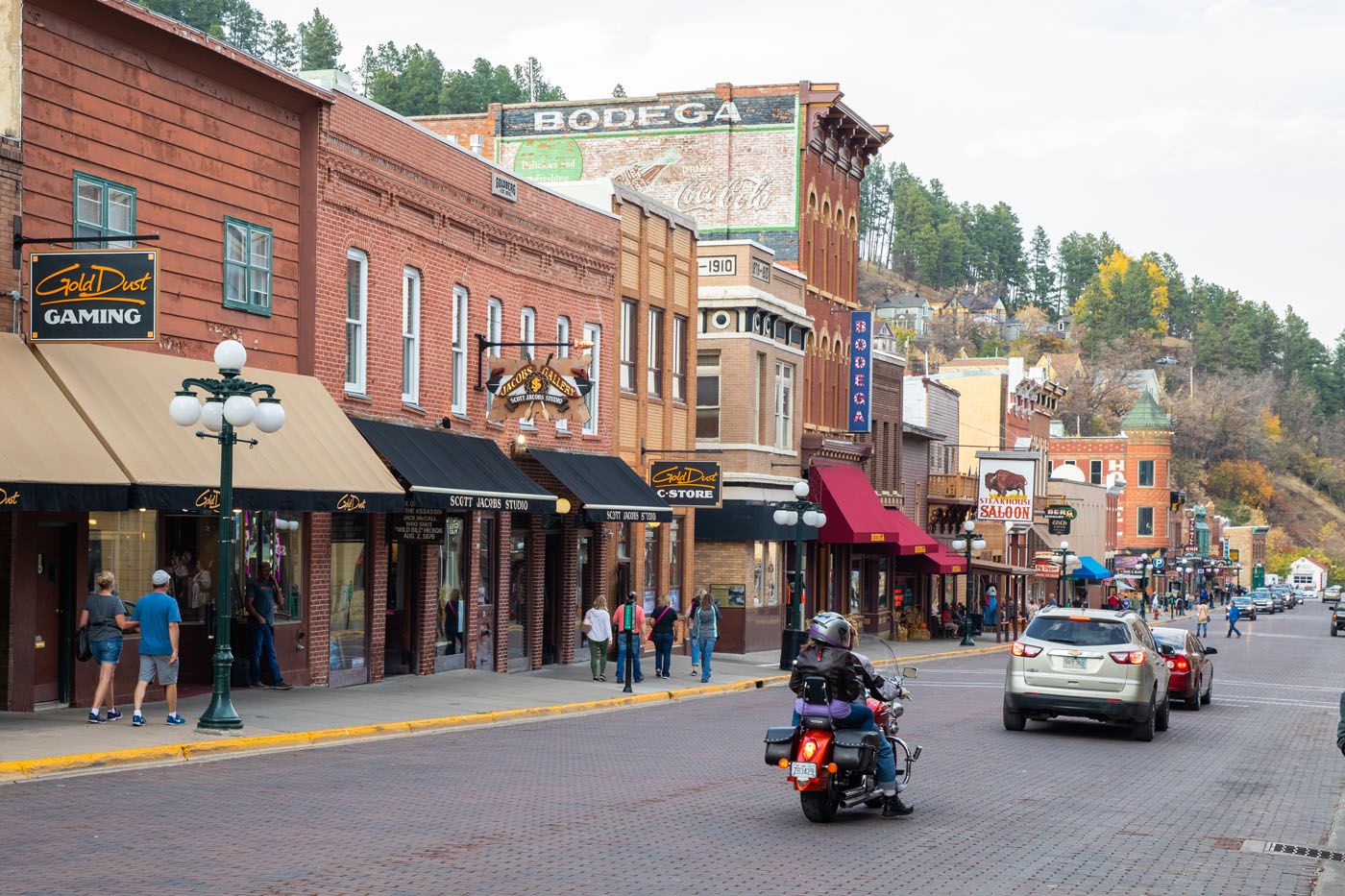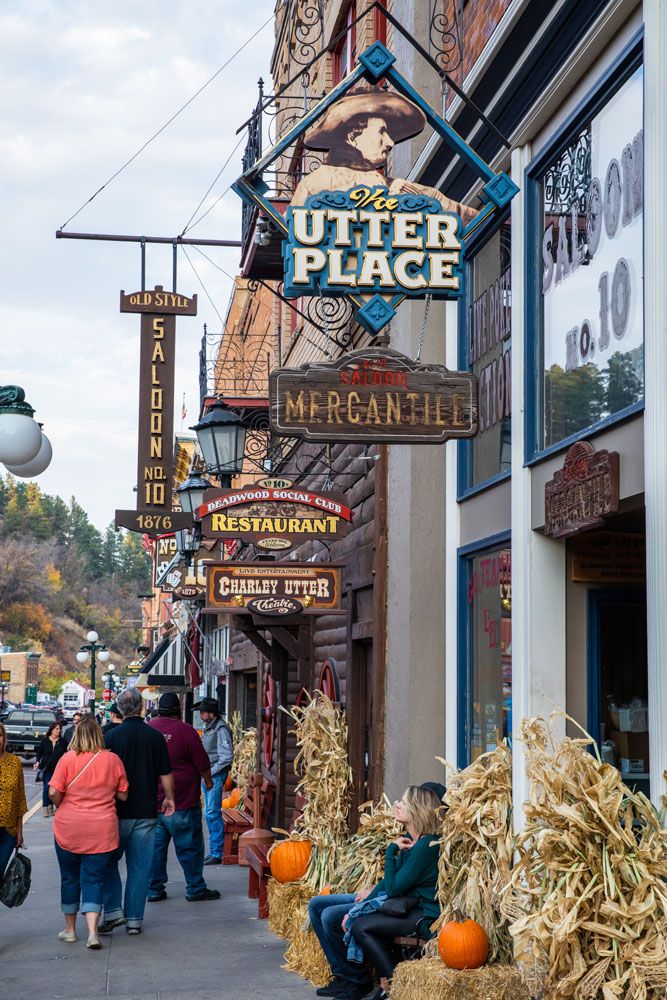 During the Black Hills Gold Rush, from 1876 to 1879, this town was in its heyday. Wyatt Earp, Calamity Jane, and Wild Bill Hickok all walked these streets and added to its vibrant history.
Deadwood is a National Historic Landmark District, since it preserves its Gold-rush architecture.
In 1989, gambling was legalized, making Deadwood the first small community in the US to offer legalized gambling. Kevin Costner opened a casino here, the Midnight Star, and it was featured in the movie Silverado in 1985. The casino closed in 2017.
Deadwood was also the setting of the HBO series by the same name that ran from 2004 to 2006.
Popular things to do on a visit to Deadwood:
Walk through the Historic Old Town
Saloon #10 Bar
Tour the Adam's House
Visit Mount Moriah Cemetery, where Wild Bill Hickok and Calamity Jane are buried
Days of '76 Museum
Mt Roosevelt Monument
Cadillac Jack's Gaming Resort
The Saloon #10 Bar is "the only museum in the world with a bar." This is where Wild Bill Hickok was shot and killed playing poker by Jack McCall. The hand of cards he was holding (two pairs of black aces and eights) is now called the Dead Man's Hand. Historical re-enactments are held regularly throughout the day.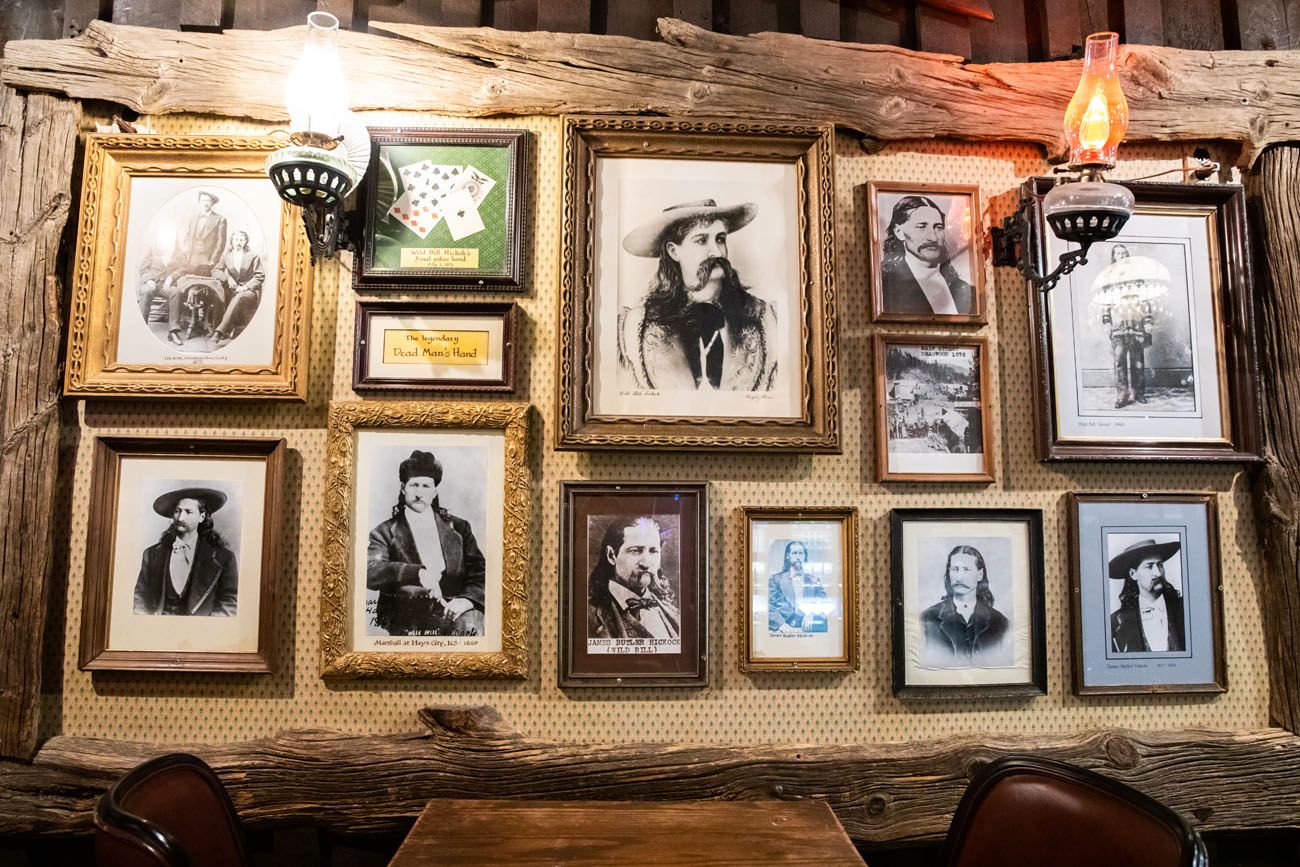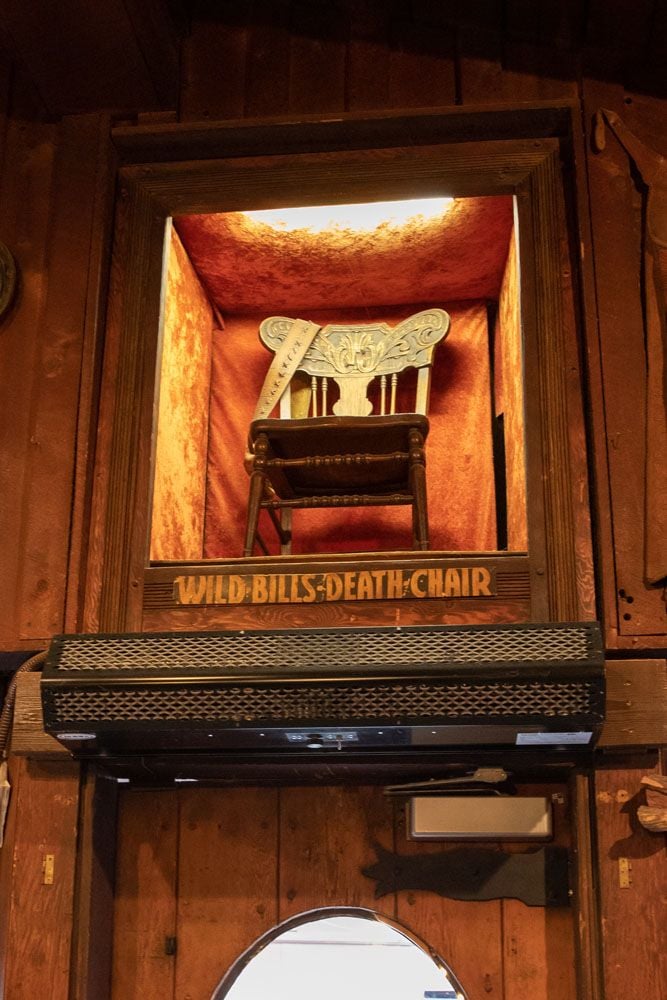 Have dinner in Deadwood before heading back to Rapid City or the Black Hills. We had a great dinner at Jacob's Brewhouse & Grocer but Cheyenne Crossing, El Jefe's Fresh-Mex Cantina, Lewie's Saloon & Eatery, and Deadwood Legend's Steakhouse all get great reviews.
Return to Rapid City
Distance: 42 miles
Time: 45 minutes
To get back to Rapid City, it takes 45 minutes. I hope you enjoyed your day trip!
Things to Know Before You Go
This Devils Tower day trip can be done all year. Spring and fall are the best times for this Devils Tower day trip, with pleasant temperatures. In the summer, expect hot weather and large crowds. During the winter months, be prepared for cold temperatures and the possibility of snow. Some historical sites and museums are closed or have reduced hours in the winter.
You can do this itinerary in the opposite direction. If you like the idea of visiting the museums and historical sites in Lead and Deadwood, this day trip works better in the opposite direction, so you will be in town when these places are open. Devils Tower is open 24 hours, so getting here late in the day is not an issue, and crowds could be low, another bonus.
Visiting Devils Tower. For more details on how to plan your visit, don't miss our Guide to Devils Tower.
---
If you have any questions about this Devils Tower day trip, or if you want to share your experience, let us know in the comment section below.
More Information about South Dakota & Wyoming
ROAD TRIP ITINERARY: Learn how to put together the Badlands, Mount Rushmore, Devils Tower, Yellowstone, and Grand Teton into one amazing 10 day road trip.
SCENIC DRIVE: If you have plans to drive between Yellowstone and Devils Tower or Mount Rushmore, take your pick between Cloud Peak Skyway and Bighorn Scenic Byway.
SOUTH DAKOTA: In South Dakota, visit Custer State Park, spend some time at Mount Rushmore, visit Badlands and Wind Cave National Parks. For a complete list, check out our guide to the best things to do in South Dakota.
YELLOWSTONE: For an overview of Yellowstone National Park and links to all of our Yellowstone articles, take a look at our Yellowstone National Park Travel Guide. To help you plan your trip, we also have articles about the best things to do in Yellowstone, how to visit Old Faithful, where to stay in Yellowstone, and how to plan the ultimate Yellowstone itinerary.
GRAND TETON NATIONAL PARK: Check out our Grand Teton National Park Travel Guide for important travel information, sample itineraries, and how to plan your visit. For a list of must-have experiences, read our article Best Things to Do in Grand Teton National Park.
If this is part of a bigger road trip through the USA, visit our United States Travel Guide for more inspiration and travel planning tips.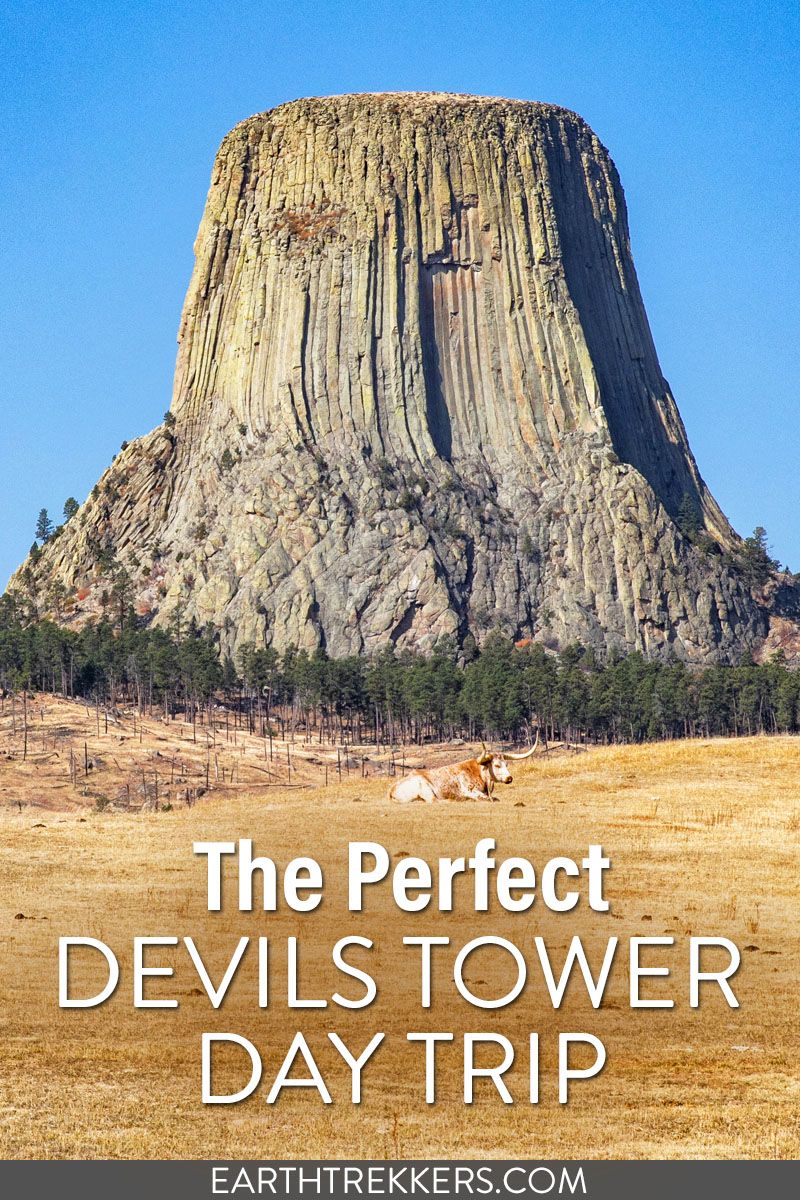 All rights reserved © Earth Trekkers. Republishing this article and/or any of its contents (text, photography, etc.), in whole or in part, is strictly prohibited.