The southwestern corner of South Dakota has a surprisingly long and wonderful list of things to do. Mount Rushmore, Badlands National Park, and Custer State Park are the big draws for many visitors to this part of the United States, but there is plenty more to keep you busy. In this post, we cover the best things to do in South Dakota near Rapid City.
About this List
Everything on this list is located in southwest South Dakota, in and around Rapid City.
You can visit all of these places by setting up one home base in Rapid City or the Black Hills of South Dakota, but if you plan to visit Badlands National Park, I recommend spending one or two nights in Wall, to save yourself a lot of driving.
At the end of this list, I have one bonus recommendation…an American icon that is not located in South Dakota but makes an awesome day trip from the Black Hills.
Things to Do in South Dakota
1. Mount Rushmore
Mount Rushmore is one of the most iconic landmarks in the United States. This national memorial draws 2 million visitors per year.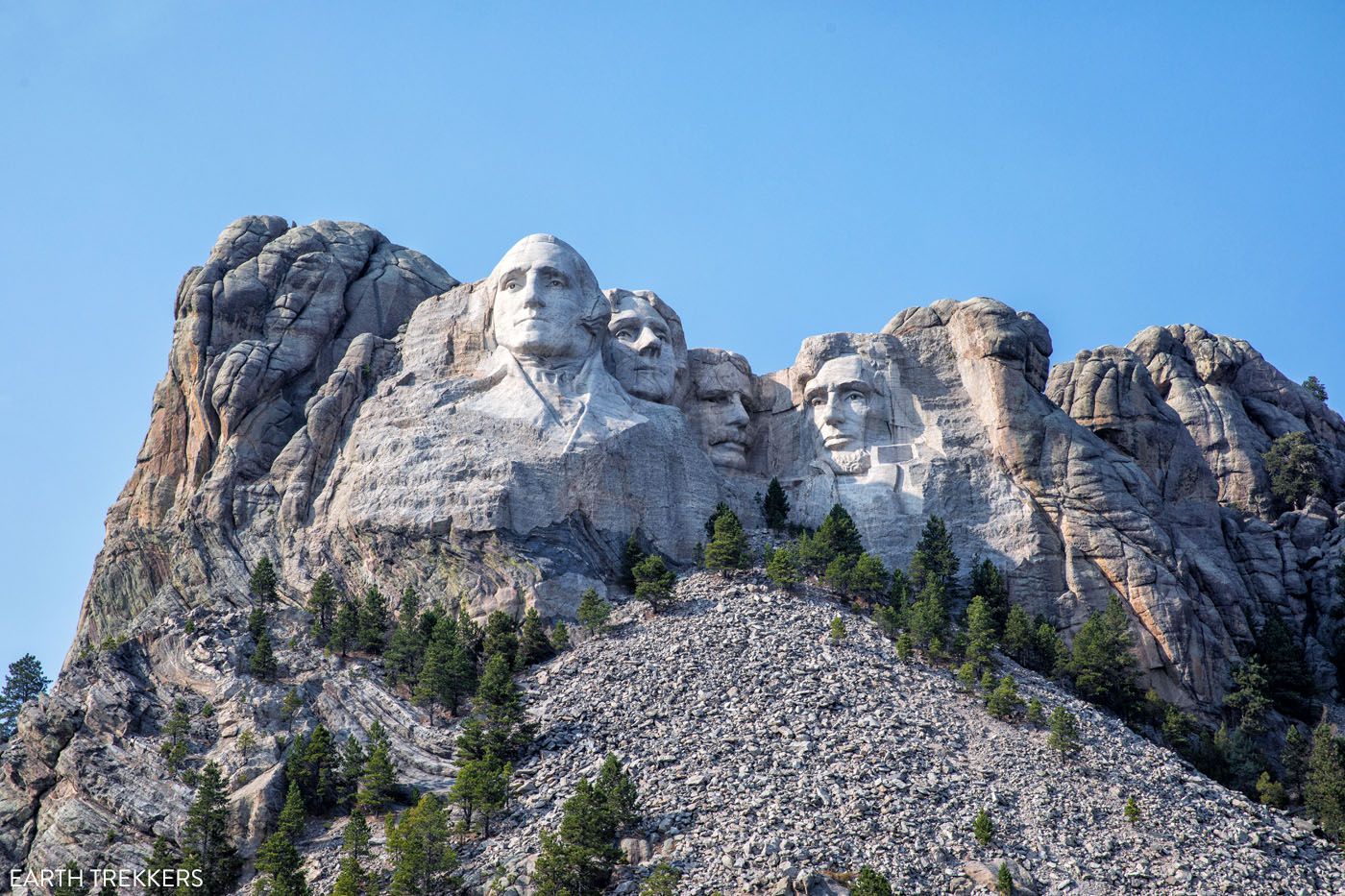 It took 14 years to carve the faces of George Washington, Thomas Jefferson, Theodore Roosevelt, and Abraham Lincoln into the stone. Mount Rushmore was completed in 1941.
A visit here can last anywhere from 30 minutes to several hours, depending on your interests. You can simply walk up and take a selfie with the presidents or you can learn more about Mount Rushmore by joining a ranger-guided program and walking the Presidential Trail.
Cost: It is free to visit Mount Rushmore but you do have to pay a $10 parking fee per vehicle.
Location: Mount Rushmore is located in the Black Hills of South Dakota, 23 miles southwest of Rapid City.
2. Crazy Horse Memorial
The Crazy Horse Memorial is currently under construction. When it is finished, it will depict Crazy Horse, an Oglala Lakota warrior, riding a horse and pointing towards his tribal lands.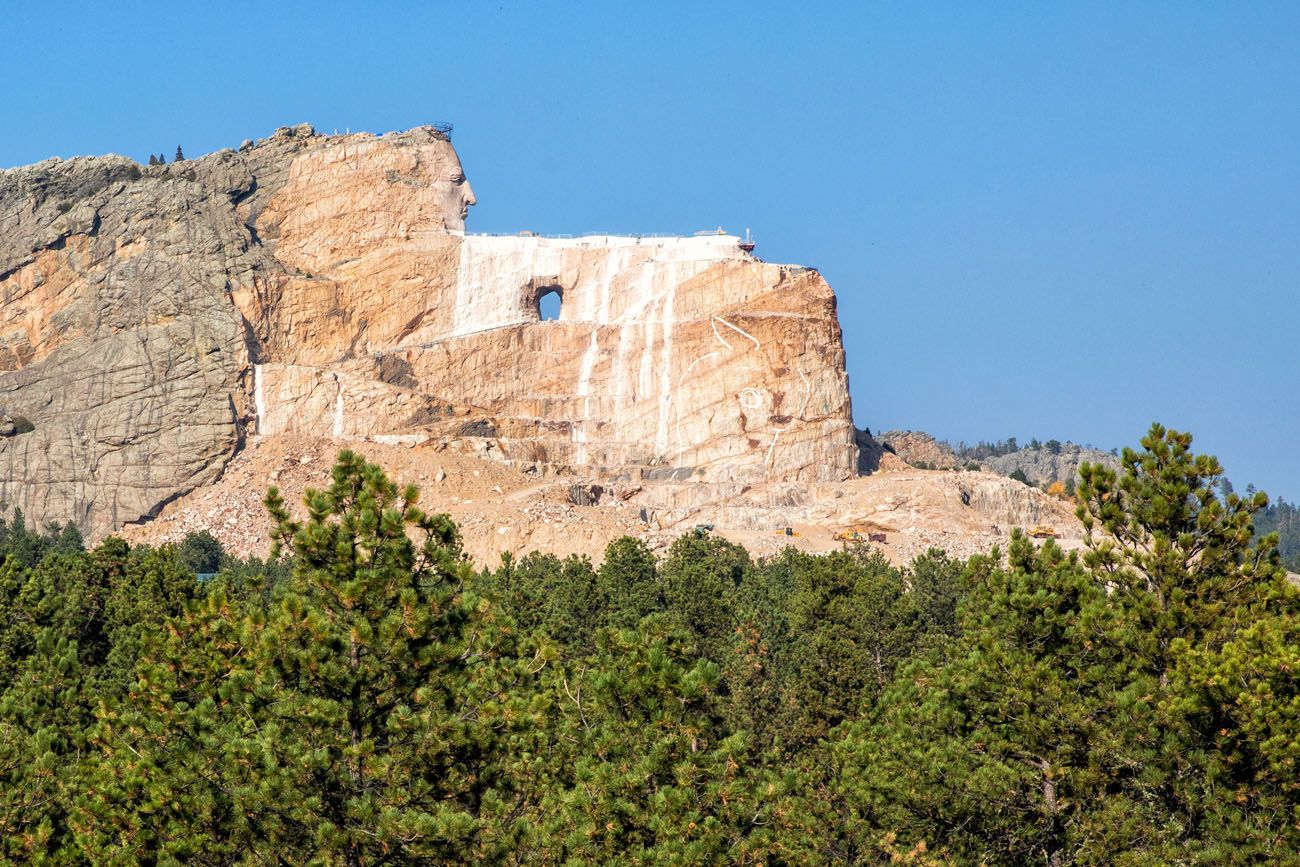 Work on the Crazy Horse Memorial began in 1948 and there is no estimate of when it will be finished. Once completed, it will be the world's second tallest statue, after the Statue of Unity in India.
Even though it is still a work in progress, the Crazy Horse Memorial is open to visitors. You can simply view the monument from afar, from the terrace of the Welcome Center, or you can take a van ride to the monument for a closer view.
Cost: For updated pricing and hours, visit the official website.
Location: The Crazy Horse Memorial is located in the Black Hills, 40 miles southwest of Rapid City. It is a 40 minute drive from Mount Rushmore.
3. Custer State Park
A visit to Custer State Park is one of the best things to do in South Dakota and a highlight for many visitors to the Black Hills.
This gem of a state park is laced with scenic drives and thrilling hiking trails as well as herds of bison, elk, and deer. Go swimming or boating on the lakes and drive Wildlife Loop Road to see how many bison you can count (roughly 1,400 bison call Custer State Park home).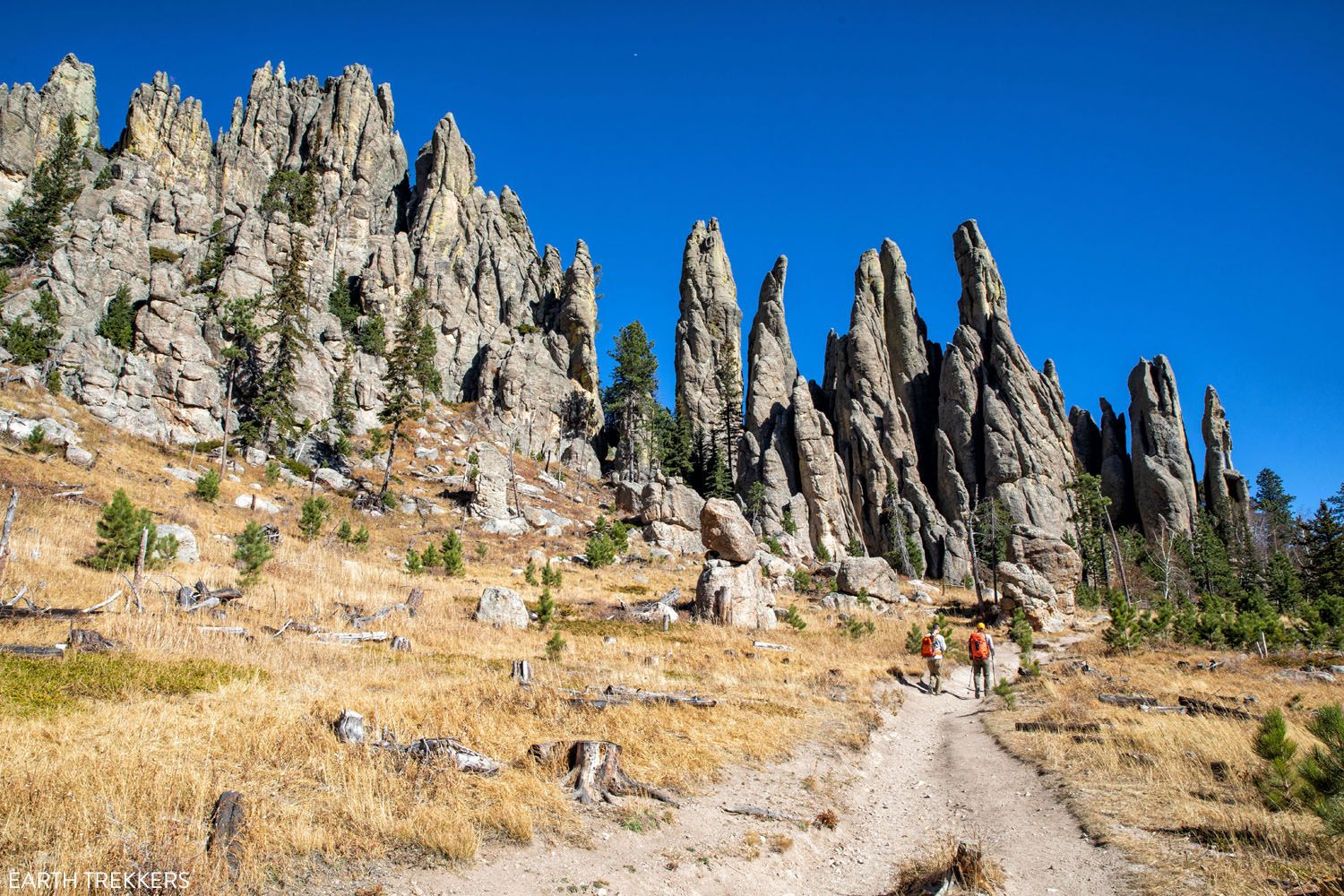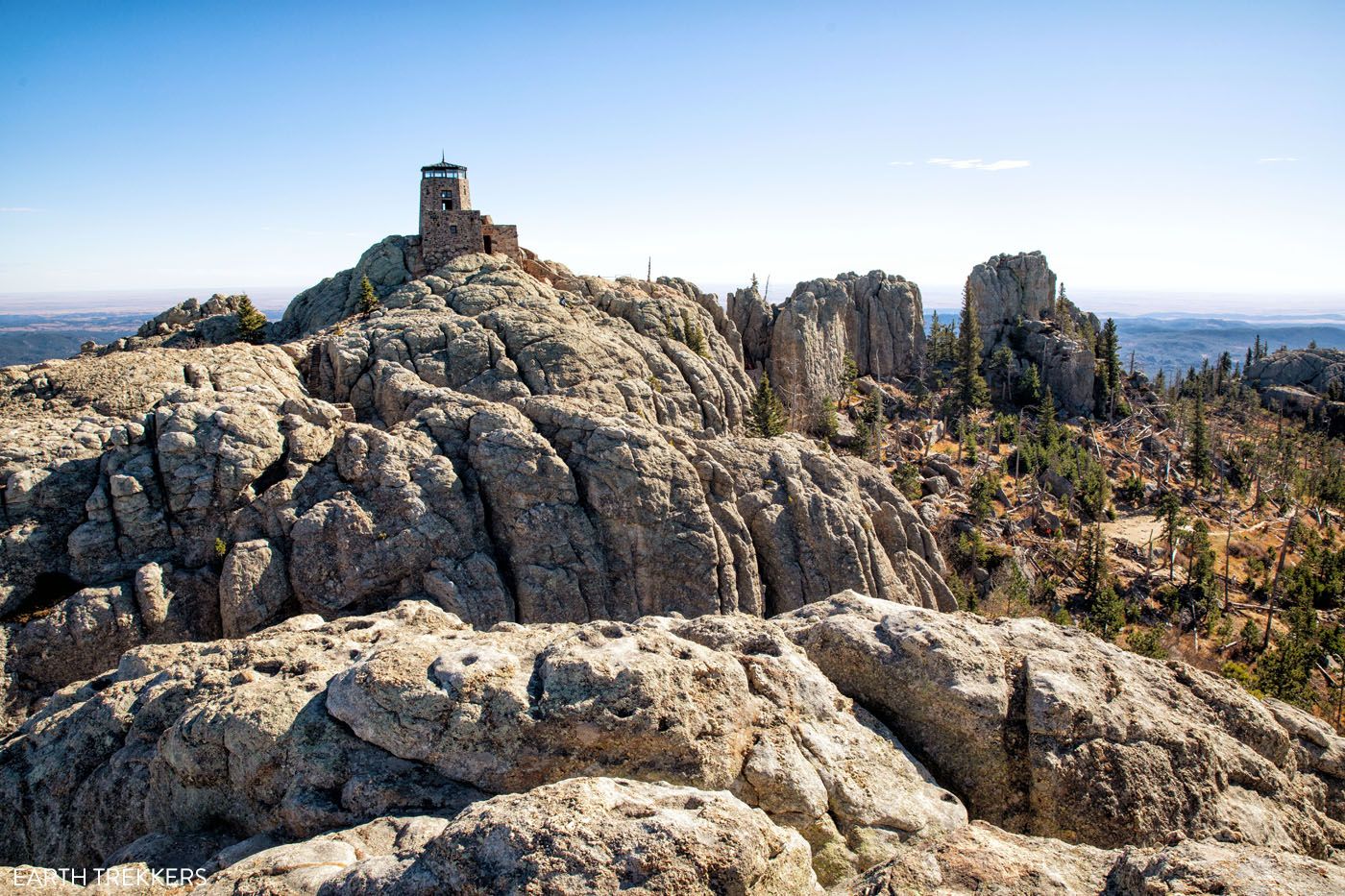 Plan on spending at least a half day in Custer State Park, longer if you want to hike one or two trails. This is a great place to go for all ages and it makes a fabulous family vacation destination.
4. Drive the Peter Norbeck Scenic Byway
The Peter Norbeck Scenic Byway is a 70-mile byway that includes the scenic drives in Custer State Park: Wildlife Loop Road, Iron Mountain Road, and Needles Highway. It also includes Highway 385 and Highway 244, two roads near Custer State Park, that form one big driving loop.
This road has been named one of the 10 Most Outstanding Byways in America.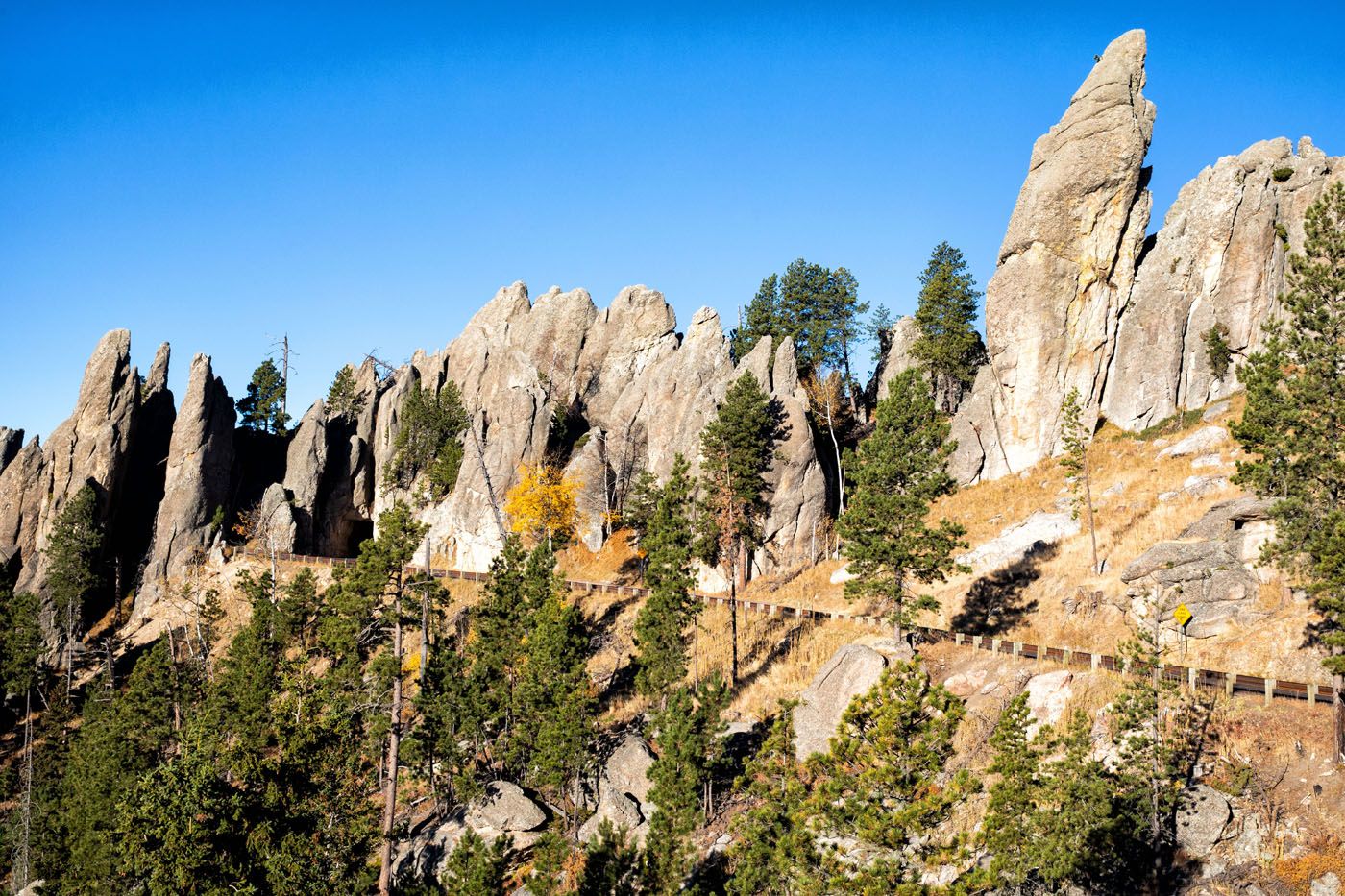 Needles Highway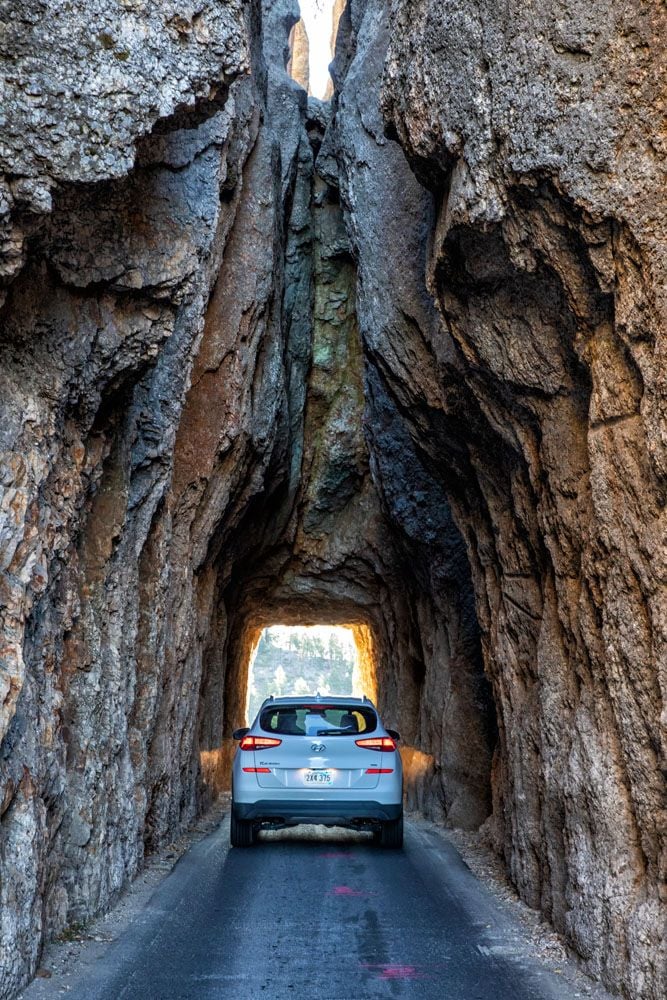 Needles Eye Tunnel
If you also plan to visit Mount Rushmore, the Crazy Horse Memorial, Wind Cave National Park, and Custer State Park, there is a very good chance you will be driving part or all of the Peter Norbeck Scenic Byway.
Learn more here.
5. Badlands National Park
This highly underrated national park is well worth at least one day of your time in South Dakota.
The colorful buttes, spires, and pinnacles create one of the most photogenic landscapes in the country. Bison and bighorn sheep roam the largest mixed-grass prairie in the United States. The sunrises and sunsets are magical, the hiking trails are short and sweet, and for those looking for more solitude, you can take your pick from a handful of backcountry experiences.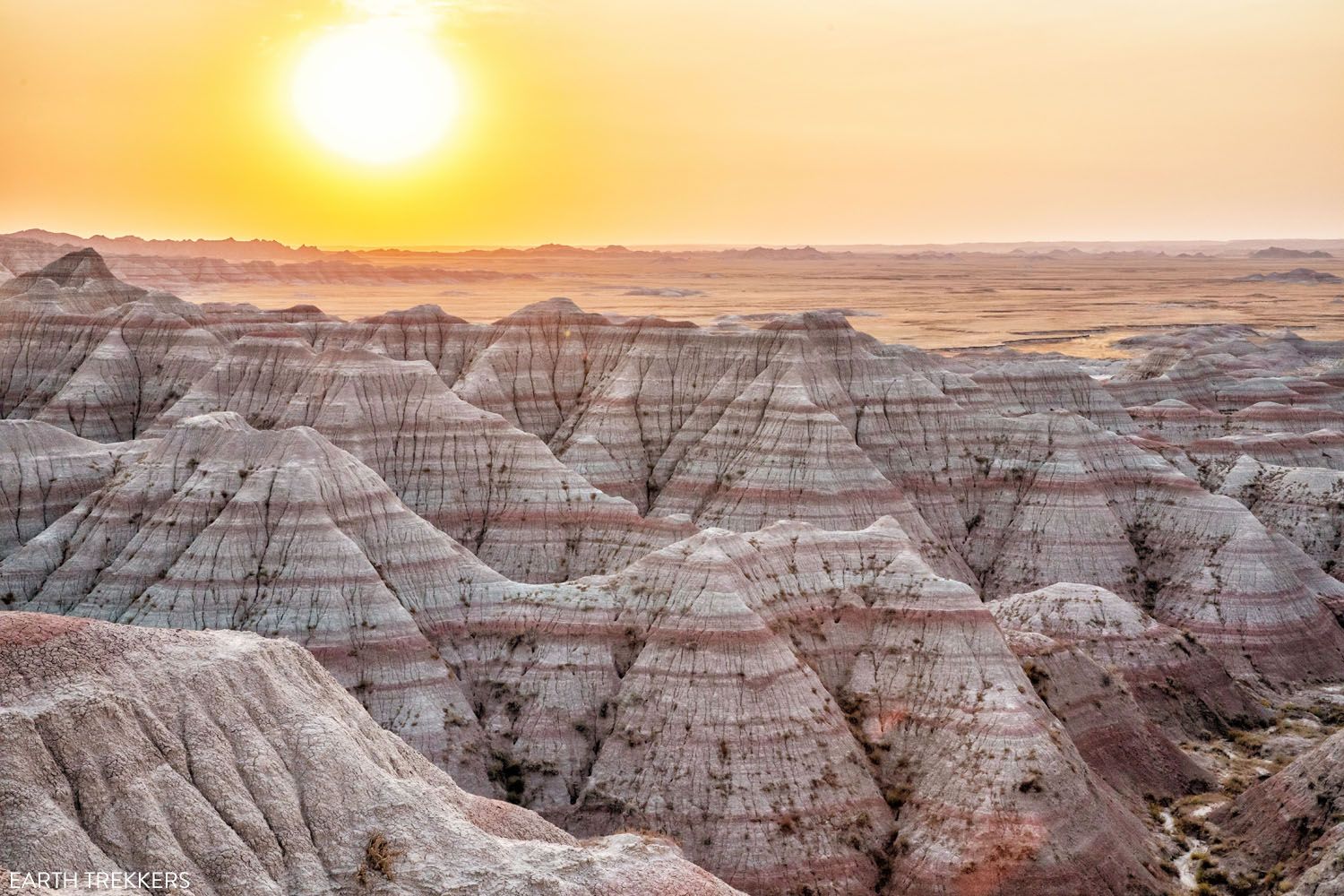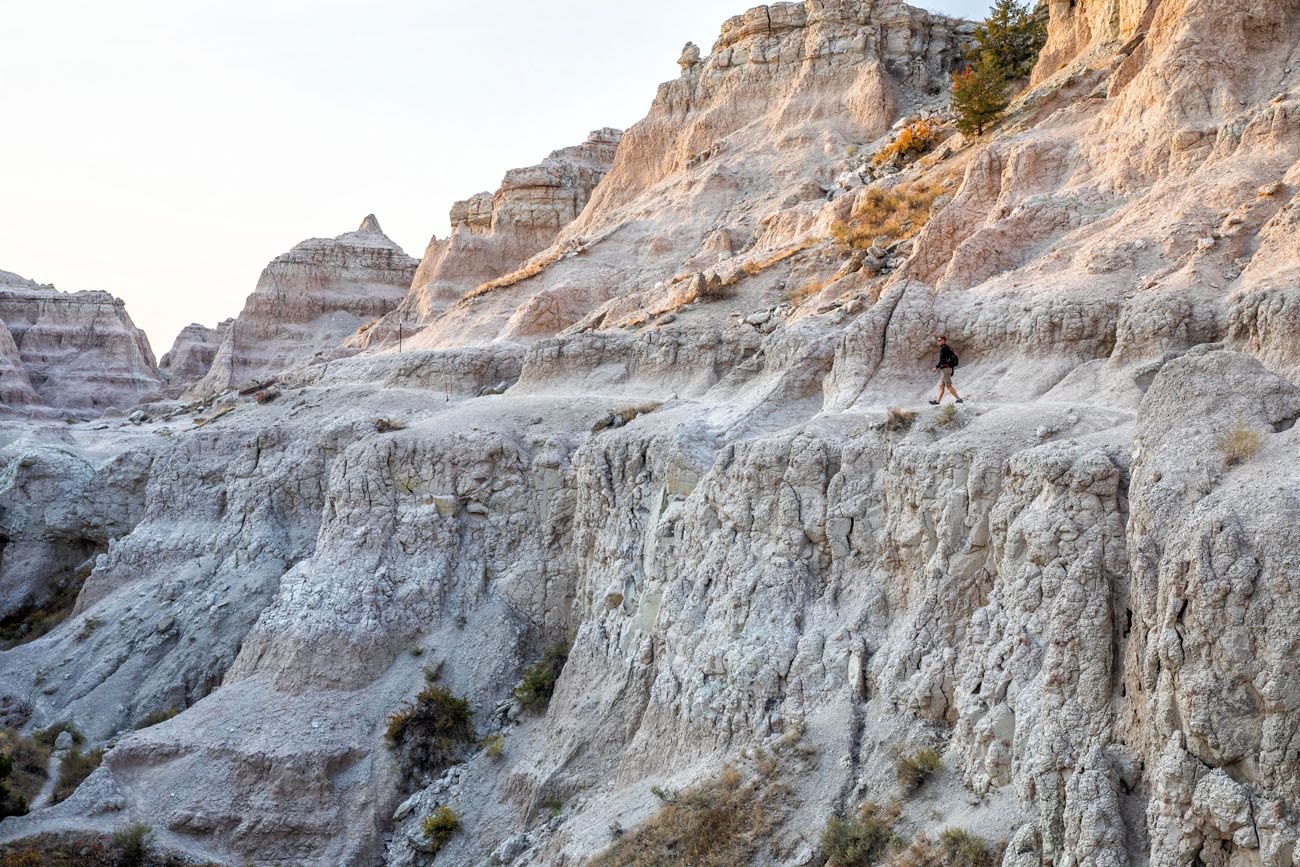 Notch Trail
Drive Badlands Loop Road, the main road that runs through the park. Along the way, stop at the scenic overlooks, get out and go on a short hike (the Notch Trail is tons of fun!). Plan on spending sunrise and/or sunset here…there is nothing like seeing the warm glow of the Badlands with the sun low on the horizon.
6. Minuteman Missile National Historic Site
During the Cold War, hundreds of Minuteman Missiles were hidden in silos near the Badlands. Now, the national park service preserves two of these sites, the the Launch Control Facility for Delta-01 and the Delta-09 Missile Silo.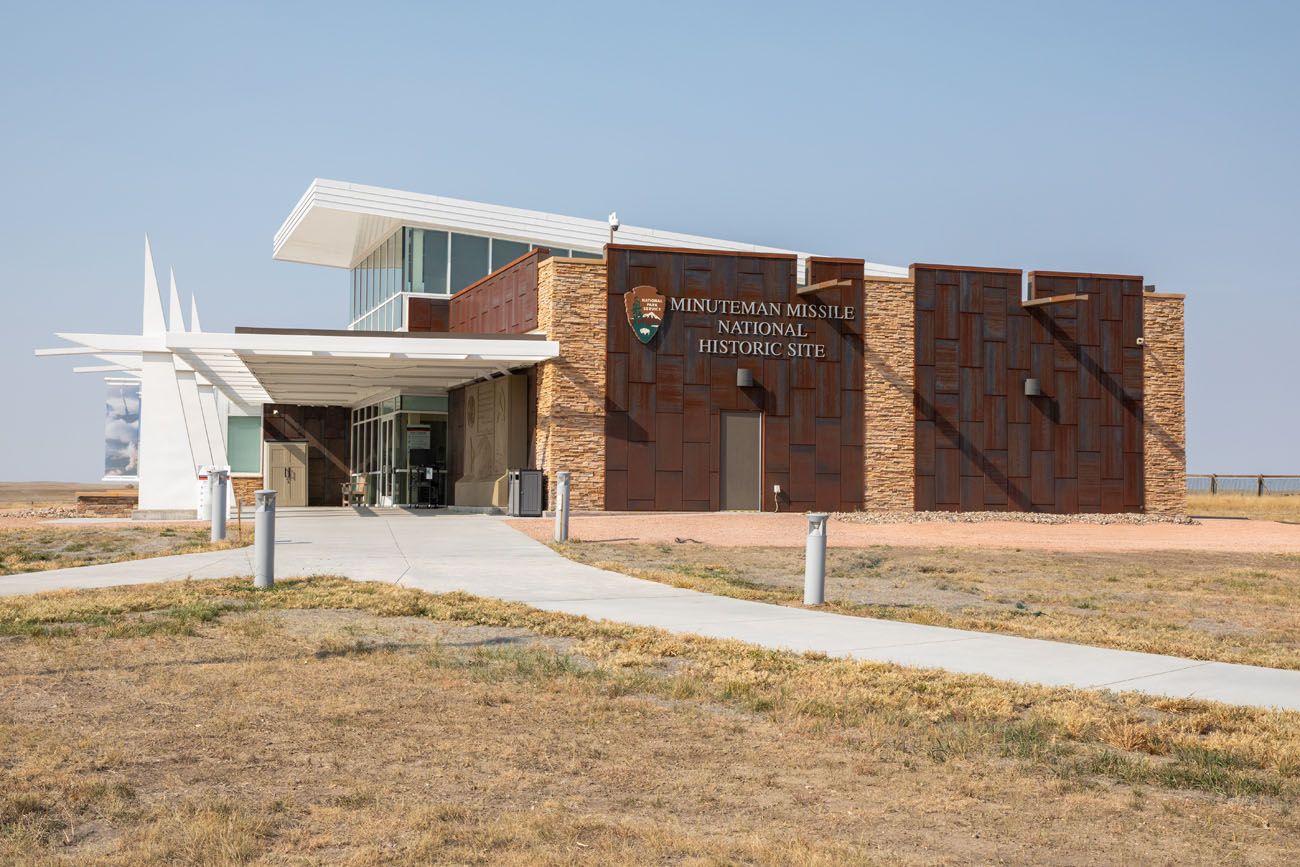 Start your visit at the Minuteman Missile Visitor Center, which is located near the east entrance into the Badlands. There is a small museum here and it is filled with lots of interesting facts about the Cold War and the accumulation of missiles by the United States and the Soviet Union.
You can also look down into the Delta-09 Missile Silo (no tour necessary), which is located 15 miles northwest of the Visitor Center, just off of Highway 90 (7 miles from Wall).
If you want to tour the Launch Control Facility, you can only do this on a guided tour.
The Minuteman Missile National Historic Site is located near Badlands National Park, 20 miles southeast of Wall. Get the full details on hours of operation and tours of the Launch Control Facility here.
7. Rapid City Presidents
Count how many presidents you can find in Rapid City.
Standing on the street corners of downtown Rapid City are life-sized statues of the US presidents. Currently, 43 presidents are represented and you can try to see them all on this walking tour.
8. The Mammoth Site
The remains of over 60 mammoths have been uncovered at this archaeological site.
In the Pleistocene era, about 140,000 years ago, a sinkhole formed, trapping the mammoths. Over the years, sediment filled the sinkhole, preserving the bones of the mammoths.
This site was discovered in 1974 when a bulldozer was excavating land for housing and unearthed some of these bones. Phil Anderson, owner of this land, stopped the housing project. Now, scientist around the world have worked and studied here. According the brochure we received at the Mammoth Site, "this is the site with the largest in-situ mammoth remains anywhere in the world."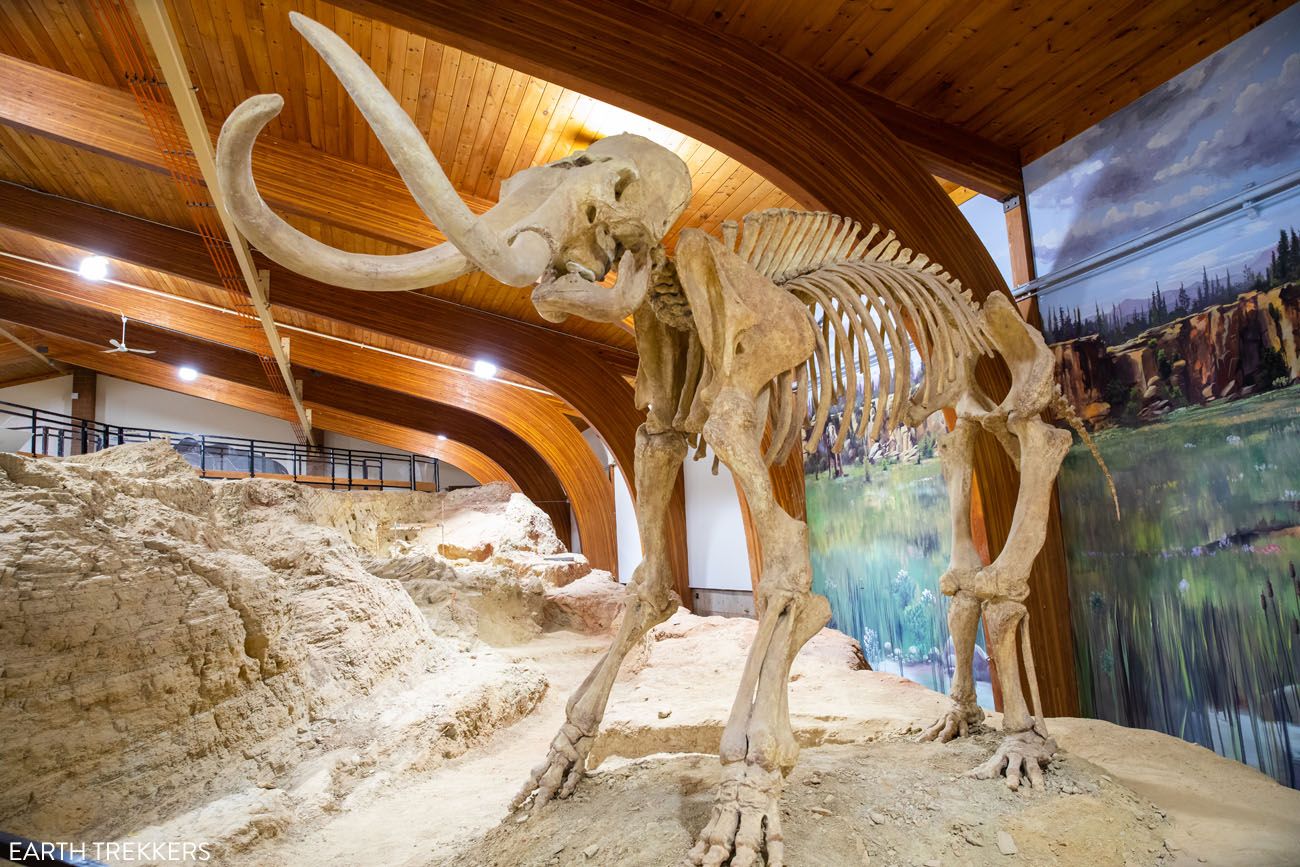 The US National Park Service designated The Mammoth Site a National Natural Landmark in 1980.
You can visit The Mammoth Site all year. Now, it is an indoor museum and you can tour the site following the self-guided tour. Click here for pricing and hours.
Location: In the town of Hot Springs, a 1 hour drive south of Rapid City.
9. Wind Cave National Park
Wind Cave National Park is home to one of the longest cave systems in the world. Touring the cave is the main reason for visiting this park but there is a lot more to do here than explore this underground world.
Above ground, Wind Cave National Park is home to one of the largest mixed-grass prairies in the United States. Miles and miles of hiking trails crisscross through these prairies. Bison, pronghorn, elk, coyotes, and prairie dogs can be found in abundance here, along with many other animals. In fact, this is one of the best national parks in the United States for wildlife viewing, rivaling Yellowstone in some respects.
Touring the cave is the most popular thing to do in Wind Cave, but above ground, there are several great hikes and short scenic drives to do. We recommend the Ranking Ridge Trail and the Lookout Point and Centennial Trail Loop. This hike takes just a few hours of your time and there is a very good chance that you will see prairie dogs and bison from the trail. It was our favorite experience in Wind Cave National Park.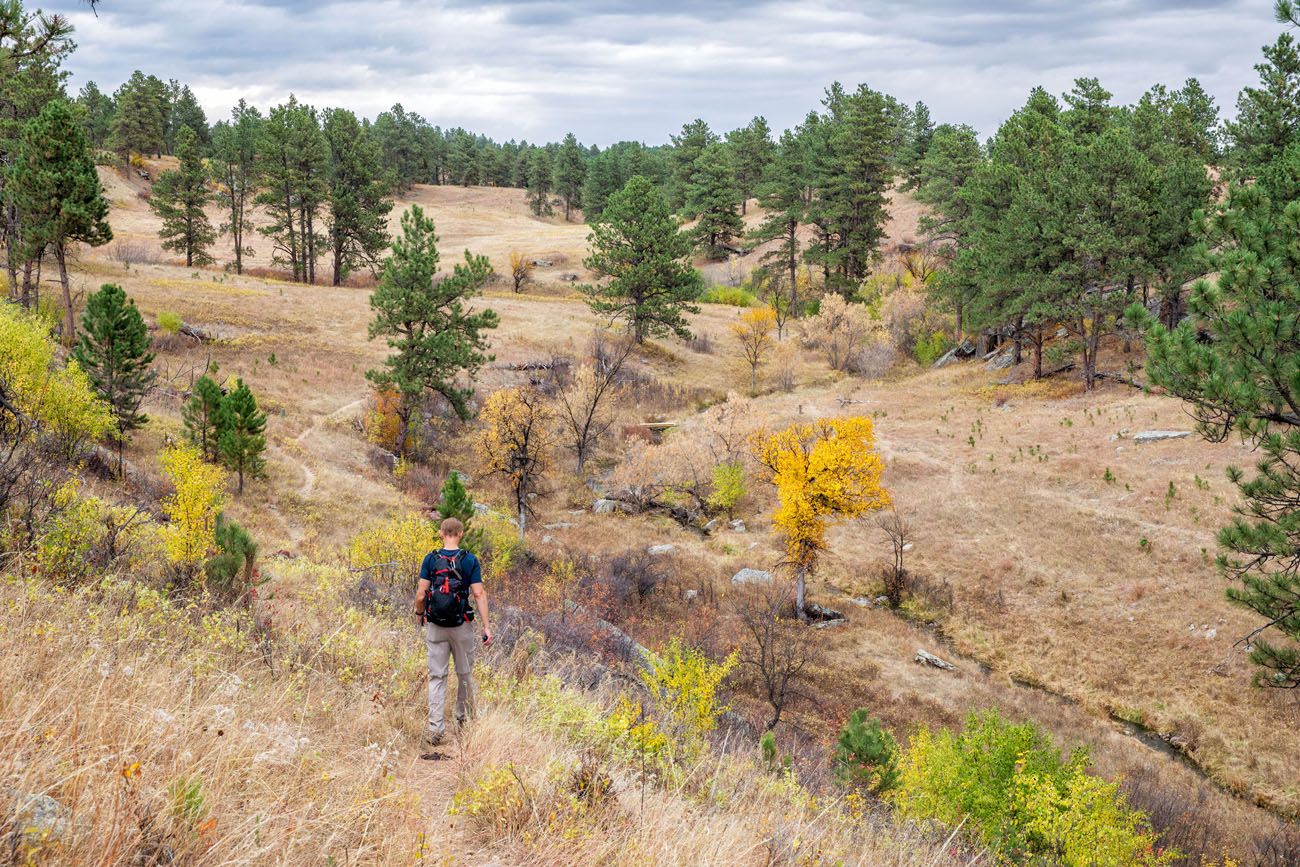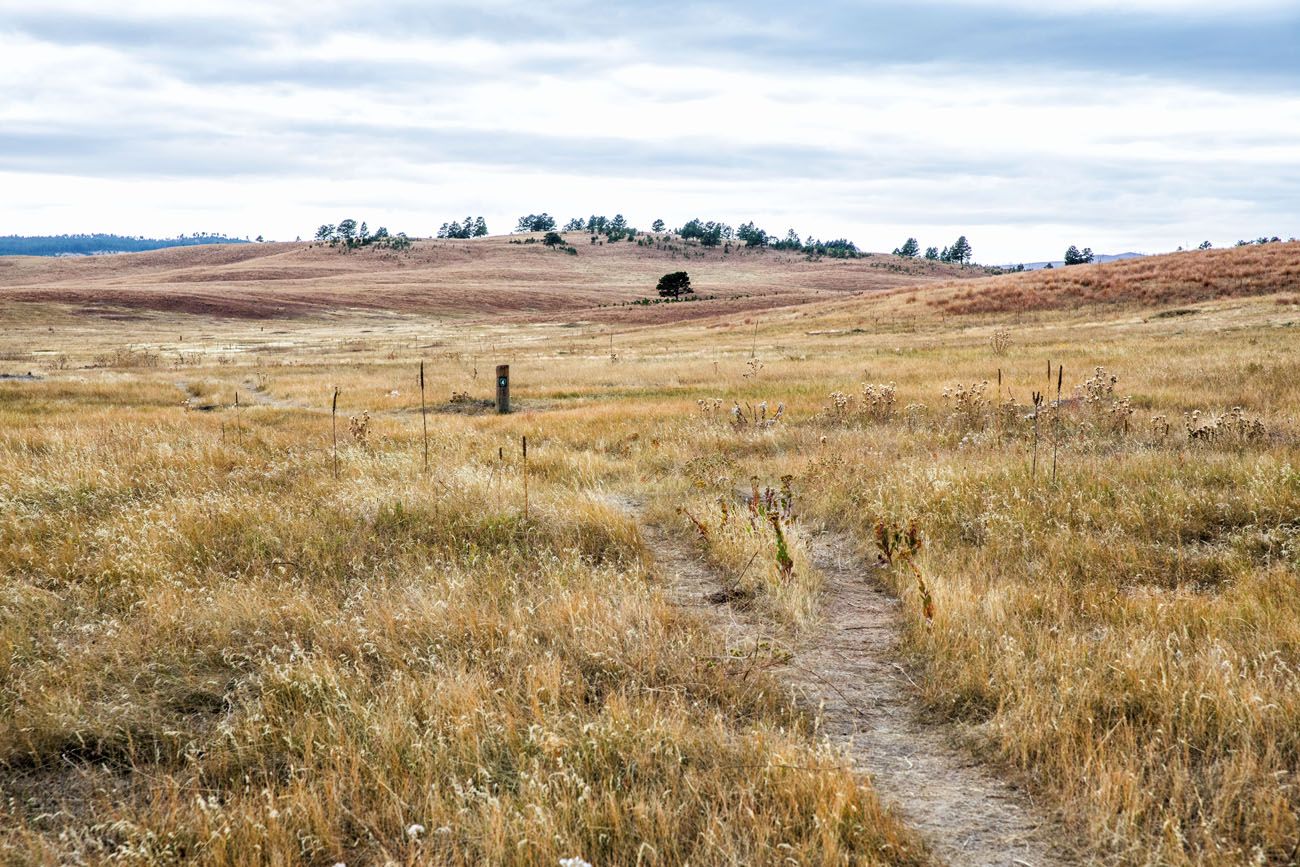 Location: 43 miles south of Rapid City. Wind Cave and Custer State Park sit side by side; if you move fast, you can spend half a day in Custer and half of a day in Wind Cave.
10. Jewel Cave National Monument
Jewel Cave is the third longest cave in the world with over 200 miles of mapped passageways. Similar to Wind Cave, you can tour the cave on a ranger-guided tour or hike the above ground trails.
Currently, repair work is being performed on the Jewel Cave elevator and it is planned to be completed by June 2021. Before you go, get updates on operation on the official website.
Location: 54 miles southwest of Rapid City, not far from the town of Custer.
11. Go on a Long Distance Hike
Two long distance hiking trails wind through the Black Hills of South Dakota. Both of these make great ways to explore this part of South Dakota if you like hiking and backpacking.
The Mickelson Trail
The Mickelson Trail is a 109 mile long trail that runs from Deadwood in the north to Edgemont in the south. Most of the surface is packed gravel and it crosses over 100 railroad bridges during its entire length.
You can hike part or all of the trail. This is also a popular place to go bike riding and horseback riding. Learn more here.
Centennial Trail
To mark the 100th anniversary of South Dakota statehood, from 1889 to 1989, the Centennial Trail was constructed. It is 111 miles long and runs from Bear Butte State Park, through the Black Hills, runs near Mount Rushmore and through Custer State Park, ending at Wind Cave National Park. Learn more here.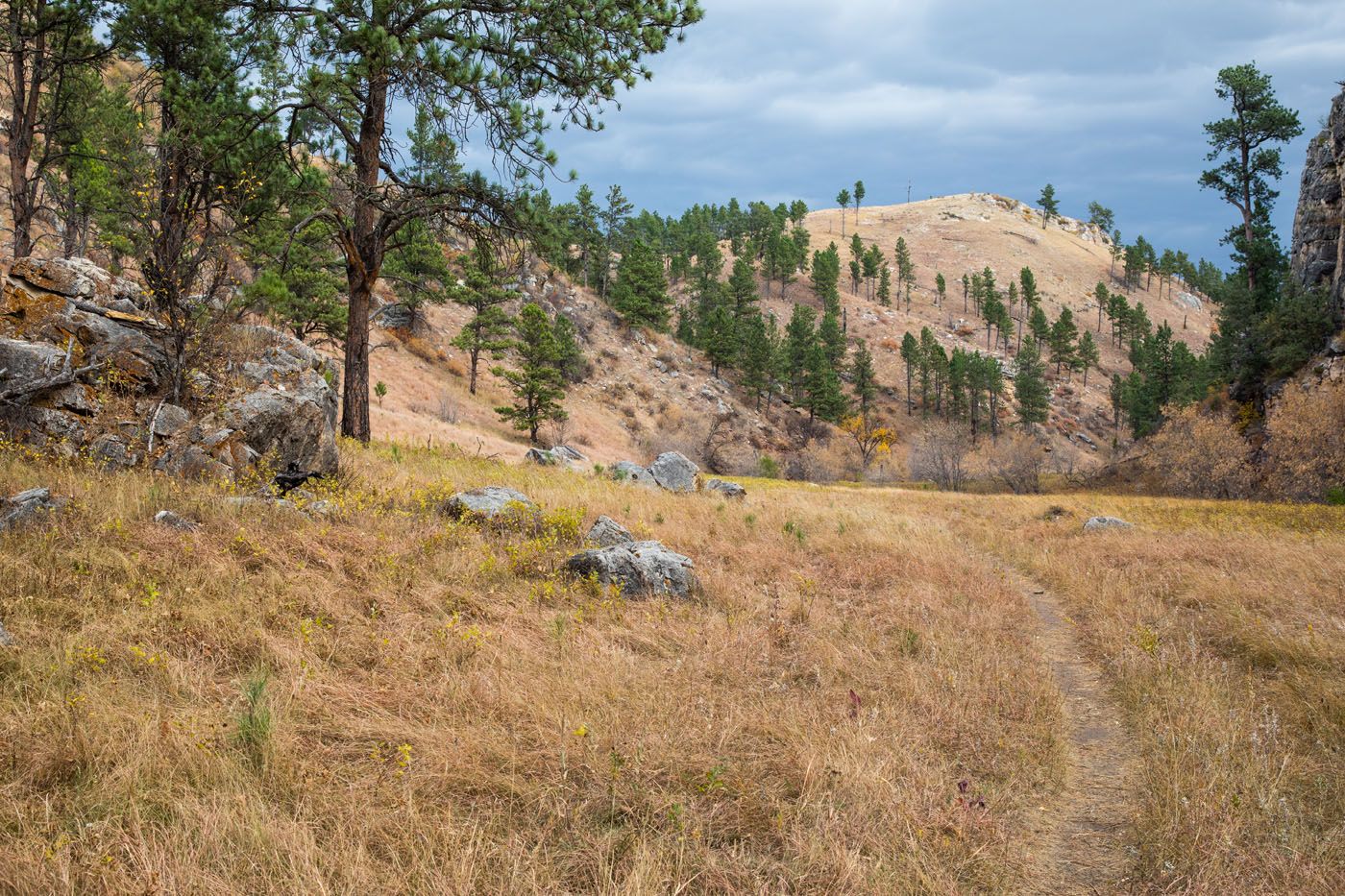 Centennial Trail
12. Bear Butte State Park
This state park is located north of Rapid City. It is home to Bear Mountain or Mato Paha, the Lakota name given to this site. This mountain is sacred to the American Indian tribes who hold religious ceremonies here.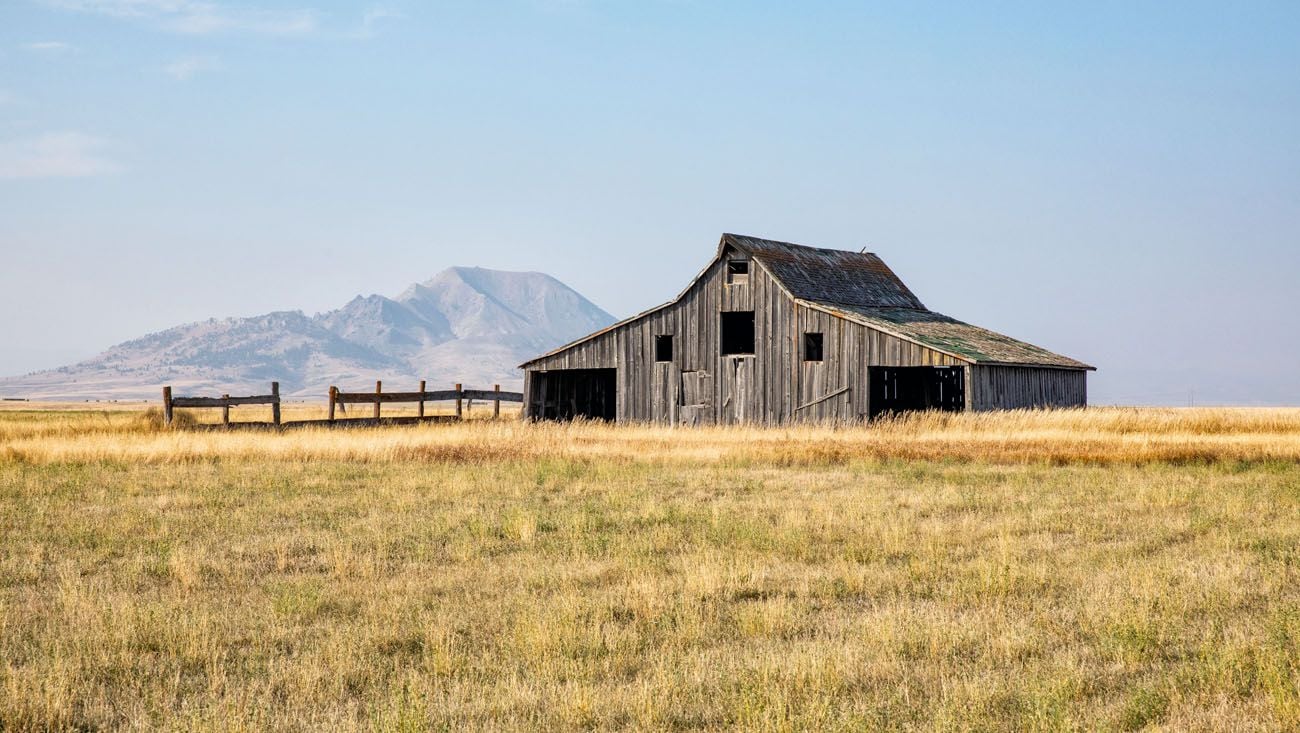 As a visitor, you can hike to the peak of Bear Butte, go horseback riding, or fishing.
Location: 30 miles north of Rapid City
13. Spearfish Canyon Scenic Byway
Spearfish Canyon Scenic Byway is a 20 mile long road that weaves its way along Spearfish Creek. Along the drive, limestone cliffs that are 1,000 feet tall tower overhead. During the drive, you can stop at overlooks, waterfalls, and you have the option to add on a short hike.
The hike to Devils Bathtub is a short, fun hike that features numerous creek crossings and ends at a pool of water that makes a great swimming spot in the summer. Bridal Veil Falls, Roughlock Falls, and Spearfish Falls are also nice to visit on the drive.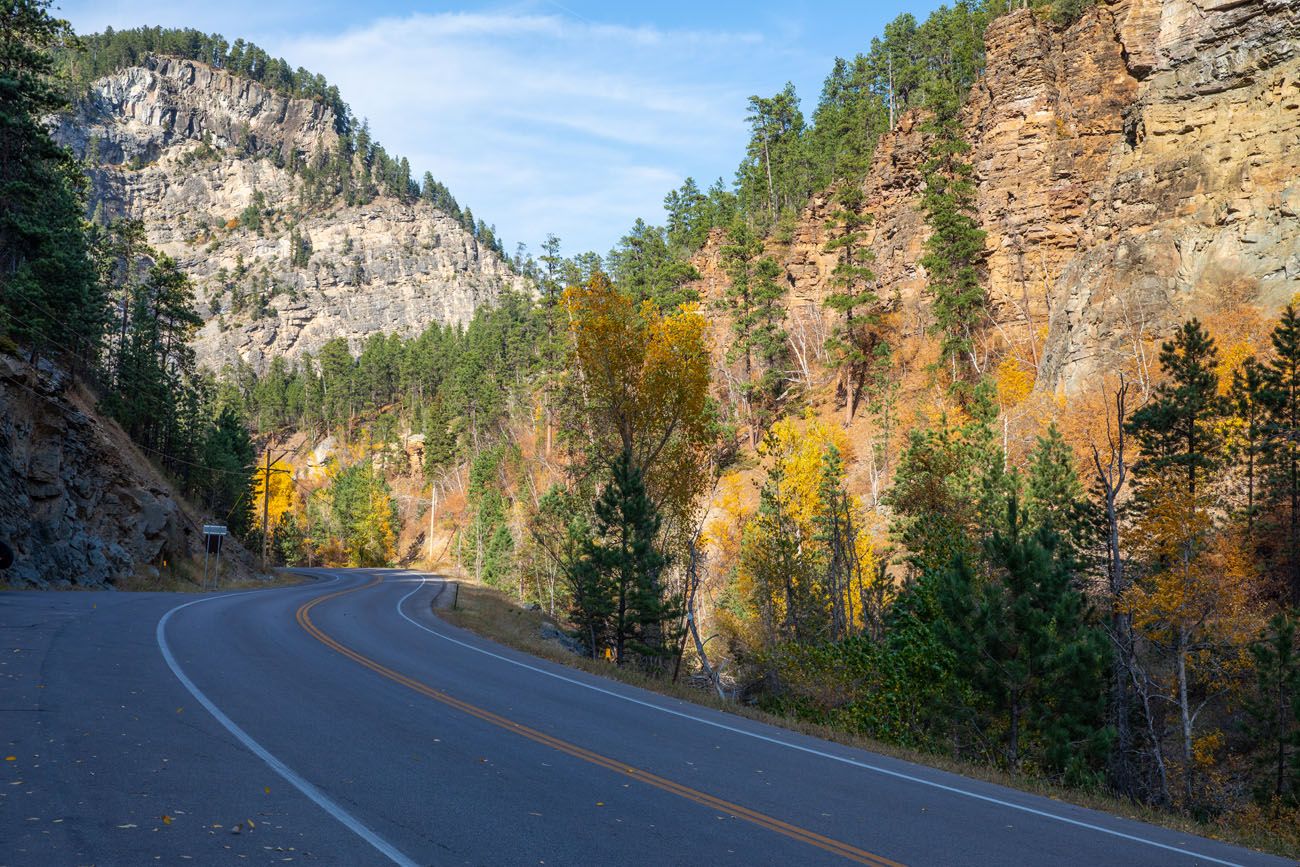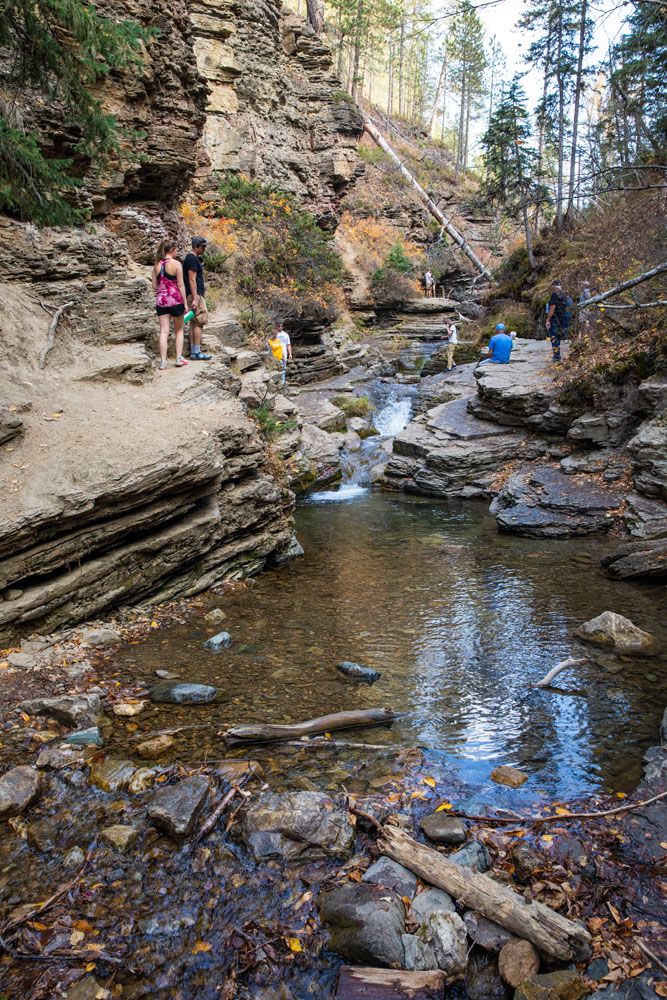 Devils Bathtub
It takes several hours to drive through Spearfish Canyon, visit the viewpoints, and hike one or two of the hiking trails.
14. Deadwood
During the Black Hills Gold Rush, from 1876 to 1879, this town was in its heyday. Wyatt Earp, Calamity Jane, and Wild Bill Hickok all walked these streets and added to its vibrant history.
Deadwood is a National Historic Landmark District, since it preserves its Gold-rush architecture.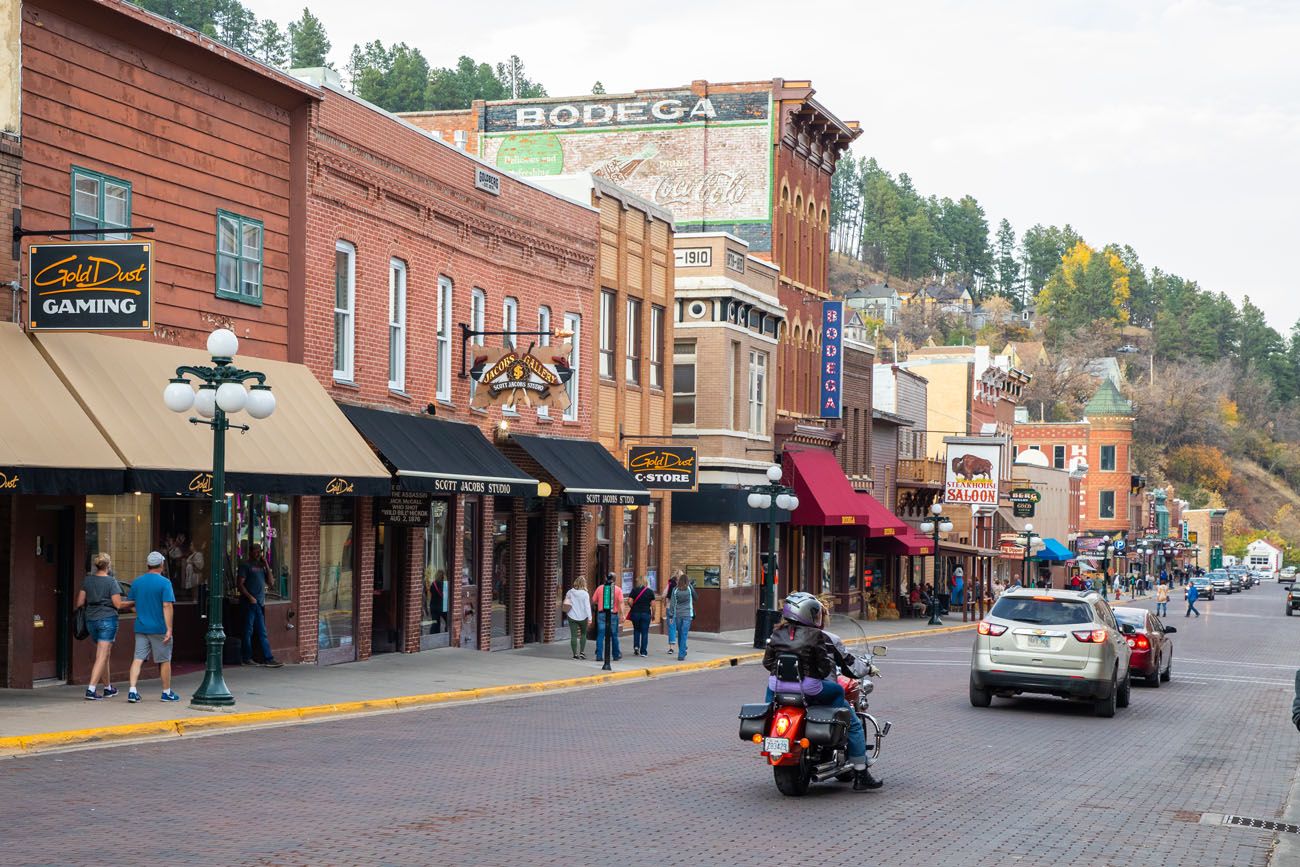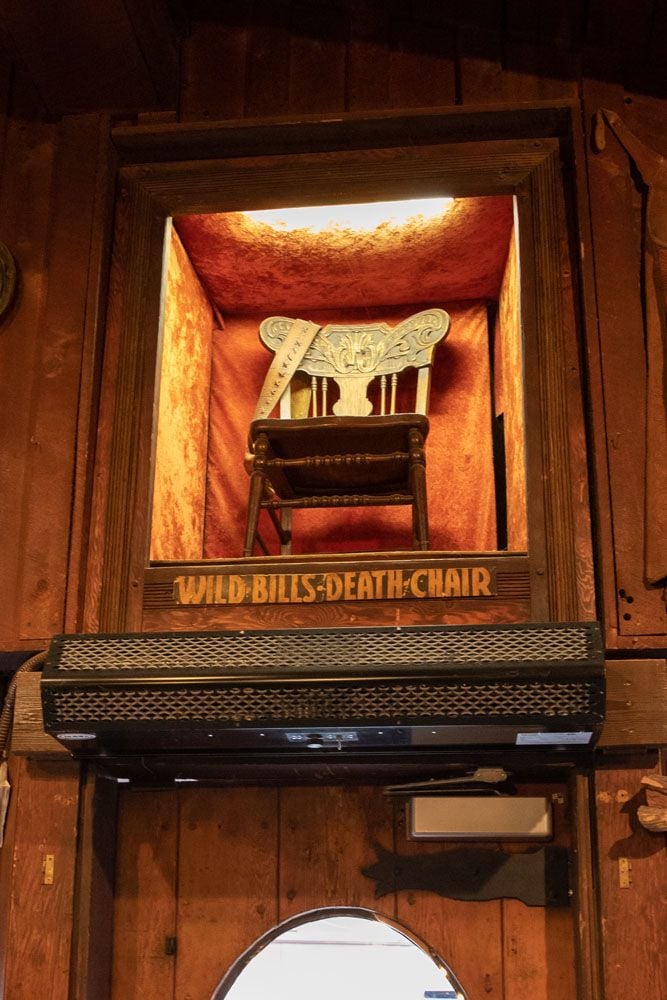 In 1989, gambling was legalized, making Deadwood the first small community in the US to offer legalized gambling. Kevin Costner opened a casino here, the Midnight Star, and it was featured in the movie Silverado in 1985. The casino closed in 2017.
Deadwood was also the setting of the HBO series by the same name that ran from 2004 to 2006.
Popular things to do on a visit to Deadwood:
Walk through the Historic Old Town
Saloon #10 Bar
Tour the Adam's House
Visit Mount Moriah Cemetery, where Wild Bill Hickok and Calamity Jane are buried
Days of '76 Museum
Mt Roosevelt Monument
Cadillac Jack's Gaming Resort
The Saloon #10 Bar is "the only museum in the world with a bar." This is where Wild Bill Hickok was shot and killed while playing poker by Jack McCall. The hand of cards he was holding (two pairs of black aces and eights) is now called the Dead Man's Hand. Historical re-enactments are held regularly throughout the day.
15. Lead
Lead's claim to fame is its history in gold mining. This small town was home to the Homestake Mine, the largest, deepest, and most productive gold mine in the Western Hemisphere. It was closed in January 2002.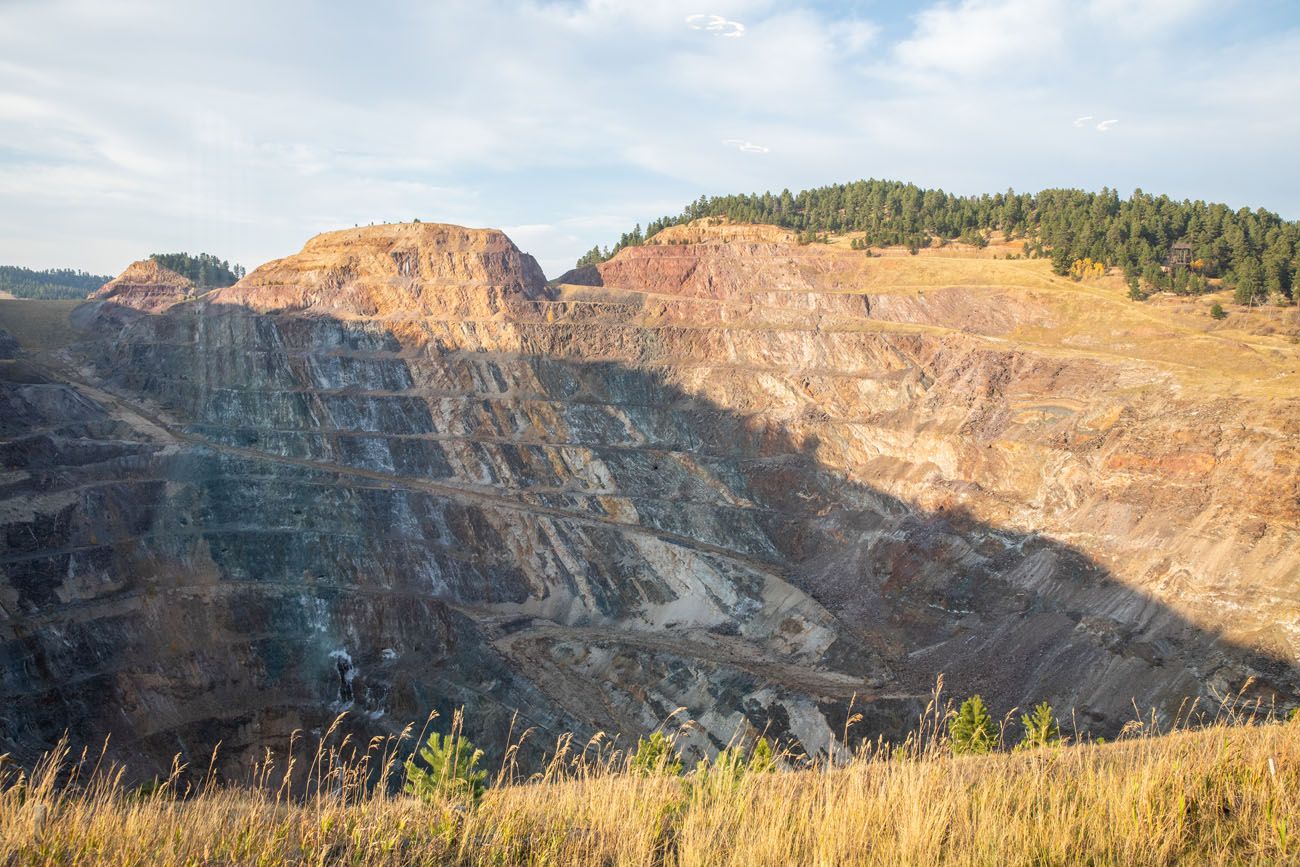 In 1974, Lead was added to the National Register of Historic Places.
Things to do in Lead include visiting the Sanford Lab Homestake Visitor Center, the Black Hills Mining Museum, and the Historic Homestake Opera House.
PRO TRAVEL TIP: Deadwood and Lead sit side by side so I recommend combining both towns into one visit. Adding on Spearfish Canyon makes a great day trip from Rapid City or the Black Hills of South Dakota. Deadwood and Lead are located 40 miles northwest of Rapid City.
Bonus: Devils Tower
Devils Tower is not located in South Dakota. It is located in eastern Wyoming. I am including it on this list because Devils Tower makes a great day trip Rapid City and the Black Hills of South Dakota.
Like Mount Rushmore, Devils Tower is one of most recognizable landmarks in the United States. While you are here, take your pick from one of the trails that encircles Devils Tower to view it from all angles.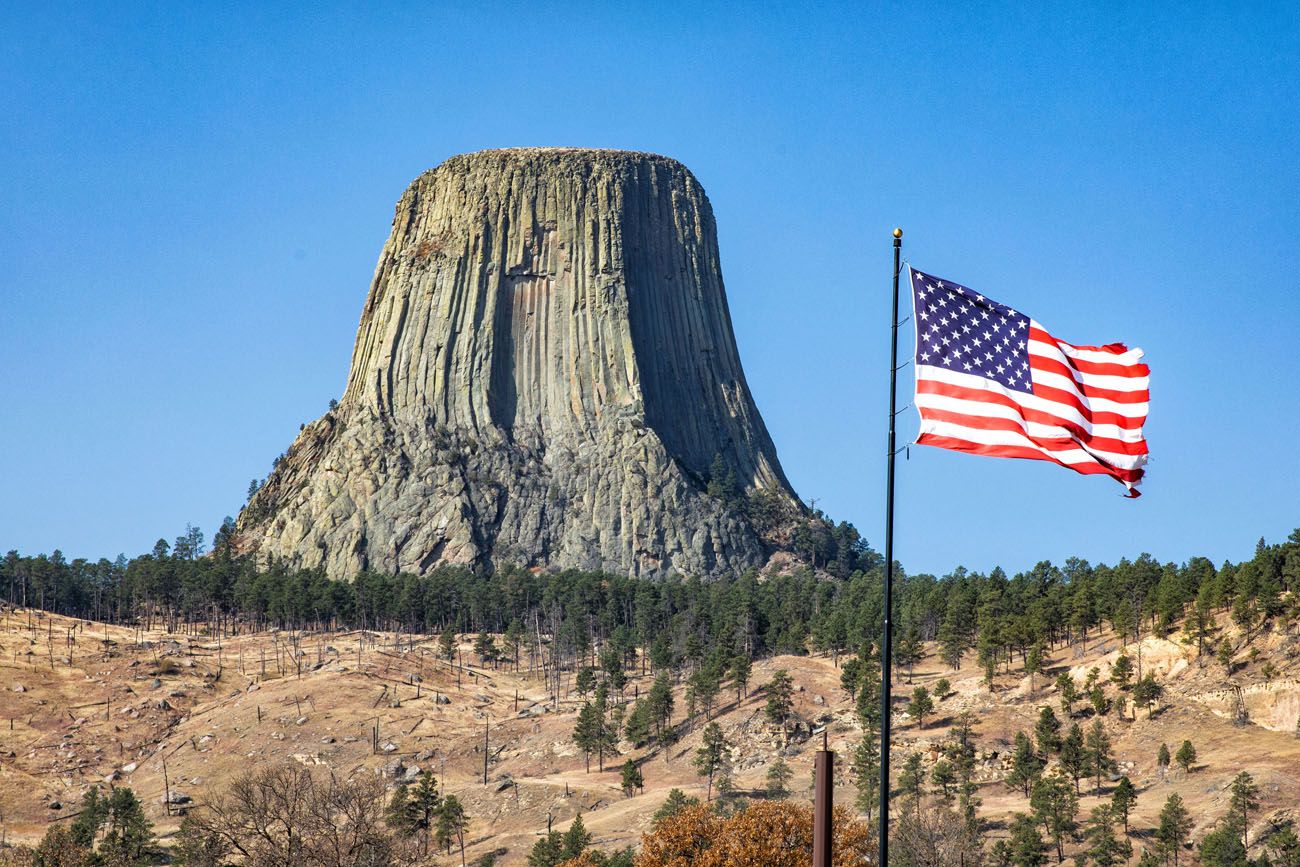 From Rapid City, it takes just under two hours to drive to Devils Tower.
In one day, you can road trip out to Devils Tower, visiting Spearfish Canyon, Deadwood, and Lead on the drive. We loved this road trip and put together a detailed post so you can have the same experience:
---
Things to do in South Dakota: On a Map
How to Use This Map: Click the icons on the map to get more information about each point of interest. Click the star next to the title of the map to add this map to your Google Maps account. To view it on your phone or computer, open Google Maps, click the menu button, go to "Your Places," click Maps, and you will see this map on your list.
How Much Time Do You Need in South Dakota?
If you want to do everything that we list here, plan on spending at least five days in South Dakota. Badlands National Park, Custer State Park, and the Devils Tower day trip each need one full day. With the additional time you can visit the rest of the sights on this list, with the exception of hiking one of the long distance trails.
If you only have a day or two, here are the top five things we recommend:
Mount Rushmore
Badlands National Park
Custer State Park
Wind Cave National Park
Devils Tower Day Trip
Where to Stay
In the Black Hills
The Black Hills of South Dakota is a great central location for visiting the places on this list.
The town of Custer has a great location near Custer State Park and Mount Rushmore. We stayed in Custer on our most recent visit to South Dakota in the Bavarian Inn (which was dirty, dated, and we don't recommend it) but the location is good. EO Bungalows is one of the highest rated properties and your room comes with a kitchenette. The Rocket Motel is a nice pick if you are looking for a budget property that gets good reviews. The Holiday Express & Suites Custer-Mount Rushmore also gets good reviews.
Keystone is located north of Custer State Park, near Mount Rushmore. It is located near the end of Iron Mountain Road. This town has a very touristy feel to it but it does have a nice, central location for exploring the Black Hills. We recommend the K Bar S Lodge and the Rockerville Lodge and Cabins.
Hill City is another small town to consider. The Freedom Ridge Cabins and the Black Elk Resort are two of the highest rated properties in this town.
You can also stay at one of the lodges or campgrounds inside of Custer State Park.
If you are looking for a great restaurant, we highly recommend Skogen Kitchen in Custer. This small restaurant serves amazing food with excellent wine. Make your reservation in advance!
Rapid City
With its large collection of hotels and restaurants, Rapid City also makes a convenient place to stay. This is where we stayed for part of our visit on our first trip to the Black Hills. It worked will although we did a lot of extra driving to get to the sites in and around the Black Hills. From our experience, and having also stayed in Custer, I think it is better to stay in the Black Hills (Custer, Keystone, or Hill City) than in Rapid City.
But if you are interested in staying in Rapid City, there are several highly rated chain hotels with a great location right on Interstate 90. We stayed at the Courtyard by Marriott but the Best Western Plus, the Residence Inn, and the Staybridge Suites all get very good reviews.
Wall
If you plan to visit the Badlands, I recommend that you spend at least one night in Wall. It's a tiny town and the hotel and restaurant choices aren't great, but it saves you a lot of driving (versus staying in Rapid City or the Black Hills) and makes it easier to see the Badlands at sunrise and sunset (which is absolutely worth it!).
We stayed at the Best Western Plains Motel, which is one of the highest rated properties in town. Rooms are nothing fancy but they are clean and quiet and the WiFi was decent. America's Best Value Inn and the Days Inn get mediocre reviews.
More Information about South Dakota
---
If you have any questions about the best things to do in South Dakota, let us know in the comment section below.
If this is part of a bigger road trip through the USA, visit our United States Travel Guide for more inspiration and travel planning tips.
You Might Also Like: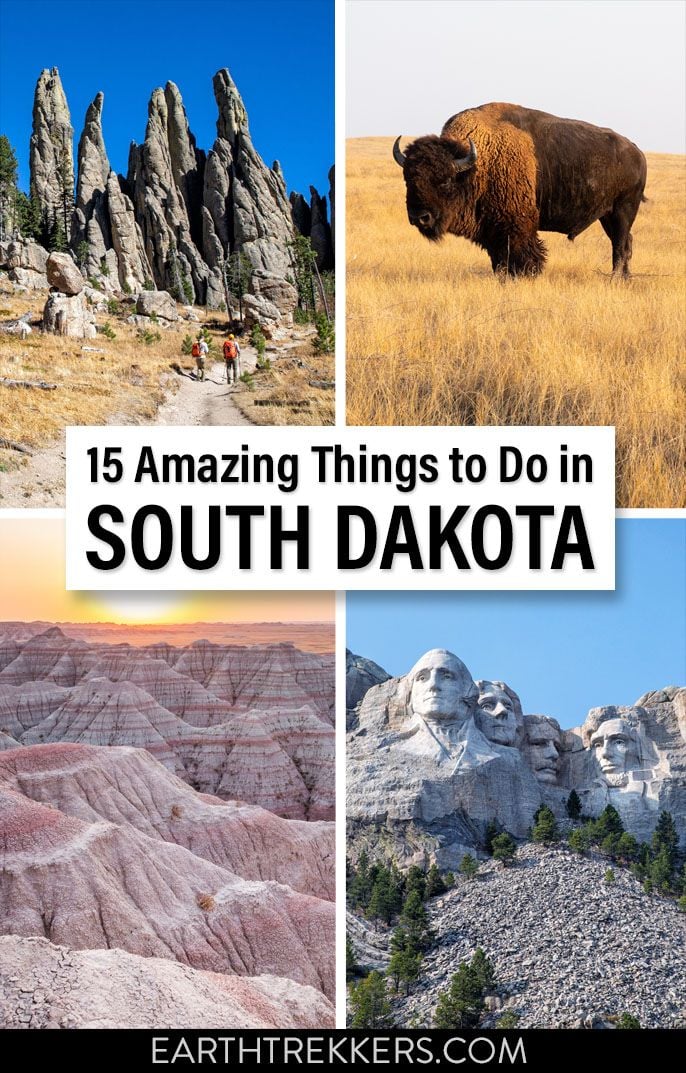 Note: This post contains affiliate links. When you make a purchase using one of these affiliate links, we get paid a small commission at no extra cost to you.
All rights reserved © Earth Trekkers. Republishing this article and/or any of its contents (text, photography, etc.), in whole or in part, is strictly prohibited.