Southeast Asia is the land of ancient temples, tropical beaches, metropolitan cities, mountain villages, and an endless supply of cultural experiences. This 3 month Southeast Asia itinerary allows you not only to see the highlights of this part of the world, but to also to fully immerse yourself in the local culture.
On this Southeast Asia itinerary, explore the temples of Siem Reap, go island hopping in Krabi, drift down the Mekong River in Laos, visit the big cities of Bangkok and Ho Chi Minh City, cruise Ha Long Bay, cycle among the temples of Bagan, tour the floating markets in the Mekong Delta in Vietnam, and spend several days in Luang Prabang, a wonderful French town in Laos. This trip will leave you with memories and stories to tell for the rest of your life.
What is Southeast Asia?
Technically speaking, the term Southeast Asia refers to a subregion of Asia, bound by the Indian Ocean to the west and the Pacific Ocean to the east. And even though it's a subregion, this area is still massive.
There are two distinct regions of Southeast Asia. The mainland, also called Indochina, includes Myanmar, Thailand, Laos, Cambodia, and Vietnam. The maritime region includes Indonesia, Malaysia, Singapore, the Philippines, Brunei, East Timor, and the Andaman and Nicobar Islands.
This 3 month Southeast Asia itinerary only includes the mainland countries of Myanmar, Thailand, Laos, Cambodia, and Vietnam.
What is Your Traveling Style?
When planning a big trip like this one, there are two schools of thought. Do you like to plan things out in advance or do you want to book your first flight and let the rest of the trip fall into place?
Do you prefer to go with the flow?
As you do your research, you will read the advice of fellow travelers to not plan out your full itinerary. By having a loose schedule, you have the freedom to change your itinerary, stay longer in places that you fall in love with, or leave a place right away if you don't like it. This also gives you the flexibility to explore new places that you learn about while you are traveling.
There are downfalls of not planning ahead. It may be difficult to find hotels with availability at the last minute (if you are traveling during peak season). Also, trains and planes can get booked and you won't get a seat on the day you want (this happened to us in Thailand). But for some people, this is worth it to have the freedom of traveling without a set itinerary.
Are you a planner?
Are you the type of traveler who likes to have things planned in advance? We fall into this category. Tim and I are Type A planners, it's just who we are. We like the idea of having hotels and transportation booked ahead of time…it's one less thing to worry about while traveling. We just show up and check into our hotel. Trains, planes, and automobiles are booked so we don't have to figure out how to get from point A to point B. Without these "hassles," we feel like we enjoy our time spent in each spot just a little bit more.
Of course, there have been times we wished we could have stayed longer in spot (Hoi An, Vietnam falls into this category) but our pre-booked flights or trains locked us into a set itinerary.
Best of Both Worlds
You can combine both of these travel styles by laying out a basic itinerary, booking your main flights or trains in advance, and having your first one or two hotels in each country reserved in advance.
Use this itinerary as the basic building block for planning your travels through Southeast Asia or follow it exactly as it is if you like to have things planned out.
Southeast Asia Itinerary
Before our trip to Asia, I spent a lot of time researching routes through Southeast Asia and I think this plan works very well. Using a variety of transportation methods, you will weave your way through Southeast Asia, hitting the highlights and a few off-the-beaten-path destinations along the way.
This is almost our exact itinerary through Southeast Asia. I did change a few things, just to make it easier to get visas or to add time in spots that we really enjoyed.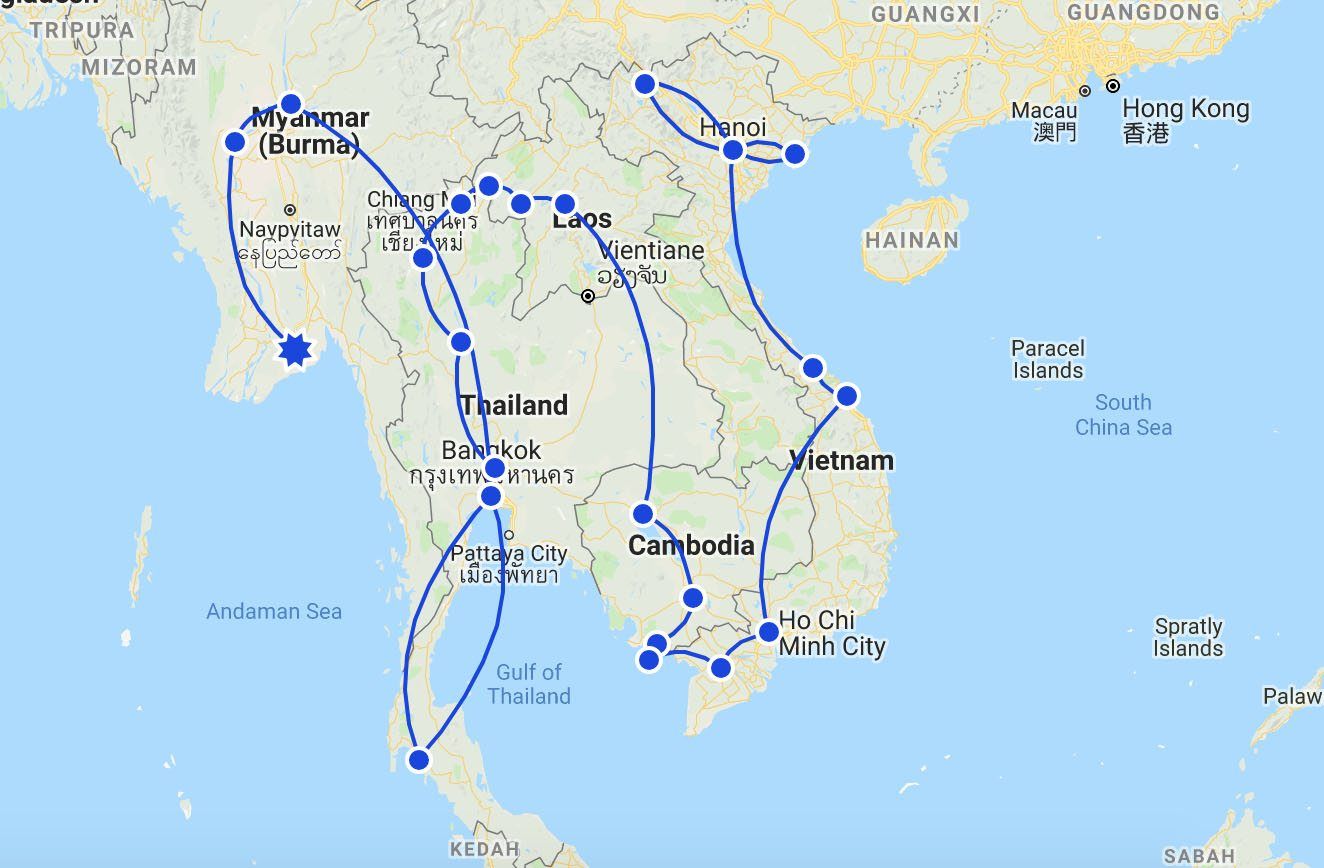 Myanmar
Time Frame: 12 Days
Yangon: 5 Days
Arrive in Yangon, Myanmar. It may take a day or two to adjust to the time change, depending on where you are coming from.
Top Experiences
Shwedagon Pagoda
Chaukhtatgyi Buddha
The Sitting Buddha at Ngahtatgyi Paya
Bogyoke Aung San Market
Day Trip to Kyaikhtiyo (Golden Rock)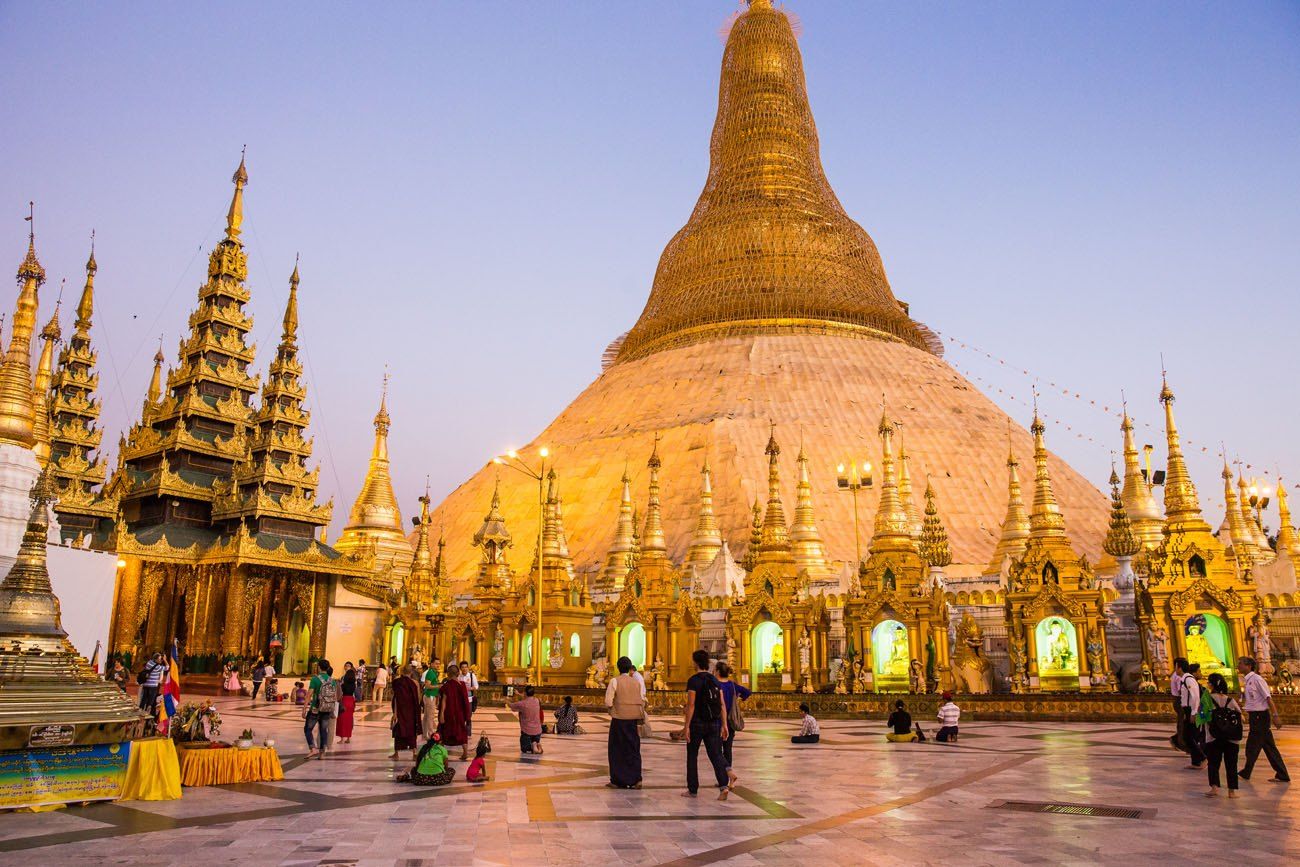 Shwedagon Pagoda in Yangon
Bus to Bagan: 1 day
We booked our bus tickets while in Yangon. To get from Yangon to Bagan, you can take an overnight bus or you can take a daytime bus directly to Bagan. Either way, the journey takes 9 to 12 hours (in our experience, it took 10 hours). Make sure you book a VIP bus. On a VIP bus you get air-conditioning, reclining seats, and we even had our own TV screen with movies.
We used Elite Express ($18 for business class seats) and had a great experience (it was our best bus ride during our 9 months in Asia) but JJ Express ($21 per person) also gets great reviews.
Bagan: 3 Days
For most travelers, Bagan is the highlight of a trip to Myanmar. This is the land of thousands of temples, and what better way to explore them than by bicycle or hot air balloon?
Top Experiences
Watch the sunset from the top of a temple
Sunrise hot air balloon ride
Explore Bagan by bicycle
Bus to Mandalay: 1 day
We booked our bus through our hotel. Again, make sure you book a VIP bus. It takes about 5 hours to travel from Bagan to Mandalay.
Mandalay: 1 day
One day in Mandalay is enough time to see the main sites. Mandalay does not have the charm of Bagan or the same cool vibe of Yangon, but there are a few very worthwhile places to visit.
Top Experiences
U-Bein Bridge
Mahamuni Buddha Temple
See the monks at Mahagandayon Monastery
U Min Thonze Pagoda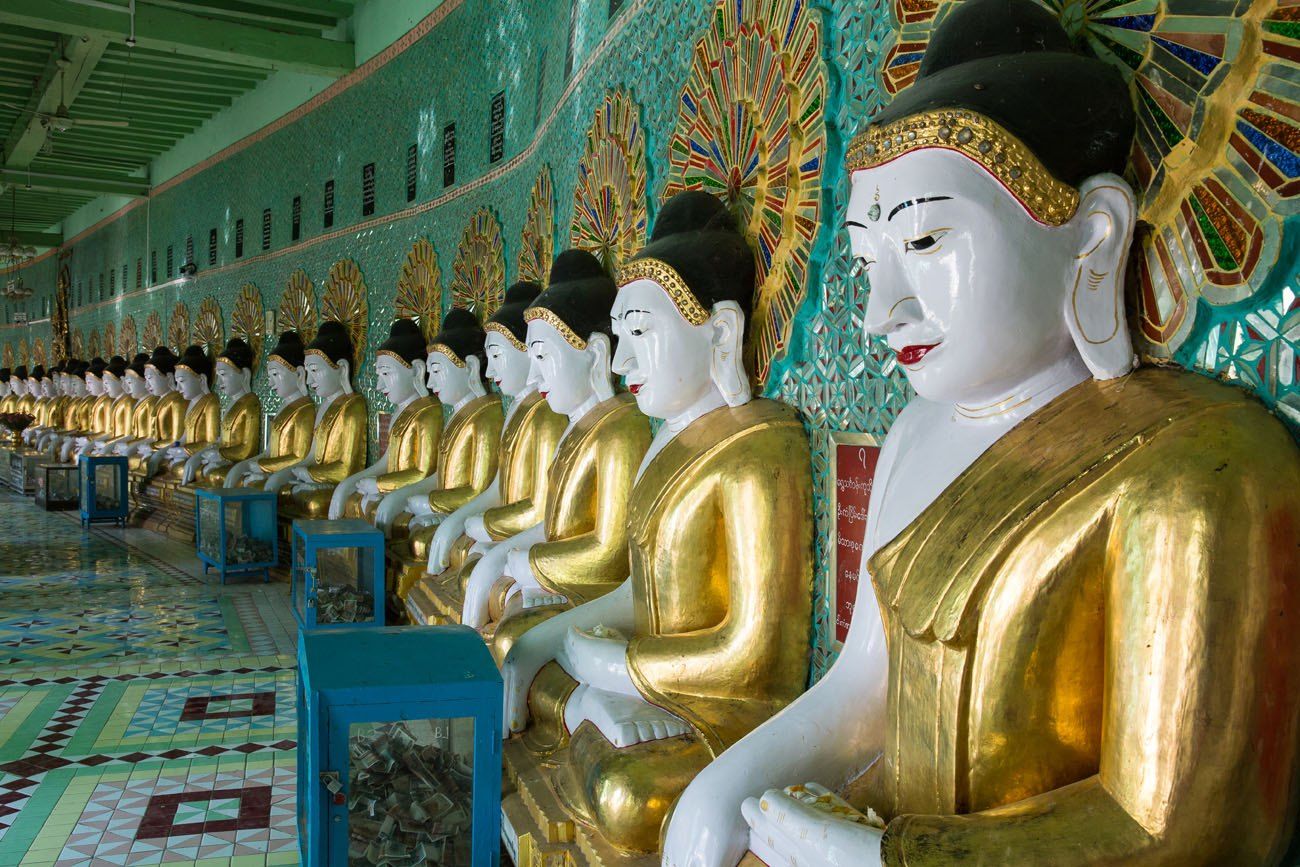 U Min Thonze Pagoda
Fly to Bangkok, Thailand: 1 day
Thailand
Time frame: 26 days
Bangkok: 4 days
Bangkok is Thailand's largest city. This is where modern malls and skyscrapers collide with old floating markets and golden temples. In Bangkok, explore the temples, go shopping at Chatuchak Market, get your fill of street food, and explore the city by tuk-tuk.
Top Experiences
The Grand Palace
Go shopping in Chatuchak Market
Khao San Road
Get a Thai Massage
Have dinner in Chinatown
Jim Thompson House
See Wat Arun at sunset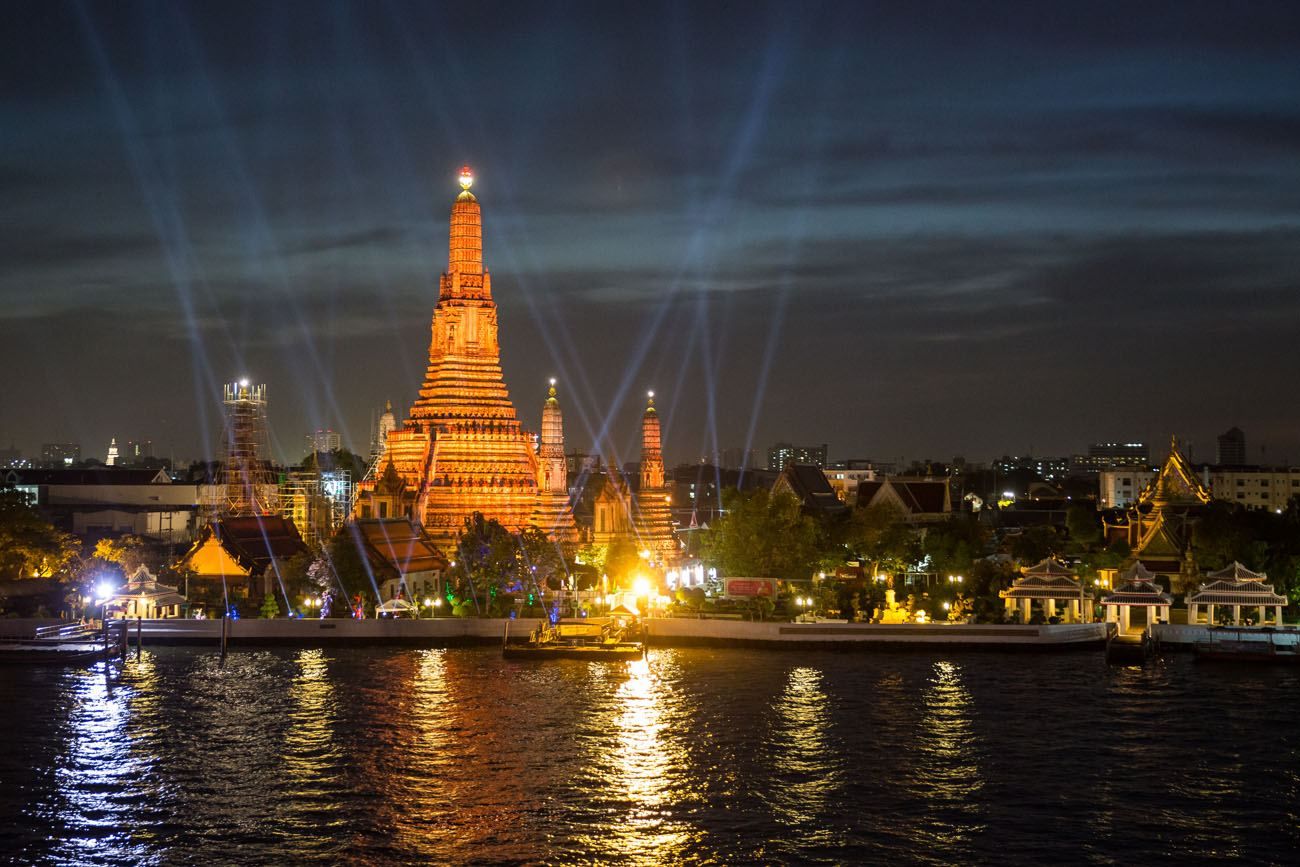 Wat Arun
Krabi: 10 days
Looking for a slice of tropical paradise? In Thailand, there are lots of gorgeous beaches and islands to choose from.
Ao Nang is a great place to stay, with easy access to Railay Beach and Phra Nang Cave Beach, and lots of options to day trip out to the Phi Phi Islands and a handful of tiny Thai islands. If you want to learn how to rock climb, this is one of the best places in the world to learn.
Top Experiences
Learn how to rock climb
Go sea kayaking
Swim with bioluminescent plankton
Day trip to the Phi Phi Islands, Bamboo Island, and more
Go snorkeling
Overlooking Phra Nang Beach
Ten days is a lot of time to spend in Krabi, although we spent nine wonderful days here and were glad to have so much time. If the idea of sitting still in one spot for so long doesn't appeal to you, you can spend several nights on Ko Lanta.
Getting to Krabi: The easiest way to get to Krabi from Bangkok is to take a direct flight. Flights last 1 hour 10 minutes and you can get round trip tickets as cheap as $30.
Bangkok: 1 day
Fly back to Bangkok. From here, you will start a road trip up through Thailand towards Chiang Mai, stopping at several ancient cities along the way.
Ayutthaya: 1 day
Here's an interesting fact: Ayutthaya was the largest city in the world in 1700. Merchants sailed here from Europe, India, Japan, China, and the Middle East. In 1767 it was attacked by the Burmese and almost completely destroyed. Now, just a handful of buildings and temples remain.
To get here from Bangkok, you can drive, hire a driver, take the bus, take the train or visit Ayutthaya on a tour.
We spent the night in Ayutthaya and the next day we traveled to Sukhothai.
Travel to Sukhothai: 1 day
To travel between Ayutthaya and Sukhothai, take the train, bus, or hire a driver.
Sukhothai: 1 day
Sukhothai may not have been as large or as grand as Ayutthaya, but the temples and ruins are a lot more interesting to visit. Giant Buddha statues stare down at you with half-lidded eyes. The historical park is flat with wide, paved roads, perfect for exploring by bicycle.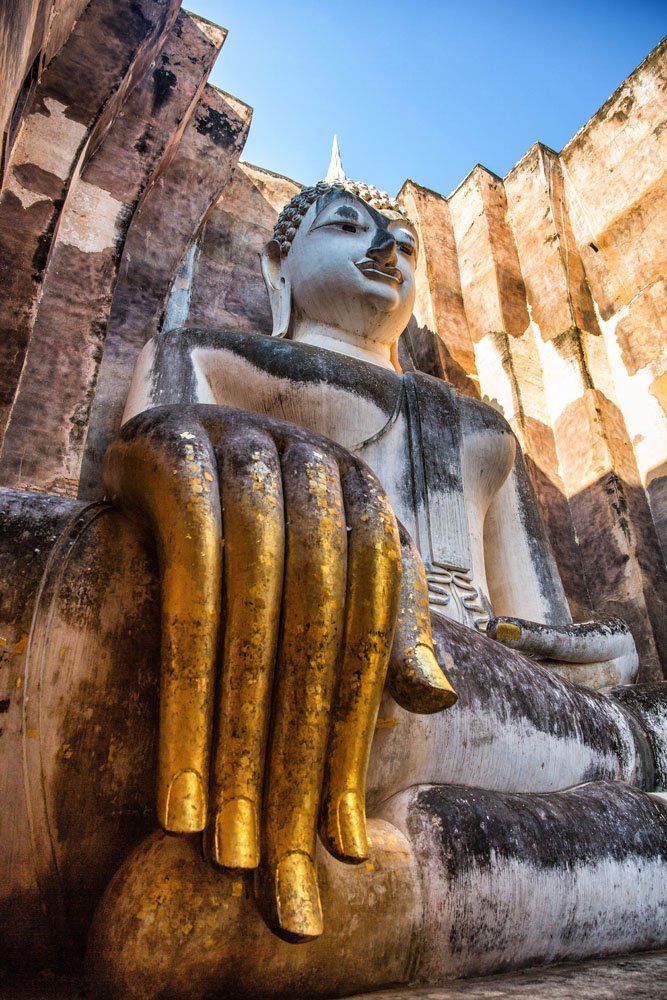 Wat Si Chum
Travel to Chiang Mai: 1 day
Travel from Sukhothai to Chiang Mai by bus, train, or private driver.
Chiang Mai: 5 days
Chiang Mai, located in northern Thailand, is a vastly different experience than Bangkok or Krabi. Chiang Mai offers a mix of outdoor adventure with cultural experiences, food tours, and a chance to get up close with elephants.
Top Experiences
Visit an elephant sanctuary
Go zip-lining
Go shopping in the Sunday night market
Take a Thai cooking class
Visit the temples
Chiang Rai: 2 days
Chiang Rai is a smaller, less exciting version of Chiang Mai. The main reason for coming here is to visit the White Temple. Take a bus from Chiang Mai (about 3 hours), get settled, and on your second day in Chiang Rai, visit the White Temple. Cycling through the countryside in this part of Thailand adds a little adventure to the experience and makes it even more memorable.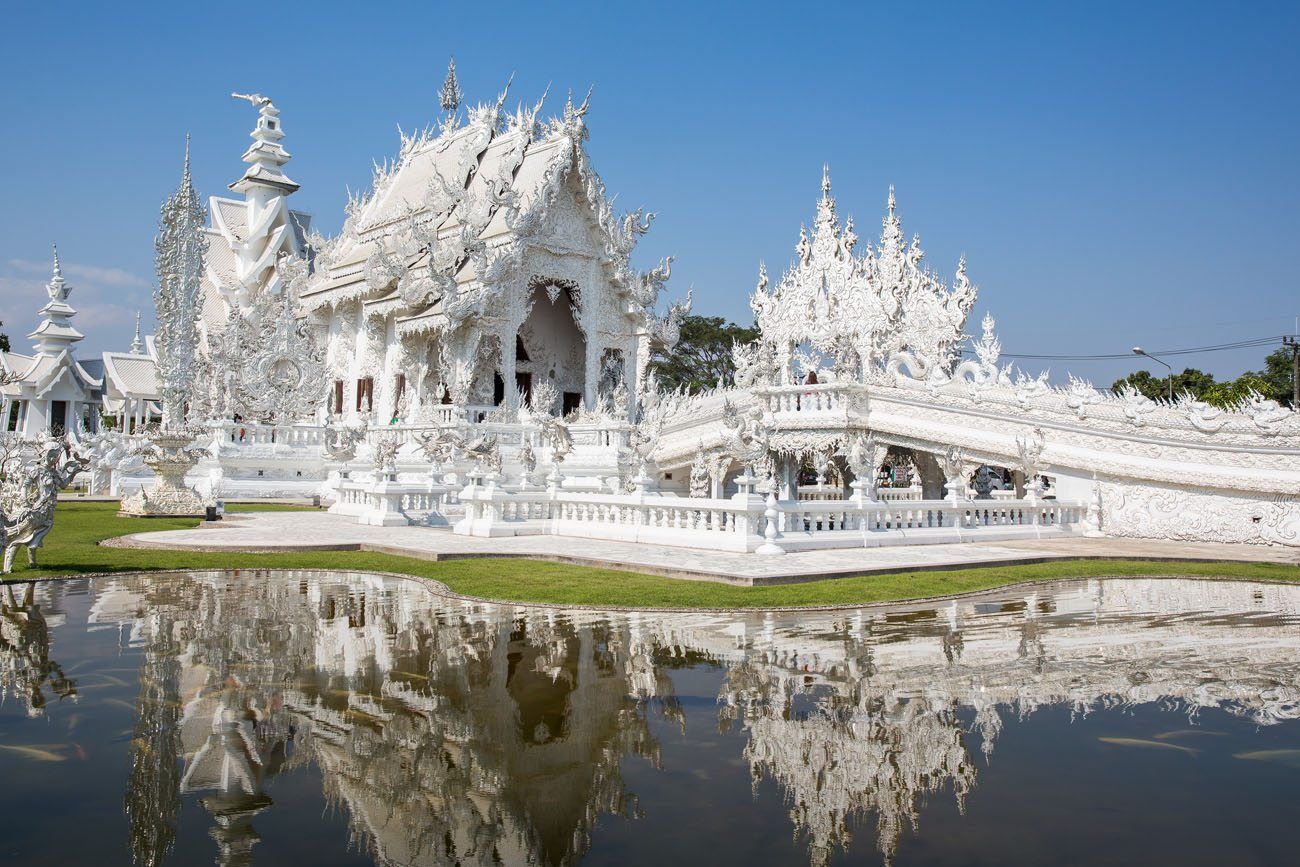 The White Temple
Laos
Time frame: 7 days
Mekong River: 2 days
For us, the two-day journey down the Mekong River in Laos was an experience that was unexpectedly awesome. The journey starts on the Thai-Laos border. For two days, you drift down the Mekong River on a "slow boat" while the gorgeous, mountainous landscapes of northern Laos pass by. The journey is punctuated with a one night stay in Pakbeng. On the afternoon of day 2 you arrive in lovely little Luang Prabang, a French town in the middle of the Laos jungle.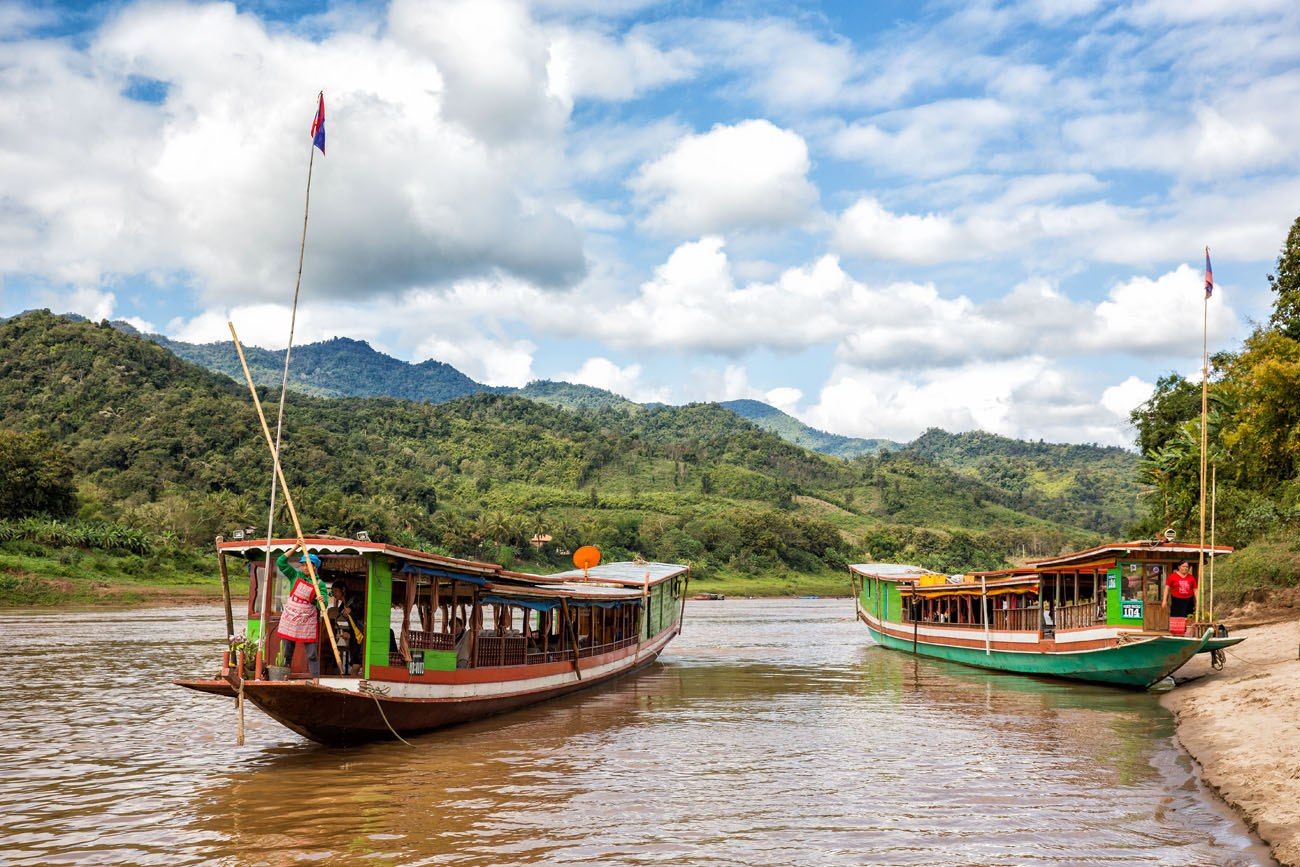 Luang Prabang: 5 days
The entire town of Luang Prabang is a UNESCO World Heritage Site. French cafes, small shops, hotels and hostels, and a nightly market makes this one of the coolest small towns in Southeast Asia.
Top Experiences
Go Shopping at the Night Market
Kuang Si Waterfall
Climb Mount Phousi
The Royal Palace Museum
Cambodia
Time Frame: 14 days
Siem Reap: 7 days
Siem Reap, Cambodia is one of the most amazing spots to visit in Southeast Asia. Not only can you visit ancient Angkor Wat, but there many more temples and ancient palaces to visit. Seven days may sound like a long time, but this gives you plenty of time to explore the temples and get some much needed downtime.
To get here from Laos we took a flight from Luang Prabang to Siem Reap. Our other option was a series of two to three buses over the course of two days to get between these two cities. Hmmm…a quick flight or a 36 hour bus journey…for us the decision was a no-brainer.
Top Experiences
Angkor Wat
Bayon
Ta Prohm
Watch an Apsara Dance
Eat scorpions, tarantulas, and other creepy crawlies
Take a day trip to Tonle Sap
Take a cooking class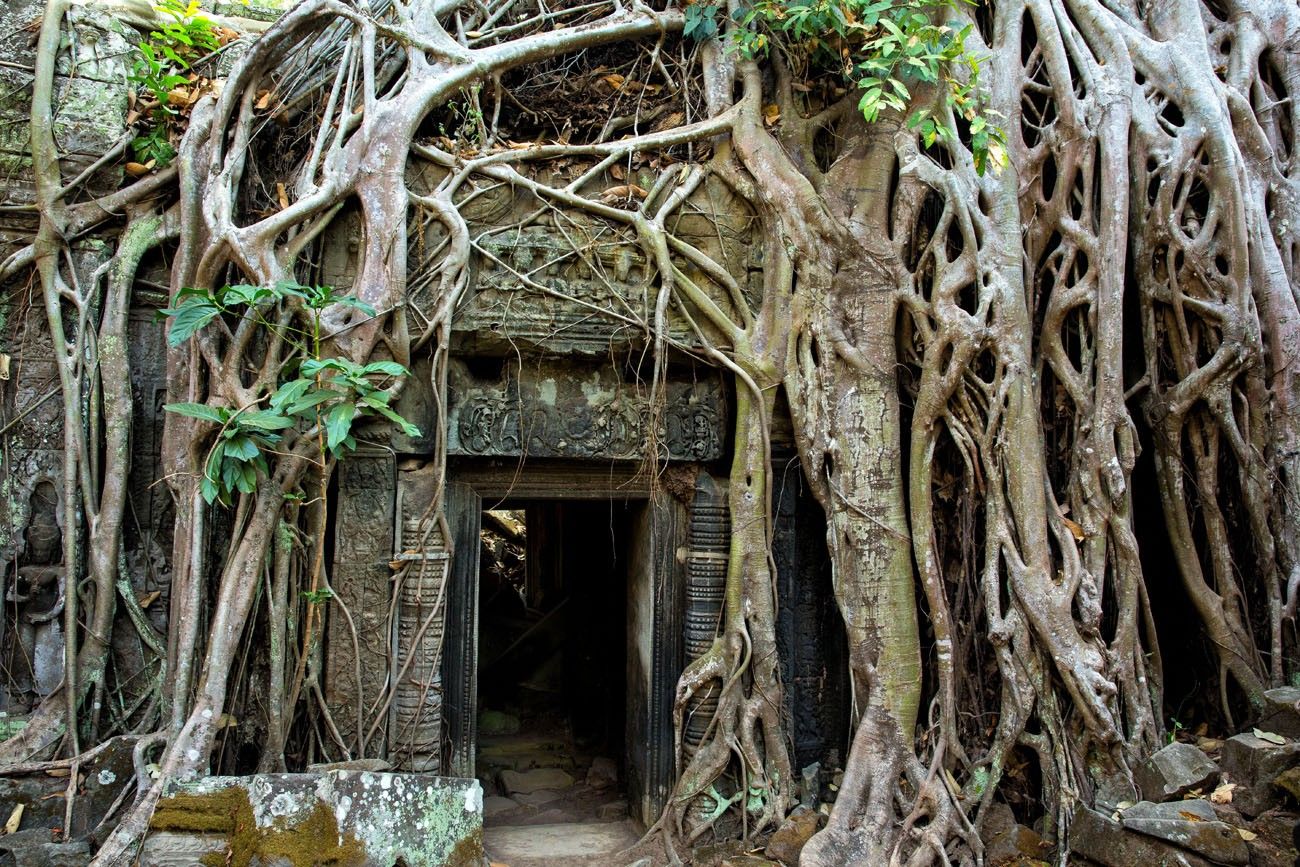 Phnom Penh: 3 days
Phnom Penh is the capital city of Cambodia. Go to Phnom Penh to visit its gilded temples, stroll the waterfront promenade, but to also get a glimpse of Cambodia's dark history.
Top Experiences
Tuol Sleng Genocide Museum
The Killing Fields (Choeung Ek Genocidal Center)
The Royal Palace and Silver Pagoda
Kampot: 4 days
Kampot is a small town on the coast of Cambodia. It's a great spot to unwind and relax. While you are here, consider renting motorbikes to explore nearby spots.
Top Experiences
Ride motorbikes up Kotor Mountain
Stand Up Paddleboarding
Take a day trip to Kep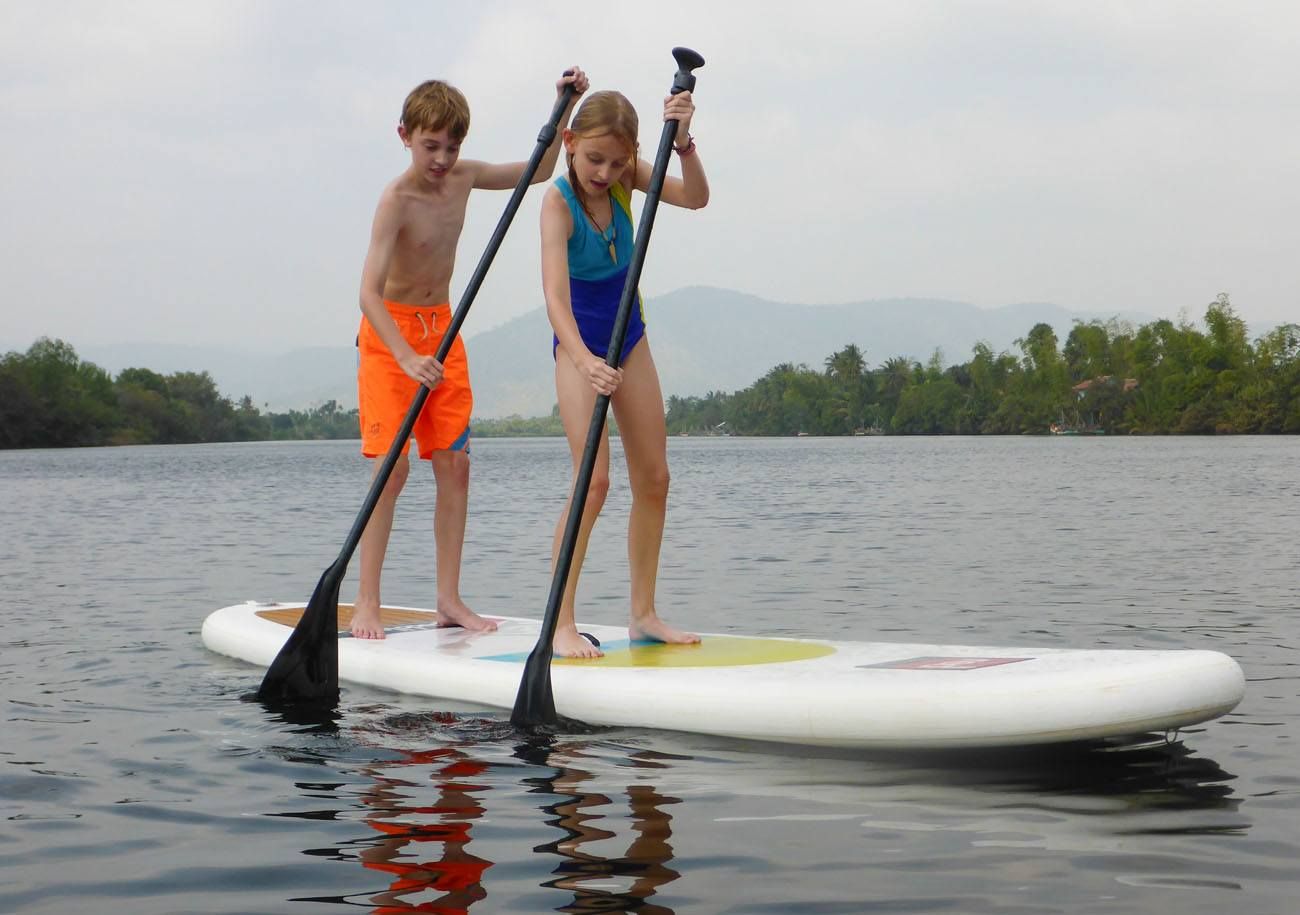 Vietnam
Time Frame: 29 days
Phu Quoc Island: 4 days
From Kampot, you will cross overland into Vietnam and then take a ferry to Phu Quoc Island.
Phu Quoc Island is a tropical island that sits off of the coast of Cambodia, even though it is part of Vietnam. This is a place where it's worth spending extra money to stay at a nice resort. We stayed at a budget hotel and had a budget experience. If you stay at a mid-range or nicer resort, you will have a prettier, cleaner beach and a better experience.
Mekong Delta: 3 days
From Phu Quoc, take the ferry back to the mainland and then travel by bus to the Mekong Delta. There are several towns to stay in but Can Tho gets our vote. From here, you can arrange tours into the Mekong Delta and Can Tho is well connected by bus to Phu Quoc and Ho Chi Minh City.
Day 1: Phu Quoc to Can Tho

Day 2:

Cai Rang floating market tour

Day 3:

Explore more of the Delta and travel to HCMC in the afternoon
Ho Chi Minh City (HCMC or Saigon): 3 days
HCMC is Vietnam's largest city. This is a city where modern skyscrapers touch the sky, luxurious shopping malls cater to the rich, and where the streets are a sea of motorbikes. It's a hot, steamy city with several important places to visit, especially if you want to learn more about the Vietnam War.
Top Experiences
Day Trip to the Cu Chi Tunnels
War Remnants Museum
Take a motorbike tour of the city
Take a food tour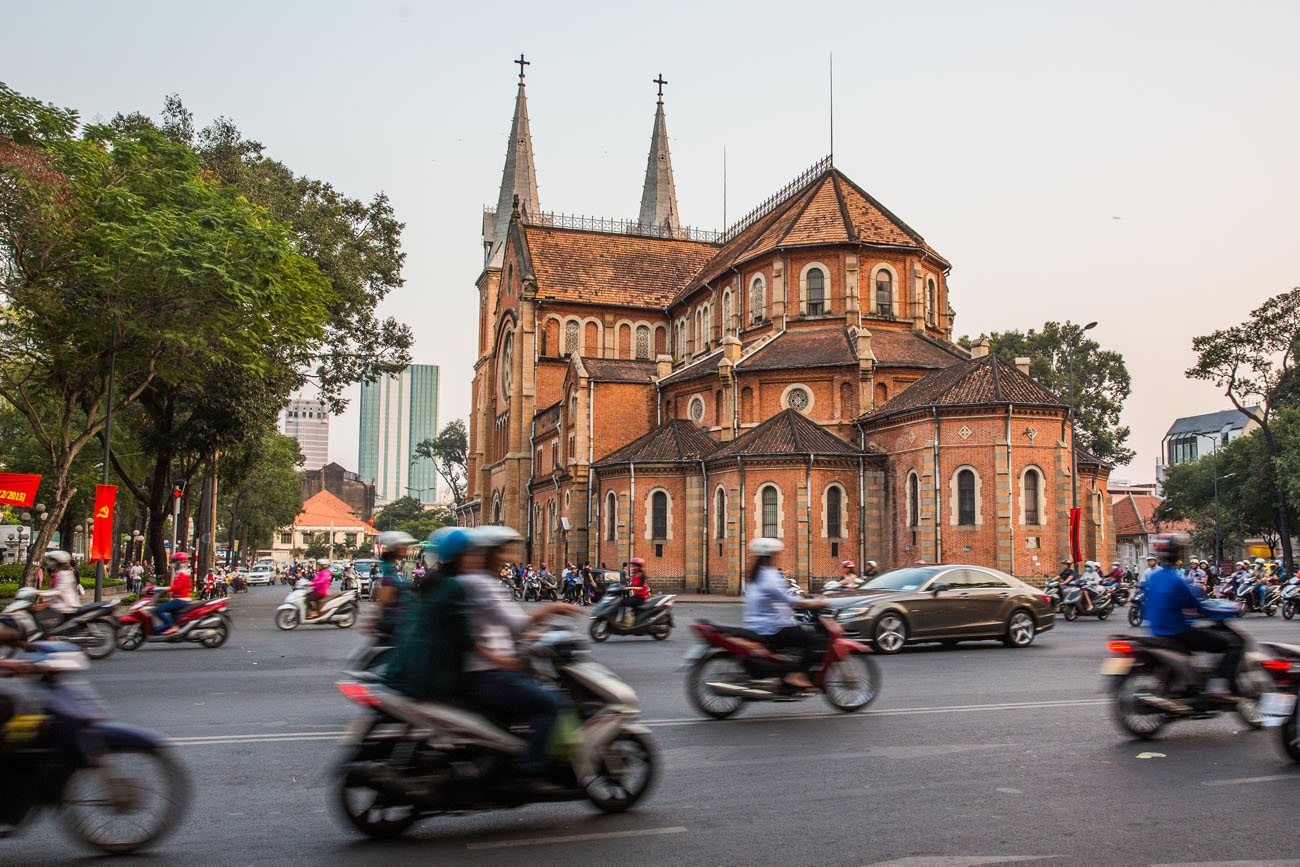 Hoi An: 5 days
It's easy to fall in love with Hoi An. With its charming shopping streets, ancient architecture, great restaurants, and nearby beaches and rice fields, this may become one of your favorite spots in Vietnam.
Top Experiences
Get around by bicycle or motorbike
Try as many restaurants as possible
Walk across the Japanese Bridge
Spend the day at An Bang Beach
Take a day trip to Da Nang
Cycle through the rice fields
Travel to Hue: 1 day
When traveling from Hoi An to Hue, you can visit My Son Holyland, Marble Mountain, Hai Van Pass, and Lang Co Beach, turning a day of travel into a really cool road trip.
Hue: 2 days
Hue was the capital city of Vietnam until 1945. The Imperial City and palaces and tombs along the Perfume River attract thousands of visitors here every year.
Top Experiences
Hue Imperial City
Khai Dinh Tomb
Thien Mu Pagoda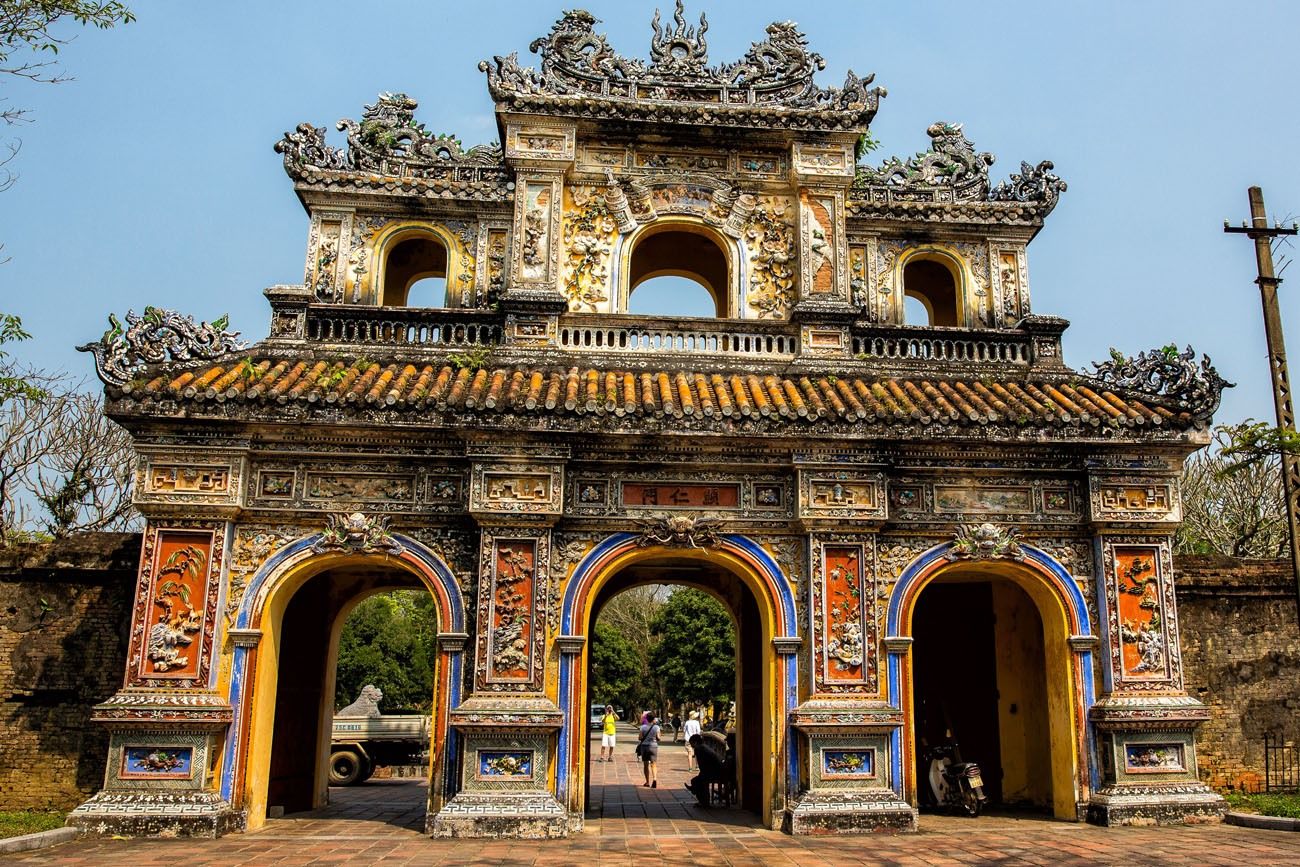 Hanoi: 4 days
In Hanoi, the list of sites to visit is low but this is a city that is just fun to wander, especially the Old Quarter.
Stroll through the Old Quarter
Visit the mausoleum of Ho Chi Minh
Walk around Hoan Kiem Lake
Watch a water puppet performance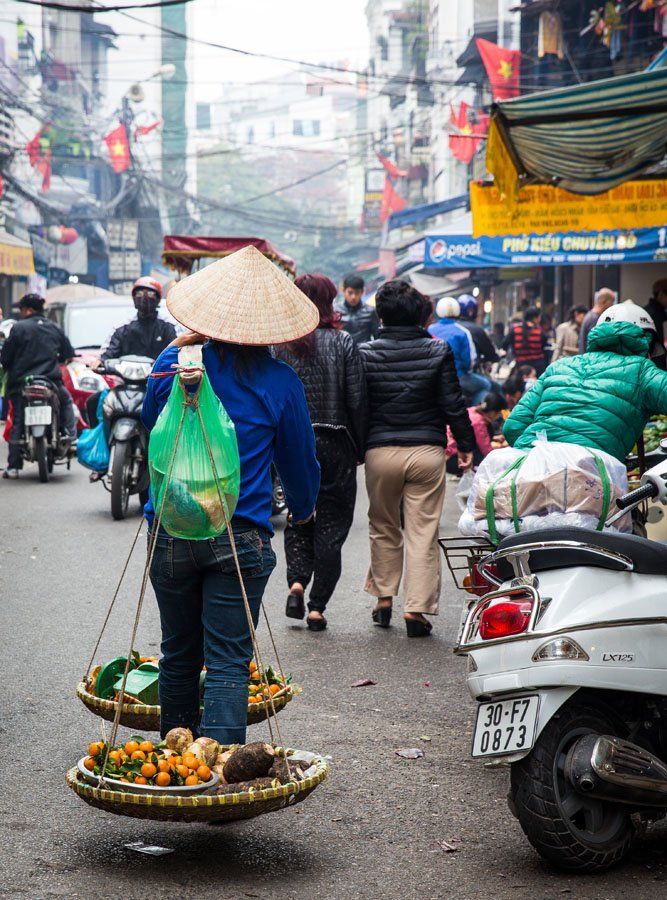 Ha Long Bay: 3 days
Ha Long Bay is one of Vietnam's most magical sites. Towering limestone mountains are scattered through the emerald waters of the bay. Picking the three day cruise over the two day cruise allows you to journey deeper into the bay for a more memorable, authentic experience.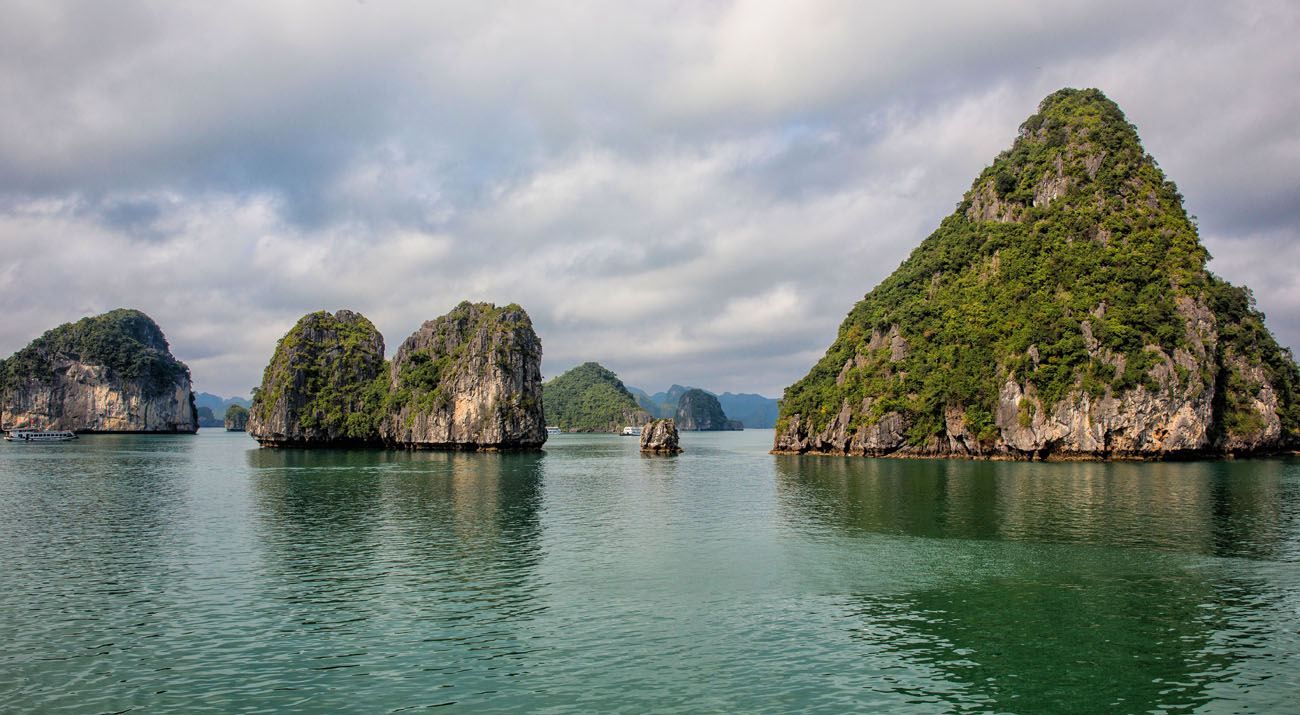 Sapa: 3 days
Spend three days trekking through the misty mountains of Sapa. You can arrange your tour while in Hanoi or book your excursion in advance of your trip.
Fly Home (or continue your travels)
From Hanoi, fly home or continue your travels.
With Additional Time in Vietnam
There are three more places that make it onto a lot of Vietnamese travel itineraries. You can add these if they sound interesting and if you have extra time to spend. Just note that if you follow our itinerary, you will spend 29 days in Vietnam. If you add in more time, you will have to get a different visa.
Nha Trang: This is a popular seaside resort area. I did not include it since you get the beach experience on Phu Quoc and at Hoi An.
Son Doong Cave: Located in central Vietnam, this is the largest cave in the world.
Dalat: This is a French hill town that offers relief from the sweltering heat of summer. Explore the waterfalls and relax in town.
What Visas Will You Need?
Visa requirements are always changing. We do our best to keep these posts updated with the most recent changes, but it's always a good idea to double check the requirements for each country before you travel. I have included the links for each country in this post.
Myanmar
Tourist visas are valid for 28 days. Citizens of 100 countries can apply online for an e-visa. The cost is $50. You will be emailed an approval letter, which you will show to passport officials when you arrive at Yangon Airport. You must travel to Myanmar within 90 days of when the e-visa approval letter is issued.
For full details and to apply for your visa: https://evisa.moip.gov.mm/
Thailand
Citizens of 57 countries (USA, Canada, Australia, New Zealand, countries in the EU, Japan, Israel, etc) who plan to stay in Thailand for 30 days or less do not need a visa.
However, there is a gray area of whether or not you will need proof of onward travel (usually a plane ticket from Thailand to another destination). In this itinerary, since you are traveling overland between Thailand and Laos, you will not have this onward ticket. I read conflicting information about whether or not this onward ticket is really necessary. If you want to play it safe, I recommend that you get a 30 day Thai visa from the embassy in your home country before you travel.
For more information, read this detailed post about Thai visas from Travelfish.
What we did: We stayed in Thailand for 32 days so we got our visas in advance (at the embassy in Yangon, Myanmar).
Laos
This is an easy one. When you cross the border between Thailand and Laos you will get a visa on arrival. The visa costs $30 – $42 depending on your country of citizenship and you can stay in Laos for 30 days.
Read more here.
Cambodia
A one month tourist visas costs $30 and is obtained on arrival at the airport in Siem Reap. You will need one passport-sized photo.
Vietnam
The Vietnam visa process is complicated. You will need a 30-day tourist visa, which costs $20, but the trick is how to obtain it. If you arrive in Vietnam by air, you can get a visa on arrival (VOA). However, if you follow this itinerary, you will arrive by land, so you cannot get a VOA. You will need to obtain your visa in advance. You can do this by applying directly at an embassy or by applying for an e-visa.
For more information, read this post on Lonely Planet.
To apply for your e-visa (if you are a US citizen), click here.
What We Did: The e-visa was rolled out in 2017, after our visit to Vietnam. We obtained our visas in advance at the embassy in Bangkok.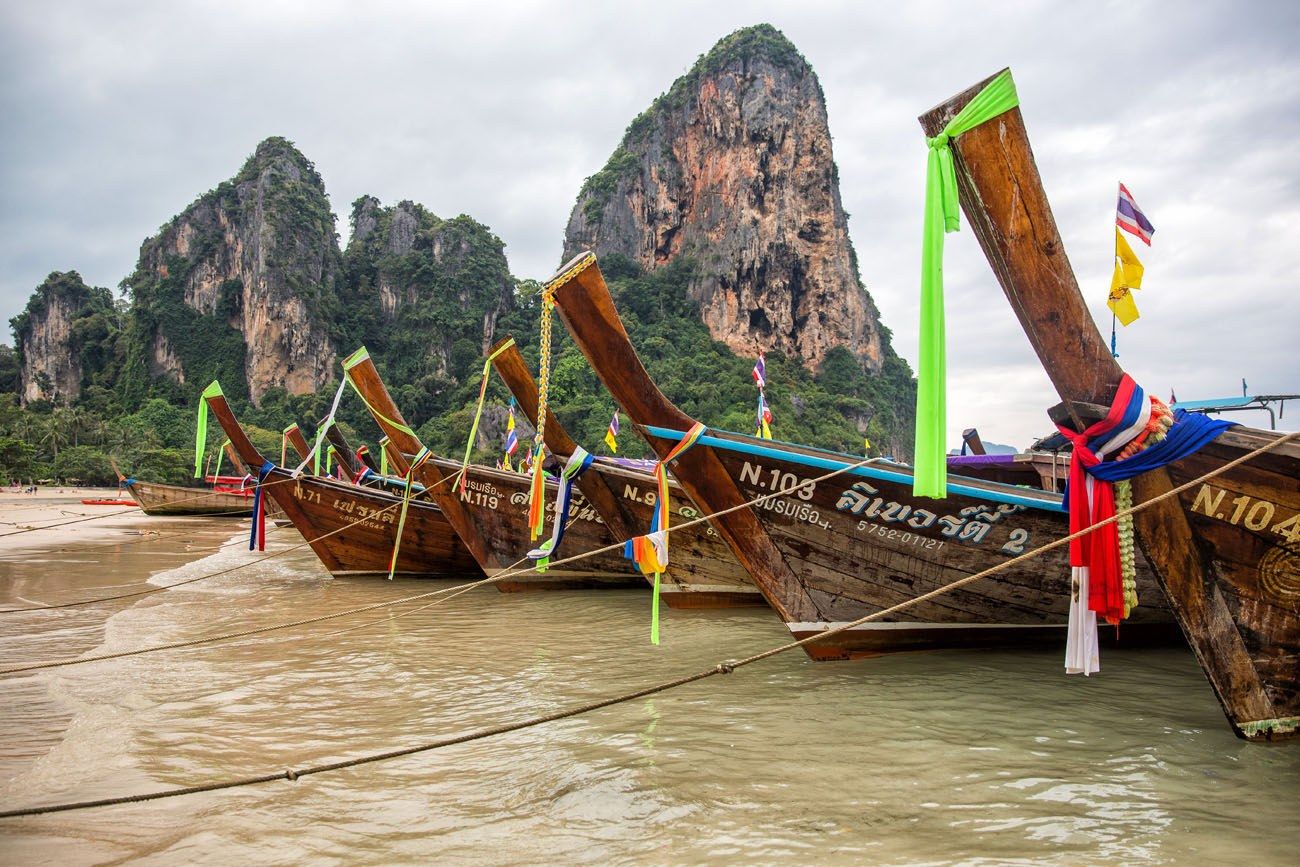 Best Time to Go to Southeast Asia
The best time to visit southeast Asia is November through March. Temperatures are relatively cool and for the most part, it's the dry season during this period of time. Peak season is the end of December into early January, when people take their winter vacations.
At the end of March it really starts to heat up. April is typically the hottest month of the year. In May, the rain moves in. This cools things off a little bit, but expect rain showers from May through September.
We started in Myanmar at the very beginning of December. We were in Krabi, Thailand over Christmas. Even though it was crowded and more expensive, it was magical being in Krabi for the holidays, especially for Tyler and Kara. We spent New Year's Eve in Chiang Mai, another magical experience, lighting paper lanterns and watching them soar into the sky at midnight. During the entire month we spent in Vietnam, we got to experience the holiday season of Tet. From Hanoi, we traveled overland into China at the end of February.
---
Are you planning your Southeast Asia itinerary? If you need help deciding where to go, how to change this itinerary to fit your needs, or travel advice, comment below!
And if you have already toured Southeast Asia and want to add your tips and advice, we'd love to hear from you, too!
---
Are your travels through Southeast Asia part of a bigger trip? You may find these articles helpful:
How to Travel Around the World
How Much Does it Cost to Travel Around the World?
Our Around the World Itinerary
How to Design an Around the World Itinerary
Or, visit our Start Here page, for travel advice, to research travel destinations, and to find your next adventure.
---
Recommended Reading Before You Go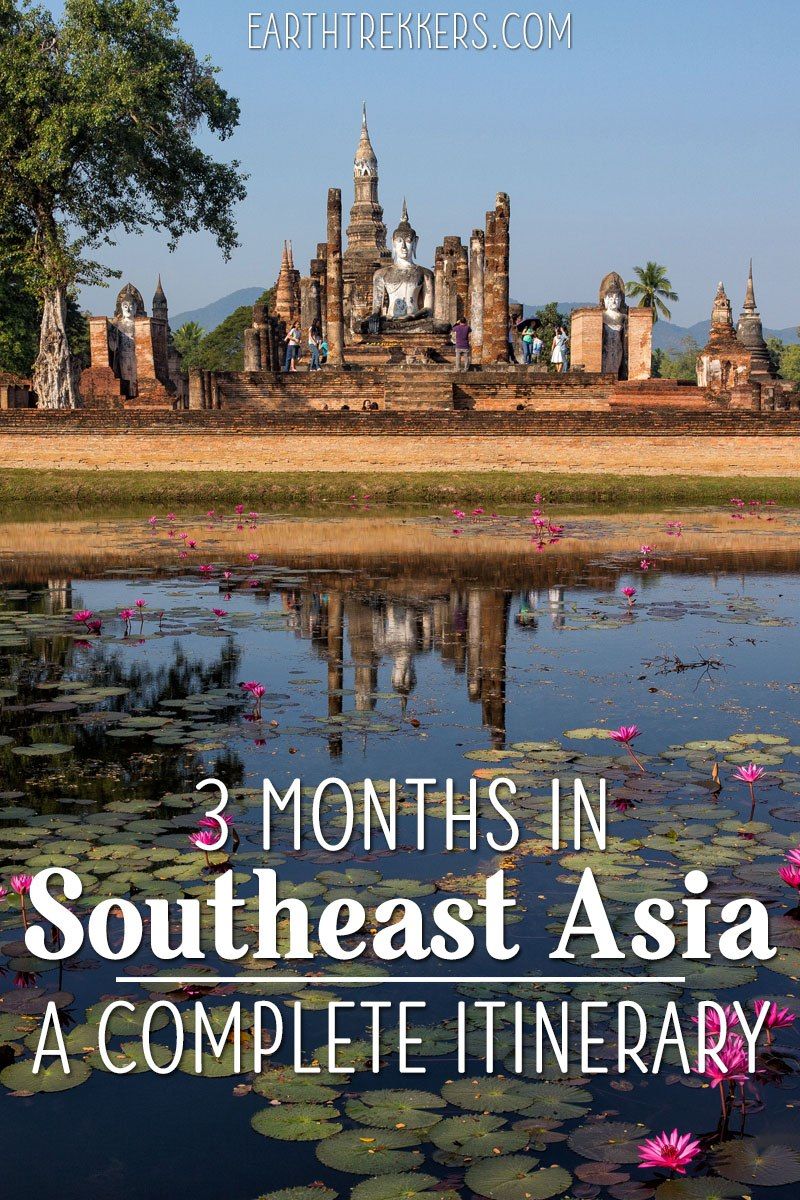 Note: This post contains affiliate links. When you make a purchase using one of these affiliate links, we get paid a small commission at no extra cost to you.
All rights reserved © Earth Trekkers. Republishing this article and/or any of its contents (text, photography, etc.), in whole or in part, is strictly prohibited.