Where should you eat in Rome? With outdoor cafes, rooftop restaurants, wine bars, and a long list of restaurants selling pizza, pasta, and gelato, your choices may seem overwhelming.
In this guide, we list some of the top restaurants in Rome. Ranging from quick, cheap eats to Michelin starred restaurants with a view, there is something here for everyone.
This is by no means a "best restaurants in Rome" guide. It would take weeks, months even, to try out enough restaurants in Rome to write a guide like that. This is a relatively short list of great restaurants in Rome that can easily be added to your Rome itinerary. These are places that we either had an excellent experience or came highly recommended to us.
Restaurants in Rome
Restaurants Near the Colosseum
La Prezzemolina. This is one of our favorite restaurants in Rome. They serve traditional Roman style pizza in a wide range of flavors. It's cheap, it's fast, and it's delicious! This is a great place to grab a bite to eat for lunch after visiting the Colosseum. No reservations necessary. Simply order at the counter and find an open table (expect it to be busy!).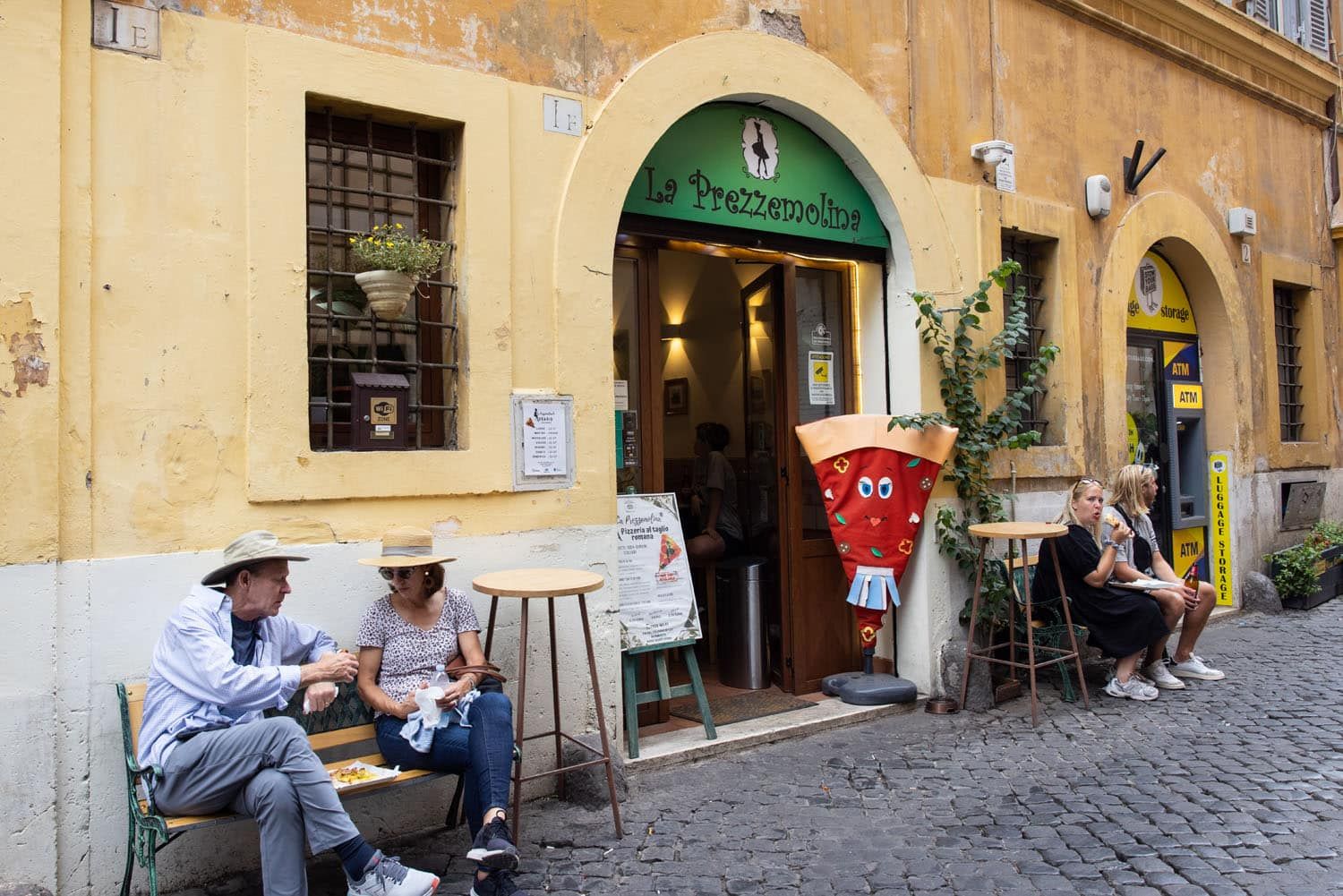 La Prezzemolina | Where to Eat in Rome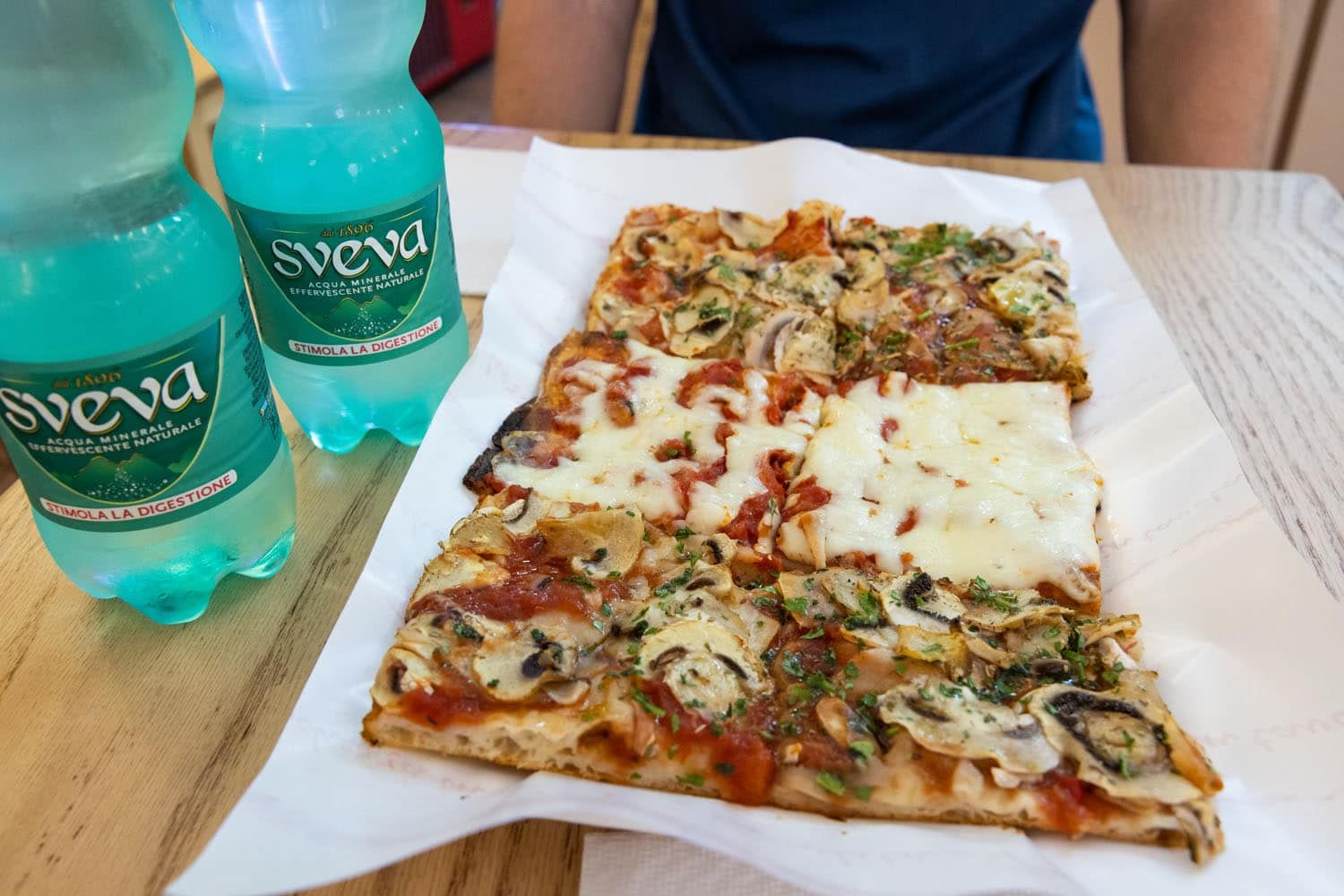 Pizza at La Prezzemolina | Where to Eat in Rome
PRO TRAVEL TIP: Pizza al taglio translates to "pizza by the slice." At street food pizzerias in Rome, such as La Prezzemolina, this is typically how pizza is sold, by the slice rather than the whole pie.
Fuorinorma. This is another place to get a good, cheap bite near the Colosseum. They serve charcuterie boards, paninis, and wine.
The Court Mixology Bar. This cocktail bar sits on top of Palazzo Manfredi and has an amazing view of the Colosseum. They don't open until 6 pm but it could be worth a return visit later in the day, for drinks with a view of the Colosseum.
Restaurants in and around Piazza Navona
In Piazza Navona, outdoor cafes line the square, street performers put on a show all hours of the day, and there is a very good chance that you will be spending at least a few minutes here as you stroll through the historic heart of Rome.
Since this is such touristy spot, the food can be overpriced and mediocre. It's best to wander one to two blocks away from touristy places like this, in order to dine at a cheaper, yet more authentic restaurants.
Rather than just sitting down at a café on Piazza Navona (most of them get terrible reviews), here are a few recommendations that are a short walk from here.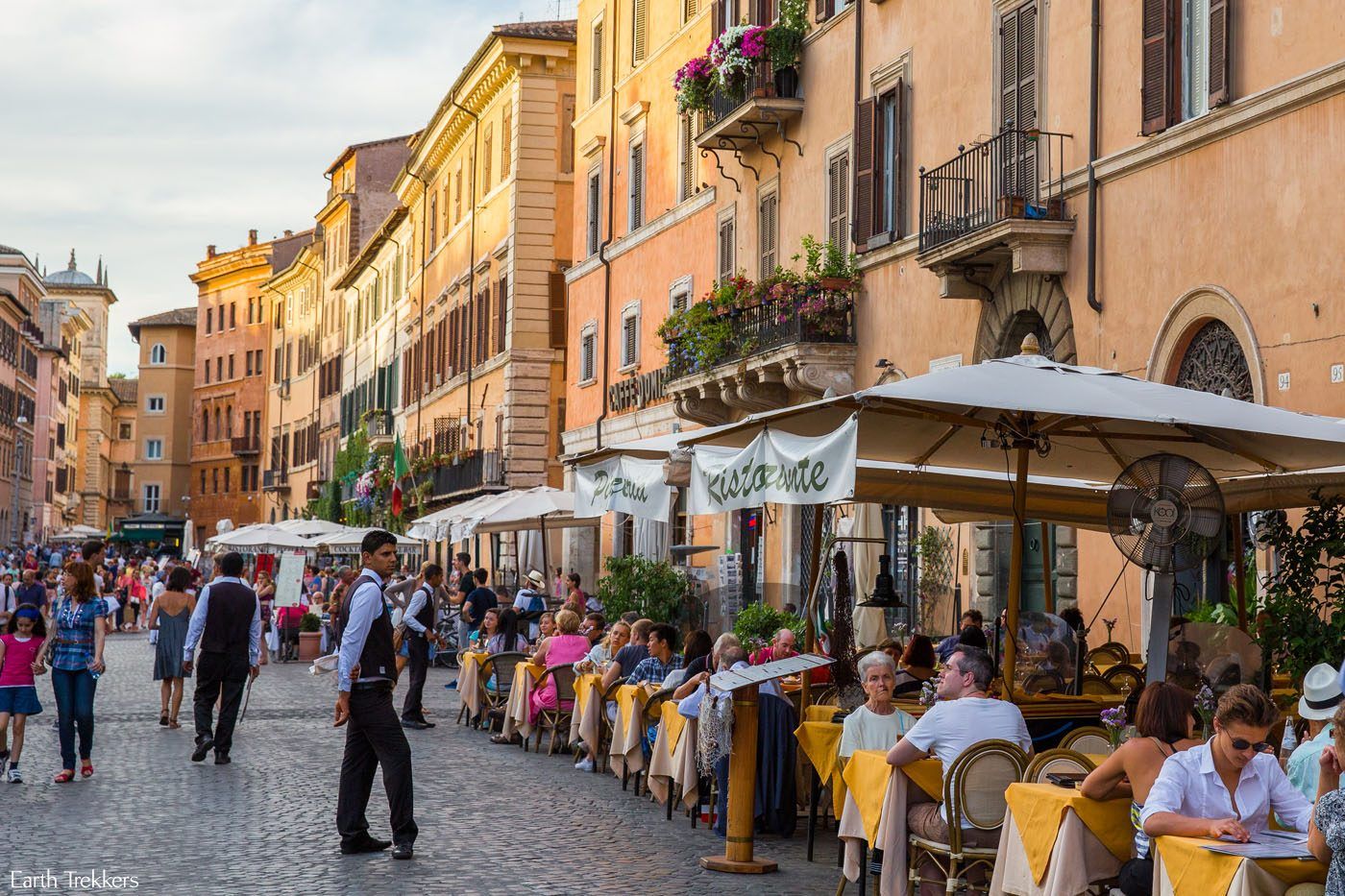 Cafes on Piazza Navona | Where to Eat in Rome
Bernini. This restaurant is the only one I would recommend on Piazza Navona. It has outdoor seating and gets good reviews. We tried to eat here on our first night in Rome but were not able to get a table.
La Piccola Cuccagna. Tim and I ate here on our most recent visit to Rome. It was our first night in Italy, we were staying at a hotel in Piazza Navona, and just wanted something quick and easy. This small restaurant sits just outside of Piazza Navona, on the southern end, on Via della Cuccagna. On the menu are traditional Italian pasta dishes. It's nothing fancy, it is on the touristy side, but the food was good and we were able to get a table without a reservation.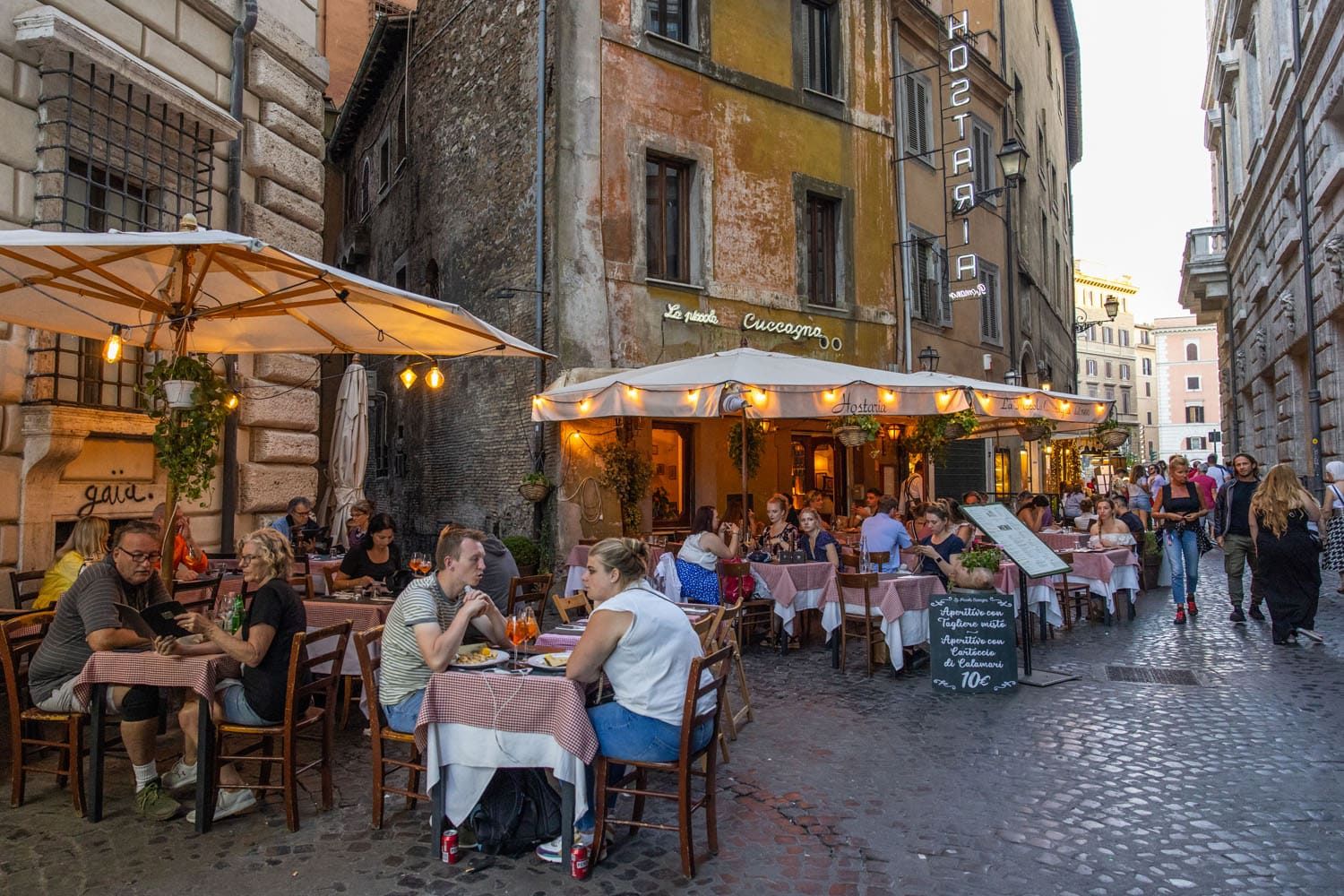 La Piccola Cuccagna | Where to Eat in Rome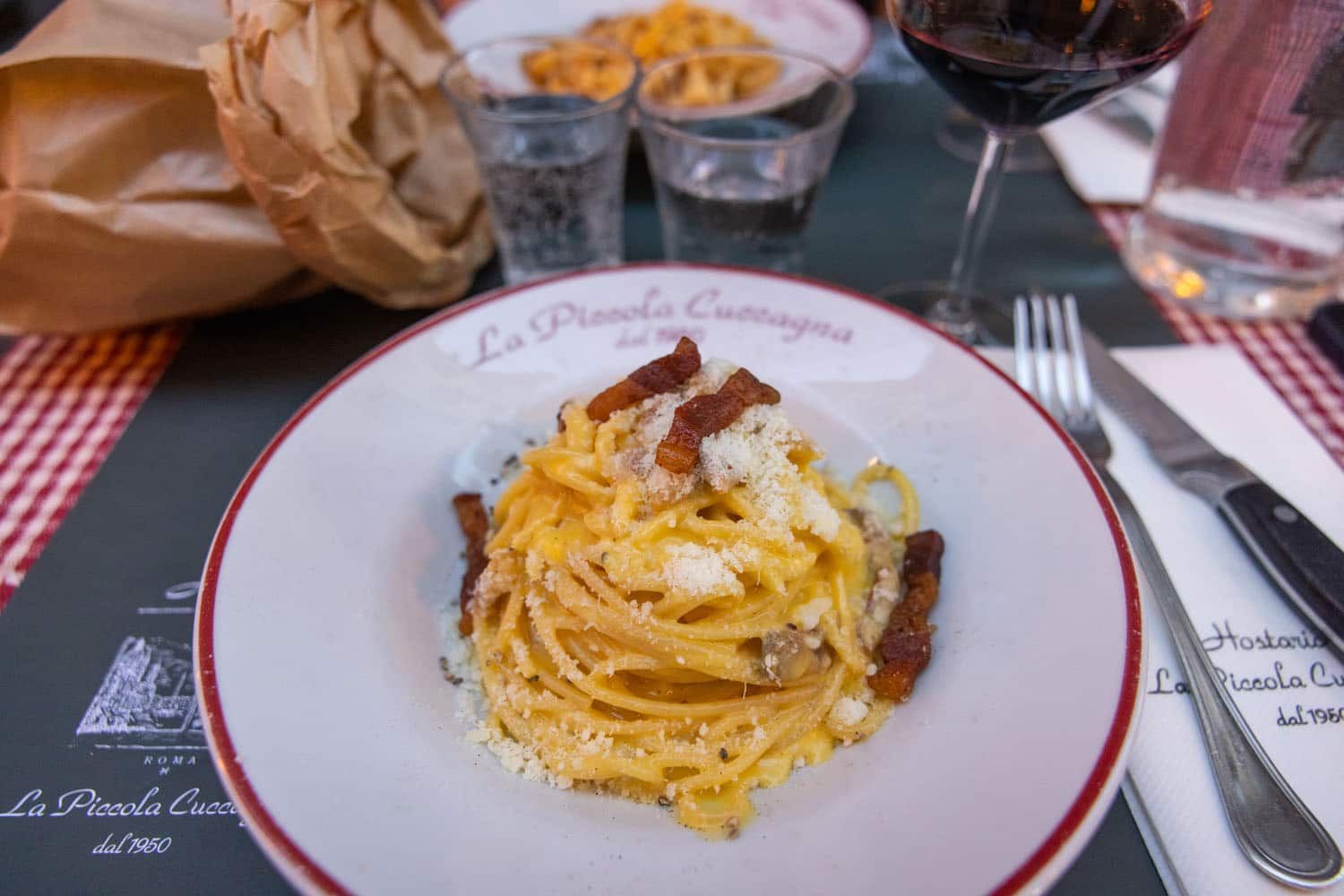 Spaghetti Carbonara
Ponte e Parione. This restaurant gets rave reviews. It sits one block west of Piazza Navona, so you don't have to walk far to get here. They serve homemade pasta dishes and people rave about the Carbonara.
La Baguetteria del Valle. Located near the southeastern corner of Piazza Navona, this deli is a great place to go if you want good food at a cheap price. They serve sandwiches on fresh bread, a great picnic idea to take back to Piazza Navona.
Mr. 100 Tiramisu. This wine bar is also located near the southeast corner of Piazza Navona. On the menu are charcuterie platters and tiramisu in lots of unique flavors…and wine, of course!
Restaurants near Vatican City
Alice Pizza on Via delle Grazie. Just a short walk from Vatican City is another restaurant that sells Roman pizza. With fast service and cheap prices, this is one of the best cheap eats near Vatican City and St. Peter's Basilica. We ate here at the advice of our guide after touring the Vatican. This is a chain so there is more than one location in Rome.
Scialla the Original Streetfood. On the menu is pizza, classic Italian pasta dishes, and deserts. This small restaurant gets rave reviews. We haven't been here yet, but it is a place I would like to try on a return visit to Rome.
Borghiciana Pastificio Artiginale. At this pasta factory, dine on pasta dishes, fresh vegetables, and wine. It's a small restaurant that gets rave reviews. You may have to wait in line for a table, but prior guests state it's worth it.
Ristorante dei Musei. This restaurant is a short walk from the entrance and exit into Vatican City. They serve pizza and pasta dishes with a small price tag.
Restaurants in Trastevere
Trastevere is one of the best neighborhoods in Rome to visit for the food. There are many very highly rated restaurants to choose from but here are three restaurants that get some of the best reviews.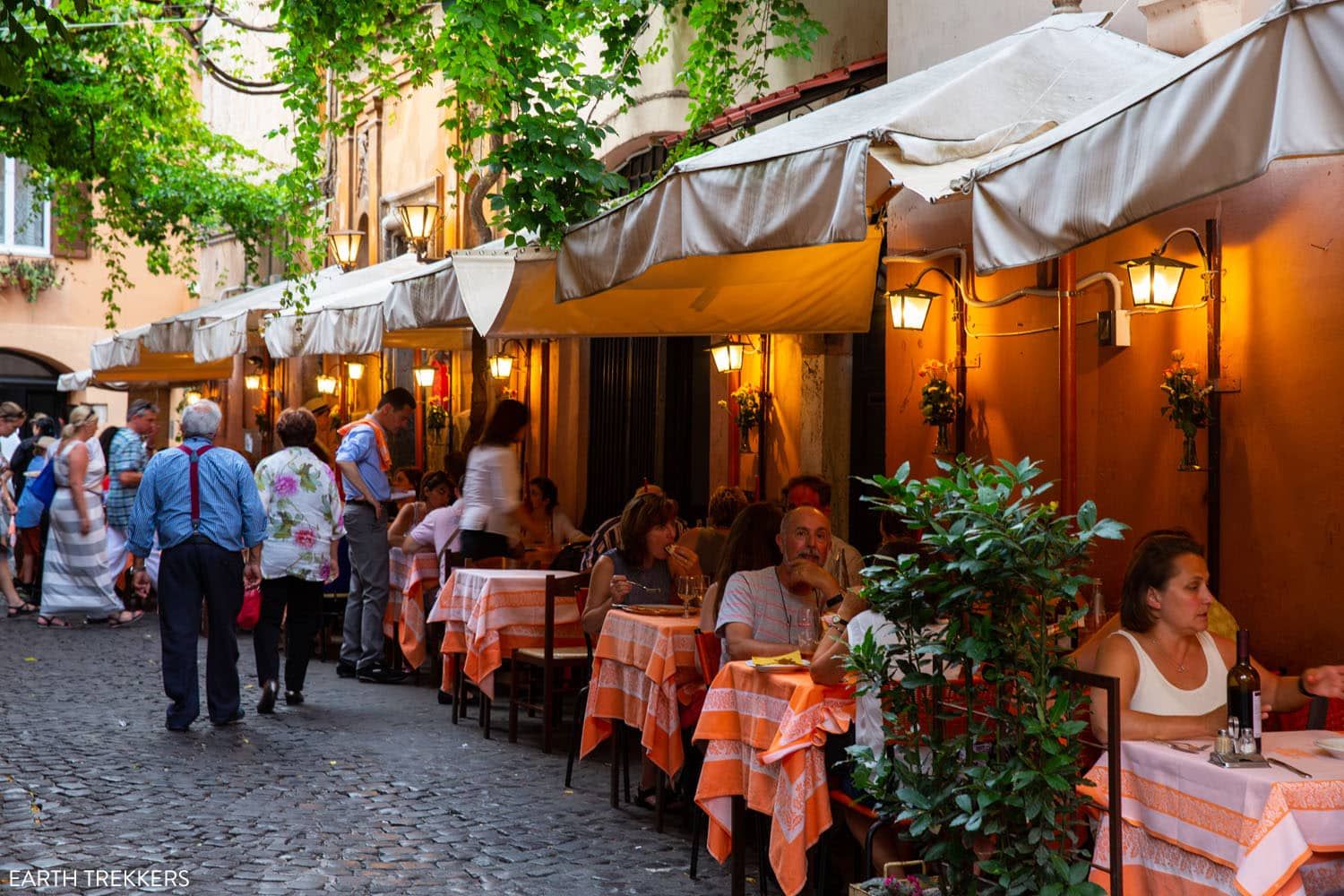 Trastevere | Where to Eat in Rome
Nannarella. This is our top pick for Trastevere. This is one of the highest rated restaurants in Rome. On the menu is homemade pasta cooked perfectly, meatballs, pizza, salad, and dessert. Prior guests state that this is their favorite restaurant in Rome. They also operate a sister restaurant in Trastevere, Tonnarello.
Enoteca Trastevere. This restaurant has been serving food in Trastevere since 1936. With a beautiful setting and delicious pastas paired with wine, this is one of the top restaurants in Trastevere.
Trapizzino. Want to try "stuffed pizza?" This invention of Stefano Callegari is a version of stuffed focaccia, filled with pizza sauce, cheese and toppings. This unique spin on pizza is well worth the try, especially if you prefer a quick, cheap eat or are visiting Rome with kids.
Rooftop Restaurants in Rome
Oro Bistrot. This is one of our favorite restaurants and rooftop bars in Rome. From here, you look across the Trajan Forum to the Altar of the Fatherland. At sunset, the views are breathtaking. You can visit Oro Bistrot just for a drink or make a reservation for the restaurant, both of which are located on the rooftop of Hotel NH Collection Roma Fori Imperiali.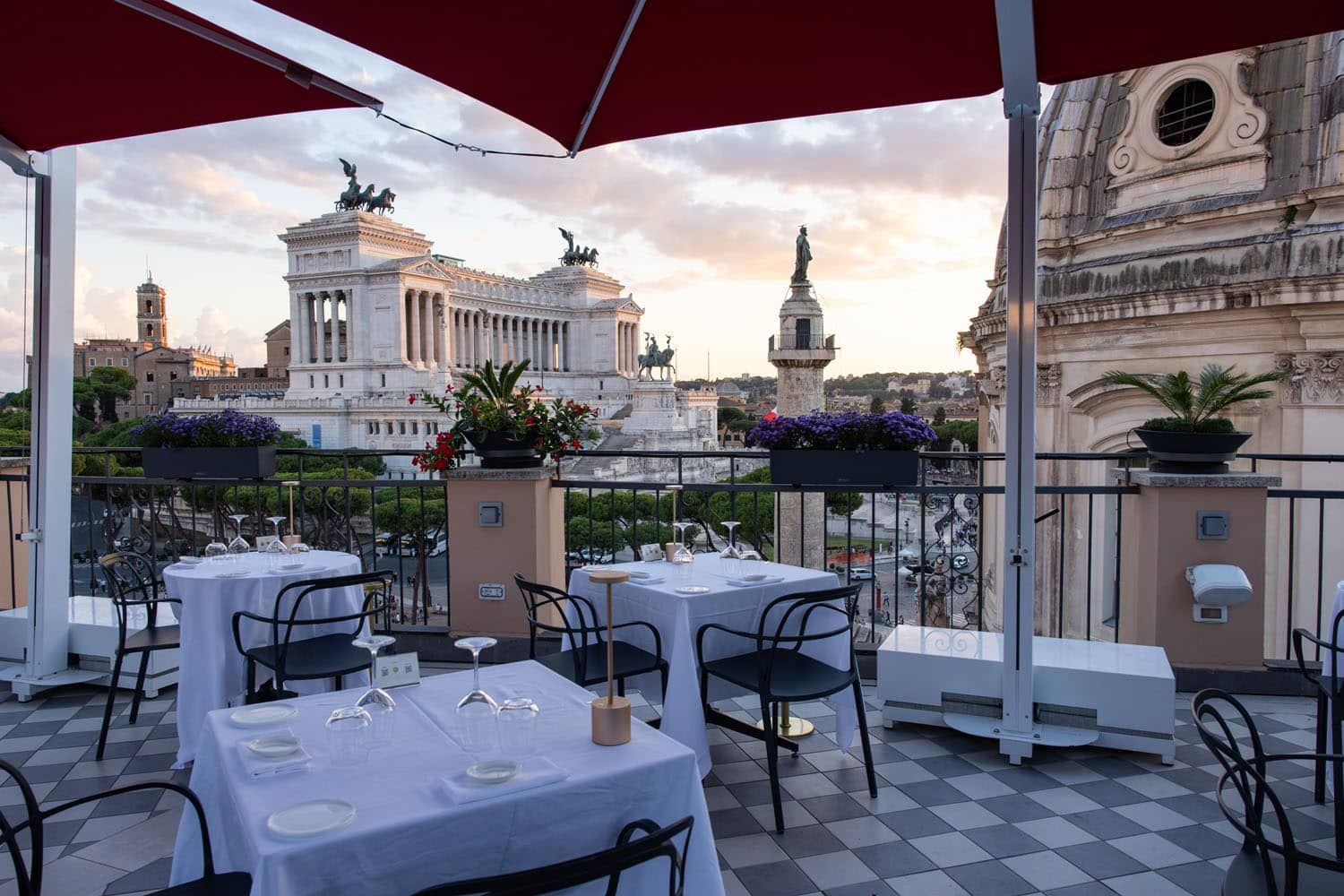 Oro Bistrot | Where to Eat in Rome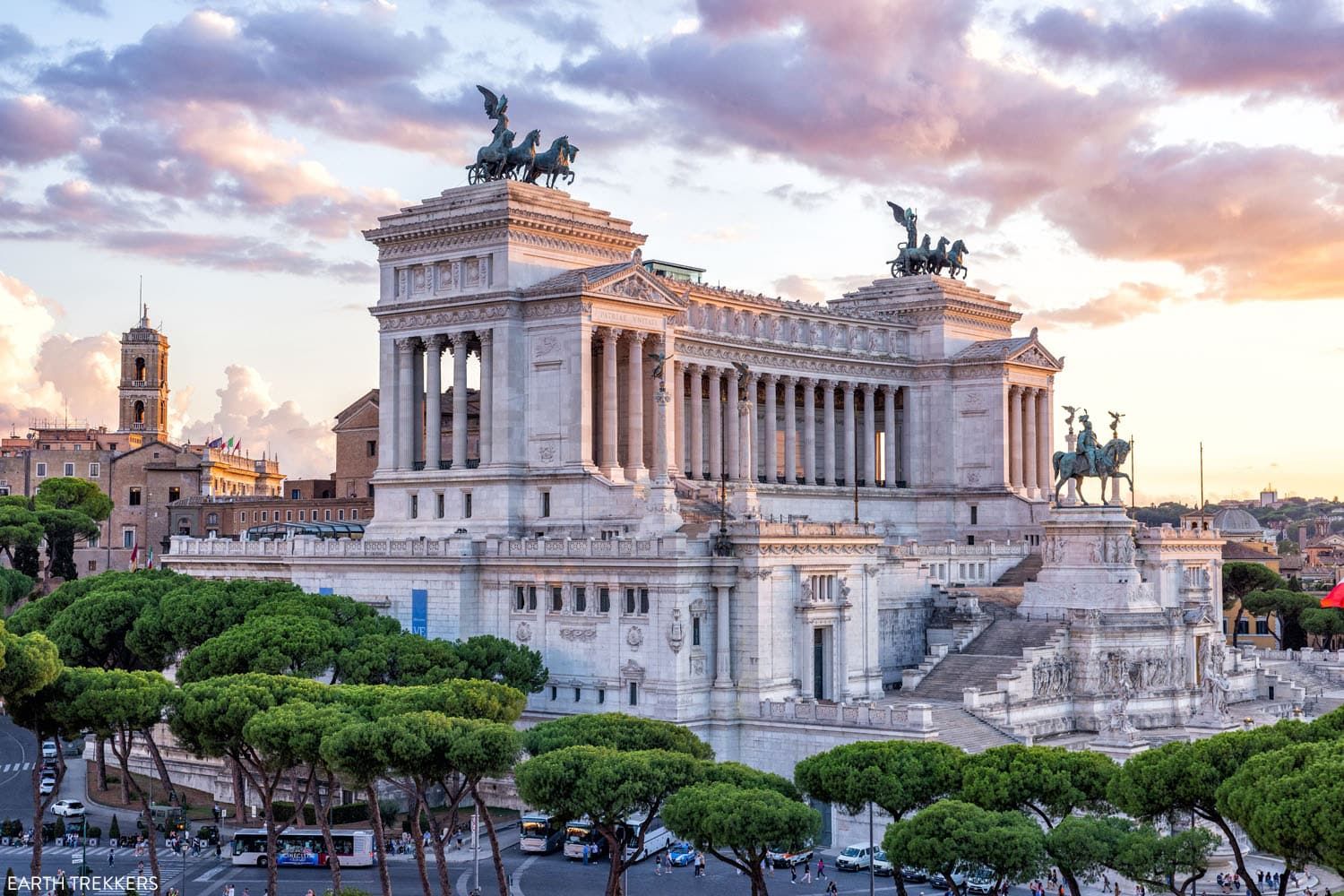 The view from Oro Bistrot | Where to Eat in Rome
Divinity Rooftop. This small rooftop bar and restaurant has a spectacular view of the corkscrew (the top of the Church of St. Ives at the Sapienza). It is located near the Pantheon. The food and drinks are excellent! It is located on top of the Pantheon Hotel and it has an outdoor restaurant and an outdoor bar/terrace.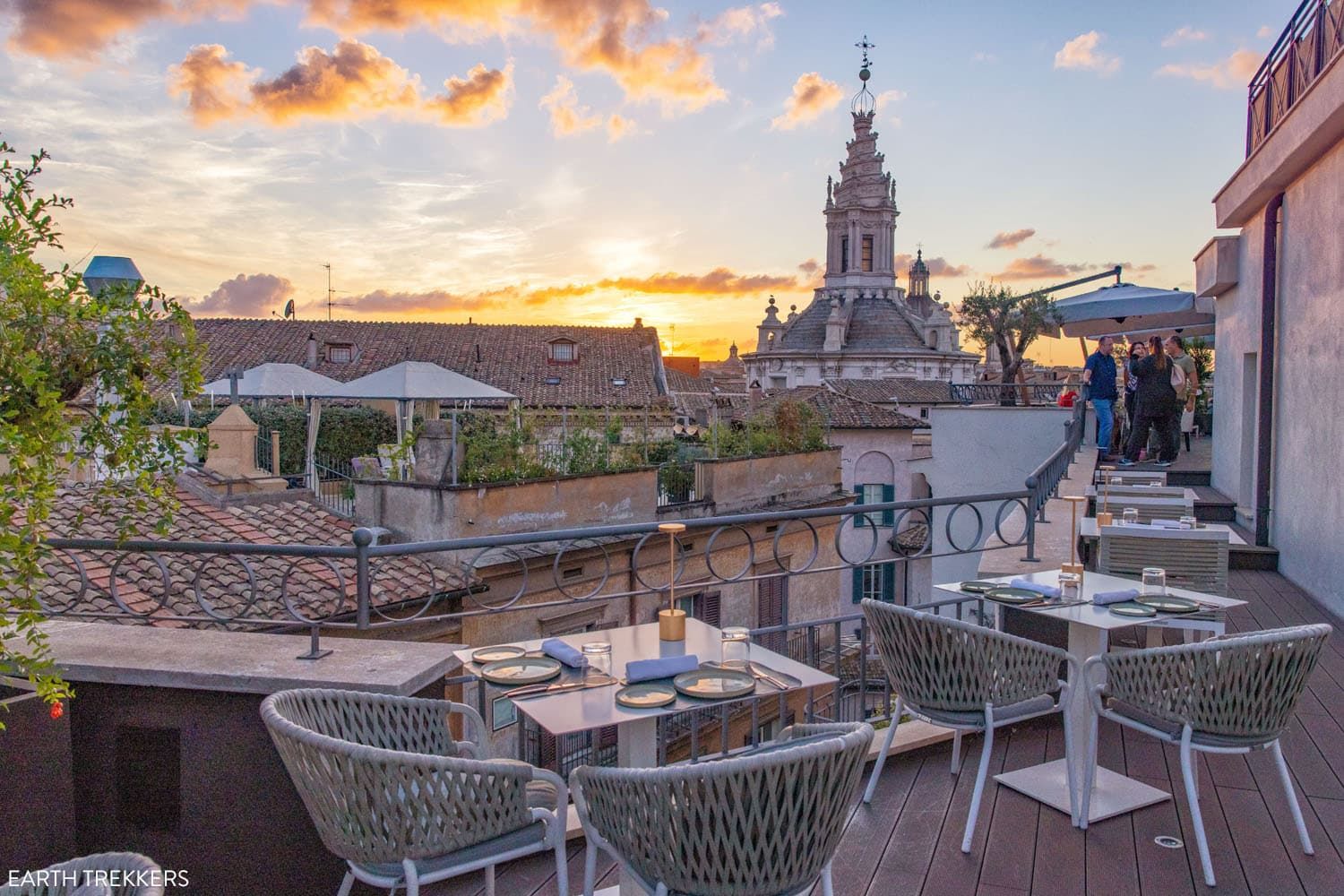 Divinity Rooftop Restaurant | Where to Eat in Rome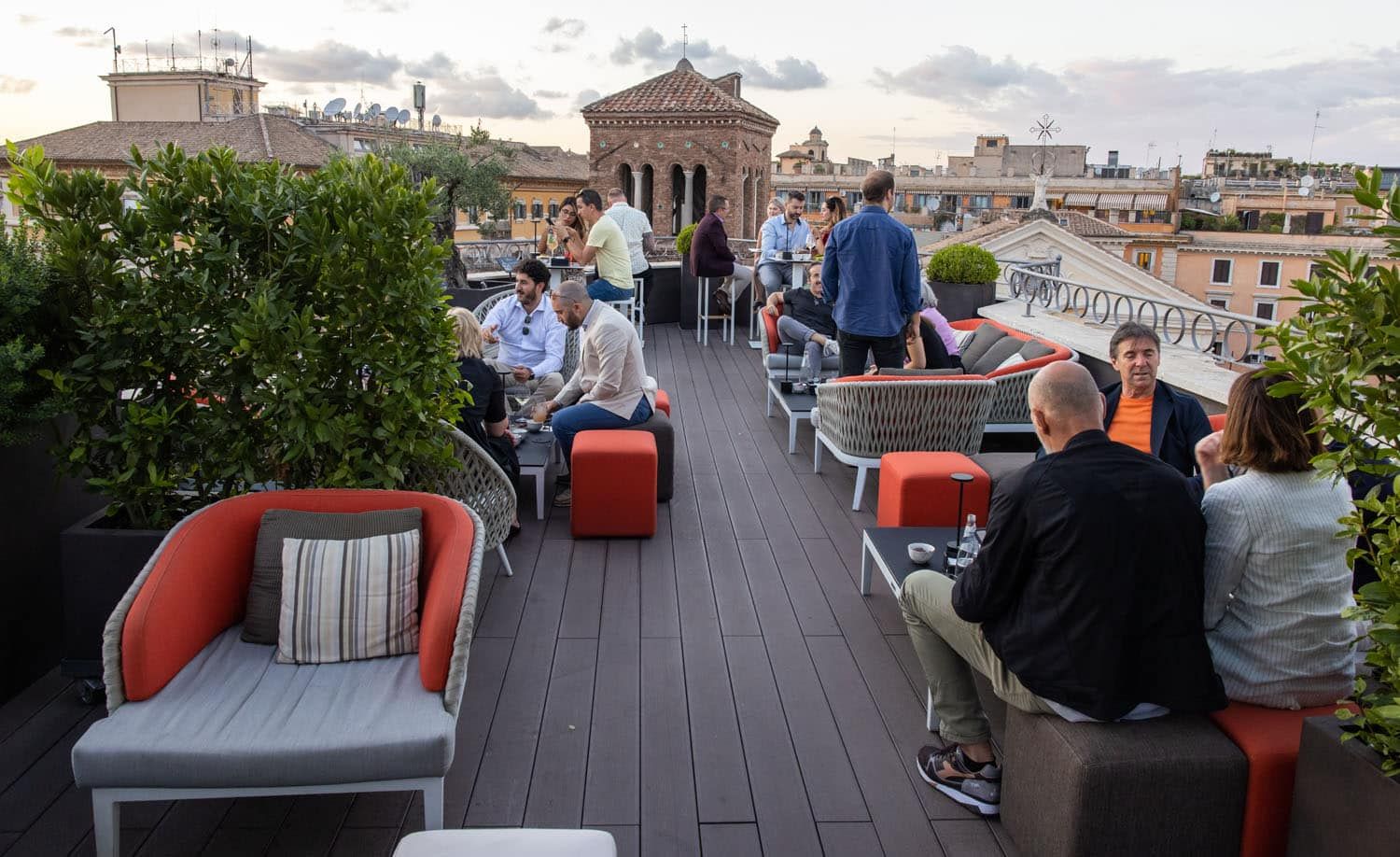 Divinity Rooftop terrace
AcquaRoof Terrazza Molinari. Located near Piazza del Popolo, this rooftop restaurant and bar has a nice view across the rooftops to the Borghese Gardens and the Trinità dei Monti. We had lunch here and it was a quiet spot. The food was delicious. I ate the spaghettoni with clams in a buttery garlic sauce and Tim had pasta with tomato sauce and lobster. This is a great spot for lunch or sunset views with dinner and drinks.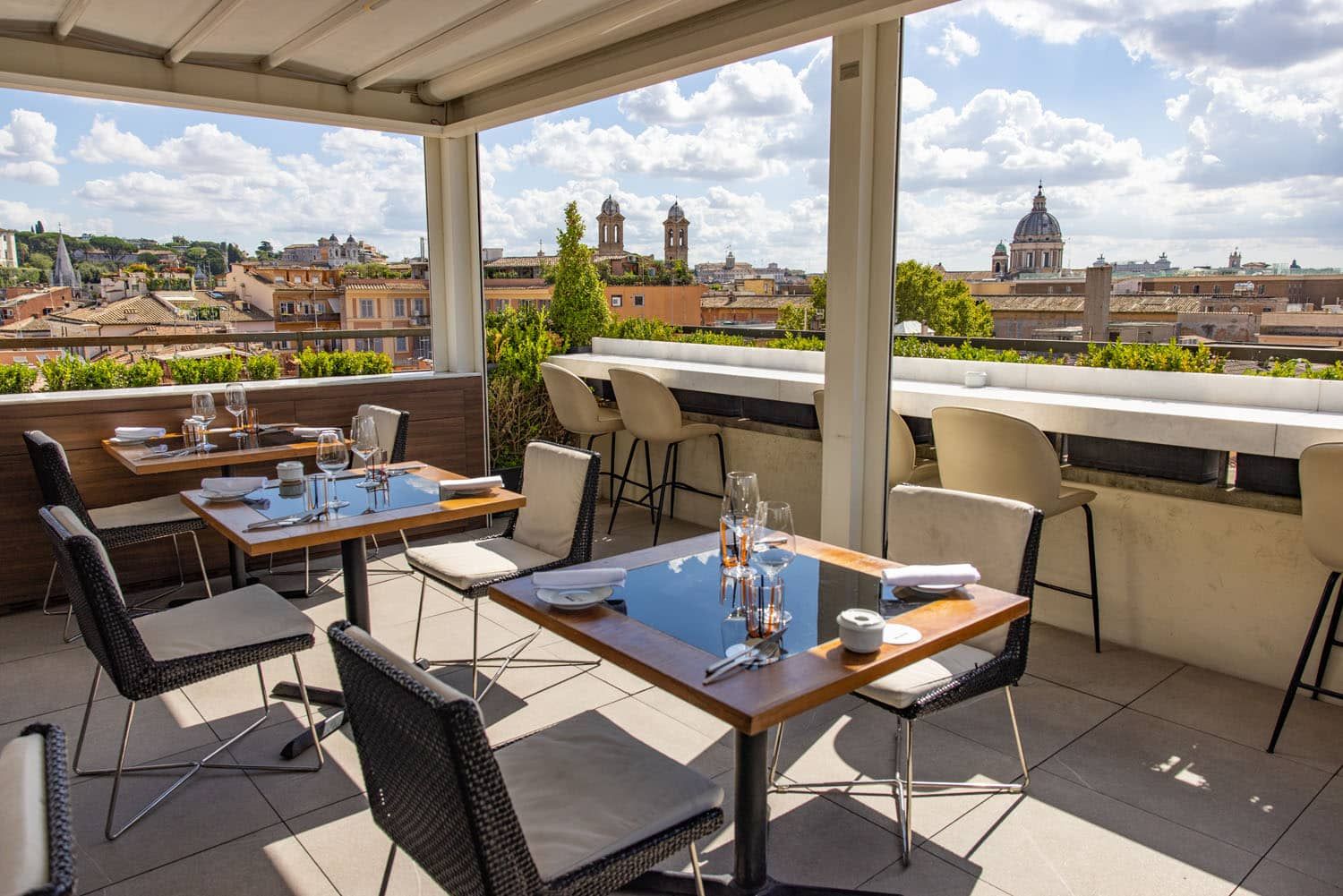 AcquaRoof Terrazza Molinari | Where to Eat in Rome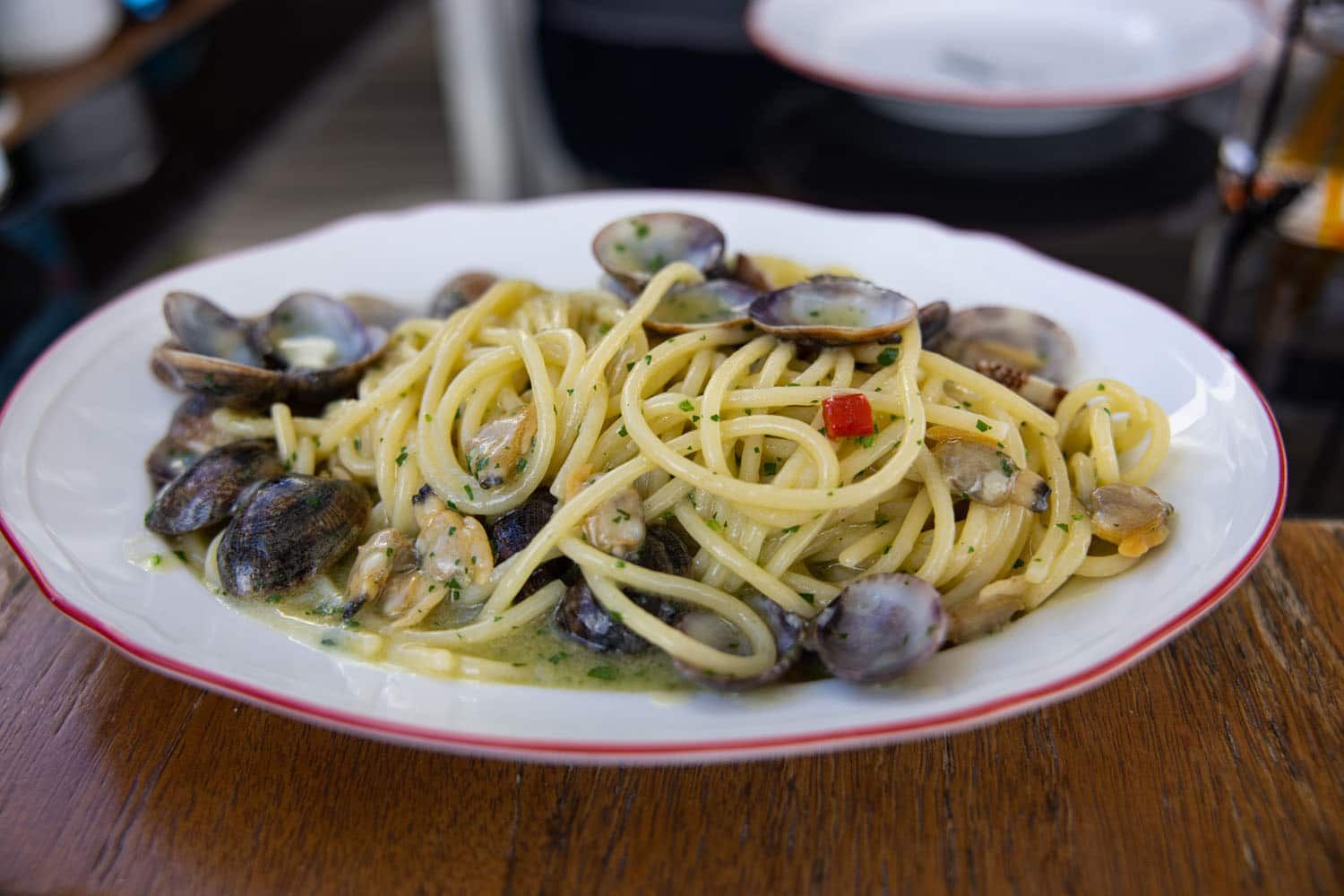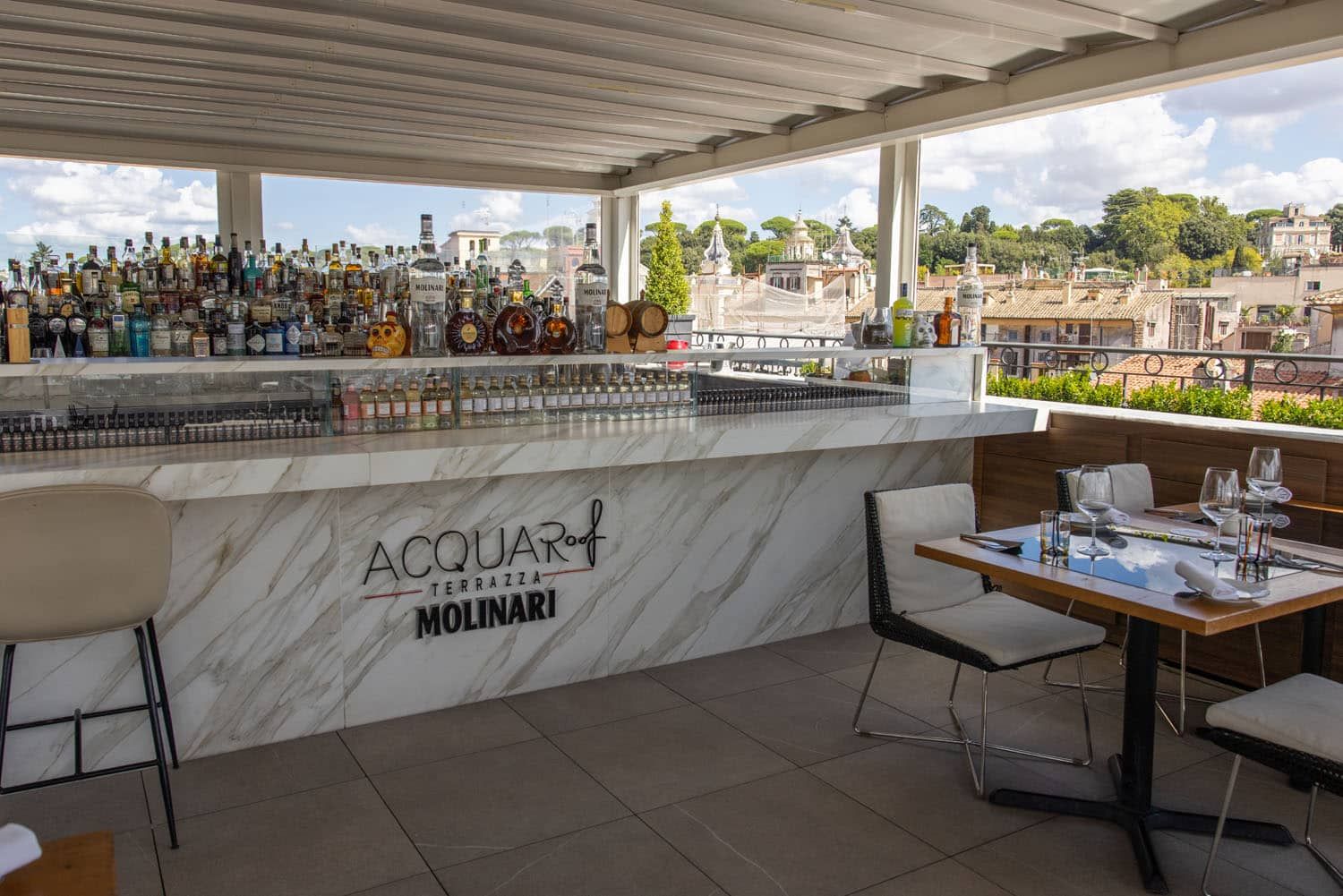 The bar at AcquaRoof Terrazza Molinari
Michelin Starred Restaurants in Rome
Imàgo. Imàgo is a Michelin-starred restaurant that is located on the upper floor of Hotel Hassler Roma. From this restaurant, you have stunning views across Rome. You look out over the Spanish Steps and can see famous landmarks, including St. Peter's Basilica and Trinità dei Monti. The restaurant is indoors (it is not an open terrace) but the walls are mostly windows. For the best experience, reserve a table next to a window.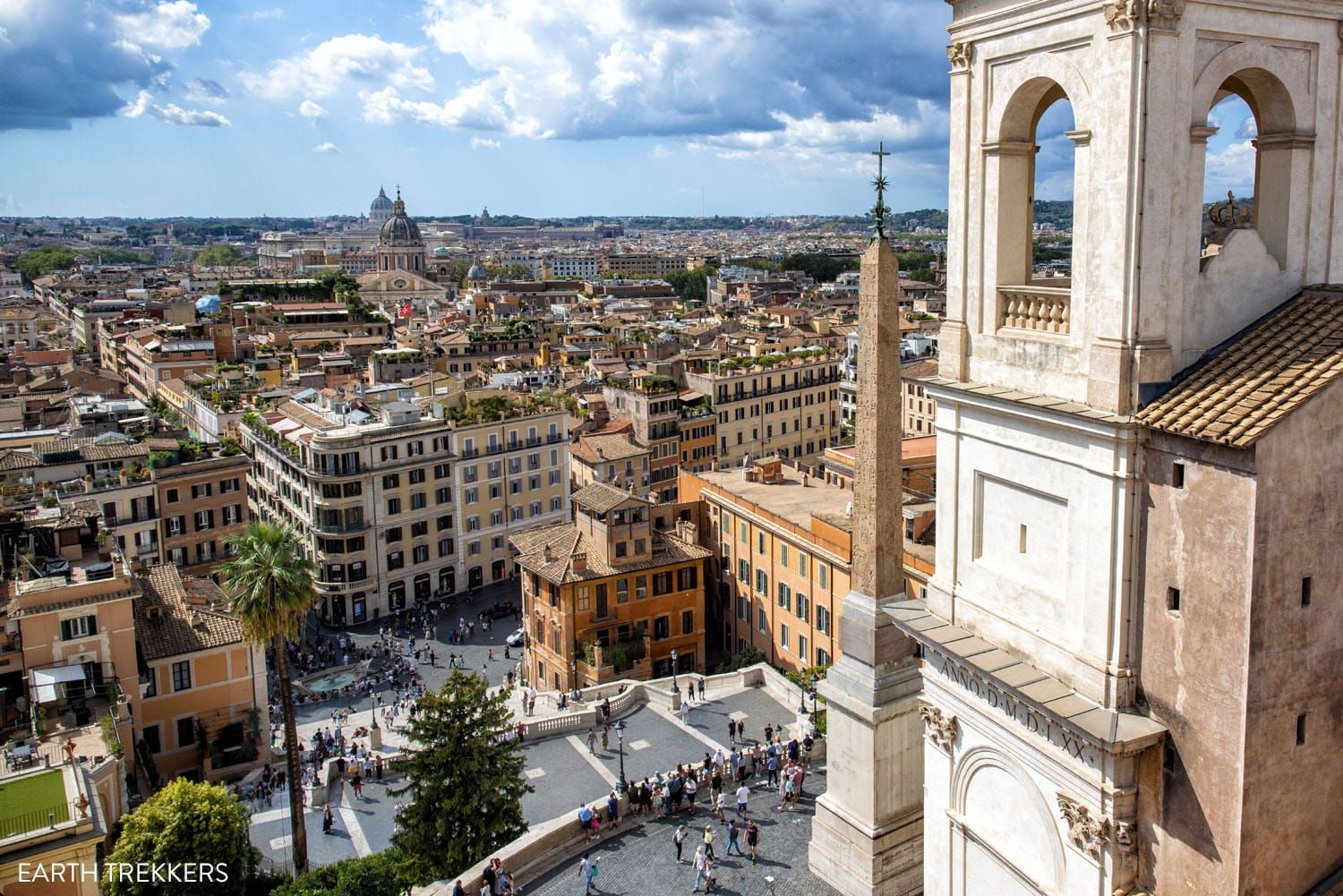 The view from Imàgo | Where to Eat in Rome
Aroma. Aroma, which is located on the top floor of Palazzo Manfredi, has stunning views of the Colosseum. On the menu is classic Italian cuisine with a unique twist and their wine list focuses on champagne, with more than 600 labels.
Il Convivio Troiani. This is the most creative restaurant we dined in in Rome. The food, the service, and the elegant setting is superb. You can order dishes a la carte or order the five course or seven course tasting menu with wine pairings.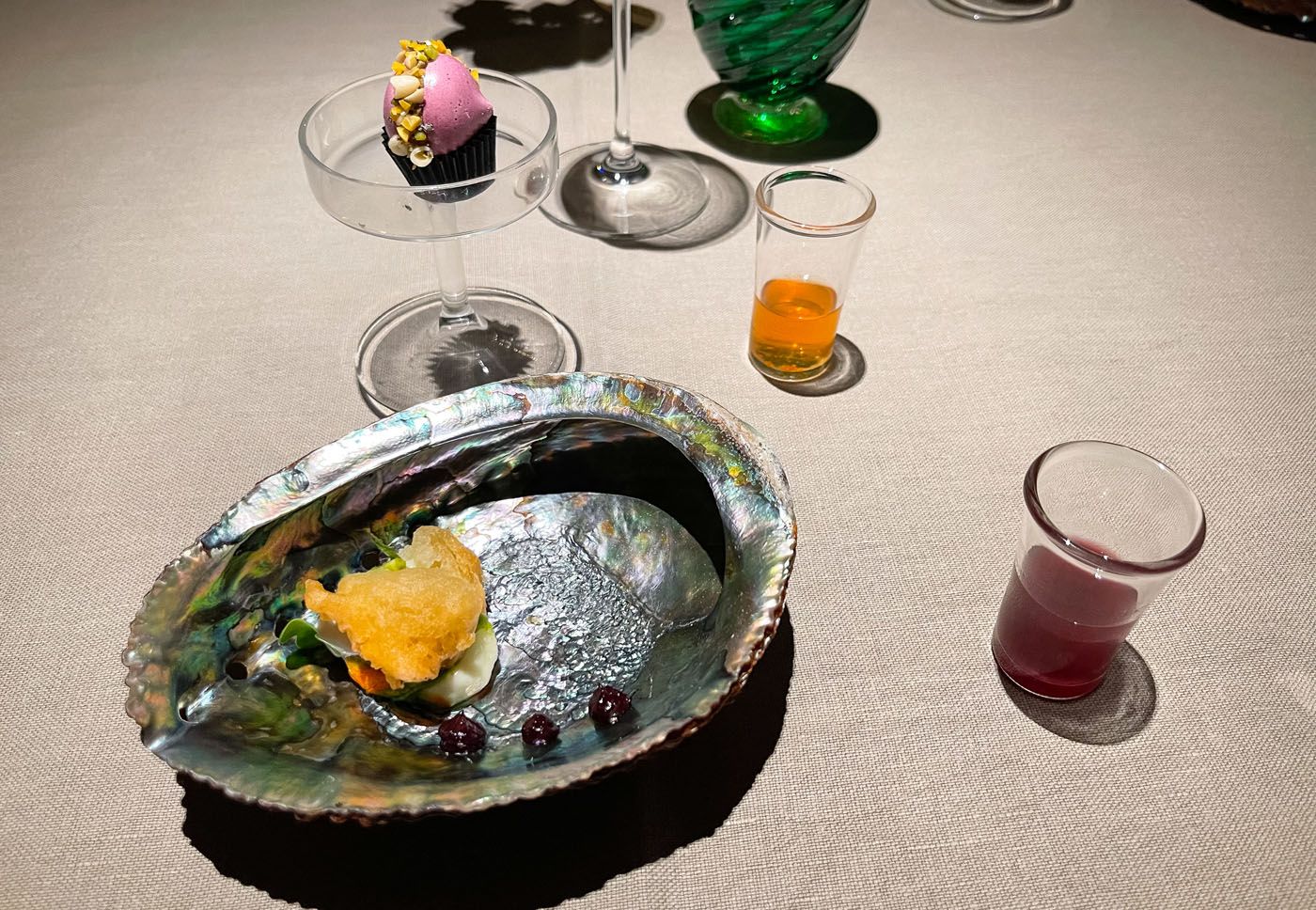 Il Convivio Troiani | Where to Eat in Rome
Gelato in Rome
Restaurants selling gelato can be found throughout Rome but there are a few notable places to mention.
Venchi. This gelateria is a chain, so it can be found in other cities around the world. This is one of our favorite gelato shops, because you can get Nocciolo Supreme (a thick, chocolate hazelnut sauce) poured into the bottom of the cone and then topped with gelato. It doesn't matter what flavor of gelato you get, that last bite of the cone is out of this world. They have a smaller choice of flavors than other shops we visited, but on the list is chocolate, vanilla, hazelnut, and Stracciatella, just to name a few. Whether you order a cone or a cup, it will look like a work of art once they hand it over.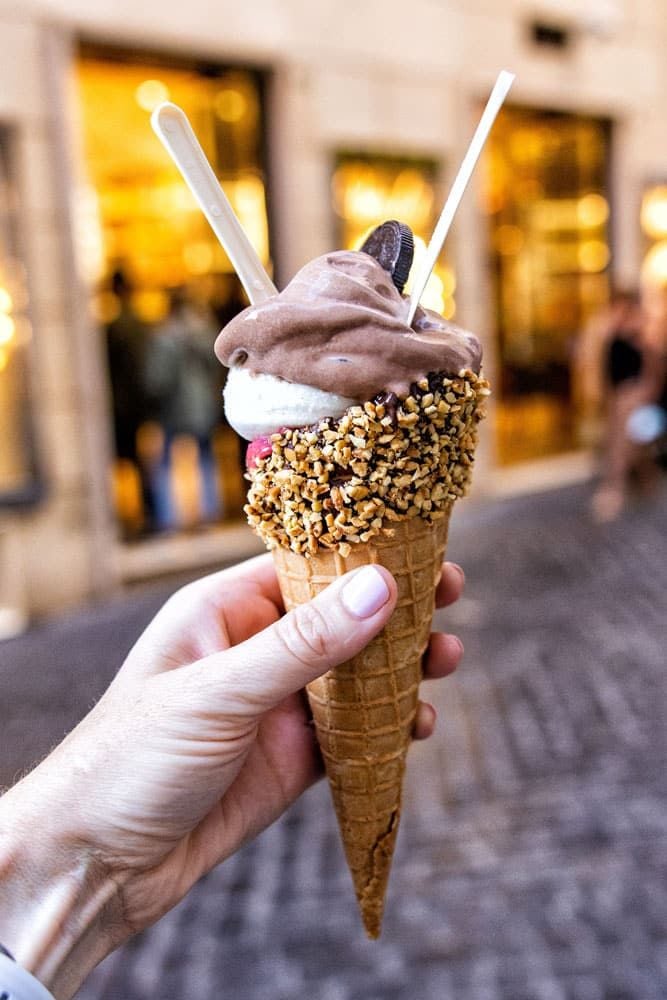 Gelato at Venchi
Giolotti. There's nothing fancy about this place, they just serve really good gelato. The pistachio seemed like a popular pick and it was delicious. Expect the longest wait in line here. If you can only pick one gelateria, this is the one we recommend.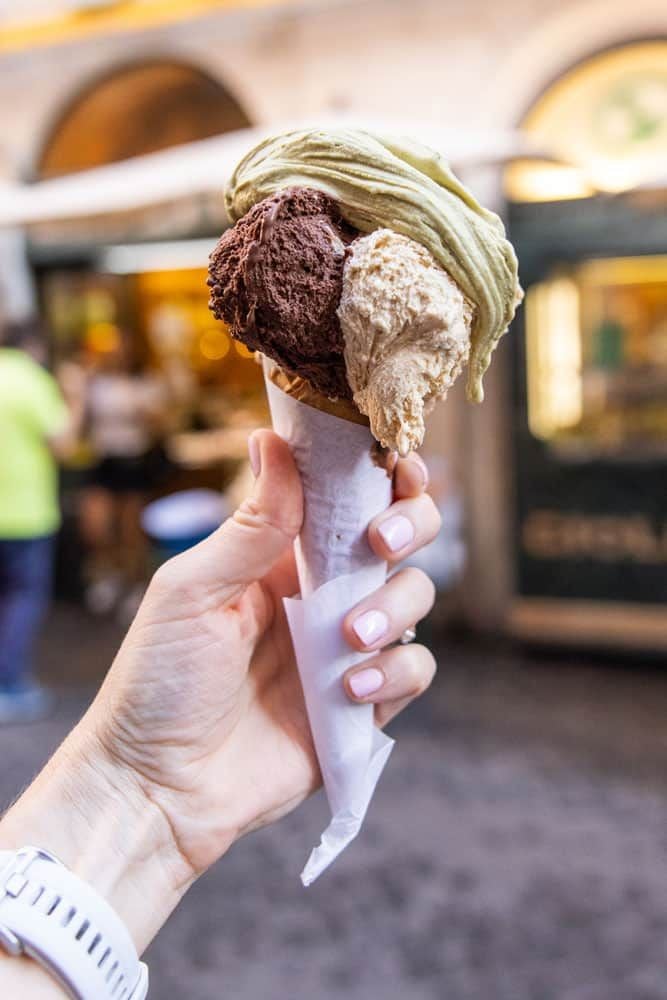 Gelato at Giolitti
Gelateria Della Palma. This popular gelato shop has an overwhelming choice of flavors, some of them a bit bizarre. It also feels a little more chaotic here than the shops mentioned above. Pay first and then pick out your flavors after you pay.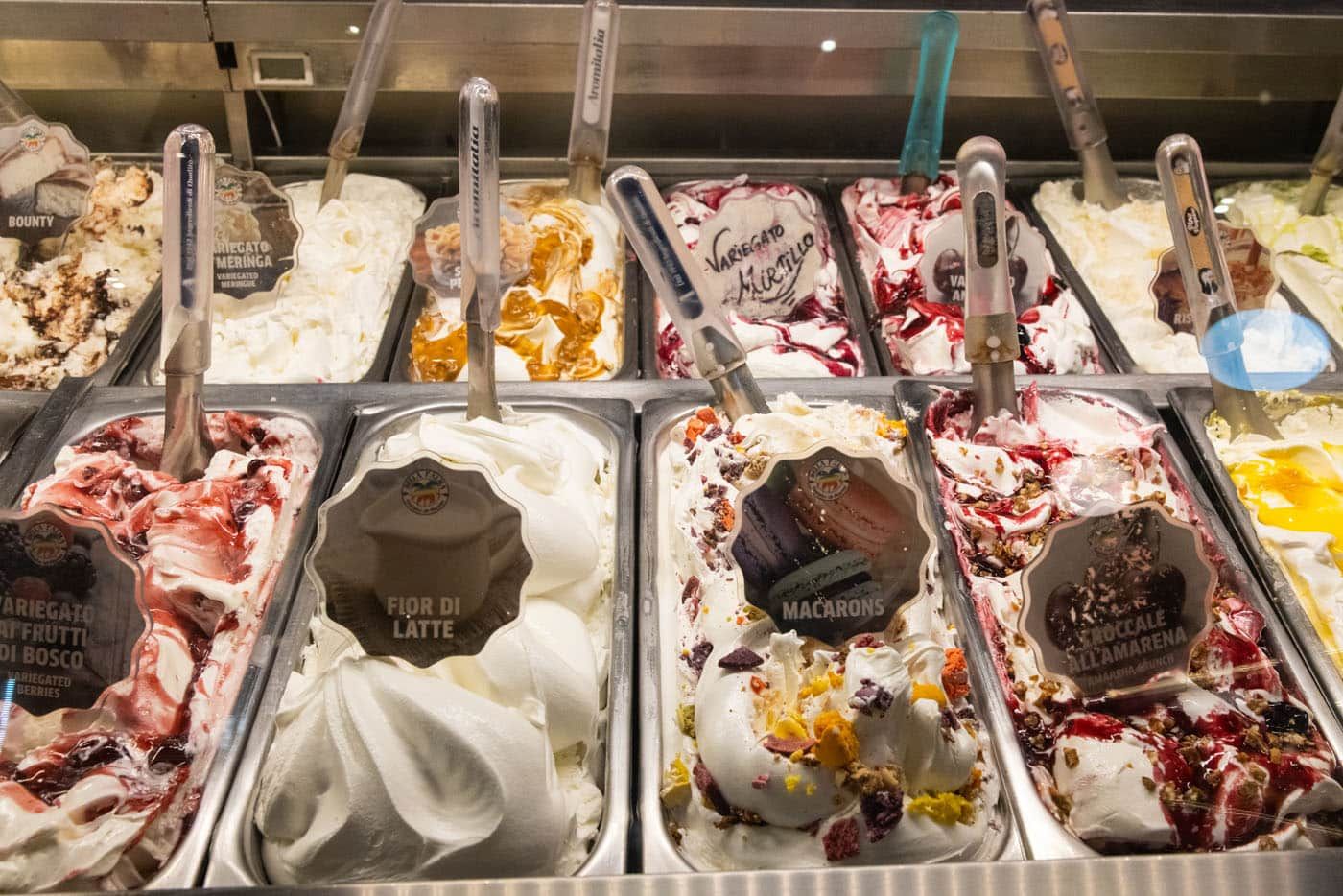 Gelateria Della Palma
Restaurants in Rome: On a Map
How to Use This Map: Click the icons on the map to get more information about each restaurant. Click the star next to the title of the map to add this map to your Google Maps account. To view it on your phone or computer, open Google Maps, click the menu button, go to "Your Places," click Maps, and you will see this map on your list.
Tips for Eating in Rome
Make a reservation for dinner. Many of the restaurants we listed take reservations. It's a little more work before your trip, but for dinner in Rome, we recommend making a reservation, particularly for the rooftop restaurants and higher end restaurants. In this article, we give links to each restaurant so you can make your reservation.
Hours of Operation. Some restaurants will be open for lunch (roughly noon to 2:30), close for a few hours, and then reopen for dinner. I recommend checking the hours of places you are interested in, so you can time your meals. We've been in the unfortunate situation where we weren't hungry until 3 and then couldn't find a good place to eat.
Dinner starts at 7:00 pm. In Rome, dinner doesn't typically start until 7:00 or 7:30 pm, but many Romans eat much later than this (around 9:00 pm). To get on schedule, plan on having lunch around 1:30 pm and dinner between 7:30 and 9:00 pm.
What should you order. When you look at a menu, you will see antipasti (appetizers), primi (first course), secondi (second or main course), contorni (side dishes), and dolci (dessert). You do not have to pick something from each category. We typically split an antipasti and then each order a first or second course. Unless you are very hungry, ordering both a first course and a second course is a lot of food.
Aperitivos in Rome. An aperitivo is a pre-dinner drink served with a few small snacks or charcuterie board. Drinks are usually a cocktail, such as an Aperol or Campari Spritz, a gin and tonic, or a glass of wine. One of our favorite things to do in Rome is to have an aperitivo at a rooftop bar, followed by dinner. It's a great way to unwind after a day of sightseeing.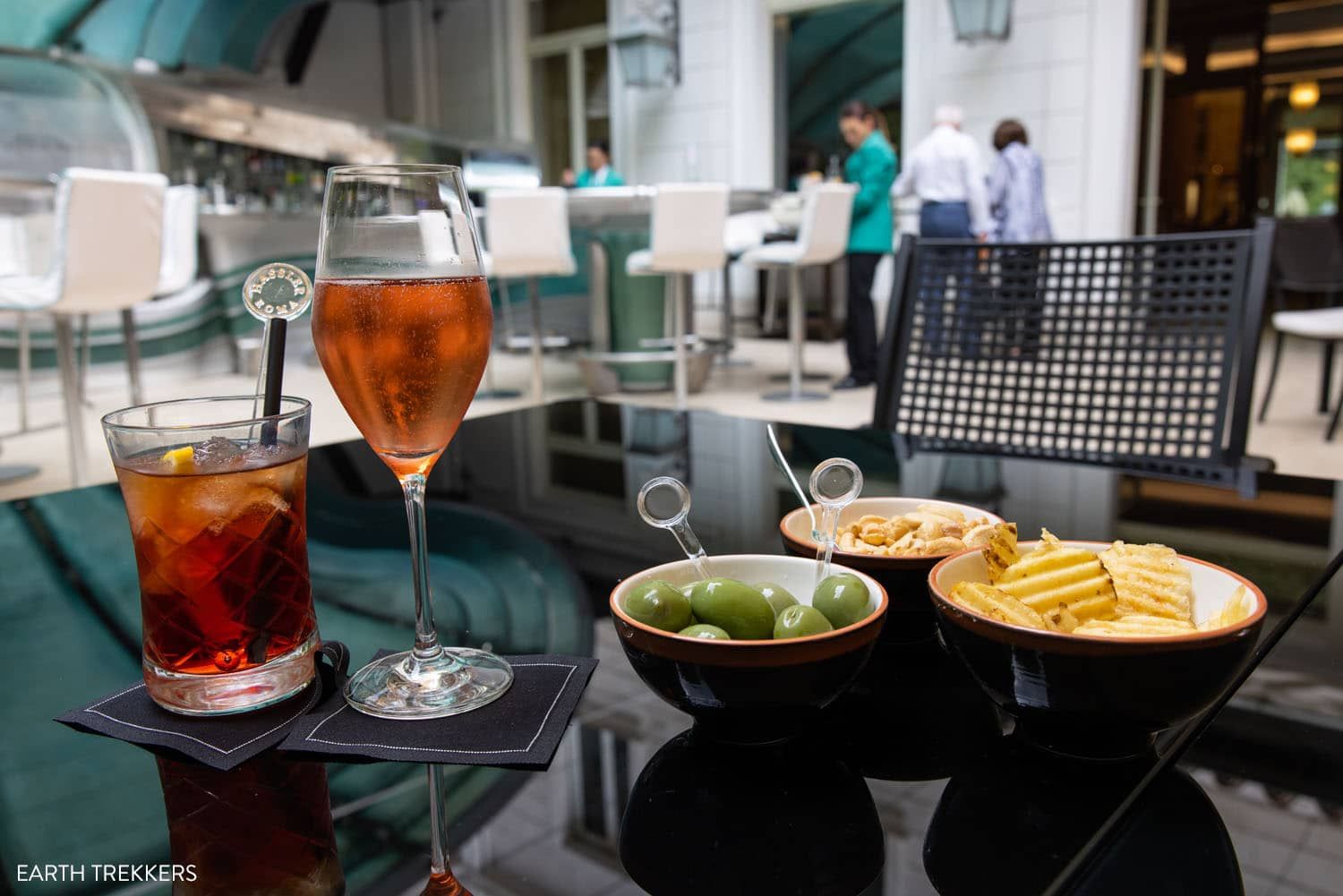 Aperitivo at Palm Court, Hotel Hassler Rome | Where to Eat in Rome
Food Tours in Rome
In addition to sidewalk cafes, rooftop restaurants, pizzerias, and gelaterias, there are also a number of food tours in Rome. On these tours, learn about Italian cuisine, sample street foods, go wine tasting, or even take a cooking class.
More Information about Rome
For a full list of things to do in Rome, check out our article Best Things to Do in Rome. For the best viewpoints of Rome's famous landmarks, take a look at our article Best Views of Rome.
Learn how to plan your time with our One Day in Rome Itinerary, 2 Day Rome Itinerary, 3 Day Rome Itinerary and 4 Day Rome Itinerary.
Find out the best places to have a drink with a view in our guide to the Best Rooftop Bars in Rome.
Don't miss our detailed guides about How to Visit the Colosseum and How to Visit the Vatican Museums and St. Peter's Basilica.
Get recommendations on where to stay in Rome in our Rome Hotel Guide.
---
If you have any questions about where to eat in Rome, or if you want to share your favorite restaurants, let us know in the comment section below.
More Information for Your Trip to Italy
FLORENCE & TUSCANY: If this is your first visit to Florence, read our guide to the Best Things to Do in Florence. If you are planning a visit to Tuscany, learn how to spend one day in Siena, how to visit Pienza, the best things to do in Volterra, and the best things to do in San Gimignano.
VENICE: Learn more about Venice in our article Best Things to Do in Venice. We also have guides about How to Visit St. Mark's Basilica, where to get the Best Views of Venice, and how to spend Two Days in Venice.
DOLOMITES: We cover important things to know before you go and travel tips in our article How to Plan a Trip to the Dolomites. For ideas on what to do, read our article Best Things to Do in the Dolomites. Check out our Dolomites Hotel Guide for recommendations on where to stay. And for links to all of our articles, take a look at our Dolomites Travel Guide.
AMALFI COAST: Learn how to travel from Rome to the Amalfi Coast and you have the option to visit Pompeii on the way. We also have a guide to the best towns on the Amalfi Coast, how to hike the Path of the Gods, things to do in Positano, and things to do in Ravello. And don't miss our guide to the best things to do in Capri.
CINQUE TERRE: One of the best experiences in the Cinque Terre is to hike between all five towns. If you are traveling on a budget, get our money saving tips for the Cinque Terre.
We have TONS more information about Italy in our Italy Travel Guide, including Rome, Florence, Venice, Tuscany, the Dolomites, the Amalfi Coast, the Cinque Terre, and Puglia.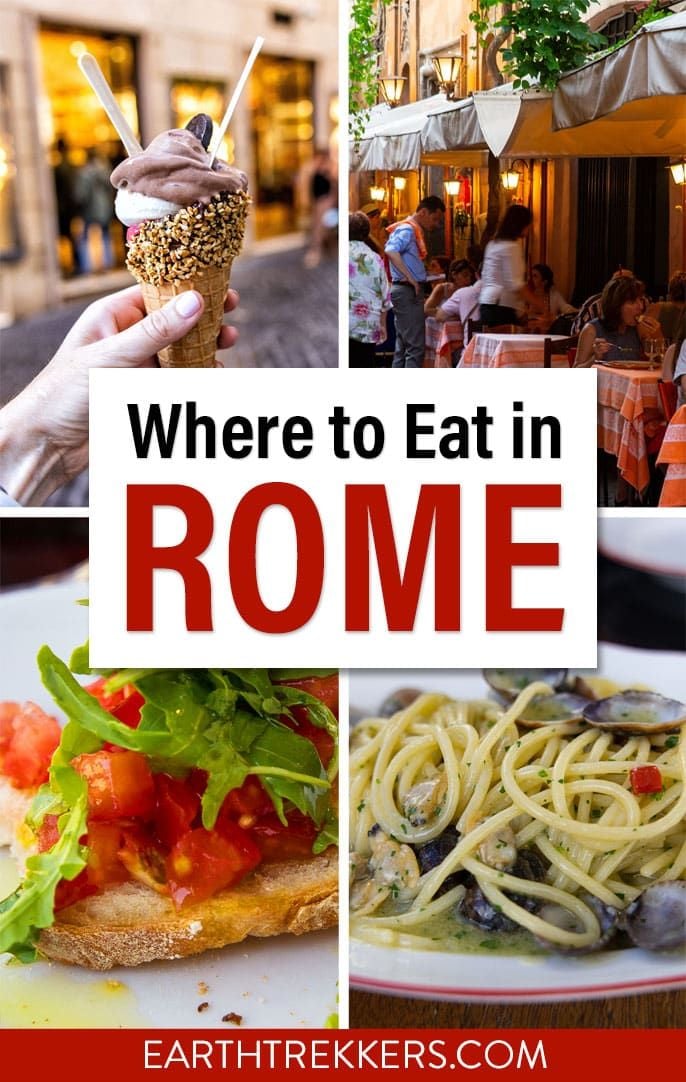 Note: This post contains affiliate links. When you make a purchase using one of these affiliate links, we get paid a small commission at no extra cost to you.
All rights reserved © Earth Trekkers. Republishing this article and/or any of its contents (text, photography, etc.), in whole or in part, is strictly prohibited.