Our one year around the world trip began in Rome on June 30, 2014. We had three days to spend here, just enough time to see all of the major sites. Rome is packed with history, many of it centuries, even millennia, older than what we have in the US.
Since we were visiting during the summertime, we knew to expect heat and crowds of people. What we did not expect was the amount of construction taking place, particularly around Rome's major monuments. Because of this, we found Rome to be frustrating and disappointing at times. We loved the food, the Colosseum, the people, the architecture, our hotel owner Margherita, and of course the vino and gelato.
Take a look at our photos to see some of our favorite, and not so favorite things.
The Colosseum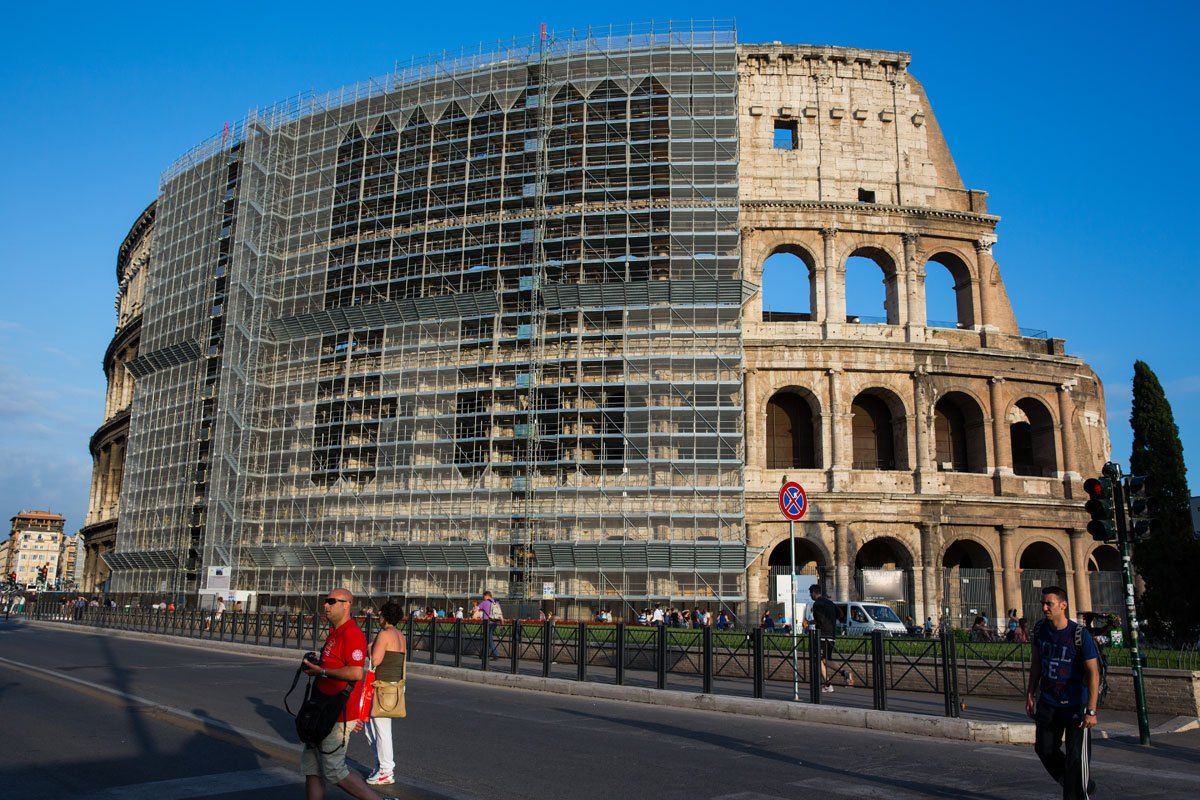 The Colosseum is one of the highlights of Rome. What we were not prepared for was the scaffolding on a quarter of the building. I understand that buildings need to be cleaned and maintained, but it was a shocker to emerge from the metro station and our first view of the Colosseum was metal scaffolding! We walked around the circumference of the Colosseum, taking in much better views of this amazing wonder of the world.
Seeing the inside of the Colosseum was awesome. All four of us really enjoyed this. Home schooling is already coming in handy (yes, we started early). Tyler had to read a book called City which explains how ancient Roman structures were built, so he was able to explain some of the construction of the Colosseum to us.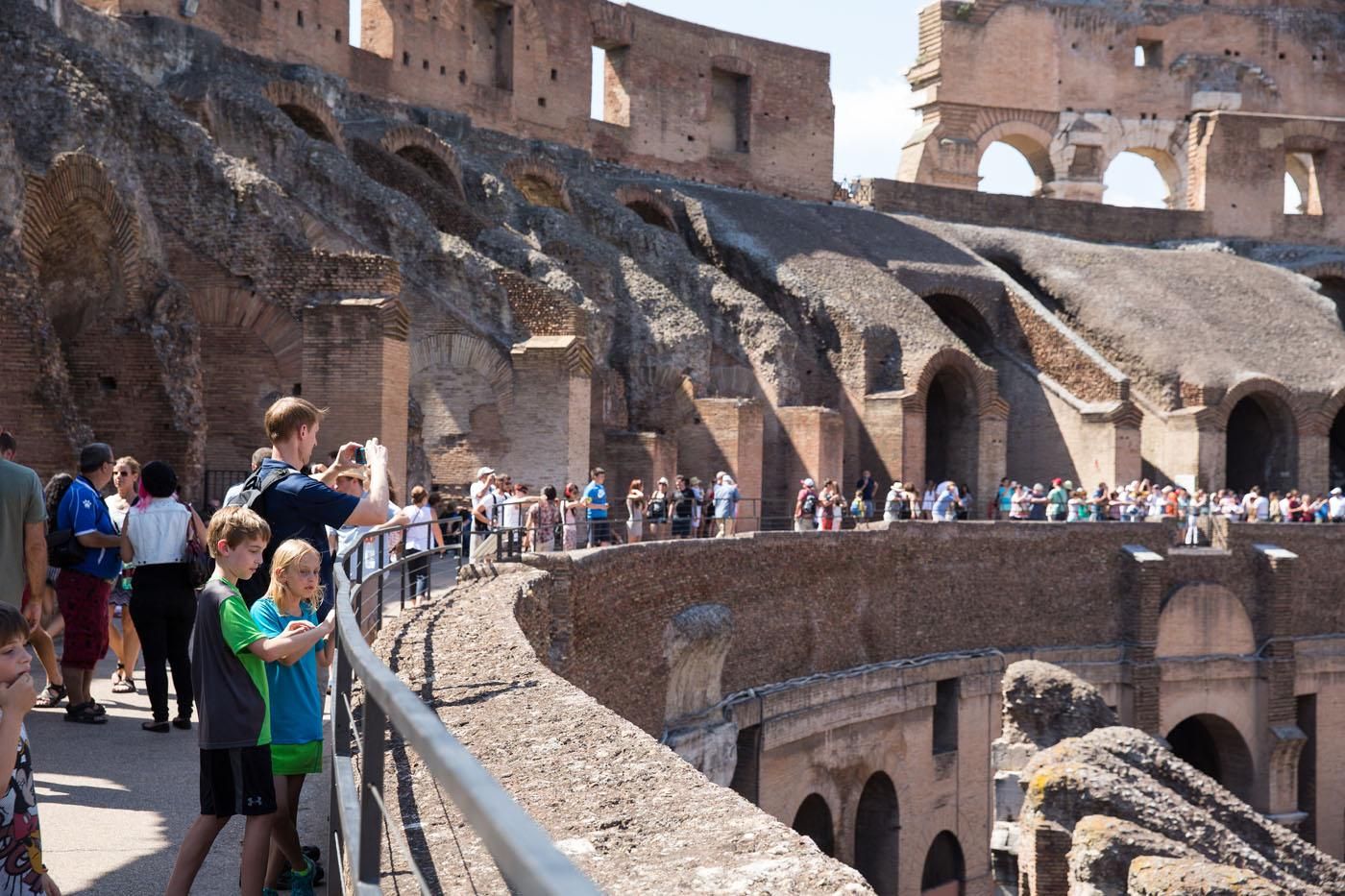 The Borghese Gallery
The Borghese Gallery was another highlight. The Borghese is an art gallery packed with top class sculptures and paintings in a very small building. Our friend Kate clued us in to seeing Bernini's Apollo and Daphne, which was amazing. This museum is one of those buildings where just the rooms themselves are a work of art as well.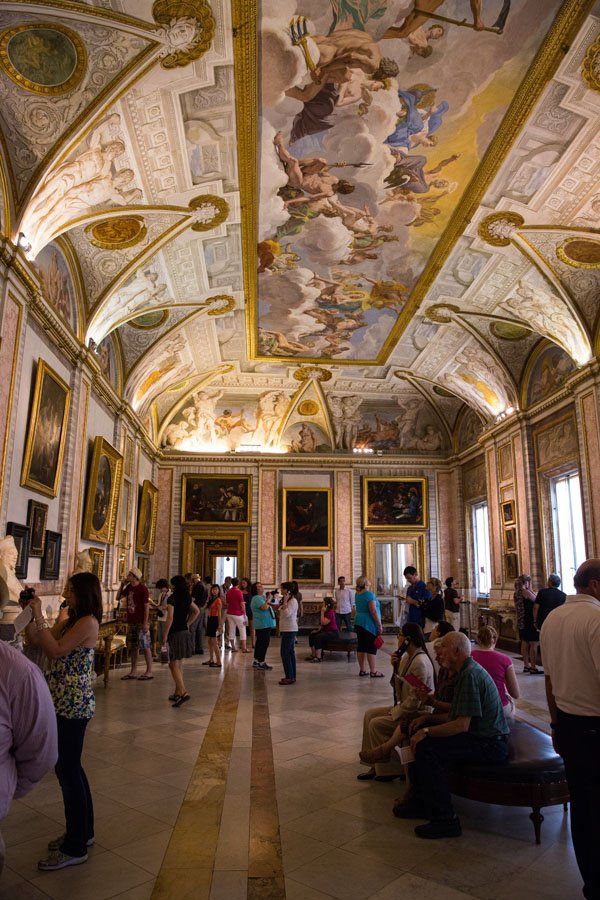 Italian Piazzas
We spent an evening relaxing in Piazza Navona. I got to enjoy some alone time (I like my alone time every once in awhile!) with a glass of wine while Tim and the kids explored the Piazza.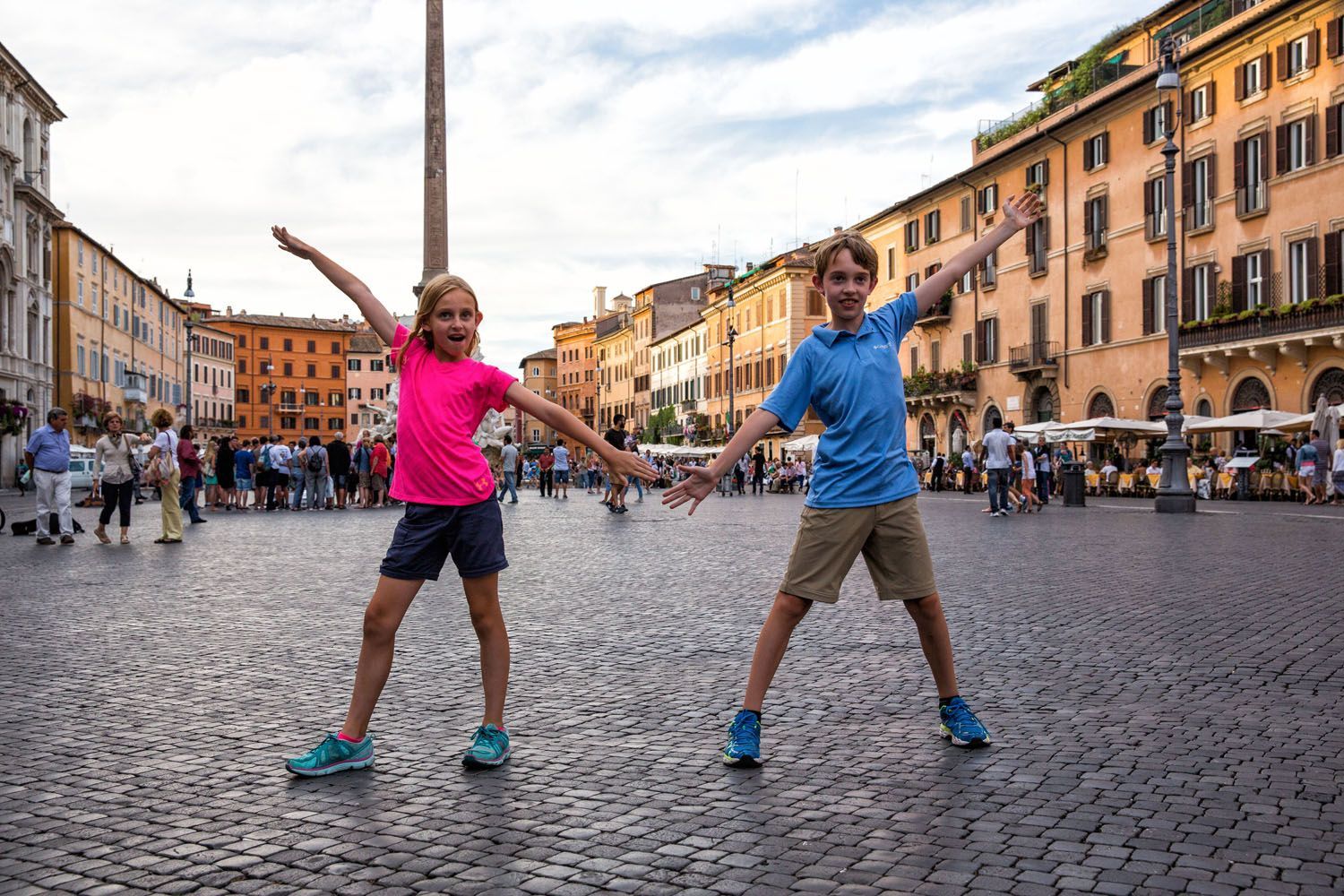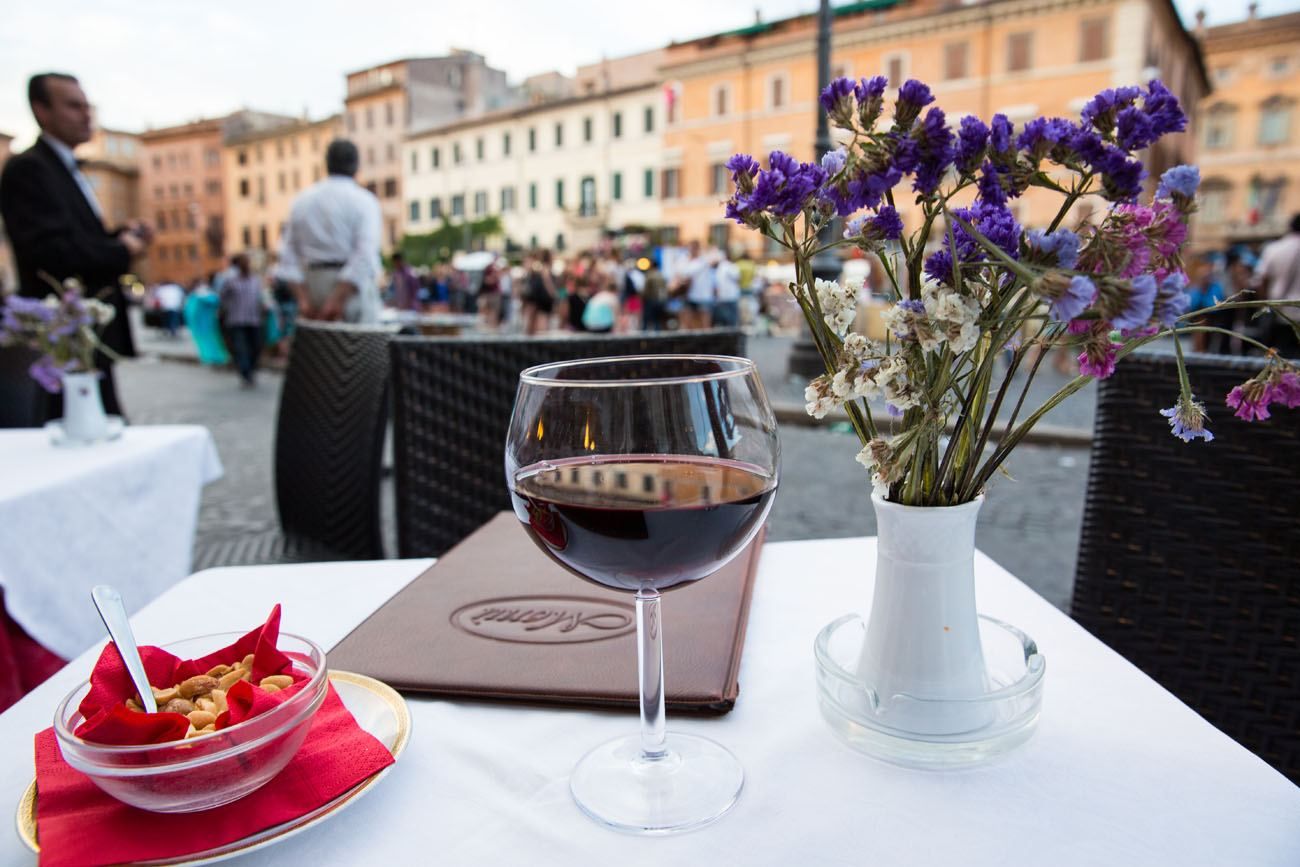 From the Piazza Navona we walked to Campo de Fiori, another one of Rome's great hang out places. Campo de Fiori was packed with outdoor cafes.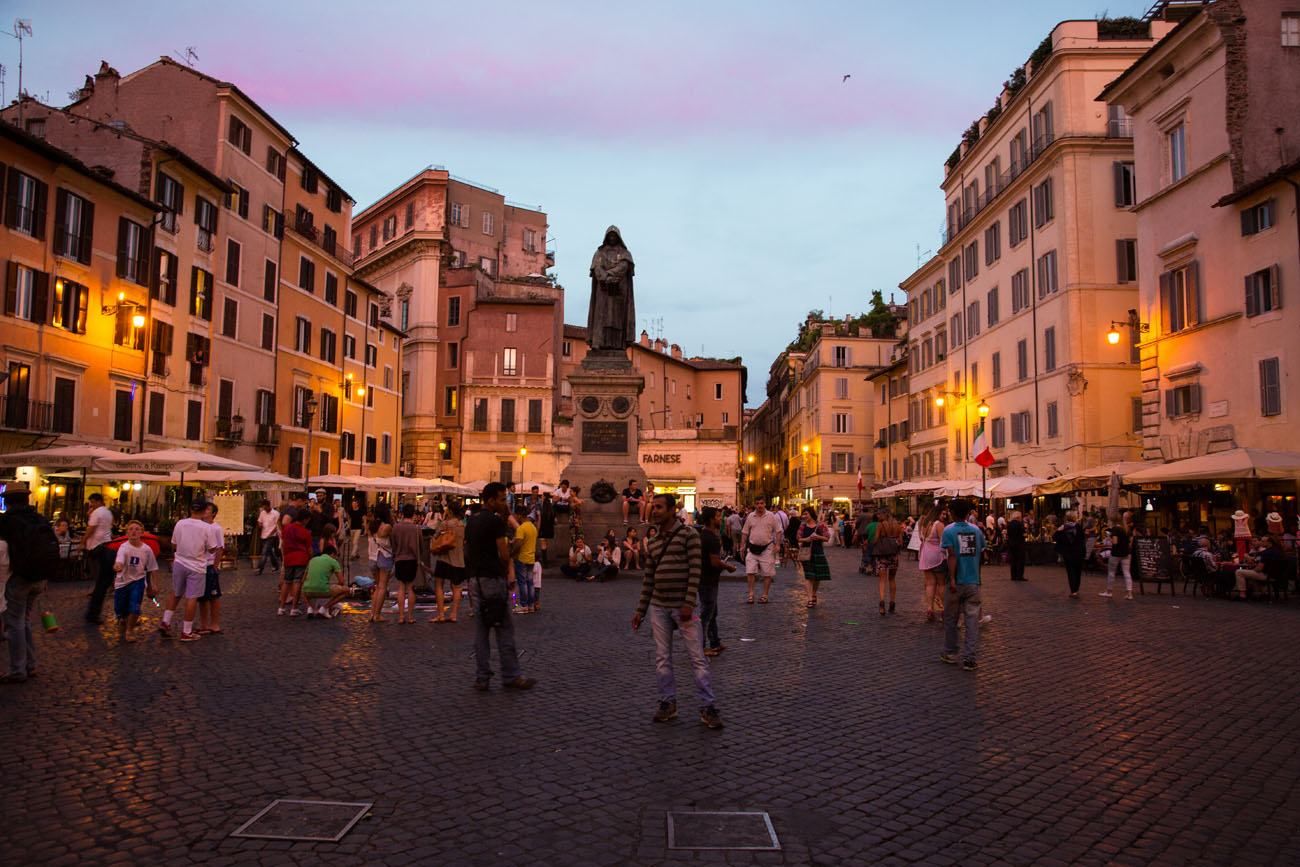 The Pantheon
The Pantheon was a surprise. I honestly was not expecting much from this ancient, pockmarked building but it was amazing. The Pantheon contains one of the oldest and largest domes in the world and it was a wonder to see. Again, Tyler with his knowledge of Roman construction taught us all about the oculus and the construction of the dome.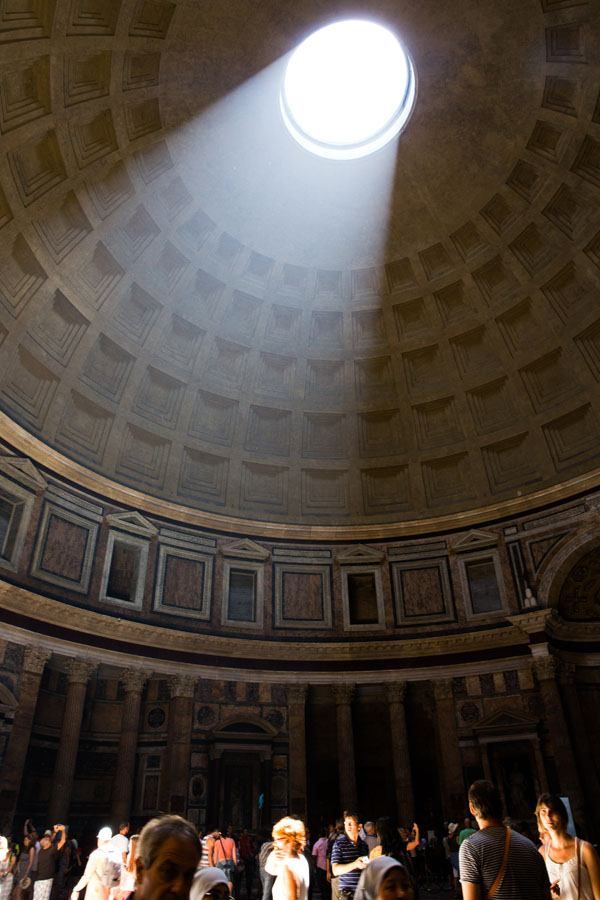 The Trevi Fountain
The most disappointing part of our three days in Rome was the construction around the Trevi Fountain. So far we had scaffolding on the Colosseum, scaffolding on the entire facade of the church at the top of the Spanish Steps, and now construction around the Trevi Fountain.
And we're not talking minor work here. The water to the fountain was turned off and a glass wall completely blocked people off from the fountain. It was so disappointing and unexpected that it was almost funny. If we can't throw our three coins in the fountain, does that mean we will never return to Rome?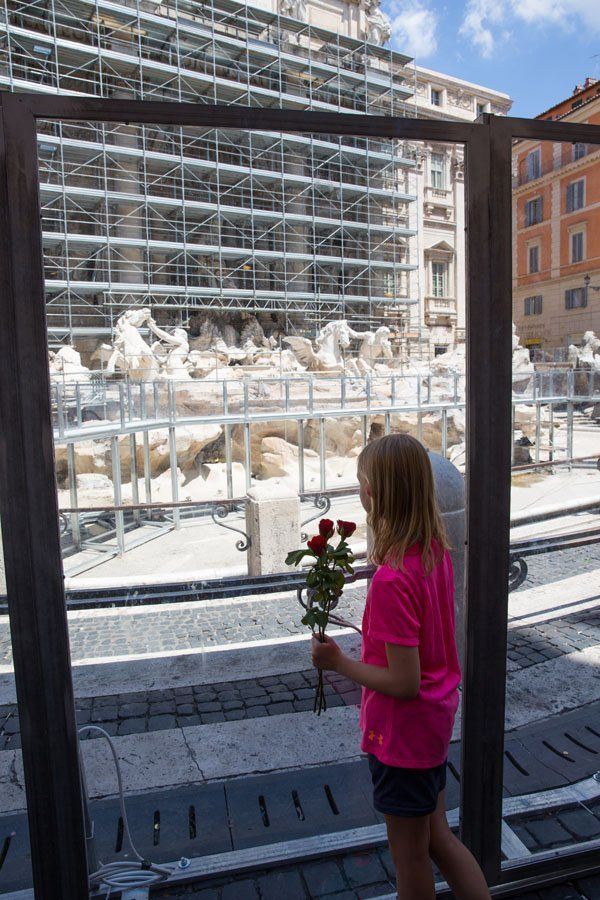 The Food in Rome
As a family I think our favorite thing in Rome was the gelato. We sampled multiple flavors, and our favorites were the mint, cioccolatta, nutella, and caffe.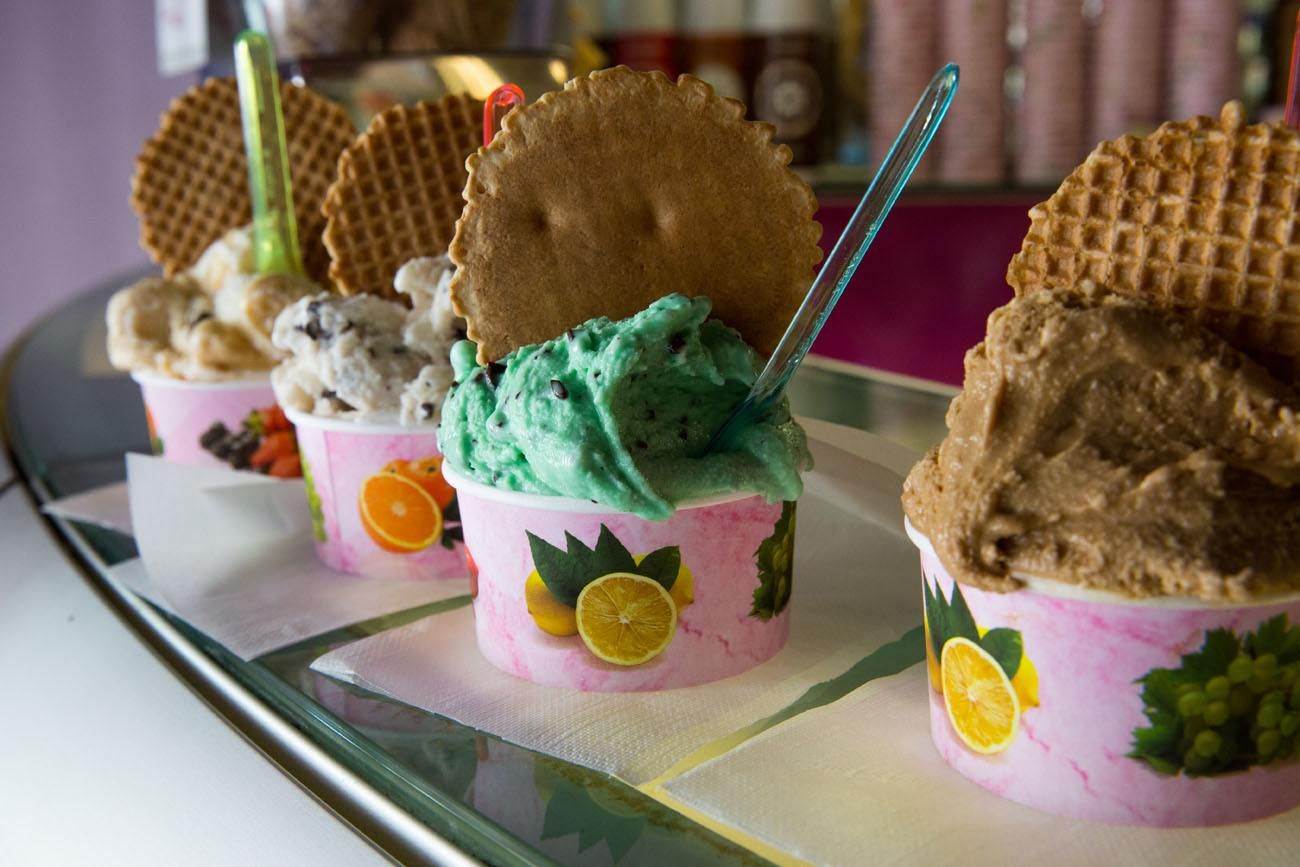 The food was also amazing. We did not have a bad meal in Rome. Our family can live off of pizza and pasta so we were in heaven here.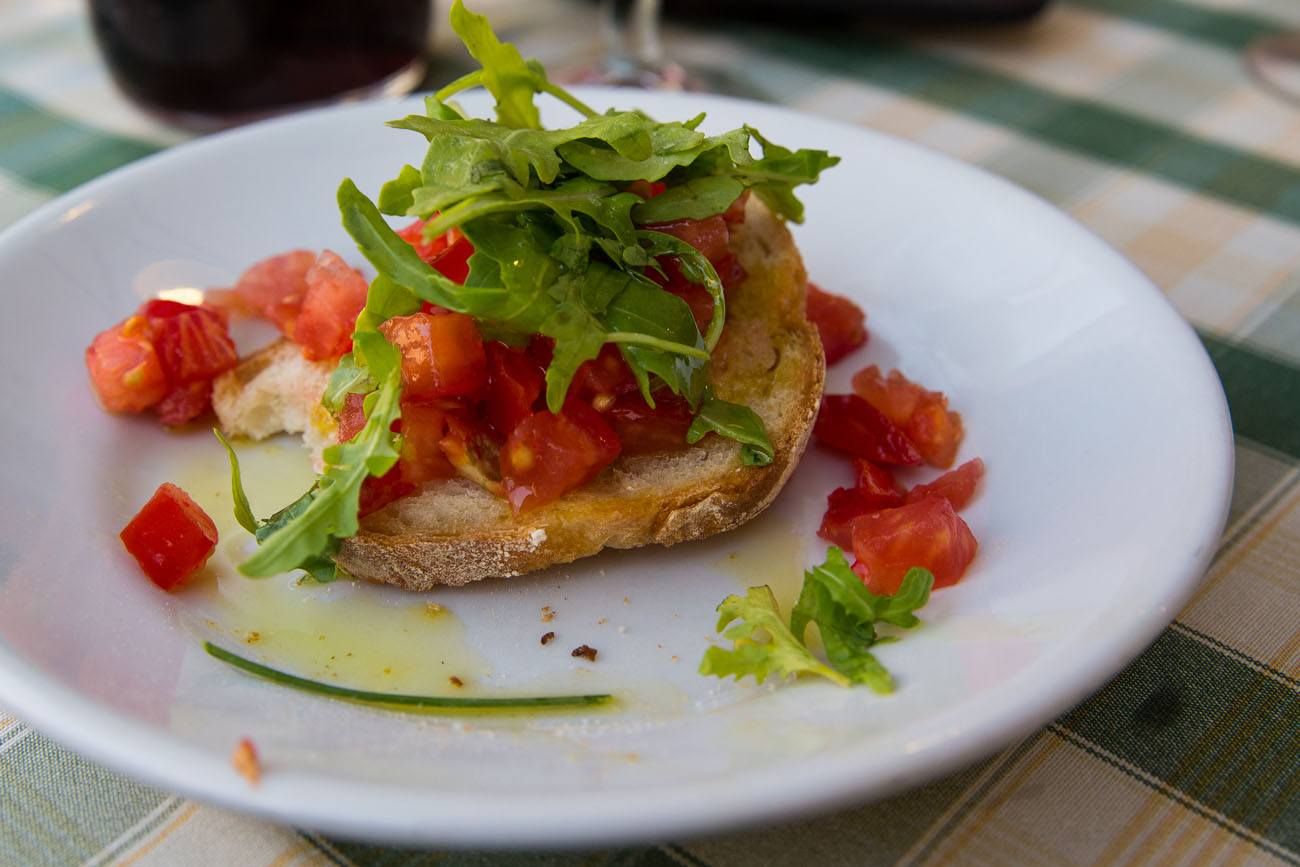 Biking the Appian Way
Biking the Appian Way was also one of our favorite things to do. Tyler and Kara liked it because it was FUN and they did not need another history or art lesson or walk miles around crowded, "boring" streets.
The Vatican
We toured the Vatican Museum and saw the Sistine Chapel. It was so hot and crowded that we could barely move. Seeing St. Peter's Basilica was a much better experience. The inside of the church is gorgeous, but it was the views from St. Peter's dome that we all liked the most.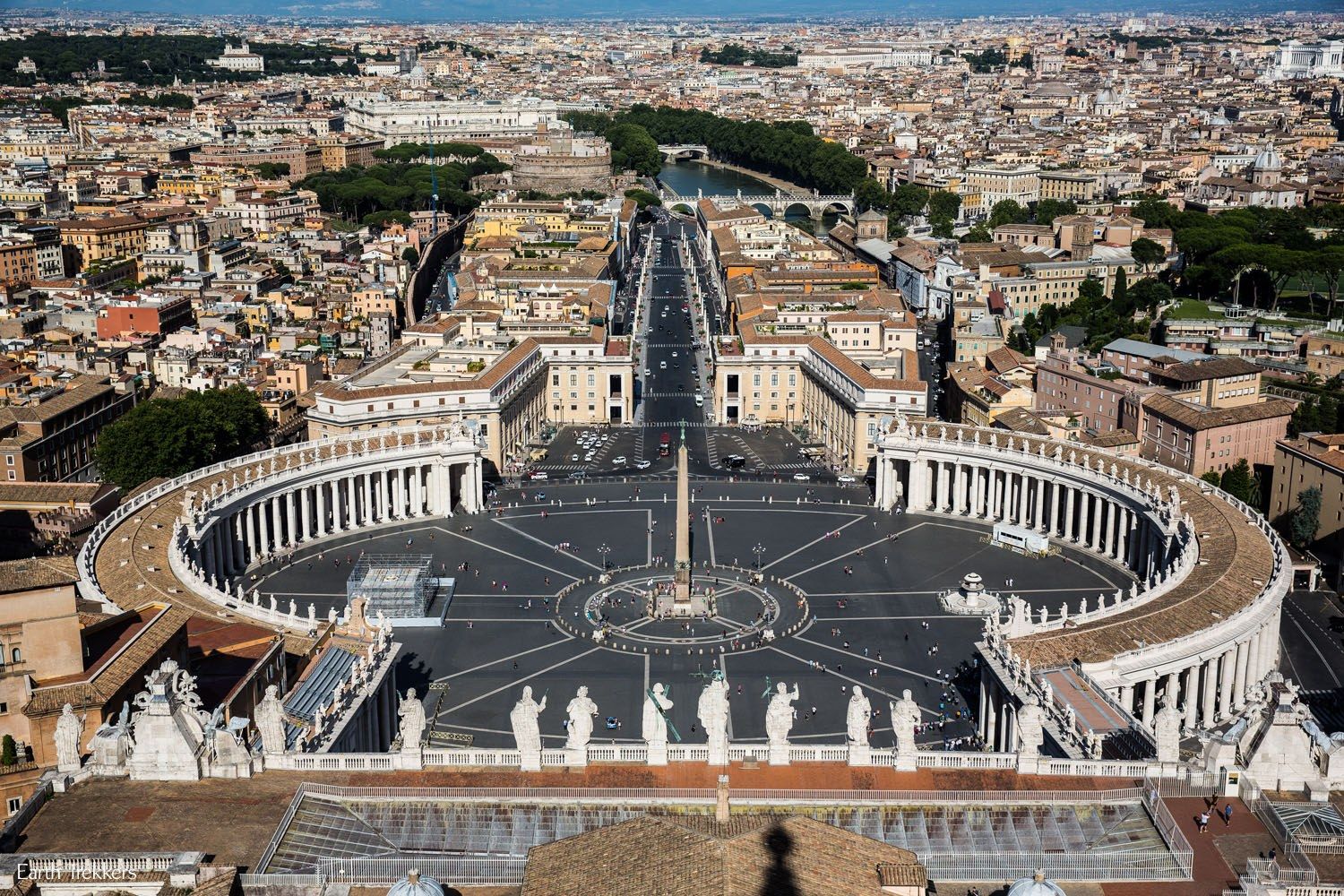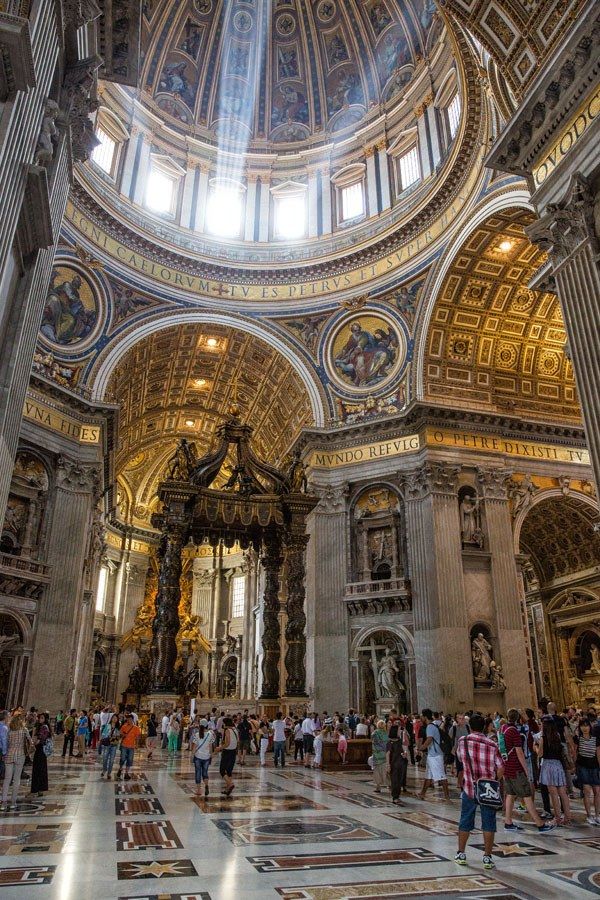 Public drinking fountains can be found all over Rome. We were constantly filling up our water bottles here or splashing water onto our faces to cool off a little.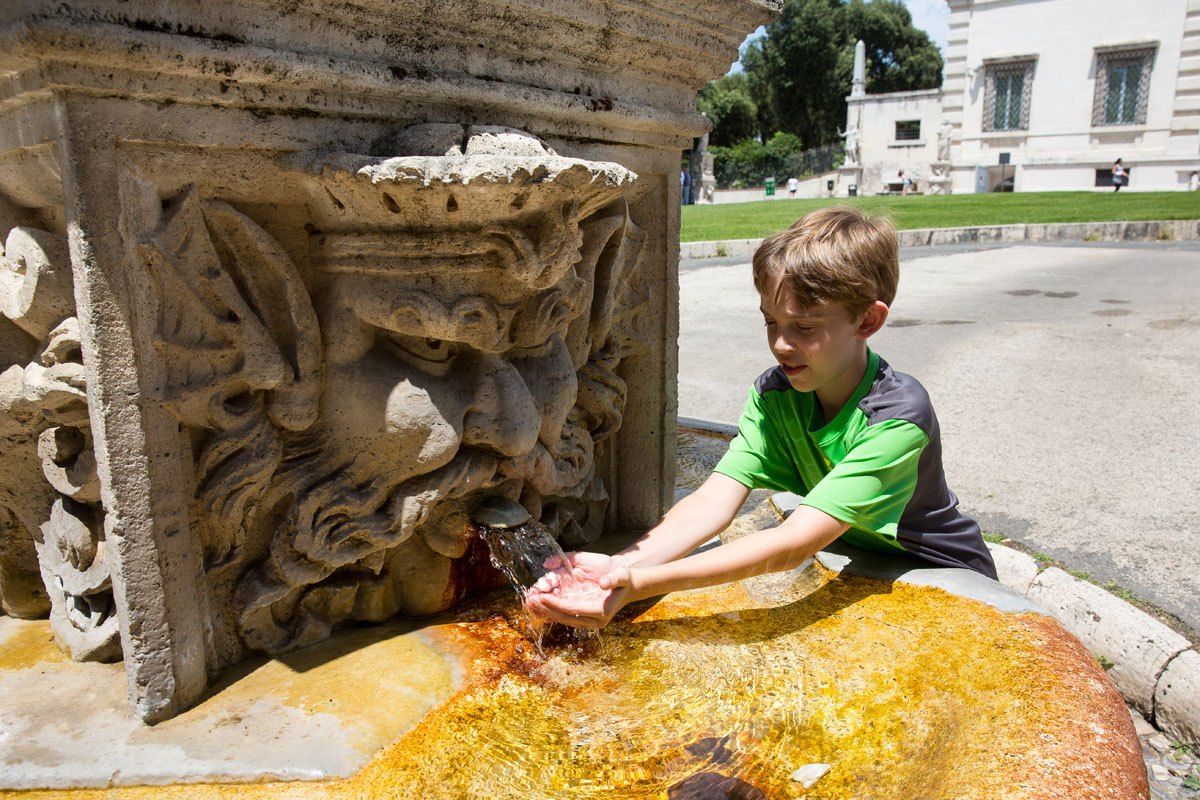 Trastevere
Our last night in Rome we ate dinner at Carlo Menta, a restaurant in the Trastevere area of Rome. This is a great place to get lost in, go shopping, and have dinner.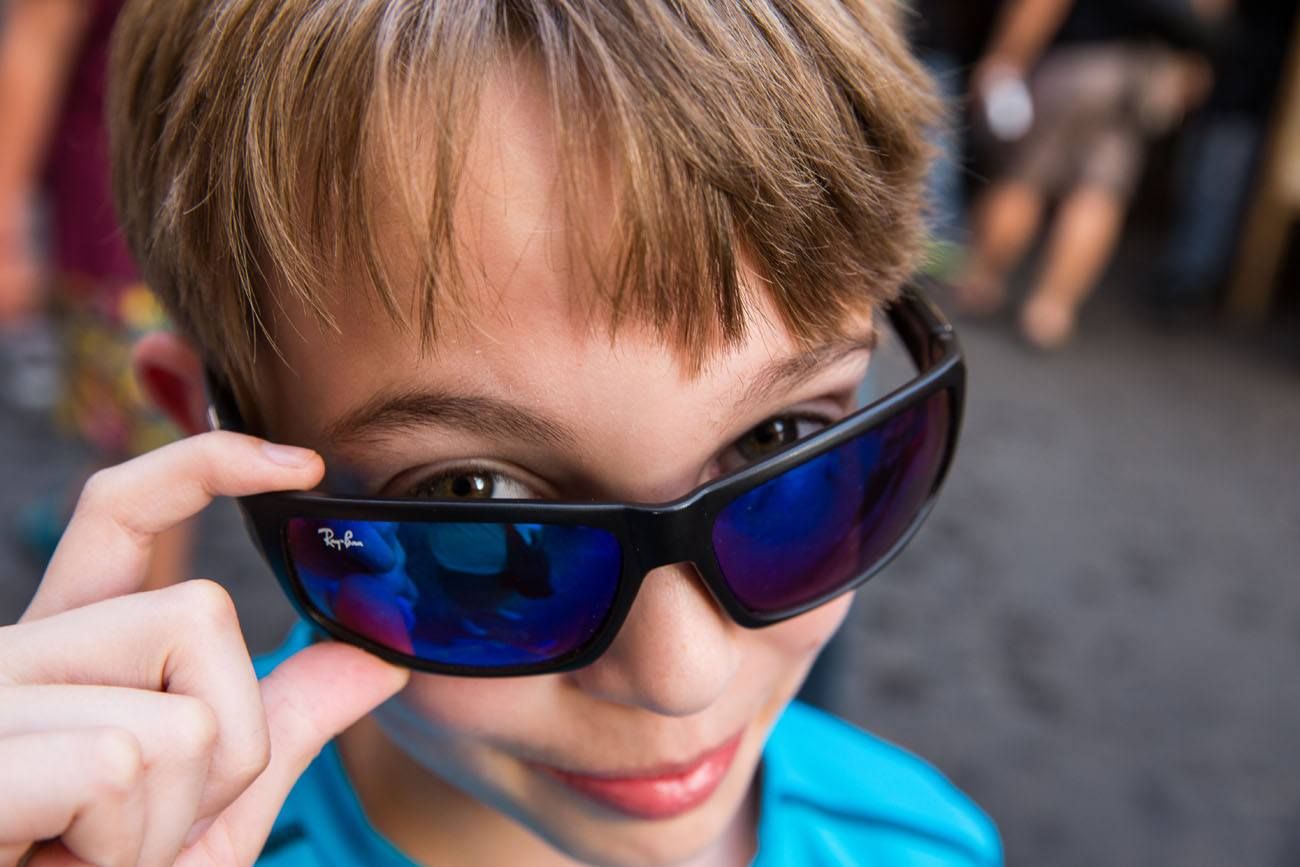 Capuchin Crypt
One more thing that made our list of favorite experiences in Rome (and a place where unfortunately I could not take photos) was the Capuchin Crypt. This was a crypt in the basement of a church where thousands of human bones were used to decorate the tombs of capuchin monks. This was one historical site that fascinated all of us, and I had a great time trying to identify as many human bones as I could. I guess it sounds a little morbid but I think it was one of the neatest things we saw in Rome.
From Rome, we travel onto Naples and Sorrento.
Where We Stayed:
We spent four nights in La Rotella nel Sacco, located near the Termini Train Station. We loved it here. Our room was spotless, Margherita, our host, was extremely helpful, and the bathroom looked brand new. The hotel contains just a few rooms and is located on the Porto Maggiore circle. From here we could easily catch a bus or tram to Rome's main sites and we were just a ten minute walk from the metro station. We would recommend this place to anyone wanting a clean, convenient, affordable room in Rome.
---
More Information for Your Trip to Italy:
Note: This post contains affiliate links. When you make a purchase using one of these affiliate links, we get paid a small commission at no extra cost to you.
All rights reserved © Earth Trekkers. Republishing this article and/or any of its contents (text, photography, etc.), in whole or in part, is strictly prohibited.