We are big fans of visiting the world's tallest towers. One World Trade Center, located in New York City, is the sixth tallest building in the world. As of 2021, Burj Khalifa in Dubai, the Shanghai Tower in Shanghai, and the Abraj Al-Bait Clock Tower in Mecca, top the list. One World Trade Center is the tallest building in the western hemisphere. It took eight years to construct the building, officially opening on November 3, 2014.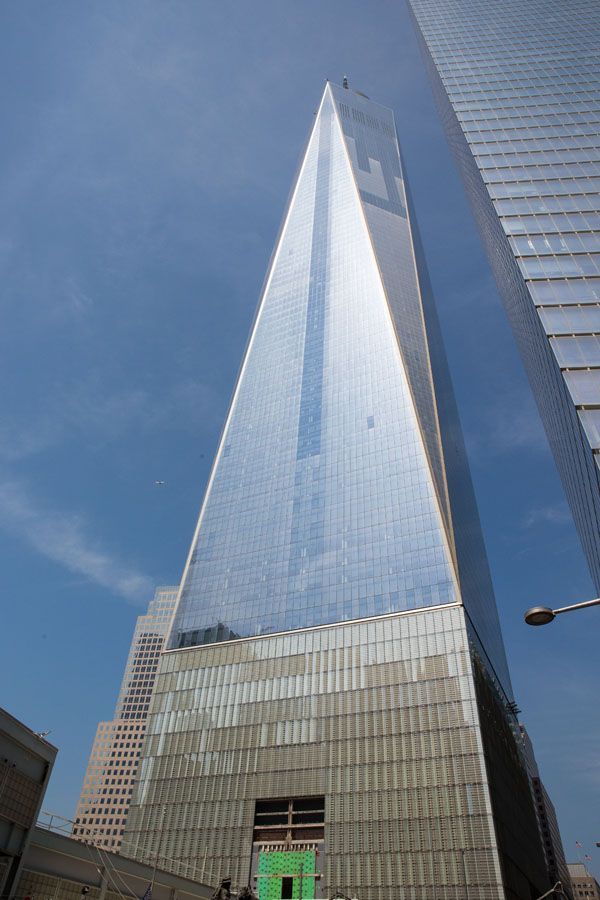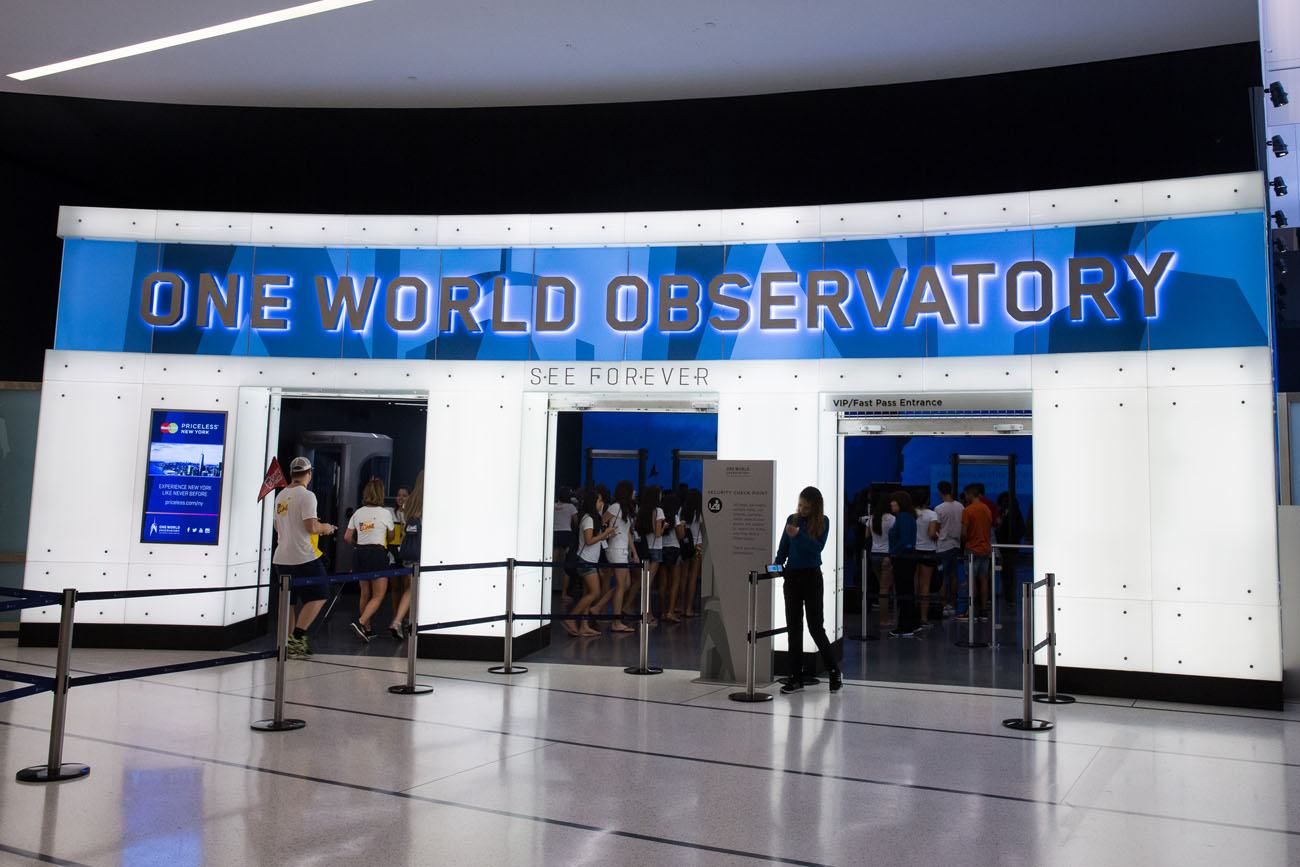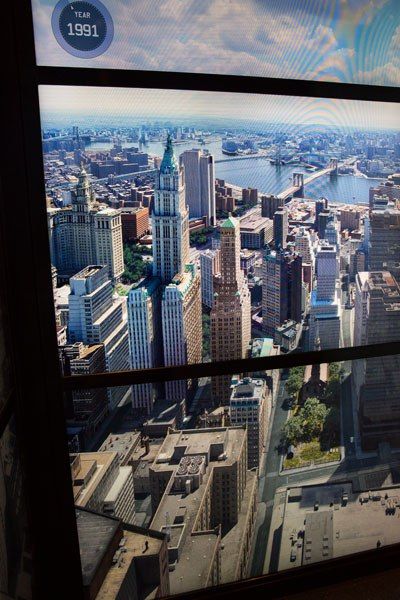 We arrived at the One World Trade Center at 10 am, a great time to just miss the huge influx of the day's visitors. We were here at the end of July, peak tourism season in NYC . It was still early enough in the day that we did not have to wait in any lines.
We were whisked up to the 102nd floor by the world's most exciting elevator ride. All four walls of the elevator are digital screens that show a time-lapse transformation of NYC from settlement by the Dutch in the 1600's to what it is today.
Before entering the One World Observatory viewing area, visitors are shown into the See Forever Theater, where a second time-lapse video about life in New York was shown.
What we came for were the views. Looking out over Manhattan, Queens, the Bronx, Staten Island, and New Jersey is one of my favorite views in the world, even after a year of travel. Our first view was of the Statue of Liberty, looking very small from this height. The Statue of Liberty, such a small thing that was an enormous beacon of hope for immigrants to the US. The Statue of Liberty means more to me right now than it did before we embarked on our world travels.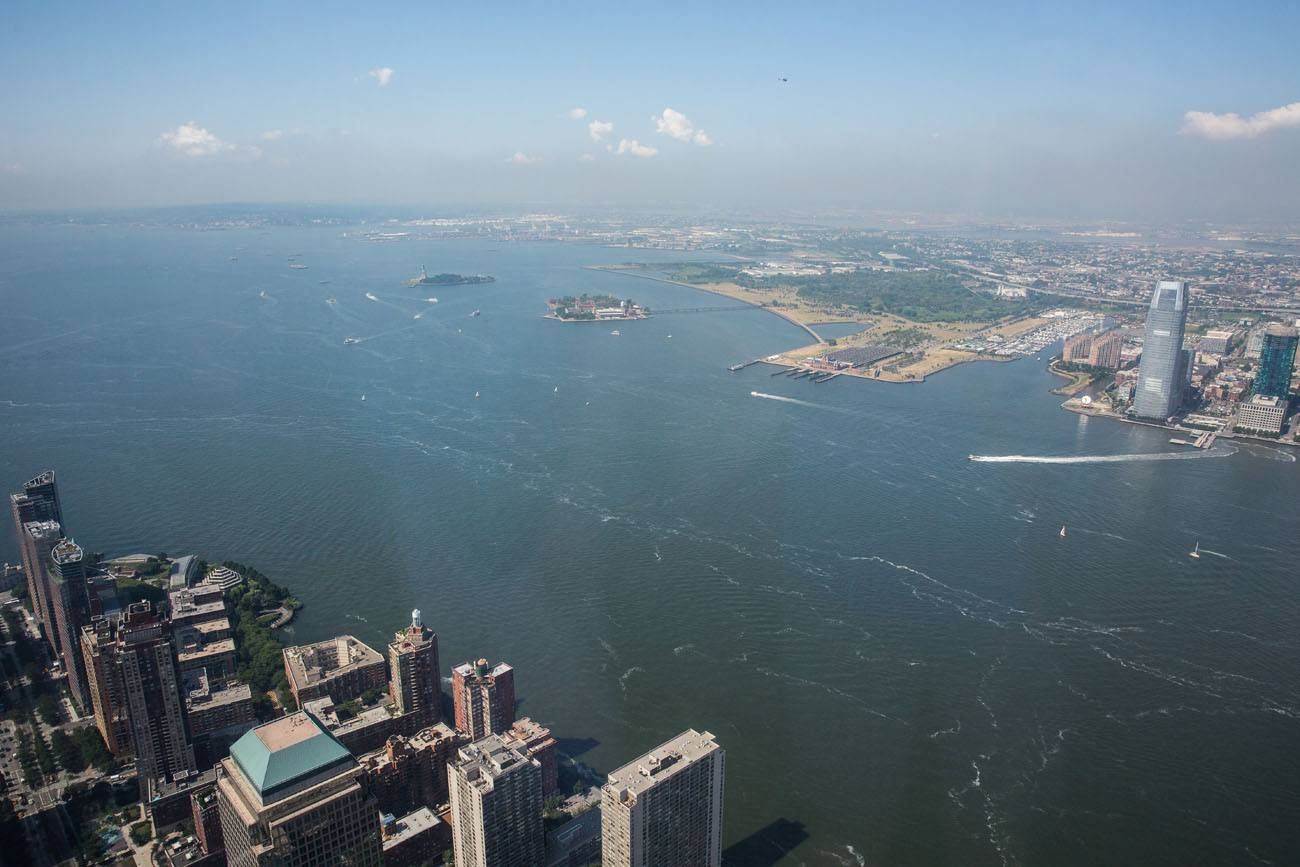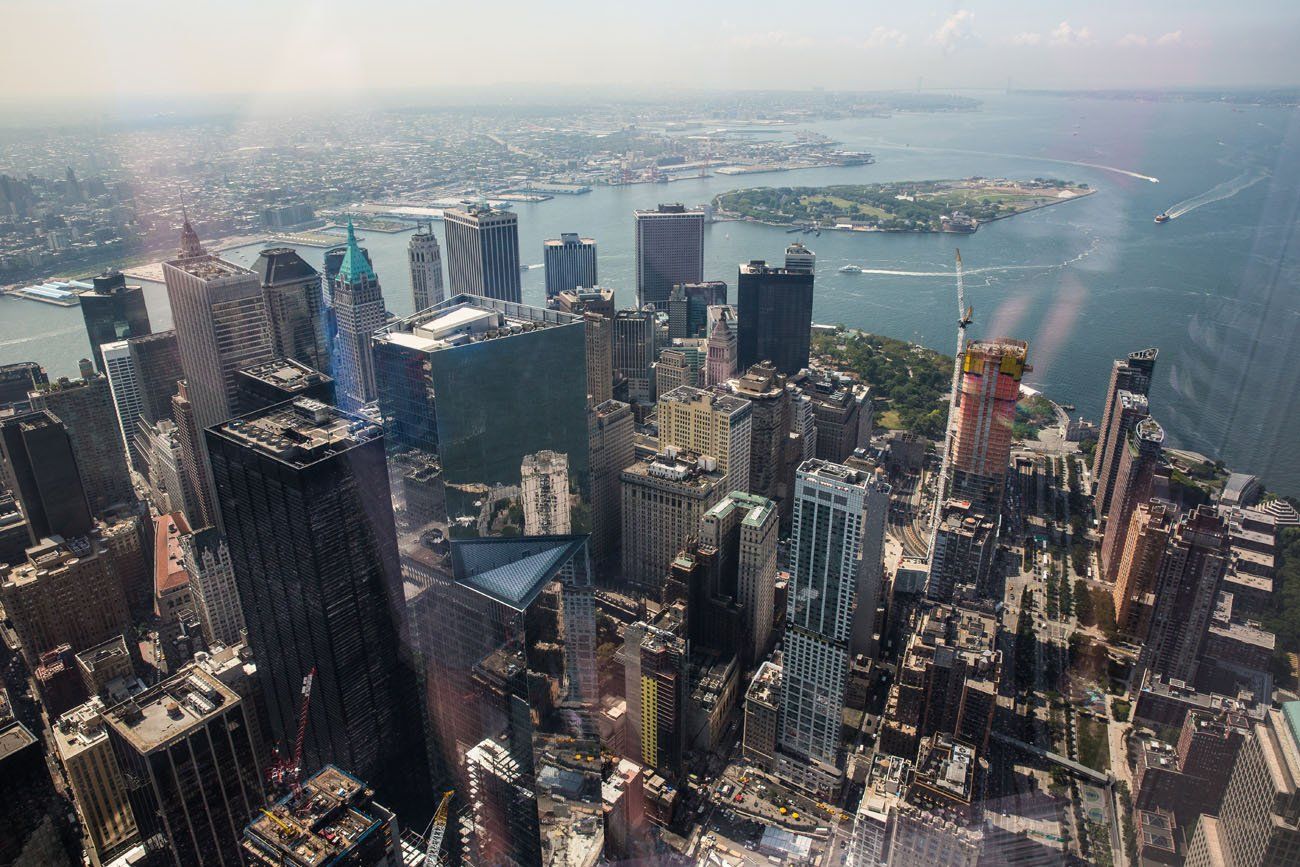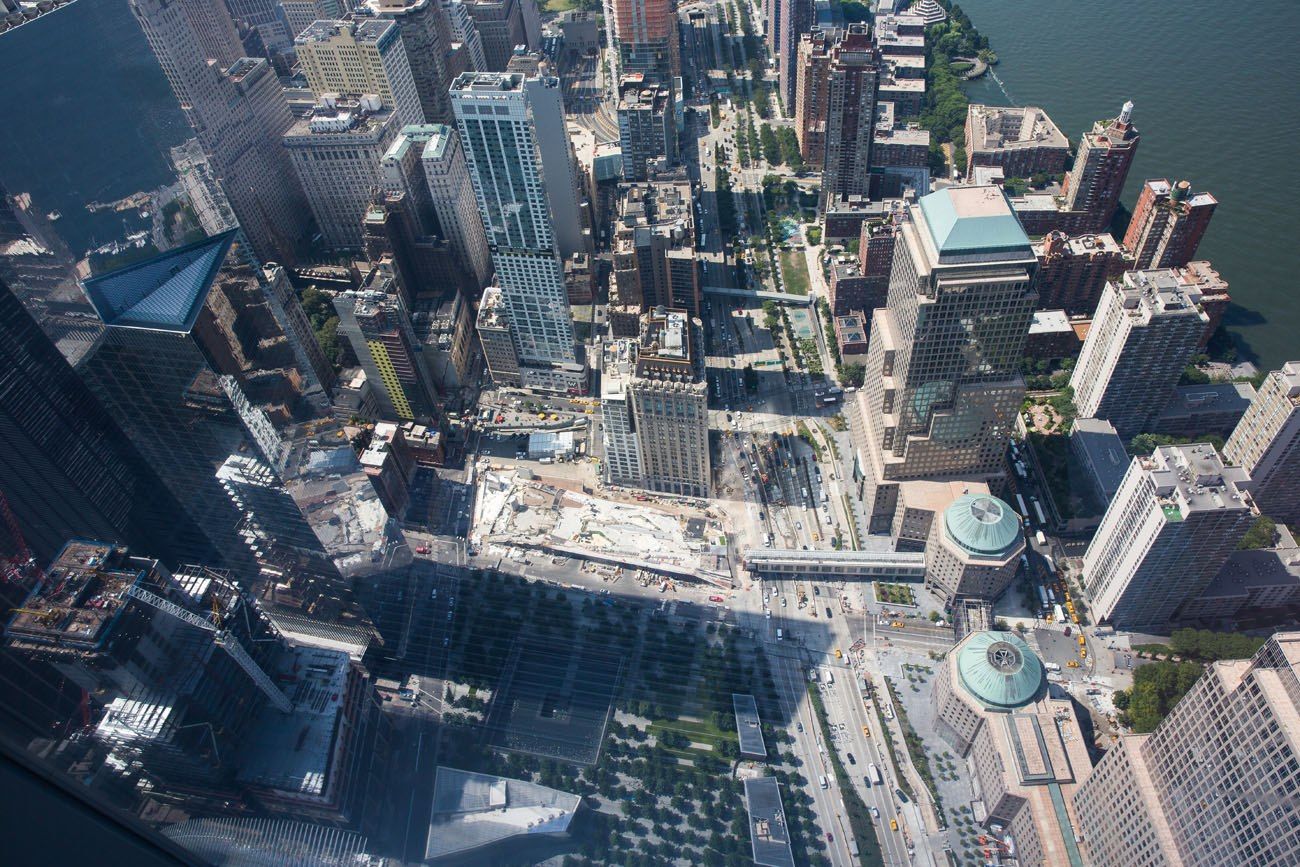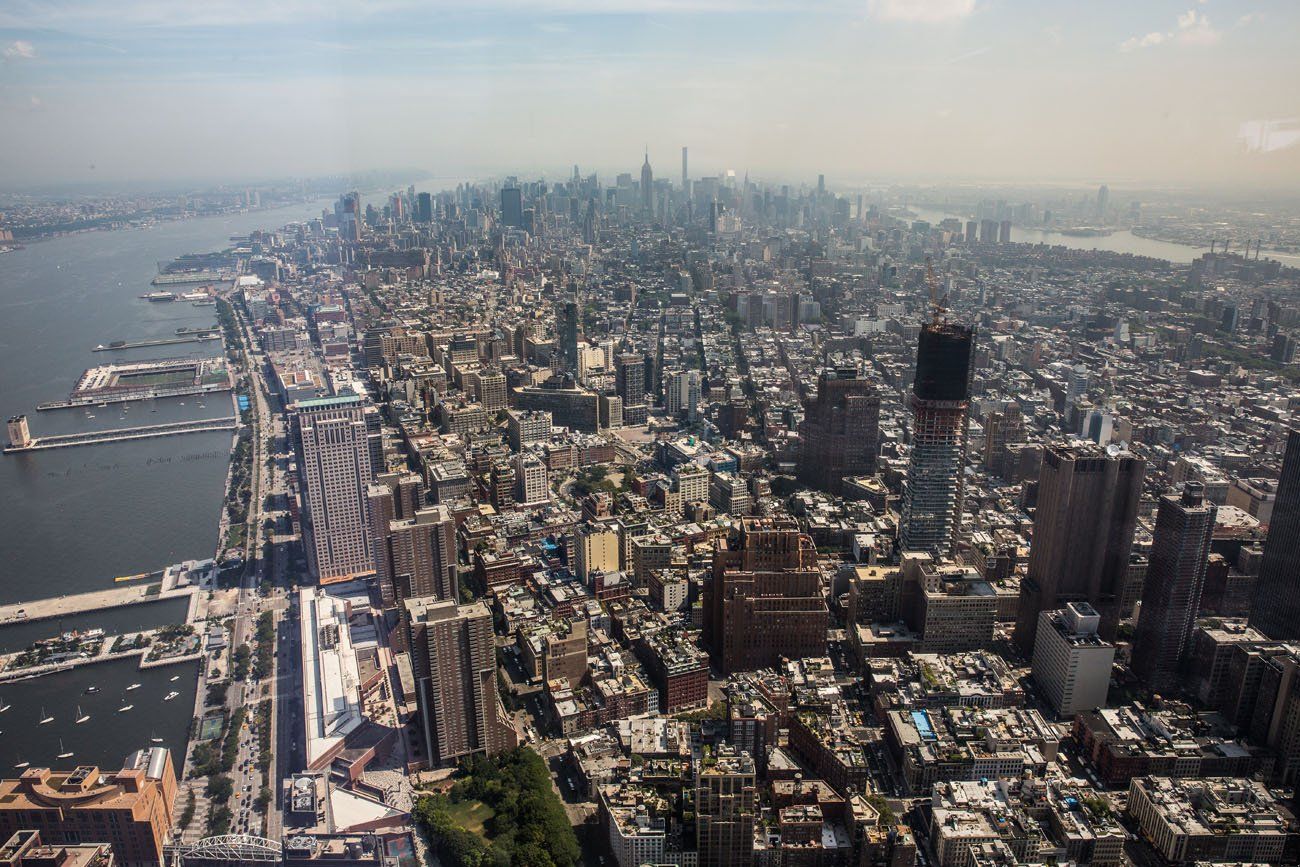 As we looked out over NYC, Tim and I could not help but reminisce about the last time we were "here." We had a view from this vantage point in 1993, when Tim and I visited Manhattan, stood atop one of the Twin Tower buildings, and snapped some photos. Priceless photos. Unfortunately, I misplaced that roll of film, a mistake that I still regret to this day.
All four of us loved this visit. Needless to say, we have visited a lot of the world's tallest buildings, and the show that One World Trade Center puts on is fantastic. The views alone are worth the trip, but the elevator ride, the three-minute introduction video, the friendly staff, and the other little touches made this our favorite tower visit of the year.
How to Visit One World Trade Center
Visitors will need to purchase tickets for the One World Observatory, which is the designated viewing area on the 100th floor.
Location
One World Trade Center is located at 285 Fulton Street. The entrance into the building is on West Street.
Getting Here
Subway: The closest stop is the World Trade Center station on the E line. One World Trade Center is accessed from the Rector Street Station on Line 1, the Park Place station on Lines 2 and 3, or the Cortland Street Station on Line R.
PATH Train: From Hoboken to World Trade Center or from Newark to World Trade Center.
Taxi: Get off at the intersection of Vesey Street and West End.
Hours of Operation
The One World Observatory is open 7 days a week. Regular hours are from 9:00 am to 9:00 pm, last ticket sold at 8:15 pm. There are extended hours for holidays and summer, from 8:00 am until 10 pm, last ticket sold at 9:15 pm. The One World Observatory is running on a reduced schedule in 2021. To confirm hours directly on the One World Observatory website, click here.
Buying Tickets
Tickets can be purchased at the Box Office, which opens at 9:00 am. For better availability, purchase your tickets online.
Ticket Options: There are several options for purchasing tickets
Standard Tickets: Prices are $43 for an adult (13-64), $41 for a senior (65+), $37 for youth (6-12), and children 5 and under are free. These tickets have a timed entry, which is specified while purchasing tickets online.
Flexible Ticket Options: There are several options available which adds more flexibility to ticket purchases. For a higher price, tickets can be reserved without a specific timed entry, giving visitors more flexibility in their plans. Also, some tickets give visitors VIP entry options, allowing you to bypass the general admission lines, which can get quite long at peak visiting times. These tickets are more expensive, as you are paying for this flexibility, with prices getting as high as $73 per ticket. For all of the possible options, go to the One World Observatory website.
To purchase tickets online directly through the One World Observatory website, click here.
How Much Time is Needed to Visit
You will need about one hour. During peak times, lines may be longer, and this may add on more time.
Best Time To Visit
Sunset is the best time. Planning to arrive just before the sun sets gives you views during the daylight hours, but also gives you the opportunity to watch the sunset over Manhattan and then at night, as the city lights turn on. To do this, plan on being here for an hour or more. It may be more crowded at this time, so keep that in mind.
If you do not like the idea of crowds, go first thing in the morning, at 9 am. Most likely, there will be no lines and very few people in the One World Observatory.
Dining Options
There are dining options available on the 101st floor.
Also In The Area
9/11 Memorial
The 9/11 Memorial Plaza is an 8 acre site where the World Trade Center Twin Towers once stood. The foundations of the Twin Towers have been converted into reflecting pools and the surrounding area is now a grove of trees.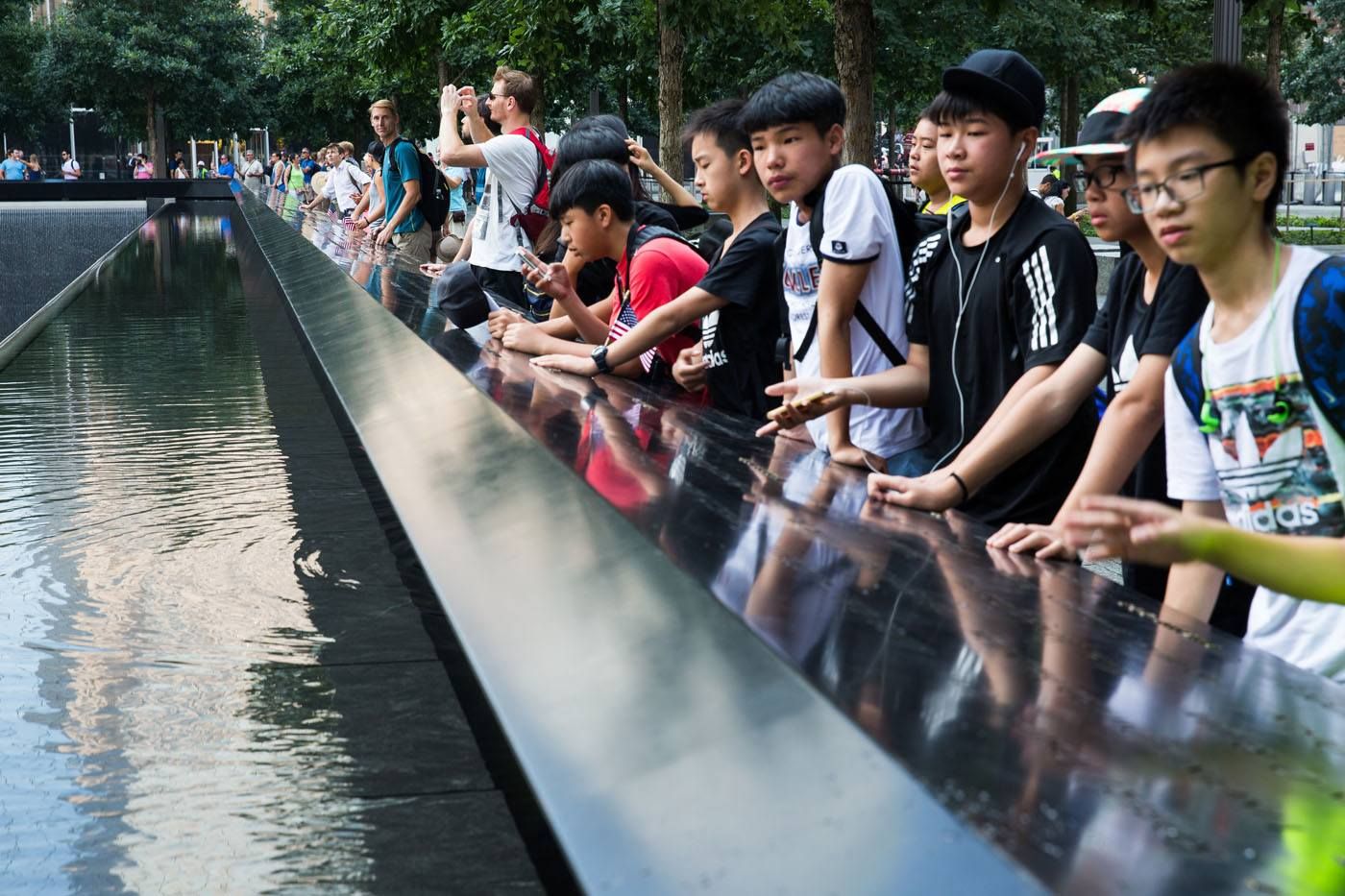 9/11 Memorial Museum
This is a museum commemorating the 9/11 attacks on the World Trade Center. Tickets are available online and two to three hours is the recommended time to see this museum.
---
More Information for Your Trip to New York City:
You Might Also Like:
All rights reserved © Earth Trekkers. Republishing this article and/or any of its contents (text, photography, etc.), in whole or in part, is strictly prohibited.