Brooklyn is becoming one of New York City's hot spots to visit. With historic neighborhoods, a fabulous food scene, and some of the best views of the Manhattan skyline, this is a great place to add to your New York itinerary.
Brooklyn is enormous. I recently read a statistic that if Brooklyn were a separate city, it would be the third most populated city in the United States (after Los Angeles and Chicago). However, since it is one of the five boroughs, it gets added into the mega city of New York.
Since Brooklyn is so large, it's impossible to visit all of it in just one day. This one day itinerary focuses on the neighborhood of Williamsburg and the areas along the East River. Think of today as a mini food tour combined with some of the best views of Manhattan and the Brooklyn Bridge.
How to Use This Map: Click the icons on the map to get more information about each point of interest. Click the star next to the title of the map to add this map to your Google Maps account. To view it on your phone or computer, open Google Maps, click the menu button, go to "Your Places," click Maps, and you will see this map on your list.
One Day in Brooklyn
We start in Williamsburg, a neighborhood that has changed quite a lot in the past twenty years. Since the late 1990's, Williamsburg has undergone a staggering amount of renovation. Buildings have been restored and brand new, stylish high-rises have been erected along the East River. Along with these changes came an influx of artists, musicians, and a vibrant nightlife.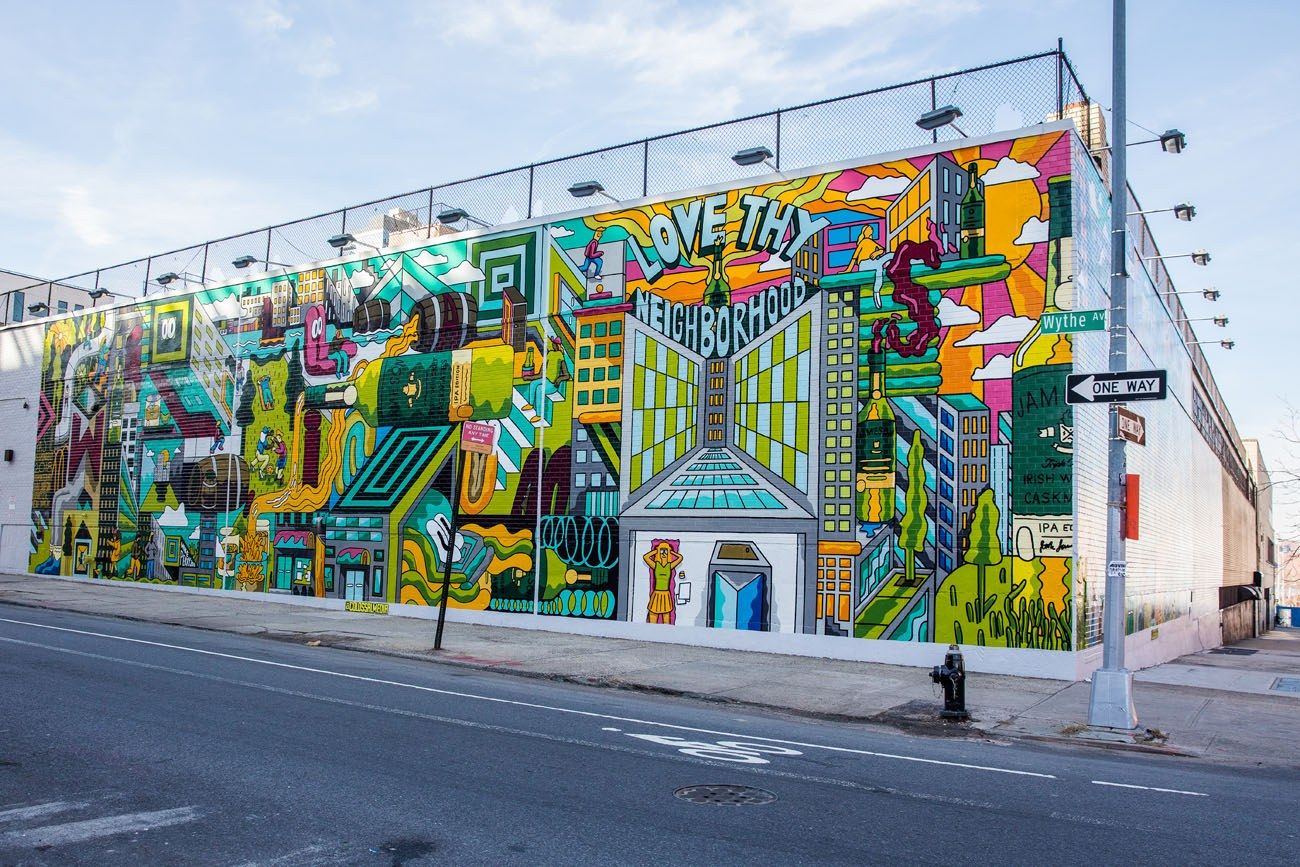 Now, these city streets are dotted with nightclubs, restaurants, and boutique shops, making this a great place to spend one day in New York City.
9:30 am: Breakfast at Bakeri
We start with breakfast at Bakeri, a popular little spot in the center of Williamsburg. Enjoy a pastry and a cup of coffee, or eat healthy and have a bowl of yogurt with granola or Breakfast Kasha, a blend of whole grains, milk, fruit, and hazelnuts.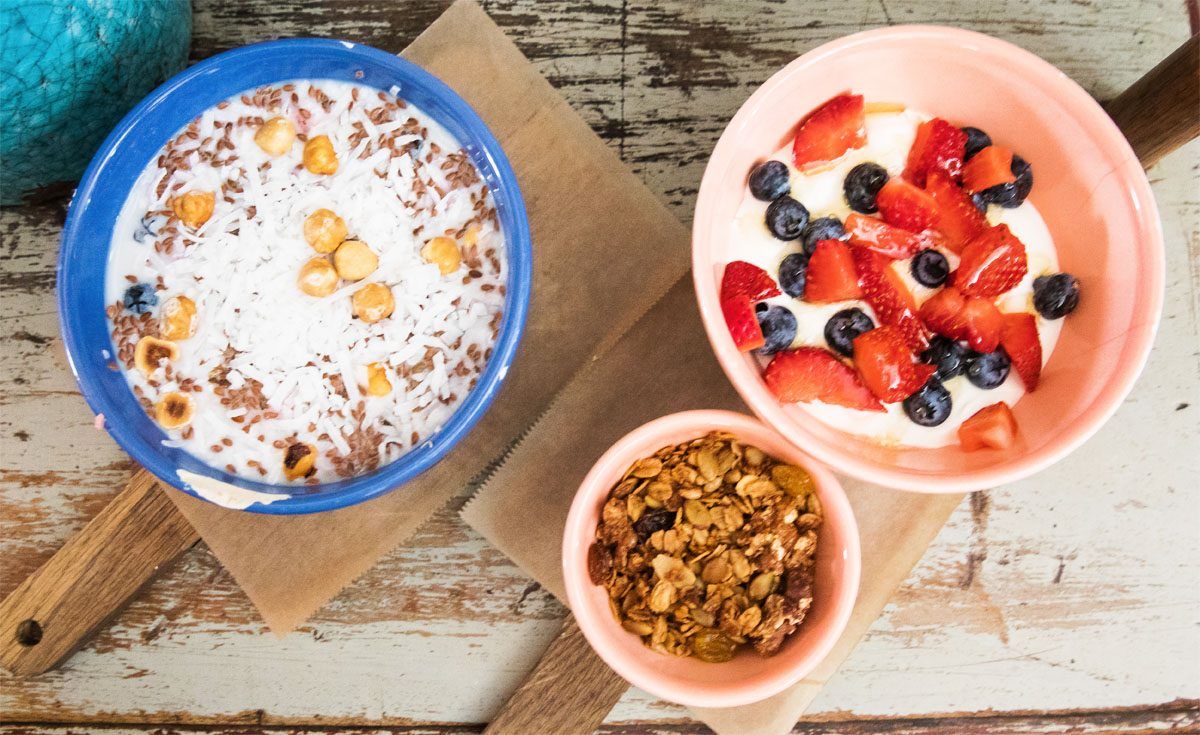 This is a small place so finding a table can be a challenge if you are here when it is busy, but it's worth it. The yogurt and granola is delicious!!
Getting here from Manhattan: If you are staying in Manhattan, the easiest way to get here is by taking the L line from Manhattan to Bedford Avenue/North 7 St in Brooklyn.
10:30 am: East River Park
From Bakeri, it's just a short walk to the East River Park, for a nice view of the Manhattan skyline.
11:00 am Brooklyn Bowl
On our visit to Brooklyn, we stumbled across this very fun spot. The Brooklyn Bowl is a bowling alley – bar – nightclub combination. This is not your average bowling alley.
While you bowl, you can have a drink, order some food (although I'd pass on the food here…there are a lot of great restaurants to try after this visit), and listen to the hip music they play. Later in the day, the place becomes even more animated, when live bands take the stage.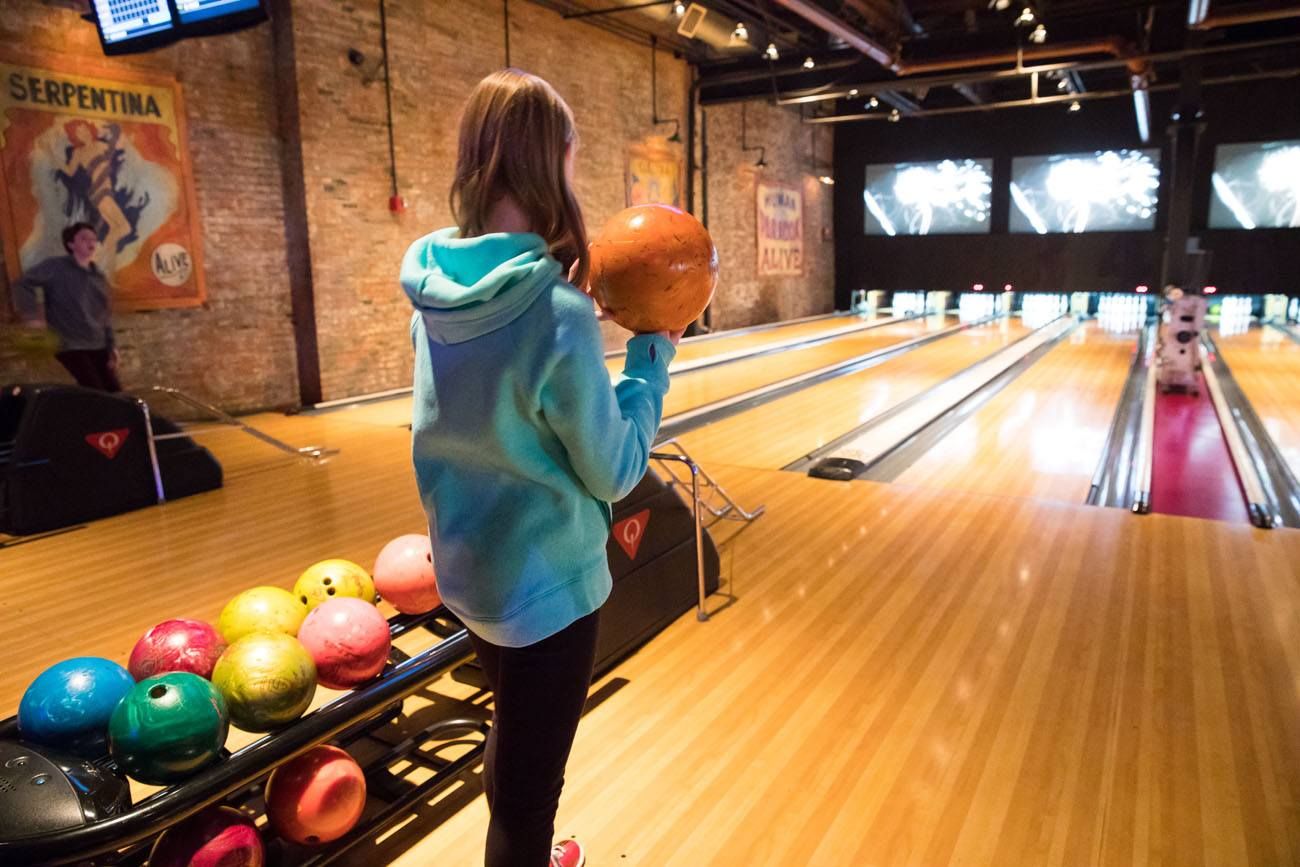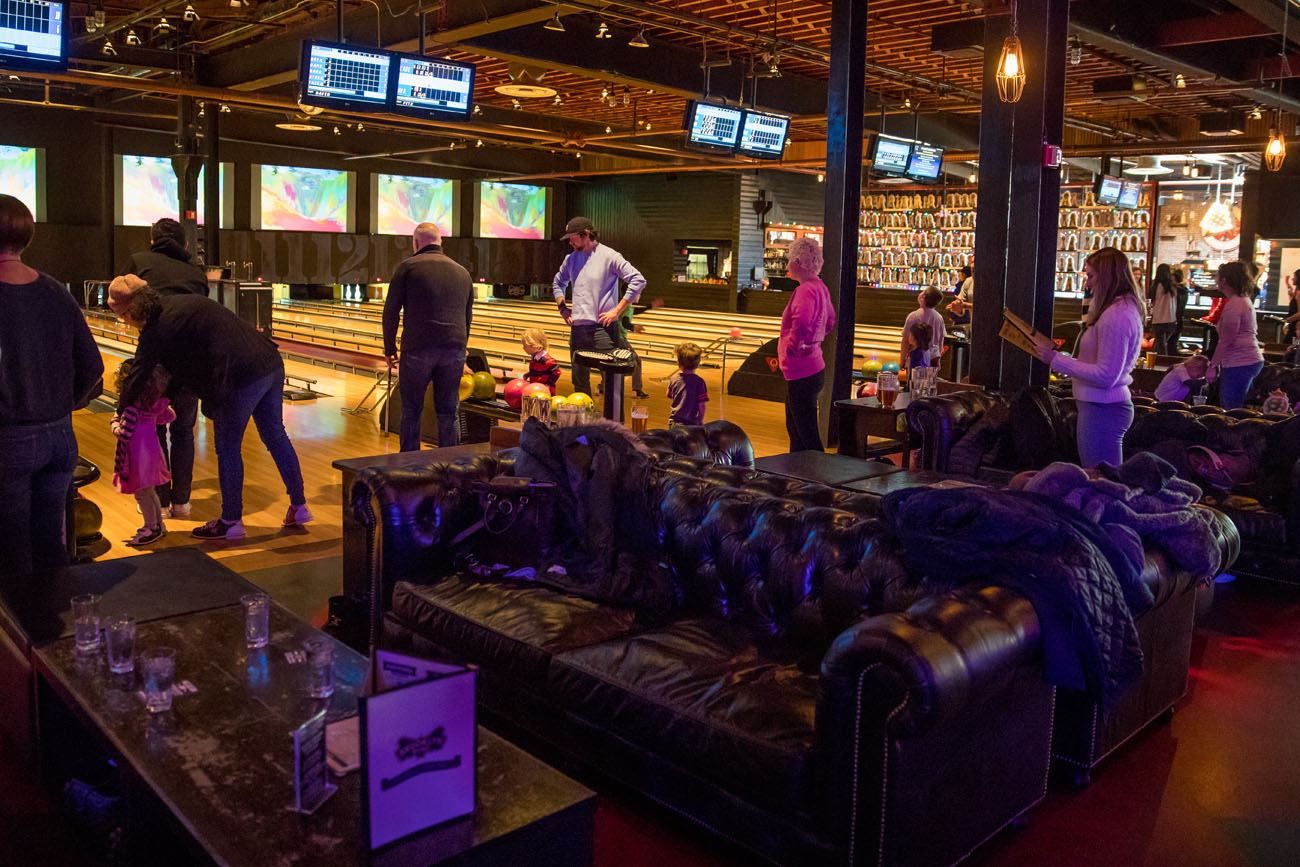 The Brooklyn Bowl does not take reservations. It's first come first served and we were told that the line gets quite long later in the day. Lanes are rented by the half hour. If you only play one game, you will be here for about one hour.
Sunday through Thursday: $25 per half hour
Friday and Saturday: $30 per half hour
On weekends, the Brooklyn Bowl opens at 11 am. On weekdays, it opens at 6 pm. If you follow this itinerary on a weekday, you will have to skip the Brooklyn Bowl or do this itinerary in reverse so you are here in the evening.
After 6 pm, no kids are allowed (you have to be 21 years or older).
Visit the Brooklyn Bowl website here.
The Brooklyn Brewery
If you like the idea of taking a brewery tour or doing a beer tasting, visit the Brooklyn Brewery. It is located next door to the Brooklyn Bowl.
Similar to the Brooklyn Bowl, the brewery opens at 6 pm on weekdays and at noon on weekends. Children are permitted to tour the brewery. For full details on hours, pricing, and what to expect, visit the official website here.
Noon: The Meatball Shop
Now it's time to start our mini food tour of Brooklyn. The Meatball Shop was one of our favorite meals during our weekend trip to NYC.
The menu is hysterical. Take your pick from one of several types of "naked balls" and add your favorite sauce. We ordered the classic meatball with the classic tomato sauce and the spicy pork meatball with the parmesan cheese sauce. Both were delicious but the classic was definitely our favorite.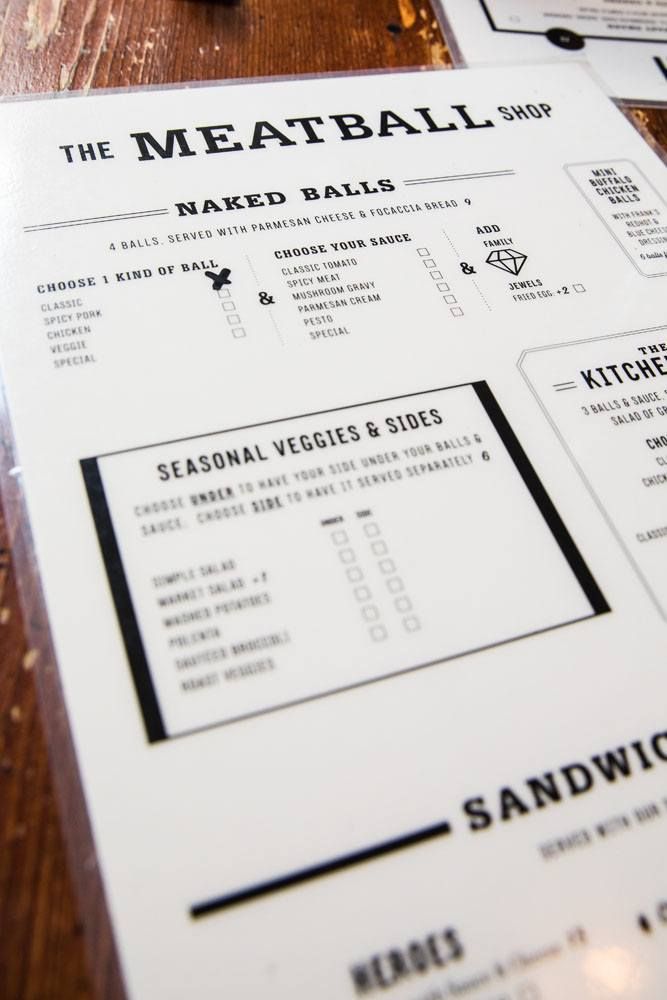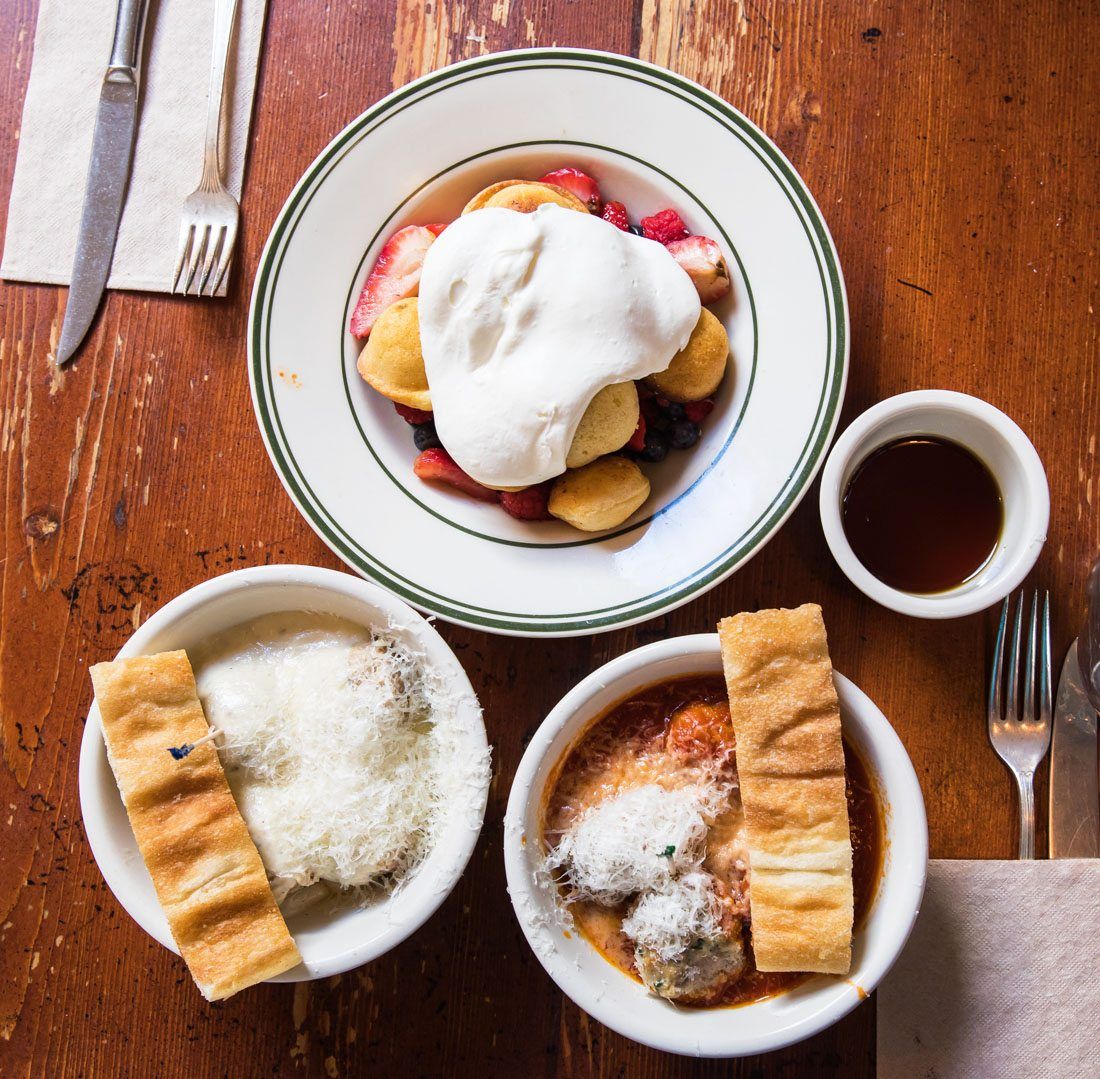 They also serve sandwiches, shakes, and floats. Kara ate waffle balls with fruit and whipped cream.
If you want to pace yourself for today's food tastings, consider ordering just one meatball. There are still a lot of great restaurants to try today!
1 pm: Take Your Pick: French Café, Beer Garden, or Cheese Shop
These three restaurants sit just several blocks apart. You can visit all of them (lunch at Juliette's, a beer or a drink at Radegast, and then end with a cheese tasting) or pick your favorite.
Juliette's is a lovely French-style café. It's very cozy with a charming, uniquely decorated atmosphere.
Just down the street is lively Radegast Hall and Biergarten. This is the spot to get your Bavarian food and beer fix. Feast on schnitzels, wursts, and giant pretzels with mustard. Or, just have a pint of German beer and enjoy the atmosphere.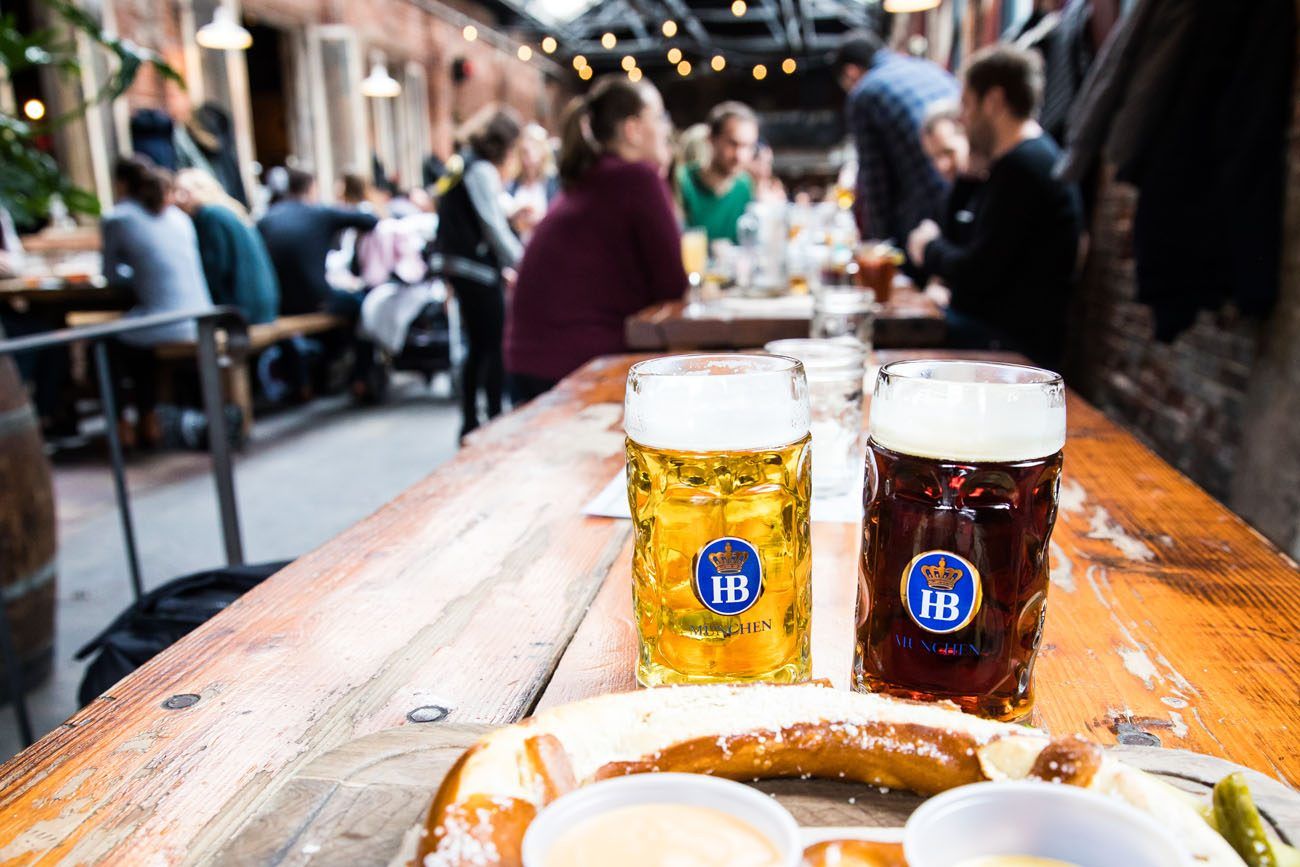 The Bedford Cheese Shop offers wine and cheese tastings. They also can prepare sandwiches if you prefer a budget meal.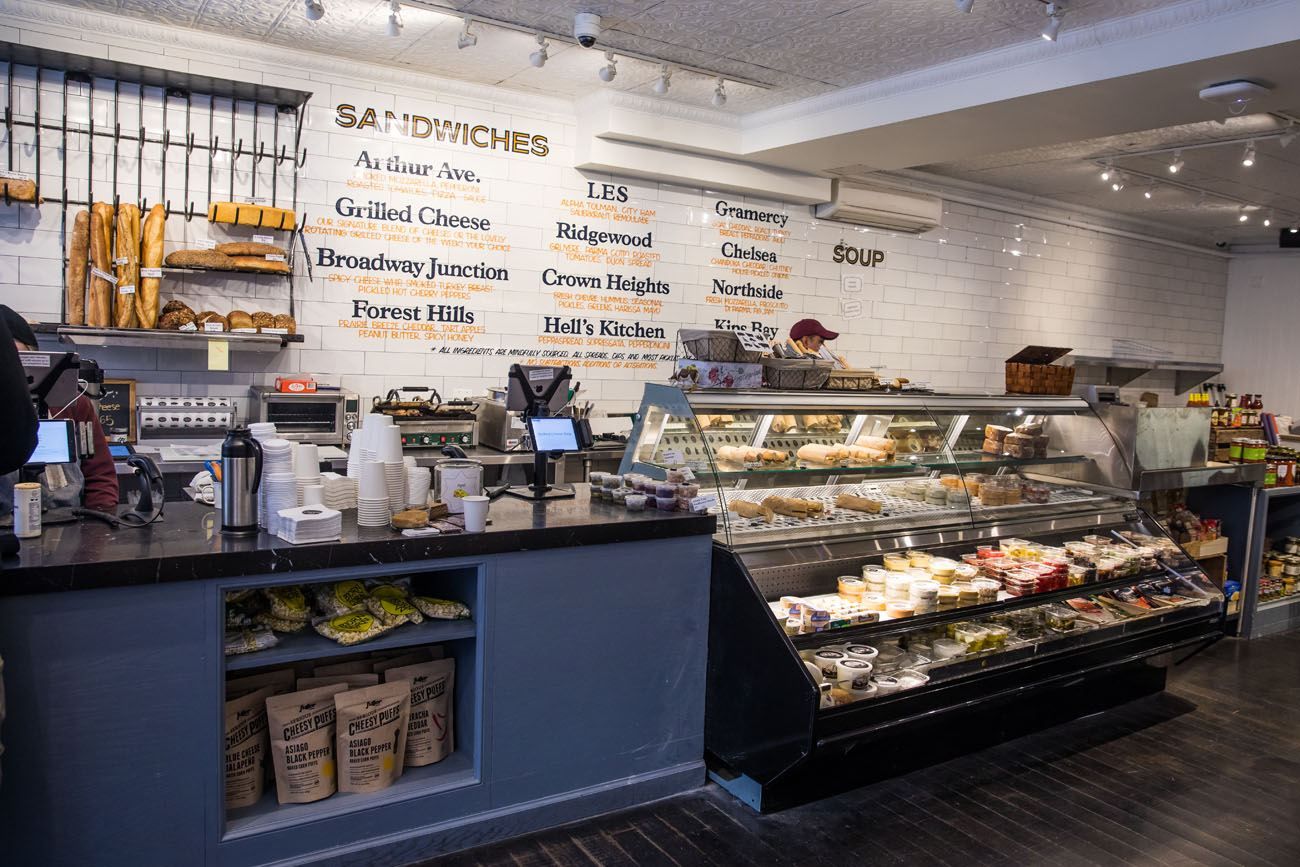 2:30 pm: East River Ferry to Dumbo
It's time to say goodbye to Williamsburg and head south to the Brooklyn Bridge. The most scenic way to do this is to take the East River Ferry to Dumbo.
Walk west to the East River Ferry and board the ferry at the North Williamsburg ferry port. Take the ferry two stops to Dumbo. Along the way, you will have fantastic views of the Manhattan skyline and sail under the Manhattan Bridge and the Brooklyn Bridge. For just $2.75 per person, this is a gorgeous yet budget way to travel in New York City.
About our experience. We skipped this, unfortunately. It was a very cold day in February during our visit and we just missed the ferry. Since the ferry runs roughly every 45 minutes during the winter months, we had no desire to shiver in the cold until the next one arrived, so we took an Uber to Dumbo.
For an updated ferry schedule (so you can plan your arrival time), click here.
3:30 pm: Brooklyn Heights Promenade
From the Dumbo ferry pier, walk south along Brooklyn Bridge Park to the Brooklyn Heights Promenade. The view across the East River to Manhattan is phenomenal from here. Unfortunately, we don't have any photos to share, because it was snowing like crazy during our visit and we could barely see the buildings on the other side of the river. But this is one of the best spots to get that iconic photo of the Manhattan skyline.
5 pm: Dumbo
Dumbo is an acronym for "down under the Manhattan Bridge overpass." This is another spot in Brooklyn that has changed in the recent years. It was once a seedy area with abandoned warehouses and now it is filled with restaurants, shops, offices, and apartments. It's worth a stroll and a chance to take this iconic photo of the Manhattan Bridge.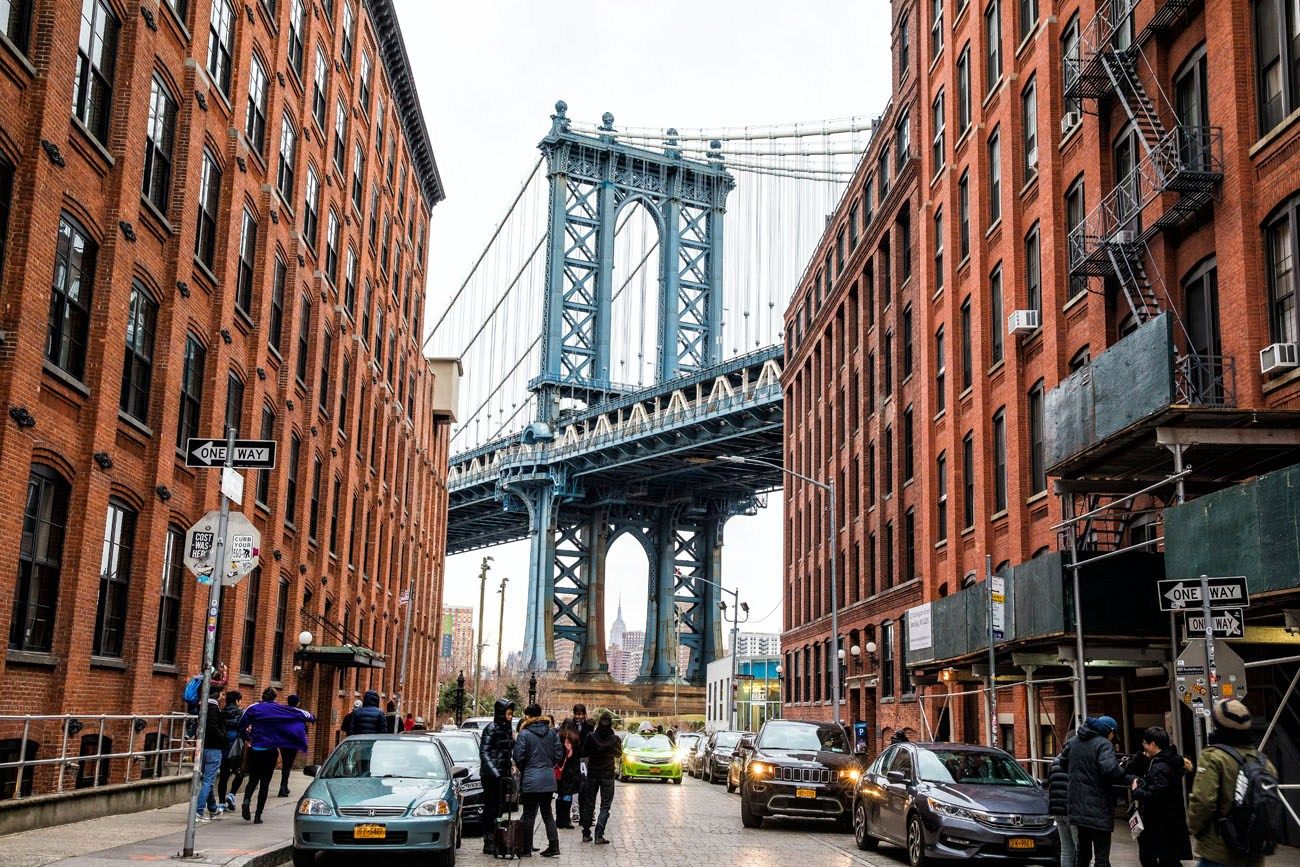 This photo was taken at Washington Street and Water Street.
You can also stroll along the waterfront, visiting Main Street Park and Empire Fulton Ferry State Park for more views of the Manhattan skyline.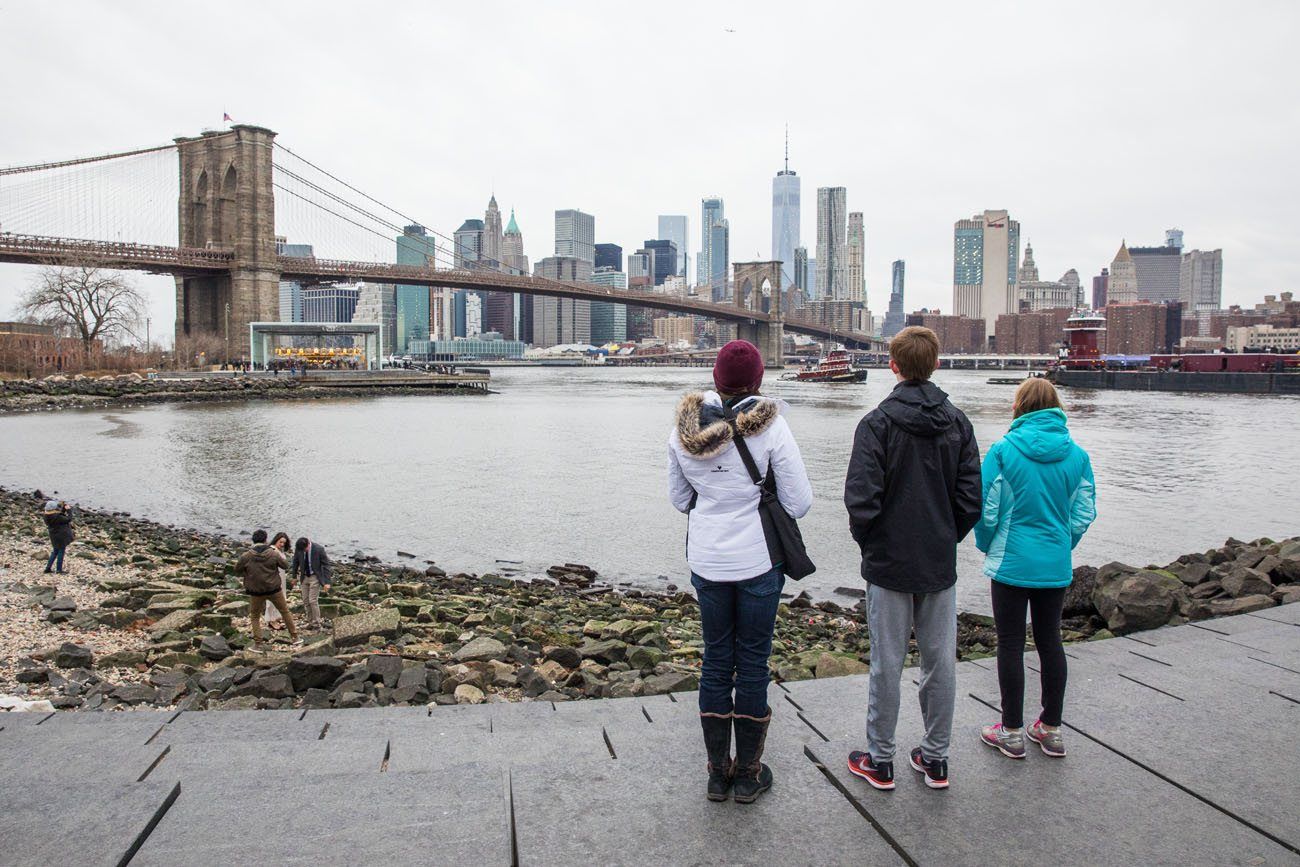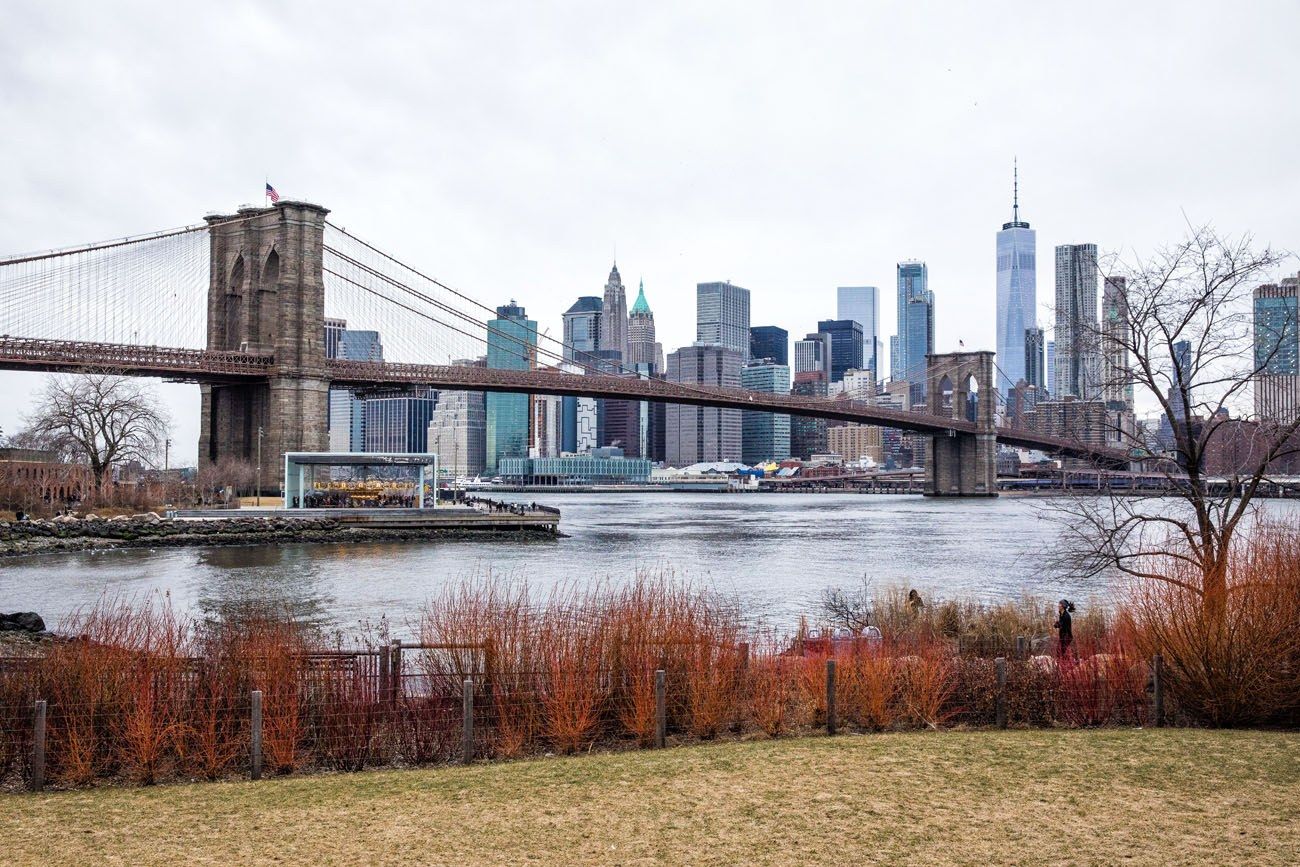 6 pm: Dinner at Juliana's Pizza
There is no shortage of amazing pizza places in Brooklyn, and Juliana's is one of the best. Some people even say that Juliana's serves the best pizza in New York City.
Juliana's Pizza is located next to the Brooklyn Bridge, just a few minutes walk from Dumbo. They do not take reservations so be prepared to wait in line. It's worth it.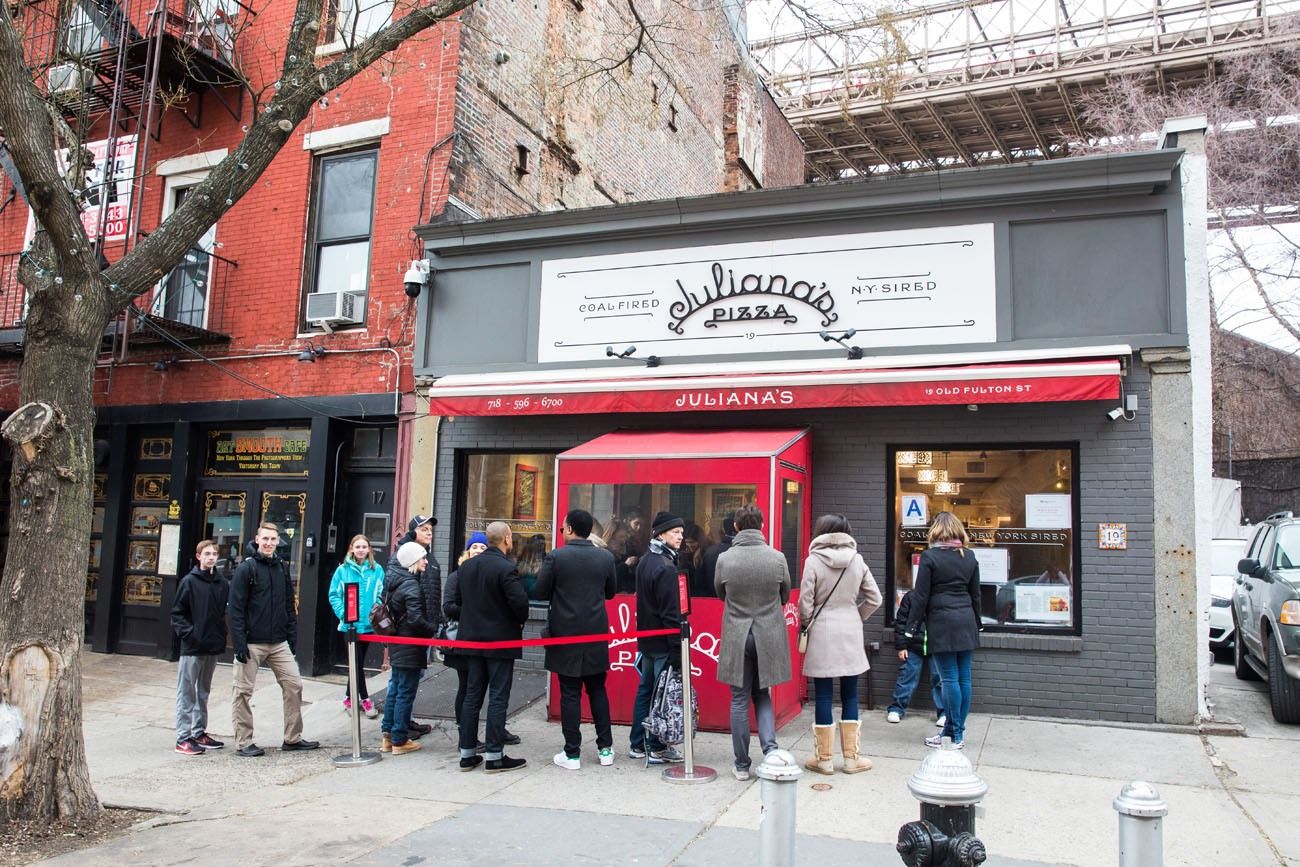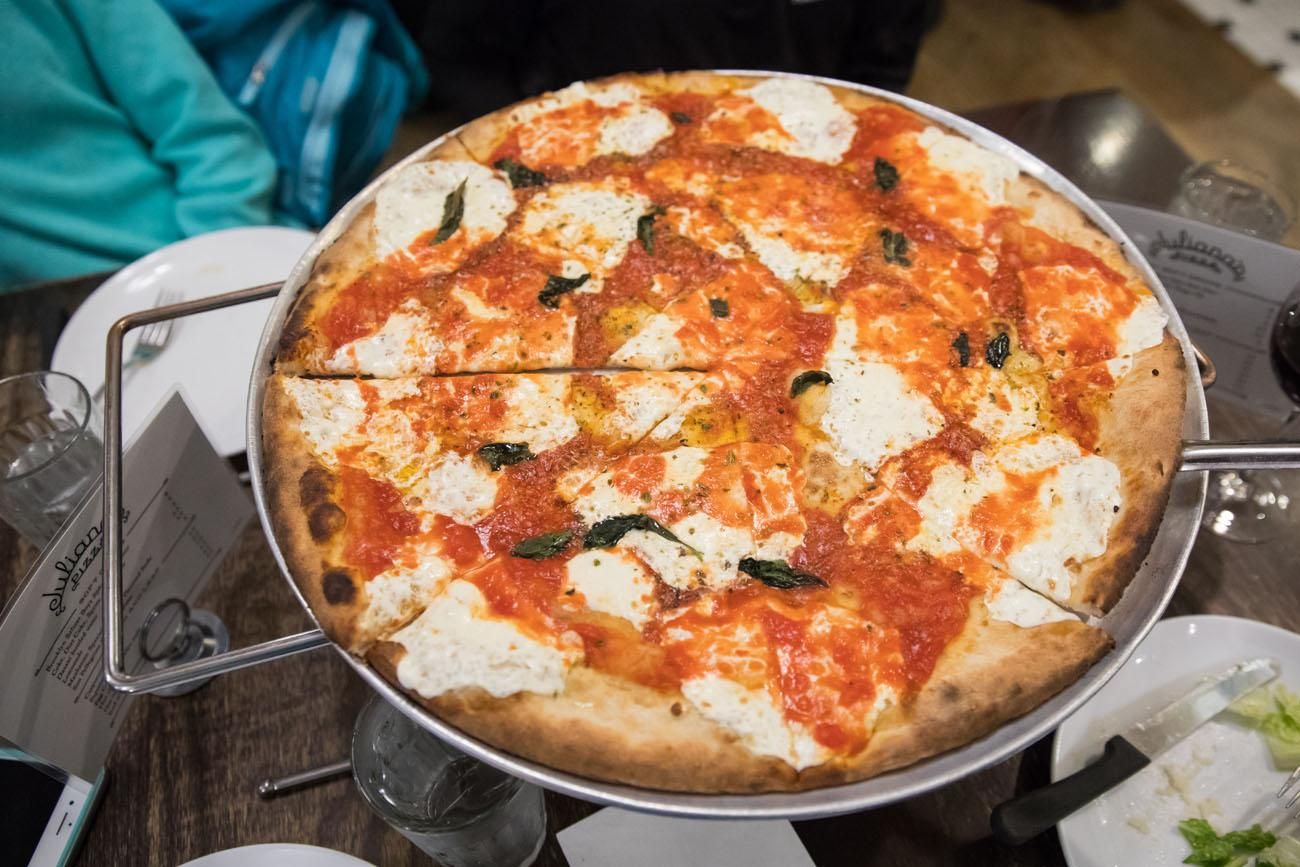 We waited in line for about a half an hour for a table. On the menu are salads, pizzas, and pastas, as well as a variety of desserts.
The pizza is very good. It's similar to pizza you would get in Naples, Italy, with a thin crust, simple but delicious tomato sauce, mozzarella cheese, basil, and a dash of olive oil. You can order the plain and simple margherita pizza or take your pick of toppings. Enjoy!
8 pm: The Brooklyn Bridge
End the day with a walk over the iconic Brooklyn Bridge. This is one of the best free things to do while in NYC.
It snowed during our walk over the bridge, creating an almost magical experience.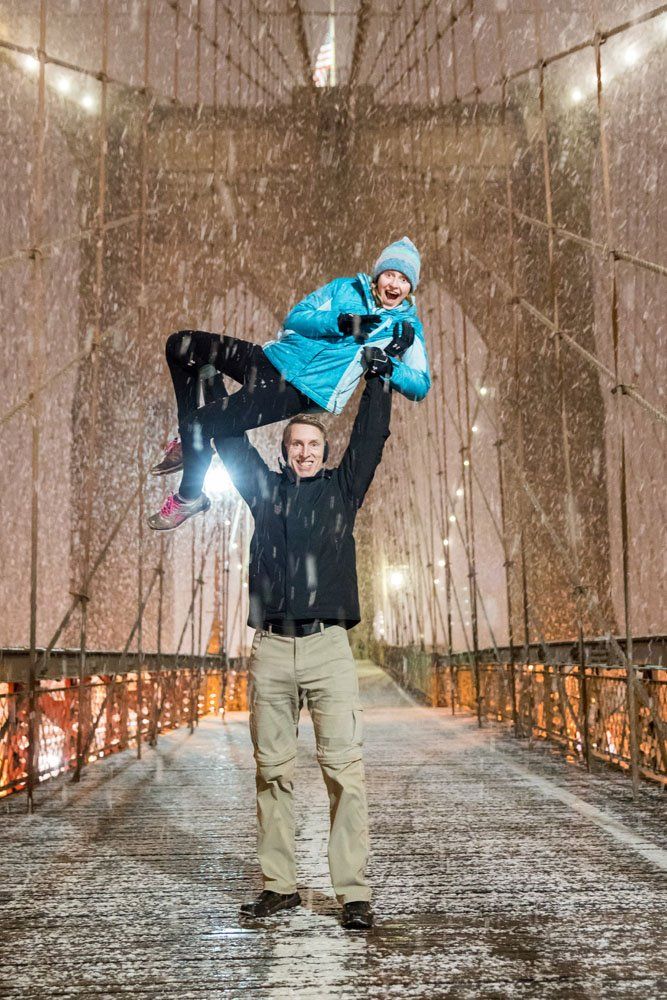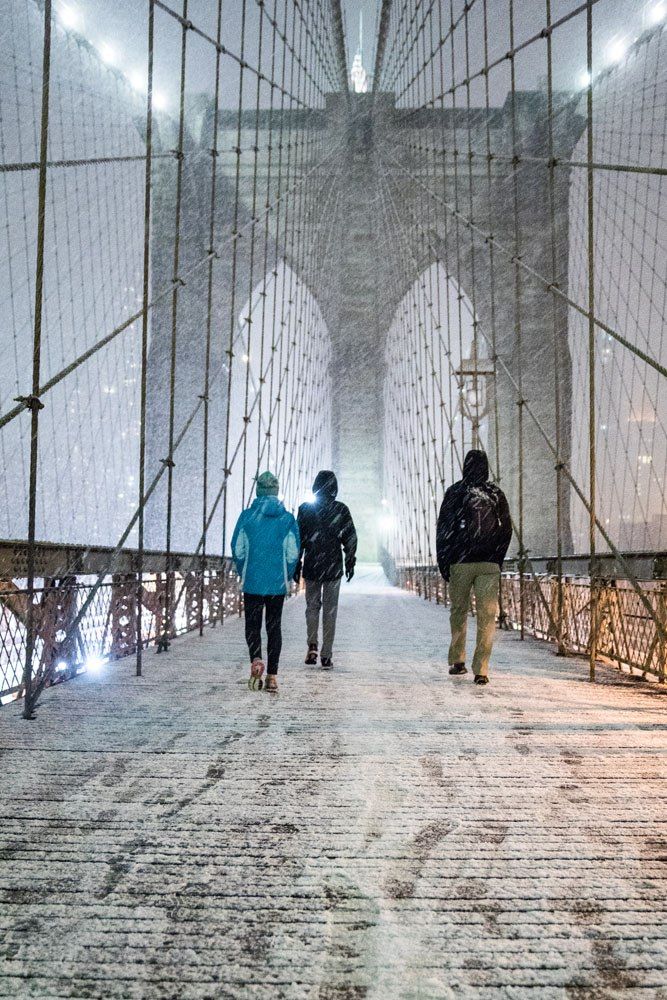 Once in Manhattan, take the subway or Uber to your hotel or to a nightclub for drinks.
About this Itinerary
This itinerary works best on a Saturday or Sunday, for two reasons. The Brooklyn Bowl opens at 11 am on Saturday and Sunday, but during weekdays, it does not open until 6 pm. If you are here on a weekday, you will have to skip the bowling alley or do this itinerary in reverse, so you get here at the end of the day.
Also, the popular touristy sites in Manhattan can get very busy on the weekends, whereas Brooklyn remains rather mellow and uncrowded.
We visited Brooklyn on the Saturday of President's Day Weekend (mid-February). We did this itinerary but in a slightly different order, which is why we do not have photos to share from the Brooklyn Heights Promenade. In the afternoon, we visited Dumbo and while we were at dinner at Juliana's Pizza, it started snowing. By the time we visited the Brooklyn Heights Promenade, it was snowing so hard that we could barely see the Manhattan skyline. But the snow did make for a magical walk across the Brooklyn Bridge!
Read More About New York City
If you are planning a trip to New York City, don't miss these articles. Our Where to Stay in New York City article includes recommendations for hotels in Brooklyn.
---
Do you have plans to visit New York City soon? Comment below if you have any questions!
Recommended Reading and Travel Guides:
You Might Also Like: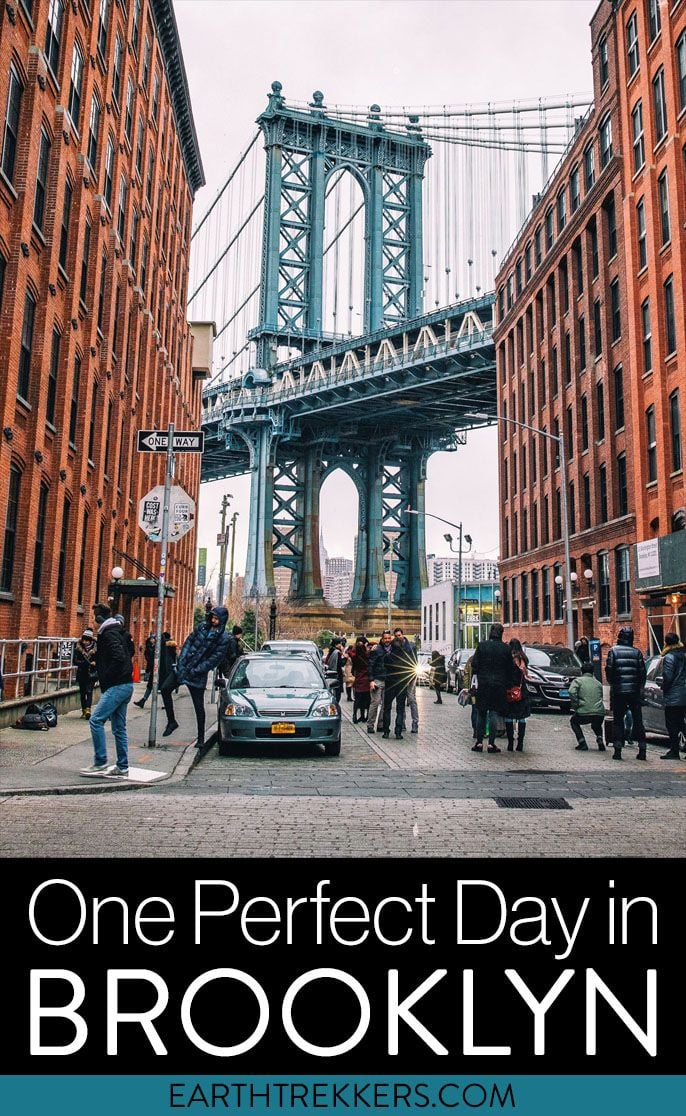 Note: This post contains affiliate links. When you make a purchase using one of these affiliate links, we get paid a small commission at no extra cost to you.
All rights reserved © Earth Trekkers. Republishing this article and/or any of its contents (text, photography, etc.), in whole or in part, is strictly prohibited.