SUMMIT One Vanderbilt is the newest addition to the Manhattan observation decks.
The main reason to visit an observation deck is for the view. SUMMIT One Vanderbilt takes the experience to a whole different level.
Located on the top three floors of one of the tallest skyscrapers in Manhattan is an immersive, multi-sensory experience with art installations, floor to ceiling mirrors, and of course, BIG views.
SUMMIT One Vanderbilt is an entirely different experience than what you get at One World Observatory, the Edge, the Empire State Building, or Top of the Rock… a good thing, since these visits can be pricey, so they need to offer unique experiences.
We have visited SUMMIT three times. Our first time here was in November, just a few days after SUMMIT opened. We were here both at sunset and during the morning hours. On our most recent visit to New York City (April 2022) we visited for our third time, arriving at 9 am. We learned a lot from our visits and now we can pass that information on to you. All of the photos in this guide were taken during our November 2021 visit to the SUMMIT.
In this guide, we share everything you need to know about how to visit SUMMIT One Vanderbilt, from great photo spots, to how to get your tickets, and tips to have the best experience.
What is SUMMIT One Vanderbilt?
SUMMIT One Vanderbilt is located at the top of One Vanderbilt. At 1,401 feet, this is the fourth tallest skyscraper in New York City (One World Trade Center, Central Park Tower, and 111 W 57th Street are taller). It's also one of the top 30 tallest buildings in the world.
SUMMIT One Vanderbilt is located on the top three floors of One Vanderbilt. On these three floors is an art installation called Air. Created by Kenzo Digital, these mirrored rooms, glass sky boxes, and interactive areas combine to form a fully immersive art experience with some of the best views of the city.
SUMMIT One Vanderbilt opened on October 21, 2021.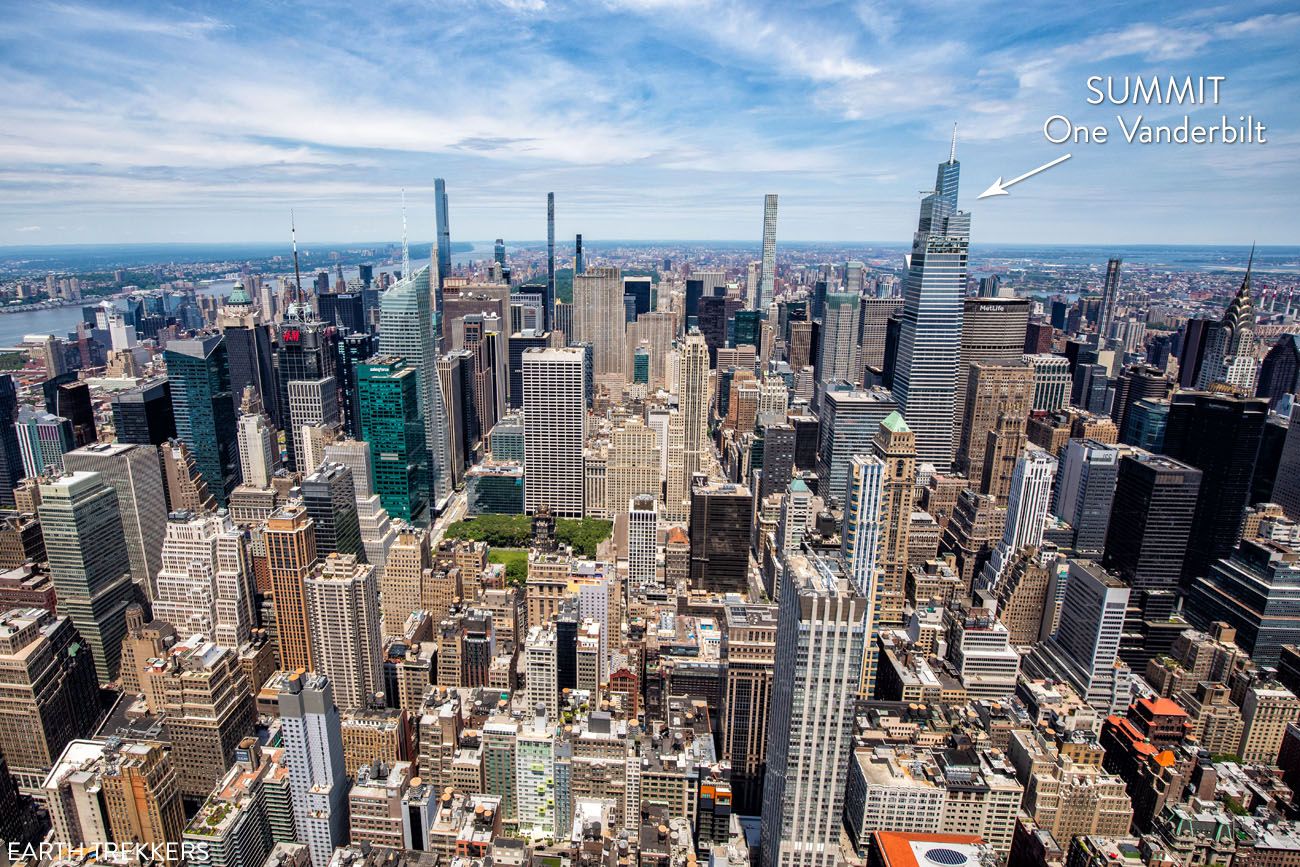 How to Get to SUMMIT One Vanderbilt
One Vanderbilt is located next to Grand Central Station in Midtown Manhattan.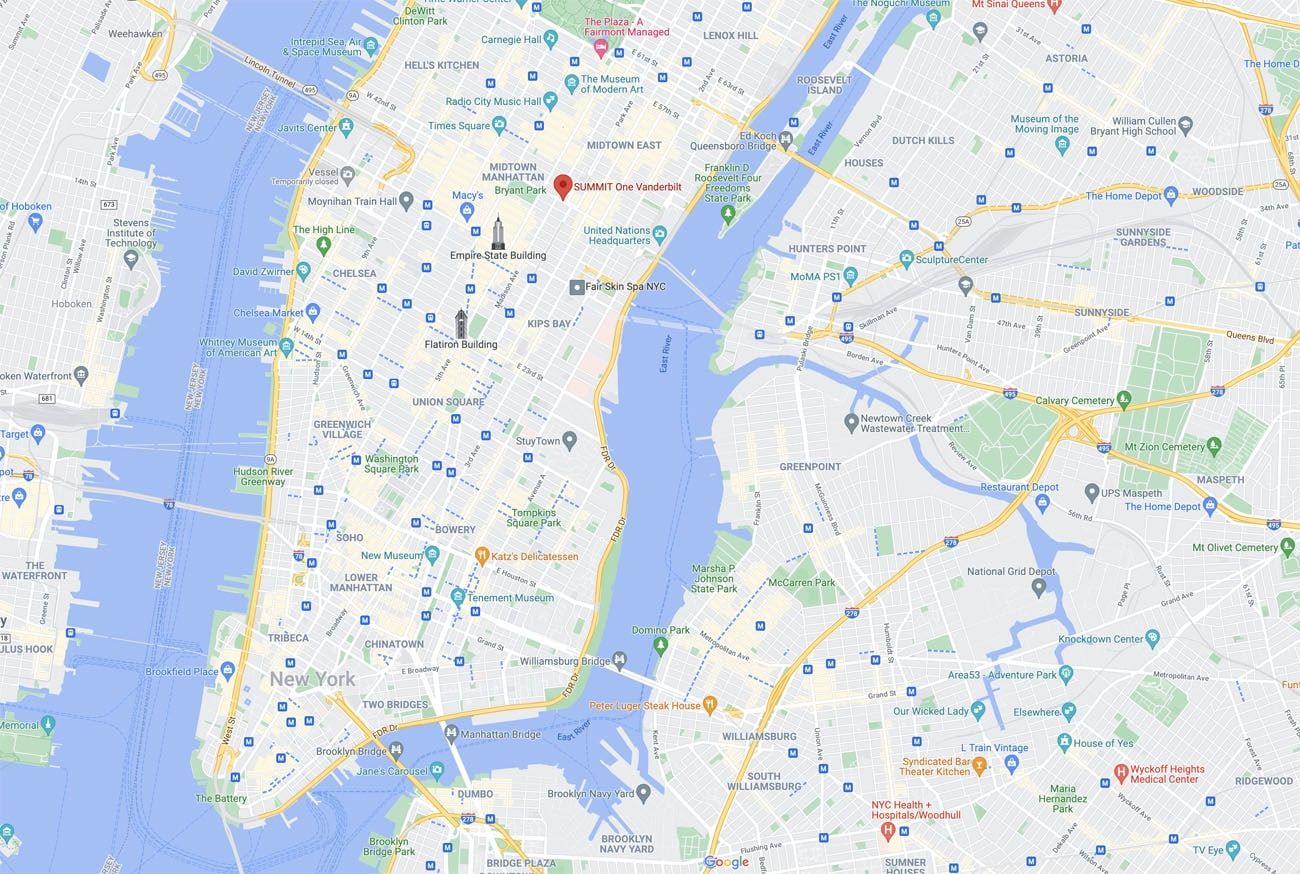 The entrance to SUMMIT One Vanderbilt is located on the Main Concourse Level of Grand Central Terminal. From the Main Concourse, you will enter One Vanderbilt through the Vanderbilt Passage.
Since this passage is not easily identifiable from the Main Concourse, here are directions on where to go.
If you are standing in the Main Concourse of Grand Central Station, look for signs that read "Ticket Machines, Subway, 42nd Street." Enter this passage and the next sign will read "Subway Shuttle Passage" and this is immediately followed by "Vanderbilt Ave 42nd & 43rd Street." Continue straight to enter One Vanderbilt. You will be on the basement level of One Vanderbilt.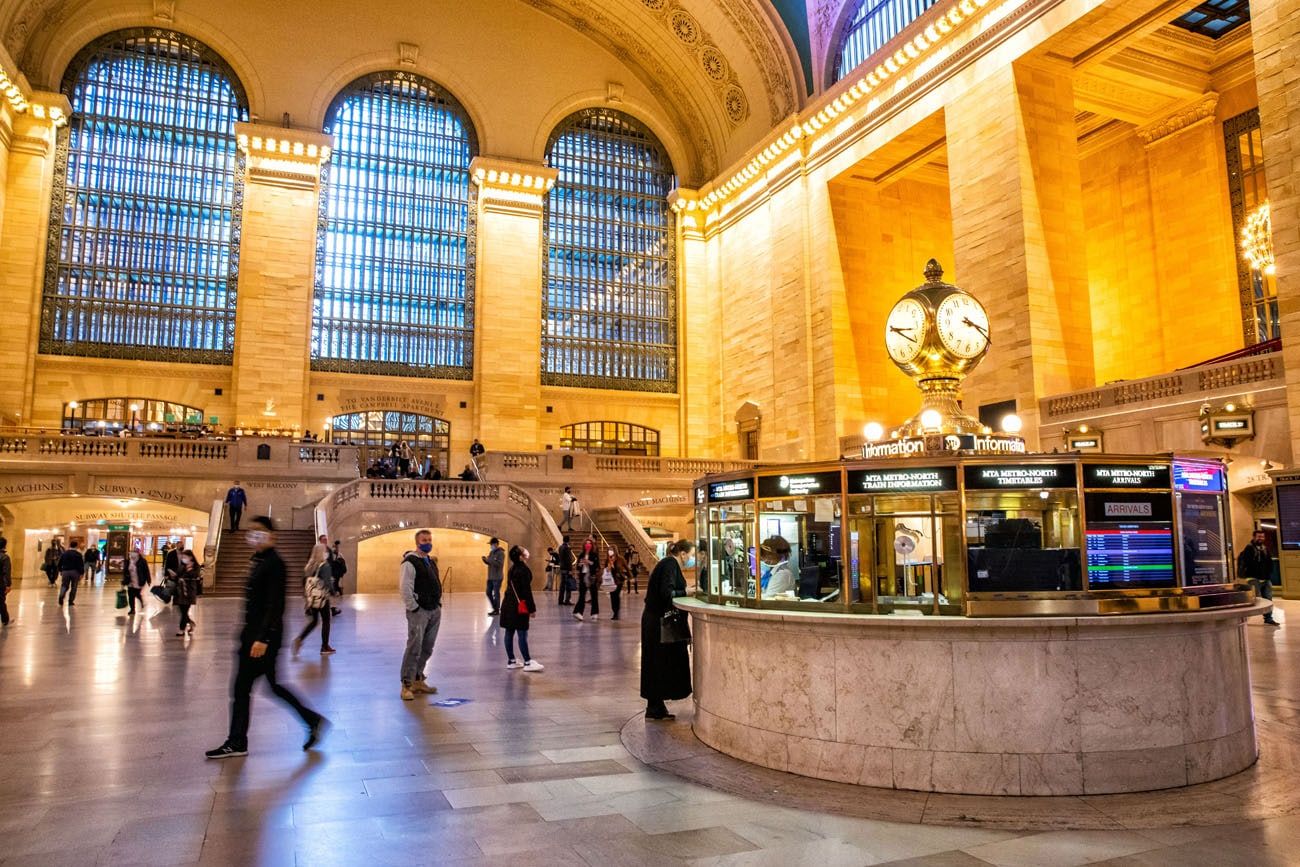 Grand Central Terminal. The Vanderbilt Passage is on the same level as this photo was taken. The hallway has "Subway 42nd St" written above it.
Once in One Vanderbilt, turn left to get to the entrance of SUMMIT. At this point, you can also follow signs to SUMMIT or just look for the entrance line (it can get quite long).
You can also enter at street level at 45 East 42nd street, between Vanderbilt and Madison Avenues. This is right next to Grand Central Terminal. Take the escalator to the basement floor and follow signs to the entrance.
The closest subway lines are 4, 5, 6, and 7. You can also get here by taxi, by Uber or Lyft, or on foot.
How to Visit SUMMIT One Vanderbilt: Ticket Options
There are three ticket options for SUMMIT One Vanderbilt.
SUMMIT Experience: This is a general admission ticket that gets you into SUMMIT One Vanderbilt without any perks. Online tickets start at $42 for adults (13+) and $33 for youth (6 to 12).
SUMMIT Signature Experience: This is a general admission ticket plus a Signature Cocktail. Online tickets start at $56 (adults only).

SUMMIT Ascent:

This is the general admission ticket (SUMMIT Experience) plus the glass elevator experience. Online tickets start at $62 for adults and $53 for youth.
The above prices are for daytime tickets. For evening tickets, add an additional $10 to each ticket price.
Which ticket should you purchase? In my opinion, the general admission ticket (SUMMIT Experience) is sufficient. I don't think the glass elevator ride is worth the extra $20 per person. Sure, you go higher and get to ride one of the highest glass elevators in the world, but the views don't change that much from what you get at the other SUMMIT experiences.
For updated pricing and to book your tickets online, click here to visit the official SUMMIT One Vanderbilt website.
PRO TRAVEL TIP: I recommend purchasing your tickets online in advance, especially if you will be visiting on weekends, during the busy summer months, or over a holiday. Sunset tickets sell out the fastest and SUMMIT Ascent tickets can also be hard to get.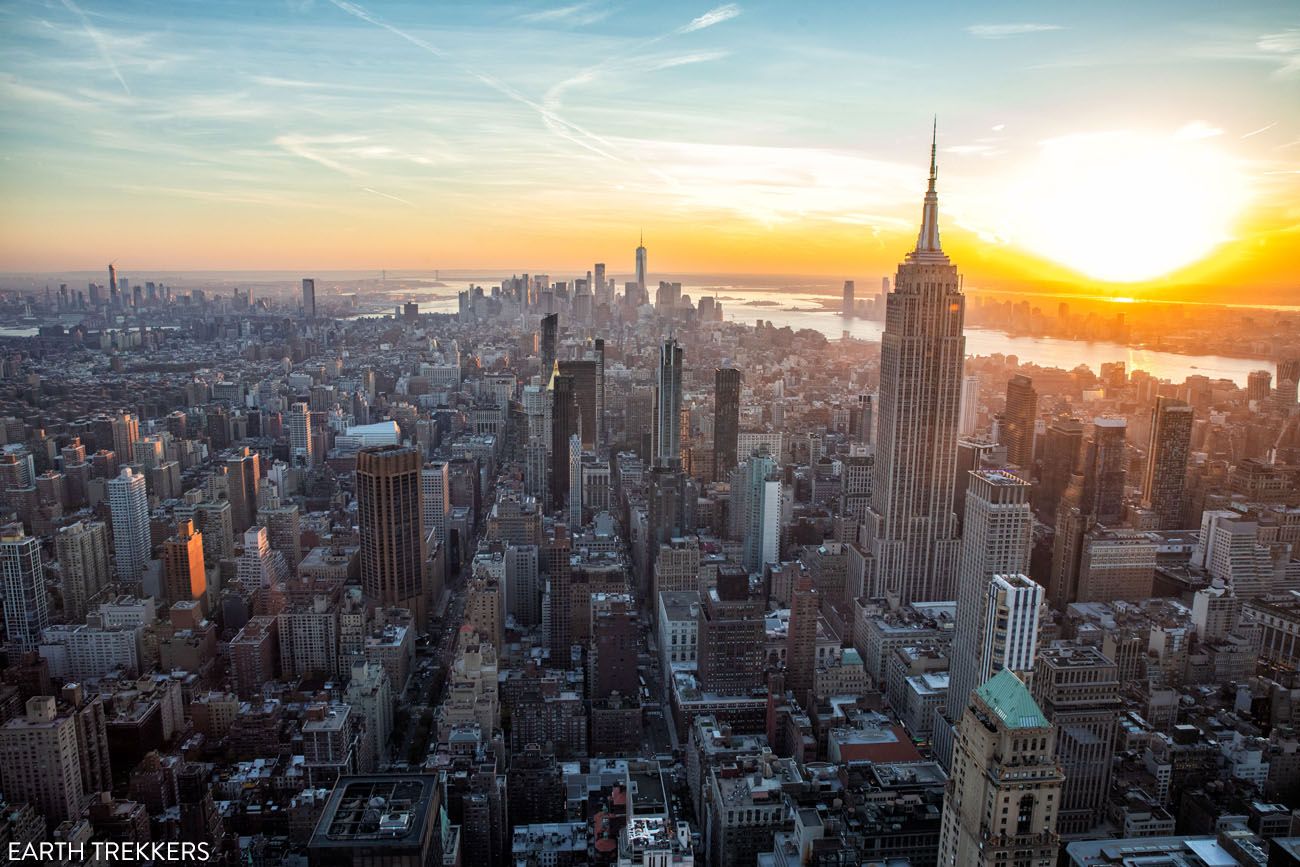 View from SUMMIT One Vanderbilt at sunset.
What to Expect on Your Visit to SUMMIT One Vanderbilt
Hours of Operation: Hours of operation vary by day of the week and the season. As of May 2023, SUMMIT One Vanderbilt is generally open every day. Hours of operation range from 9 am to midnight, but this also varies by day of the week. The best thing to do is to get updated hours on the official website. To do this, visit the Tickets page, select your ticket type, and this takes you to the calendar with the daily schedule.
We visited the SUMMIT three times: an hour before sunset on a Thursday afternoon (November 18), Friday morning at opening time (9 am on November 19), and Friday morning at opening time (9 am on April 14). Lines to enter were actually longer on both mornings, which surprised us. We thought lines would be long at sunset, since this is the best time of day to visit the SUMMIT. But right at opening time both mornings we were here, crowds were huge. Mid-morning it does appear that crowds get lighter.
Getting through Security and Preparing for the Visit
To enter SUMMIT One Vanderbilt, show your tickets and then proceed through security. You will be given a wrist band with a QR code. This code gives you access to your photos taken at SUMMIT and is used for the digital art experience.
Even though you have a timed ticket, there still could be a security line. Both mornings that we did this, we waited about 15 minutes to get through security.
Just past security, you have the option watch the short promotional film (about 2 minutes). It's a dramatic movie-like intro to the experience. It's purely for entertainment and does not offer any insider tips or necessary information for visiting SUMMIT. If the line is long, skip the movie and continue on. There are still a few more things to do before the experience really starts.
You will have your photo taken which can be purchased at the end of your visit.
The next thing you will do is put on shoe covers. These cover your shoes and protect the mirrored floors from getting scratched. They aren't much of a fashion statement and everyone has to wear them.
PRO TRAVEL TIP: Stiletto heels, steel toed boots and sports cleats are not permitted.
If you did not bring a pair of sunglasses, make sure you also pick up a pair of the free sunglasses.
Finally, before riding the elevator, you will do a face scan for the Unity Air exhibit.
Finally, get in line for the elevator. It could be just a minute or two wait or longer (we waited in line for the elevator for approximately 10 minutes on our second visit).
The elevator whisks you up to the 91st floor in just a matter of seconds. The elevator is covered with mirrored panels that reflect a light show during the ride. If you are here with young children,
From the elevator, it's a short walk through a brilliantly lit hallway (you might need those sunglasses here) to get to Transcendence 1.
Things to Do at SUMMIT One Vanderbilt
Once at SUMMIT, you will walk through three different floors. Along the way are different art installations, mirrored rooms, digital displays, and viewpoints of Manhattan.
PRO TRAVEL TIP: There are no signs that say this, but this walking route is one-way only. Once you ride the escalator to the next floor, you will not be permitted to return to that lower floor. For example, if you are on the 92nd floor, you will not be permitted to go back down to the 91st floor. So, make sure you get the photos and experience you want, before going higher. If you purchased tickets to watch the sunset, make sure you don't zip through all three levels too fast.
Transcendence 1
From the elevator you step into Transcendence 1. This enormous room is covered with mirrors and floor to ceiling glass windows. The mirrors on the floor and ceiling dramatically enlarge the view and can be disorienting at first. But it creates endless photo opportunities and a unique way to view New York City.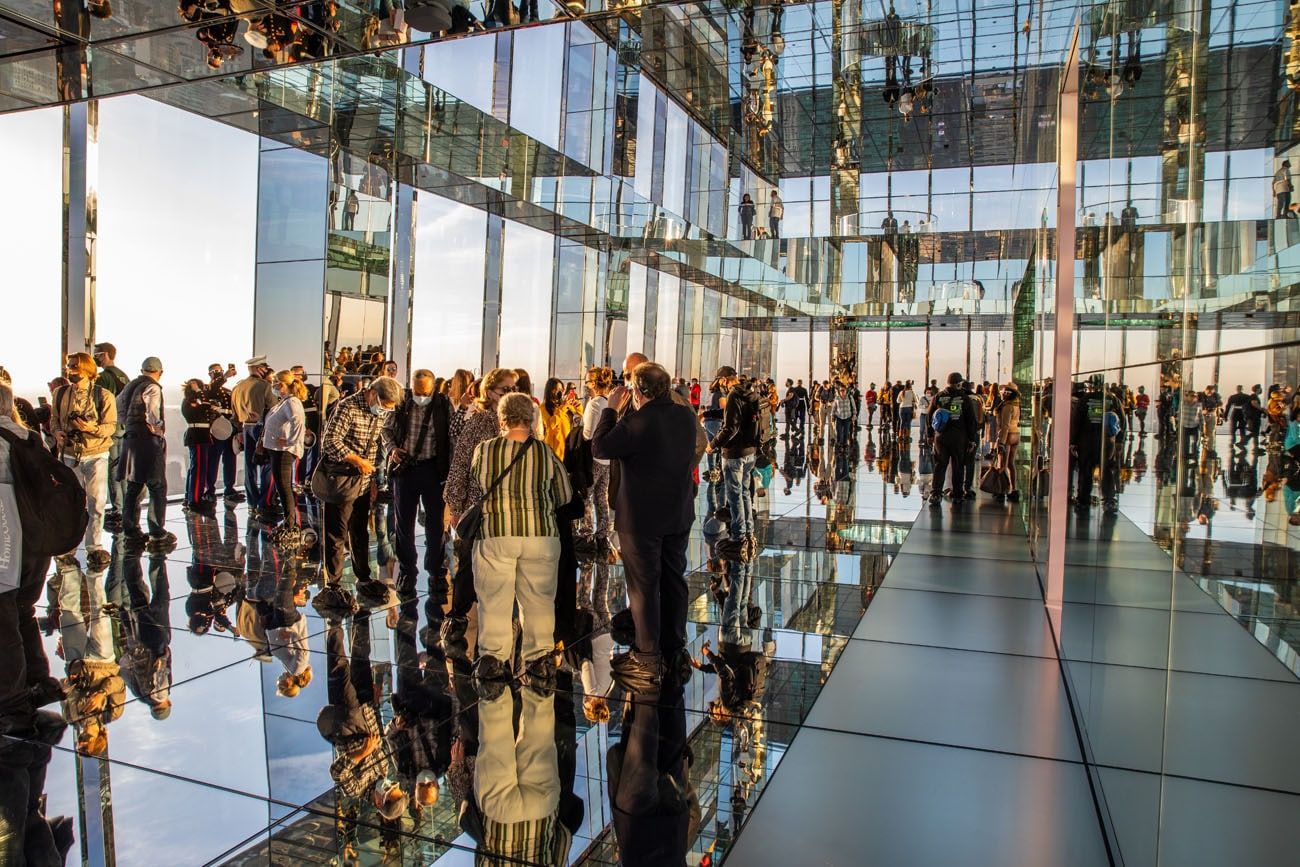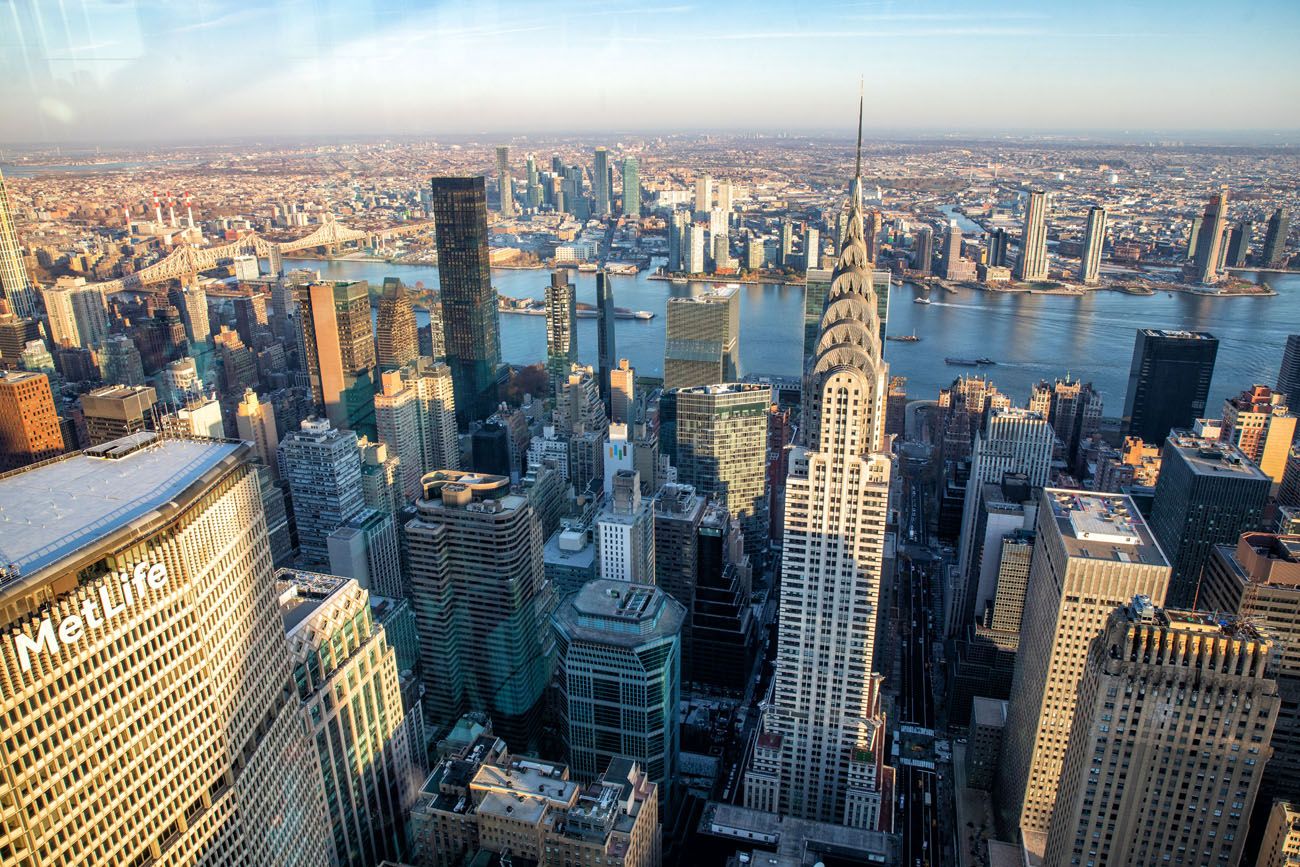 Looking east towards the Chrysler Building.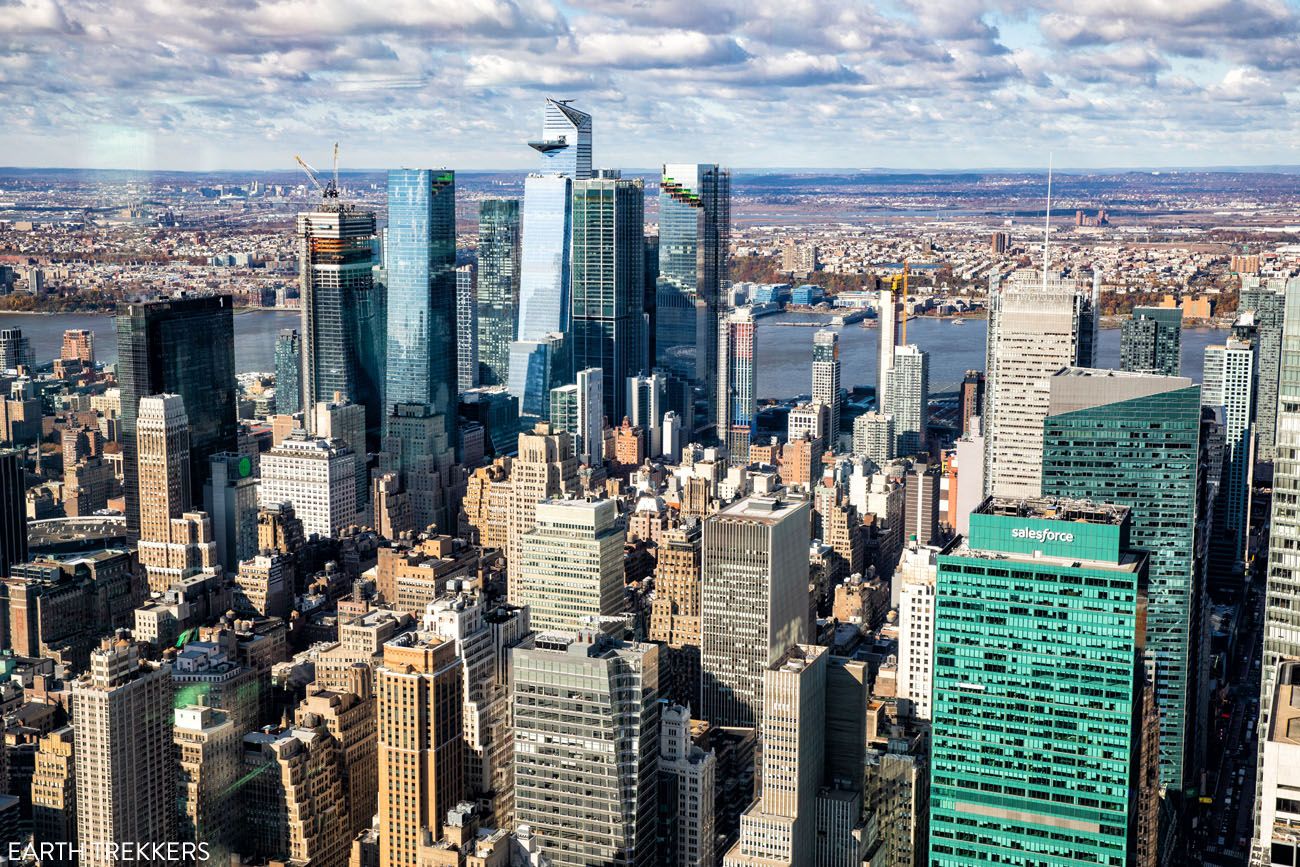 Looking west towards Hudson Yards.
From this room, you can look out New York City through floor to ceiling windows. To the east is the Chrysler Building, Queens, and Brooklyn, to the south is the Empire State Building and Lower Manhattan, and to the west is Hudson Yards, the Hudson River, and New Jersey.
PRO TRAVEL TIP: Be mindful of what you wear. You will be walking on mirrored floors, so leave the dresses and short skirts at home. If you feel uncomfortable about walking on the mirrored floor, there is a non-reflective path through SUMMIT.
Reflect
If you are suffering from sensory overload, the next experience can help calm your senses. From Transcendence 1 you will enter a much smaller room. On floor is an art installation called "Clouds" created by Yayoi Kusama.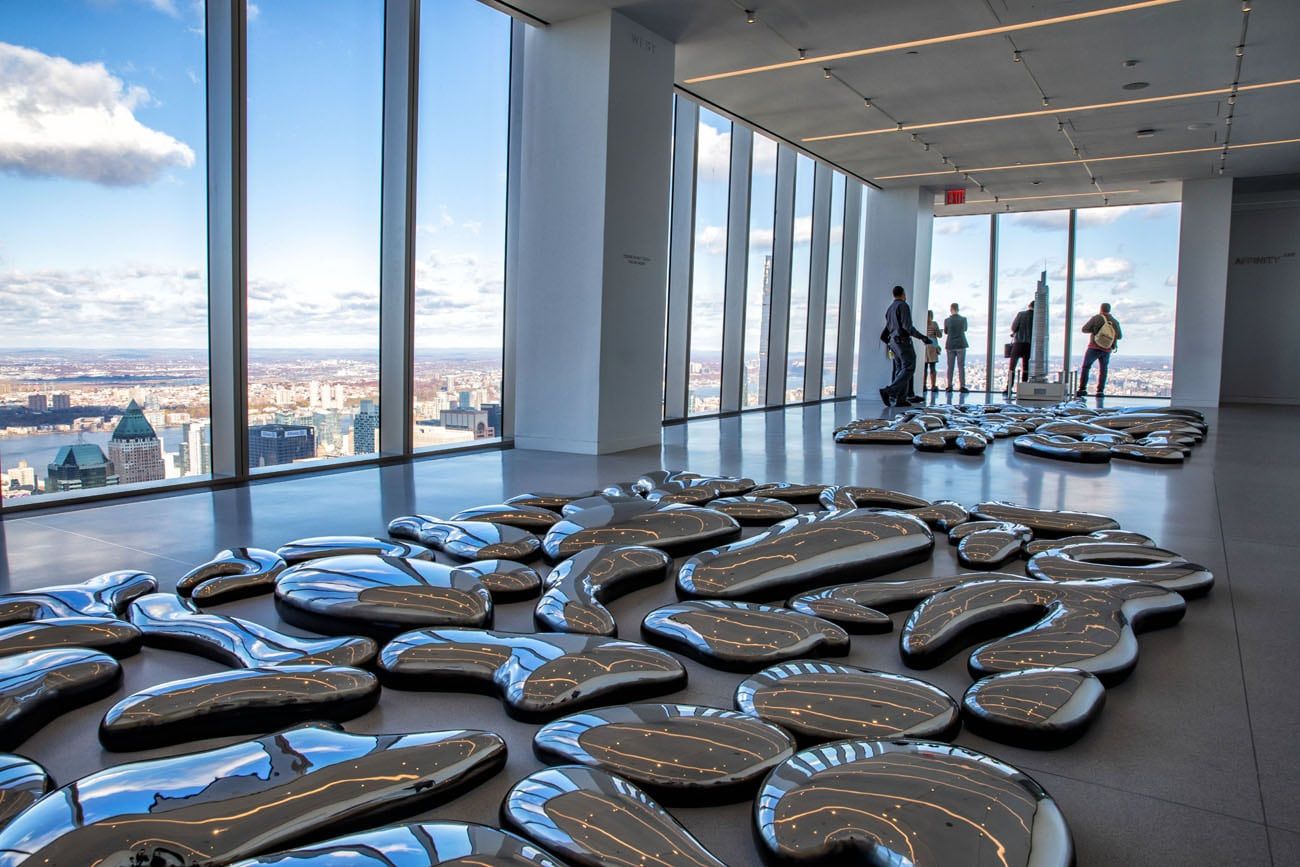 Reflect
Affinity
Round, silver balloons drift through the air. Like Transcendence, the mirrored floor and ceiling creates a dramatic effect.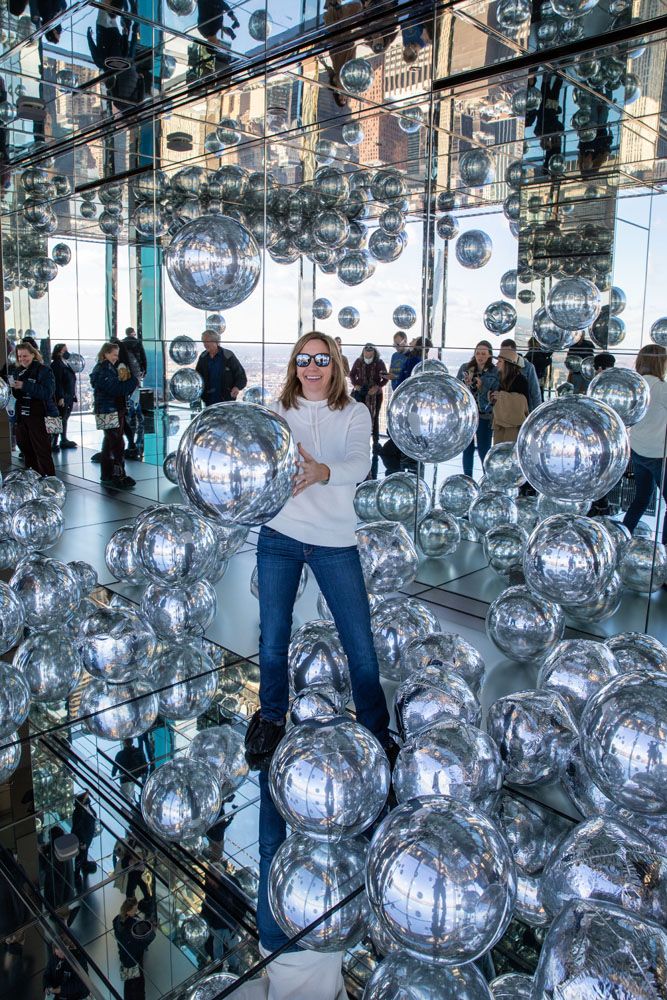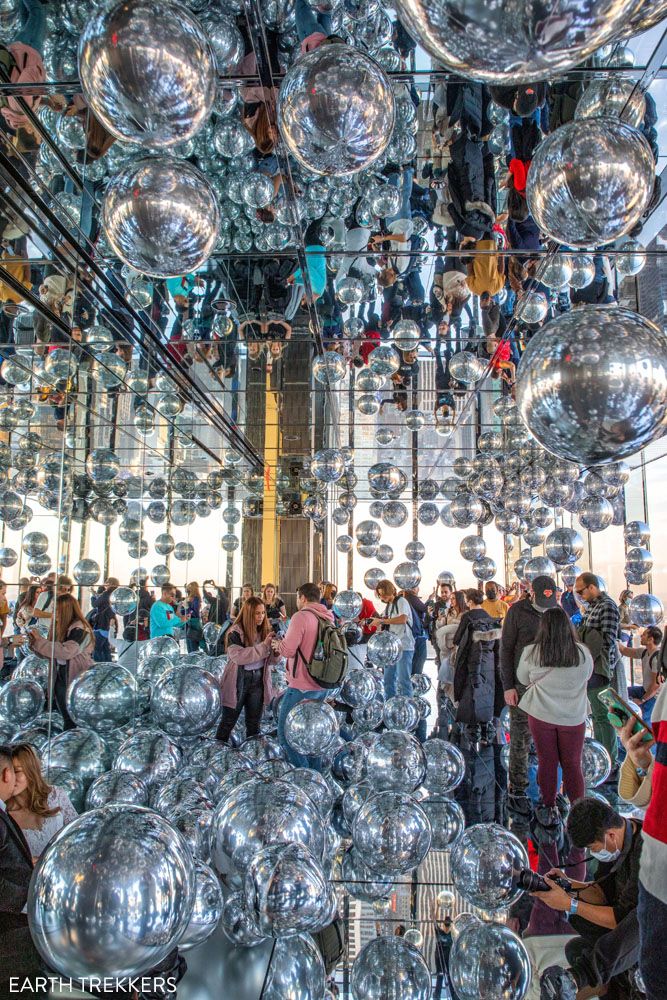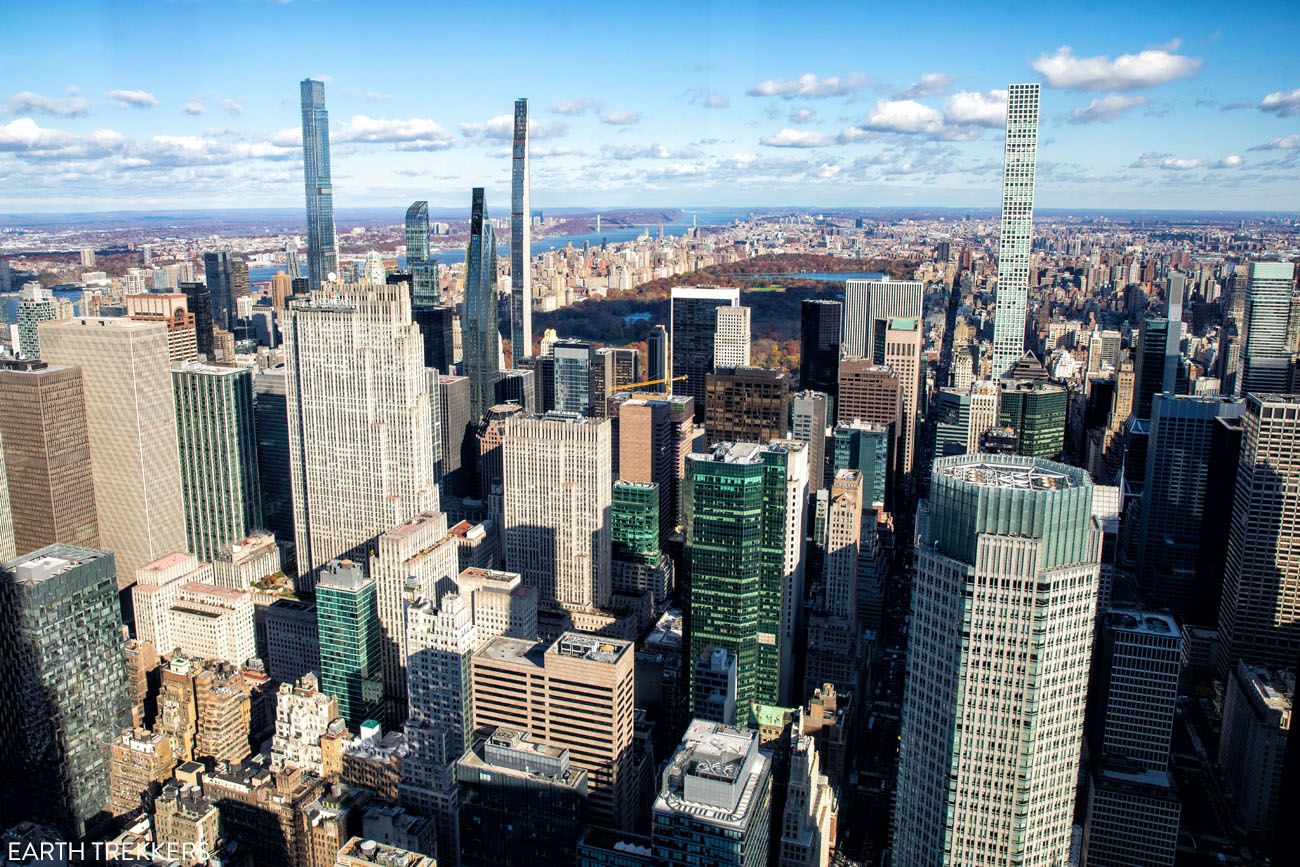 From Affinity, you also have a great view looking north towards Central Park.
From Affinity, ride the elevator to the next level. Remember, once you go up the elevator, you will not be permitted to return to the first level.
Transcendence 2
This the second level of the large, mirrored room. From here, you overlook Transcendence 1 one from upper walkways. There are also portals, or circular openings, to the floor below.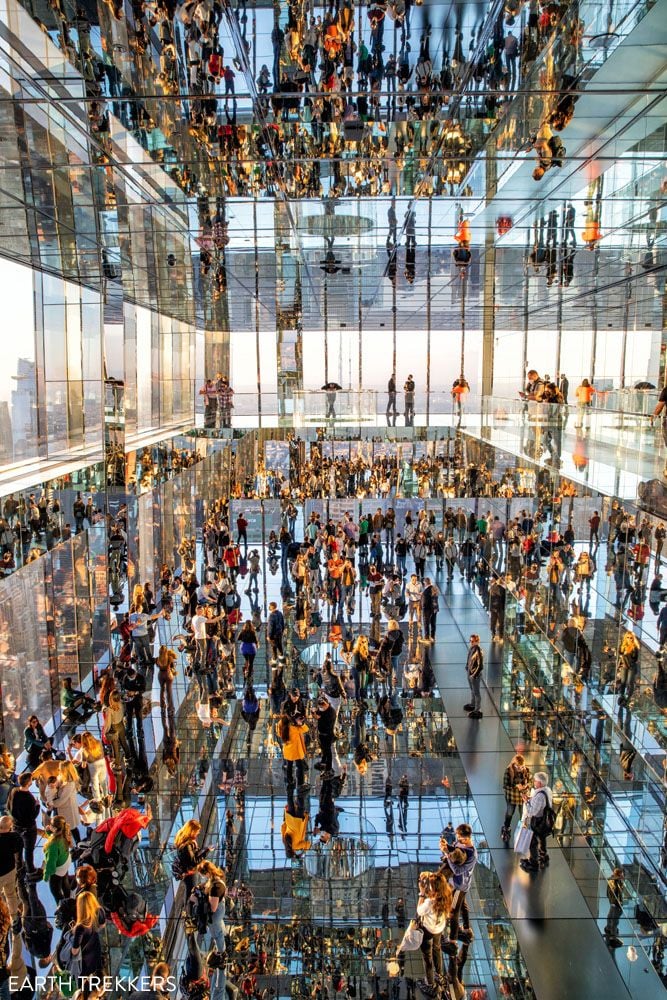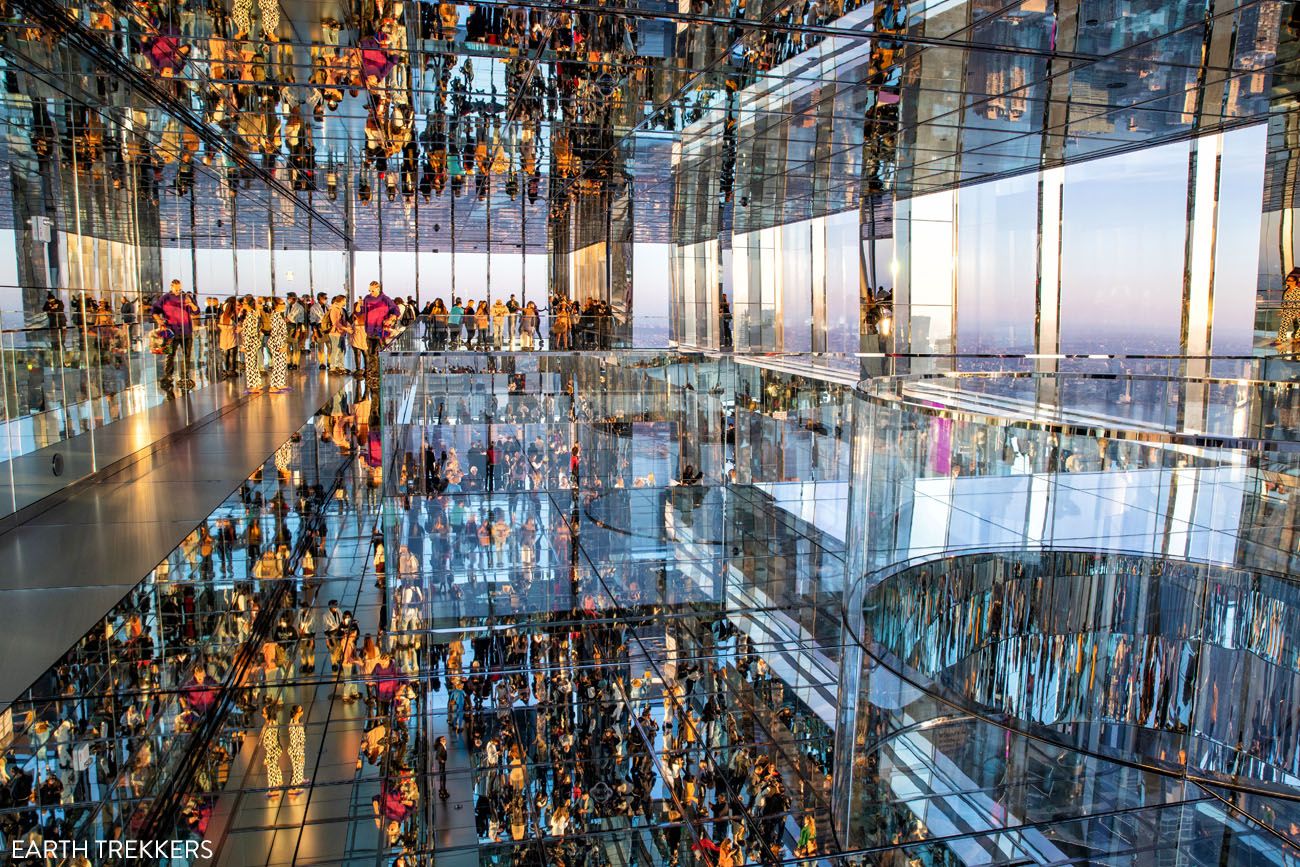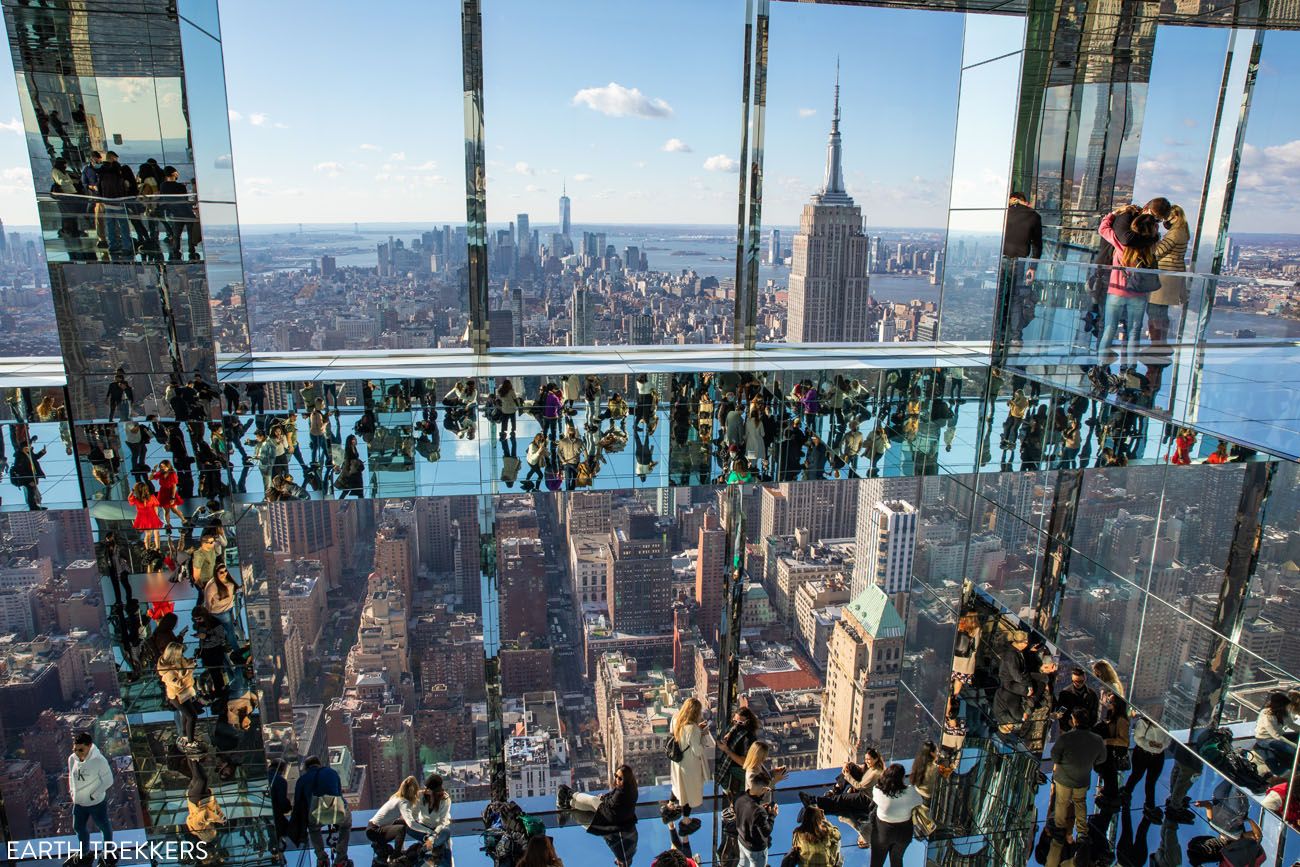 The view from Transcendence 2 mid-morning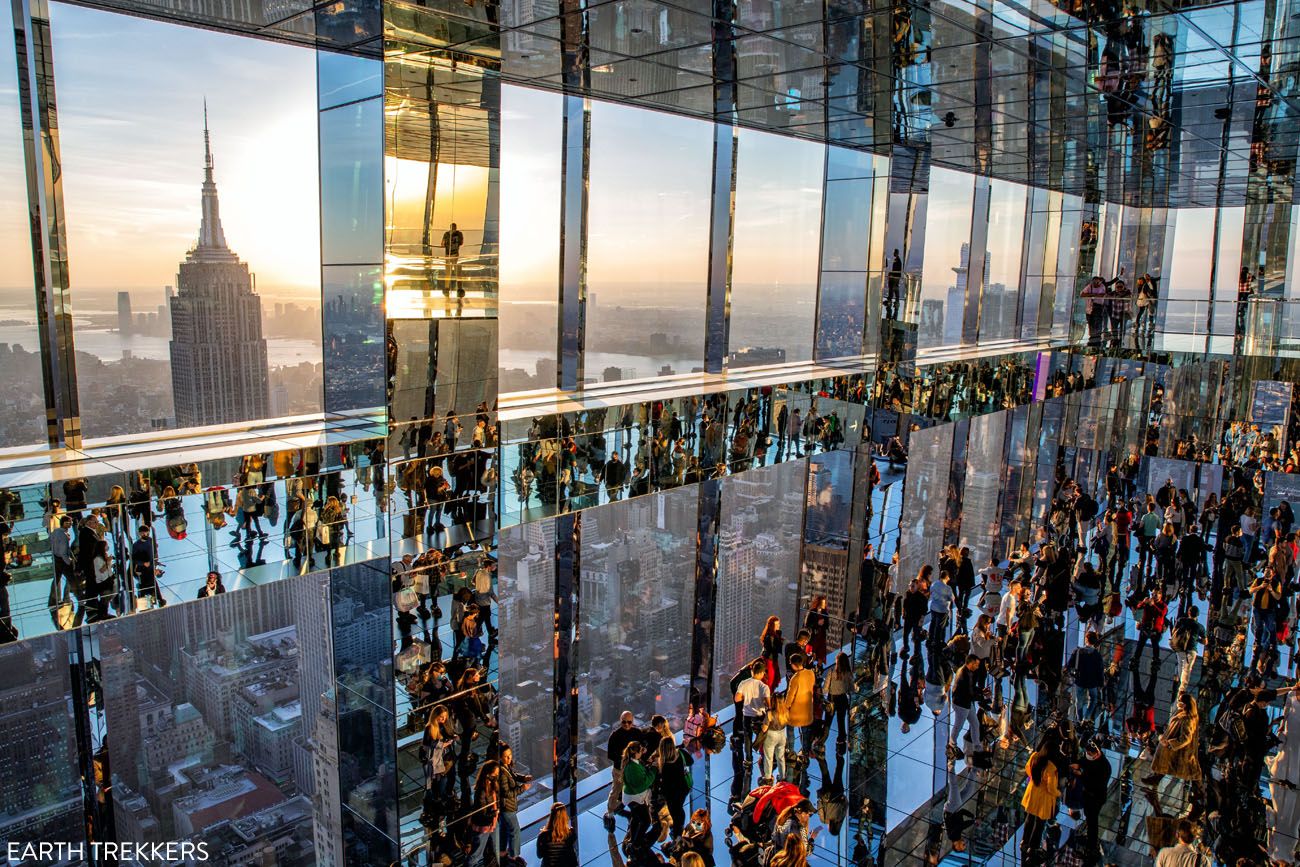 The view from Transcendence 2 at sunset.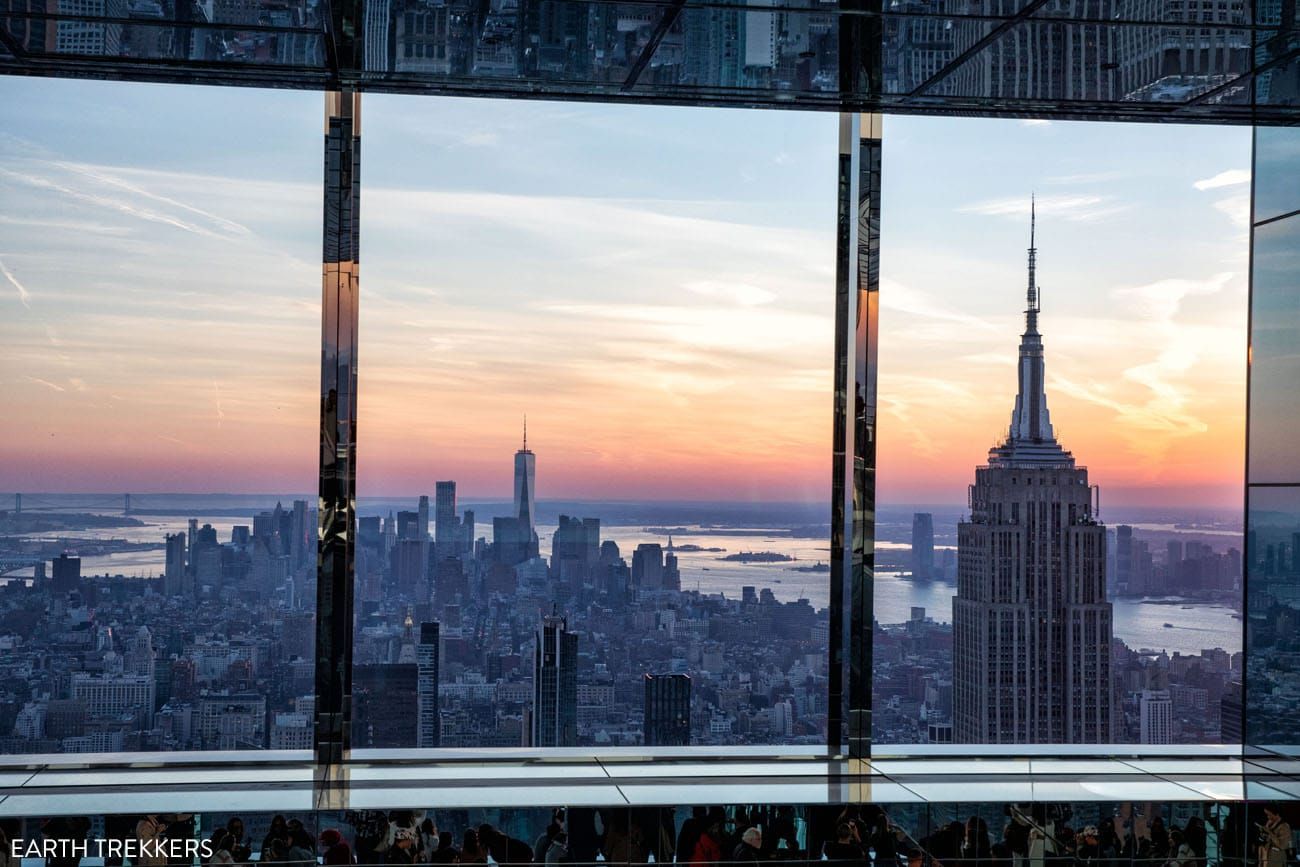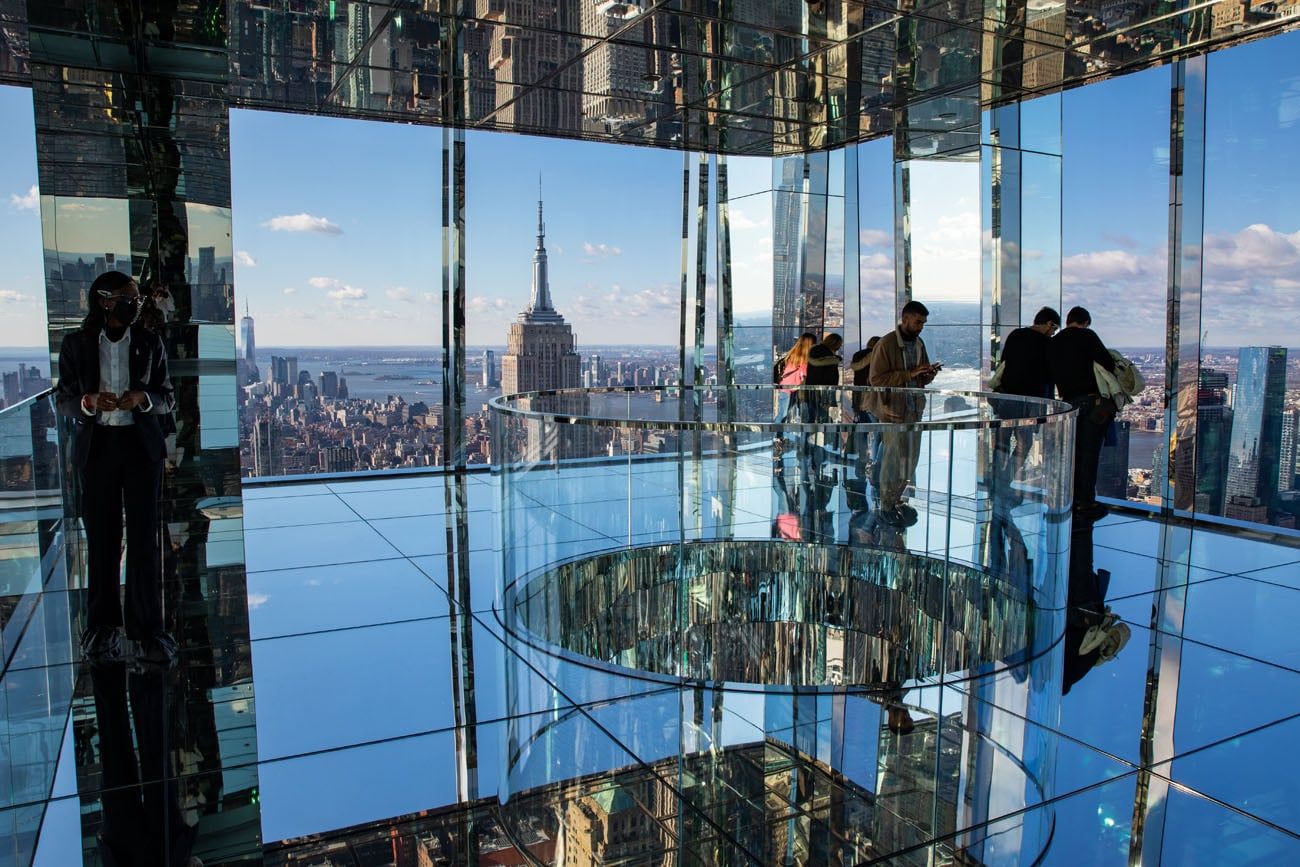 The circular glass opening is a "portal"
The view looking through portal.
Levitation
This is your chance to step out on a glass paneled floor to view the city streets below.
Two glass sky boxes with floor to ceiling windows and a glass floor jut out from the side of the building. These sky boxes are perched 1,063 feet above street level. This is the most thrilling part of a visit to SUMMIT One Vanderbilt and not for the faint of heart or for those with a fear of heights.
You can skip this experience or you can step into one of these two sky boxes to have your photo taken.
We were not permitted to take photos of each other with our personal camera…photos are only taken by SUMMIT staff members, which can be purchased for an additional fee. However, I was allowed to take one photo of the sky boxes and one photo looking down from the sky boxes (and you can see my lovely shoe covers).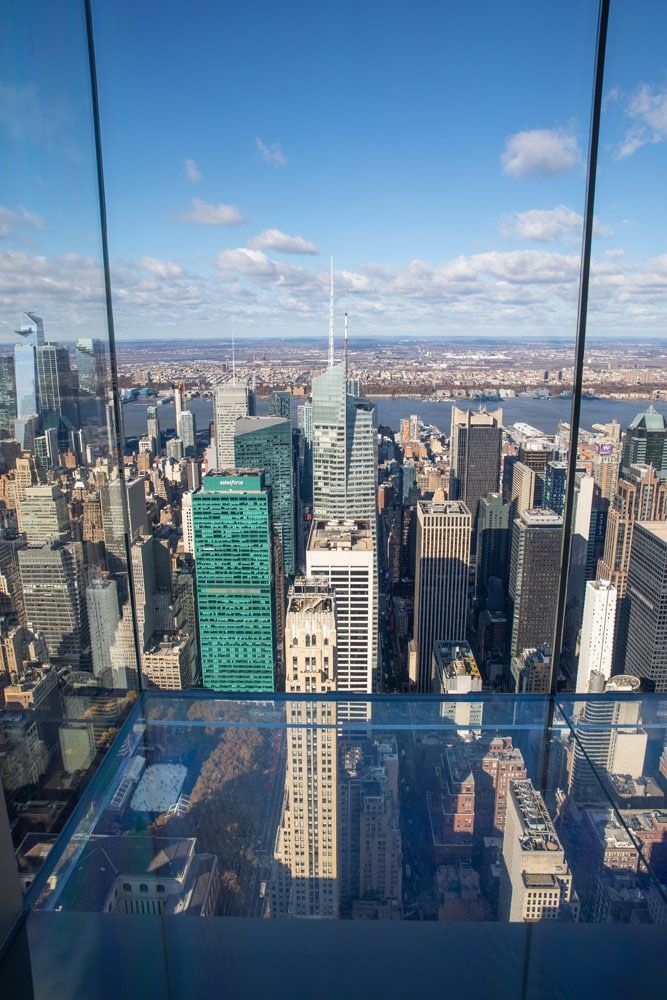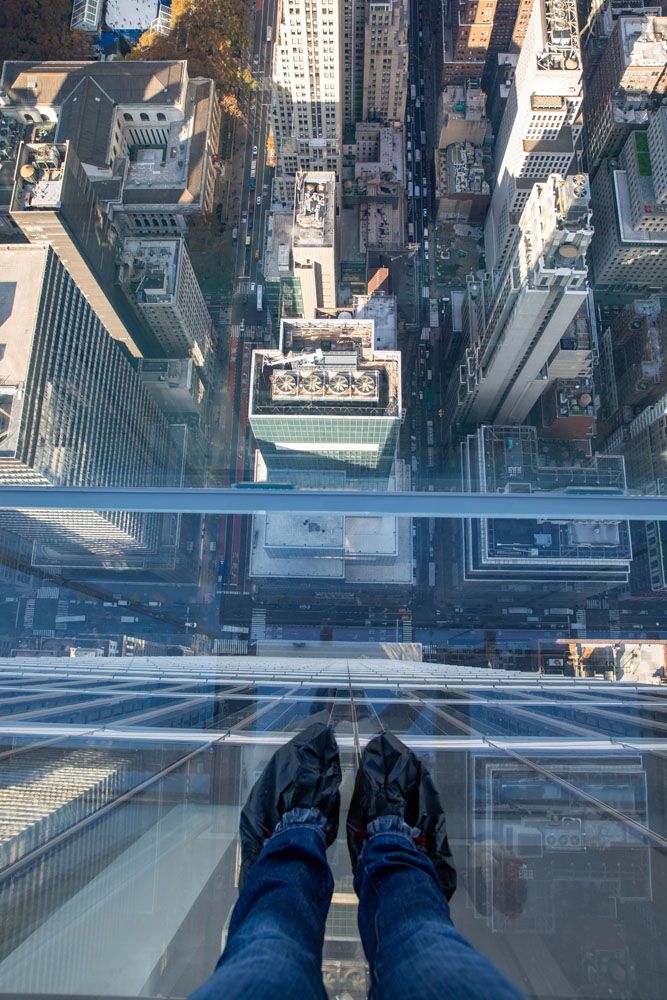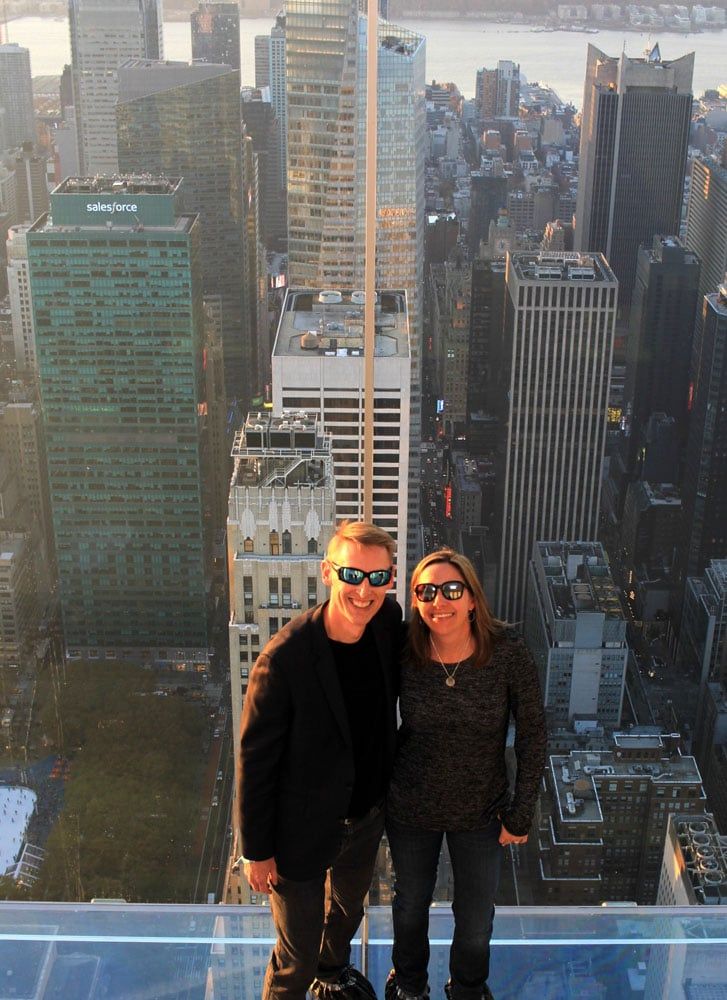 Our photo in the sky box (taken and purchased from SUMMIT One Vanderbilt).
Unity
Before entering the next room, scan your wrist band. Then walk into Unity look for your face in the clouds.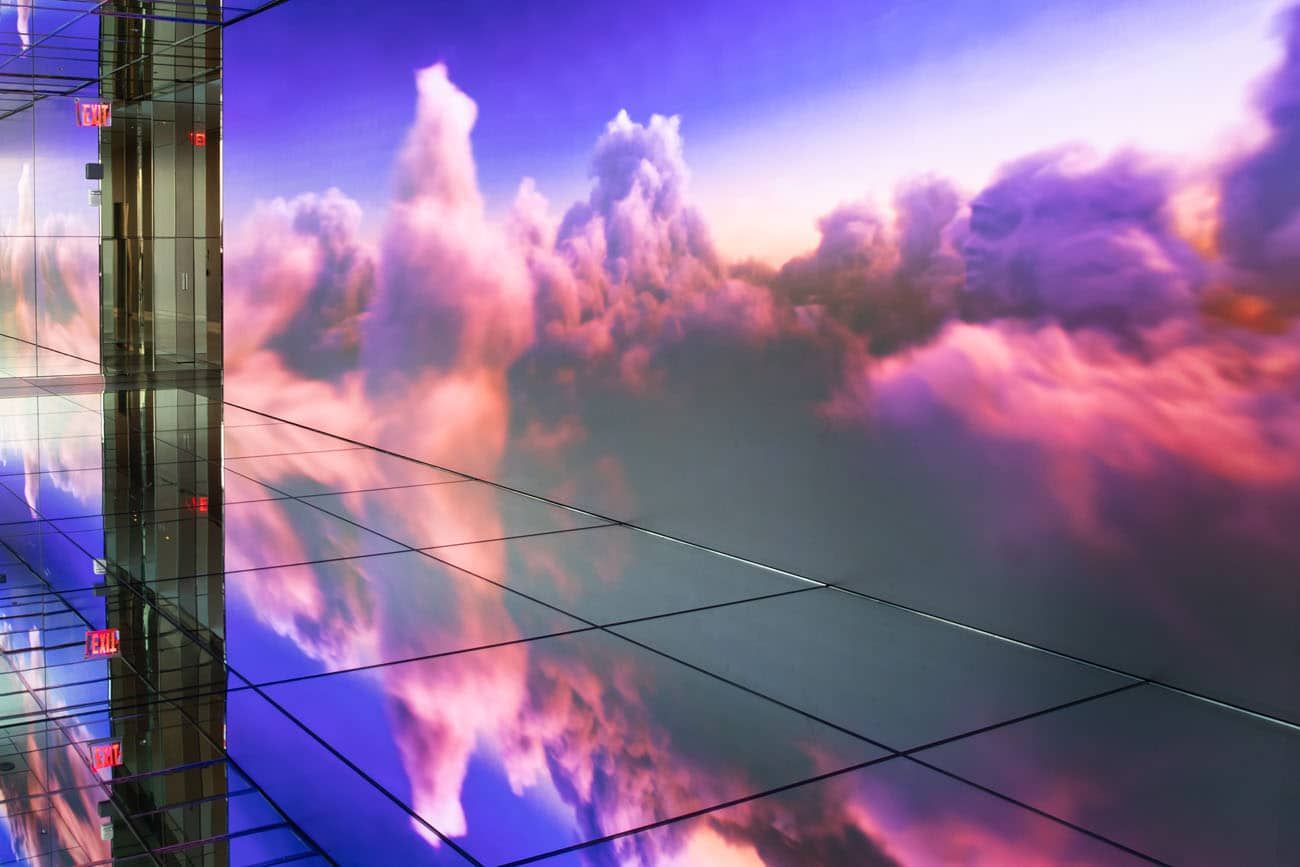 PRO TRAVEL TIP: There are restrooms on each level. Some restrooms sit on the corner of the building. There are floor to ceiling windows in these restrooms…probably the best view you will get from a restroom in New York City.
Aprés
After Unity, ride the escalator to the third and final level. Remember, once you go up the escalator, you will not be permitted to re-visit the second level.
Aprés is an indoor lounge and outdoor terrace with a bar. If you purchased an Ultimate SUMMIT ticket, this is where you will order your cocktail. Also for sale are snacks, sandwiches, wine, and non-alcoholic beverages.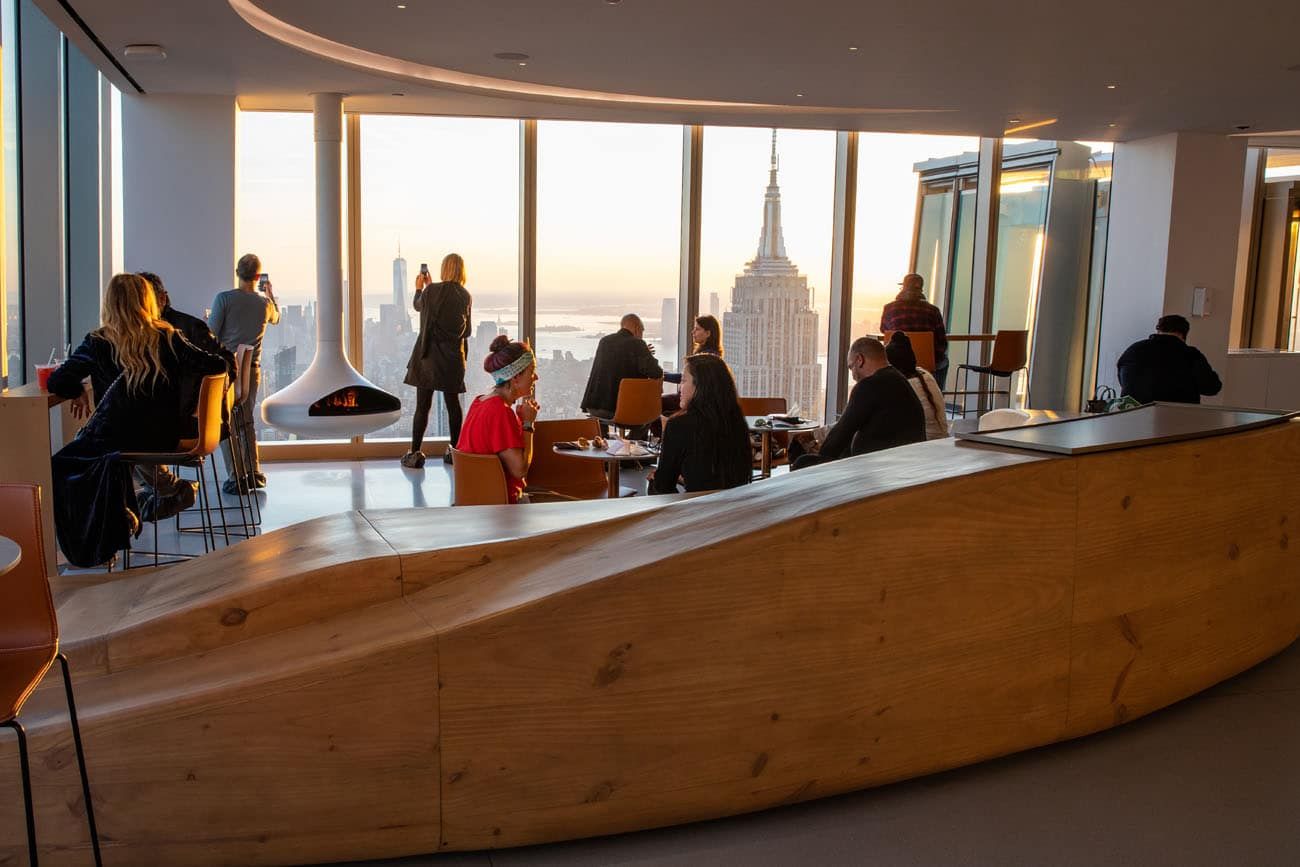 On the outdoor terrace, you can view Manhattan from behind a glass-paneled wall.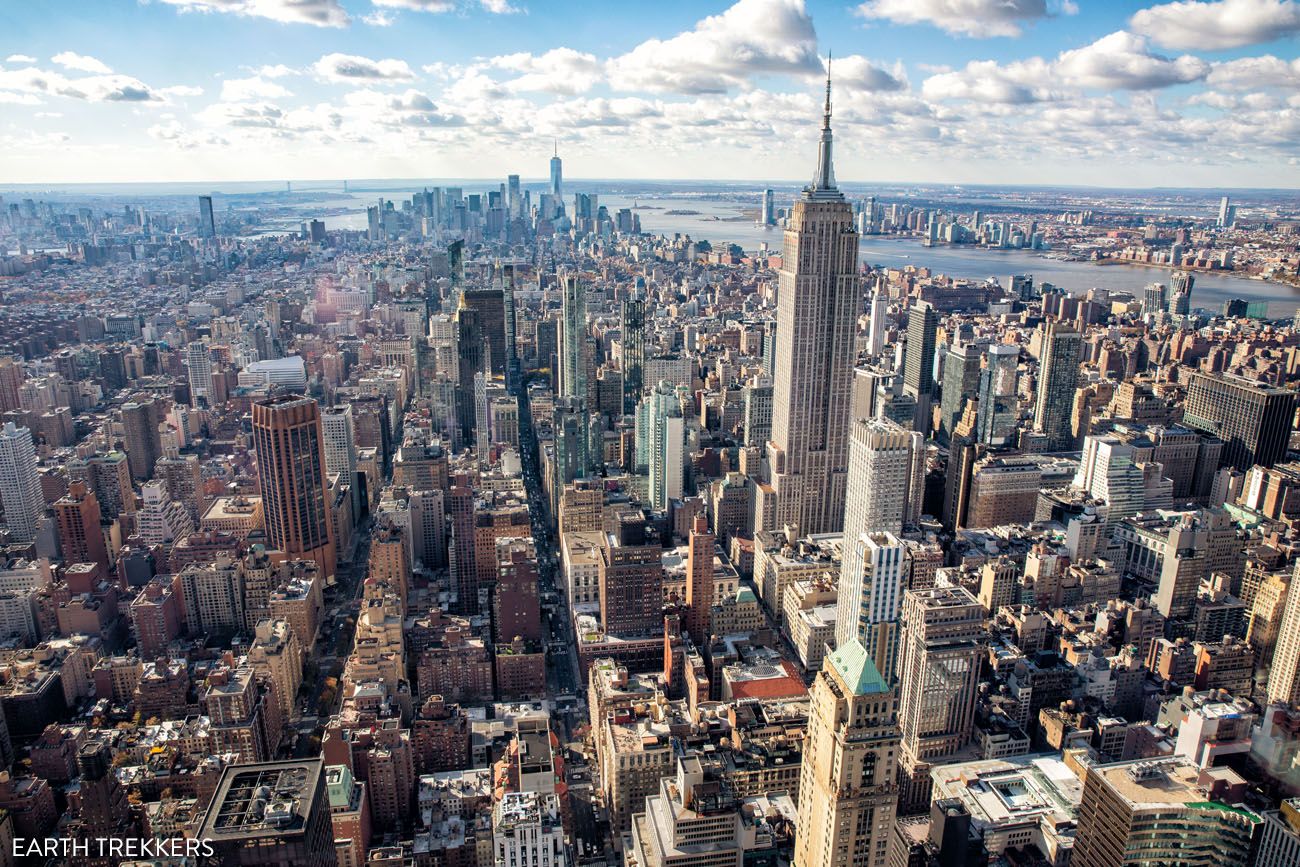 Empire State Building and Lower Manhattan.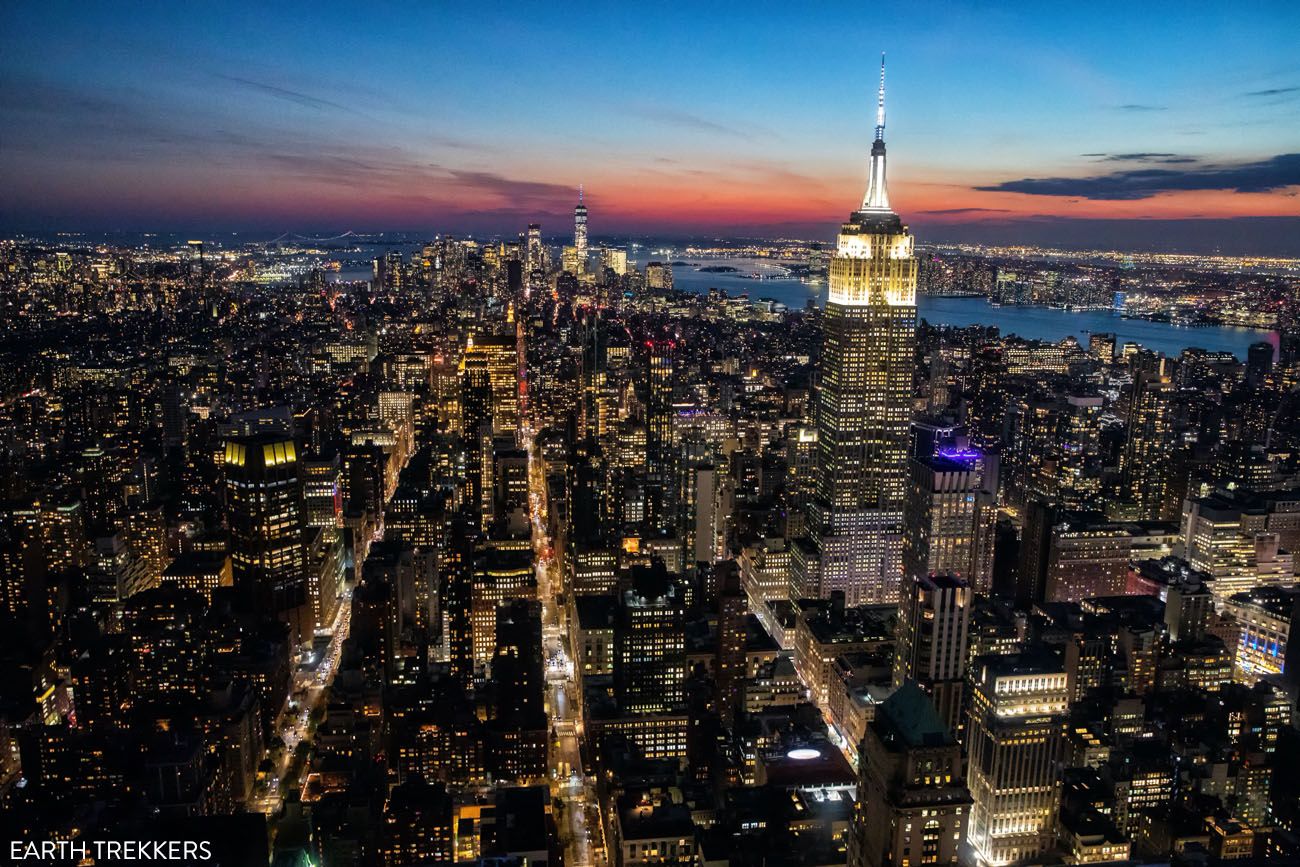 Continue around the west side and then re-enter the building. Turn right for Ascent (the ride on the glass elevator) or continue through the gift shop.
Ascent
Ascent is an extra add-on experience that you can purchase when buying your SUMMIT entrance ticket.
Two elevators, with floor to ceiling glass windows and a glass floor, take you up to 1,210 feet, the highest you can go on SUMMIT One Vanderbilt. From the elevator, you have a great view south, to the Empire State Building and Lower Manhattan.
Here is the view.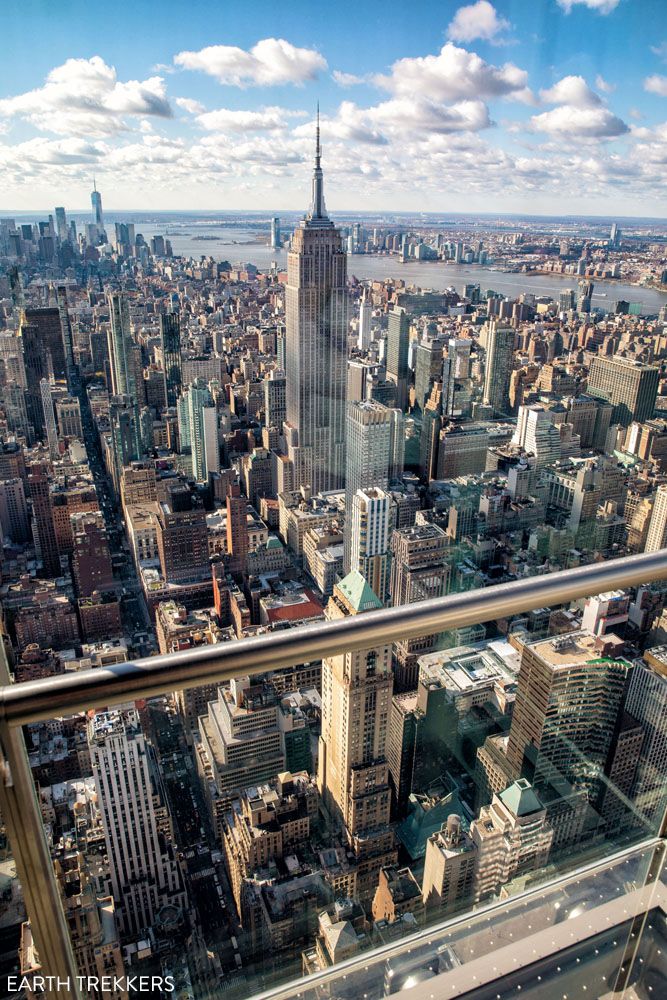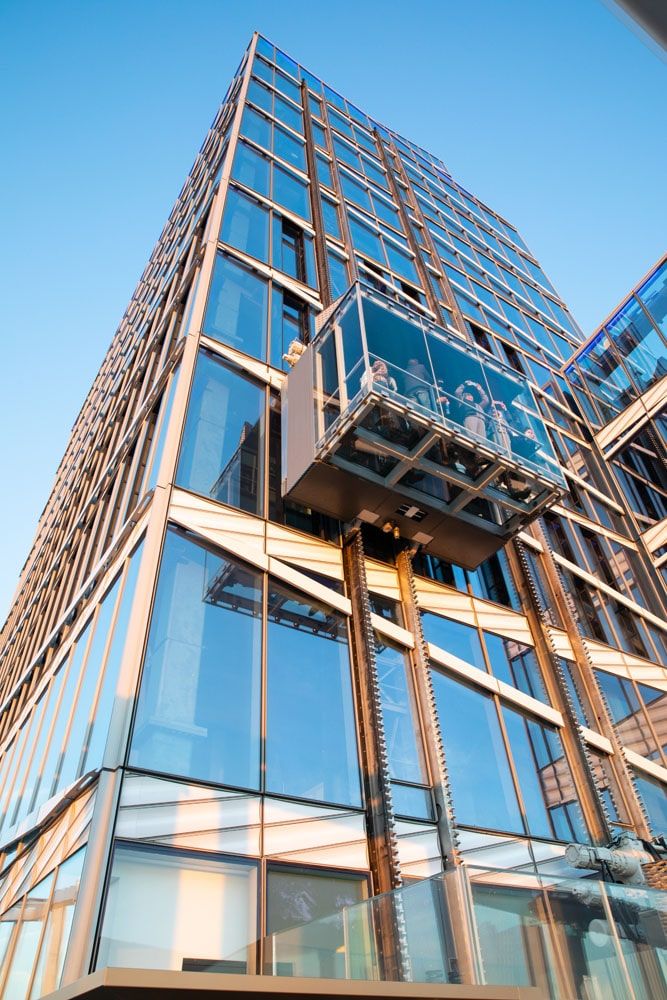 One of the glass elevators.
Like I said earlier, $20 is a big price to pay for this 2-minute experience. The views are great but they are not a whole lot different from what you get on the outdoor terrace. You get a higher view of Manhattan from the Apex platform at the Edge (part of the City Climb experience), One World Observatory, and the 102nd floor of the Empire State Building.
Exit SUMMIT One Vanderbilt
From Ascent, you will walk through gift shop and then you reach a series of computer monitors where you can view and purchase your photos. Ride the escalator down to the elevator bank and then ride the elevator back to ground level.
Best Time to Visit Summit One Vanderbilt
The best time to visit SUMMIT One Vanderbilt is about an hour before sunset. Visiting at this time allows you to enjoy the experience in the daylight, as the sun sets, and then in the evening. It is a very different experience at each of these times, as the reflections augment the reality of what you are viewing.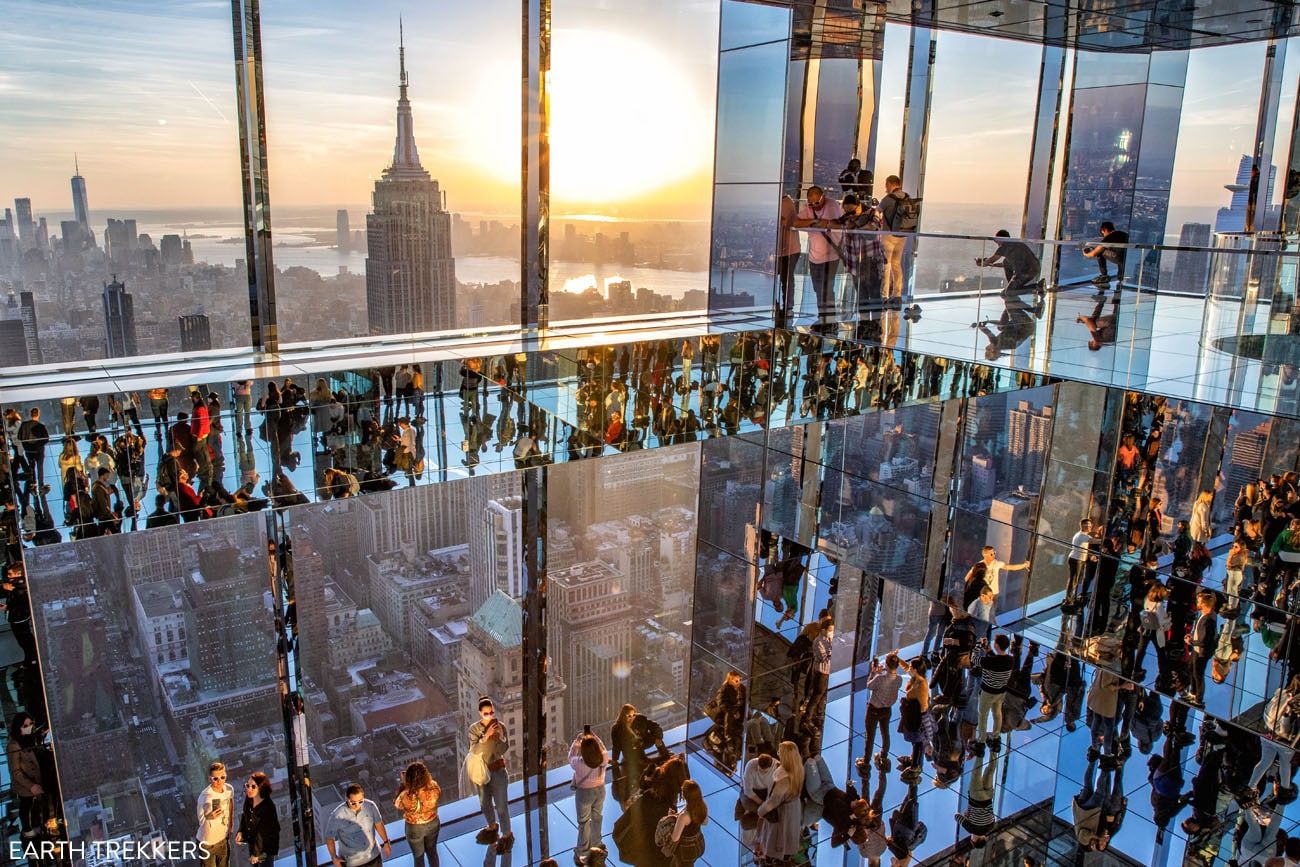 SUMMIT One Vanderbilt at sunset.
Frequently Asked Questions
How long does a visit to Summit One Vanderbilt last?
Allow 2 to 3 hours for the entire experience. Depending on crowd levels, it could take 30 minutes or longer just to get through security and ride the elevator to the SUMMIT.
If you plan your visit for sunset, budget more time, so that you have enough time to take in the view in both the daylight and once the lights illuminate NYC.
Is there luggage storage?
There are no lockers or luggage storage for the SUMMIT. Large bags, backpacks, and luggage are not permitted, so you will need to store these elsewhere before your visit. Click here to learn more.
Can I Bring a Selfie Stick or Tripod?
Selfie sticks, tripods or monopods longer than 12 inches fully extended, and commercial photo equipment are not permitted. Click here to see the full list.
Is Summit One Vanderbilt worth it?
Absolutely. The mirrored room of Transcendence 1 and 2 is a very unique experience…there is really nothing else like it in Manhattan. And with three different levels and multiple rooms with different experiences, there is a lot to do here.
The art installation is what makes SUMMIT One Vanderbilt truly unique but you also get one of the best views of New York City from an observation deck.
From SUMMIT, you get a 360° view of Manhattan since you view the city from all four sides of One Vanderbilt. You also get the best view of the Chrysler Building from an observation deck, unobstructed views looking south towards Lower Manhattan, and the best view of the Empire State Building from any observation deck in New York City.
For more information on the observation decks in New York City, and photos from each of them, read our Guide to the Best Observation Decks in NYC.
What else can I do in the area?
Stroll through Grand Central Terminal, a national historic landmark and one of the busiest train stations in the world. It was one of the world's ten most visited tourist attractions in 2018 and has appeared in many movies.
Bryant Park and the New York Public Library is a very short walk from One Vanderbilt. To the north is St. Patrick's Cathedral, Rockefeller Center, Top of the Rock, and the Museum of Modern Art. To the west is Times Square. And to the southwest is the Empire State Building.
With SUMMIT One Vanderbilt's handy location next to Grand Central Terminal, it is easy to get pretty much anywhere in the city using the subway.
---
If you have any questions about how to visit SUMMIT One Vanderbilt, or if you want to share your experience, let us know in the comment section below.
More Information about New York City
BEST OF NEW YORK CITY: For a list of the top experiences in New York City, read our article Best Things to Do in New York City.
NYC OBSERVATION DECKS: In our article Best Observation Decks in New York City, we rank all of the observation decks by price, height, and best view. We also have detailed guides on The Edge and One World Observatory.
NYC ITINERARY: In our article 5 Days in New York City, we included detailed daily itineraries for exploring New York City. You can do all five days or follow just a day or two, if you have less time in the city.
CHELSEA & HUDSON YARDS: In our article Best Things to Do in Chelsea and Hudson Yards, learn about the best things to do in the area, with suggestions on where to eat and where to stay.
BROOKLYN: If you have plans to visit Brooklyn, read our article How to Spend One Day in Brooklyn.
TRAVEL PHOTOGRAPHY: For more information about the camera gear we carry, check out our Travel Photography Gear Guide. And tips and tricks for taking great photos in our article How to Take Better Photos while Traveling.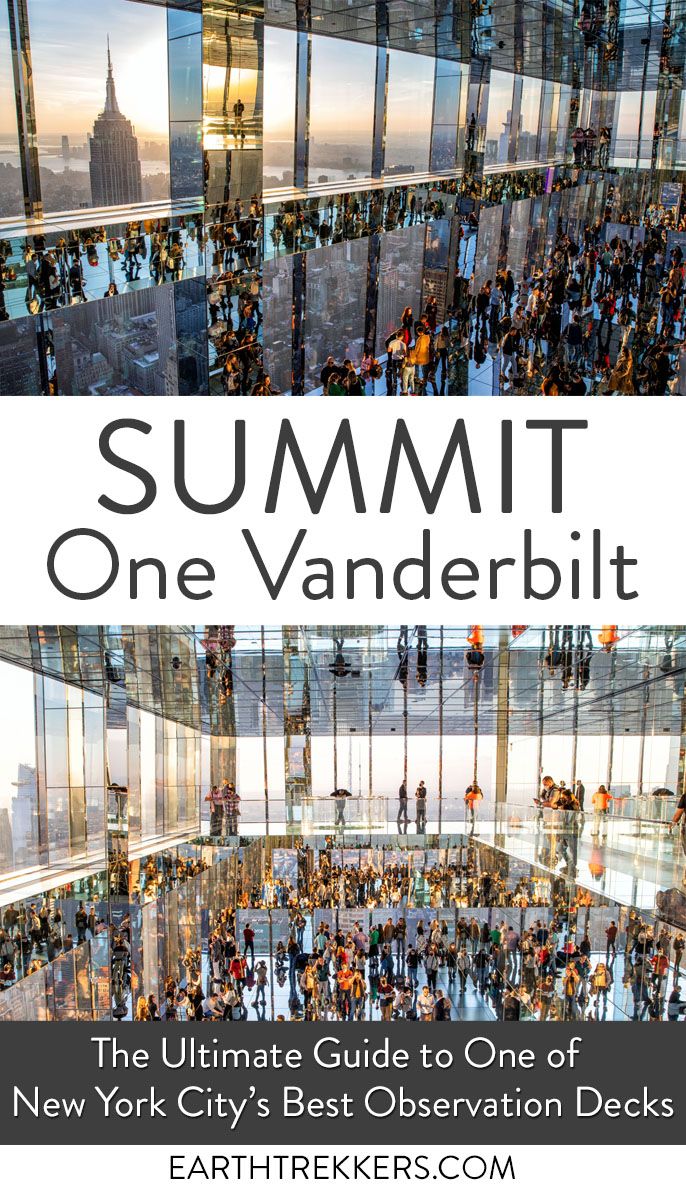 All rights reserved © Earth Trekkers. Republishing this article and/or any of its contents (text, photography, etc.), in whole or in part, is strictly prohibited.