Sarajevo, the capital of Bosnia and Herzegovina, is a city with a tumultuous history. WWI started here in 1914 with the assassination of Archduke Ferdinand of Austria. In 1984, Sarajevo was broadcasted into homes all over the world, as millions of people tuned in to watch the Winter Olympics. Just 6 years later, the world tuned again, this time for a more somber event, the Bosnian war.
The more recent historical events, such as the war in the 1990's, still leave a very visible mark on the city and its people. A visit to Sarajevo is not complete without learning about this war and seeing the scars it still leaves on the city today.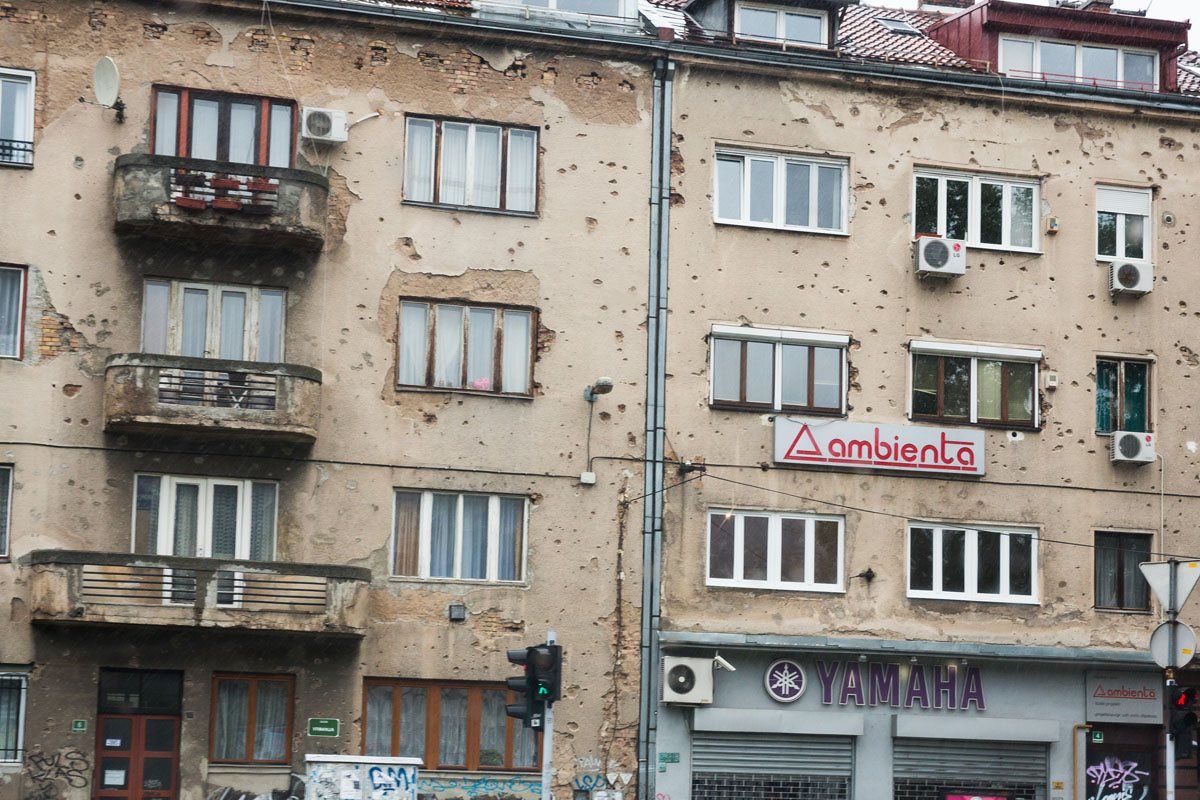 We visited Sarajevo in April as part of a 10-day road trip through the Balkan Peninsula. Sarajevo was our starting and ending point for this trip. On day 1, we spent the afternoon touring the sites around Sarajevo, jetlagged and sleep deprived after a red-eye flight from the USA. Before flying home, we spent another afternoon walking around the city in very chilly, wet weather.
This was not enough time (or the best conditions) to see the best of Sarajevo. Two days (or longer) is the ideal amount of time to spend here. But we did manage to squeeze in a lot during a short period of time.
Best Things to Do in Sarajevo
Olympic Bobsleigh and Luge Track
Located on a hillside overlooking Sarajevo, the bobsled track is a bit tricky to get to but this was our favorite experience in Sarajevo.
Sarajevo hosted the Winter Olympics in 1984 and the bobsled and luge track still stand today. Although now it looks much different.
Maybe it was the dreary, overcast skies or maybe it was our sleep-deprived state, but the bobsled track seemed almost spooky. The track is tucked away in shadowy forest of pine trees. It is eerily quiet here, with the abandoned ruins of buildings sitting within walking distance of the track.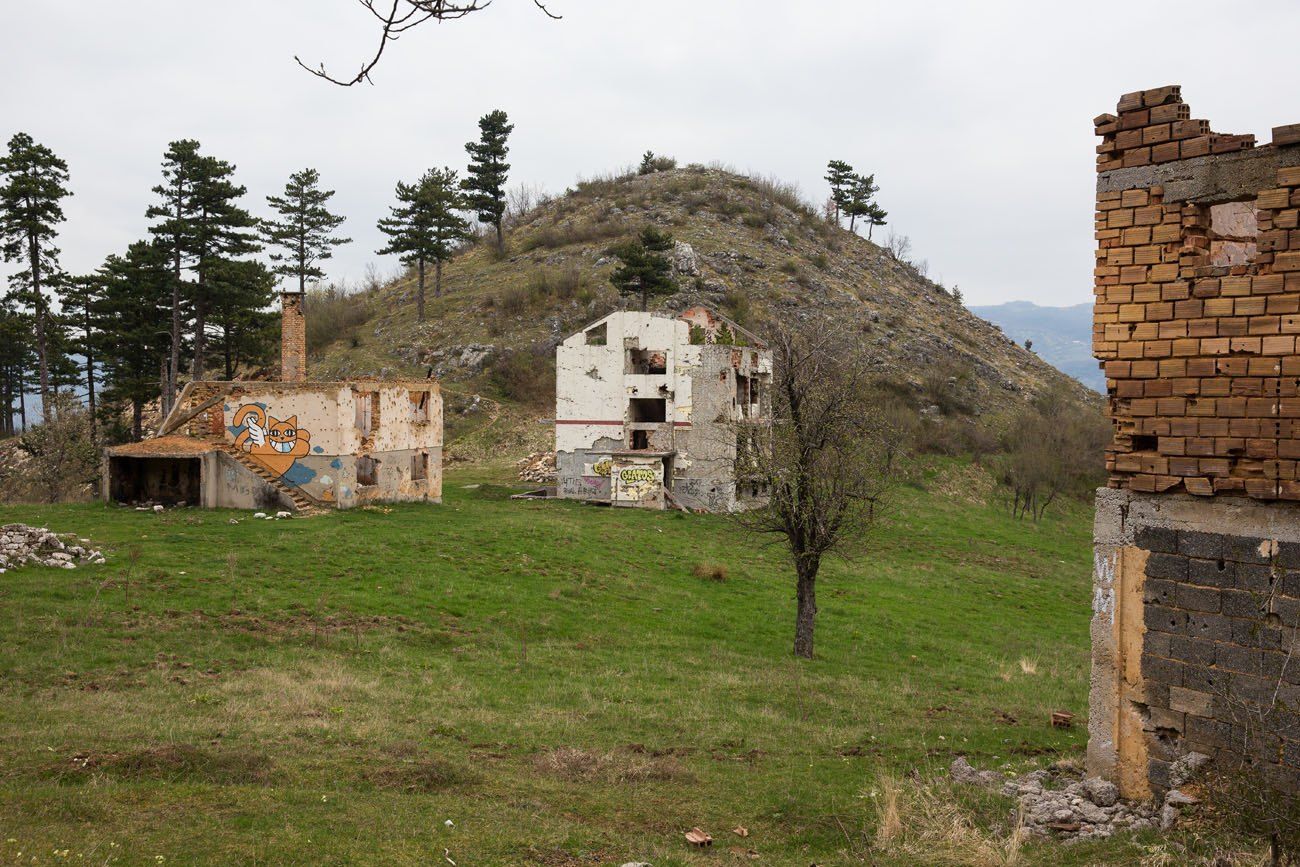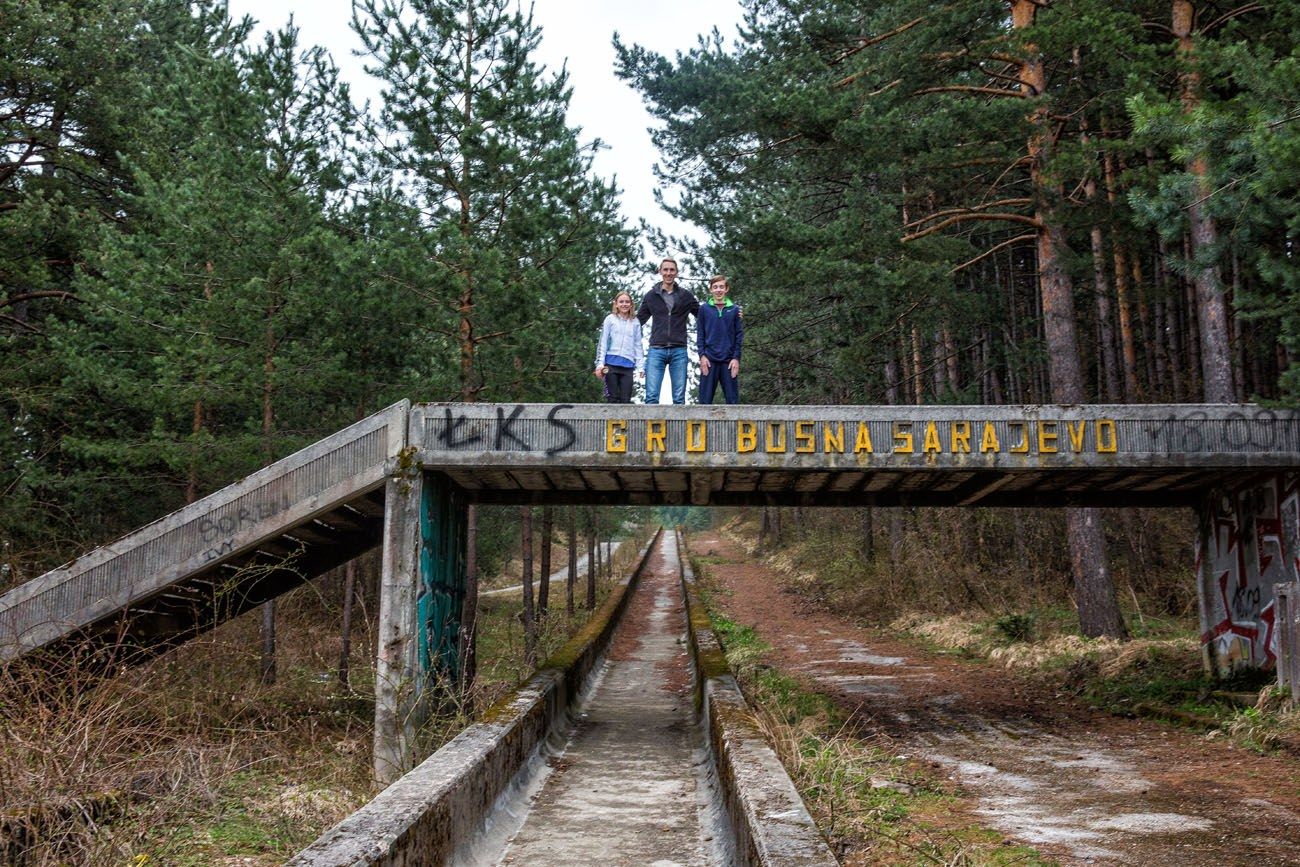 The track is covered in moss and decaying leaves, a much different look than it had in the winter of 1984. Now, the bobsled track is a spot for graffiti artists to show off their work. The vibrant colors of the graffiti brighten up this somewhat ghostly spot in Sarajevo.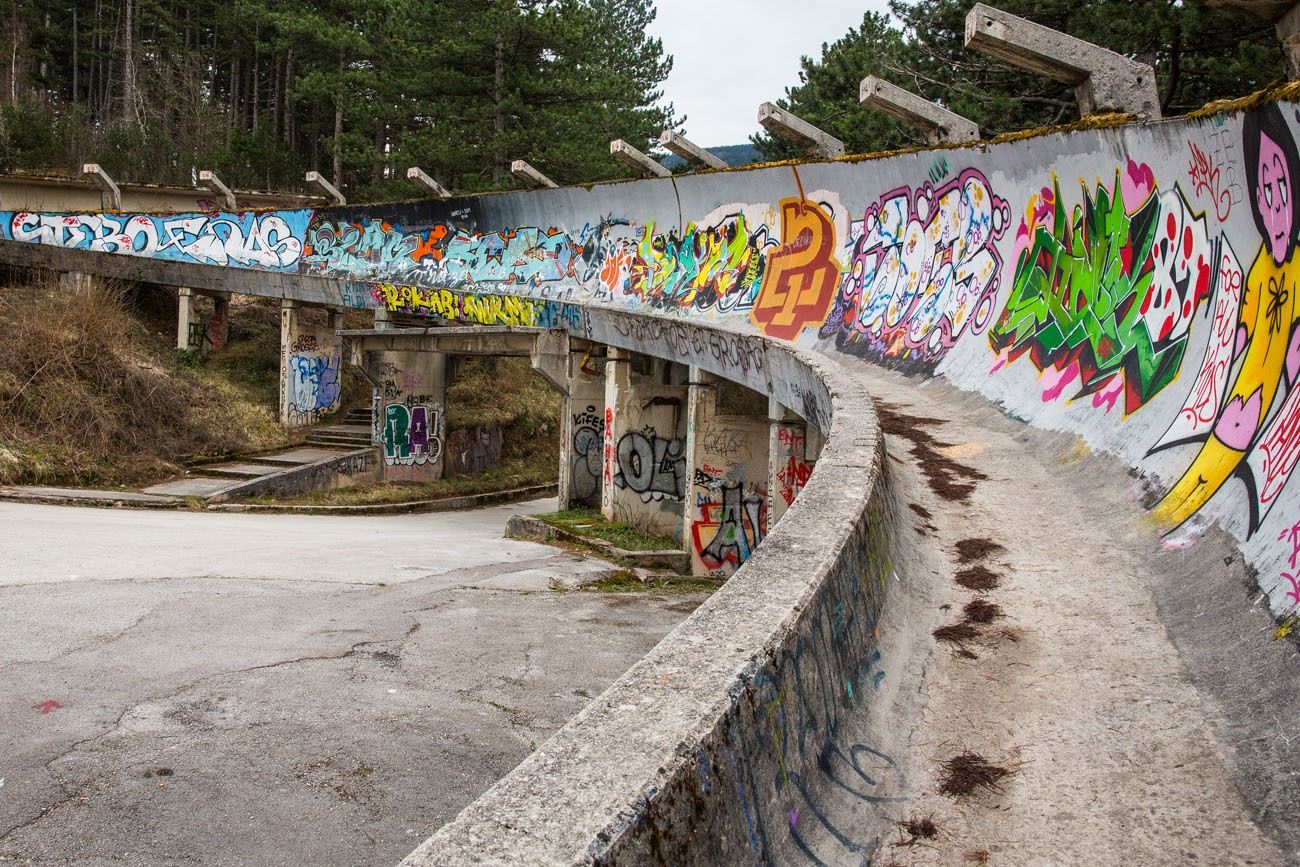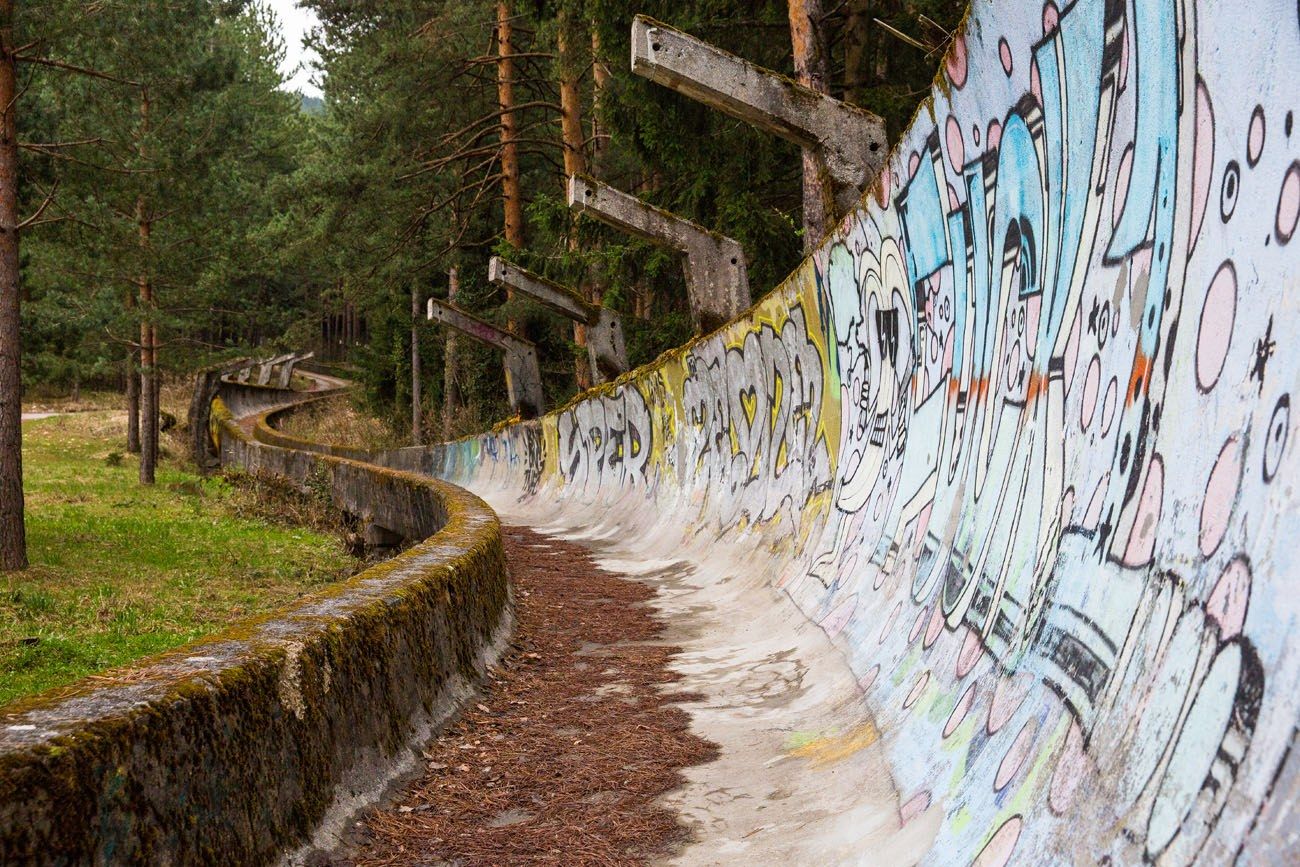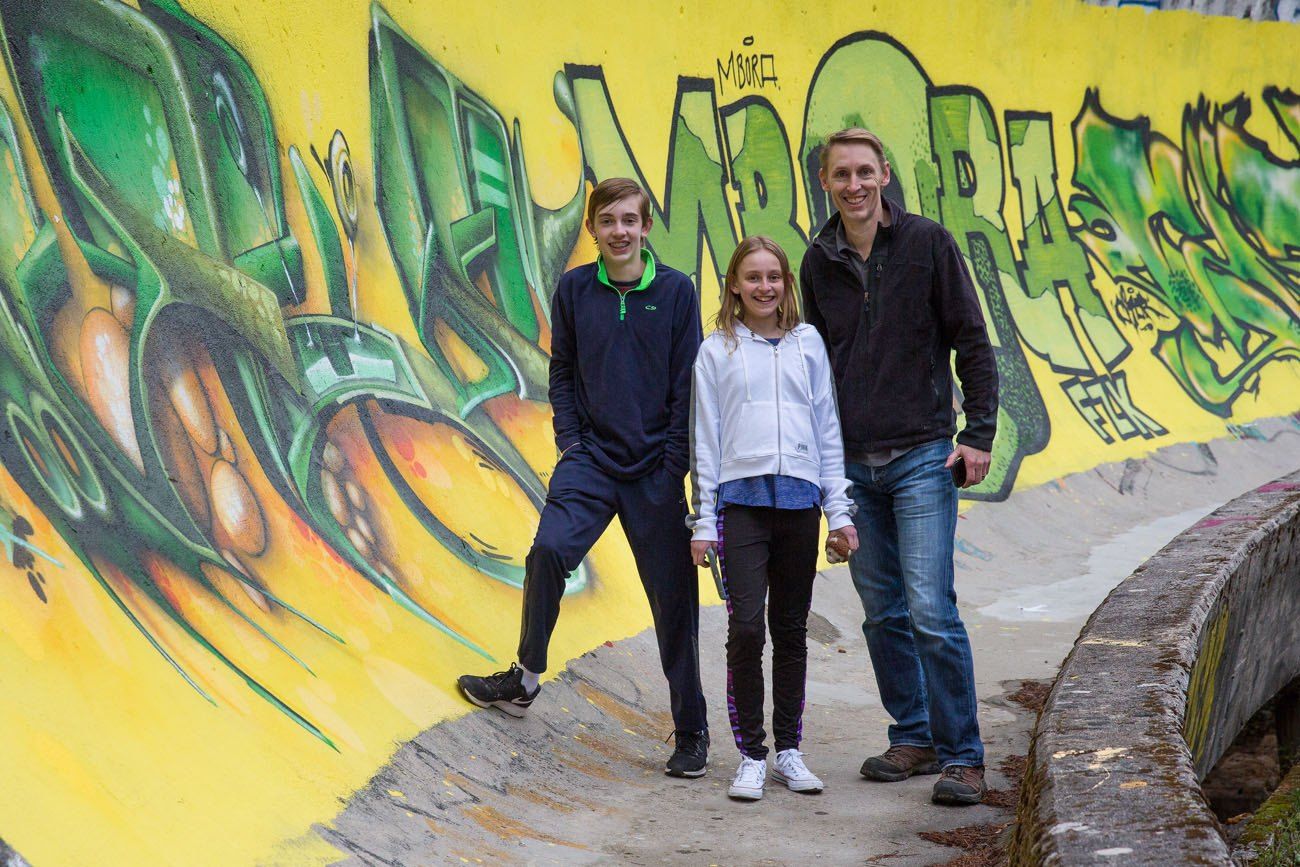 How to Get Here
We had a rental car so we drove here. The best route is to take R446 out of the city to the track. Type "Olympic Bobsleigh and Luge Track" into Google Maps for the location.
You can hire a taxi or take an organized tour of the city.
Or you can hike up to the track. You can walk up the residential streets to Apelova cesta, a winding, bumpy gravel road to the bobsled track. We actually drove this road to get here, although I do not recommend it (driving on R446 is a much nicer experience). If you plan to walk up the track, it can take up to 1.5 hours one-way.
Bascarsija
Bascarsija is the old bazaar and cultural heart of Sarajevo. In many ways, this part of town resembles Istanbul, with its architecture, Gazi Husrev-begova Mosque, and shops filled with merchandise similar to what you would see in the Grand Bazaar.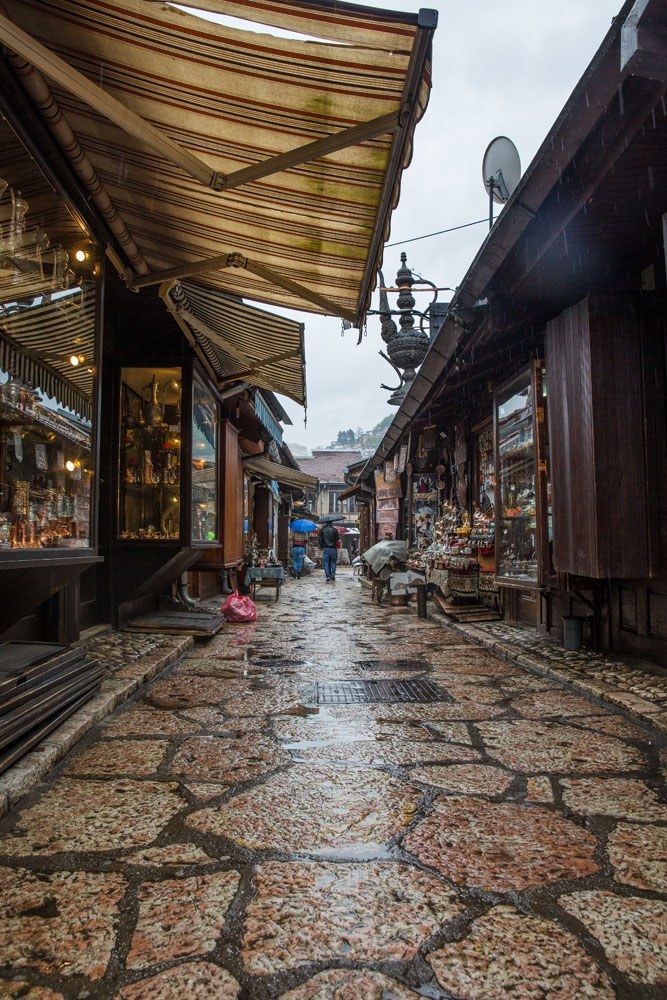 Don't miss the Sebilj Brunnen, a famous fountain in the town square. Within walking distance is City Hall (Vijecnica), a beautiful Moorish building that was recently renovated and reopened in 2014.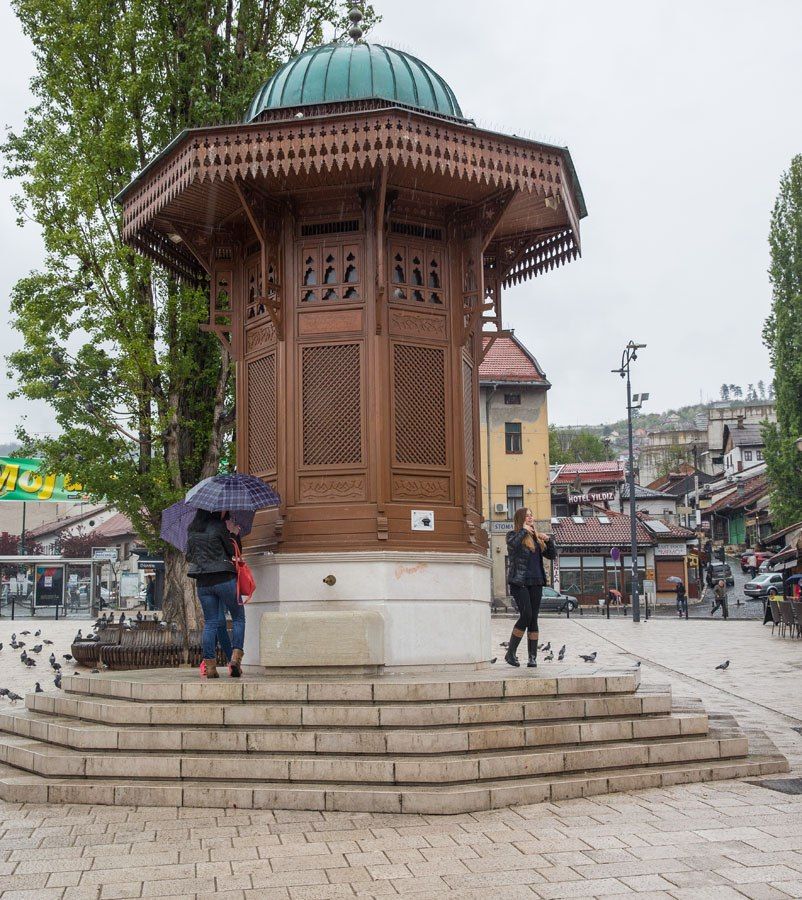 Gallery 11/07/95
This exhibition is an eye-opening look into the Srebrenica massacre. In July 1995, over 8,000 Muslim men and boys were killed in the town of Srebrenica as part of ethnic cleansing by Serbian forces.
Filled with photographs and videos, this museum left quite an impression on me. The images are haunting and thought-provoking, but not overly graphic or violent. I highly recommend a visit here.
Museum of Crimes Against Humanity and Genocide 1992-1995
This museum is similar to Gallery 11/07/95, although it covers the entire Bosnian war. My facts about the war were a bit hazy before arriving in Sarajevo, but this museum taught me a lot, with timelines, background history, and images from the war.
If you only have time for one museum, Gallery 11/07/95 is a better, more enlightening experience.
Sarajevo War Tunnel
The Sarajevo Tunnel, also called the Tunnel of Hope, is a very important piece of history in Bosnia.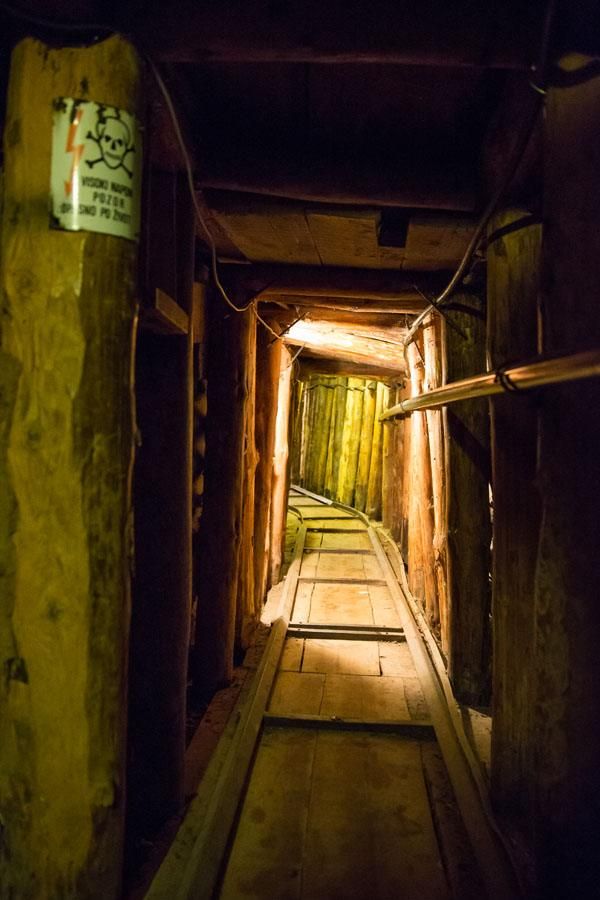 During the siege of Sarajevo, Sarajevo was cut off from surrounding Bosnian territories by Serbian forces. The tunnel was constructed by the Bosnian army to link the city of Sarajevo to Bosnian territory on the other side of the Sarajevo Airport.
Now, the tunnel is a museum. You can walk a portion of the tunnel, watch a documentary about the Bosnian War, and tour the rooms filled with weapons from the war.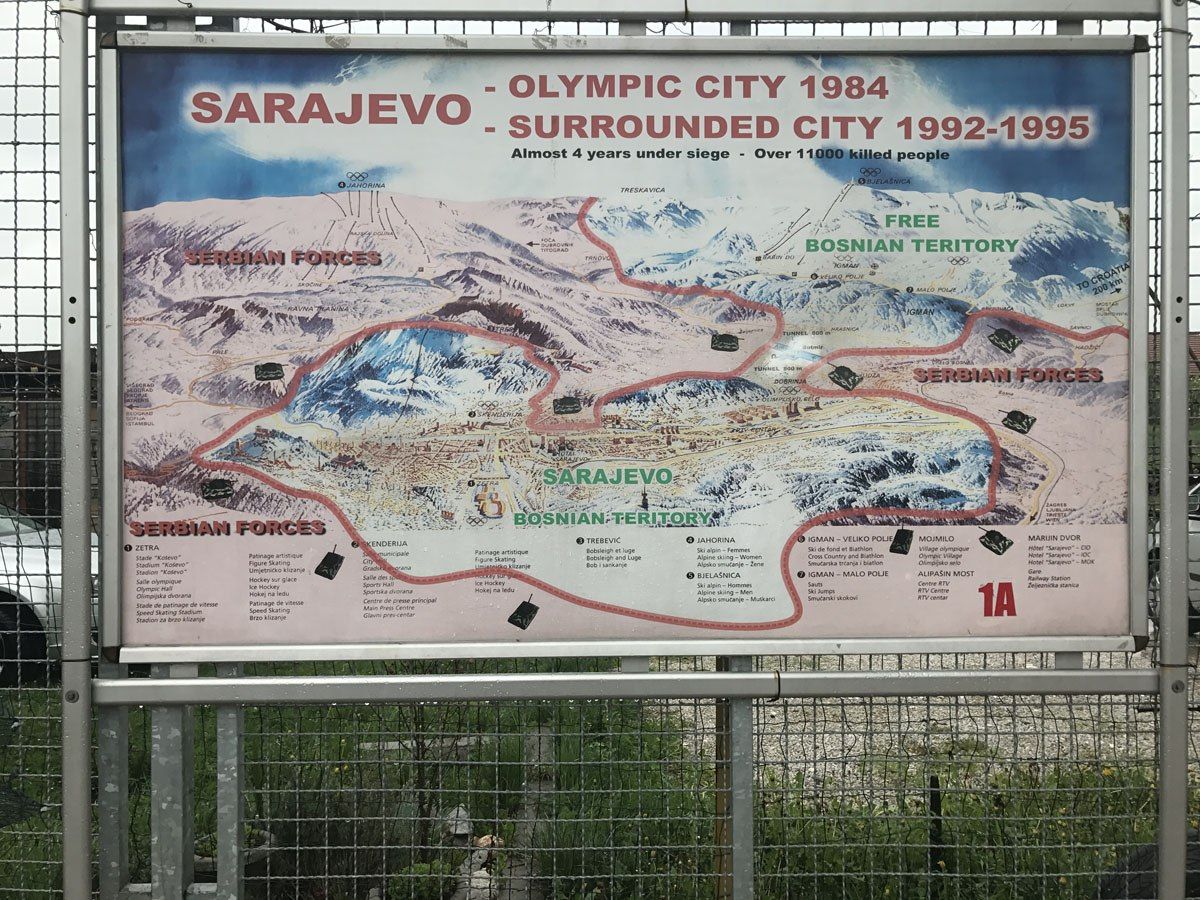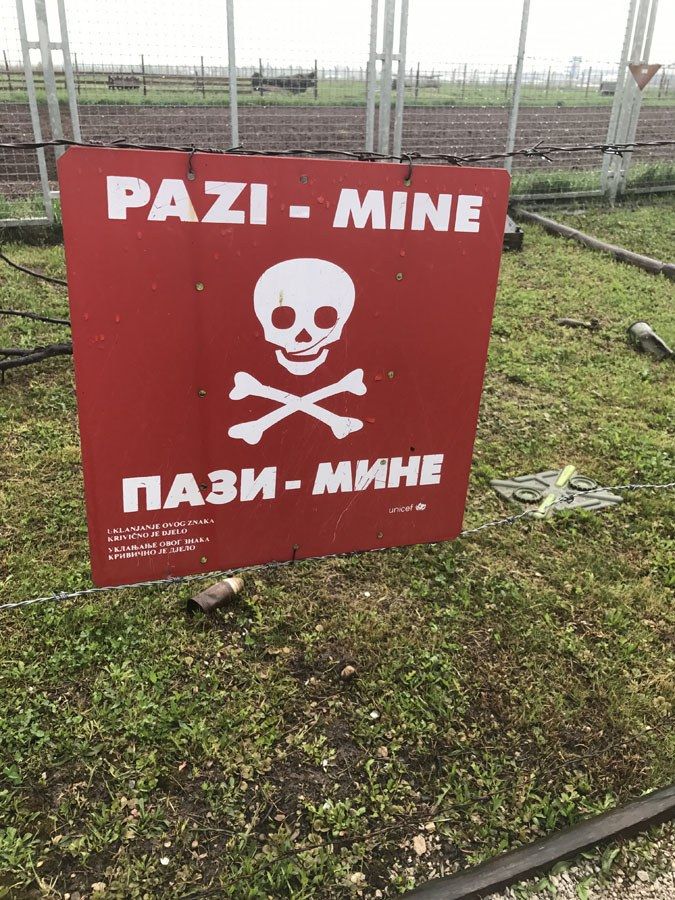 Sunnyland Sarajevo
There is more to do in Sarajevo than learn about war and genocide. If you are traveling with kids, or are just looking for something fun to do, put Sunnyland on the list.
This place, with its very happy name, is home to the Alpine Coaster. This luge track is 600 meters long and reaches speeds of 40 km/hr. Tim and Tyler both rode the Coaster and loved it.
Sunnyland is located 10 minutes from the city center, near the Olympic Bobsleigh and Luge Track. You can get here by car, taxi, or bus.
Get an Aerial View of Sarajevo
The Avaz Twist Tower is an architecturally interesting building that has a top-floor viewing deck for one of the best views over the city.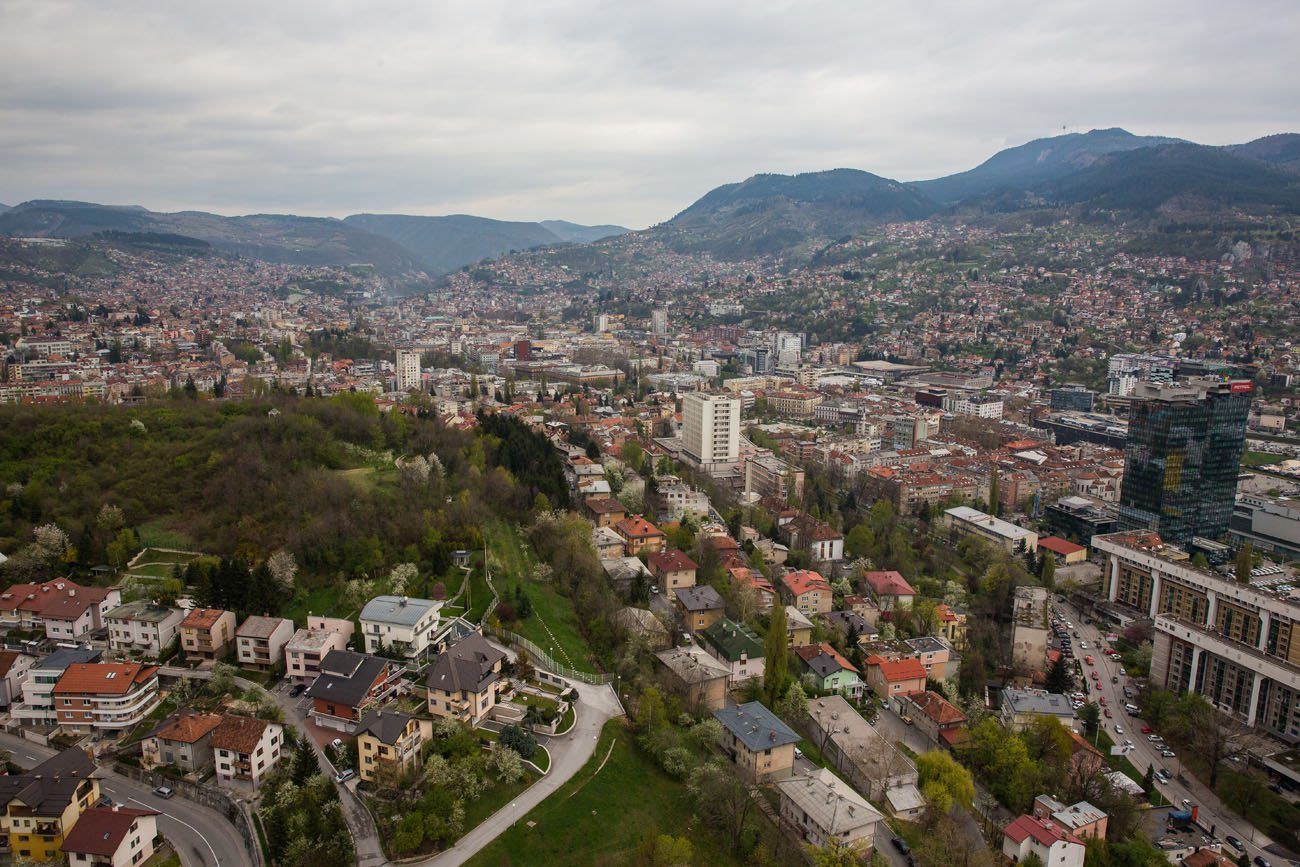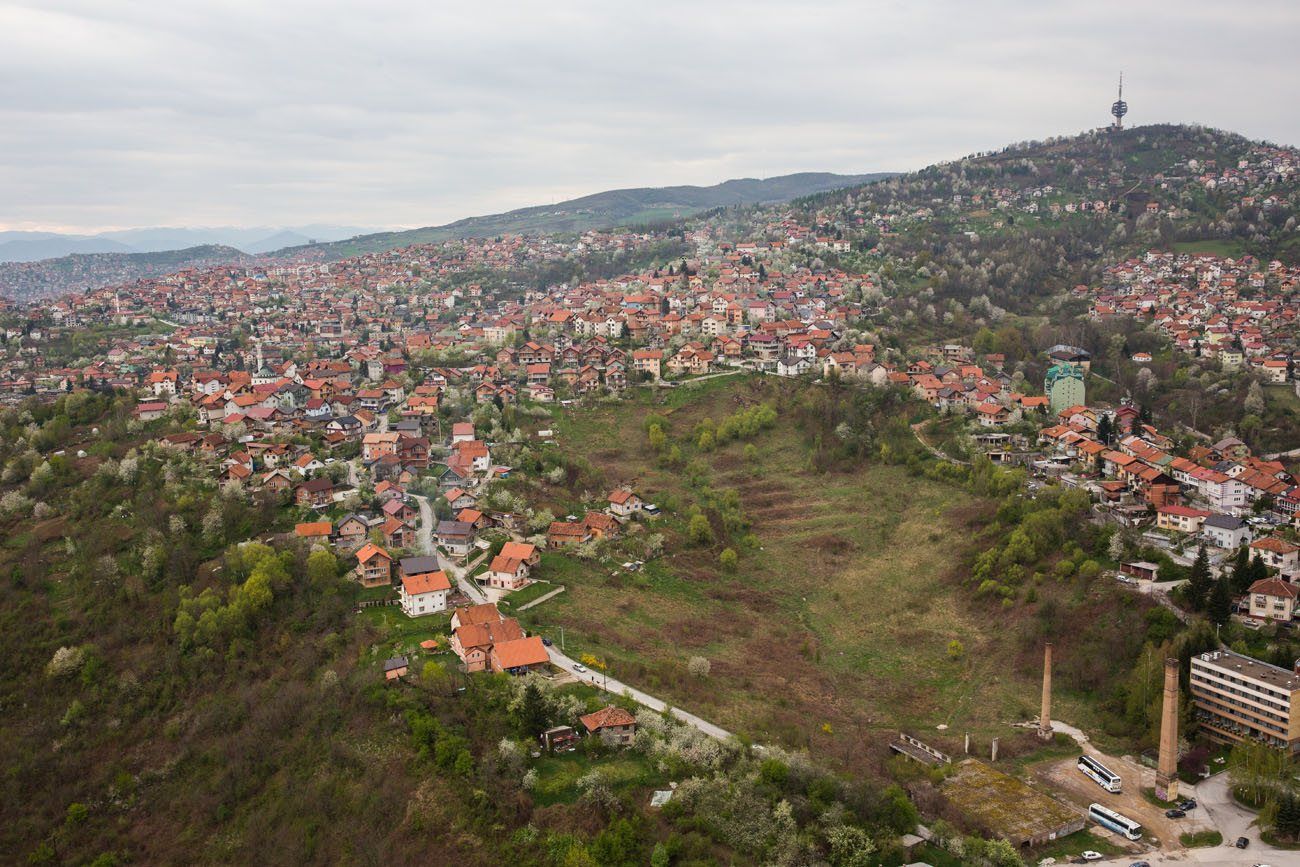 Sample Bosnian Food
One thing you must try is cevapi, which is grilled minced meat served in flat bread with chopped onions and sour cream. It's one of the most popular Bosnian foods, like eating fish and chips in England or cheeseburgers in the USA.
One of our best meals in the Balkan Peninsula was at Luka, located in the city center. This small, rustic restaurant with a nautical theme was another one of our favorite experiences in Sarajevo. We picked out fresh fish off of a platter, which was then cooked to perfection. The seafood risotto was fabulous. We all liked this restaurant so much we went back on our last day in Sarajevo, but unfortunately they were closed on Sunday.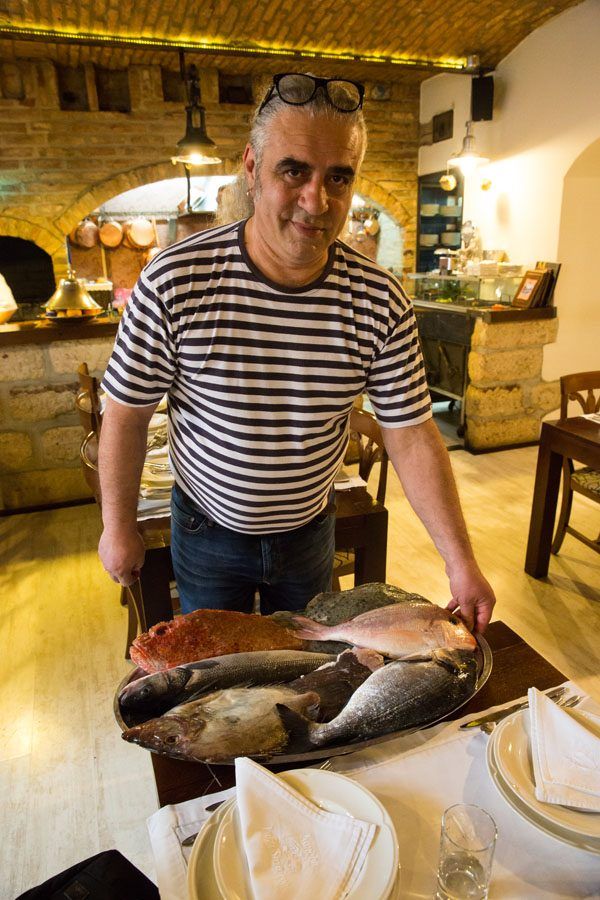 See the Sarajevo Haggadah
This is a bit obscure, but the Sarajevo Haggadah is a very important piece of Jewish history. The Haggadah is a written guide to the Passover seder. There are many versions of Haggadot (the plural of Haggadah), but the Sarajevo Haggadah is believed to be the oldest version in the world. It was written in Barcelona in 1350 and then brought to Sarajevo in 1894.
The Sarajevo Haggadah escaped destruction on more than one occasion. During WWII, it was smuggled out of Sarajevo to avoid capture by the Nazi's. It was later returned to Sarajevo, but was hidden again during the siege of Sarajevo in the 1990's.
Now, the Haggadah is on display in the National Museum of Bosnia and Herzegovina, although you can only view it through a small window. It is under video surveillance and behind lock and key.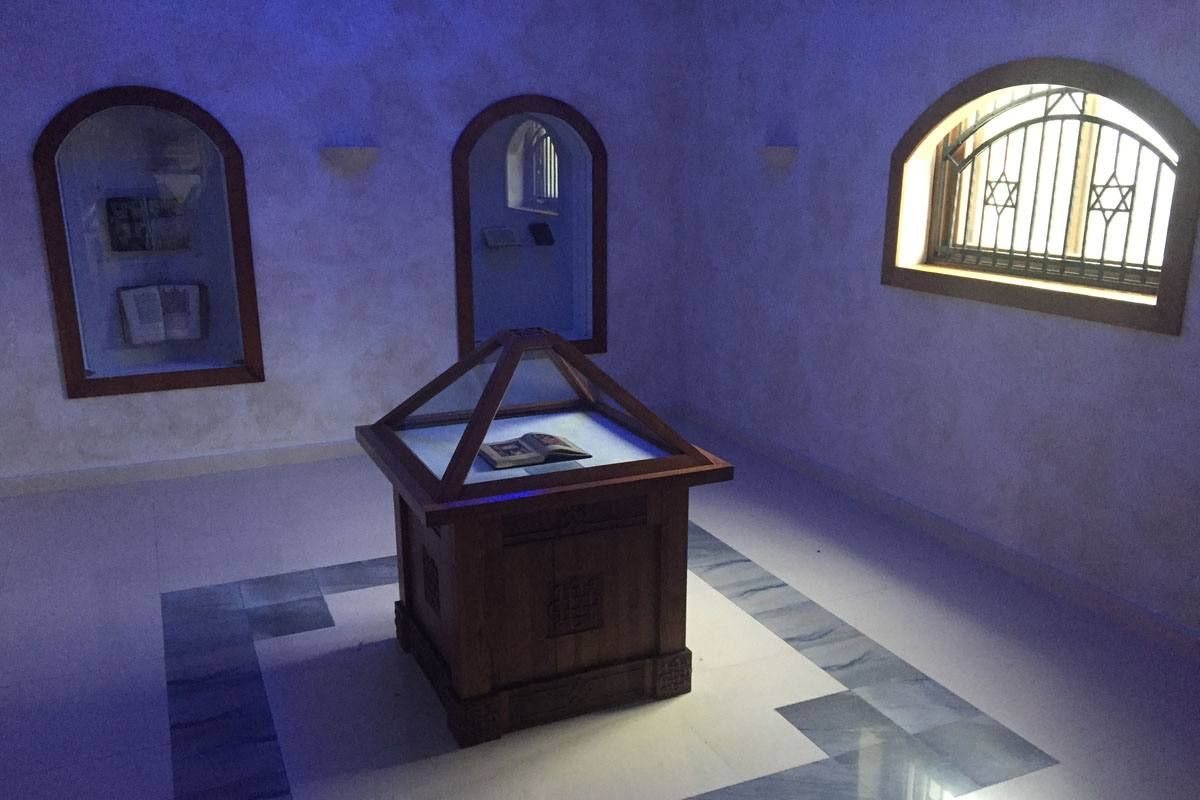 With More Time
Here are three more popular things to do in Sarajevo. Unfortunately, we did not have enough time to visit these, but I still think they are worth mentioning.
The Yellow Fortress
It's a short walk up from the city center to the Yellow Fortress. From here you get another view of Sarajevo and it is a great spot to watch the sunset.
War Childhood Museum
This museum illustrates what it was like to live and grow up during the war, from a child's perspective. It is a simple museum and yet another look at the war's impact on the people of Sarajevo.
The Latin Bridge
This is a pretty spot in the city center. It is also the site of the assassination of Archduke Franz Ferdinand of Austria, the event that triggered the start of WWI. On the north end of the bridge there is a plaque marking the event.
Where We Stayed
We stayed at the Courtyard by Marriott located in the city center. Modern, clean, and quiet, we had two adjoining rooms. The customer service was phenomenal here and it was one of the best Marriott properties we have stayed in so far. There is a rooftop bar called the Sky Bar that has great views over the city. On a sunny day, it would be hard to beat the view from up here.


---
Have you been to Sarajevo? What are your favorite experiences? Comment below!
More Information for Your Trip to Bosnia & Herzegovina
MOSTAR: Mostar is one of the most beautiful towns to visit in Europe. Learn how to visit Mostar and where to get the best photos of Stari Most, the bridge that spans the Neretva River.
BEST OF MONTENEGRO: On the quickest of visits, 2 days is all you need to see the highlights of Montenegro. Hike the Ladder of Kotor, and visit Lake Skadar National Park. For more inspiration, journey through Montenegro in 22 beautiful photos.
PLACES TO GO IN CROATIA: Along the Dalmatian Coast, the towns of Split, Trogir, and Dubrovnik are wonderful coastal towns to add to your Croatia itinerary. We also have information about how to visit the island of Brac, how to explore the amazing Plitvice Lakes, and visit the Istrian Peninsula.
BALKAN PENINSULA ITINERARY: Learn how to combine Croatia, Montenegro, and Bosnia & Herzegovina into one epic road trip in our 11 Day Balkan Peninsula Itinerary.
EUROPE TRAVEL INSPIRATION: Get more travel ideas in our article 10 Days in Europe itinerary, which has 10 itineraries for your next trip to Europe. If you have less time, we also have an article that lists 25 different ways to spend one week in Europe.
Note: This post contains affiliate links. When you make a purchase using one of these affiliate links, we get paid a small commission at no extra cost to you.
All rights reserved © Earth Trekkers. Republishing this article and/or any of its contents (text, photography, etc.), in whole or in part, is strictly prohibited.