Lake Bled is one of the most picturesque spots to visit in Slovenia. This small lake has all of the ingredients for the perfect getaway…a castle perched high on a hillside, a pretty little island to visit, hiking trails, secluded swimming spots, and a fantastic sweet treat. Here are 8 of the best things to do in Lake Bled.
The Best Things to Do in Lake Bled
Visit Bled Island
Bled Island is the centerpiece of Lake Bled. To get here, you will have to get out on the water…and this is one of the best experiences to have at Lake Bled.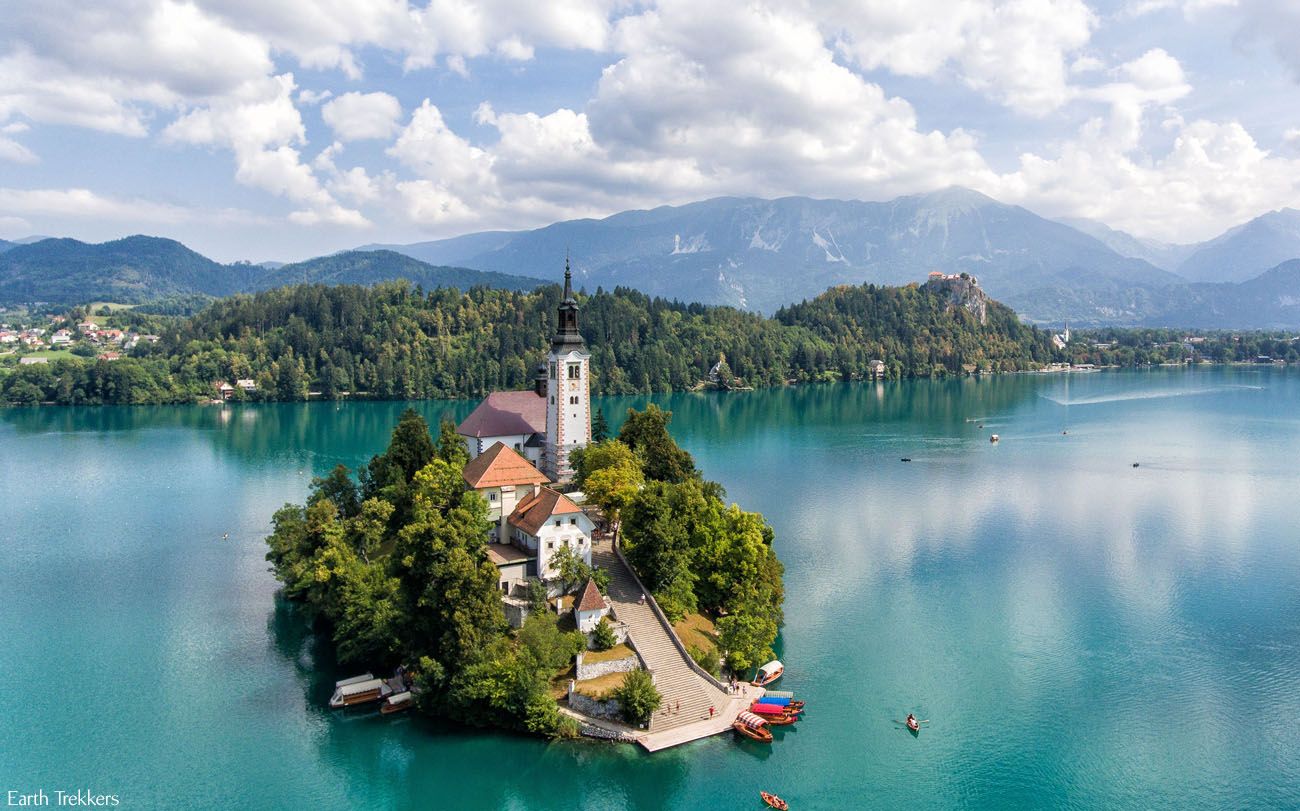 Bled Island (by drone) | Best Things to do in Lake Bled
By Rowboat
For those feeling adventurous, you can rent a rowboat and paddle out to the island. Tim happily volunteered to be our rower. Meanwhile, Tyler, Kara, and I got to sit back and enjoy the view.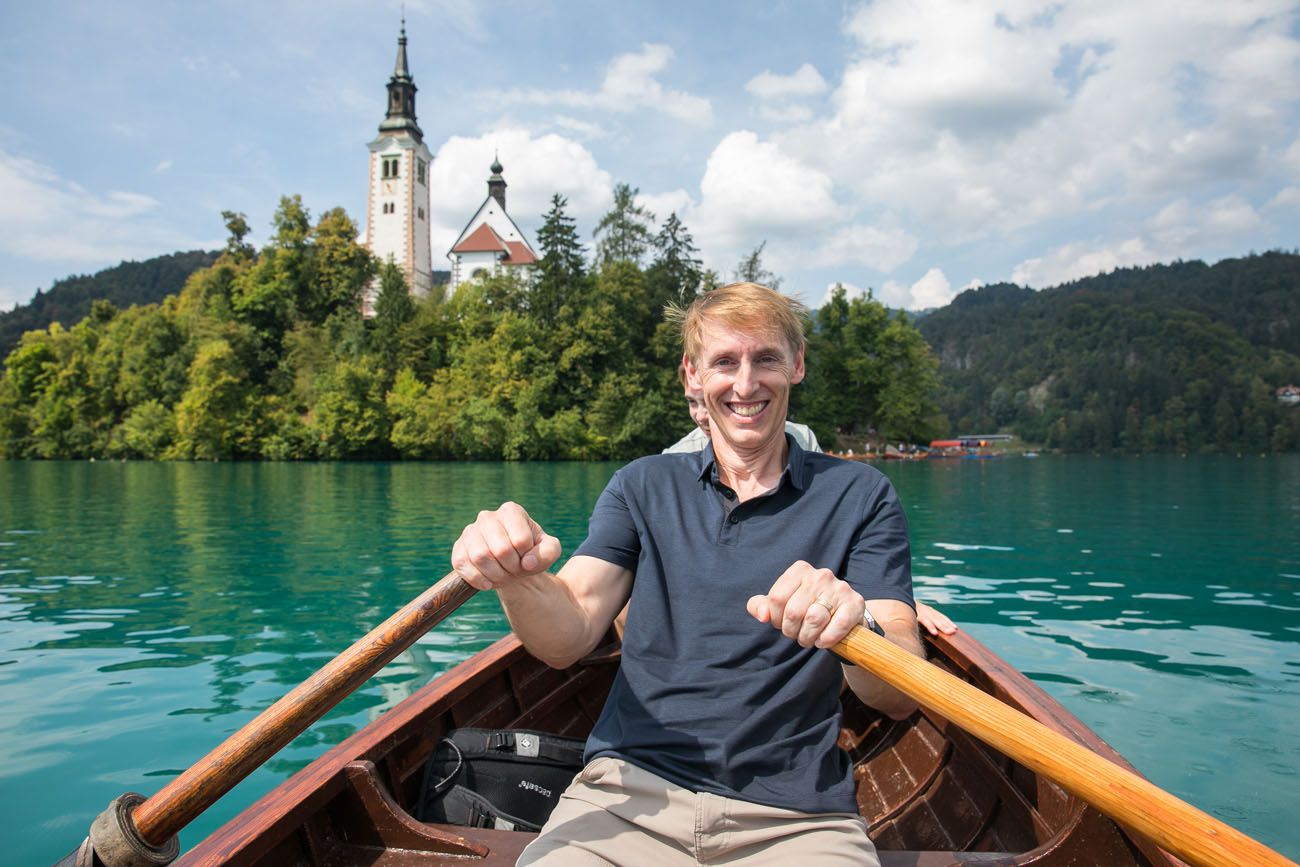 Once at Bled Island, we were instructed to dock our rowboat on the far side of the island (opposite the huge staircase). Tie up your boat and then take your time exploring the island.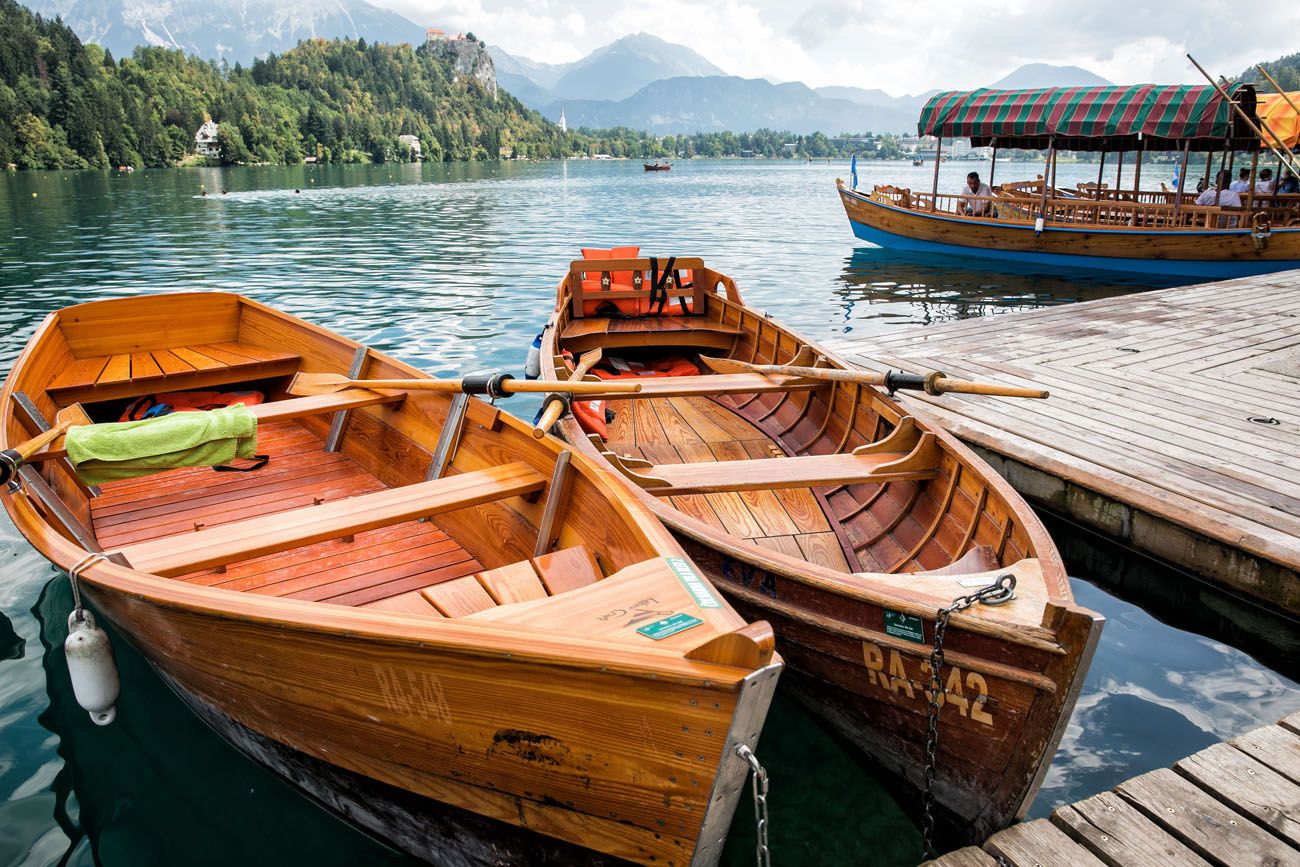 Rowboats | Best Things to do in Lake Bled
There are several shops located around the lake that will rent paddleboats by the hour. We rented our rowboat from a small shop called Pletna B&B (location on Google Maps: 46°21'37.5″N 14°05'58.7″E). It costs approximately €20 per hour to rent a rowboat.
You don't need prior experience to do this, but the boats can feel wobbly and unstable at first. It takes roughly 15 minutes to row from shore to the island. But it's also great exercise. Plus, whoever rows the boat gets an extra piece of Bled Cream Cake!
Our entire round trip visit to Bled Island took about one hour. For Tim and I, this was our favorite experience at Lake Bled.
By Pletna
If you just want to sit back and enjoy the ride, you can hire a pletna. These larger boats hold up to twenty people. Expect to pay about €12 per person.
Most pletnas dock at the 99 steps leading to the Assumption of Mary Church.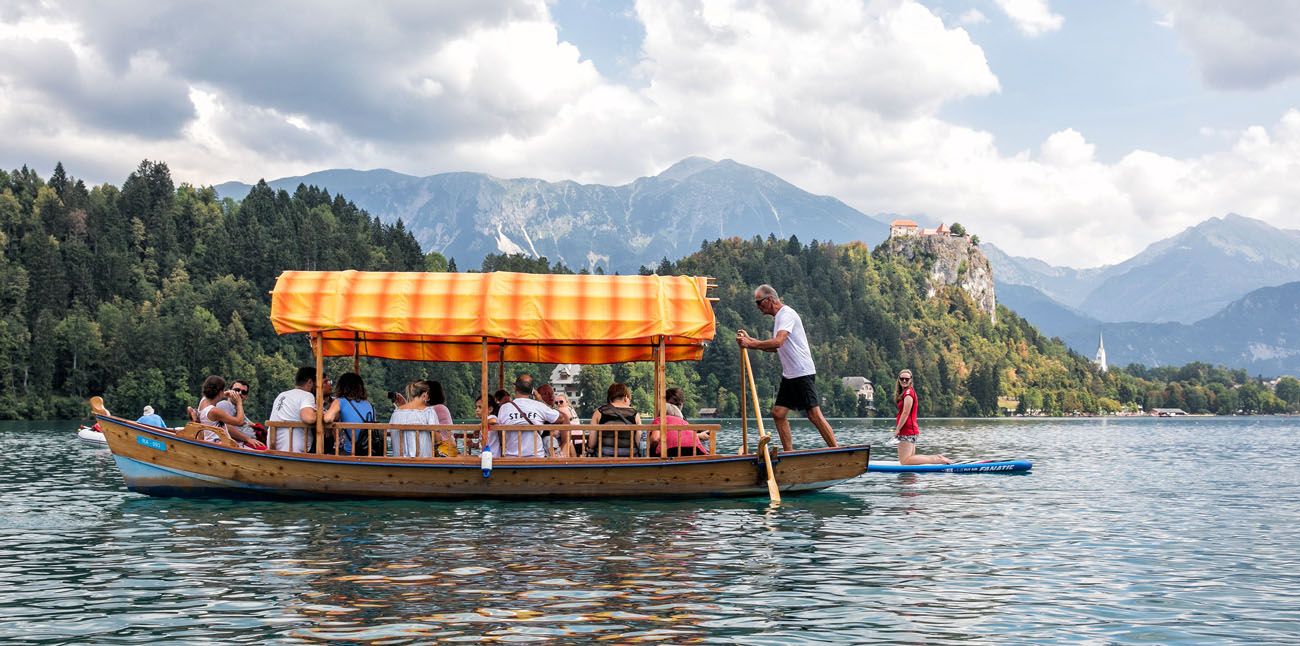 Pletna on Lake Bled | Best Things to do in Lake Bled
Ring the Wishing Bell
As you approach Bled Island, most likely you will hear the church bells ringing over and over again. What you are hearing is everyone ringing the bells to have their wishes come true.
There is a legend that whoever rings this bell will have their wish come true. The story goes that 500 years ago a widow had a bell made in memory of her husband. While the bell was being transported across the lake, a storm struck Lake Bled, sinking the boat, the bell, and everyone on board. The Pope consecrated a new bell and that one was successfully installed in the church. Now, when you ring this bell, you are showing honor to the Virgin Mary and your wish will come true.
So, does it work? Well, I can't tell you what I wished for…you'll just have to come visit Lake Bled and give it a try! 🙂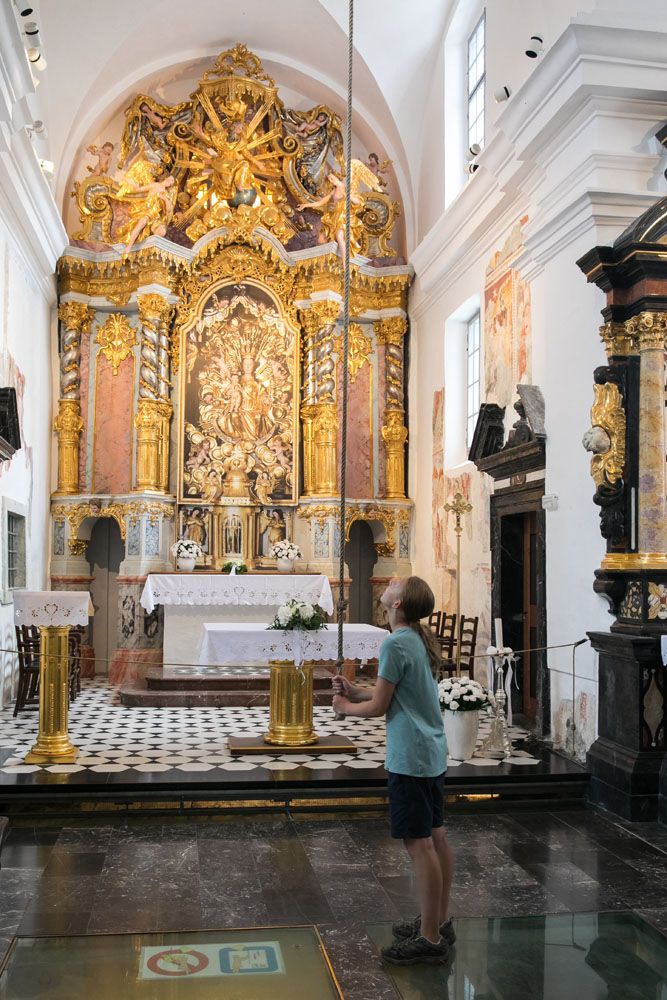 Kara ringing the wishing bell | Best Things to do in Lake Bled
After ringing the bell, you can also climb the bell tower. We were hoping for a nice view from the top of the tower, but honestly, it wasn't anything great.
Take a Stroll around Lake Bled
A popular thing to do here is to walk around Lake Bled. The total distance is 6 km and it takes roughly an hour and a half, longer if you stop frequently. The views are gorgeous and along way you may come across some very pretty swimming spots.
The views from the south side of the lake to Bled Castle are amazing.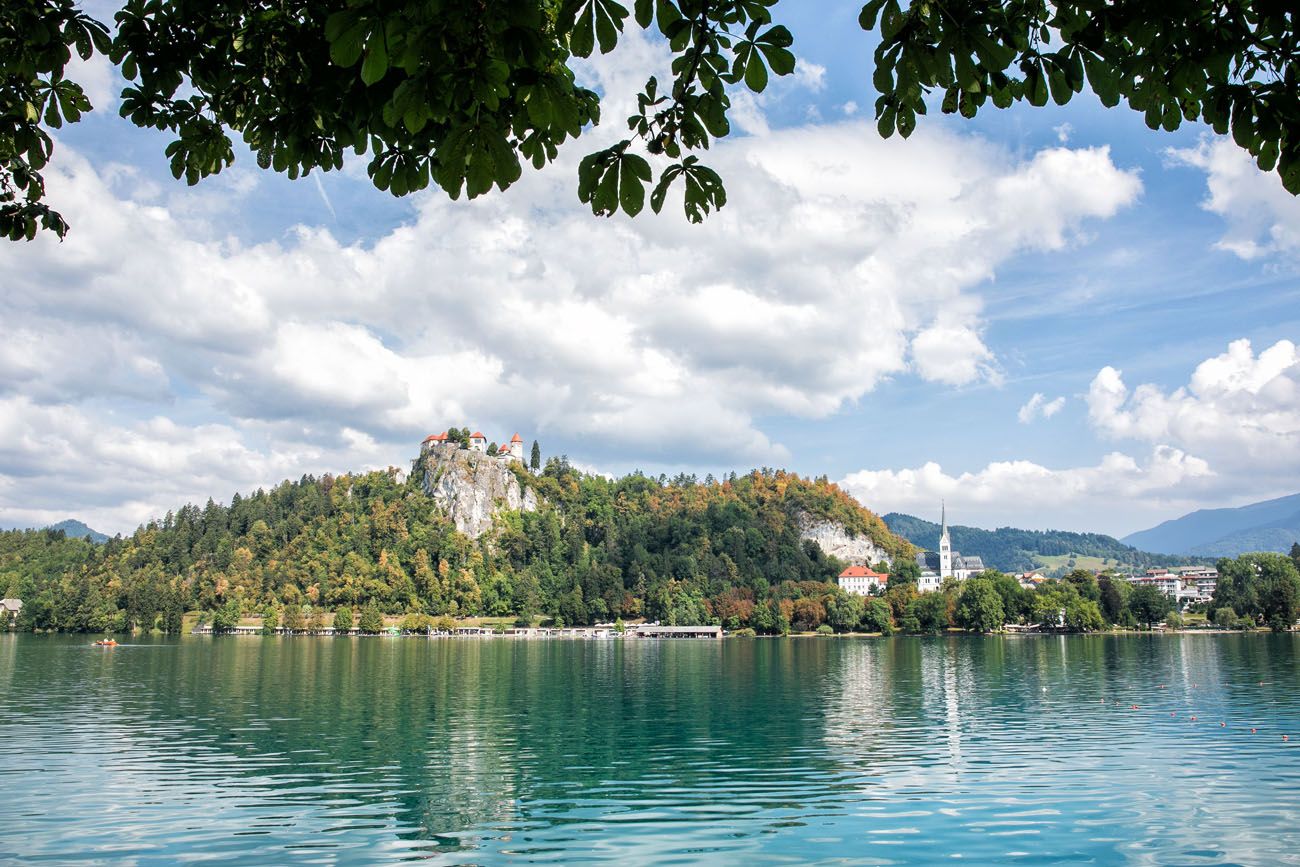 I also really liked the walk along the western side of the lake. Now, you are on trail under the cover of trees, away from the cars and congestion of the road that runs along Lake Bled. Plus, the view out to Bled Island from here is one of the best!
View of Lake Bled | Best Things to do in Lake Bled
Visit Lake Bled Castle
For more than 1000 years this castle has sat on these cliffs, enjoying one of the best views of Lake Bled. This is the oldest castle in Slovenia, dating back to 1011. On a visit here, enjoy the spectacular view over the lake from the terrace, tour the museum, and go wine tasting in the wine cellar. Want to dine with a view? Have lunch or dinner in the Bled Castle Restaurant.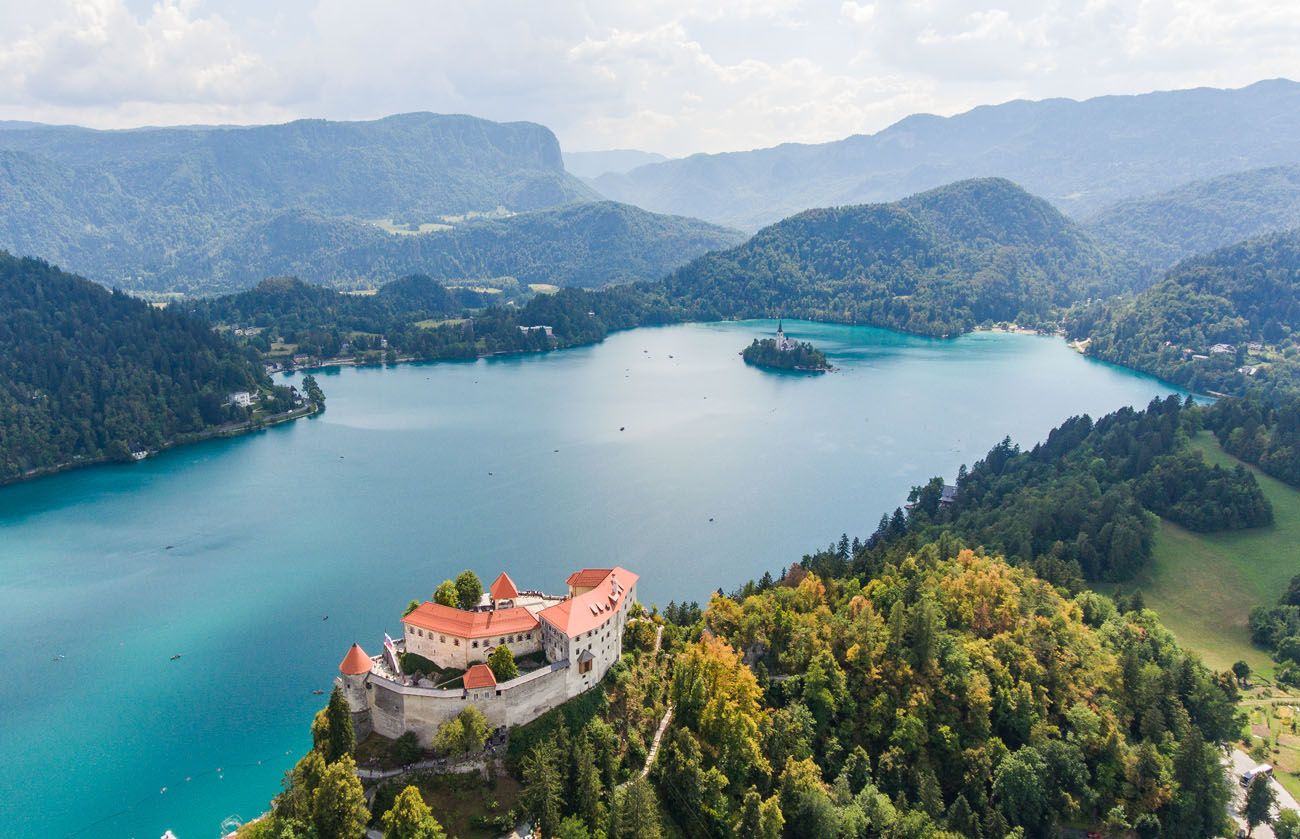 Bled Castle (by drone) | Best Things to do in Lake Bled
Website: Get updated hours and pricing on the official website.
Hike to Mala Osojnica
For one of the best views of Lake Bled, hike to Mala Osojnica. It's a quick hike, a little bit on the strenuous side, but your reward is the iconic, aerial view of Lake Bled.
The hike starts on the west side of the lake. There is a bench here and a small sign marking the trailhead (GPS Coordinates: 46°21'31.7″N 14°05'07.5″E)
The trail climbs steadily up to the viewpoint. Most of the time you are under the cover of trees. There will be short sections of wooden steps and there is short scramble along the trail using chains.
You know you are getting close to the top when you see this long, metal staircase.
At the top of the staircase there is a wooden bench and a gorgeous view of Lake Bled. If you keep going just a little bit farther (about 5 more minutes of hiking), you arrive at Mala Osojnica, the main viewpoint.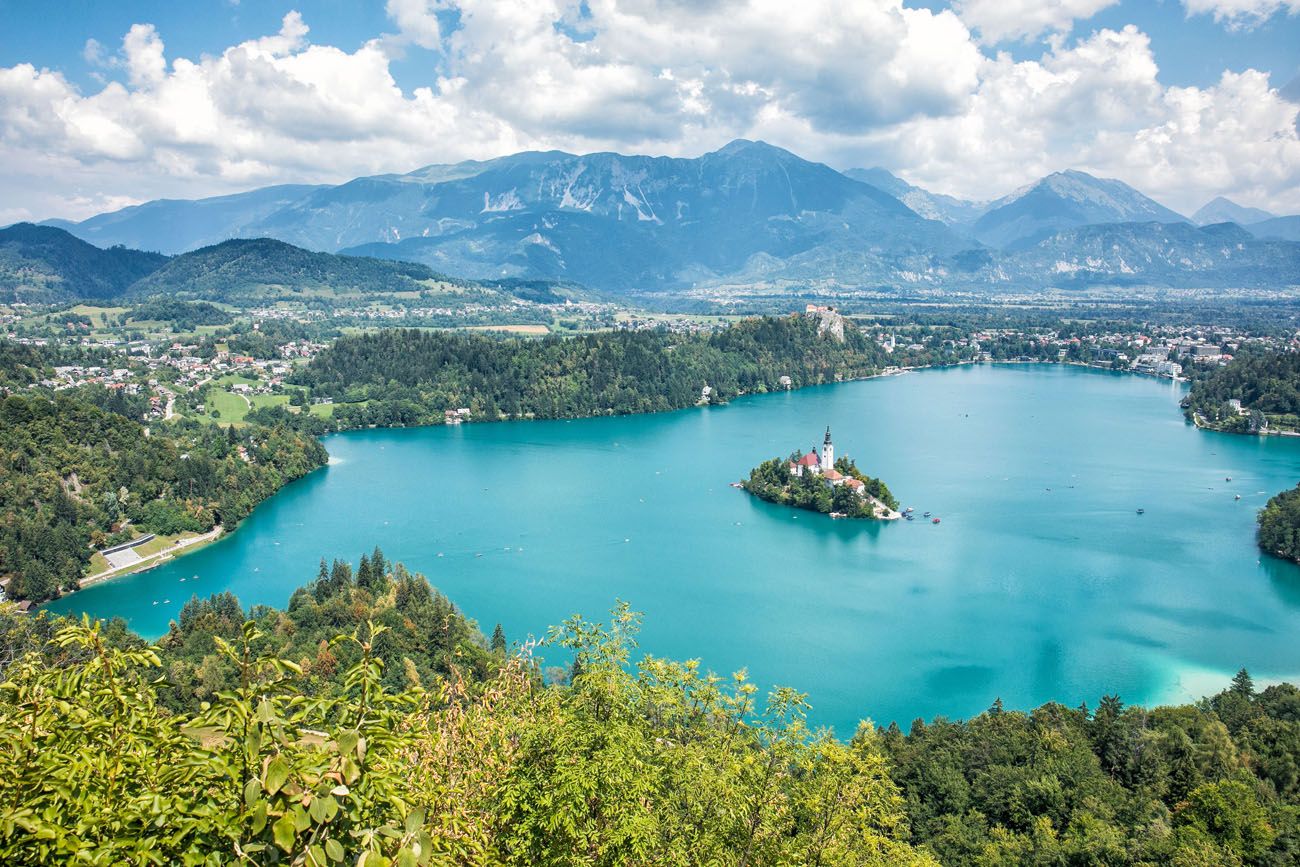 Mala Osojnica | Best Things to do in Lake Bled
Beyond this point the trail keeps climbing. However, I turned around at this point.
The entire hike takes 45 minutes to one hour round trip (longer if you sit and enjoy the view). You do not need hiking shoes although a sturdy pair of shoes like running shoes are recommended.
Take a Ride on the Toboggan at Straza Bled
From spring to autumn you can go for a ride on the Straza Bled toboggan track. This is a fun spot for kids (and kids at heart). You ride up to the top of the hill in a chair lift and speed down the hill on the toboggan, enjoying the views of Lake Bled as you go (if you can take your eyes off the track!).
Go Stand Up Paddle Boarding
This was Tyler and Kara's favorite experience at Lake Bled. What a gorgeous place to rent paddle boards! You can paddle around Bled Island and explore the coastline of the lake.
Kara paddle boarding | Best Things to do in Lake Bled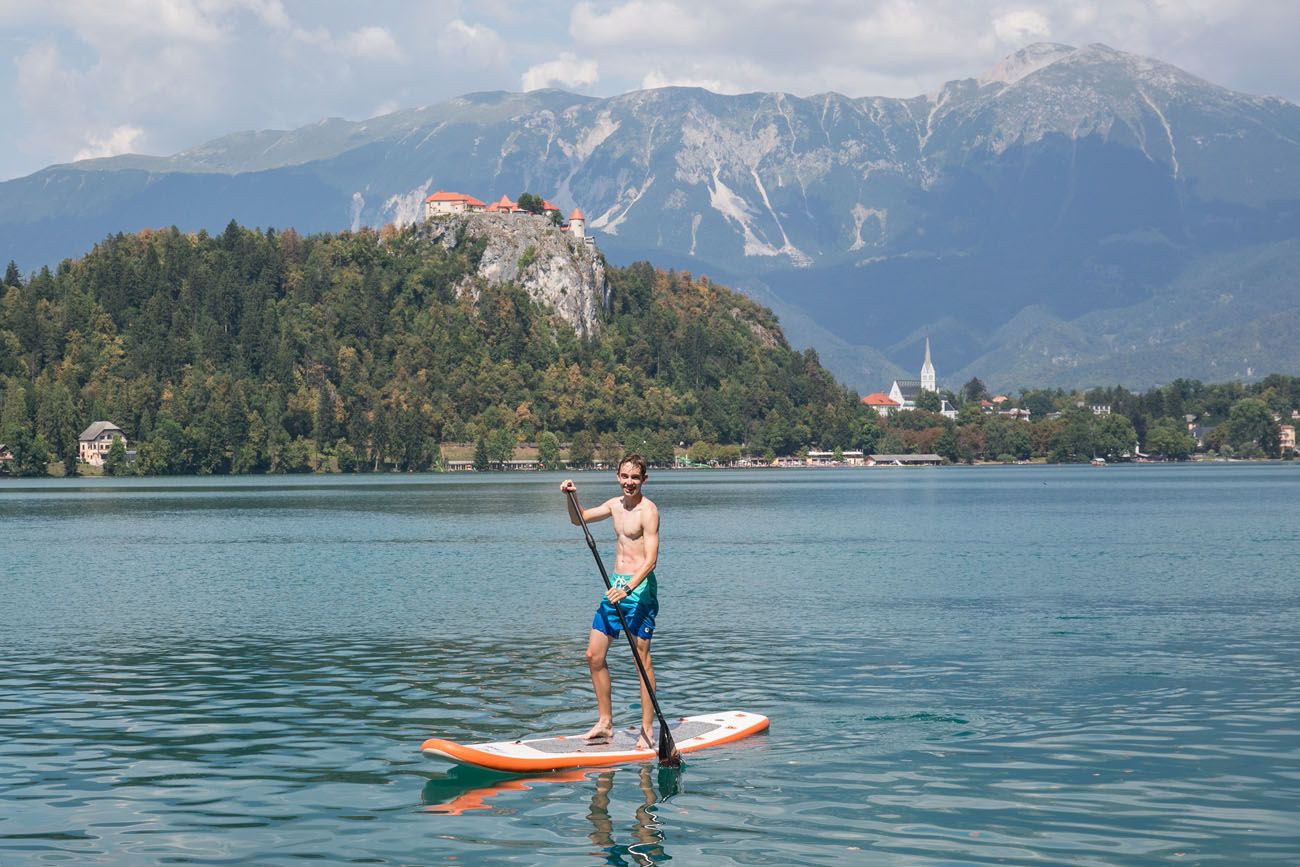 Tyler paddle boarding | Best Things to do in Lake Bled
There are several locations to rent paddle boards. We rented paddle boards at a dock on the southwestern side of the lake, near Vila Bled.
Indulge in Bled Cream Cake
While Tyler and Kara were out paddle boarding, Tim and I relaxed at a small, lake front café and indulged on Bled Cream Cake and Union beer. Bled Cream Cake is the regional dessert and worth trying while you are here. Normally, I don't like this type of thing, but I thought it was delicious!!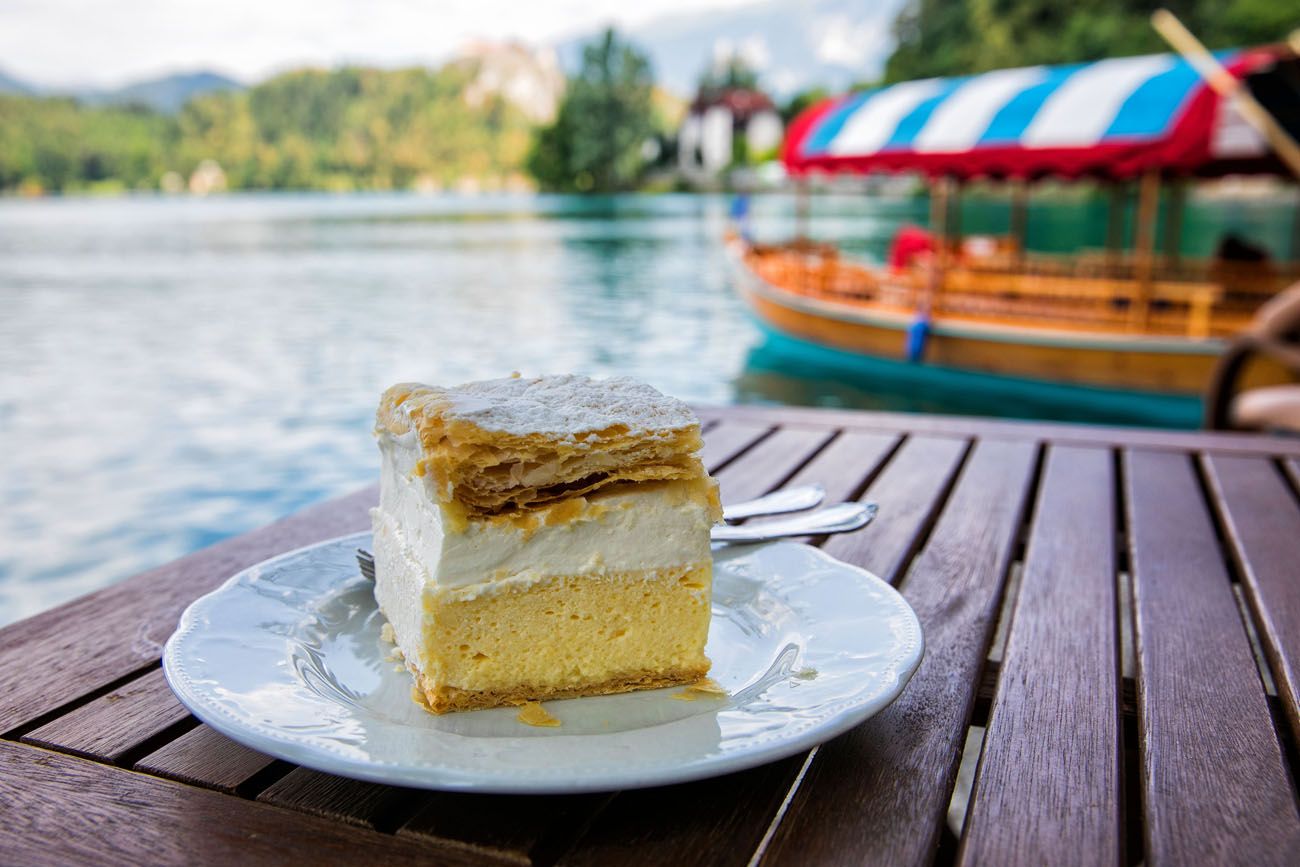 Bled Cream Cake | Best Things to do in Lake Bled
Spots to Try Near Lake Bled
Vintgar Gorge: One of the Coolest Spots in Slovenia
Vintgar Gorge is a must while you are at Lake Bled. It's not located at Lake Bled (it's a 10 minute drive to get here), but it's well worth taking a trip here, even if you only have one day to tour Lake Bled.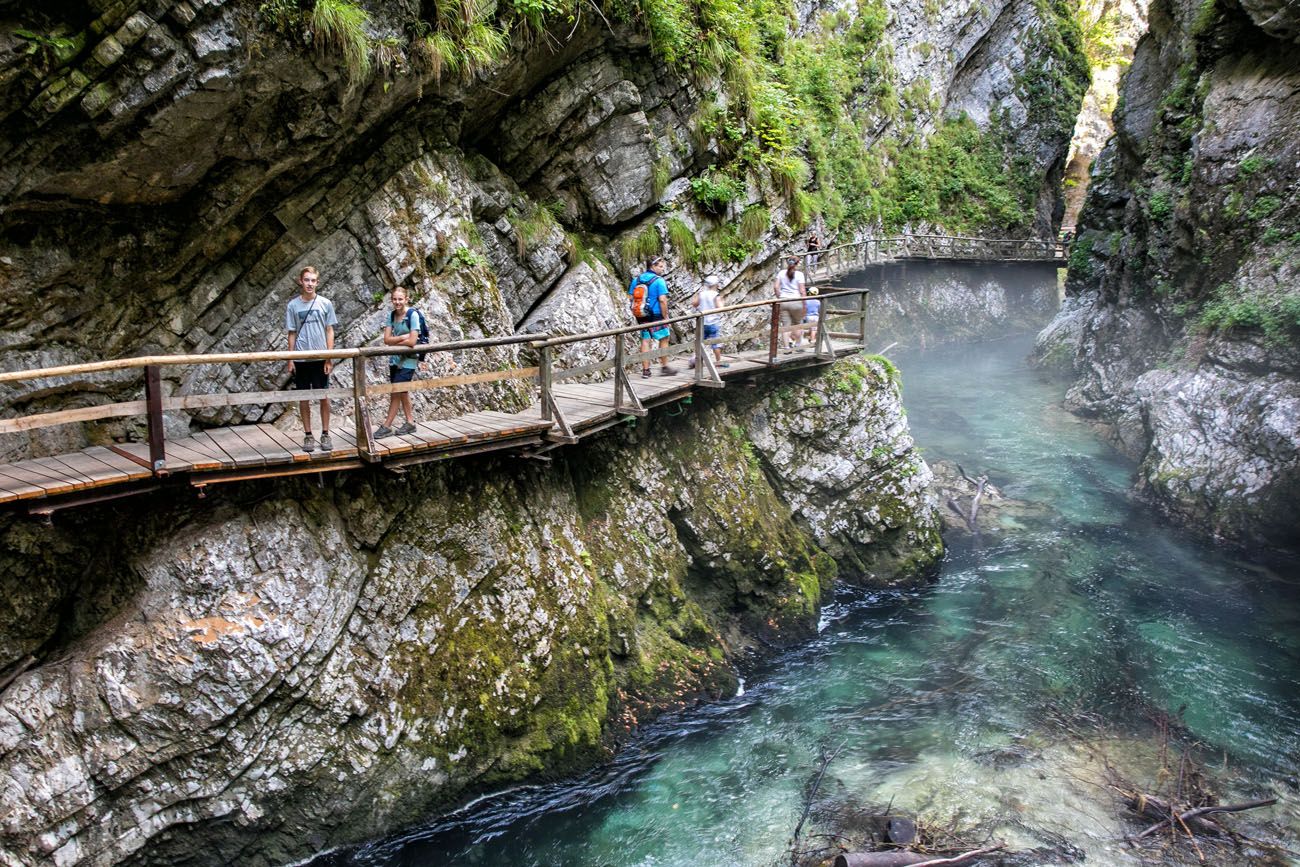 Vintgar Gorge | Best Things to do in Lake Bled
For 1.6 km you walk on elevated boardwalks along the Radovna River. It's gorgeous, it's easy to do, and it's fun for the entire family.
On this 4-hour self-guided e-Bike tour of Vintgar Gorge, cycle from Bled to the gorge and explore it at your own pace. It's a great option if you don't want the hassle of parking or do not plan to rent a car while in Slovenia.
Lake Bohinj: Another Idea for Your Trip to Slovenia
Also worth a visit is Lake Bohinj, just a short drive down the road from Lake Bled. Yes, it's another lake, but it's a very different experience. If you have the time, plan to spend at least one full day at Lake Bohinj.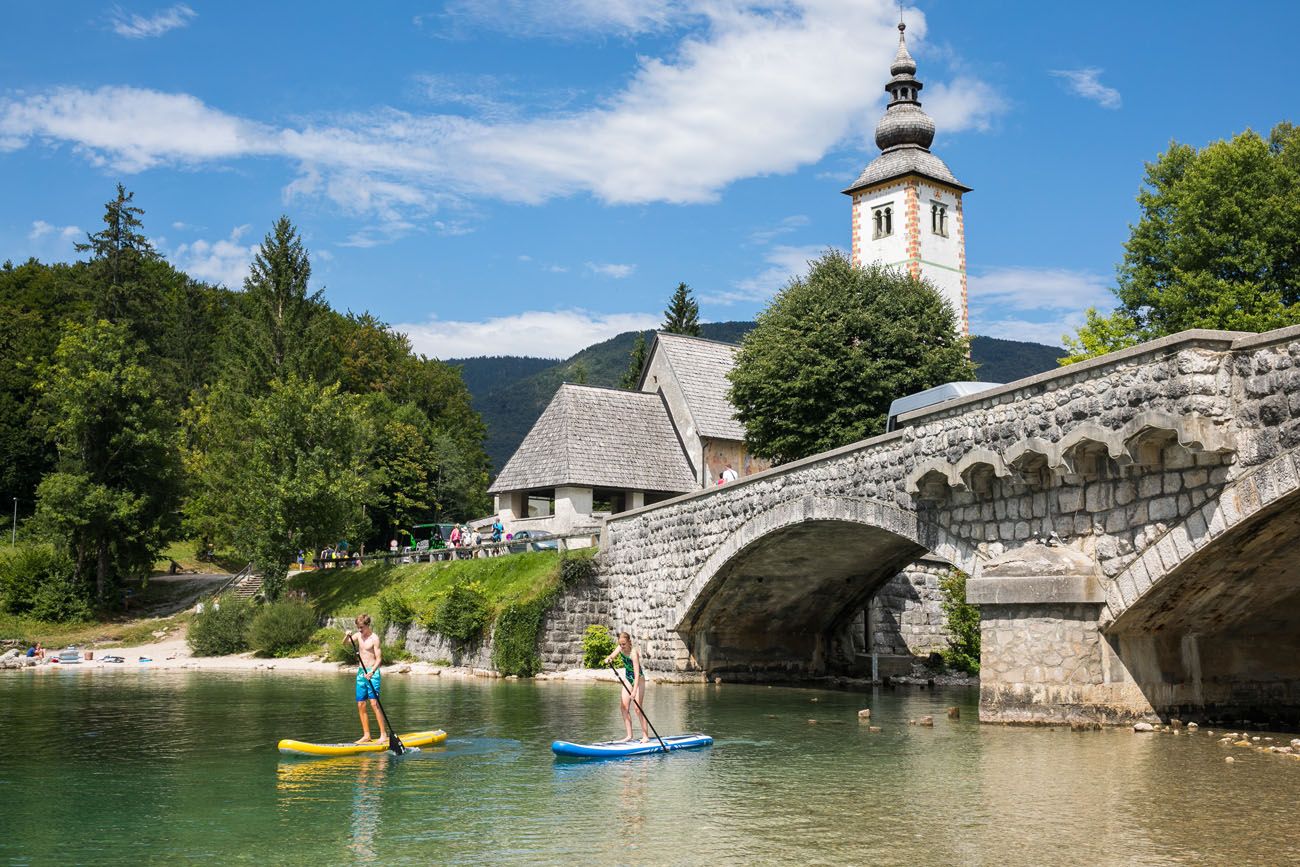 Lake Bohinj
How to Visit Lake Bled
If you have the time in your schedule, I recommend spending several nights in either Lake Bled or Lake Bohinj. You need one day to do everything we have listed in this article and it will be a long, busy day.
With two days in this area, you can spend one full day at Lake Bled and one full day at Lake Bohinj. With a third day, you can add on Vintgar Gorge (get here early or very late in the day!) and use the remaining time at either Lake Bled or Lake Bohinj.
Day Trip to Lake Bled
Lake Bled is a popular day trip from Ljubljana, especially for those with limited time in Slovenia. If you have a rental car, you can drive out for the day, explore Lake Bled, and return to Ljubljana at the end of the day.
If you do not have a rental car, it is possible to get here by public transportation. Or, to make things easy, you can join one of these tours.
---
Are you planning a trip to Lake Bled and Slovenia? Comment below if you have any questions!
More Information for Your Trip to Slovenia
PLACES TO GO IN SLOVENIA: Visit lovely Ljubljana, spend the day at Lake Bohinj, drive through the Soca River Valley and over the Mangart Saddle, explore Vintgar Gorge, and go hiking in the Julian Alps. Get the full list in our Best Things to Do in Slovenia article and how to put all of this together in our 10 day Slovenia Itinerary.
PLACES TO GO ON THE BALKAN PENINSULA: Spend a few days exploring Dubrovnik, stroll the streets of the fairytale town of Mostar, explore Plitvice Lakes, spend a few days in Montenegro, and hike to the highest point on the Adriatic Sea, Vidova Gora. Learn how to put this all together in our Balkan Peninsula Itinerary.
EUROPE ITINERARIES: Check out our article 10 Days in Europe: 10 Amazing Itineraries for 10 different ways to visit the best places in Europe. And if you have less time, check out our guide to 25 Ways to Spend One Week in Europe.
TRAVEL PHOTOGRAPHY: For more information about the camera gear we carry, check out our Travel Photography Gear Guide. And tips and tricks for taking great photos in our article How to Take Better Photos while Traveling.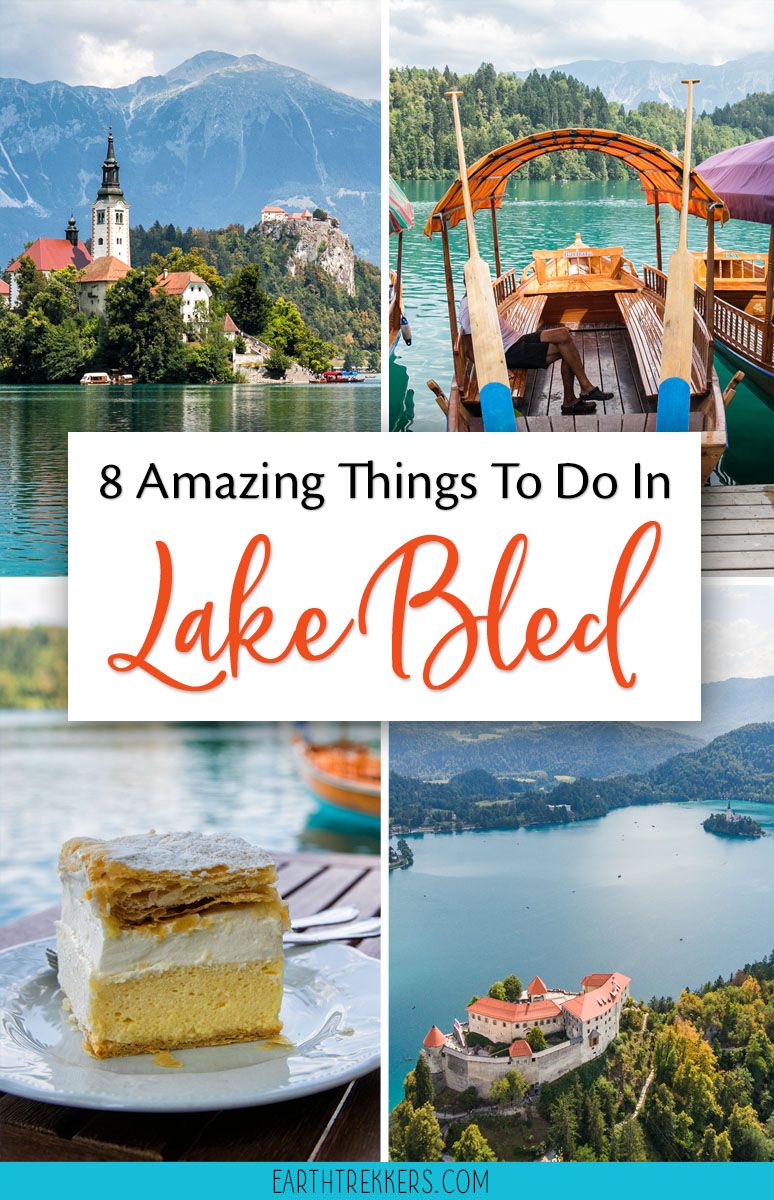 Note: This post contains affiliate links. When you make a purchase using one of these affiliate links, we get paid a small commission at no extra cost to you.
All rights reserved © Earth Trekkers. Republishing this article and/or any of its contents (text, photography, etc.), in whole or in part, is strictly prohibited.