If you are planning a trip to American Samoa, there is no doubt that you have a lot of questions. When is the best time to go? How do you get around? Where should you go?
American Samoa is not like Fiji, Bali, or the Virgin Islands. The tourism infrastructure is not well developed, so don't expect all-inclusive resorts, a long list of restaurants to choose from, and guided tours of the island.
The Samoan culture has a big impact on the things you can do in American Samoa, plus how and when you can do them. For example, you will need to ask the permission of the village chief or the family who owns the land to visit certain beaches. We'll get into this in more detail later in this guide.
There are a lot of things you need to know before you visit American Samoa, things that you may not be aware of as you plan your trip. The things we cover in this guide will help you plan your trip, set your expectations, and help you have the best experience in American Samoa.
American Samoa Travel Tips
1. Where is American Samoa?
American Samoa is located in the South Pacific. This is the southernmost territory of the United States and one of two territories that sit south of the equator (the other is Jarvis Island, which is uninhabited). American Samoa also sits just to the east of the International Date Line.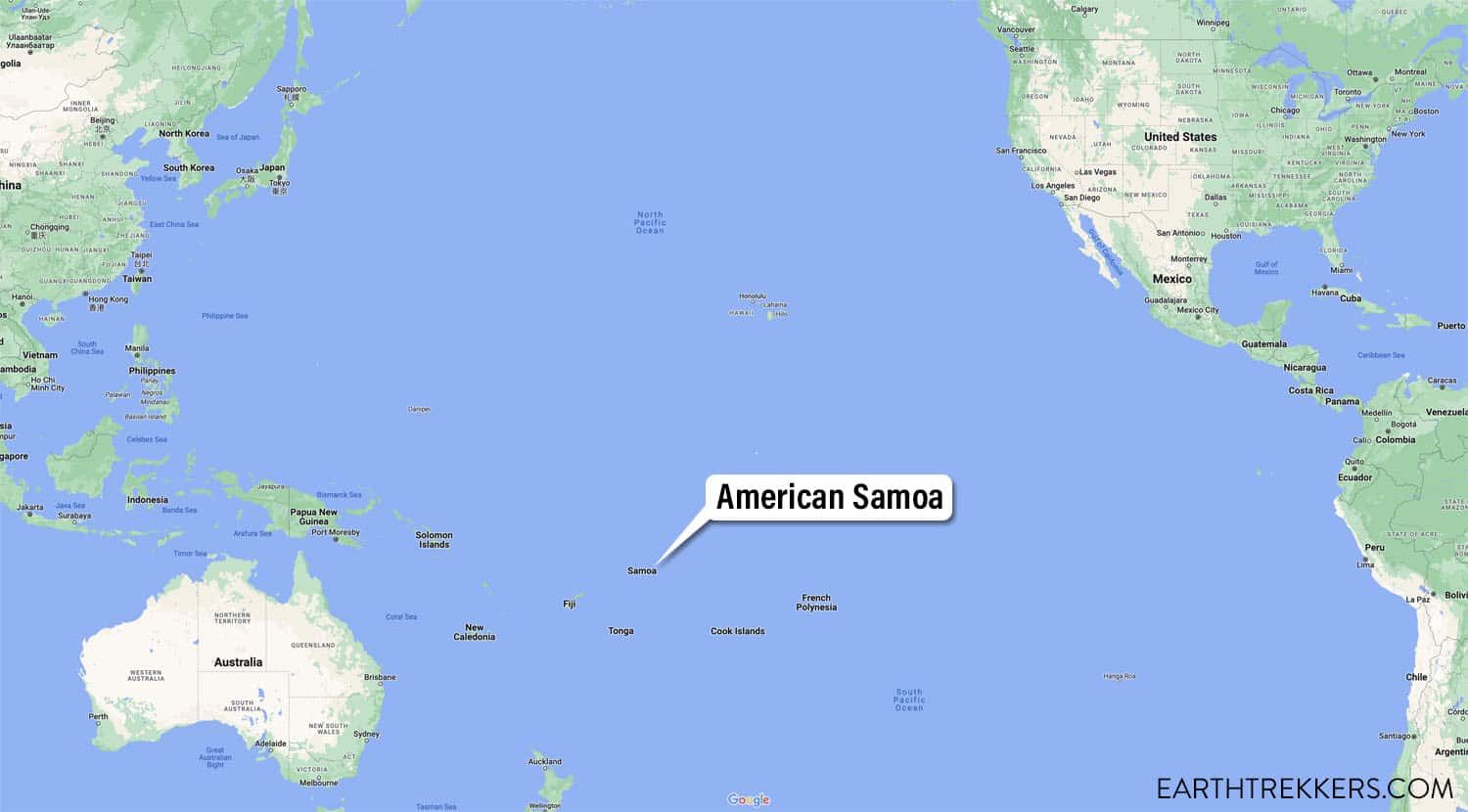 2. Where Should You Go?
American Samoa is made up of five islands and two coral atolls.
Tutuila is the largest island, the location of the international airport, and the point where you will enter and exit American Samoa. It's worth spending at least 2 to 3 days on Tutuila, to visit the beaches, villages, and day trip out to Aunu'u Island. We cover the full list in our article Best Things to Do in American Samoa.
The Manu'a Islands are a group of three small islands, Ofu, Ta'u, and Olosega. These very remote islands contain one of the most pristine beaches in the world, Ofu Beach. To get here, you will fly to Ofu or Ta'u. Flights only run several times per week (during our visit, they were only offered on Tuesdays and Thursdays) and carry a limited number of passengers. If you like the idea of really getting off the beaten path, plan on spending 3 to 4 days on the Manu'a Islands.
The National Park of American Samoa is located on Tutuila, Ofu, and Ta'u. This national park is what brings most visitors to American Samoa. You can learn more about the national park in our Guide to the National Park of American Samoa.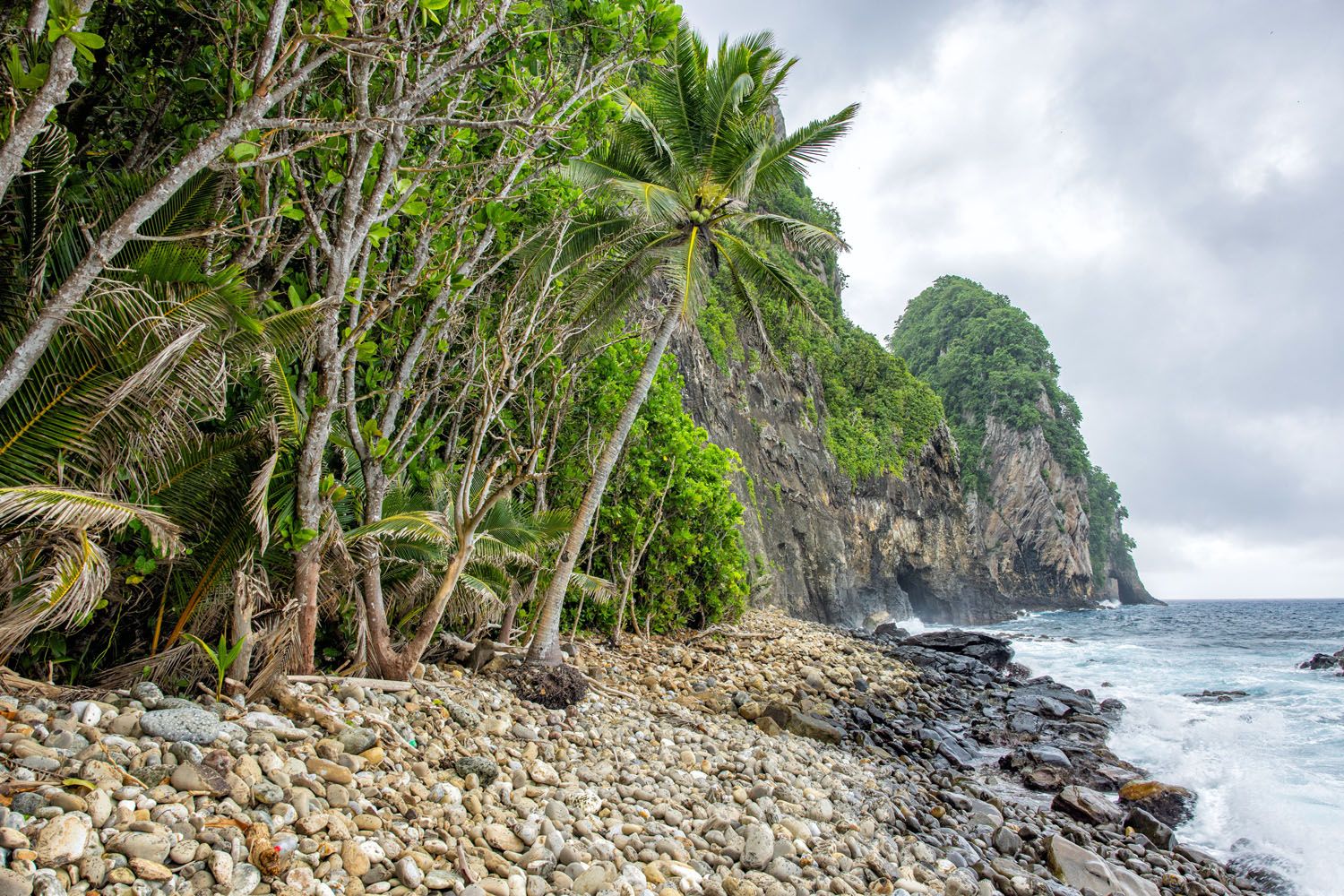 Pola Island, National Park of American Samoa
3. Entry Requirements for American Samoa
US passport holders can travel freely to and from American Samoa. Make sure you bring your passport and it should be valid for 6 months. You will also need proof of onward travel.
Foreign travelers will apply for the Entry Permit Waiver Program. To be eligible, you must have a passport that is valid for 6 months after your departure from American Samoa, proof of onward travel, and payment of a $20 USD processing fee. Countries eligible for the EPWP are New Zealand, Australia, Canada, Taiwan, South Korea, and most countries in Europe. For the full list, and to apply online, click here.
4. How to Get to American Samoa
There are two ways to get to American Samoa: on a cruise and by plane.
Flights to American Samoa enter Pago Pago International Airport on Tutuila. How you get to Pago Pago depends on your starting point.
All of the details below are from our research for our trip in 2023. There is a chance that more flights could become available, as travel continues to pick up after the pandemic.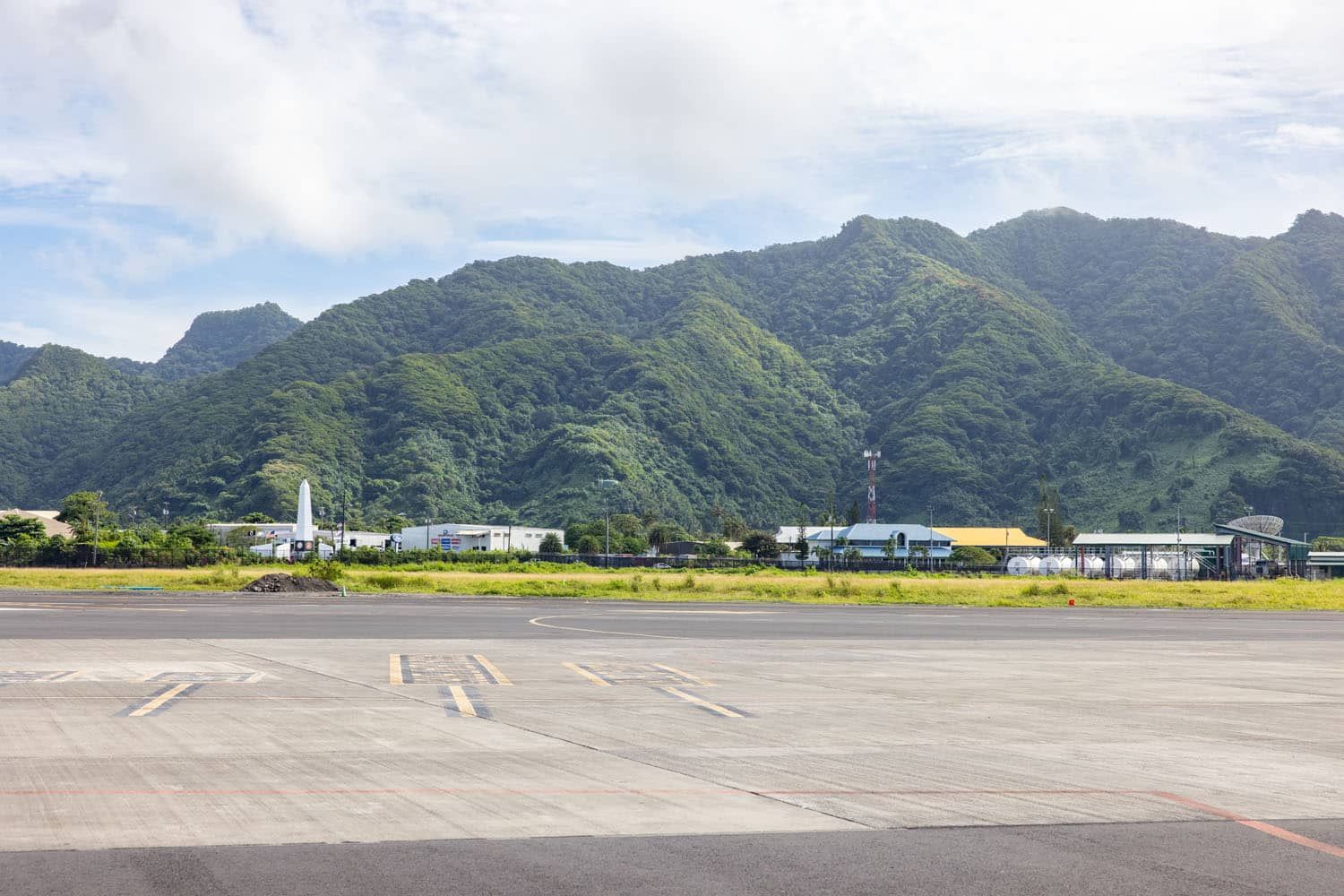 Pago Pago International Airport
From the United States
From the United States, all flights currently go through Honolulu, Hawaii. Flights are offered by Hawaiian Airlines three times a week from June through September, twice a week the remainder of the year.
From Samoa
Talofa Airways offers flights from Samoa to American Samoa. This flight takes 30 minutes, crosses the International Date Line, and carries 8 passengers. There are numerous flights per day between Samoa and American Samoa.
From Australia, New Zealand & Fiji
From Australia, New Zealand, and Fiji, you will first fly to Apia, Samoa or Tonga and then fly to American Samoa. There are no direct flights from Australia and New Zealand to American Samoa at the time that I am writing this guide.
GETTING TO AMERICAN SAMOA: So, to get to American Samoa, you will either fly through Hawaii, Tonga, or Samoa. Which one you travel through depends on your starting point.
5. What Time is It in American Samoa?
American Samoa is located just to the east of the International Date Line.
American Samoa is 11 hours behind the Coordinated Universal Time (UTC-11). Standard time is observed all year (Daylight Savings Time is not observed in American Samoa).
When it is 1 pm on Monday in American Samoa, it is 8:00 pm on Monday in New York City, 10:00 am on Tuesday in Sydney, Australia, and 2:00 am on Tuesday in Paris, France.
Samoa sits just across the International Date Line from American Samoa. Samoa observes the same time but on different days. For example, when it is 10 am on Tuesday on American Samoa, it is 10 am on Wednesday on Samoa.
CROSSING THE INTERNATIONAL DATE LINE: We visited Samoa before flying to American Samoa. On Wednesday, May 17 at 10:00 am, our flight left Apia, Samoa. We crossed the International Date Line and landed at Pago Pago International Airport on Tuesday, May 16 at 10:30 am. Talk about traveling back in time!!
6. Weather on American Samoa
American Samoa has a tropical climate. It is hot and humid all year.
The summer season (October through April) is the wet season and the time when tropical storms are more likely to occur. During these months, the average temperature is 86°F (30°C) with about 12 inches (30 cm) of rain per month. December tends to be the wettest month of the year.
The winter season (May through September) is the dry season. It is also slightly cooler this time of year. During these months, the average temperature is 84°F (29°C) with about 8 inches (20 cm) of rain per month. September tends to be the driest month of the year.
Our visit was in mid-May. This is the transition month into the dry season. In Samoa, where we spent four days before visiting American Samoa, we had mostly sunny skies with a few rain showers. Once we got to American Samoa, it rained quite a bit. It rained for most of the day on two of the three days we spent here.
85°F may not sound hot, but factor in the high humidity and it feels like 100°F. American Samoa is located near the equator, so the sun also feels quite warm on your skin.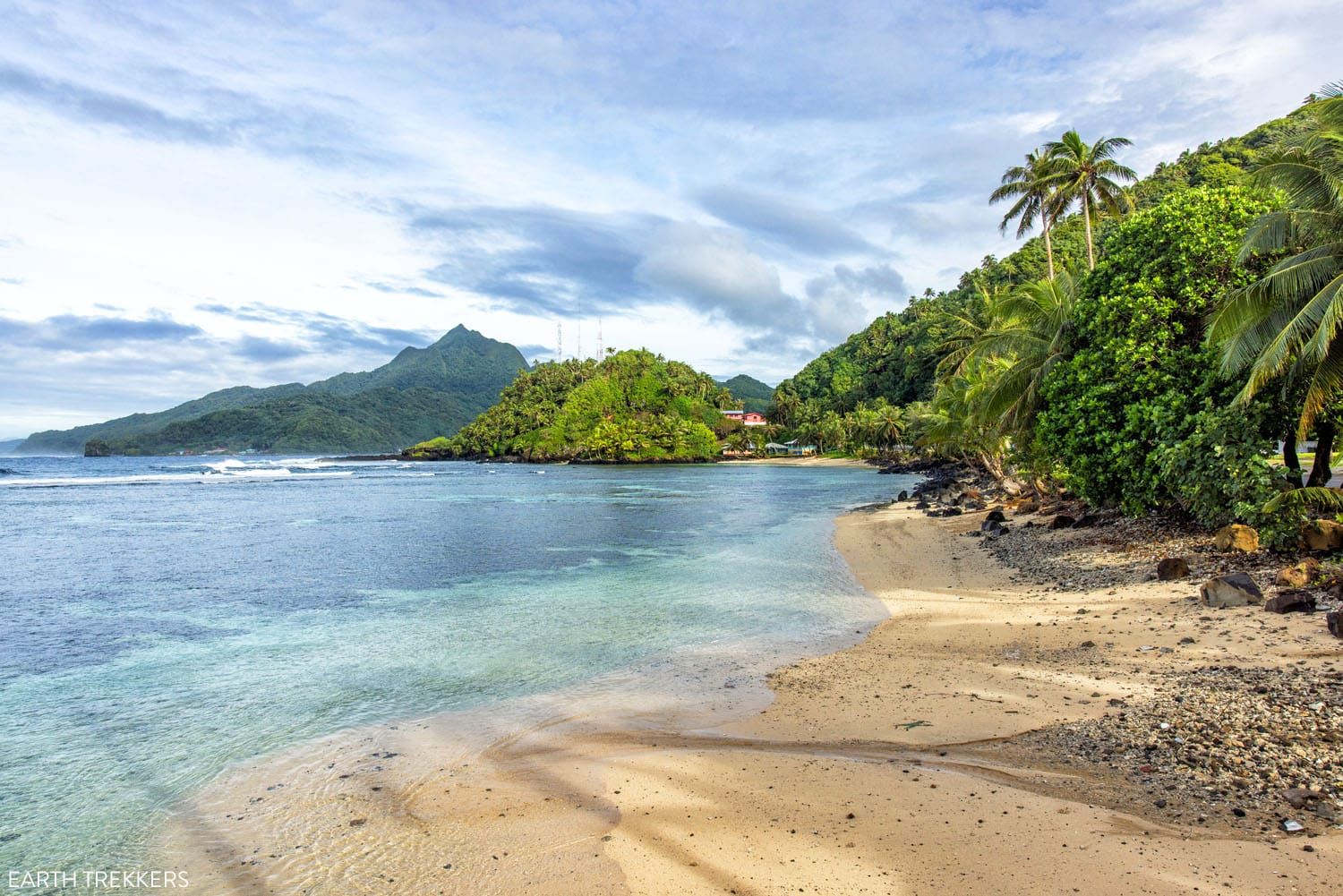 South coast of Tutuila island
7. Best Time to Visit American Samoa
The best time to visit American Samoa is during the winter season (May through September). For the driest, coolest weather, plan your visit for the month of September.
Tropical storms in the summer can disrupt travel plans, not only in getting around American Samoa but also getting to and from here.
8. Cash or Credit Cards?
We primarily used cash in American Samoa. Cash is used at shops, restaurants, and to pay fees to enter beaches, hire a boat, etc. The only places we were able to use a credit card was at our hotel (the Tradewinds Hotel), at the Avis rental car office, at the Bluesky store, and at Sadie's By the Bay restaurant. We paid cash for everything else.
To visit beaches that were the property of a village or family, we typically were asked to pay $5 to $10 per person for our visit.
The currency in American Samoa is the US dollar. If you are coming from the US, it is best to bring cash with you, as we found limited ATMs in American Samoa.
If you need to withdraw cash while you are here, the Territorial Bank of American Samoa is the main bank. They have a branch in Pago Pago as well as smaller branches on Tutuila.
How much cash you need depends on your group size and how long you will be here. $200 is a good starting point.
9. Tipping
Tipping is not necessary in American Samoa but you are welcome to leave a small tip if the service was exceptional.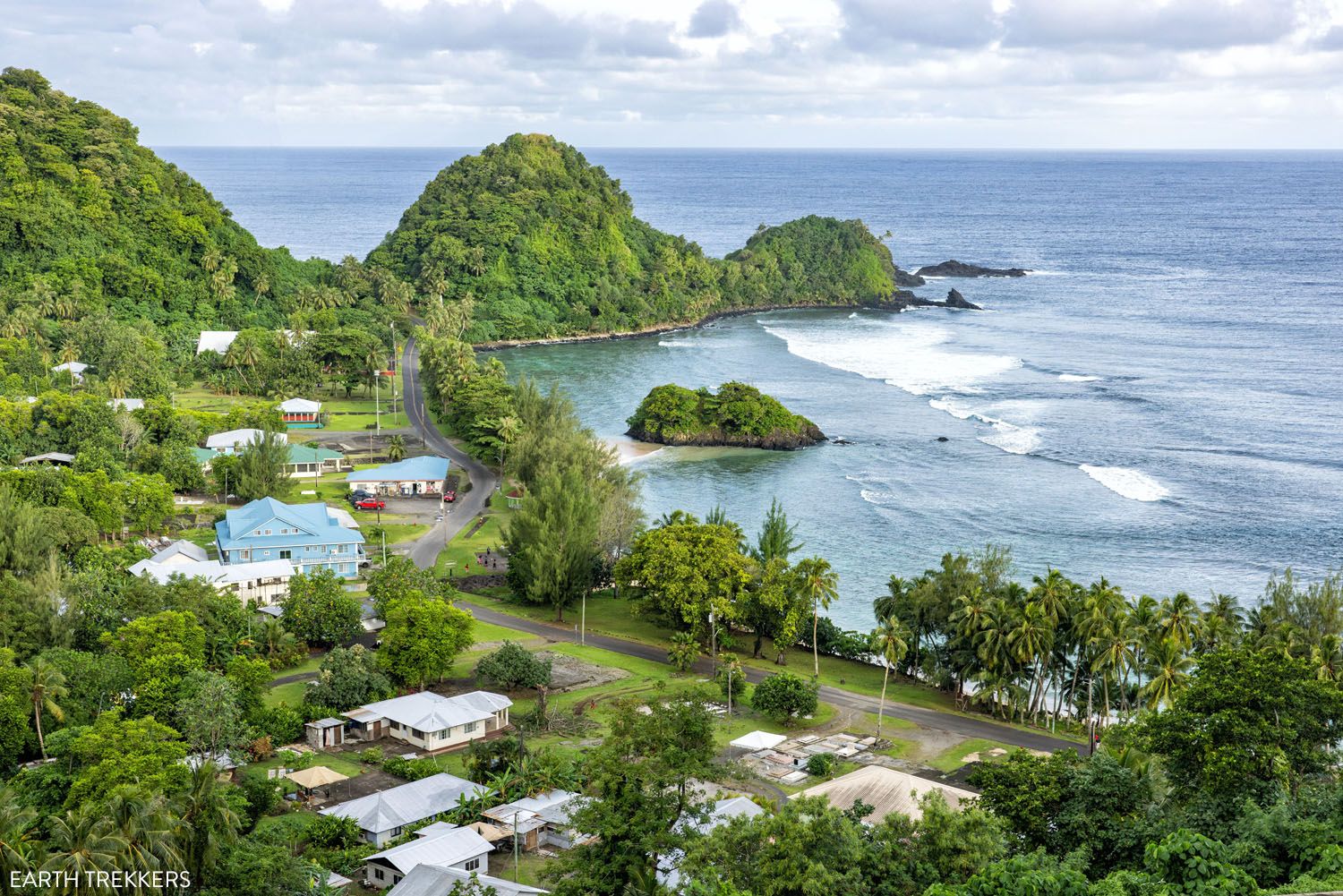 Overlooking Palagi Beach on Tutuila island
10. SIM Cards
If you want a SIM card for your trip to American Samoa, the one and only place to get it is at BlueSky. They sell prepaid SIM cards with different data plans. We purchased our SIM cards at their shop in Laofou Shopping Center on Route 001. We paid with a credit card and you will need to show your passport.
While writing this article, I also learned that BlueSky sells eSIM cards as well. We have used Airalo eSIMS in multiple places around the world and have had positive experiences, but at the time of our trip, Airalo did not offer an eSIM for American Samoa (but they do for Samoa). So, we purchased the SIM card from the BlueSky store.
Purchasing the eSIM would save you the trip to the BlueSky store but we don't have experience using it, so we can't comment on how good it is.
With the BlueSky SIM card, we had great cellular service throughout Tutuila.
11. Driving on American Samoa: Rental Cars, Speed Limits, and Navigation
Renting a Car
The best way to get around American Samoa is to rent a car. This gives you the freedom to travel on your own schedule.
There is a public bus system. Called "aiga" or family buses, for a small fee you can be driven from point to point on the island. However, there is no bus schedule.
We rented a car from Avis. The rental office is located in a Toyota dealership maintenance department, off site from the airport. We were picked up from the airport and driven here to complete our paperwork.
The car we rented was in terrible shape. It looked perfectly fine on the outside but inside it was dirty. The seat covers were filthy, there was dried blood on the ceiling of the car, and the cup holder had a nasty film in the bottom of it.
Tim latched his seatbelt and then couldn't get it undone, so he just wore the top strap when driving around the island. With a speed limit of 20 miles per hour (in some spots it got up to 25 mph but almost everyone still drove 20 mph), the risk of getting in a horrible car accident was extremely low.
We had just had an almost identical rental car experience in Samoa, so we dealt with this car on our three days in American Samoa. But don't expect a spotless car like you would get from Avis elsewhere in the world.
The other thing that we found strange is that we were asked to return the car washed and vacuumed. That's the first time we've been asked to do this with Avis. If you return the car dirty, you will be charged an additional cleaning fee. We paid the additional fee and returned it dirty.
The Tradewinds Hotel also offers rental cars so you could check with them as well. A question to ask is how to get from the airport to the hotel to pick up the rental car.
Driving on American Samoa
On American Samoa, the speed limit is 20 mph around Pago Pago Harbor and around the airport, and 25 mph outside of these congested areas. The speed limit is dutifully obeyed. It can take 30 to 40 minutes to travel 10 miles.
Everything moves a little slower here and it takes some getting used to, but this gives you more time to gaze out at the beaches and rainforest covered mountains.
The roads are paved, two lane roads throughout the island. There are some stretches of roads littered with potholes. Occasionally, there can be obstacles in the roads, such as rocks, fallen coconuts, and dogs. If it rains a lot, the roads can flood and be covered with debris, and we saw quite a bit of this during our visit.
But for the most part, it is very easy to drive in American Samoa, and with the low speed limit, it feels very safe.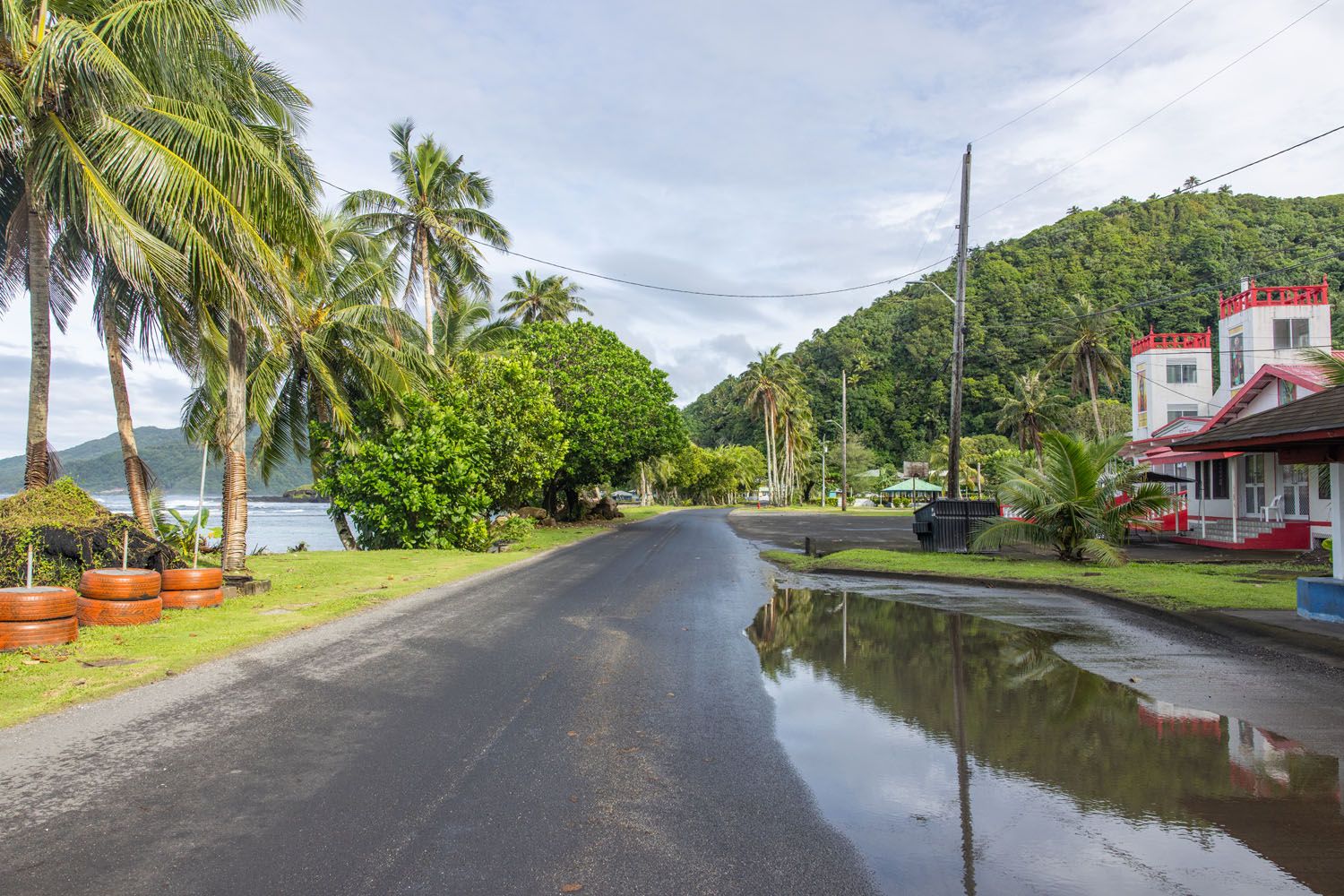 Road in American Samoa
Navigation
For directions on how to get from place to place we used Google Maps. To do this, you will need data for your phone.
Usually, if you put the place name into Google Maps, you'll be able to get directions. There are a few places that are not marked on Google Maps, but in these instances, we give GPS coordinates in our Things to Do in American Samoa article.
12. Local Customs on American Samoa
Fa'a Samoa (the Samoan way) is this ancient culture of the Samoans. Family and community values are a vital part of the Samoan culture, as is their Christian religion.
You can learn more about the Samoan culture by attending a fiafia night (dinner and dancing hosted by some resorts and hotels), visiting a village, or speaking with the village chief.
The Samoans are very friendly and welcoming but there are some things you should know about the culture before you get to American Samoa.
The Samoan culture is modest. When you aren't on a beach or sitting next to a pool, cover up with a T-shirt and a sarong or pants.
If you visit a traditional home or fale, remove your shoes before entering and sit with your legs crossed in front of you.
If you are asked to share 'ava, the local drink made from the root of the pepper plant, spill a few drops on the ground or mat in front of you to show respect, raise your cup and say manuia (mahn-We-ah), and have a drink. This is a great honor to be offered this drink.
Don't eat or drink anything while walking through a village.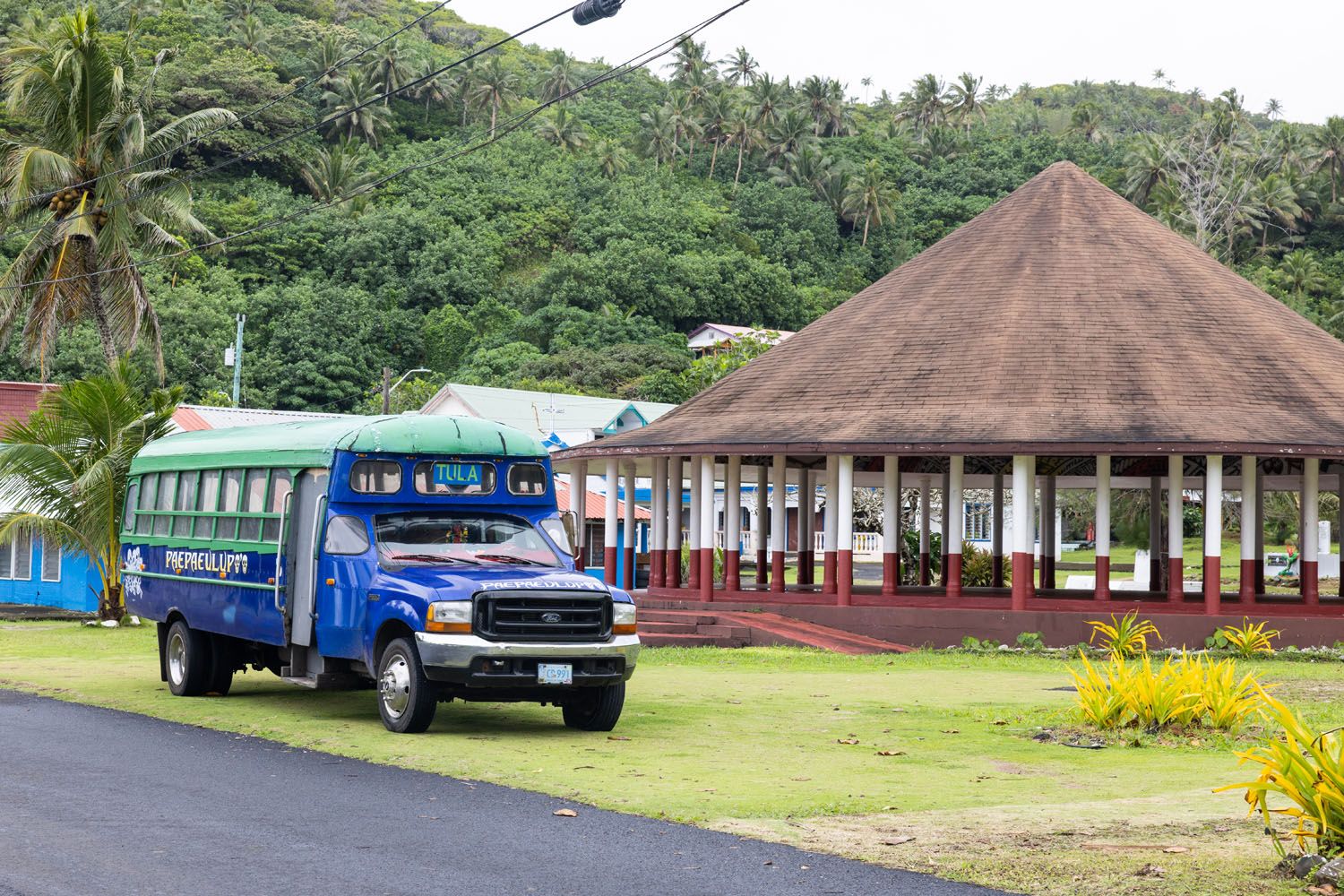 13. Asking Permission to Visit a Beach
Many beaches are the property of a family or village. You will need to ask permission (and may have to pay a small fee) before visiting the beach.
The first time we did this, it felt like we were invading someone's property and privacy, which I guess we were in some ways. We approached a house with a gate and a "Beware of Dog" sign, and this just didn't feel right to us, so we left.
The following day, we talked to a National Park Service park ranger about this and he assured us that it was fine to go to the house to ask permission. So, we returned to the house, and just as the park ranger told us, we were greeted by a family member. After paying $5, we were permitted to visit the beach.
There were several places we did this in Tutuila. We would park at the house and would be greeted by one of the members of the family. Tim would politely ask to visit the beach, permission was granted, and then we were told to pay a small fee. This usually amounted to $5 or $10 per person.
You don't have to do this for every beach, as some are public beaches, but there are a few that sit on private land. In our Things to Do in American Samoa article, we let you know which beaches you will have to do this. If you don't feel comfortable doing this, then you know which beaches to skip. There are plenty of very nice beaches on Tutuila where permission does not need to be granted.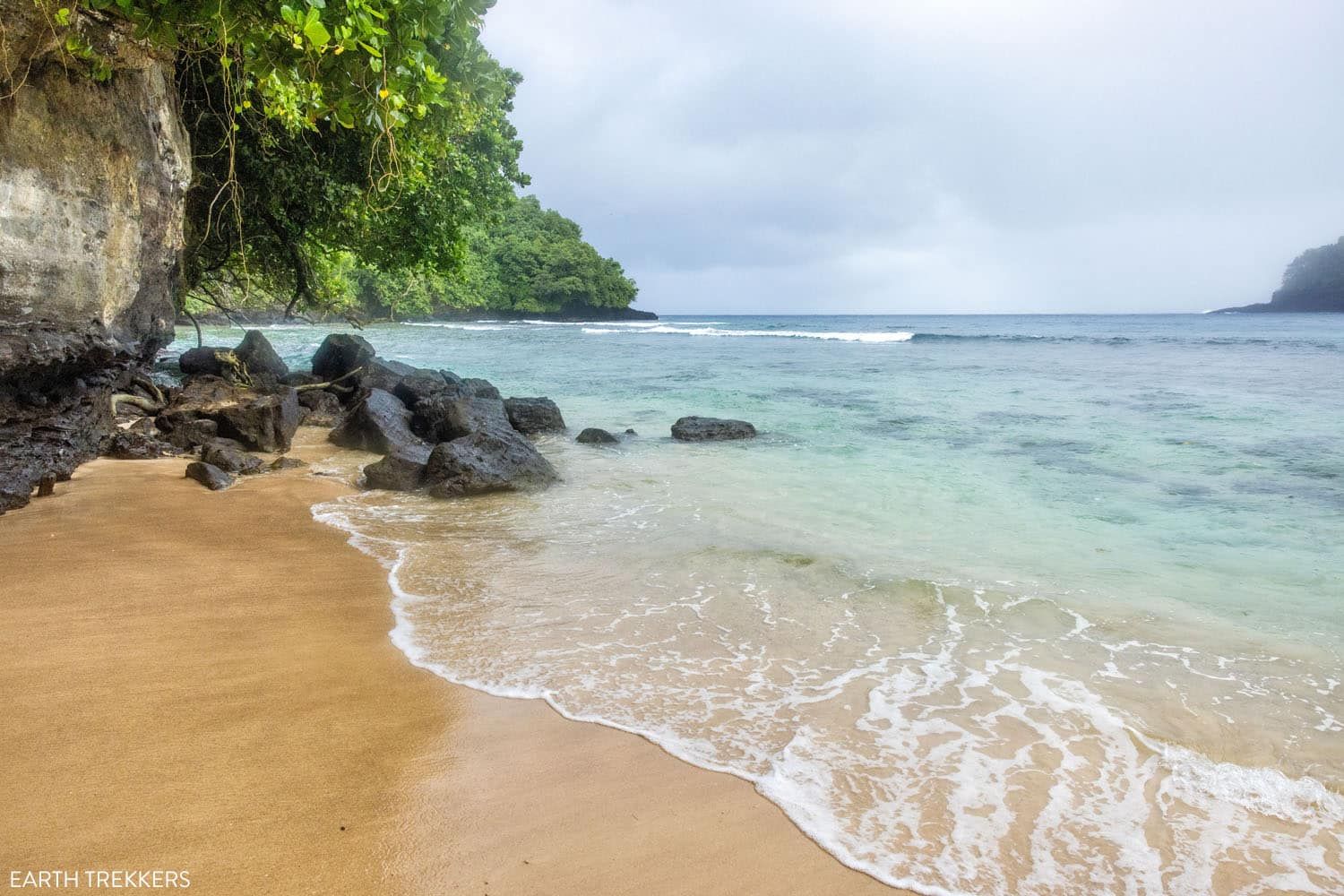 Fagatele Bay. This is one of the beaches that is on private property, so you will have to ask permission to visit this beach.
14. Sunday in American Samoa
Sunday is a day of rest so many businesses and restaurants will be closed. You may not be able to access the beaches that are on private land or in the village. Public beaches are generally closed to swimming on Sundays.
We were in Samoa on a Sunday and the culture is very similar here. Many but not all of the restaurants were closed but we were able to join a traditional Sunday lunch and have dinner at our hotel. But the island was a ghost town…very little traffic on the roads and activity in the towns. It's a nice time to drive around the island, just don't expect much in the way of restaurants, beaches, or things to do.
15. The Samoan Dogs
There is a large population of stray dogs in American Samoa. Some of these dogs are friendly, others…not so much.
Dog bites commonly occur on American Samoa and are responsible for a majority of doctors visits and visits to the hospital, not just for tourists but also locals. According to the CDC, American Samoa is free of dog rabies.
Most of the dogs we met were friendly. Some followed us around or approached us out of curiosity. But our experiences weren't completely positive.
I just narrowly missed being bitten by a dog when I popped out of our car to take a photo. As I was getting back into the car, the dog ran up to me, snarling, but I was able to shut the car door when the dog was just a foot away.
On a second instance, Tim was bitten by a dog while paying a fee to a family to visit their beach. The "bite" did not break his skin, it was more of a scratch than a real bite, but the dog was definitely making its presence known.
You can protect yourself from the dogs by carrying a stick with you. For more tips on how to avoid behave around stray dogs, take a look at this article.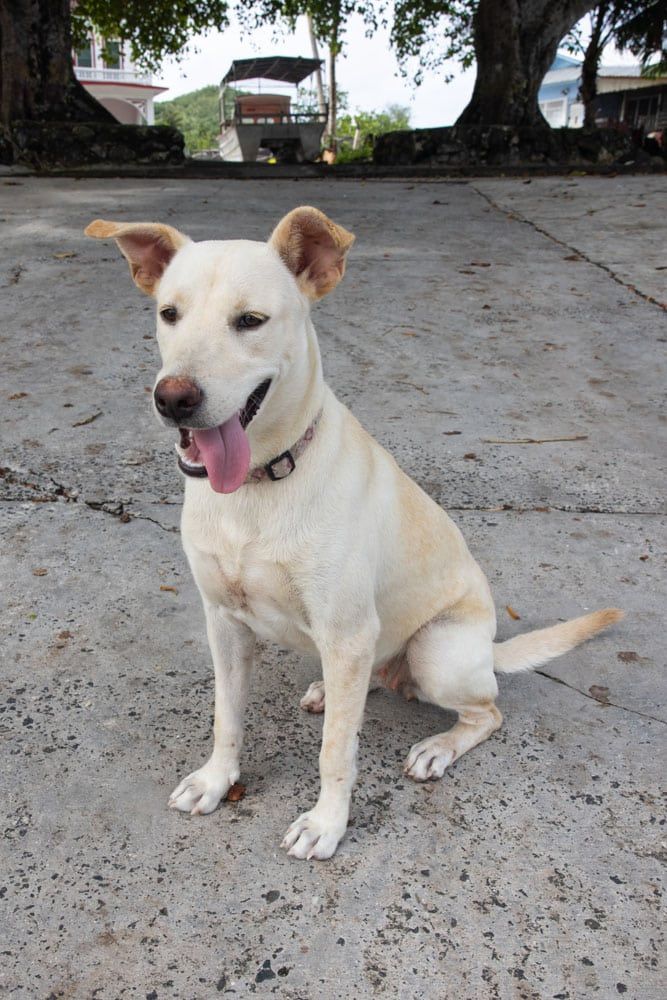 This dog followed us around on Aunu'u Island, but not all of the dogs in American Samoa are this friendly.
16. Best Places to Stay on American Samoa
The best place to stay in Tutuila is the Tradewinds Hotel. This is hotel looks great on the outside but could use a major update on the inside. Still, it is the best option on the island. Rooms range from standard rooms that can accommodate up to two people to very spacious suites. There is an outdoor pool and onsite restaurant. Tyler got breakfast once in the restaurant and said that the only thing they were serving was stale bread, so we went elsewhere for food after this.
On Tutuila, other places to consider are Sadie's by the Sea, the Sadie Thompson Inn, and the Pago Airport Inn, but they all get mediocre to poor reviews, so your best bet is the Tradewinds Hotel.
If you plan to visit the Manu'a Islands, accommodations are very limited. From our research there are two places to stay on Ofu, the Vaoto Lodge and Asaga Inn. They are on opposites ends of the national park and Ofu Beach is reachable from both places. Vaoto Lodge is on the airstrip side and Asaga Inn is on the bridge side. That is the bridge that connects Ofu Island to Olosega Island.
17. Where to Eat
The best place to eat is Tisa's Barefoot Bar. The food and the setting are the best on Tutuila. It's best to make a reservation in advance for lunch because they can only accommodate a few people.
Our next favorite spot is Sadie's By the Bay, in Pago Pago. This upscale restaurant serves a wide variety of foods and is sure to satisfy everyone in your group.
We had a nice dinner at the Flying Fox Gastropub. This small bar and restaurant is decorated with neon lights and posters of celebrities and singers. It's a good spot to get a burger and a cocktail.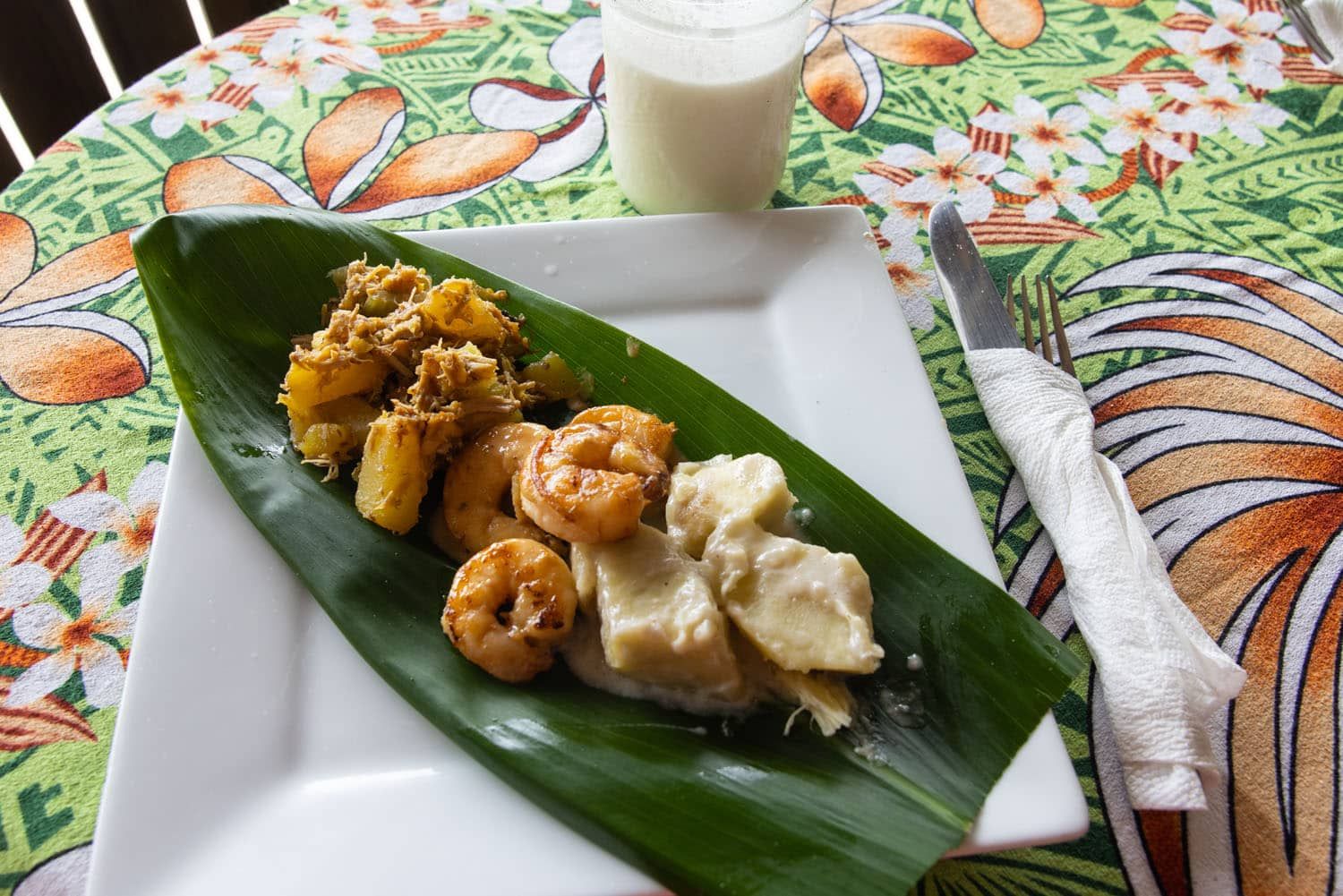 Lunch at Tisa's Barefoot Bar
18. What to Wear & Bring
In American Samoa, dress conservatively. If you aren't on a beach or sitting next to a pool, cover up with a T-shirt and a sarong or pants.
We wore shorts and a T-shirt, along with hiking shoes, sandals, or flip flops. It was never chilly enough that we needed a warmer layer, like a sweatshirt or jacket.
If you plan to go snorkeling, bring snorkel gear with you (it's not easy to find a place in American Samoa to rent it). It's also a good idea to bring a towel (or check if you can borrow one from your hotel), sunscreen, insect repellent, and a first aid kit.
There are markets and small grocery stores on the island where you can purchase more sunscreen should you need it, as well as snacks.
19. Is American Samoa Safe?
In terms of crime and theft, American Samoa is very safe. The issues that threaten the safety of visitors are aggressive dogs (but there is no dog rabies in American Samoa) and mosquito bites. In American Samoa, it is possible to get dengue fever, Zika, and chikungunya from mosquito bites. Bring insect repellent to help protect yourself and you can get updates on the disease transmission by mosquitos on the National Park Service website.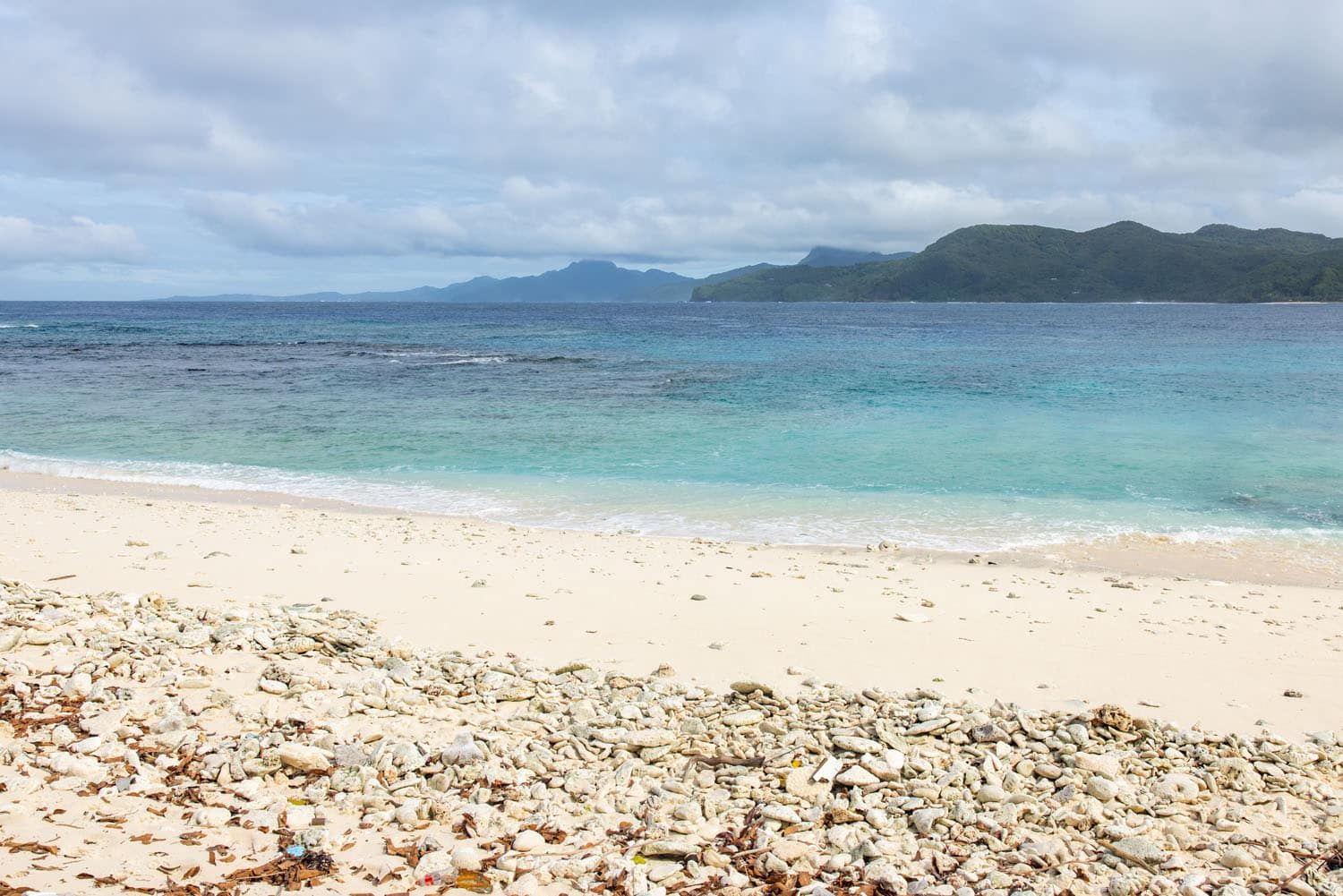 A beach on Aunu'u Island, American Samoa
20. Places to Go Near American Samoa
American Samoa can be combined with other South Pacific countries as well as Hawaii.
If you are arriving from the US, there is a very good chance that you will fly through Hawaii, so you could include Hawaii as part of your trip.
If you are arriving from Australia or New Zealand, there is a good chance that you will fly through Samoa, so it's simple (and well worth it) to include Samoa on your itinerary.
From American Samoa, you can also fly through Samoa to Tonga and Fiji. We have not been to Tonga yet but spent one amazing week in Fiji and loved the experience.
We liked the idea of adding on French Polynesia (Tahiti and Bora Bora), but when we took this trip, all flights from Samoa to French Polynesia connected through Auckland or Honolulu, so we are saving it for a future trip.
For more ideas, take a look at our Samoa and American Samoa Itinerary, which has suggestions on how to include Hawaii and Fiji on a visit to Samoa and American Samoa.
A Few More Things to Know
Dangerous Waves and Currents: There are a lot of dangerous currents around the islands. Only go in the water if you see locals swimming, so you know it is safe.
Checking the Tides: If you want to know when high and low tide occur (for example, if you plan to go snorkeling), you can do so here.
Cruise Ship Schedule: If you want to know if there will be a cruise ship visiting American Samoa the same time as your visit, you can check the cruise ship schedule here or here.
---
If you have any questions about these American Samoa travel tips, or if you still have questions about something we did not address, let us know in the comment section below and we will get back to you soon.
More Information for Your Trip to American Samoa
AMERICAN SAMOA: Get started with our article Best Things to Do in American Samoa. Learn how to visit one of the most remote national parks in the USA in our Guide to the National Park of American Samoa and how to hike the Mount 'Alava Trail.
SAMOA: In our Guide to Samoa, we cover the best things to do in Samoa, planning information for Upolu and Savai'i islands, a sample itinerary, plus where to stay and where to eat.
SAMOA & AMERICAN SAMOA ITINERARY: In our Samoa and American Samoa Itinerary, learn how to plan your trip and include Hawaii or Fiji.
BEST OF HAWAII: Plan the perfect visit to Maui, visit Hawai'i Volcanoes and Haleakala National Parks, get a history lesson at Pearl Harbor, take a doors off helicopter ride of the Napali Coast, and learn about the best things to do in Kauai.
BALI: Learn more about Bali in our guide to the best things to do in Bali and the Mount Batur Sunrise Hike. Get suggestions on how to plan your time with our 5 Day Bali Itinerary and 7 Day Bali Itinerary.
UNITED STATES: We have TONS of information about places to visit in the United States in our USA Travel Guide. In our Guide to the US National Parks, get the full list of national parks with important travel planning information, such as things to do in the parks and sample itineraries.
TRAVEL INSPIRATION: Here are 30 great travel books and a list of the best travel movies to feed your wanderlust.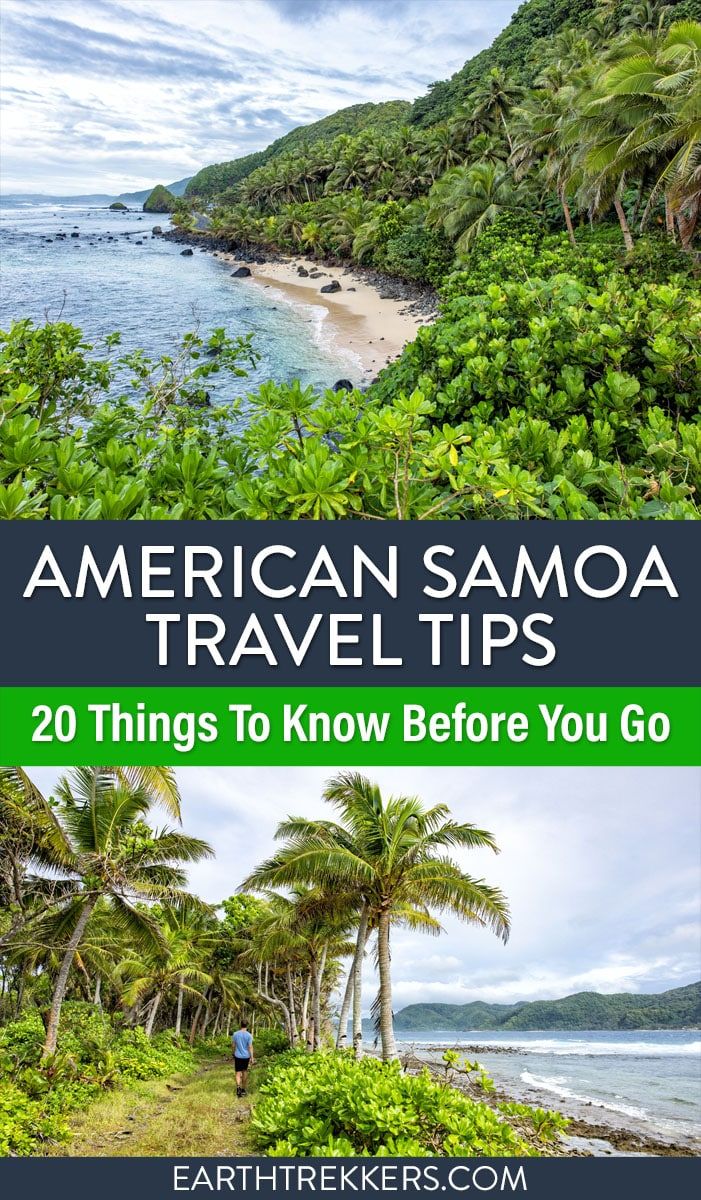 All rights reserved © Earth Trekkers. Republishing this article and/or any of its contents (text, photography, etc.), in whole or in part, is strictly prohibited.