The Kentucky Bourbon Trail is hot right now! Bourbon is booming and during the past several years bourbon sales have been increasing exponentially. With the increasing popularity of bourbon, tourism is up in Kentucky. What better way to learn about and sample bourbon than on the Kentucky Bourbon Trail?
The Kentucky Bourbon Trail is a collection of ten whiskey distilleries. All of these distilleries offer tours and tastings. On the tours, learn how bourbon is produced, hear about the history of the distillery, and end with a bourbon tasting. It's a fun, interactive glimpse into this important piece of Kentucky history and it is a great way to spend a weekend.
See them all or pick your favorites. Take the tour or just do a tasting. There is no right way to see the Kentucky Bourbon Trail as long as you have a good time.
We visited nine distilleries during a November weekend in Kentucky (the 10th distillery, Angel's Envy, was added after our visit to Kentucky). Here is what you can expect at the distilleries.
Distilleries on the Kentucky Bourbon Trail
Evan Williams Bourbon Experience
The Evan Williams Bourbon Experience is located in Louisville, right on historic "Whiskey Row." Its location makes it the perfect place to start your tour if you are staying in Louisville.
Evan Williams offers the most technically advanced tour, complete with videos, immersive exhibits, and a walk through "old Louisville." Travel back in time to 1783, to the very early days of Louisville, where you will learn about the early history of bourbon and this area of Kentucky. A visit to Evan Williams is educational and entertaining. At the end, sample three different bourbon whiskeys in one of their cozy tasting rooms.
Bulleit Frontier Whiskey
Also known as the Stitzel-Weller Distillery, this distillery is located in Louisville. Bulleit has been in operation since 1935 but just opened to the public in 2014. They specialize in high-rye bourbon whiskey. The facility has a historic look and feel to it. Tours are offered Wednesday through Sunday between 10 am and 3 pm. They do not offer a tasting unless you join the one hour tour.
Where: 3860 Fitzgerald Road, 5 miles from downtown Louisville
Tour Price: $12
Website: bulleitexperience.com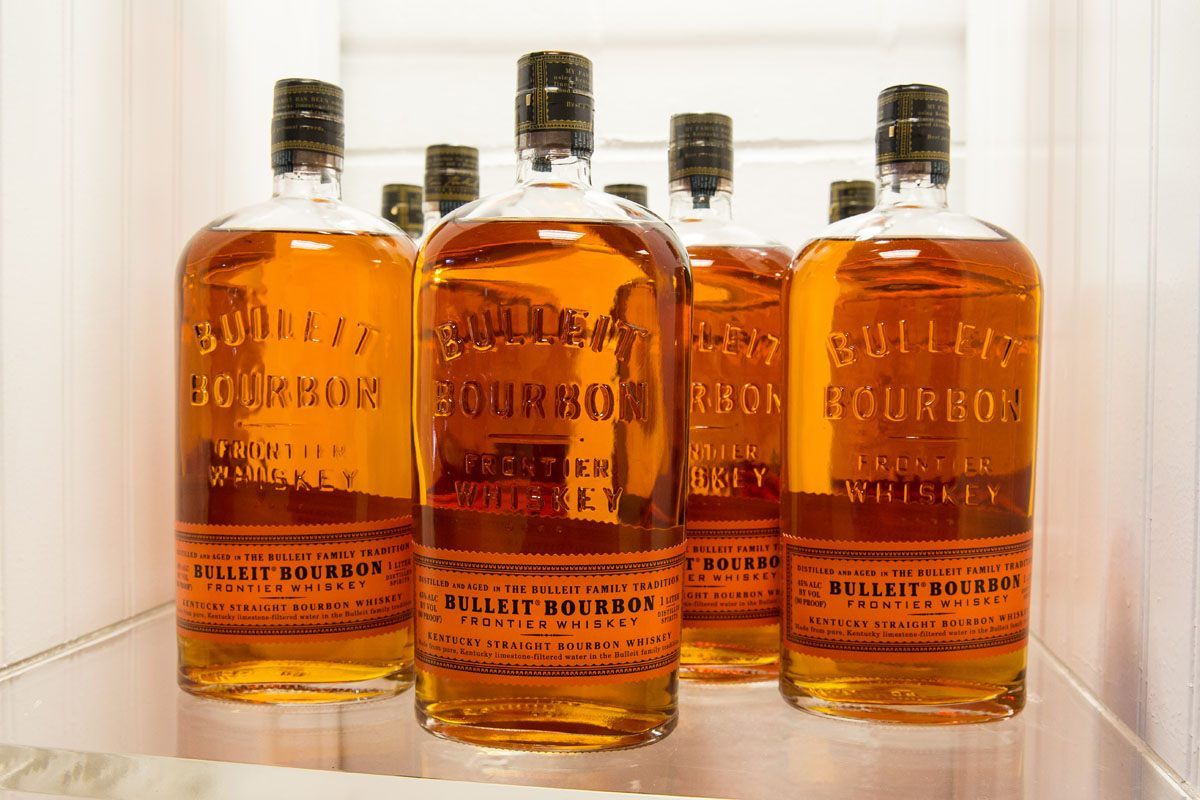 Wild Turkey
Wild Turkey produces one of the most popular bourbons in the US and one of the best selling bourbons in the world. Tour the distillery, see the hundreds of barrels inside of the rickhouses, and maybe meet legendary Jimmy Russell while you are here. Jimmy, the master distiller at Wild Turkey, is the world's longest tenured active master distiller. We met him while on tour, a friendly, down-to-earth man enthusiastic about producing great bourbon whiskey.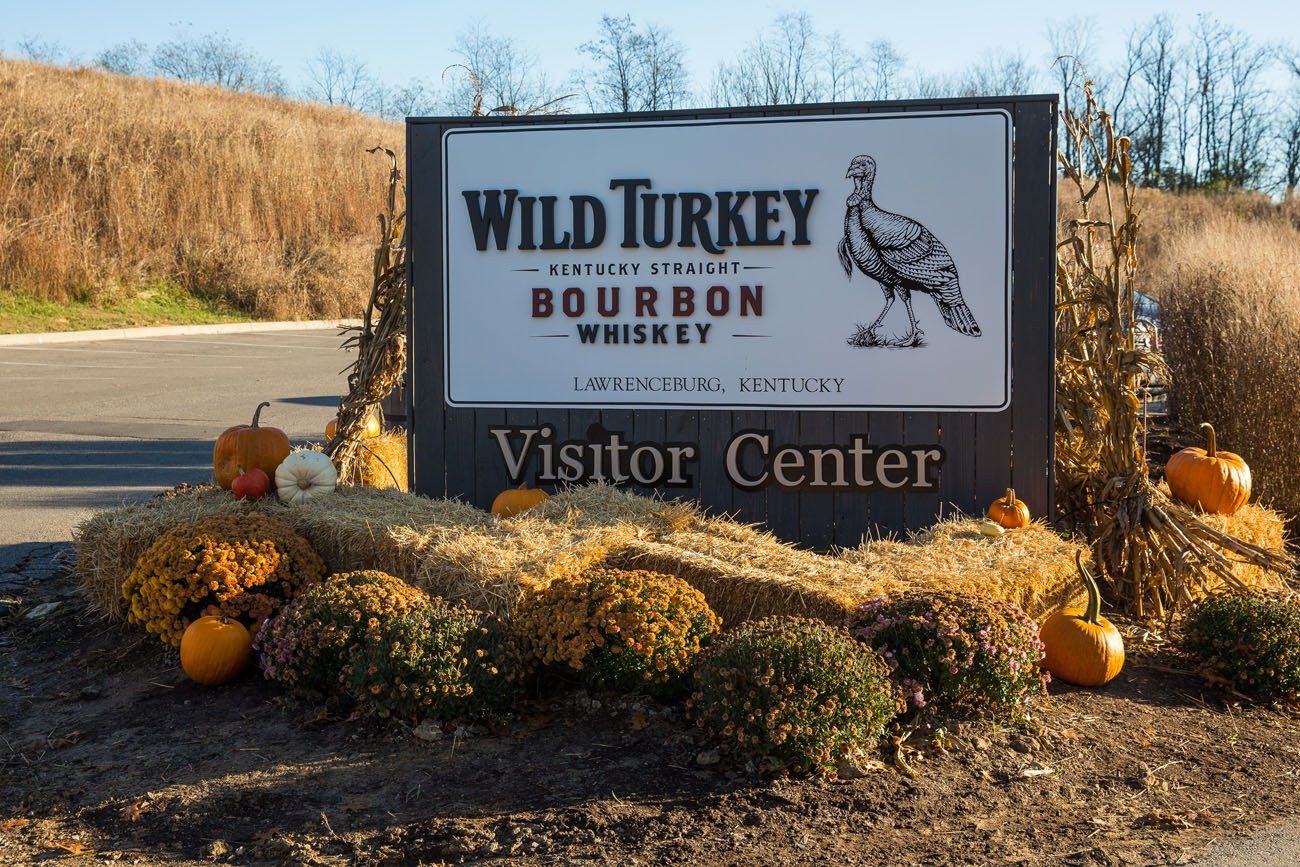 Wild Turkey got its name during a hunting trip in 1940. The executive of Wild Turkey shared his bourbon with his friends…while hunting wild turkey.
Definitely do this tasting! For those who are not bourbon drinkers, a sample of American Honey may be something to tickle your tastebuds. We hear it's great on pancakes so we brought some home to test out that theory!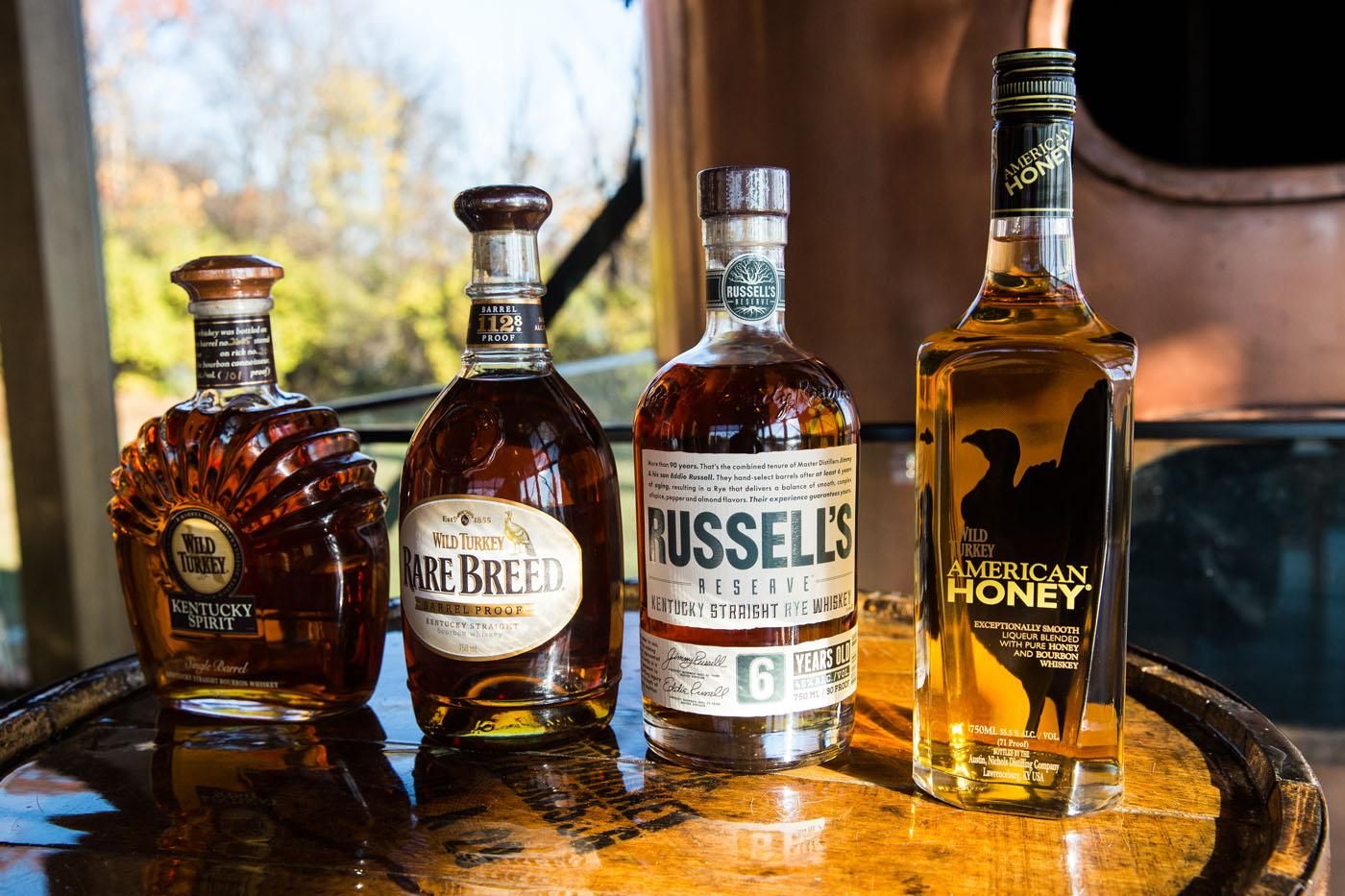 Four Roses
Four Roses distillery was built in 1910 and features Spanish Mission-Style architecture, a rarity in Kentucky. Take a tour here to learn the very interesting history of Four Roses. During the mid-20th century, Four Roses was the top selling bourbon in Japan but it could not be purchased in the US, even though it was being produced in Kentucky.
While we were here, there was a lot of onsite construction so Four Roses offered shortened tours. We opted to pay for a tasting rather than take the tour. While you are doing your tasting, ask to see the poster of Four Roses in Times Square. You probably never noticed that Four Roses was captured in this very historic photo.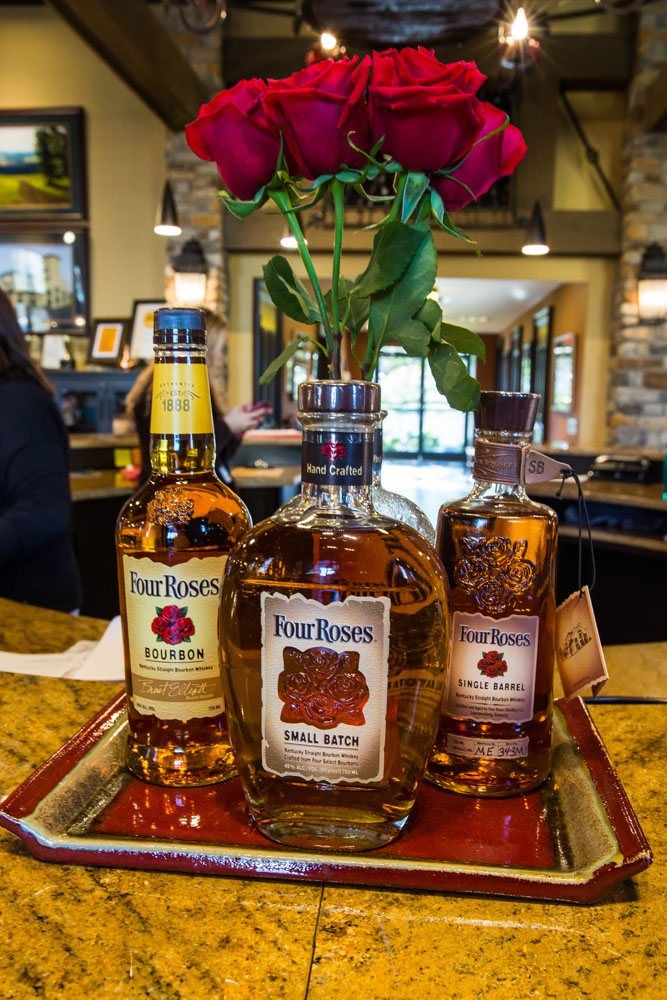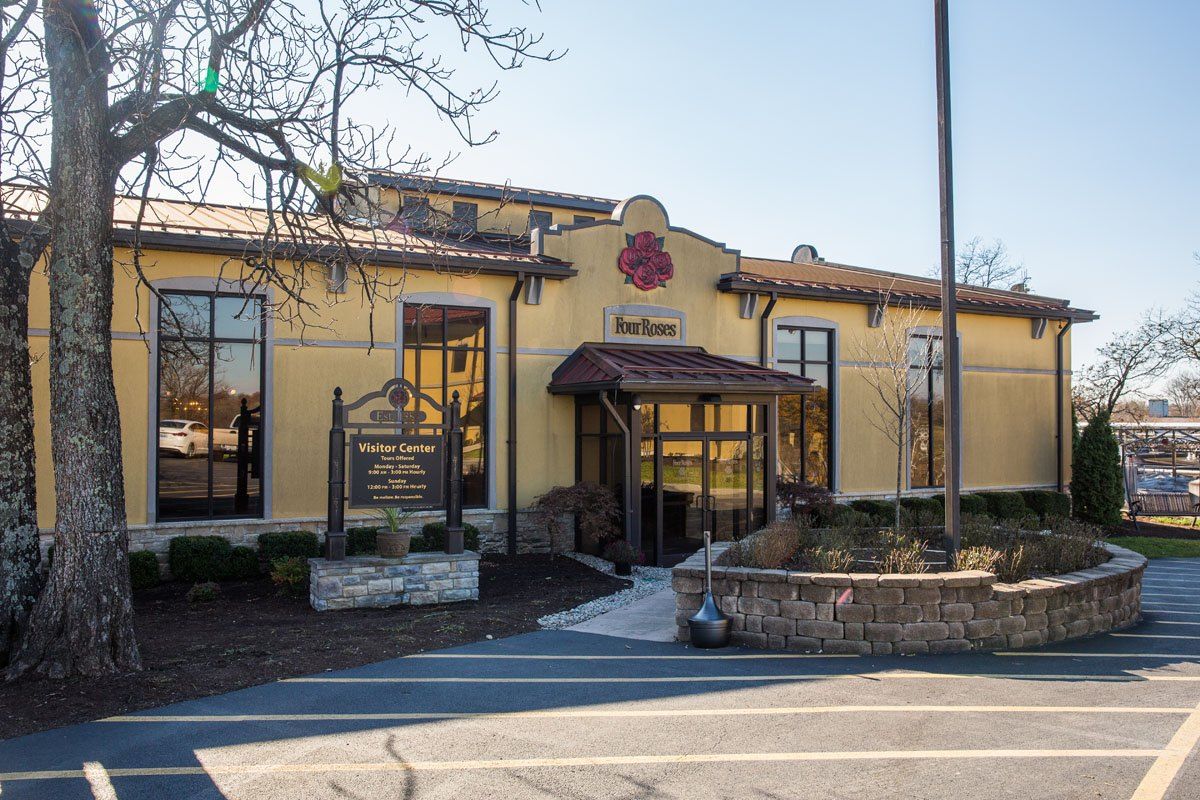 Town Branch
Also known as Alltech Brewing & Distilling Company, this bourbon distillery also produces beer. They offer one hour and fifteen minute tours where you can learn about their bourbon and beer production, ending with a tasting. The only way to do a tasting is to take a tour. Or you can just visit their gift shop, which is what we did.
We did not get the same friendly, welcoming vibe at Town Branch like we did at other distilleries on the Kentucky Bourbon Trail. The man working the gift shop was distracted and aloof. Plus, being located in Lexington, it was a bit of a drive from the other distilleries. If we skipped one place on the Bourbon Trail, it would be Town Branch.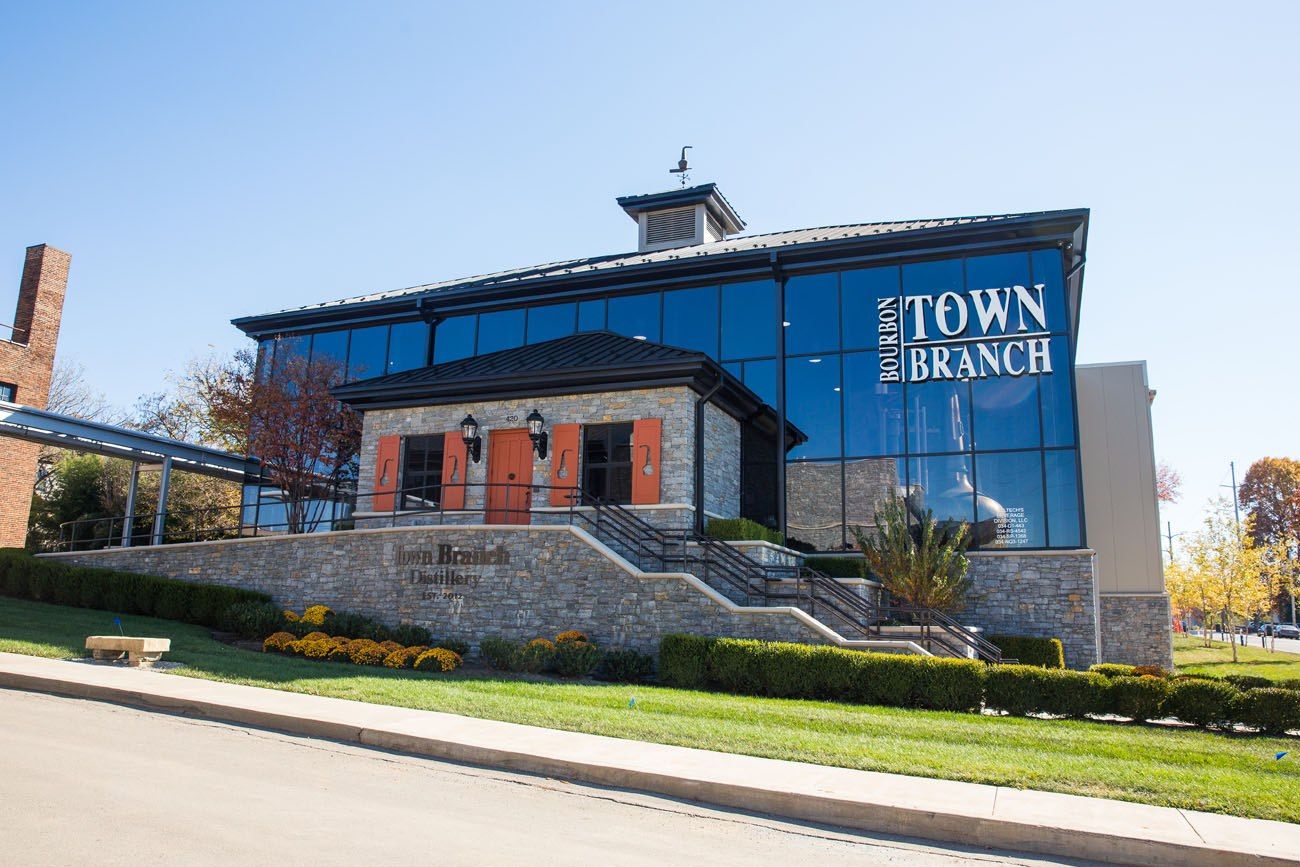 Woodford Reserve
Woodford is the oldest and smallest distillery on the Kentucky Bourbon Trail. To get here, it is a gorgeous drive through horse farms and rolling, bluegrass Kentucky hills. This is a distillery to put high on your list.
Woodford Reserve has a historic, upscale feel to it. It is a National Historic Landmark property and they offer several different tours depending on your level of interest. You can elect to skip the tour and just do a tasting instead. We passed on the tour at Woodford and I regret it. However, the tasting was awesome.
Tim and I had a private tasting out on the deck overlooking the historic buildings of Woodford Reserve. We sampled two of Woodford's bourbons and both were excellent, some of our favorites on the whole Bourbon Trail. The setting and the delicious bourbon made this our favorite tasting experience.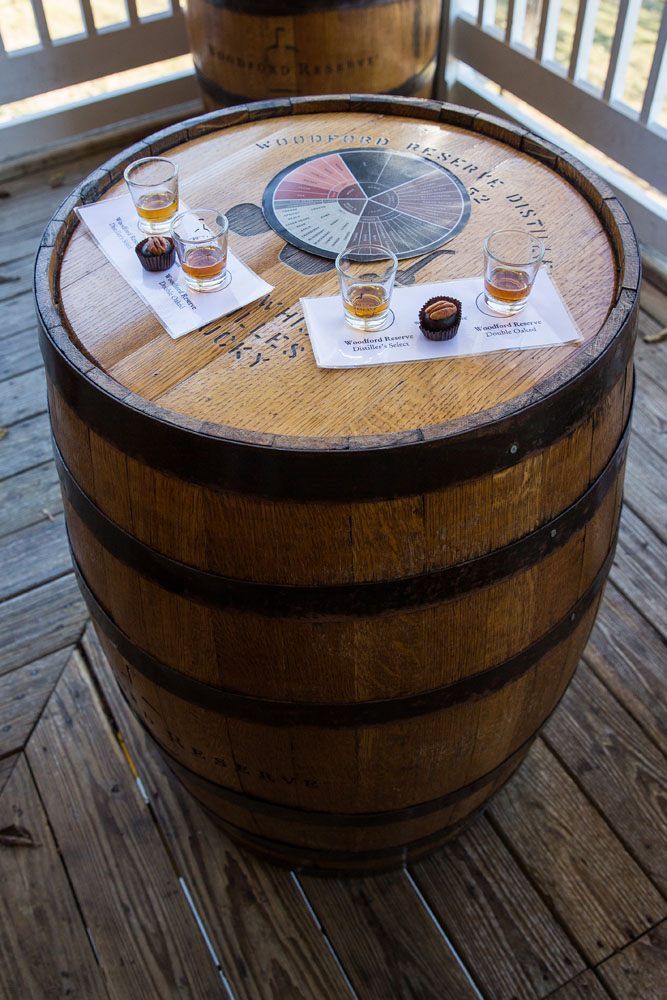 Tours at Woodford are the most expensive on the Kentucky Bourbon Trail, starting at $14. In fact, we spent $8 just to do a tasting, and that included only two bourbons. But it was worth it…you have to try the Woodford Reserve Double Oaked bourbon. Yum!
Jim Beam American Stillhouse
Come as a friend, leave as family…this is the motto behind Kentucky's largest bourbon producer. The Beam family is the most influential family in the history of bourbon making. They have been in the business for over 200 years and helped establish several other bourbon distilleries.
The Jim Beam American Stillhouse is the location of the Jim Beam Distillery. On their 90 minute tour, the longest tour on the Bourbon Trail, learn the entire process of the production of bourbon, ending with a tasting. This is a very popular tour so their website states that a reservation is required at least two days before your visit.
Jim Beam also offers a shorter, 45 minute tour called Bourbon 101, where you get a brief lesson of Beam history and the distilling process with a tasting at the end. Reservations are not currently required for this tour. Or you can simply purchase a drink at the Bourbon Bar and skip the tour. This is exactly what we did.
Many people rave about the Jim Beam tour and tasting. During the tasting, you get to choose from a variety of whiskeys from self-dispensing machines. Like Wild Turkey, Jim Beam offers flavored whiskey  which may appeal to some visitors.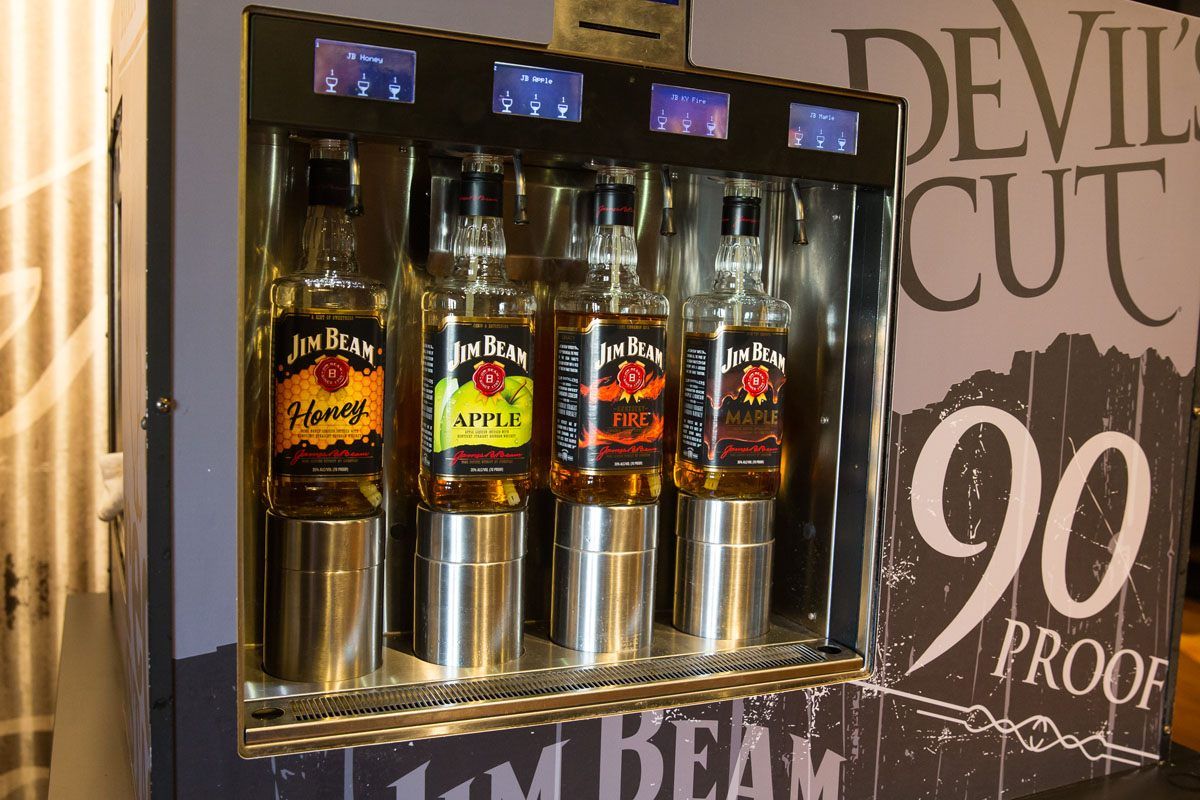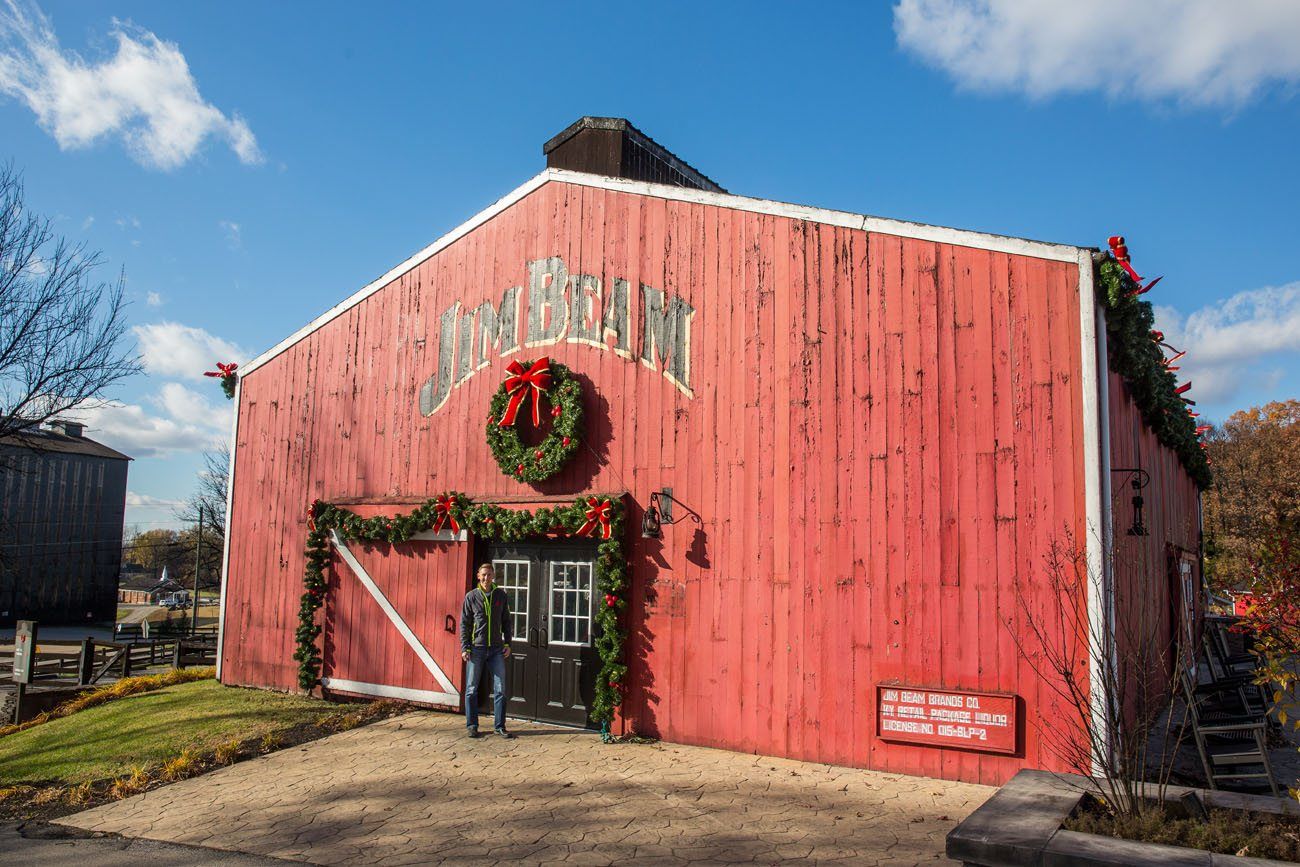 Jim Beam also has an Urban Stillhouse located in downtown Louisville, located on 4th Street Live. A bourbon educational experience and tasting is offered here. You can get your Jim Beam stamp in your Kentucky Bourbon Passport at either location.
Where: Clermont
Tour Price: Distillery Tour $14, Bourbon 101 $10
Website: jimbeam.com
Maker's Mark
For an amazing experience, make sure you visit Maker's Mark. This was our favorite tour on the Kentucky Bourbon Trail for several reasons. The tour gives a fabulous insight to the making of bourbon, the property is gorgeous, the history behind Maker's Mark is intriguing, and the bourbon is delicious.
If you visit one distillery on the Bourbon Trail, make sure it is Maker's Mark.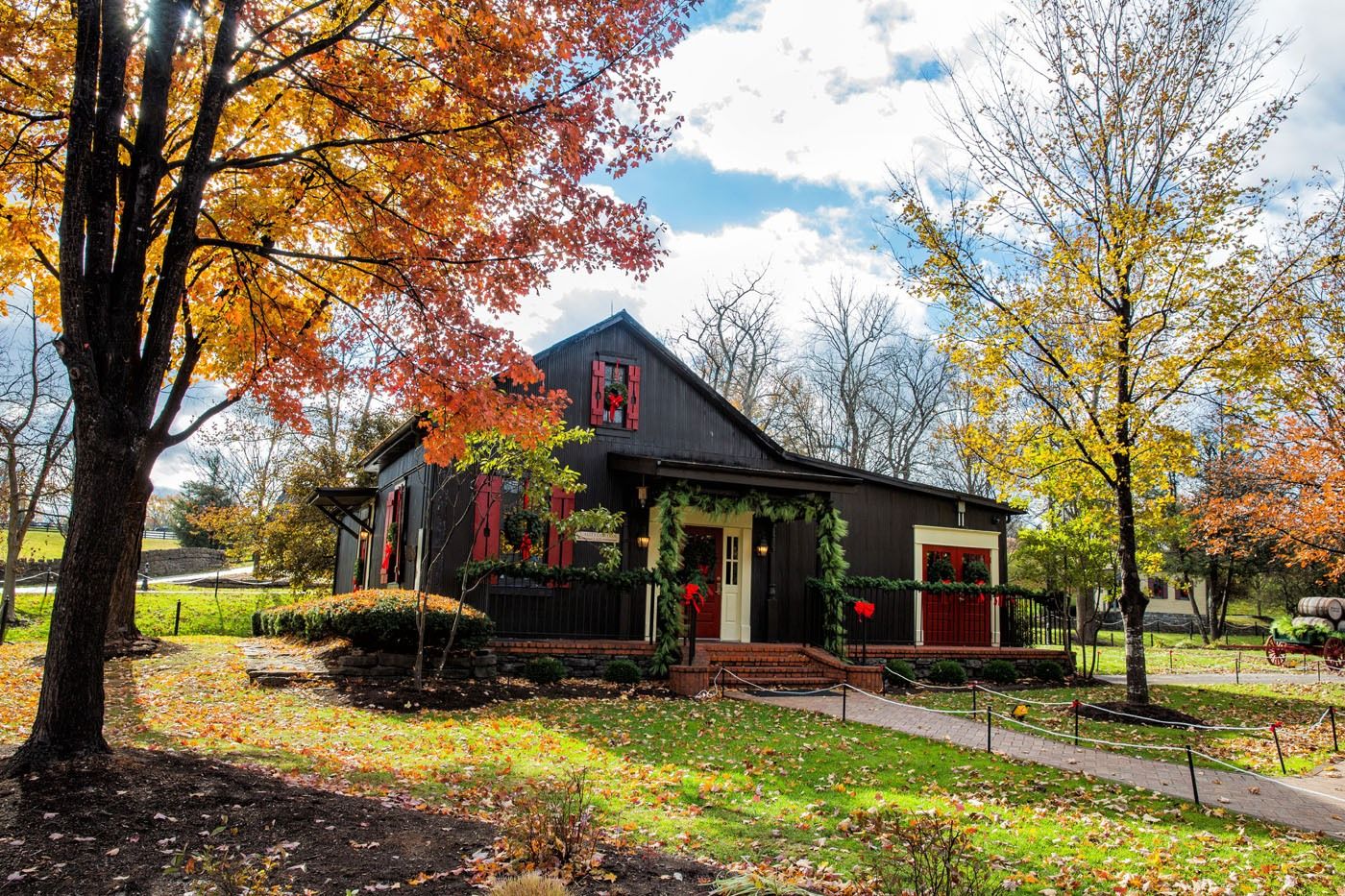 To get to Maker's Mark you will drive through rural Kentucky. One lane roads snake through the hills and farms, and Tim and I were wondering if we were going to the right place! Seemingly in the middle of nowhere is the beautiful property of Maker's Mark.
We took the first tour at 9 am on a chilly Saturday morning. For one hour we walked through the property, learned the history behind the making of Maker's Mark, tasted the sour mash right out of the distilling vats, and ended with a tasting. The entire tour was fascinating, entertaining, and dare I say inspiring?
In the gift shop, you can personally hand-dip a Maker's Mark bottle of bourbon in red wax. This makes the perfect souvenir to bring home.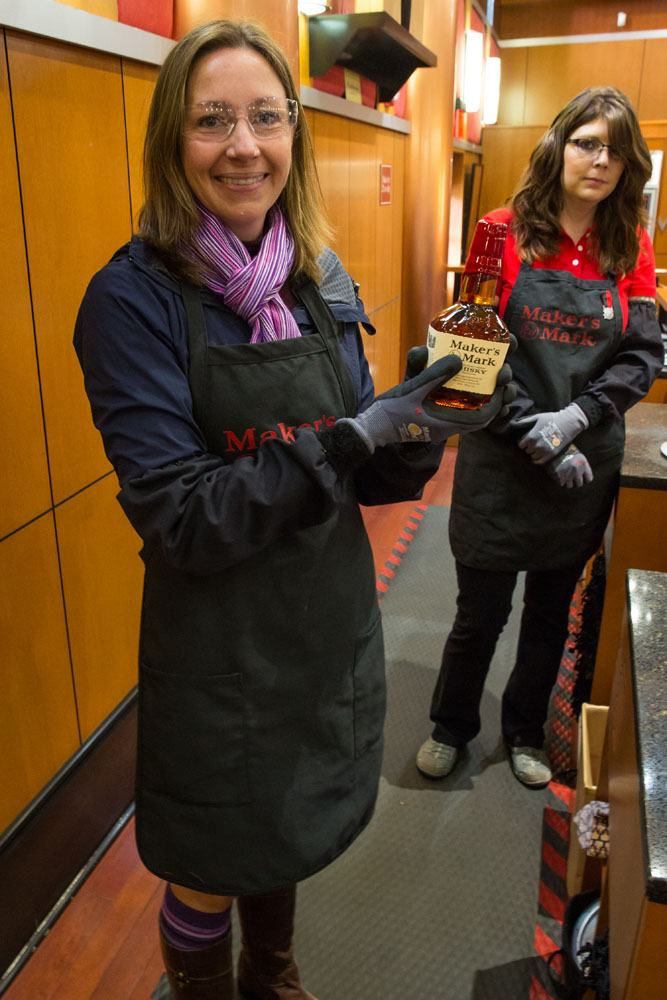 Maker's Mark offers a Distillery tour (which we took) and several specialty tours tours, such as a behind-the-scenes look at what goes on at the distillery and one that offers a class on mixing drinks with bourbon.
Where: Loretto
Tour Price: $14 for the Distillery Tour
Website: makersmark.com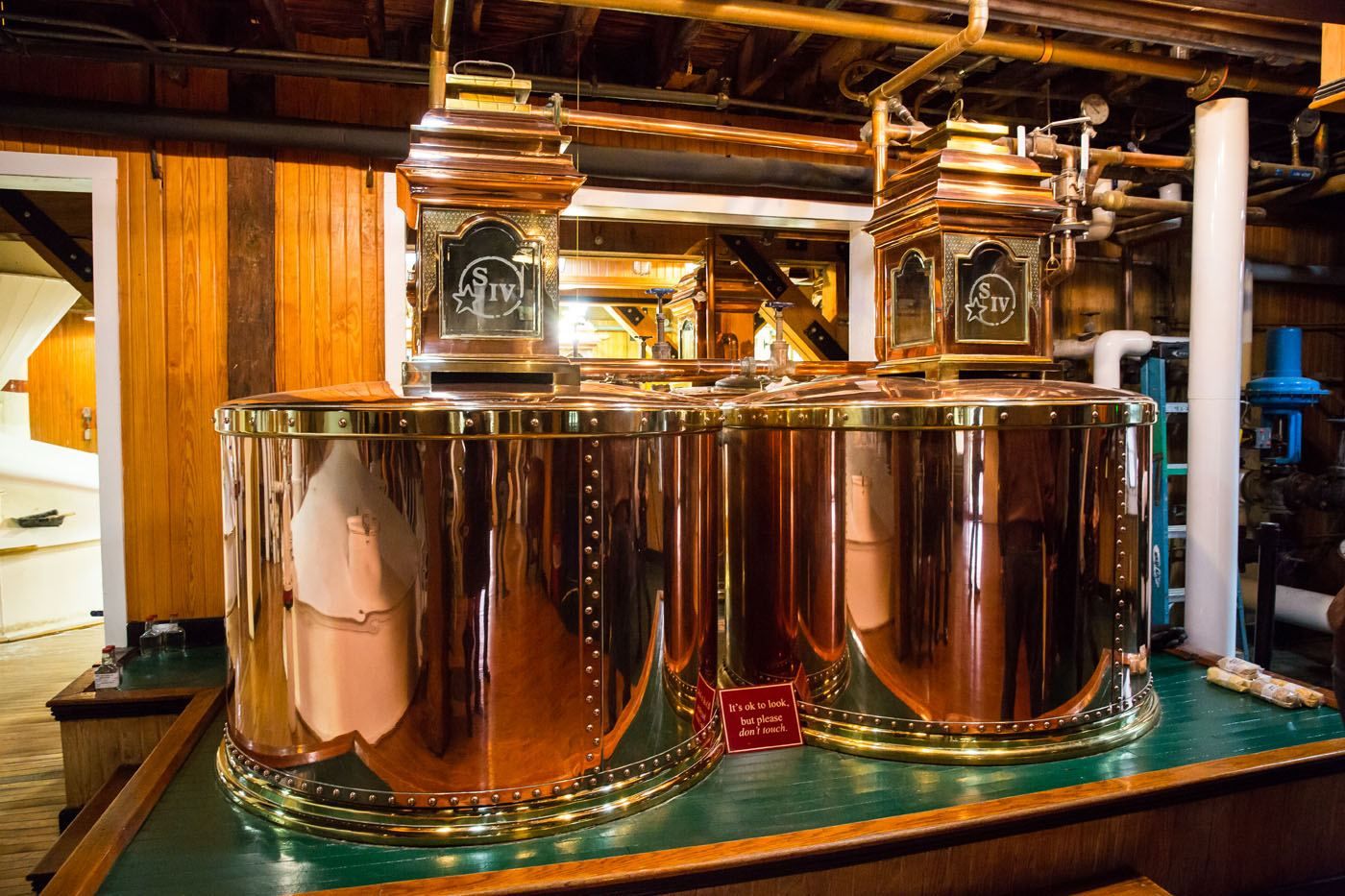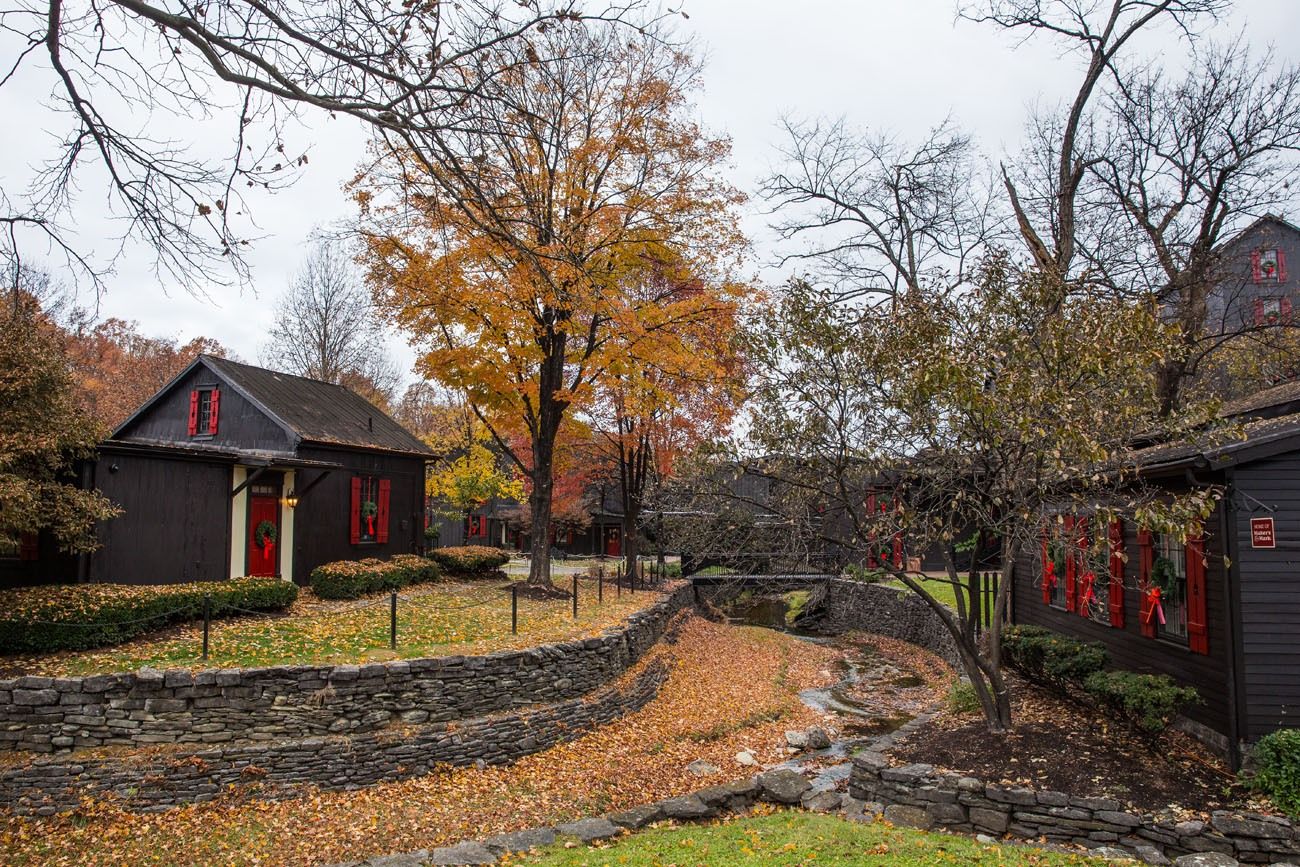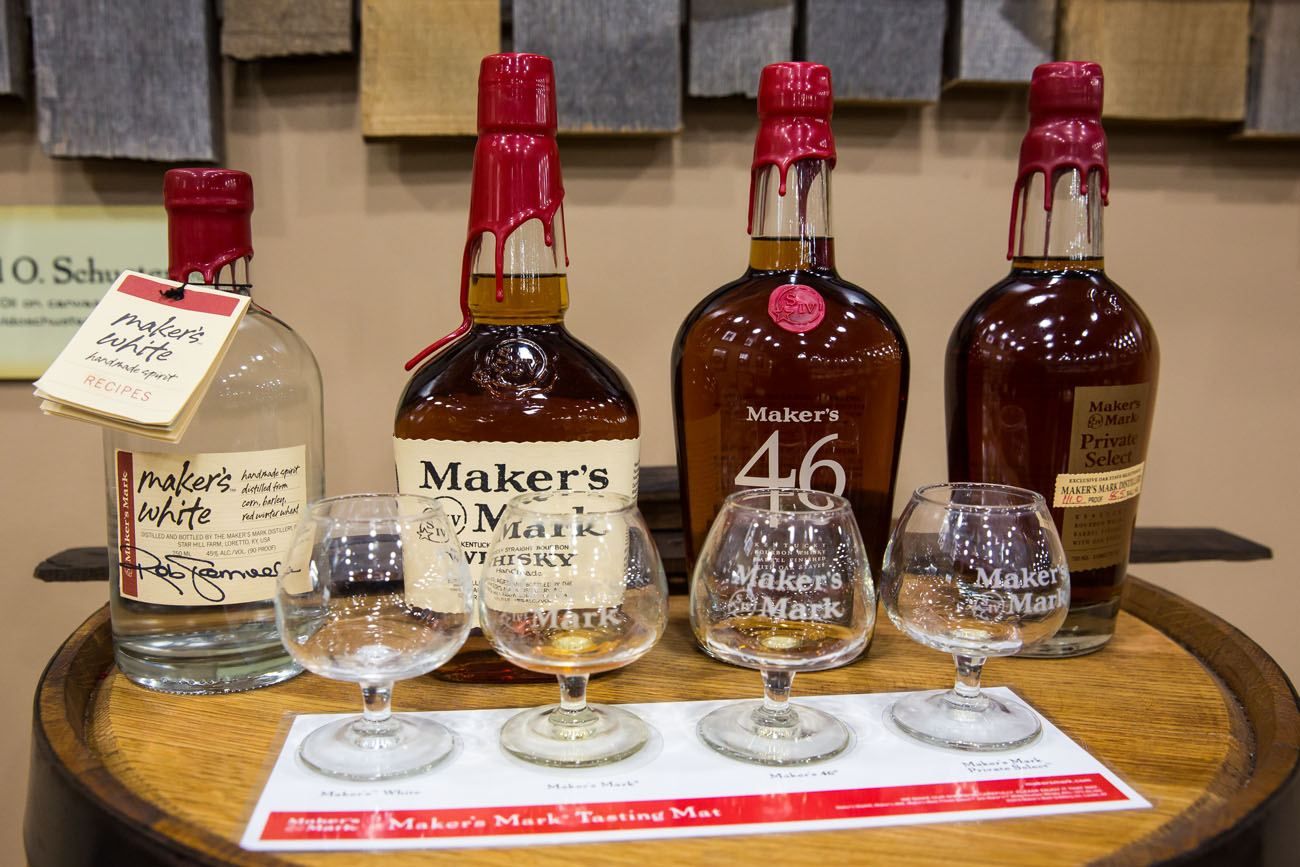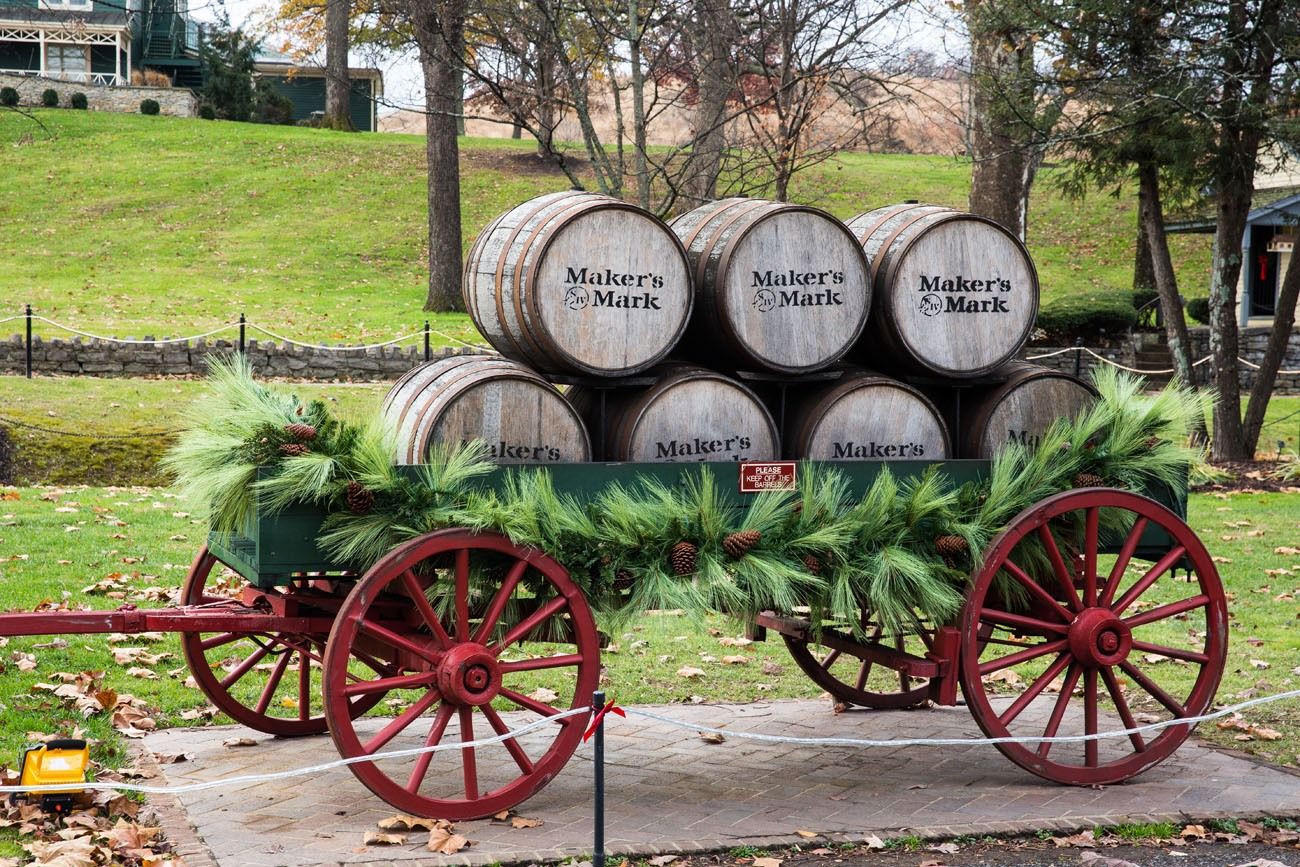 Heaven Hill
The Old Heaven Hill Springs Distillery opened in 1934, just after the end of Prohibition. Since that time, the company has expanded to overseeing a range of bourbon labels, such as Elijah Craig and Evan Williams. In 1996, the distillery in Bardstown burned to the ground and has not been rebuilt. The rick houses at the Bardstown location are used to store the Evan Williams bourbon that is distilled in Louisville.
There are two tours that include tastings, the Mashbill Tour and the Connoisseur Experience. Since there is no longer an active distillery, we opted not to take the tour. Instead, we explored the onsite Heritage Center, which is a great place to get an overview on the history of bourbon in Kentucky.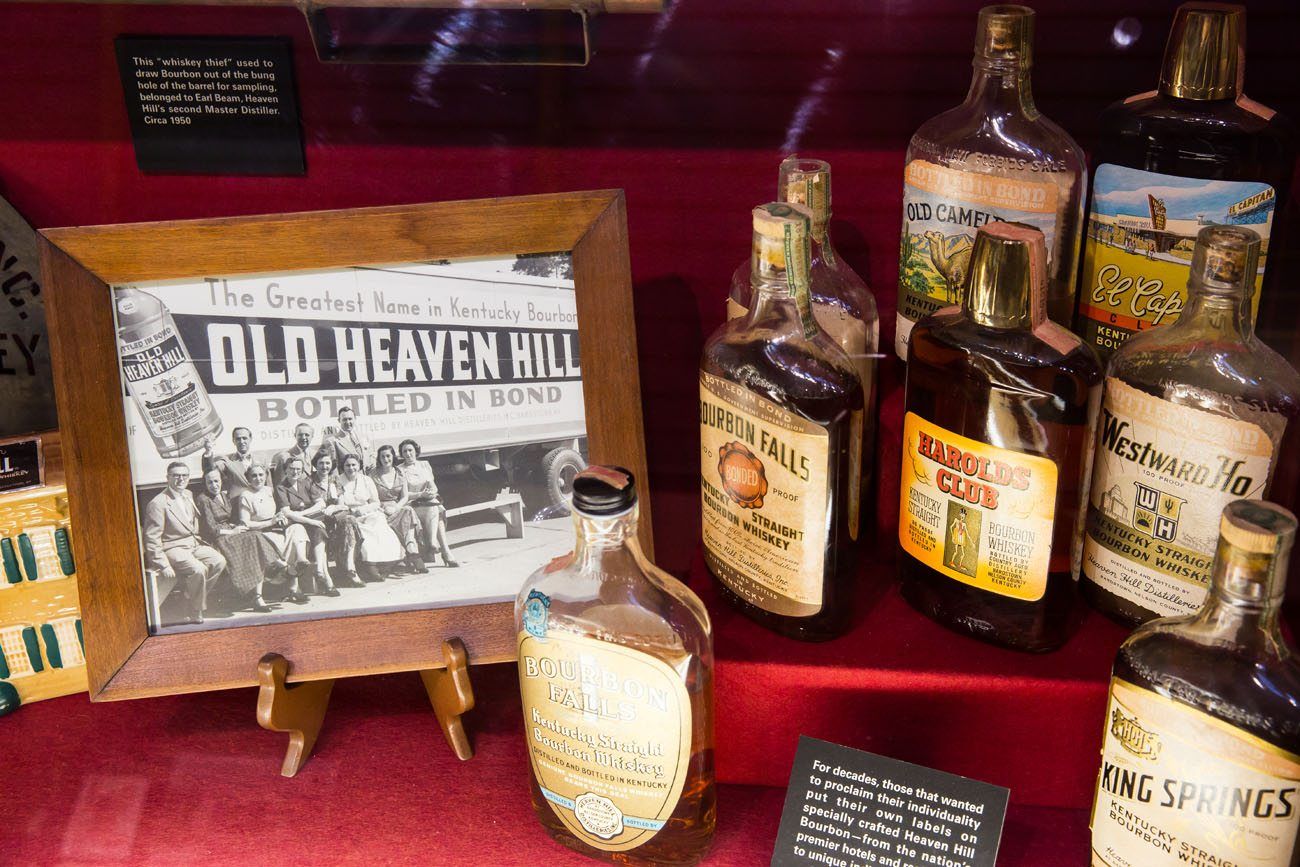 Angel's Envy
Angel's Envy was added to the Kentucky Bourbon Trail in February 2017. This distillery features whiskey aged in Port Wine barrels. The distillery is located right on Main Street in Louisville.
Tours are by reservation only. Angel's Envy is closed on Tuesday.
Where: 500 E Main Street, Louisville
Tour Price: $20
Website: angelsenvy.com
Kentucky Bourbon Trail Passport
At your first distillery, pick up a Kentucky Bourbon Trail Passport. All ten distilleries are listed inside, with space for your own notes and a stamp from each distillery. If you collect all ten stamps you can redeem your passport for a Kentucky Bourbon Trail T-shirt. What's not to love? You get to sip bourbon at ten different distilleries and then get a T-shirt to proudly show off your accomplishment!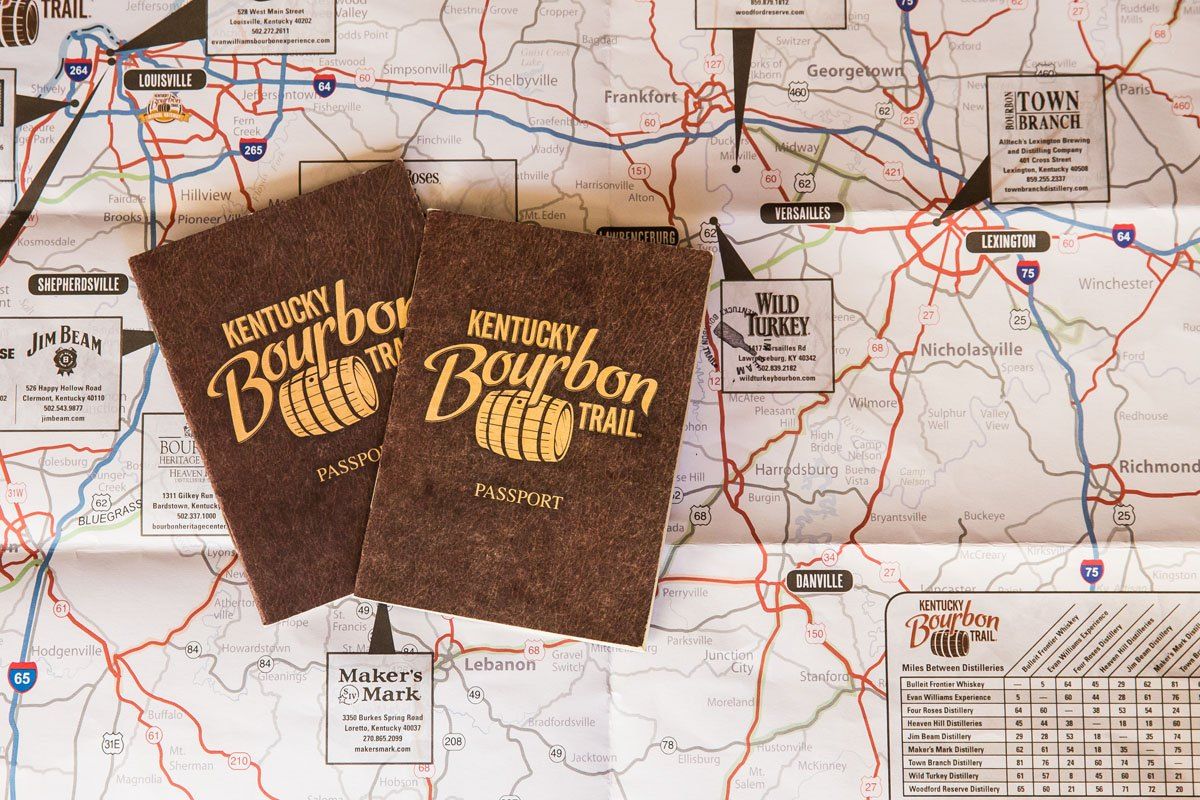 Our Recommendations
We spent two days on the Kentucky Bourbon Trail. During our time, we did not take a tour at every distillery, however, we did visit all of them (except for Angel's Envy, which was not part of the official Bourbon Trail during our visit). Ten tours is a lot to fit into one weekend, and honestly, they do get repetitive, as most tours teach you how bourbon is produced. By the time you get to the 9th distillery, you may begin to think you could be a master distiller!!
In order to take a tour at all ten distilleries you will need three days. For most people, a mix of tours and tastings is the ideal visit, which can be done in two very busy days if planned appropriately.
With limited time, especially if you have no desire to take a tour at all ten distilleries, here are our must-see distilleries.
Best All Around Experience: Maker's Mark
Best Tasting Experience: Woodford Reserve
Best Chance to meet the Master Distiller: Wild Turkey
Best Tour for Families: Evan Williams Bourbon Experience
Best Bourbon Whiskey: Come tour the Kentucky Bourbon Trail and find out for yourself!
For even more information, read our guide about the Kentucky Bourbon Trail, filled with information about how to have the best experience, and ideas for more activities in the local area.
---
Complete your trip to Louisville, Kentucky with these 2 articles:
12 Best Things to do in Louisville, Kentucky
Louisville Restaurants: The Best Eats in Town
---