In an attempt to catch the last of the autumn colors, Tim and I went a road trip to the Great Smoky Mountains in early November. We spent a weekend exploring Great Smoky Mountains National Park, using Gatlinburg, Tennessee as our home base.
Great Smoky Mountains National Park is the United States' most visited national park. It actually receives twice the number of visitors of any other national park, which came as a surprise to us. We thought that Yellowstone, with its large size and popularity, or the Grand Canyon, one of the world's most remarkable spots, would draw more attention than the Great Smoky Mountains.
So, why is this park so popular? You can drive right through it in less than day, pop out of your car at a few overlooks, and take in the view. However, with just a little more time and effort, you can step out of your car and explore the park. With over 800 miles of hiking trails, from half-mile easy walks to multi-day tests of your endurance, there is something here for everyone.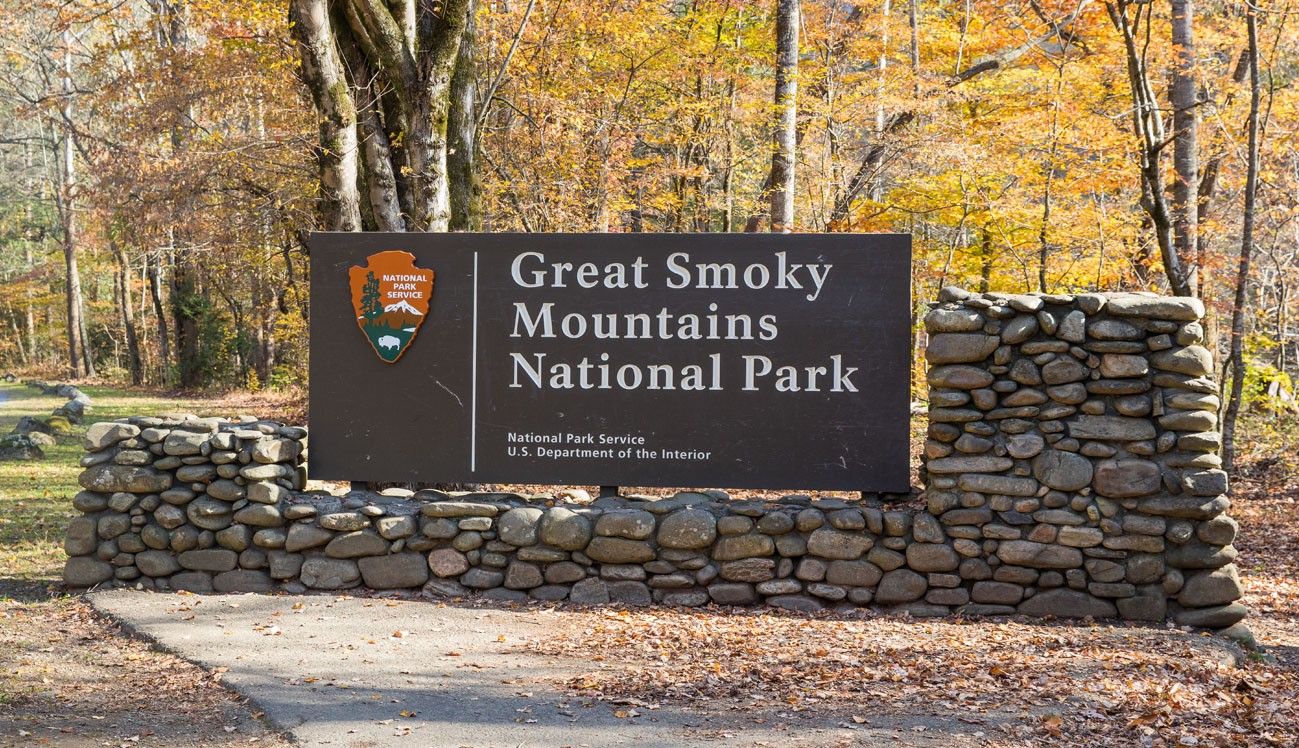 Great Smoky Mountains National Park sits on the border between Tennessee and North Carolina. Gatlinburg is a great city to stay in as it sits right at the entrance to the park on the Tennessee side. This is where we stayed. However, you can also stay in North Carolina. It takes a little over one hour to drive to the park from Asheville or you can stay in Cherokee, located just outside of the park.
If you are planning a trip to the Great Smoky Mountains, we have ideas for how to spend your time in the park and in Gatlinburg. Let's start with Great Smoky Mountains National Park.
Great Smoky Mountains National Park
The main things to do here are drive through the park on US-441, stopping at various overlooks along the way, and pick one or two hiking trails to explore.
During our visit in early November, the weather was less than ideal. Temperatures were unusually warm, reaching into the high 70's, and there was a constant cloud cover that hid the mountaintops day and night. From Clingmans Dome and Newfound Gap, all we saw were low-lying clouds. We still enjoyed our visit even though we never got to see those sweeping views over the Smoky Mountains.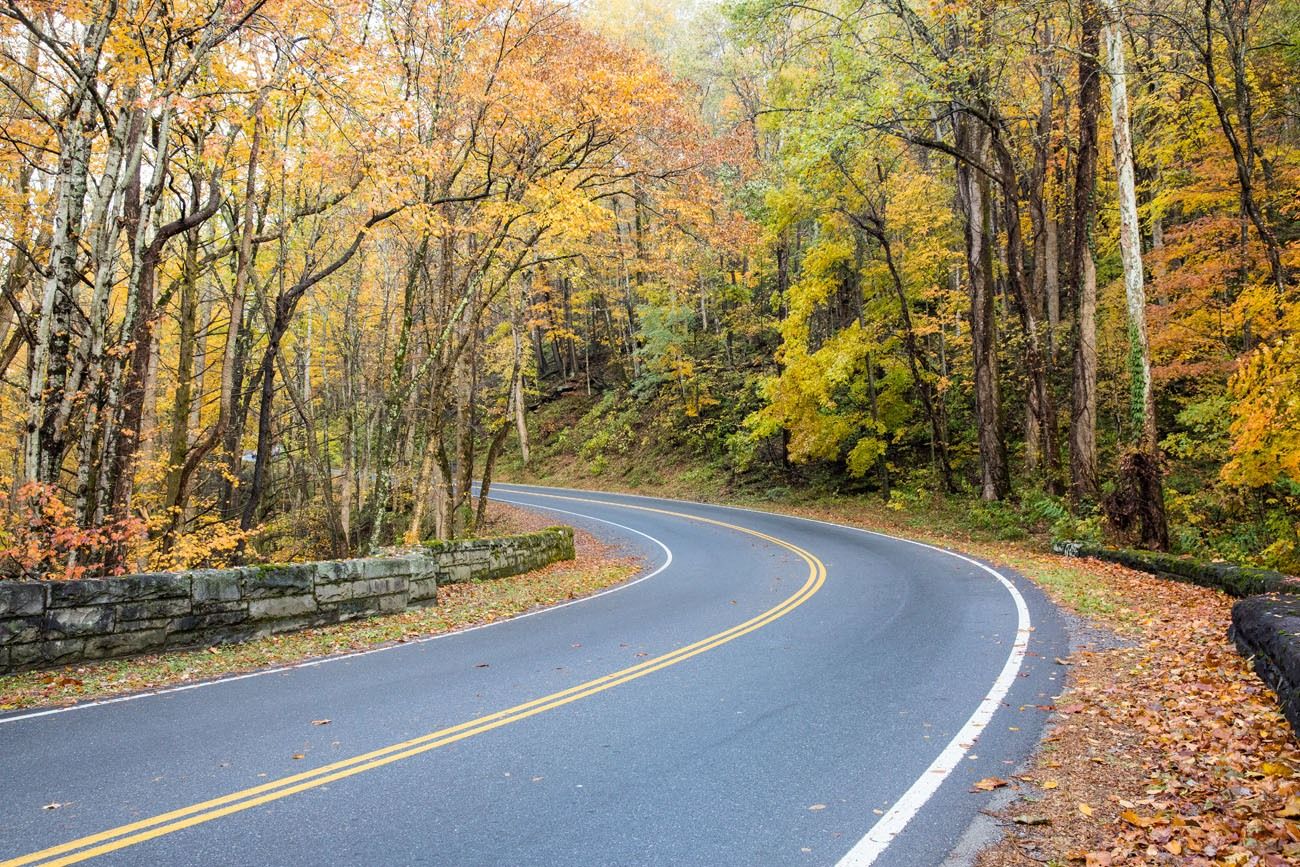 5 Things to Do in the Smoky Mountains
Clingmans Dome
This is the highest mountain in the park and in Tennessee (6,643 feet). The Appalachian Trail also crosses Clingmans Dome, making this spot the highest point on the 2,144 mile-long trail. Park your car in the large lot and climb the observation tower for spectacular views over the mountains.
Newfound Gap
This is a scenic overlook located on US-441, not far from the access road to Clingmans Dome.
Go Hiking
Take your pick from short trails to all day adventures.
We chose to hike up Mt. LeConte on the Alum Cave Trail. This is one of the most popular hikes in the park and it's a good one, but it is long. Eleven miles in length with 2800 feet of elevation gain, it's an almost constant climb up to the summit of Mt. LeConte. Along the way, walk through forests filled with rhododendrons, through caves, and on trails that cling to the side of the mountain. For those who want to turn this into a two-day trip, you can spend the night in a cabin at the summit of Mt. LeConte.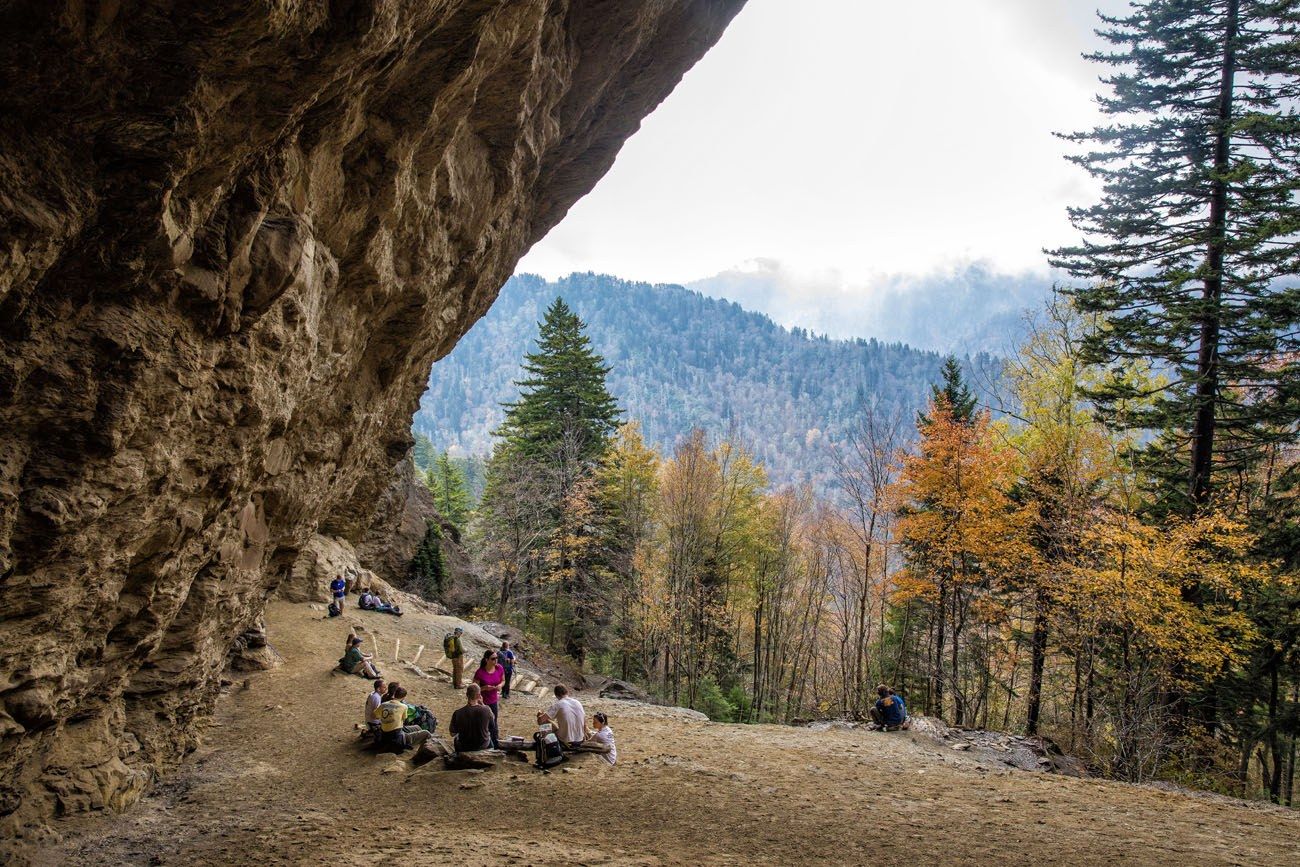 There are many other hikes to choose from. Check out this great list of ideas on Hiking in the Smokys.
Cades Cove
This is another scenic drive where you never have to leave your car (although getting out to see the cabins here is worthwhile).
Cades Cove is an 11-mile, one-way loop through a scenic valley. Along the way, visit historic homesteads and schools. There are also hiking trails if you want to get off of the beaten path.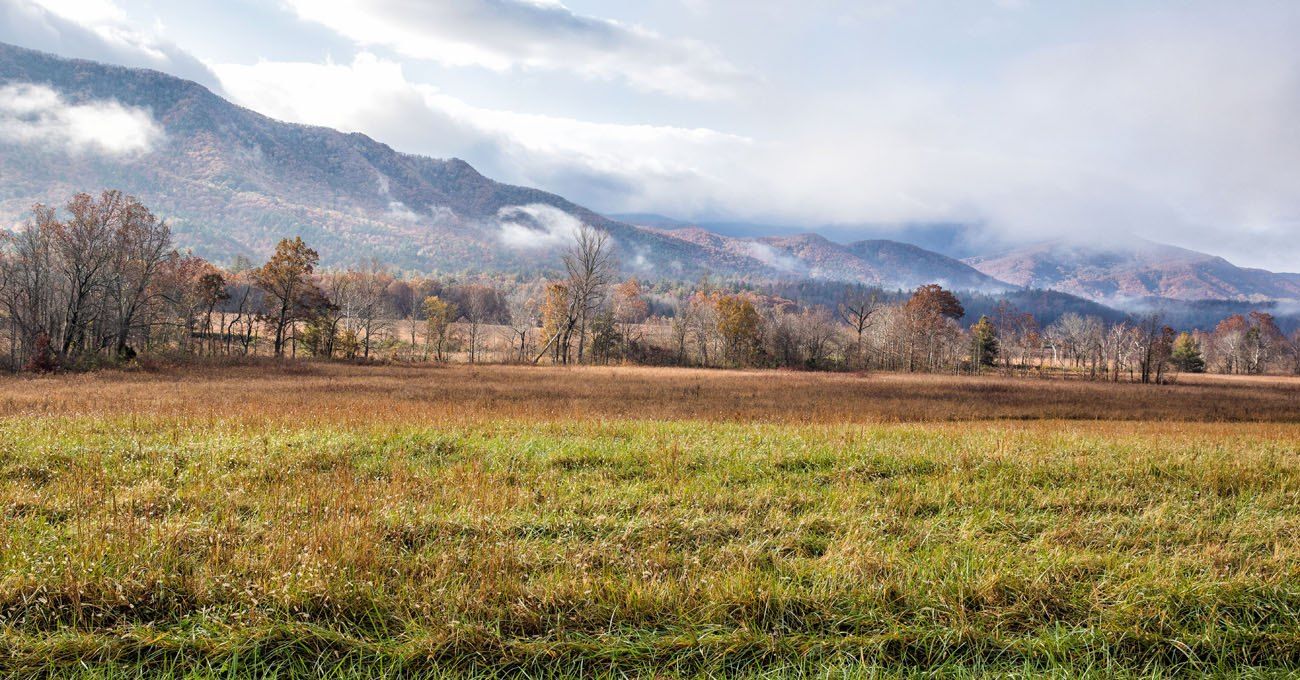 For the best experience, get here before 9 am. After 9 am, the loop gets congested with cars. You will literally inch along at a snail's pace. We got here at 9:30 am and the loop was already filled with cars. There is nothing fun about driving your car for 11 miles at the same pace you could walk the loop. Past 9 am, it can take up to 4 to 5 hours to drive this loop on busy days.
For us, Cades Cove was not worth it. There were too many cars and the scenery was not that spectacular. The best part, for us, was visiting the John Oliver Cabin. If you want to skip the loop, you can walk here from the Cades Cove Visitor Center. Park at the large parking lot right on Cades Cove Loop Road and walk 1.4 miles (about 30 minutes) on the Rich Mountain Loop Trailhead until you get to the cabin.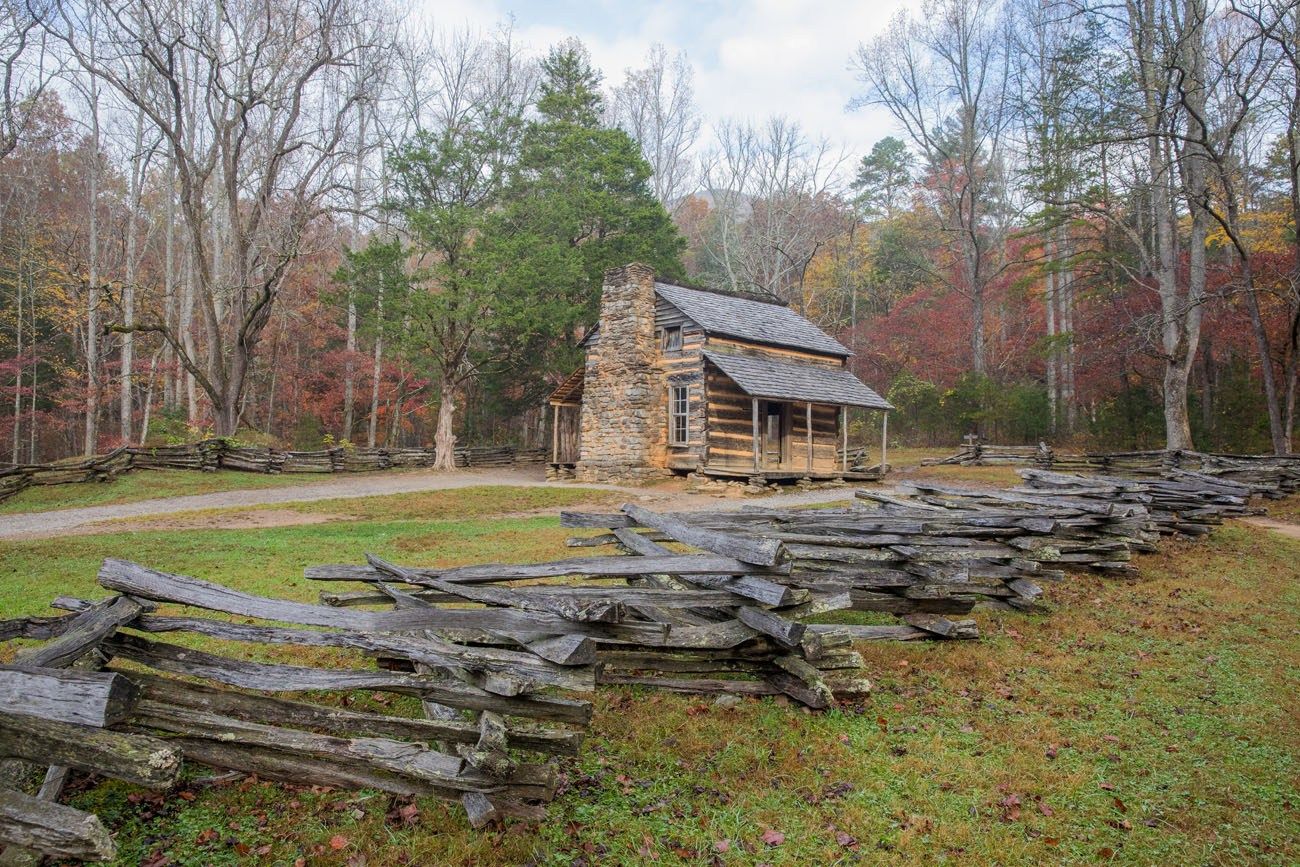 Roaring Fork Motor Trail
This is another scenic drive. It's less crowded than Cades Cove and located close to Gatlinburg, so if you want to go on a scenic drive and avoid the crowds, put this one on your list. Along the way, see waterfalls, cabins, and, if you're lucky, maybe even wildlife.
From this loop, you have access to the Grotto Falls hiking trail, a 2.6 mile round trip hike to a pretty little waterfall.
6 Things to Do in Gatlinburg
Gatlinburg is a small town that totally caters to tourism. With lots of hotels and restaurants to choose from, Gatlinburg makes a great home base for exploring the Smoky Mountains.
After exploring Great Smoky Mountains National Park, Gatlinburg offers a lot more to do. For families, this town is wonderful, with many of activities geared towards kids. However, there is plenty to do here for adults, as well.
Go on a Moonshine Crawl
Moonshine is all the rage in Gatlinburg. There are numerous distilleries offer tastings of flavored moonshine and whiskey. At only $5 per tasting, this is one of the cheapest and one of the most entertaining ways to spend an evening in Gatlinburg.
There are three major distilleries to visit in Gatlinburg, and we tried all three, so we can give you the run down.
Sugarlands Distilling Company
This place is awesome. They offer the most informative, most entertaining moonshine tasting in Gatlinburg. Pay $5, belly up to the bar, and be entertained as your bartender takes you through a tasting of ten different moonshine flavors. Some of these bartenders are downright hysterical (and they get funnier the more moonshine you drink).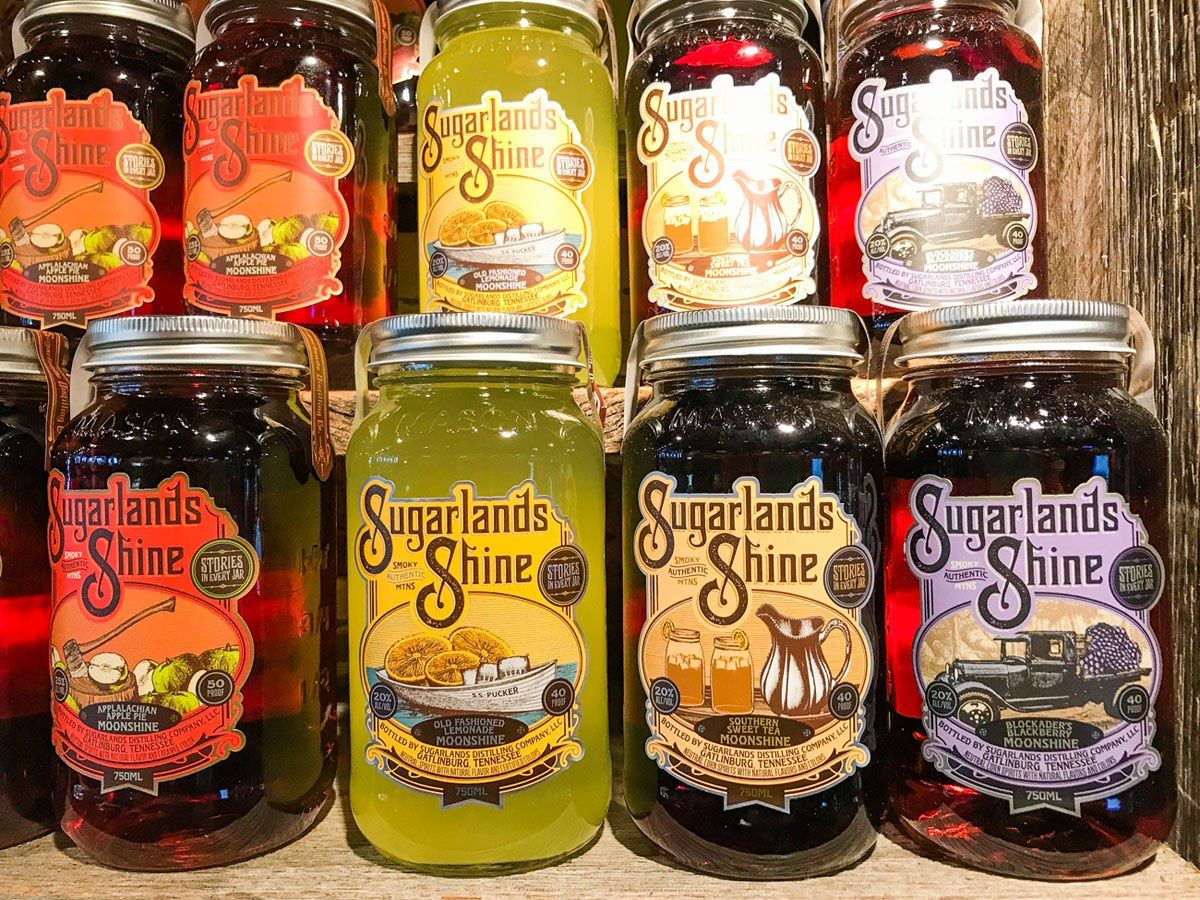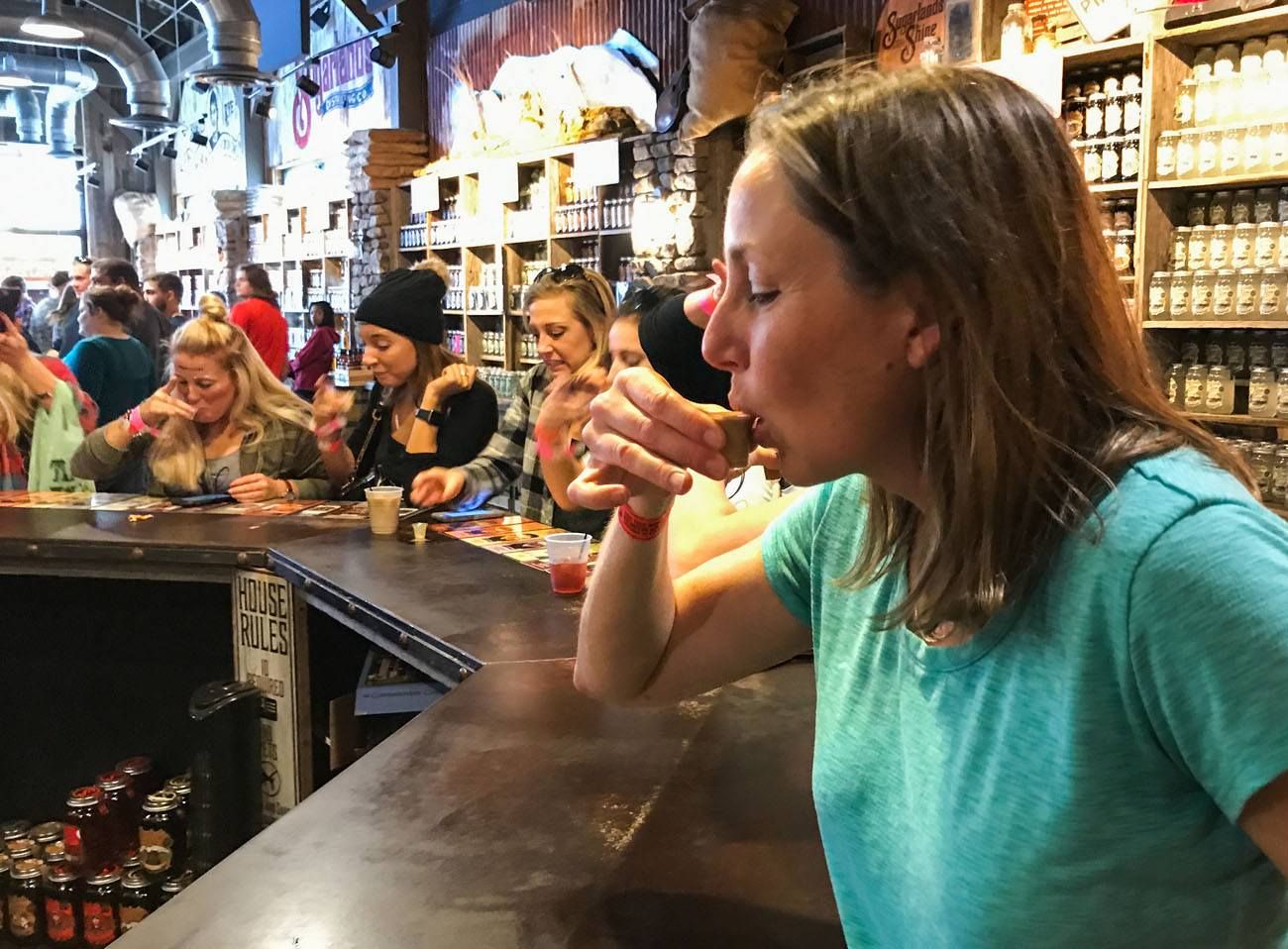 Our favorite moonshine, and a favorite of many people who visit Sugarlands, is the Apple Pie Moonshine.
Ole Smoky Tennessee Moonshine
Ole Smoky offers two different tasting experiences in Gatlinburg.
The Ole Smoky Moonshine Holler is the spot to taste their moonshine. Again, pay $5 and your bartender will take you through a tasting of roughly ten different flavors of moonshine. It's a fun time and the moonshine is good, but Sugarlands was our favorite.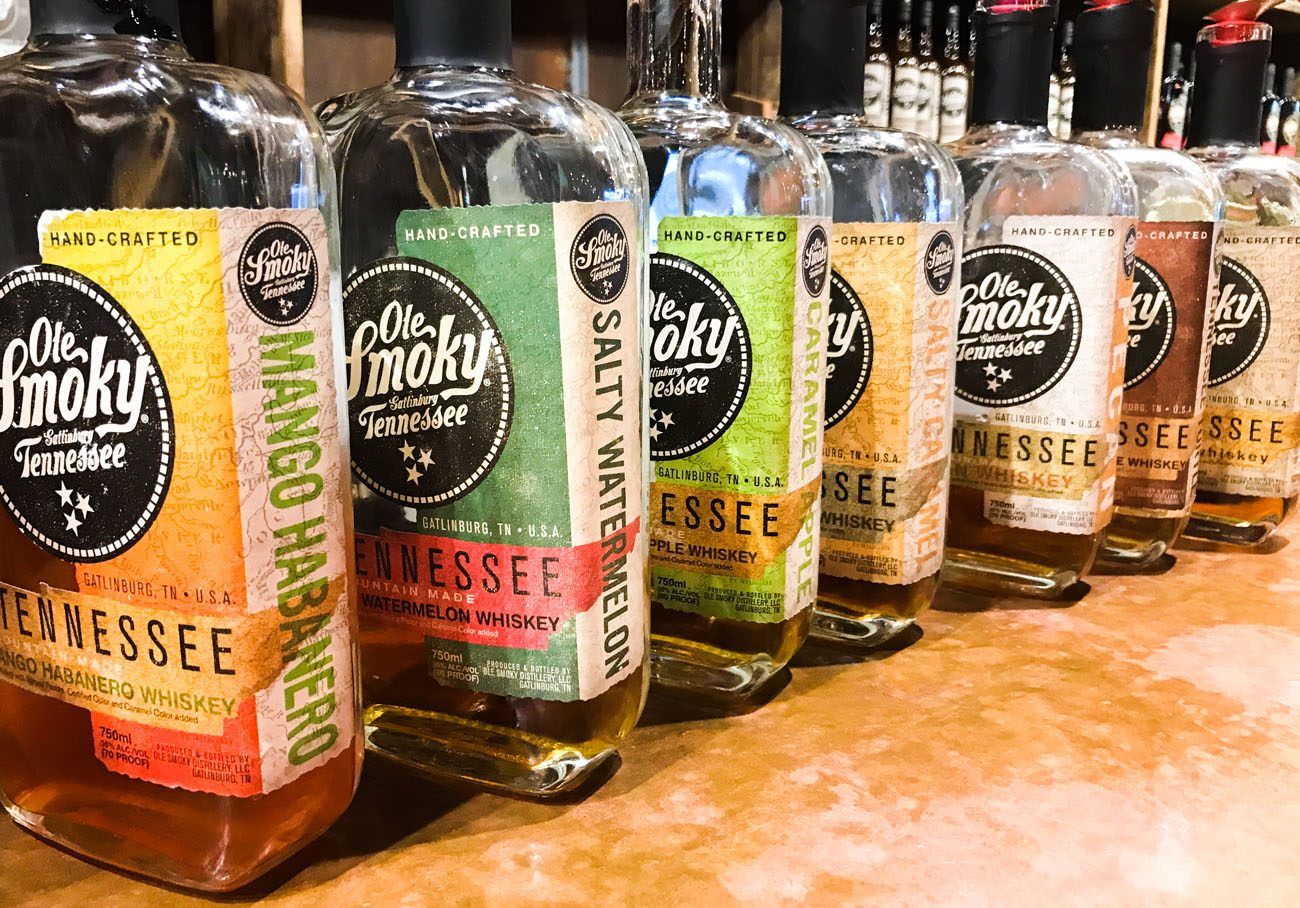 Just down the street is the Ole Smoky Barrelhouse. Here they have lots of flavored whiskey to sample. It's very good, and we preferred the Ole Smoky whiskey over the moonshine.
Doc Collier Moonshine
Doc Colliers is a smaller distillery and their tasting has a more intimate feel. They have some unique flavors to set them apart from the other distilleries (such as "Naner," aka, banana, and "Back Country Fruit Punch"). If you want a quieter, less rowdy experience, visit Doc Collier.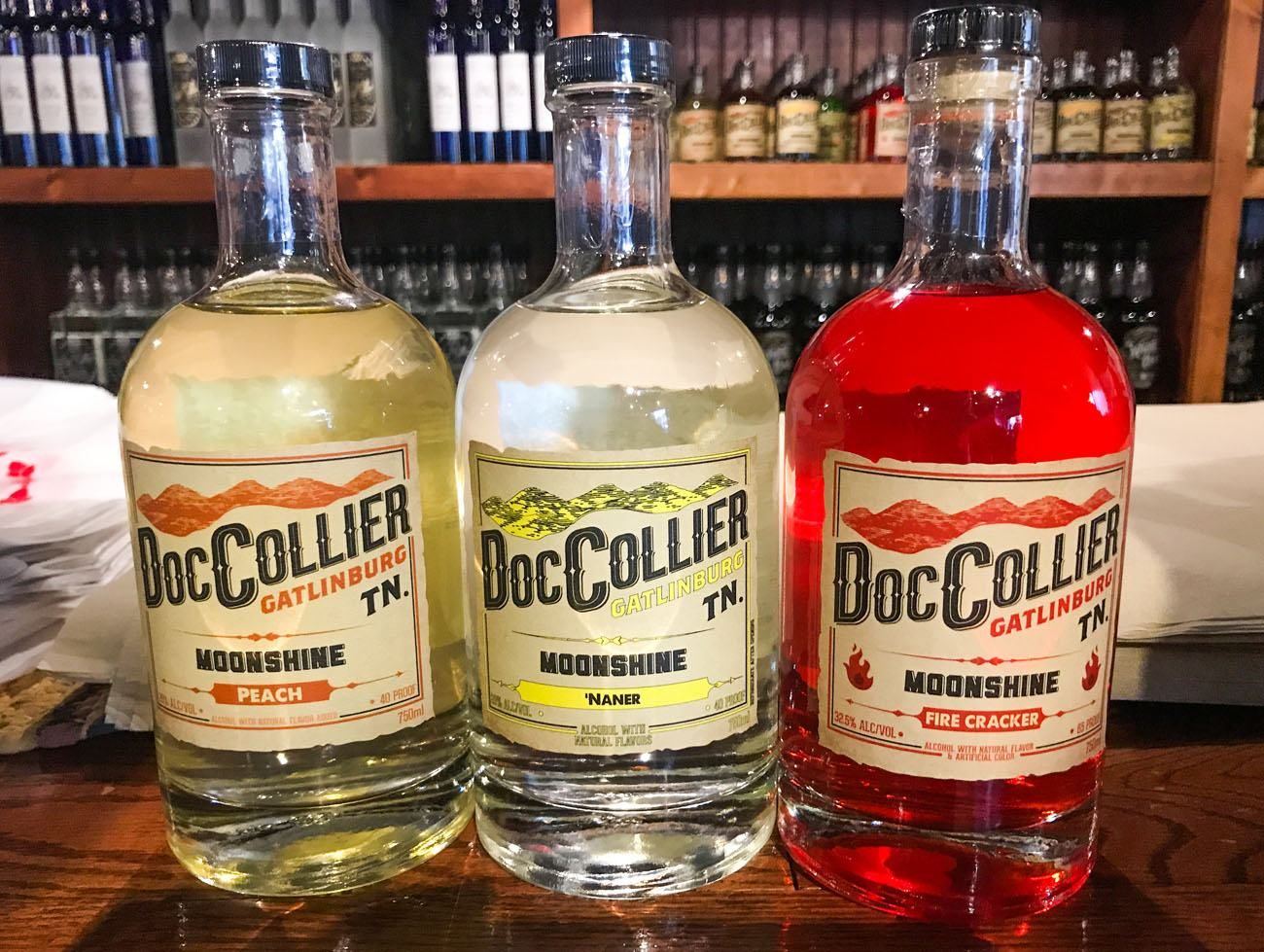 All of these distilleries charge $5 per person for a tasting, but this fee can be applied in the gift shop if you purchase moonshine or a souvenir.
Gatlinburg Scenic Overlook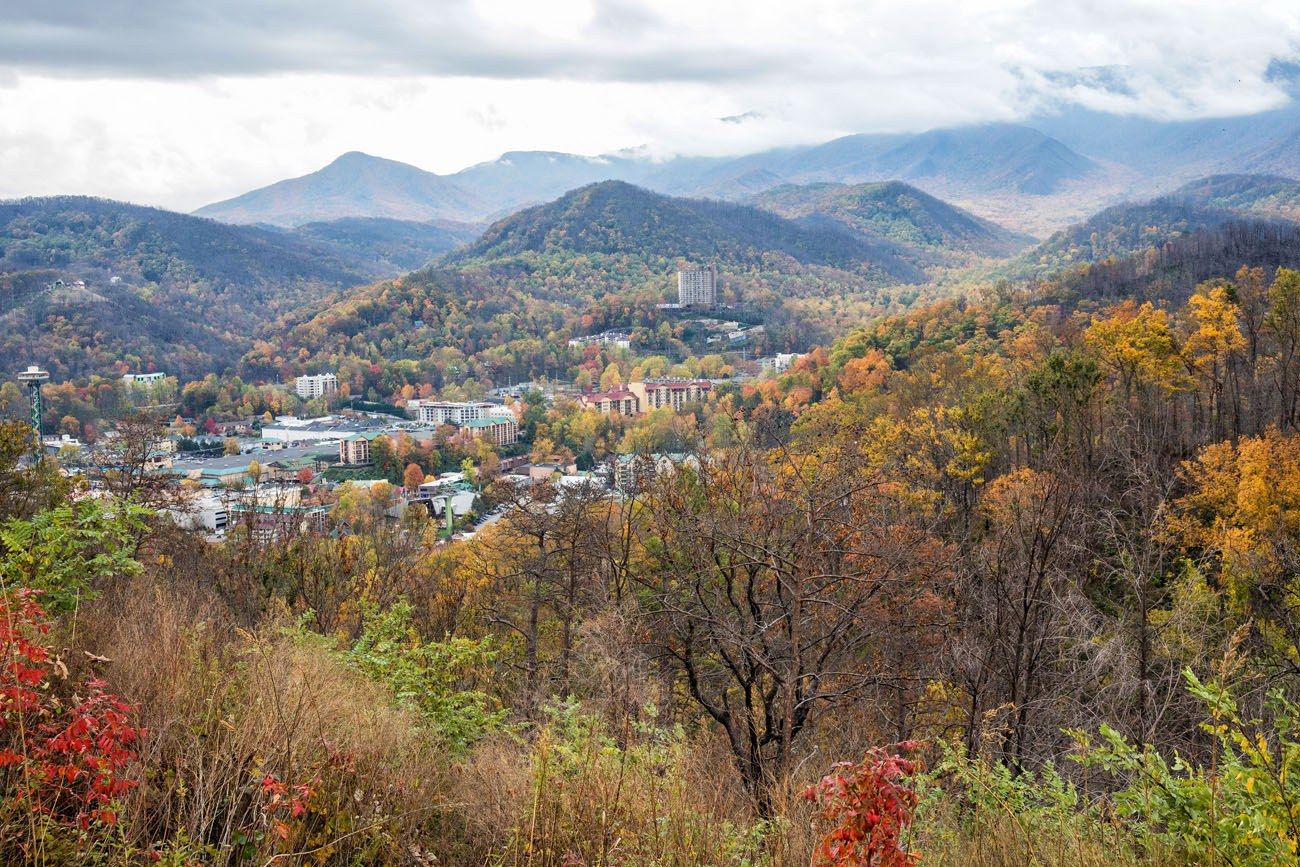 When you drive from Great Smoky Mountains National Park into Gatlinburg, it's worth the short detour to the Gatlinburg overlook for one of the best views of the city.
Gatlinburg Sky Lift and Sky Bridge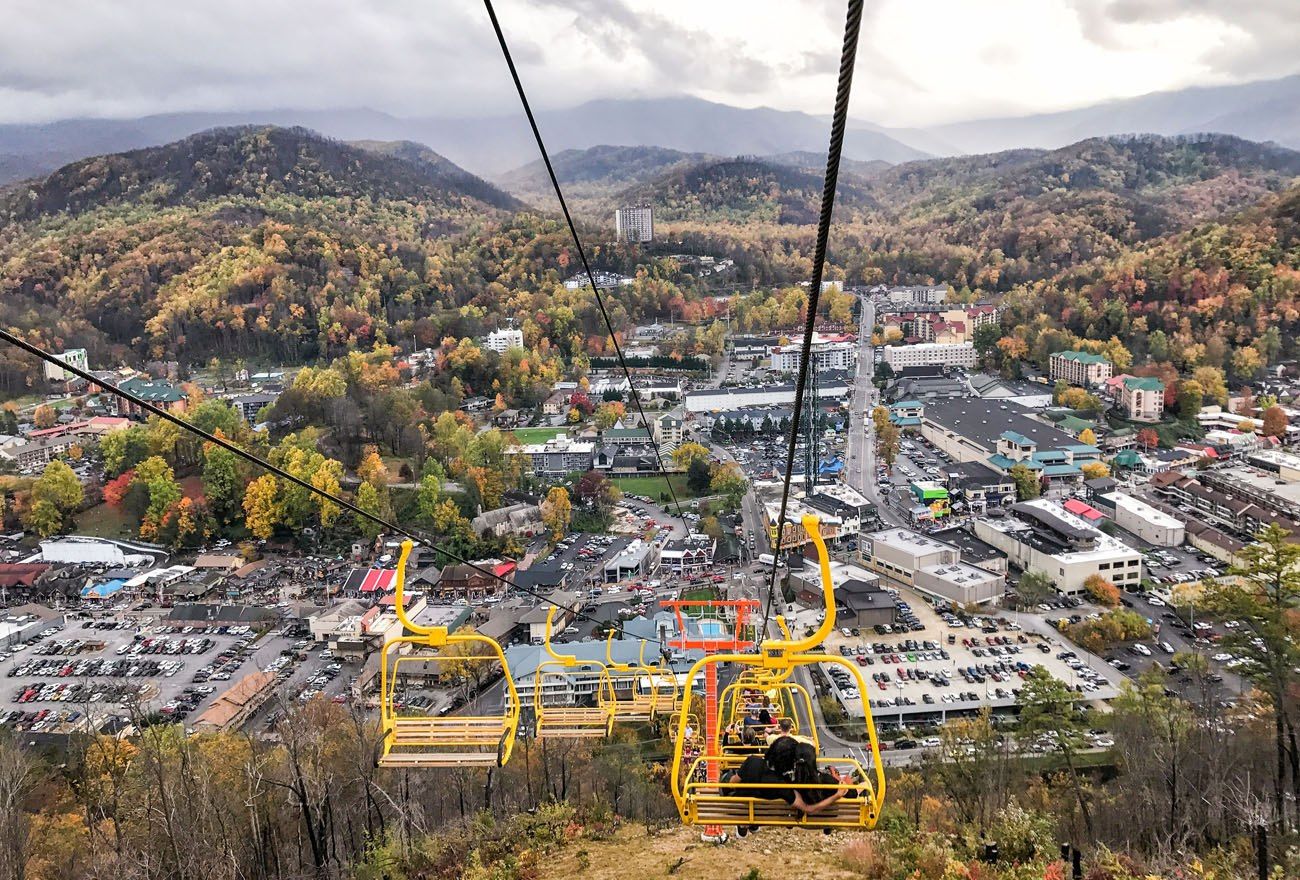 There are several chairlifts offering views of Gatlinburg and the Gatlinburg Sky Lift is the best, in our opinion. It is located in the center of town and from the top, you can look out over Gatlinburg with the Great Smoky Mountains as a backdrop.
Brand new (it wasn't here during our visit) is the Sky Bridge, the longest pedestrian suspension bridge in the United States.
For updated pricing and hours, visit the official website.
Ride an Alpine Coaster
We have ridden on several alpine coasters around the world and the Gatlinburg Mountain Coaster is one of the best we have been on (but it's also the most expensive).
There is a newer company in town, the Rowdy Bear, which gets good reviews, as well.
Again, this is not cheap, but it's worth it for the thrill of it, if you like this sort of thing.
Salt and Pepper Shaker Museum
For something quirky and unusual, tour the Salt and Pepper Shaker Museum.
More For Kids
If you are here with kids, you can also visit the Ripley's Believe It or Not Museum, play games in the arcades, or do an Escape Room game.
Where We Ate
Taste of Italy
This restaurant is fantastic! They prepare great Italian food at a very reasonable price. It's located a few minutes outside of the heart of Gatlinburg in a small strip mall. They do not sell beer, wine, or alcohol but you can bring your own. A few doors down from the restaurant is a liquor store. Pop in here and buy a bottle of wine to enjoy with dinner.
Cherokee Grill
This is the place to go if you want steak, sandwiches, or seafood. I had the filet mignon but what I loved the most were the blue cheese grits. I know, it may sound a little gross, and I don't even like grits, at least not until I tried these. OMG…delicious!!
Where Not to Eat
Dick's Last Resort. This place is terrible. We stumbled in here after several moonshine tastings and what a mistake. It's loud, dirty, the food is mediocre, and it was just an all around bad experience.
Where We Stayed
We stayed at the Holiday Inn Express. It's new, it's clean, and it is within walking distance of the main strip of Gatlinburg.
---
Have you been to Gatlinburg? What is your favorite thing to do here? Comment below!
More Information for
You
r
Trip to Tennessee and North Carolina:
NASHVILLE: For recommendations on what to do and eat, check out our article Best Things to Do in Nashville and our Nashville Restaurant Guide. For full details on Bluebird Cafe, read our article How to Visit Bluebird Cafe.
NEARBY DESTINATIONS: Asheville, North Carolina makes a great weekend destination. Mammoth Cave National Park is near Tennessee and also makes a wonderful road trip destination.
KENTUCKY BOURBON TRAIL: Spend a few days exploring the Kentucky Bourbon Trail. Learn about the best distilleries to visit on the Kentucky Bourbon Trail and learn how to plan your itinerary, whether you have just a few days or an entire week.
SHENANDOAH NATIONAL PARK: In our articles about Shenandoah, learn about the top experiences in Shenandoah National Park and 10 great hikes to do while you are here.
NEW RIVER GORGE NATIONAL PARK: New River Gorge National Park is located in West Virginia and it is one of the newest US national parks. Learn about the best things to do in New River Gorge National Park. We also have a detailed day-by-day itinerary and a guide to the best hikes in New River Gorge.
USA TRAVEL INSPIRATION: For more great ideas on where to go in the United States, check out our article Best USA Road Trips, which has 18 sample itineraries for your next big adventure. You can also see more travel itineraries on our Travel Itineraries page and our National Park Itineraries.
If this is part of a bigger road trip through the USA, visit our United States Travel Guide for more inspiration and travel planning tips.
Note: This post contains affiliate links. When you make a purchase using one of these affiliate links, we get paid a small commission at no extra cost to you.
All rights reserved © Earth Trekkers. Republishing this article and/or any of its contents (text, photography, etc.), in whole or in part, is strictly prohibited.