The Bay of Islands is a popular stop when exploring New Zealand's North Island. Located near Paihia, and consisting of 144 islands, the Bay of Islands is known for its beautiful blue water, dramatic shorelines, and picturesque coves. The best way to experience the Bay of Islands is via a boat or helicopter tour.
There are a wide range of tour options available. These include cruising the bay to look for marine life, stopping at one or two islands to hike, swim, snorkel, paddleboard, or kayak, cruising through the natural narrow tunnel of Hole in the Rock, or flying over the islands for panoramic aerial views.
In this article I will provide insights to consider as you plan your own excursion, point you to resources for bookings, and provide an overview about my own experience at the Bay of Islands.
Bay of Islands Interesting Facts
The Bay of Islands was originally settled by the Māori about 700 years ago. One of those Māori settlements, Waitangi, is where the Treaty of Waitangi, a treaty between Great Britain and Māori, was signed in 1840. And another one of those Māori settlements, Okiato, also known as Old Russell, became New Zealand's first national capital in 1840.
Captain James Cook was the first European to visit the Bay of Islands and gave the archipelago its name in 1769. And the town of Russell, also known as Kororāreka, became the first European settlement in New Zealand.
The Bay of Islands was a popular destination for whalers in the 1800's.
Charles Darwin visited the Bay of Islands in 1835.
Zane Grey, an American author, visited the Bay of Islands several times between 1926 and 1933. He set various heavy-tackle world records here and his writings are credited for internationally publicizing the big game fishing here.
In 2006, the Bay of Islands was determined by one study to have the second bluest sky in the world. Rio de Janeiro was first in that study.
The Bay of Islands consists of 144 islands.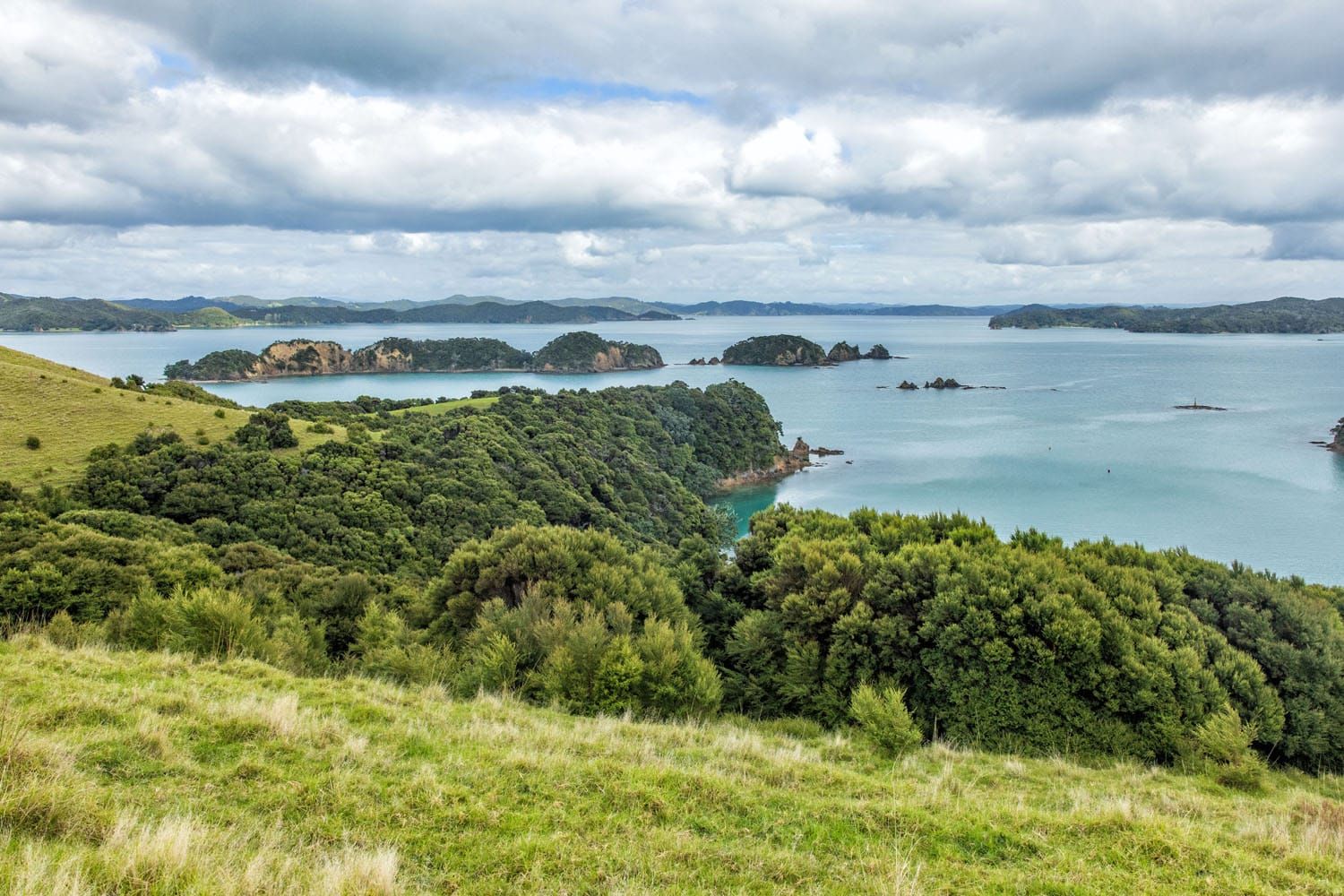 The view from Urupukapuka Island
Bay of Islands Best Things to Do
Here is a list of the more popular spots mentioned in Bay of Islands tour descriptions, along with a map to help illustrate where these places are located.
Paihia: The main town from where tours depart. Paihia is a 3.5-hour drive north of Auckland.
Russell (Kororāreka): The first European settlement in New Zealand and now a quaint historic town. Russell and Paihia are connected via a frequent passenger ferry. And some boat tours will pick up passengers from both Russell and Paihia.
Motuarohia Island (Roberton Island): The original landing site of Captain Cook, who received advice from the Māori on how to forage the land for food. Some tours stop at this island.
Urupukapuka Island: The largest island within the Bay of Islands. There are hiking tracks and a café on this island. Some tours stop at this island. In the summer, there is a ferry service connecting Urupukapuka Island with Paihia and Russell. Urupukapuka Island is the only island within the Bay of Islands where camping is allowed. Camping facilities are located at Otehei Bay.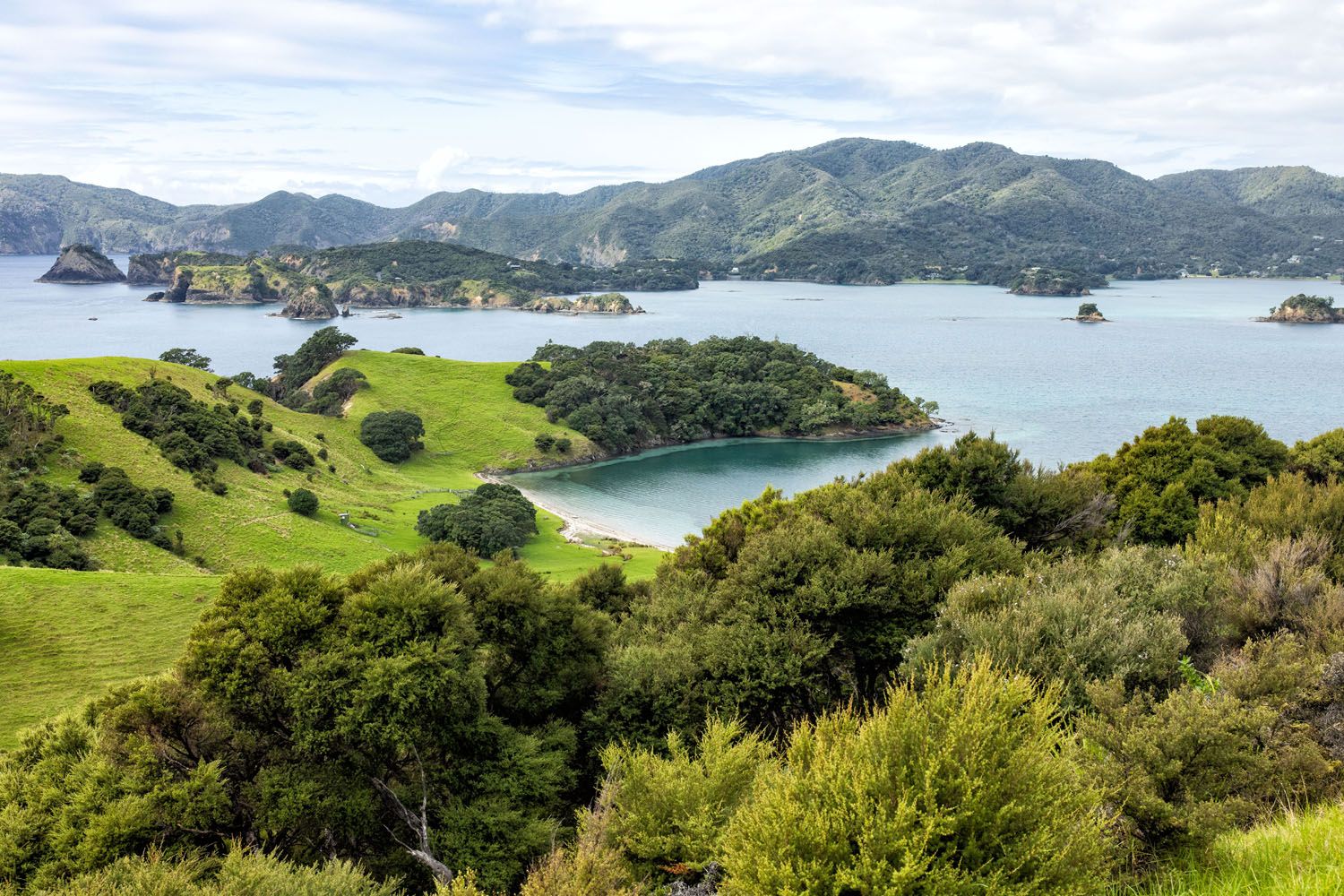 Urupukapuka Island
Otehei Bay: One of the bays at Urupukapuka Island. Zane Grey, an American author, based himself here during several visits to the Bay of Islands between 1926 and 1933. He is credited for making game fishing in the Bay of Islands world famous.
Cape Brett Lighthouse: A historic lighthouse located at the end of Cape Brett Peninsula, known in Māori as Rākaumangamanga. The lighthouse overlooks Hole in the Rock.
Hole in the Rock: Also referred to as Piercy Island and known in Māori as Motukōkako Island. This is the most famous stop on a Bay of Islands tour with its 18 meter (60 foot) high tunnel that tour boats will pass through if sea conditions are favorable.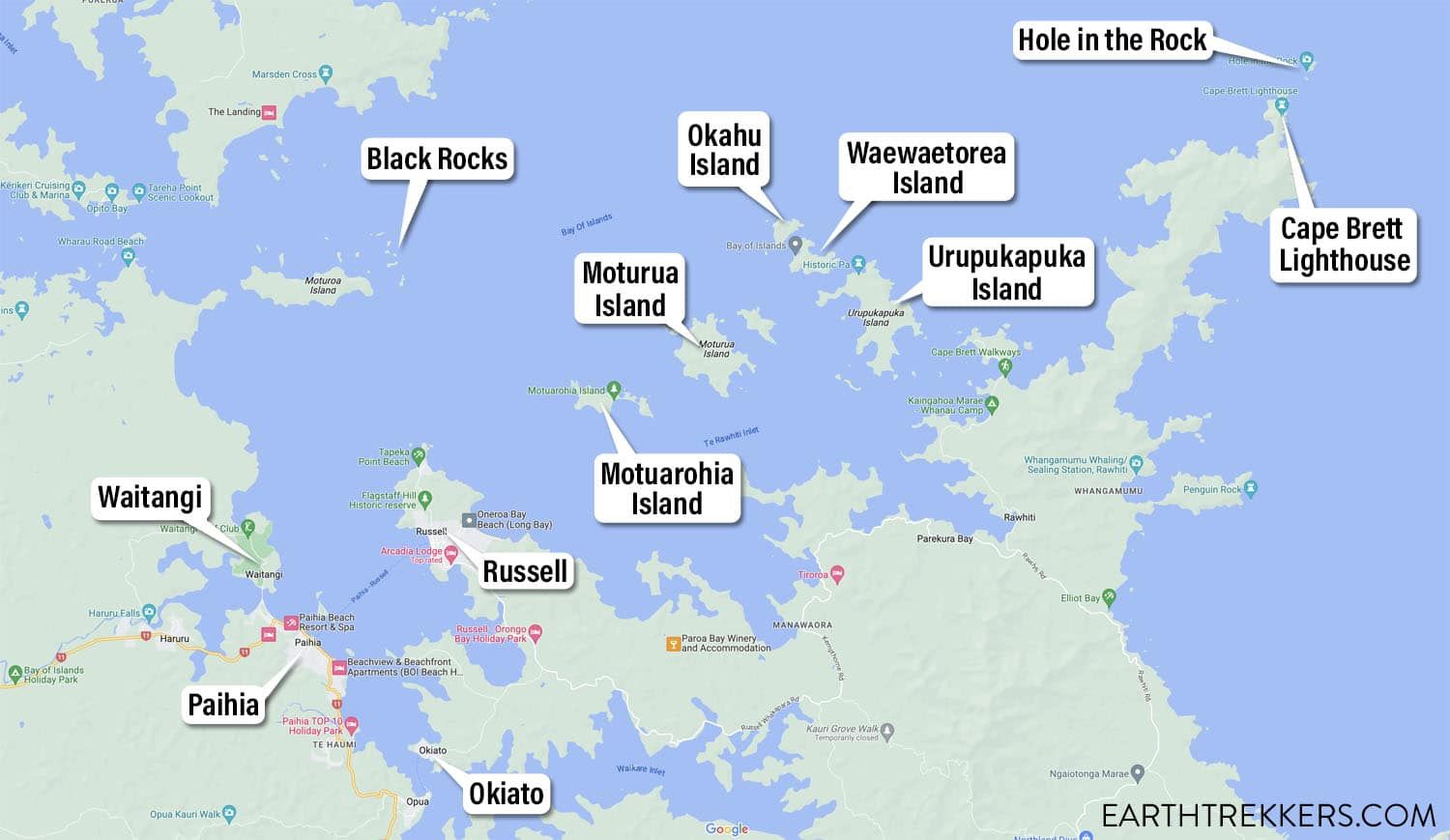 Bay of Islands map
Helicopter Tours of the Bay of Islands
An aerial tour of the Bay of Islands provides a unique perspective. Seeing groupings of islands from above can be more picturesque than seeing the islands from sea level. Often promotional content advertising the Bay of Islands will show aerial views. And while I enjoyed my cruise around the islands, the photographer in me wishes that I had booked a helicopter tour in order to capture the panoramic beauty of the islands.
Helicopter Tours of the Bay of Islands are offered by Salt Air and depart from Paihia. They offer three different experiences that range from a flight over the Bay of Islands (20 minutes), a flight plus landing at Hole in the Rock (35 minutes), and a flight plus nature walk led by a Māori guide (60 minutes). They also offer a flight + cruise combo so you can experience the Bay of Islands from both the air and sea.
Check the Salt Air website for more details, updates on their helicopter tour options, and pricing.
Boat Tours of the Bay of Islands
Boat tours give you the opportunity to cruise around the Bay of Islands, see marine wildlife, step foot on one of the islands, and participate in water activities.
There is an overwhelming number of boat tours to choose from so the best approach is to think about which of the following options interest you the most and then pick a tour that includes those interest.
Pick Up Location: Most tours start and end in Paihia. There are a few tours that will pick up passengers in Russell as well as Paihia. If you are staying in Russell and your tour only departs from Paihia then there is a passenger ferry that runs back and forth between Paihia and Russell.
Duration: Tours can range from 2 hours to overnight excursions. So, the amount of time you have, or can allocate, for this excursion will be a factor to consider.
Key Sites: If you want to see Hole in the Rock and the Cape Brett Lighthouse then make sure this is specifically listed in the tour description. The same applies if you want to stop at an island.
Activities: Walking on an island, swimming, snorkeling, paddleboarding, and/or kayaking are the most popular activities offered by boat tours.
Marine Wildlife: While all boat tours will be cruising some portion of the Bay of Islands, some tours put an emphasis on spotting marine wildlife such as dolphins, whales, penguins, seals, stingrays, and seabirds. There is also an overnight tour that promotes seeing phosphorescence.
Type of Vessel: Tours can be taken on motorized catamarans, sailing catamarans, sailboats, glass bottom boats, and even yachts. If you are planning a half-day or longer excursion then I recommend picking a tour that offers bathroom facilities and serves refreshments on board. A vessel that offers indoor seating areas to get a break from the sun or rain, in addition to outdoor seating and viewing areas, can make your excursion more comfortable.
Tour size: Tours can range from group tours to small group tours, to private tour experiences.
Cost: Tours typically range anywhere from $50 per person to $200 per person.
The Explore Group boat for the Bay of Islands cruise.
PRO TRAVEL TIP: Have some cash on-hand just in case you want to purchase some refreshments on-board your vessel and in case the credit card machine on-board can't acquire a signal.
Boat Tours of the Bay of Islands
About My Experience: Cruising the Bay of Islands
After reviewing the various tour options, I booked a boat tour with Explore Group New Zealand that I felt provides the best combination of things to see and do within the Bay of Islands.
Over a half day, starting in the morning, the tour cruised past many islands on the way to the Cape Brett Lighthouse, cruised through the natural tunnel at Hole in the Rock, and stopped at Urupukapuka Island where passengers had the option to relax or explore on foot. Travelling out to Hole in the Rock and back provided an opportunity to spot various marine wildlife. This tour also gives you the option to disembark in Russell, so you can spend the afternoon seeing that historic town before then taking the passenger ferry back to Paihia. In addition, the motorized catamaran itself has two levels for outdoor viewing, as well as an indoor seating area, bathrooms, and serves refreshments.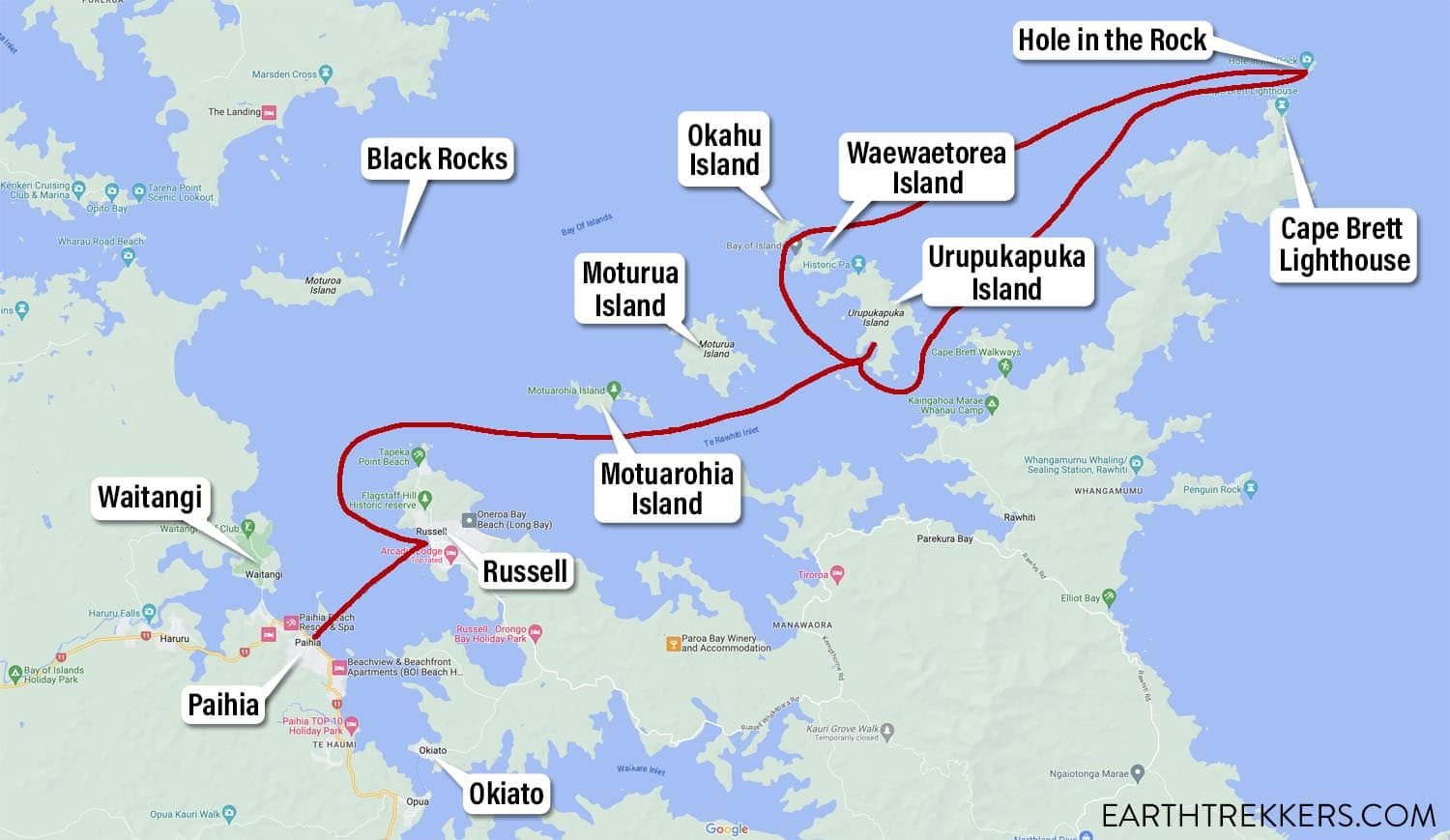 Bay of Islands map and cruise route with Explore Group New Zealand
The boat left the Paihia Marina in the morning and headed to Russell to pick up passengers staying there. Russell, the first European settlement in New Zealand, is now a quaint historic town. Once those passengers boarded we set off towards the island.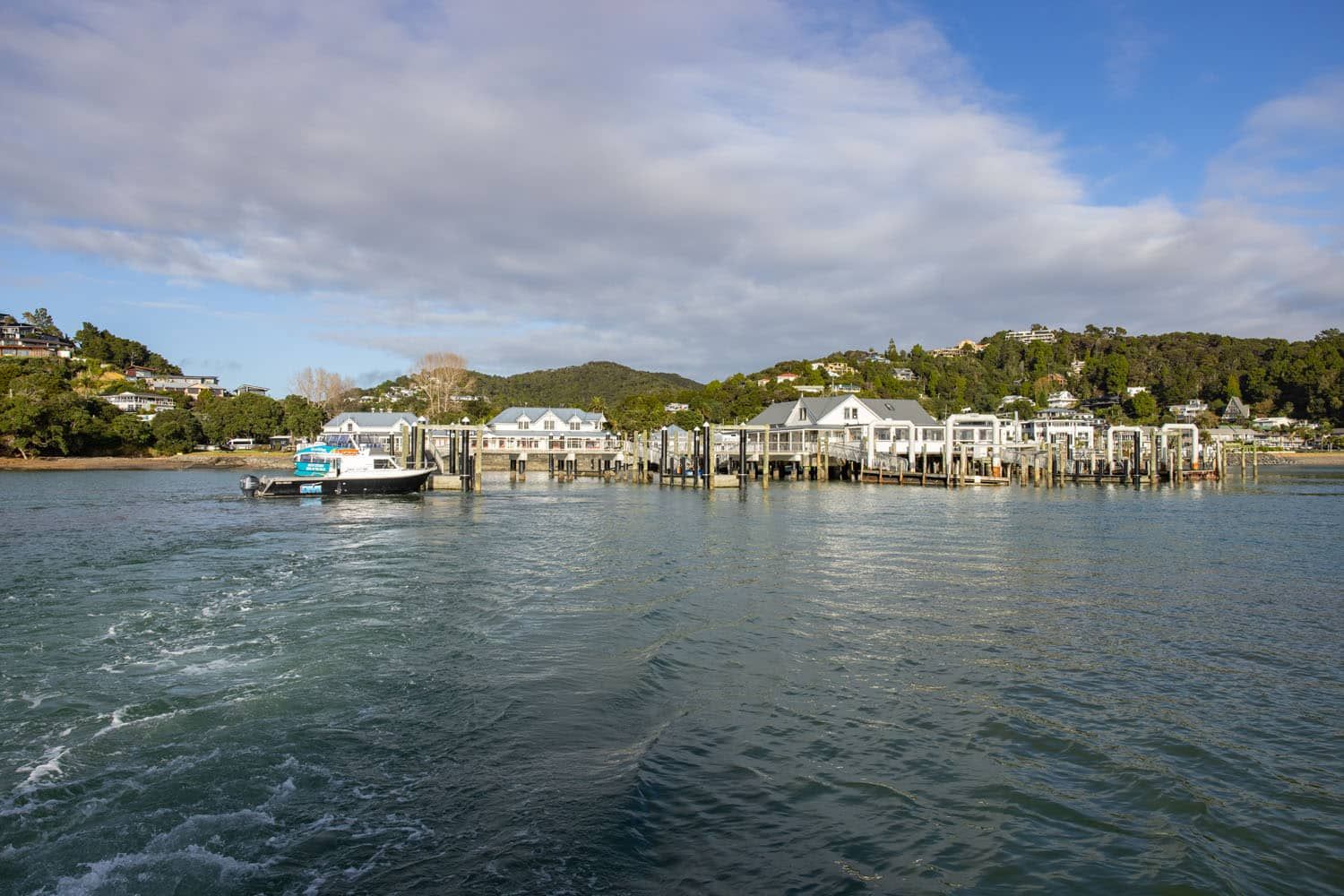 Paihia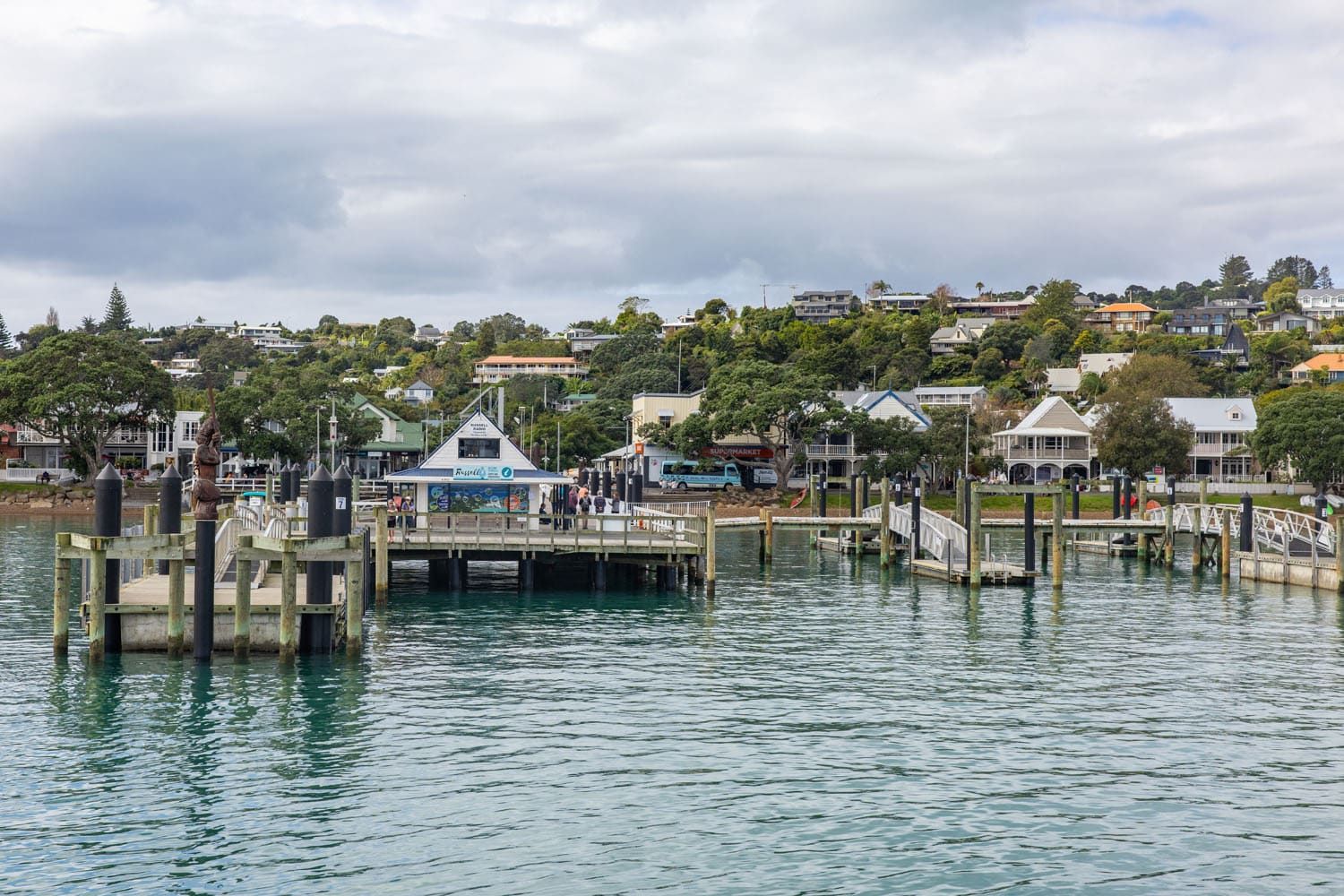 Russell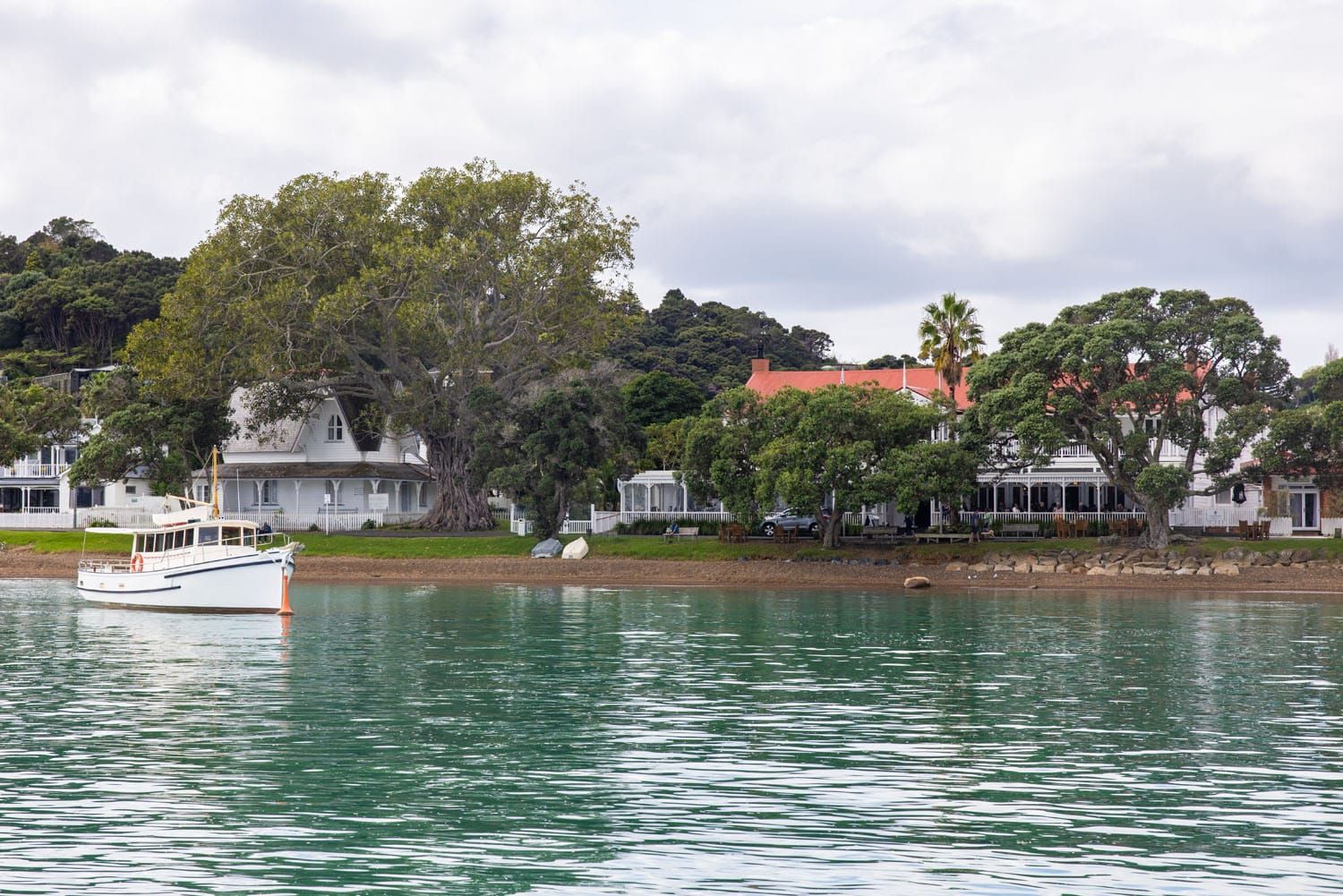 Another photo of Russell
We cruised slowly past Motuarohia Island (Roberton Island) so we could take photos and so our captain could explain the history associated with this island. In short, Captain James Cook landed here in 1769 and the Māori people helped him and his crew with the type of food to forage in the area.
Motuarohia Island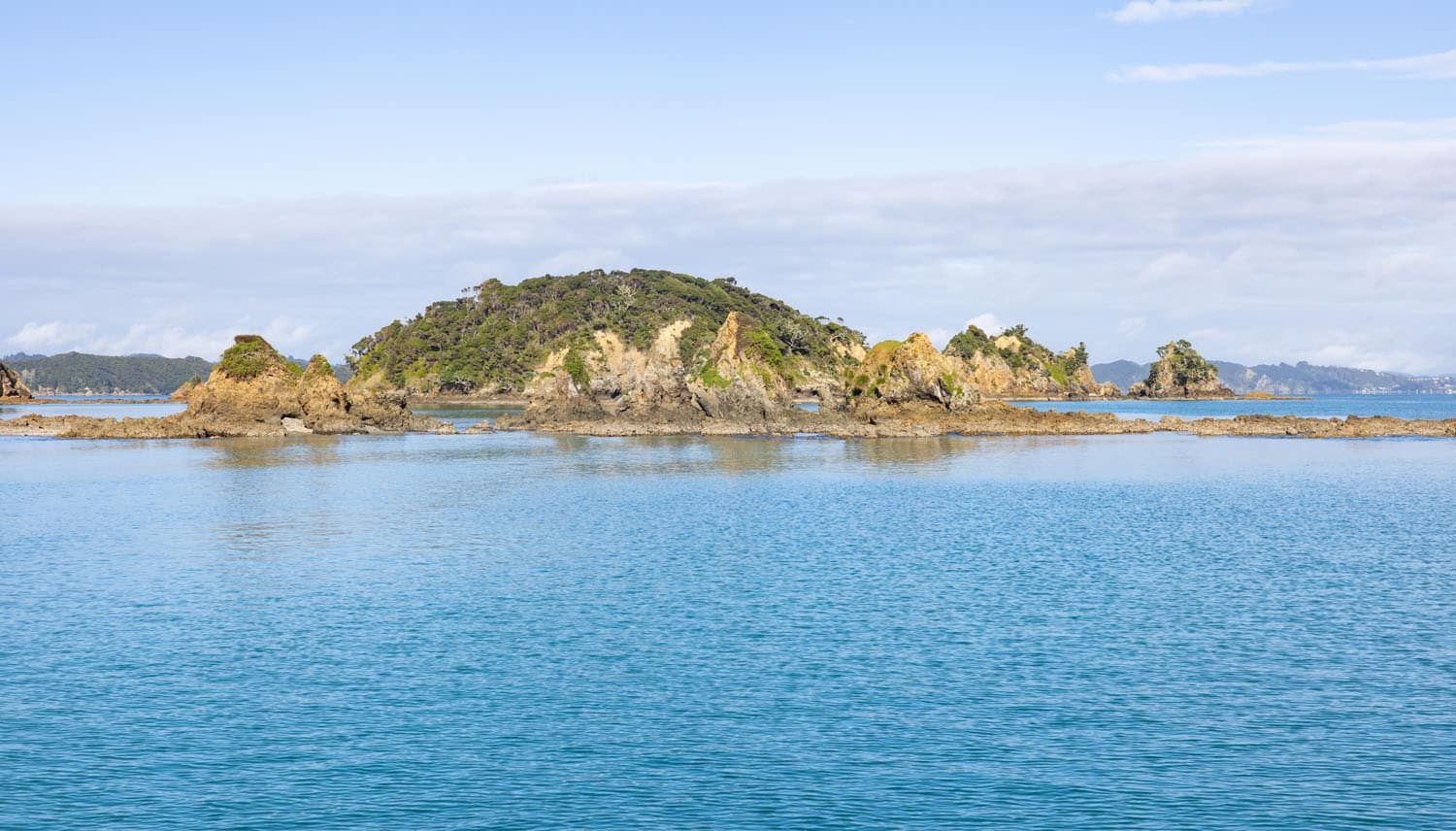 Poroporo Island
We then cruised past Moturua Island, a wildlife reserve, before then heading to Urupukapuka Island. At Urupukapuka Island we docked in Otehei Bay and dropped off some passengers who were spending the day here. Our tour returns to this island and bay later so everyone has a chance to spend up to 1.5 hours exploring the island and/or relaxing at its beach and café.
While docked here I watched a stingray swimming through the crystal-clear water of the bay.
We then slowly cruised through the passage that runs between Okahu and Waewaetorea Islands. Okahu Island is a scenic reserve and Waewaetorea Island is home to one of the prettiest beaches within the Bay of Islands. Since these two islands are close to each other we got to enjoy beautiful scenery all around us as we traveled through the passage. In the summer season you will find yachts and other boats anchoring here to enjoy the turquoise water, golden sandy beach, and the panoramic views.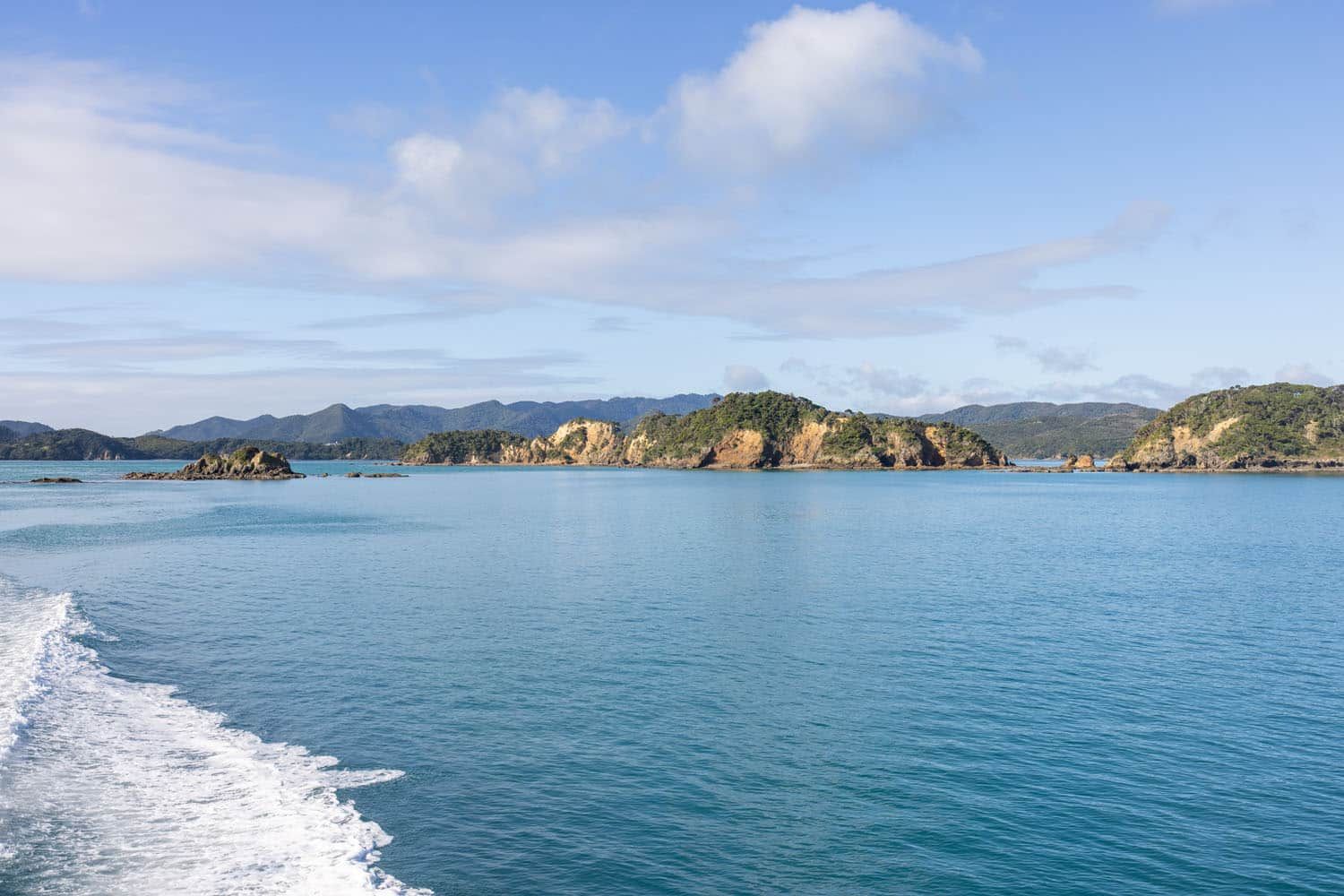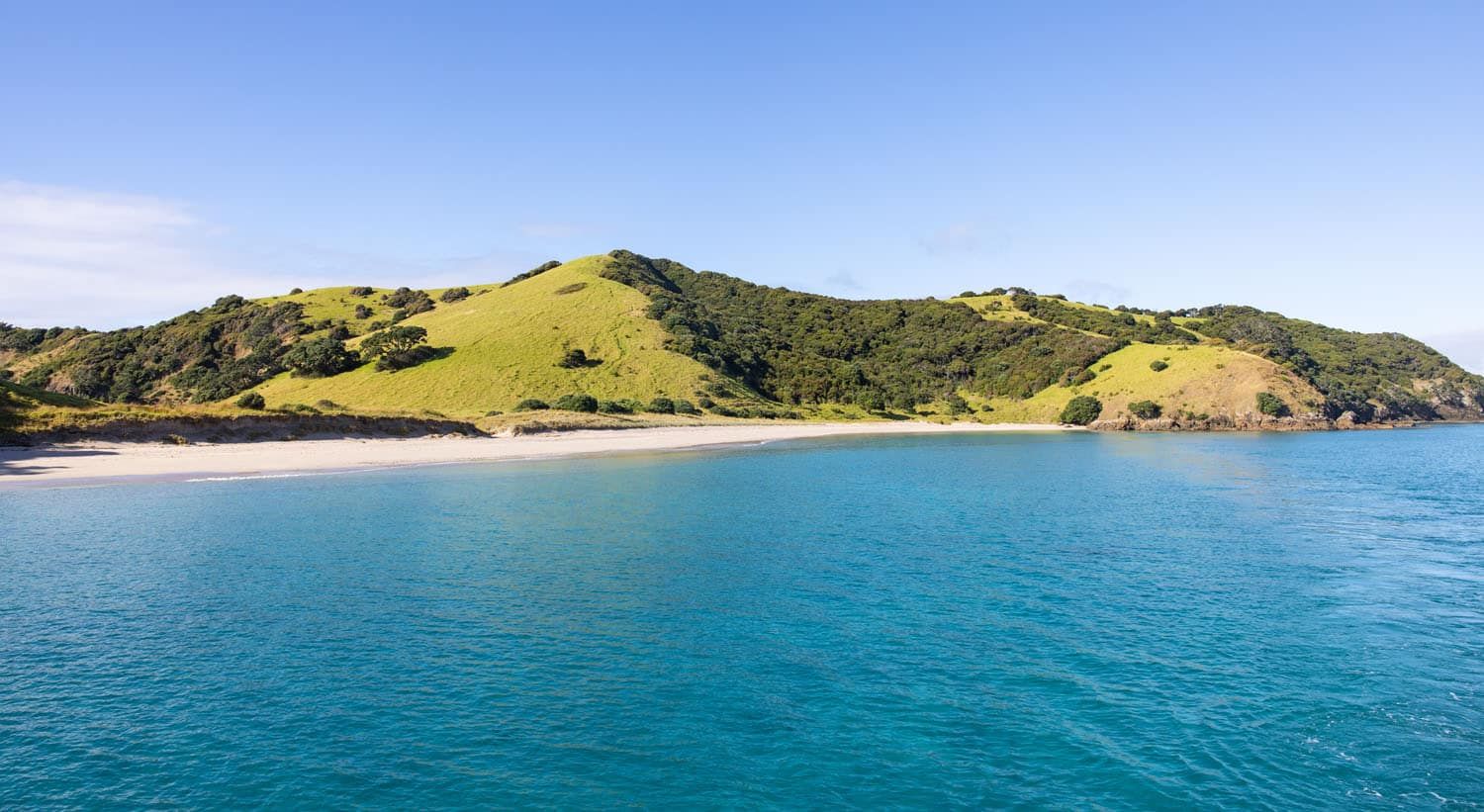 Waewaetorea Island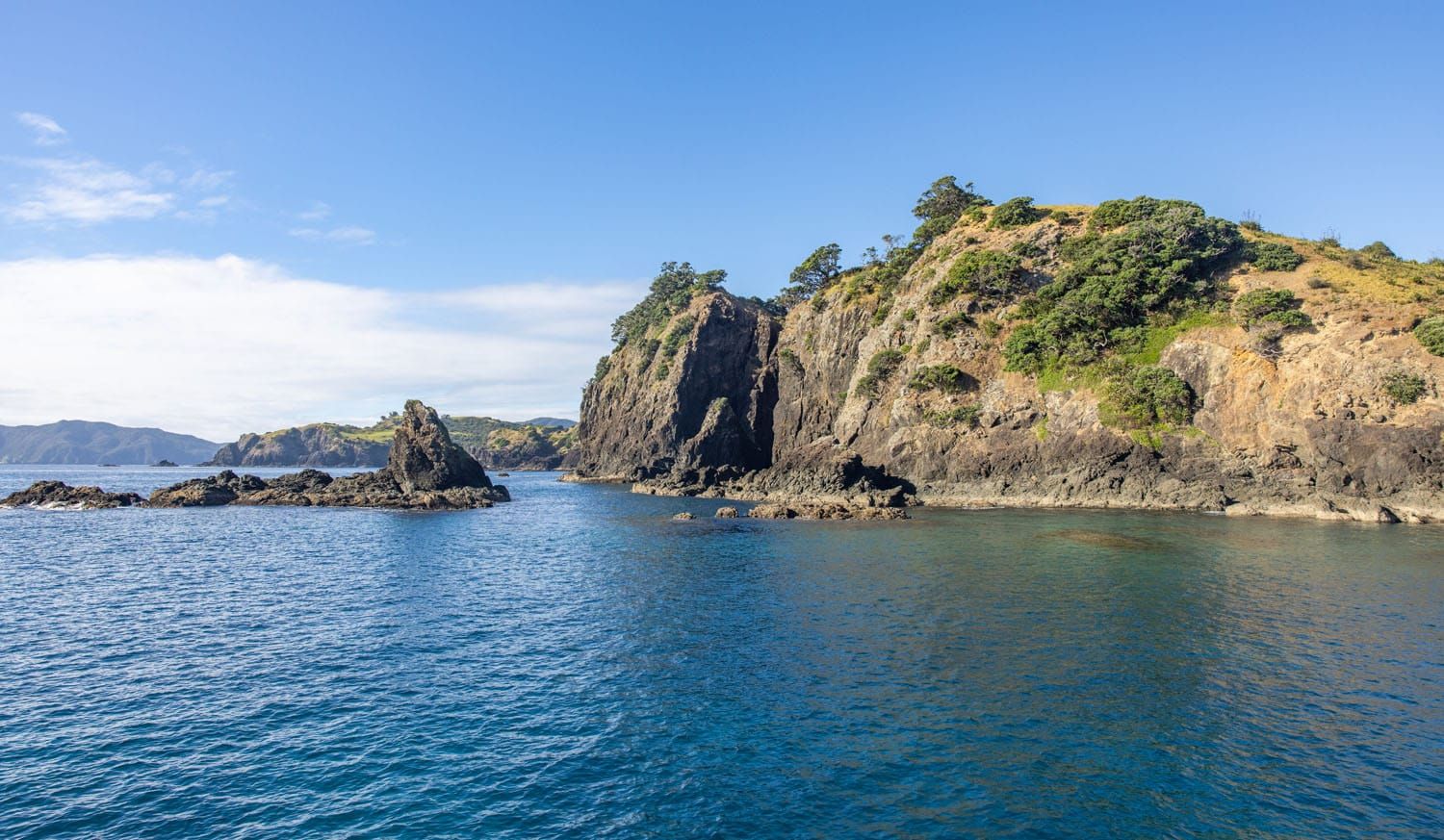 As we exited the passage between Okahu and Waewaetorea Islands, we passed some rock formations at the end of both islands that are a common spot to see penguins. Unfortunately, they were not there during our visit.
We then headed towards Hole in the Rock and the Cape Brett Lighthouse. On the way we saw seals lounging on Bird Rock, a large rock protruding from the sea.
While everyone was watching the seals, the captain spotted a whale breach. Everyone changed their focus towards the sea in hopes to spot the whale again but to no avail.
We then approached Hole in the Rock and the sea conditions were favorable enough that the captain was able to drive the catamaran through the natural tunnel.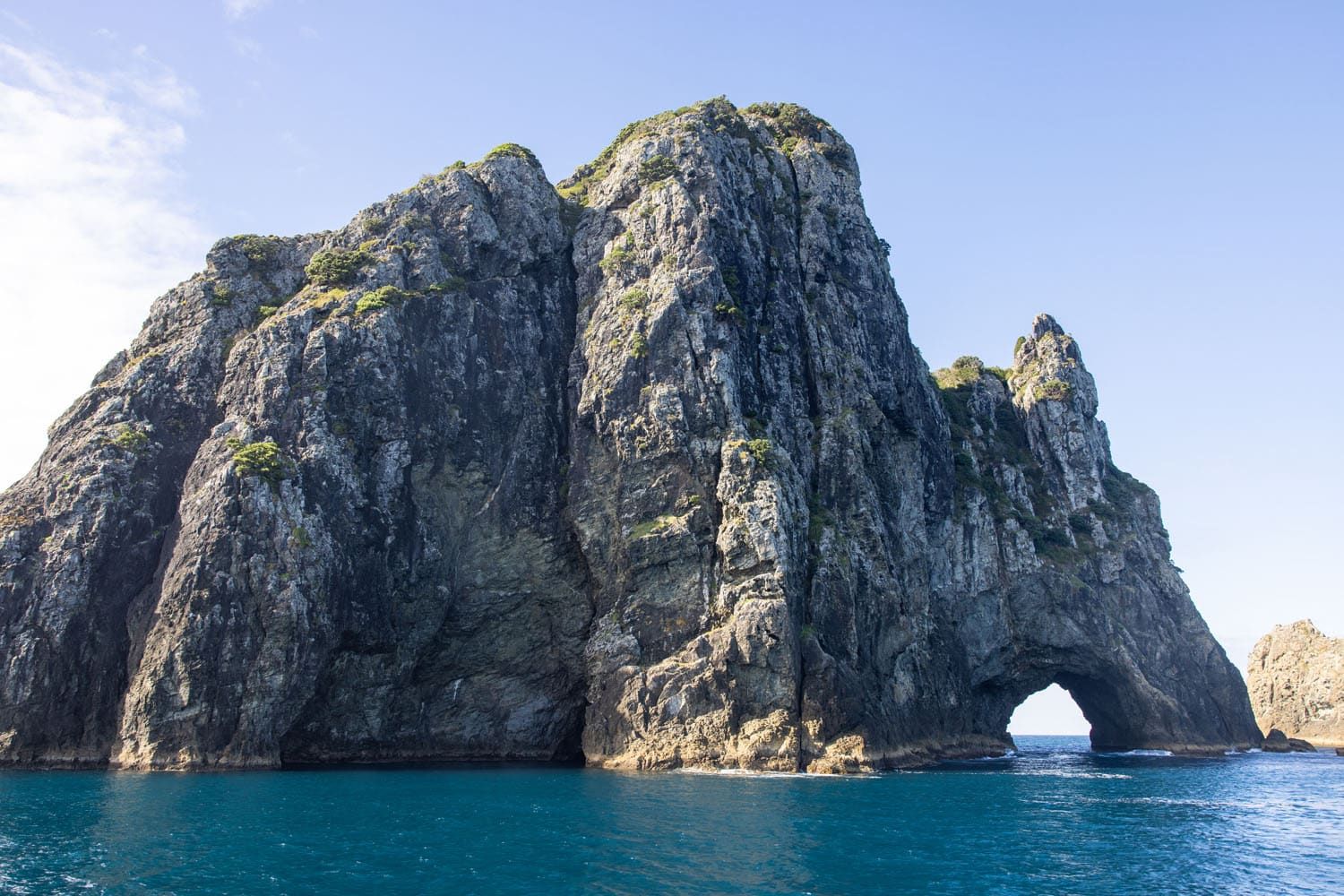 Hole in the Rock
After passing through the narrow tunnel, we then had a great panoramic view of the Cape Brett Lighthouse and the other side of Hole in the Rock.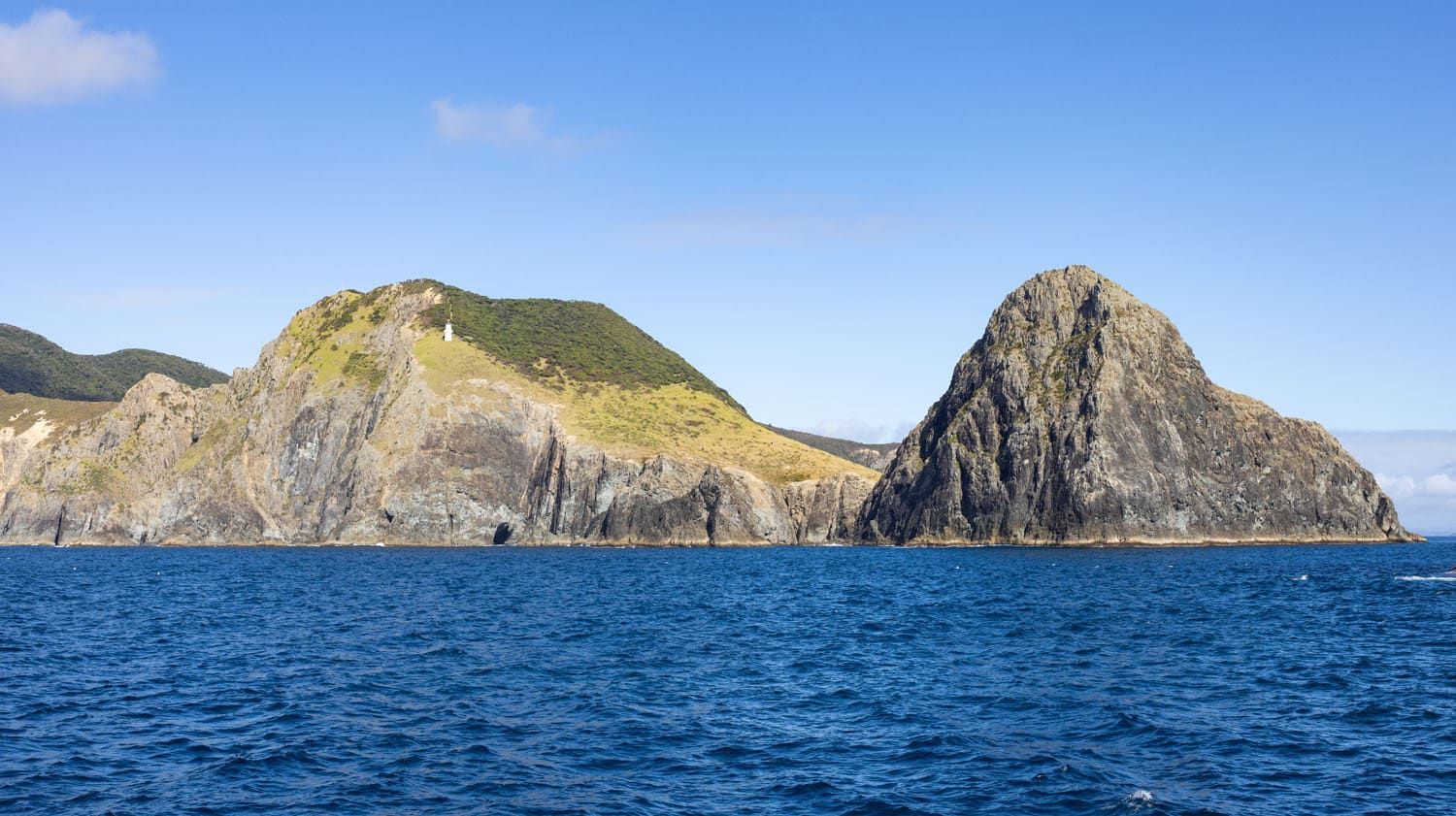 Cape Brett Lighthouse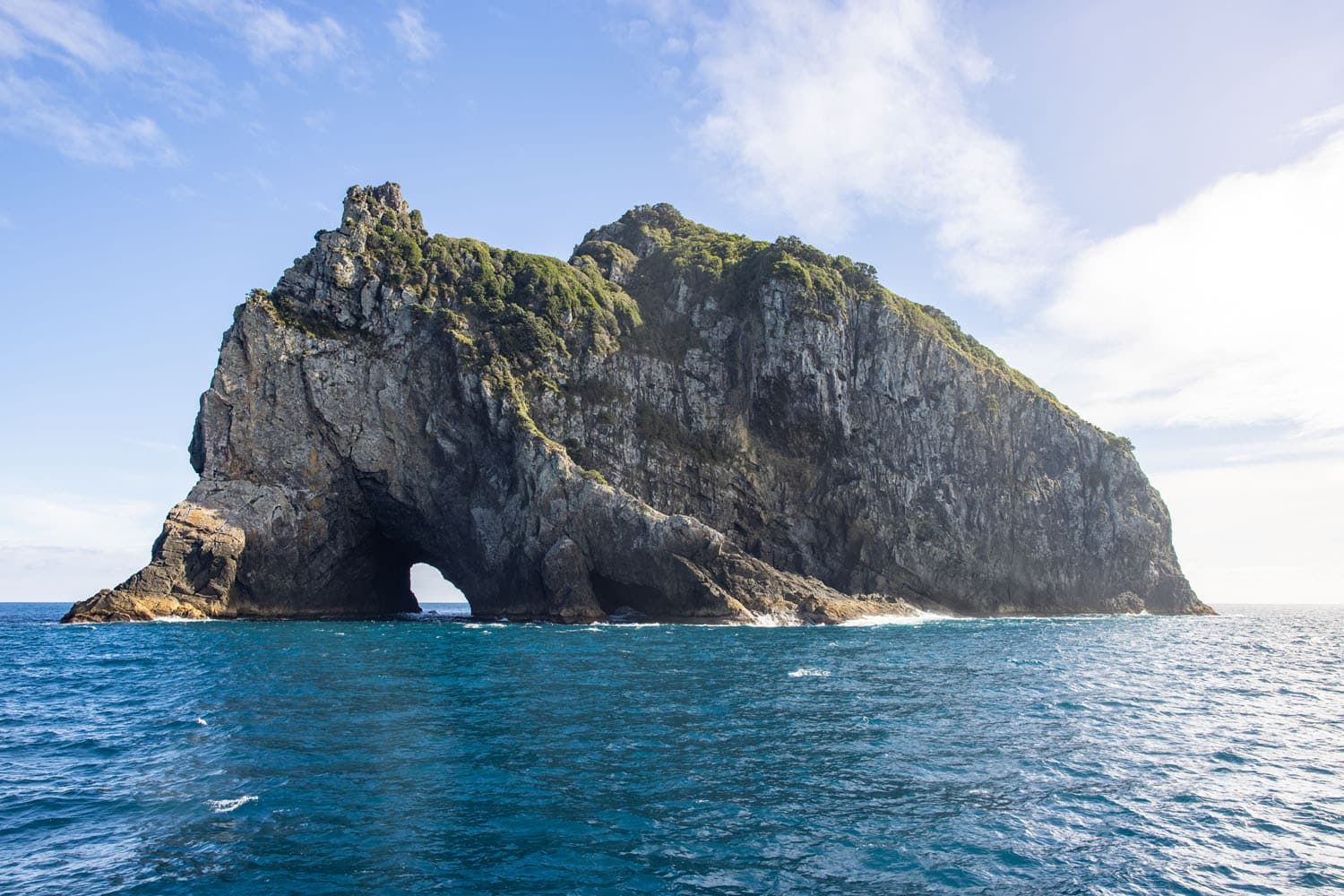 View from the other side of Hole in the Rock
From Hole in the Rock, we then headed back to Urupukapuka Island and Otehei Bay. On the way I took photos of Hat Island and the eastern side of Urupukapuka Island.
Once we docked at Otehei Bay we had somewhere between 1 to 1.5 hours to enjoy Otehei Bay, visit the café located there, sunbathe, and/or explore Urupukapuka Island on foot. I chose to explore the island.
There are easy to follow trails on Urupukapuka Island that take you to another bay with a beach area, into the trees to reach the highest point on the island, and across rolling hills for somewhat of an aerial view. I followed the path across the rolling hills for views of the other nearby islands.
Map of the hiking trail I followed on Urupukapuka Island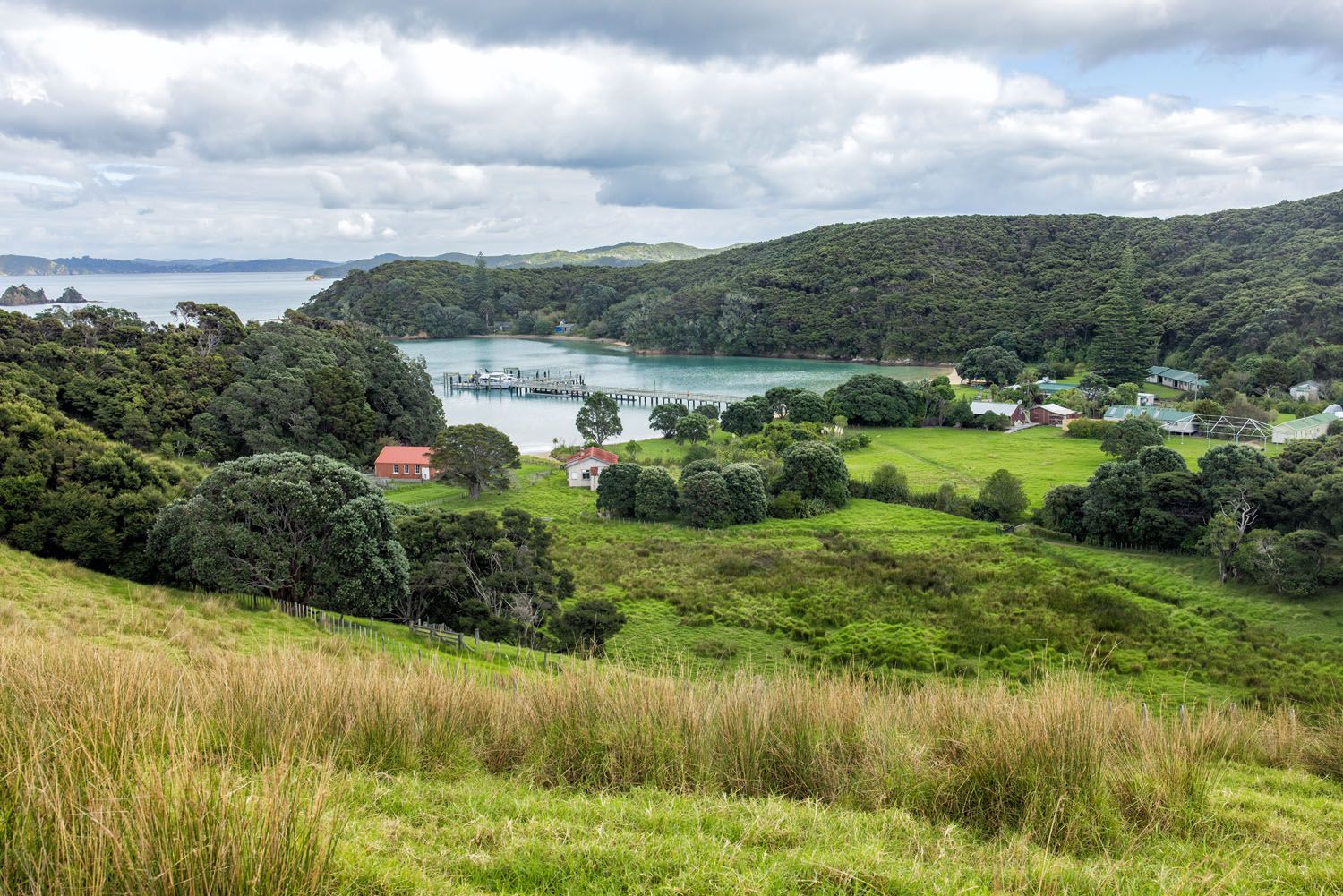 Otehei Bay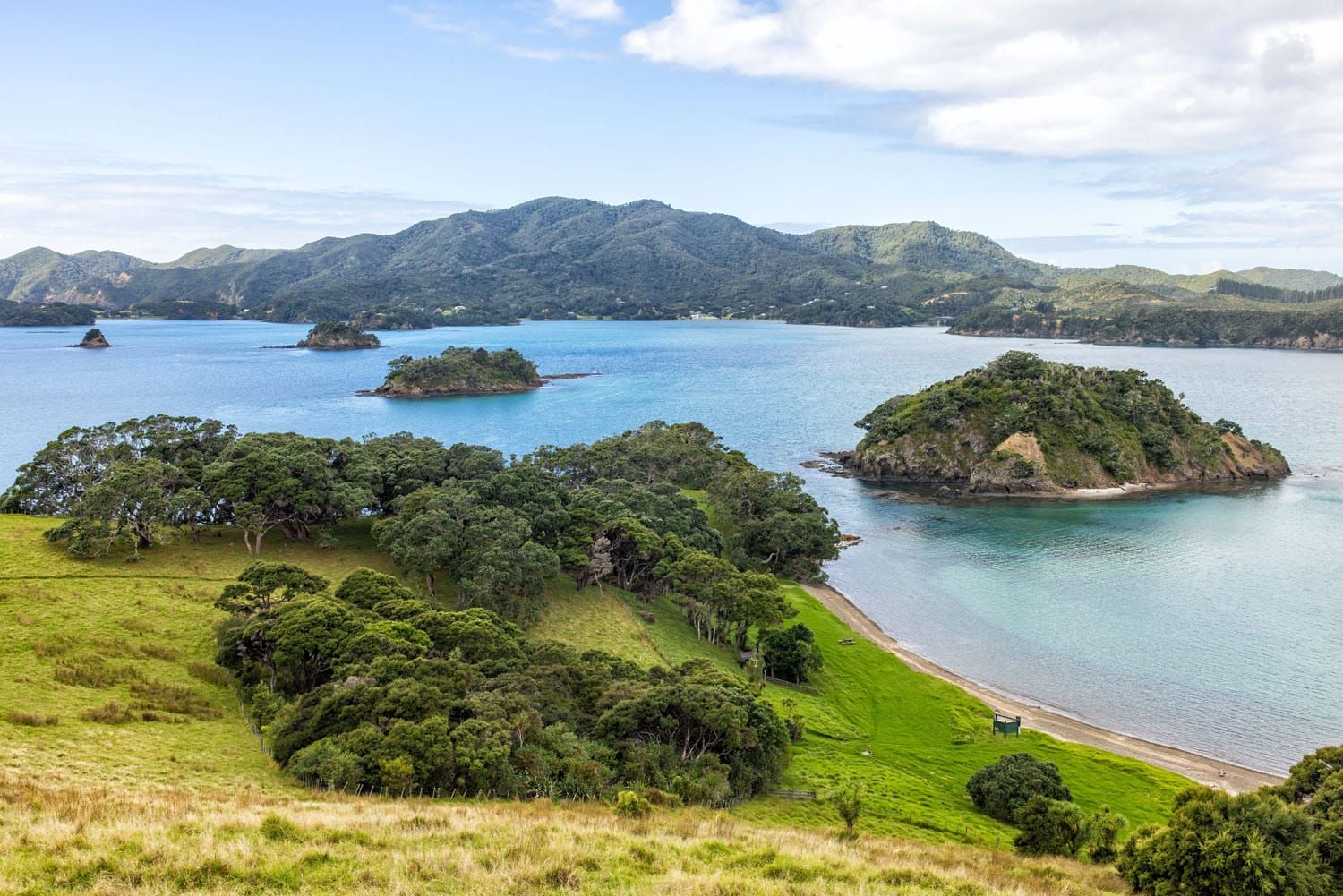 The view from Urupukapuka Island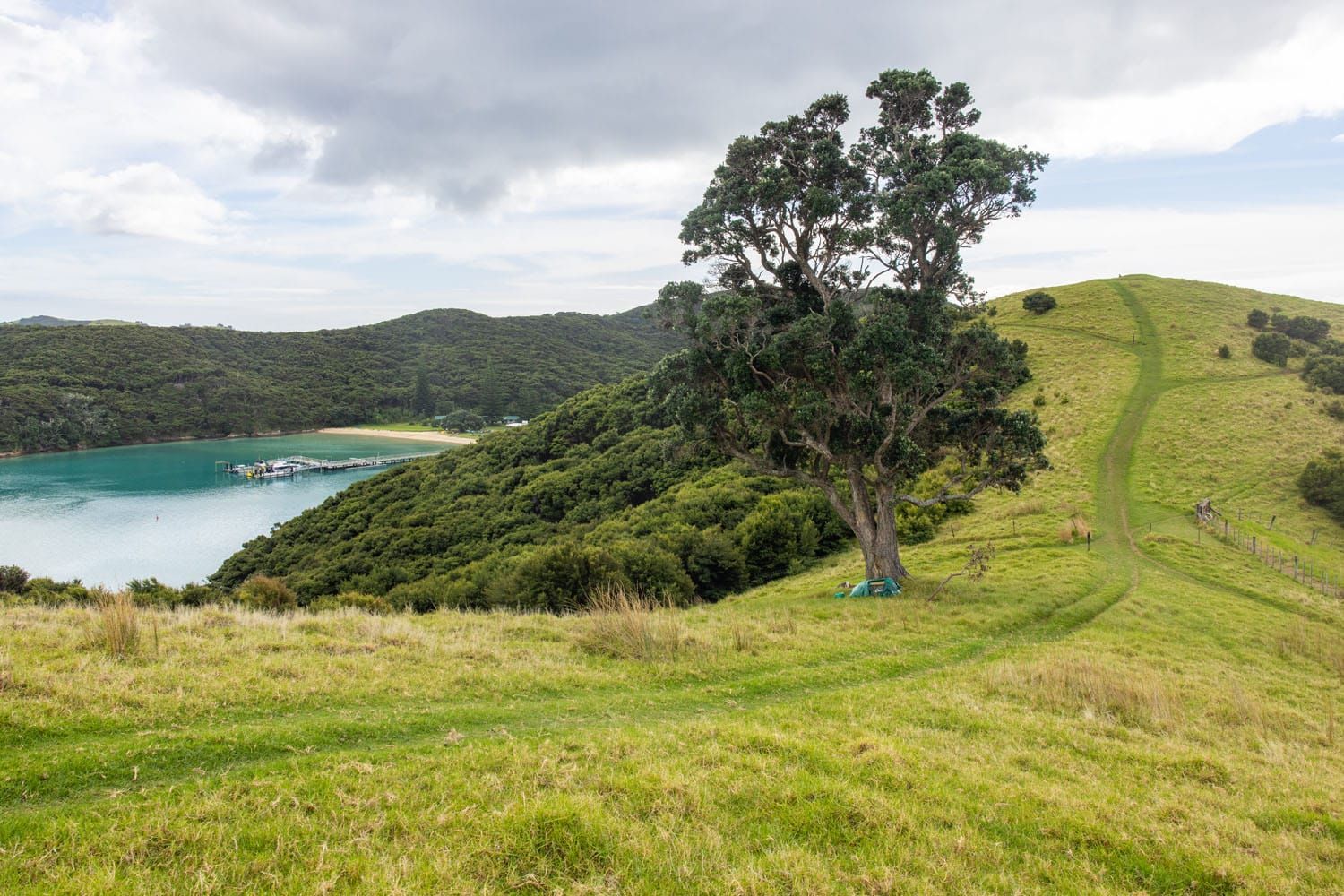 Walking track on Urupukapuka Island
Sheep on Urupukapuka Island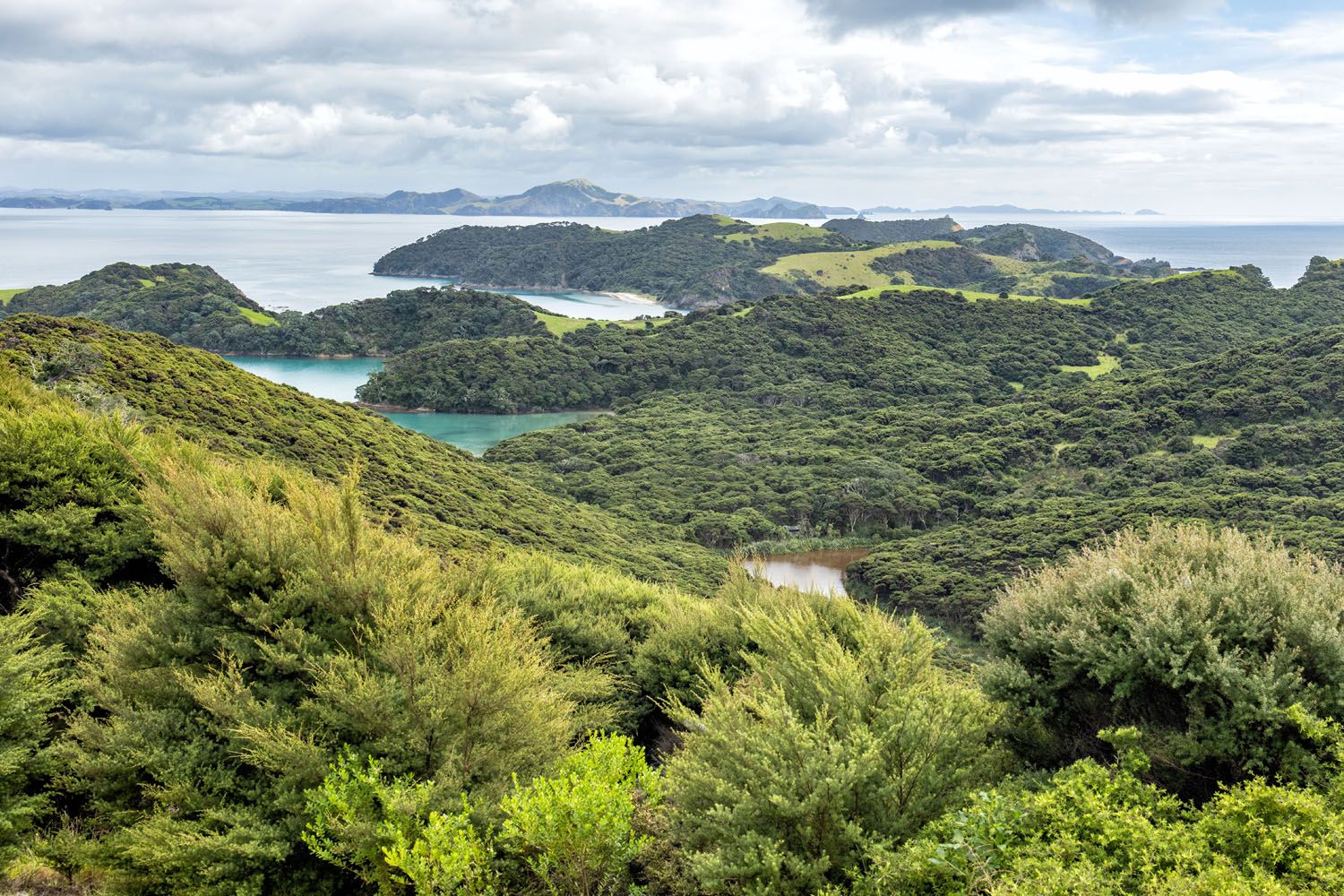 Another view of Urupukapuka Island
GPS stats for hiking across the rolling hills:
Distance: 2.1 km (1.3 miles) roundtrip
Total Ascent: 122 m (400 feet)
Lowest Elevation: sea level
Highest Elevation: 61 meters (200 feet)
Time: 1 hour
The trails on the island are easy to follow. They are grass tracks that are mowed. The hills on the island are not very tall so it doesn't take much effort to go up them for the views.
PRO TRAVEL TIP: When disembarking at Urupukapuka Island, almost everyone went straight to the café located just off the beach at the end of the dock. If you want to explore the island a little, then do that first. That is what I did, and I had the trails all to myself for a bit. If you want to visit the café, then go after your hike when the line has cleared.
Once our time on Urupukapuka Island had ended everyone re-boarded the catamaran and we headed to Russell to drop off passengers and then to Paihia to drop off all remaining passengers.
PRO TRAVEL TIP: All passengers have the option to disembark at either Russell or Paihia, regardless of where you boarded. If you are staying in Paihia then consider ending your tour in Russell so you can spend the afternoon there. Then take the passenger ferry (additional cost) once you are ready to return to Paihia. See the passenger ferry schedule here.
Overall, I was happy with the excursion. The tour lasted 4.5 hours and provided a complete experience from seeing the islands, walking on one of the islands, seeing major landmarks, and spotting marine wildlife.
The vessel was on a dual hull catamaran with seating inside on the lower level and seating outside on the upper level. There were also viewing areas on both the lower and upper levels, which was nice. There were bathrooms on-board and they served refreshments.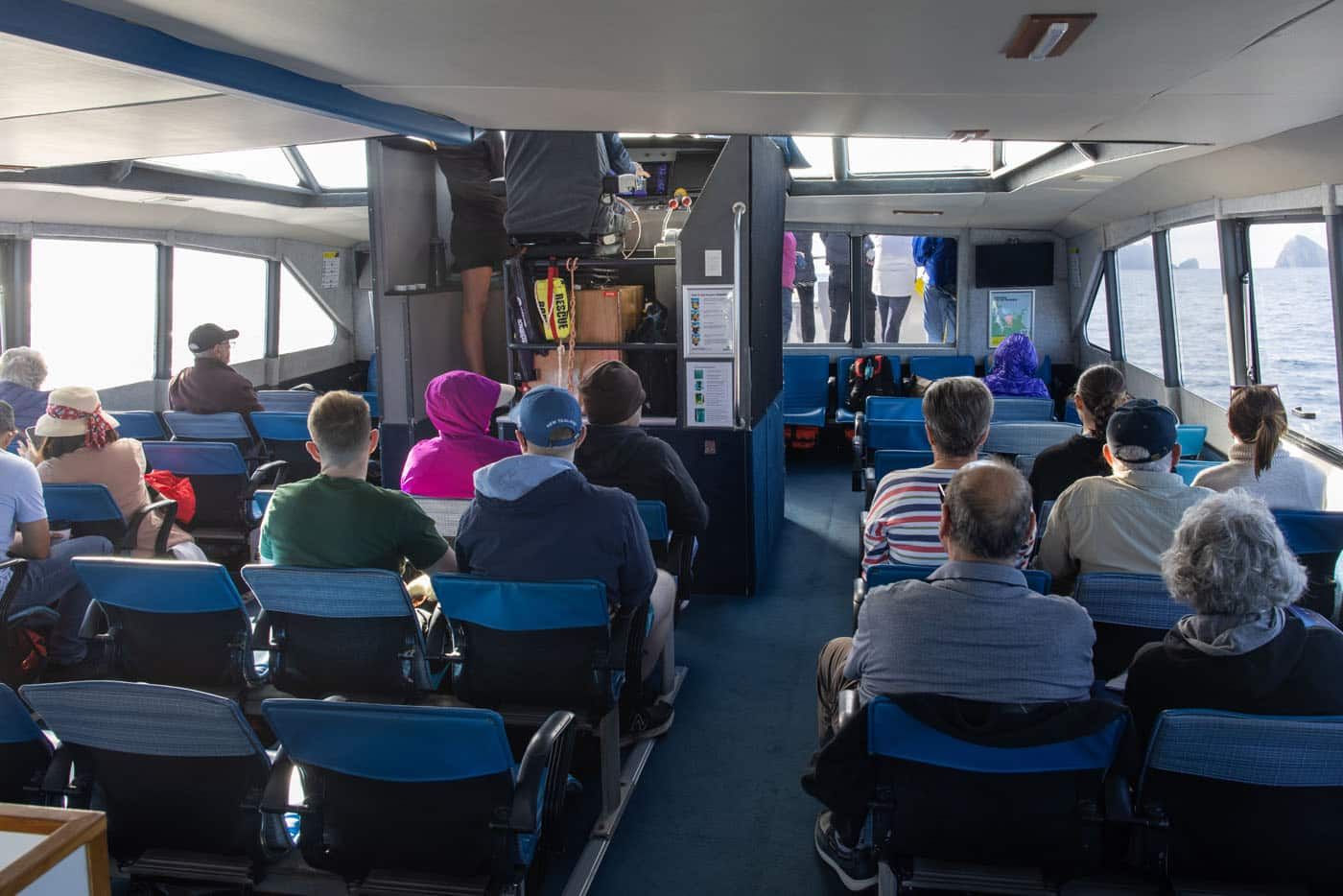 ---
If you have any questions about visiting the Bay of Islands, or if you want to share your experience, let us know in the comment section below.
More Information for Your Trip to New Zealand
NORTH ISLAND: Top experiences on the North Island include the Tongariro Alpine Crossing (one of the best day hikes in the world), spending a day or two in Auckland, visiting Waiheke Island on a day trip from Auckland, touring Hobbiton, a visit to Taupō, and seeing the glowworms and blackwater rafting in the Waitomo Caves. For the full list, read our article about the Best Things to Do on the North Island.
SOUTH ISLAND: On the South Island of New Zealand, visit Milford Sound and Doubtful Sound, hike the Hooker Valley Track, visit Akaroa and Banks Peninsula, go on a helicopter flight to see Franz Josef and Fox Glaciers from the sky, and learn about the best things to do in Queenstown.
NEW ZEALAND ROAD TRIP: With 3 weeks in New Zealand, visit the highlights on a road trip to the North Island and South Island. If you have less time, you can shorten this itinerary by spending 2 weeks on the South Island.
We have TONS more information about New Zealand in our New Zealand Travel Guide, including Auckland, Queenstown, Wanaka, Aoraki/Mount Cook, Franz Josef, Christchurch, Wellington, Taupō, and the Milford Sound.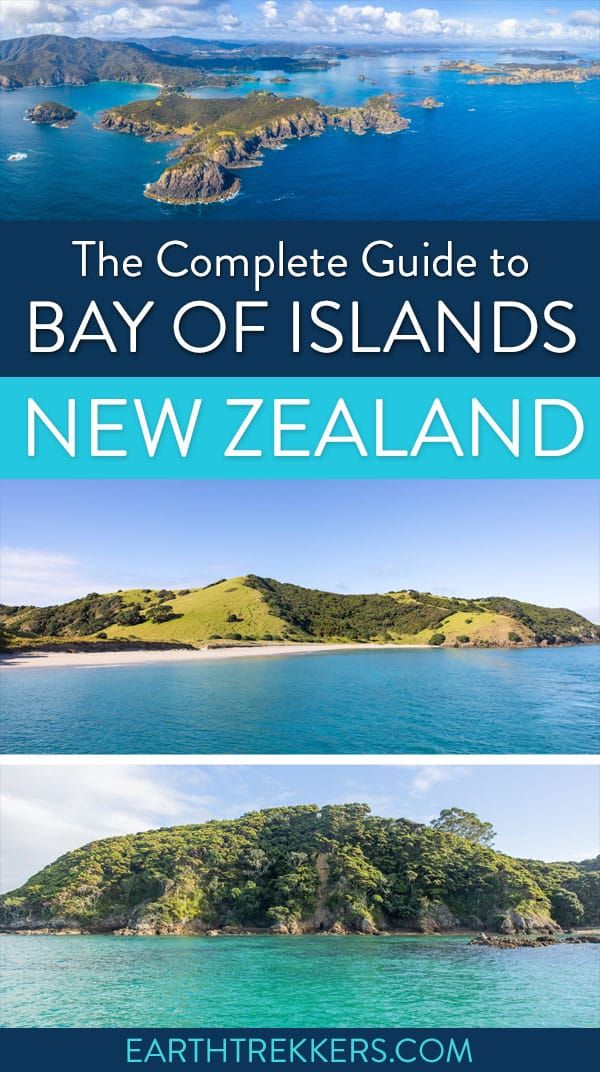 Header photo credit: trabantos/shutterstock.com
Note: This post contains affiliate links. When you make a purchase using one of these affiliate links, we get paid a small commission at no extra cost to you.
All rights reserved © Earth Trekkers. Republishing this article and/or any of its contents (text, photography, etc.), in whole or in part, is strictly prohibited.