Cathedral Cove is one of the top attractions on the North Island of New Zealand. To get here, you have several options. You can get here by boat, by kayak, or on your own two feet.
We took a cruise with Hahei Explorer to see Cathedral Cove. During our visit, which was in April 2023, the Cathedral Cove beach was closed due to a rockslide caused by Cyclone Gabrielle in February this same year. The only way we could see Cathedral Cove was on some sort of kayaking or boat tour.
In this guide, we cover our experience on the boat tour (not only do you get to visit Cathedral Cove, but several other islands and scenic coastal spots in the area). We also give you more options for other boat tours in the area, plus what we learned about the hike to Cathedral Cove from our research. For the most complete experience, consider doing both the hike to get here (if the trail is open) plus a boat or kayaking tour.
UPDATED CONDITIONS: At the time I am writing this, the Cathedral Cove Walk is closed and Cathedral Cove is closed. You can only see Cathedral Cove from a boat and you are not allowed to walk on the beach. Get updates here.
Where is Cathedral Cove?
Cathedral Cove is located on the Coromandel Peninsula, on the North Island of New Zealand. Here are the driving distances and times from nearby destinations.
Auckland: 235 km, 3.5 hours

Hamilton:

190 km, 3 hours

Taupō:

280 km, 4 hours

Rotorua:

205 km, 3.25 hours

Waitomo:

245 km, 3.5 hours
As you can see from these driving times, getting to Cathedral Cove is a bit of a detour from some of the more popular cities to visit on a trip to New Zealand.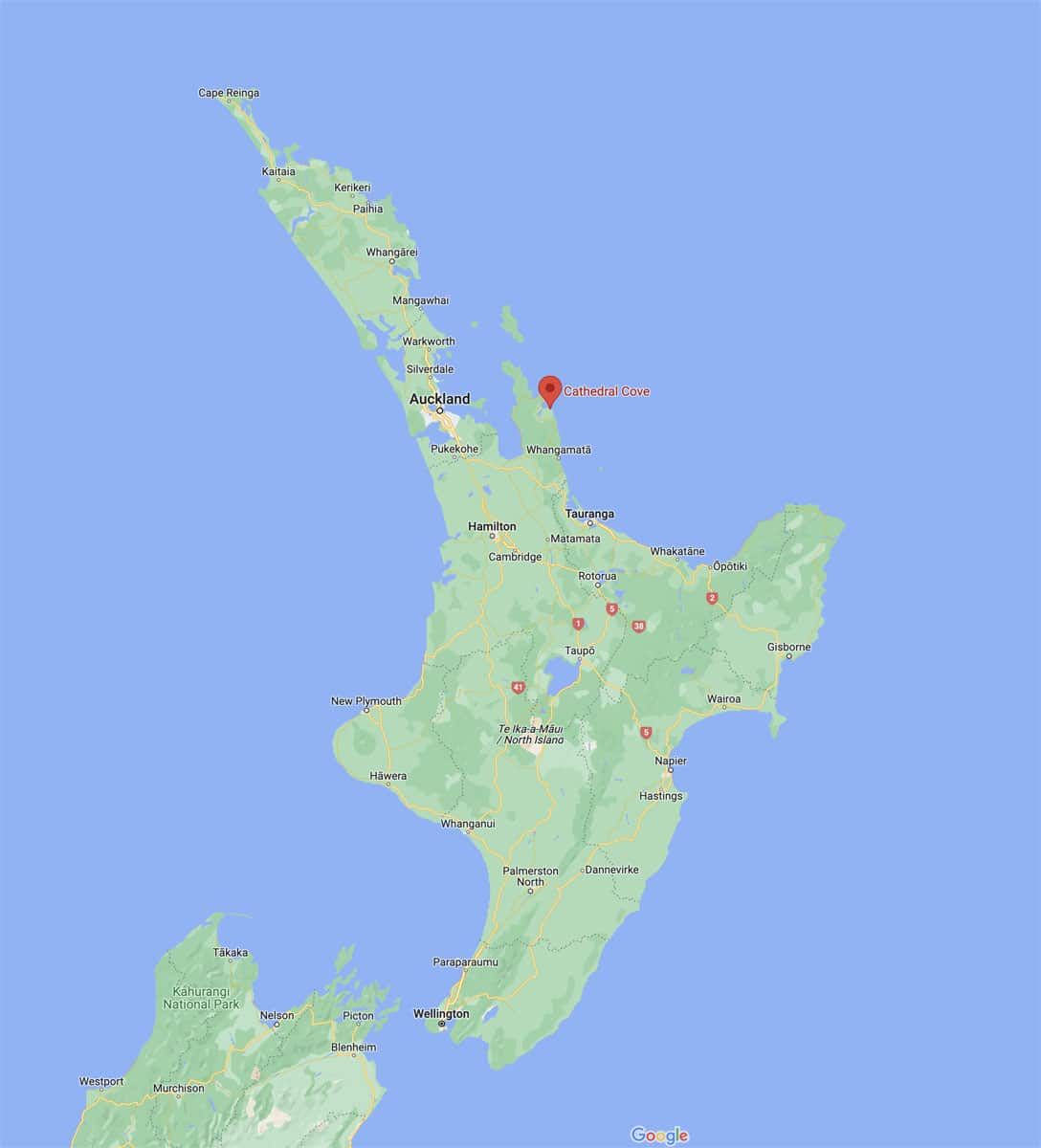 Is Cathedral Cove Open?
Cathedral Cove can close on short notice by rock falls, rough surf, heavy rains, and other hazards. Before you go, check the DOC website for updates.
How to Get to Cathedral Cove
Cathedral Cove: Boat & Kayak Options
Hahei Explorer. This is the company we used. They are located right on Hahei Beach and run one-hour tours from 9 am to 4 pm, with reduced hours in the summer. Get the full details and pricing on their website.
Cathedral Cove Scenic Cruises. This company runs 1.5 and 2.5 hour cruises of Cathedral Cove, Cooks Beach, and the Orua Seacave. This company is located in Whitianga. Learn more on their website.
Cave Cruzer. This 2-hour cruise takes you to Cathedral Cave, the Orua Seacave, and the Blowhole, plus some additional sights between Whitianga and Cathedral Cove. Learn more here.
Glass Bottom Boat. For something a little bit different, board a glass bottom boat, to see Cathedral Cave and the marine life in Te Whanganui-A-Hei marine reserve. This cruise starts in Whitianga and lasts 2 hours. Learn more here.
Cathedral Cove Kayaks. If you like the idea of kayaking to Cathedral Cove, this company offers several different options. Learn more on the official website.
Hiking to Cathedral Cove
Distance: 2.5 km out and back
Difficulty: Easy to moderate
Time: 1.5 hours walking time plus additional time at Cathedral Cove
Parking: You can only park at the trailhead (Cathedral Cove Viewing Deck) from May 1 through September 30. During the remainder of the year, this parking area is closed, since this area gets very congested. Park in Hahei and you can get to the walking track by taking the free shuttle in Hahei or walking along Hahei Beach to the trailhead.
The walking track runs from the Cathedral Cove Viewing Deck to Cathedral Cove. Along the walk, you have the option to take two detours to Gemstone Bay and Stingray Bay.
If Cathedral Cove is open, expect this to be a busy place. Not only will people be hiking here, but boat companies also work as taxis, dropping off and picking up people who prefer to get here by boat, rather than by hiking.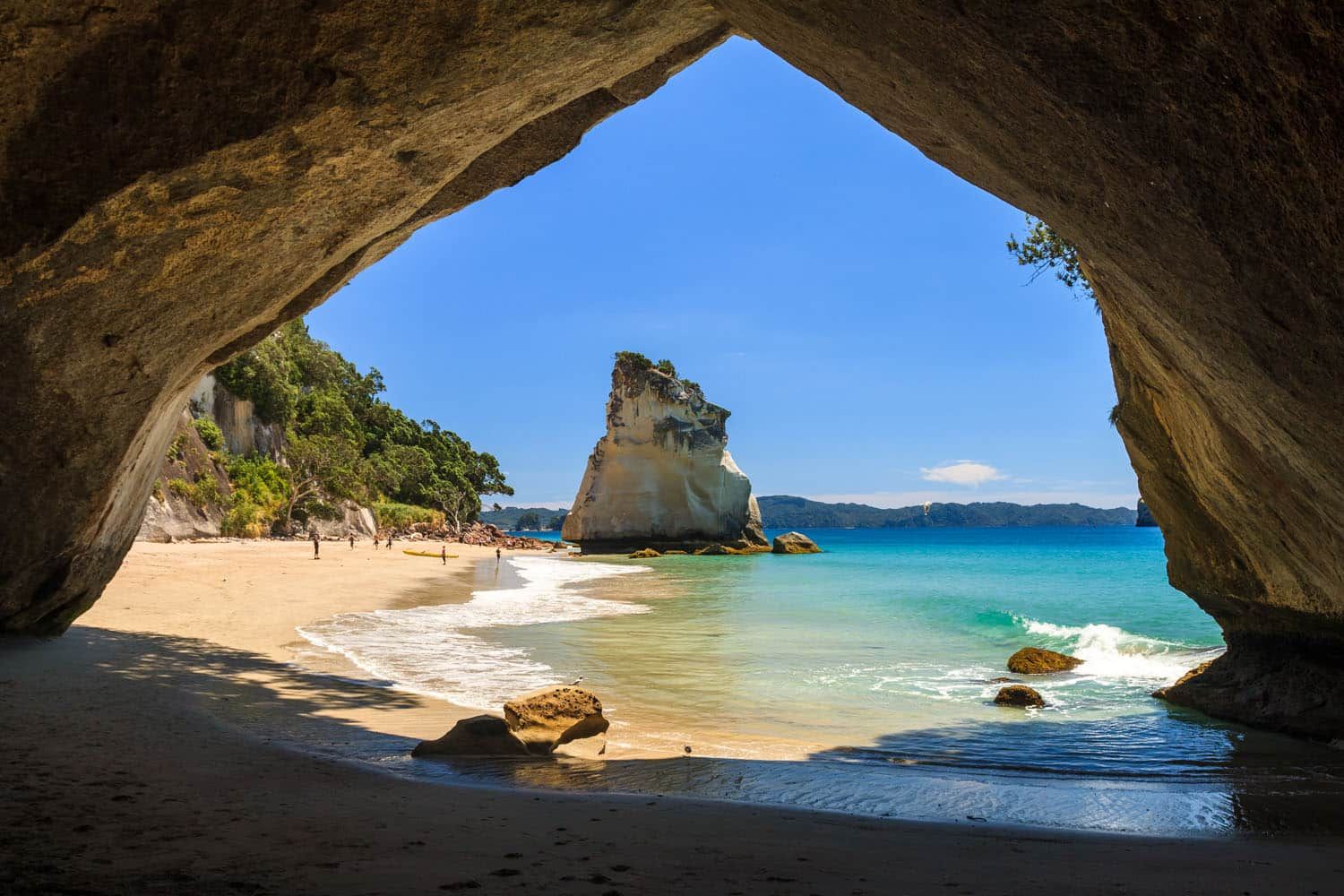 The view of Cathedral Cove from the beach | DmitrySerbin/shutterstock.com
Cathedral Cove Boat Tour
We took a one-hour tour of Cathedral Cove with Hahei Explorers. Tim and I chose this tour because it was one of the shortest tours but also included several famous sights in a short period of time. Here is our experience.
Meeting Point
The meeting point for this cruise was on Hahei Beach. The boat is an inflatable dinghy with a motor and seating for ten passengers. It pulls right up to the beach and you climb in. This means your feet and lower legs will get wet, as you have to wade in the water to get to the boat.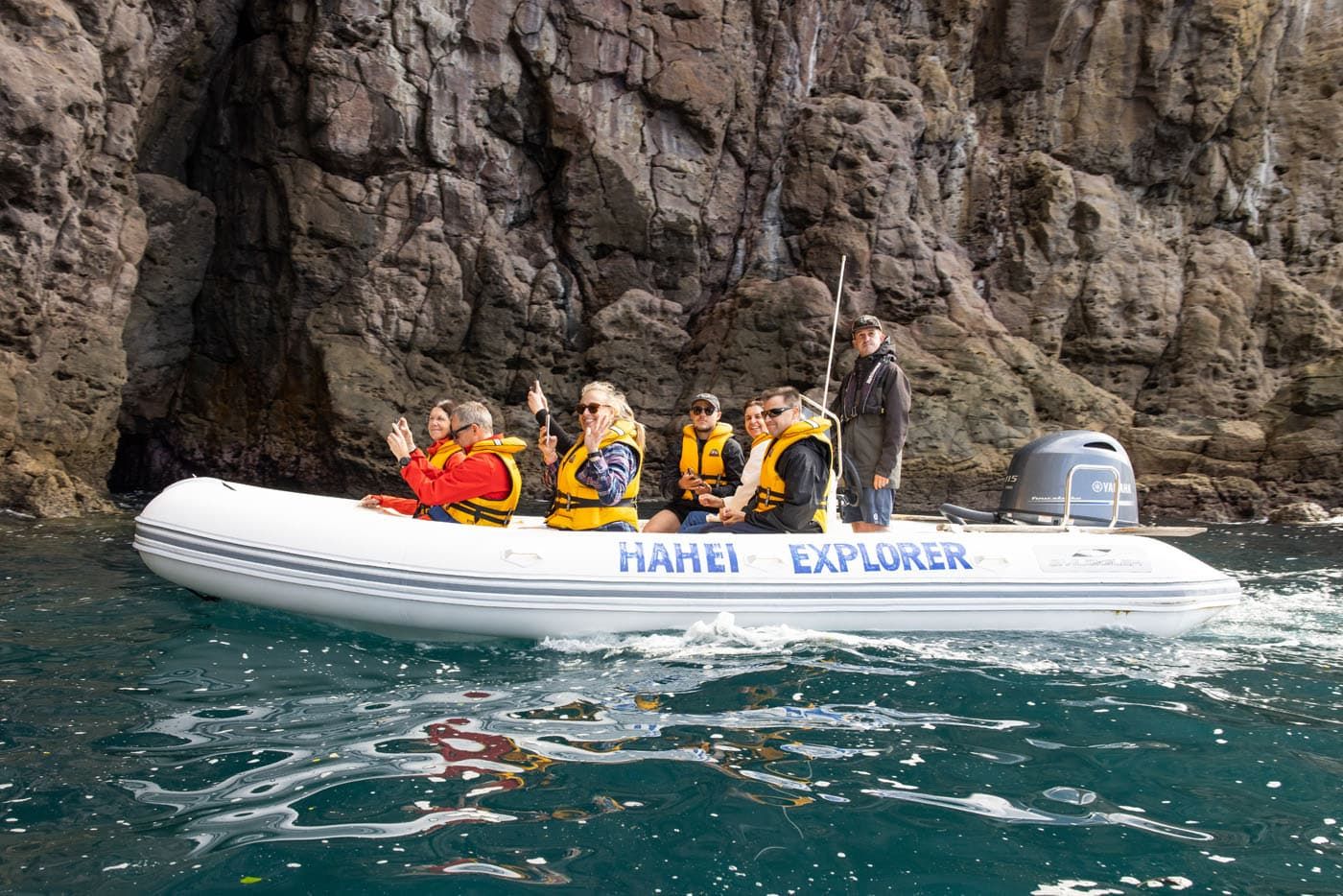 The Hahei Explorer boat
There is also a good chance that you will get wet on this tour. Several people got sprayed with the sea spray as we cruised from place to place.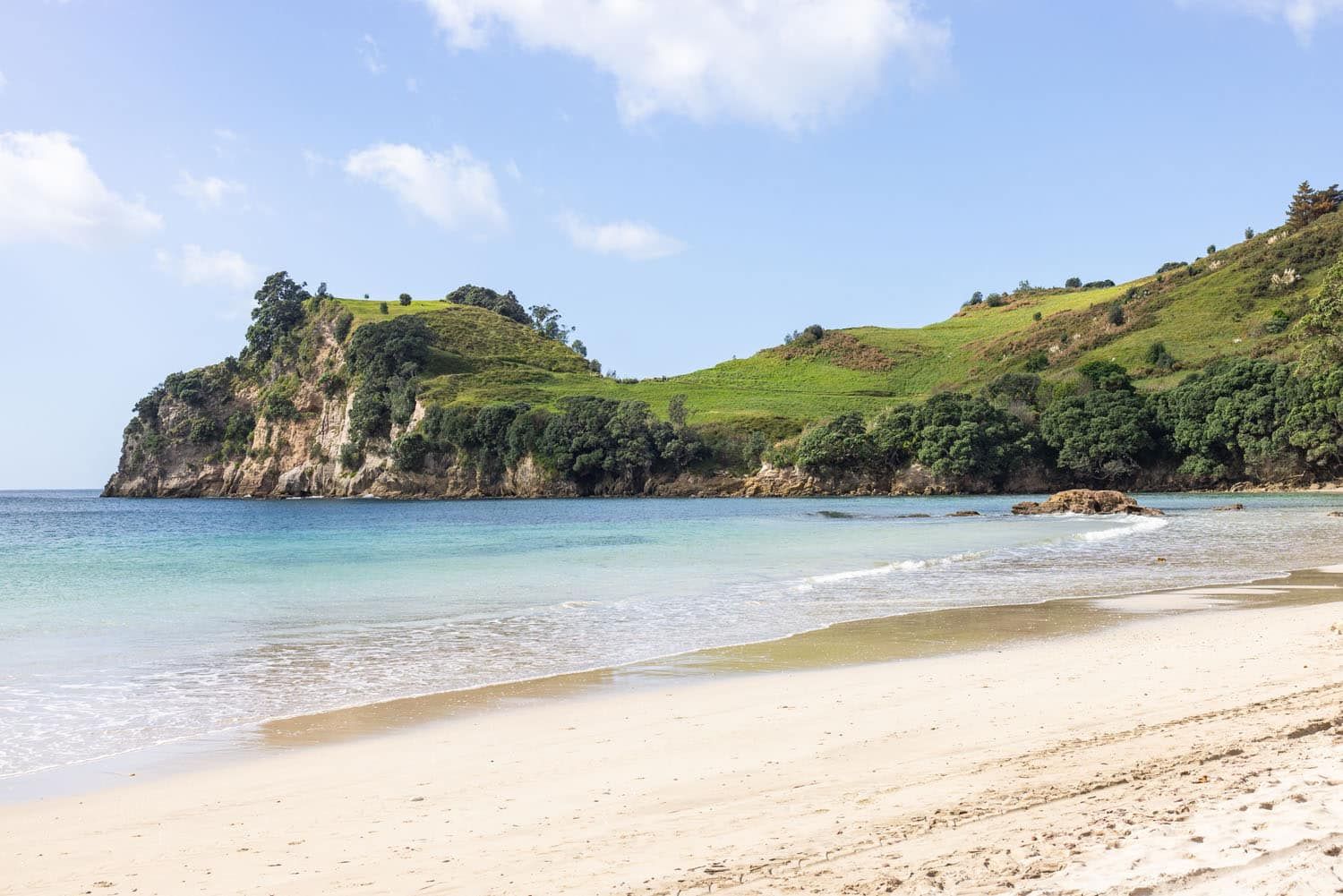 Hahei Beach
The One Hour Cruise
From Hahei Beach, the cruise makes a big loop, visiting everything listed below, and ending back at the beach.
Here are photos of what we saw on the tour.
Stingray Bay
In Stingray Bay, white cliffs plunge into the sea. These white cliffs look a lot like limestone, but really they are volcanic in nature.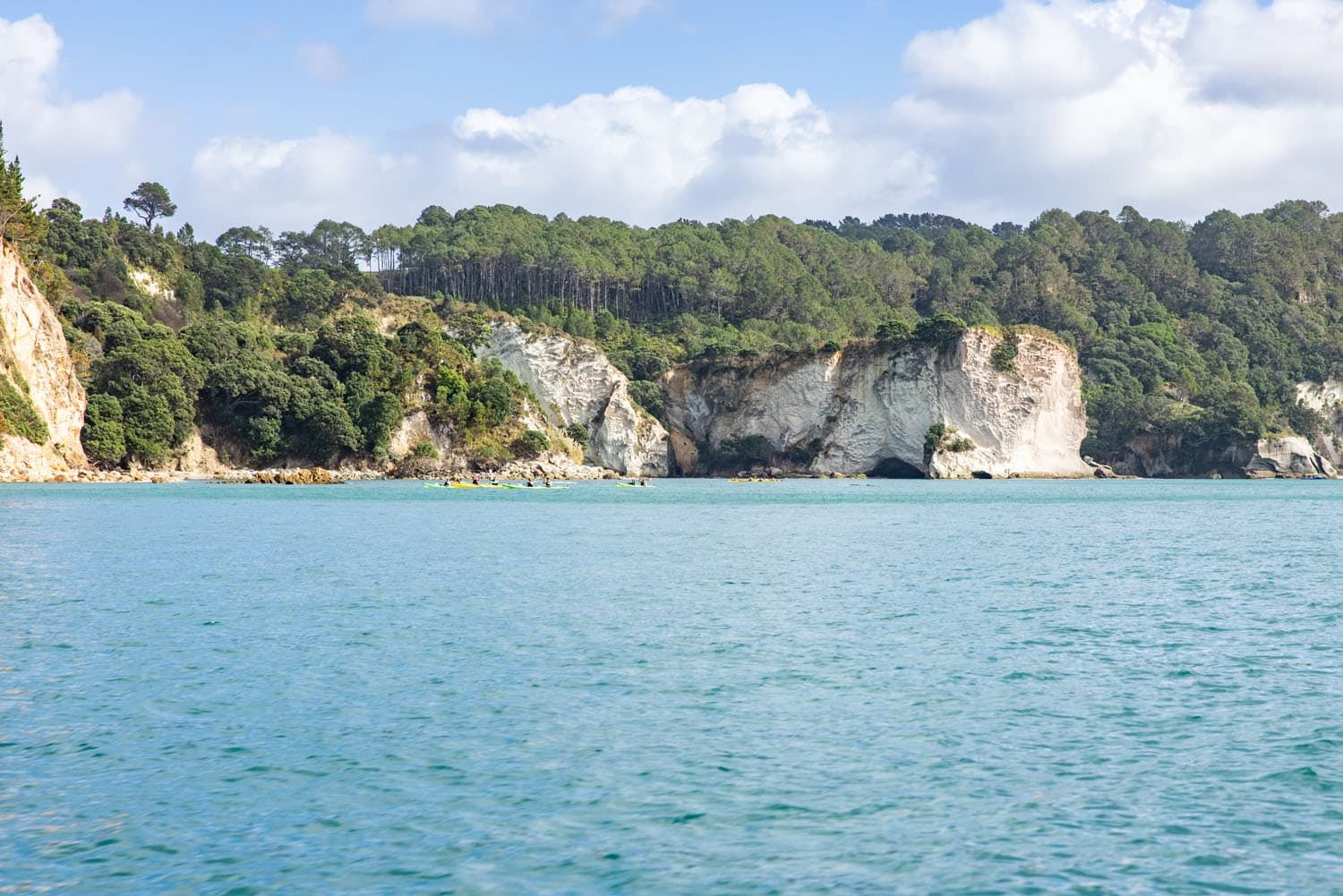 Views of the coastline from the boat.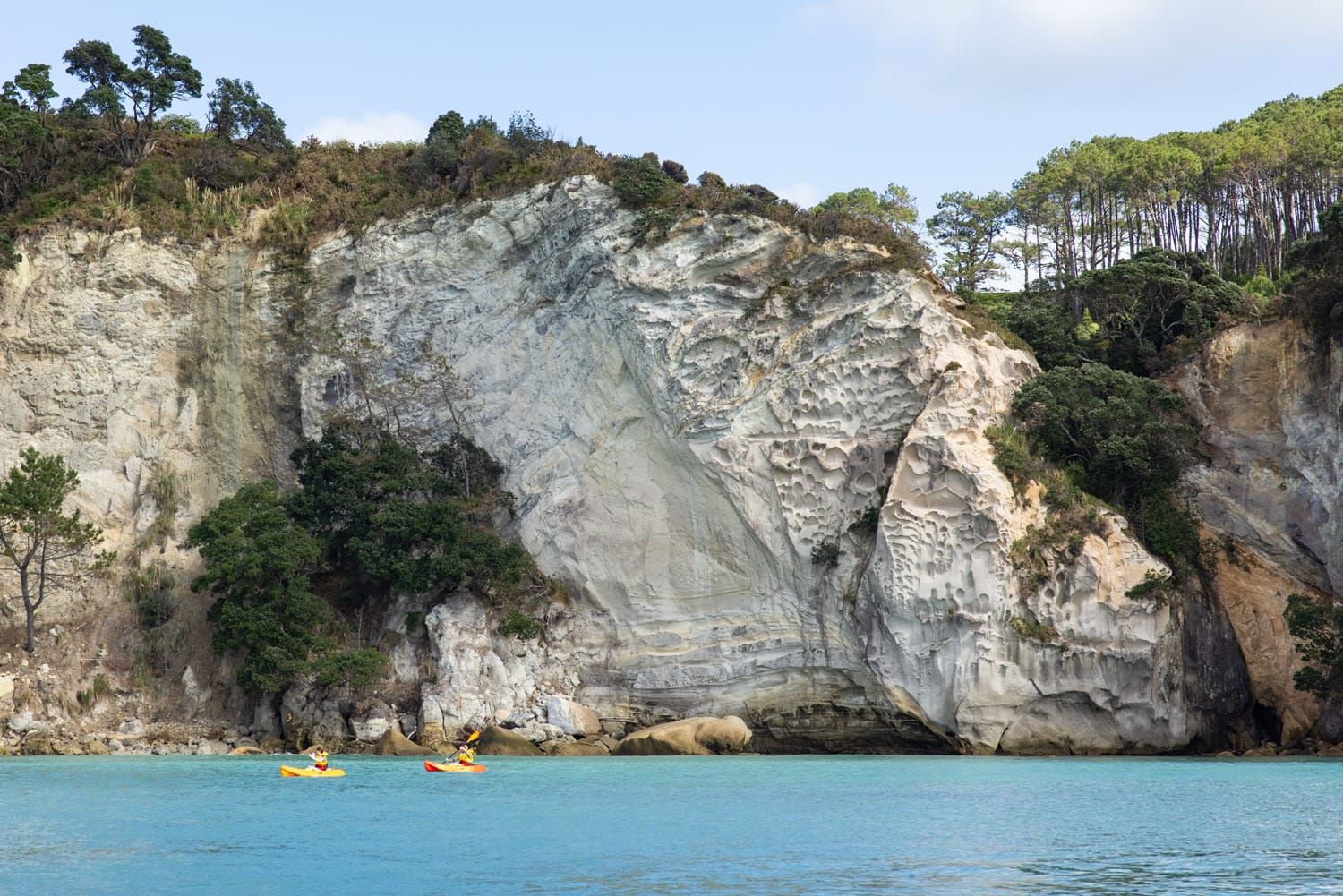 Stingray Bay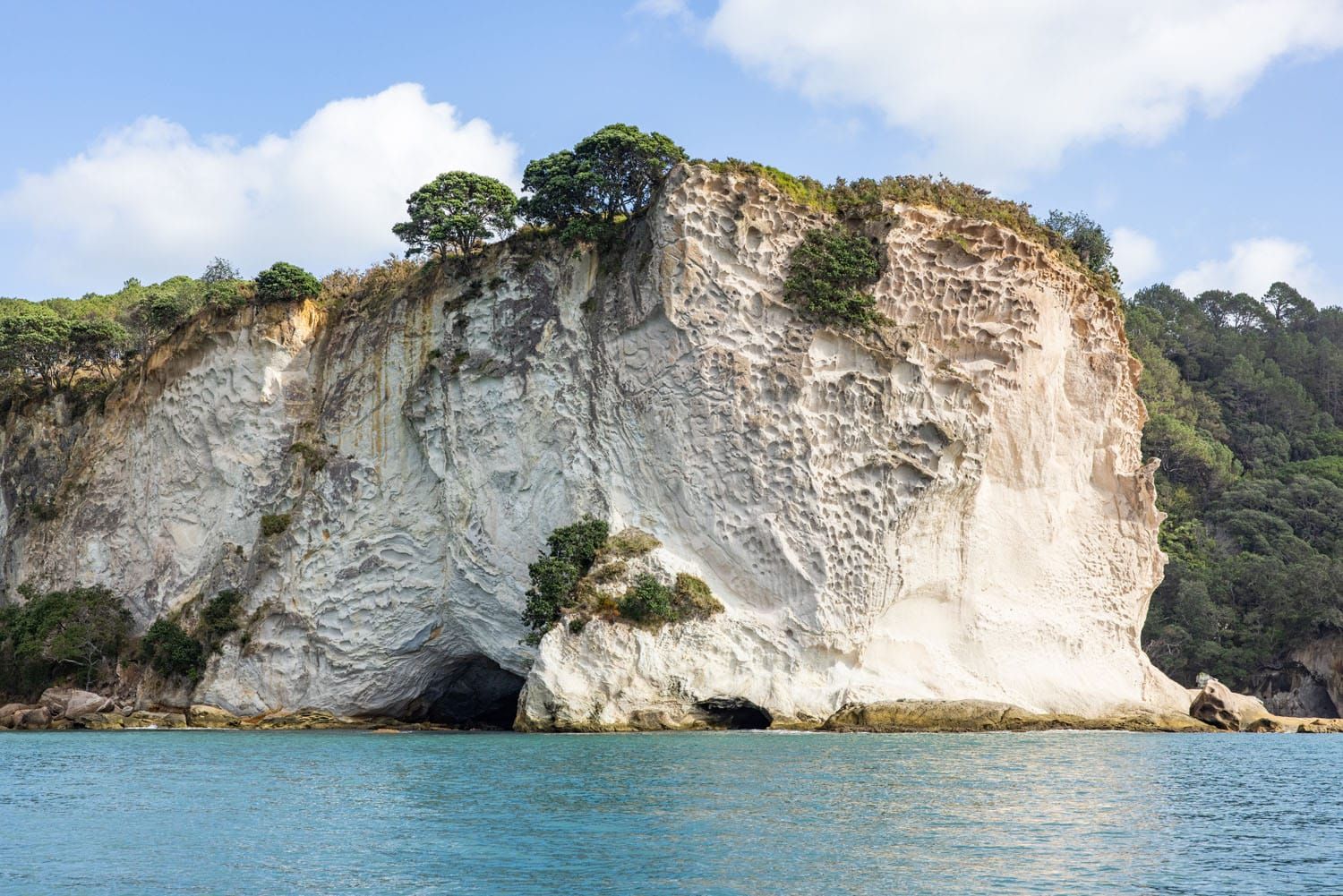 The volcanic cliffs of Stingray Bay
Mares Leg Cove
Inside of this cove, you will see Lovers Cave. This tiny tunnel leads a cave with a beach. It was too small for our boat to enter, but if you have a kayak or are a good swimmer, you can enter Lovers Cave.
The entrance to Lovers Cave
Cathedral Cove (Te Whanganui-A-Hei)
Cathedral Cove is the highlight of the boat tour. This cove is located at the end of the beach in Mares Leg Cove. The rock creates an archway over the beach, forming one of the most picturesque places in New Zealand, which is saying a lot. Cathedral Cove attracts photographers, Instagrammers, beach lovers, couples, and families from dawn to dusk.
Cathedral Cove looks nice from the boat, but it's best seen from land, if possible. We weren't able to do this, since the beach was closed (the hiking track was closed and boats were not allowed to drop people off because of the danger of future rockslides).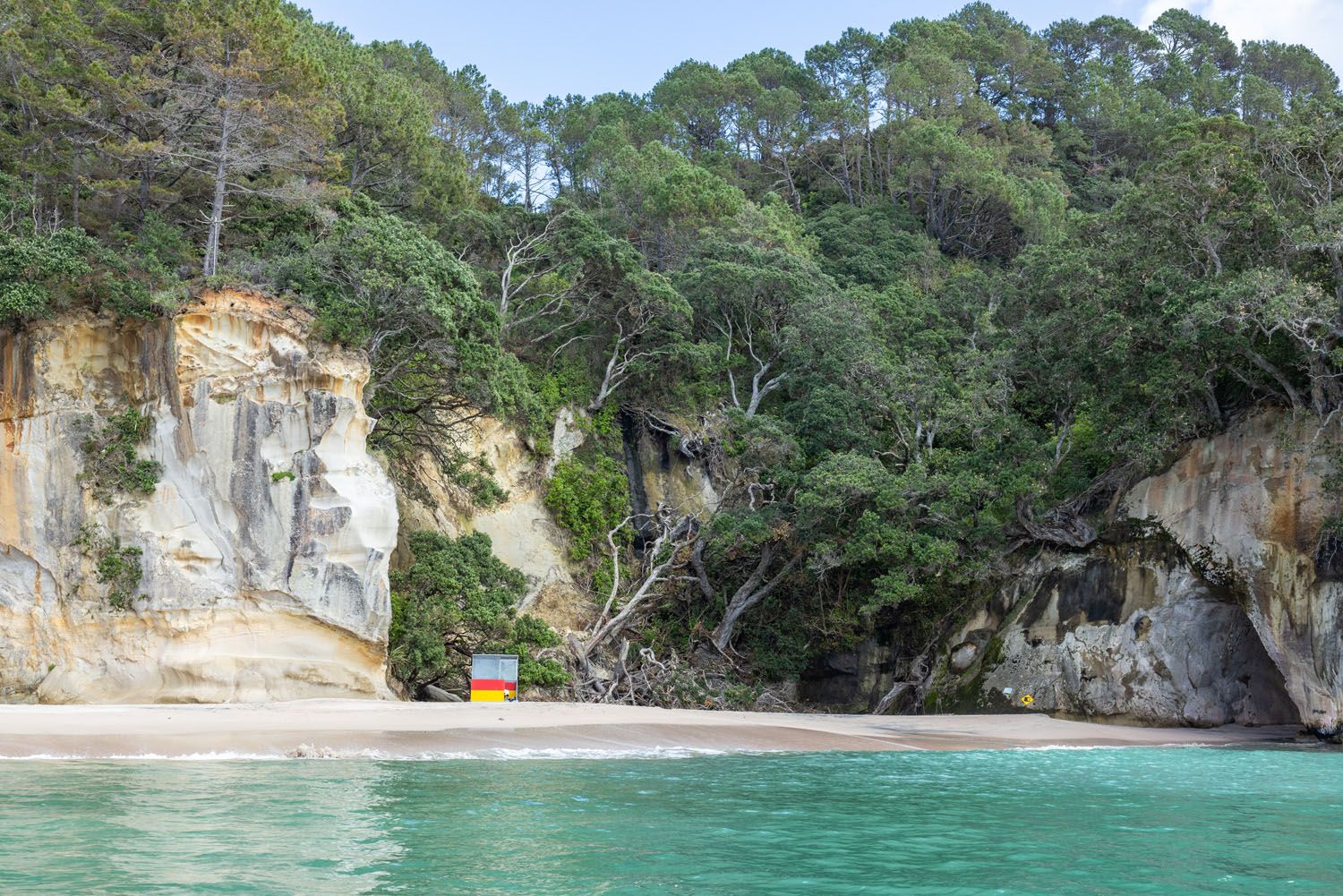 Mares Leg Cove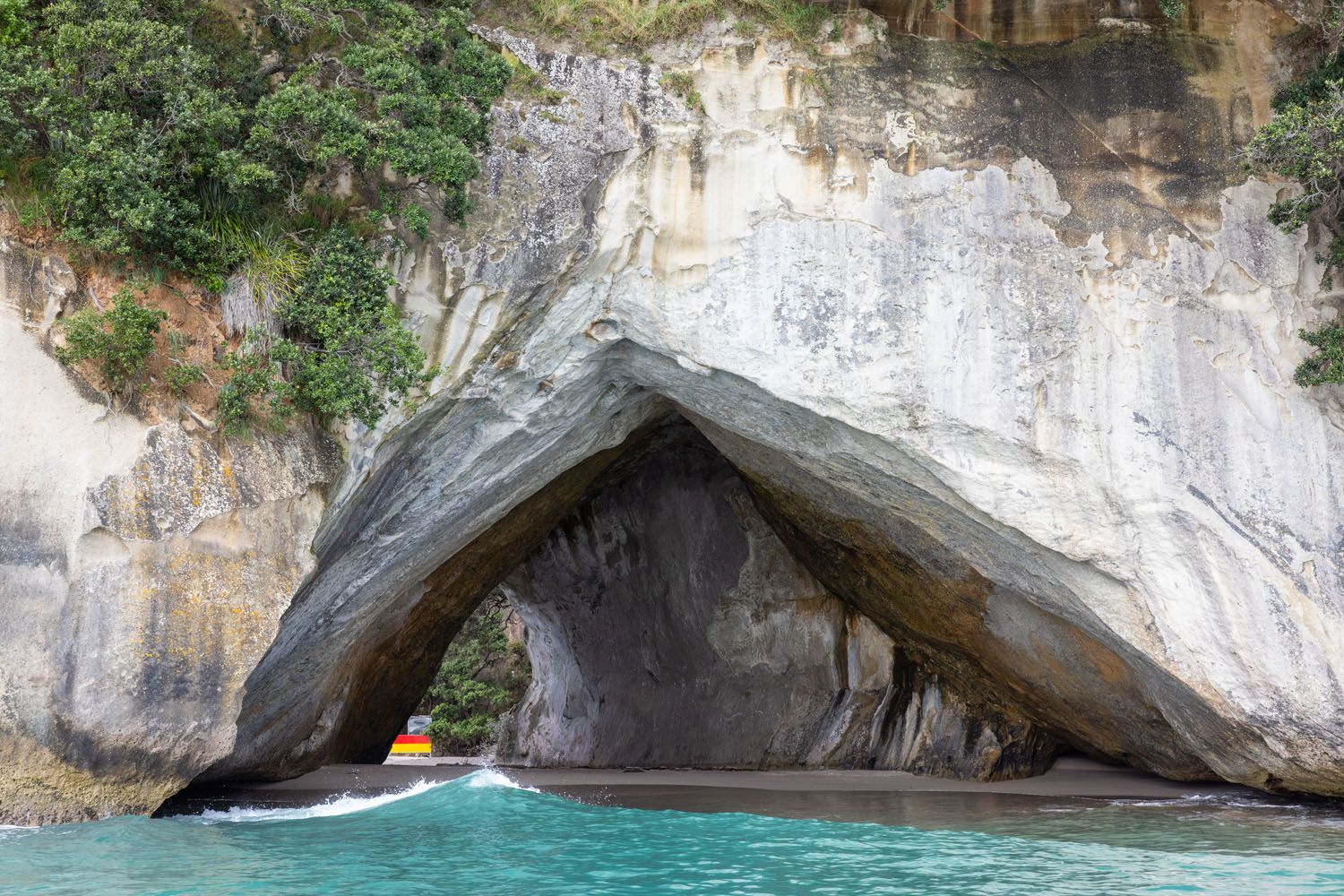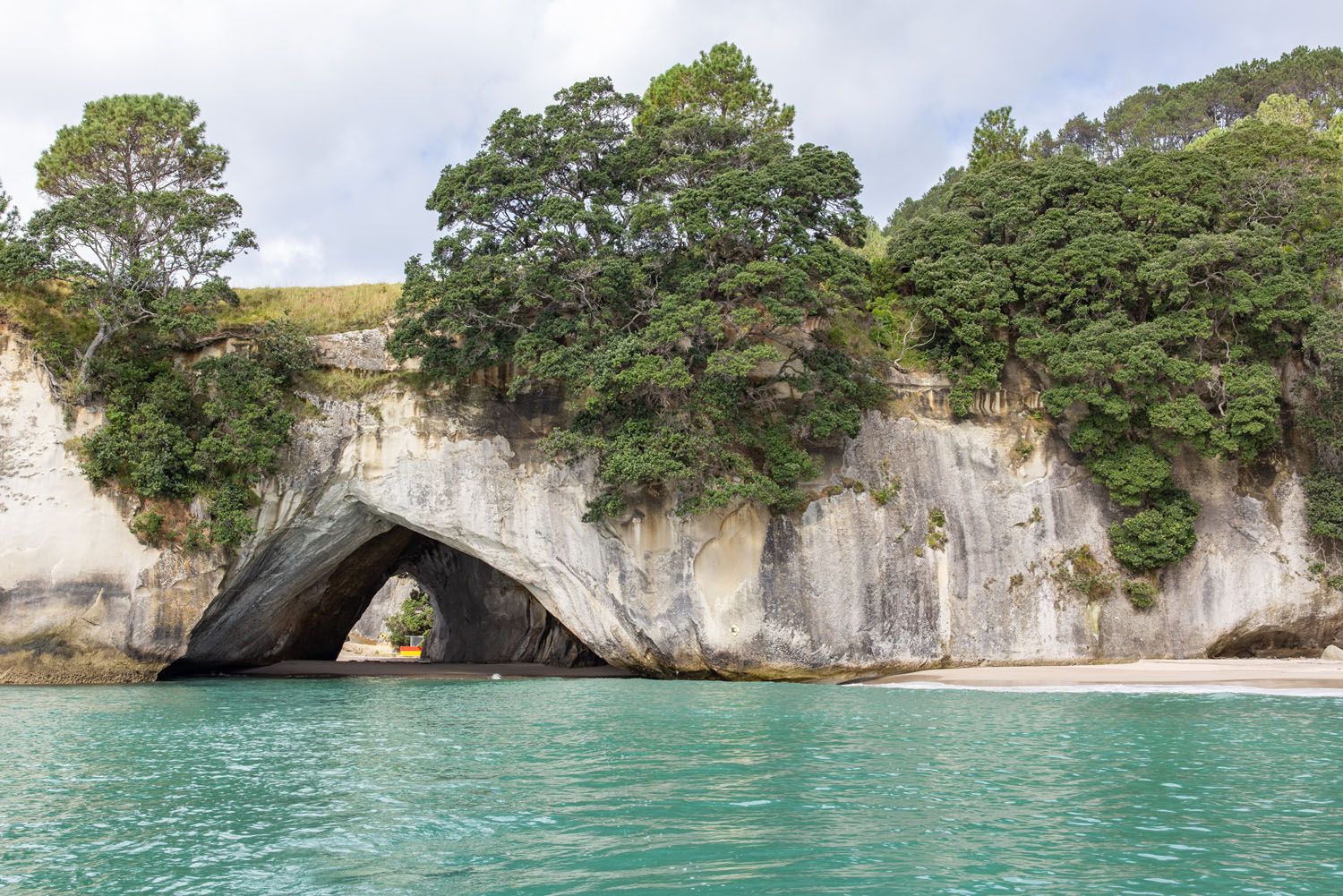 Te Hoho Rock
Te Hoho Rock is the rock formation that you see if you standing in Cathedral Cove and take a photo. Below is our photo, but I think it looks a lot more interesting when taken from Cathedral Cove, since you can frame the rock within the cove's walls.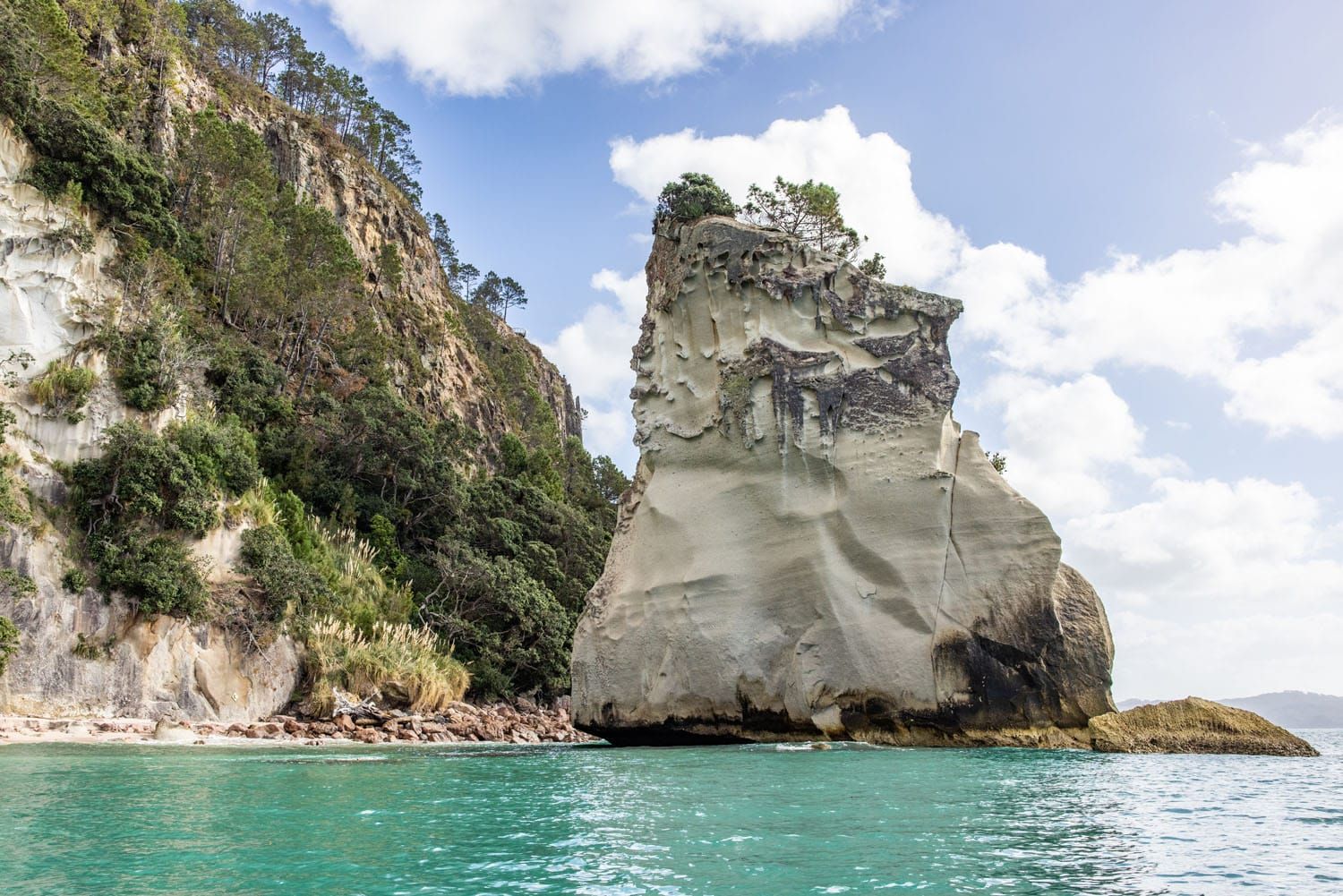 Te Hoho Rock
Poikeke Island
From Cathedral Cove, we left the coastline and cruised to the islands that sit off of the mainland. At Poikeke Island, we cruised through this rock bridge on the edge of the island.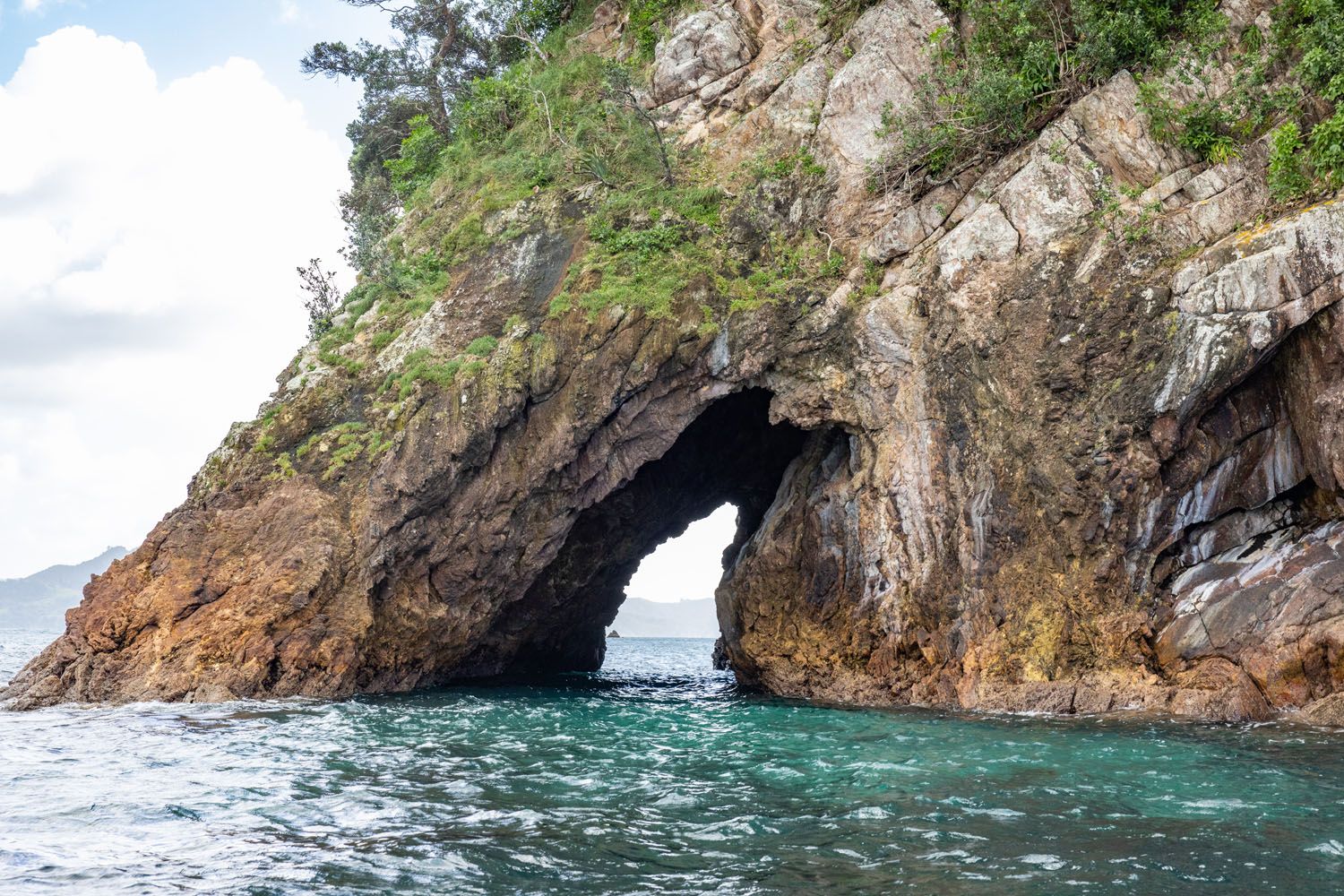 Poikeke Island
Mahurangi Island (Goat Island)
On Mahurangi Island, we entered Whale Cave, pictured below.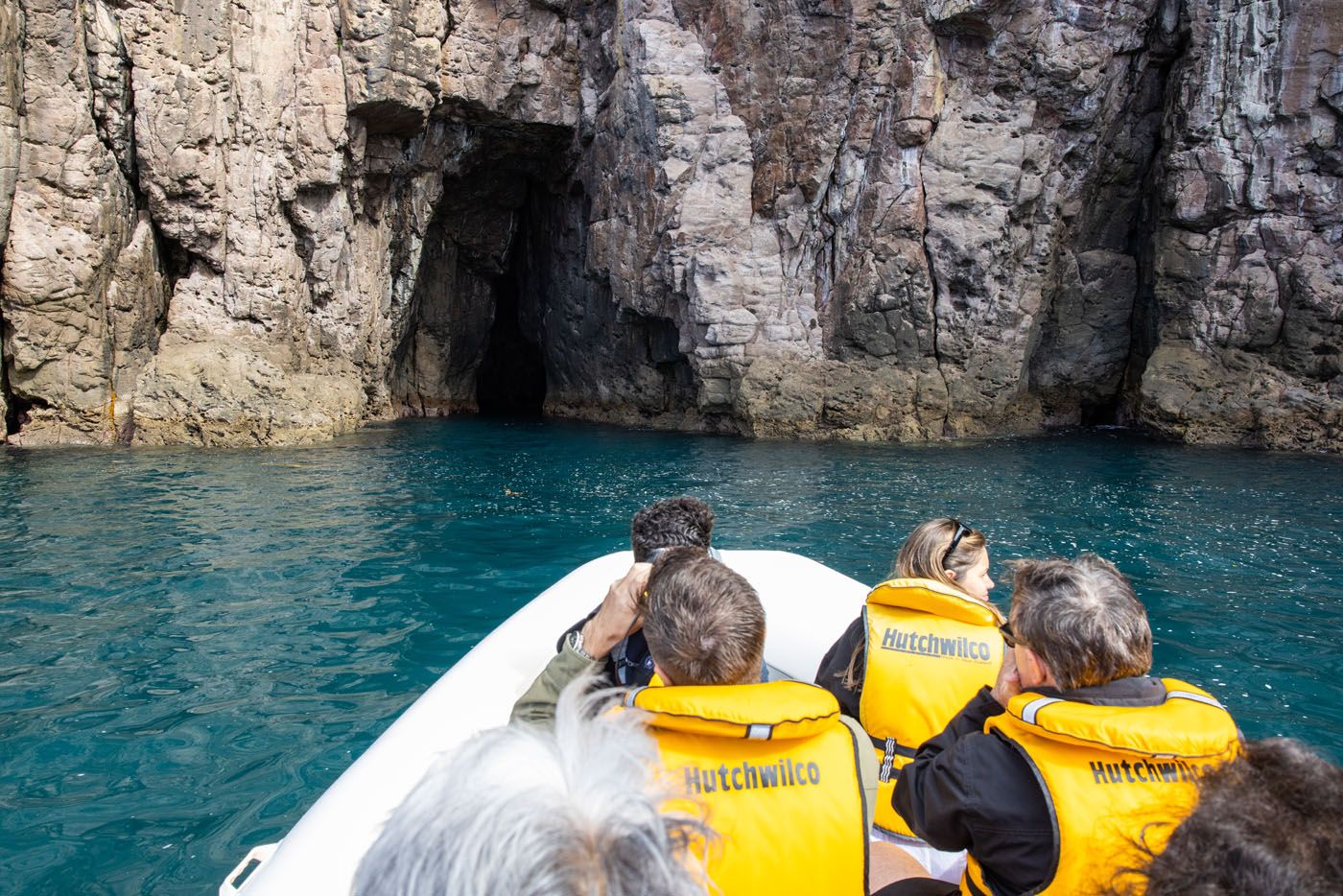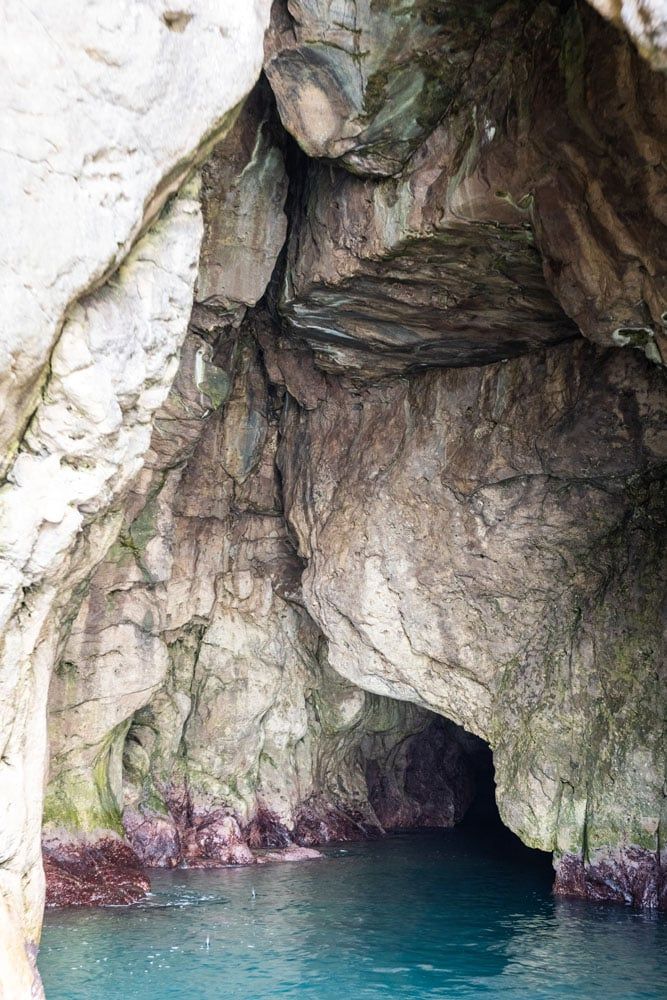 Whale Cave
Champagne Bay
Champagne Bay gets its name for Champagne Rock, which looks like an upside-down champagne glass. Sitting next to it is Hitchhiker Rock, and with a good sense of imagination, it looks like a thumbs up.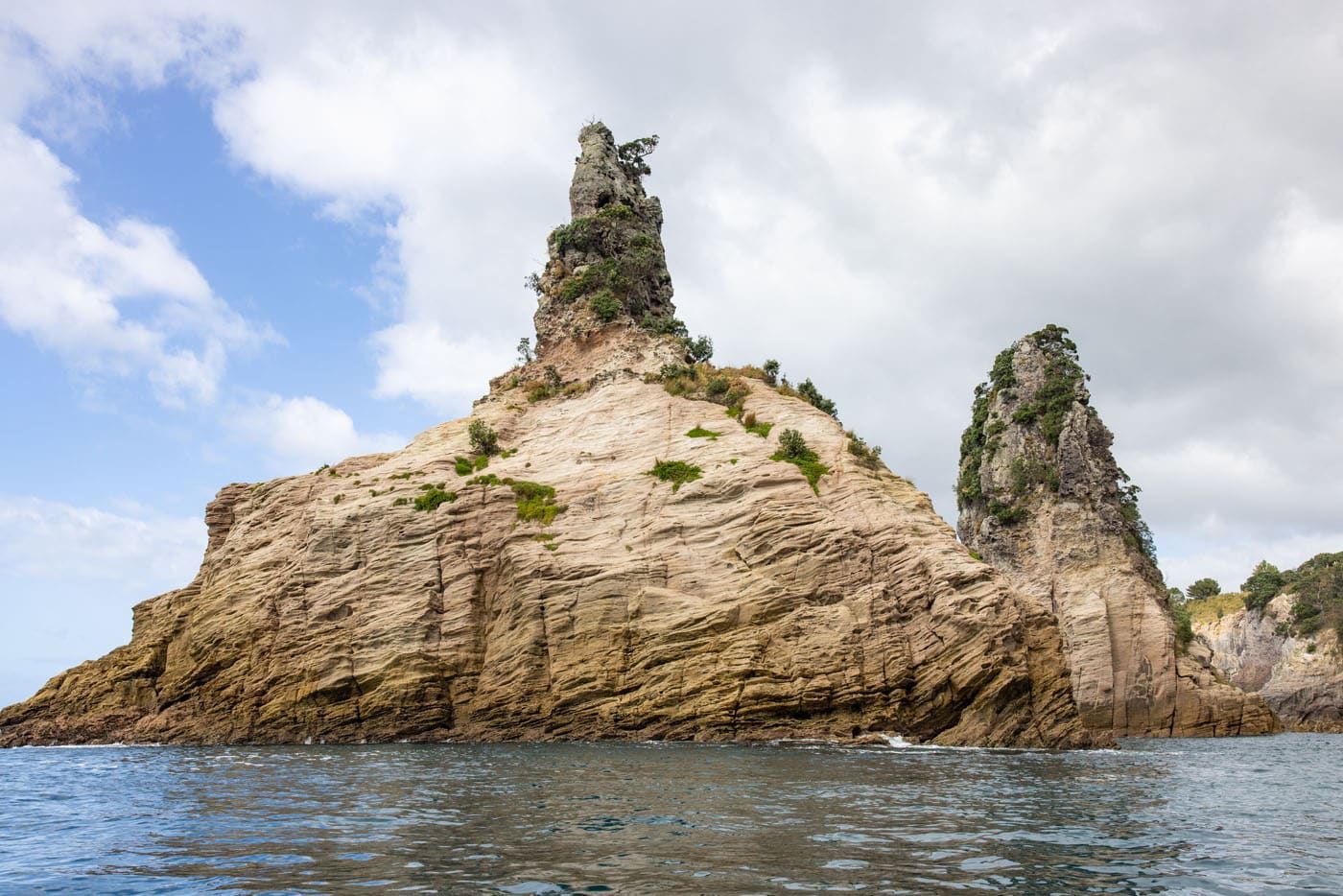 Champagne Rock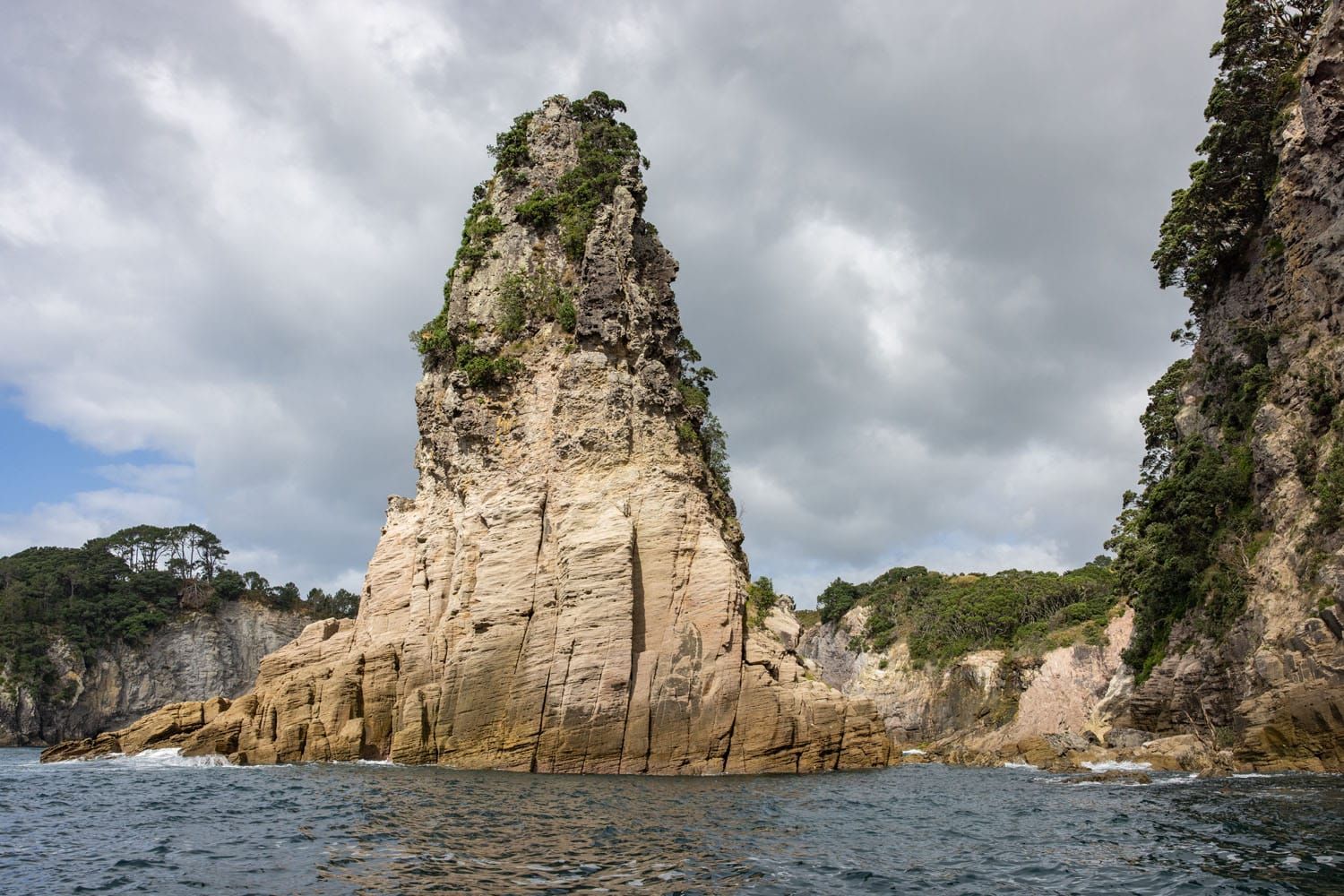 Hitchhiker Rock
Orua Cave
This was the largest cave we entered, which is just a short distance from Champagne Rock and Hitchhiker Rock.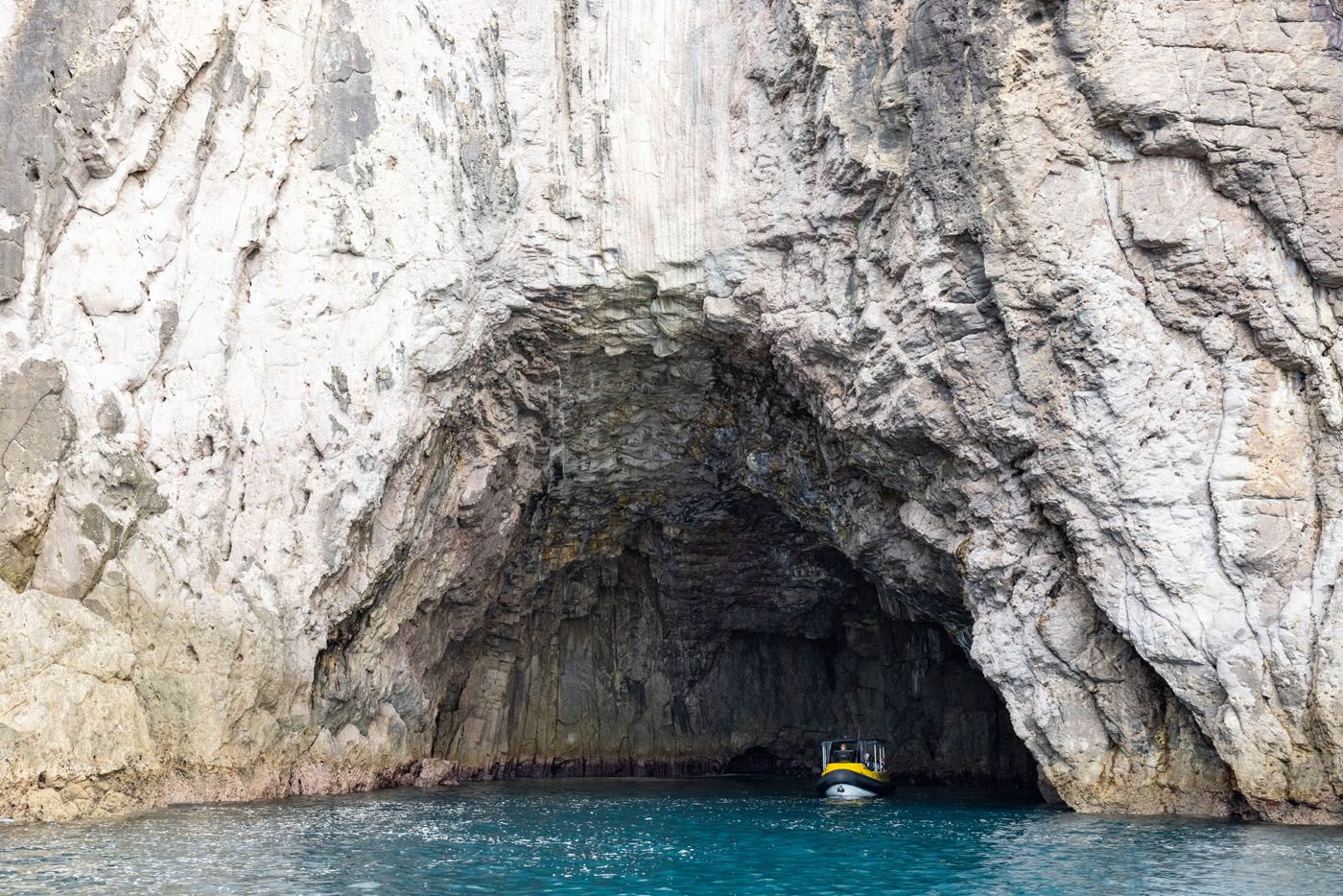 Orua Cave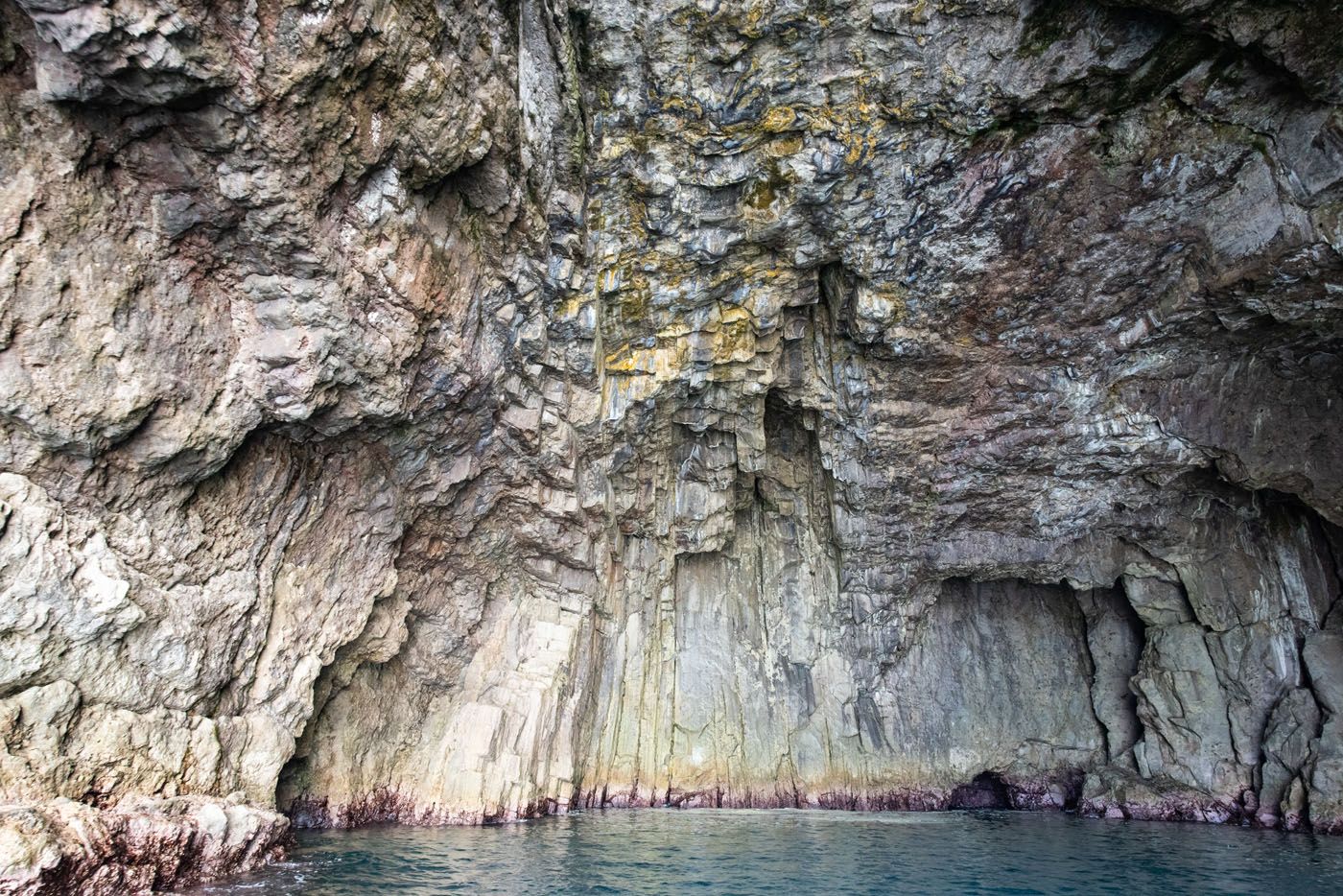 Inside Orua Cave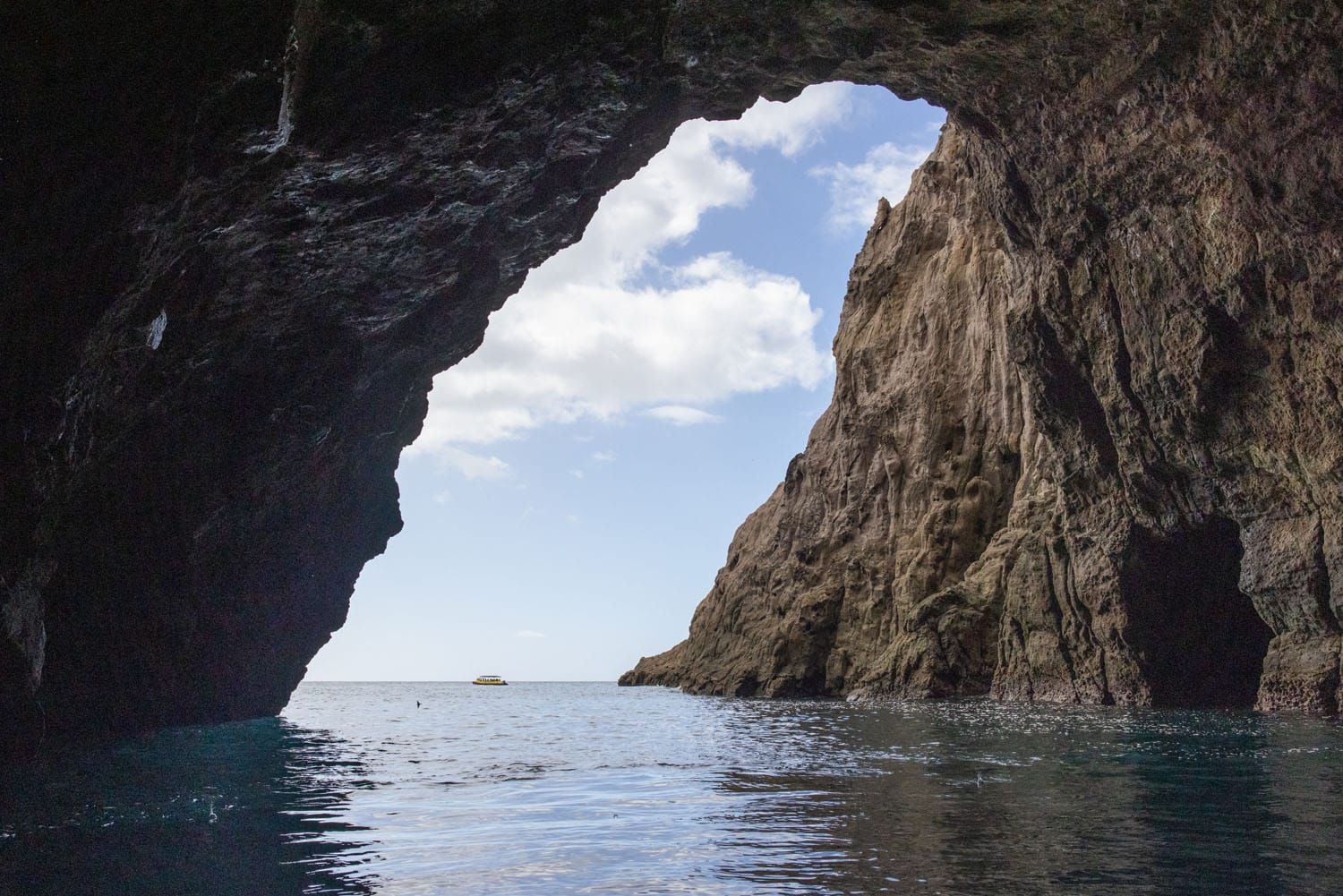 Orua Cave entrance
Blowhole Cave
The final cave of the day was one of the most interesting. This cave is completely open at the top, so you can see the sky and the rim of the cave overgrown with trees.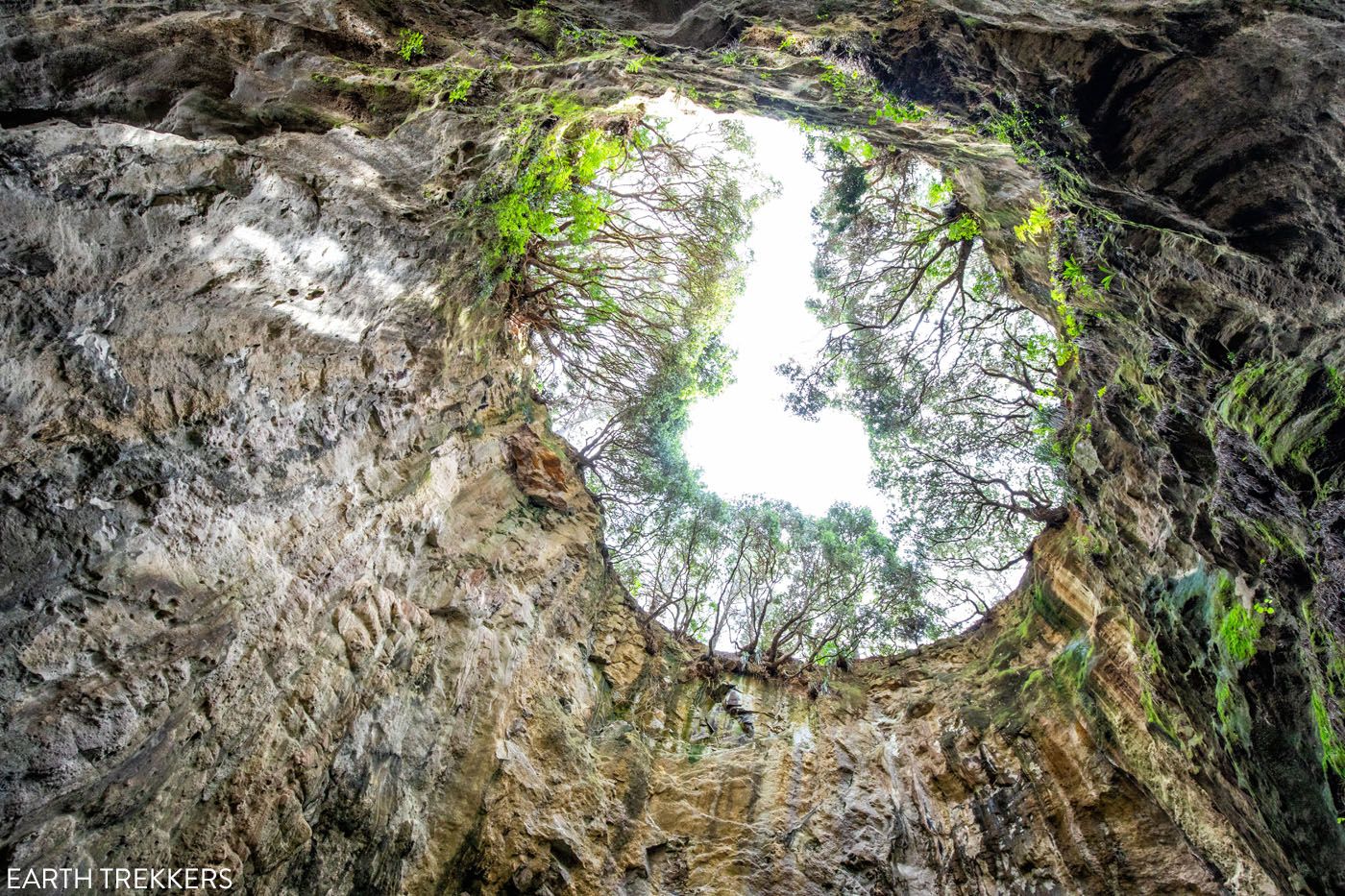 Blowhole Cave
From Blowhole Cave, it was a quick cruise back to Hahei Beach.
Tours of Cathedral Cove
Here are more tour options for Cathedral Cove. Take a sailing trip to the cove, go snorkeling, and/or visit the other nearby caves.
Things to Do Near Cathedral Cove
Hot Water Beach
Hot Water Beach is just a 10-minute drive from Hahei Beach. Bring a shovel, dig a hole, and relax in the warm waters that bubble up from the ground. This is an extremely popular beach in New Zealand.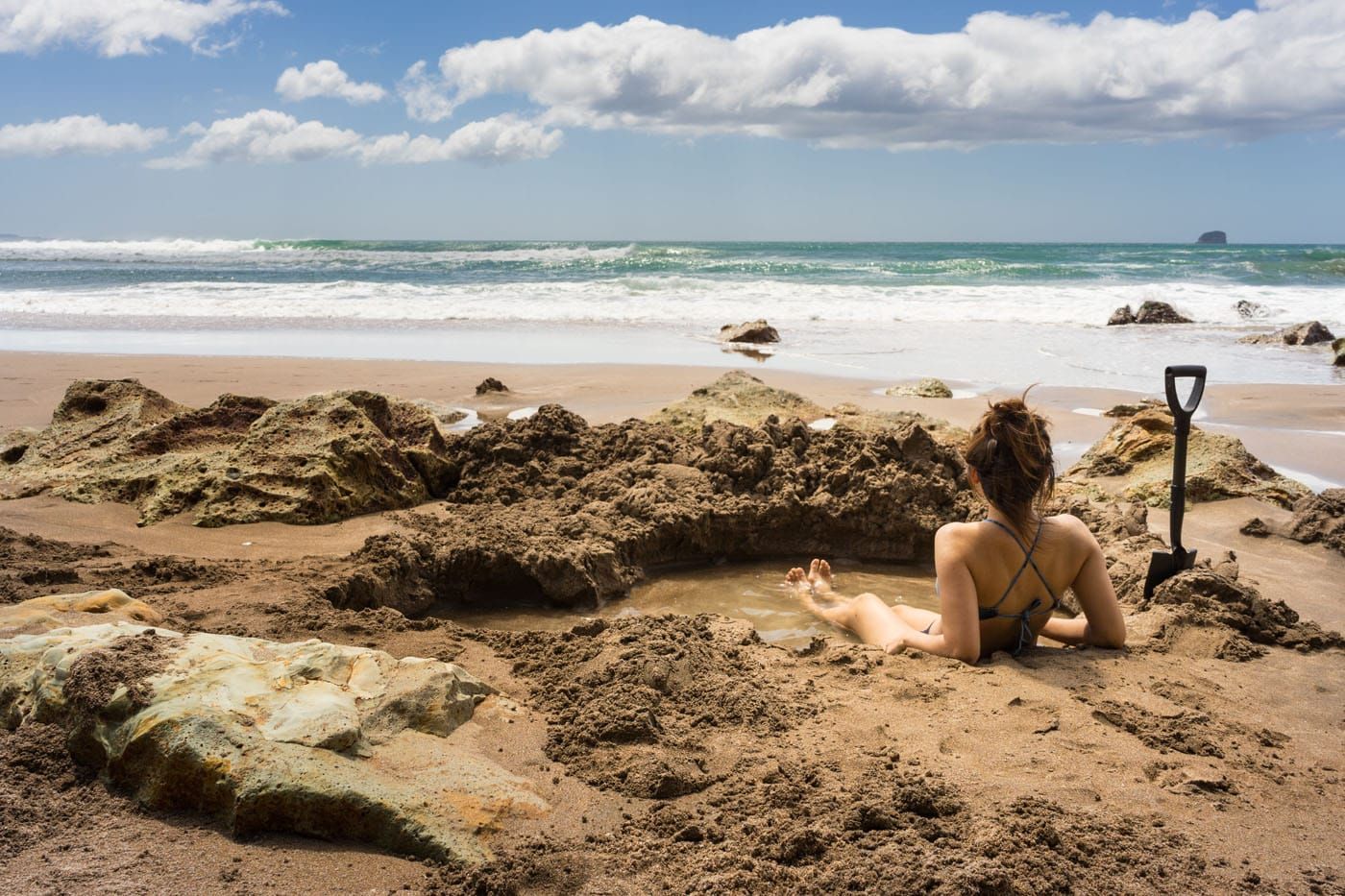 Hot Water Beach | Naruedom Yaempongsa/shutterstock.com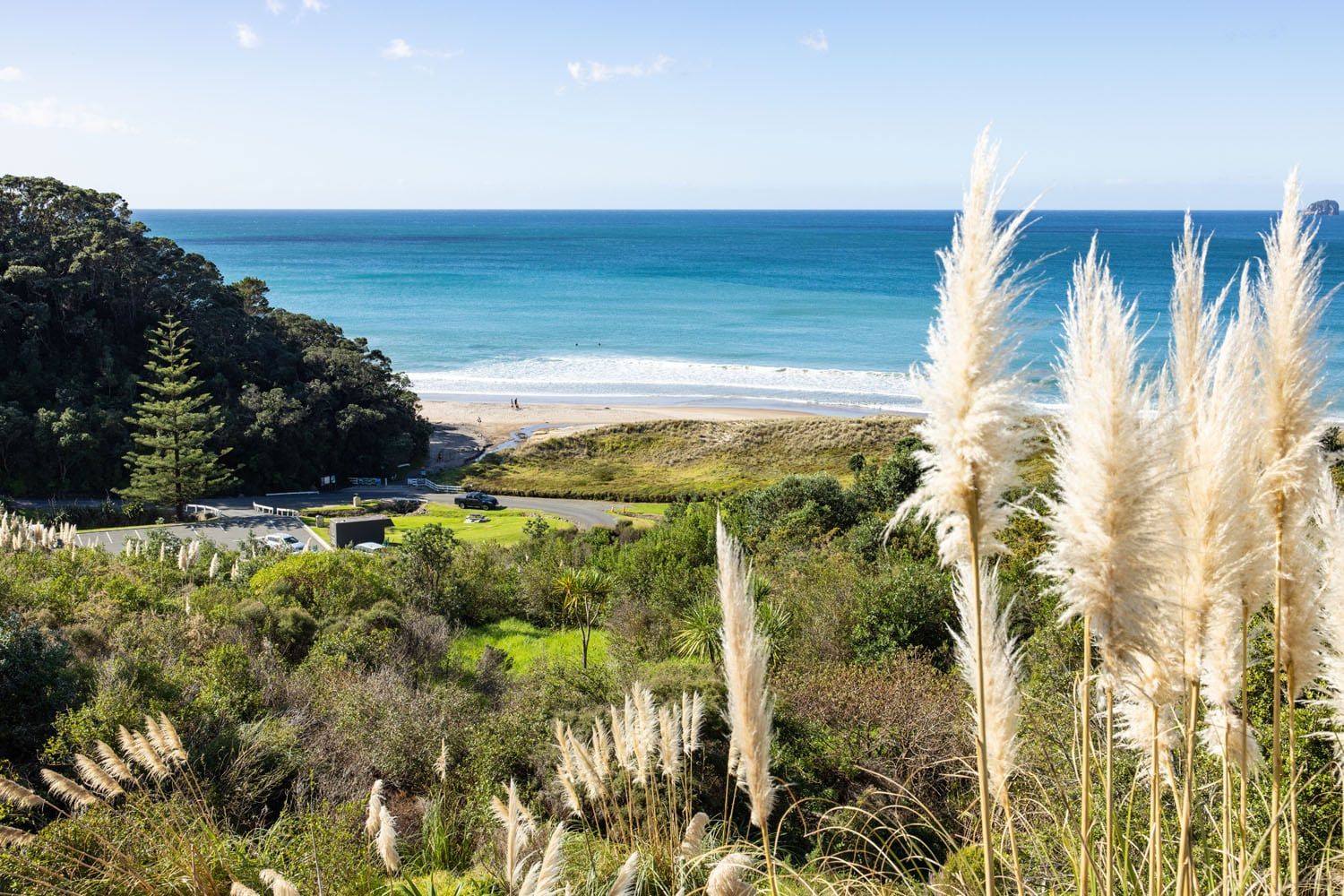 Overlooking Hot Water Beach from Hot Water Beach Road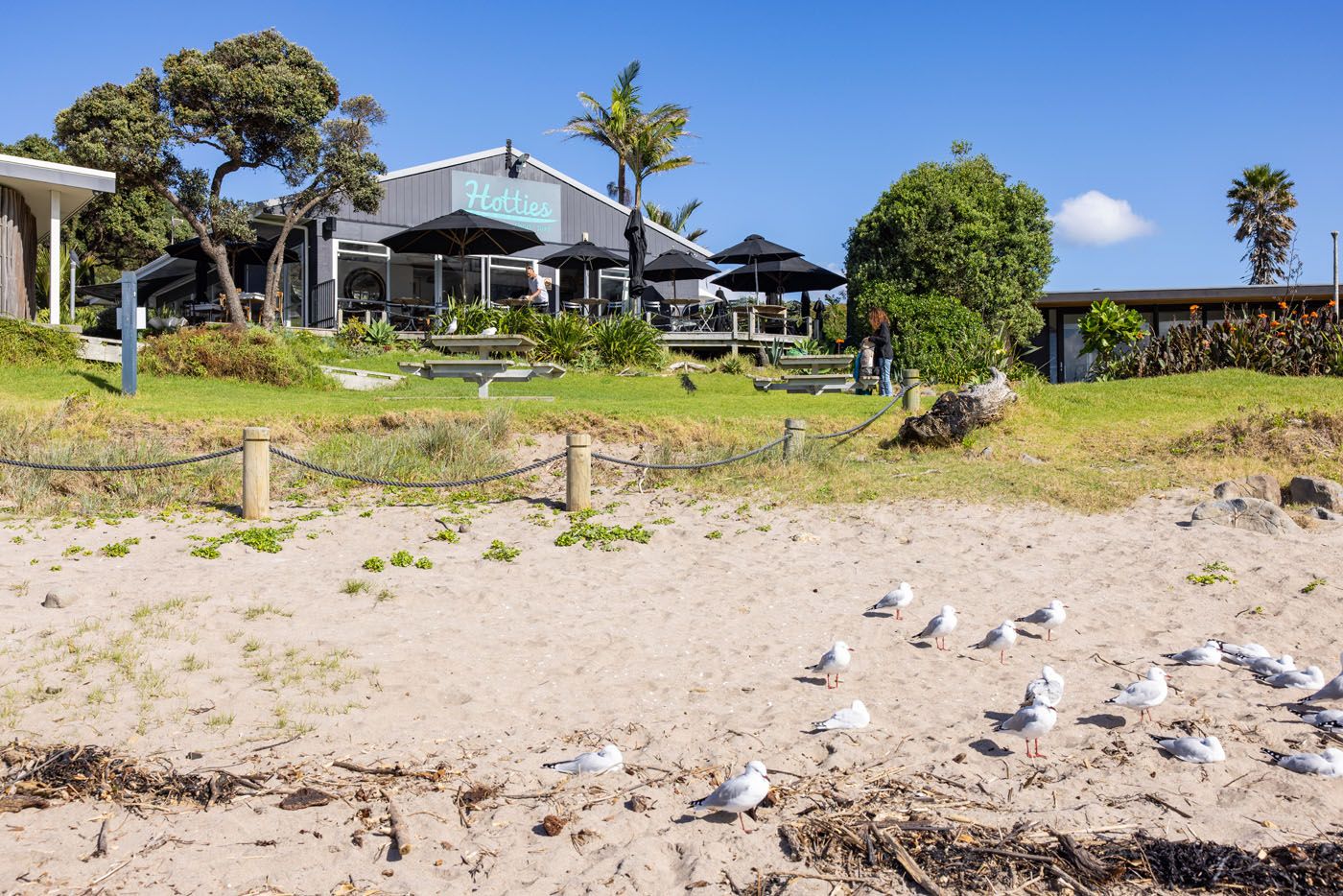 Hotties Restaurant on Hot Water Beach
Whitianga
This small town is a nice place to grab a bite to eat before or after your boat cruise, especially if you choose a cruise starting in Whitianga.
Cooks Beach
If you want to go to the beach but don't want the crowds you get at Hot Water Beach, Cooks Beach is a very pretty place. It's located near Whitianga.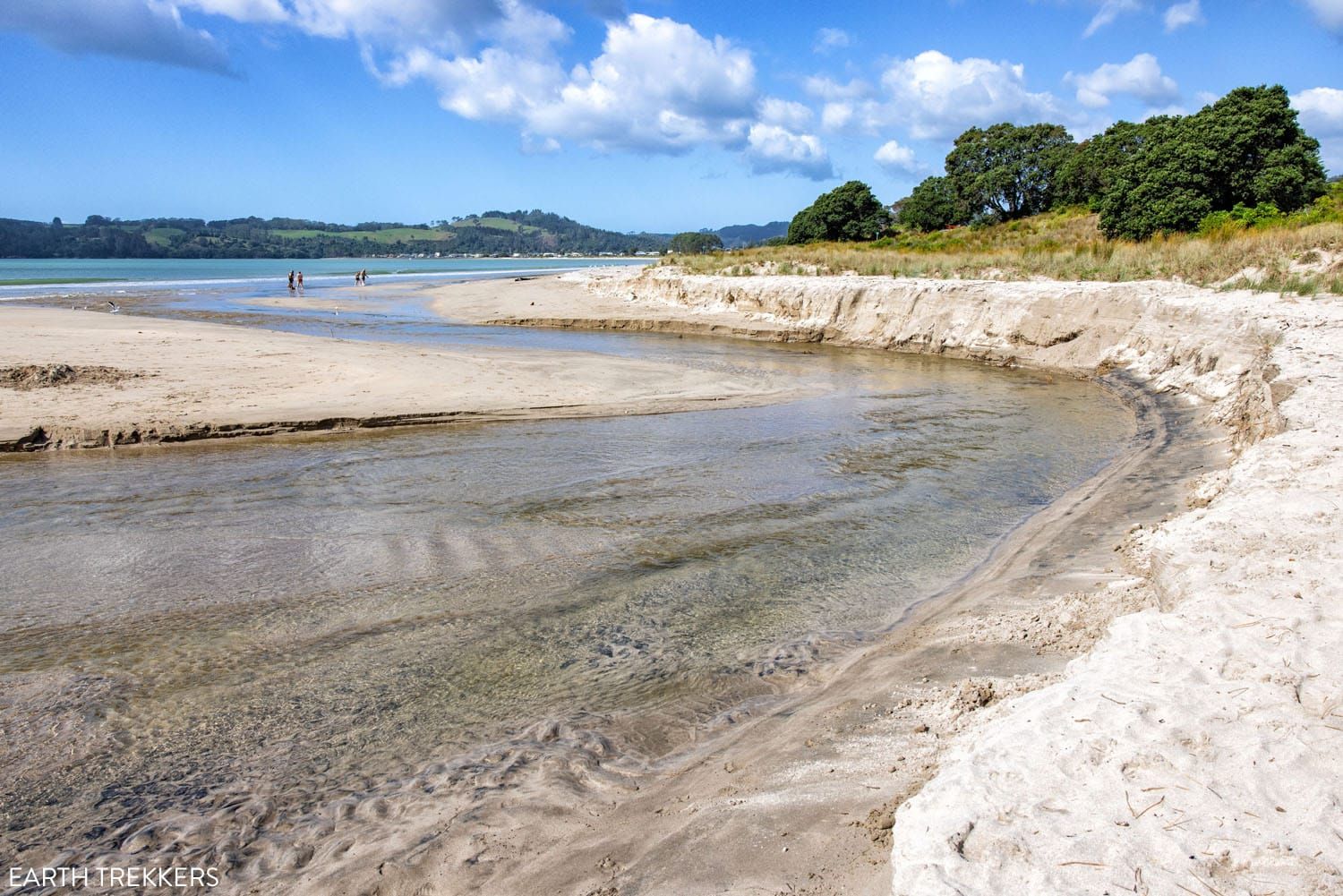 Cooks Beach
Dinner at Kaizen
Kaizen is located in Cooks Beach (the town and the beach share the same name). We had one of our best meals in New Zealand here and highly recommend it.
Is a Visit to Cathedral Cove Worth It?
Tim and I both enjoyed this cruise. We got to see one of New Zealand's most iconic places on a quick cruise. The tour ran on time, our captain was knowledgeable and entertaining, and all around, it was a great experience.
Still, I would have preferred to see Cathedral Cove from land, but that was not possible during our visit. So, cruising to the cove is a nice alternative.
However, Cathedral Cove and the Coromandel Peninsula is a big detour from the more popular places, such as Auckland, Waitomo Caves, Rotorua, and Taupō. It takes about a day to drive here, take the cruise, and visit a few more places in the area, such as Hot Water Beach.
If you have limited time in New Zealand (3 weeks in total or less than 10 days on the North Island) I don't think Cathedral Cove is worth it, especially while it is closed. There are better things to do on the North Island.
However, if this is your second visit to New Zealand, you have plenty of time, and you love the idea of seeing this dramatic coastal scenery (and hopefully getting to walk on this beach), then Cathedral Cove is worth it.
Where We Stayed
We stayed at Hahei Beach Bach. This small house has a living room, kitchenette, bathroom, and bedroom. It's clean, quiet, colorful, and very nicely decorated. The WiFi worked well during our visit and we enjoyed our time here.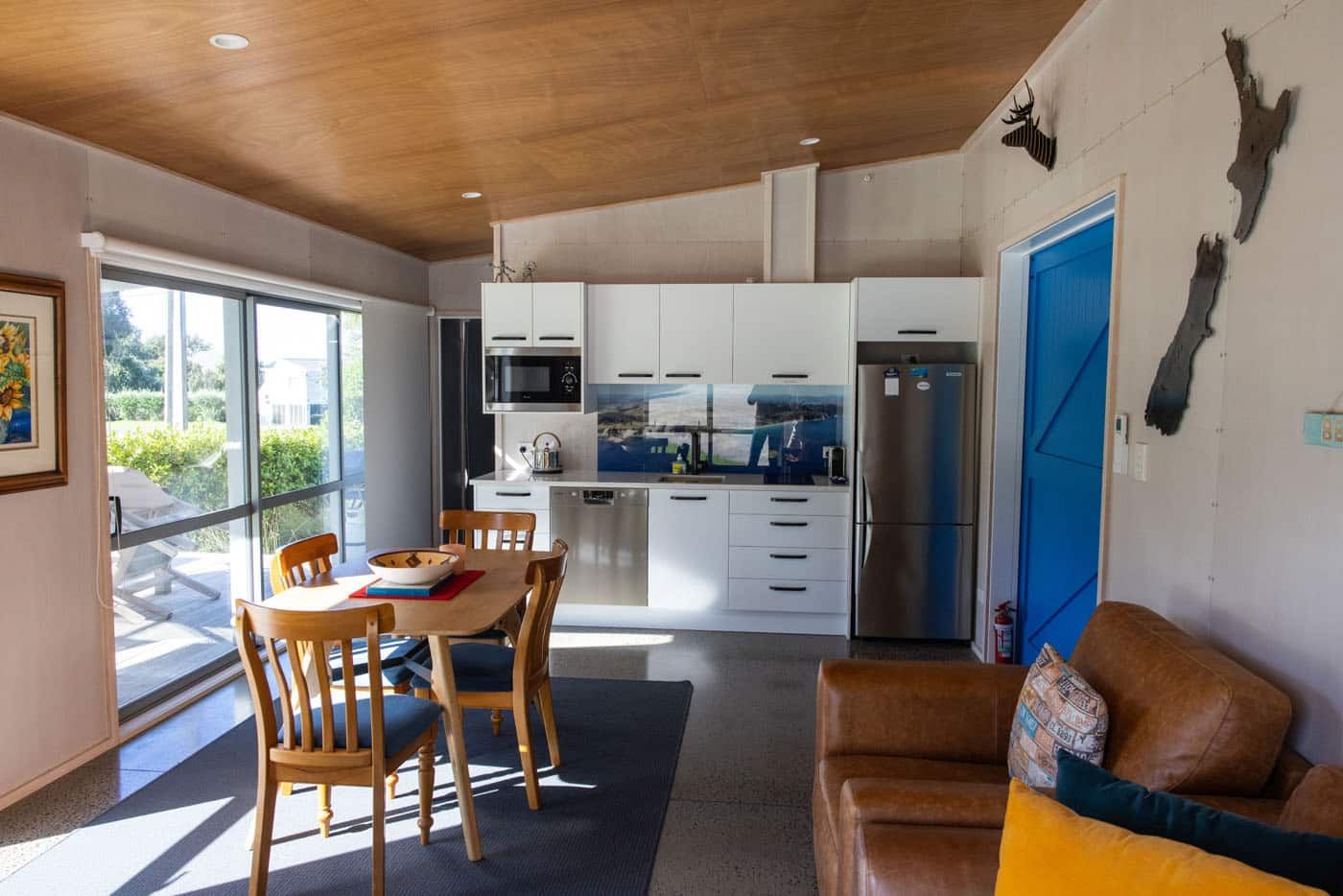 Hahei Beach Bach
---
If you have any questions about how to visit Cathedral Cove, or if you want to share your experience, let us know in the comment section below.
More Information for Your Trip to New Zealand
NEW ZEALAND ROAD TRIP: With 3 weeks in New Zealand, visit the highlights on a road trip to the North Island and South Island. If you have less time, you can shorten this itinerary by spending 2 weeks on the South Island.
NORTH ISLAND: Top experiences on the North Island include the Tongariro Alpine Crossing (one of the best day hikes in the world), spending a day or two in Auckland, visiting Waiheke Island on a day trip from Auckland, touring Hobbiton, a visit to Taupō, and seeing the glowworms and blackwater rafting in the Waitomo Caves. For the full list, read our article about the Best Things to Do on the North Island.
SOUTH ISLAND: On the South Island of New Zealand, visit Milford Sound and Doubtful Sound, drive the Southern Scenic Route, go bungy jumping in Queenstown, visit the Marlborough Wine Region, and visit Franz Josef and Glacier Country.
We have TONS more information about New Zealand in our New Zealand Travel Guide, including Auckland, Queenstown, Wanaka, Aoraki/Mount Cook, Franz Josef, Christchurch, Wellington, Taupō, and the Milford Sound.
Header Photo: Filip Fuxa/shutterstock.com
Note: This post contains affiliate links. When you make a purchase using one of these affiliate links, we get paid a small commission at no extra cost to you.
All rights reserved © Earth Trekkers. Republishing this article and/or any of its contents (text, photography, etc.), in whole or in part, is strictly prohibited.