Most people travel to Nashville for the music scene, but did you know that Nashville is packed with great places to grab a bite to eat? We were here for only two and a half days and we ate at as many places as possible and still barely scratched the surface of what Nashville has to offer. Tim and I ate (and drank) way too much to gather the necessary information for this post. The things we do in the name of research.
Not only did we eat too much food, we also waited in a ridiculous number of lines. At many places we stood in line for at least fifteen minutes to get a table. It didn't matter if it was 9 am or 3 pm or 9 pm…be prepared to wait in line at the best of the best restaurants in Nashville.
UPDATE: This article was originally written in 2016 and updated after our most recent visit in 2019. Have fun picking out your favorites!
Where to Eat in Nashville
Arnold's Country Kitchen
There was a time when you could have described Arnold's as a "hole in the wall." Not anymore. Arnold's is busting out of its britches and doubling in size. Why? Because the food is awesome.
This is where we had our first taste of Nashville food and had a little practice waiting in line. It was 11:30 am on Friday and the line was out to the street. Locals and tourists grabbed trays and picked out meats and side dishes and dessert, then found a spot at one of the tables. This is southern cooking at its finest…buttery mashed potatoes, barbecue chicken, green beans, pie. Oh my…delicious! Right then Tim and I knew that Nashville was going to be tasty!
Sadly, we only got one dish to split because we needed to save room for Biscuit Love, just a few blocks away. Today's food tour had us visiting two different restaurants for brunch.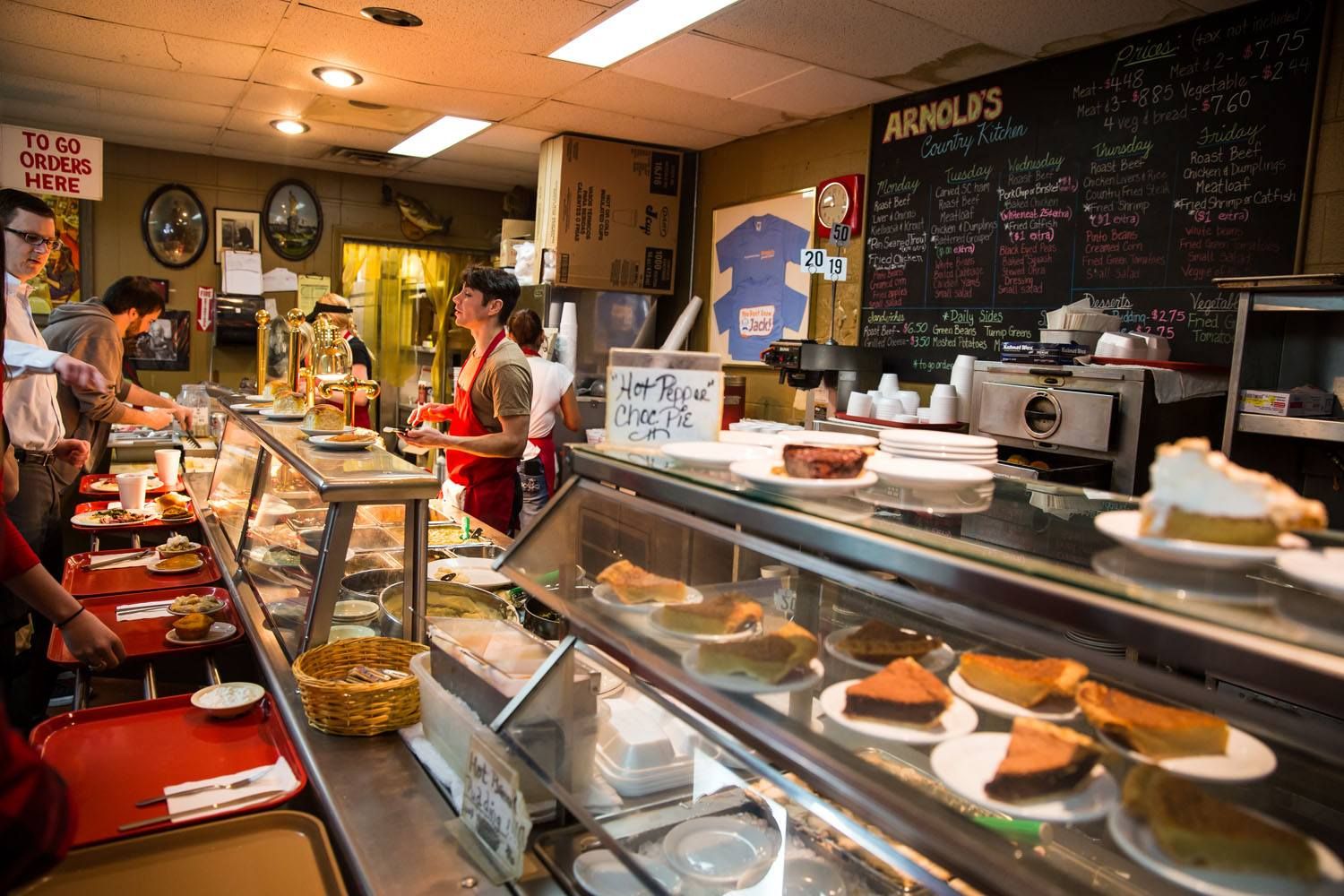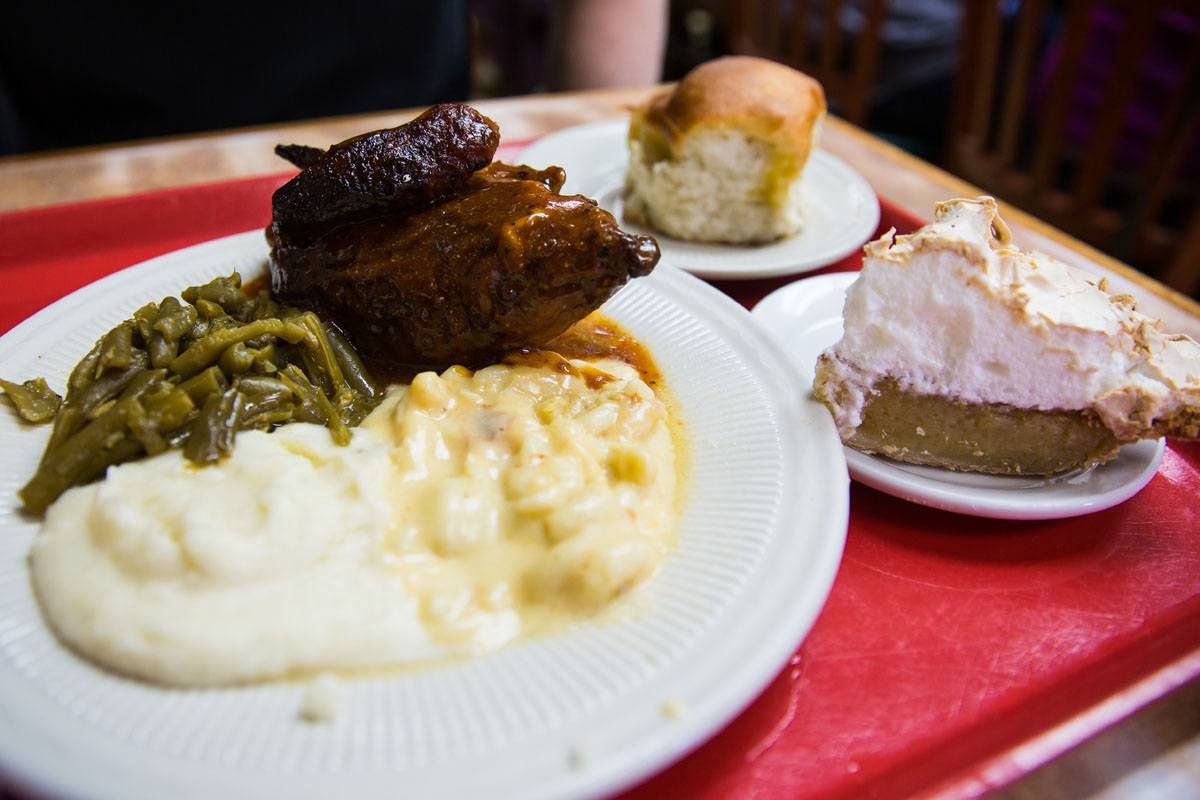 Biscuit Love
After waiting in line (again) we took our seats at the very trendy Biscuit Love restaurant.
Best biscuits in Nashville? Yup! At least at the restaurants we sampled. We ate biscuits with sausage gravy, yum yum, but the highlight were the bonuts.
Yes, you heard me right…bonuts.
Not quite a donut, not quite a biscuit, just a yummy fusion of the two, served with blueberry compote and cream. This place is going to be hard to beat!!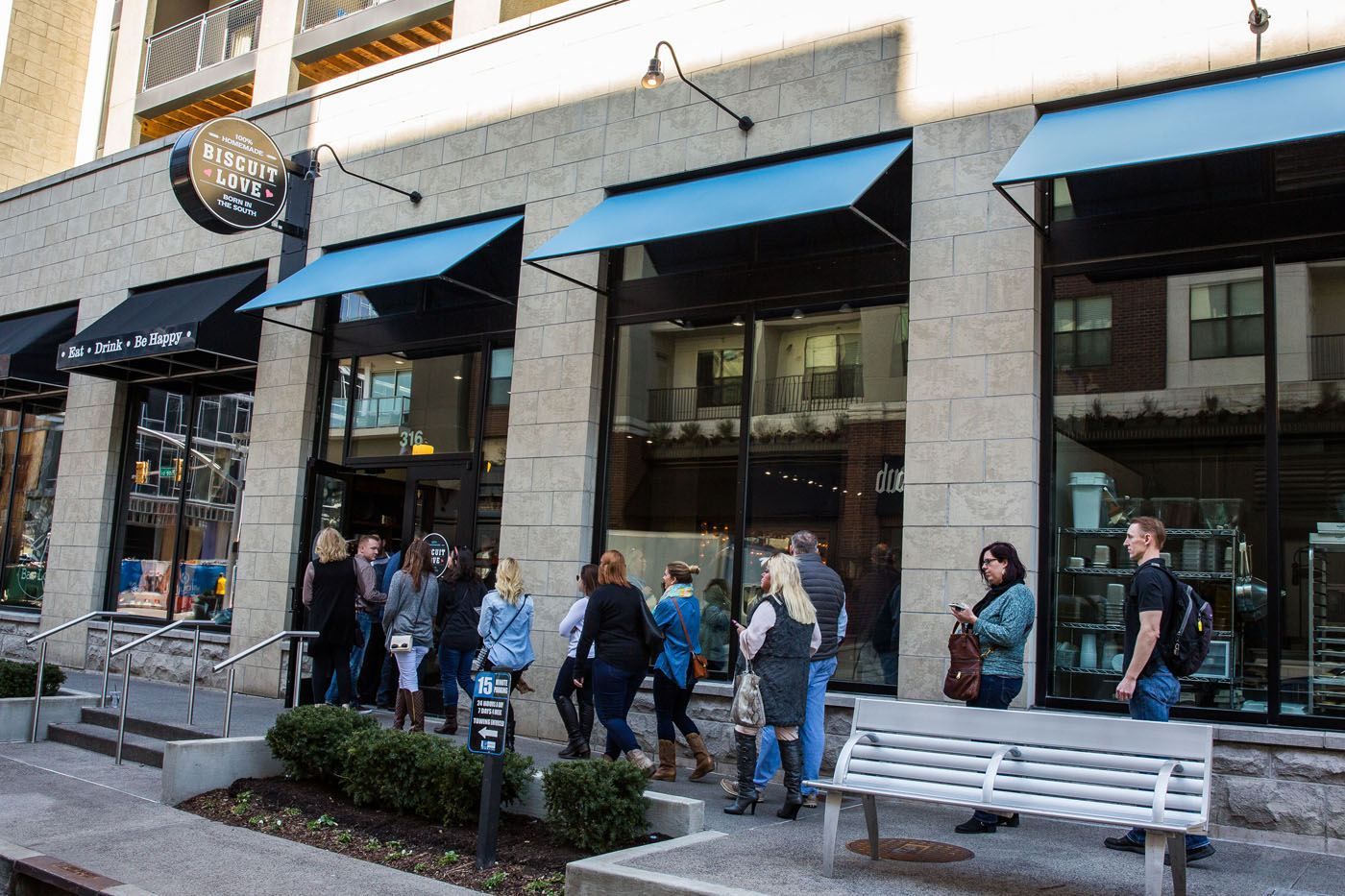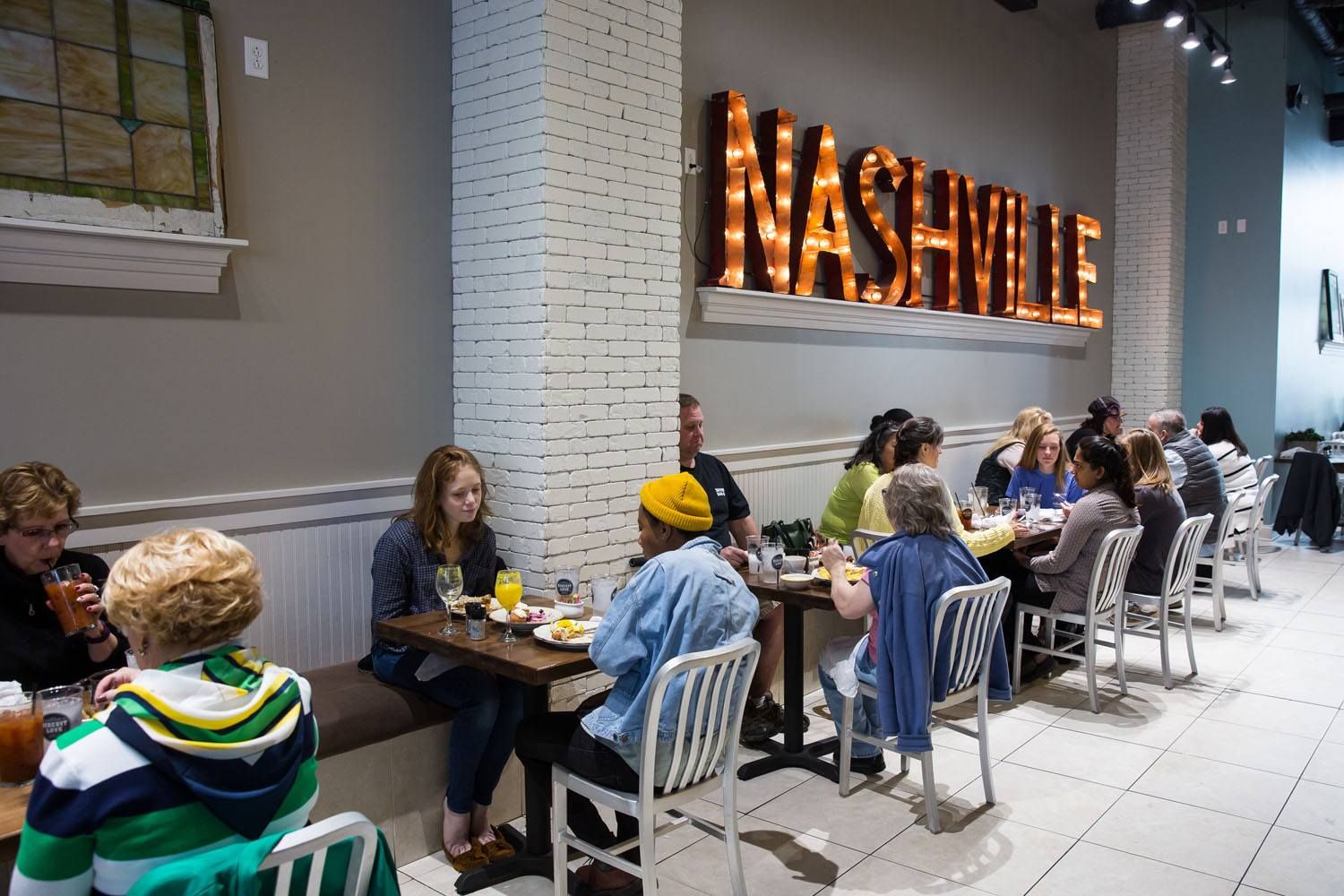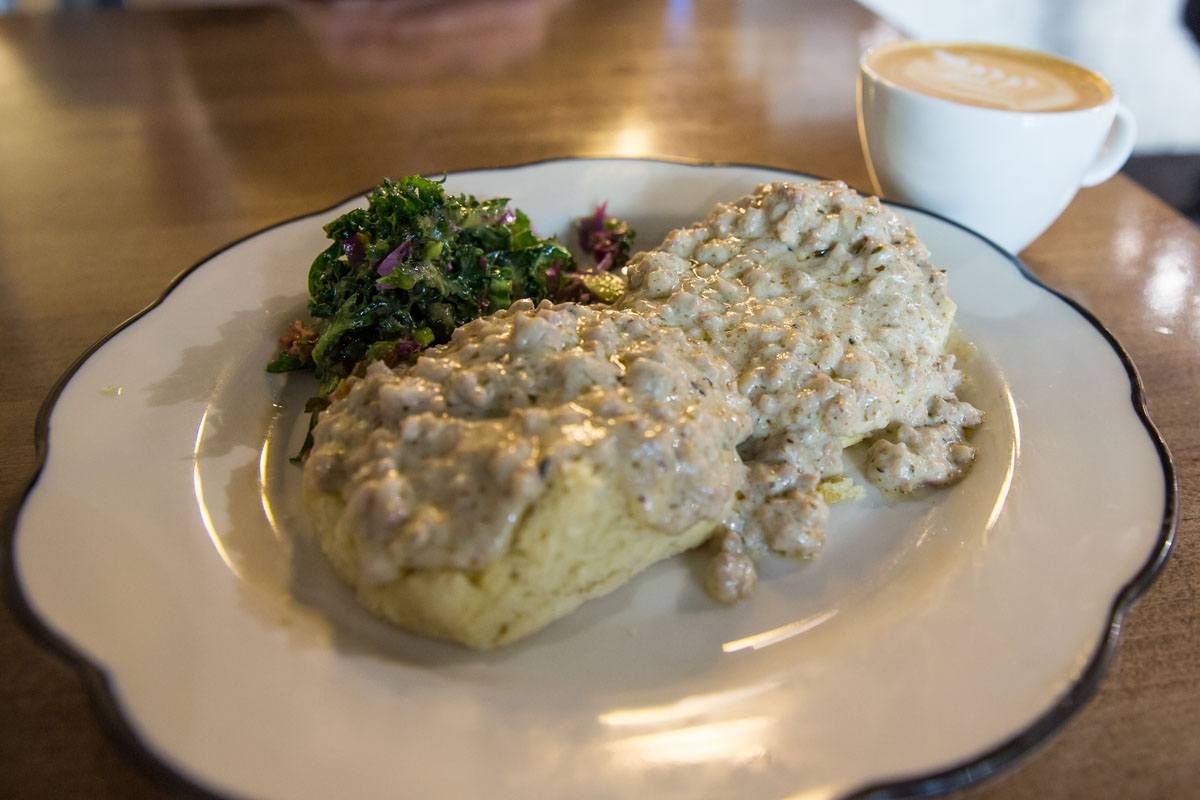 The Southern Steak & Oyster
The Southern is the place to go if you want an upscale restaurant with a gourmet menu and reasonable prices. The Southern is within walking distance of Broadway, located not far from the Schermerhorn Symphony Center.
We ate raw blue point oysters and drank wine at the bar while waiting for our table. For dinner, Tim and I shared the steak and blue cheese biscuits and the Southern burger. Both were amazing. Other items on the menu include Banh Mi Fish Tacos, Braised Beef Brisket, Nudie Suit, and Seared Sea Scallops. See their menu here.
Pancake Pantry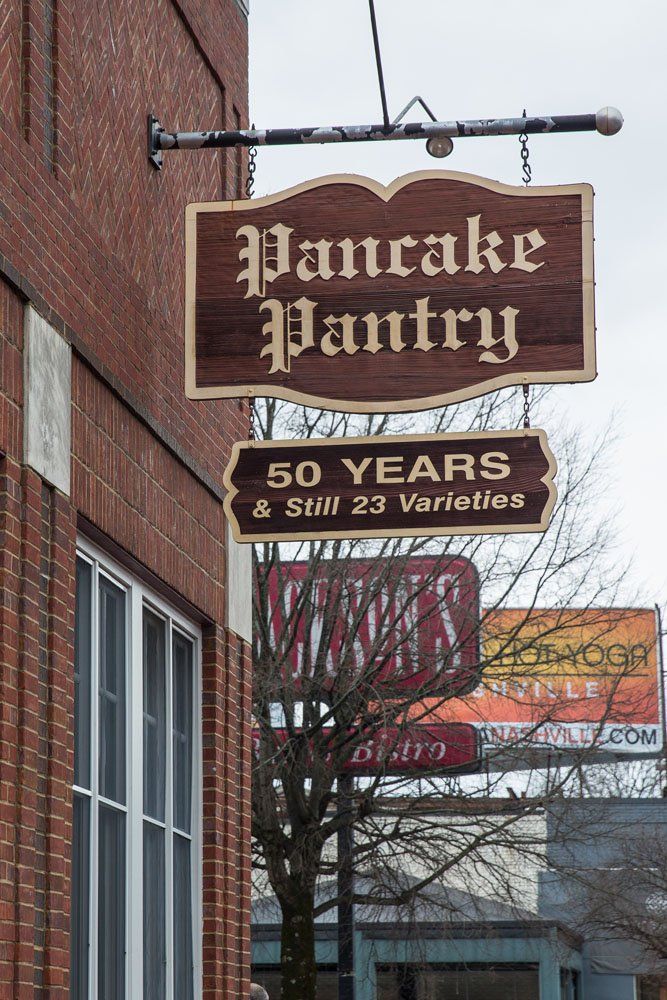 This is a breakfast, brunch, and lunch establishment frequented by the locals. It is located near Vanderbilt University and is another popular spot to wait in line. I had read mixed reviews about this restaurant but we were pleasantly surprised. Tim had French toast and I ate blueberry pancakes. Both were very good. And don't pass up the hash browns. They serve over twenty different flavors of pancakes as well as other breakfast foods. Click here to take a look at the menu.
If you like breakfast food, the Pancake Pantry is worth the wait. If you had to choose between Biscuit Love and the Pancake Pantry, go to Biscuit Love. Bonuts!!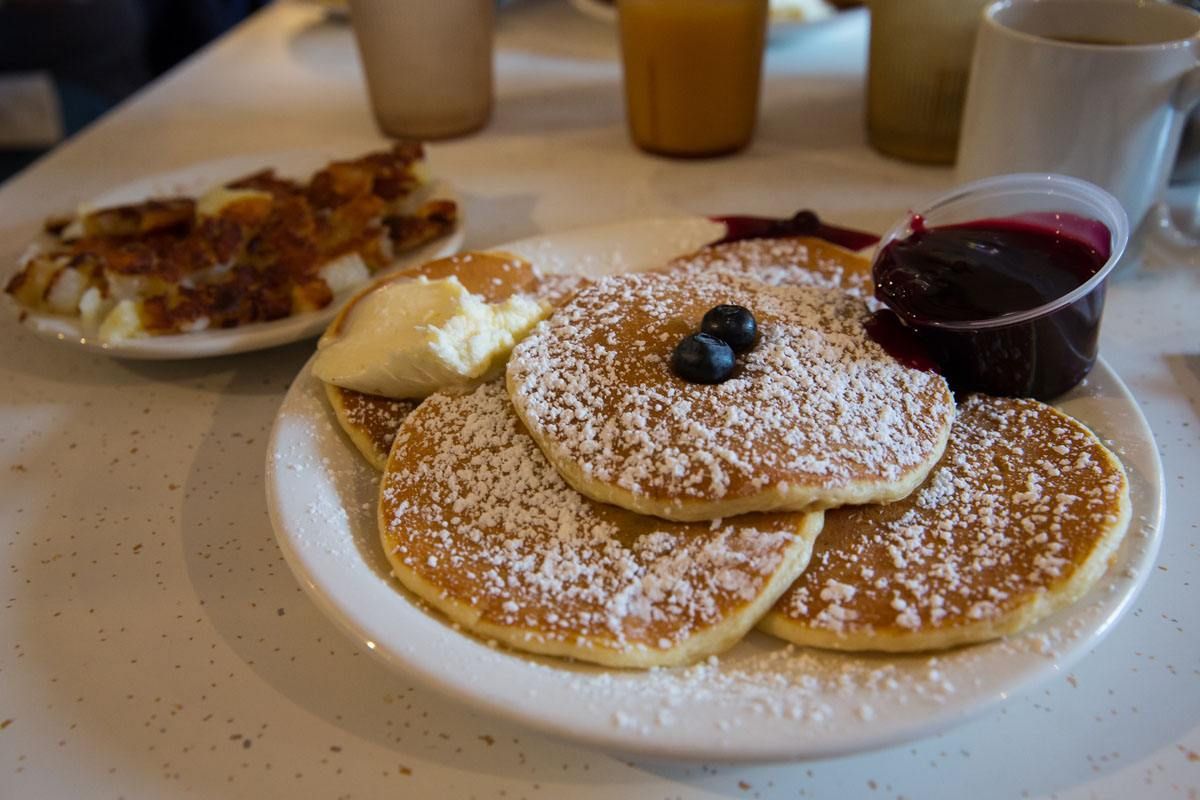 Merchants
This was another pleasant surprise. For a restaurant on Broadway in the hullabaloo of the Honky Tonks, Tim and I weren't expecting much of this place. But oh, the food was so good. There were so many things on the menu that we wanted to try. According to our waitress, Merchants' hottest dishes are the Chicken Fried Chicken and the fish tacos. Well, Tim went for the fish tacos and I ate the grilled salmon BLT. Both were very good.
If you need a break from Honky Tonking or are fueling before a night out at the bars, Merchant's makes a convenient stop that offers gourmet, healthier alternatives to the typical Nashville southern cooking.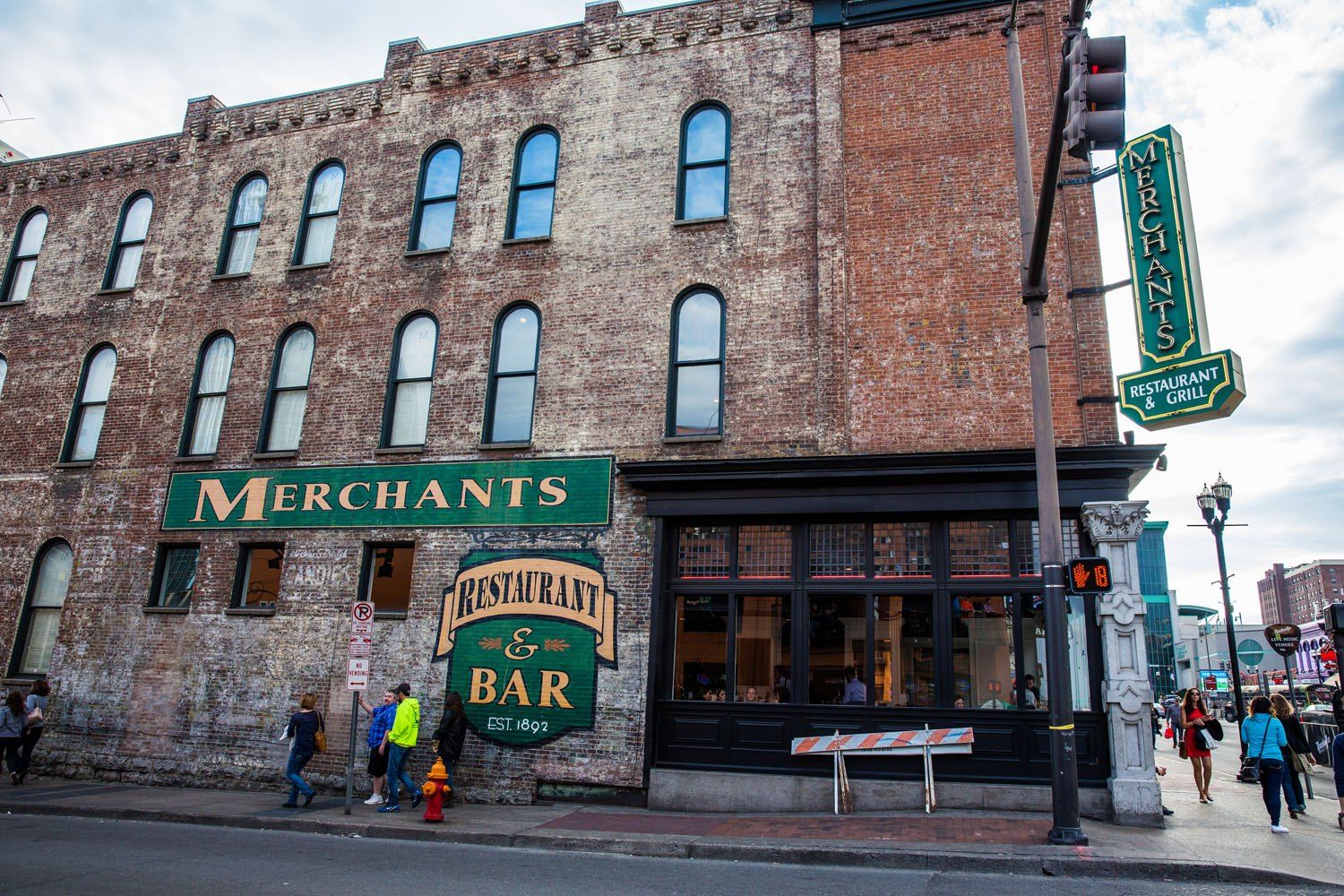 Robert's Western World
Robert's Western World is a Honky Tonk bar, and one of our favorites. Got the munchies and want live music? This is the place. Go for the fried bologna sandwich…a local favorite.
Loveless Cafe
Over and over we kept hearing about Loveless Cafe, so much so that we couldn't skip it. Tim and I were surprised to learn that one of Nashville's most popular restaurants is located so far from downtown. In fact, Loveless Cafe is thirty minutes away from downtown Nashville by car.
We arrived during the lunch rush and were informed it would be an hour and forty-five minute wait for a table. Yikes!! Instead of waiting, we ordered carry out and sat outside at one of the picnic tables, getting our food in a much quicker 40 minutes.
Tim and I agreed that the Loveless Cafe did not live up to it's hype. People rave about the biscuits and fried chicken. They were good but nothing stellar. And to wait so long for the food and drive thirty minutes outside of town? I wouldn't do it again.
If you're curious about what all of the commotion about Loveless is about, come see for yourself. Maybe you'll have a better experience. But if you are short on time, eat at Arnold's Country Kitchen, which has a similar menu with better food and you don't have to leave the city. You don't even need to have a car.
Bluebird Cafe
People come here for the writers-in-the-round music performance but there is a dinner menu for those who come hungry. At Bluebird Cafe you can get good food. Healthy food. Yes, they've got chicken fingers and quesadillas, but you can also dine on veggies and hummus, caesar salad, and spinach and artichoke dip.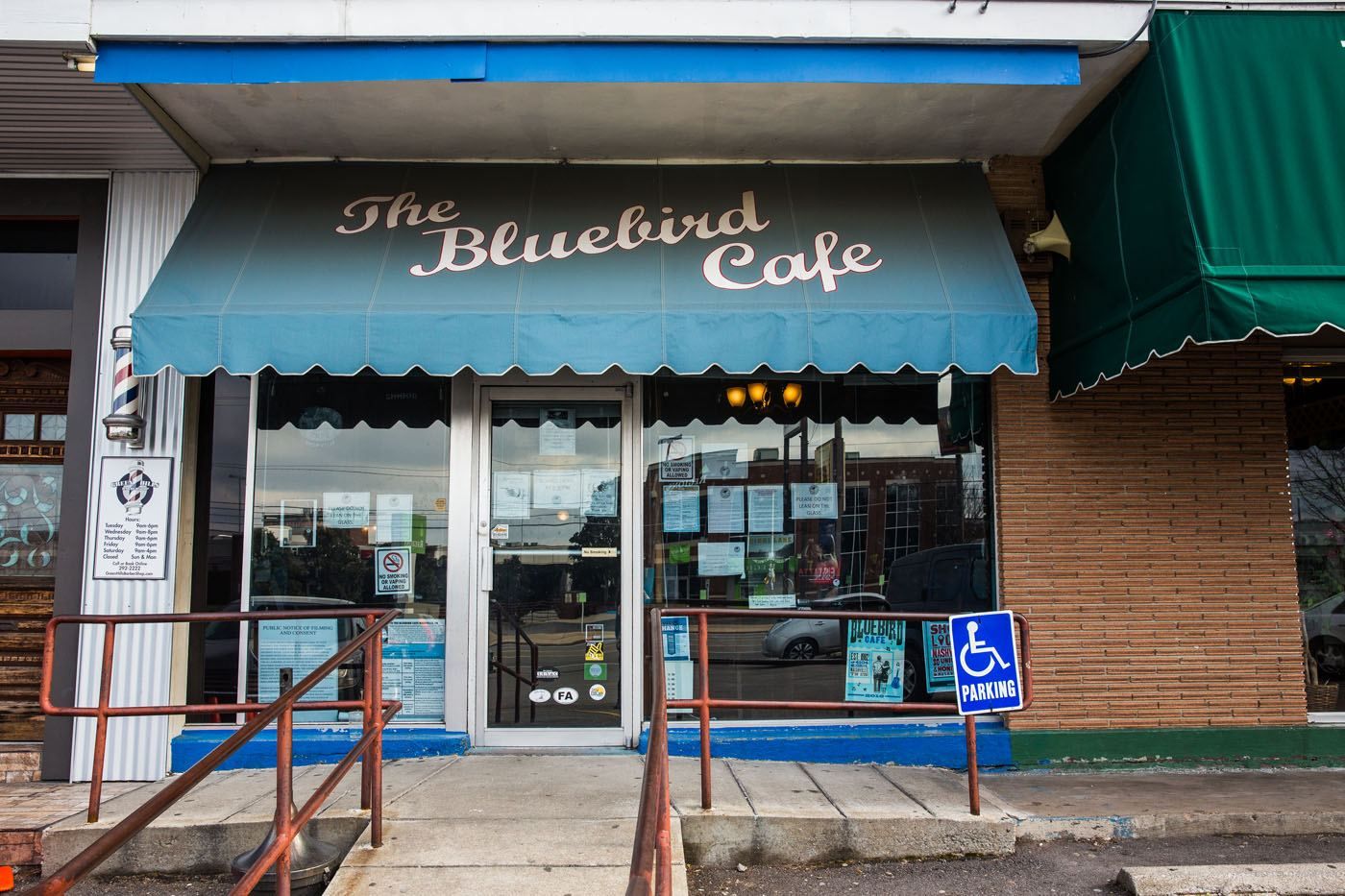 Hattie B's Hot Chicken
Stand in line again for some of Nashville's best chicken. You can order your chicken with various levels of spiciness (heat) and add side dishes to your meal. Really want to add some heat to your chicken? I dare you to give their "Shut the Cluck Up" heat level a try. Here's the menu.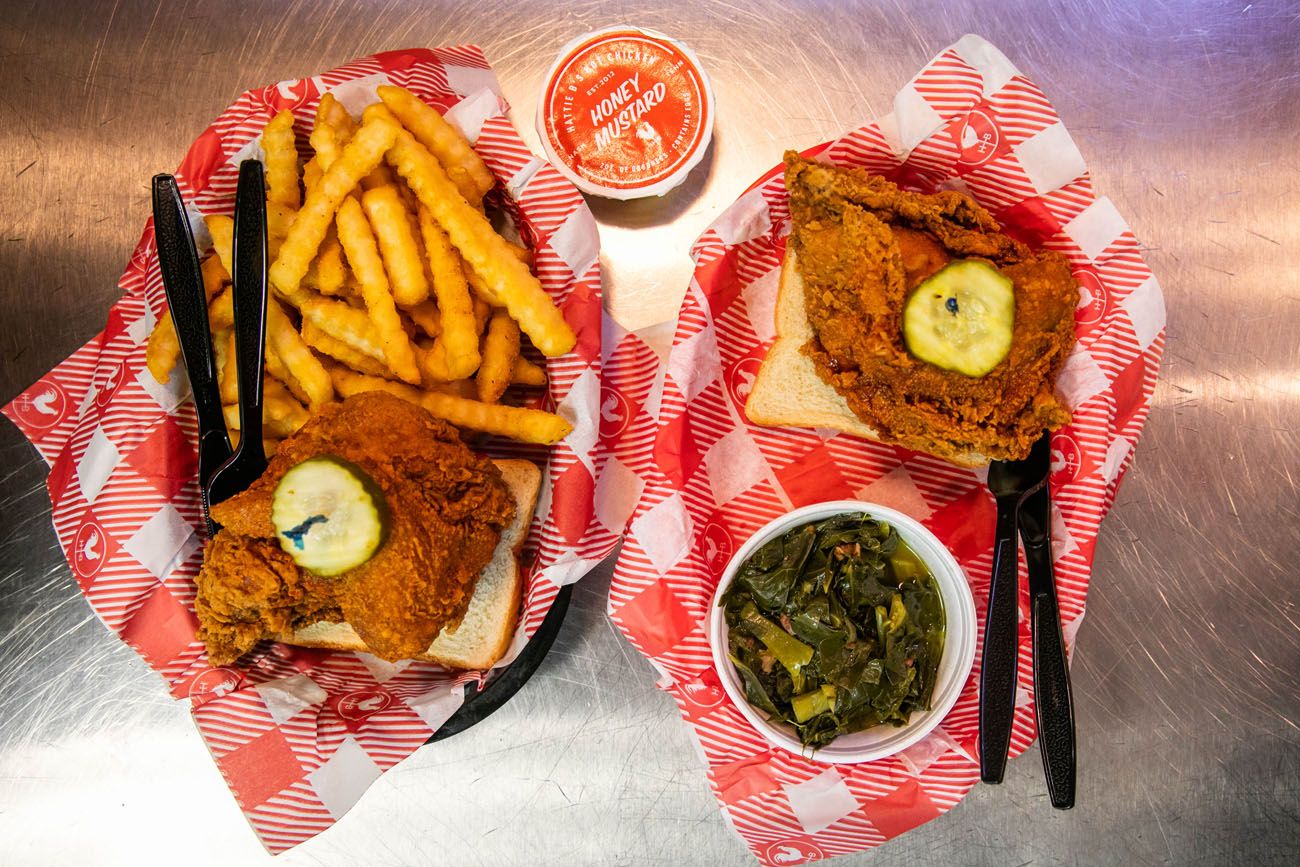 Etch
Etch is a modern, trendy restaurant that serves dishes like octopus and shrimp bruschetta, grilled lamb loin, and grilled filet. This is the most upscale restaurant on the list and consistently gets stellar reviews from its clients. With entrees in the $30 ballpark it can get expensive, especially once you add in drinks, but the food is delicious! They are known for their roasted cauliflower (yum!) and grilled filet. We tried both, but if you save room for dessert, we loved the ice cream sundae.
Mas Tacos
Mexican lovers, rejoice! This is another Nashville favorite and we gave it a try on our most recent visit to Nashville. Honestly, Tim and I didn't think it quite lived up to the rave reviews it receives. Mas Tacos is located outside of downtown Nashville, so you will need a car or an Uber to get here. The tacos were very good but it may not be worth going out of your way to eat here, unless you really love tacos.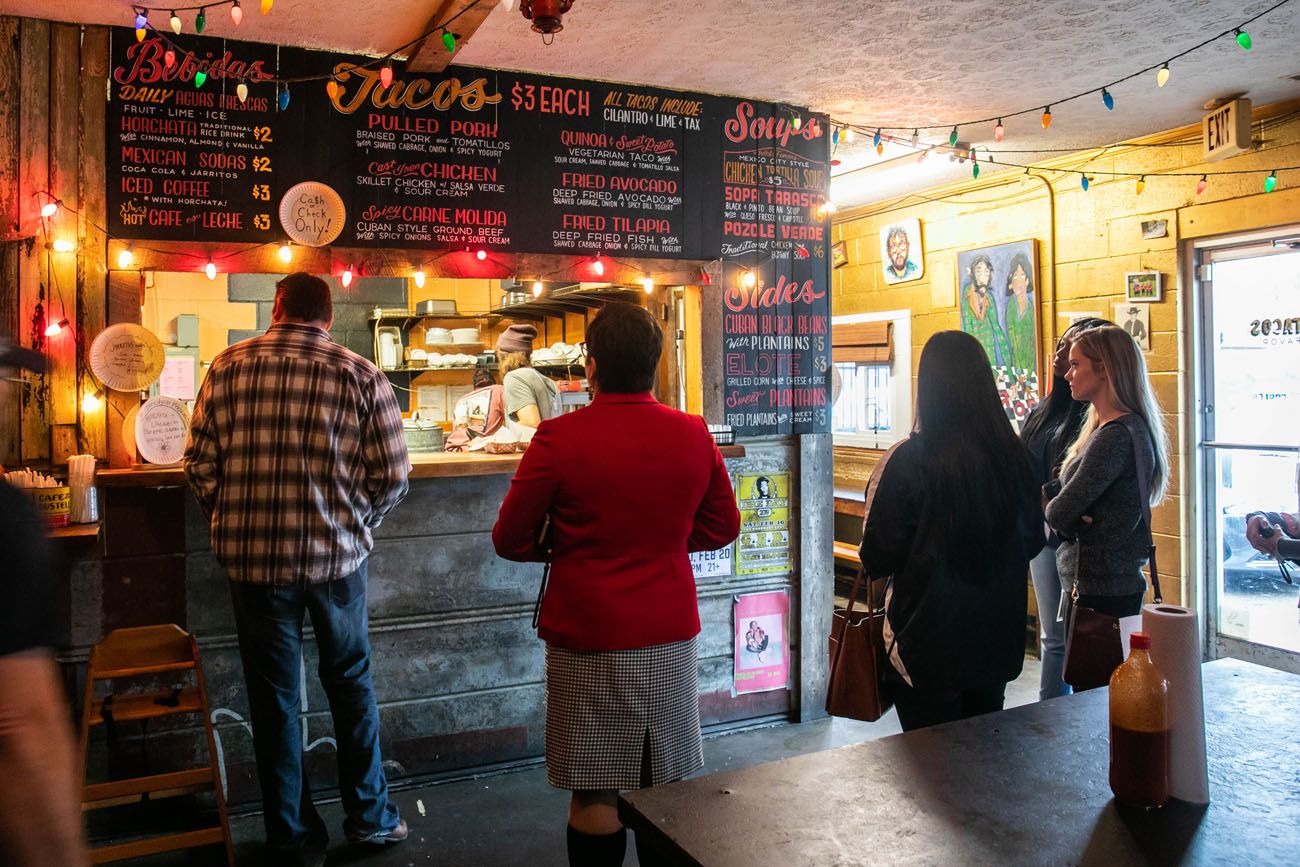 Skull's Rainbow Room
Skull's Rainbow Room is Nashville's only downtown jazz lounge. It's been around since 1948, located in Printer's Alley not far from the Honky Tonks. This is a great spot in Nashville to go for drinks, music, and dinner. Just make sure you make your reservations in advance. Visit their website here.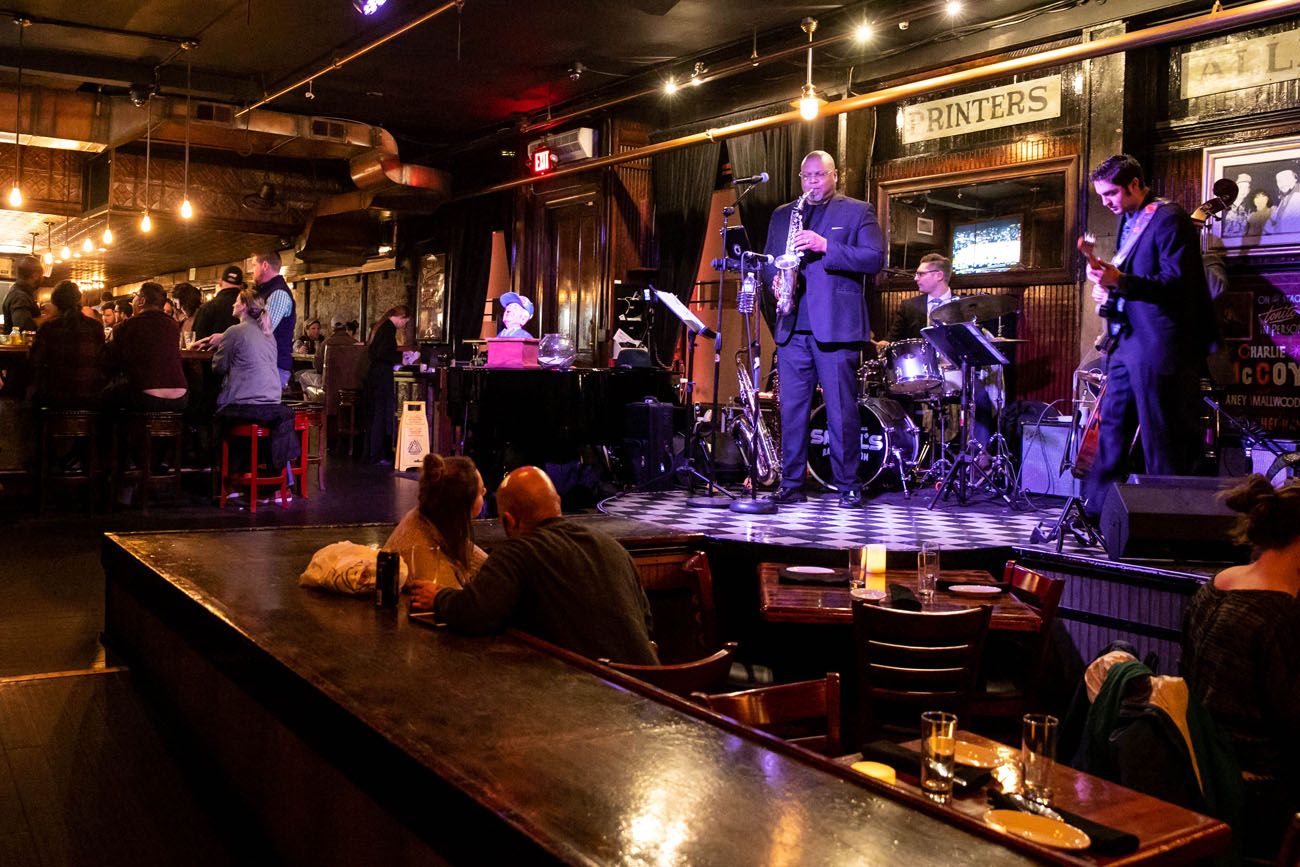 More Recommendations
Even with two visits to Nashville, we still have several restaurants on our list to try. Both of these restaurants get brilliant reviews on travel blogs and Trip Advisor, and most of them were recommended to us by friends. Even though we never got a chance to eat at these restaurants, they should still make your list of places to eat in Nashville
Husk
This was recommended to us for the brunch, some saying that Husk serves the best brunch ever. We have also heard rumors that Husk serves a pretty tasty cheeseburger, too.
Click here if you want to see their menu.
Peg Leg Porker
Interesting name. Smells delicious!! We walked by past Peg Leg Porker when walking between Arnold's Country Kitchen and Biscuit Love. It smelled so good we almost had our third brunch of the morning.
The Peg Leg Porker is one of the better known barbecue restaurants in Nashville.
---