Mammoth Cave is the world's longest cave system, with over 400 miles of explored caves and passageways. On a visit to Mammoth Cave, explore this subterranean world of immense rooms, long canyons, and tight passageways and learn why it is called a "grand, gloomy, and peculiar place" by Stephen Bishop, Mammoth Cave's most famous guide and explorer.
In order to explore Mammoth Cave, you will have to join a tour, of which there are many. If this is your first visit to the cave, picking the right tour can feel overwhelming. In this guide, we list your various options and give you some recommendations based on your travel style and time available.
Touring the cave is the main attraction, but there are also miles of above ground trails that wind through the hills and forests in the area.
With one day, you can take one or two tours of the cave and walk the nature trails. Two days allows you to spend more time in the underground world of Mammoth Cave.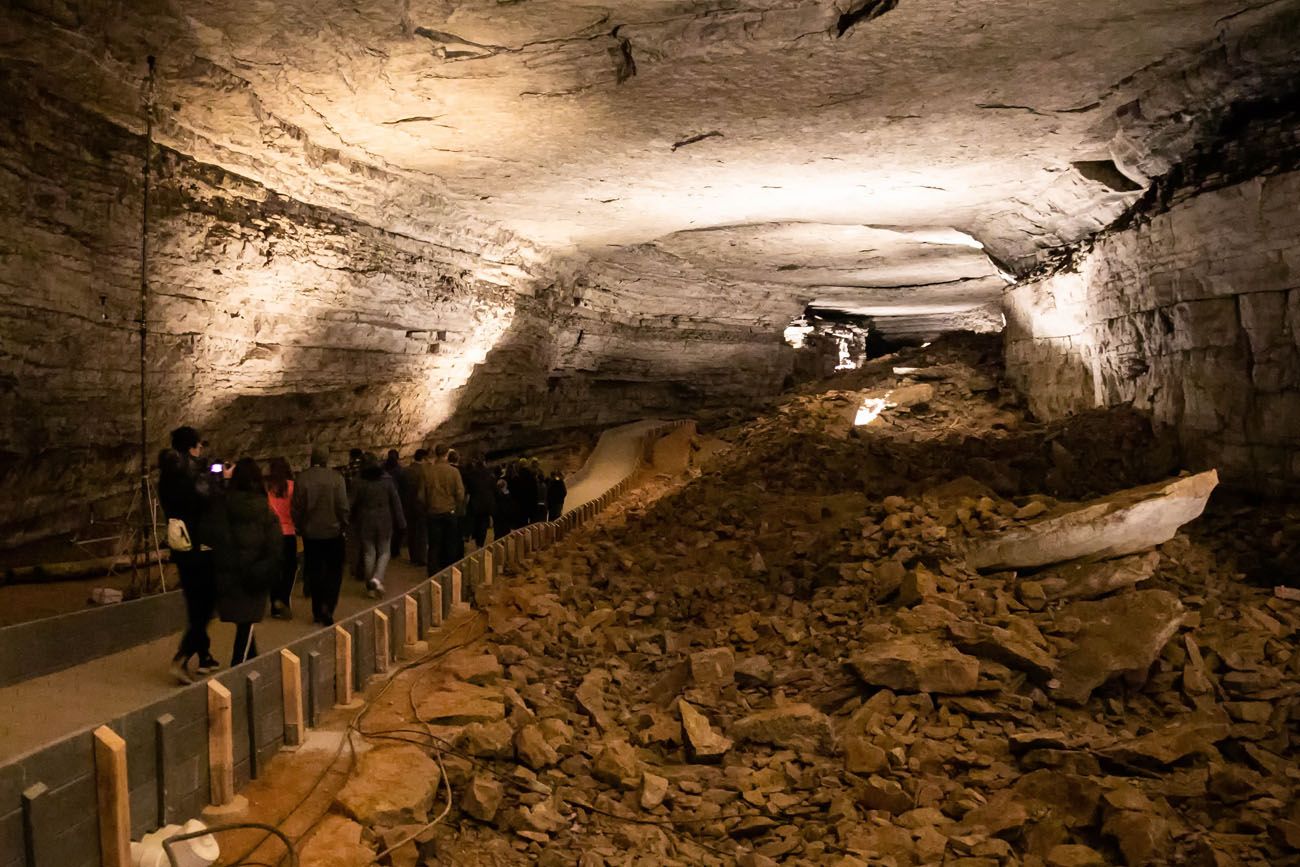 Interesting Facts about Mammoth Cave
Mammoth Cave is the world's longest cave system and a UNESCO World Heritage Site.
Mammoth Cave was established as a national park on July 1, 1941 although people have been touring the caves since the 1800's.
Currently, over 400 miles of the cave system have been explored and mapped, with new discoveries being made all of the time.
It is a constant 54°F year-round inside of Mammoth Cave.
Bats dwell inside of the cave. However, a disease called White-Nose Syndrome has drastically reduced their numbers. At the conclusion of the tour, you will walk across medicated mats to help avoid the spread of this disease (this disease does not affect humans).
Geology of Mammoth Cave
Many caves are famous for their stunning array of rocky formations, stalactites that defy gravity and the stalagmites that have slowly been rising up from the cave floor for millennia.
Mammoth Cave is different.
Yes, you can see stalactites and stalagmites here, but they are not the main attraction. And there's a reason for that.
A giant roof of shale and sandstone form the upper cap of the cave system in Mammoth Cave. This rocky layer acts as an umbrella, preventing the slow dripping of water into the cave. It is the action of water that forms stalactites and stalagmites. Without the water, you don't get these formations.
Instead, Mammoth Cave is long series of subterranean rooms and passageways. They twist and turn like strands of spaghetti, weaving their way through the Earth's crust. Some rooms are enormous and some passageways are just large enough for a small person to squeeze through.
The fun of visiting Mammoth Cave comes in exploring these passageways and seeing the sheer size of the rooms. If you really want to see stalactites and stalagmites, take the Frozen Niagara or Domes and Dripstones tour.
Tour Options at Mammoth Cave
Summer and Winter Season
There are two seasons of operation at Mammoth Cave: winter and summer.
Summer is the most popular time to visit, so more tours are available during this time of year.
Winter is quieter. Fewer tours are offered, but there are also a lot fewer visitors, so this just may be the best time of year to visit. And with temperatures a constant 54°F inside of the cave, you can still have a very pleasant visit during mid-winter.
I recommend checking the National Park Service website for updated hours and available tours during each of these seasons.
Make your tour reservations in advance because they do sell out.
Important! The tours listed below are not all offered year round, either because they are offered on a seasonal basis or because of construction projects in the cave. I do my best to keep this post updated, but tour offerings can change at any time and I recommend that you get updates on the National Park service website.
Tour Options
You can only visit the cave system of Mammoth Cave on a tour. Take your pick from 15 different tours. Here is an overview of each tour.
It can be overwhelming trying to choose from such a long list. At the end of this section, I will give you our recommendations, based on our experience and with talking with several park rangers at Mammoth Cave (or skip ahead now).
Below is a map of the cave. The caves and tunnels are color-coded by tour. Note, there are several different entrances into the cave and the tours and tour times include you transportation to and from these entrances.

Historic Tour
Duration: 2 hours
Distance: 2 miles
Total Stairs: 440
Tour Limit: 110 people
The Historic Tour is one of the most popular tours at Mammoth Cave. This tour starts at the "main entrance," also called the Historic entrance, into Mammoth Cave. Follow in the footsteps of other visitors who have been touring the cave for the past 200 years. On this tour, you will learn about the history of the cave (it's surprisingly fascinating), see the Bottomless Pit, Mammoth Dome, squeeze through Fat Man's Misery, crouch through Tall Man's Misery, and see the old saltpeter mines.
Photos from the Historic Tour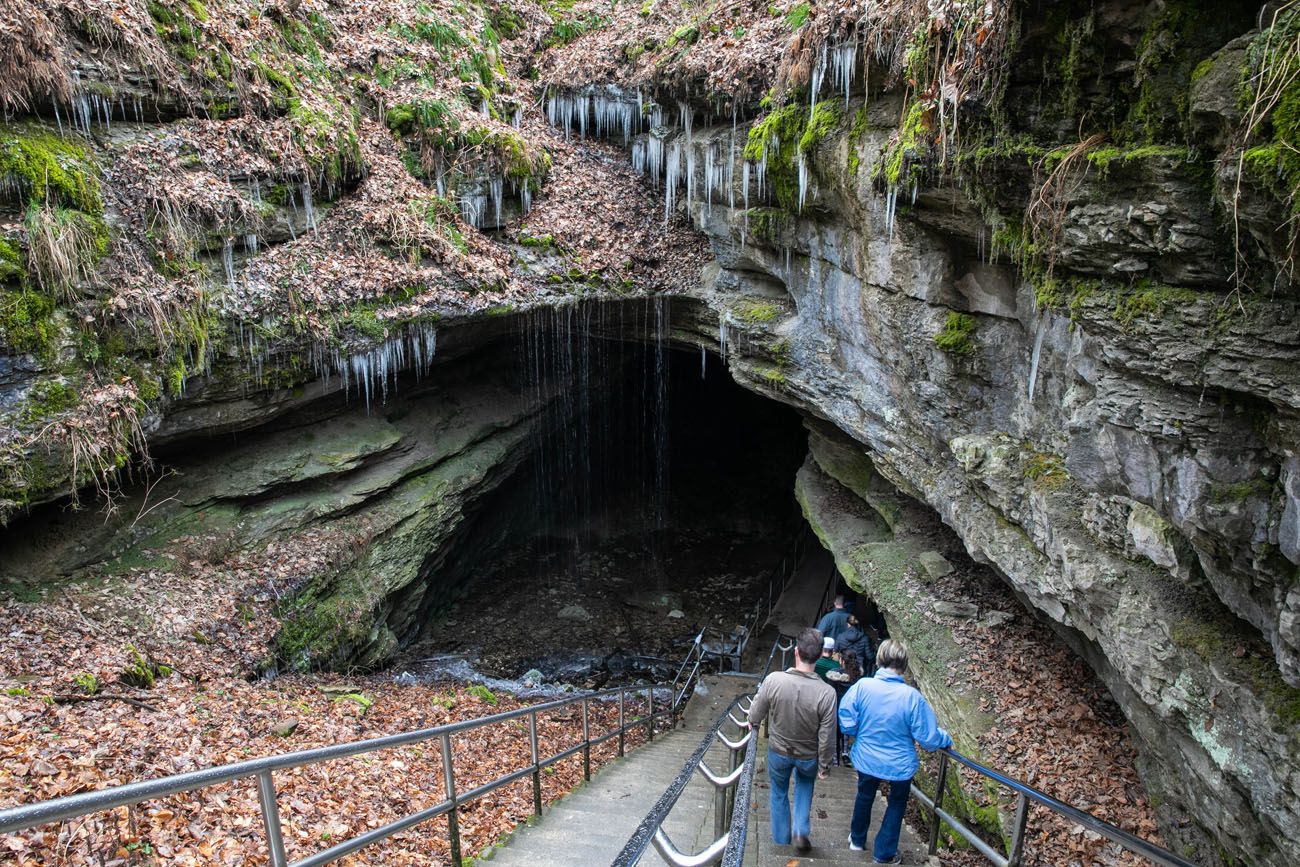 Historic entrance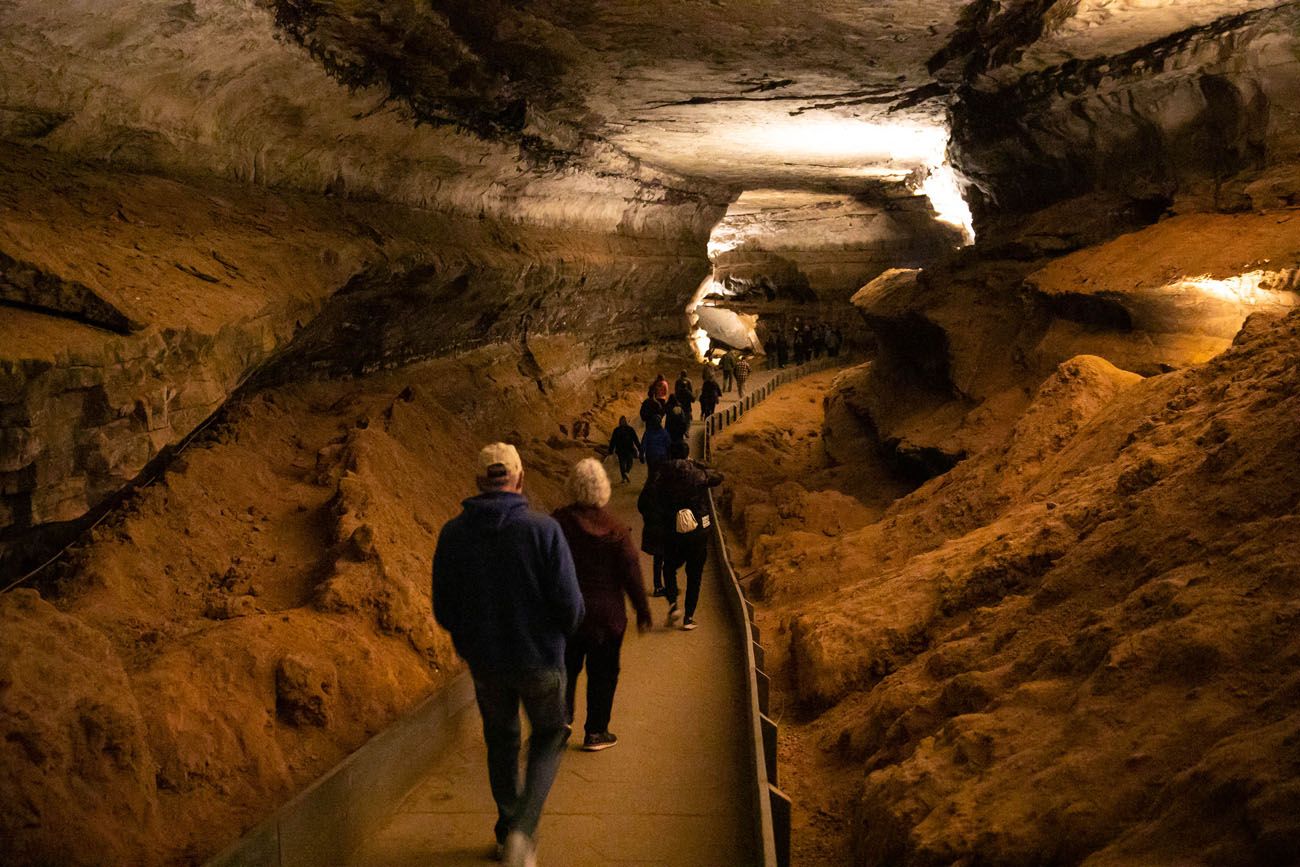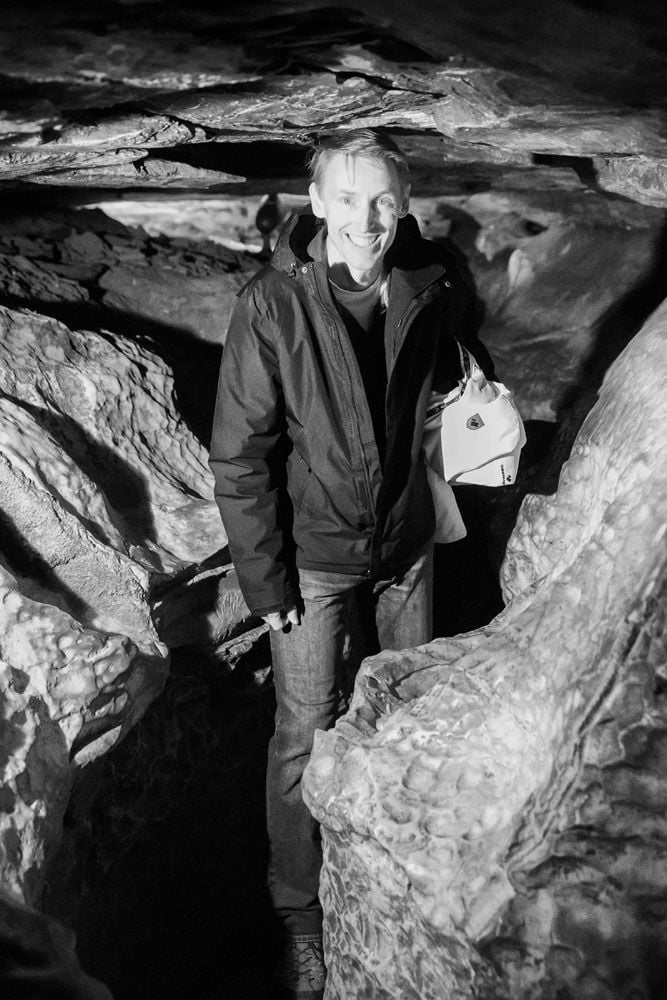 Tim in Fat Man's Misery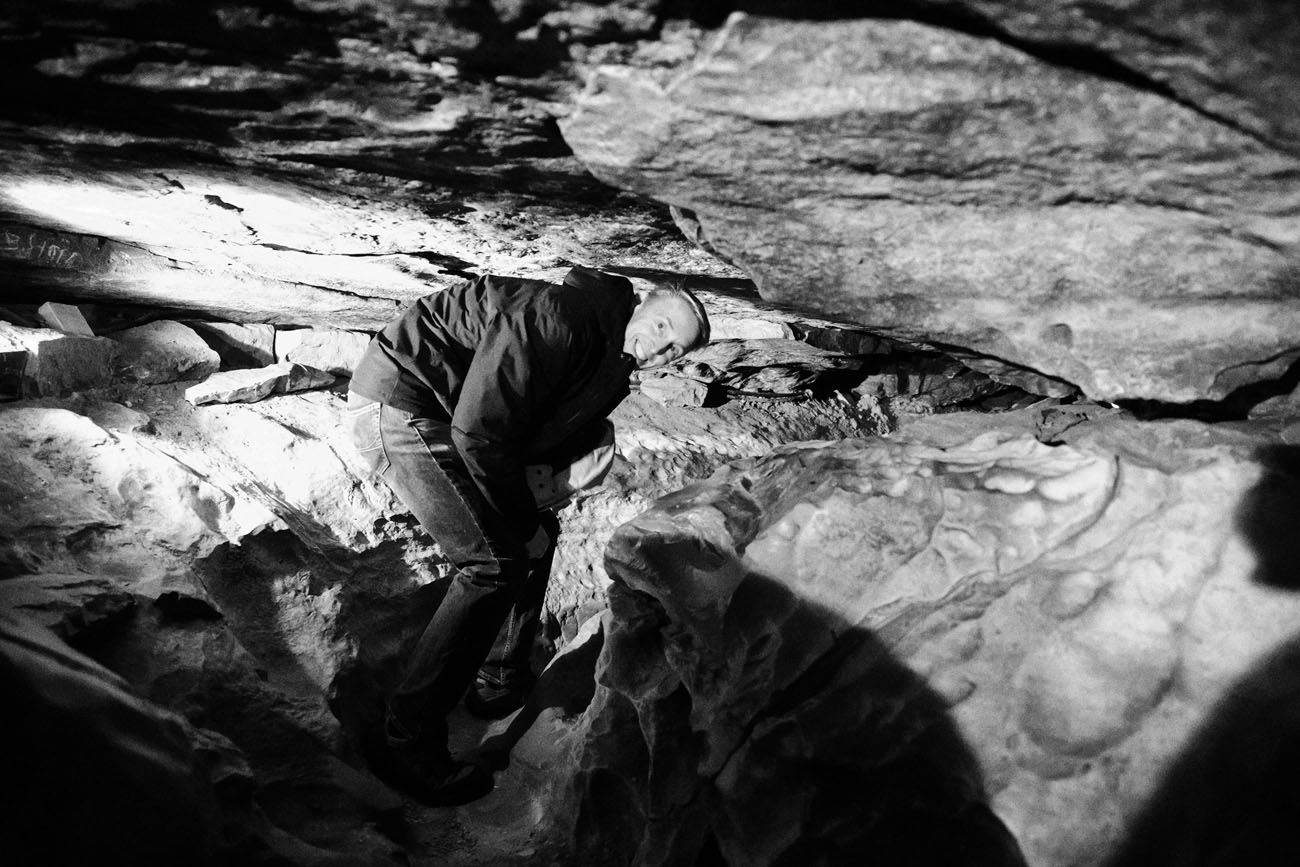 Tim in Tall Man's Misery
Frozen Niagara Tour
Duration: 1.25 hours
Distance: 0.25 miles
Total Stairs: 12, plus an optional 98
Tour Limit: 30
If you want to see stalactites and stalagmites and don't want to go on a long tour or do a lot of walking, this is a great option for you. The 1.25 hour tour time includes 30 minutes on a shuttle bus (included with the tour) to and from the entrance, with roughly 45 minutes spent inside of Mammoth Cave. The highlight is seeing Mammoth Cave's best display of decorative formations in Frozen Niagara and the Drapery Room.
Domes and Dripstones
Duration: 2 hours
Distance: 0.75 miles
Total Stairs: 500
Tour Limit: 110
This is very similar to Frozen Niagara, only on this tour you get to journey farther into the cave. You start off descending down into the depths of the cave on a series of steel staircases. All the while, you are walking through drippy, moist caverns. Finally, you emerge at Frozen Niagara and the Drapery Room, also featured on the Frozen Niagara tour.
Photos from the Domes and Dripstones Tour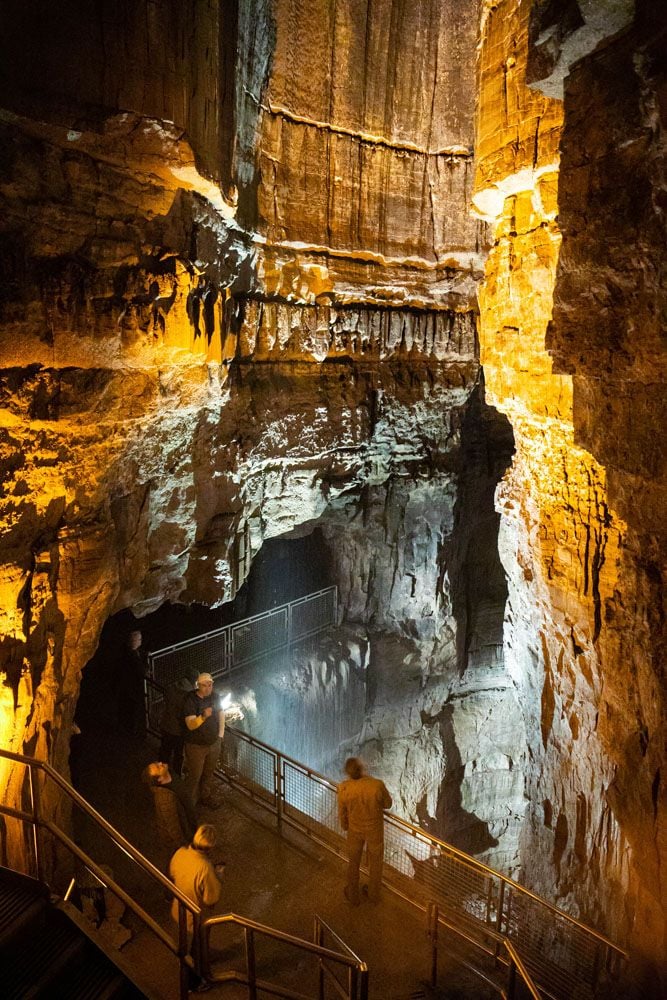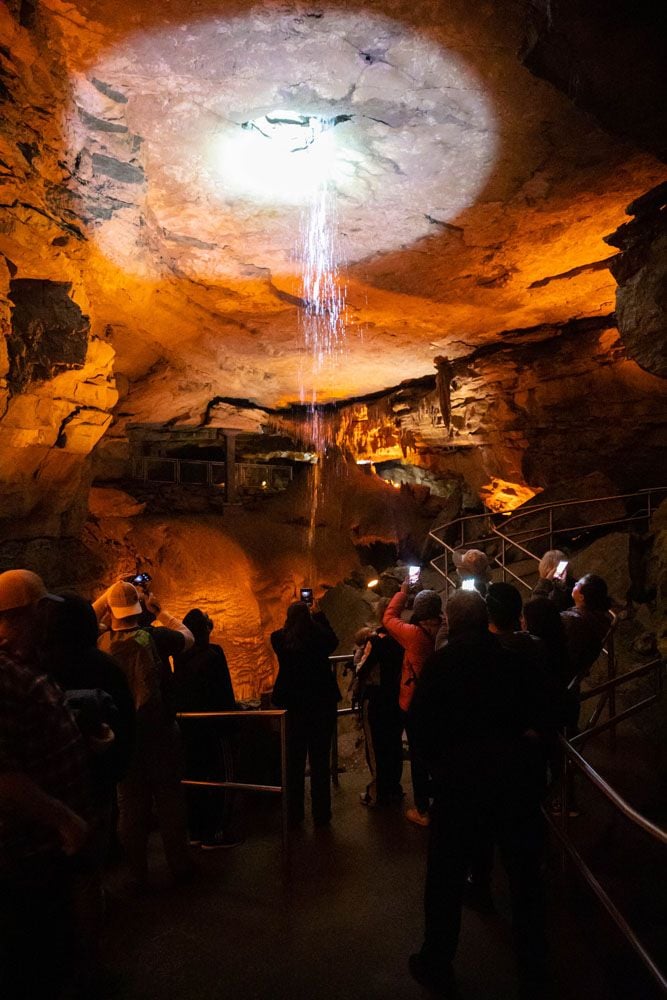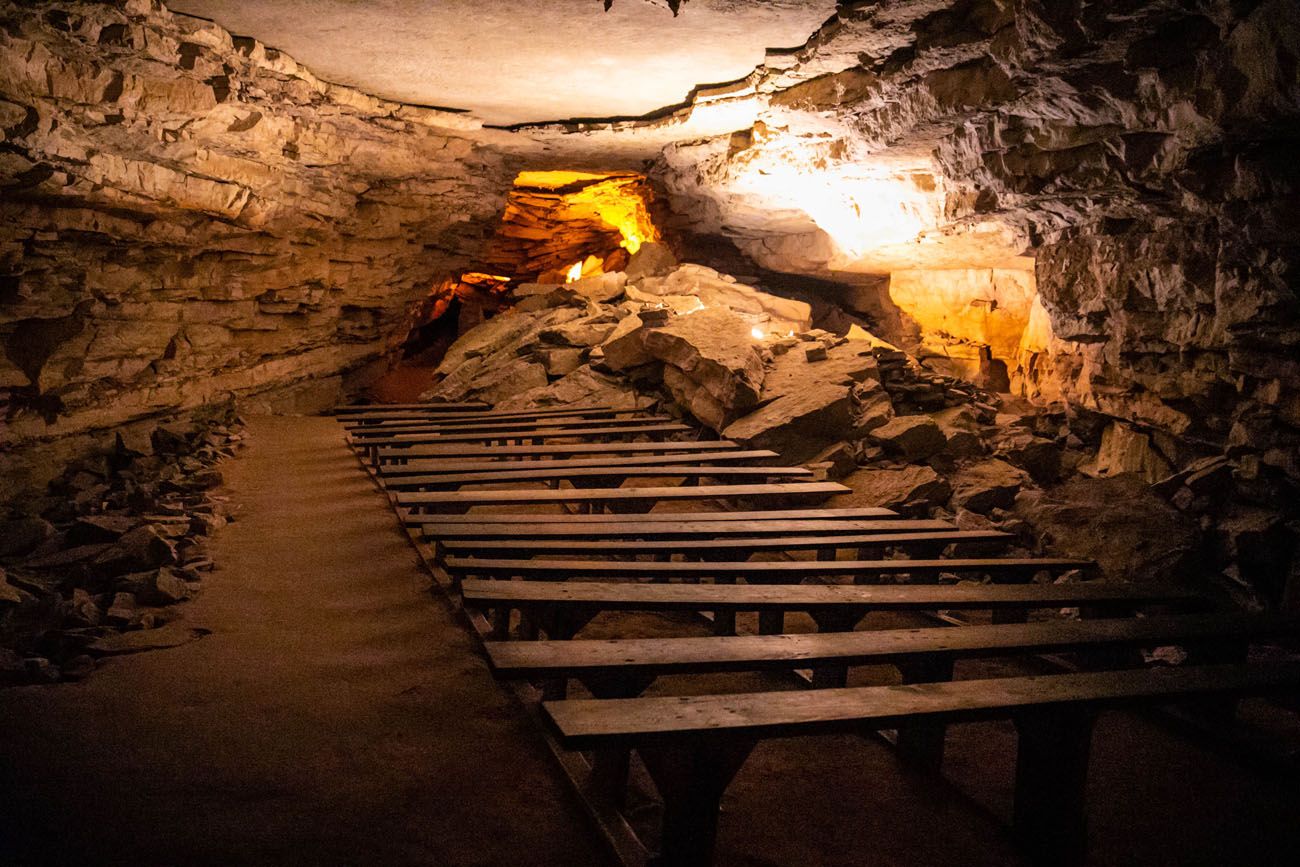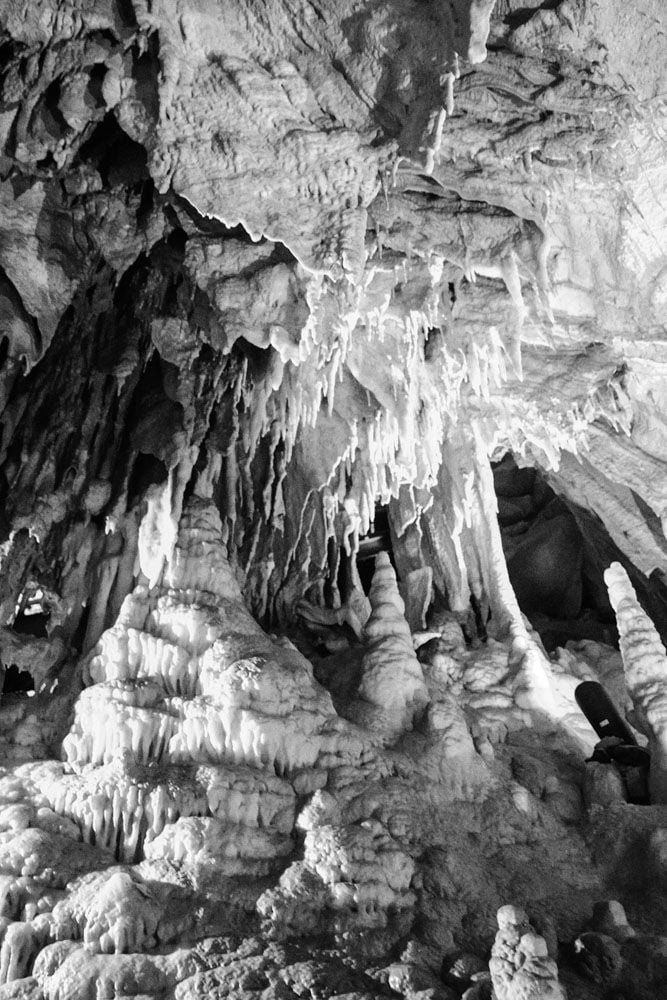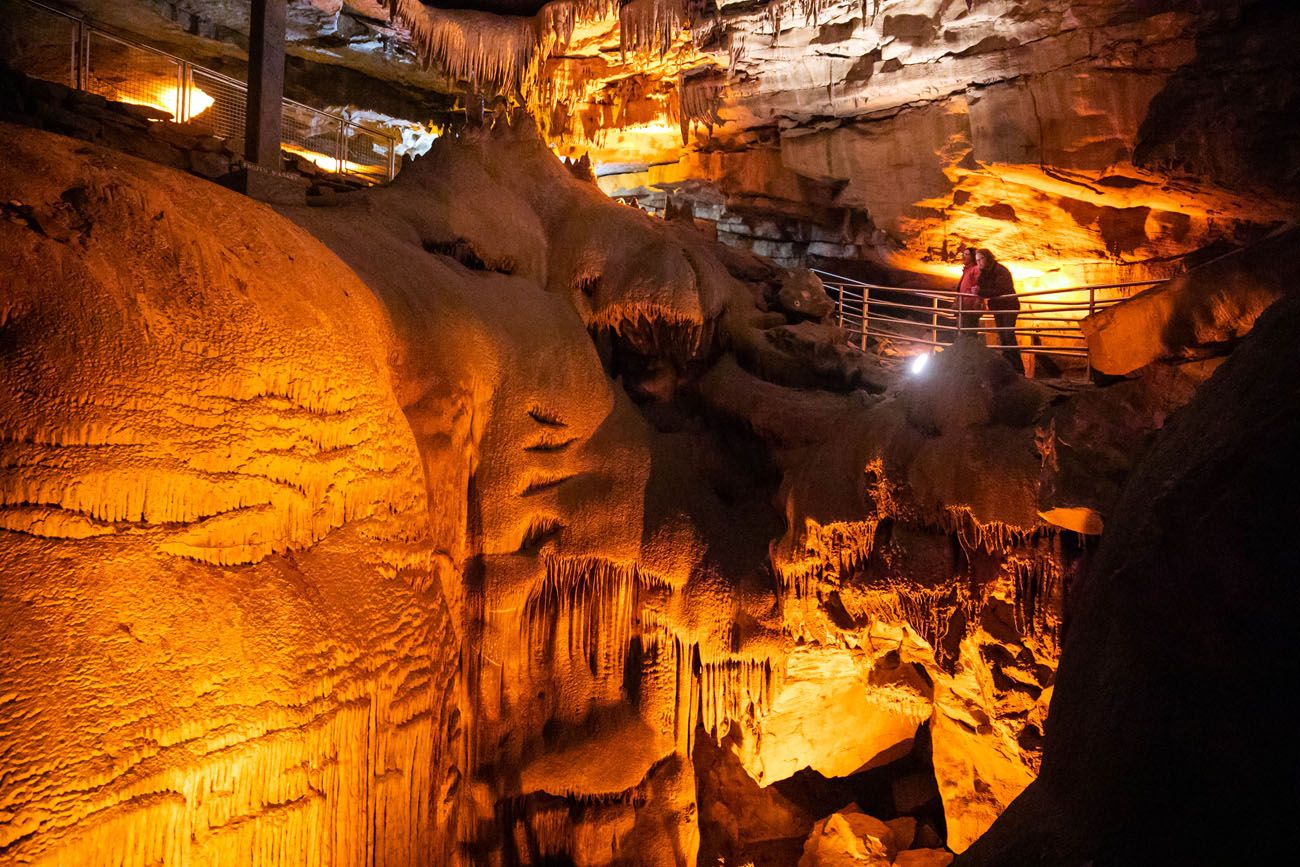 Cleaveland Avenue Tour
Duration: 2 hours
Distance: 1 mile
Total Steps: 200
Tour Limit: 38
On this small tour, you will descend down into gypsum-encrusted Cleaveland Avenue, see the Snowball room, and then take an elevator ride back to the surface.
Grand Avenue Tour
Duration: 4 hours
Distance: 4 miles
Total Stairs: 700
Tour Limit: 78
This is longest standard tour at Mammoth Cave. It's so long that they offer bathrooms stops (yes, there are restrooms inside of the cave). On this tour, walk down Cleaveland Avenue, Boone Avenue, and Kentucky Avenue, and a high point in the cave referred to as Mt. McKinley. This tour ends with a visit to Frozen Niagara and the Drapery Room.
If you like the idea of going on a "hike" in a cave and seeing some "less touristy" parts of the cave, this is a good option for you. However, four hours underground will feel like a very long time for some people.
Accessible Tour
Duration: 2 hours
Distance: 0.5 miles
Total Stairs: none
Tour Limit: 14
This tour is for those people with mobility issues or a physical disability. An elevator eliminates the need to climb or descend stairs. On this tour, you will visit sections of the Grand Avenue Tour route.
Gothic Avenue Tour
Duration: 2 hours
Distance: 1 mile
Total Stairs: 230
Tour Limit: 40
Enter through the Historic entrance, pass through the Rotunda, and enter Gothic Avenue. In this section of the cave you get to see "historical graffiti," candle-written signatures and artifacts left behind from the nineteenth century.
Discovery Self-Guided Tour
Duration: 30 minutes
Distance: 0.75 miles
Total Stairs: 160
Tour Limit: none
This tour is offered during the busy summer months for visitors who just want a quick visit to Mammoth Cave. Enter through the Historic Entrance, see the Rotunda and explore a canyon passageway on this fast, self-guided tour.
Mammoth Passage Tour
Duration: 1.25 hours
Distance: 0.75 miles
Total Stairs: 160
Tour Limit: 70
This tour is a combination of the Discovery Self-Guided tour with several elements of the Historic Tour. See the Rotunda, the saltpeter mine, and Indian artifacts. Enter and exit through the Historic Entrance.
Violet City Tour
Duration: 3 hours
Distance: 3 miles
Total Stairs: 160
Tour Limit: 38
Travel by hand-held lantern light through some of the most popular and oldest sections of Mammoth Cave. This tour features parts of the Historic Tour, Gothic Avenue, Star Chamber, and Mammoth Passage tours.
River Styx Tour
Duration: 2.5 hours
Distance: 2.5 miles
Total Stairs: 540
Hike down to into the depths of Mammoth Cave and see the underground flowing water of the Dead Sea, River Styx, and Lake Lethe.
Star Chamber Tour
Duration: 2.5 hours
Distance: 1.5 miles
Total Stairs: 260
Tour Limit: 40
This tour is very similar to the Violet City Tour, in that you tour the cave by hand-held lantern and see similar sights. However, this is a shorter tour with less walking so it makes a nice option for those who do not want a long tour.
Trog Tour
Duration: 3 hours
Distance: 1.5 miles
Total Stairs: 200
Tour Limit: 12
You have to be between the ages of 8 and 12 to join this tour. This is an introduction to caving where kids can worm their way through narrow passageways and tight spaces. Highlights include the Rambo Crawl and the Duck Room.
Introduction to Caving
Duration: 3.5 hours
Distance: 1 mile
Total Stairs: 300
Tour Limit: 20
This tour is an introduction to caving for those who are 10 years and older. Enter the world of spelunking and expect to climb through tight passageways that may involve army-crawls and scrambling. You will get dirty on this tour.
Wild Cave Tour
Duration: 6 hours
Distance: 6 miles
Total Stairs: 500
Tour Limit: 12
This is by far the most adventurous and the most strenuous tour on this list. On this tour, you get to learn what it is like to be cave explorer. You will belly crawl through tight spaces less than one foot high, scramble over rocks and climb up cave walls, and squeeze yourself through narrow spaces. On this tour, you will wear kneepads, a miner's headlamp, and a hard hat. Obviously, this tour should be avoided if you suffer from claustrophobia.
This tour is very popular and should be booked well in advance of your travel dates if this is on your list of things to do.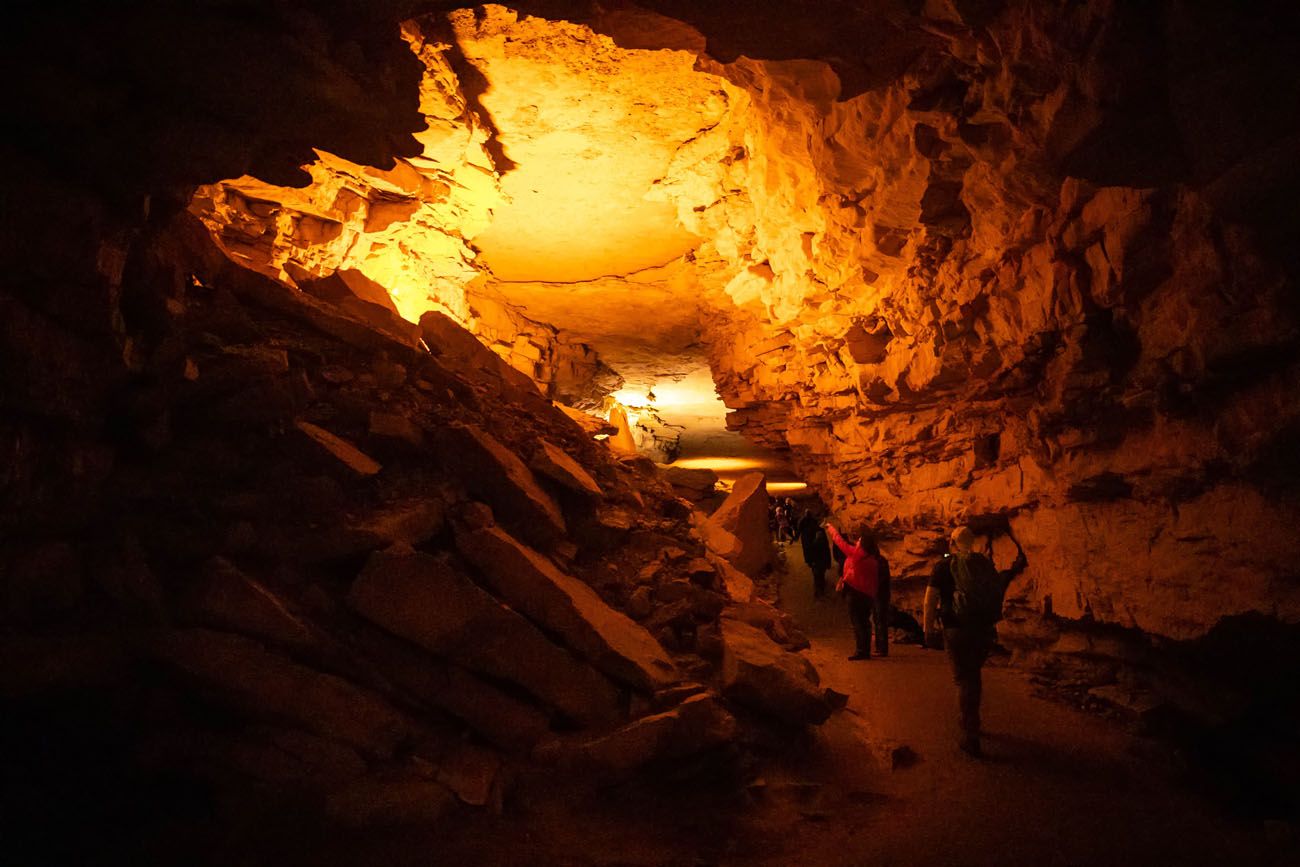 So, How Do You Decide on a Tour?
That's a long list, right? Well, it's a massive cave system so it's only fitting that there are a lot of different ways to see it.
Tim and I took two tours, the Historic tour in the morning and the Domes and Dripstones tour in the afternoon.
Both were great tours but Tim and I both agree that our favorite was the Historic Tour. Learning the history about Mammoth Cave is surprisingly interesting. Mammoth Cave served a lot of important functions before it became a tourist attraction and it is fascinating learning about this on the tour. Plus, you get to see the largest section of the cavern, squeeze through tight spots, and see one of the deepest sections, as well.
Domes and Dripstones was good, but it didn't "wow" us. There is one small section of impressive stalactites and stalagmites, but it's nothing like the Carlsbad Caverns in New Mexico or the Luray Caverns in Virginia. What amazed me the most on this tour was the huge number of metal staircases that were added to this section of the cave. It's a feat of engineering to add the steps and catwalks. I can't imagine what it would have been like to explore or tour this part of Mammoth Cave before these steps were added.
Our Recommendations
The Historic Tour. Perfect if you want a 2-hour tour to learn the history about Mammoth Cave, stand in the immense Rotunda, and see one of the oldest sections of the cave.
Frozen Niagara Tour. The quickest, easiest way to see the decorative cave formations.
Domes and Dripstones Tour. See the stalactites and stalagmites in the Frozen Niagara and Drapery Rooms, plus, spend more time in the cave, descending on a long series of staircases through wet canyons.
Wild Cave Tour. The Wild Cave Tour is the ultimate adventure in Mammoth Cave. This sounds like a ton of fun, if you don't mind dirty clothes, 6 hours in the dark, and dragging yourself through tight spaces. The Wild Cave Tour was not offered during our visit. If it had been, Tim and I would have strongly considered it.
Violet City Tour. This is another one that sounds fascinating. To tour Mammoth Cave only by lantern just like they did in the 1800's…how cool would that be?
Gothic Avenue Tour. We considered this one but chose Domes and Dripstones instead. This is another way to experience the history of Mammoth Cave, and with its small group size, it sounds wonderful.
Park Ranger Recommendations
We also asked several park rangers about their picks for first-time visitors to Mammoth Cave. They told us that our choice of the Historic Tour and Domes and Dripstones was a great combination, because we got to see both ends of the cave system.
One guide told us that his favorite tour is Violet City. The small group size and lanterns make this a special way to tour Mammoth Cave.
And if you are looking for adventure, do the Wild Cave Tour!
Booking Your Tours
If you will be visiting Mammoth Cave during peak season (the summer months and holiday weekends) book your tickets in advance. Some tours only offer a small number of spots so they can sell out ahead of time.
The Wild Cave Tour is the tour that is most likely to sell out in advance, from what we were told.
We visited Mammoth Cave in mid-February on a Saturday and there were lots of open spots on each tour.
You can book your tickets online in advance. I suggest you start on the National Park website. They will list available tours for the season you plan to visit. For each available tour, they provide you a link that will take you to recreation.gov, the website you will book your tickets. Or, you can go directly to recreation.gov to look at the available tours.
More Things to do at Mammoth Cave
Crisscrossing through the park is a series of hiking and nature trails. You can do much more at Mammoth Cave than just explore a subterranean world.
We walked the Heritage Trail, a 0.5-mile flat trail that starts near the Visitor Center. It takes you to Sunset Viewpoint for a so-so view over the hilly landscape. It's not so pretty on a rainy day in February, but I would imagine that it's a lot nicer most other months of the year.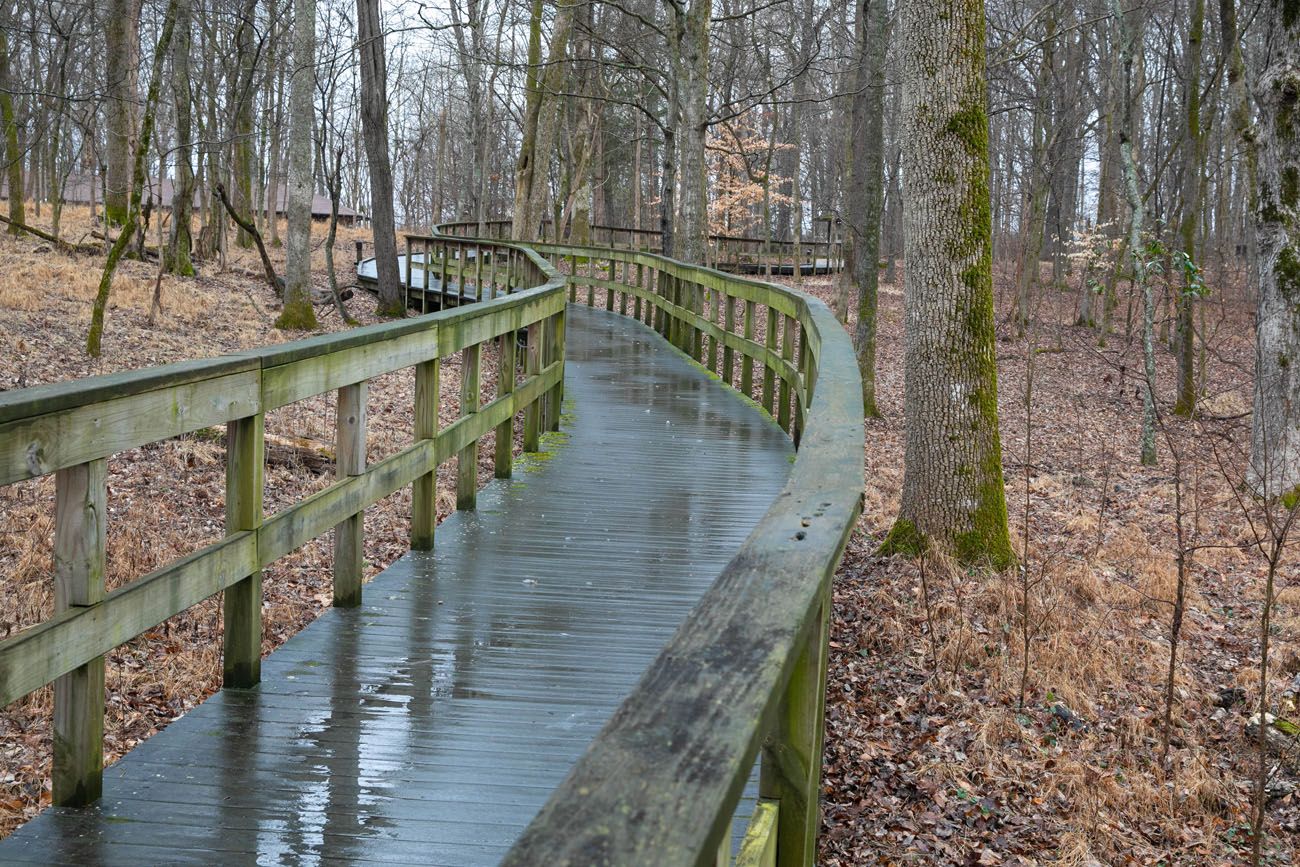 There are many more trails to explore at Mammoth Cave, as well as backcountry hiking. Click here to learn more.
How to Get Here
Mammoth Cave National Park is located in Kentucky. It is located roughly halfway between Nashville, Tennessee and Louisville, Kentucky. You can visit Mammoth Cave on a day trip from either of these cities, if you only plan to do a cave tour and walk a nature trail.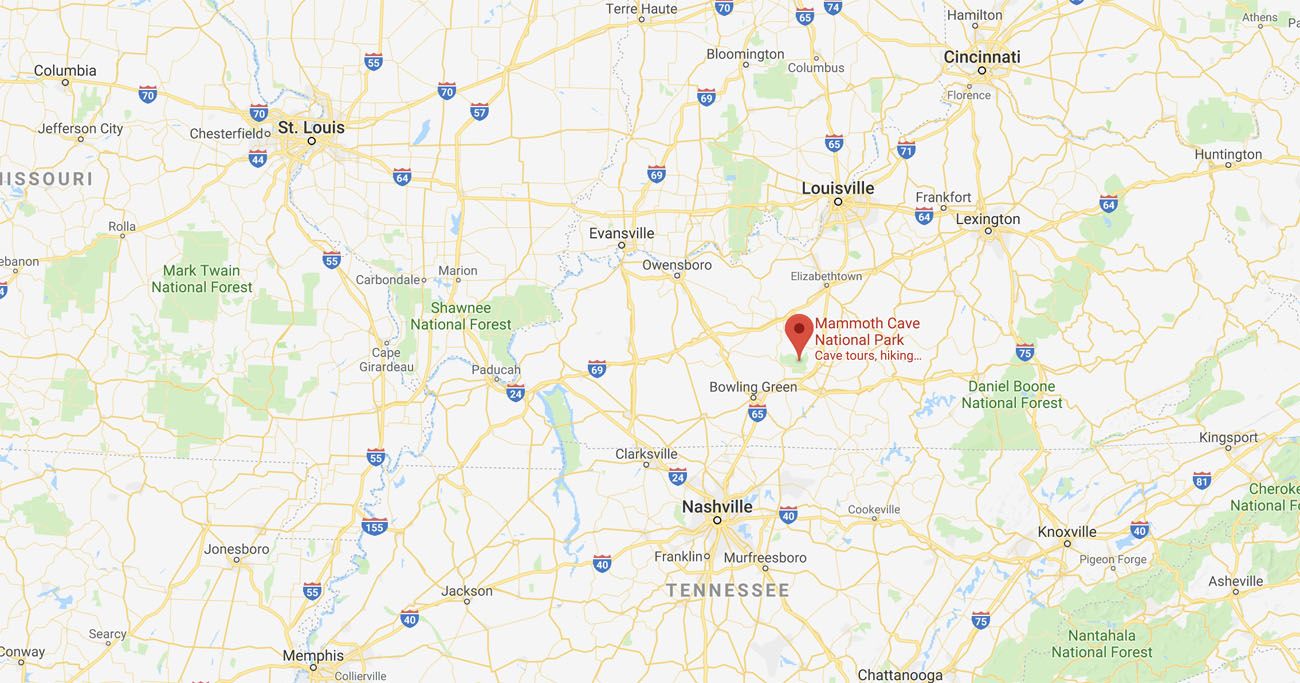 To get here, we entered "Mammoth Cave Visitor Center" into Google Maps and had no issues getting to the park. However, there are numerous warning on the NPS website that Google and other navigation systems have directed visitors to the wrong place. To view their recommended directions, click here and scroll to the bottom of the screen.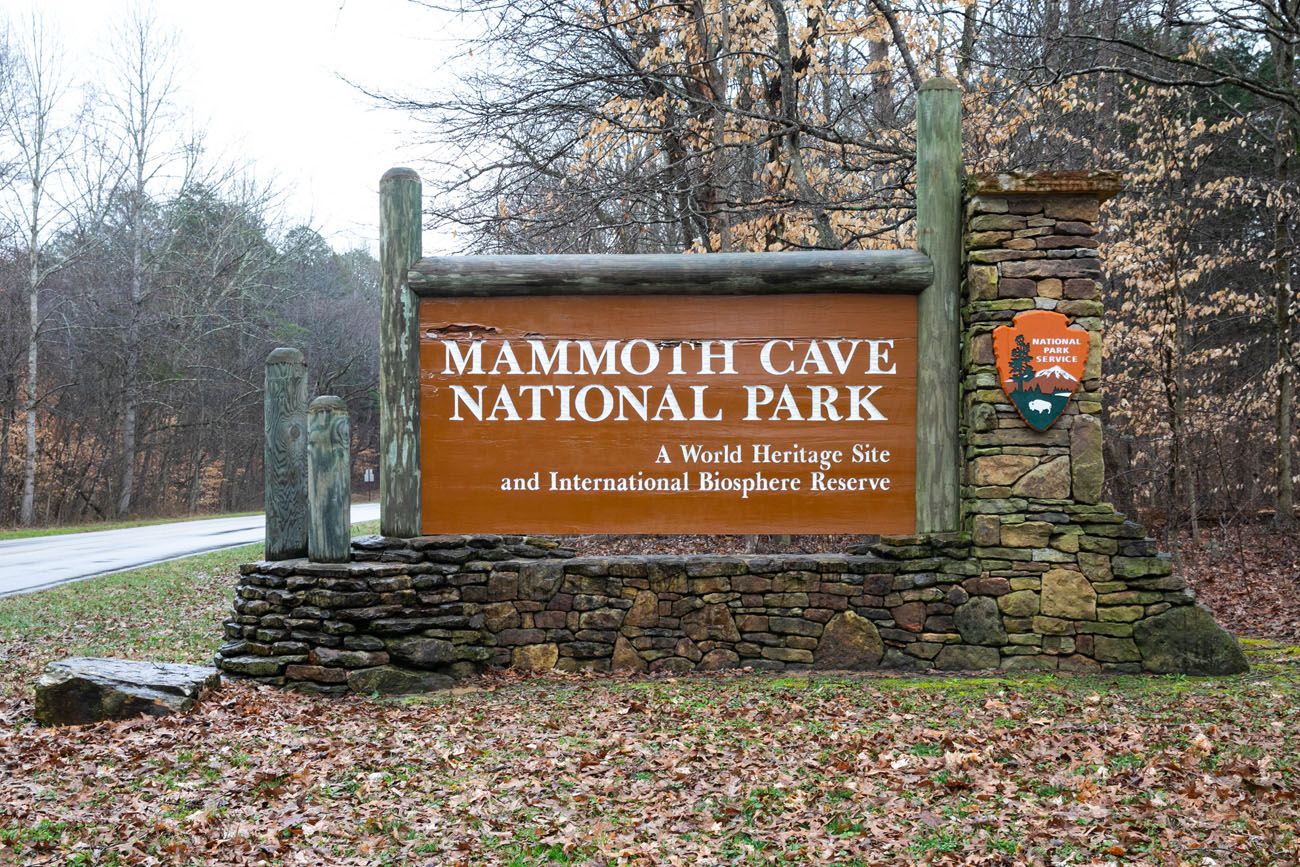 Items Not Allowed on Cave Tours
Flash photography
Tripods
Strollers
Child Carrier Backpacks
Walking sticks
Where to Eat at Mammoth Cave
There is an onsite restaurant at Mammoth Cave. Located next to the Visitor Center is the Spelunkers Café, a small restaurant that serves salad, burgers, chicken burgers, and more. We ate lunch here in between tours.
Where to Stay at Mammoth Cave
There is lodging right inside the park, called The Lodge at Mammoth Park.
You can also drive outside of the park to Cave City, a small town with a bunch of hotel and restaurants to choose from.
What We Did
We visited Mammoth Cave in mid-February. It was a rainy, dreary, cold day, but since our visit took us underground, the weather did not matter much. It is always 54°F inside of Mammoth Cave.
Tim and I visited Mammoth Cave as part of a mini-road trip. We spent two days in St. Louis, visited Gateway Arch National Park, and then drove to Owensboro, Kentucky. We spent the night in Owensboro, woke up early and drove to Mammoth Cave, spent a day at the cave, and then drove to Nashville. After spending one day in Nashville we flew home.
---
If you have any questions about touring Mammoth Cave, or if you want to share your experience (we would love to hear what your favorite tour is), comment below!
More Information for Your Trip to Kentucky
LOUISVILLE: Plan your visit to Louisville with our articles about the Best Things to Do in Louisville and Best Places to Eat in Louisville.
KENTUCKY BOURBON TRAIL:Pick out which distilleries to visit in our article Best Distilleries on the Kentucky Bourbon Trail. For information on how to plan your visit, don't miss our Guide to the Kentucky Bourbon Trail and Kentucky Bourbon Trail Itinerary.
NEARBY DESTINATIONS: Asheville, North Carolina makes a great weekend destination. You can also spend a few days in Nashville or visit nearby New River Gorge National Park.
NATIONAL PARKS: In our Guide to the US National Parks, get the full list of national parks with important travel planning information, such as things to do in the parks and sample itineraries. You can also learn more about the national parks and get a FREE printable checklist in our US National Parks Checklist.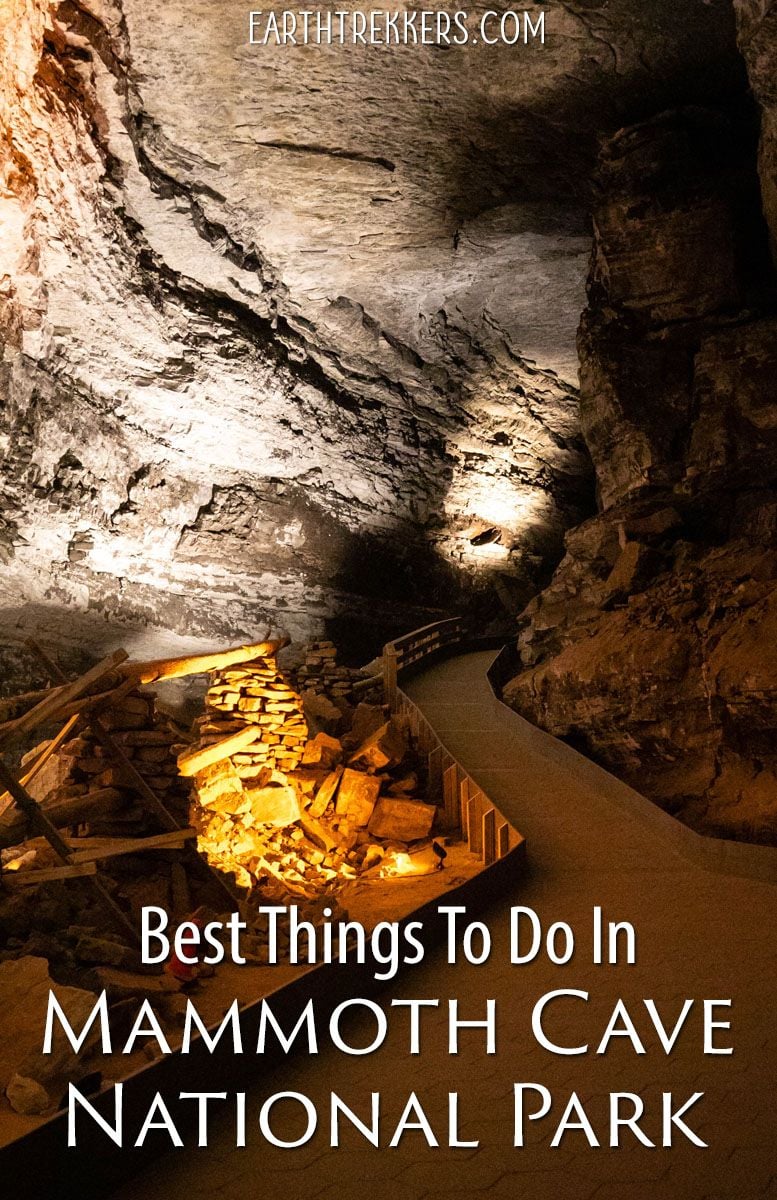 All rights reserved © Earth Trekkers. Republishing this article and/or any of its contents (text, photography, etc.), in whole or in part, is strictly prohibited.