On this road trip through northwestern Slovenia, drive the Vršič Pass, visit the Soca Valley and the town of Bovec, explore the Tolmin Gorge, and even go on white-knuckle drive to Mangart, the highest road in Slovenia. If you like scenic drives and want to see a beautiful part of the country, this Slovenia road trip is a wonderful day trip idea.
About this Slovenia Road Trip
This road trip will take a full day. You will start in the morning with a drive over the Vršič Pass and then you will head south along the Soca River, make a quick visit to Bovec, and continue on to the Tolmin Gorges. From the Tolmin Gorge, you have the option to end the day or continue to the Mangart Saddle.
Road Trip Stats
Total Distance: 193 km (120 miles)
Total Driving Time: 4.5 hours
These totals are round trip from Kranjska Gora, including Tolmin Gorge and the Mangart Saddle.
How to Use This Map: Click the tab in the top left hand corner of the map to view the layers (places to visit and the driving route). You can click the check marks to hide or show layers. If you click the icons on the map, you can get more information about each point of interest. If you click the star, this map will be added to your Google Maps account. To view it on your phone or computer, open Google Maps, click the menu button, go to "Your Places," click Maps, and you will see this map on your list.
The Soča River Valley is a popular spot for paragliding and white water rafting. These activities can be added to the road trip but you will not have time for the Mangart Saddle and/or the Tolmin Gorge. We tell you how to do this later in this post.
We did this same Slovenia road trip at the beginning of August 2018. Water levels in the Soca River were low so white water rafting was not an option for us. On the drive back to Kranjska Gora, we saw signs for the Mangart Saddle. We never heard of this before and driving up to the saddle was totally unplanned, but for us, it was the highlight of the day.
Kranjska Gora is a great place to base yourself for this drive and if you plan to hike in Triglav National Park from the Vršič Pass. Another popular place to stay is Lake Bled. You can do this road trip from Lake Bled but you will have to do some extra driving to get to Kranjska Gora.
Slovenia Road Trip
Lake Jasna
Whether you are starting your day in Kranjska Gora, Lake Bled, or someplace else, you will first drive past Lake Jasna to get to the Vršič Pass. This artificial lake is a very busy spot during the hot summer months. People come here to swim and escape the summer heat. In the morning, it is much more peaceful. Don't miss the statue of Zlatorog, the golden-horned Ibex.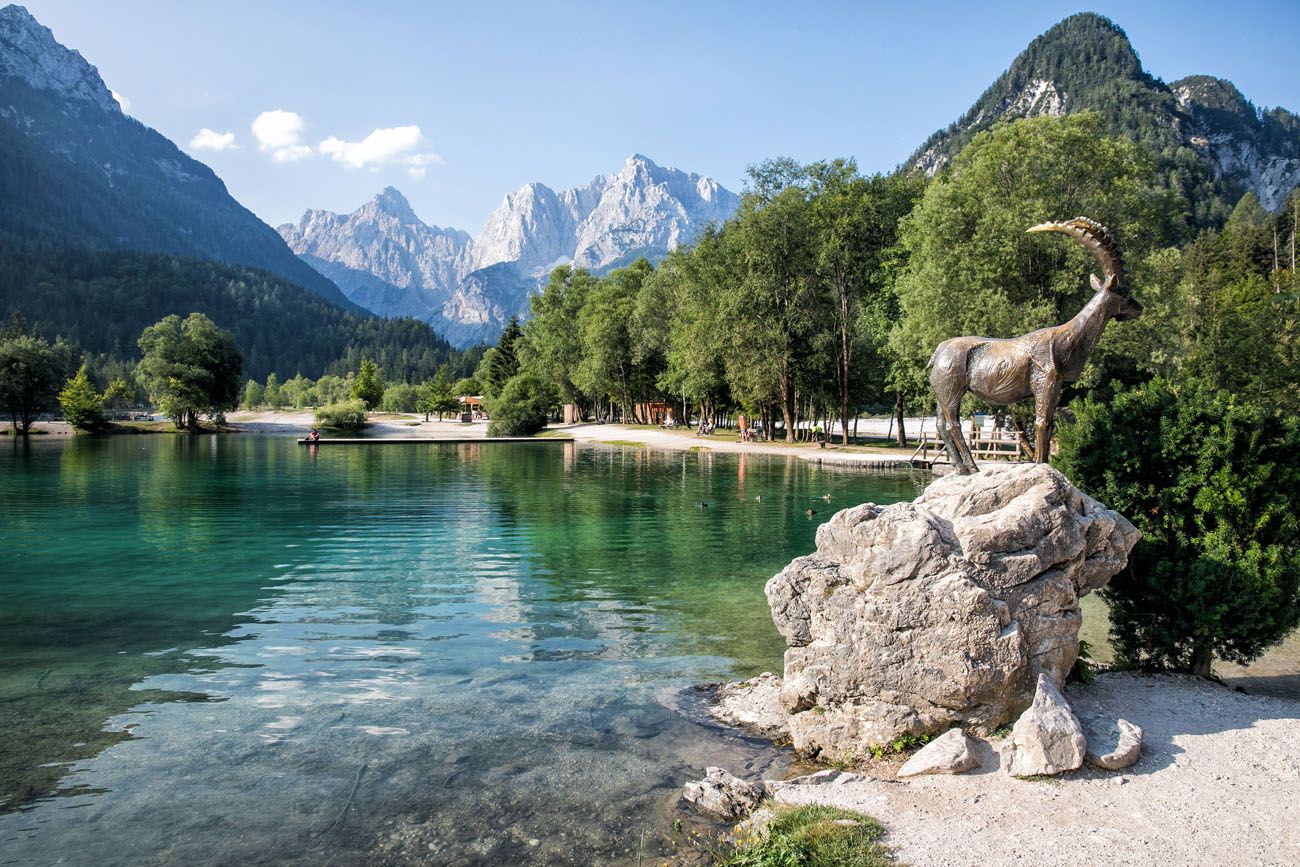 Vršič Pass
The Vršič Pass is a paved road that was constructed by Russian POW's during World War I. At 1611 meters, this is the highest mountain pass in the eastern Julian Alps. There are 50 hairpin turns along the road, 24 on the Kranjska Gora side and 26 on the Trenta side.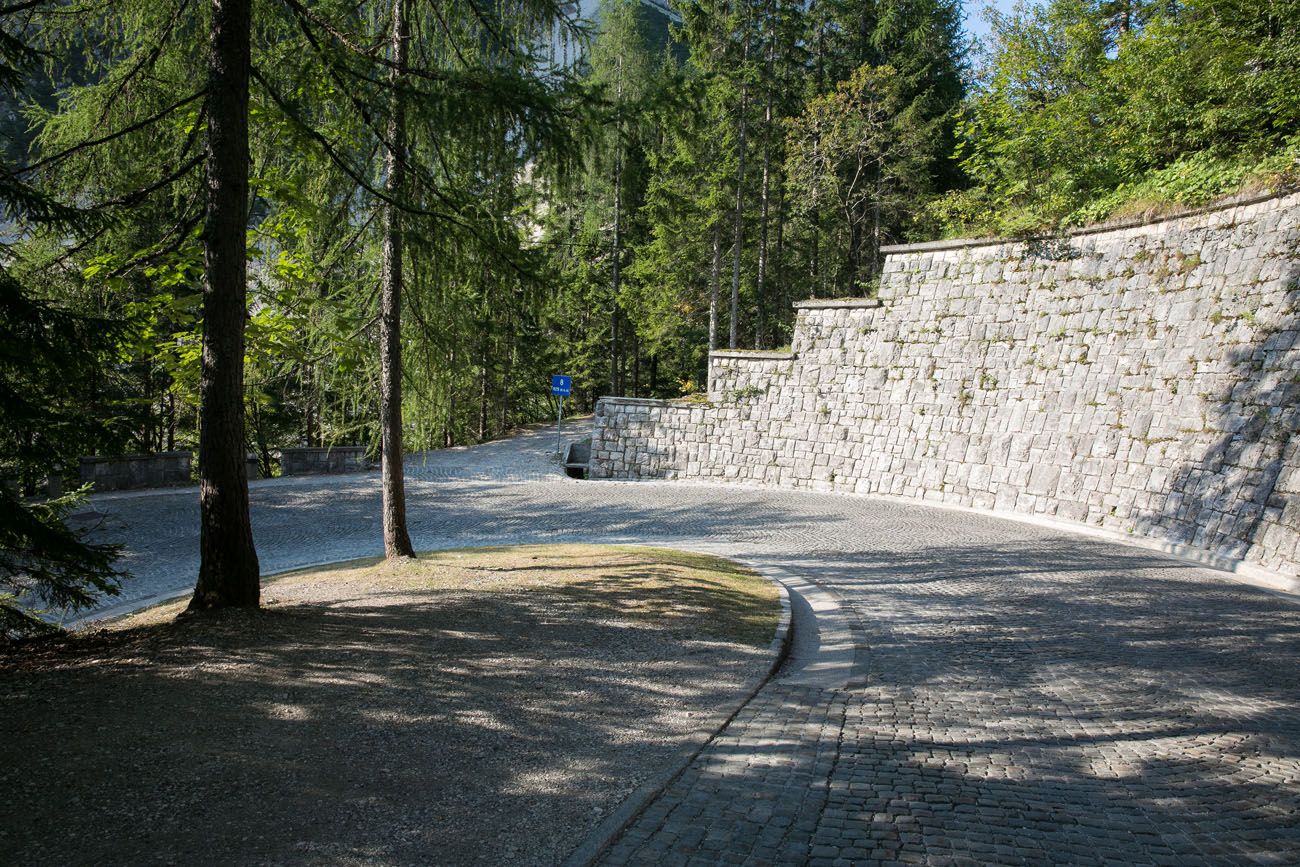 From Kranjska Gora, it takes 30 minutes to drive to the top of the Vršič Pass. From Lake Bled, it takes one hour to get here.
Expect to share the road with cyclists. Cycling to the top of the Vršič Pass is a popular bucket list activity for cyclists and we saw quite a few people cycling to the top of the pass.
Places to Visit along the Vršič Pass
There is more to do than simply drive up and over the pass. Here are some of the best things to see and do along the drive.
The Russian Chapel
The Russian Chapel was built in 1917 by Russian prisoners of war as a memorial to those who died while constructing the Vršič Pass. It is located on the Kranjska Gora side of the pass just past hairpin turn #8 (each hairpin turn is labeled with a bright blue sign). There is a small parking lot near the chapel.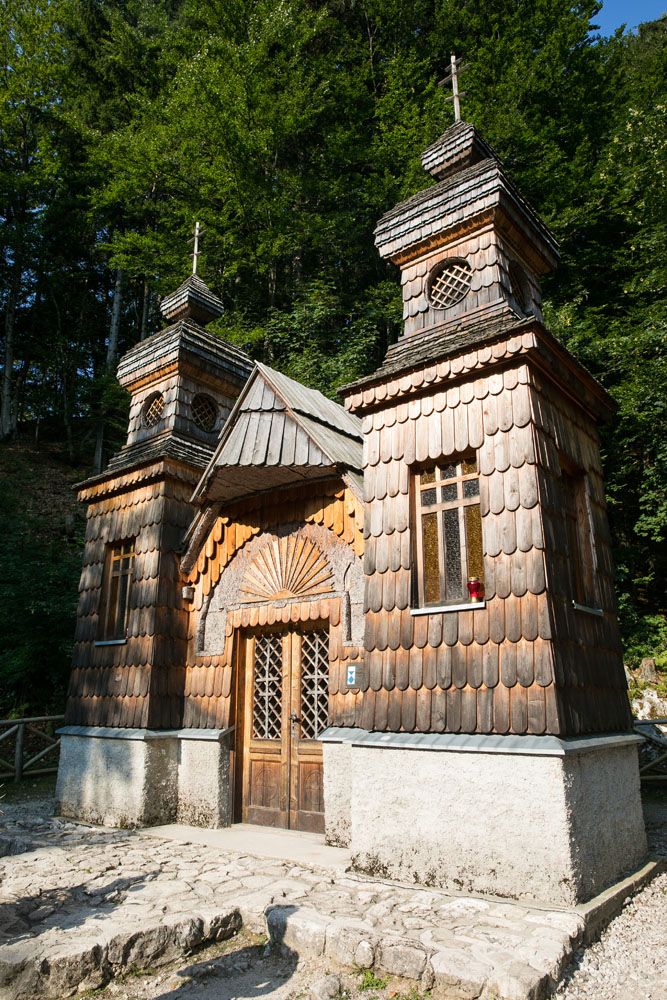 Vršič Pass
The highest point of the road (before you descend down the other side to the Soca Valley) is marked by several signs and one very large parking lot. Even in the morning, it can be difficult to find parking. People arrive very early in the day because this makes a great starting point for many hikes in Triglav National Park.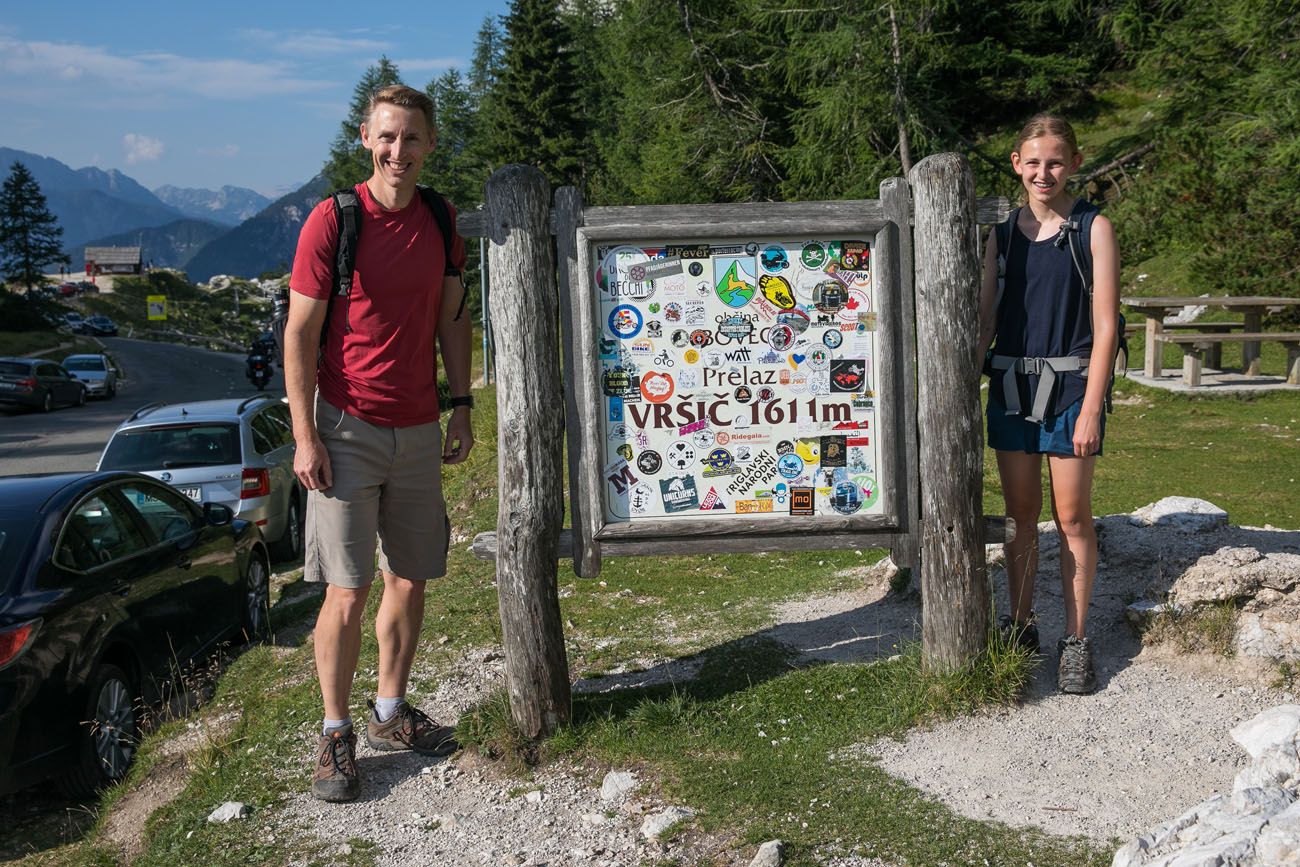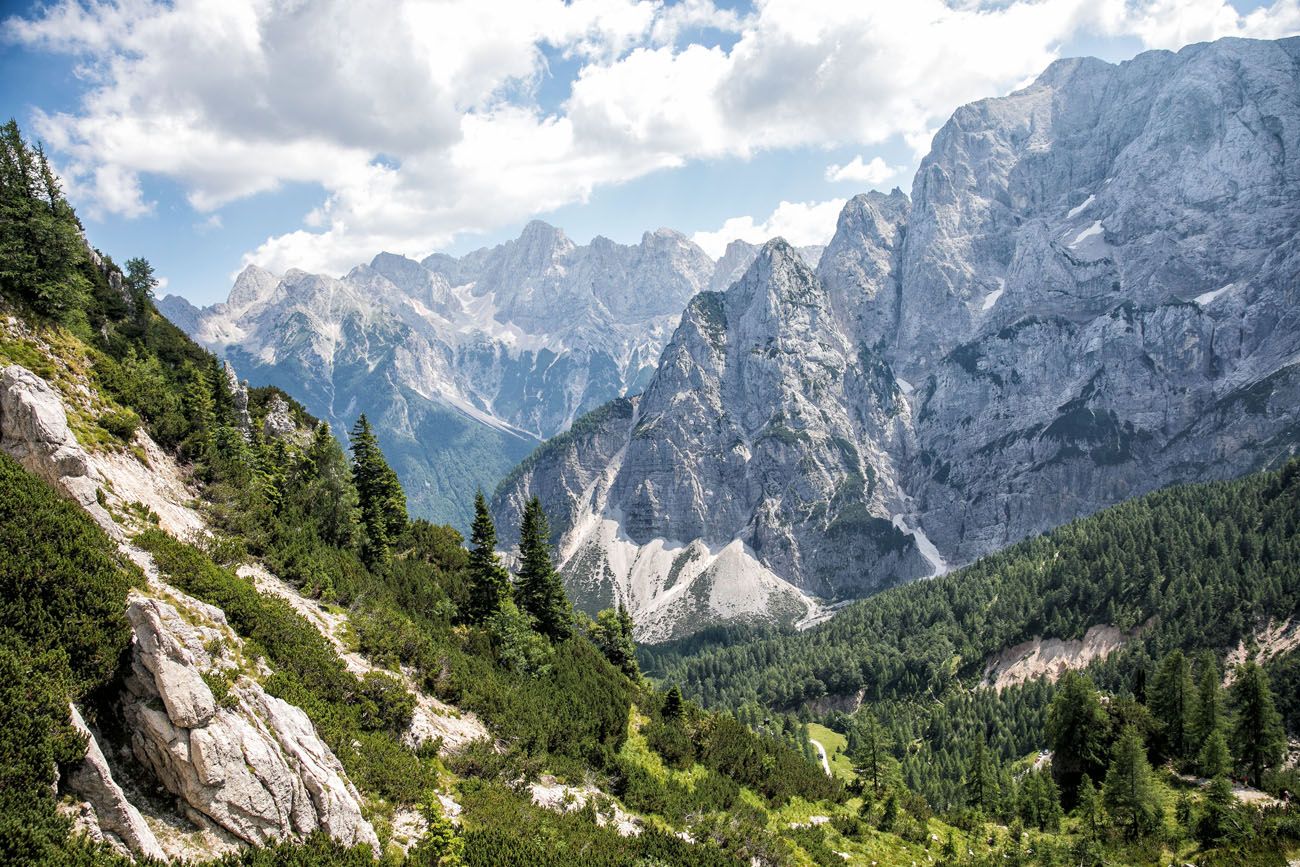 We did a wonderful 5-mile hike from the Vršič Pass the day before this scenic drive. You won't have time for the hike today, but it makes another great addition to your Slovenia itinerary.
Ajdovska Deklica
Ajdovska Deklica is also called The Face in the Stone. With a little bit of imagination, you can see a woman's face on the side of Prisank Mountain.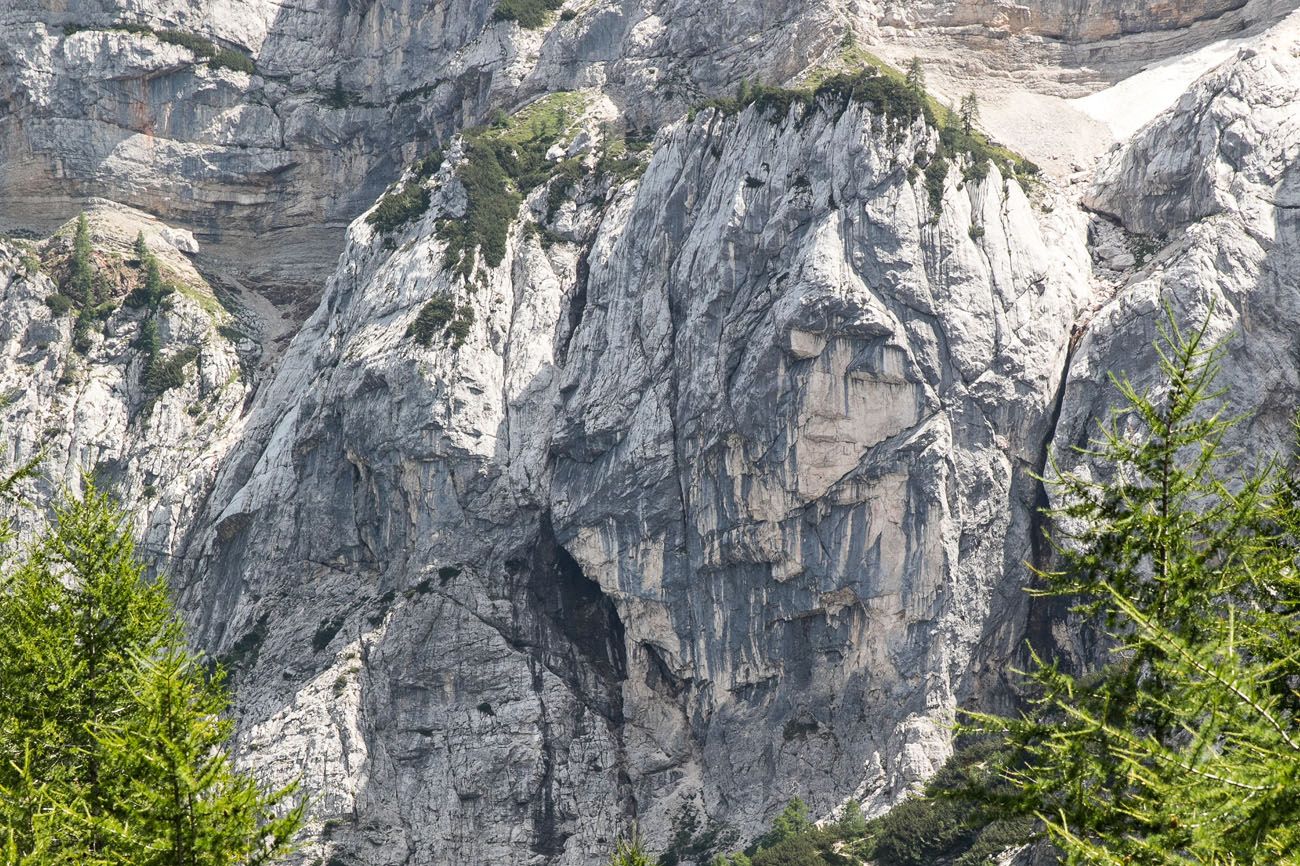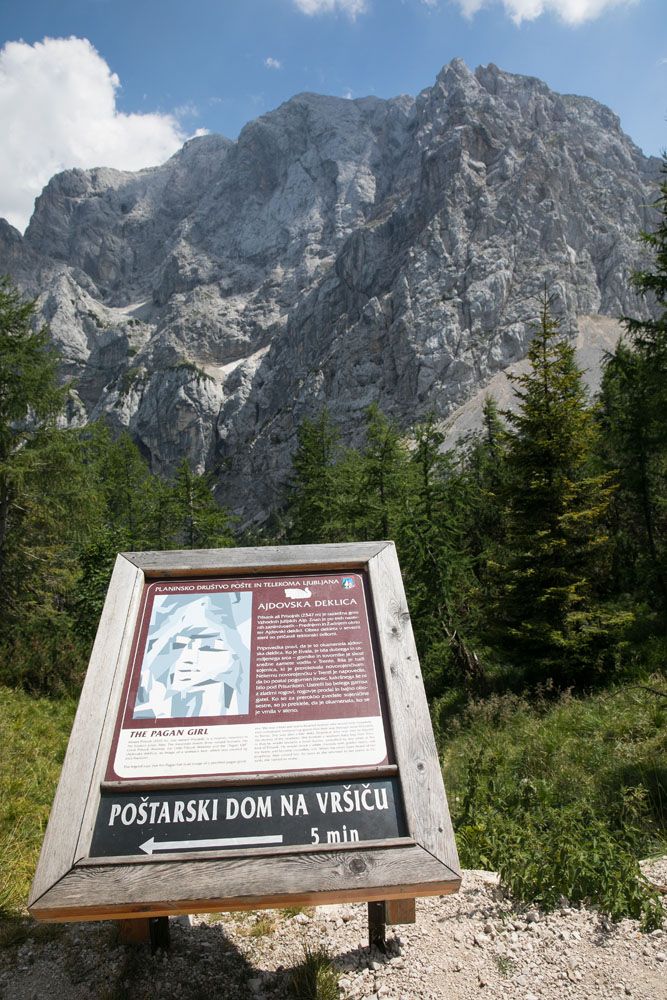 To get here, park in the large parking lot on top of the Vršič Pass and then walk up the access road. Go past Ticarjev dom and continue until you see the sign marking Ajdovska Deklica. From here, you can see the face in the stone.
The Soča River
From the top of the Vršič Pass, drive down the Trenta side towards the town of Bovec. It doesn't take long until the road runs alongside the Soca River. Before you get to Bovec, there are two fantastic places to stop and enjoy a view of this dazzling river.
Kamp Korita and Kamp Jelinc
At this spot, there are two campgrounds along the Soca River. But what makes this place so special is that you can walk along a section of the river. It's a beautiful place and during our visit, there was hardly anyone else here. This was our favorite place to visit along the Soca River.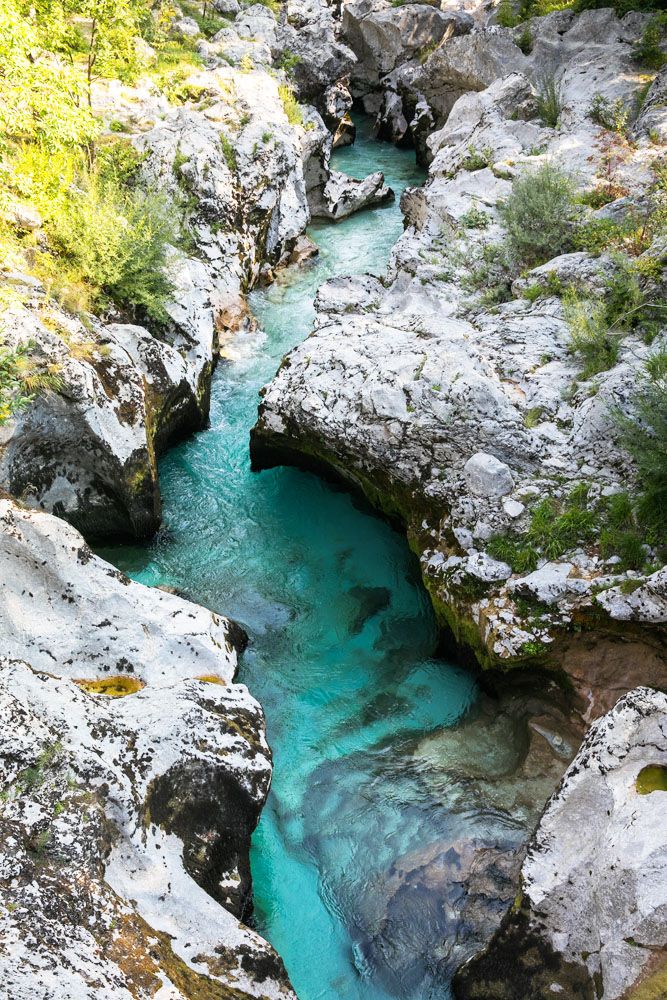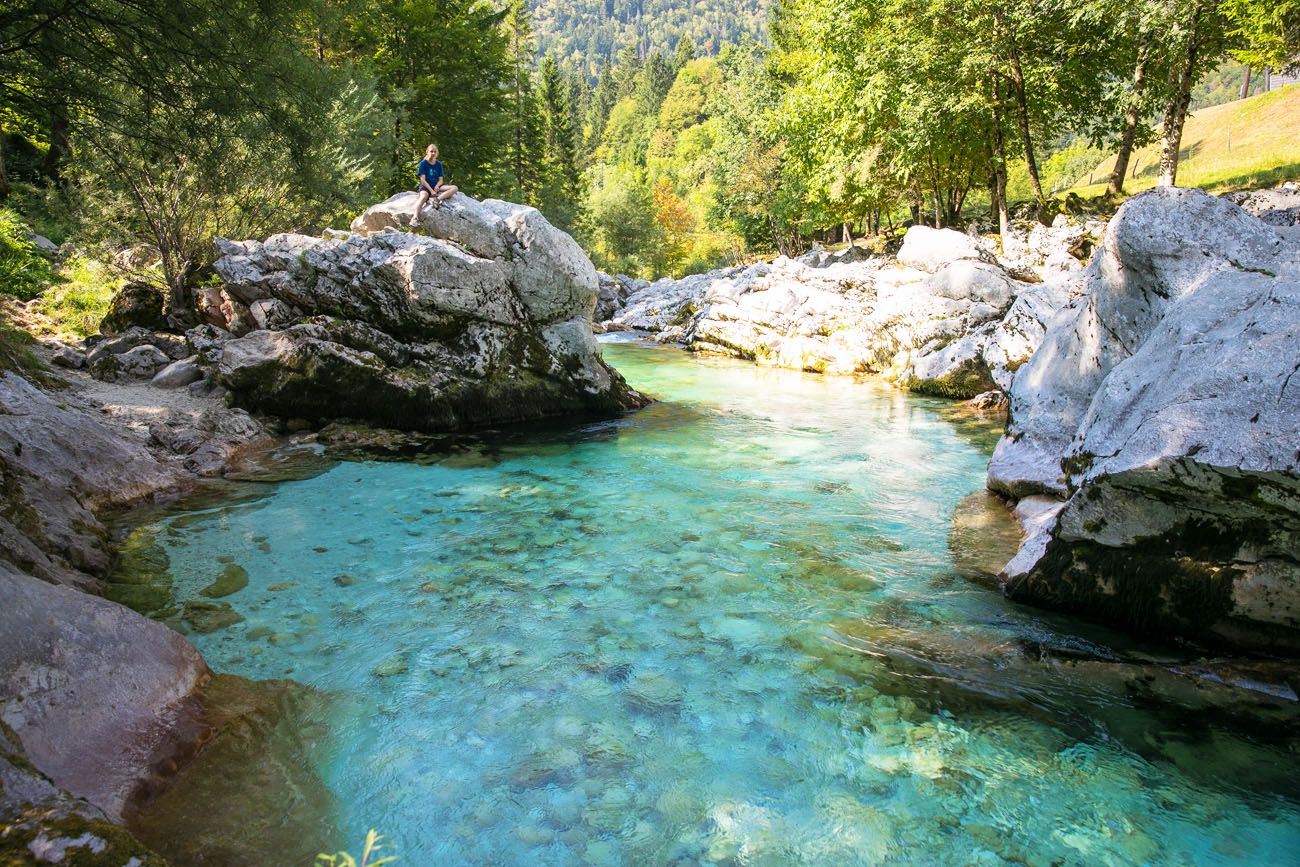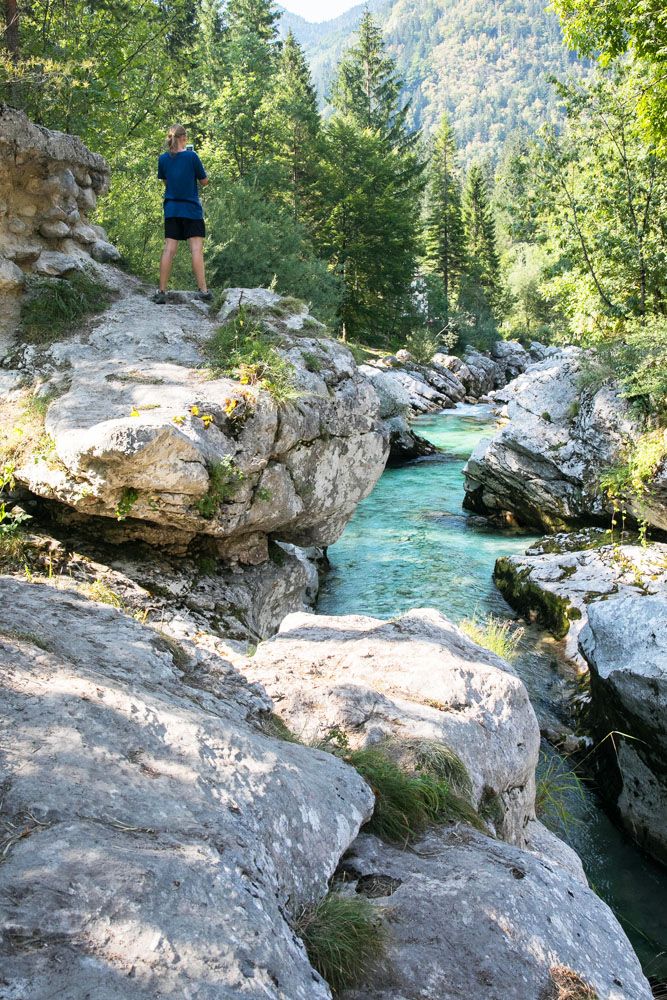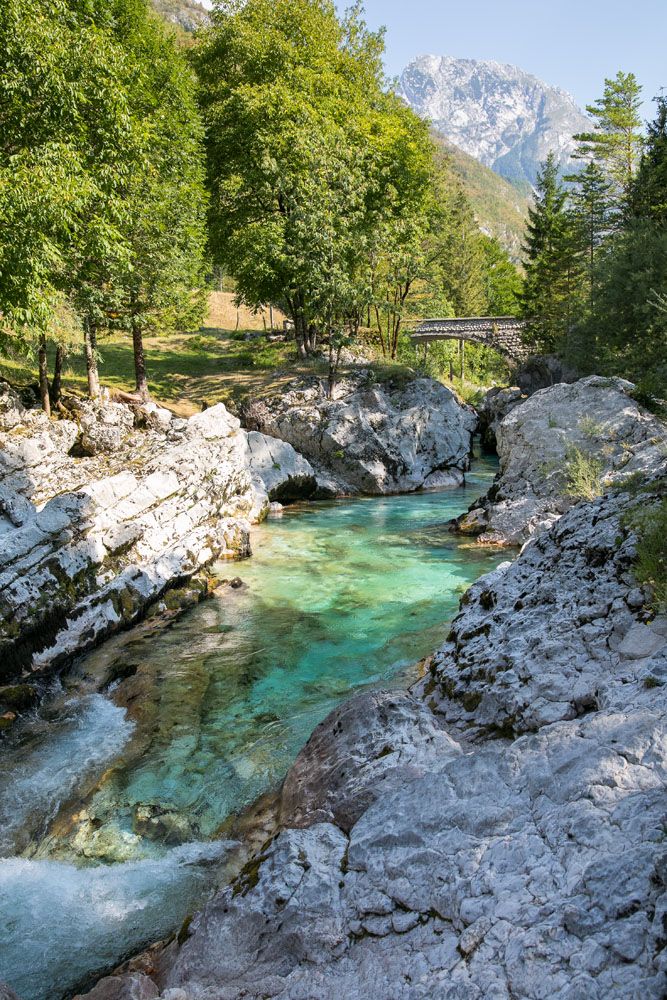 There is a small lay-by on the main road. Park here, cross the bridge over the river (and enjoy the view!) and then you can explore the riverbank in both directions.
How to Get Here: From the Vršič Pass, it is a 20 km (12.5 miles) drive and takes 33 minutes. Here are the GPS Coordinates to help you pinpoint this spot on a map: 46.341797, 13.684140
Pedestrian Bridge over the Soca River
This pedestrian bridge gives you bird's eye view of the Soca River.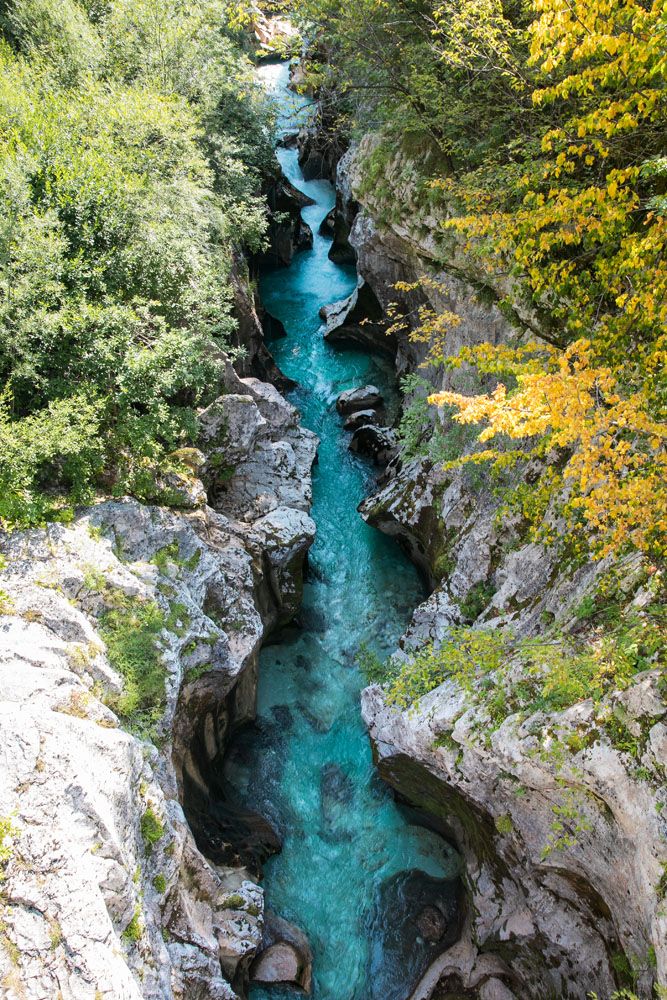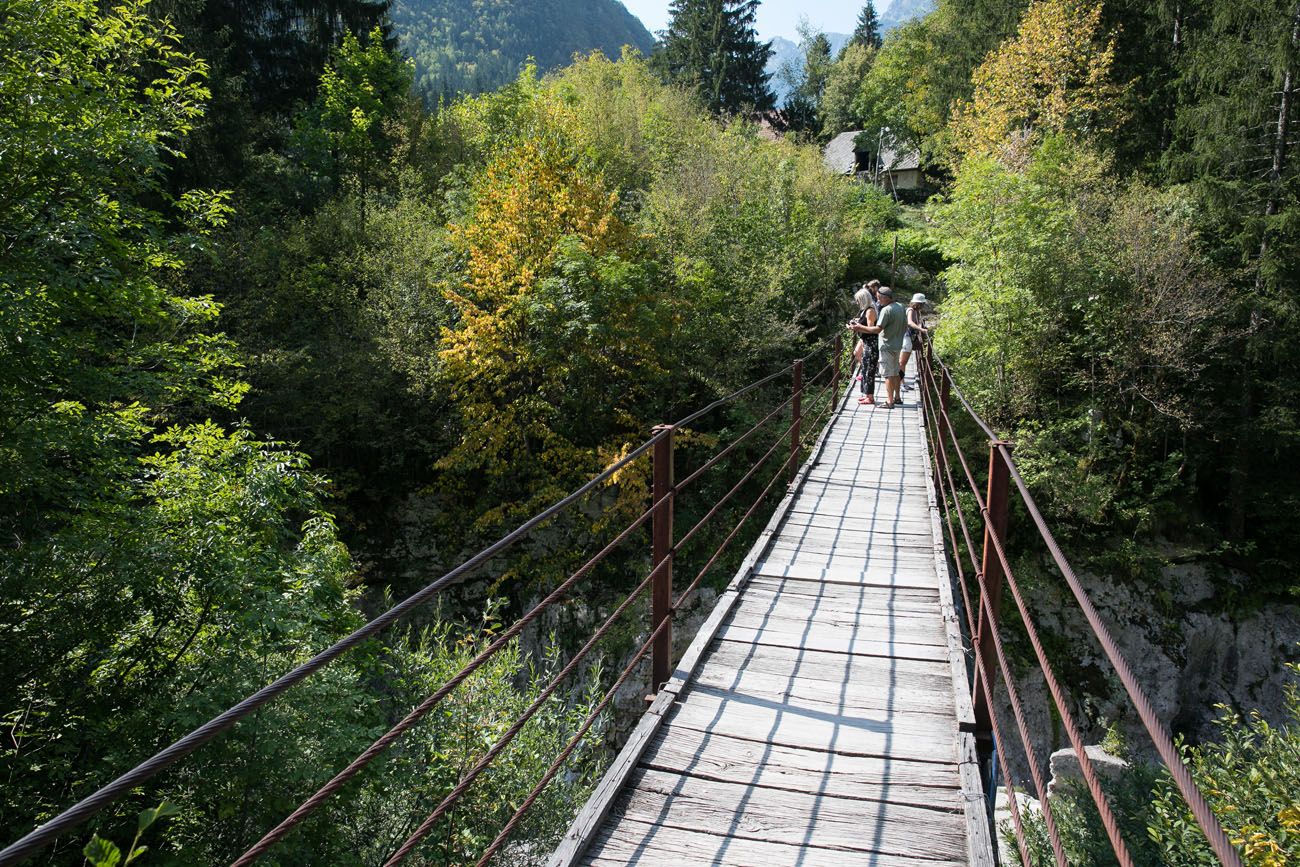 How to Get Here: There is a small turn-off on 206 that is big enough for just a few cars. Park here and walk right out onto the bridge. When we did this, there was not an available parking space, so Tim dropped me off, I took a few photos, and then he picked me up.
From the campgrounds it is just a 3 km drive and takes 3 minutes to get here. GPS coordinates: 46°20'26" N 13°39'4″ E
Bovec
Continue the drive down 206 until you get to Kal-Koritnica. Turn left onto 203 and follow signs for Bovec. It takes 15 minutes to get here from the pedestrian bridge (10 km).
This great little town makes a nice place to get lunch if it is getting to be about that time.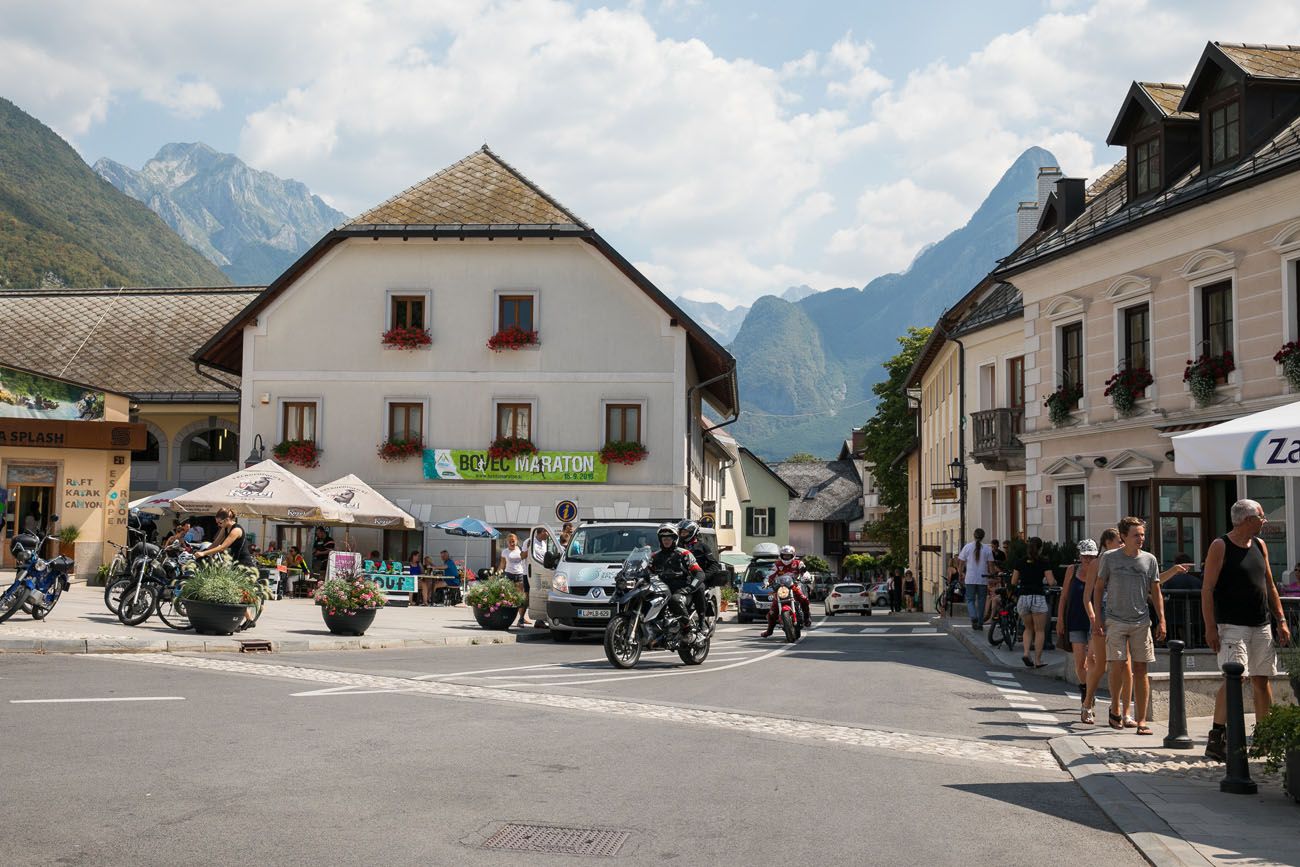 White Water Rafting in Soca Valley
Soca Rafting is a company that offers white water rafting trips and they run a zipline that people rave about. Since we did not go white water rafting or ziplining, we have no experience with them, but they do get great reviews on Trip Advisor. Learn more (and make your reservations) on the official Soca Rafting website.
PRO TRAVEL TIP: Make your reservations in advance because they do sell out frequently.
Paragliding in Soca Valley
The Soca Valley is a gorgeous spot to go paragliding. You will have views over the Julian Alps and the gorgeous Soca River. The Bovec Rafting Team offers tandem paragliding for €160 per person. Your reservation must be made at least three days in advance. Learn more on their website.
Napoleon's Bridge
From Bovec, continue your drive south on route 203 until you get to Kobarid.
In Kobarid it's worth a quick detour to see Napoleon's Bridge. From the bridge you have an awesome view of the Soca River. And yes, the river really is that brilliantly blue.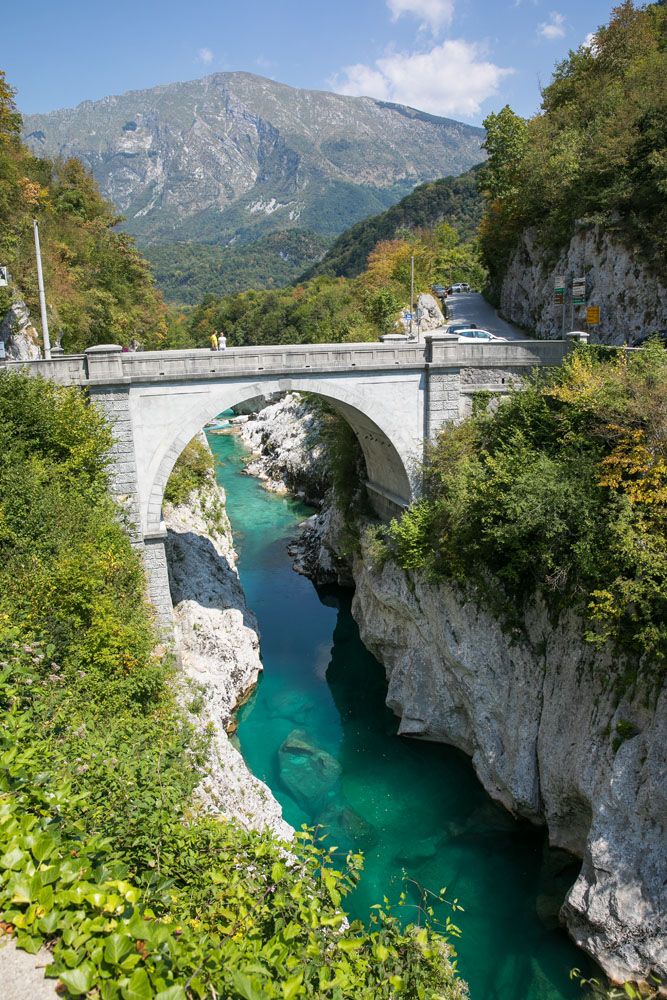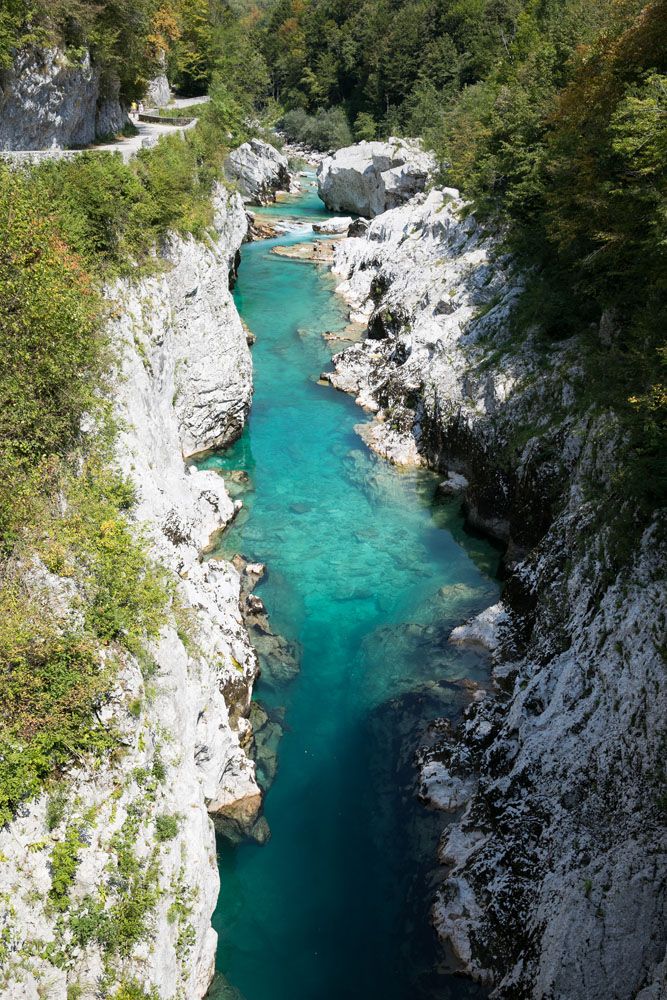 From Bovec to Napolean's Bridge, it is 22 km and takes a half an hour.
Optional Detour: Slap Kozjak
If you are doing well on time and want to see a cool waterfall, make the short detour to Slap Kozjak. It is a short hike to get to the waterfall and it will take about an hour of your time. The parking lot for the trailhead is located just beyond Napolean's Bridge. Learn more here.
Tolmin Gorge
Tolmin Gorge, also called Tolminska Korita, is a 1 km long gorge located on the southern end of Triglav National Park. This is a similar experience to Vintgar Gorge. However, it's located off the main tourist trail, so crowds are generally lower at Tolmin Gorge than Vintgar Gorge.
To walk the entire gorge and visit all of the viewpoints, it takes about an hour and a half.
How to Get Here: From Kobarid, it is a 20-minute drive on route 102 (18 km).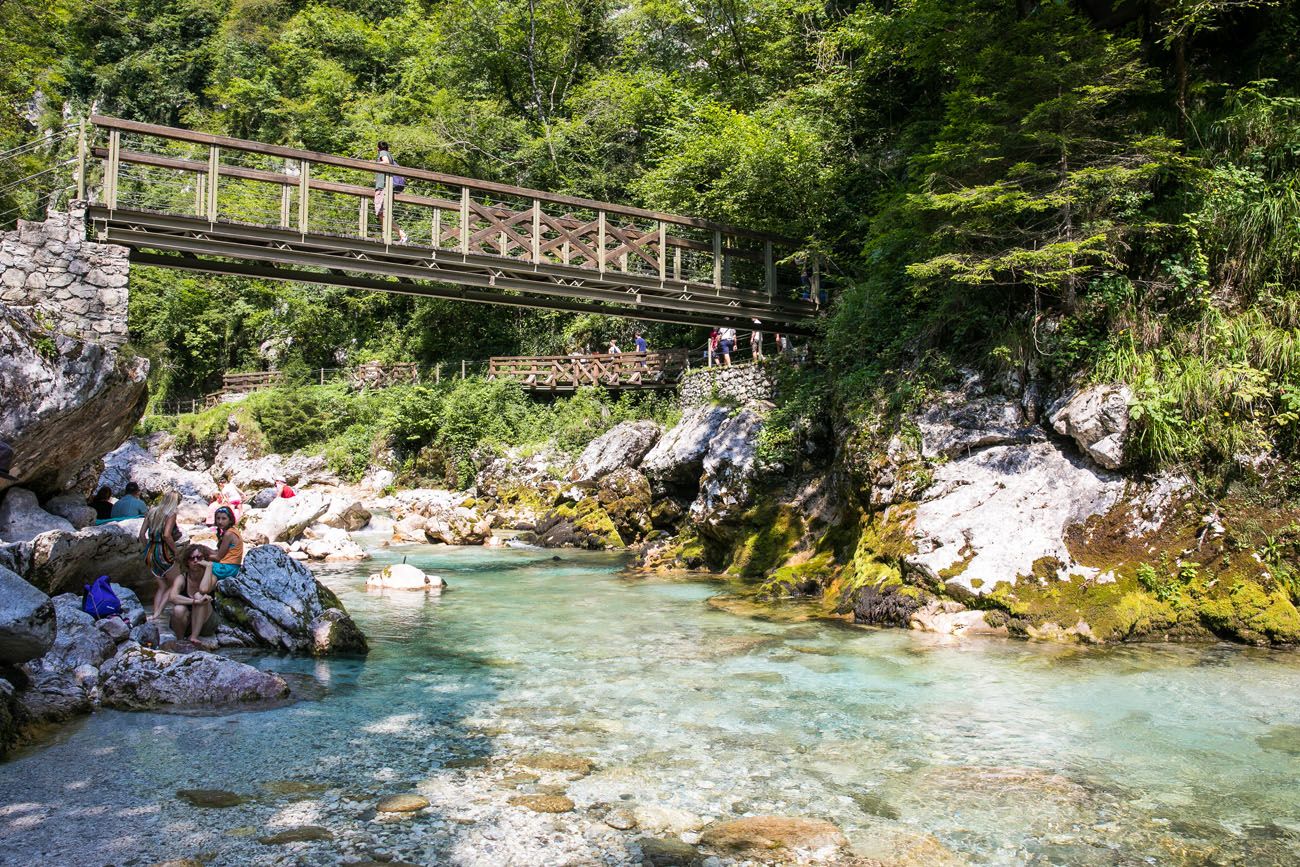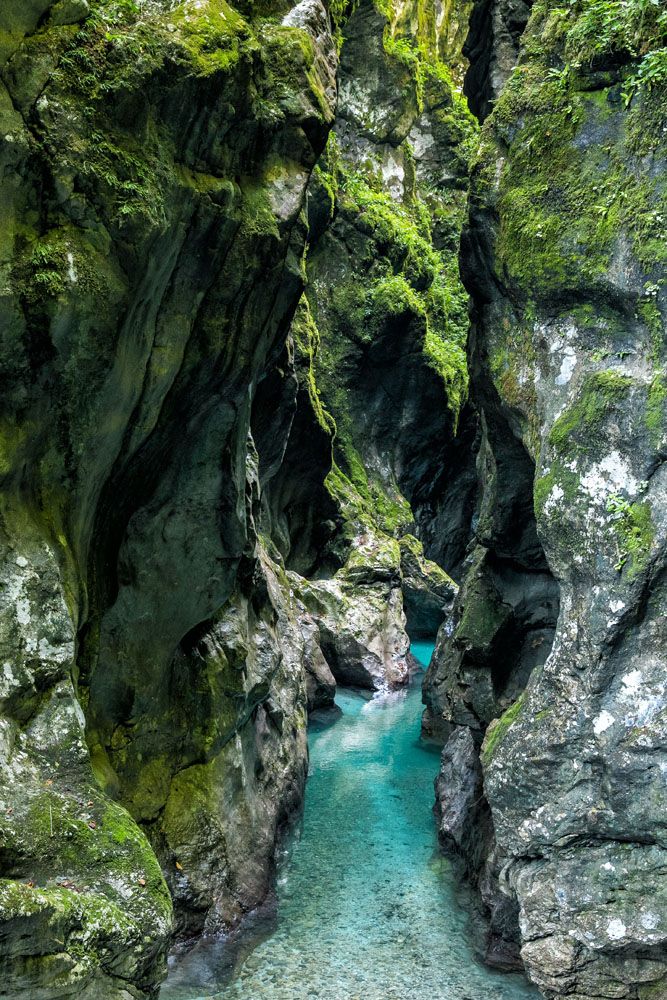 End Your Day or Continue to Mangart Saddle
You have the option to end your day after the Tolmin Gorge. If you added in white water rafting, paragliding, or Slap Kozjak, most likely it is getting late in the day. And if you need to return to Lake Bled, it's a lot quicker to drive directly there from Tolmin rather than driving to the Mangart Saddle and back through Kranjska Gora.
From Tolmin Gorge to Lake Bled it is 77 km (48 miles) and 1.75 hours of driving.
Mangart Saddle
Topping out at 2,072 meters, you can drive to the Mangartsko Sedlo, where you have panoramic views over Slovenia and Italy.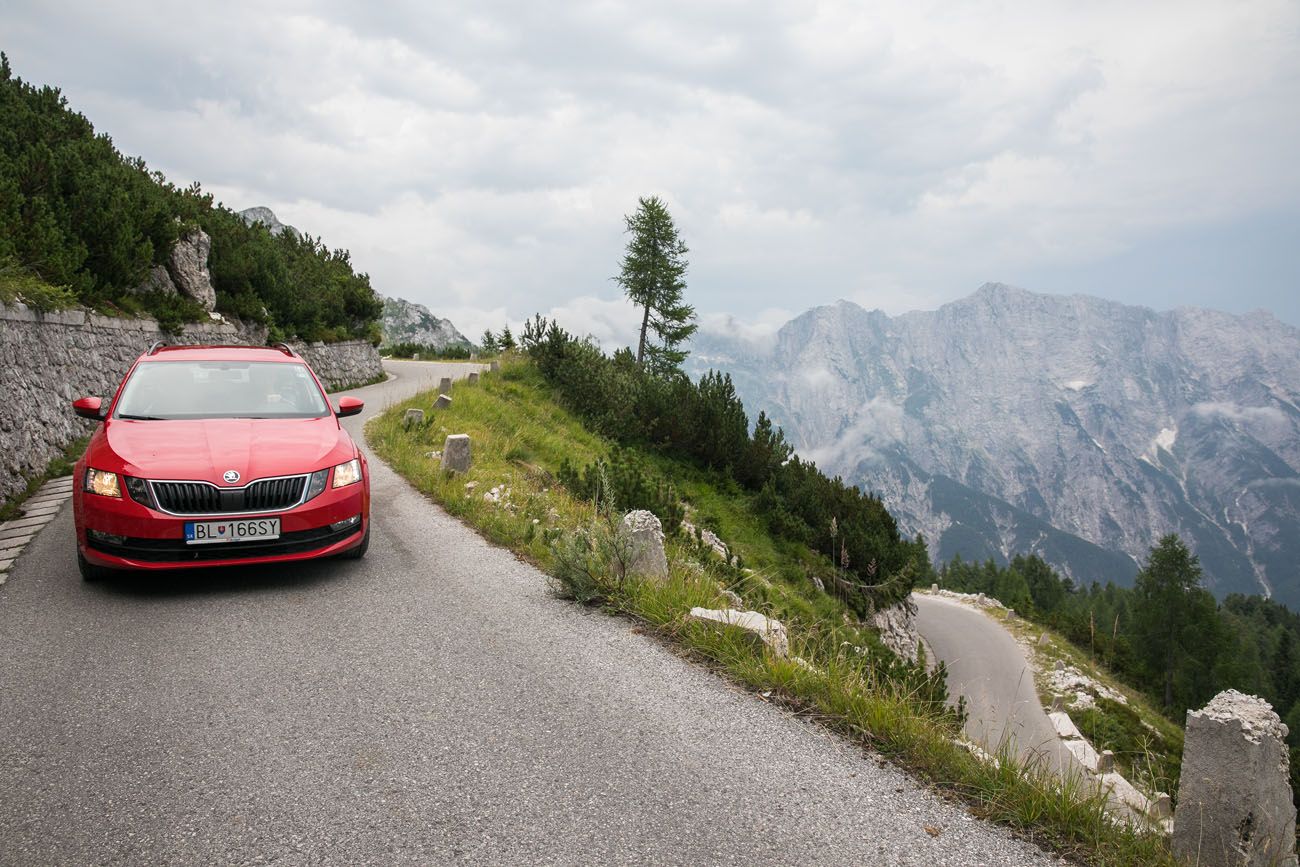 This truly is a white-knuckle drive. We have driven on a lot of crazy, winding roads around the world but this just may be one of the craziest. It is a narrow, winding road with numerous hairpin turns that do not have guardrails. In order to do this drive, you need excellent driving skills, nerves of steel, and a good head for heights.
For us, it was the highlight of our day. And to think we didn't know a thing about the Mangart Saddle this very same morning!
When we did this, we drove through a massive thunderstorm in Bovec. More storms were moving is as we drove up to the saddle. Unfortunately, we could not spend much time here because of the weather conditions, but those rumbles of thunder made the visit even more thrilling.
How to do this: From Tolmin, drive back to Bovec. Rather than taking 206 and the road to the Vrsic Pass, turn right onto 203 and head north to Log pod Mangartom.
This road starts near Log pod Mangartom and ends at the Mangartsko Sedlo. It is a dead-end road, so you will drive it in both directions. This is also a toll road. Before the real climbing starts, you will pay a small fee (€5) at a ticket booth in order to continue on your way. It takes roughly one hour round trip to do this drive, longer if you spend time on the saddle enjoying the view.
Distance from Tolmin Gorge: 65 km
Driving Time: 1.5 hours
A Border Crossing, Italy, and Dinner near Kranjska Gora
From the Mangart Saddle, the quickest way to drive back to Kranjska Gora and Lake Bled is via Italy, believe it or not. On route 203, cross the border into Italy. There is an abandoned border crossing station here, remains from a much different era in European history.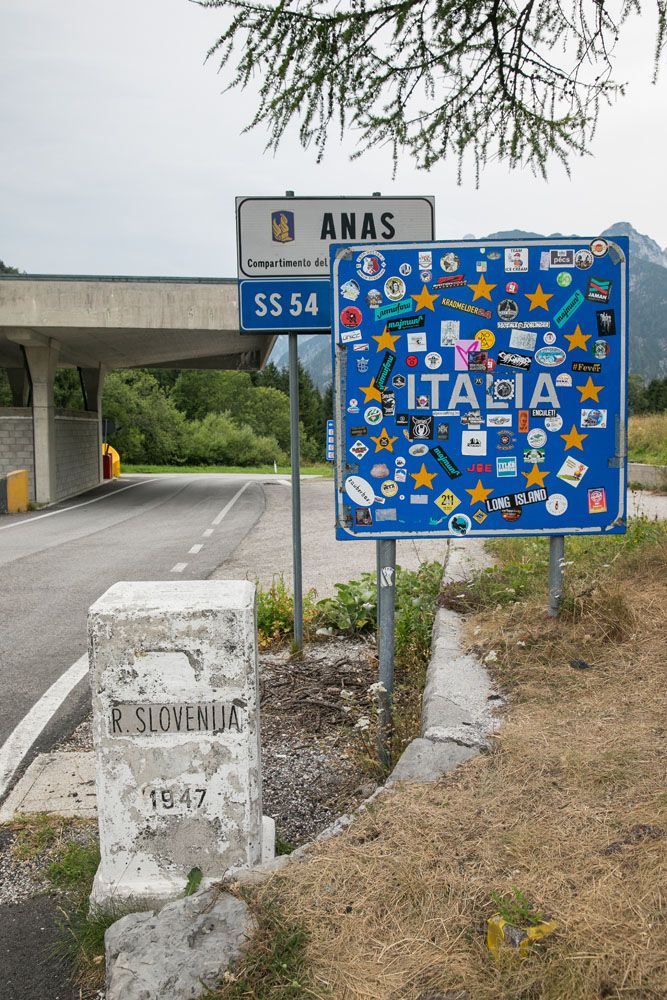 Drive SS54 through Italy until you cross back over into Slovenia. In the town of Ratece is an awesome Slovenian restaurant called Gostilna Mojmir. This was our favorite restaurant in the Kranjska Gora area and we recommend it if you want to try to authentic Slovenia food.
From Ratece, continue towards Kranjska Gora. The drive from Mangart Saddle to Kranjska Gora takes just over an hour with 42 km (26 miles) of driving.
How to Modify This Slovenia Road Trip
If you are staying in Lake Bled, consider doing this in the opposite direction. Drive directly to Tolmin Gorge, visit Bovec, and consider making the detour to the Mangart Saddle. From the Saddle, drive back to Bovec, visit the viewpoints along the Soca River, and then drive the Vršič Pass.
It is impossible to squeeze in everything we mention in this article into one day. We did not go white water rafting, paragliding, or visit Slap Kozjak and it was still a very long day. We started at 9 am and got back to our hotel around 7 pm.
If you want to add white water rafting, paragliding, or Slap Kozjak, what would we skip? If you don't like the idea of a crazy, white-knuckle drive, skip the Mangart Saddle. If you have plans to visit Vintgar Gorge, skip Tolmin Gorge. We liked Tolmin Gorge but in our opinion, Vintgar Gorge was a better experience. Seeing Ajdovska Deklica, the Face in the Stone at Vršič Pass, is nice but it's low on our list of thrilling things to do on this road trip (eliminate this if you would rather have time for something else).
Our Top 5 Favorite Experiences of this Slovenia Road Trip:
Driving to the Mangart Saddle
Soca River Viewpoints
Driving the Vrsic Pass
Tolmin Gorge
Dinner at Gostilna Mojmir
Where We Stayed
We stayed at the Apartment House Berghi in Kranjska Gora. We picked Kranjska Gora over Lake Bled because it was slightly cheaper, much easier to find accommodations, and located very close to the Vršič Pass.
Kranjska Gora is a great place to make your home base for exploring Slovenia. This small town is filled with wonderful restaurants and is set with the backdrop of the jagged, rocky Julian Alps. Plus, it's much less crowded than Lake Bled so we did not have to deal with daily traffic jams getting to and from our accommodation.
---
If you are planning a Slovenia road trip and have any questions, comment below. And if you have done this road trip and want to share your experience, we would love to hear about it! Cheers!
More Information for Your Trip to Slovenia
PLACES TO GO IN SLOVENIA: Visit lovely Ljubljana, spend the day in Lake Bled and Lake Bohinj, explore Vintgar Gorge and Tolmin Gorge, go hiking in the Julian Alps, and visit Predjama Castle and Skocjan Caves.
LAKES BLED & BOHINJ: Learn about the best things to do in Lake Bled. We also have a guide to the best things to do in Lake Bohinj in summer and a Lake Bohinj Travel Guide.
ISTRIAN PENINSULA: Learn about the best things to do in Piran, how to spend one day in Piran and Koper, and how to spend 3 days on the Istrian Peninsula.
TRAVEL PHOTOGRAPHY: For more information about the camera gear we carry, check out our Travel Photography Gear Guide. And tips and tricks for taking great photos in our article How to Take Better Photos while Traveling.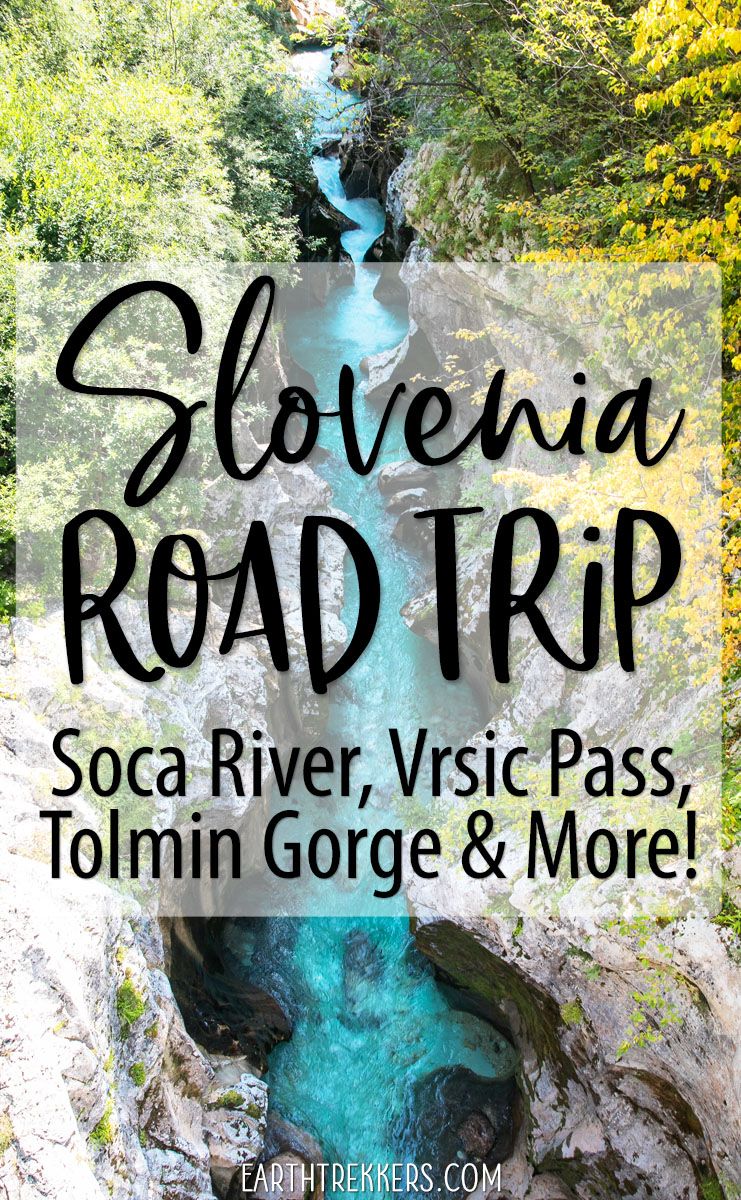 Note: This post contains affiliate links. When you make a purchase using one of these affiliate links, we get paid a small commission at no extra cost to you.
All rights reserved © Earth Trekkers. Republishing this article and/or any of its contents (text, photography, etc.), in whole or in part, is strictly prohibited.