Most of Slovenia is landlocked, with the exception of a tiny sliver of land that stretches out to the Adriatic Sea. Called Slovenian Istria, there are three small coastal towns that dot this short but beautiful coastline: Koper, Izola, and our favorite, Piran. With a colorful main square, medieval walls, a bustling harbor, and lots of great seafood restaurants to choose from, Piran is one of Slovenia's best small towns to visit.
A Quick Overview of Piran
For 500 years, from 1283 to 1797, Piran was part of the Republic of Venice. After 1797, Piran bounced back and forth between Austrian, French, and Italian rule and in 1954 it became part of Yugoslavia. Since 1991, Piran is part of Slovenia.
Until the mid 20th century, Italian was the official language. Much of the architecture and food in Piran have very strong Italian influences. If you look on a map, it is just a short drive to Trieste, Italy and not much farther away is Venice.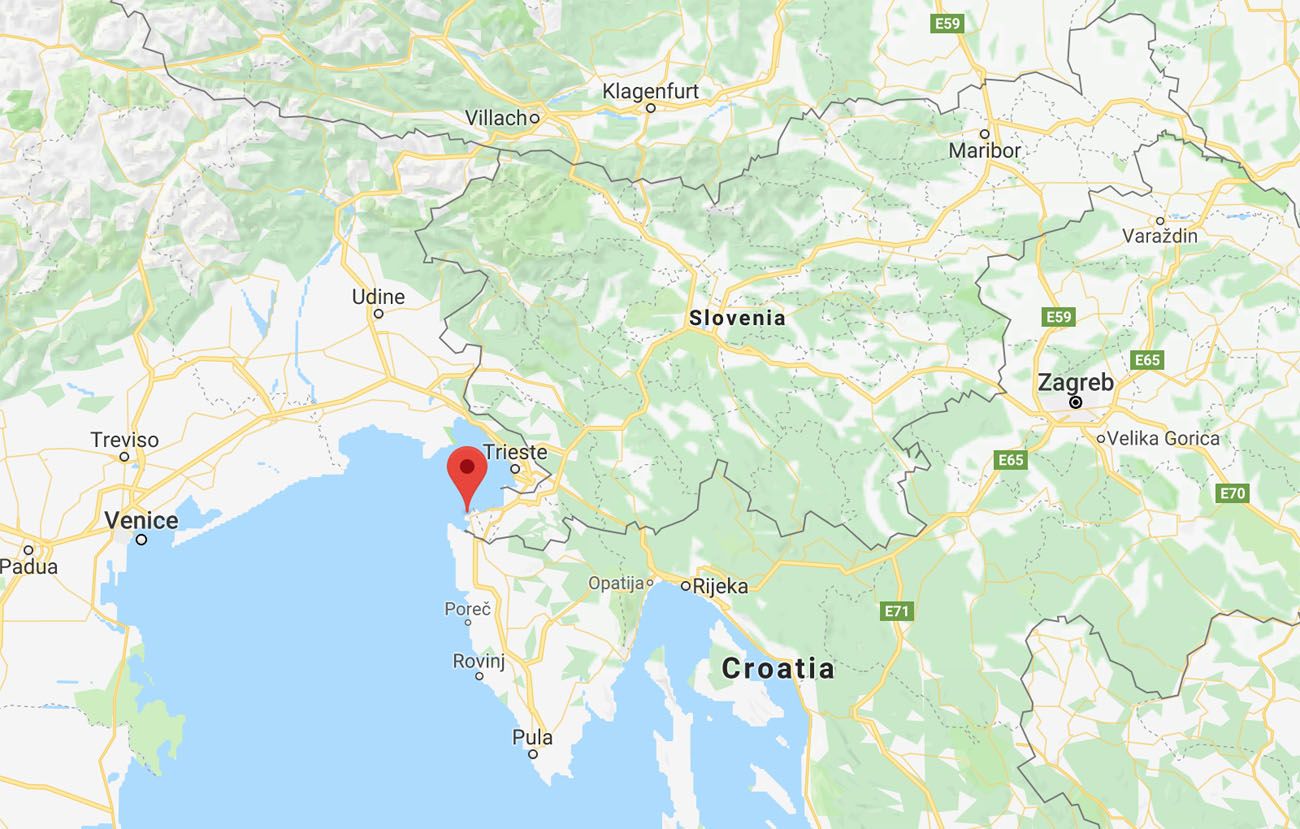 Location of Piran | Best Things to Do in Piran
Best Things to Do in Piran
Visit Tartini Square (Tartinijev trg)
Tartini Square is the main square in Piran. It is named after Guiseppe Tartini, an Italian composer and violinist, who was born here.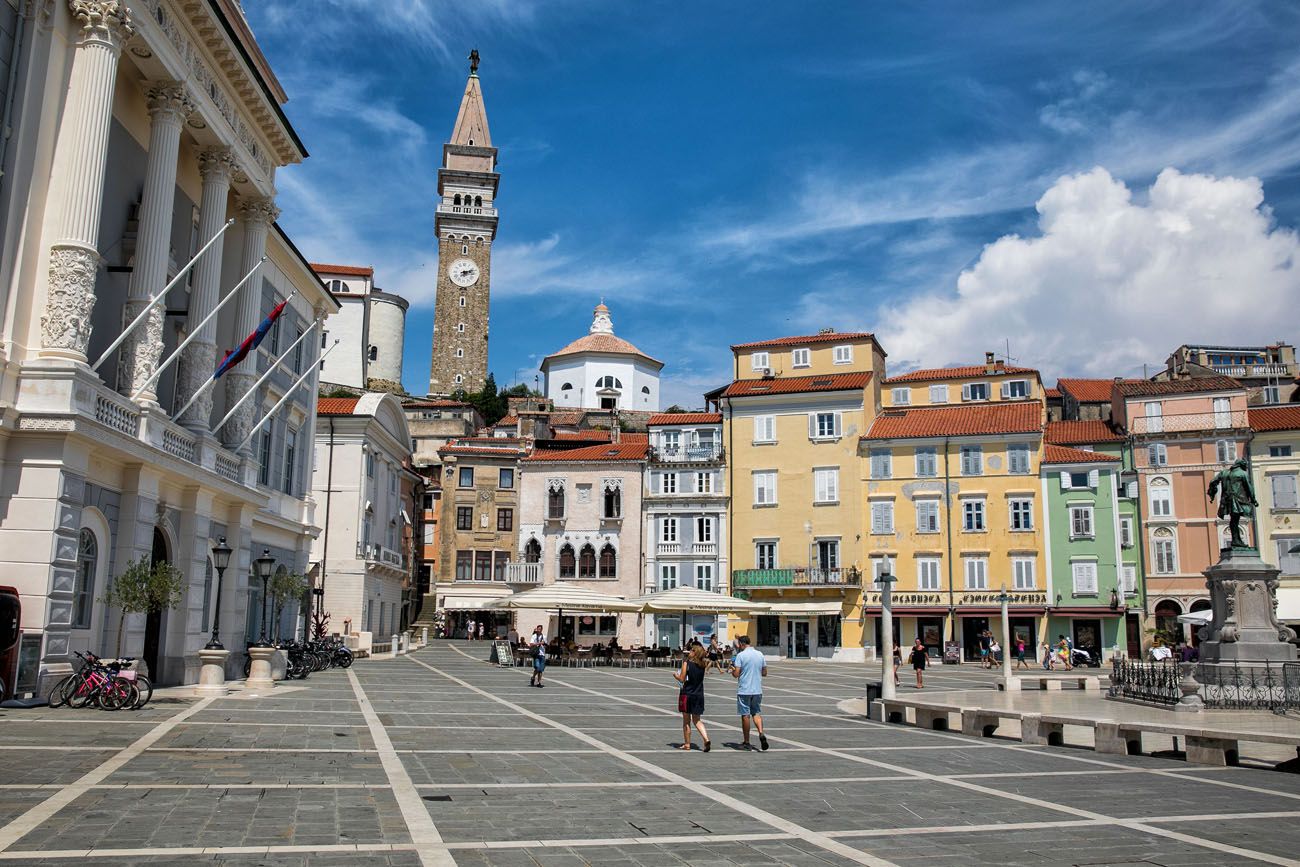 Tartini Square | Best Things to Do in Piran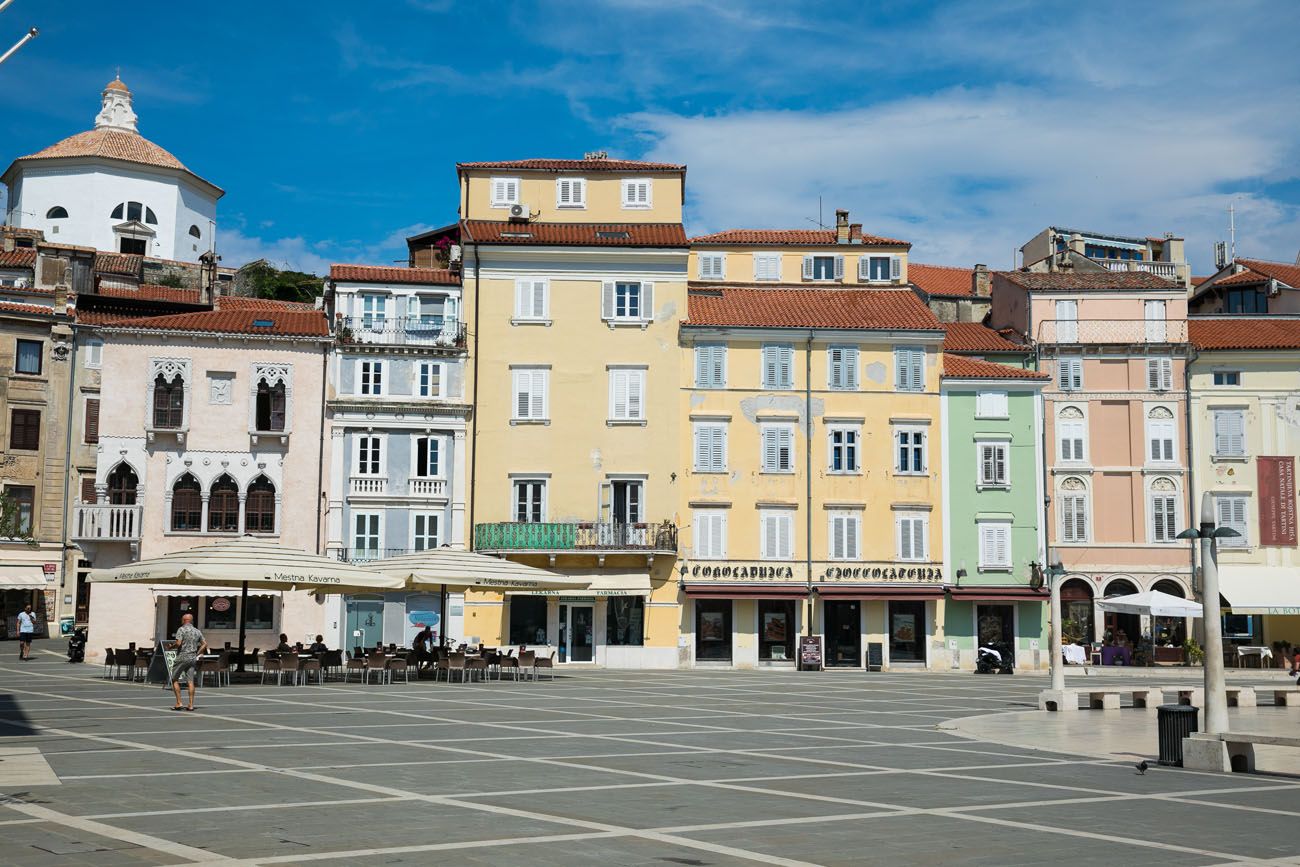 Tartini Square | Best Things to Do in Piran
On three sides, colorful buildings surround the square. The fourth side of the square opens up to the harbor.
Until the end of the 19th century, the square was filled with water and this was part of the original port. In 1894, platforms were added and more buildings were constructed, forming the square as we see it today.
The Church of St. George
Climb up the hill behind Tartini Square to visit the Church of St. George.
Modeled after St. Mark's Cathedral in Venice, this church is a great spot to get unique views over Piran and the coast. From the yard that surrounds the church, you can look down at the small slivers of rocky beaches that surround the old town. Off in the distance, you can see the Italian and Croatian coastlines.
Church of St. George | Best Things to Do in Piran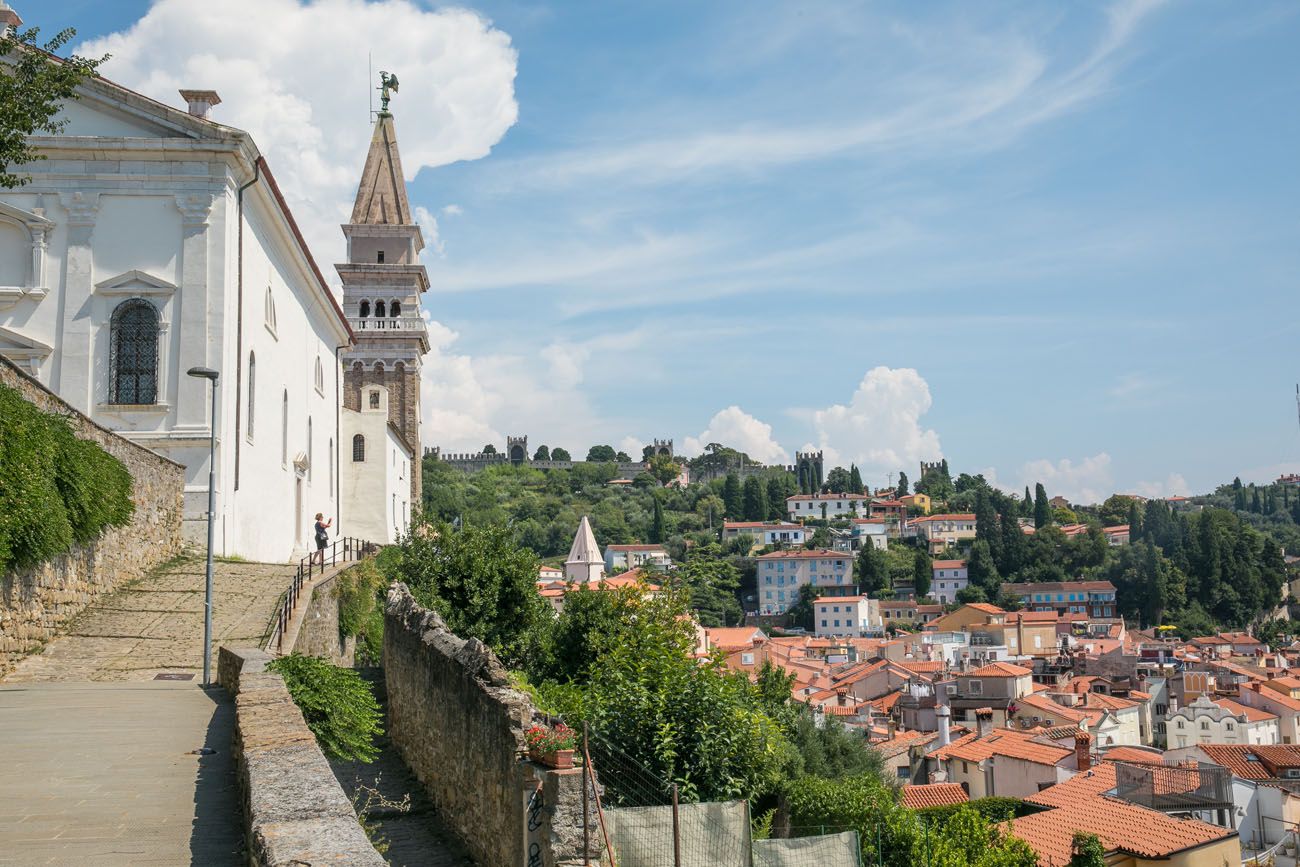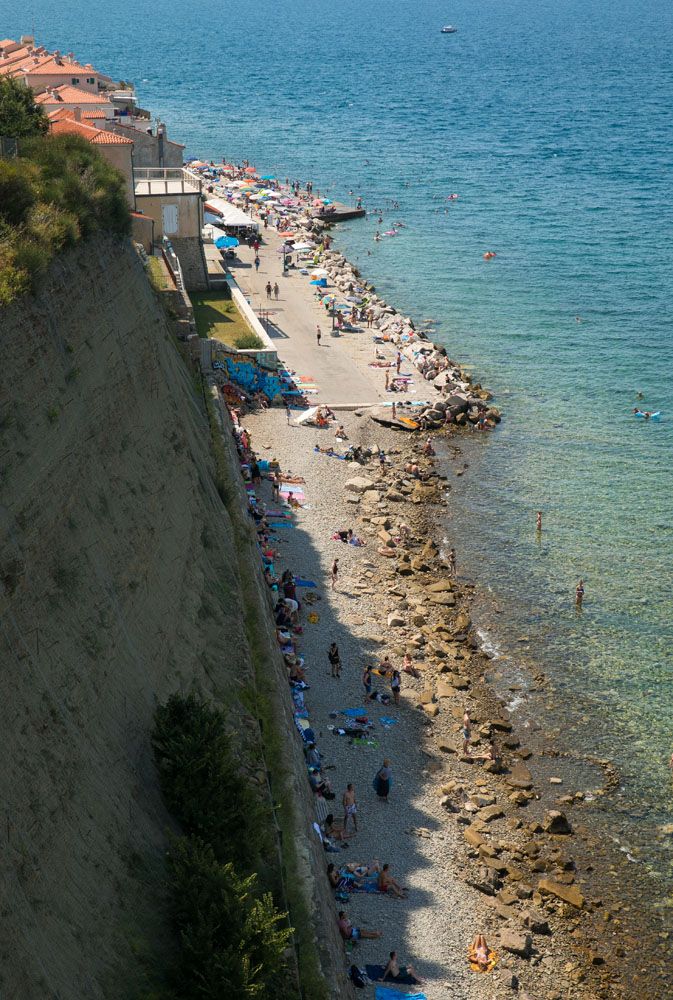 View of the beach from the Church of St. George
Climb the Bell Tower
For the best view of Piran, climb the bell tower. It is 146 rickety steps to the top and your reward is a 360° view over Piran, Slovenian Istria, Italy, and Croatia.
This is the best spot to get an aerial view of Tartini Square.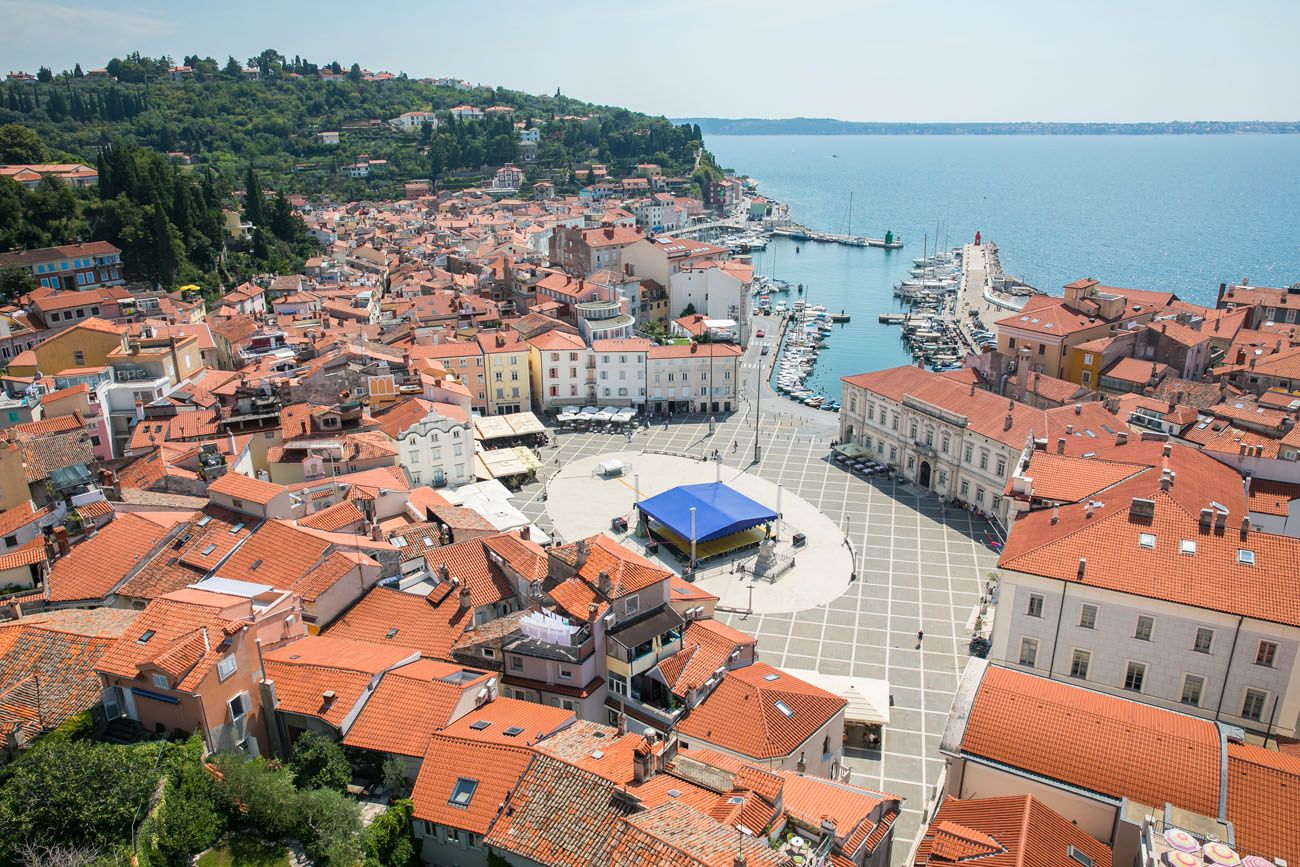 View from the Bell Tower | Best Things to Do in Piran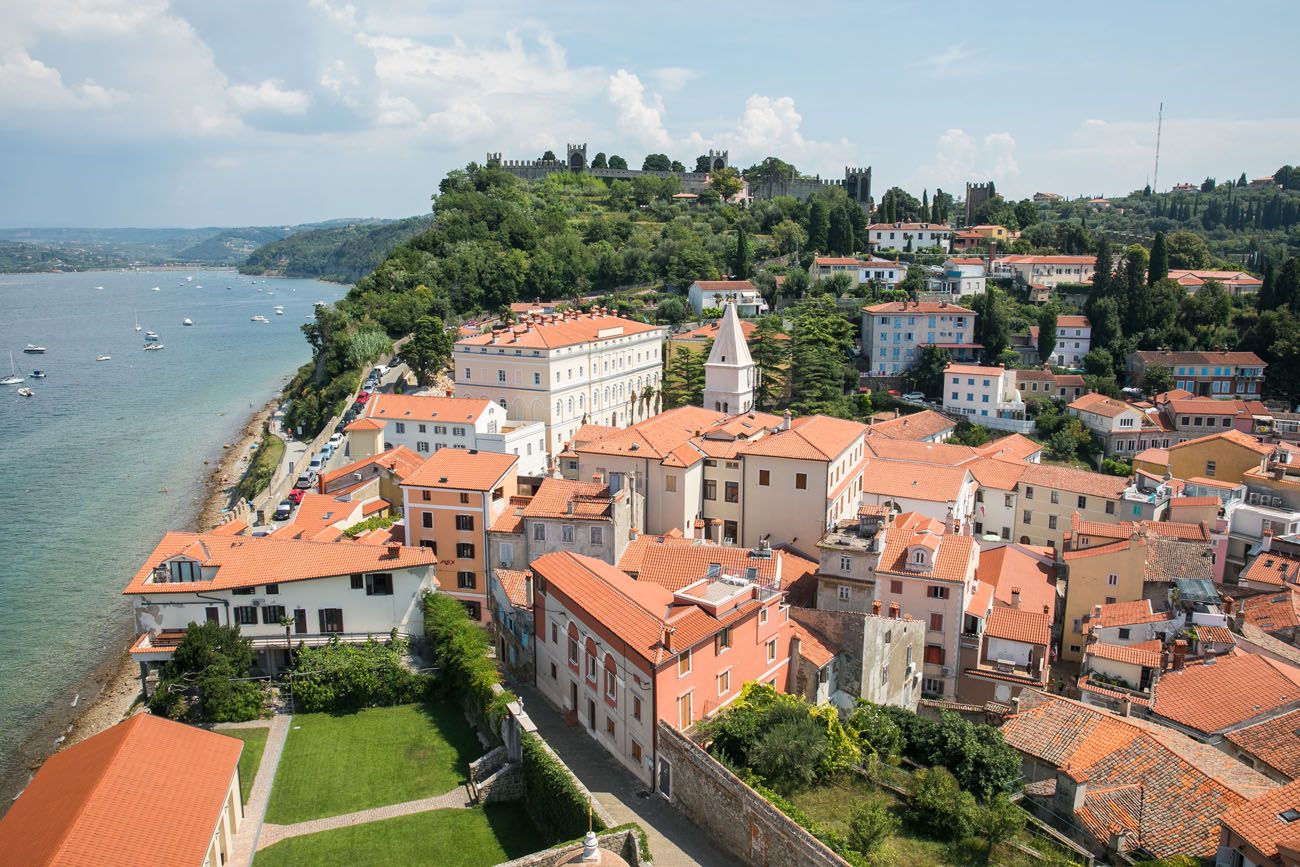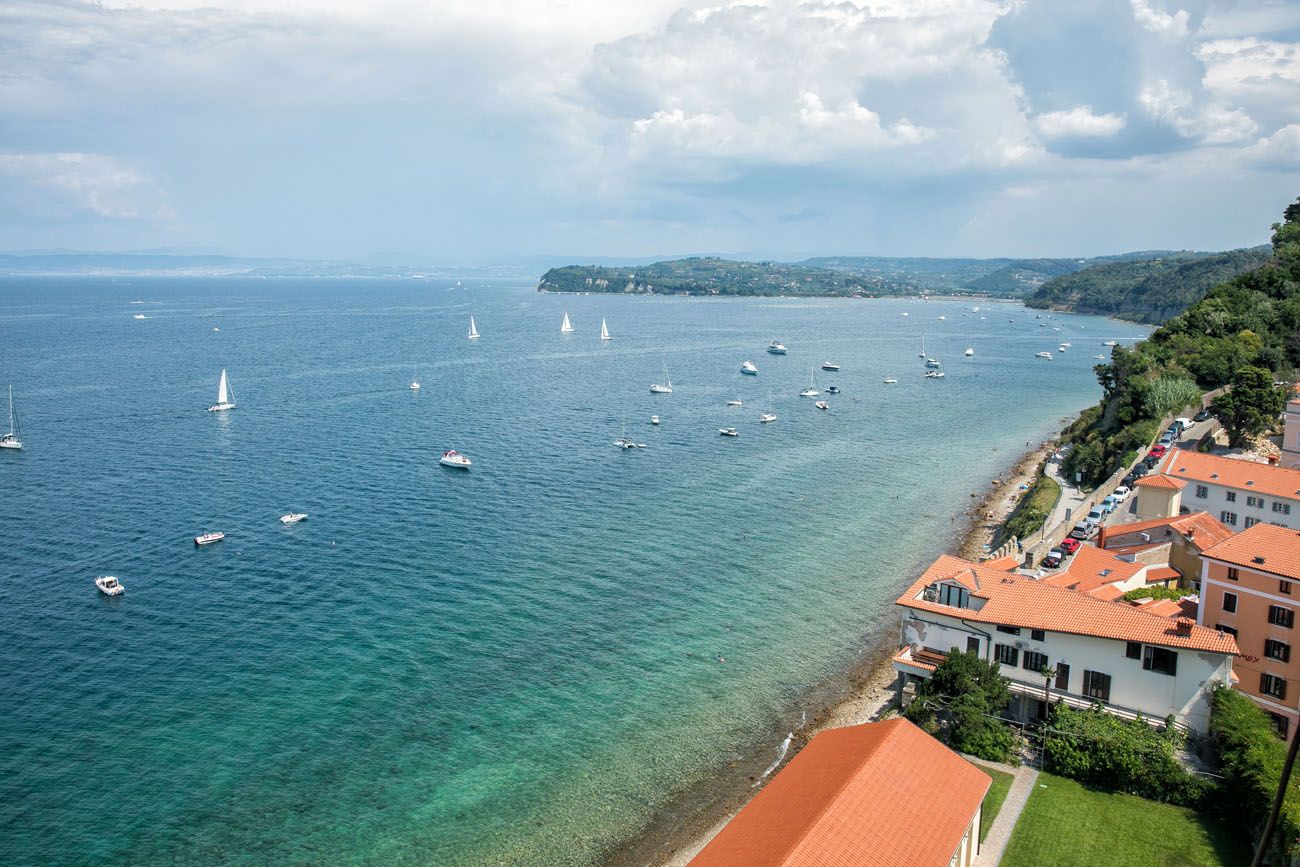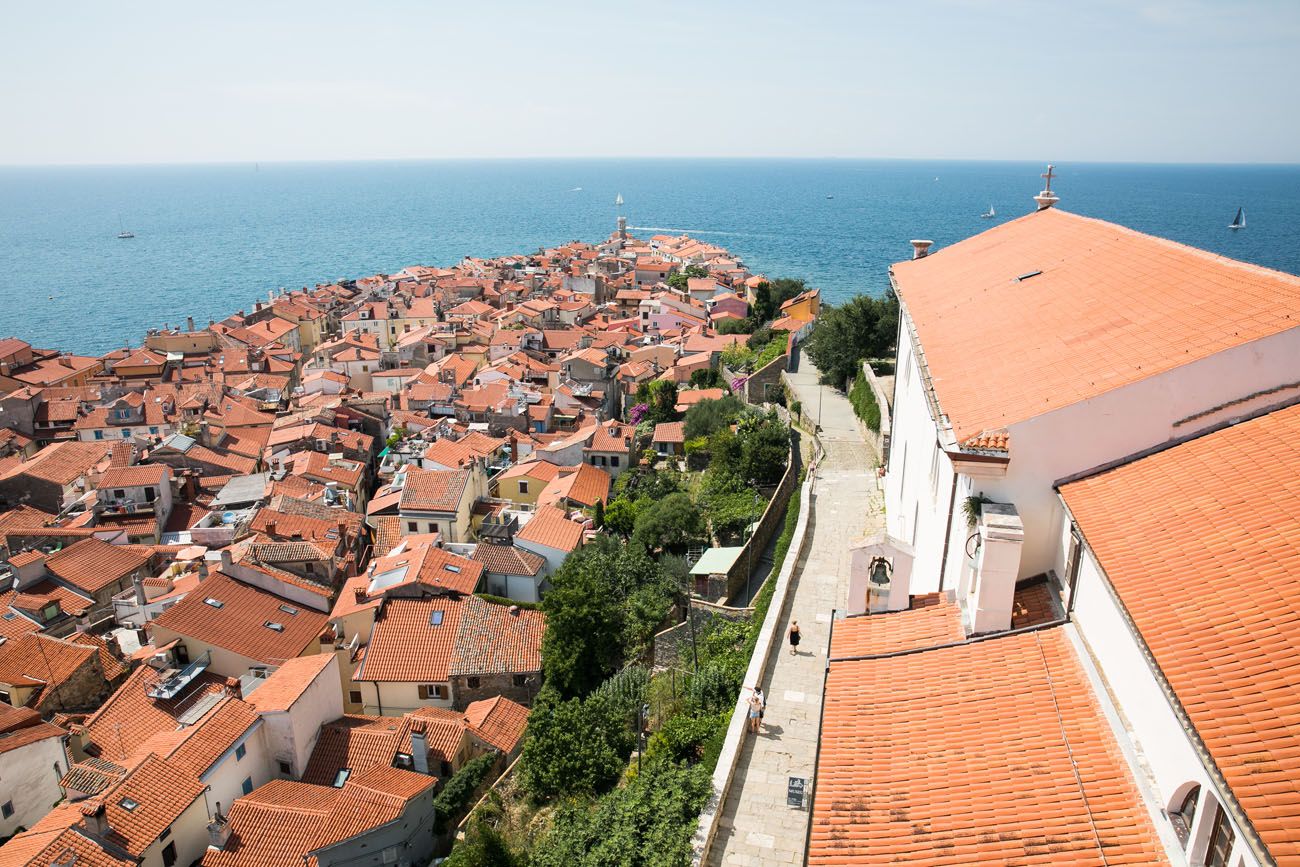 View from the Bell Tower | Best Things to Do in Piran
This tower is a great example of the Venetian influences on the architecture in Piran. The bell tower is a smaller-scale copy of the San Marco Campanile in Venice. It is located at the Church of St. George.
On this walking tour of Piran, visit Tartini Square, the Church of St. George, and the Church of Our Lady of Health.
Walk the Medieval Walls of Piran
While Piran was part of the Republic of Venice, these fortifications were built to protect the town from Turkish invasions. These walls date back to the late 15th century.
For another unique view over Piran, you can walk this short stretch of medieval walls. It is an uphill walk to get here, and it can be very hot in the summer months, but it is worth it for this view.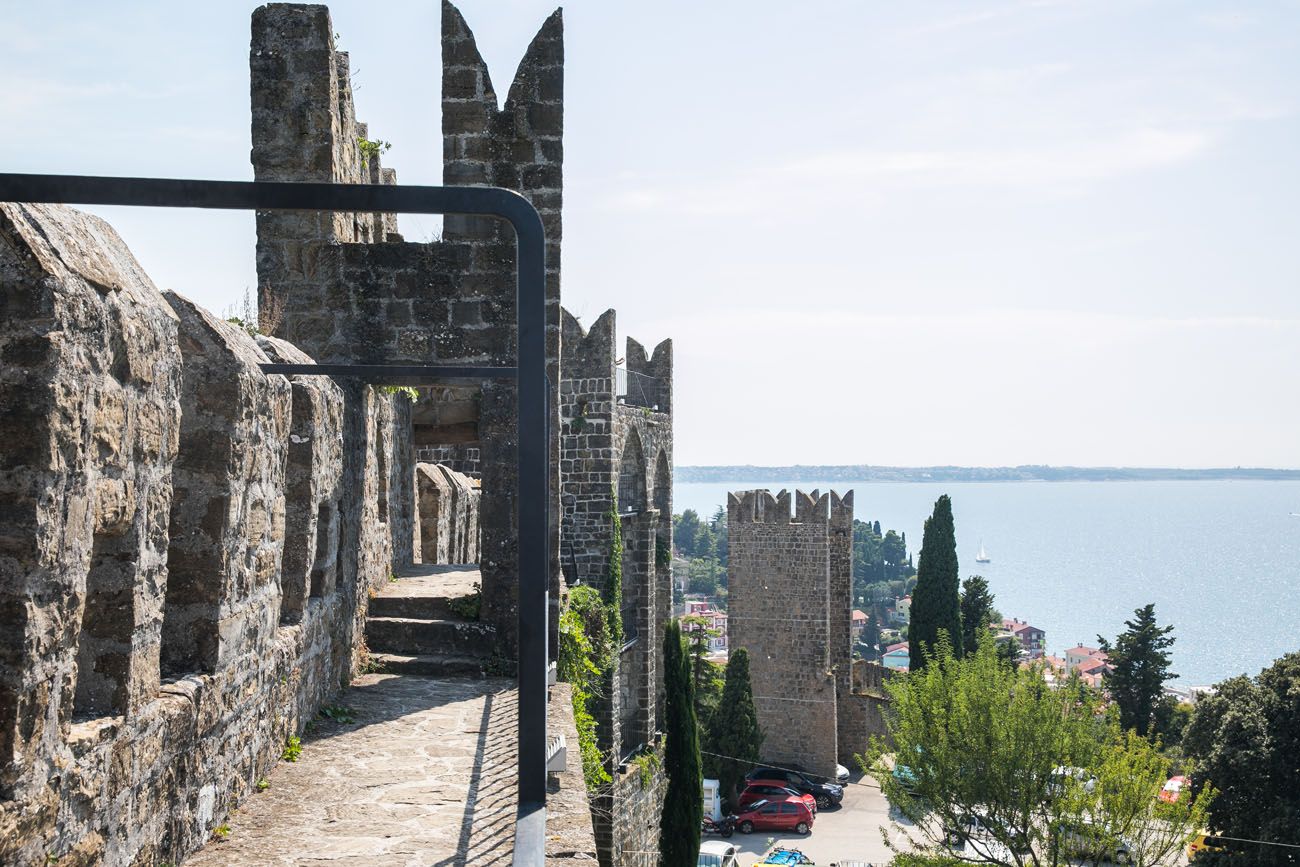 Medieval Walls | Best Things to Do in Piran
View from the Medieval Walls | Best Things to Do in Piran
Wander through the Old Town
The old town is a maze of narrow cobblestoned lanes and colorful houses, especially in the area between Tartini Square and the end of the peninsula. No maps are needed since it is small and compact. It won't take long until you pop out onto a beach or wind your way back to Tartini Square.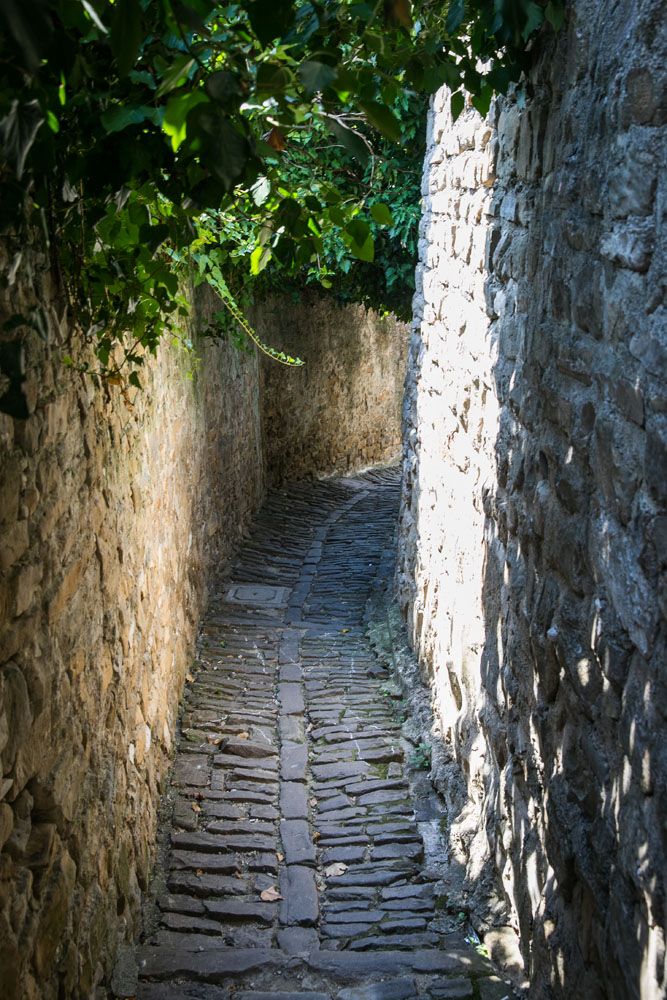 Dine on Fresh Seafood
The most popular item on the menus in Piran is seafood. Take your pick from a number of great restaurants in town.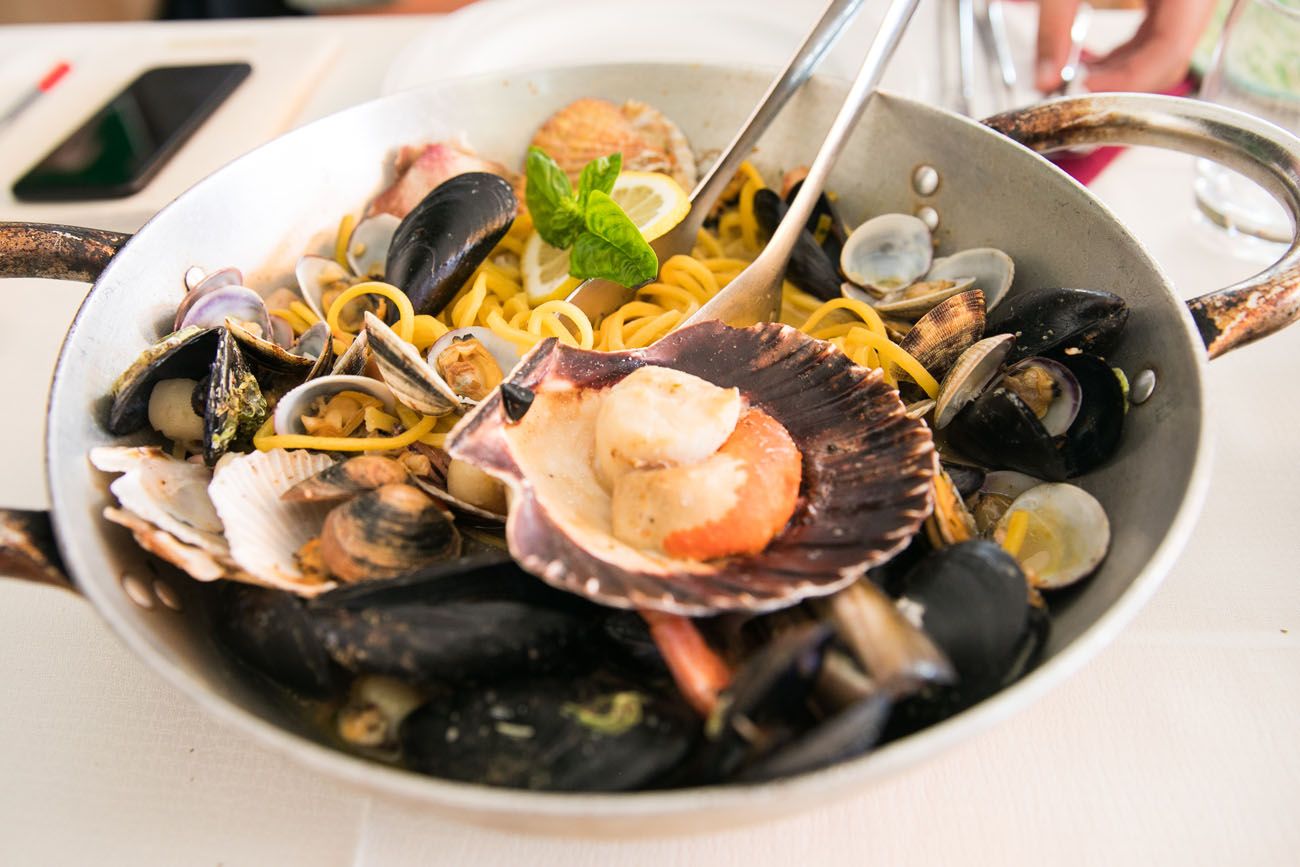 Pirat. This is where we ate lunch. They serve a wide range of seafood dishes and the portions are large. Pirat is located right along the harbor, just a few minutes walk from Tartini Square.
Fritolin pri Cantini. Located in the maze of streets that make up the old town, this great budget restaurant serves delicious seafood dishes. This restaurant gets rave reviews and some people even say they had their best meal in Slovenia here.
How to Get to Piran
Piran is a popular day trip from Ljubljana. From Ljubljana, you can take the public bus to get to Piran. It takes roughly 2.5 hours one way and buses leave hourly.
From Trieste, the public bus takes 1 hour.
Having a rental car is the most convenient way to get around Slovenia and the Istrian Peninsula. Here are driving distances and times from nearby destinations:
Ljubljana, Slovenia:

120 km, 1.5 hours

Trieste, Italy:

37 km, 45 minutes

Rovinj, Croatia:

80 km, 1.25 hours

Venice, Italy:

200 km, 2.5 hours
There may be additional time for border crossings if you are coming from Italy or Croatia.
About Parking. Unless you are staying at a hotel that offers parking, you will not be able to park your rental car in town. There are two parking garages for visitors located outside of the old town. We parked at Garage Fornace and from here it was a 10 – 15 minute walk downhill into town (it will be an uphill walk on the way back to your car). Garage Arze is another option.
By Ferry. Once a week during the high season (May to September), there is a ferry that connects Piran and Venice. Learn more here.
By Tour. If you don't have a rental car, you can also visit Piran from nearby towns in Slovenia and Italy. This tour from Ljubljana includes an afternoon visit of Piran with sunset views of the coast. If you will be staying in Trieste, Italy, this highly rated tour includes Piran, Koper, and Izola.
Nearby Spots to Visit
Koper is another coastal town in Slovenia. It's smaller than Piran with less to do. If you are short on time, Piran is the better of the two towns to visit. However, we did visit both Piran and Koper in one day as a day trip from Croatia.
Strunjan is a nature park that is located just 2.5 miles from Piran. If you want to walk along the coastline, see plunging cliffs and visit more beaches, put Strunjan on your list.
Where to Stay in Piran
UPSCALE: Hotel Piran. This hotel has an excellent location, just 350 feet from Tartini Square. Rooms feature views of the city or the sea. There is a rooftop bar, a spa, and a beach right in front of the hotel.
MIDRANGE: Art Hotel Tartini. This hotel was renovated in 2018. It is located on Tartini Square, has a rooftop bar, and a restaurant.
BUDGET: Punta Nana Mira. This one bedroom property is located just a short walk from the beach. It has a fully equipped kitchen and includes beach chairs and beach umbrellas.
About Our Visit
We visited Piran at the end of July. It was very hot during our visit, with the heat index over 100°F.
Despite it being peak season during the summer months, Piran was not crowded. In fact, it was less crowded than Pula and Rovinj, Croatian towns we visited during the same week.
Piran is a wonderful little town to visit on the Adriatic Sea. With its Venetian architecture, small size, gorgeous views, and low crowd levels, this is a great town to visit on the Istrian peninsula.
---
Do you have plans to visit Piran? Comment below if you have any questions or to share your experience.
More Information for Your Trip to Slovenia & Croatia
SLOVENIA: Discover the best of Slovenia in our Slovenia Bucket List. Plan a perfect 10 day road trip through Slovenia, visit Lake Bled and Lake Bohinj, learn about the best things to do in Ljubljana, and road trip through the Soca River Valley.
CROATIA: Along the Dalmatian Coast, the towns of Split, Trogir, and Dubrovnik are wonderful coastal towns to add to your Croatia itinerary. We also have information about how to visit the island of Brac, how to explore the amazing Plitvice Lakes, and visit the Istrian Peninsula.
EUROPE TRAVEL INSPIRATION: For more great ideas on where to go in Europe, check out our article 30 Beautiful Places to Visit in Europe. You can also get more travel ideas in our One Week in Europe itinerary guide, which has lots of sample itineraries for your next trip to Europe.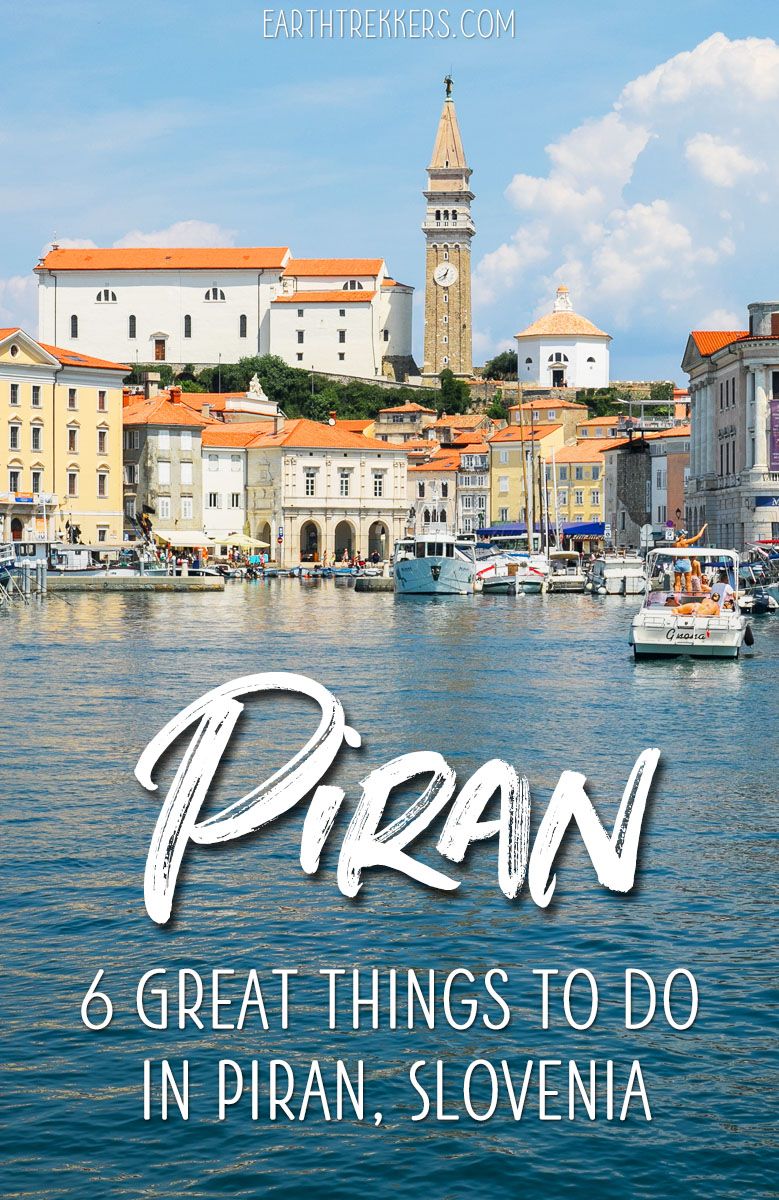 Note: This post contains affiliate links. When you make a purchase using one of these affiliate links, we get paid a small commission at no extra cost to you.
All rights reserved © Earth Trekkers. Republishing this article and/or any of its contents (text, photography, etc.), in whole or in part, is strictly prohibited.