Bhutan, Land of the Thunder Dragon.  Bhutan sounds exotic, mystical, almost otherworldly. Well, it feels that way too. Bhutan is a joy to travel to, this tiny country straddling the Himalayas. It is a feast for the eyes and an amazing cultural experience. Explore the dzongs, marvel at the Himalayas, eat chilies and cheese, learn about Buddhism, and have one of the most unique travel experiences of your life.
Bhutan Stats
Official Language: Dzongkha
Population: 730,000
Capital City: Thimphu
Currency: Bhutanese ngultrum (BTN)
Power Outlet: Type D, F & G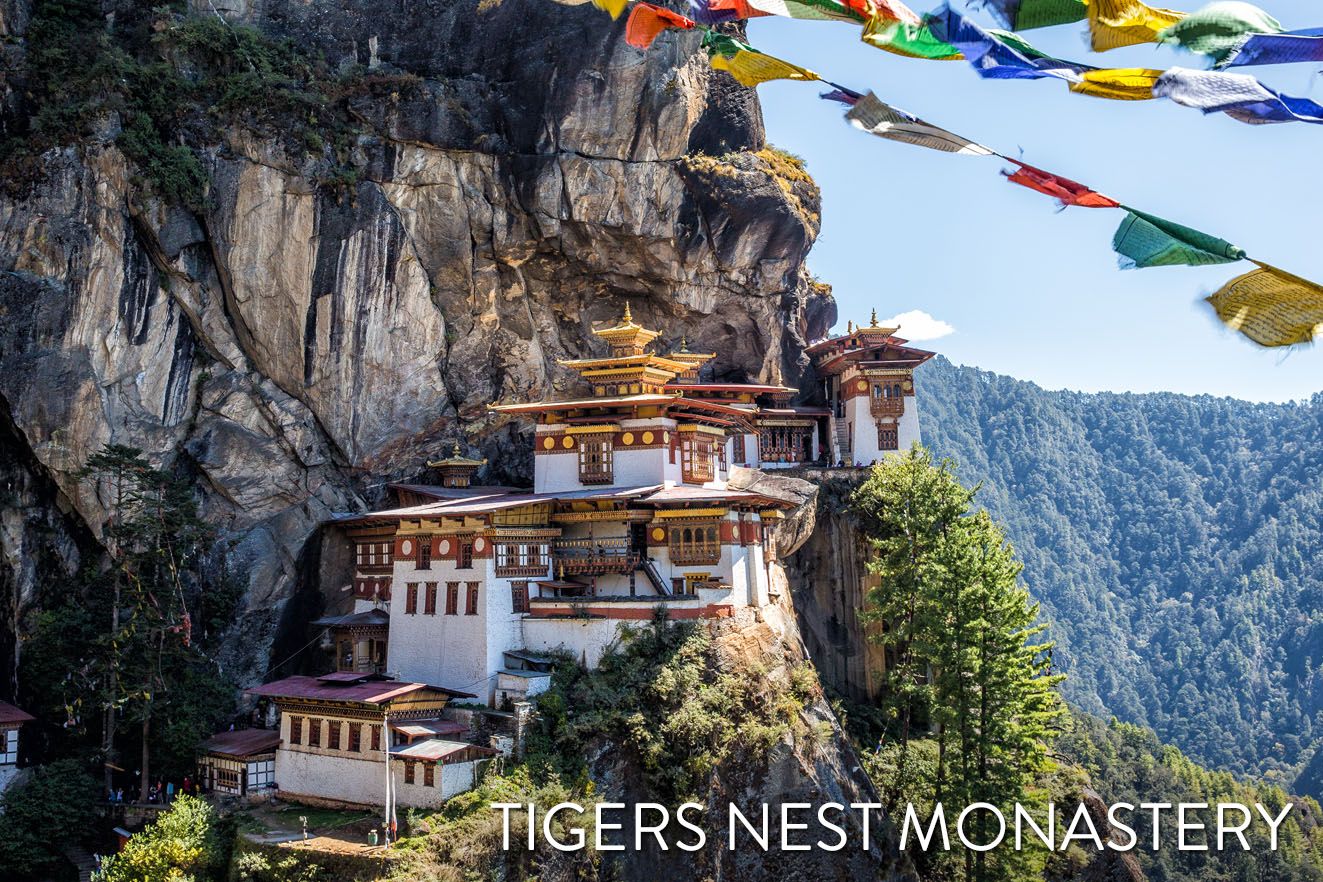 Top Experiences in Bhutan
Tiger's Nest (Paro Takstang). Gaze at this Buddhist monastery precariously perched on the side of a mountain hundreds of meters off of the ground. It's worth the uphill hike to get here and this is your chance to see one of Bhutan's most popular icons.
Paro. Most people spend at least a little time in this city since it is home to Paro International Airport. This is also your home base for the hike up to the Tiger's Nest.
Thimphu. Thimphu is the capital of Bhutan. There is a lot to do here. Visit the Cheri Monastery, see the Takin Preserve, spin prayer wheels at the Memorial Chorten, or gaze up at Buddha Dordenma, the largest sitting Buddha in the world.
Dochula Pass. The Dochula Pass is a high mountain pass (3,150 meters, 10,330 ft) on the road between Thimpu and Punakha. Get a glimpse of snow-covered Himalayas and walk among the 108 chortens that serve as a memorial to Bhutanese soldiers killed in a uprising in 2003.
Punakha. This city was once the capital of Bhutan. Visitors come here to see the amazing Punakha Dzong sitting on the banks of the Pho Chhu and Mo Chhu Rivers.
Chimi Lhakhang. This is a Buddhist monastery located near Punakha. Lama Drukpa Kunley, the Divine Madman, is one of Bhutan's favorite saints, famous for his sexual exploits. His temple is now visited by childless couples searching to increase their fertility. Be blessed by a wooden phallus to ward off evil spirits...a travel experience you won't soon forget.
See a festival. Bhutan is a country that loves a festival. These are among the most colorful events in the world.
Snowman Trek. This is one of the hardest high-altitude treks in the world. Spend 25 days trekking through the Himalayas of Bhutan, crossing nine passes with altitudes over 4500 meters.
With one week in Bhutan, you can explore the cultural heart of this country, making memories that will last for a lifetime. On this 7-day itinerary, visit Paro, Thimphu, Punakha, and the Tiger's Nest Monastery.
We spent 7 days exploring the highlights of Bhutan: Paro, Thimphu, Punakha, and hiking to the Tiger's Nest Monastery. Journey through Bhutan in photos and learn how you can have the same experience.
Tourist Tariff

Also called the Minimum Daily Package, this is the daily fee, per person, to visit Bhutan. This tariff covers your stay in a 3 star accommodation (4 and 5 star accommodations require an additional fee), all meals, a licensed Bhutanese tour guide, all internal transportation, and camping equipment if you are going trekking. This fee also includes taxes and the Royalty fee.

It costs $450 to $600 per solo traveler per day, or $475 to $500 USD per person per day if traveling as a couple.

Your payment needs to be wired to the Bhutan National Bank before your visa will be issued. This fee is mandatory. There is no negotiating down the price of the tourist tariff.

Is Bhutan Worth It?

Bhutan is an expensive destination. For travelers on a budget, spending several hundred dollars per day may not seem feasible. "Is Bhutan worth it?" was a question we asked ourselves (and travel forums) multiple times before booking our trip. I am so glad we did. Bhutan is one of the most unique places to visit on the planet. So yes, Bhutan is worth it. Read our posts to learn more.

Best Time To Go

September through November are the best months to visit Bhutan, with clear skies, pleasant temperatures, and the greatest number of festivals. Springtime, from March through May, are also good, with comfortable temperatures but a small chance of rain. The summer months, June through August, can be hot and this period gets the most rainfall. The winter months, December through February, have clear skies but cold temperatures and has the fewest tourists.