Jaisalmer, India, a small city located in the desert just 130 kilometers from India's border with Pakistan, was our home for five days. When planning this trip and learning that we could go on a camel safari in the desert, sleeping under the stars at night, we all got very excited. What a cool thing to do!
We had plenty of time, so why not take the longer tour, spending two nights overnight in the desert? With more time, we would be able to leave most tourists behind and get a real feel for the desert. Unfortunately, this was not to be. I was in the midst of being ill from Dengue Fever, and the idea of sitting up on a camel for hours at a time in 90 plus degree heat sounded like torture. We drastically changed our plans, opting for the the shortest tour possible.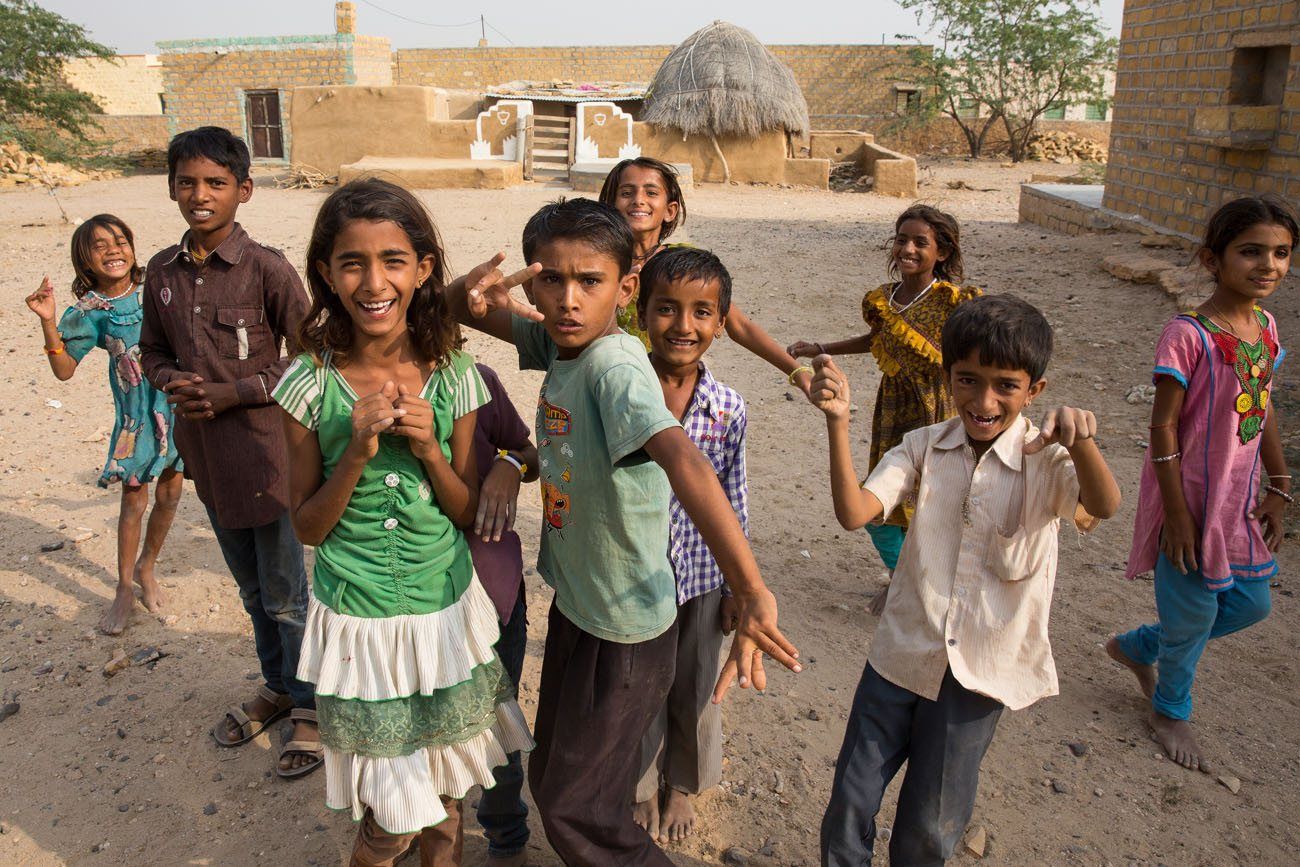 Camel Safari in Jaisalmer, India
We were driven one hour outside of Jaisalmer, to a small village in the middle of the desert. Before meeting our camels, we met these charming kids, who were thrilled to have visitors in their village. Tyler and Kara are always a big hit and usually have to answer tons of questions from everyone they meet (names, where we are from, and they want to know all about Kara's stuffed lion, Simba).
It was in this village that we met our camels and climbed aboard for our late afternoon ride out into the desert.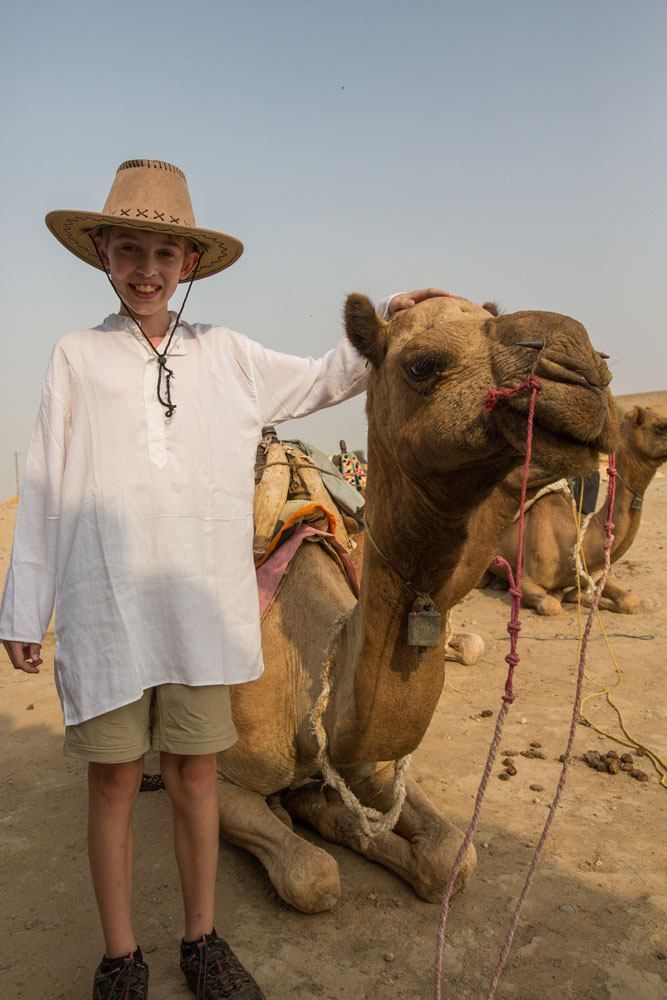 I was the first one on the camel. Once the camel stands up, you are really high off of the ground!!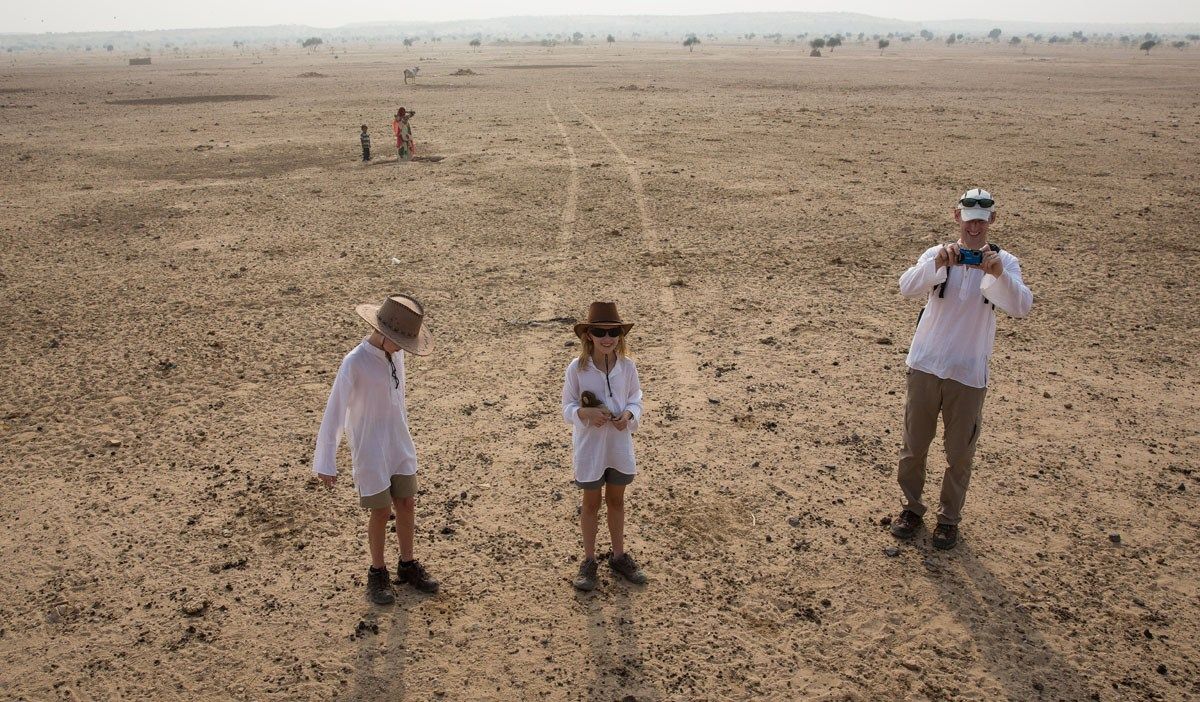 To get on a camel, you climb onto the saddle while the camel is seated. The camel straightens his back legs first, pitching you way forward, making it feel like you'll fall off face first. Then, you rock back once the camel straightens his front legs. We all thought it was great fun!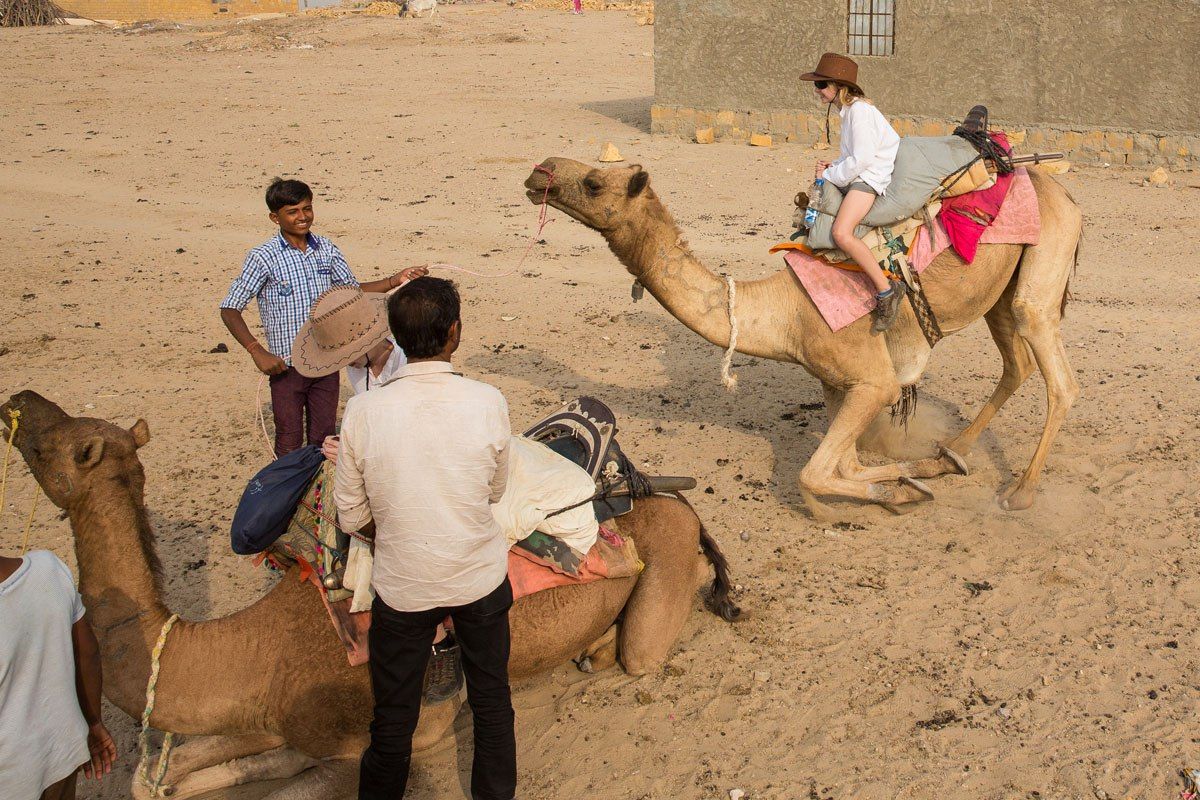 Once we were relatively comfortably seated on our camels it was time to start riding out into the desert. The saddle is bigger and less comfortable than a horse saddle. There are no stirrups so it doesn't take long to get uncomfortable. With no place to put our feet it was very hard to shift our weight around. In no time our hips and rear ends were feeling very uncomfortable. Good thing we only booked the short tour!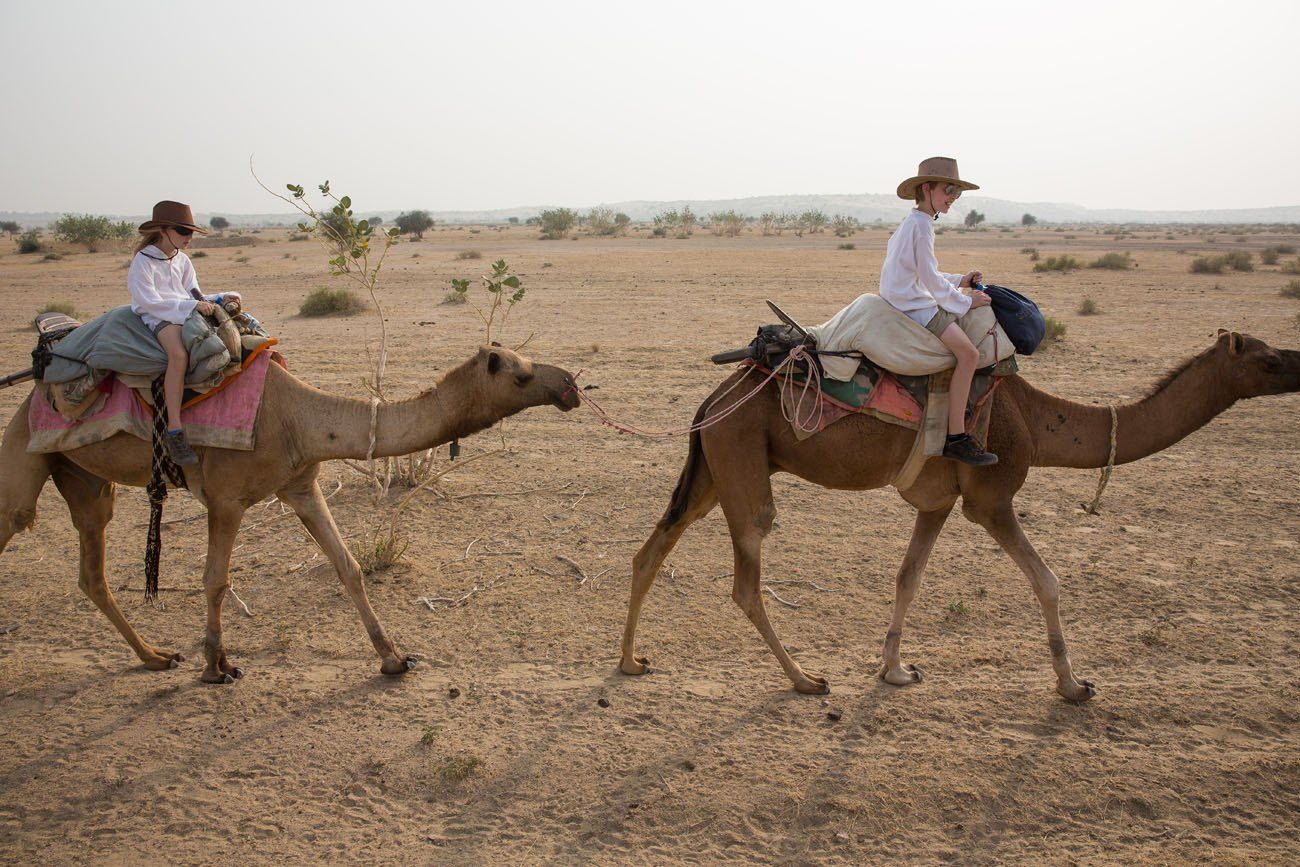 But we were riding camels in the desert!! How cool was that!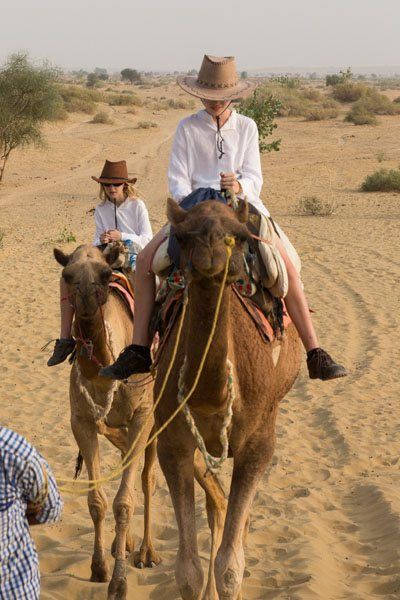 As the sun got lower in the sky, temperatures were relatively comfortable. As our camels slowly plodded along we got to enjoy the scenery. Most of the time we were traveling through low scrub brush but every so often we'd cross through areas of sand dunes.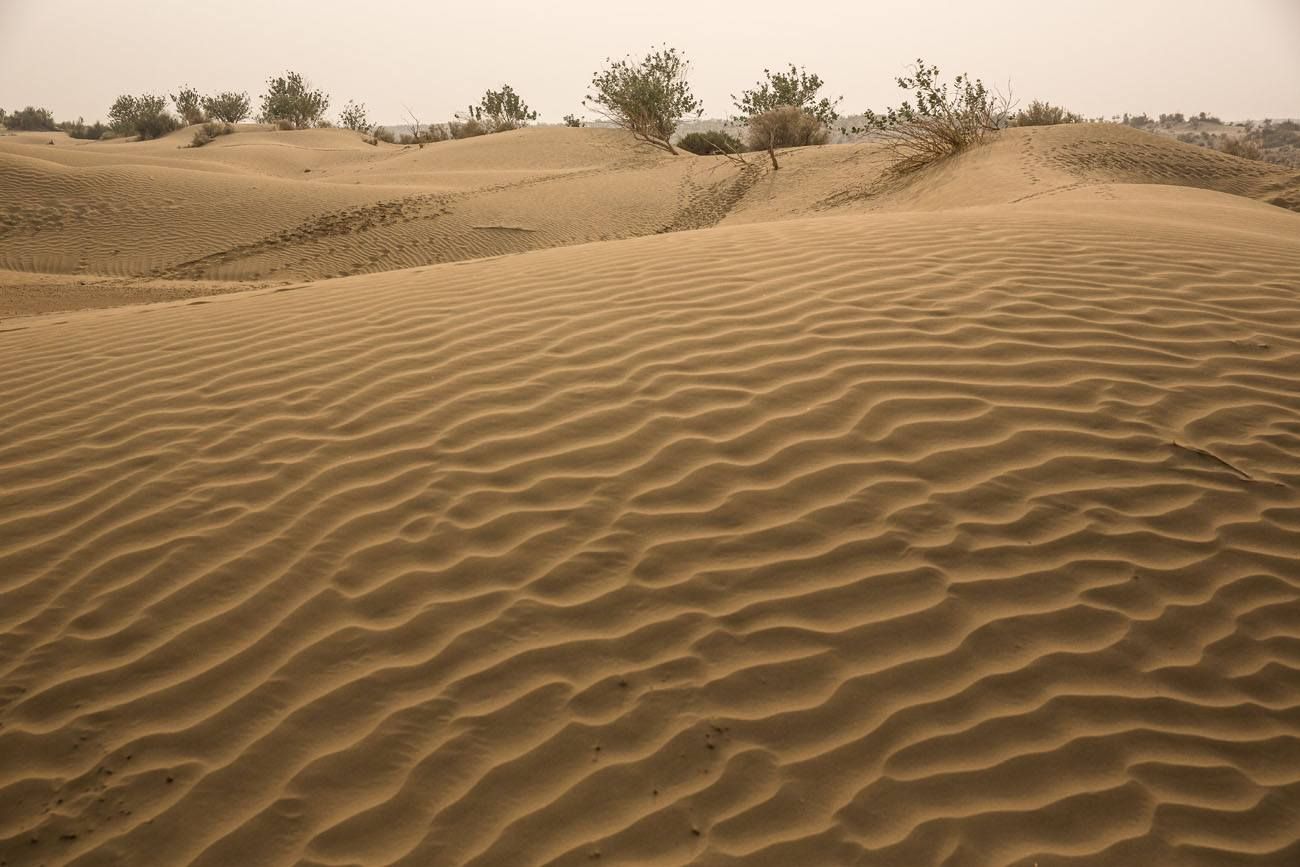 We rode for two hours before arriving at our camp for the night.
Once at camp, Tyler and Kara got on the same camel and Tim and our tour guide led them up and over the sand dunes.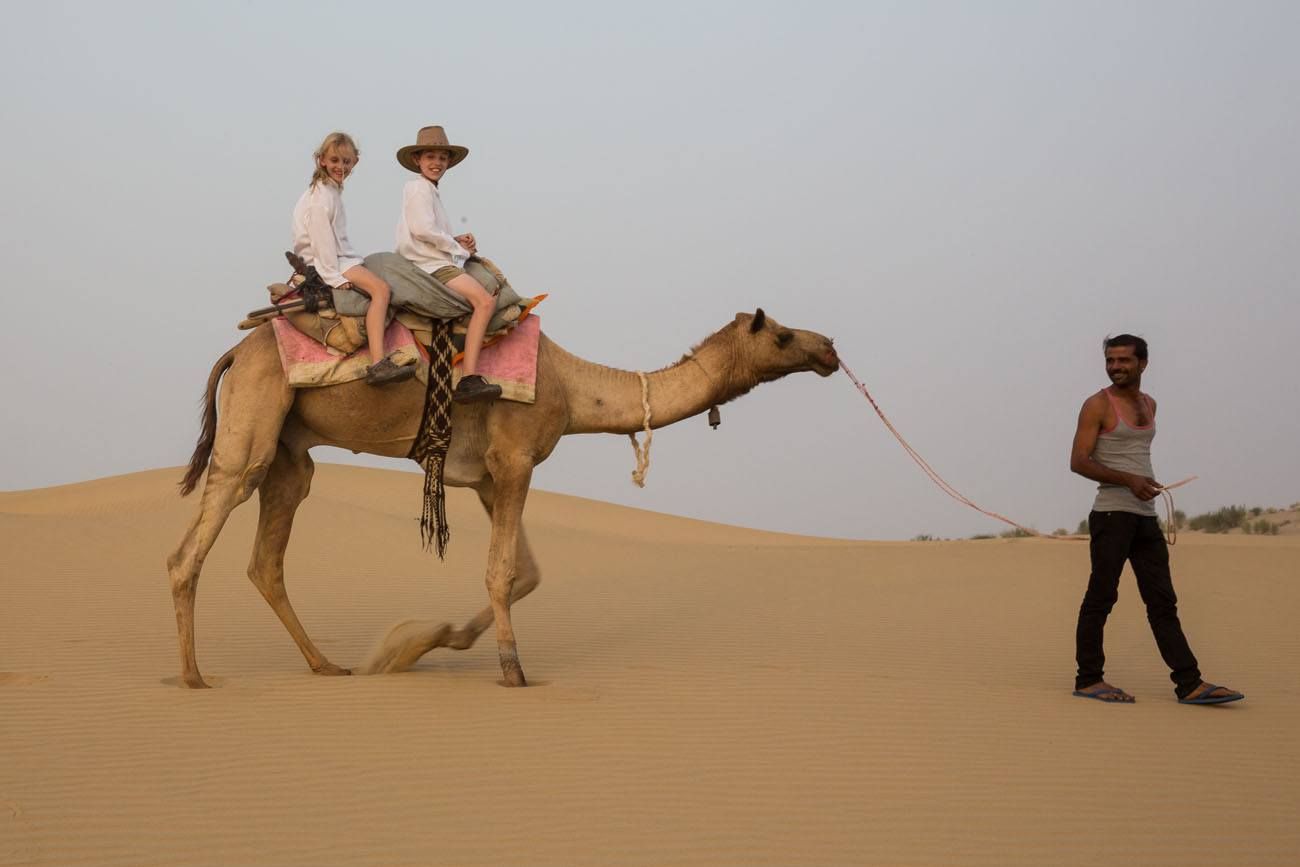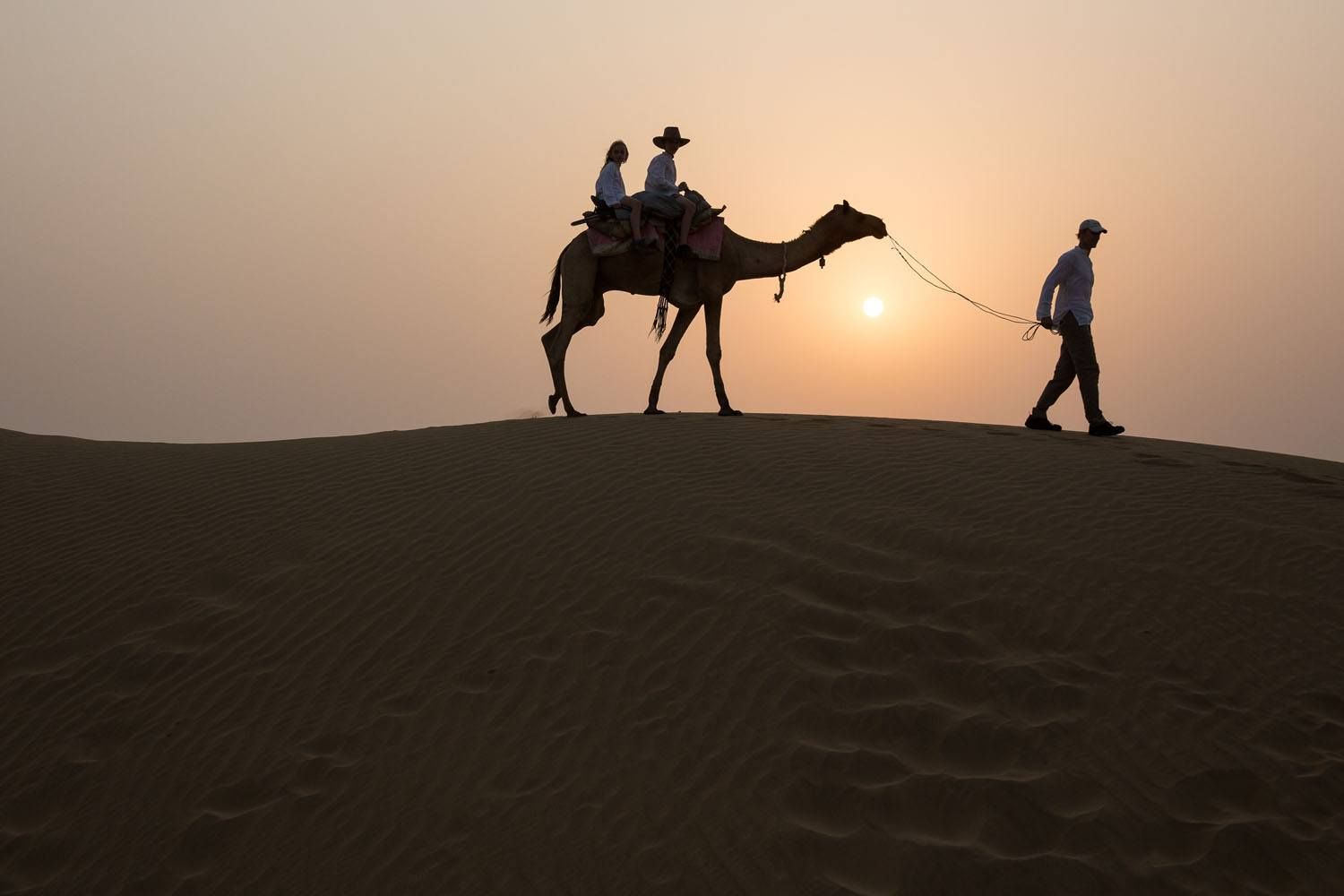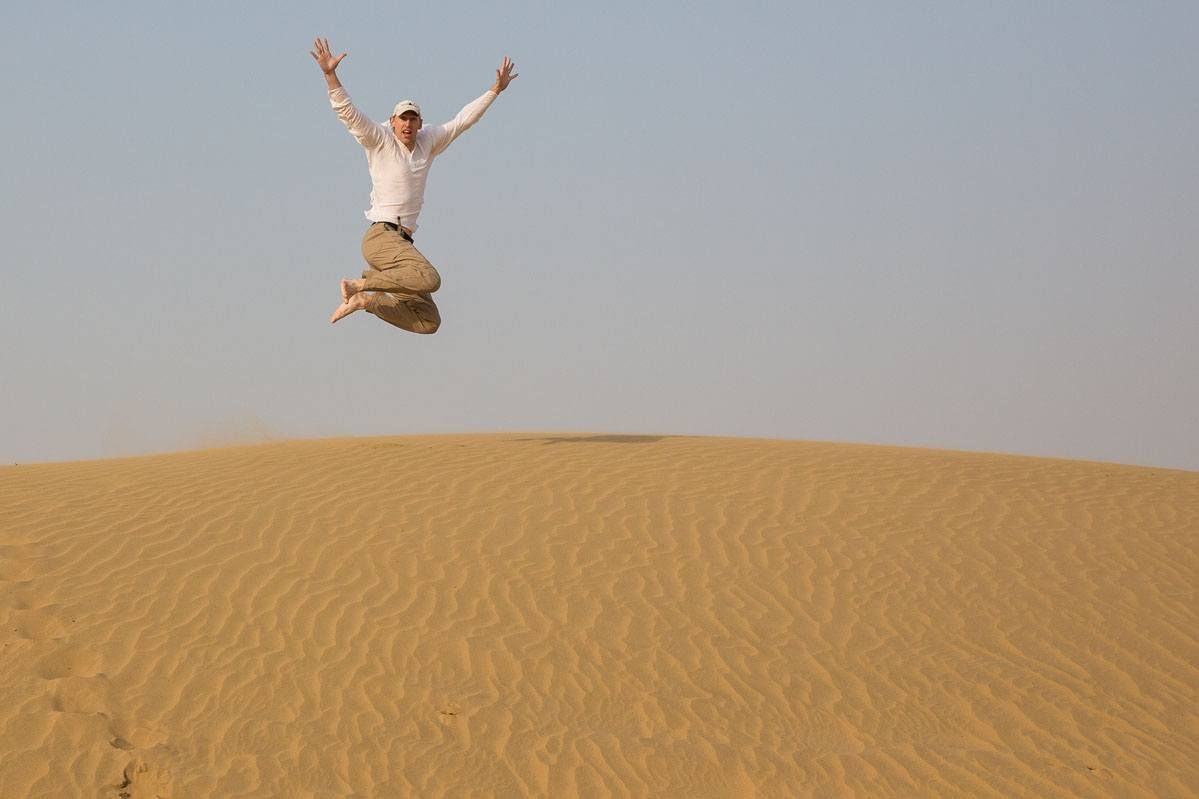 And here is a view of our camp.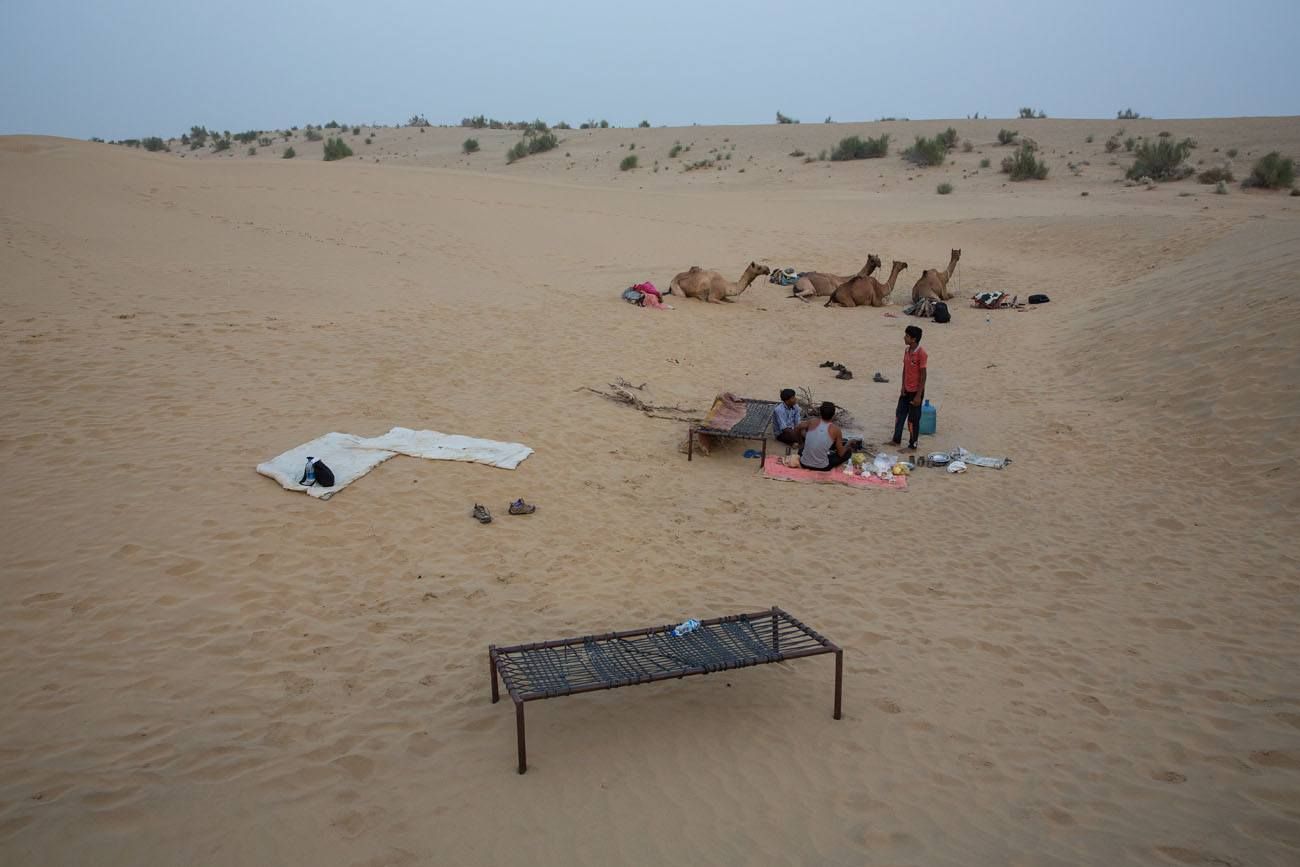 We had a main tour guide with two younger camel handlers. They made us tea and cooked us dinner over the campfire, rice, dal, and vegetable curry. We ate in the dark around the campfire, then the two young men sang us songs before going off to bed.
We were camping on a cooler, windier night than usual. All four us slept outside on platform beds, wrapped up in quilts. It was almost a full moon and it was amazing how bright the sky stayed all night long. All four of us huddled under those blankets, our heads tucked away out of the wind, trying to keep ourselves warm. Most of us slept, but it was a long cold night.
After breakfast and some time for Tyler and Kara to explore the dunes, it was time to climb back up onto our camels.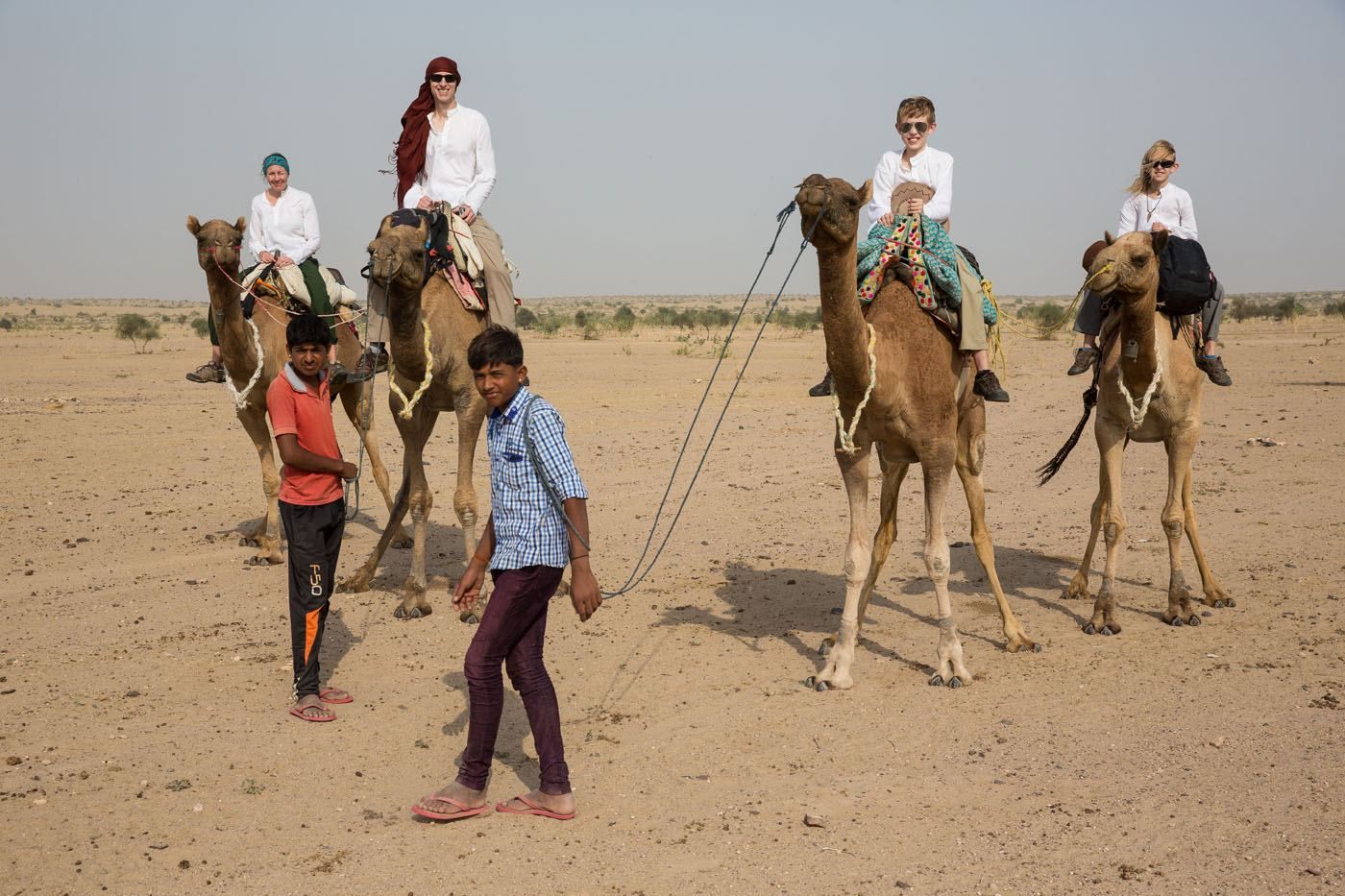 We had a short, one hour walk back to the village, and then the one hour drive back into Jaisalmer.
All four of us really liked the camel safari. Even though it was quick, it was a very neat experience to ride camels out into the desert, sleeping under the stars and the moon. We were very glad we chose the shorter option. It doesn't take long to get uncomfortable while riding a camel and it doesn't take long for two kids to grow bored and need a change in scenery.
Since we shortened the camel safari, we had a lot of extra time in Jaisalmer. Jaisalmer is a great city in India, our favorite so far. Rising out of the desert is a sandstone fort, surrounded by the buildings of Jaisalmer. From a distance, the fort looks like a sand castle perched on a hillside. All the buildings are the same sandy color. Shops selling textiles, jewelry, turbans, and safari gear are found all throughout the fort and surrounding town.
Our first hotel, Hotel Surja, was located inside of the fort with views out over the rest of Jaisalmer. I spent a lot of time recuperating from Dengue Fever here. After the camel safari we spent one night at the luxurious 1st Gate Hotel, giving us a much needed break from the backpacker places we have been staying.
From Jaisalmer we took our first overnight train in India to Jaipur. The train ride was surprisingly a lot of fun and we all got pretty decent sleep. It is always exciting to travel somewhere new, but I will miss those camels and the very cool city of Jaisalmer!
---