Hola!! Greetings from Barcelona! It's been a very busy week for Tim and I. The two of us have been visiting sights around the city, taking day trips into other parts of Spain, and sampling as many tapas as possible. This leads us to the end of our trip, Ironman Barcelona, less than 24 hours away. Here is how we spent our time in Barcelona.
Tapas, Cava, Vermouth, and Rooftop Bars
Barcelona operates on a different schedule than many other cities we have visited. Breakfast is served until 12:30 pm, lunch does not start until 1 pm, and many restaurants do not open for dinner until 7 pm or later. And of course, you have to throw in that midday siesta!! Let me tell you, once you start drinking wine and cava at lunch, that siesta is almost a necessity.
Tim and I love tapas. These small plates allow you to sample more types of food than ordering one big dish. And these small plates fill you up fast!! Our favorites are the patatas bravas, anchovies, shrimp, and fresh fish.
Vermouth is popular here, as is cava, Spain's sparkling white wine. Tim and I love the rooftop bars with views over Barcelona.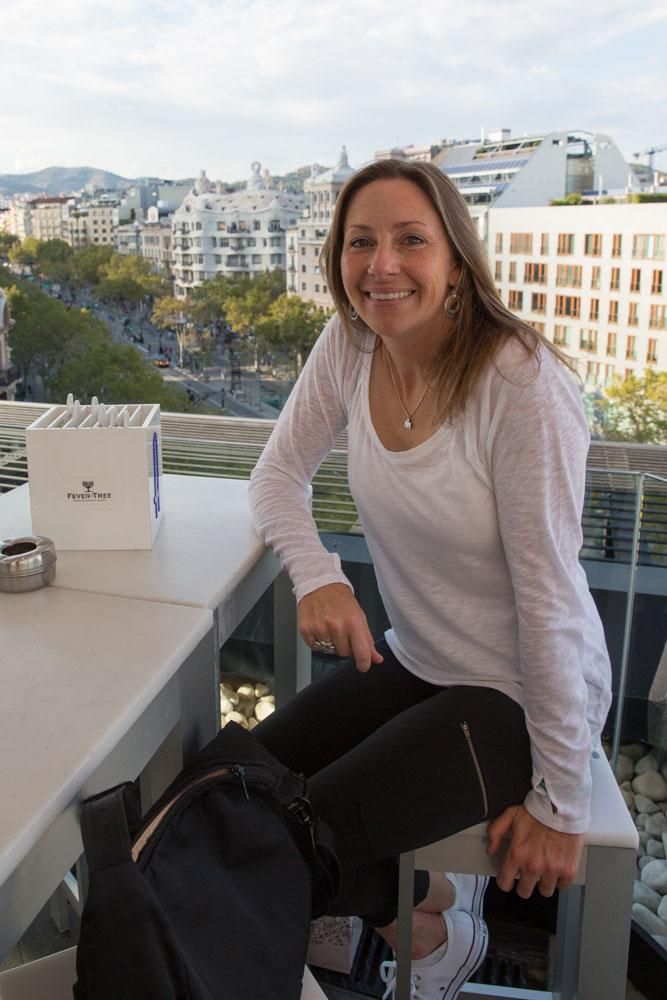 Can't Miss Gaudí While in Barcelona!
Gaudí and his quirky, beautiful, whimsical, and very creative architectural designs are a must-see while in Barcelona.
La Pedrera
Ceiling of the Sagrada Familia
Park Güell
Our favorite, Casa Batlló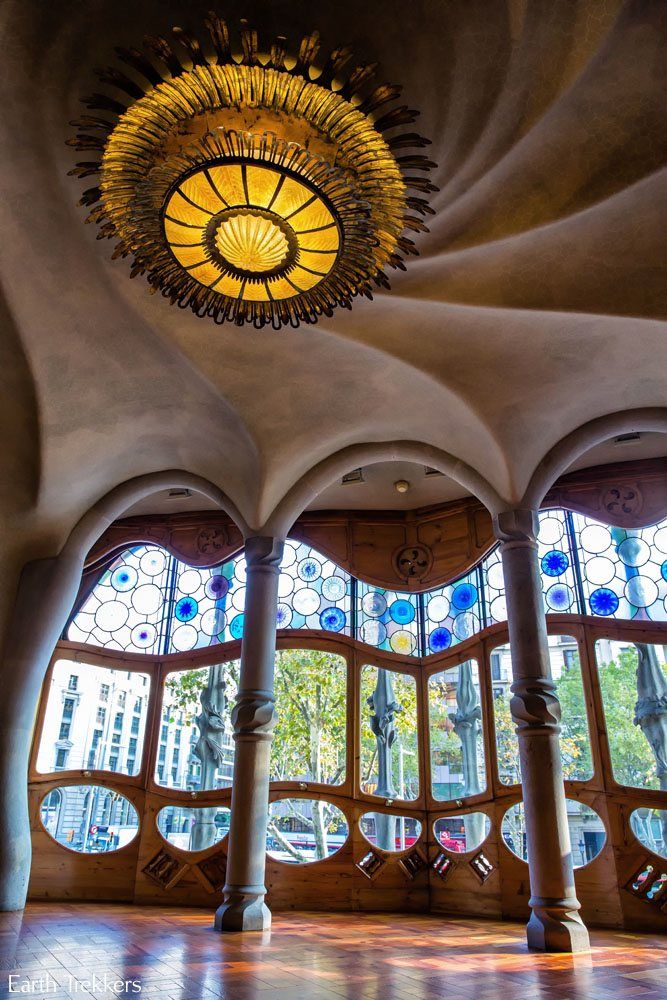 The View from Tibidabo
One of the highlights for us were the views from Tibidabo, a small amusement park perched on a hillside overlooking Barcelona. This is Sagrat Cor, the Temple of the Sacred Heart of Jesus.
Wandering the Gothic Quarter
A visit to Barcelona would not be complete without a stroll through the Gothic Quarter. Or, you could spend all day here, like we did. More tapas, some shopping, and exploring some of Barcelona's most interesting streets.
Passeig de Gràcia
There are modern areas in Barcelona, as well. At least once a day, Tim and I would walk Passeig de Gràcia, on our way to a Gaudí house or tapas restaurant. This street reminds us of the Champs-Elysees in Paris.
Day Trip to Montserrat
A visit to Montserrat is the most popular day trip from Barcelona. Located about an hour and 20 minutes north of the city by train, this small range of mountains is home to a monastery. Yes, seeing the monastery was nice, but we loved the views over the countryside.
Girona, Spain
We loved Girona. This is another day trip, but with a high speed train to get you there, it's a comfortable journey. This is great for anyone who loves exploring small European towns. While we were there, we learned that it is a filming site for season 6 of Game of Thrones!! What do you think we will be posting about in the future?
Next Adventure: Ironman Barcelona
On October 2, Tim raced Ironman Barcelona. For those of you not familiar with the distances of this triathlon, Tim swam 2.4 miles, biked 112 miles, and then ran a marathon. Sound crazy? The distances seem even longer in kilometers (it's 180 km on the bike…yikes!).
Read all about his race in this post: Racing Ironman Barcelona
---
More Information for Your Trip to Spain
BARCELONA, SPAIN: Start with our guide to the best things to do in Barcelona. Plan your visit with our 3 Day Barcelona Itinerary, our guide on Where to Stay in Barcelona, and get recommendations on where to eat in Barcelona.
BARCELONA DAY TRIPS: From Barcelona, spend the day in Girona or day trip to Montserrat to visit the Monastery and hike to spectacular viewpoints.
EUROPE TRAVEL INSPIRATION: For more great ideas on where to go in Europe, check out our article 30 Beautiful Places to Visit in Europe and the 20 Best Hikes in Europe. You can also get more travel ideas in our 10 Days in Europe itinerary guide, which has 10 great itineraries for your next trip to Europe.
All rights reserved © Earth Trekkers. Republishing this article and/or any of its contents (text, photography, etc.), in whole or in part, is strictly prohibited.