One of the best things to do in Vieste is to take a boat tour of the Gargano Peninsula. There is no better way to see the coastal cliffs and explore the Gargano sea caves than by boat.
To cruise along the Gargano Peninsula, you have several options. Which one you choose comes down to cost and what type of experience you want to have.
In this guide, we cover the various options you have for boat cruises of the Gargano Peninsula, plus a photo tour of the coastline and sea caves.
Vieste Boat Tour Options
Boat tours from Vieste range from large group cruises to private tours on much smaller boats. You can also hire a boat and explore on your own.
Tour Desiree
Desiree is company that offers large group cruises and private cruises. Their excursion, the Sea Caves Tour, is the cheapest option to cruise the Gargano. This 3.5 hour tour is offered twice a day. You visit a few sea caves and can spend some time swimming at one of the bays along the tour route.
This is a large boat. When the boat is full (which typically happens during the summer months), you have to remain in your seat. If you get stuck in a middle seat, you will lack the views, and the better photography options, that come with a seat up against the side of the boat.
Plus, this is a large boat so it can only enter a few sea caves. But it's a good option if you want to see the coastline and not spend a lot of money.
For pricing, hours, and to reserve your seat, visit the official website.
Private Boat Tour
For more money, you can hire a private boat with a skipper. Prices vary widely, costing anywhere from €150 to €600, depending on the boat and the length of the cruise.
There are several companies that offer private boat tours.
Desiree offers a private boat tour, with prices starting at €190. The tour lasts 3.5 hours and is on an inflatable dinghy with an awning.
La Darsena also offers private tours of the Gargano sea caves. This is who we used and we had a wonderful experience. Prices start at €170. We chose a slightly larger and more comfortable boat, paying €250 plus extra for fuel.
On our 3-hour tour, we cruised from Vieste out to Baia delle Zagare, visiting a long list of sea caves along the way. Since it was a private boat tour, we could have our skipper take us to photo points that we wanted and spend as long (or as little) as we wanted to at each spot.
There is a third company, Vieste Sea Adventure, that also offers private tours.
Rent a Boat
You also have the option to rent a dinghy and explore on your own. According to the La Darsena website, you can rent a dinghy with up to 40 horsepower without a boat license.
This is a nice option if you want to cruise around on your own, but if you want to enter the sea caves, it's best to hire a skipper, in our opinion. Even though Tim and I have lots of experience driving a boat, we would have had no idea where the caves are located and the best way to navigate in and out of them. There are lots of openings into the limestone cliffs and our captain, Roberto, knew each cave entrance and was awesome at navigating in and out of the small openings.
PRO TRAVEL TIP: Make sure the tour you select goes to Baia delle Zagare. This was the turnaround point for our tour and the place to see the sea arch next to the beach.
Photo Tour of the Gargano Sea Caves
Below is a photo tour of the Gargano sea caves from our 3-hour boat tour with La Darsena. Since we were in a small boat, we were able to enter quite a few sea caves. If you choose to do the Sea Caves Tour with Desiree, you will not see all of these sea caves, since that is a much larger boat.
The names of the sea caves that we list are from our skipper with La Darsena. These are shown in order, starting with Vieste and ending at Baia delle Zagare.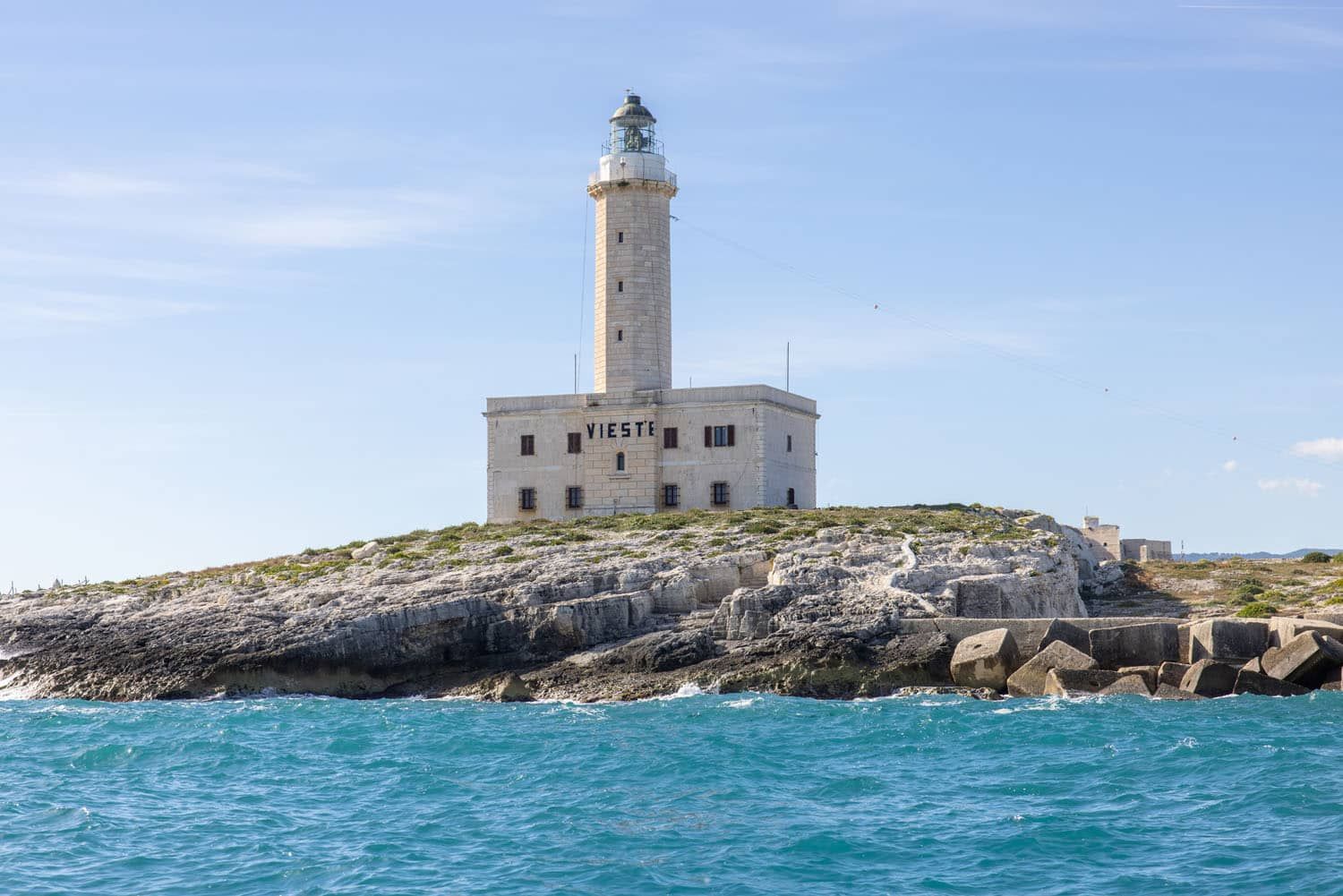 As you leave Vieste, the first thing you will see is the Vieste Lighthouse
As you cruise around the promontory, the old town of Vieste comes into view as well as a few trabuccos (wooden platforms used for fishing).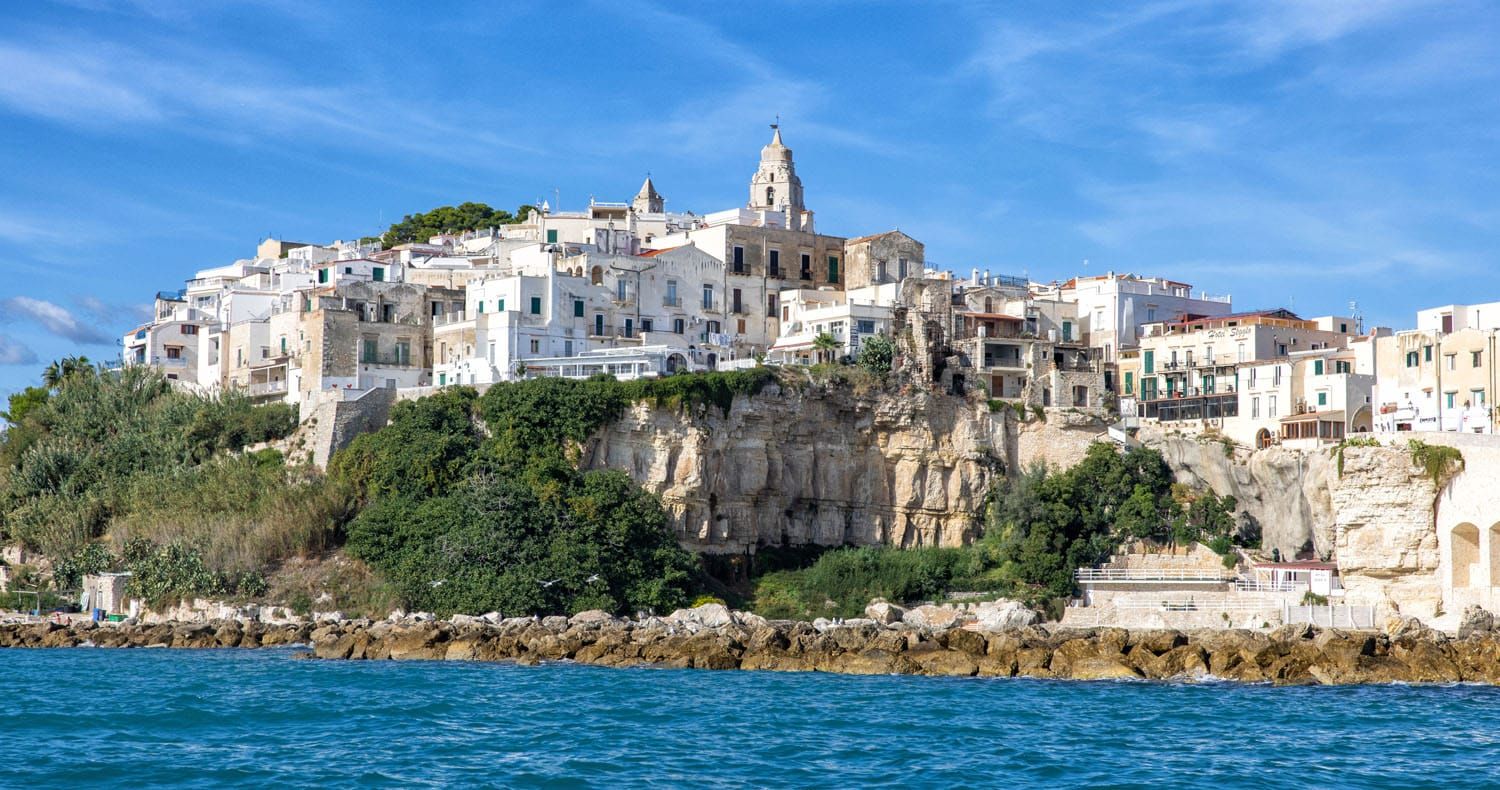 Another view of the Vieste old town.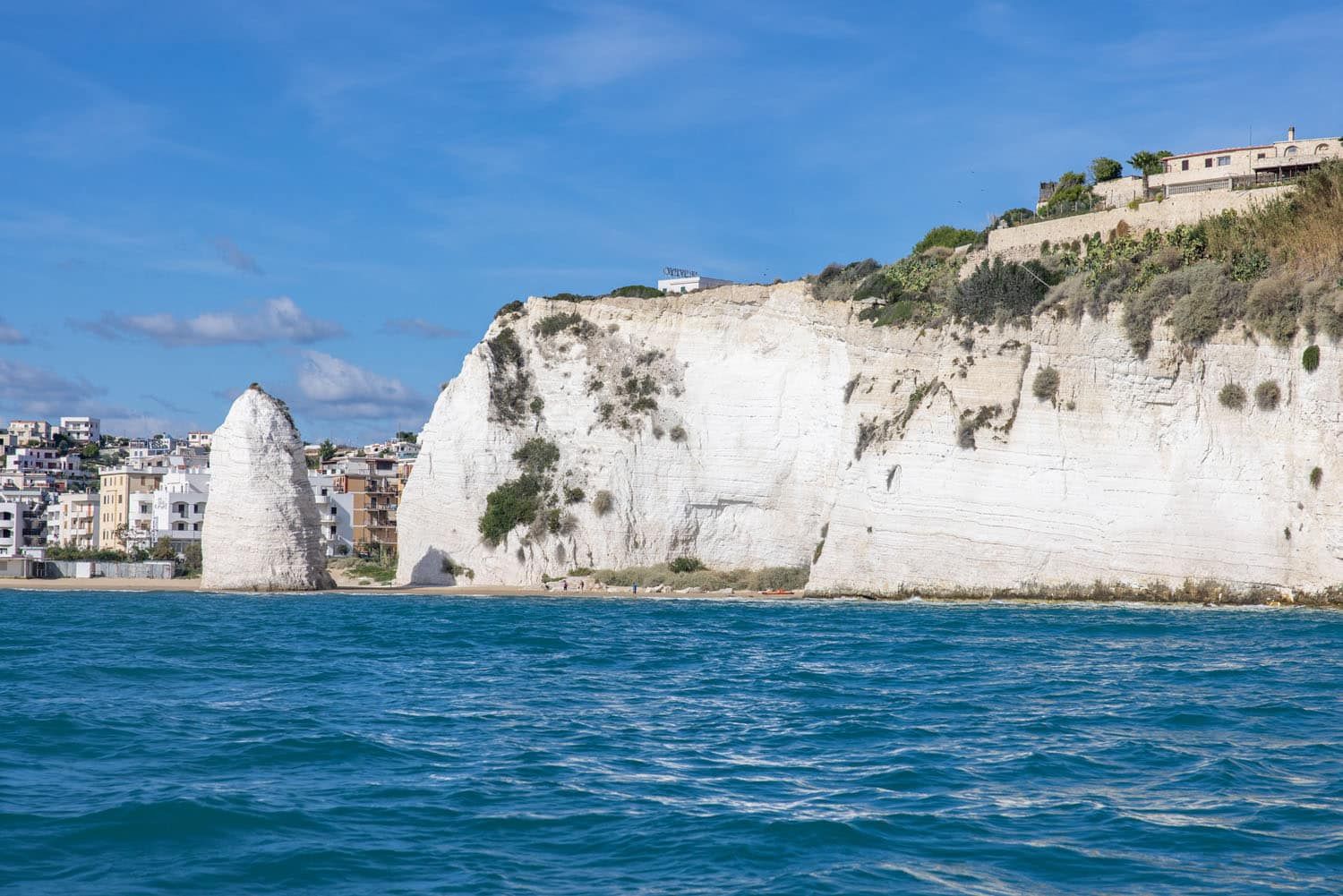 Pizzomunno (the white monolith on the end of the beach)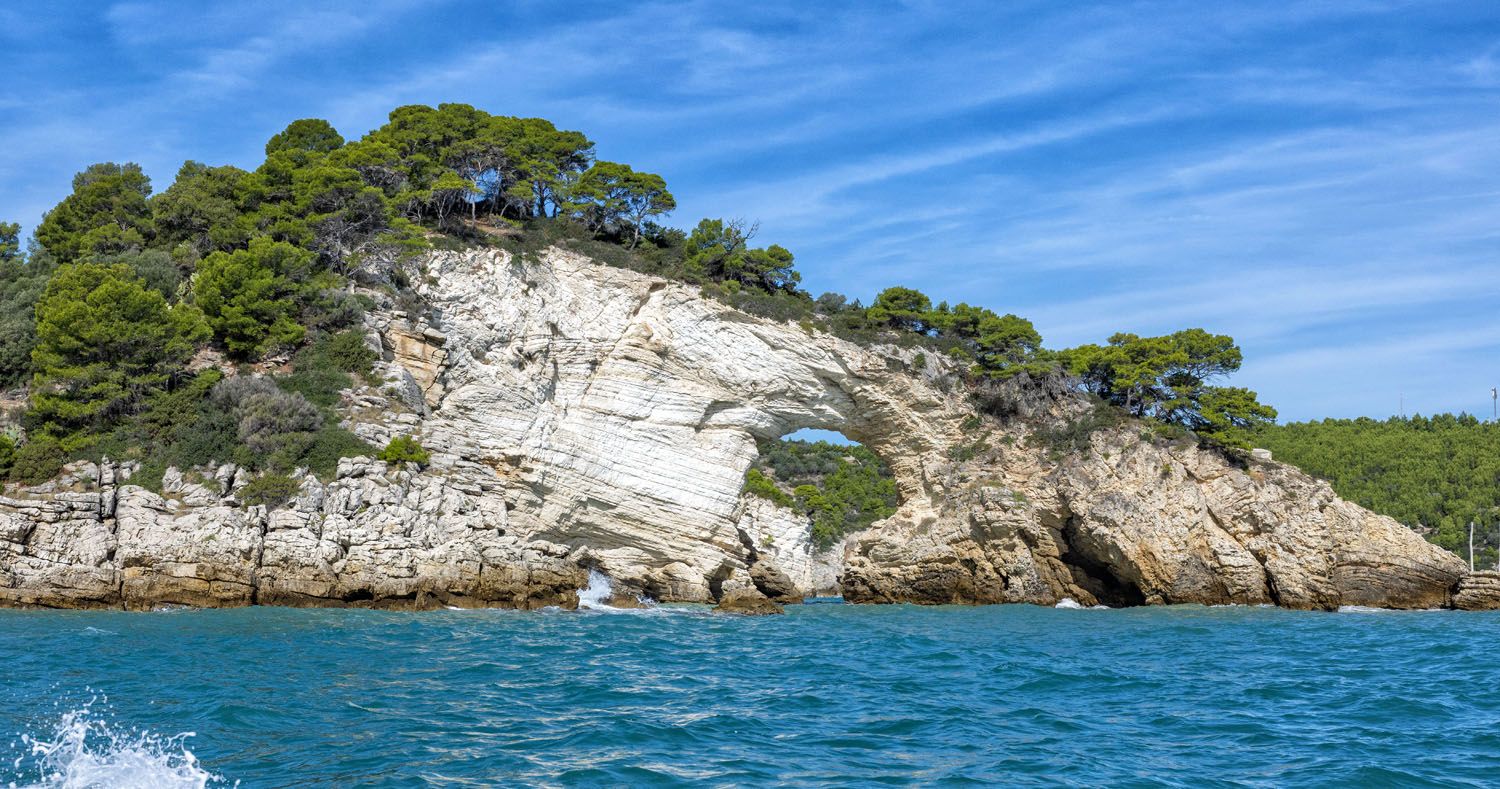 Arco di San Felice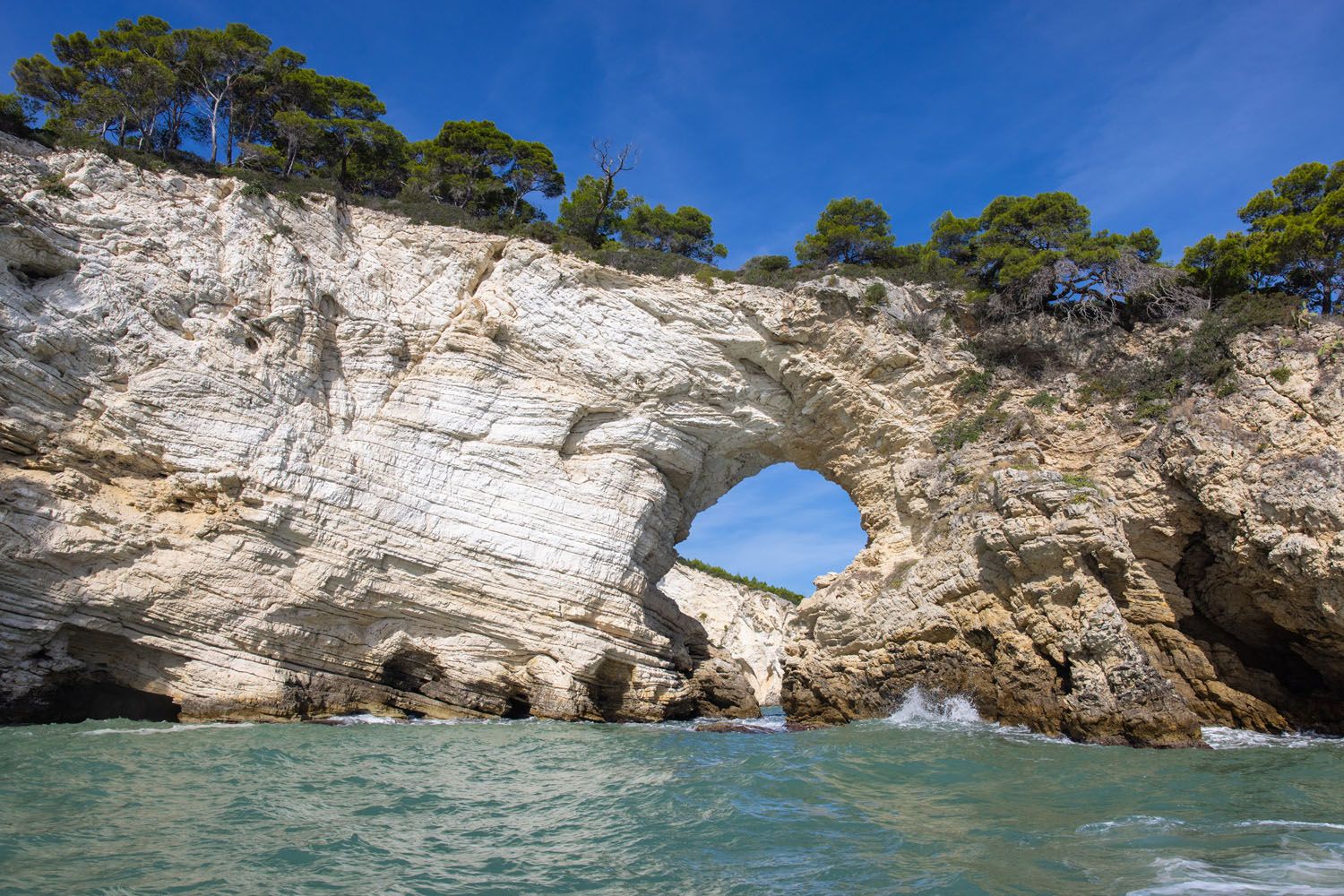 A closer view of Arco di San Felice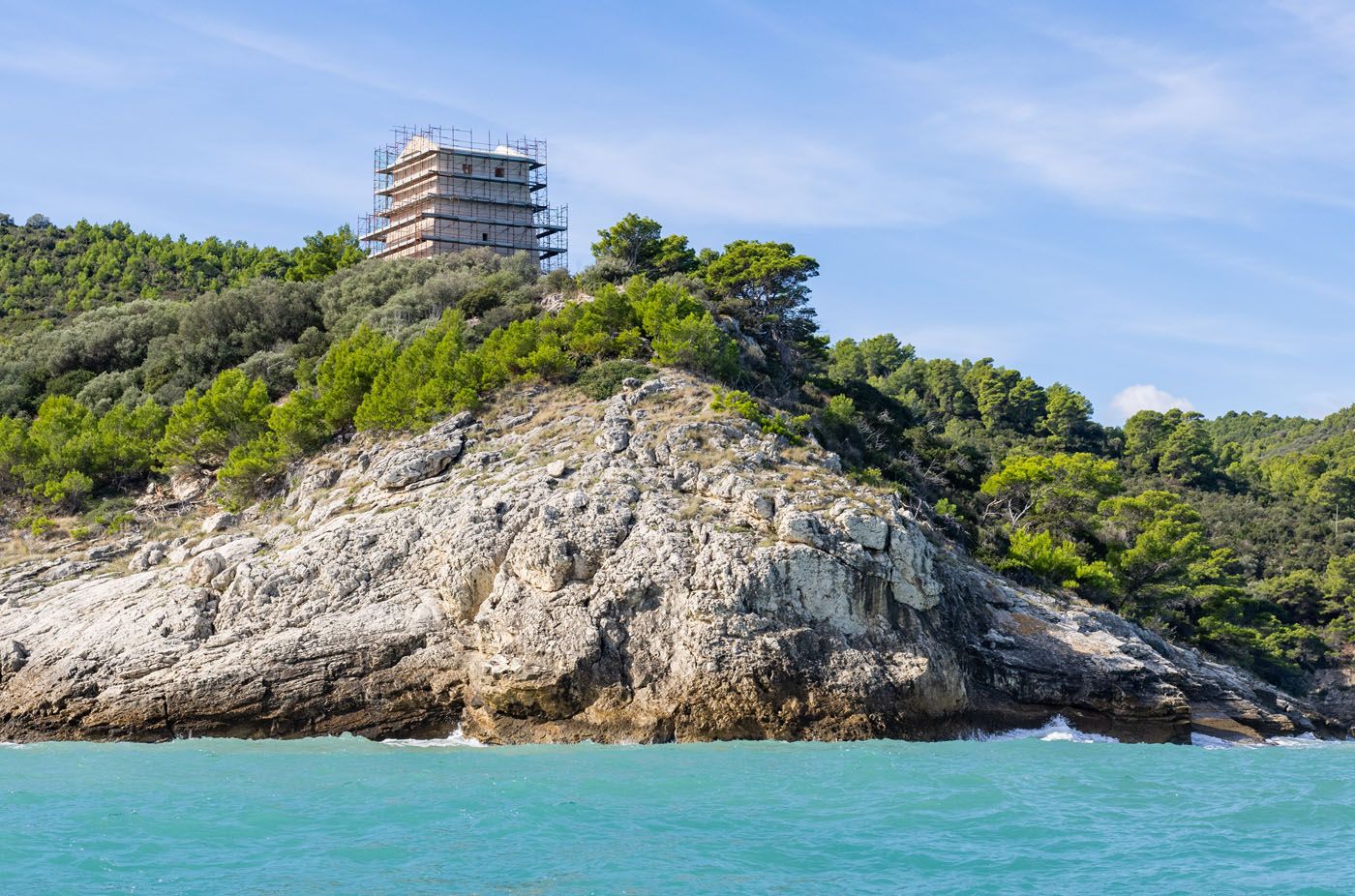 Torre di San Felice
Approaching the entrance into Grotta Sfondata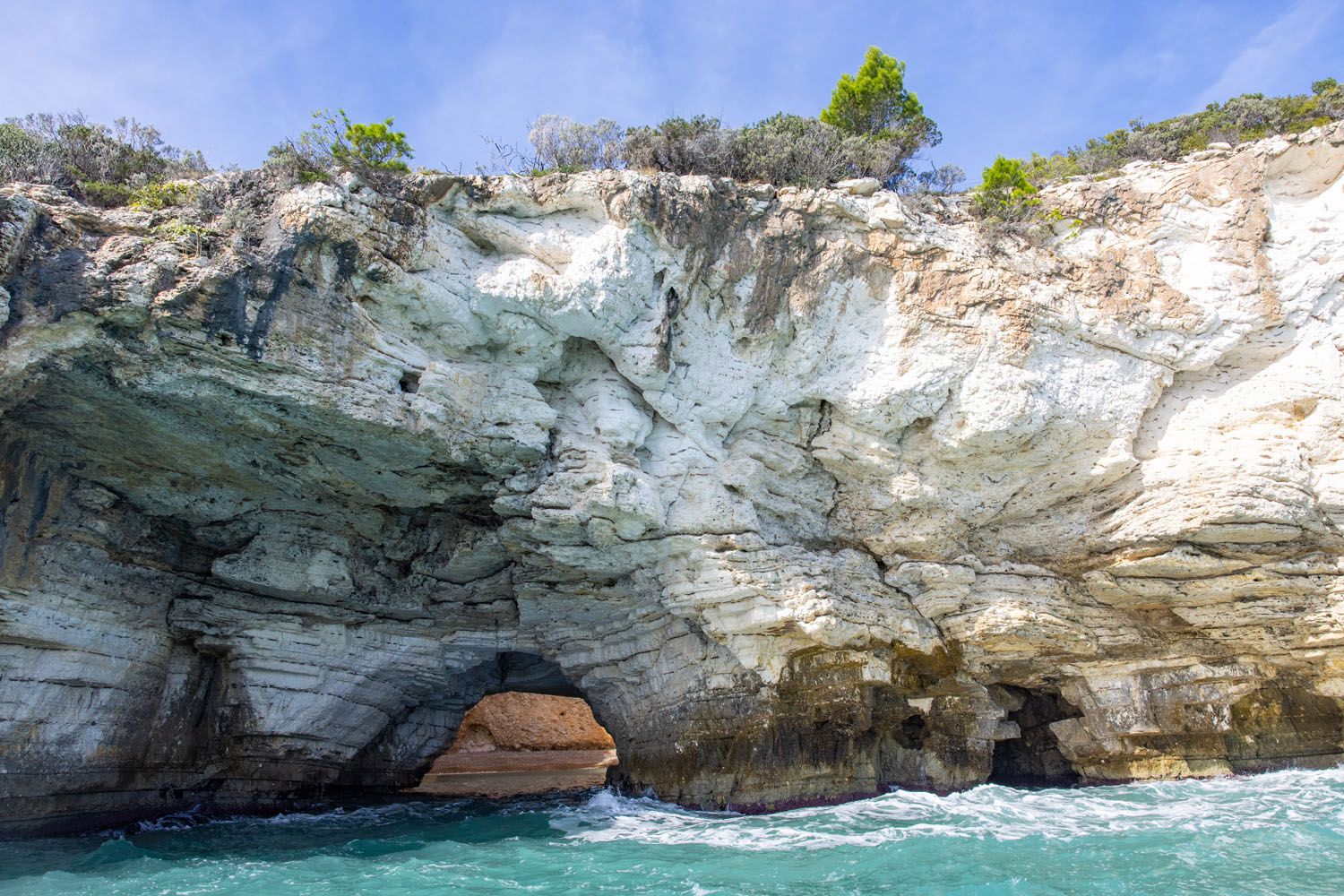 The entrance into Grotta Sfondata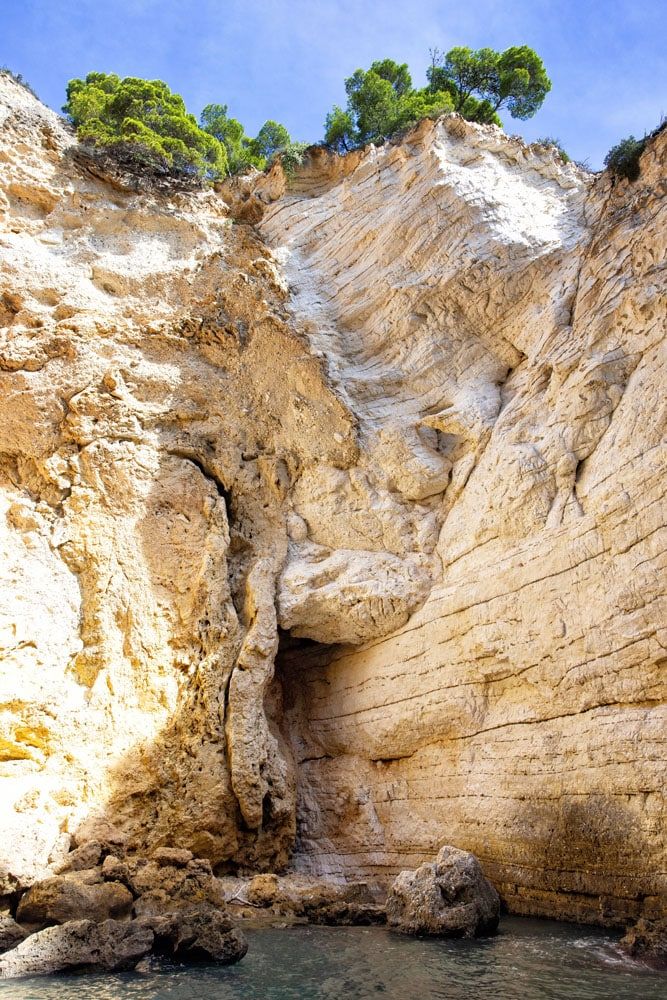 Inside Grotto Sfondata. This "cave" has an enormous hole at the top.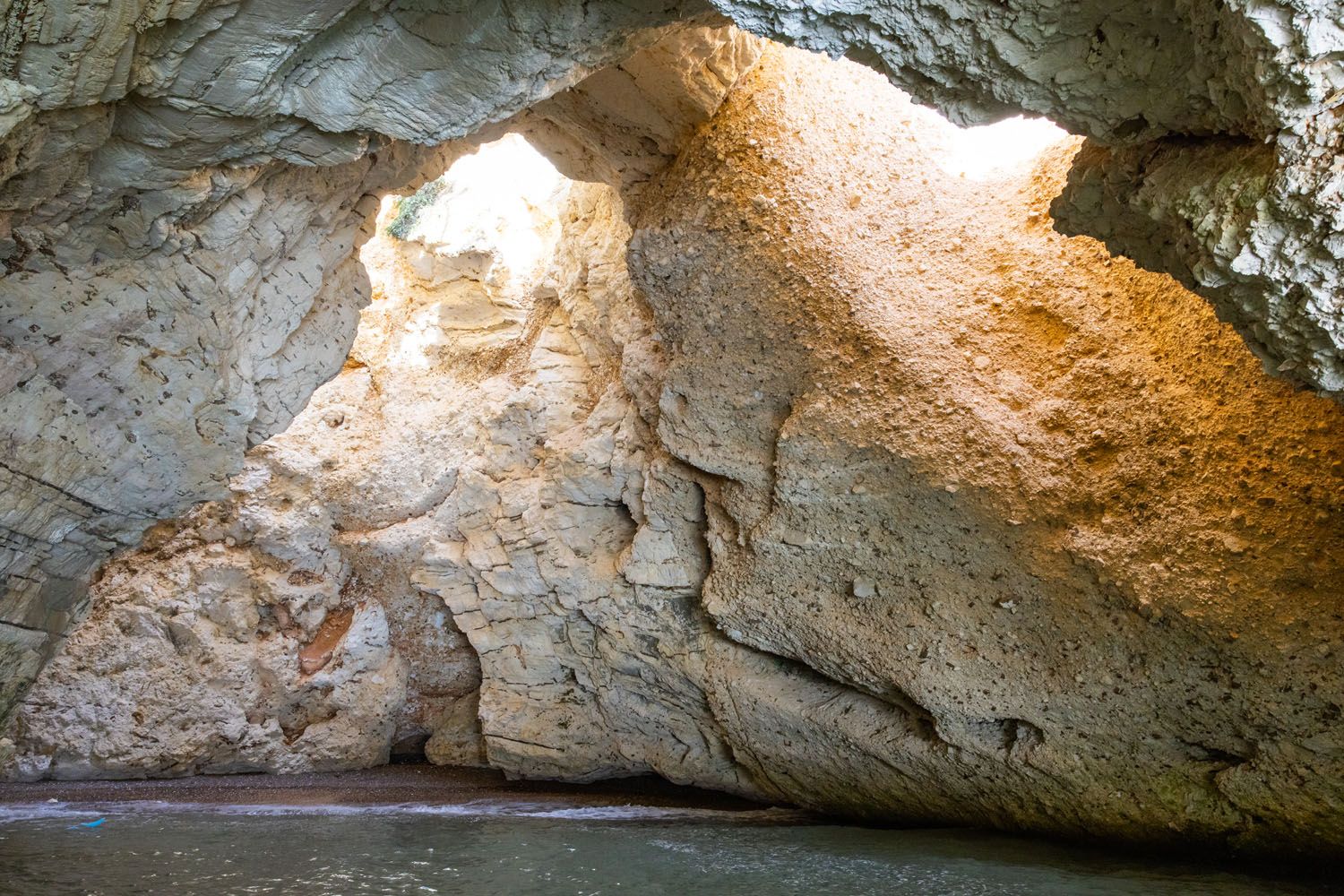 Grotta dei Due Occhi, aka the Cave of Two Eyes, since it has two holes at the top.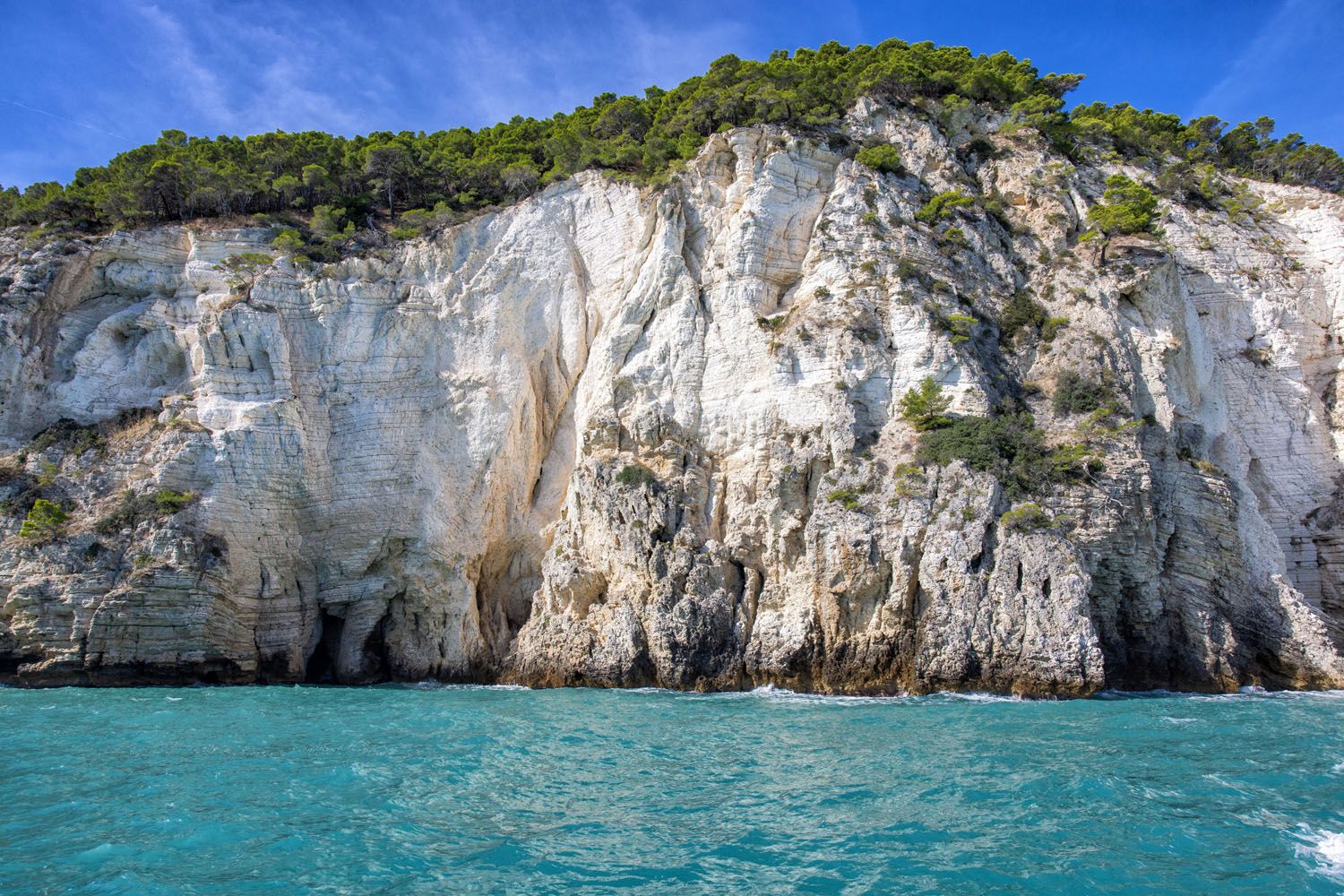 Sea cliffs…this is a common view throughout the boat tour.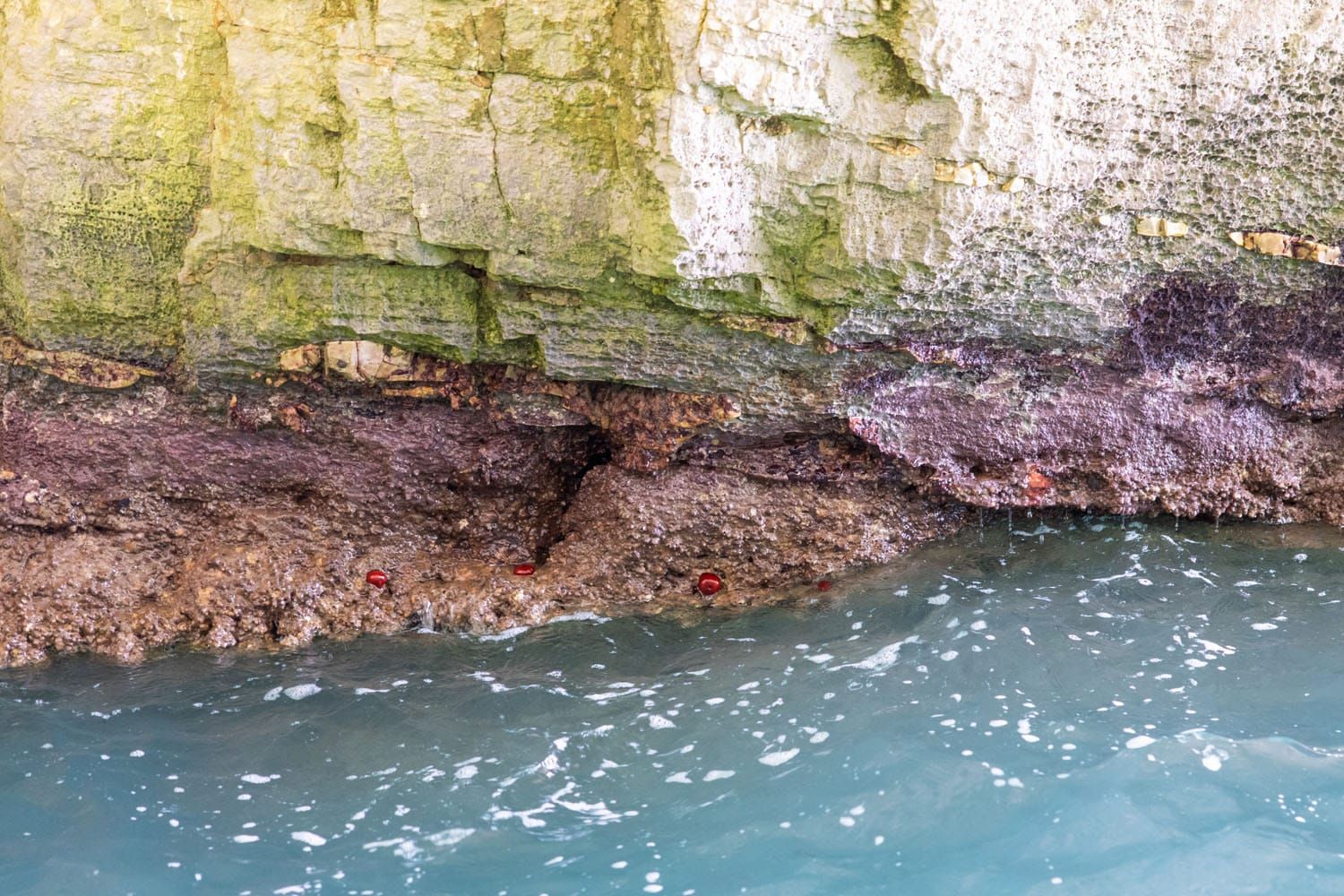 Cave of the Tomato. The red barnacles growing on the walls look like tomatoes.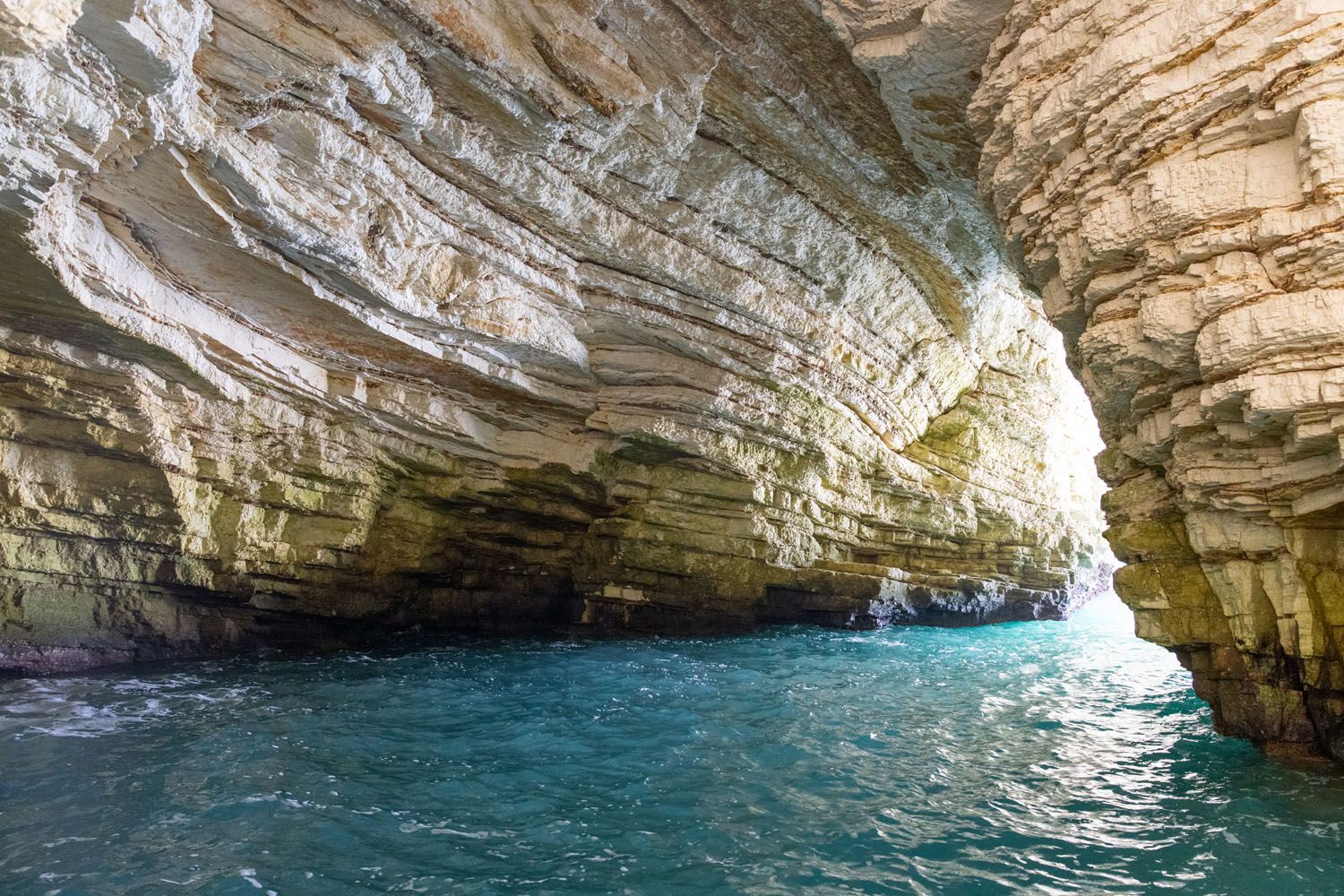 Inside the Cave of the Tomato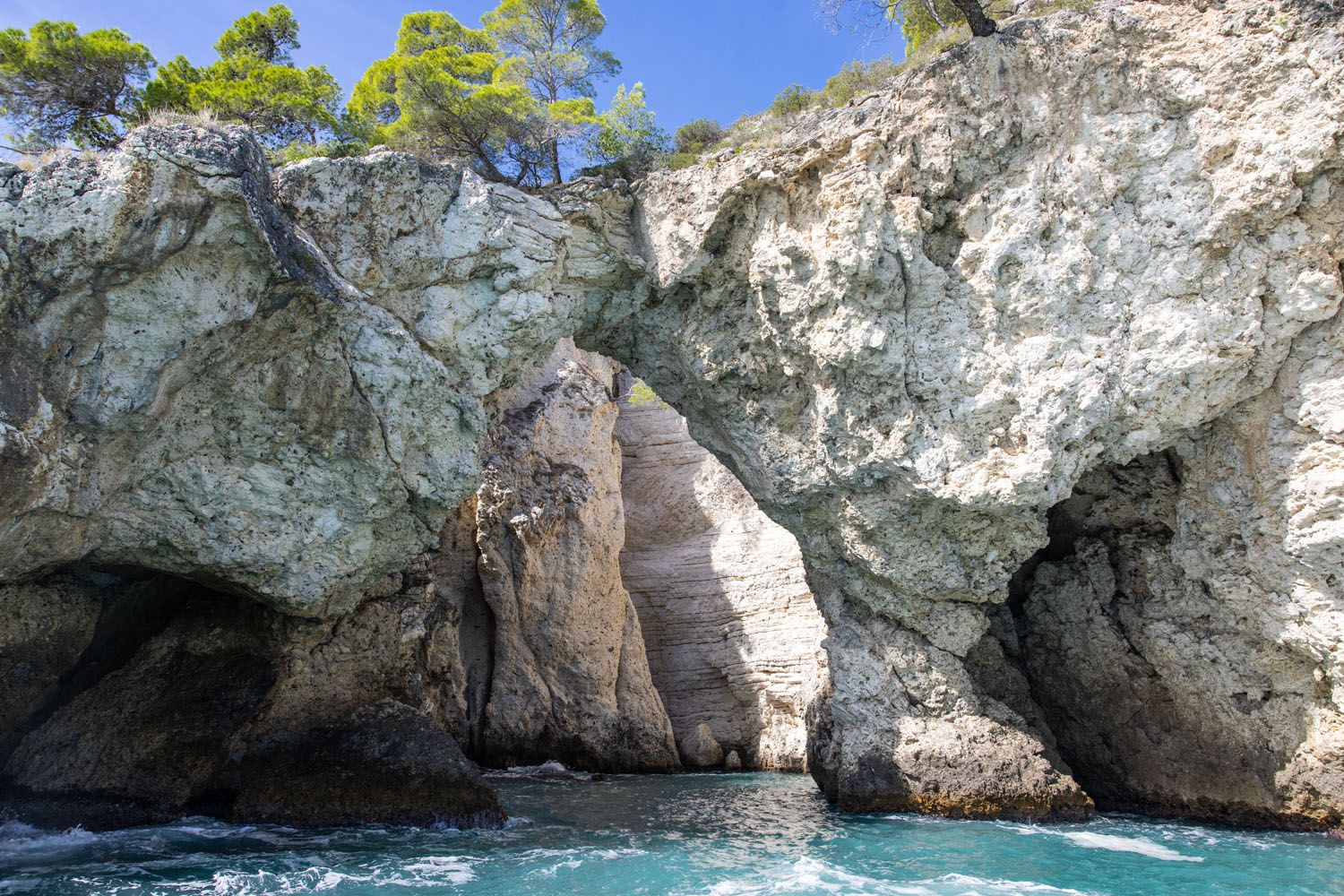 Entering the Cave of Love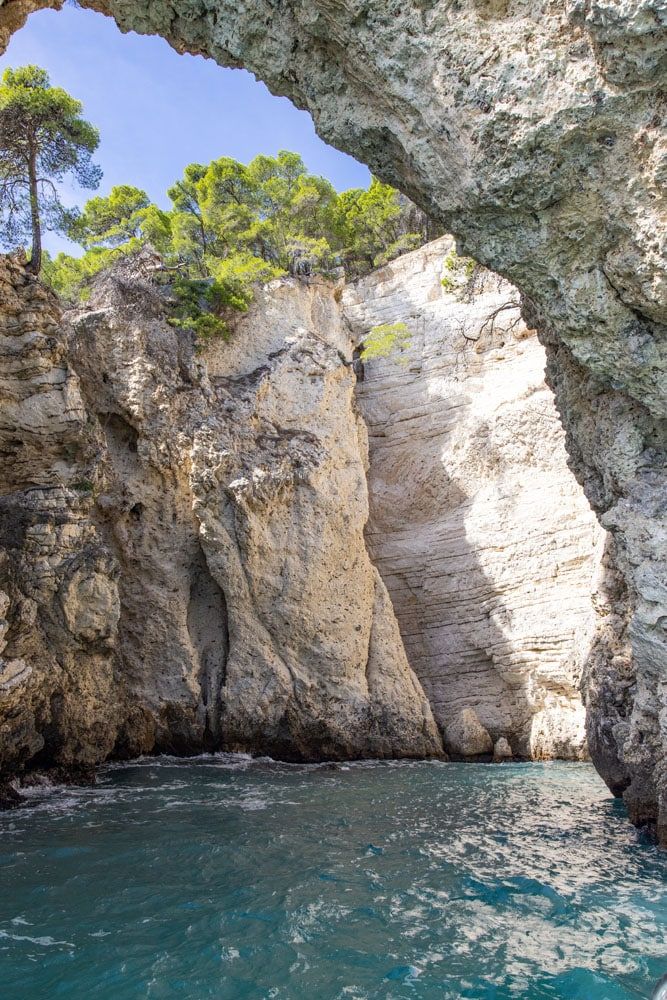 Cave of Love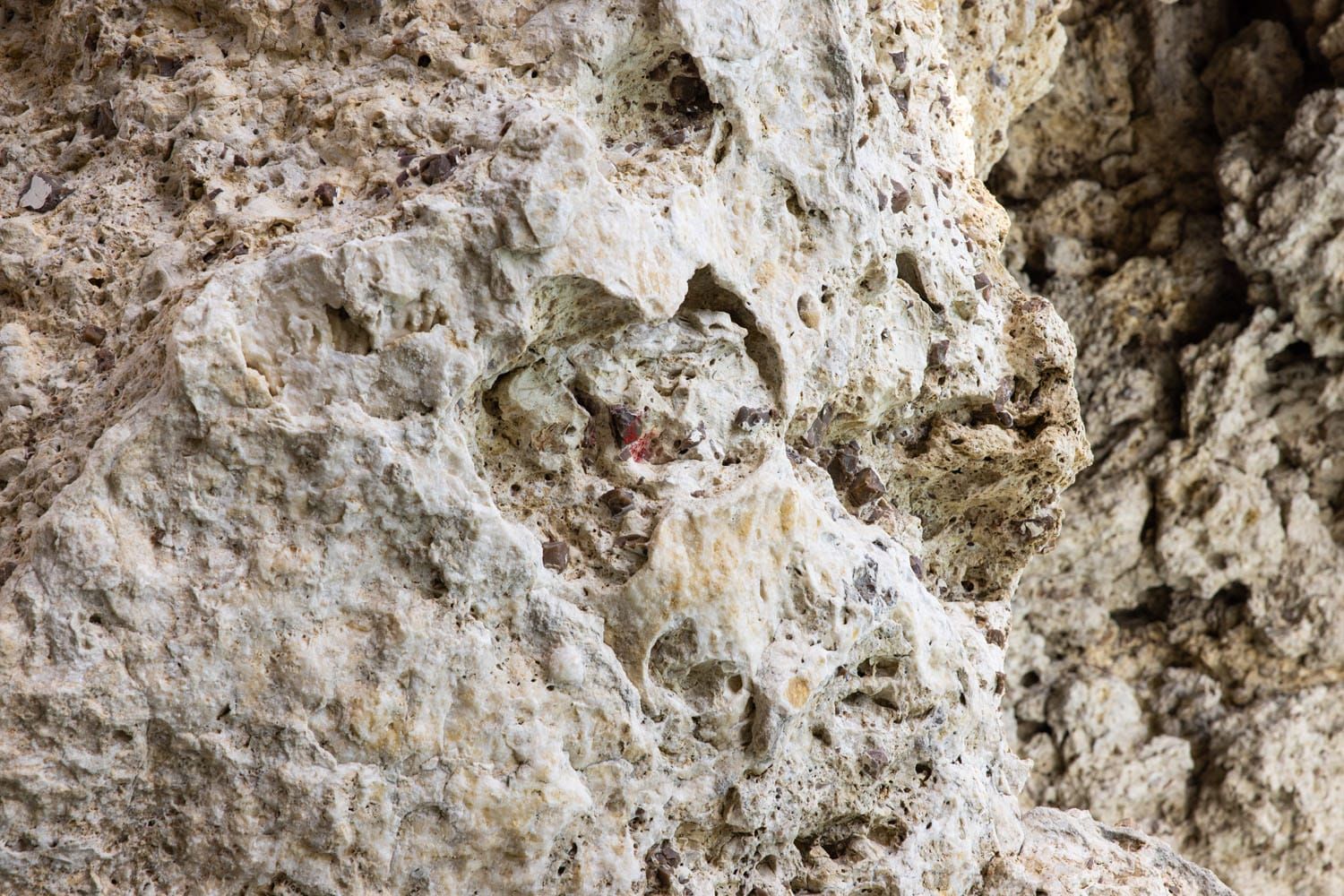 The Cave of Love gets its name from the heart shape on the cave wall, at the entrance into the cave.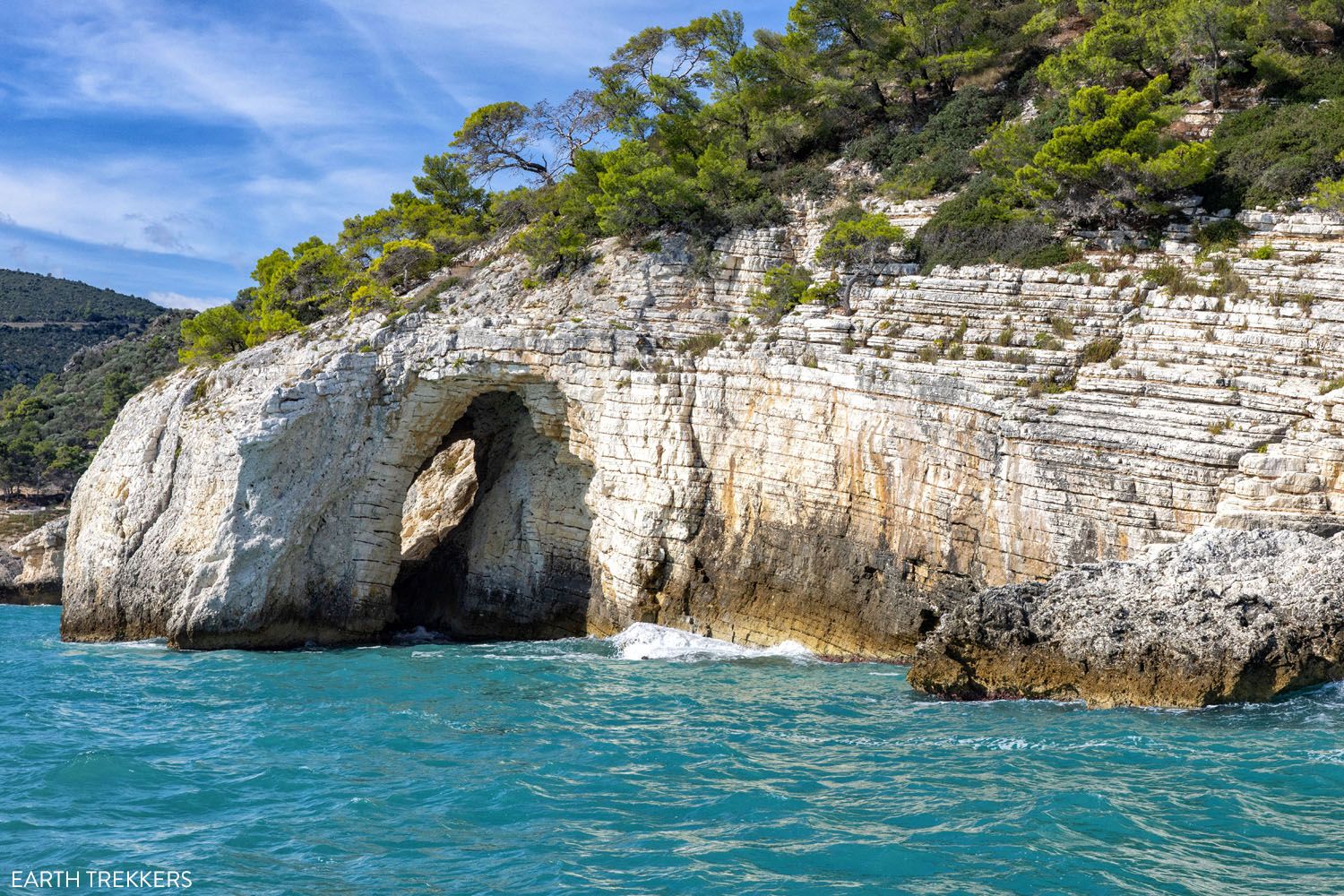 Another sea arch along the coast.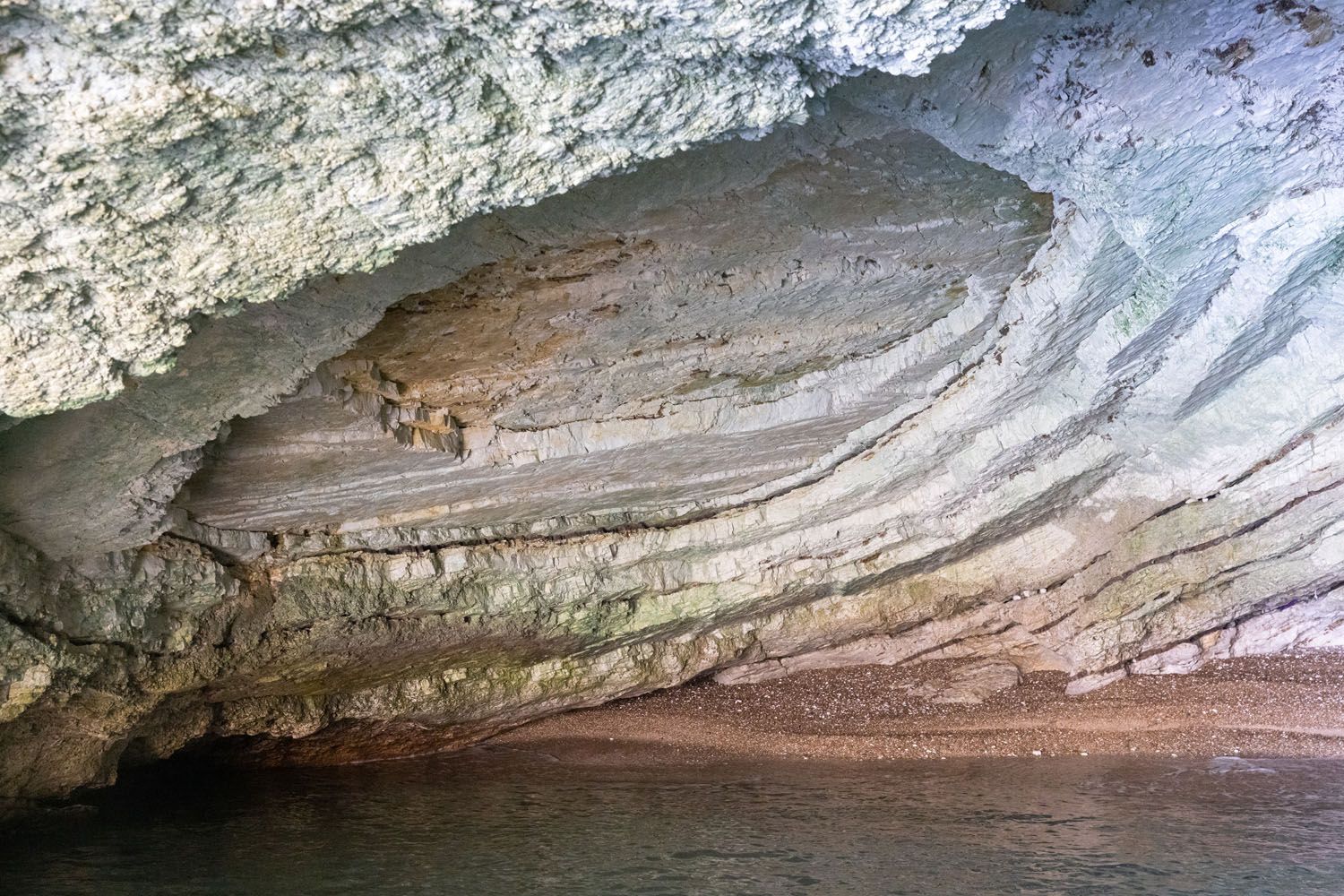 Pugnochiuso Cave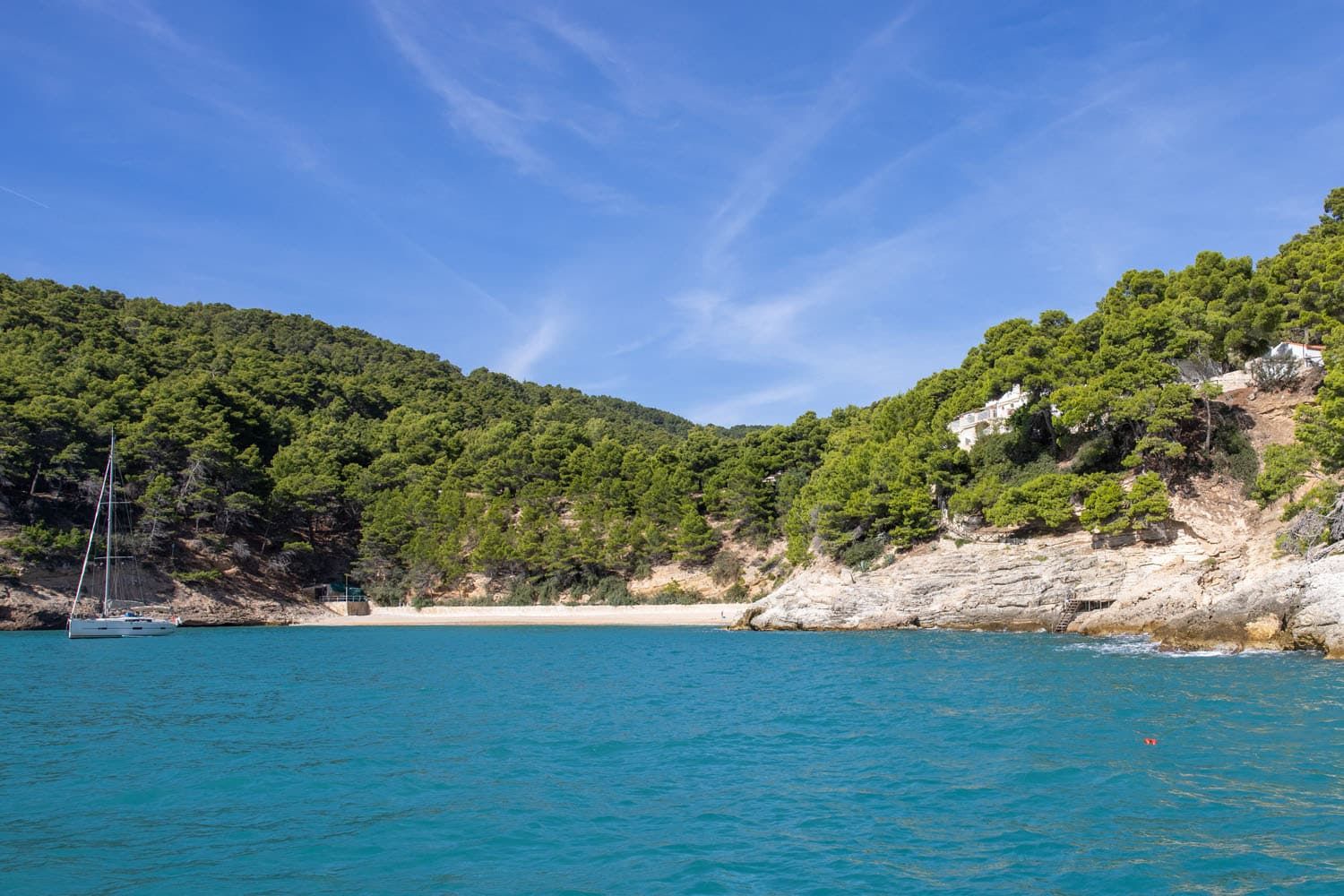 Pugnochiuso Bay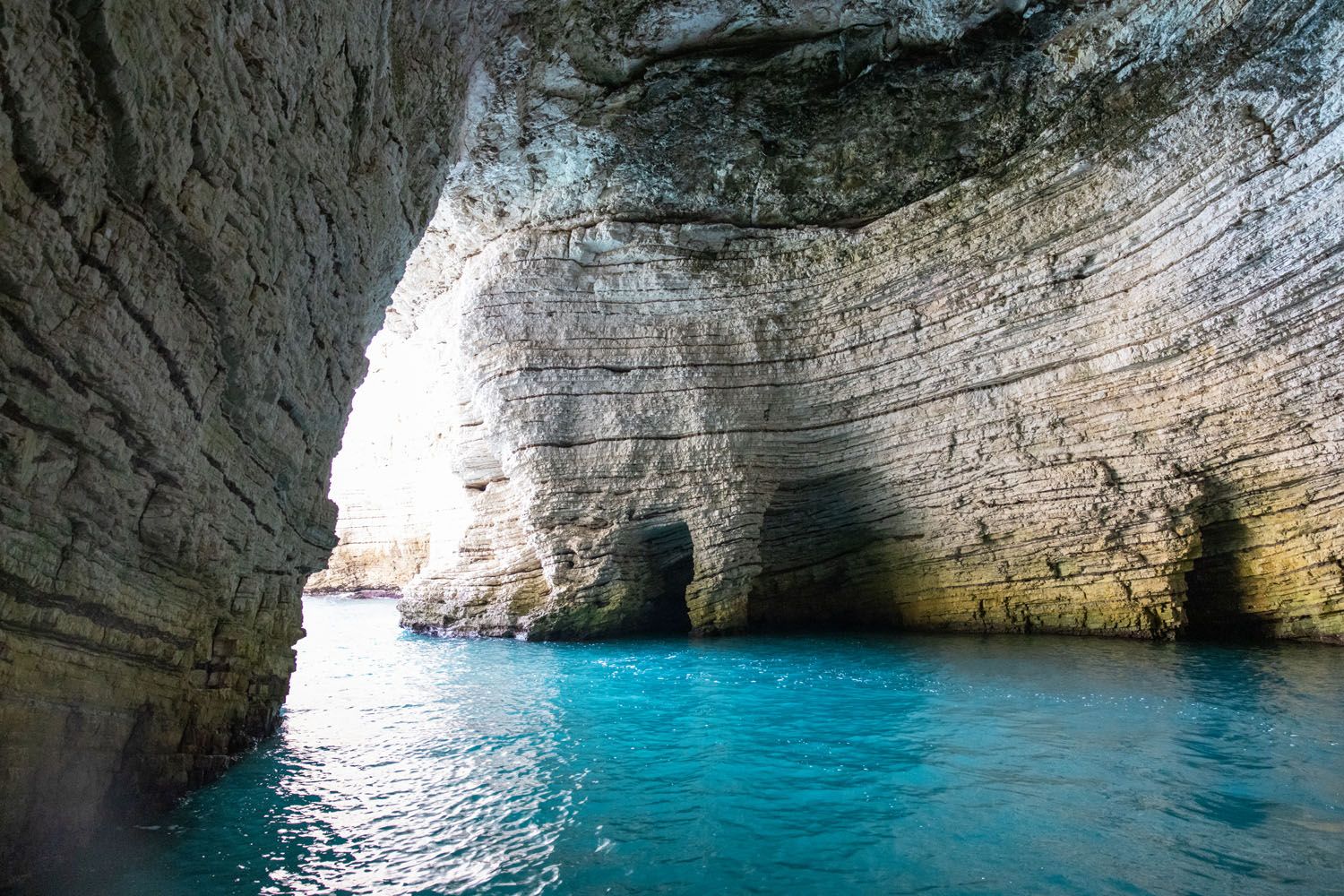 Cave of Two Rooms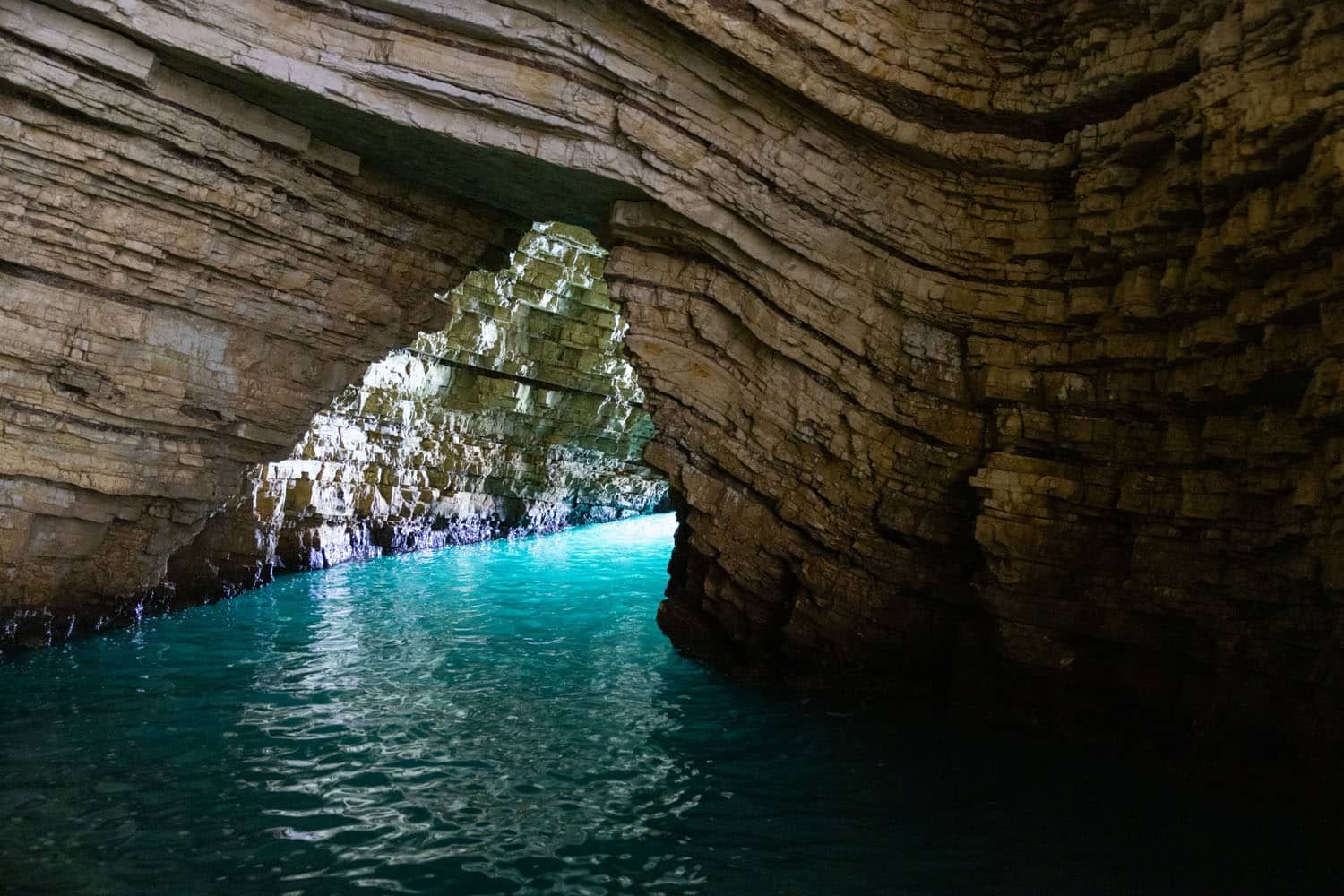 Cave of Two Rooms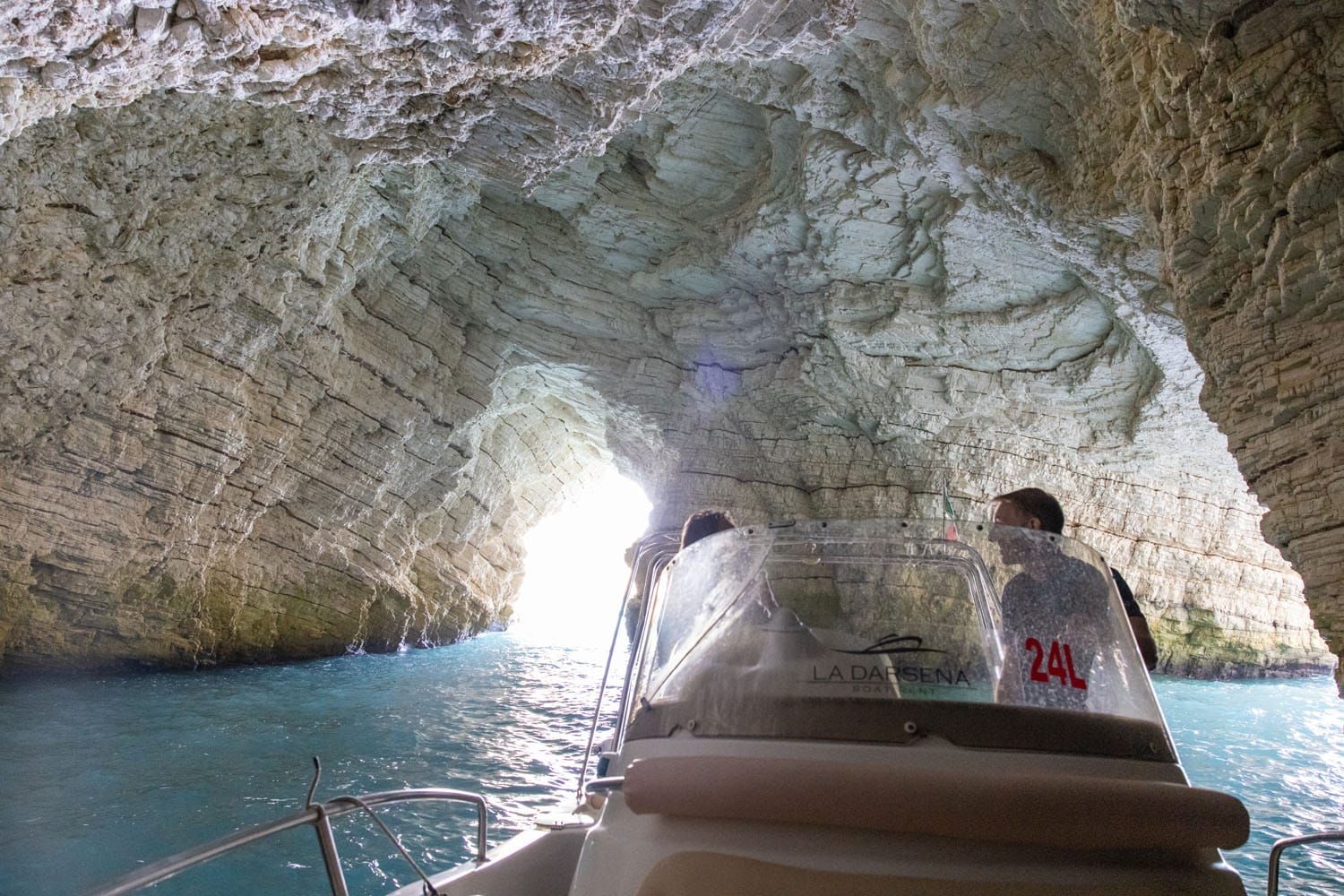 Inside the Cave of Dreams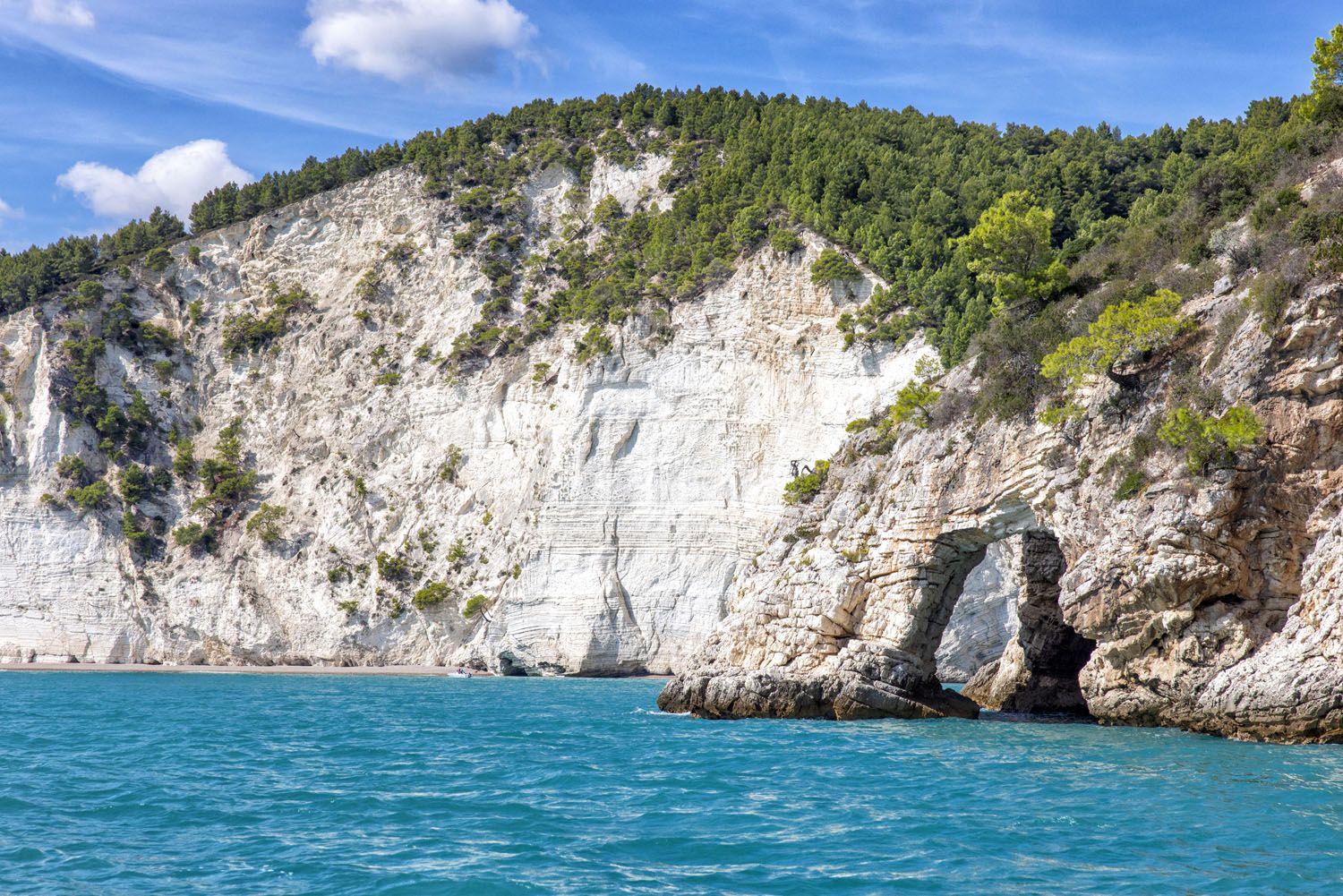 Arco Vignanotica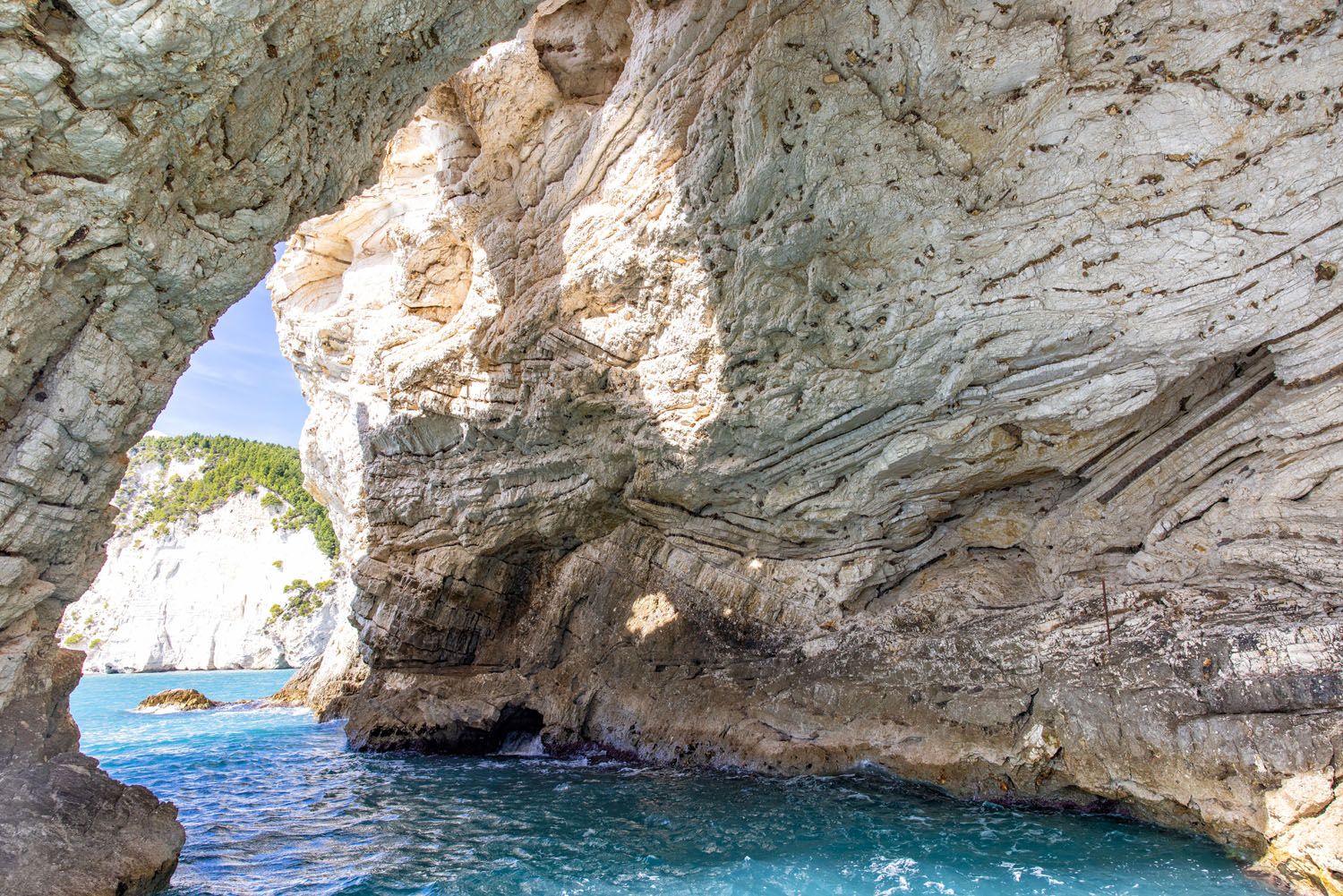 Inside Arco Vignanotica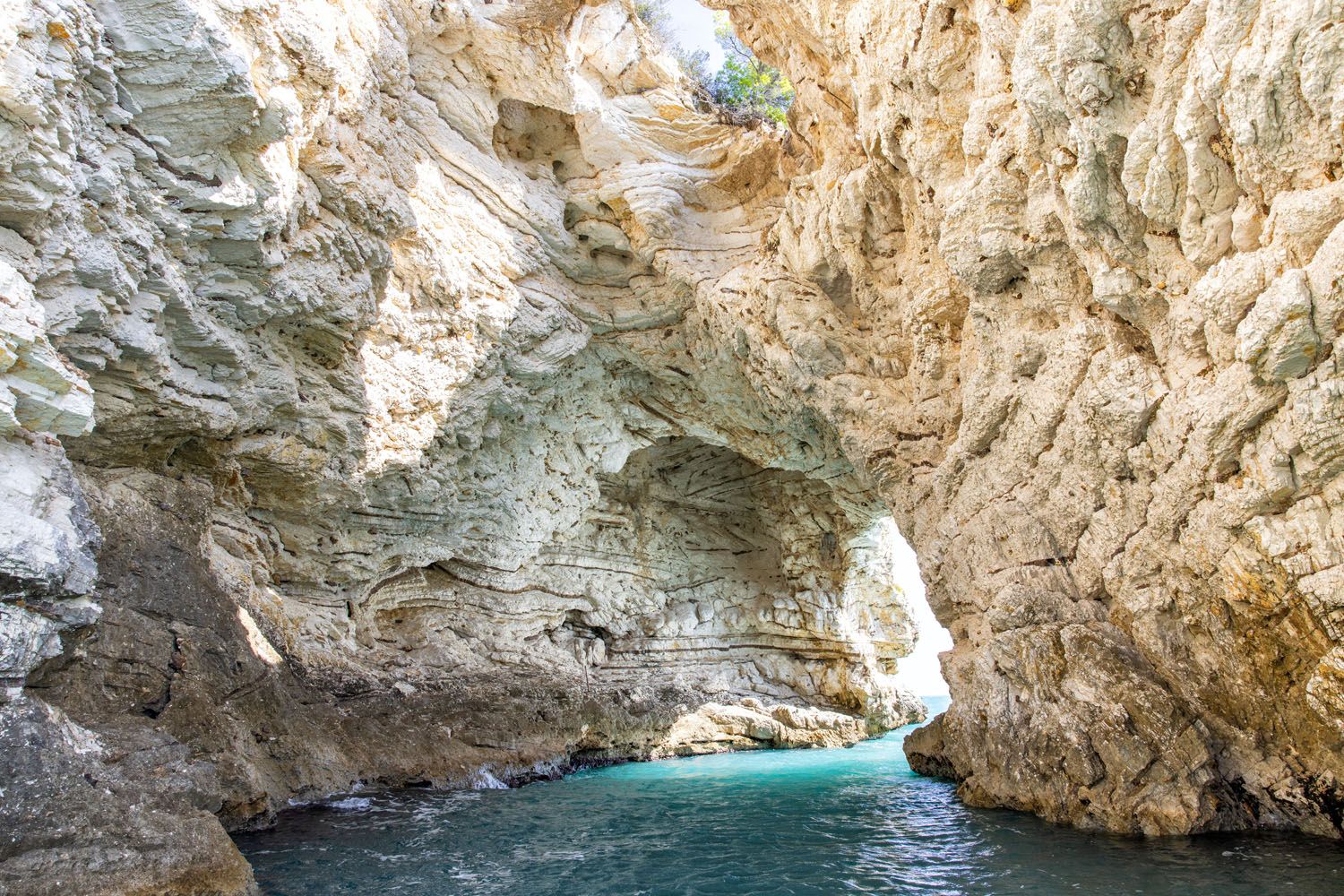 Inside Arco Vignanotica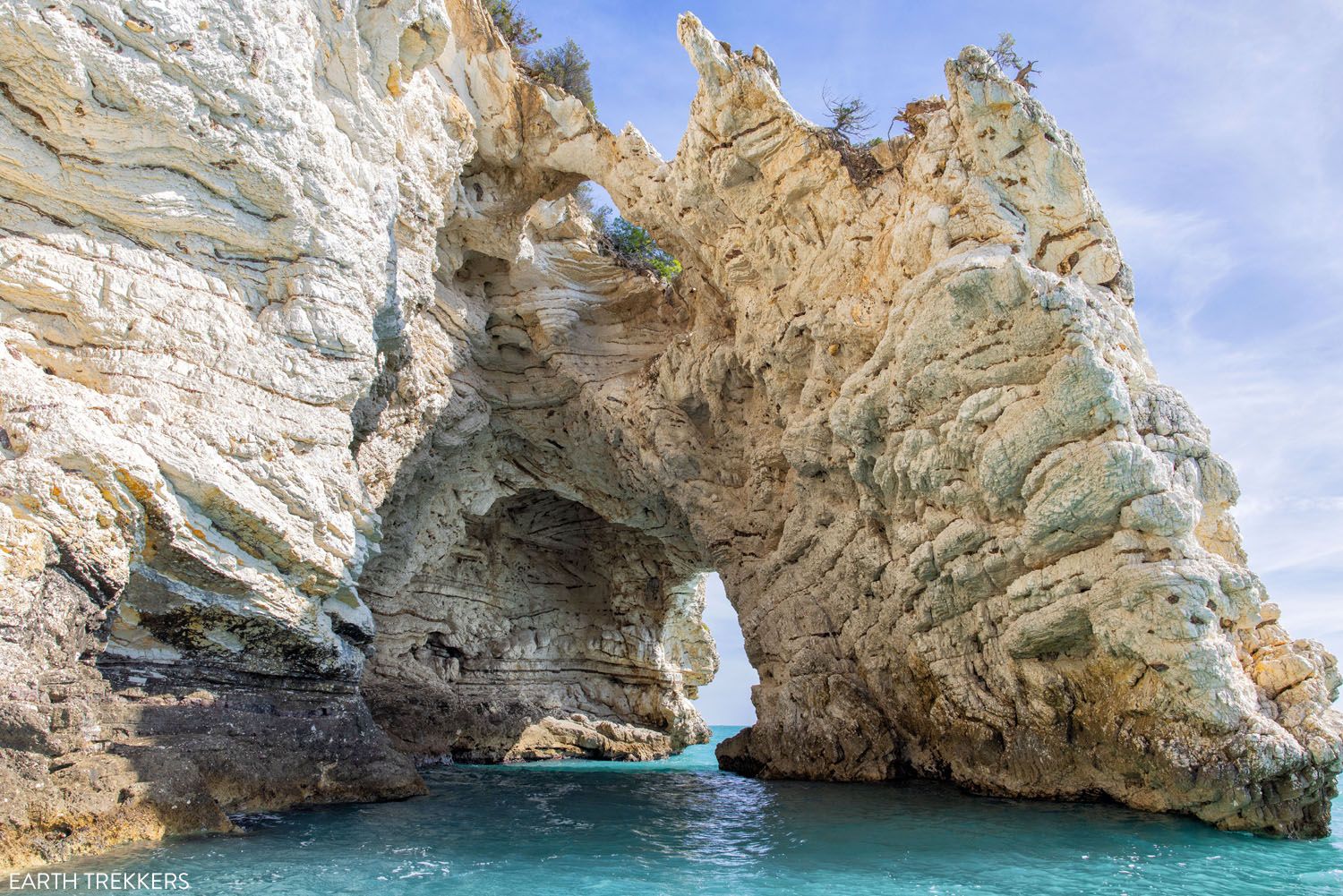 One more view of Arco Vignanotica (I thought this one was really cool).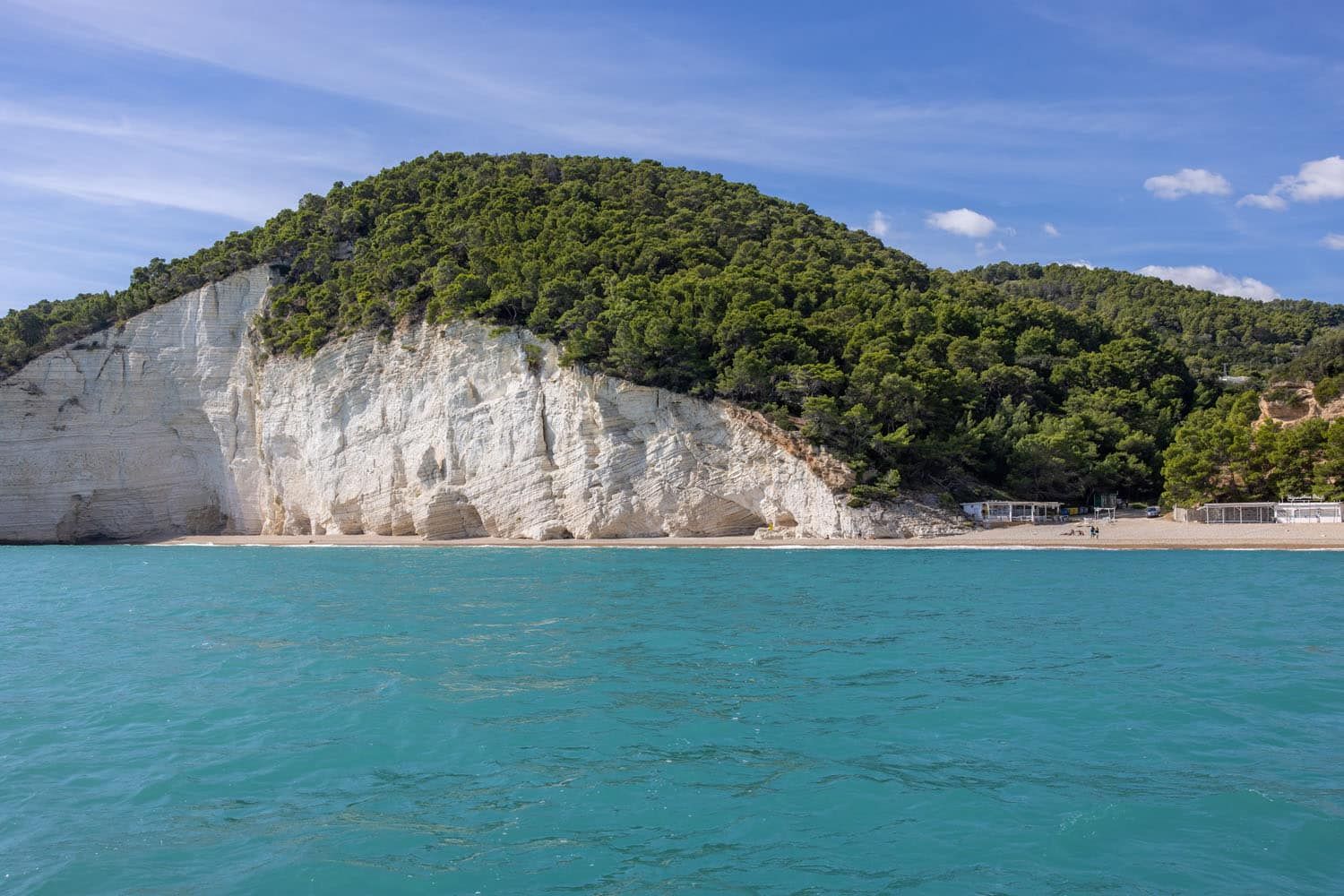 Spiaggia di Vignanotica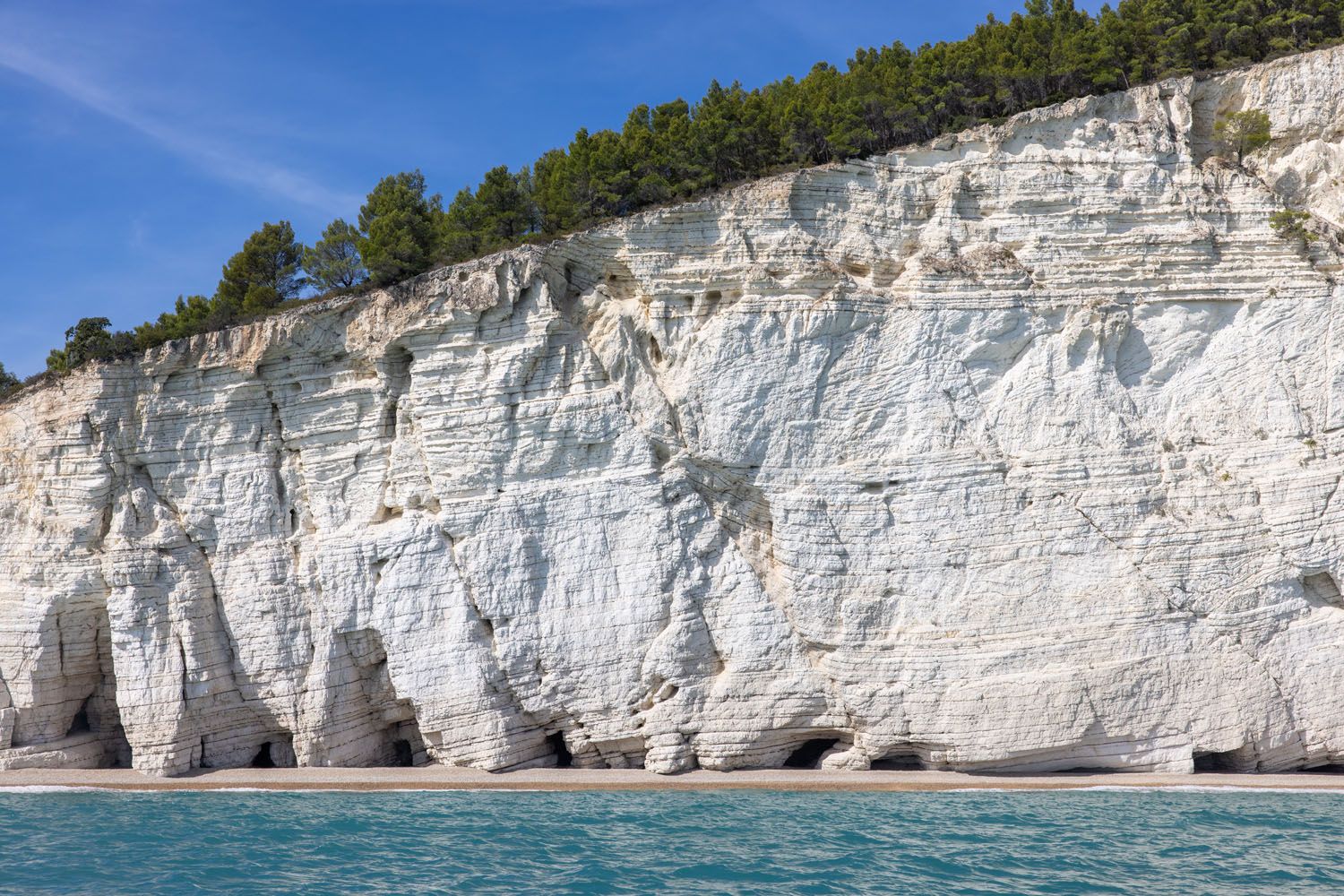 A closer view of Spiaggia di Vignanotica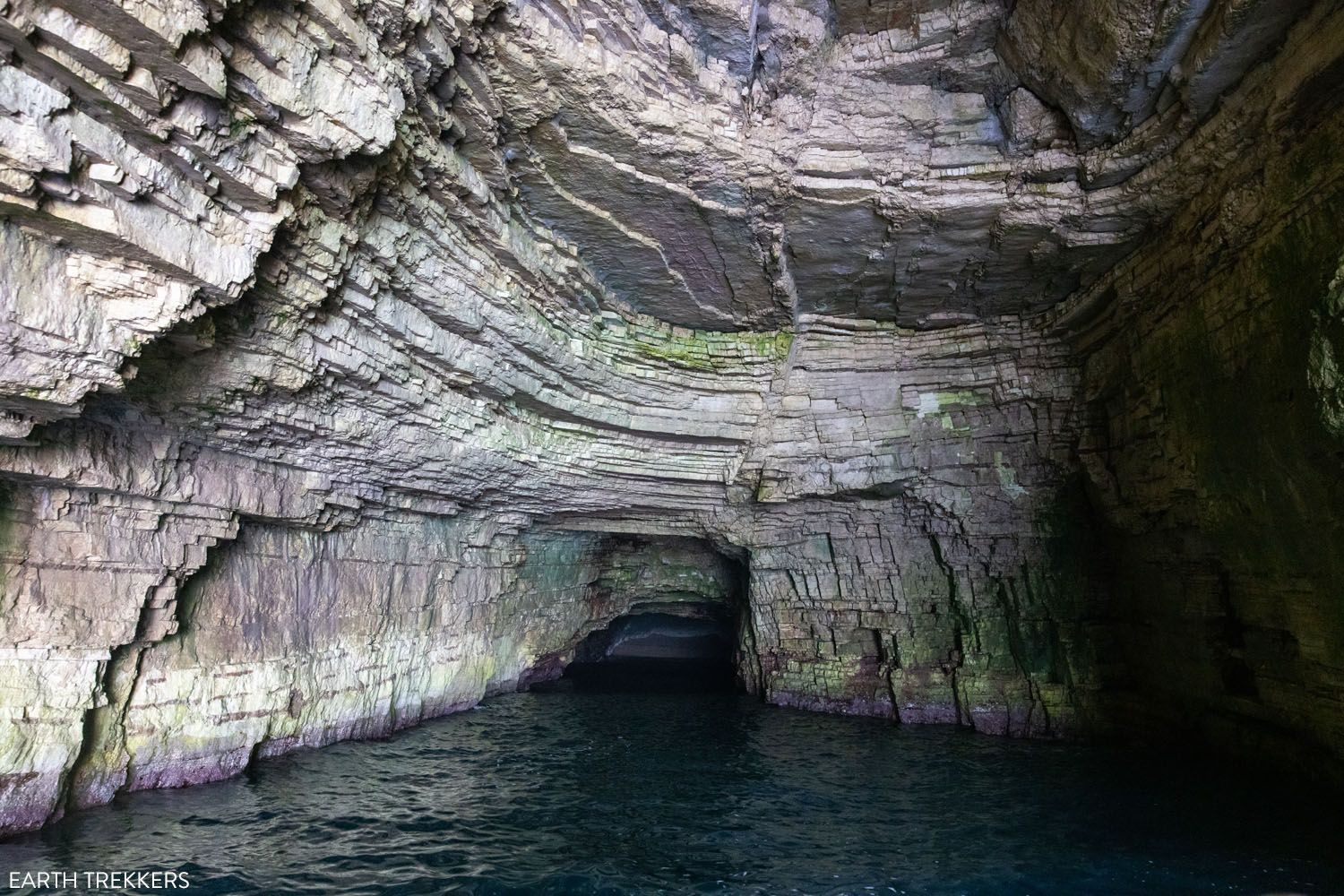 Cave of Colors, aka Grotta dei Pipistrelli. This cave is located next to Spiaggia di Vignanotica and gets its name for the green, white, and red colors on the walls.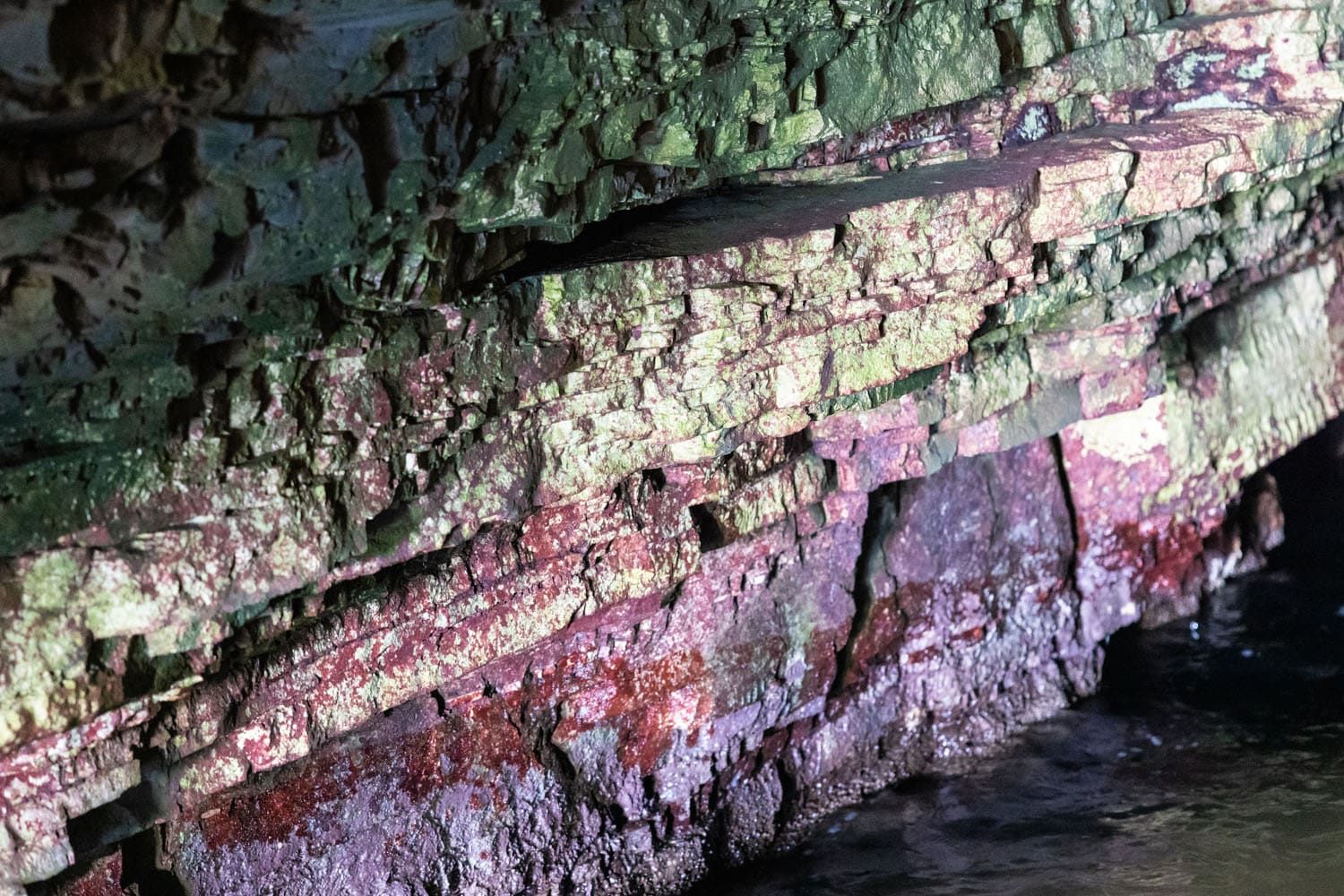 More of those colors.
The final cave we entered is called the Cave of Campana Grande, which is right next to the Cave of Colors. This one was so dark that I was unable to get a good photo of it.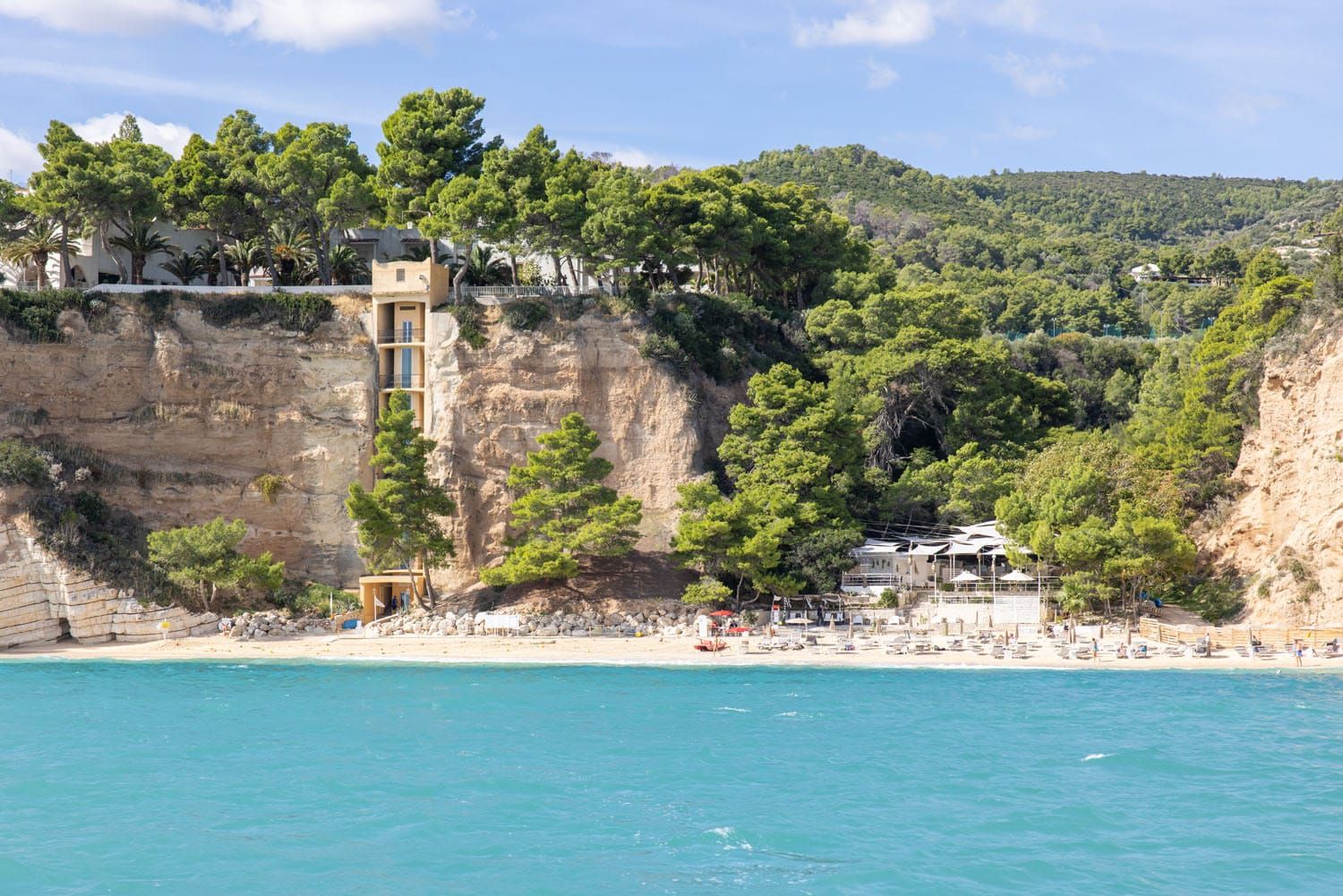 Spiaggia dei Faraglioni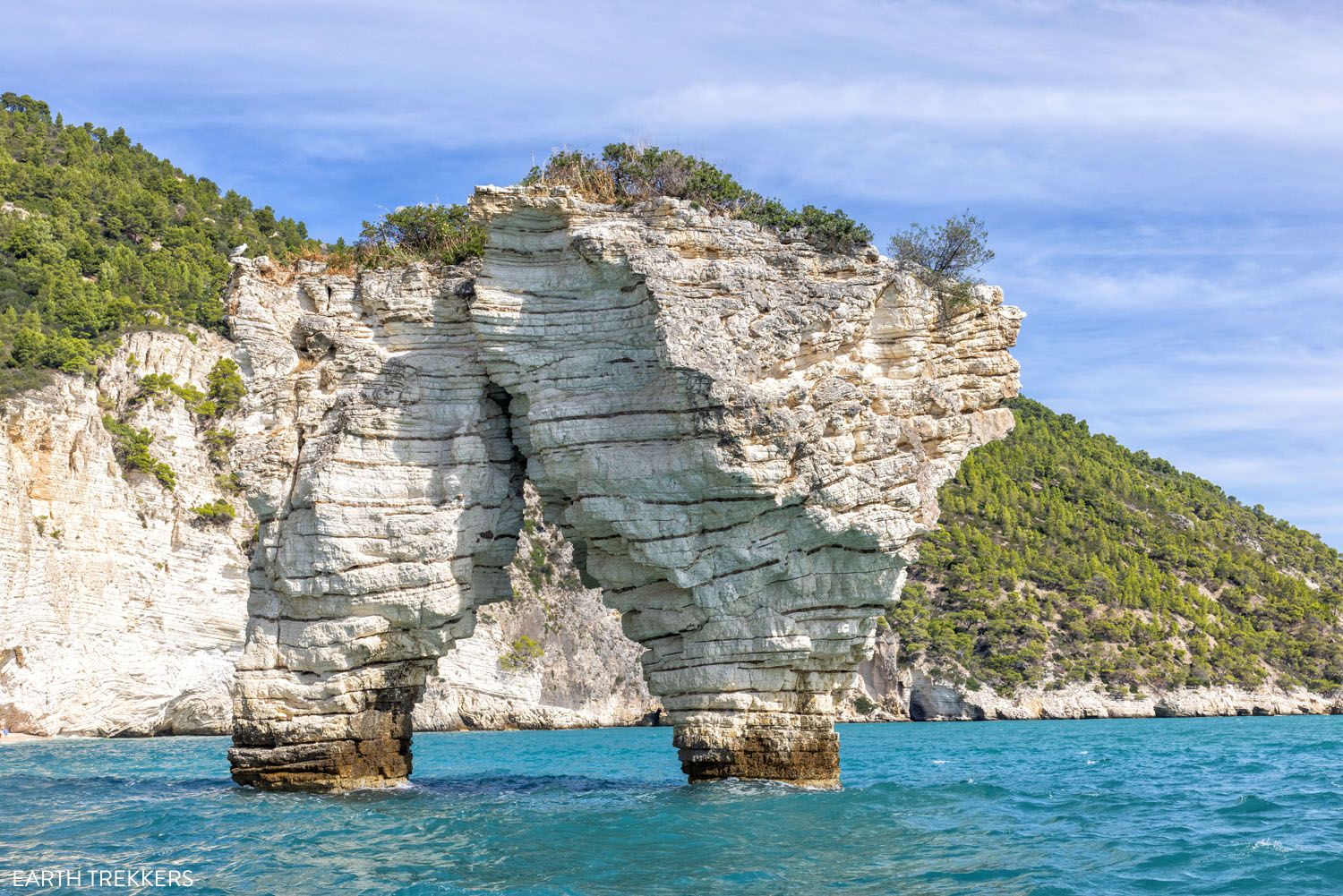 Faraglioni di Baia delle Zagare
From this point, we turned around and went directly back to Vieste, which took about 35 minutes.
Frequently Asked Questions
Is a boat tour of the Gargano sea caves worth it?
Yes, this was our favorite experience while staying in Vieste. Seeing the white limestone cliffs and golden beaches, cruising into hidden caves, and cruising past the old town of Vieste was amazing. This is a beautiful part of Italy and seeing it by boat is an unforgettable experience.
Which is better, a private boat tour or a group boat tour?
If you can afford the extra cost for a private tour, do it. If you are a small group (4 to 6 people), you will spend just a little extra, to hire a private boat. Not only do you get the experience of being on your own, you also get to enter all of the sea caves, now that you are on a smaller boat.
What about seasickness?
On the day we did this, the sea was relatively calm, but we did bob up and down in the sea caves and cruise over some choppy water. Seasickness is a possibility, especially if you happen to do this when conditions are rougher, so it is a good idea to bring along some Dramamine.
What should I do after the boat tour?
For more information about what to do in the area, read our guide to the Best Things to Do in Vieste, which also includes a walking tour of the old town and recommendations on where to eat and stay.
---
If you have any questions about taking a boat tour of the Gargano sea caves, or if you want to share your experience, let us know in the comment section below.
More Information for Your Trip to Italy
PUGLIA: Read about 15 beautiful places to visit in Puglia, the best things to do in Alberobello, and check out our Alberobello Walking Tour. We also have a guide to the best things to do on the Gargano Peninsula and how to spend one day in Vieste.
MATERA: Matera is one of the most beautiful places to visit in Italy. Here is a list of the best things to do in Matera, where to eat in Matera, and the best viewpoints of Matera.
ITALY ITINERARY: On this 10 day southern Italy itinerary, visit the Amalfi Coast, Castelmezzano, Matera, Alberobello, and more towns in Puglia.
AMALFI COAST: Pick out which towns you want to visit in our article about the best towns to visit on the Amalfi Coast. If you are active and adventurous, one of the best things to do on the Amalfi Coast is hike the Path of the Gods. We also have a 3-day Sorrento Itinerary, best things to do in Capri, and where to stay on the Amalfi Coast.
BEST OF ITALY: In our guide to the Best Places to Visit in Italy, we list 25 beautiful destinations to consider for your next trip to Italy.
ASSISI: In our article Best Things to Do in Assisi, we cover the top experiences to have, plus where to eat and where to stay. In our One Day in Assisi Itinerary, we have a detailed walking tour of the historic city center.
We have TONS more information about Italy in our Italy Travel Guide, including Rome, Florence, Venice, Tuscany, the Dolomites, the Amalfi Coast, the Cinque Terre, Basilicata, and Puglia.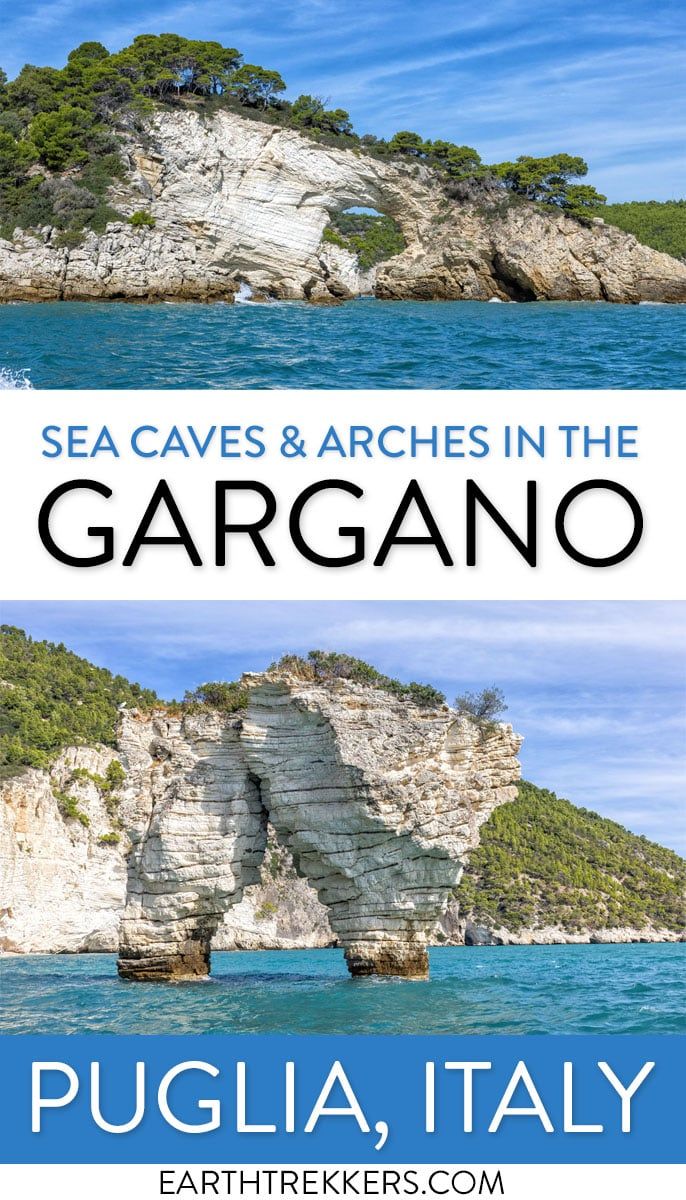 All rights reserved © Earth Trekkers. Republishing this article and/or any of its contents (text, photography, etc.), in whole or in part, is strictly prohibited.