With its maze of cobblestoned streets, stone buildings and churches covering the hillsides, and unique viewpoints, Matera is one of the most picturesque cities in Italy. One of the best things to do in Matera is to eat. Matera is home to quite a few excellent restaurants, ranging from cheap eats to small cafes with a view to Michelin-starred restaurants.
You can get great, local foods for a very low price, so you don't have to spend a lot of money to eat well while in Matera. If you want drinks with a view, you've got a few options. And if you like to end the day with dinner at a fine dining restaurant, you can do that, too.
In this guide, we cover where to eat in Matera, including the best restaurants for your budget.
Restaurants in Matera
Regiacorte Restaurant & Lounge Terrace
If you want great food with an amazing view of the Rock Church, put Regiacorte high on your list.
This highly rated restaurant offers both indoor and outdoor seating.
Inside, you are seated in a cave in a rather elegant setting. Outside, there is a small terrace with views of Sassi di Matera. Ideally, request the outdoor seating, since the views are wonderful. We dined inside, which was also very nice. Our visit was in October and the outdoor terrace was no longer open this late in the season.
Regiacorte offers both an a la carte menu and a several different tasting menus. You will dine on local foods, pastas, and Pane di Matera, which is a round loaf of bread with a thick, crusty exterior and soft, golden interior.
For dessert, order the Girl with the Balloon. The presentation is beautiful and it tastes wonderful, too.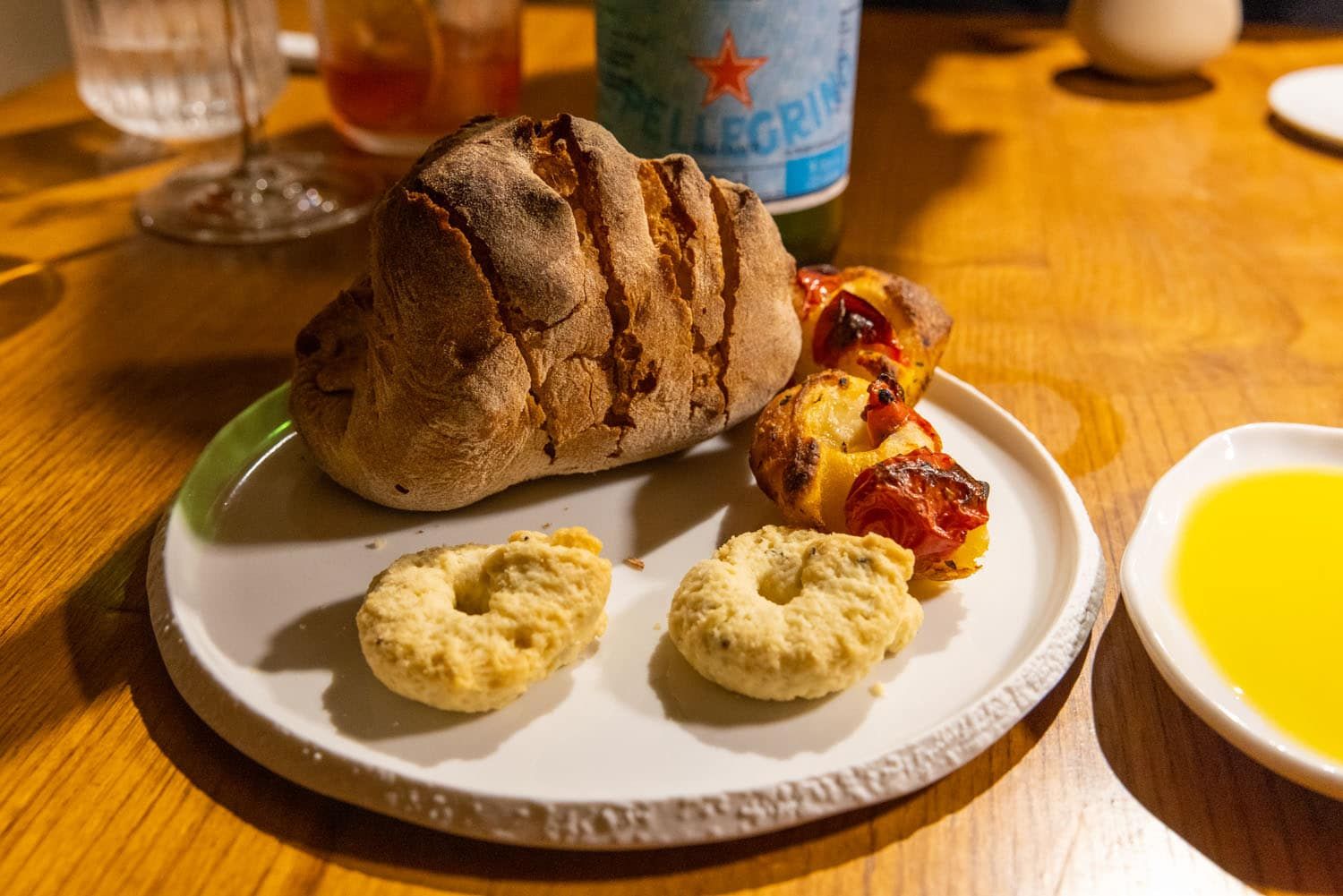 Pane di Matera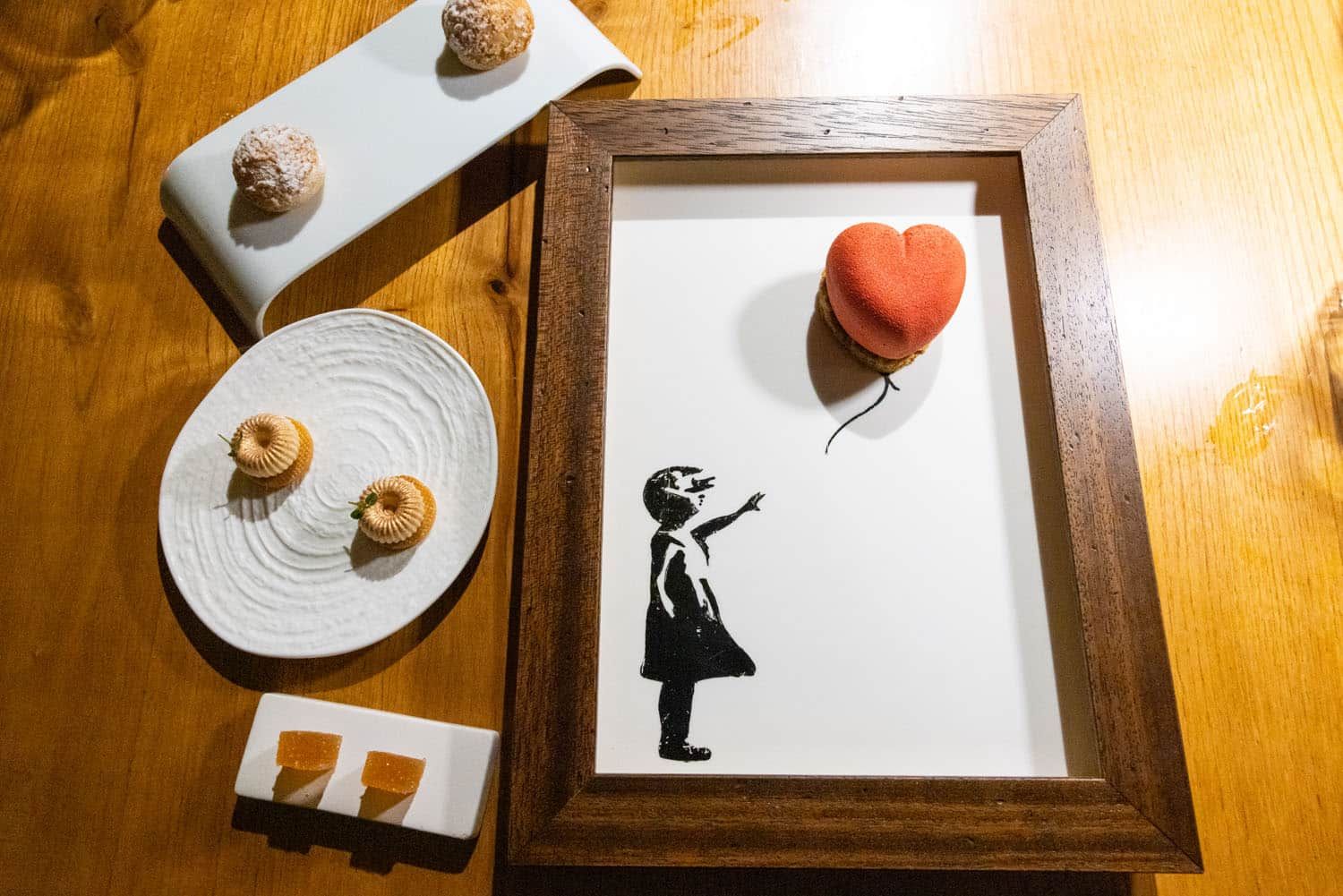 Girl with the Balloon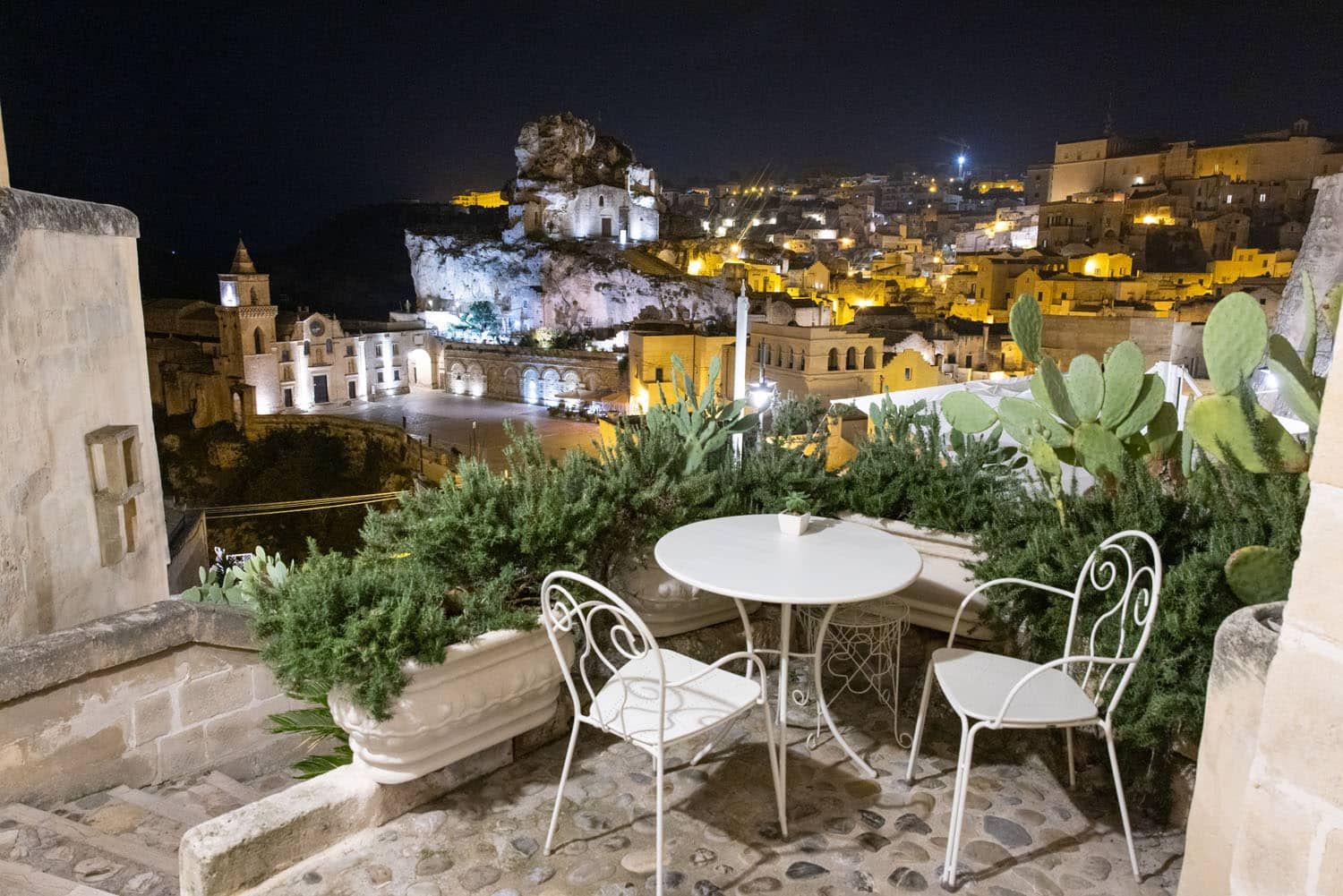 Outdoor seating at Regiacorte
PRO TRAVEL TIP: The restaurants on this list are some of the most popular in Matera. We recommend making dinner reservations for each of these before your visit to Matera. The link to the official website is provided for each restaurant in Matera. You can also check hours and take a look at the menu.
La Lopa
La Lopa is another popular restaurant in Matera. This small restaurant is tucked away inside of a cave. The menu is a la carte with lots of traditional dishes in Matera, including Fave e Cicoria (a soup of broad beans, chicory, and sundried peppers), Crapiata (soup made from beans and grains), peperoni cruschi (crispy peppers), and cavatelli and orecchiette pastas served with Matera onion stew or meat sauce.
On the bottom level of the restaurant is a small movie theater showing film clips of movies made in Matera.
Inside of La Lopa
Il Rusticone
Il Rusticone is one of the best restaurants in Matera for good, cheap, fast food.
Pizza is their specialty, but they also serve taglieri (meat and cheese board) and puccia (basically, a sandwich made from crusty, baked bread and filled with a variety of ingredients, including cured meats, cheeses, and salad).
For lunch, this is one of the best restaurants in Matera to put on your list. It's delicious and it has a great location near Piazza Vittorio Veneto.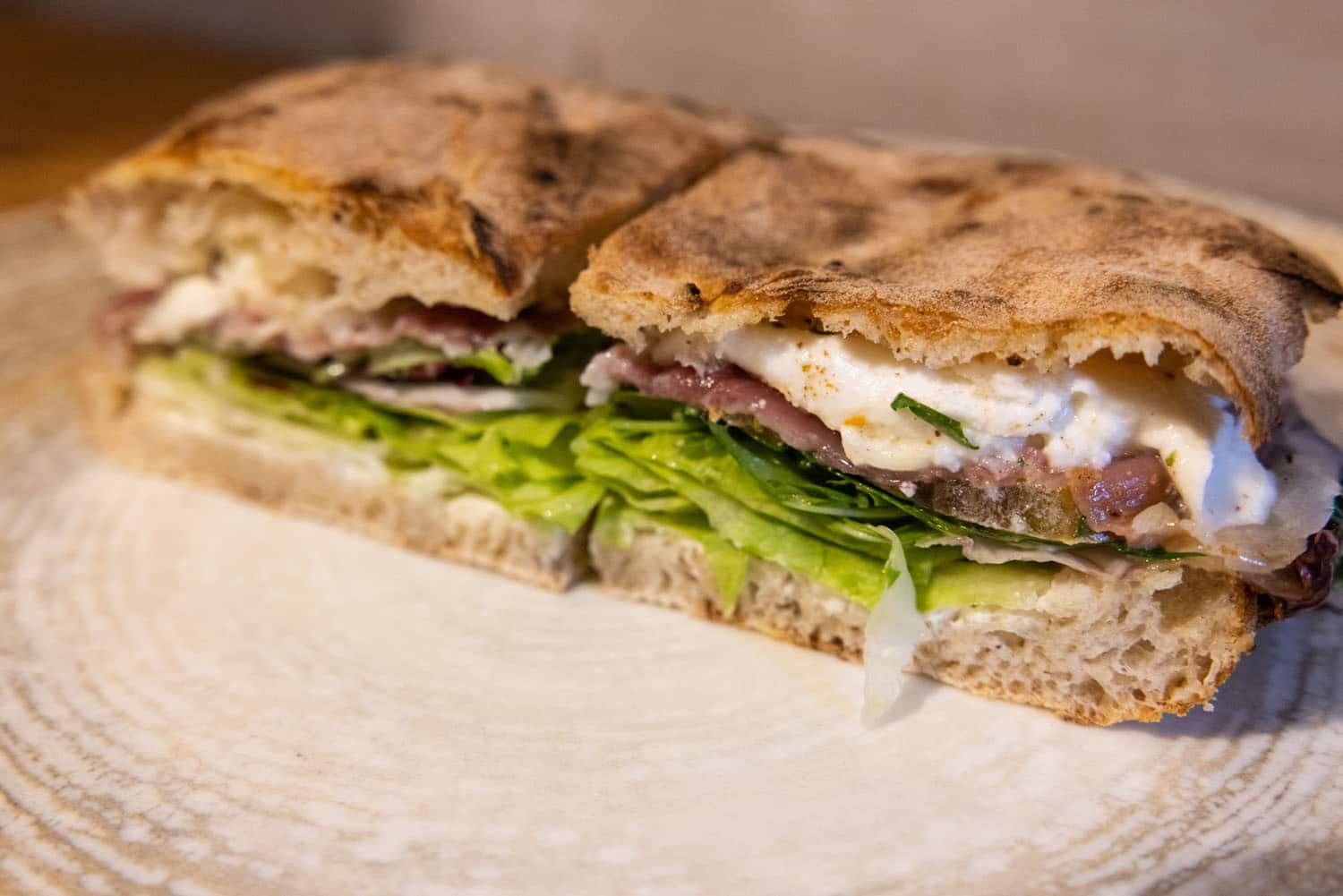 Puccia at Il Rusticone
Annunziata 1735 Ristorante Pizzeria
For a view over Matera, put Annunziata 1735 Ristorante Pizzeria on your list. This restaurant is located on top of Palazzo dell'Annunziata and from here you get a panoramic view over Matera.
This restaurant is more about the view than the food. The pizza is a little more expensive than other restaurants in town, and not nearly as good as what you get at Il Rusticone, but you do get the view.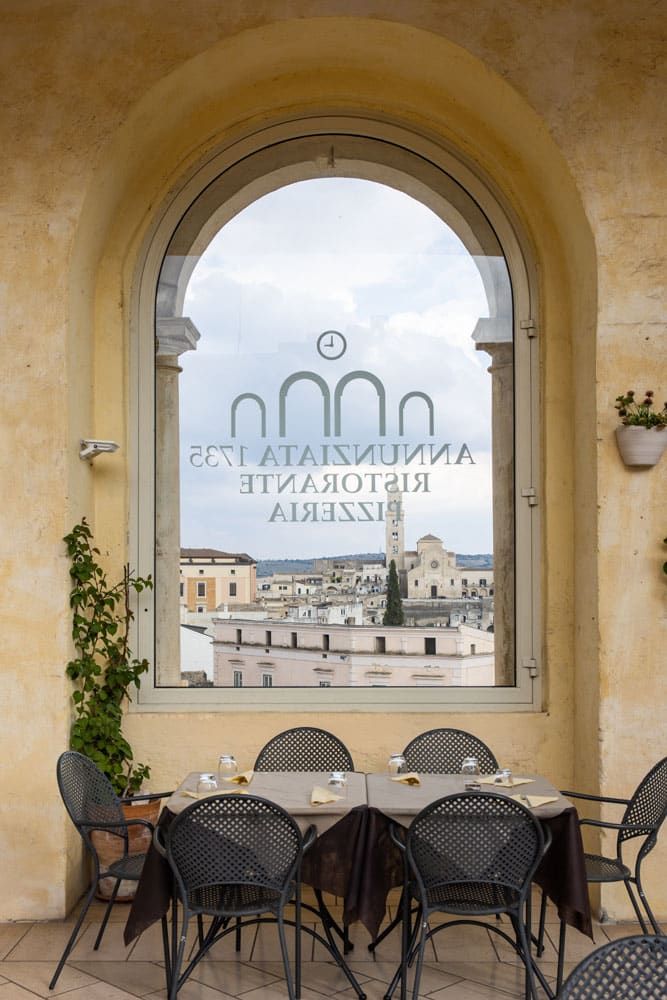 Annunziata 1735 Ristorante Pizzeria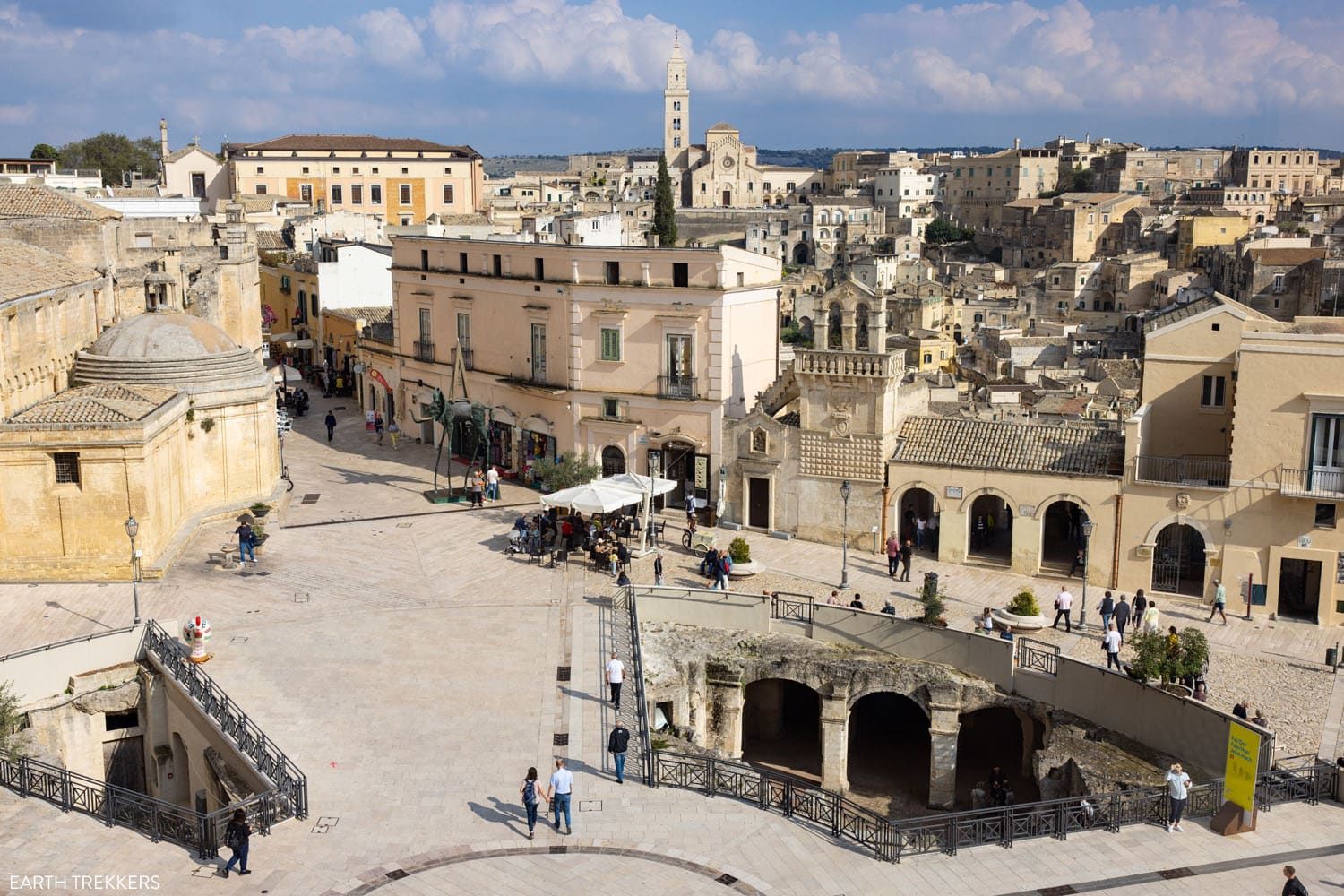 The view from Annunziata 1735 Ristorante Pizzeria
Uacciardidd
This was one of our favorite dining experiences in Matera. If you want to try a variety of local foods at a cheap price, this is the place to go.
Uacciardidd is a butcher shop that also serves local dishes. There are a few tables, both inside and outside. The prepared foods are displayed behind the counter and you pick out what you want, the food is warmed up (if necessary), and then served to your table.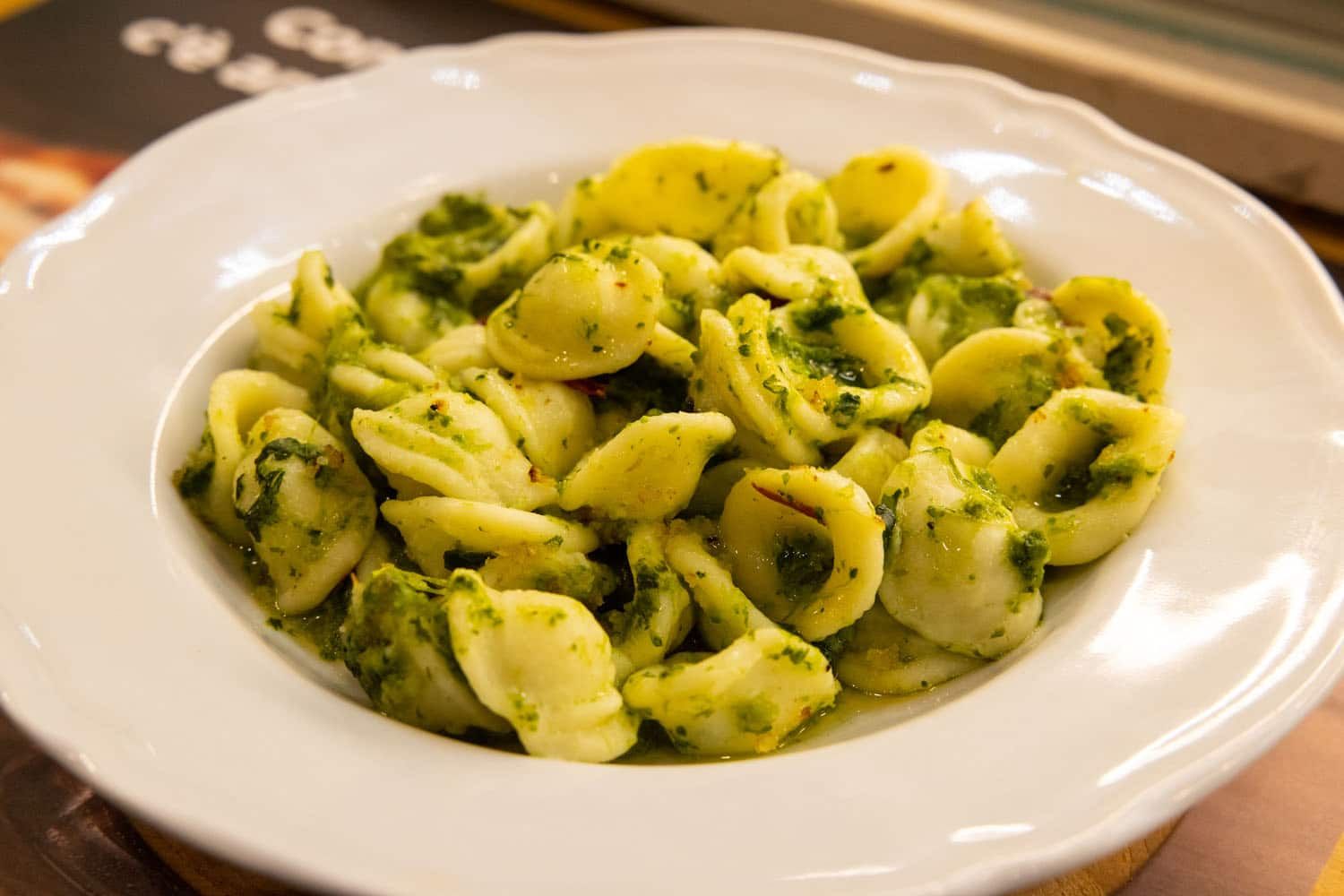 Orecchiete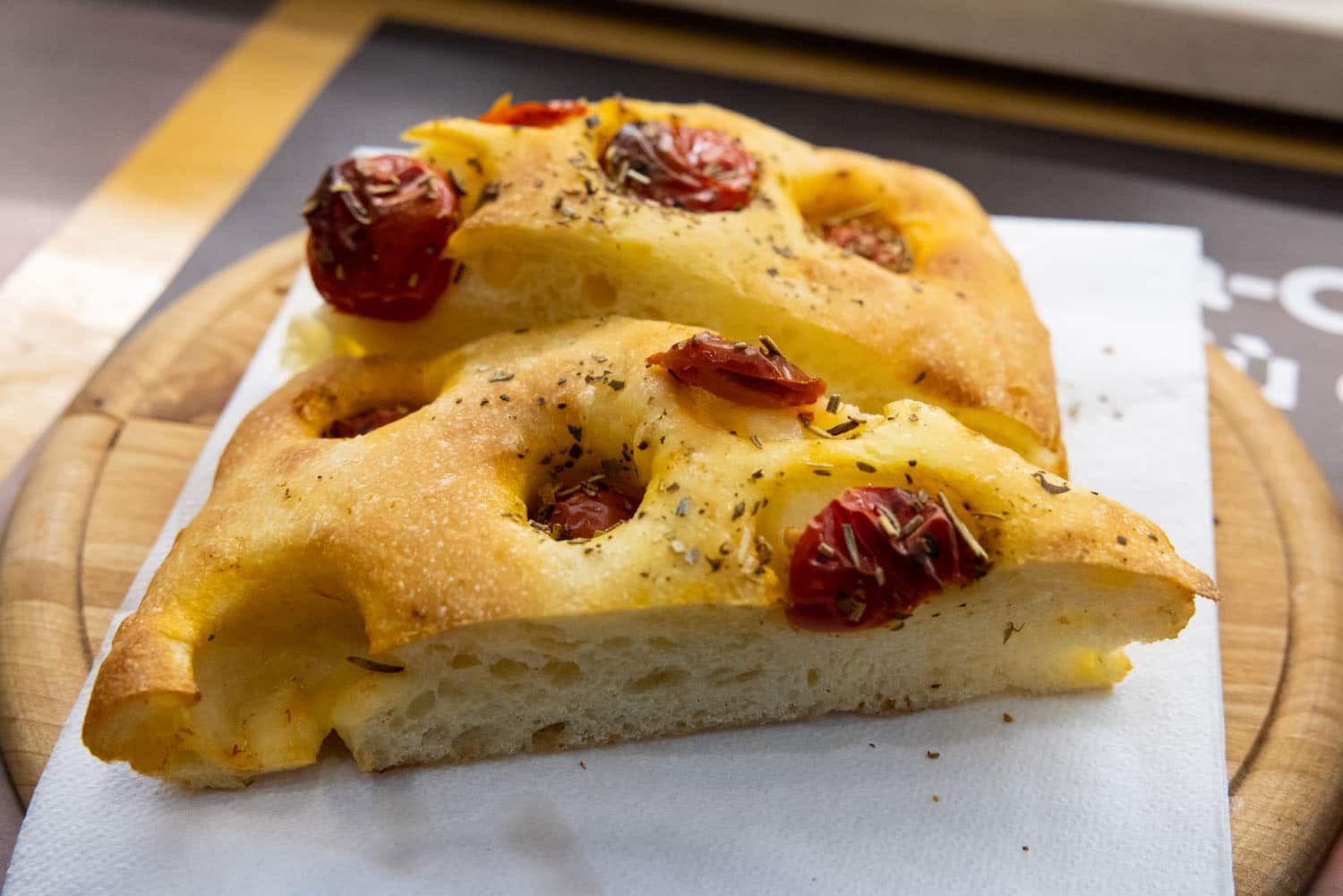 We ordered a ton of food because everything looked amazing (and it was!).
The staff did not speak English, so we simply pointed to what we wanted.
Tim and I ate delicious plates of food at a very low price, making this our top pick in Matera if you want local food at a non-touristy restaurant. If you read the reviews on Trip Advisor, many prior visitors state that this was one of the best restaurants on their entire trip to Matera and Puglia, and we have to agree.
This restaurant does not take reservations. Just grab an open table, order your food, and enjoy!
La Nicchia nel Sasso Osteria Contemporea
La Nicchia is a great little restaurant with a view of Sassi di Matera.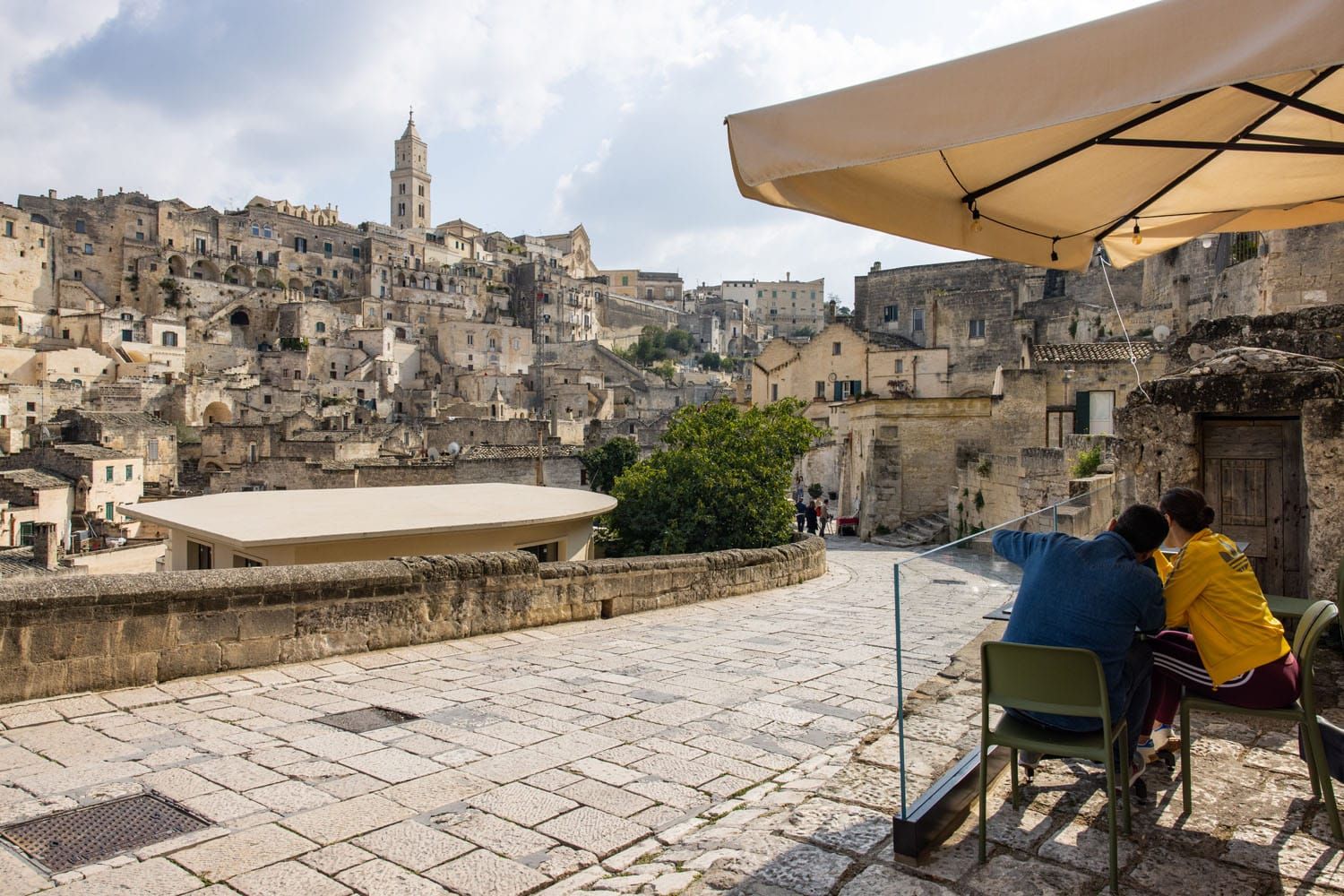 The view from La Nicchia nel Sasso Osteria
The setting is beautiful, with tables on the outdoor terrace with a view of the Matera cathedral. The food is just as good, with artistically prepared foods. Local cuisine and seafood are on the menu.
We had lunch here and service was a little bit slow, but it was worth the wait because the food was outstanding. This is also a great place to have dinner.
We dined on smoked salmon bruschetta and cavatelli with ragu.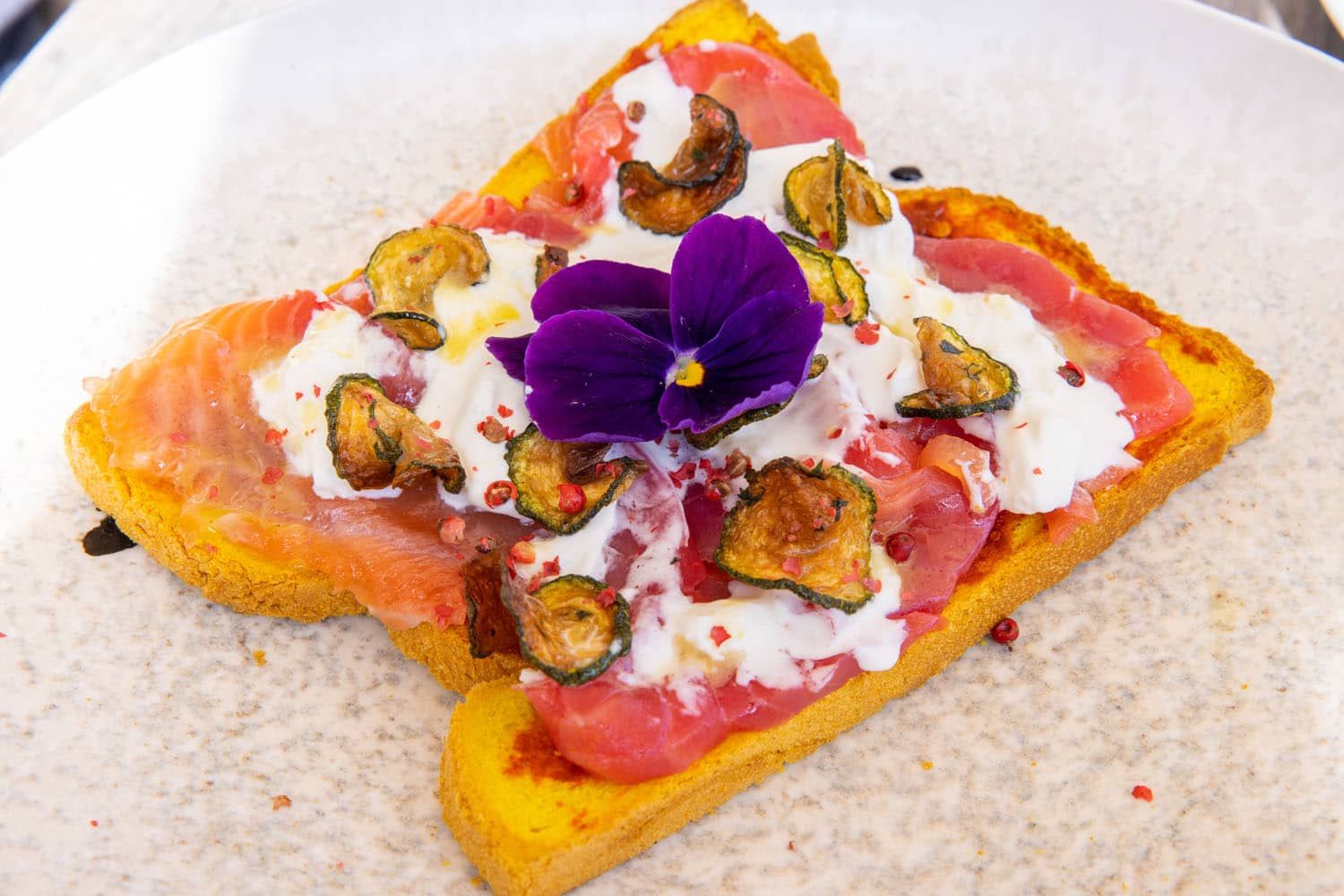 Smoked Salmon Bruschetta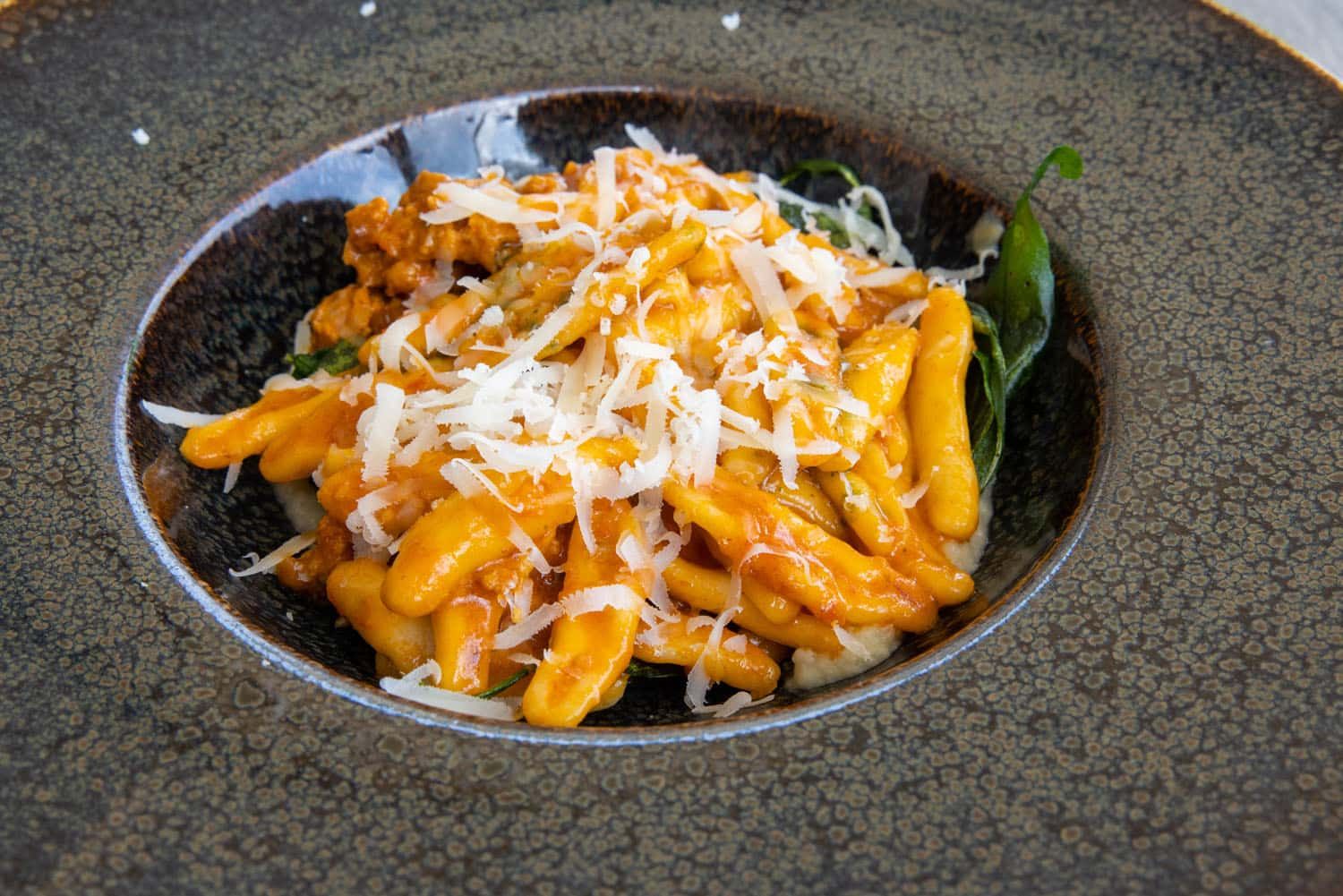 Cavatelli with ragu
Botega Culinaria
This restaurant and bar is different in that you dine in a more modern setting.
We visited Botega Culinaria for an aperitif and the cocktails were the best that we had in Matera (they made an awesome Negroni!).
This restaurant is located on Via San Biagio, so you don't get a view, or a cave experience here. However, it is a short walk from an amazing sunset viewpoint of Matera, and I walked out here a few times to snap photos of the sunset.
The food also gets great reviews, so this makes a nice dinner option in Matera.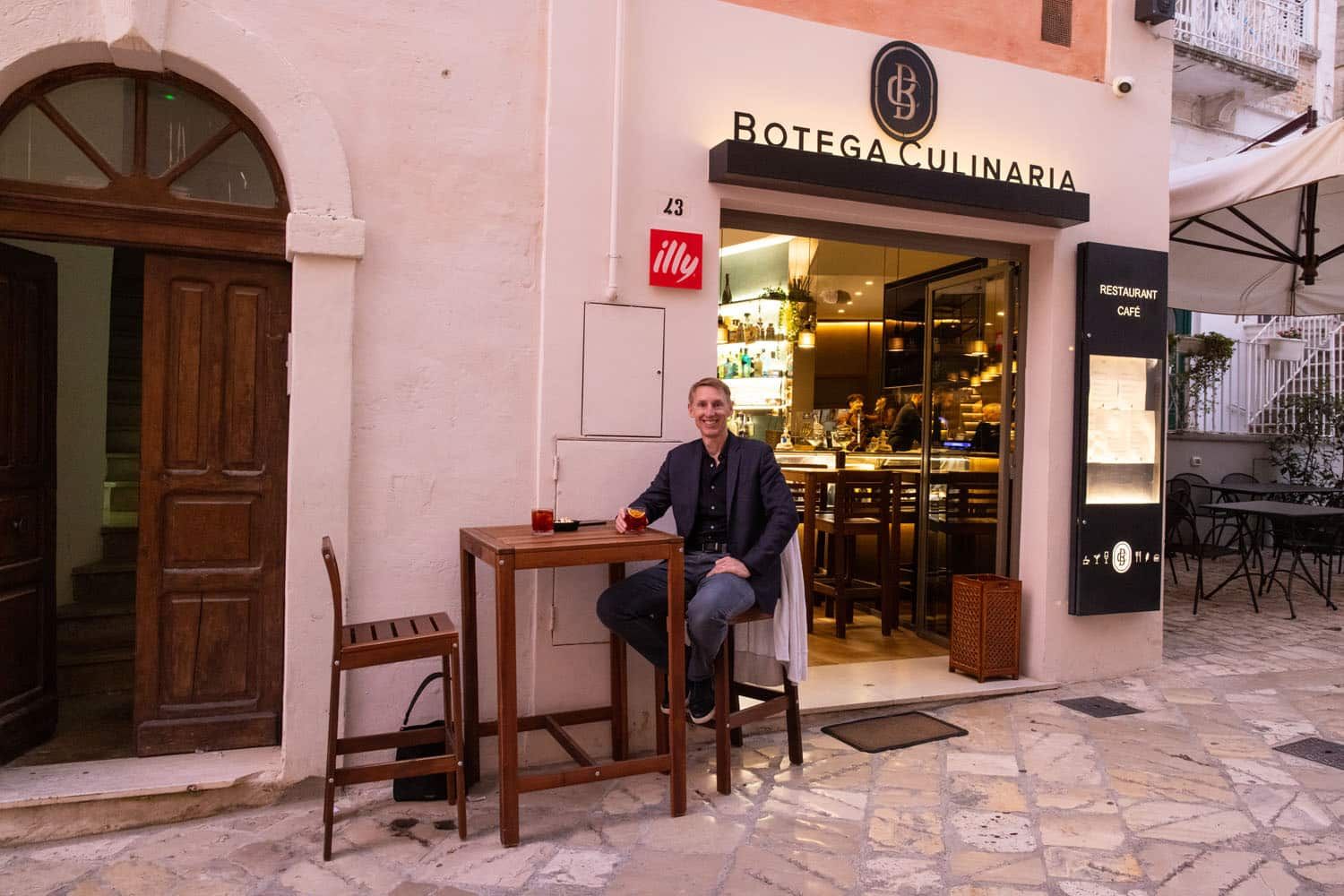 Botega Culinaria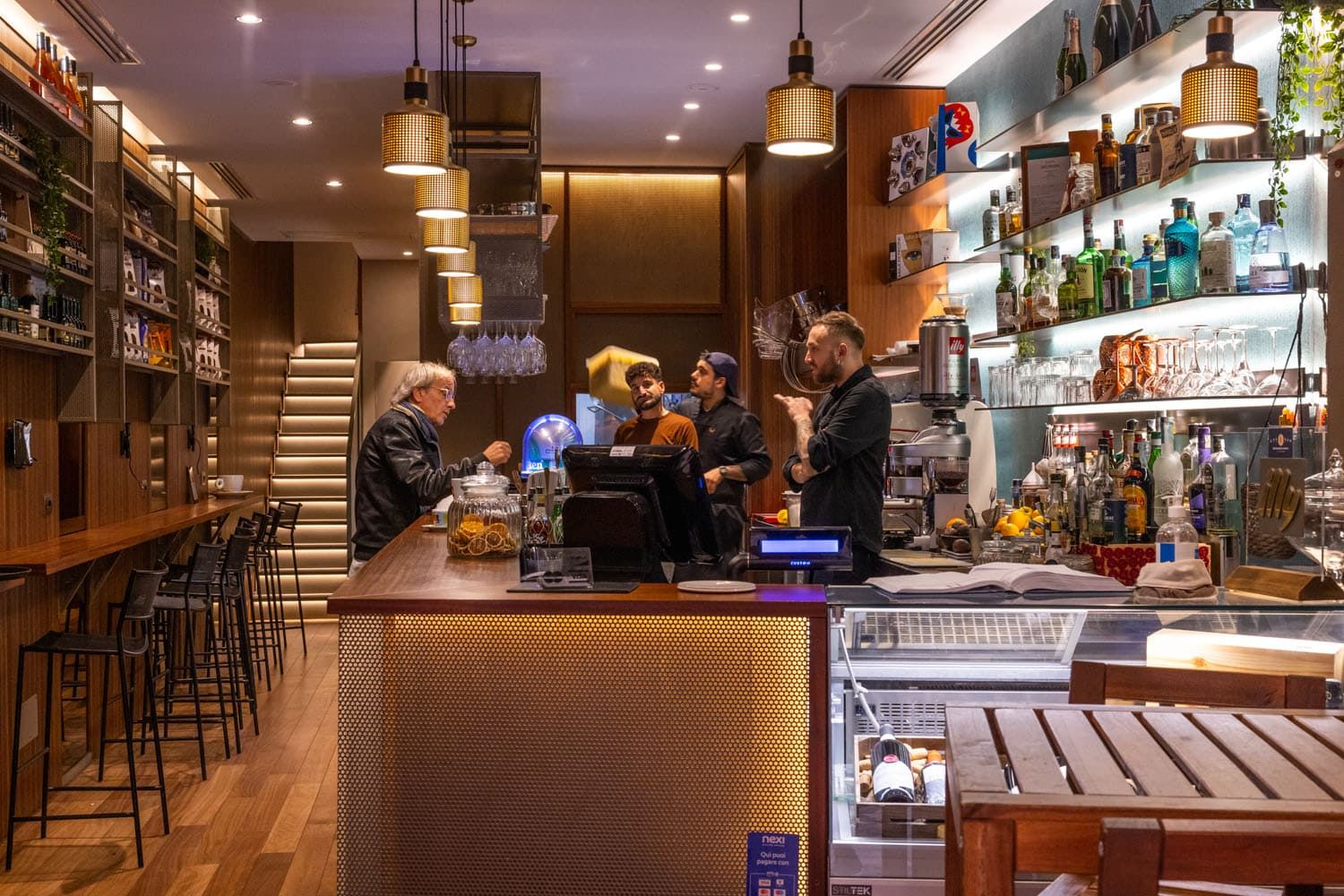 Botega Culinaria
Vitantonio Lombardo Ristorante
For the best fine dining experience in Matera, put Vitantonio Lombardo Ristorante on your list.
Vitantonio Lombardo Ristorante is a Michelin-starred restaurant in Matera. It is also one of the most unique dining experiences we have had.
This restaurant is located inside of a cave. The staff is very friendly and attentive, the food presentation is the most creative we have experienced so far, and everything we ate was amazing.
Take your pick from a 6, 8, or 10 course tasting menu with the option to add on a wine pairing. We did the 6 course tasting menu with wine pairing and the entire experience lasted about two and a half hours.
Every single dish that was served to our table, and the others around us, were incredibly creative. With small finger foods served from a tiny replica of Matera, to foods served in uniquely shaped dishes, every course is a beautiful, culinary delight.
For dessert, order "The Last Kiss." This dessert, which is shaped like red lips and served on a plate, does not come with any utensils. You are given a set of headphones, listen to romantic music, and must pick the plate up with your hands and eat (or kiss) the lips directly off of the plate. It's fun and it's one of most frequently ordered dishes, because we saw a lot of other tables doing the same thing.
We loved this entire experience from start to finish and highly recommend it for foodies and those who want a fine dining experience in Matera.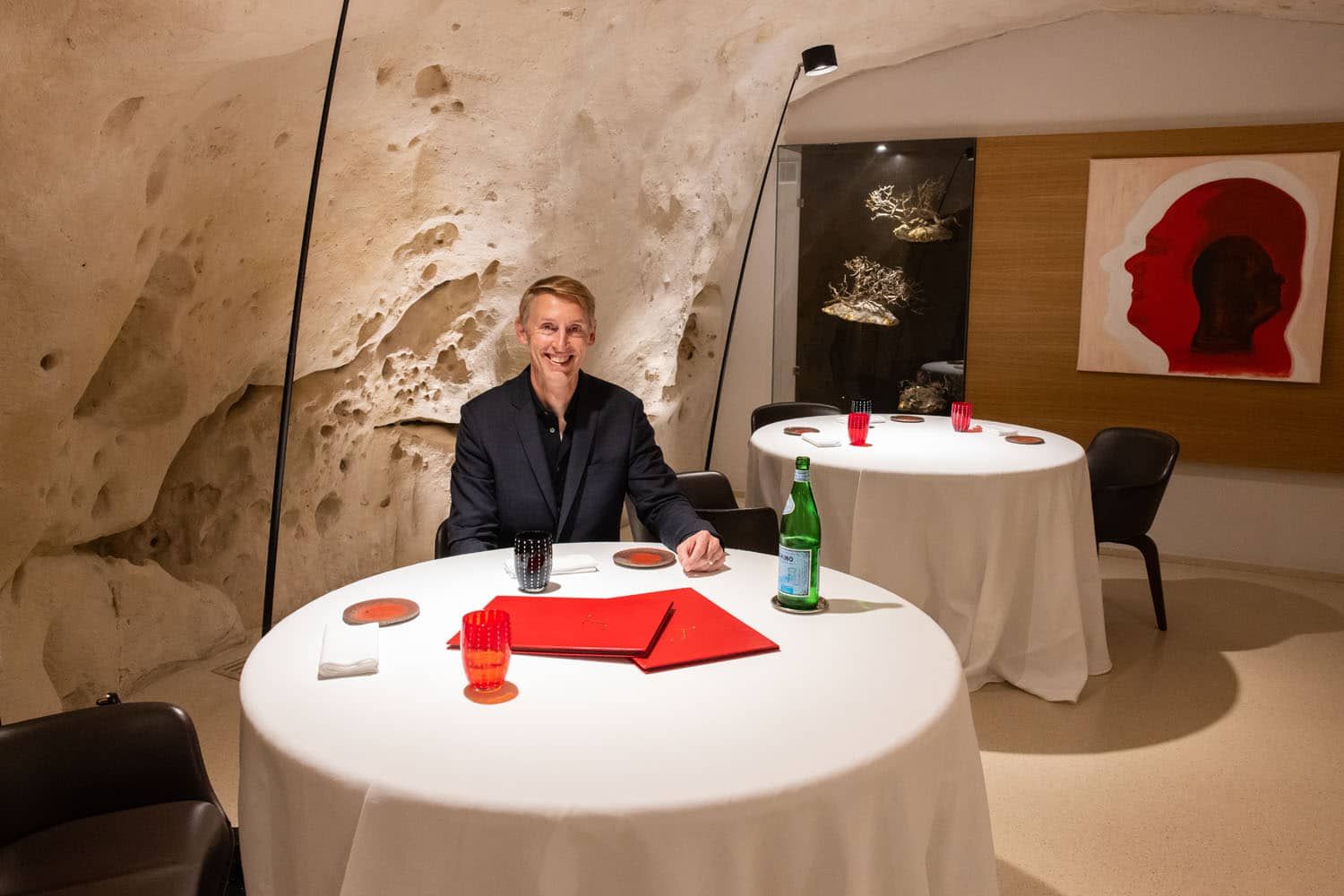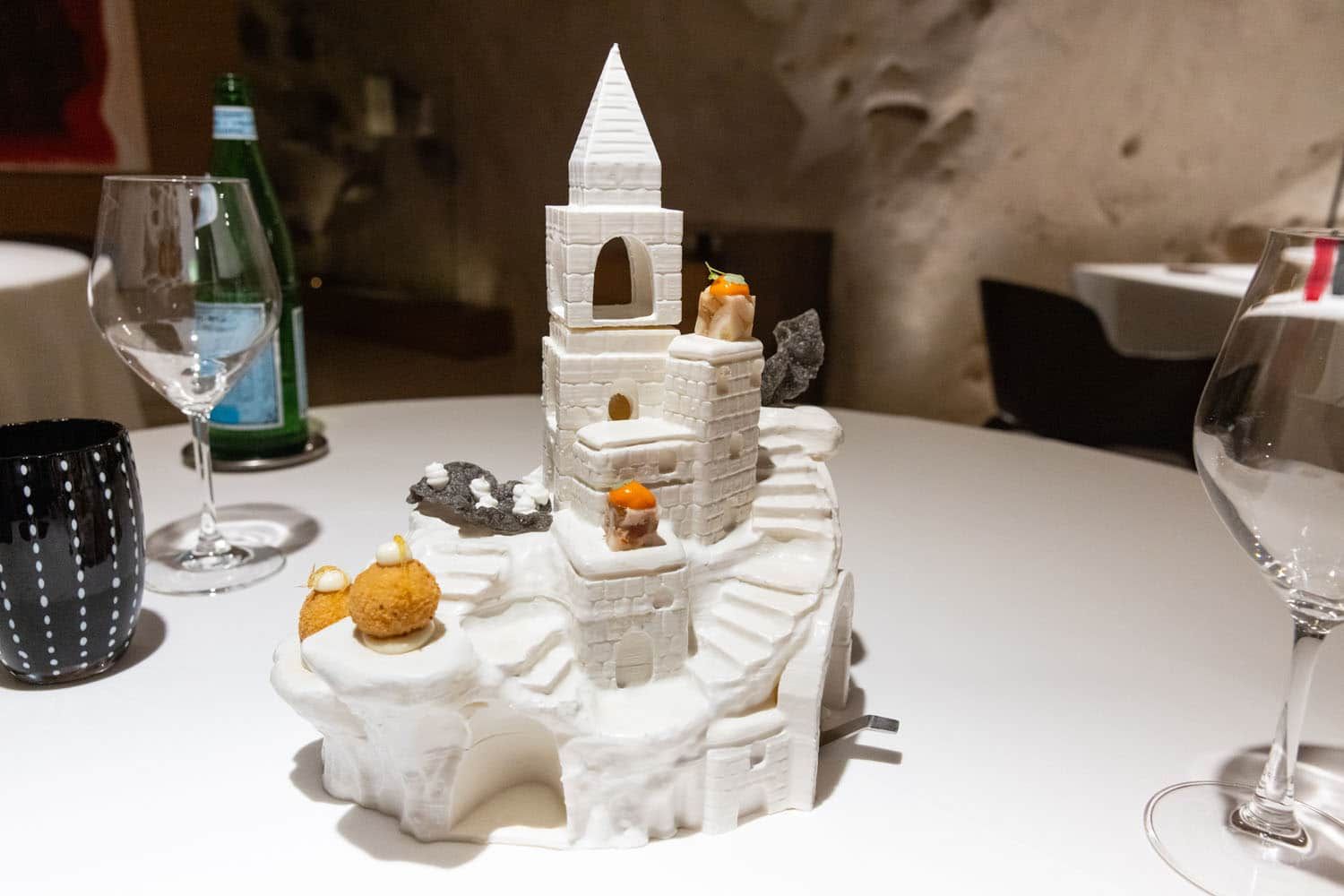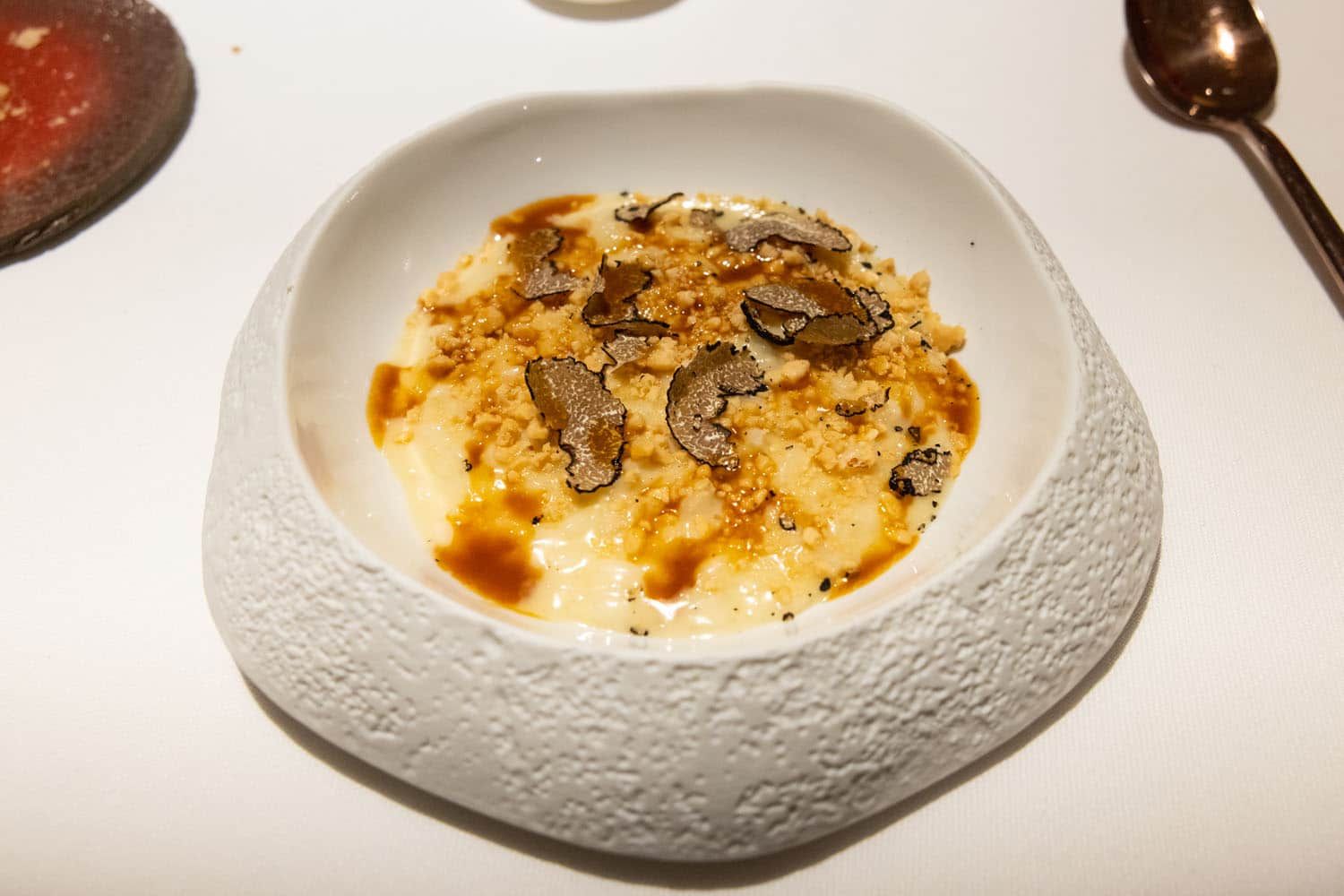 More Restaurants in Matera
We were in Matera for three days, so we could only eat at so many places. Two other restaurants that were high on our list were Trattoria del Caveoso and Ristorante Soul Kitchen. There are also quite a few Michelin-starred restaurants in Matera, and four more to try are Dimora Ulmo, Le Bubbole, Baccanti, and Ego Ristorante Matera.
Bars & Lounges in Matera
Here are two bars with an outdoor terrace and stunning views of Matera.
The Quarry Resort Lounge
The outdoor terrace of the Quarry Resort overlooks the Rock Church and Murgia Materana Park. They serve wine and cocktails as well as meat and cheese boards, bruschetta, and salads.
This is a great spot to go for an aperitif before dinner. Nearby restaurants include Regiacorte and Vitantonio Lombardo Ristorante.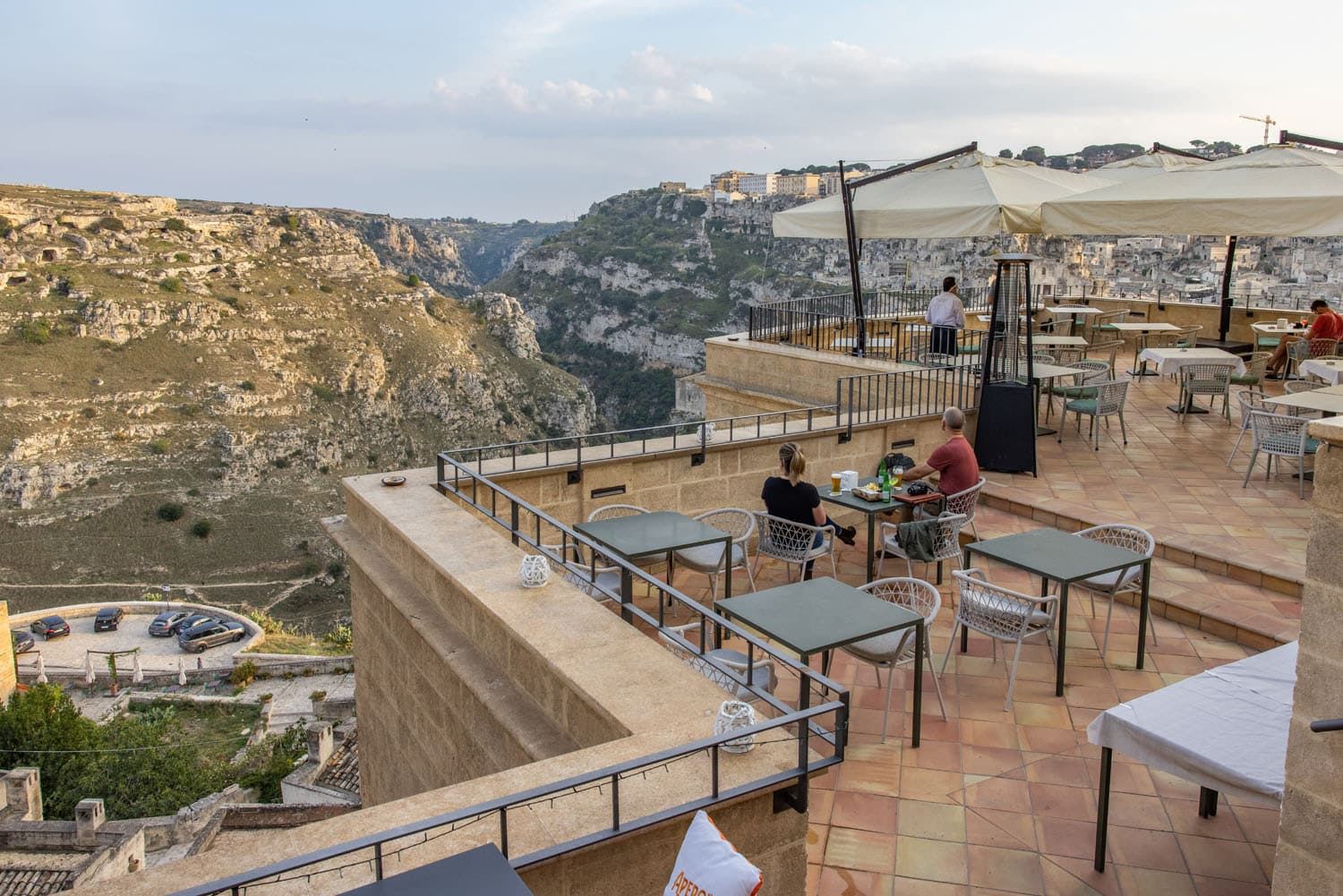 Quarry Resort Lounge
Crialoss
Crialoss is a terrace with panoramic views of Sassi di Matera. This is part of a hotel that is located in an 18th century palace (Palace of the Abbots).
This is a great place to go for an aperitif and sunset views of Matera. They serve wine and cocktails as well as salads, bruschetta, and other small dishes.
If you aren't a guest of the hotel, make a reservation in advance. The tables fill up in the afternoon and you could be turned away without a reservation.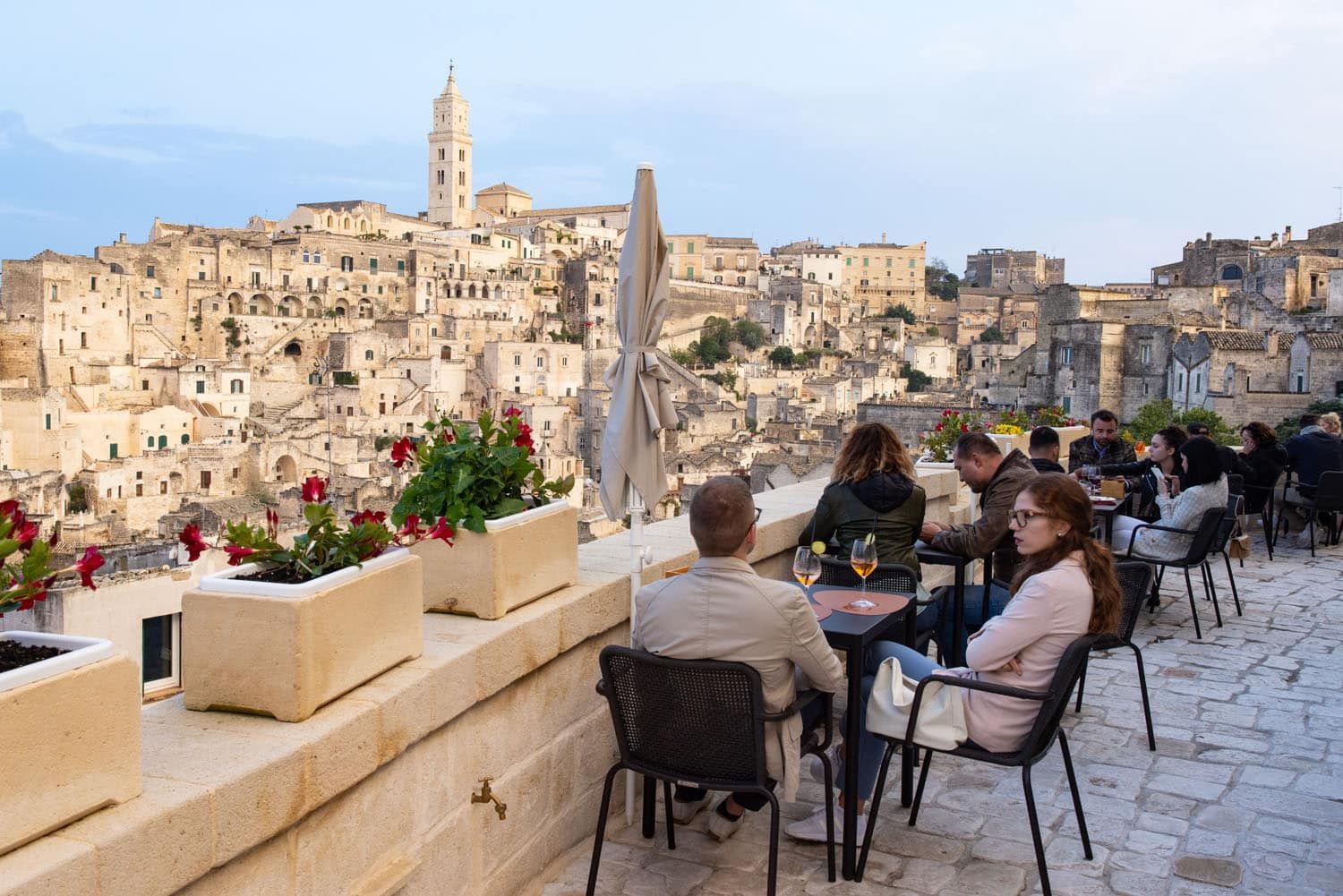 Crialoss
Where to Eat in Matera: On a Map
How to Use This Map: Click the icons on the map to get more information about each restaurant. Click the star next to the title of the map to add this map to your Google Maps account. To view it on your phone or computer, open Google Maps, click the menu button, go to "Your Places," click Maps, and you will see this map on your list.
Tips for Eating in Matera
Make a reservation for dinner. Many of the restaurants we listed take reservations. It's a little more work before your trip, but for dinner in Matera, we recommend making a reservation, particularly for the higher end restaurants. In this article, we give links to each restaurant so you can make your reservation.
Hours of Operation. Some restaurants will be open for lunch (roughly noon to 2:30 pm), close for a few hours, and then reopen for dinner. I recommend checking the hours of places you are interested in, so you can time your meals. We've been in the unfortunate situation where we weren't hungry until 3 pm and then couldn't find a good place to eat.
Dinner starts at 7:00 pm. In Matera, dinner doesn't typically start until 7:00 or 7:30 pm, but many people eat much later than this (around 9:00 pm). To get on schedule, plan on having lunch around 1:30 pm and dinner between 7:30 and 9:00 pm.
What should you order? When you look at a menu, you will see antipasti (appetizers), primi (first course), secondi (second or main course), contorni (side dishes), and dolci (dessert). You do not have to pick something from each category. We typically split an antipasti and then each order a first or second course. Unless you are very hungry, ordering both a first course and a second course is a lot of food.
Aperitivos in Matera. An aperitivo is a pre-dinner drink served with a few small snacks or charcuterie board. Drinks are usually a cocktail, such as an Aperol or Campari Spritz, a negroni, or a glass of wine. One of our favorite things to do in Matera is to have an aperitivo at a bar with a view of the old town, followed by dinner. It's a great way to unwind after a day of sightseeing.
---
If you have any questions about where to eat in Matera, or if you want to share your favorite restaurants in Matera, let us know in the comment section below.
More Information for Your Trip to Italy
MATERA: Matera is one of the most beautiful places to visit in Italy. Here is a list of the best things to do in Matera and the best viewpoints of Matera.
BASILICATA: Basilicata is a region in southern Italy. Read our guide on the best things to do in Matera and how to visit Castelmezzano and Pietrapertosa and do the Angel's Flight zipline.
PUGLIA: Read about 15 beautiful places to visit in Puglia, the best things to do in Alberobello, and check out our Alberobello Walking Tour. We also have a guide to the best things to do on the Gargano Peninsula and how to spend one day in Vieste.
ITALY ITINERARY: On this 10 day southern Italy itinerary, visit the Amalfi Coast, Castelmezzano, Matera, Alberobello, and more towns in Puglia.
BEST OF ITALY: In our guide to the Best Places to Visit in Italy, we list 25 beautiful destinations to consider for your next trip to Italy.
We have TONS more information about Italy in our Italy Travel Guide, including Rome, Florence, Venice, Tuscany, the Dolomites, the Amalfi Coast, the Cinque Terre, Basilicata, and Puglia.
All rights reserved © Earth Trekkers. Republishing this article and/or any of its contents (text, photography, etc.), in whole or in part, is strictly prohibited.