Spending three days in Sorrento is one of the easiest and most convenient ways to visit the Amalfi Coast region. Sorrento is a great home base for exploring this part of Italy, as it is well connected to the island of Capri, the Amalfi Coast, and the historic ruins of Pompeii.
This Sorrento itinerary is perfect for those with limited time to the area and those who don't want to spend a small fortune (spending a small fortune is very easy to do in this part of Italy).
If you have more time, or just want to see more options on ways to plan your time on the Amalfi Coast, take a look at our Amalfi Coast Itinerary (coming soon), which lists multiple ways to spend anywhere from a few days to one week on the Amalfi Coast.
Sorrento Itinerary Day 1
Rome to Pompeii to Sorrento
Morning: Train to Pompeii
Take a morning train from Rome to Naples (about 1.25 to 2 hours travel time). Once in Naples, transfer to the Campania Express Train and take this to Pompeii Scavi. At the train station, store your luggage and visit Pompeii.
For full details on how to do this, check out our guide How to Visit Pompeii when Traveling from Rome to Sorrento.
Midday: Pompeii
Once at Pompeii, you can tour the site on your own, hire a guide, or, do what we did, and follow the guide in the Rick Steves' Guide Book. Having done the guidebook, we did feel like we were missing out on something, so if we did it again, we would take a guided tour to get the most out of our visit.
It takes 2 to 4 hours to visit Pompeii, depending on whether or not you take a tour and how much interest you have in exploring the full archaeological site.
For pricing, hours, and to purchase tickets in advance, here is the link to the official Pompeii website.
Pompeii | Balate Dorin/shutterstock.com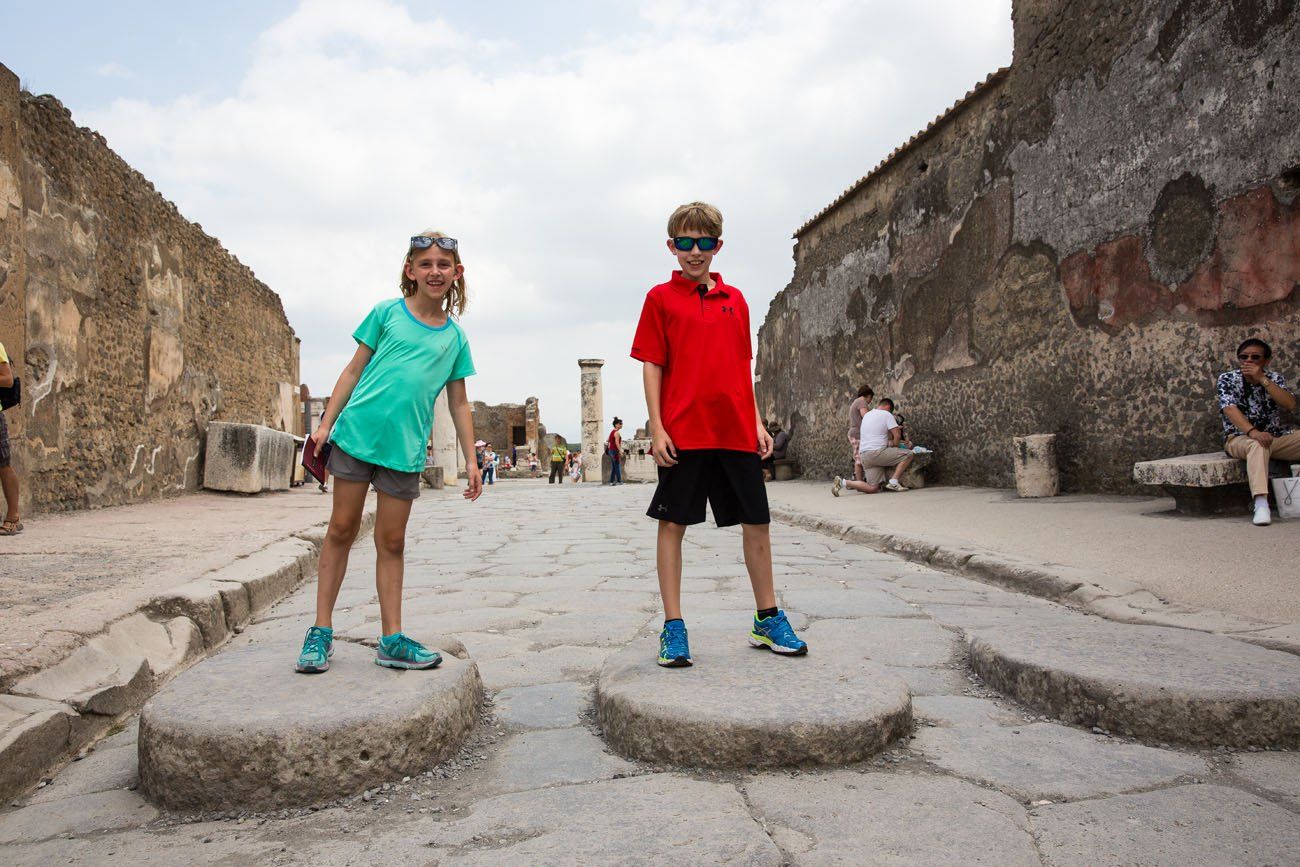 Afternoon (Optional): Vesuvius
If you are doing well on time, you can visit Mount Vesuvius after Pompeii. From the train station in Pompeii, you can take a bus or a shuttle to Mount Vesuvius and then you will have to walk the remainder of the distance to the summit. Or, you can skip Mount Vesuvius and explore the beautiful town of Sorrento instead.
Afternoon: Travel to Sorrento
Once finished at Pompeii (and Mount Vesuvius), retrieve your luggage, ride the Campania Express Train to Sorrento (this is about a 30-minute journey), check into your hotel, and have dinner. For ideas on things to do in Sorrento, take a look at our article Best Things to Do in Sorrento.
For the Campania Express timetable, click here.
PRO TRAVEL TIP: There are two train lines that run between Naples and Sorrento, the Circumvesuviana and the Campania Express. The Campania Express is a newer, tourist line that makes fewer stops, has air conditioning, and has guaranteed seats. It's a little more expensive, but having ridden the Circumvesuviana in the hot, crowded summer months, it's worth it to have AC and a seat. Note: The Campania Express only runs during peak tourist season, which is April through October.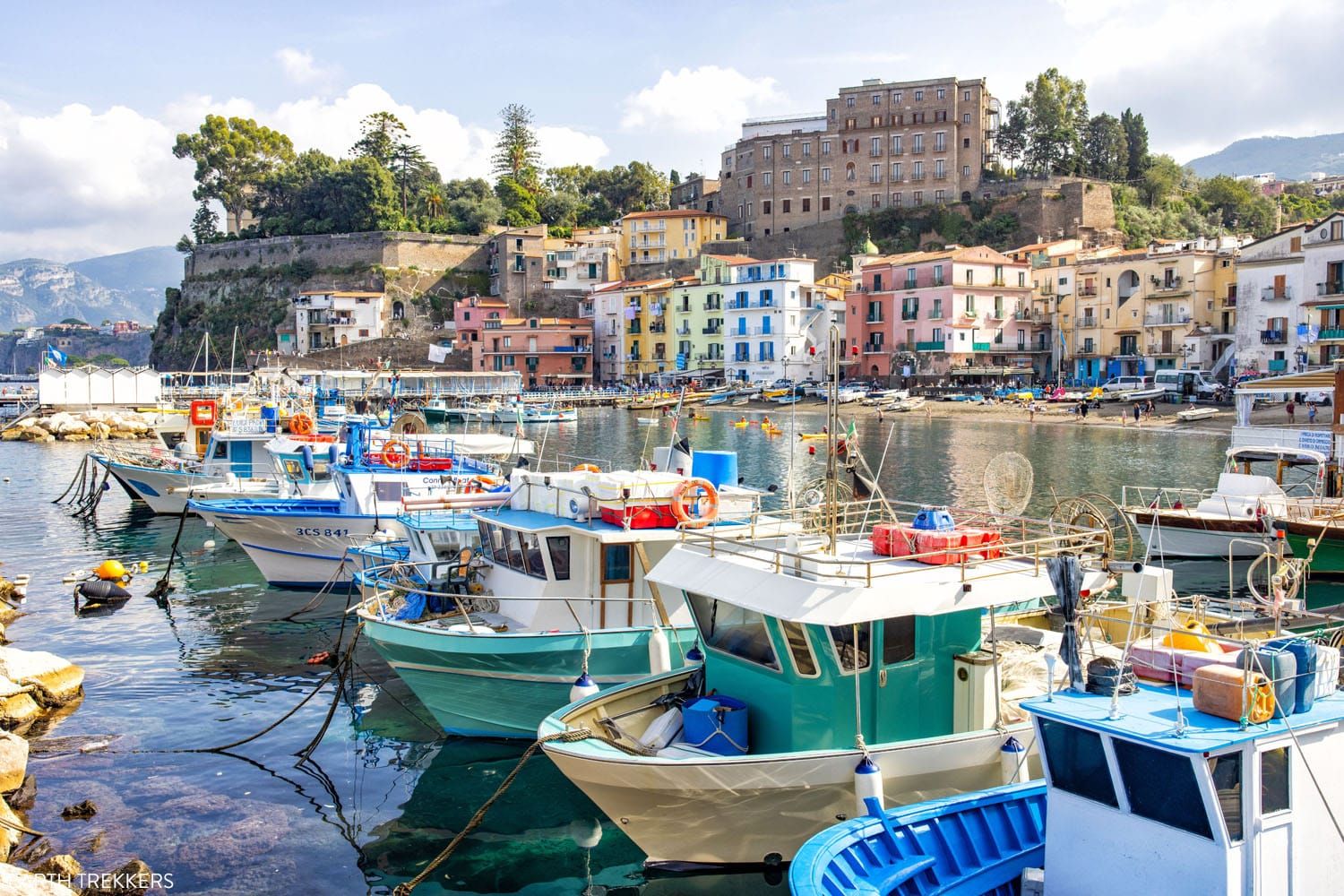 Marina Grande, Sorrento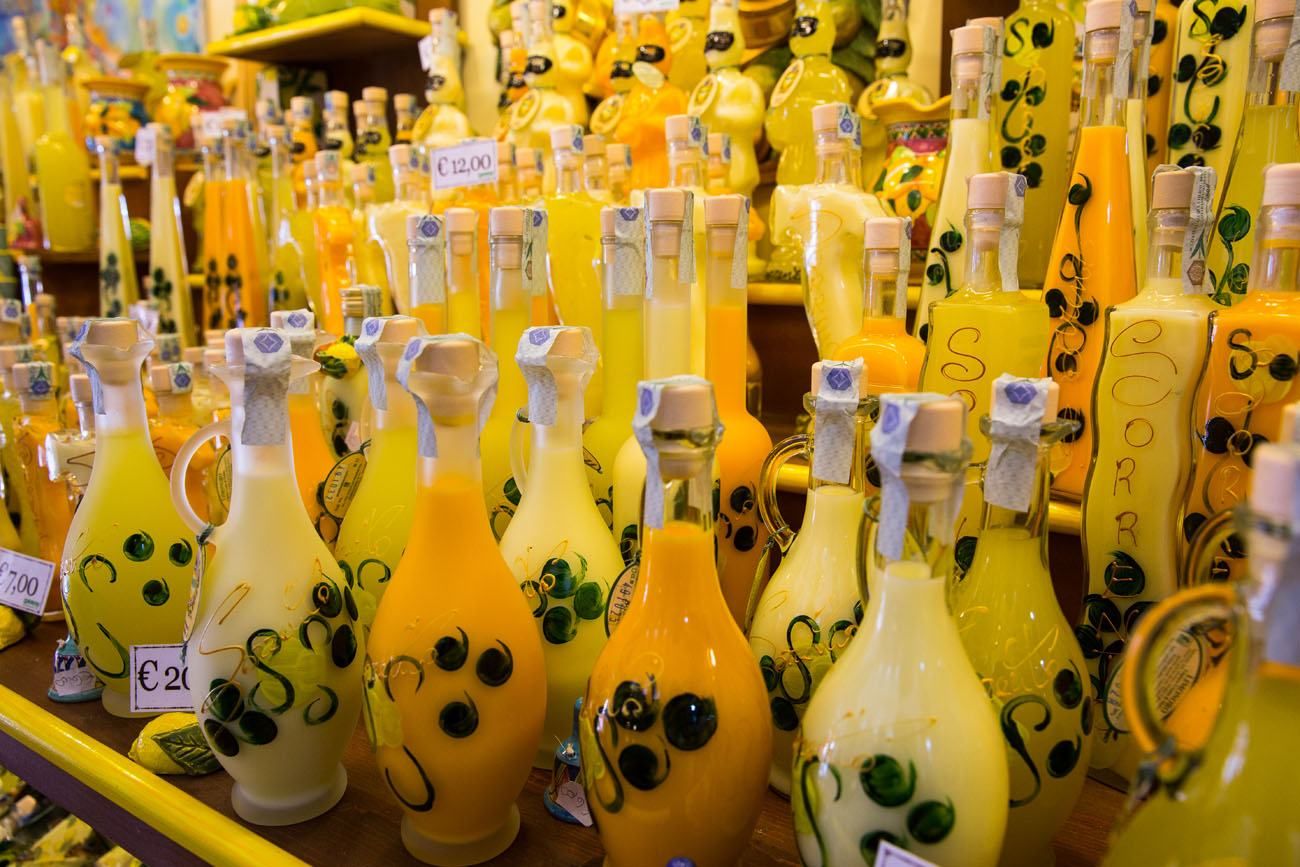 Limoncello in Sorrento
Sorrento Itinerary Day 2
Capri Day Trip
From Sorrento, it is very easy to day trip to Capri. The top things to do in Capri are to take a boat tour around the island, visit the Blue Grotto, explore the towns of Capri and Anacapri, and ride the chairlift to Monte Solaro. This typically takes one full day.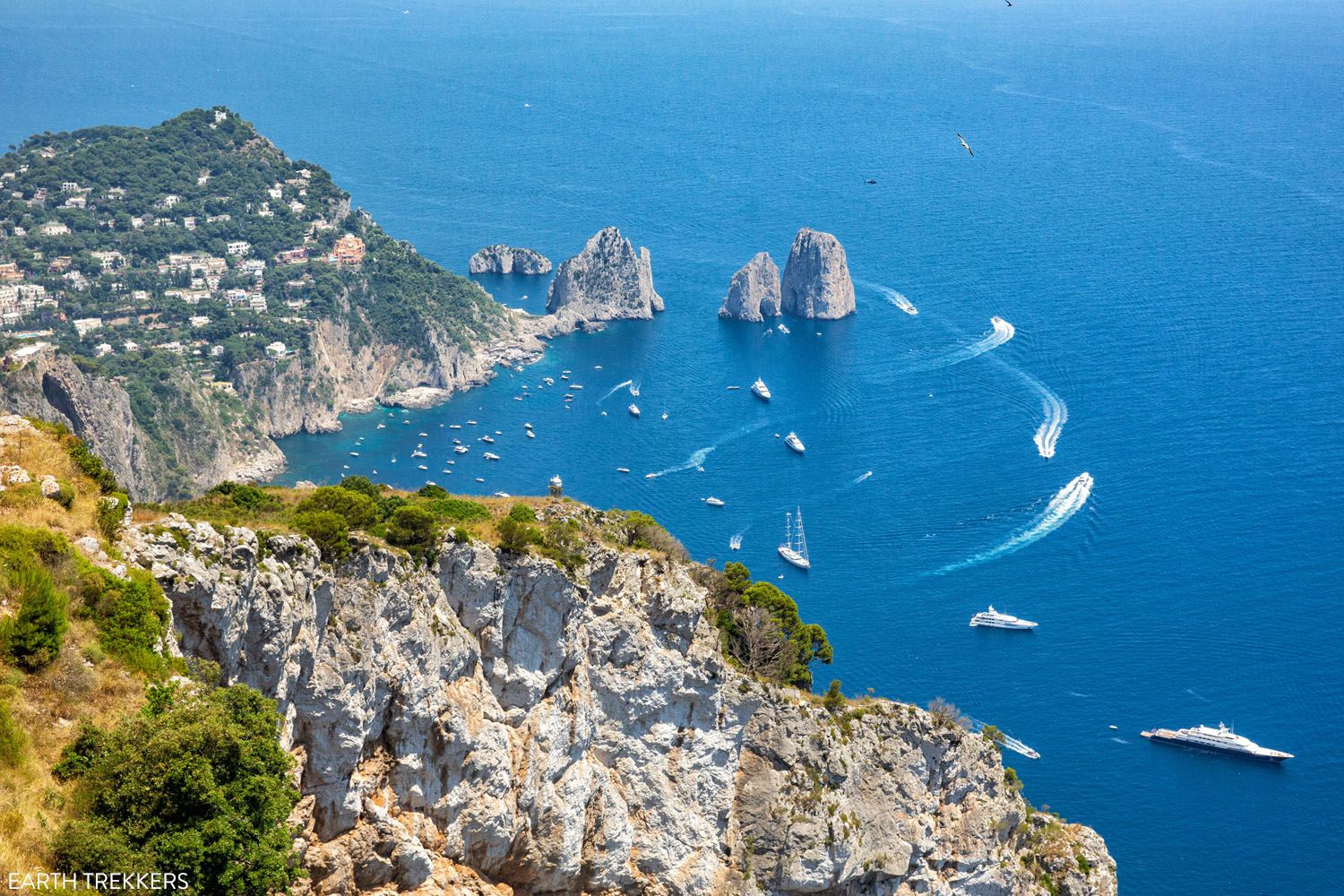 The view from Monte Solaro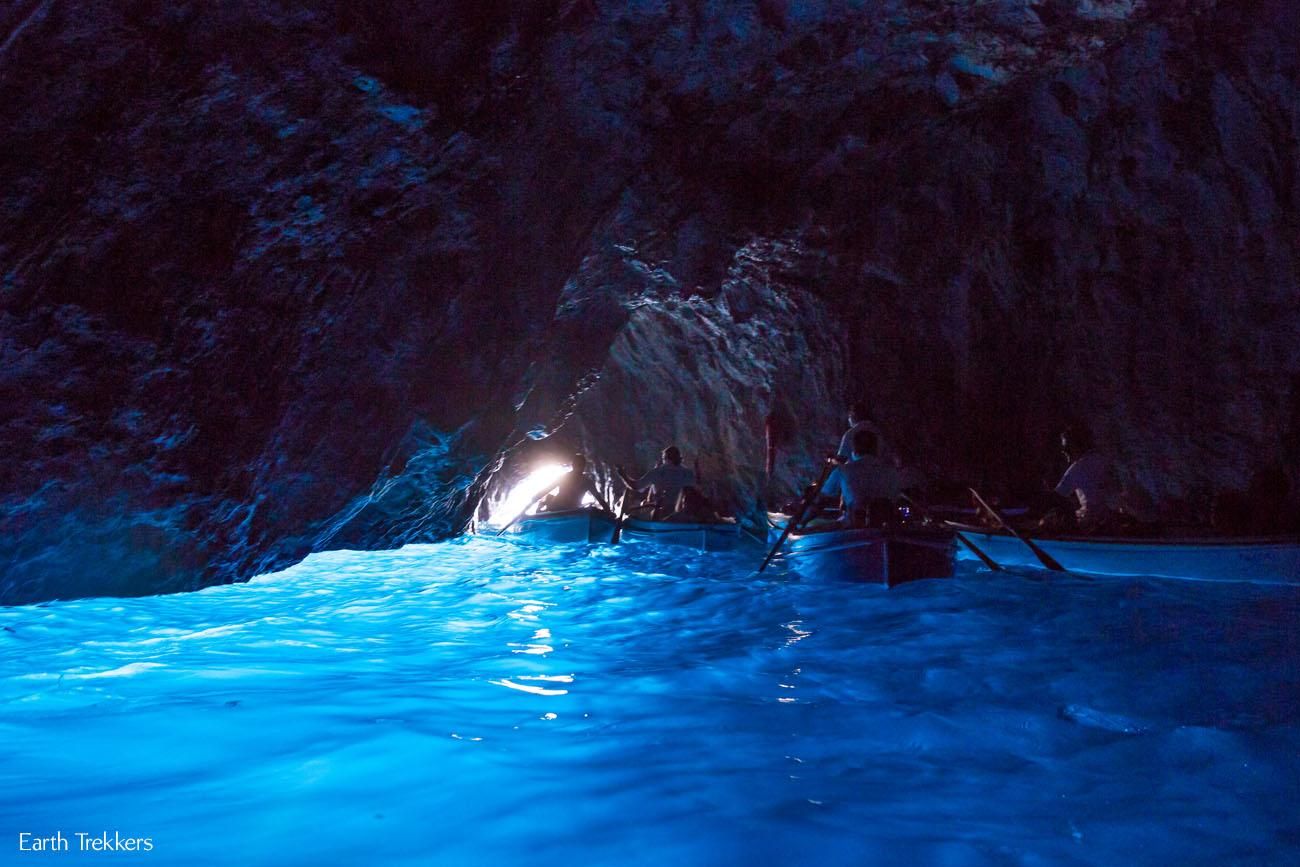 The Blue Grotto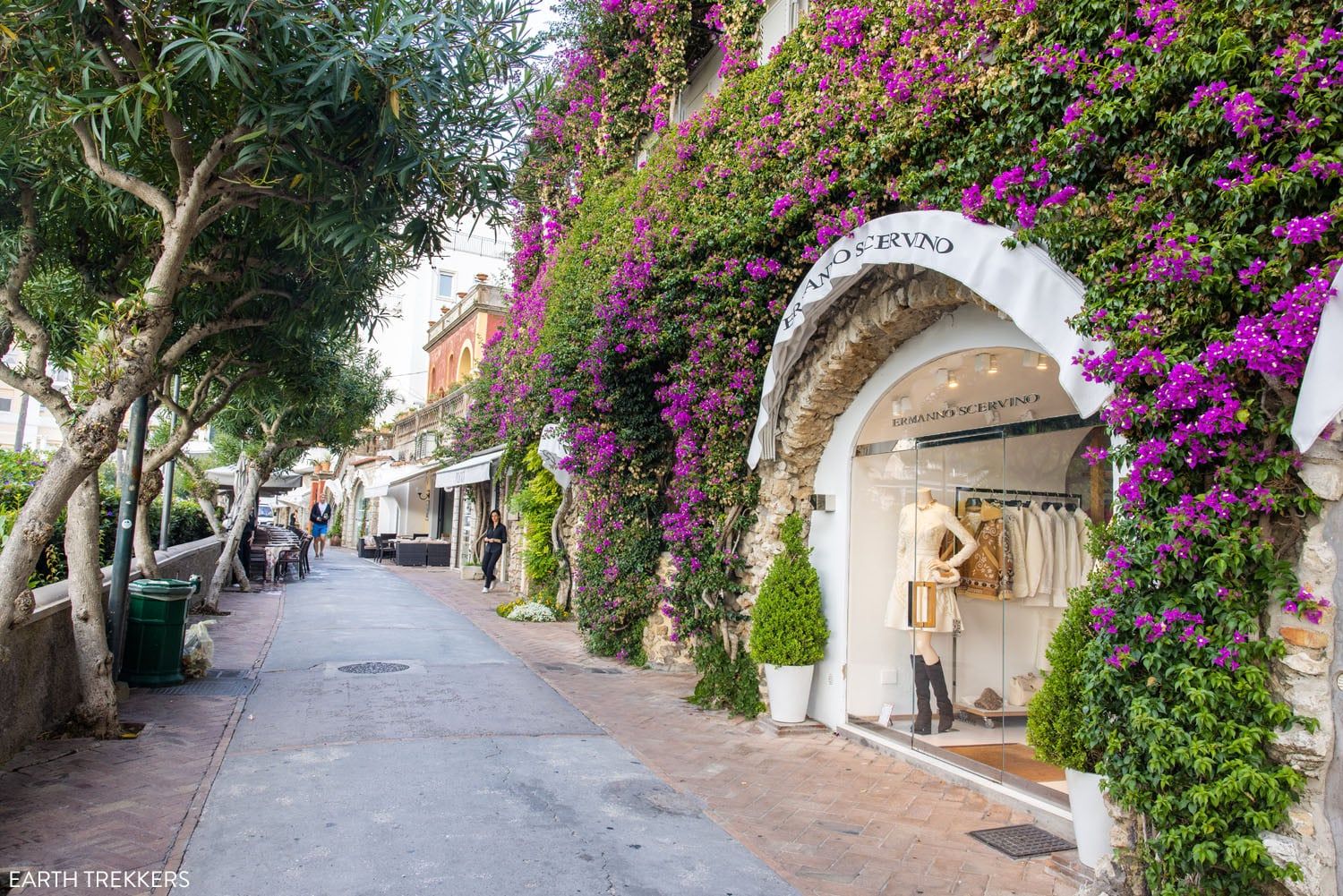 Via Camerelle in Capri
Sorrento Itinerary Day 3
The Amalfi Coast
There are several different ways to day trip to the Amalfi Coast and the main factor is budget.
On our first trip to the Amalfi Coast, we were on a budget, so we used the public bus system and had a horrible experience. In our experience, the buses were consistently late and on more than one occasion, failed to show up at all. This was in 2014. On our recent visit in 2022, even in October, lines to board the buses were long. So, if you plan to use the bus, have patience and be prepared for long waits.
If you will be in Sorrento in the summer, be aware that traffic jams happen frequently in the summer, with back ups several kilometers long. Buses and cars will get stuck in this congestion. So, even if you hire a driver, you could still end up stuck in traffic.
Getting around by ferry is a better experience in the summer. Not only do you avoid the Amalfi Drive traffic jams, but seeing the Amalfi Coast from the water is gorgeous.
We recommend either getting around by ferry or joining a small boat tour, especially during the summer months.
In one day, you can visit several towns, with Positano and Amalfi being the most popular ones, since they are beautiful and easy to get to, both by bus and ferry.
Ravello is also worth your time, but since it is located high in the hills (not accessible by boat), you will have to take the bus or hire a taxi to get here. It will be more challenging to visit Ravello on a day trip from Sorrento, unless you join a group tour that includes it.
On our day trip from Sorrento, we visited Positano in the morning. We went kayaking here, which was the highlight of the day. After lunch in Positano, we spent a long time waiting for the bus and then visited Amalfi. By the time we finished up in Amalfi, it was mid-afternoon, so we took the bus back to Sorrento, getting to Sorrento between 4 and 5 pm.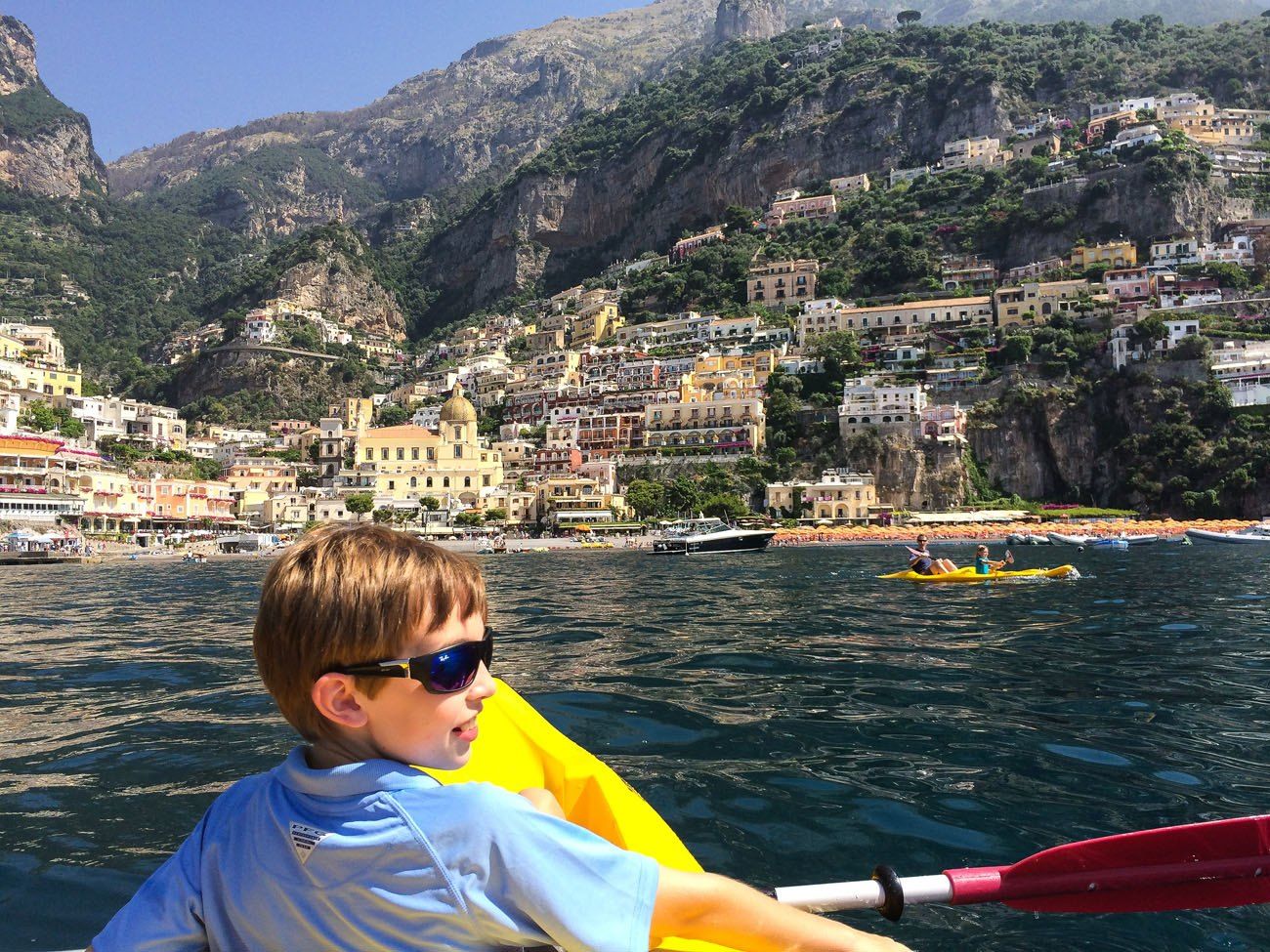 Kayaking in Positano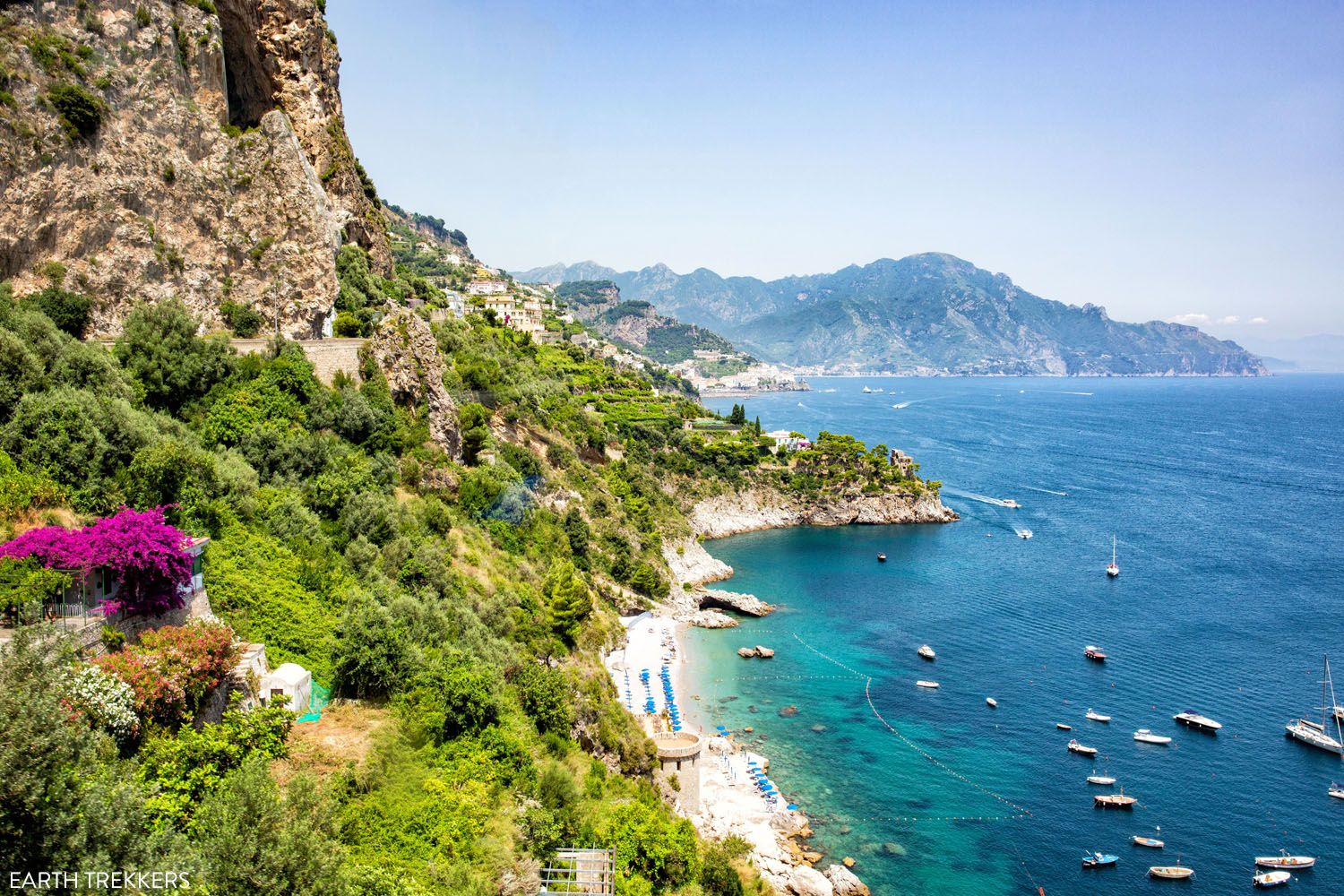 The Amalfi Coast
If you like the idea of taking a guided tour of the Amalfi Coast, either by boat or by driver, here are some of the most highly rated tours on GetYourGuide. One major advantage of booking your tour through GetYourGuide is the ability to cancel your tour within 24 hours and still get a full refund.
Where to Stay in Sorrento
LUXURY: Bellevue Syrene. Perched on the cliffs of Sorrento, this 5-star hotel offers a wide variety of rooms. Most rooms have a balcony with a sea view and you can choose from their long list of suites, some of which come with a hot tub or private pool. The service is impeccable and the views are some of the best in Sorrento. Even if you aren't staying here
UPSCALE: Bella Sorrento B&B. This small property boasts an excellent location in Sorrento and gets rave reviews by prior guests. Breakfast is served in the garden and some rooms offer views of the sea. If you are traveling as a family, there is a room that can accommodate up to four people.
UPSCALE: Maison La Minervetta. This hotel, with its cliff top setting, offers amazing views over Sorrento, the Bay of Naples, and Mount Vesuvius. Rooms have a nautical theme. If you are looking for a room with an unforgettable view, check out the superior corner suite with sea view.
MID-RANGE: Vista Mar B&B. This bed and breakfast has a great location in Sorrento. From the rooftop terrace, enjoy stunning views over the city. This property gets exceptional reviews and there is a family room that is perfect for four people.
HOSTEL: Ostello Le Sirene. This hostel is centrally located in Sorrento and has rooms ranging from mixed dormitory and all-male dormitory rooms to private double and quad rooms. It gets good reviews on Booking.com, with good scores for location, staff, and cleanliness, but gets ripped for its mediocre WiFi.
More Information for Your Trip to Sorrento
GETTING AROUND: Learn how to travel from Rome to Sorrento, Capri, and the Amalfi Coast and how to visit Pompeii when traveling between Rome and Sorrento. We also have a guide to the Best Way to Get around the Amalfi Coast and what it is like to drive the Amalfi Coast.
CAPRI: Get a list of the best things to do in Capri, learn how to plan your day trip to Capri, and find out whether or not the Blue Grotto is worth it.
AMALFI COAST TOWNS: For an overview of where to go, check out our article 17 Beautiful Towns to Visit on the Amalfi Coast. We also have detailed guides about the Best Things to Do on the Amalfi Coast and how to visit Positano and Ravello. Learn how to plan your time with our Amalfi Coast Itinerary.
ITALY ITINERARY: On this 10 day southern Italy itinerary, visit the Amalfi Coast, Castelmezzano, Matera, Alberobello, and more towns in Puglia.
PATH OF THE GODS: The Path of the Gods is a gorgeous hike on the Amalfi Coast.
POMPEII & PAESTUM: Learn how to visit Pompeii when traveling between Rome and the Amalfi Coast. And don't miss our guide to Paestum, one of the best places to see Greek ruins in Italy.
WHERE TO STAY: For recommendations of where to stay, including Sorrento, Positano, Amalfi, and Ravello, take a look at our Amalfi Coast Hotel Guide.
---
If you have any questions about how to spend three days in Sorrento, let us know in the comment section below.
More Information about Italy
ITALY ITINERARIES: If you are just beginning to plan your Italy itinerary, take a look at our 10 Days in Italy Itinerary for five different ways to spend 10 days in Italy.
ROME: For a list of the top experiences in Rome, read our article Best Things to Do in Rome. Learn how to put these together in our 2 Day Rome Itinerary, where to eat in our Rome Restaurant Guide, how to visit the Colosseum, and where to stay in our Rome Hotel Guide.
DOLOMITES: In our article Best Hikes in the Dolomites, we cover 15 epic trails in the Dolomites. Which ones do you want to do?
FLORENCE & TUSCANY: If this is your first visit to Florence, read our guide to the Best Things to Do in Florence. If you are planning a visit to Tuscany, learn how to spend one day in Siena, how to visit Pienza, and the best things to do in San Gimignano.
PUGLIA: Read about 15 beautiful places to visit in Puglia and the best things to do in Alberobello. We also have a guide to the best things to do on the Gargano Peninsula and how to spend one day in Vieste.
We have TONS more information about Italy in our Italy Travel Guide, including Rome, Florence, Venice, Tuscany, the Dolomites, the Amalfi Coast, the Cinque Terre, and Puglia.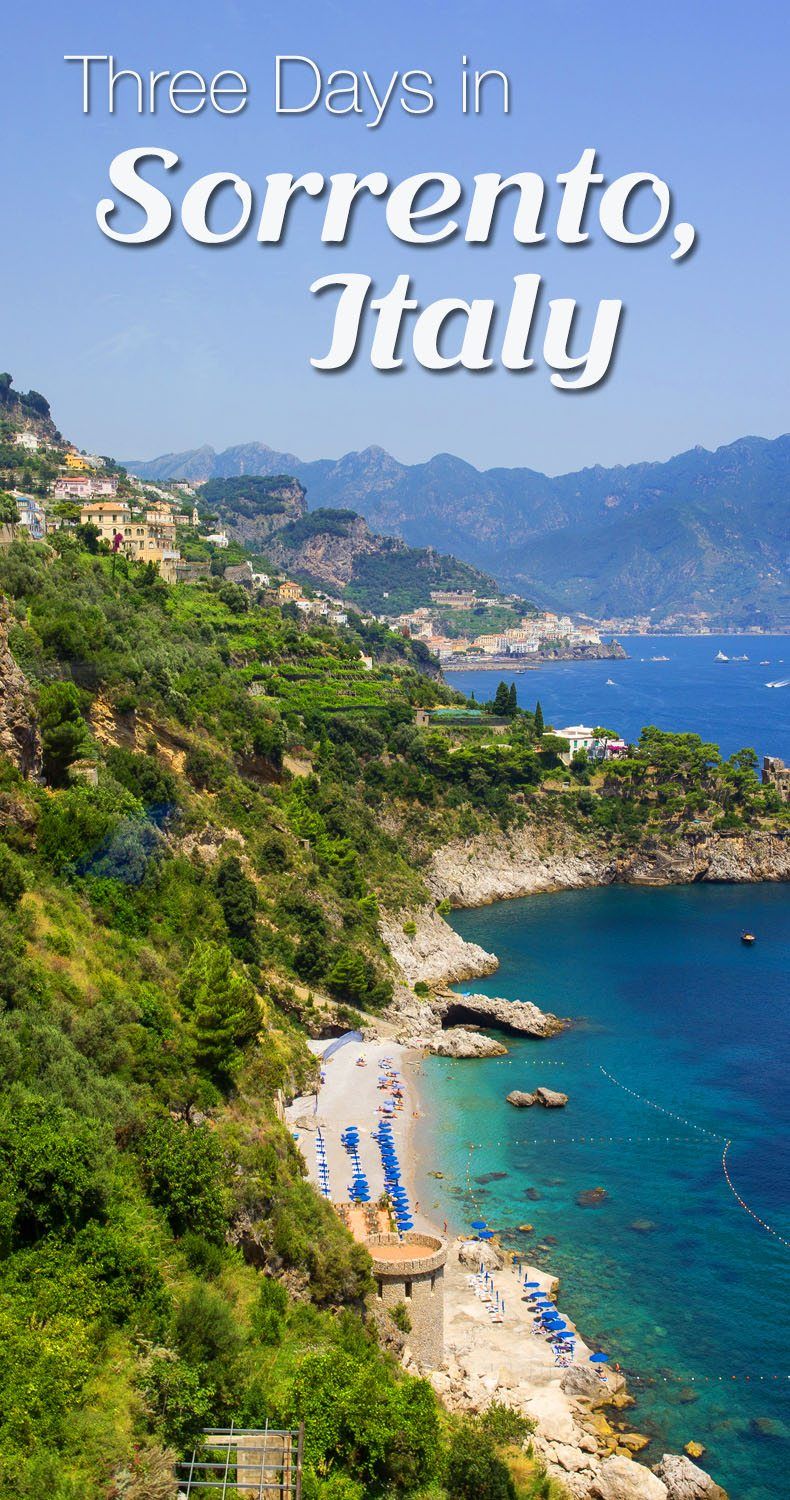 Note: This post contains affiliate links. When you make a purchase using one of these affiliate links, we get paid a small commission at no extra cost to you.
All rights reserved © Earth Trekkers. Republishing this article and/or any of its contents (text, photography, etc.), in whole or in part, is strictly prohibited.