Jagged mountain peaks, lush meadows, scenic lakes, the winding Snake River, wildlife, historical sites, and miles and miles of hiking trails…this is Grand Teton National Park.
There is something here for everyone. Families will love the short, easy, scenic hiking trails, a boat ride across Jenny Lake, plus the possibility to see elk, moose, and bison. Photographers will have a blast capturing the reflections of the mountain range in the lakes and rivers. Active, adventurous travelers can take their pick from hundreds of miles of hiking trails that journey into the Teton range. If you enjoy fishing, this park is world-renowned for its trout fishing.
We have visited Grand Teton National Park multiple times in recent years. The hiking is incredible, the landscapes are extremely photogenic, and this park is a pure joy to explore.
GRAND TETON NATIONAL PARK STATS
Founded: February 26, 1929
Annual Visitors: 3.9 million in 2021, making it the 7th most visited US national park this year.
Size: 310,000 acres
Location: Wyoming
Entrance Fee: $35 per vehicle, valid for 7 days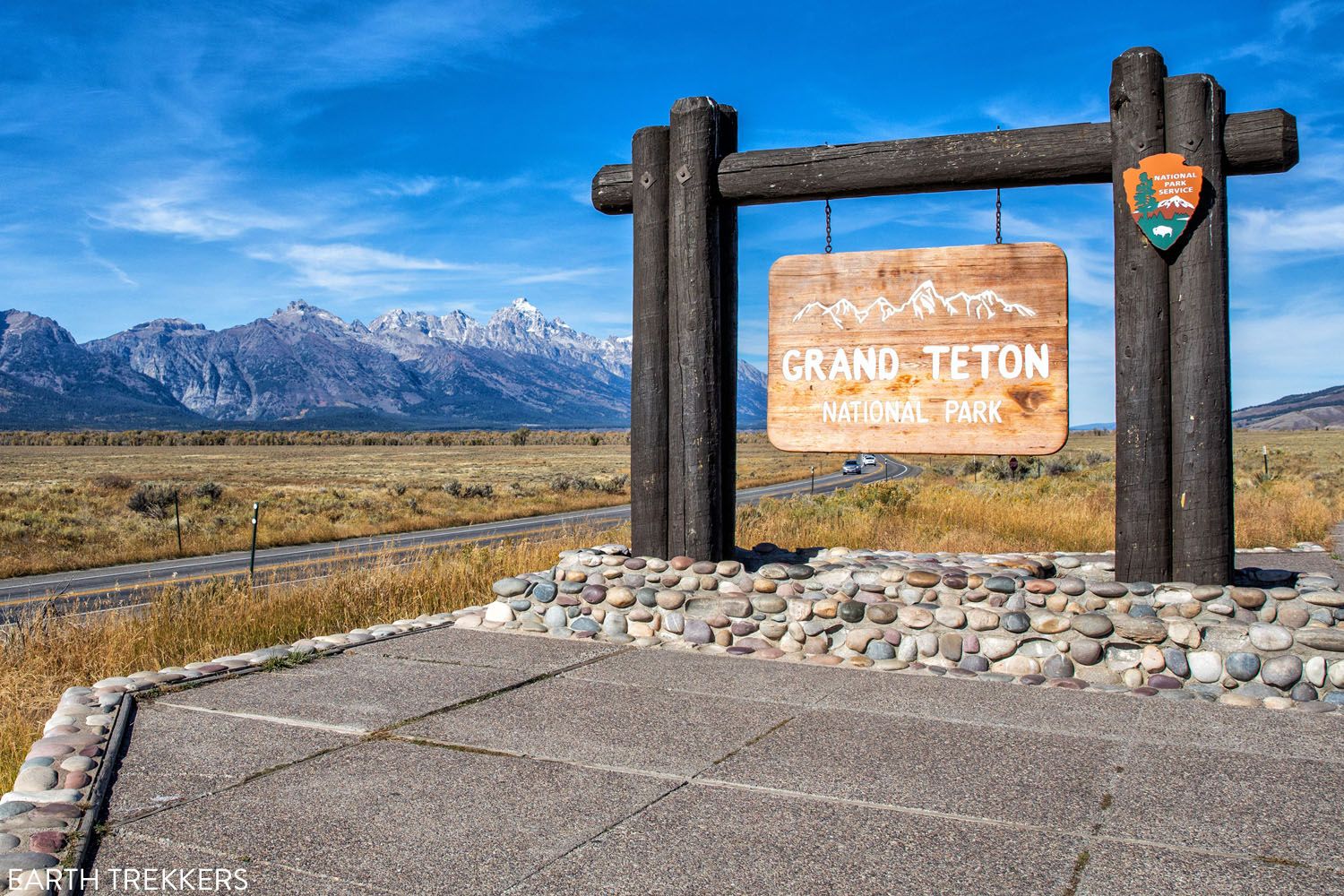 Drive the 42-mile Scenic Drive. On this 42-mile loop, you will drive down the length of the Teton Range, along Jenny and Jackson Lakes, and past numerous scenic overlooks. Along the way, you have the option to detour to Jenny Lake Scenic Drive, Signal Mountain, or numerous hiking trails in the park.
Jenny Lake Scenic Drive. This is a one-way road that follows the eastern edge of Jenny Lake. On this drive, you have magnificent views of the Teton Range.
Go Hiking. Hike through picturesque canyons, around glacier-fed lakes, and up to the highest peaks. Elk, bear, and moose frequently make appearances. Grand Teton National Park is one of the best hiking destinations in the US National Parks and you have a lot of trails to choose from.
Inspiration Point & Hidden Falls. This is one of the most popular things to do in Grand Teton National Park. One on hike, you can view Grand Teton National Park from Inspiration Point and visit a beautiful waterfall. The easiest way to get to this trail is by taking the scenic boat shuttle across Jenny Lake.
Mormon Row Historic District. The iconic shot of these historic barns with the Tetons in the background make this one of the best photography locations and sunrise spots in Grand Teton National Park.
Schwabacher Landing. For one of the most scenic views of the Teton mountain range, don't miss Schwabacher Landing. This is a great place to capture the reflection of the mountain range in the Snake River.
Oxbow Bend. This is the place to get the iconic view of Mt. Moran's reflection in the Snake River. At sunrise, it is also a great place to photograph wildlife.
Snake River Overlook. This view of the Teton Range was made famous when Ansel Adams snapped a photograph here in 1942, while working for the United States government.
Laurance S. Rockefeller Preserve. This reserve is an 1,100 acre refuge located within Grand Teton National Park and was donated by the Rockefeller family in 2001. Spend some time in the visitor center and hike the quieter trails in the reserve.
Signal Mountain. From the summit of Signal Mountain, you get panoramic views over the park, the Teton range, and Jackson Lake. It's a great detour to add to the 42-mile loop through Grand Teton National Park.
Did You Know?
Grand Teton National Park is named for Grand Teton. At 13,775 feet (4,199 meters), this is the highest point in the Teton Range. It's also the second highest peak in Wyoming (Gannett Peak, at 13,810 feet, is located in the Wind River Range).
The Teton Range gets its name from early 19th-century French trappers. They called the mountain range les trois tetons, which means "the three teats."
There are numerous lakes that sit at the base of the Teton range. Jenny Lake is the most famous and most commonly visited, but other notable lakes include Jackson, Phelps, Taggart, Bradley, and Leigh Lakes.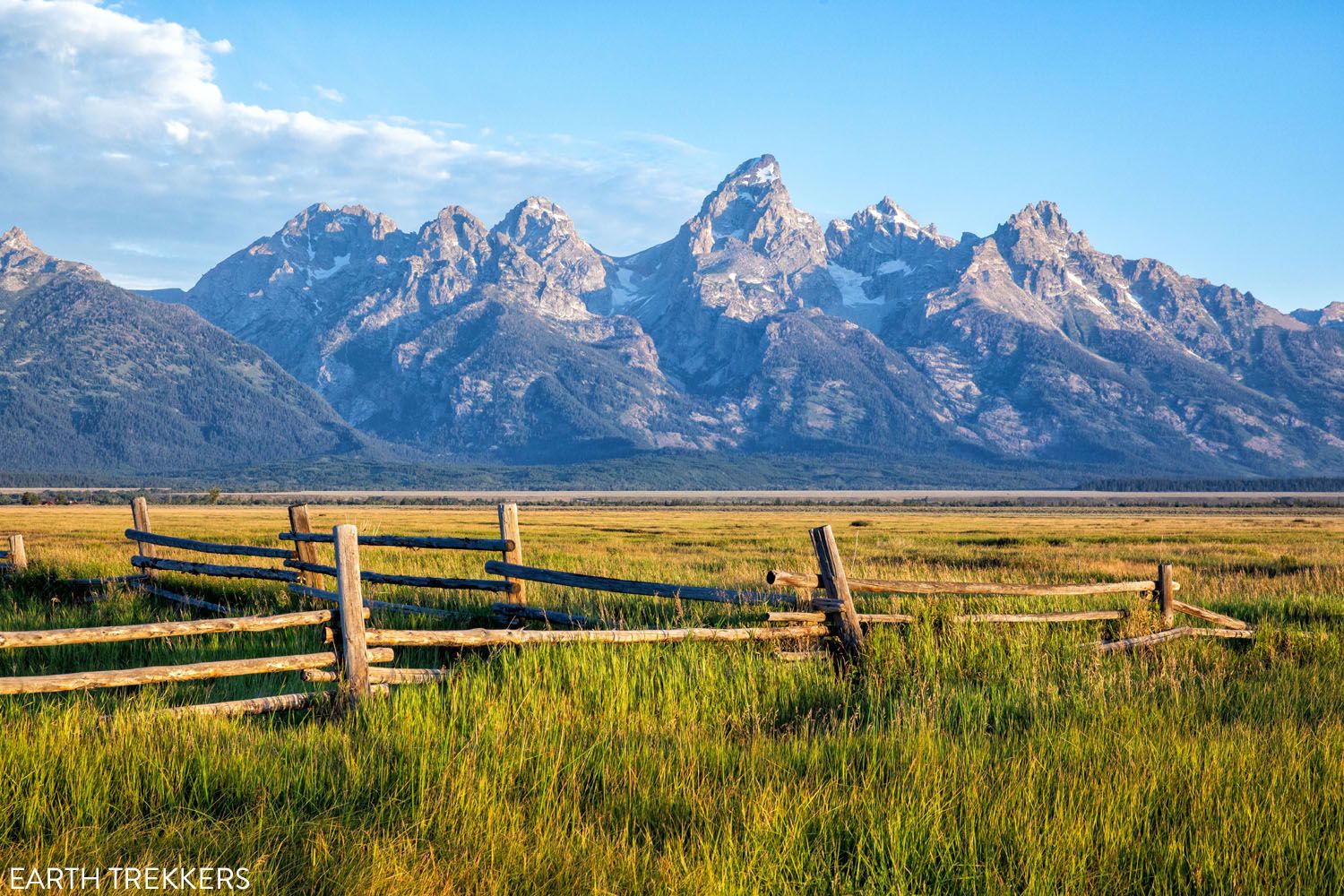 Learn More about Grand Teton National Park
Best Hikes in Grand Teton
Inspiration Point & Hidden Falls. This is an essential hike for first-timers to Grand Teton National Park. Ride the shuttle across Jenny Lake and hike to Inspiration Point for a great view of the park.
Cascade Canyon. This hike starts with Hidden Falls and Inspiration Point and then continues into Cascade Canyon. The views are awesome and you have a good chance of seeing moose and other wildlife from this trail.
Lake Solitude. For those with lots of energy, extend the Cascade Canyon hike, going farther to Lake Solitude. This lake is tucked back in the Teton Range and despite the distance to get here (it's 15 miles out-and-back), this is a popular hike.
String and Leigh Lakes. This lovely lake stroll is flat, easy, and great for all ages and ability levels.
Jenny Lake Loop. This 8 mile trail makes one big loop around Jenny Lake. This is the perfect hike if you want views of the Teton Range without a lot of effort.
Taggart & Bradley Lakes. Not only do you get to visit two beautiful lakes, you also get great views of Grand Teton, Middle Teton, and Teewinot Mountain.
Surprise, Amphitheater & Delta Lakes. This challenging trail takes you to three alpine lakes.
Phelps Lake Loop. This hike is in the Laurance S. Rockefeller Preserve, so the limited parking helps keep crowds low.
Death Canyon. Death Canyon is similar to Cascade Canyon and Paintbrush Canyon, with its scenic views and chance to see moose and bear. However, with fewer visitors, this trail feels much quieter.
Static Peak Divide. This long, challenging hike continues past Death Canyon and takes you to Static Peak. From here, at 10,790 feet, you will have spectacular views of the park, Jackson Hole, and the Wind River Range.
Paintbrush Canyon & Cascade Canyon Loop. At 20 miles, this is the longest hike on the list. It's also our favorite. This hike is massive but it combines Paintbrush Canyon, Lake Solitude, Cascade Canyon, and Inspiration Point into one amazing experience.
How Many Days Should You Spend in Grand Teton National Park?
If you just want to see the main highlights, one day is really all that you need in Grand Teton National Park. But for those who want to dive deeper into the park, by exploring the hundreds of miles that criss-cross the Teton Range, then you can spend days, weeks even, and never run out of things to do.
Two days gives you enough time to see the highlights and do a longer day hike. More time allows you to add more hikes to your itinerary, explore Jackson Hole, and add on white water rafting or the cable car ride up to Rendezvous Peak.
For the first-time visitor, I recommend spending two to three days in Grand Teton National Park.
ONE DAY IN GRAND TETON
Start your day off at Mormon Row for sunrise views of the Teton Range. Then drive the 42-mile loop, visiting Schwabacher Landing, Snake River Overlook, Oxbow Bend, and the viewpoints along Jenny Lake Scenic Drive. Midday, you can escape the crowds in the park by grabbing a bite to eat in Jackson or hiking one of the less popular trails. In the mid-afternoon, ride the shuttle across Jenny Lake and hike to Hidden Falls and Inspiration Point.
Best Time to Visit Grand Teton National Park
The best time to visit Grand Teton National Park is from mid-May through October, when all of the roads and visitor centers are open.
June, July and August are the busiest months in the park. Expect big crowds on the hiking trails, difficulty finding a parking space midday, and sold out lodges inside of the park.
If you want to see the park ablaze in fall colors, the end of September into very early October is best time to visit.
From November through mid-May, Teton Park Road is closed, along with several other scenic roads, such as Moose Wilson Road and the road to the summit of Signal Mountain. It's still possible to visit Grand Teton National Park in the winter and early spring, but with the road closures and snow on the trails, it will be a much different experience than a visit in the summer.
Grand Teton National Park appears in our Best US National Parks Month-By-Month series as a great park to visit in June, August, and September.
Where to Stay
There are numerous lodges and campgrounds available inside of the park. Click here to learn more about your options.
Jackson is a 30-minute drive from Grand Teton National Park. With a large number of accommodations and restaurants, this is a great place to base yourself for visiting the park. This is where we stay when we visit Grand Teton National Park.
We highly recommend both the Wyoming Inn of Jackson Hole and The Lodge at Jackson Hole. They are located side by side. The Wyoming Inn is more upscale but the Lodge is cheaper.
Hotel Jackson and the Wort Hotel both offer upscale experiences. If you like the idea of staying in a cabin with a kitchenette, check out the Cowboy Village Resort.
Ski resort by winter, outdoor playground by summer, Teton Village is located on Moose Wilson Road, just outside of the park. This resort offers hotels and restaurants, plus gondolas, chair lifts, and a cable car that will whisk you up to Rendezvous Peak for stunning views over the Tetons.
If you are struggling to find accommodations in the park or in Jackson, or if prices are astronomical, Victor, Idaho is a nearby town to consider. We have talked to a lot of people who stayed here and had a great experience. Just be aware that you will have a longer drive to get into the park.
If you are planning a trip to Grand Teton, we have three road trip ideas to share with you. Grand Teton can easily be combined on a trip with Yellowstone National Park and other nearby US destinations.
GRAND TETON & YELLOWSTONE: If you just have a few days or a full week (or longer), these two national parks can easily be combined into one thrilling road trip.
GRAND TETON, YELLOWSTONE & GLACIER NATIONAL PARKS: If you have 10 days, you have enough time to visit three of the best national parks in USA. We like this road trip that we have done it twice so far.
GRAND TETON, YELLOWSTONE, DEVILS TOWER & MOUNT RUSHMORE: On this 10 day road trip, visit Grand Teton, Yellowstone, Devils Tower, and Mount Rushmore. It also includes two more national parks in South Dakota (Wind Cave and Badlands) as well as a few state parks.
Grand Teton National Park Map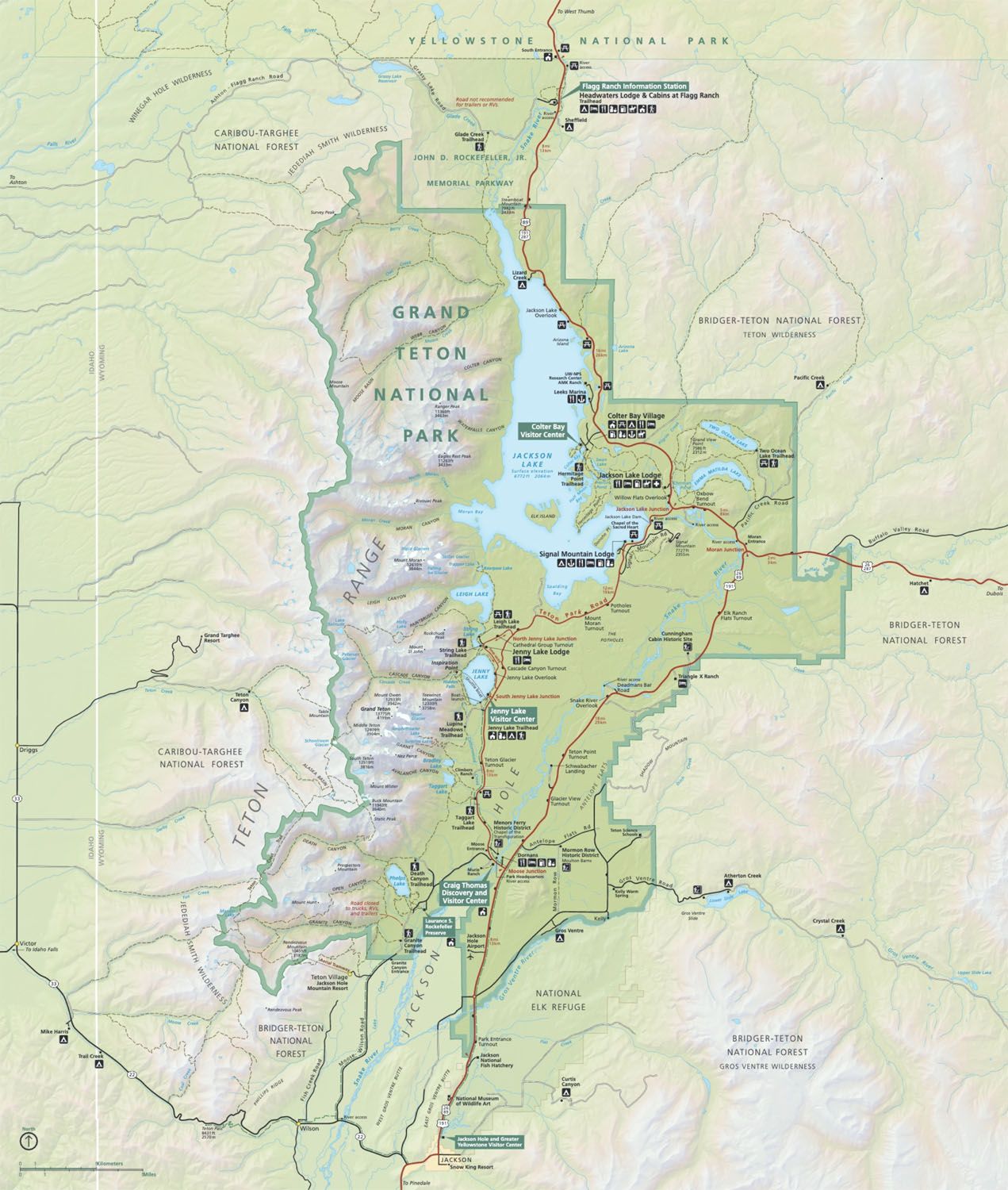 Grand Teton National Park in Photos
In our US National Parks List, get information on all of the US national parks, including interesting facts, the most and least visited national parks, and a FREE printable national parks checklist with map.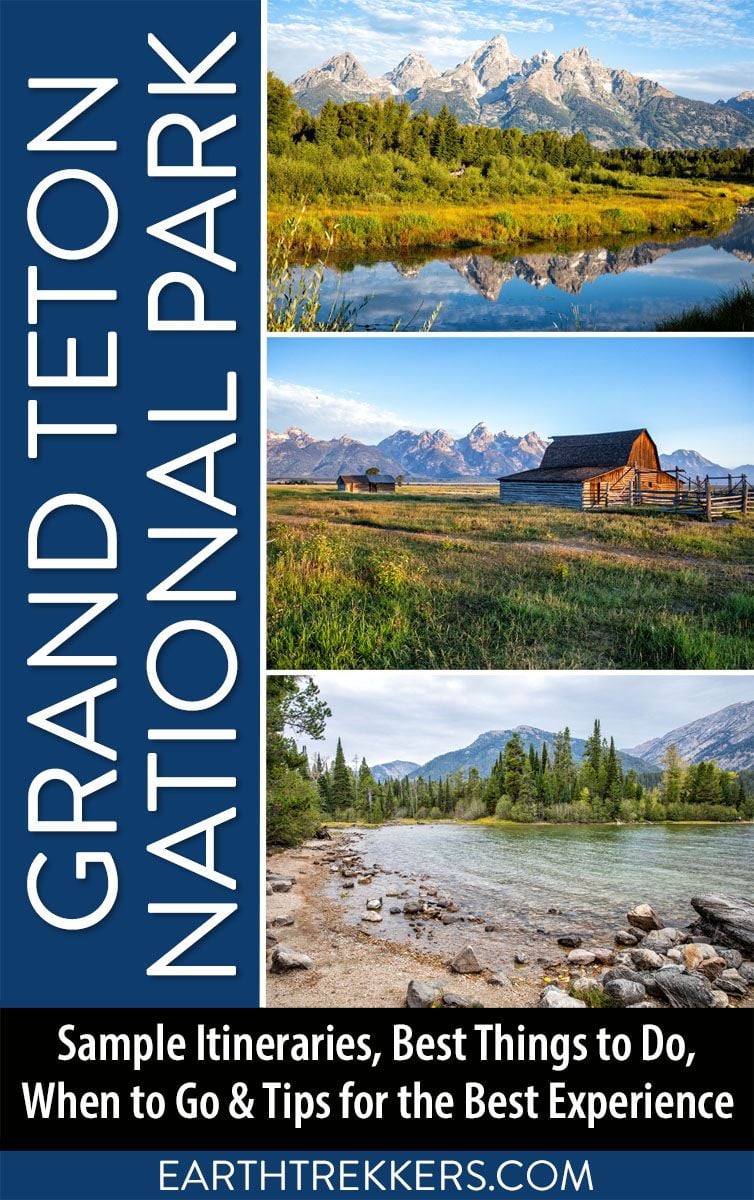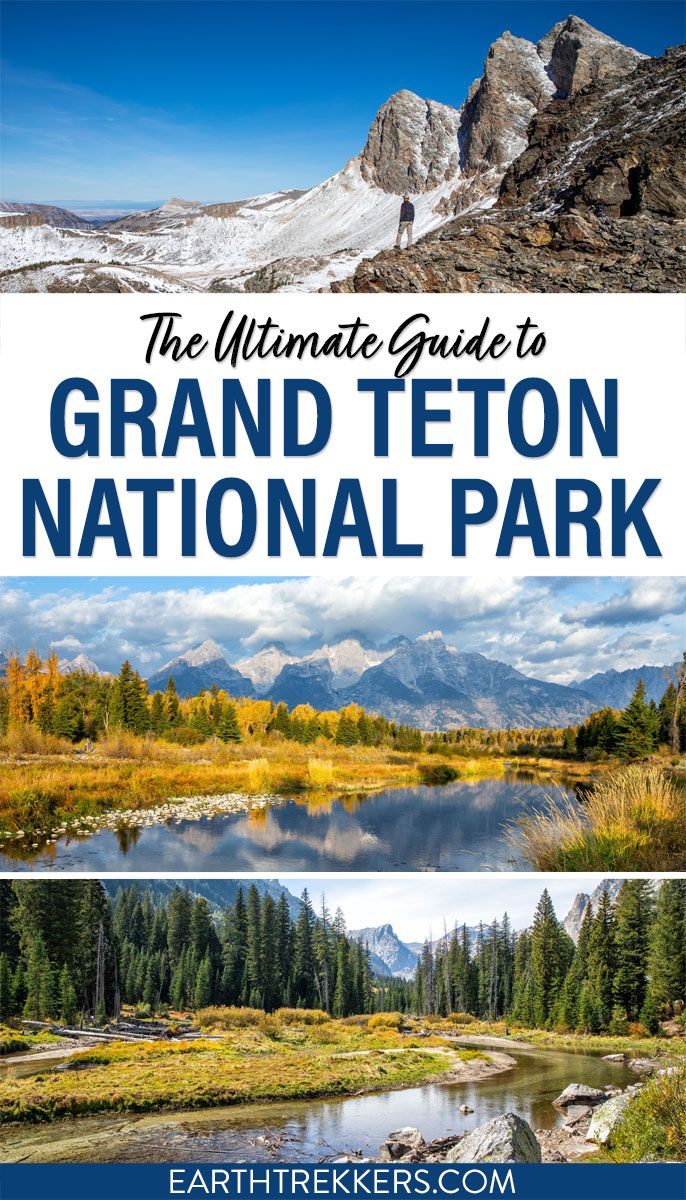 Note: This page contains affiliate links. When you make a purchase using one of these affiliate links, we get paid a small commission at no extra cost to you.
Visit More National Parks