The Paintbrush Canyon – Cascade Canyon Loop is one of the best hikes to do in Grand Teton National Park. In just one hike, you can visit a handful of the park's top spots: Jenny Lake, Inspiration Point, Lake Solitude, Cascade Canyon, and Paintbrush Canyon. Throw in panoramic views across the Teton mountain range and a few moose, and you have an unforgettable hike in Grand Teton National Park.
This hike is a big undertaking. At 20 miles, with over 4,000 feet of elevation gain, it's a hefty hike. Many people do this as a 2 or 3-day backpacking trip, but if you are fit and fast, the Paintbrush Canyon – Cascade Canyon Loop can be done as a day hike.
We LOVED this hike. Sure, it's a big day, but this trail is gorgeous every step of the way. Since it is a loop, you never repeat any part of the trail twice. Every few miles the terrain and the views change, so there is never a boring moment on this trail.
If you can handle a hard, long hike, this is one of the best ways to spend a day in Grand Teton National Park, in our opinion.
Paintbrush Canyon – Cascade Canyon Trail Stats
Distance: 20 miles
Difficulty: Very strenuous
Total Ascent: 4,700 feet
Starting Elevation (Trailhead): 6,900 feet
Highest Elevation (Paintbrush Divide): 10,700 feet
Length of Time: 8 to 12 hours
When to Go: During the summer and fall months. In the winter and spring, the trails are snow covered and dangerous. In the early part of summer (sometimes up through July) there can be lots of snow at the higher elevations, so special gear is recommended (hiking poles, crampons, etc.). Late summer to early fall is the best time to do this hike, when most of the trail is free of snow.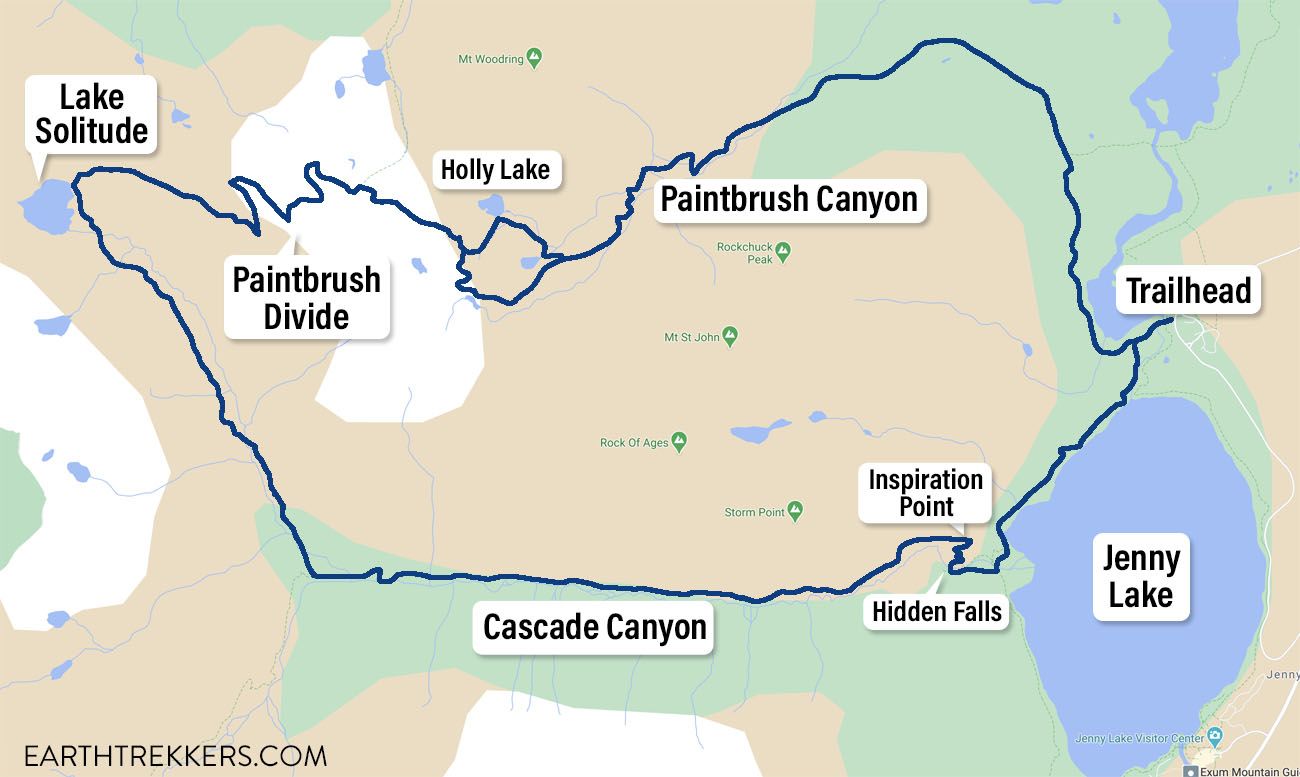 Please practice the seven principles of Leave No Trace: plan ahead, stay on the trail, pack out what you bring to the hiking trail, properly dispose of waste, leave areas as you found them, minimize campfire impacts, be considerate of other hikers, and do not approach or feed wildlife.
How to Hike the Paintbrush Canyon – Cascade Canyon Loop
Step-By-Step Trail Guide
Which Direction Should You Go?
Since this is a loop trail, it can be hiked in either direction.
If you are backpacking this trail, your direction will be dependent upon where you get a campsite.
As a day hike, this loop is typically hiked counter clockwise. By doing it in this direction, you get the majority of the climbing finished early in the hike. Before you reach the halfway point, you'll be standing on the Paintbrush Divide (at 8.4 miles), so it's nice to know it's all downhill from here. Then, you get to enjoy the views as you hike to Lake Solitude and through Cascade Canyon to Inspiration Point.
Getting to the Trailhead
Park at the String Lake Trailhead. This parking lot has room for about 30 cars and it can fill early in the morning, so it's best to arrive by 7:30 am. There are portable toilets near the trailhead.
The Paintbrush Canyon – Cascade Canyon Loop starts and ends at the String Lake Trailhead.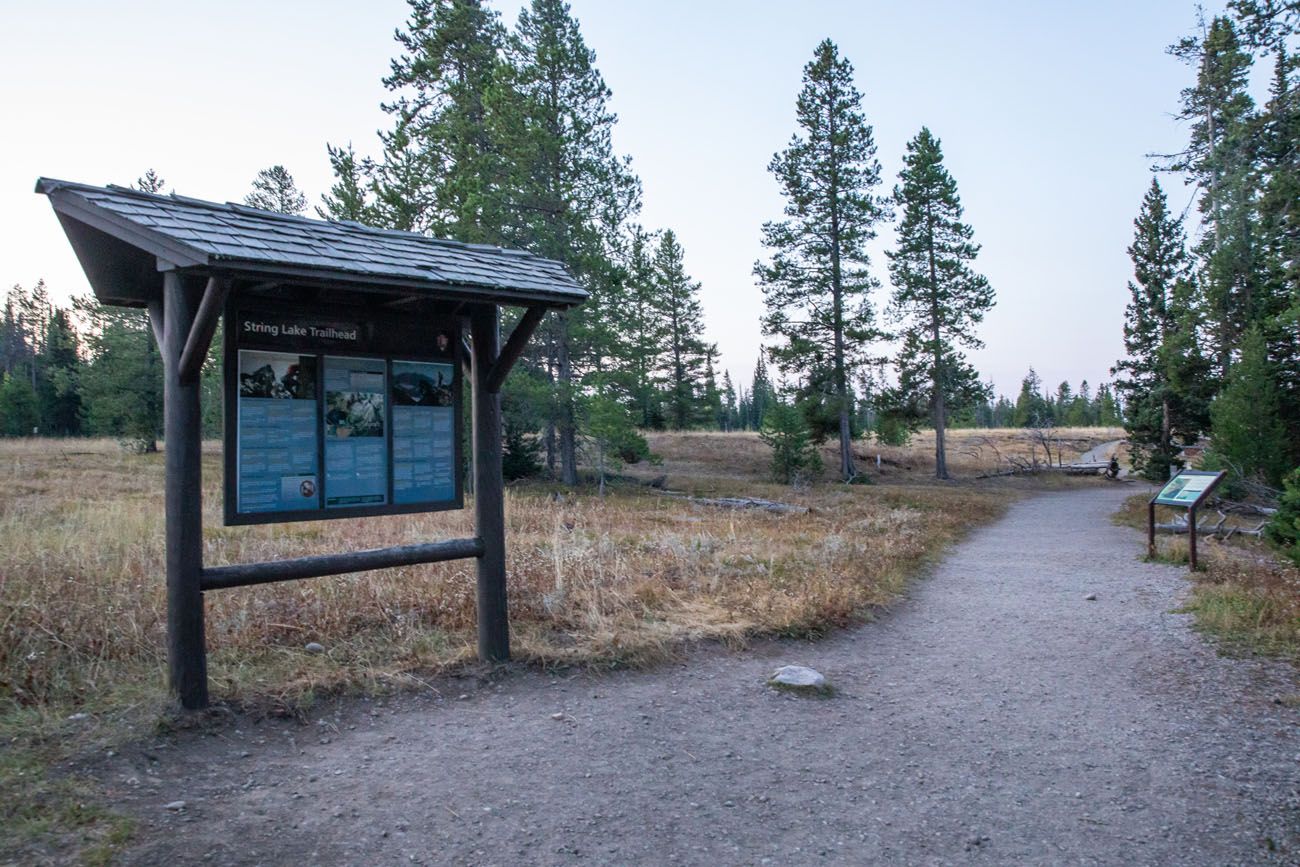 Paintbrush Canyon
From the String Lake trailhead, cross the bridge over the outlet creek from String Lake. This part of the trail is flat and fast. A quarter mile from the trailhead, follow the signs to stay on the String Lake Trail (go right at the fork). The trail to the left is the Jenny Lake Trail.
For the next mile, the trail gradually ascends, but it's nothing too strenuous. To your right will be views over String Lake and Leigh Lake.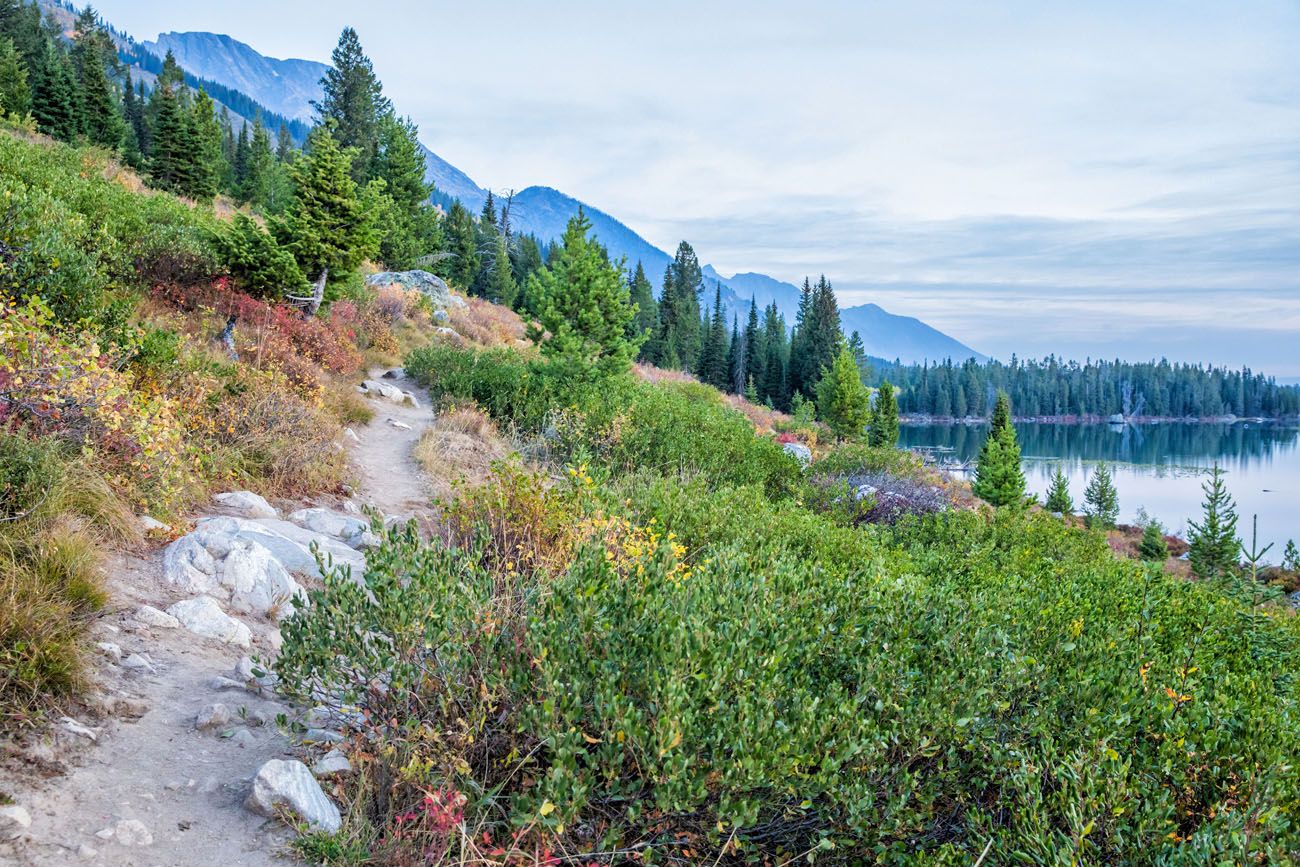 Just past String and Leigh Lakes, the trail will take a turn to the left and you will now be heading into Paintbrush Canyon.
At first, the trail takes you through forests of evergreen trees. Again, the trail gradually ascends here, but it's nothing too strenuous.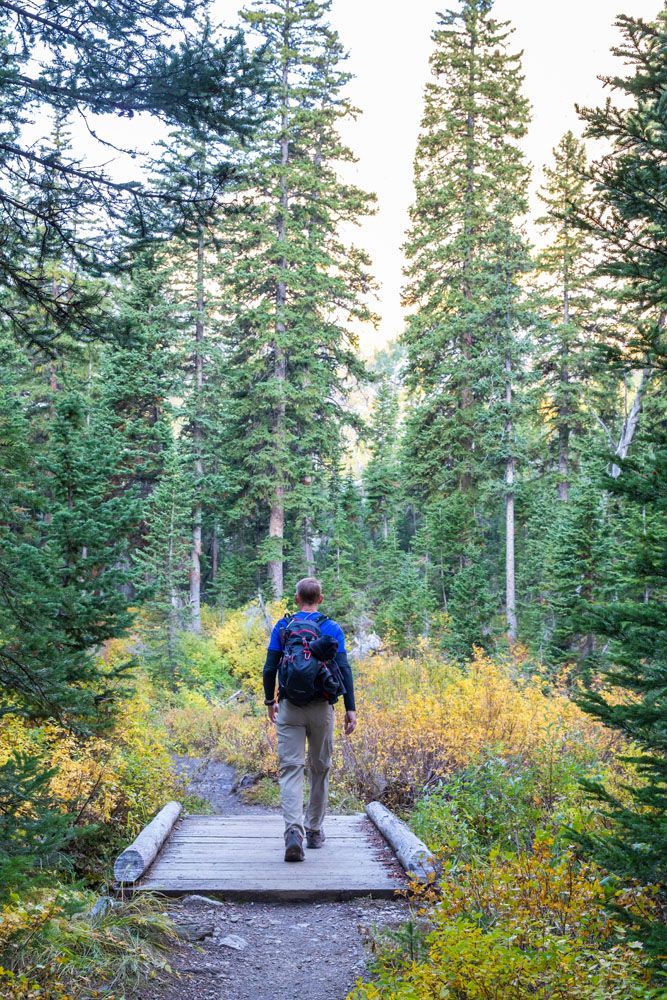 As you head farther into Paintbrush Canyon, the evergreen trees begin to fade away and are replaced with shrubs of various sizes. It is a constant uphill walk through the canyon, with occasional jumps in elevation as the trail briefly switchbacks up the trail in some spots.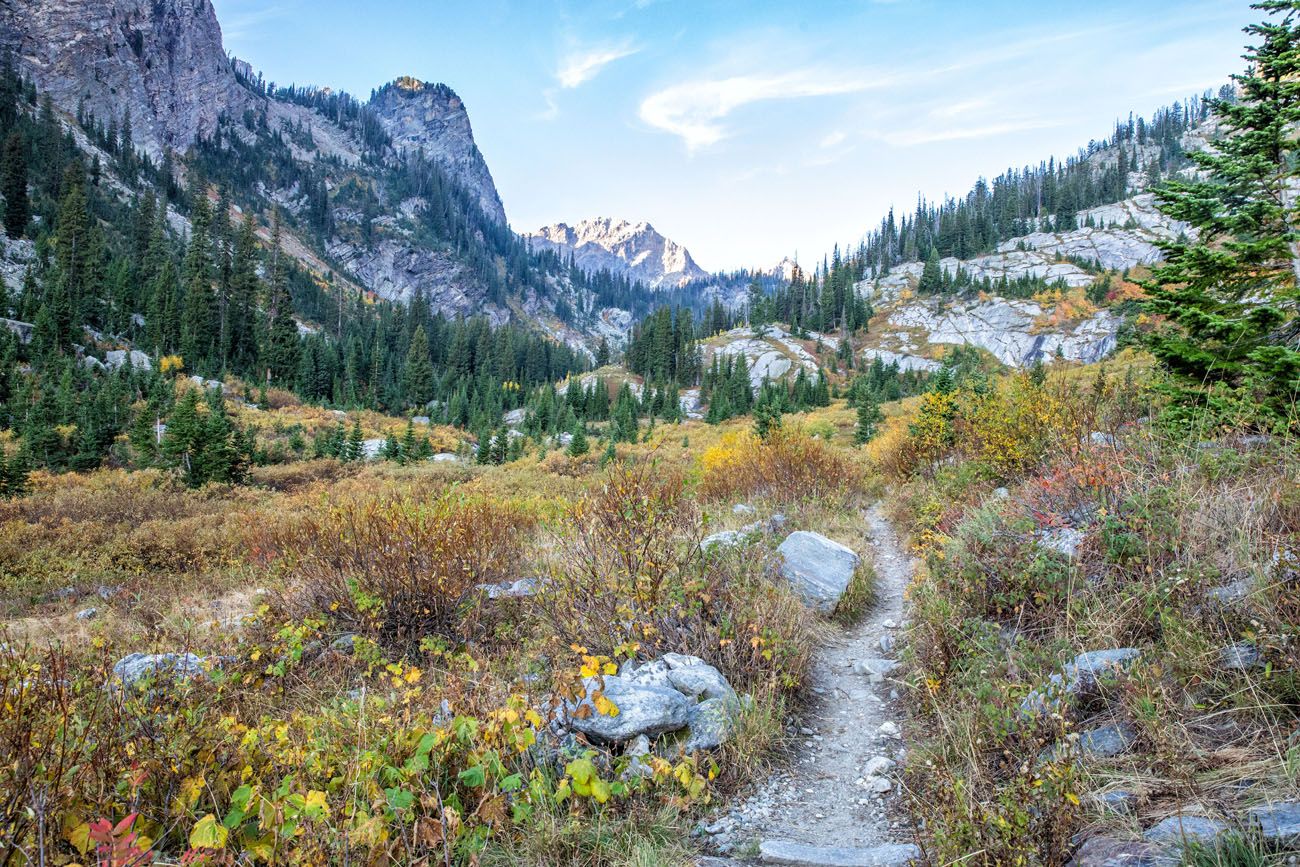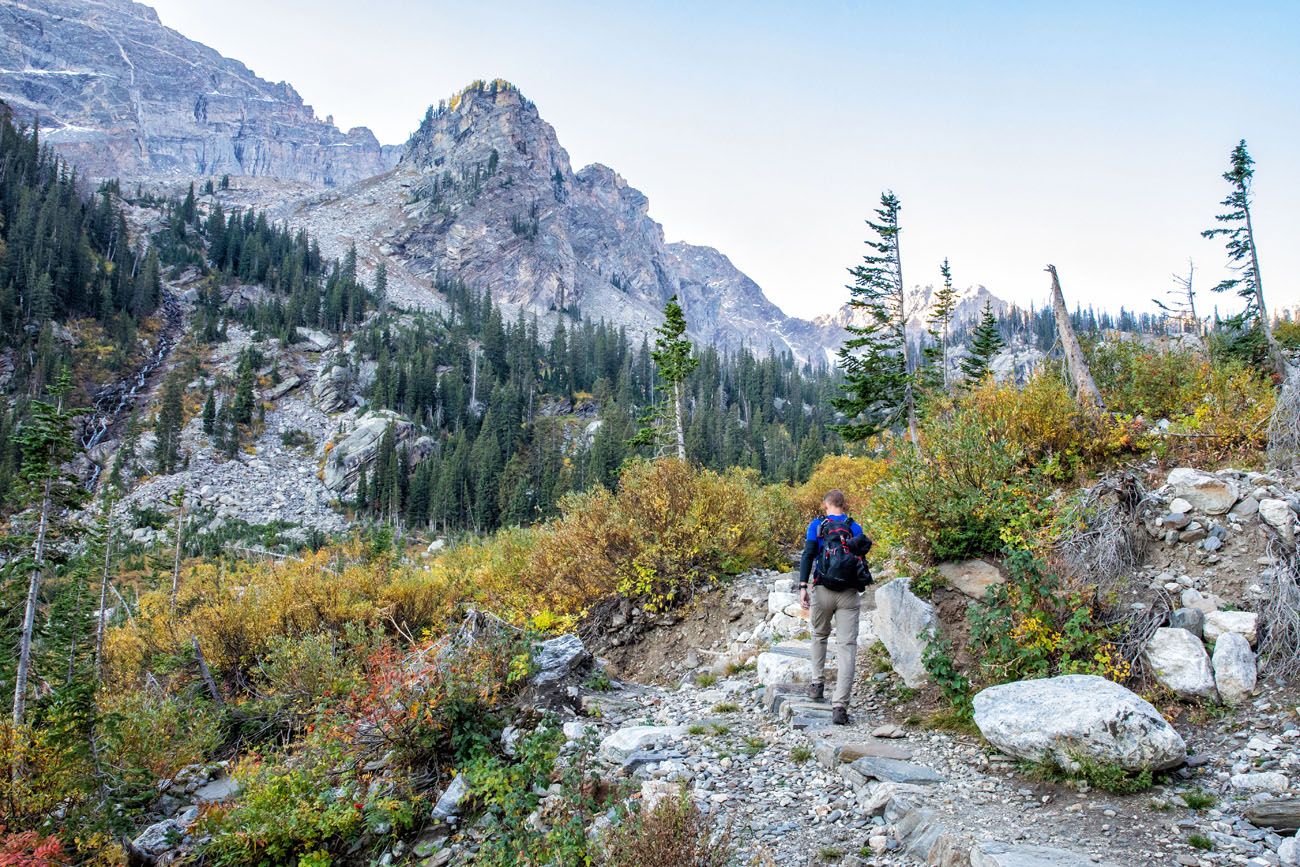 Every once in a while, make sure you pause and look back down the canyon. It's a beautiful view, especially with String and Leigh Lakes, now off in the distance.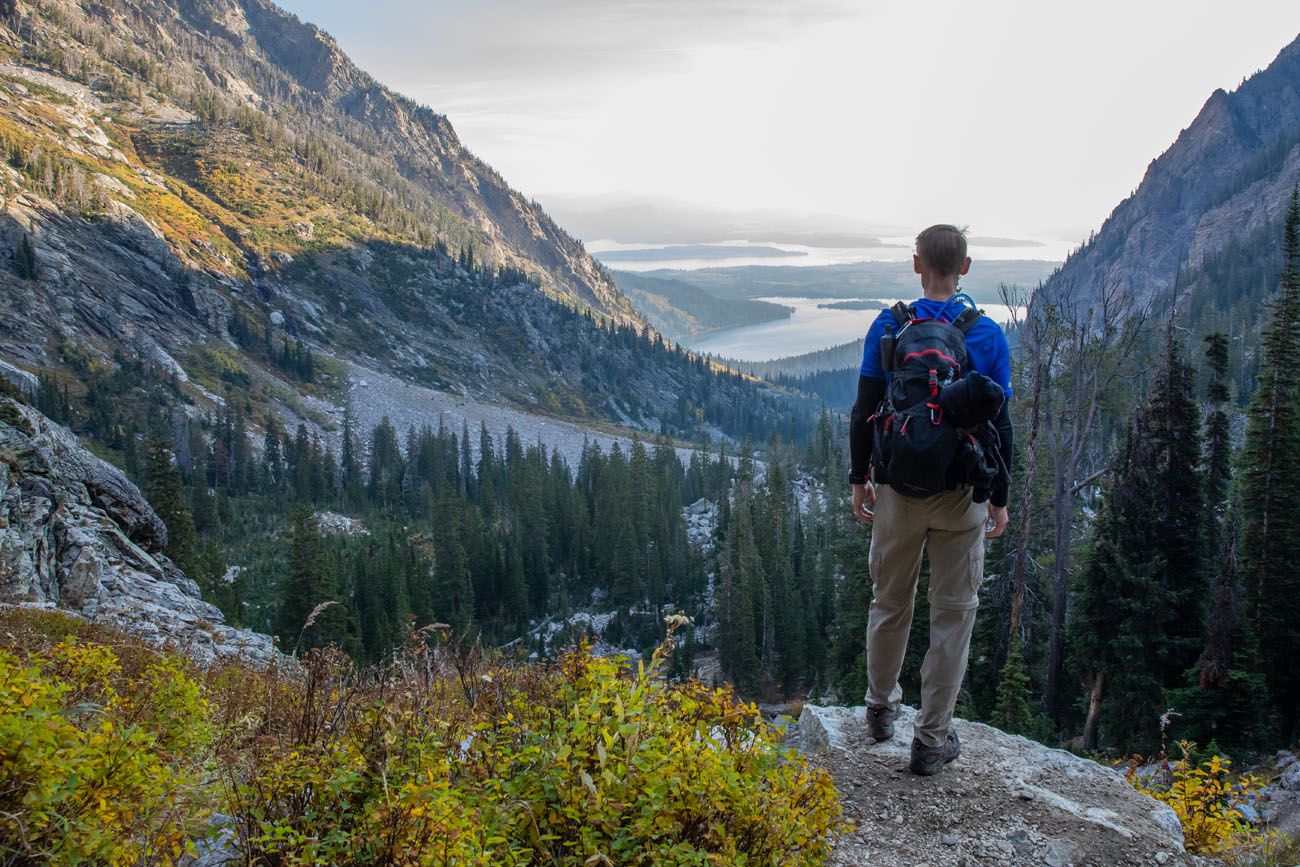 Near the top of the canyon you will reach a fork in the trail. You can go either way here; both trails meet up again very shortly and are roughly the same distance. Take the trail to the right to go to Holly Lake. If you take the trail to the left, you will have stunning views through the canyon. We chose the trail to left and here is the view.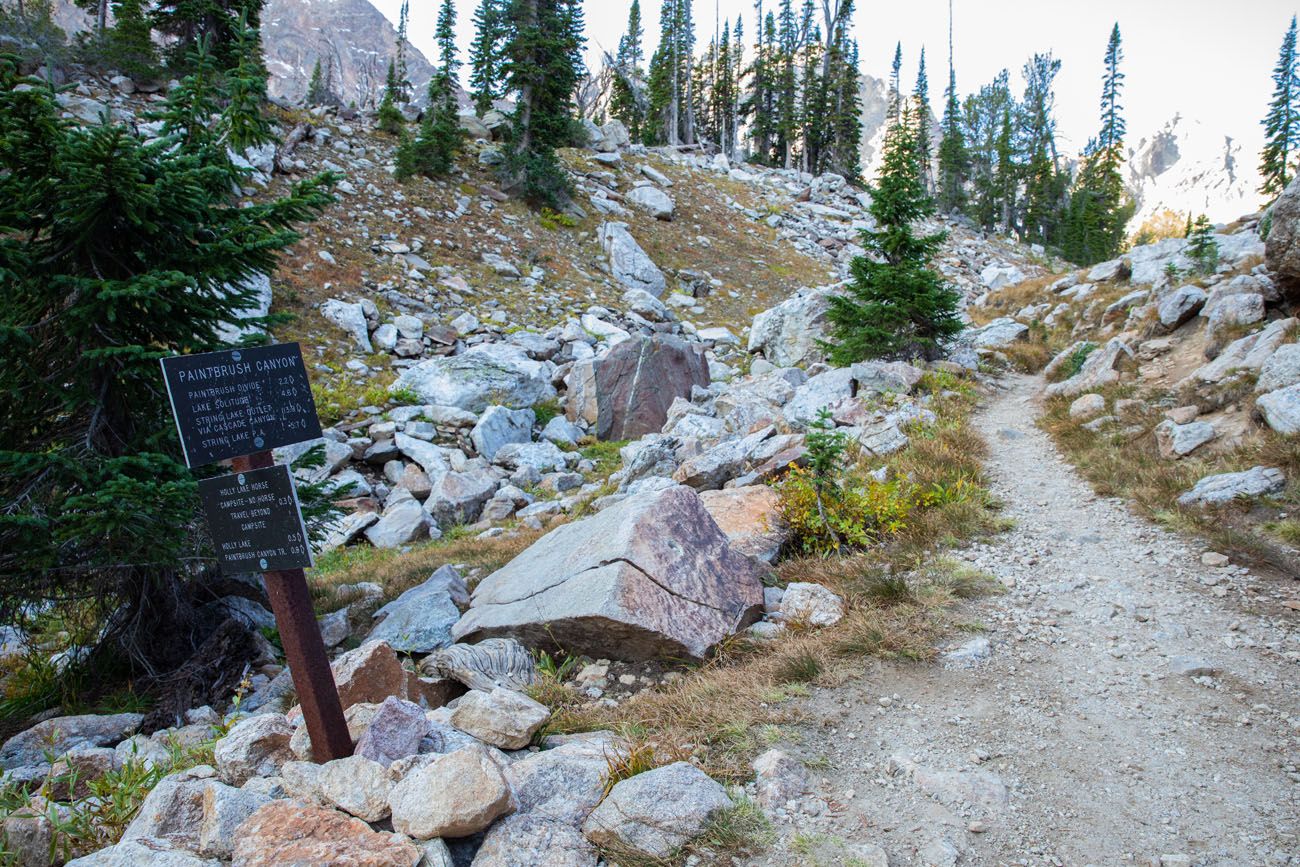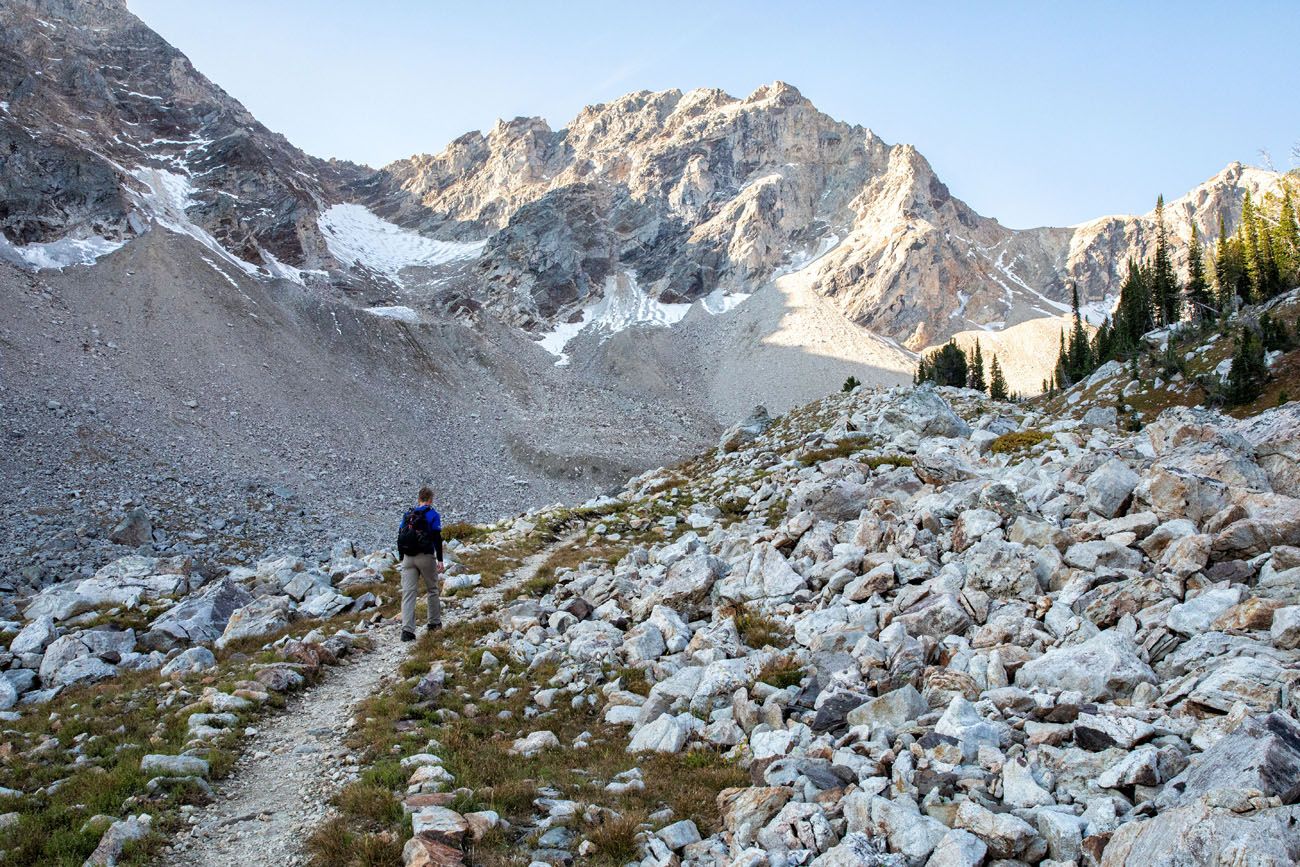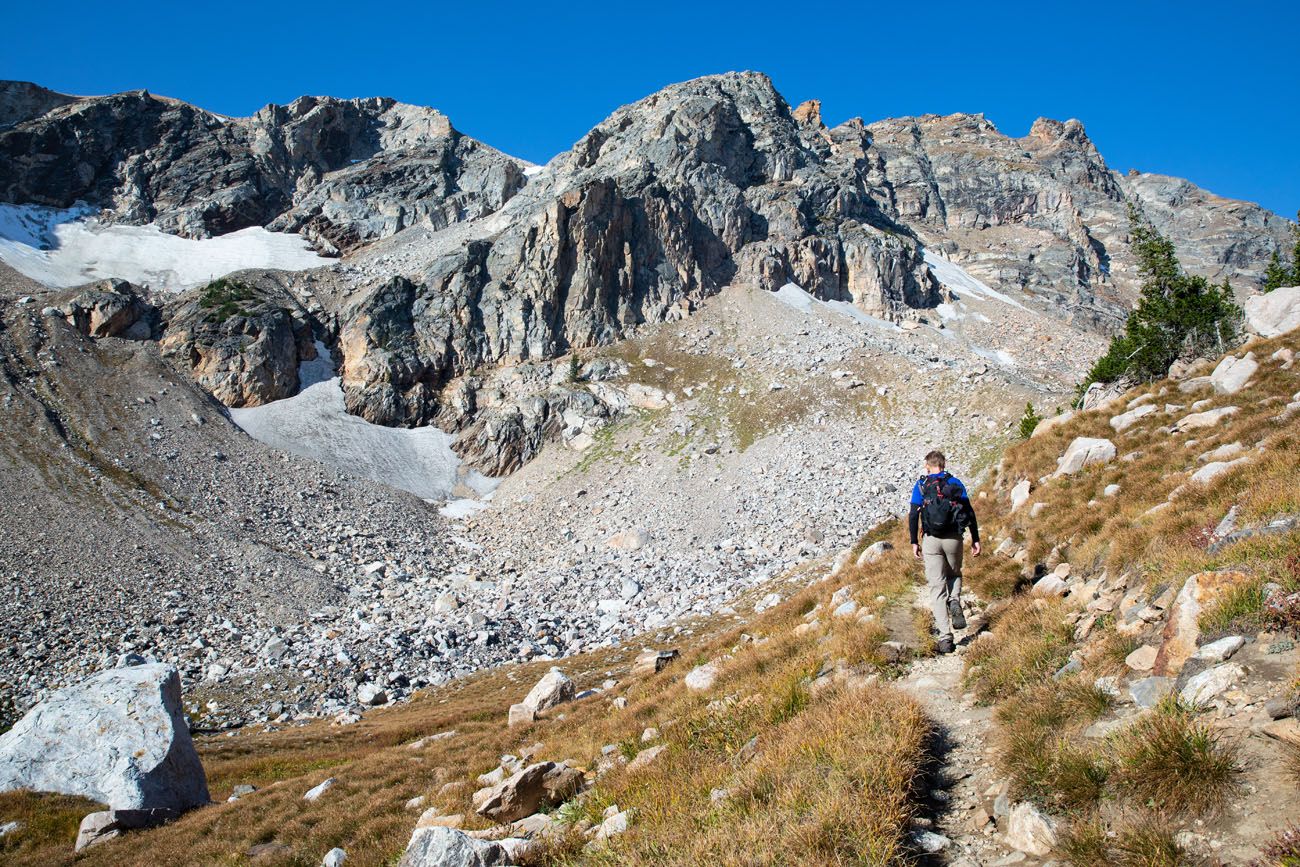 If you take the trail to the left, you will have a view over Holly Lake at the point where the two trails rejoin.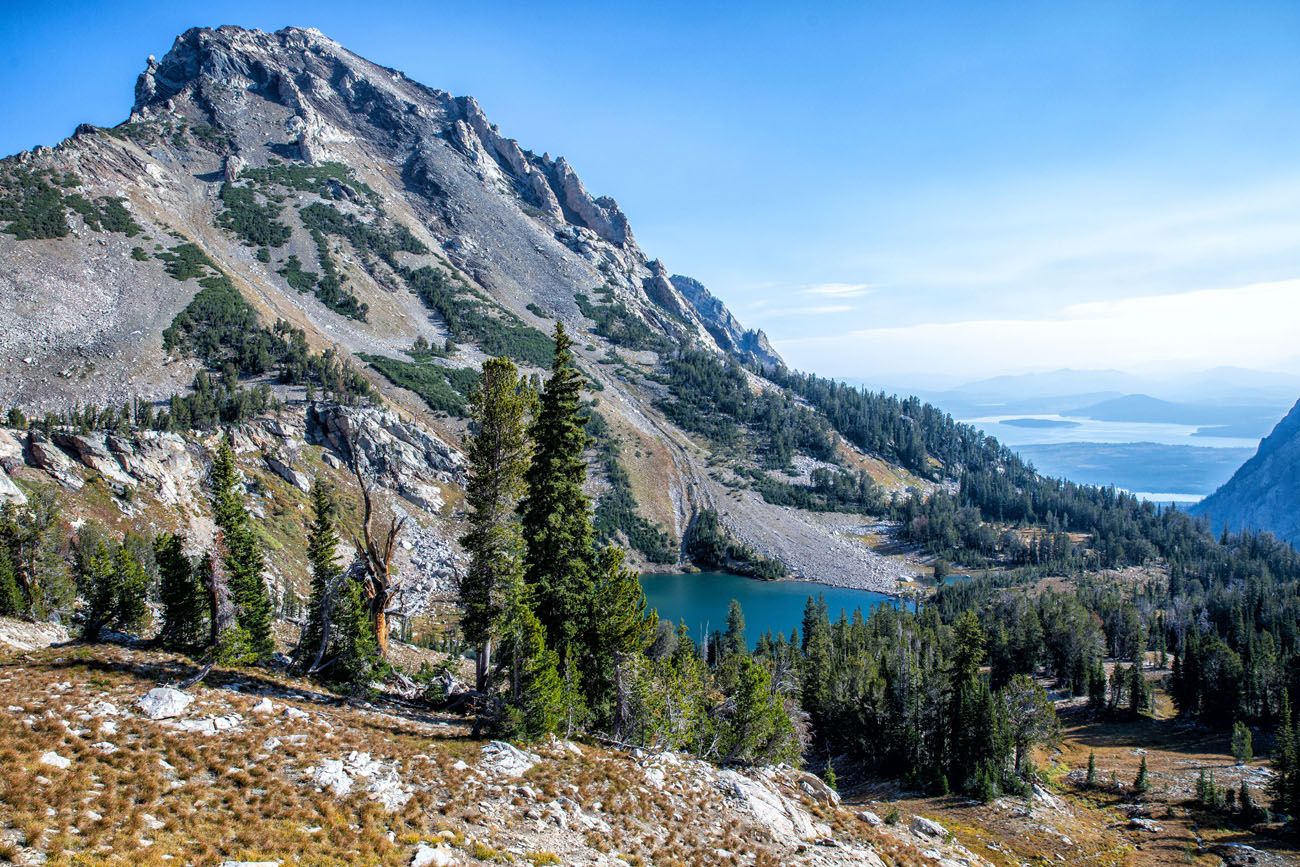 Paintbrush Divide
Just past Holly Lake, the hike gets to be more difficult. Now, the elevation is higher (you are at about 9700 feet just past Holly Lake), so it is easier to get out of breath now. The trail still slowly and steadily gains elevation, nothing too difficult, but the higher elevation makes it feel more challenging.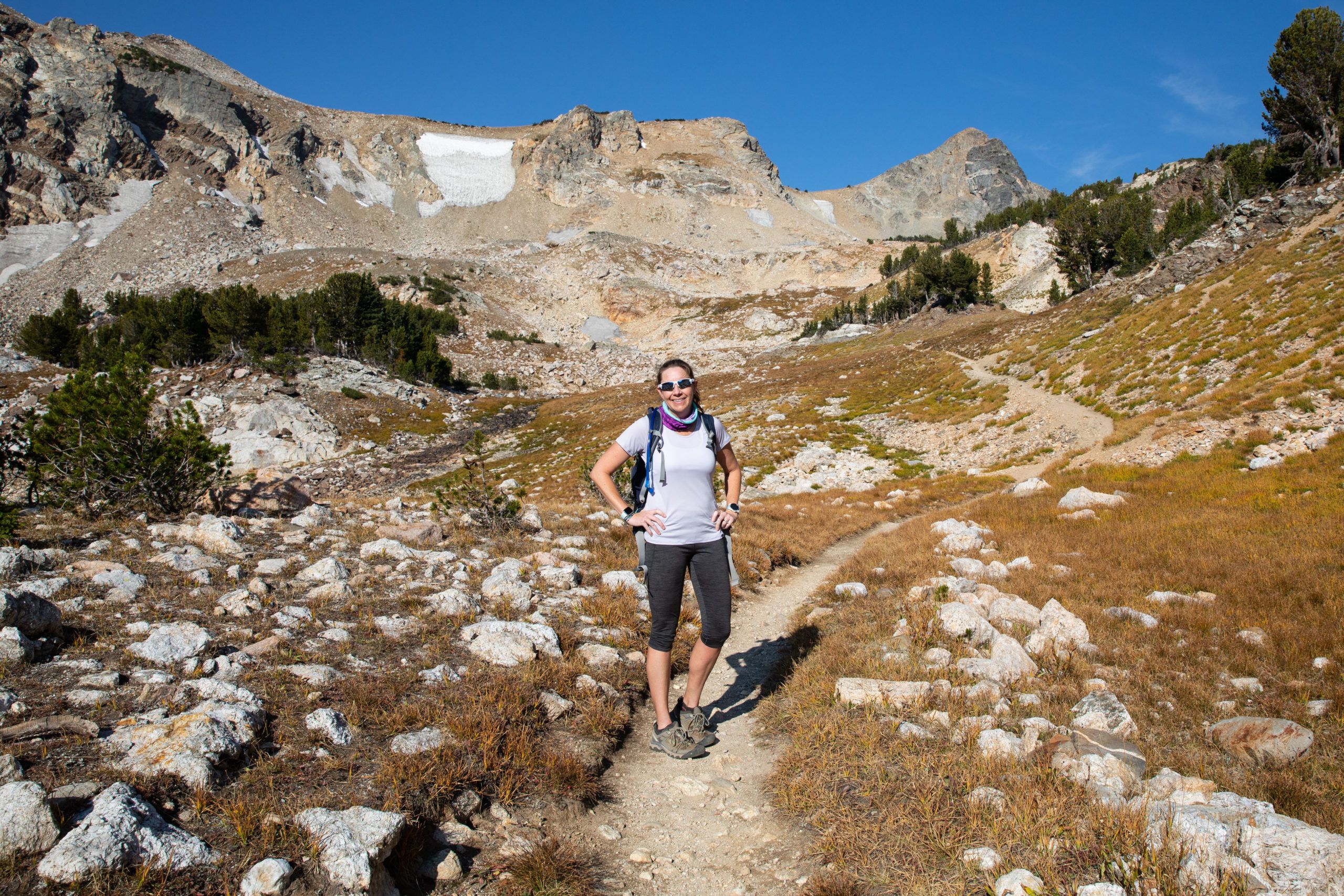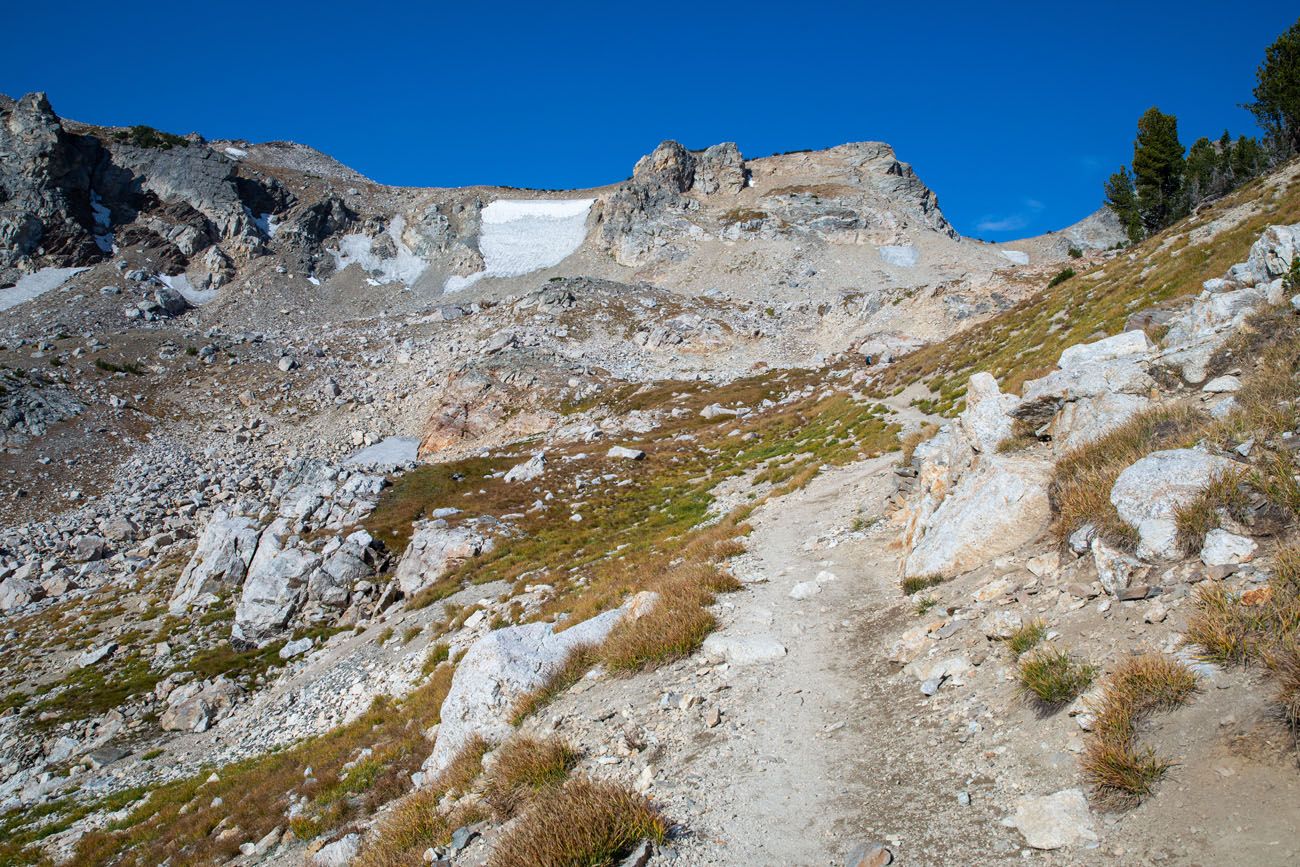 At this point, almost all of the vegetation has disappeared. Now, it's just a rocky, almost barren, alpine wilderness. The higher you climb, the better the views get of the razor-sharp mountain peaks that surround Paintbrush Canyon.
The trail zig-zags up to Paintbrush Divide. The final half-mile to Paintbrush Divide is the most challenging section of the hike, but at least when you pause to catch your breath, you are treated to awesome views of the mountains.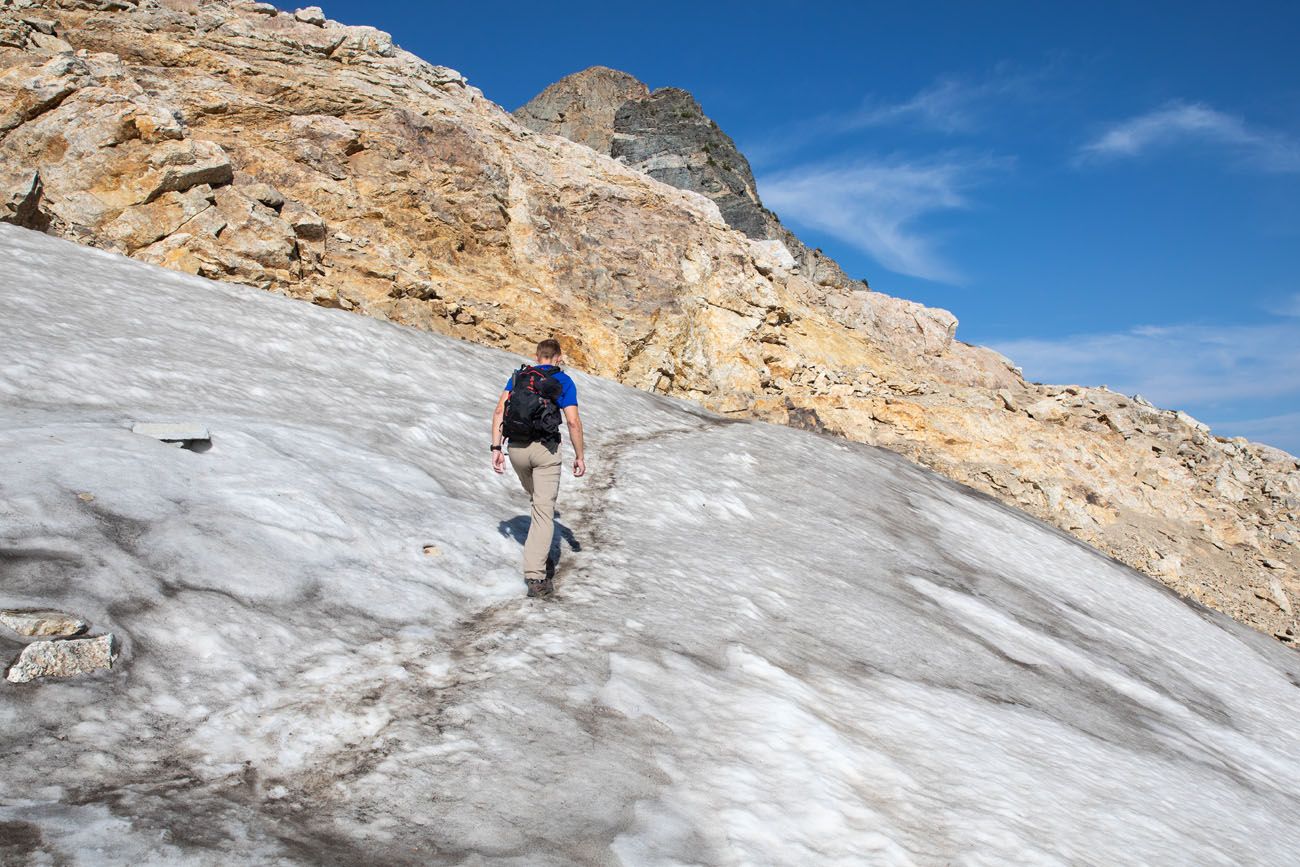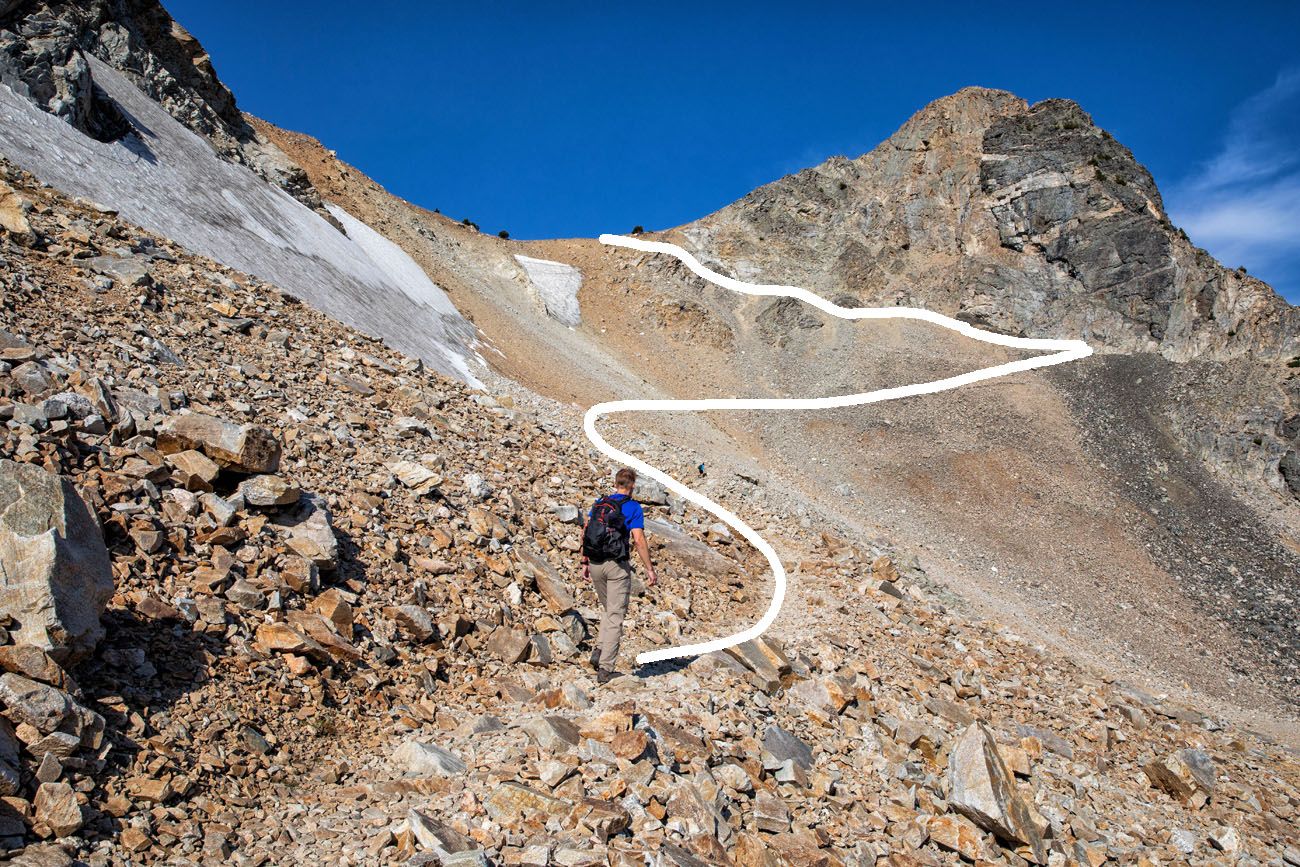 On the final climb, the trail clings to the side of the mountain. If you have a fear of heights, you could find this part of the trail unnerving, but the trail is relatively wide (about 5 feet) so if you stay up against the rock wall you should be OK.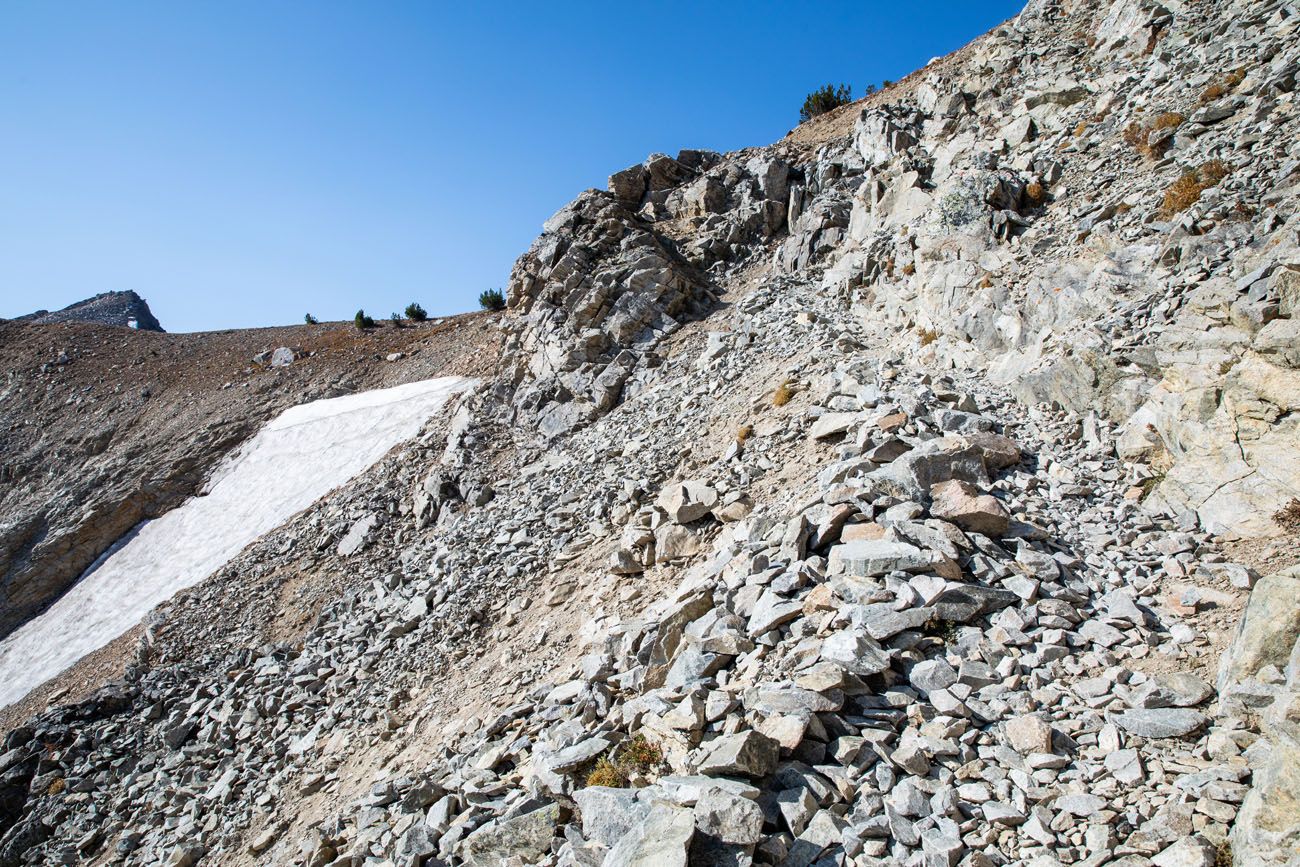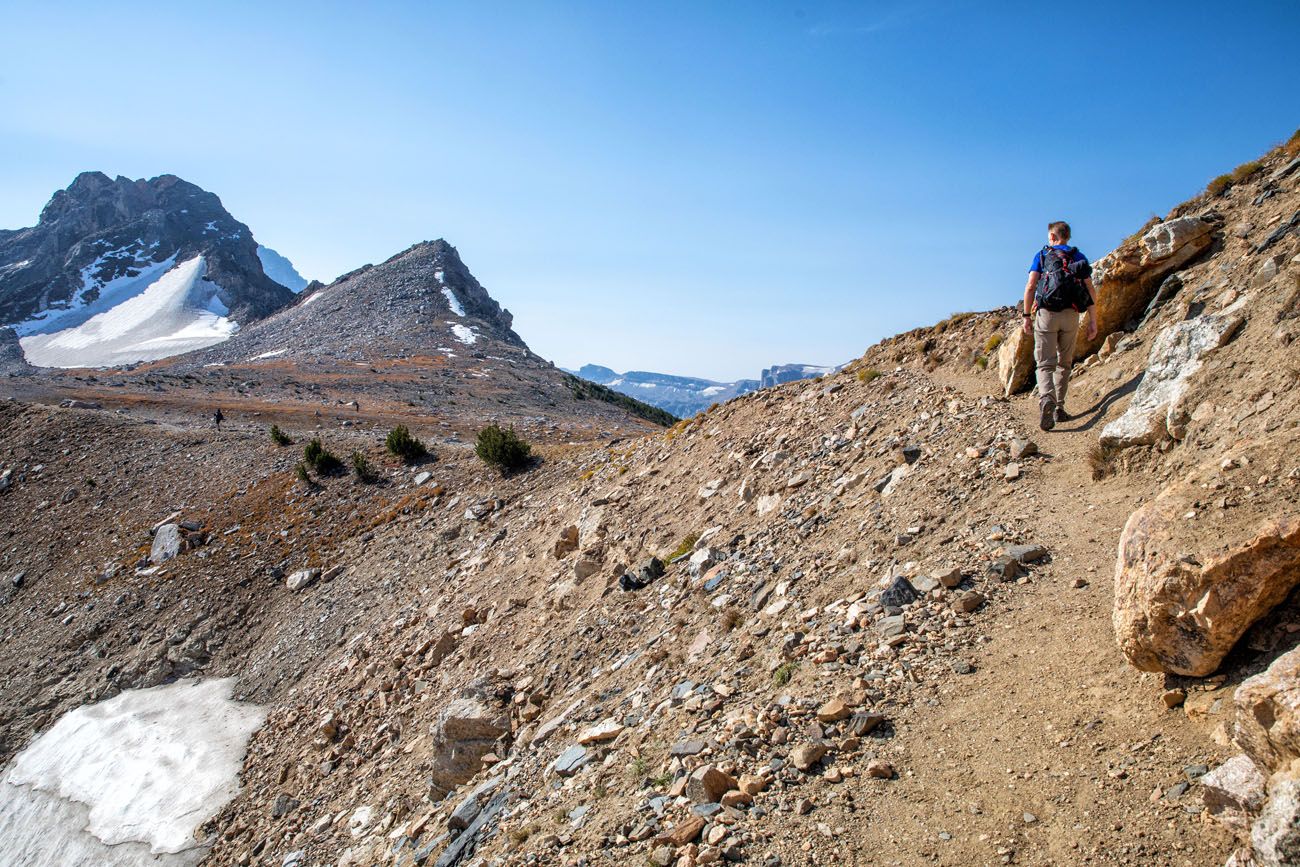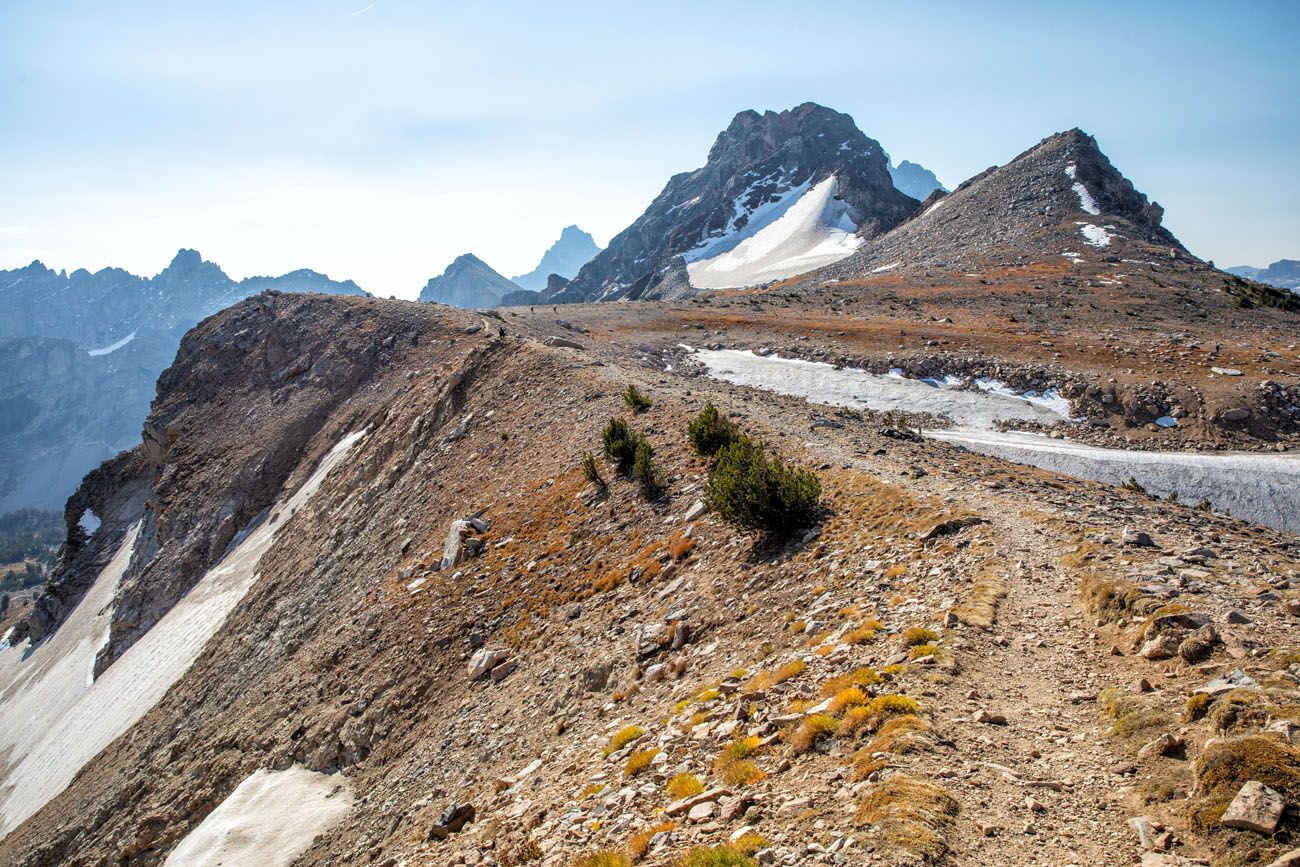 Once on top of the Paintbrush Divide, enjoy the spectacular view and take lots of photos. You earned it!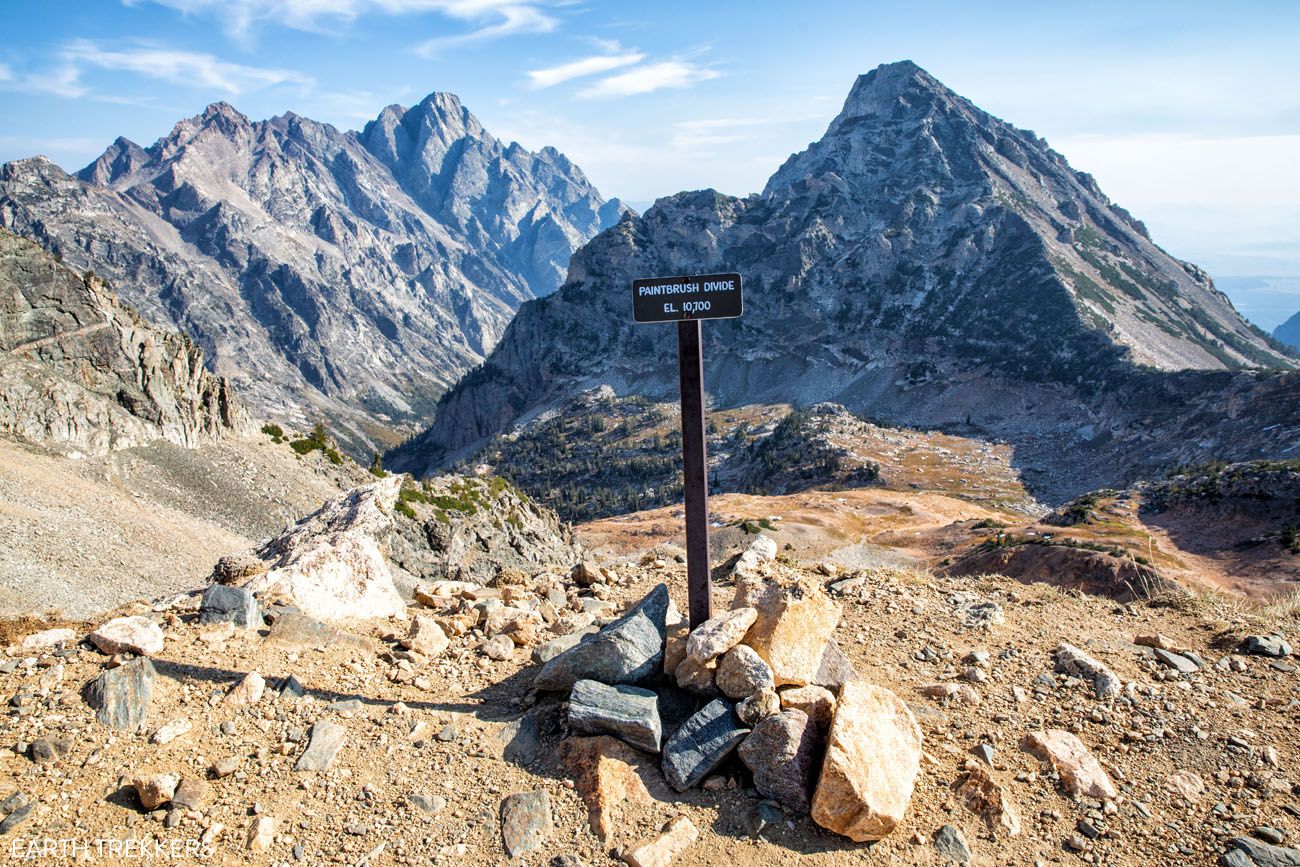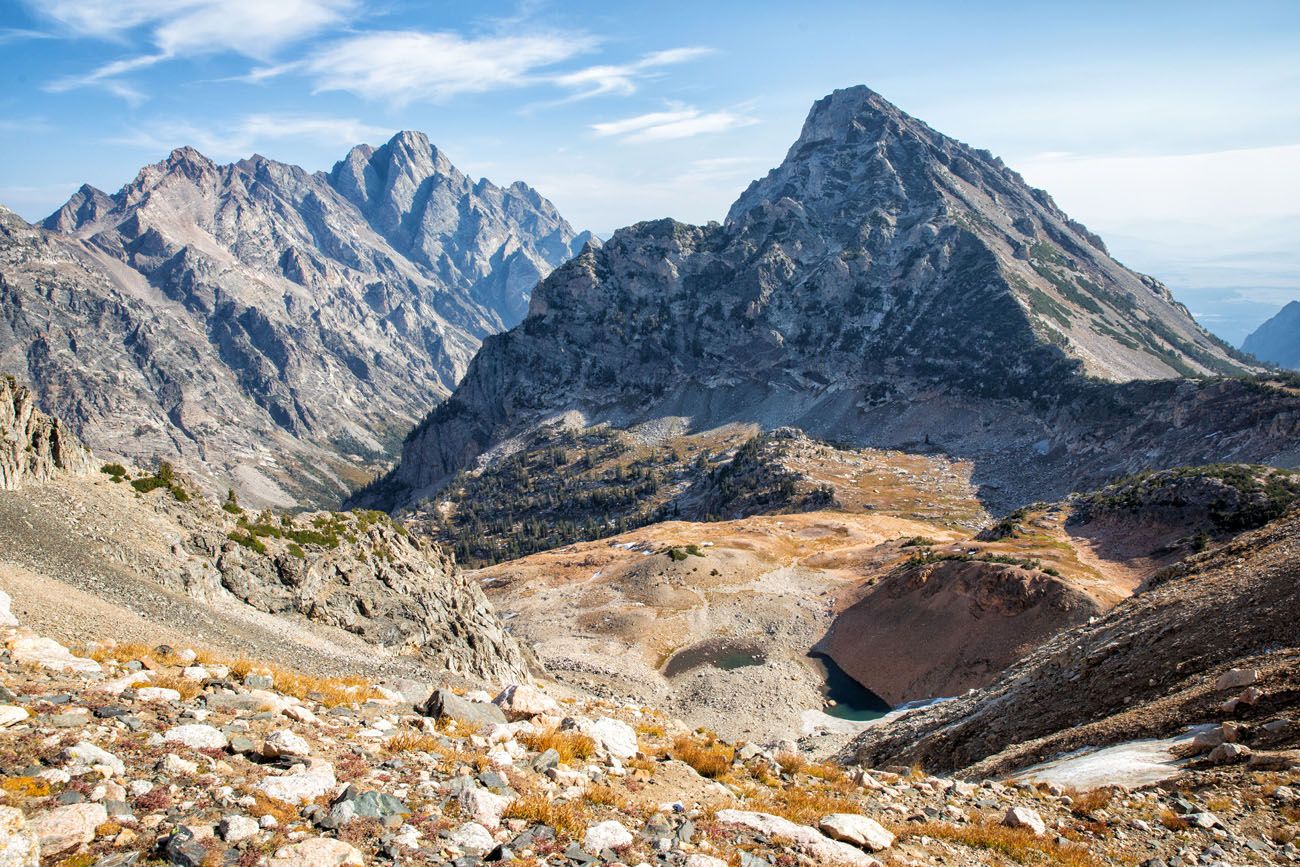 PRO TRAVEL TIP: It can be VERY windy here. On the day we did this, the winds were ferocious. It was literally the strongest wind gusts I have felt in my life and at times, it almost felt like I could get blown off of the mountain. We did not linger long here, because of the wind and the chilly temperatures.
Lake Solitude
From the Paintbrush Divide, it is a steep descent to Lake Solitude. In about 2 miles, you will descend 1,600 feet to Lake Solitude, so you lose a good chunk of the elevation you just climbed to get to Paintbrush Divide.
As you hike down this rugged, rocky trail, enjoy the amazing views over Lake Solitude and down through the canyon.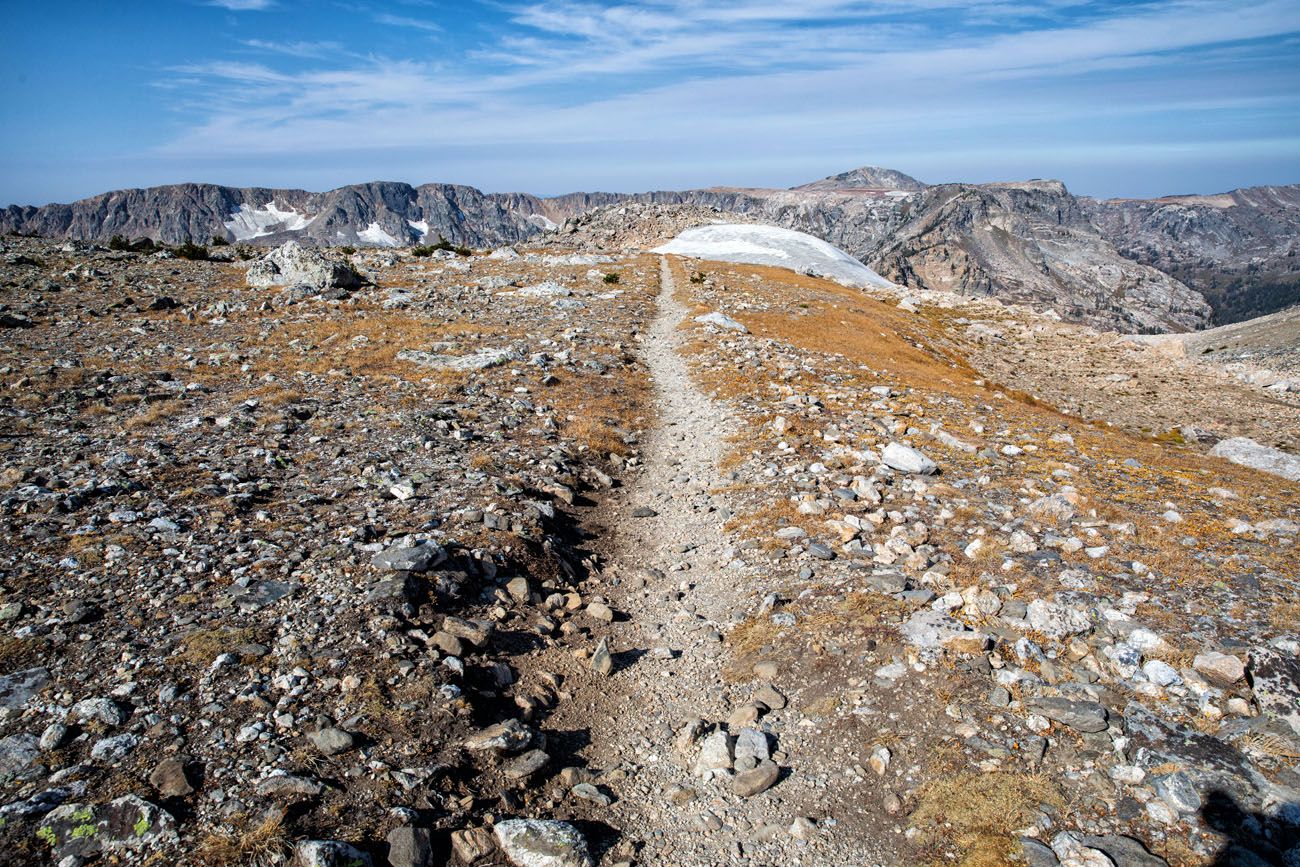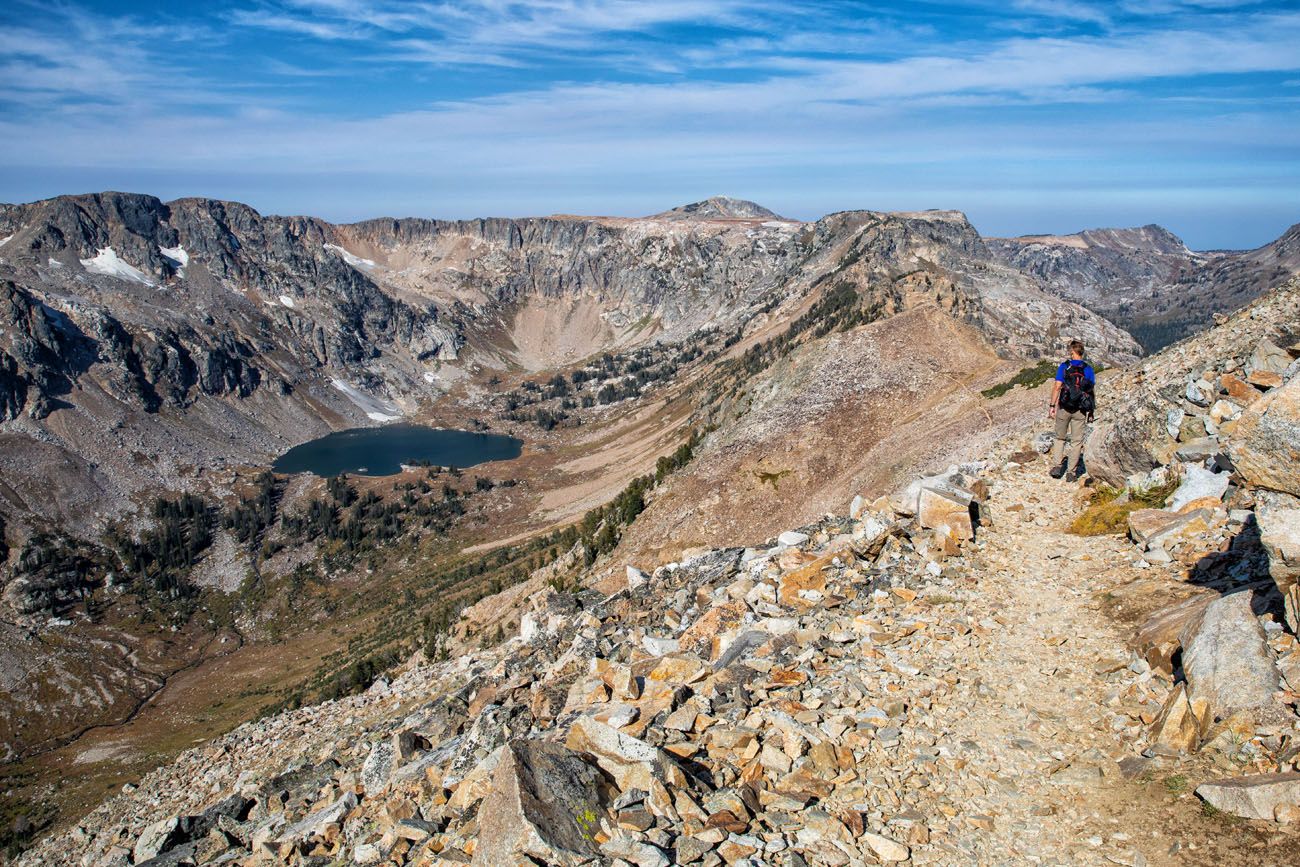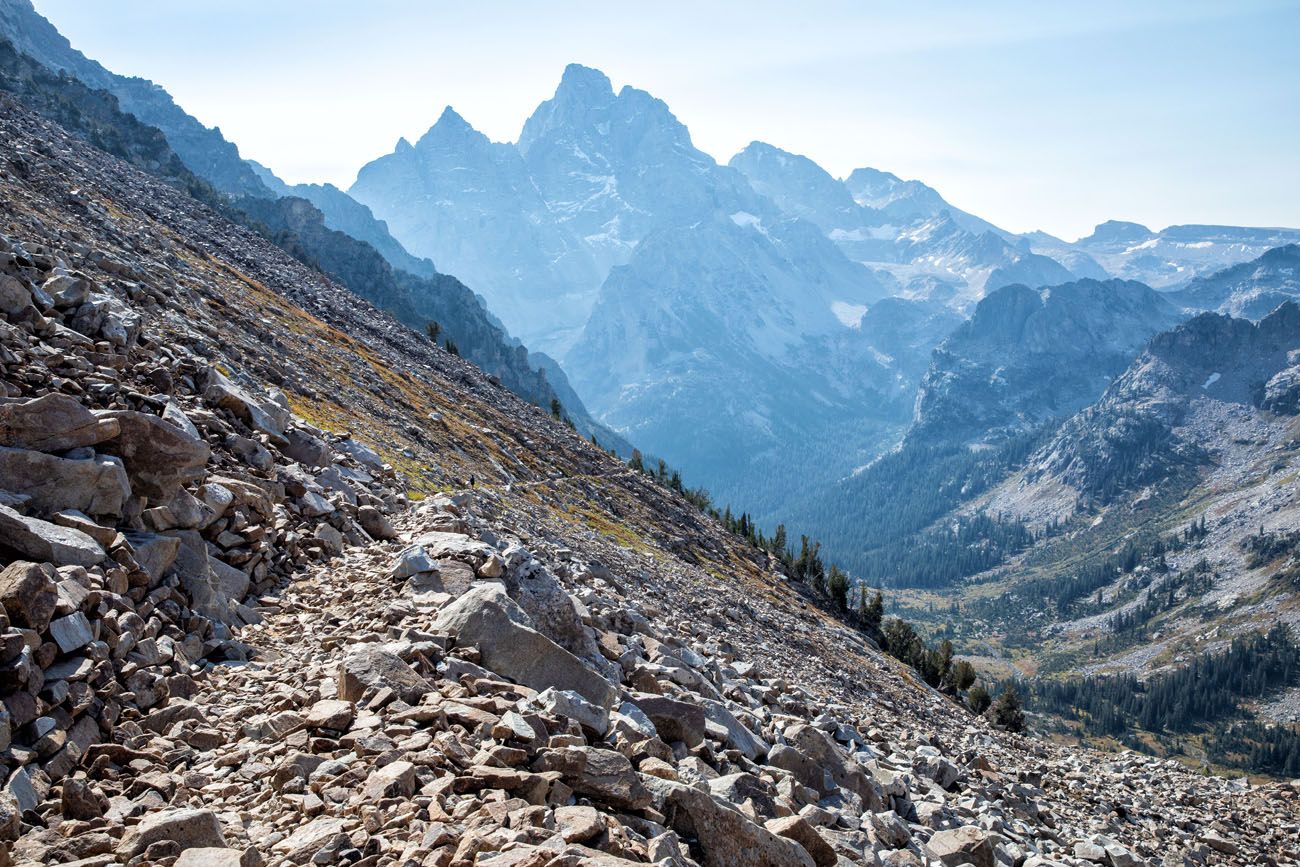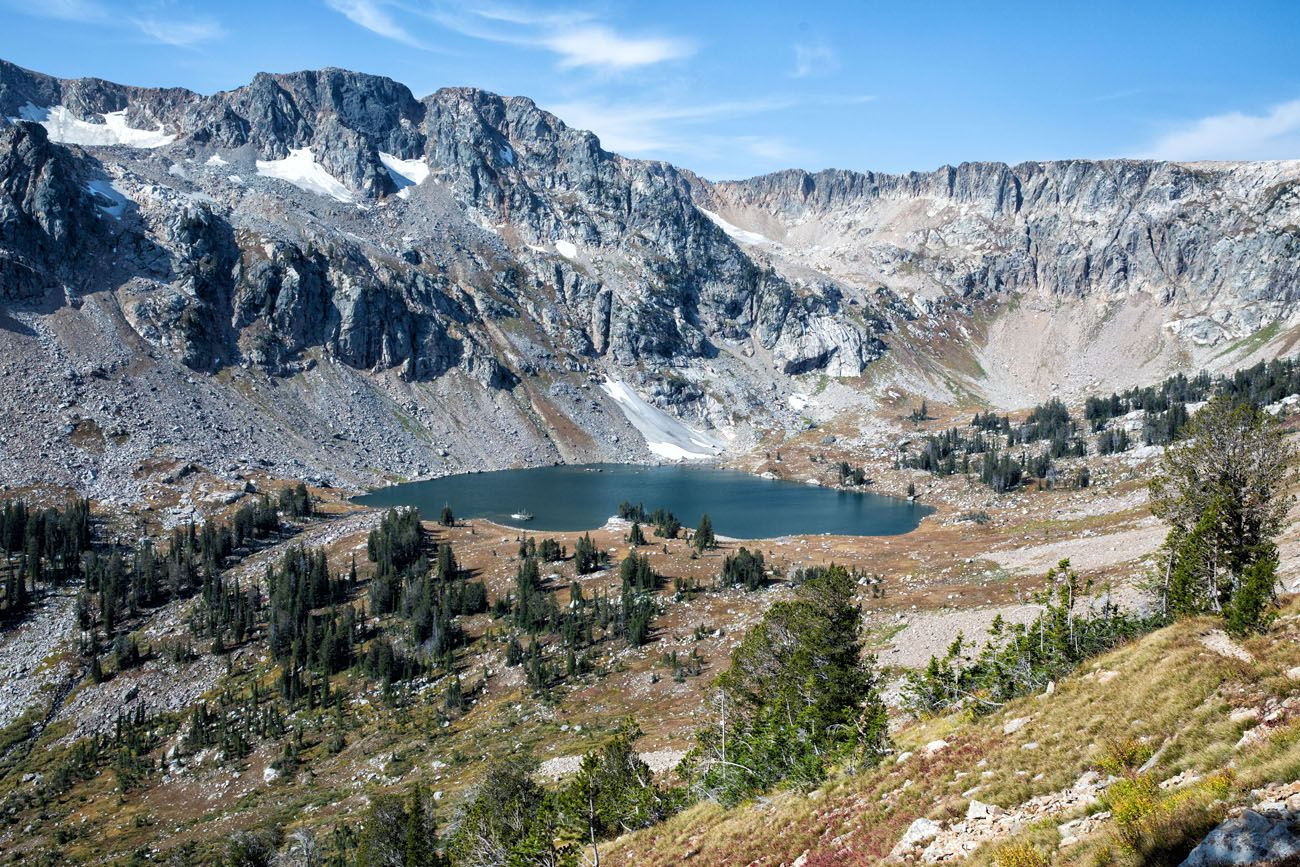 Lake Solitude is a beautiful alpine lake and it is a great spot to take a break and rest your feet. Find a comfy rock on edge of the lake and enjoy the view and a picnic lunch.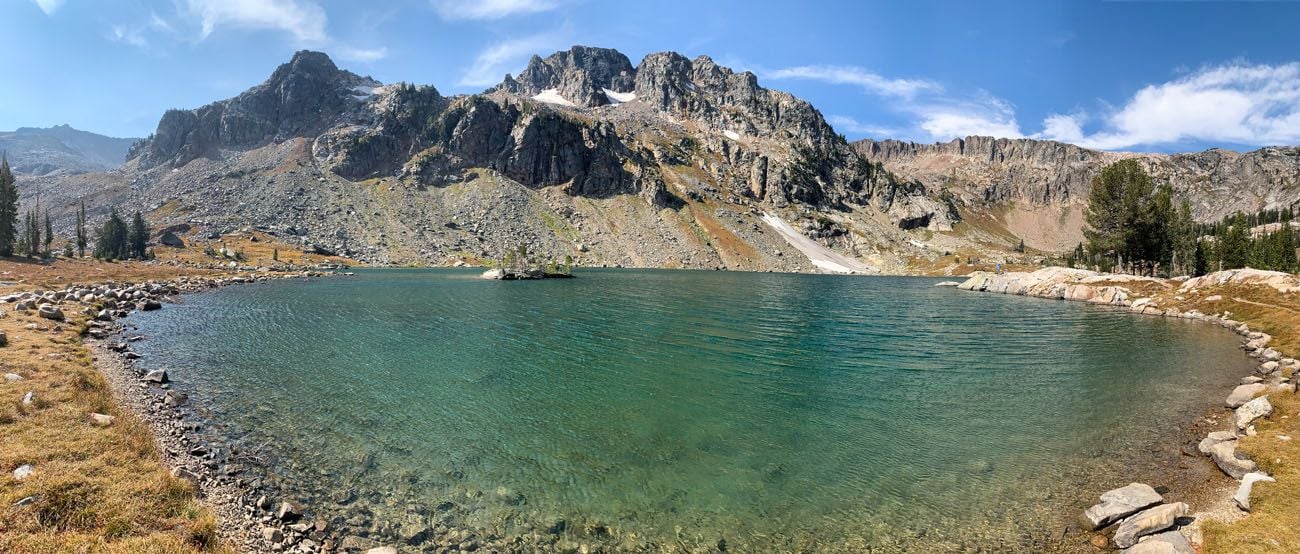 Cascade Canyon
For 2.5 miles, the trail follows along Cascade Creek until it veers left into Cascade Canyon. This section of the hike is gorgeous, since Grand Teton sits smack in front of you. Plus, it's an easy downhill walk now so this part of the hike is very enjoyable.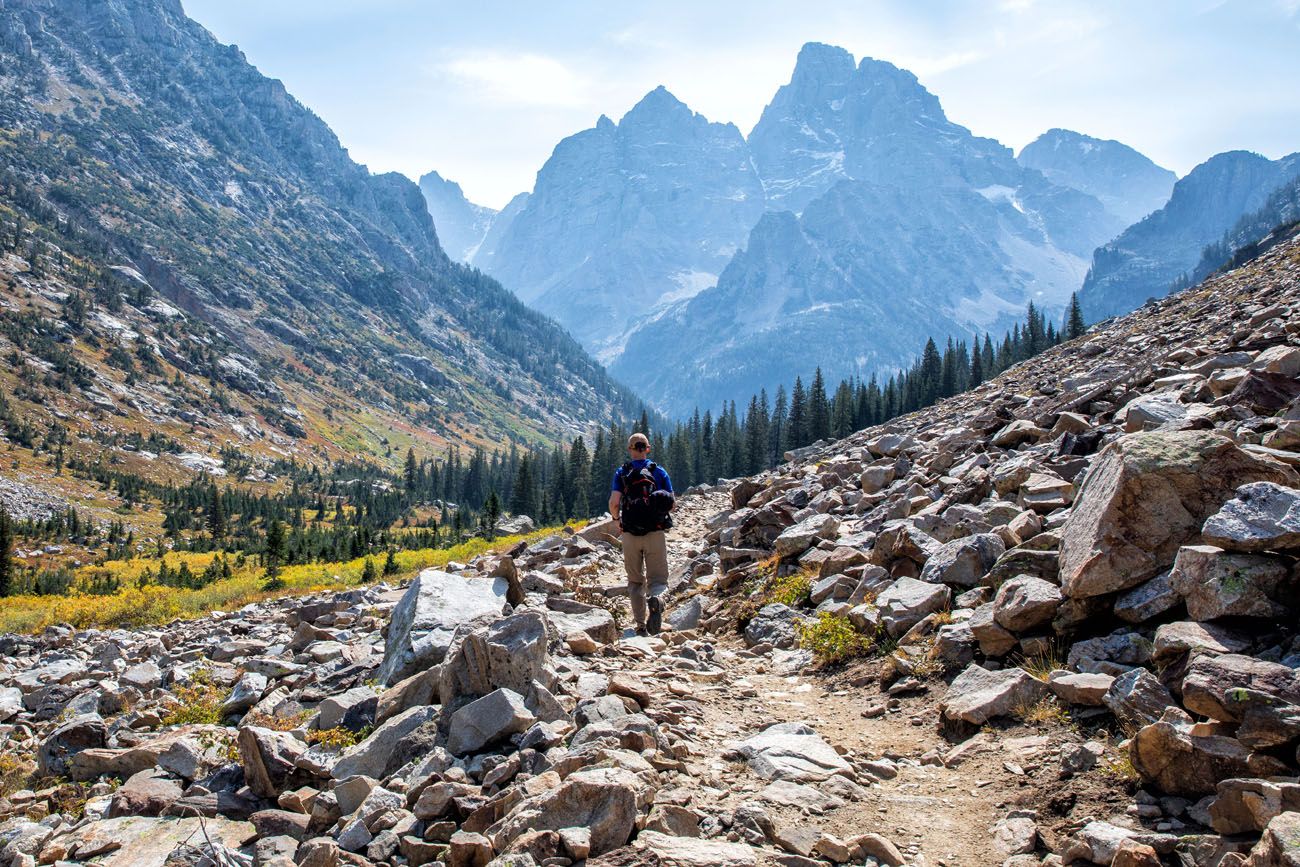 At the South Fork of Cascade Canyon, follow the trail signs to turn left into Cascade Canyon. Cascade Canyon is almost 4 miles long and a very easy downhill walk. The trail is mostly in the trees, but as you approach Jenny Lake, the massive canyon walls get shorter and the views open up over Cascade Creek.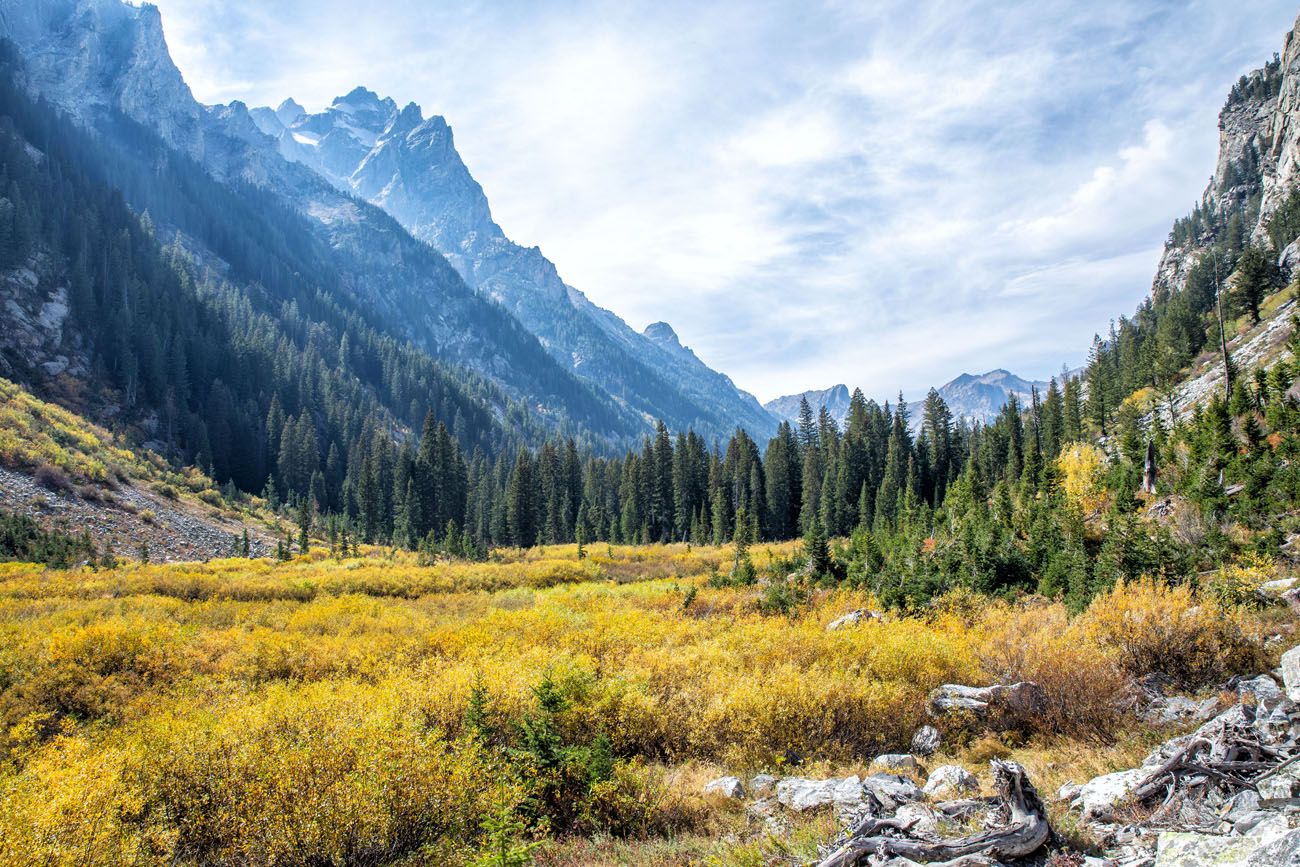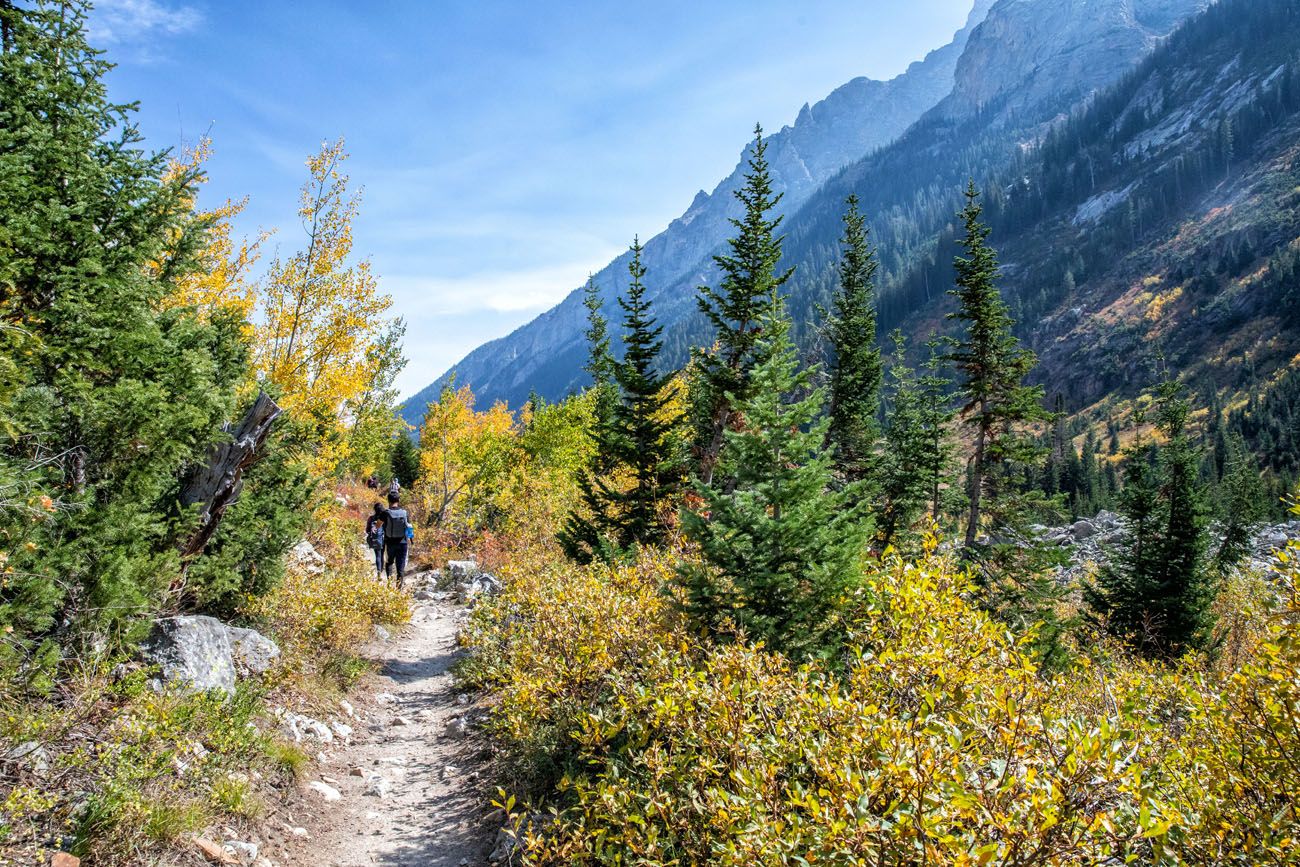 Keep an eye out for moose as they are commonly spotted here. Black bear also make regular appearances.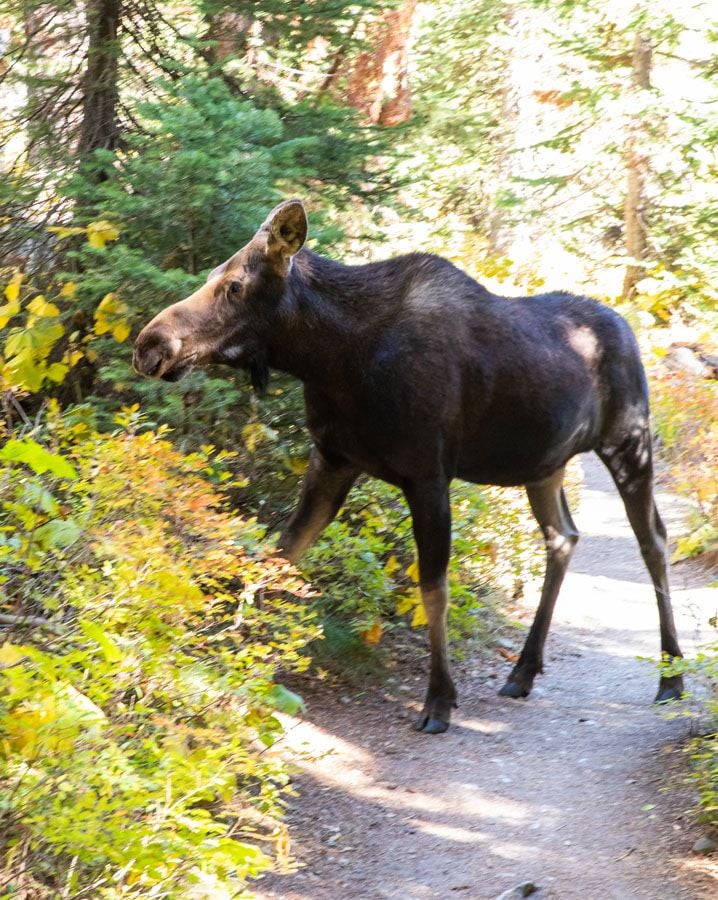 Inspiration Point and Jenny Lake
Before getting to Inspiration Point you have a choice to make. You can either take Cascade Canyon Trail to Inspiration Point or take the Horse Trail, which is a shortcut to String Lake.
Horse Trail: This is a 0.7-mile trail through the woods that ends on the Jenny Lake Trail.
Inspiration Point: If you choose to hike to Inspiration Point, this trail is about 1 mile long, until you meet up with the Horse Trail at Jenny Lake (so this trail is .3 miles longer than Horse Trail). However, you get to see the view from Inspiration Point, which is worth adding on to this hike if you still have the energy. You can also take the very short spur trail to Hidden Falls.
Here's the view from Inspiration Point.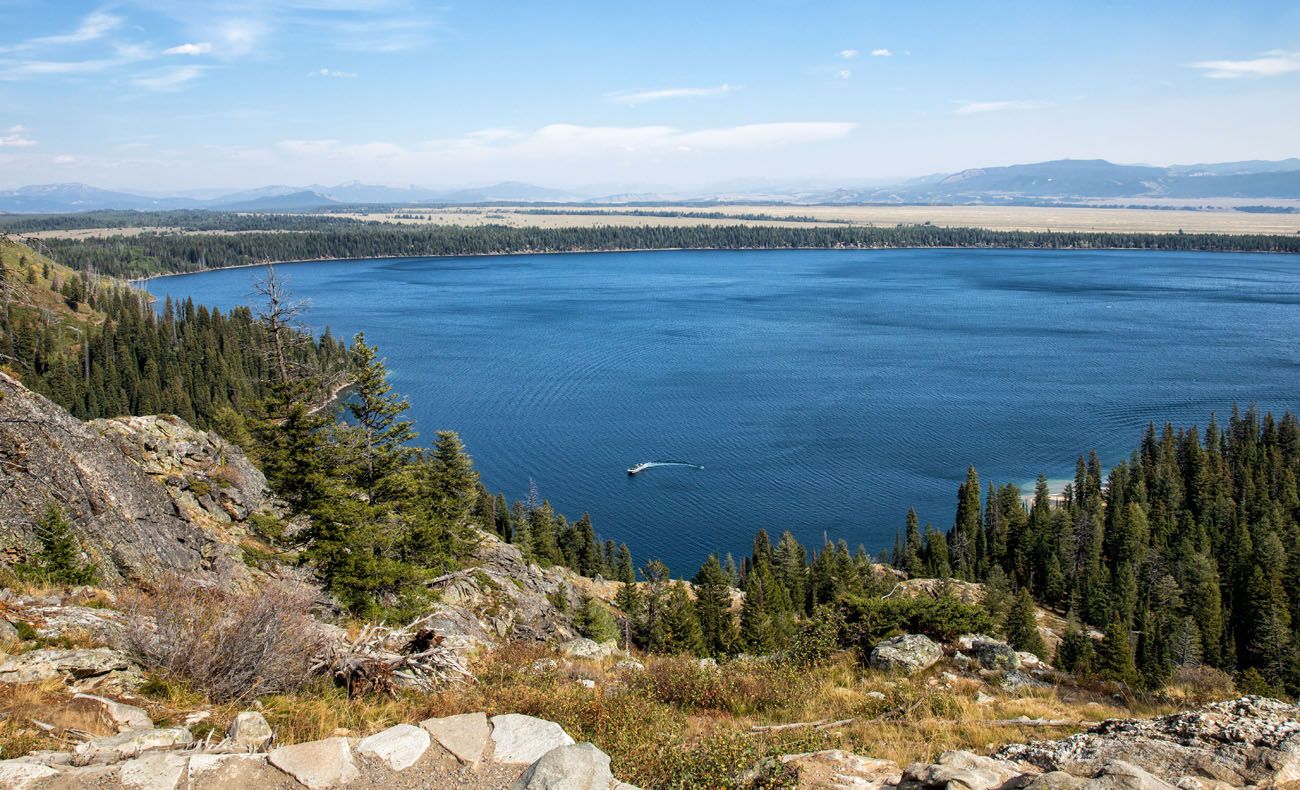 Jenny Lake Trail
From the Horse Trail, it's just 1.7 miles until you reach the String Lake parking lot. For most of this distance you walk along the west bank of Jenny Lake. It's a flat walk with a few small hills thrown in occasionally. This is a pleasant trail, but this final part of the hike can feel like it takes forever, especially if you are exhausted.
About Our Experience
We did this hike during the last week of September in 2020. Tim and I completed the hike in 8 hours (we started at 7 am and finished at 3 pm), including time for breaks and lunch.
The end of September is an amazing time to visit Grand Teton National Park, since it is peak season for fall colors. However, you should also expect lots of traffic on the trails. Crowds were larger this week than during our visit in mid-August, one year before, which surprised us.
Shorter Versions of This Hike
If you like the idea of doing this hike but don't have the desire or the energy for a 20-mile loop, here are 3 shorter versions of the Paintbrush Canyon – Cascade Canyon Loop.
Paintbrush Canyon: You can hike Paintbrush Canyon out-and-back. This pretty canyon typically has fewer hikers than Cascade Canyon, so if you are looking for solitude, this is a nice option. You can turn around whenever you are ready, but the farther you go, the better the view. If you choose to hike all of the way Paintbrush Divide, this is a 16.8 mile hike with 4,550 feet of elevation gain. Park at the String Lake Trailhead.
Cascade Canyon: For gorgeous views along Cascade Creek and a good chance to spot wildlife, put Cascade Canyon on your list. Like Paintbrush Canyon, turn around whenever you are ready. You really don't have to walk too far past Inspiration Point for some of the best views of the canyon, not to mention a good chance for wildlife sightings. If you hike to the end of Cascade Canyon from the west shore boat dock on Jenny Lake, the hike is 10 miles with 1,100 feet of elevation gain. To get here, take the Jenny Lake shuttle to the west shore boat dock and start your hike here.
Lake Solitude: Hike all of the way through Cascade Canyon and end at Lake Solitude. This hike is 15 miles long with 2,500 feet of elevation gain. Start and end at the west shore boat dock.
Tips to Have the Best Experience
Start the hike early, ideally by 7 am. This ensures that you get a parking space and gives you plenty of time to complete the hike.
Leave no trace. When you are in the park, practice the seven principles of Leave No Trace. This includes packing out what you bring into the park, be considerate of other hikers, stay on the trail, and do not remove anything from the park.
Do not expect your cell phone to work. For most of this hike we had zero cellular service. There were a few spots in clearings or at higher elevations where we got a few bars of LTE or 3G, barely enough to send a text message. But don't depend on your phone to call for help, talk to friends, or send photos to friends and family.
If you are not acclimated to the altitude, this is not a good first hike in Grand Teton National Park. The long distance, elevation gain, and altitude make this a tough hike. If you have not already spent time in the park adjusting to the altitude, I recommend that you spend a day or two acclimating to the higher elevation.

What to Bring on the Hike
Hiking shoes. Don't do this hike in anything other than hiking shoes or hiking boots. There's a good chance you will hike through snow, even in the summer.
Hiking poles. Hiking poles take the stress off of your legs and help to ease leg pain and fatigue.
Bear Spray. Black bears and grizzly bears make regular appearances in both Paintbrush and Cascade Canyons.
Water and snacks. At least 3 liters of water in the summer.
Sunscreen, hat, and sunglasses. For more than half of this hike you will be exposed to the sun, with very little shade.
Camera. Even a smartphone will do. The Paintbrush Divide is a great place to use the panorama feature.
Rain jacket or fleece. It's chilly at Paintbrush Divide. Be prepared for all weather conditions, even snow in the summer months. Pack a rain jacket and/or fleece and even another layer of clothing.
If you are new to hiking or are curious about what you should bring on a hike, check out our Hiking Gear Guide. Find out what we carry in our day packs and what we wear on the trails.
---
If you have any questions about hiking the Paintbrush Canyon – Cascade Canyon Loop, let us know in the comment section below. Happy hiking!!
More Information for Your Trip to Wyoming
If your visit to Grand Teton National Park is part of bigger road trip through Wyoming or the United States, here is more information for your trip.
GRAND TETON: Check out our Grand Teton National Park Travel Guide for important travel information, sample itineraries, and how to plan your visit. For a list of must-have experiences, read our article Best Things to Do in Grand Teton National Park.
GRAND TETON ITINERARY: In our Grand Teton Itinerary Planner, learn how to plan your visit to the park, whether you have one day or a full week.
HIKING IN GRAND TETON: Check out our article Best Hikes in Grand Teton for great hikes to add to your to do list. We also have detailed hiking guides on how to hike Death Canyon to Static Peak, and how to hike to Delta Lake.
YELLOWSTONE & GRAND TETON: Planning a trip to Yellowstone & Grand Teton and don't know where to start? In our Yellowstone and Grand Teton Itinerary, get lots of practical information about how and where to rent a car, road trip routes, and advice on how to plan your time.
PLACES TO GO IN YELLOWSTONE: Top experiences in the park include Old Faithful, visiting both rims of Grand Canyon of the Yellowstone, visiting the Geyser Basins, and photographing Grand Prismatic Spring. Get the full list in our article Best Things to Do in Yellowstone.
In our Guide to the US National Parks, get the full list of national parks with important travel planning information, such as things to do in the parks and sample itineraries.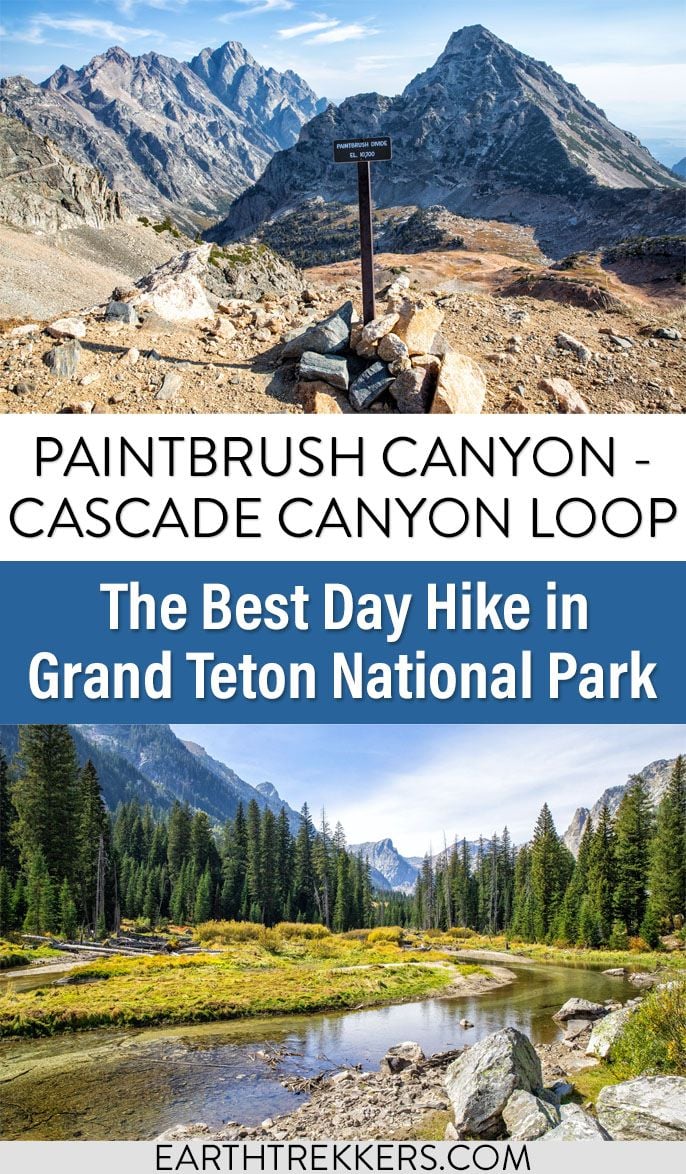 All rights reserved © Earth Trekkers. Republishing this article and/or any of its contents (text, photography, etc.), in whole or in part, is strictly prohibited.