If you are in Grand Teton National Park and have an extra day to spare, why not day trip to Yellowstone National Park? With one day, you have just enough time to hit the highlights…Old Faithful, Grand Canyon of the Yellowstone, Grand Prismatic Spring, and the wildlife in Hayden Valley. In this post, learn how to plan the perfect Yellowstone day trip.
We did this exact day trip in September 2020. We drove north into Yellowstone, to escape the cold, stormy weather in Grand Teton National Park. Even though we have visited Yellowstone numerous times, we have never been here on a day trip, but I can tell you, it works surprisingly well.
Even though it is a large park, with one well-planned day, you can see and do a lot here.
In this post, get all of the details you need to know to plan your Yellowstone day trip, from recommendations on where to go, what to skip, and how to plan your time.
Orientation to Yellowstone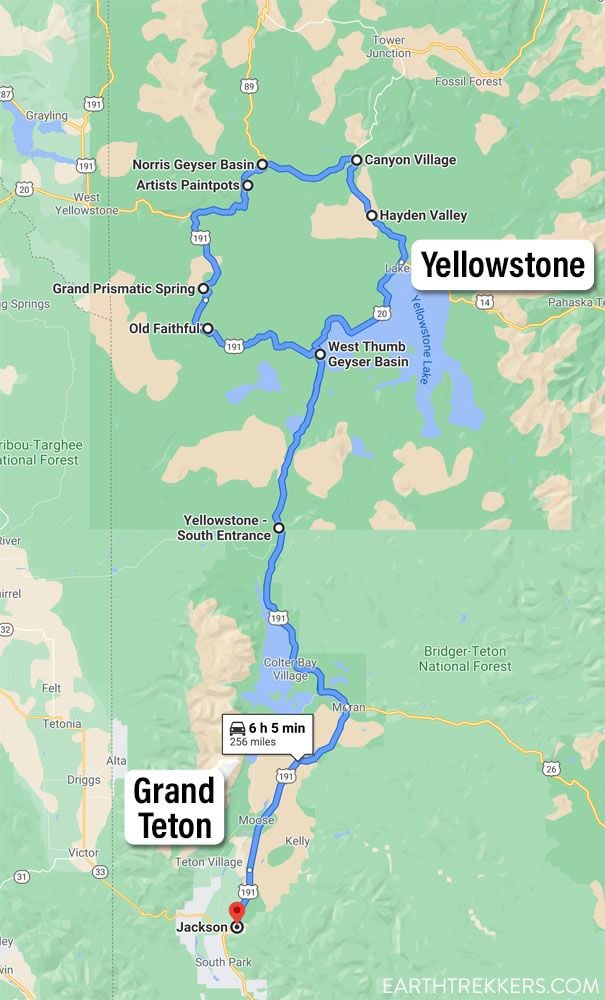 Yellowstone is massive. In fact, it is the second largest national park in the lower 48 states. This park is spread out over 2 million acres of land and has five entrances, so don't expect to see it all in one day.
However, many of Yellowstone's top sights are located along the lower loop of Grand Loop Road. This is where you will spend your time.
On this Yellowstone day trip, you will enter the park at the south entrance, drive counter-clockwise around the southern loop, and return to Grand Teton via the south entrance.
Sights you can see on this Yellowstone day trip include:
West Thumb Geyser Basin
Hayden Valley
Grand Canyon of the Yellowstone
Norris Geyser Basin
Artists Paintpots
Grand Prismatic Spring & Midway Geyser Basin
Old Faithful & Upper Geyser Basin
With one day, you won't get to everything on this list, unless you move very quickly and are doing this in early summer when the days are long. However, as we go through the itinerary, I'll let you know what are must-see's and what you can consider skipping, based on your interests.
Please practice the seven principles of Leave No Trace: plan ahead, stay on the trail, pack out what you bring to the hiking trail, properly dispose of waste, leave areas as you found them, minimize campfire impacts, be considerate of other hikers, and do not approach or feed wildlife.
Overview of this Day Trip
Mileage and Time
You will spend a lot of time in your car on this day trip. The stats below are for the round trip distance from Jackson, Wyoming.
Driving Distance: 260 miles

Total Driving Time:

6 hours
Most of this drive is to get you to and from Yellowstone National Park. You will drive up through Grand Teton National Park, which is a gorgeous drive. There is even a spot in Grand Teton which we highly recommend adding to your day trip, which I will discuss later.
Food
For this Yellowstone day trip, I recommend packing at least some snacks, but bringing a picnic lunch is a good idea. This will help you save time in Yellowstone. There are places to get food (there are markets at Canyon Village and Old Faithful) but having lunch prepared will be more convenient.
Bathrooms
In Yellowstone, there are toilets at most sights, so finding a bathroom will not be an issue. You just have to get through the drive from Jackson to Yellowstone (about a 2 hour drive).
Entrance Fee
It costs $35 per vehicle to enter Yellowstone. However, if you have an America the Beautiful Pass, you will get in at no additional charge. I highly recommend purchasing this pass, because once you visit a total of three national parks within one year, the pass pays for itself. The America the Beautiful Pass is valid for 365 days from the day you first use it.
Best Time to Day Trip to Yellowstone
From early November through mid-April, many of the park roads close due to snowfall. The best time to do this Yellowstone day trip is from May through October, when the roads are open.
On a Tour
If you want to do something similar to this itinerary, but don't want to self-drive it, there are several tour companies that will take you to Yellowstone on a day trip from Jackson. This tour gets almost perfect reviews and includes the sights that we list in our day trip itinerary.
How to Use This Map: Click the tab in the top left hand corner of the map to view the layers (places to go and the driving route). You can click the check marks to hide or show layers. If you click the icons on the map, you can get more information about each point of interest.

If you click the star next to the title of the map, this map will be added to your Google Maps account. To view it on your phone or computer, open Google Maps, click the menu button, go to "Your Places," click Maps, and you will see this map on your list.
Yellowstone Day Trip Itinerary
Here is the Yellowstone day trip itinerary, with rough estimates on timing for each sight. The time of year that you do this day trip will impact how much time you have. Those doing this in June will have much more daylight than those doing this in September.
Early Morning: Drive to Yellowstone
Driving Distance: 80 miles
Driving Time: 1.75 hours
Leave at 7 am and arrive by 9 am
Get a very early start. This will maximize your time in Yellowstone and let you visit the first one or two sights relatively crowd-free. I recommend starting no later than 7 am. With a quick stop at Oxbow Bend, you'll be in Yellowstone by 9 am.
Note: Since the flood, I have been hearing that people are arriving earlier than normal (as early as 5:30 am), so consider getting an earlier start than 7 am to avoid lines at the entrance booth.
Optional: Oxbow Bend
Located near the north end of Grand Teton National Park, this is a popular sunrise destination for photographers. It is also a great place to spot wildlife. Since you will be driving right past this point near sunrise, it's worth a quick stop.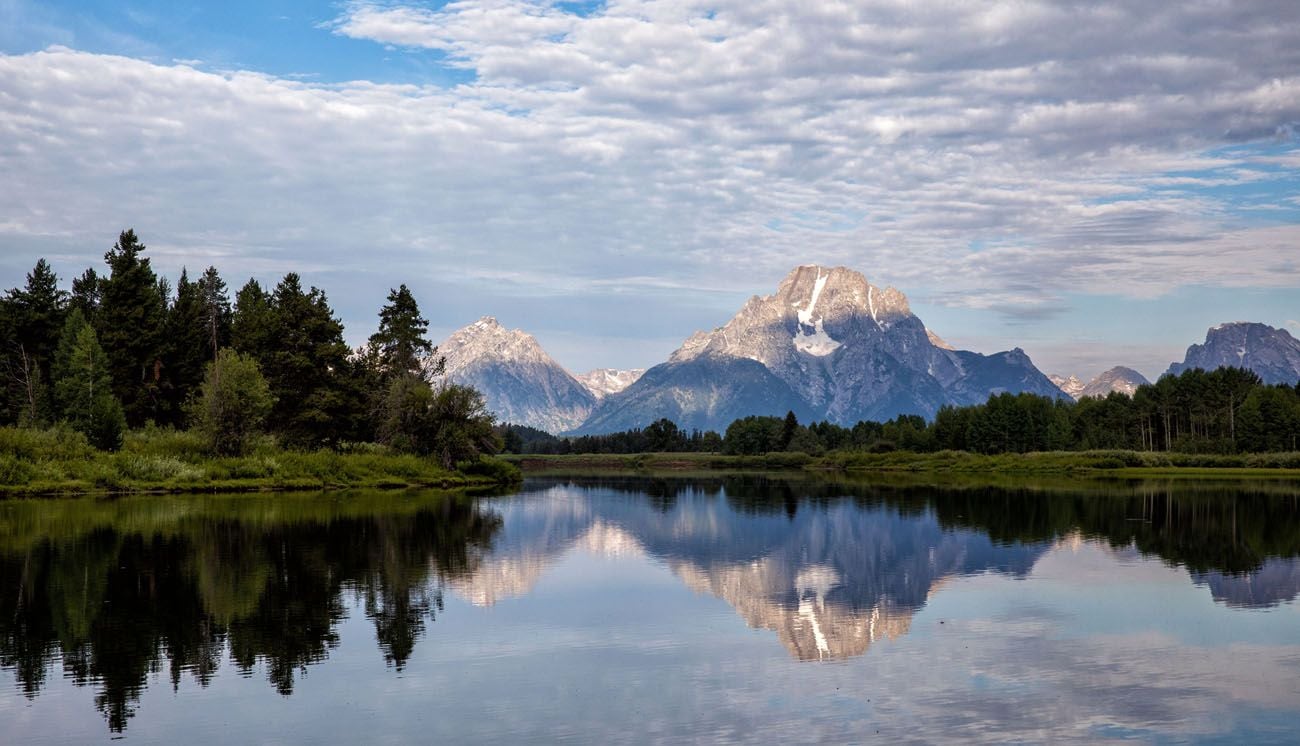 Oxbow Bend
North of Jackson Lake, you will exit Grand Teton National Park and then enter Yellowstone through the south entrance station. Then it's a straight shot up to Yellowstone, on the John D. Rockefeller Jr Memorial Parkway.
Once you arrive at Grand Loop Road, turn right to drive the lower loop in a counter-clockwise direction. It's at this point that you have another optional detour.
Why do we recommend driving the loop counter-clockwise? You can drive the loop in either direction and both have their advantages. Seeing the Grand Prismatic Spring from the overlook is best in the afternoon, once the morning mist has burned off of the hot spring. So, by driving this loop counter-clockwise, you get the timing right for this. If that's not such a big deal for you, you could drive the loop clockwise and visit Old Faithful first, before it gets crowded. But we think Grand Prismatic Spring is worth the wait.
West Thumb Geyser Basin (Optional)
Driving Distance: less than one mile once you turn onto Grand Loop Road
Driving Time: 2 minutes
Timing: 9 am to 9:30 am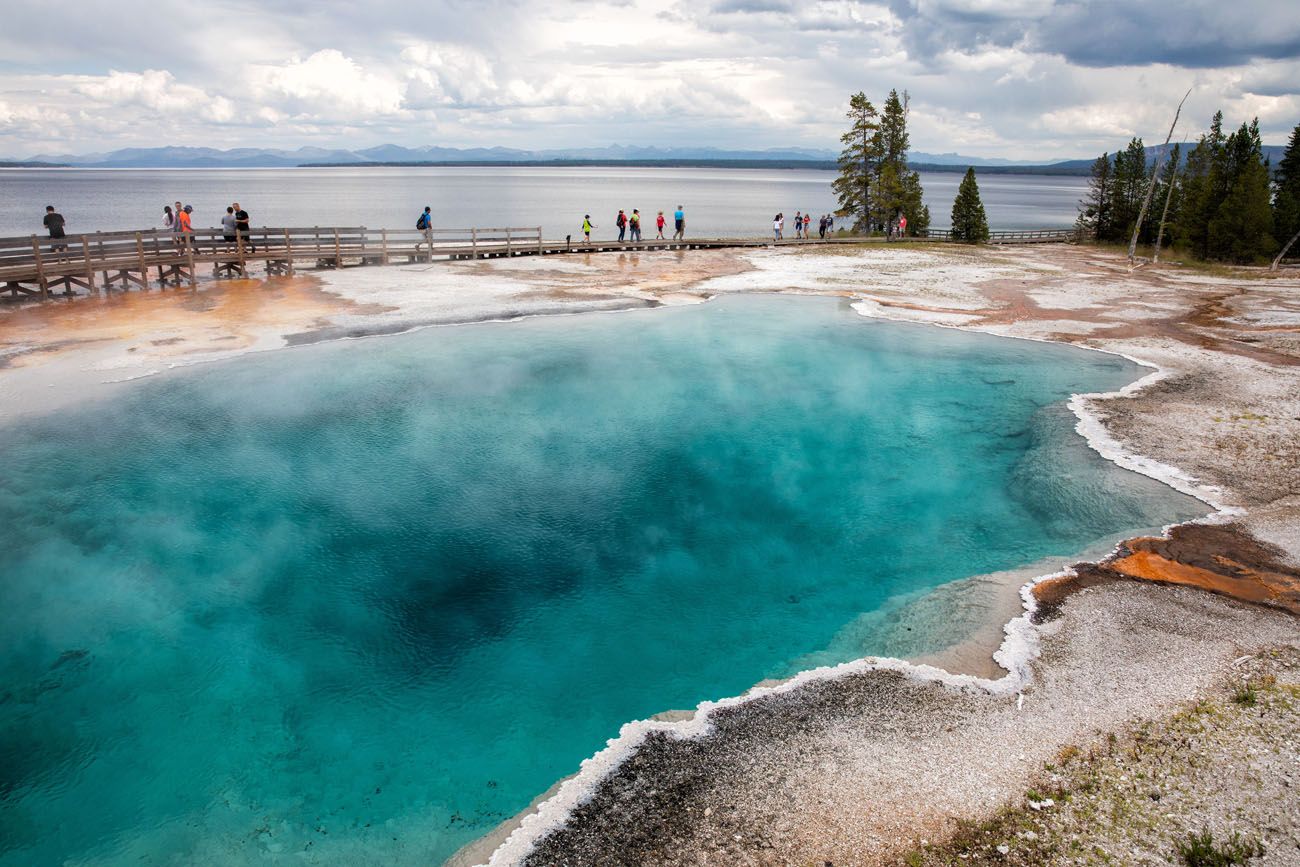 West Thumb Geyser Basin is a small collection of hot springs located right next to Yellowstone Lake. If you got an early start and like the idea of seeing brilliantly blue hot springs, West Thumb Geyser Basin is worth the visit. But if you got a late start, or if you don't want to this to be a very long day, this is one of the sights that I recommend skipping (skipping West Thumb saves about 30 minutes).
This geyser basin is located within one mile of the junction of Grand Loop Road and the John D. Rockefeller Jr Memorial Parkway.
Note: This is your first chance to use a toilet, if you need one. Your next chance will be at Grand Canyon of the Yellowstone.
Hayden Valley
Driving Distance: 28 miles
Driving Time: 40 minutes
Timing: 9:30 am to 11 am (40 minutes to get here and almost one hour in Hayden Valley)
If you stopped at West Thumb Geyser Basin, you will drive through Hayden Valley just past 10:00 am.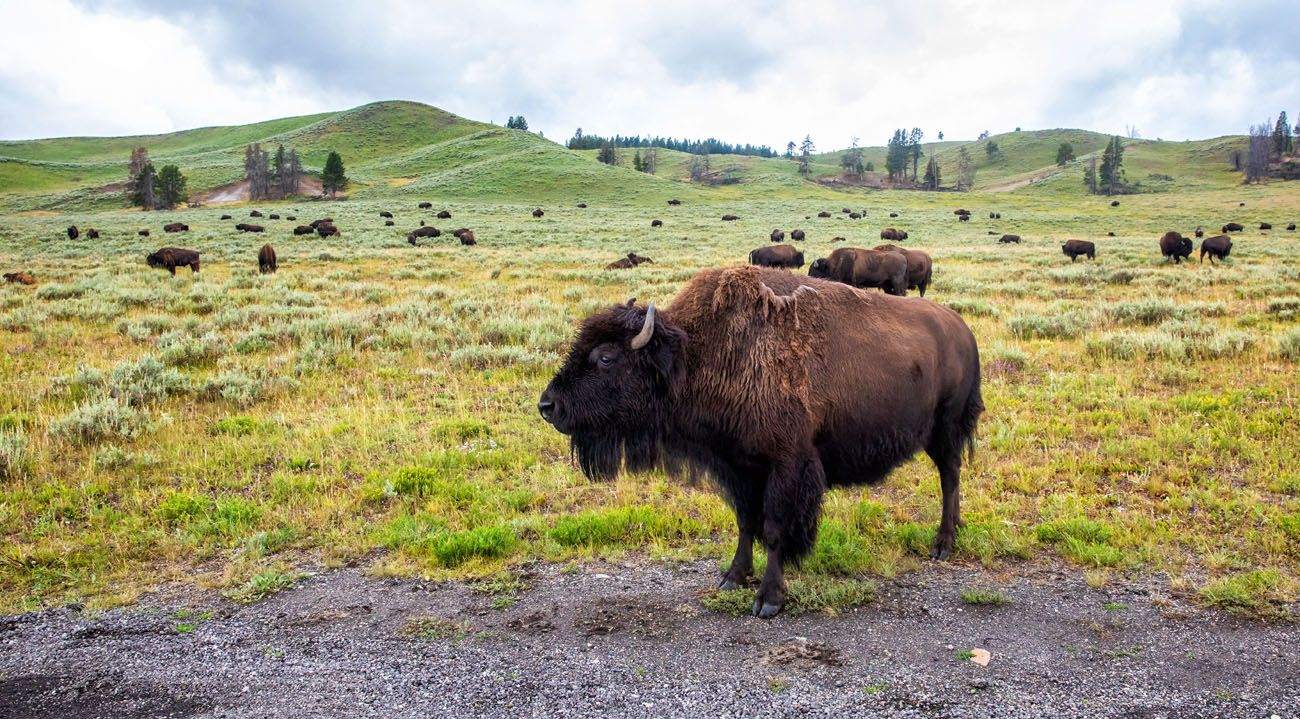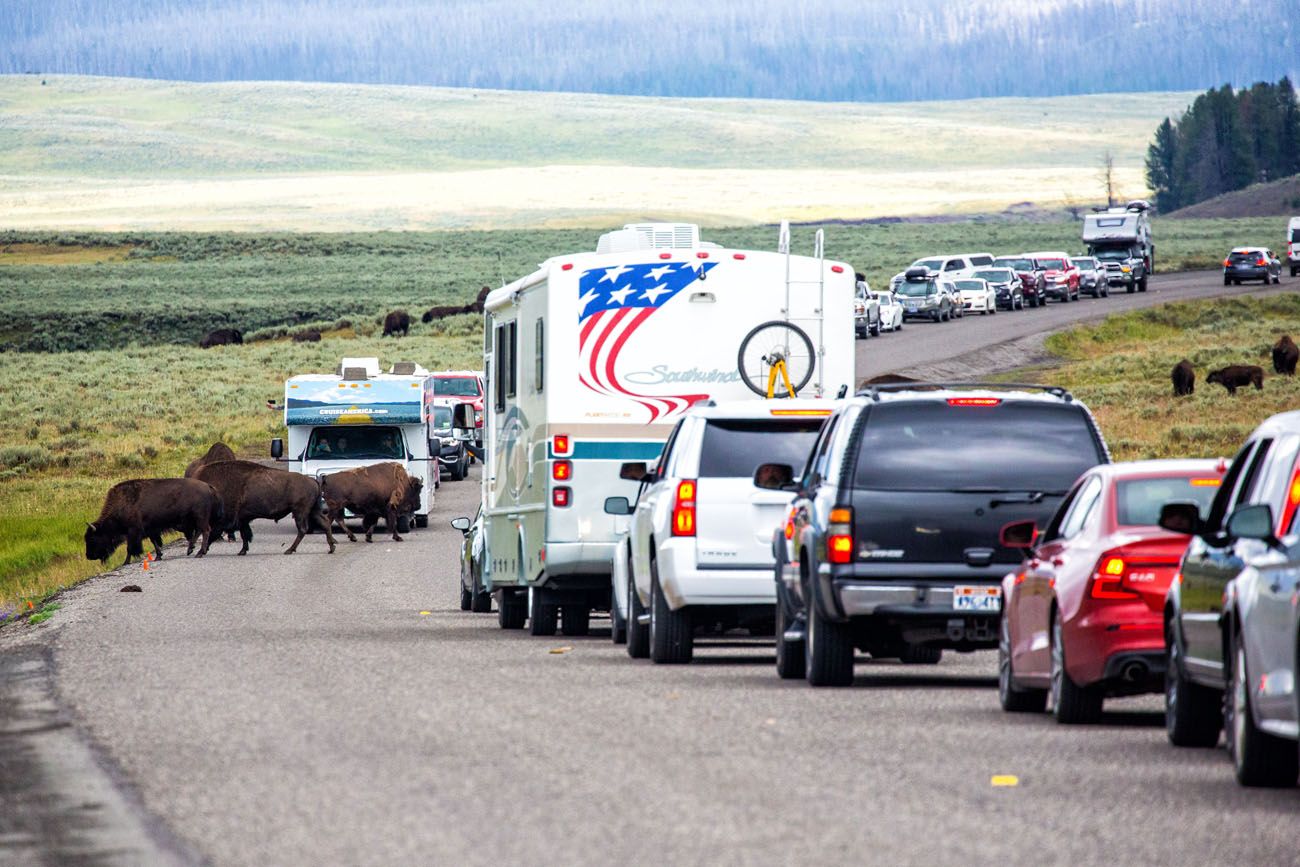 Hayden Valley is one of the best places in Yellowstone to see bison. Keep your fingers crossed that the bison are hanging out along the roadside for the best experience. In recent years, our luck has been 50/50. Half the time the bison are lingering along either side of the road, creating traffic jams but also amazing viewing opportunities. The other half of the time we could see the herds in the far off distance.
A visit here typically lasts 30 to 60 minutes if the bison are near the road.
Grand Canyon of the Yellowstone
Driving Distance: 7 miles
Driving Time: 15 minutes
Timing: 11:00 am to 12:30 pm (15 minutes to get here and an hour and fifteen minutes on the South Rim)
This is one of Yellowstone's most iconic destinations. The Yellowstone River has been at work for thousands of years, carving out this canyon.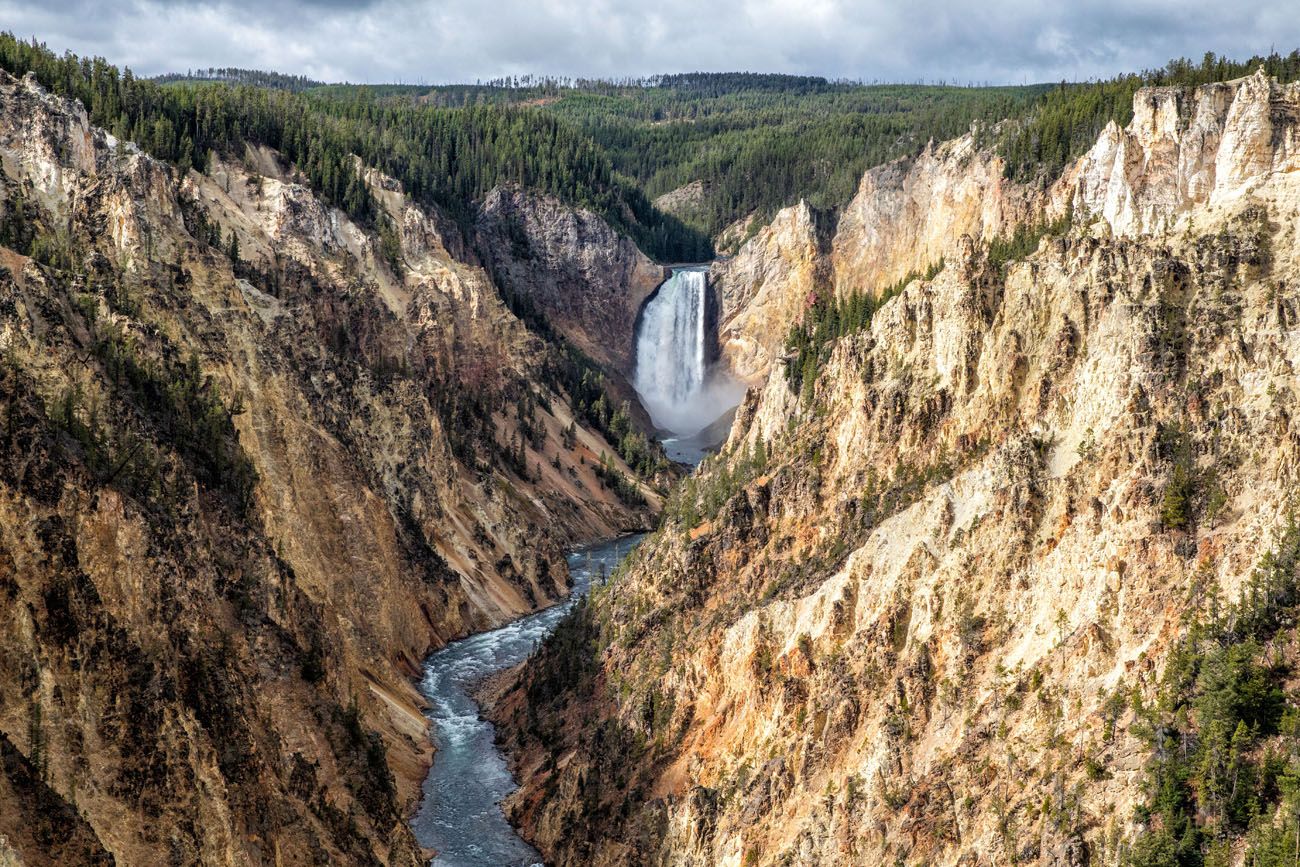 There are scenic drives, overlooks, and short hiking trails on either side of the canyon. It takes roughly half a day to visit both rims. Since time is short today, we recommend only visiting one rim, and the South Rim is the one that we recommend.
Drive South Rim Drive to the very end and park in the large lot. It's a short walk out to the Artist Point viewpoint for one of the most famous views of Yellowstone National Park.
Hop back into your car and drive back towards Grand Loop Road, then turn into the parking lot for Uncle Tom's Trail. This is a big stair climb but it's worth it! It's 328 steps down to the base of Lower Falls. This is a great place to get a close-up view of the waterfall.
Learn more about the Grand Canyon in our Guide to Grand Canyon of the Yellowstone.
Important Note: Uncle Tom's Trail has been closed since 2019. Get updated trail conditions on the National Park Service website.
PRO TRAVEL TIP: There are restrooms in this parking lot. If you need food, you can get snacks or lunch at the General Store or Canyon Lodge in Canyon Village, which is a 5-minute drive from the South Rim.
Norris Geyser Basin
Driving Distance: 15 miles
Driving Time: 30 minutes
Timing: 12:30 pm to 1:45 pm (30 minutes to get here and 45 minutes at Porcelain Basin)
Norris Geyser Basin is a large geyser basin in Yellowstone. You won't have time to explore the entire basin, but it is conveniently divided into two different parts.
Back Basin is the larger of the two parts. It is here that you can see Steamboat Geyser, the world's tallest geyser. However, eruptions are unpredictable so you will have to be extremely lucky to see one. You will also walk a series of boardwalk trails to other smaller basins.
Porcelain Basin is the smaller and more exciting basin and it's the one that I recommend you visit. Steaming hot springs, light blue thermal pools, and noisy fumaroles are what you will see here.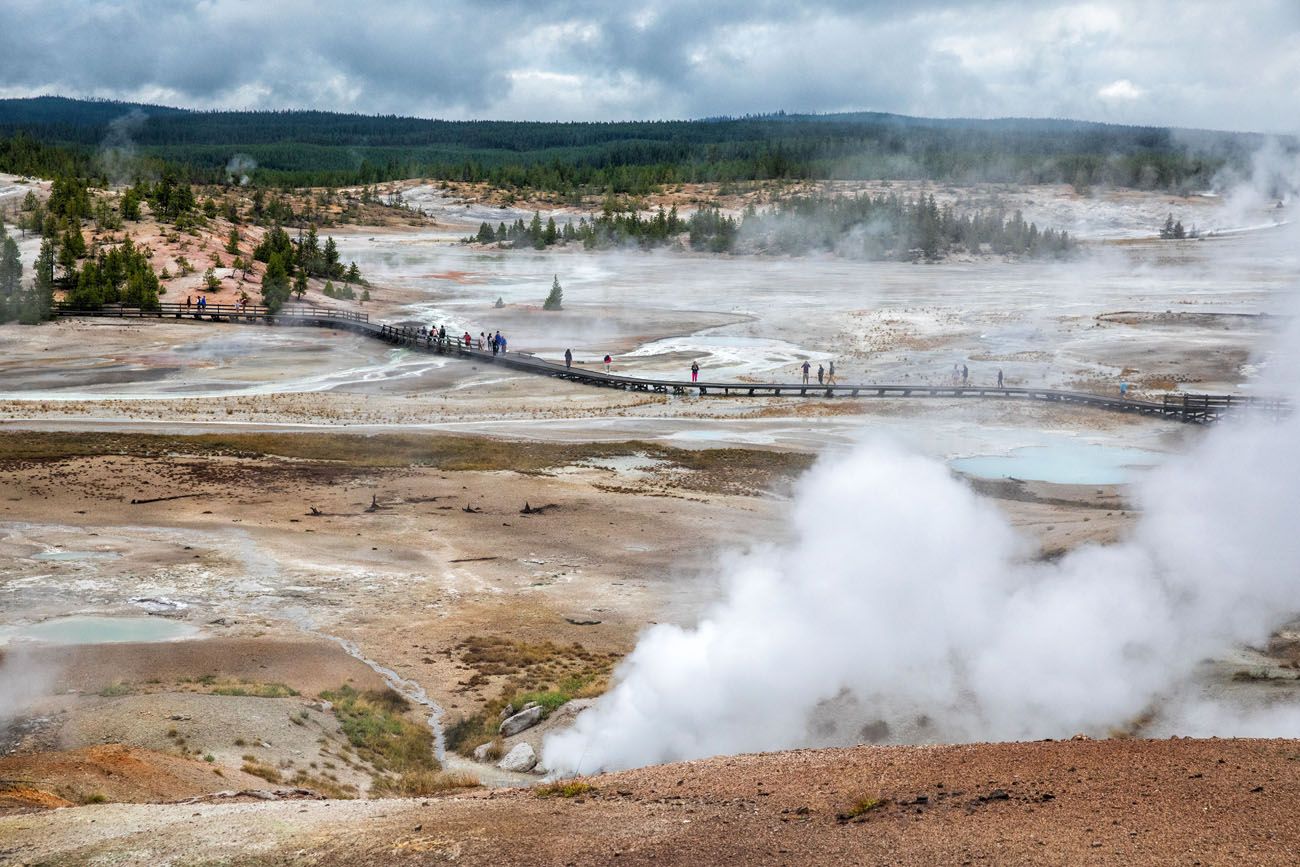 Porcelain Geyser Basin
If you only visit Porcelain Basin, expect to spend 45 minutes at Norris Geyser Basin.
Note: I recommend choosing between Norris Geyser Basin and Artists Paintpots (discussed next). You won't be able to visit both of these on this Yellowstone day trip, since time is so limited.
Artists Paintpots
Driving Distance: 4 miles
Driving Time: 10 minutes
Timing: 1:45 pm to 3:00 pm (10 minute drive plus one hour at the Paintpots)
This is worth the visit, not only to see pots of bubbling mud and more steaming hot springs, but also for a great view of Yellowstone National Park. From the upper boardwalk trail, you get to look out over the paintpots and expanse of Yellowstone.
Midday, parking can be a challenge, so you might have to circle the parking lot a few times. It is a half-mile, flat walk to get to the paintpots. You will walk about another half-mile up and over the boardwalk trail. In total, expect to walk about 1.5 miles on this stop. A visit here lasts about one hour.
Midway Geyser Basin
Driving Distance: 20 miles
Driving Time: 30 minutes
Timing: 3:00 to 4:00 (30 minute drive plus 30 minutes to walk the boardwalk trail)
The Grand Prismatic Spring is the largest hot spring in the United States. A visit to this technicolor thermal-pool is one of the best things to do in Yellowstone National Park. There are two ways to see it: from the boardwalk trail at the Midway Geyser Basin and from the Grand Prismatic Spring Overlook.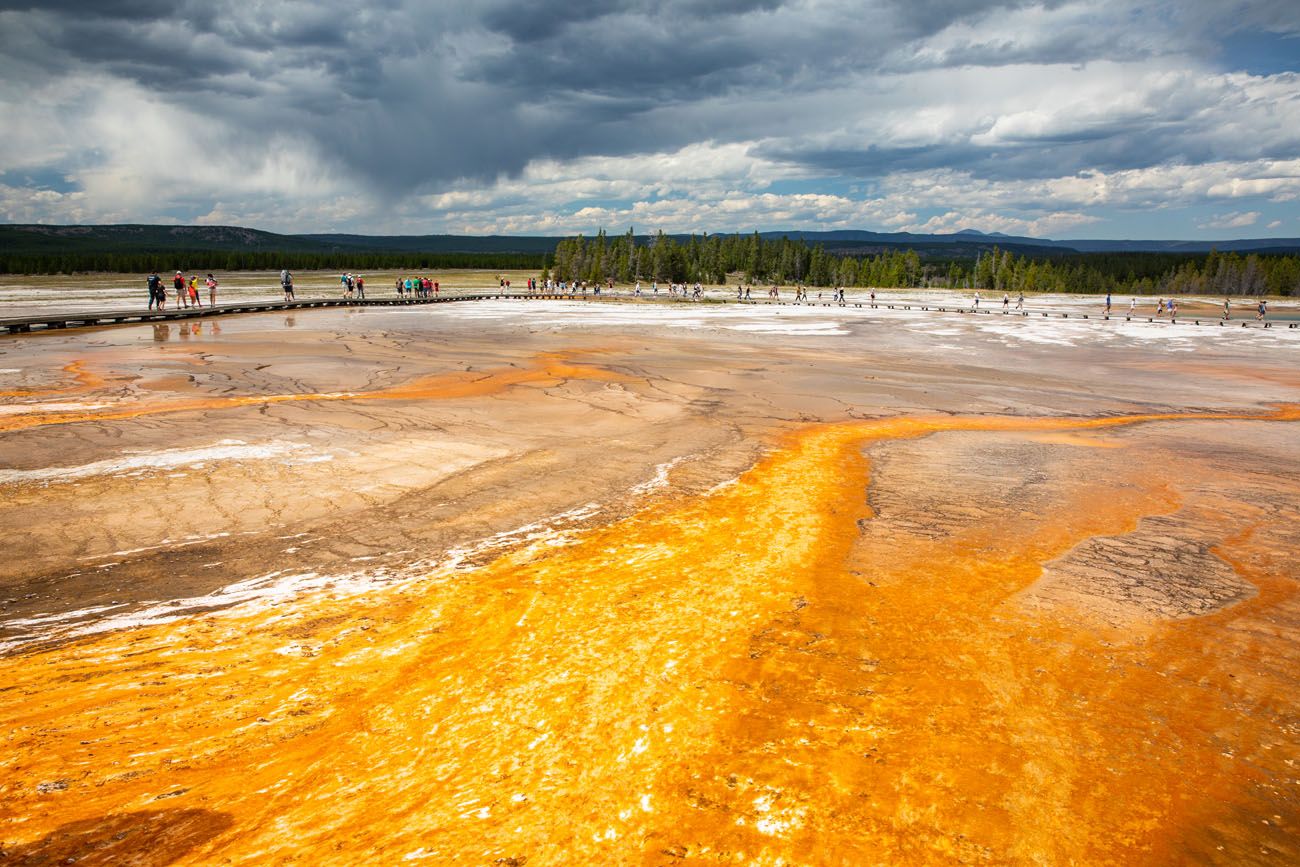 Midway Geyser Basin
Start first at Midway Geyser Basin. Walk the 0.8 mile boardwalk trail and get up close to the Grand Prismatic Spring. Along the way, you will also get to see a few smaller hot springs, such as Excelsior Geyser Crater, Opal Pool, and Turquoise Pool. It takes about 30 minutes to visit the Midway Geyser Basin.
Grand Prismatic Spring Overlook
Driving Distance: 1 mile
Driving Time: 2 minutes
Timing: 4:00 to 4:45 pm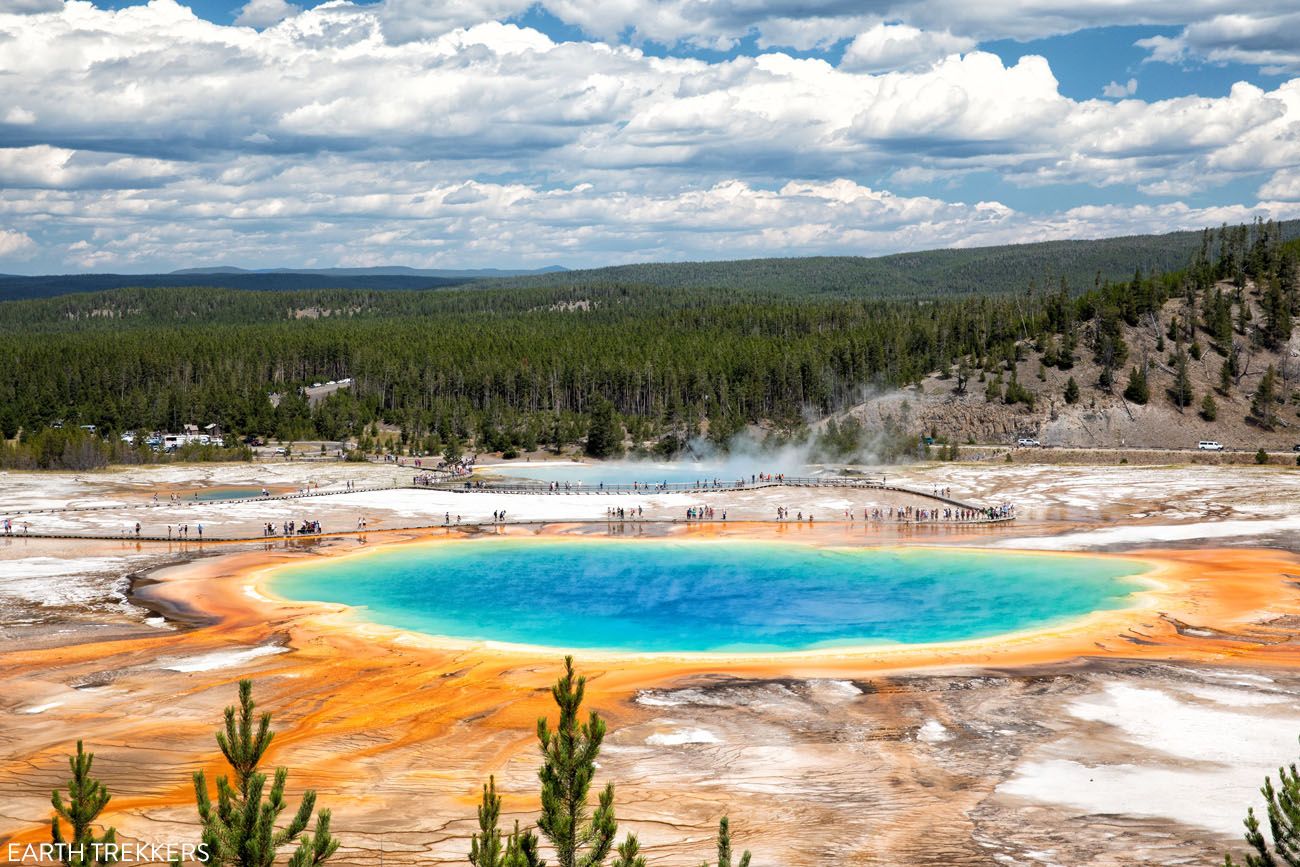 Park in the Fairy Falls parking lot. From here, it is a 0.8 mile walk to get to the overlook (one-way). Most of the walk is flat, with the exception of the final 0.2 miles, which is a strenuous uphill walk on a dirt trail. Once on the viewing platform, enjoy the jaw-dropping view!
A visit here lasts about 45 minutes.
Old Faithful and Upper Geyser Basin
Driving Distance: 6 miles
Driving Time: 15 minutes
Timing: 4:45 pm to 7:00 pm (15 minutes to get here and 2 hours at Old Faithful)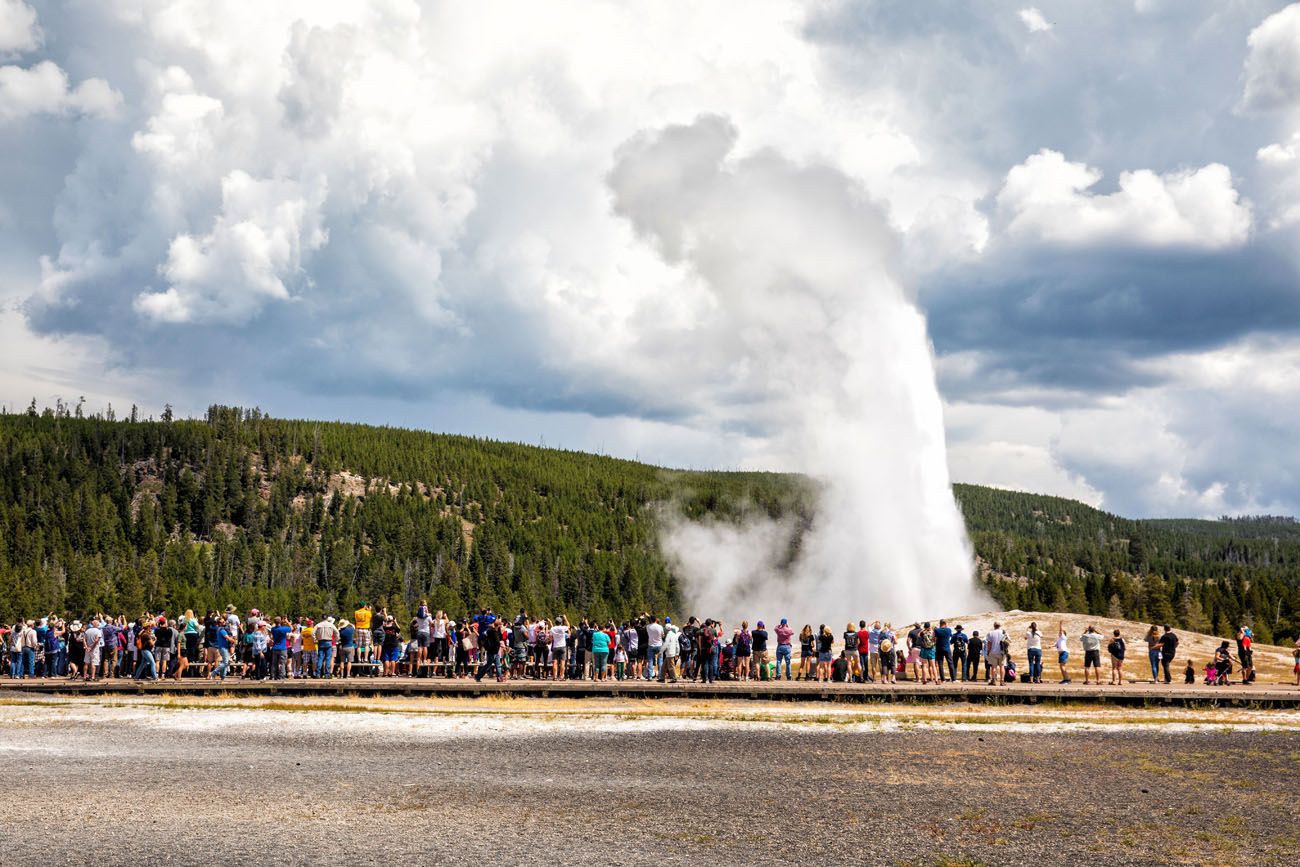 Now is the moment that you may have been anticipating all day…watching an eruption of Old Faithful.
Old Faithful erupts roughly every hour and thirty minutes, +/- 10 minutes. The eruption usually lasts 3 to 4 minutes. You can get predicted eruption times here.
Most people view the eruption from the boardwalk trail and benches that circle the geyser. Plan to get a seat 20 to 30 minutes early since it will fill up with other visitors. This is a good spot to be if you want to get as close as possible to Old Faithful.
You also have the option to hike up to Observation Point, for a bird's eye view of the eruption. It is a 1.1 mile round trip hike. It's a short, strenuous uphill walk to get here, but with only a handful of people, this is a great place to escape the crowds and still get a great view of Old Faithful.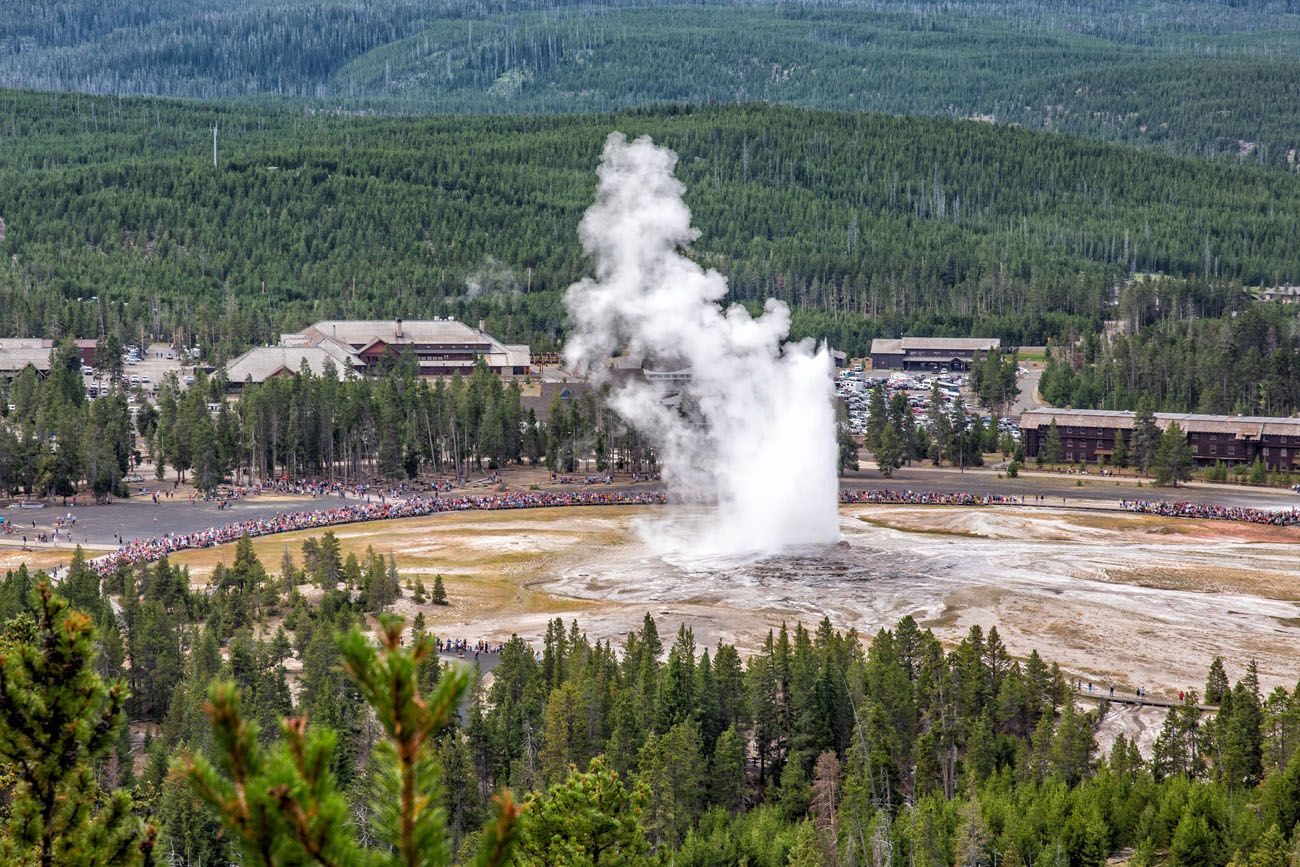 If you get lucky, Old Faithful could erupt right when you get here. Or, you could get here just minutes after an eruption. So, a visit could last as little as 20 minutes or as long as two hours.
If you still have the energy and the desire to see more geysers and hot springs, take a stroll through the Upper Geyser Basin. It takes about 2 hours to walk the boardwalk trails if you thoroughly explore the area. However, you can just walk a short distance away from Old Faithful to Castle Geyser and Spasmodic Geyser, which would take about 30 minutes of your time.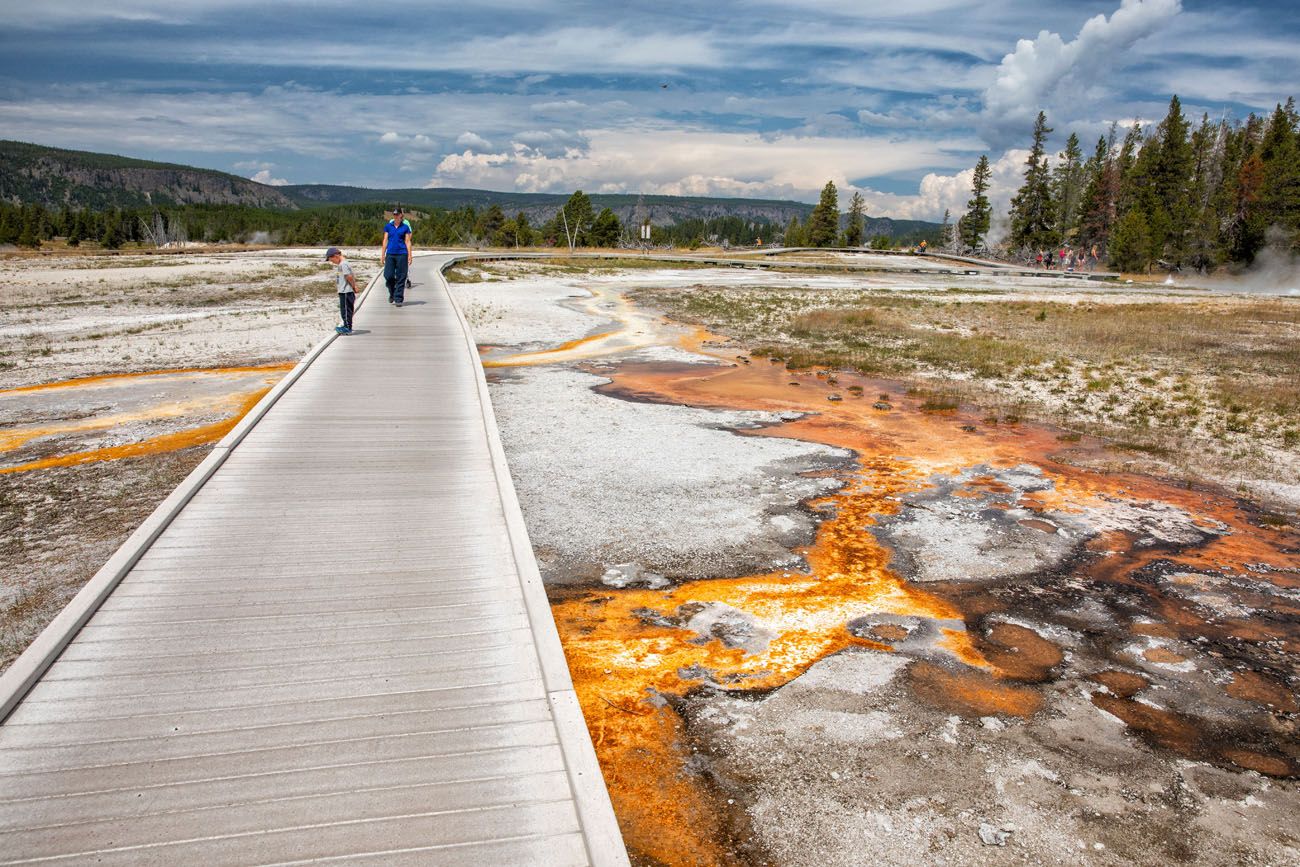 Note: There are restrooms here, as well as restaurants and a General Store, if you need food or dinner, before you head back to Grand Teton National Park.
Return to Grand Teton National Park
Driving Distance: 98 miles
Driving Time: 2.25 hours
Timing: 7:00 pm to 9:25 pm
Old Faithful is the final stop on this Yellowstone day trip. From here, drive directly back to Grand Teton.
As you can see, this is a long day. However, this timing takes into account visits to both Norris Geyser Basin and Artists Paintpots. If you skip one of these, you save over an hour, getting back to Jackson around 8 pm.
As you drive through Yellowstone, you will see signs for more attractions, such as Mud Volcano, the Fountain Paint Pots, Biscuit Basin, and Black Sand Basin. These are all great, but with limited time, the sights we list on the itinerary are more worthwhile. Plus, the geysers, thermal pools, and hot springs do get to be repetitive after you see a bunch of them, so we saved the best ones for this day trip.
Before you go, I recommend getting updates on park conditions, just to avoid any surprises. National parks can close at any time due to weather events, wildfires, or other unforeseen events.
Tour Options from Jackson
Here are several highly rated tours. These start and end in Jackson and take you around the southern loop of Yellowstone, which is very similar to our itinerary above. This is a great option for those who want to learn more about Yellowstone from a guide and/or don't want the hassle of driving and parking.
Where Are You Going Next?
Here is more information for your trip to Wyoming.
BEST OF YELLOWSTONE: For a list of the top experiences in Yellowstone, don't miss our article Best Things to Do in Yellowstone. We also have guides to the top sights in Yellowstone, such as Old Faithful, Grand Canyon of the Yellowstone, how to visit Grand Prismatic Spring, and a Guide to the Geyser Basins.
YELLOWSTONE TRAVEL GUIDE: Read our Yellowstone National Park Travel Guide for important travel information, sample itineraries, and links to all of our articles about Yellowstone.
GRAND TETON NATIONAL PARK: Check out our Grand Teton National Park Travel Guide for important travel information, sample itineraries, and how to plan your visit. For a list of must-have experiences, read our article Best Things to Do in Grand Teton National Park.
ROAD TRIP ITINERARY: Learn how to put together Grand Teton, Yellowstone, and Glacier National Parks into one amazing 10 day road trip.
NATIONAL PARKS: In our Guide to the US National Parks, get the full list of national parks with important travel planning information, such as things to do in the parks and sample itineraries.
---
If you have any questions about how to plan your Yellowstone day trip, let us know in the comment section below.
Visit More National Parks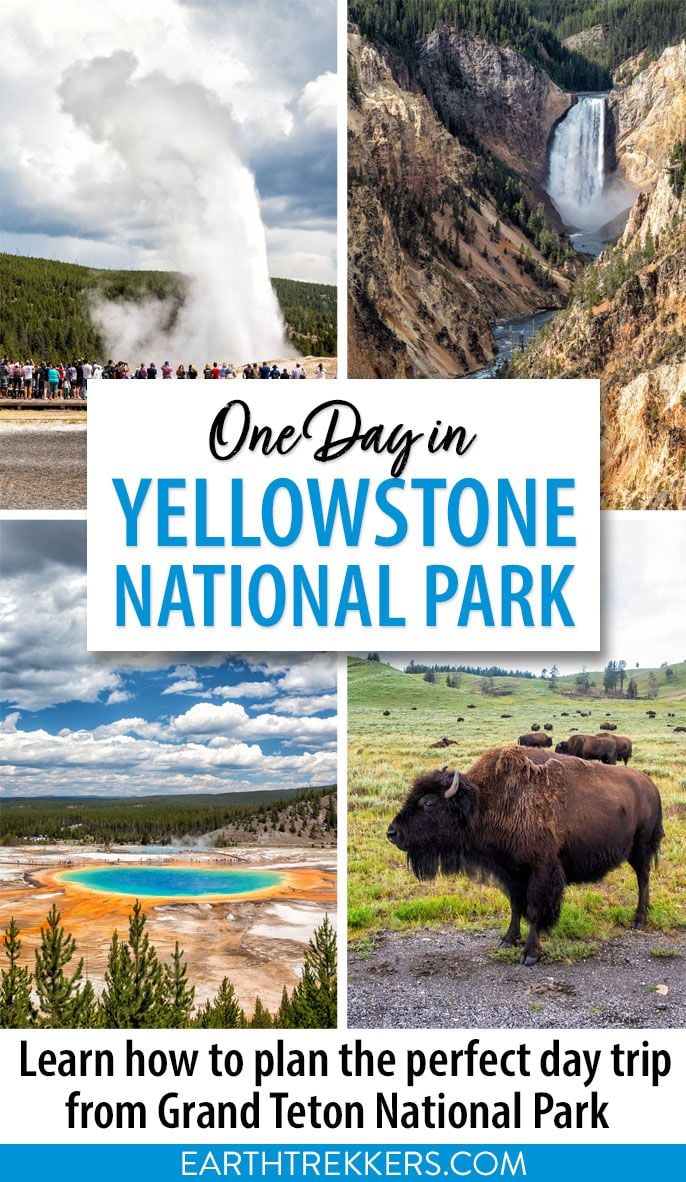 Note: This post contains affiliate links. When you make a purchase using one of these affiliate links, we get paid a small commission at no extra cost to you.
All rights reserved © Earth Trekkers. Republishing this article and/or any of its contents (text, photography, etc.), in whole or in part, is strictly prohibited.