The hike to Hidden Canyon blew away our expectations. This hike is tons of fun, with trails that cling to the side of a cliff and a scenic canyon to explore.
Sections of this hike are similar to Angels Landing, with vertigo-inducing trails that come with chains to help you keep your balance. This trail does not climb as high or have the views like Angels Landing, but Hidden Canyon also gets fewer visitors, which makes for pleasant, less crowded experience.
Tim and I almost skipped this hike because it seemed to be lacking the views that many other trails in Zion have. We added it at the last minute, and I am so glad we did. Hidden Canyon is unexpectedly amazing.
IMPORTANT NOTE: The Hidden Canyon trail is currently closed due to damage from a rockfall. Get updates on trail status on the Zion National Park website. This post was originally written in 2017 (before the rockfall) and it is updated on a regular basis. We are not taking this article down because it is not a permanent closure, according the National Park Service.
Hidden Canyon Hiking Stats
Distance: 2.9 miles out-and-back
Elevation Gain: 940 ft
Difficulty: moderate
Length of Time: 2 to 3 hours
When to go: Year round as long as the trail is free of snow and ice. The best seasons are Spring and Fall.
Trailhead: Weeping Rock (stop #7 on the Zion Shuttle)
Important Note: There are long drop-offs as you hike along the face of a cliff. If you have a fear of heights, you may want to skip this hike.

Hidden Canyon elevation profile
Please practice the seven principles of Leave No Trace: plan ahead, stay on the trail, pack out what you bring to the hiking trail, properly dispose of waste, leave areas as you found them, minimize campfire impacts, be considerate of other hikers, and do not approach or feed wildlife.
Hiking to Hidden Canyon
The hike starts at the Weeping Rock Trailhead. Almost immediately, the trail to Weeping Rock breaks off to the left. Continue straight, following the signs for Hidden Canyon, Observation Point, and the East Rim Trail.
The first part of the hike involves a long, somewhat strenuous climb on long switchbacks. At ¾ of a mile, the trail splits. Go right to continue on to Hidden Canyon. If you turn left, you will hike to Observation Point. This is another awesome hike and you have the option to do both of these hikes on the same day. We hiked Hidden Canyon first and then continued up the mountain to Observation Point.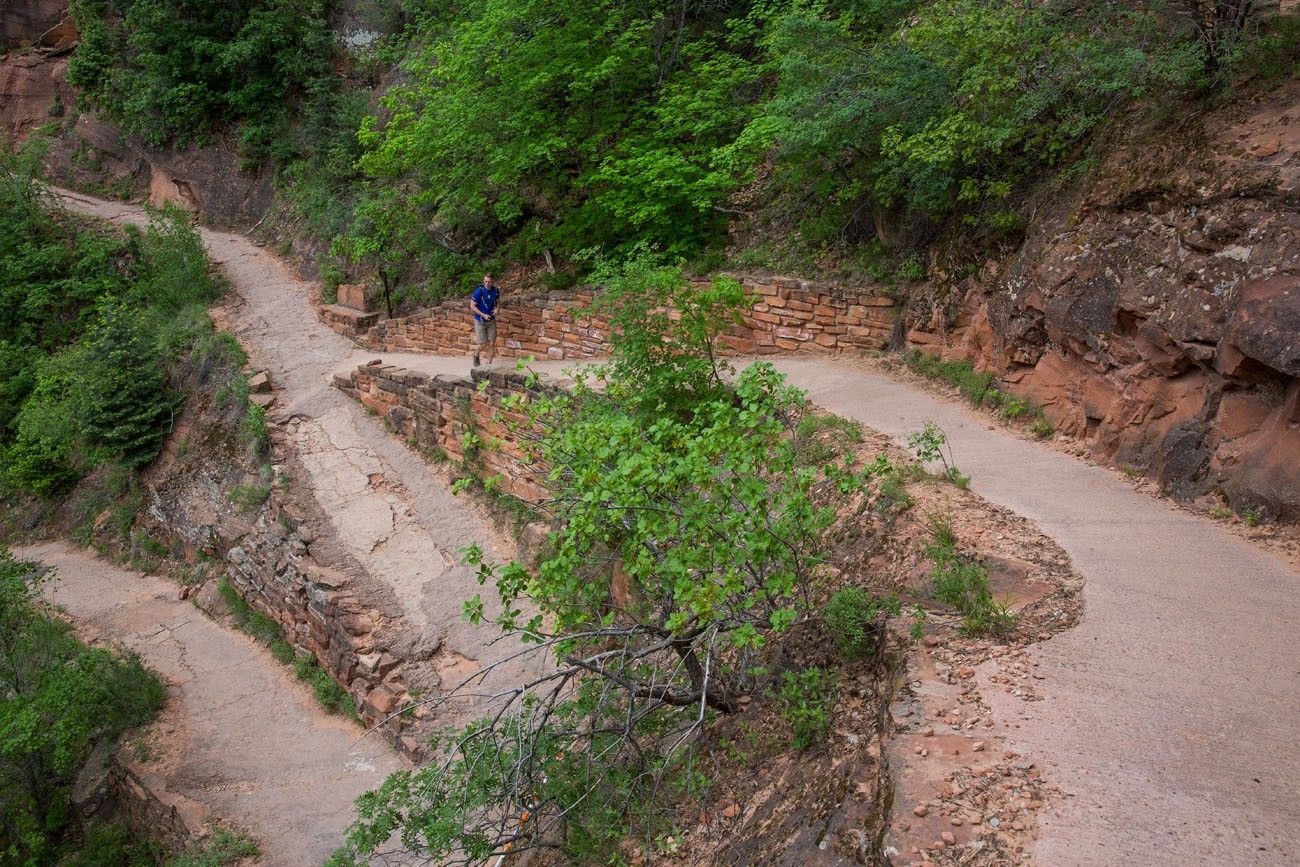 This is the split on the trail. Tim is walking up towards Hidden Canyon. If you continue off the left side of the photo, the trail takes you to Observation Point.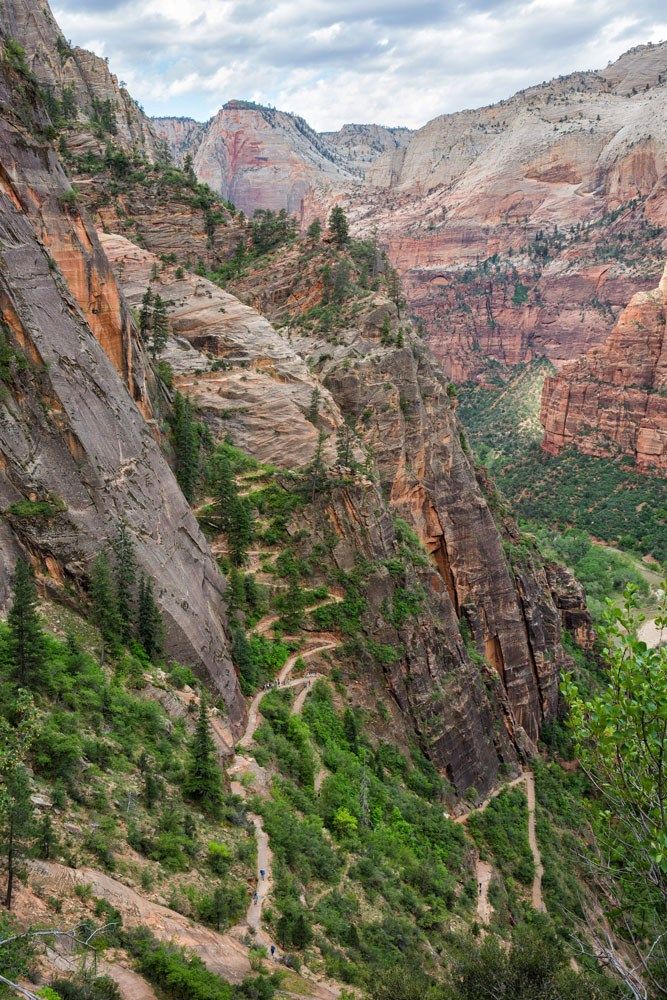 Here is another view of the trail (photo taken on the hike to Observation Point). The series of short switchbacks leads to Hidden Canyon. If you look closely, you can see the narrow trail cut out of the cliff just above the last switchback.
Once you turn right, the switchbacks become steeper and shorter. This part doesn't last long.
The trail briefly heads into a small tree-filled canyon. After climbing up a stone staircase, the real fun begins.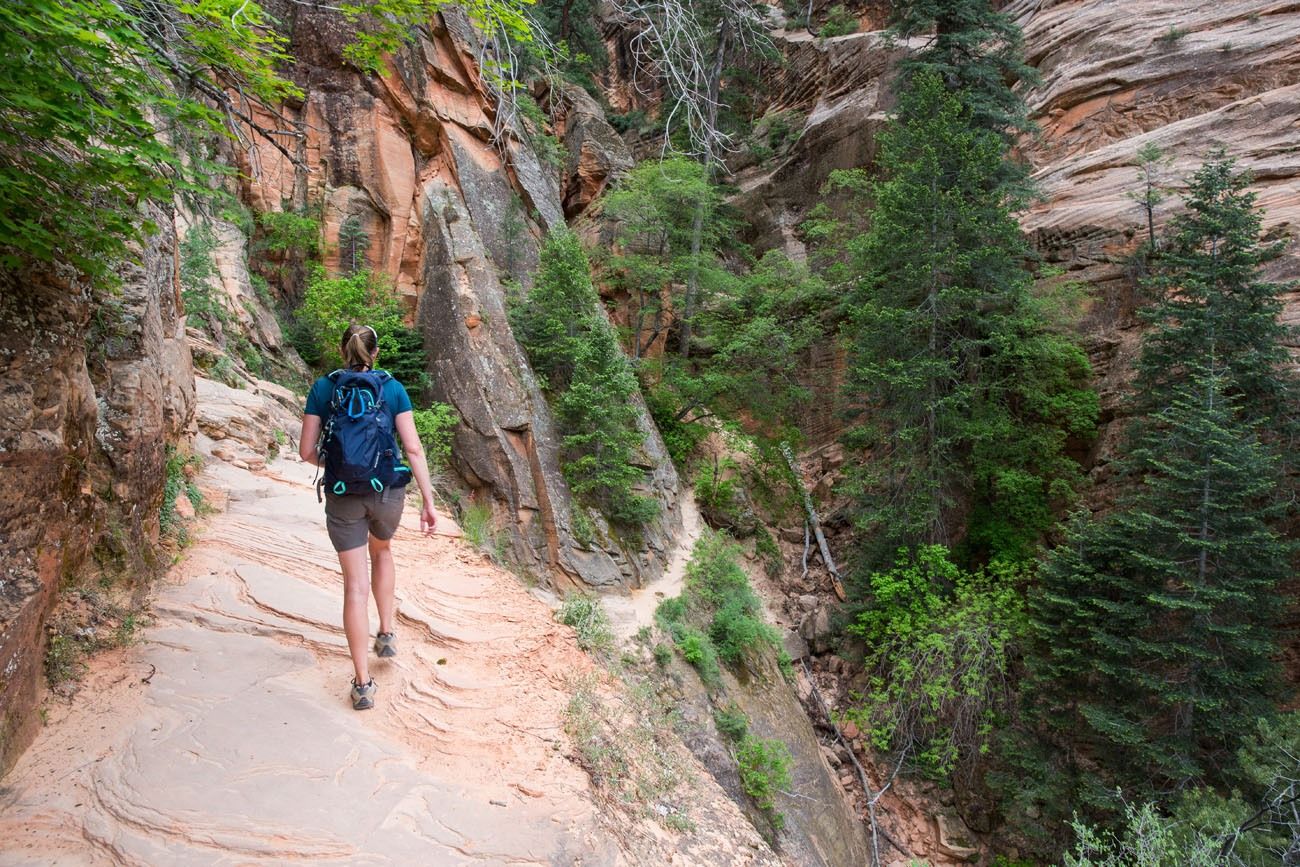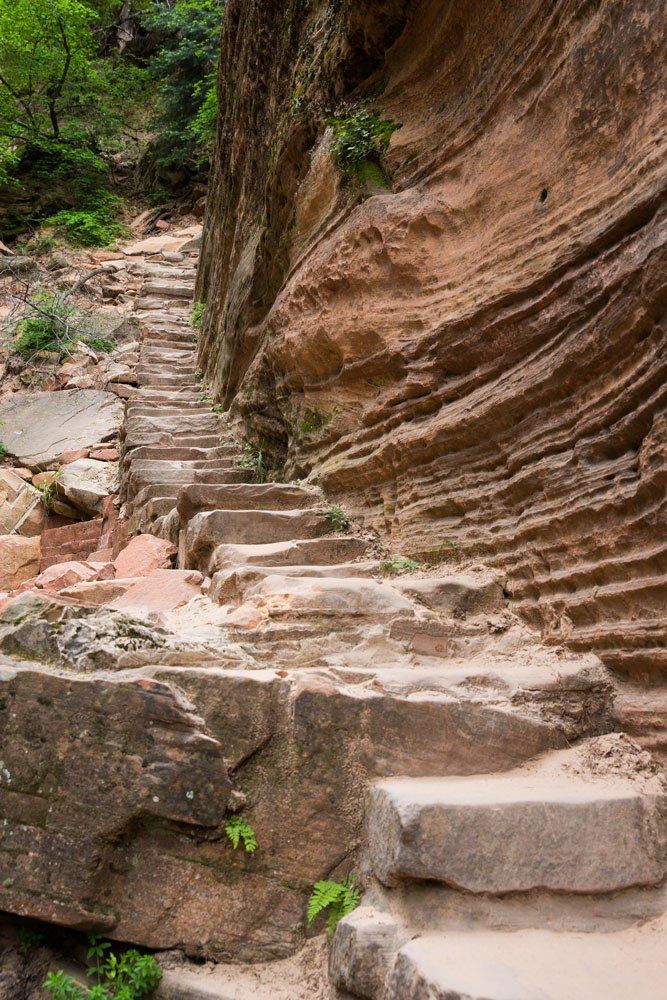 For us, the highlight of the Hidden Canyon hike was scaling the narrow trail on the edge of the cliff. It's thrilling and the views from here are amazing.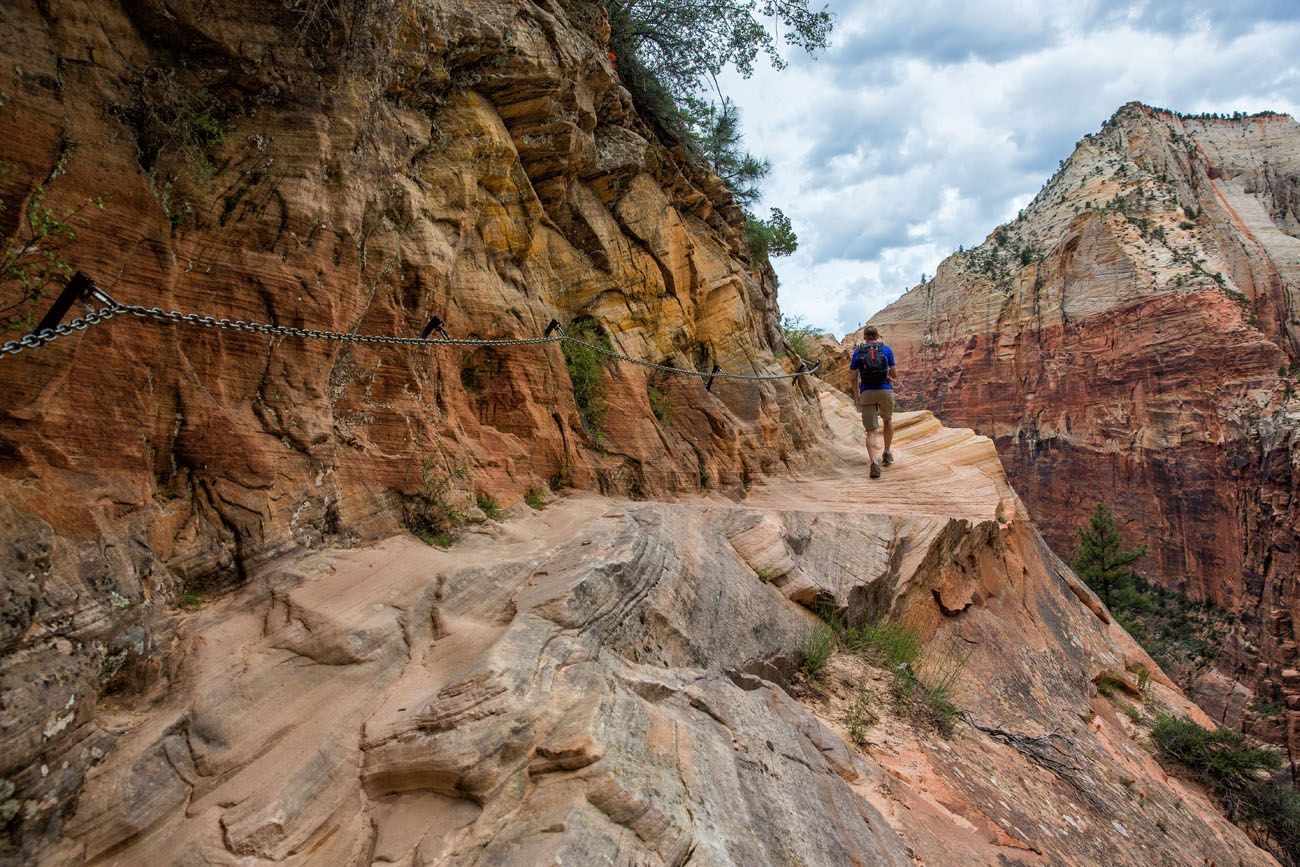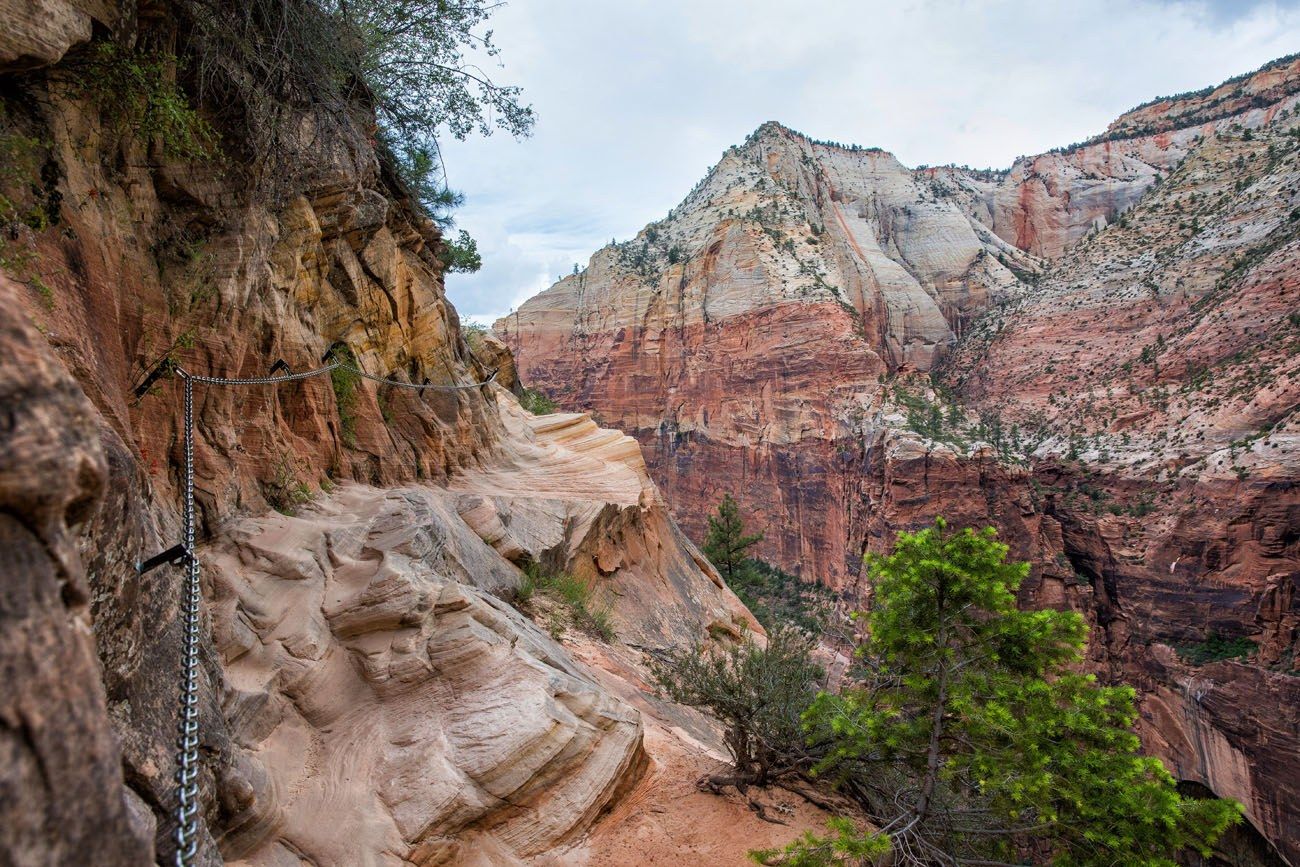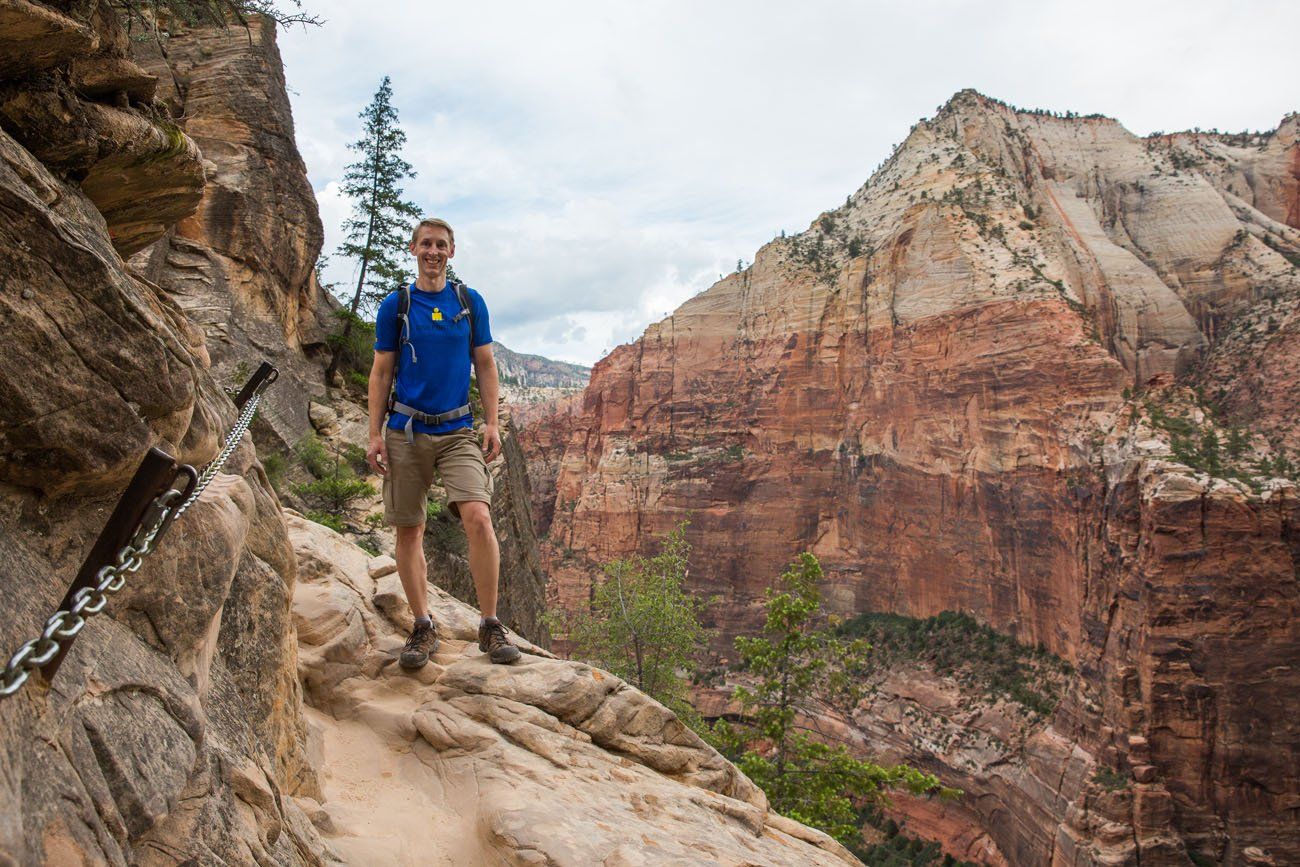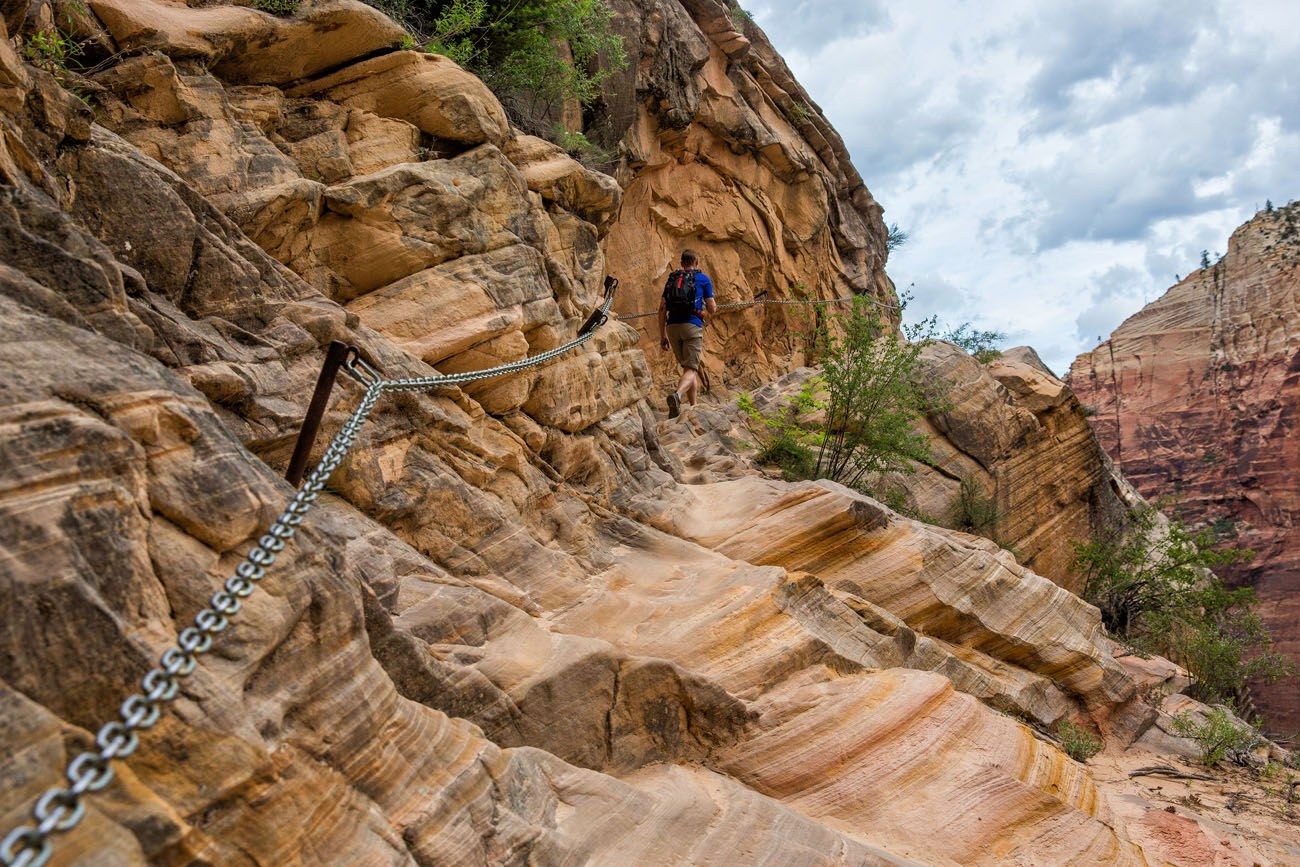 Inside Hidden Canyon
After the vertiginous cliff trail you will enter Hidden Canyon. This section of the hike stretches into the canyon for about a mile. You can hike as far as you like and then turn around.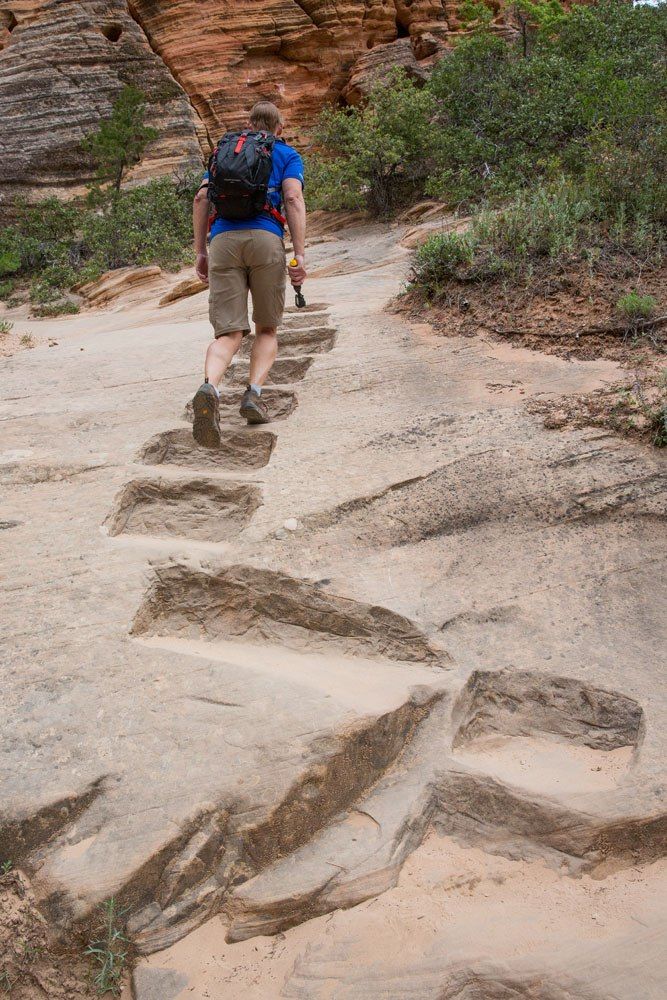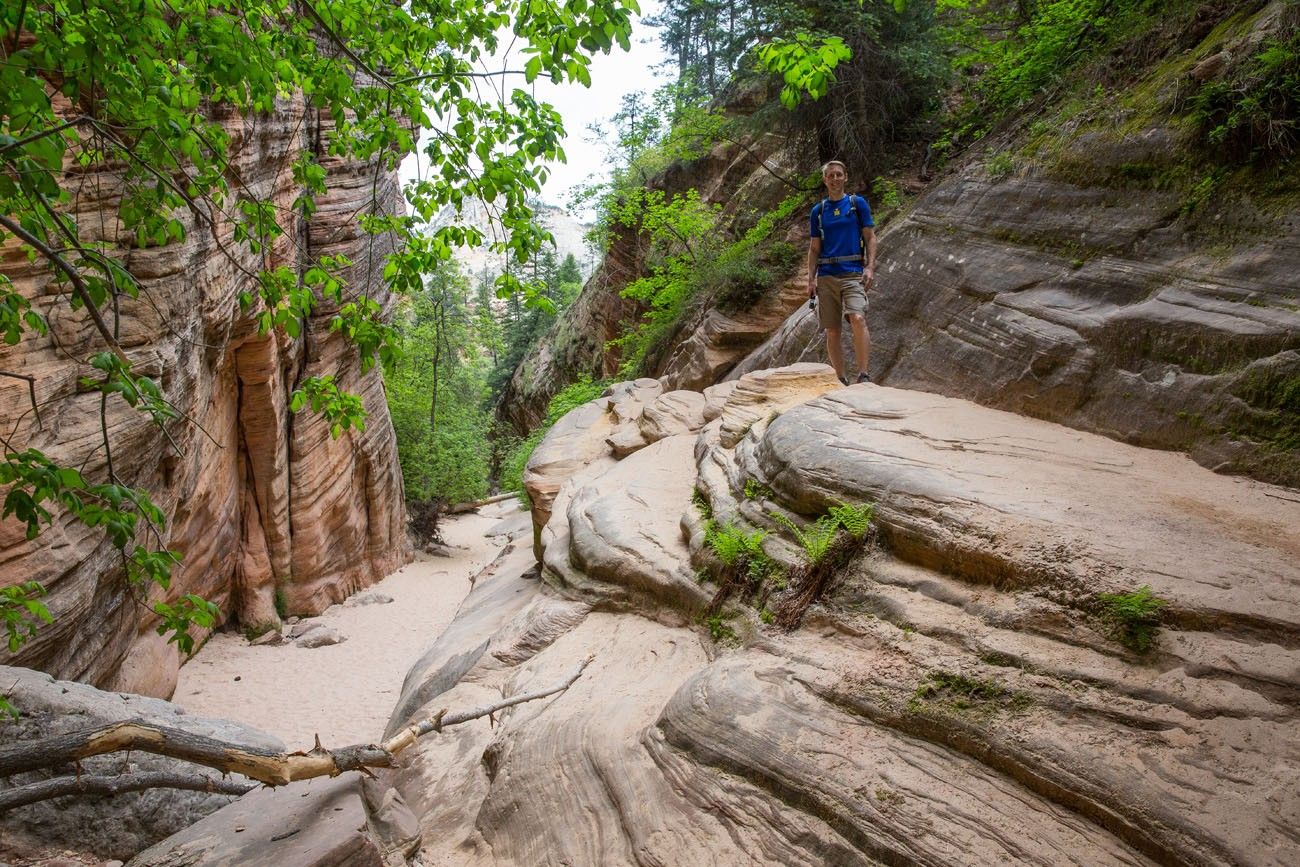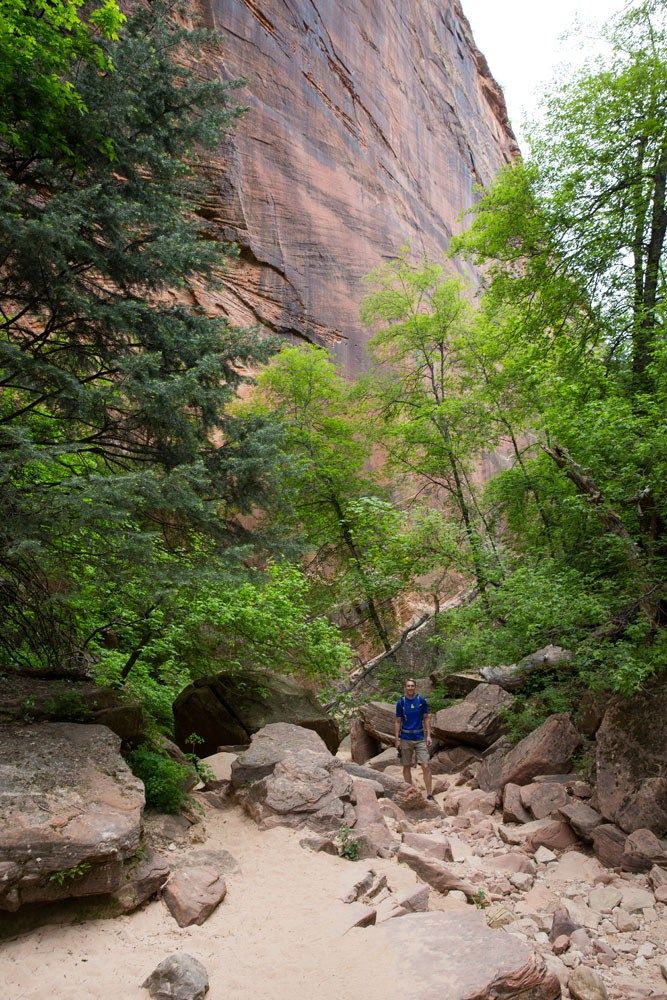 There are several spots where rock scrambling is necessary. Trees have fallen across the trail, creating obstacles. We kind of felt like kids again, exploring this shady, quiet canyon, climbing over and under huge trees and rocks. What made our experience even better was that we had the canyon to ourselves. Tim and I were on the first shuttle of the day and we wasted no time hiking to Hidden Canyon.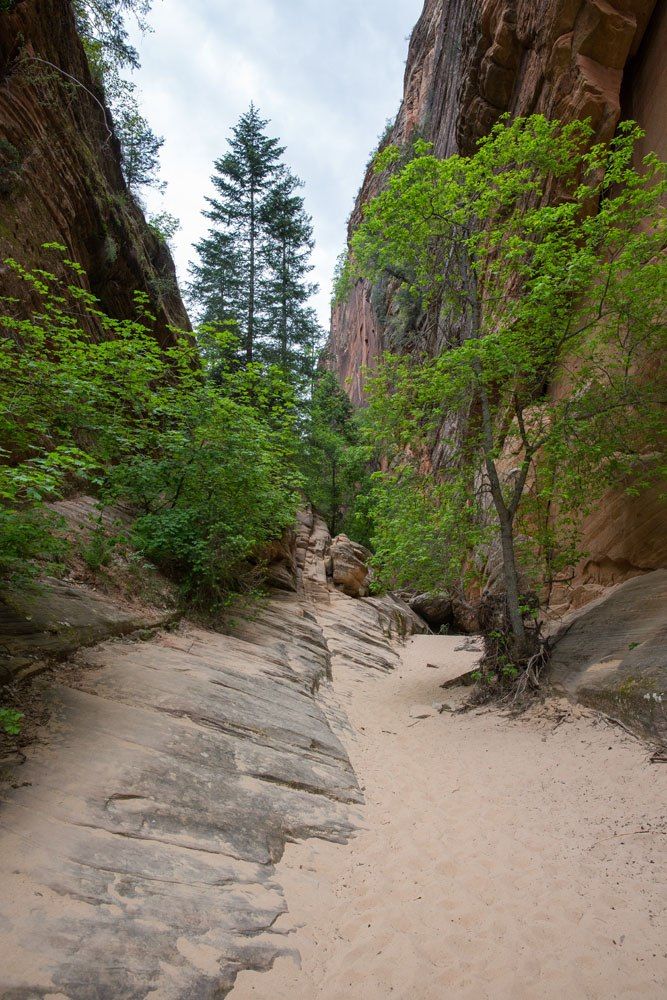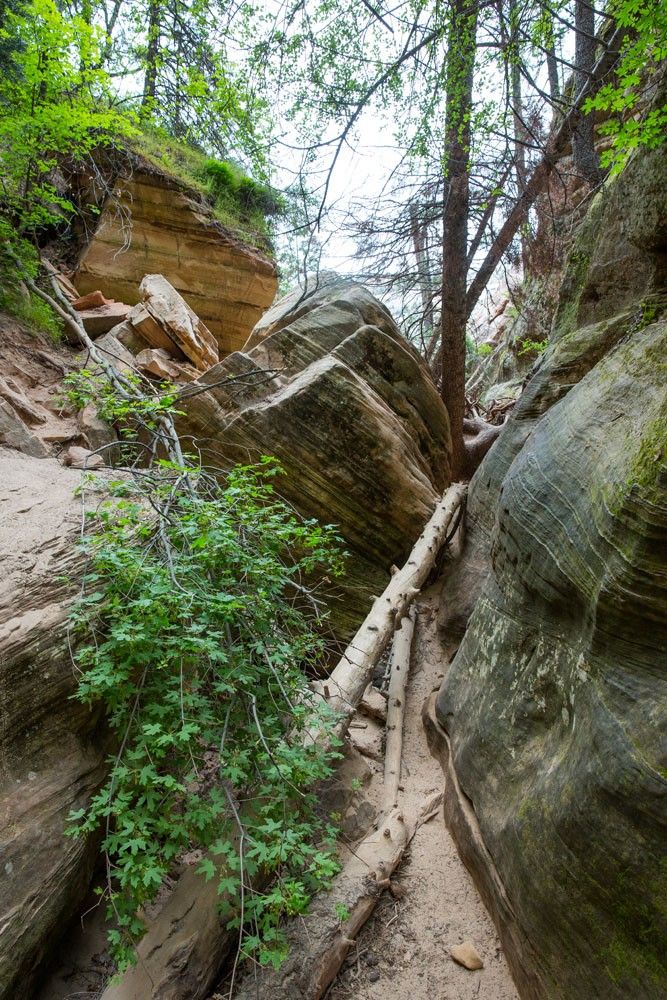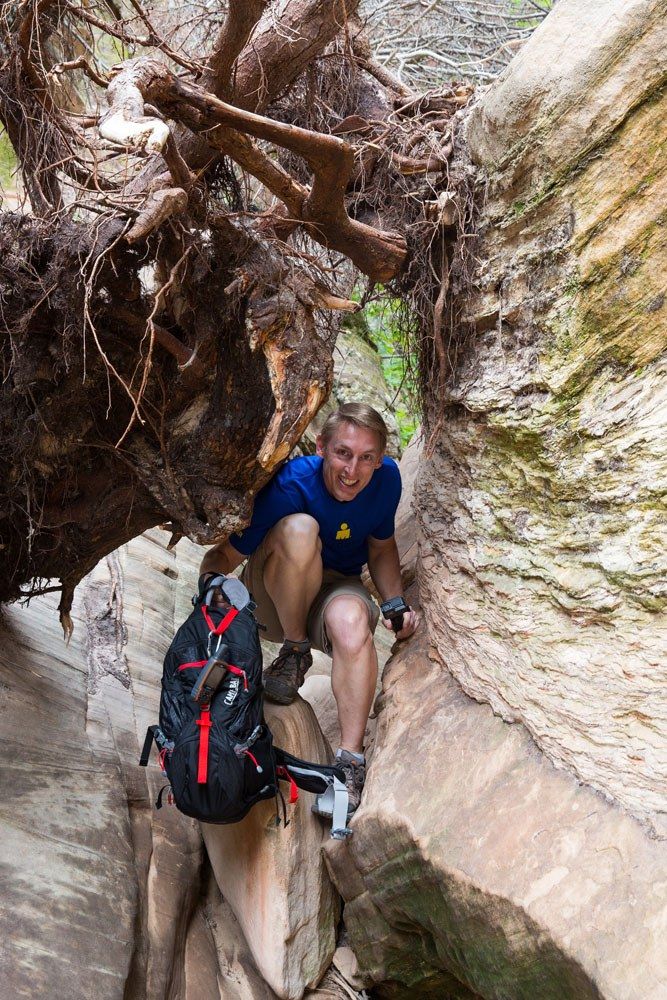 Venture back into Hidden Canyon as far as you want. The trail does eventually come to an end at a large rock wall. To continue on, you will need canyoneering and rock climbing experience.
Return back the same way you came. You have the option to continue on to Observation Point, another brilliant hike in Zion.
How to Have the Best Experience
Take the First Shuttle of the Day
To avoid the crowds and the midday heat, you should start this hike early. If you can get on the first shuttle of the day, you may have this trail all to yourself, at least for a little bit.
Consider Adding the Hike to Observation Point
Observation Point is a classic Zion hike, ending at a viewpoint high above the valley. From this spot, you can look out over Zion National Park, with a view down to Angels Landing. It's a gorgeous hike and offers one of the best views of the park.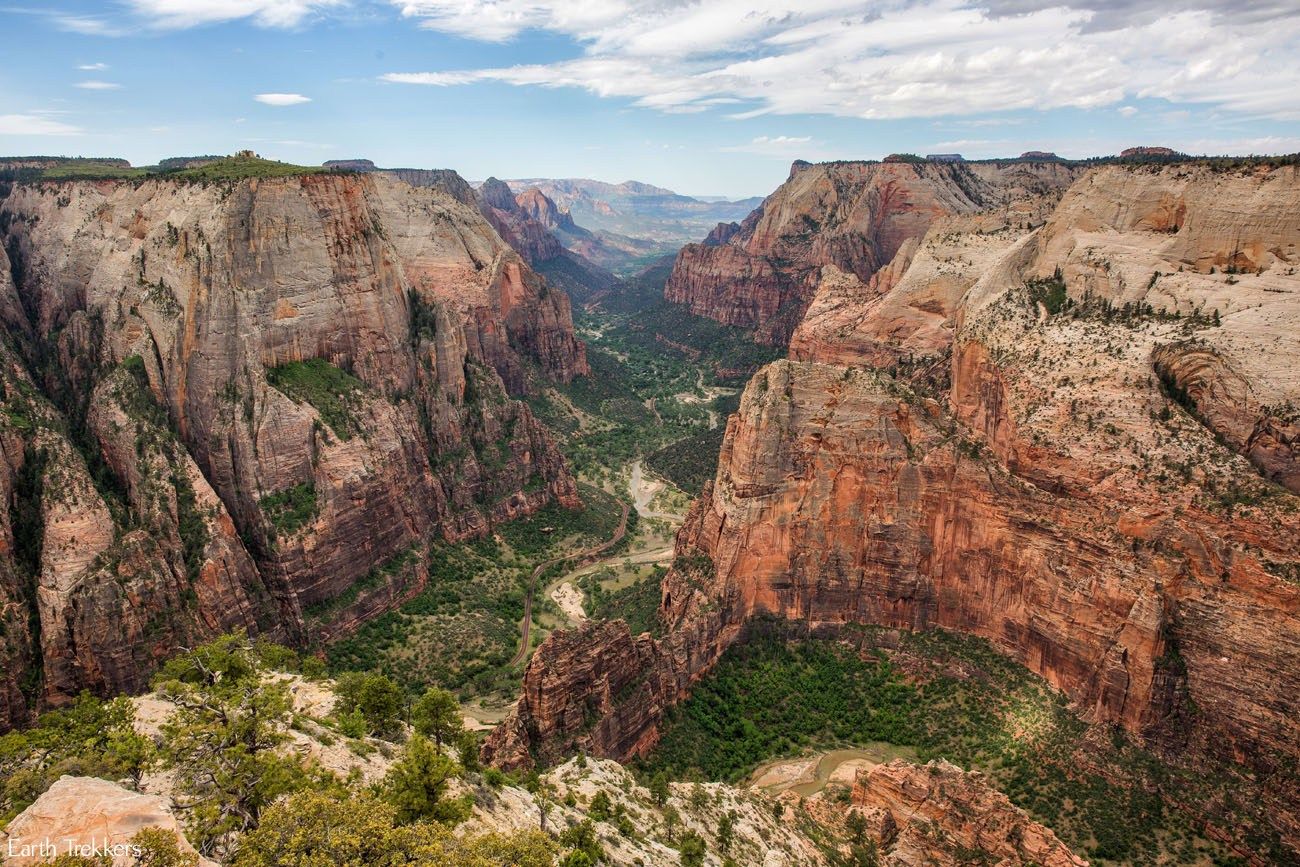 Hidden Canyon and Observation Point share the same trail for ¾ of a mile (and 500 feet of climbing). If you continue on to Observation Point, you have just 3.25 miles of hiking until you reach the final viewpoint. It's a strenuous hike but it rewards you for your efforts.

Elevation profile of Hidden Canyon and Observation Point
Consider the Hike to Weeping Rock
Weeping Rock is a large, sandstone rock that drips water and is surrounded by a lush garden. This short, fast hike also starts at the Weeping Rock shuttle stop.
What to Bring on the Hike
Hiking Shoes. Hiking shoes are preferable, however, running shoes with good support and good traction are sufficient.
Water. Bring plenty of water, especially if you will be hiking midday or during the warmer months.
Sunscreen. There is very little shade on the trail.
Hiking poles (optional). Hiking poles take about 30% of the weight off of your legs as you descend, easing knee pain and other symptoms.
If you are new to hiking or are curious about what you should bring on a hike, check out our Hiking Gear Guide. Find out what we carry in our day packs and what we wear on the trails.
---
If you have any questions about hiking to Hidden Canyon, or if you want to share your experience, comment below.
More Information about Utah
HIKES IN ZION: Angels Landing, the Zion Narrows, Observation Point, and the Watchman Trail are some of the top hiking trails in Zion. For the full list, read our Best Hikes in Zion guide.
ZION TRAVEL INFORMATION: Before you go, here are 5 important things to know about Zion National Park.
ZION NATIONAL PARK: Check out our Zion National Park Travel Guide for important travel planning tips, sample itineraries, advice on when to go, where to stay, and more.
UTAH'S MIGHTY 5: Utah's Mighty 5 is a collection of five national parks in Utah. Learn more about the parks and how to plan your visit in our Guide to Utah's Mighty 5.
NATIONAL PARKS: In our Guide to the US National Parks, get the full list of national parks with important travel planning information, such as things to do in the parks and sample itineraries. You can also learn more about the national parks and get a FREE printable checklist in our US National Parks Checklist.<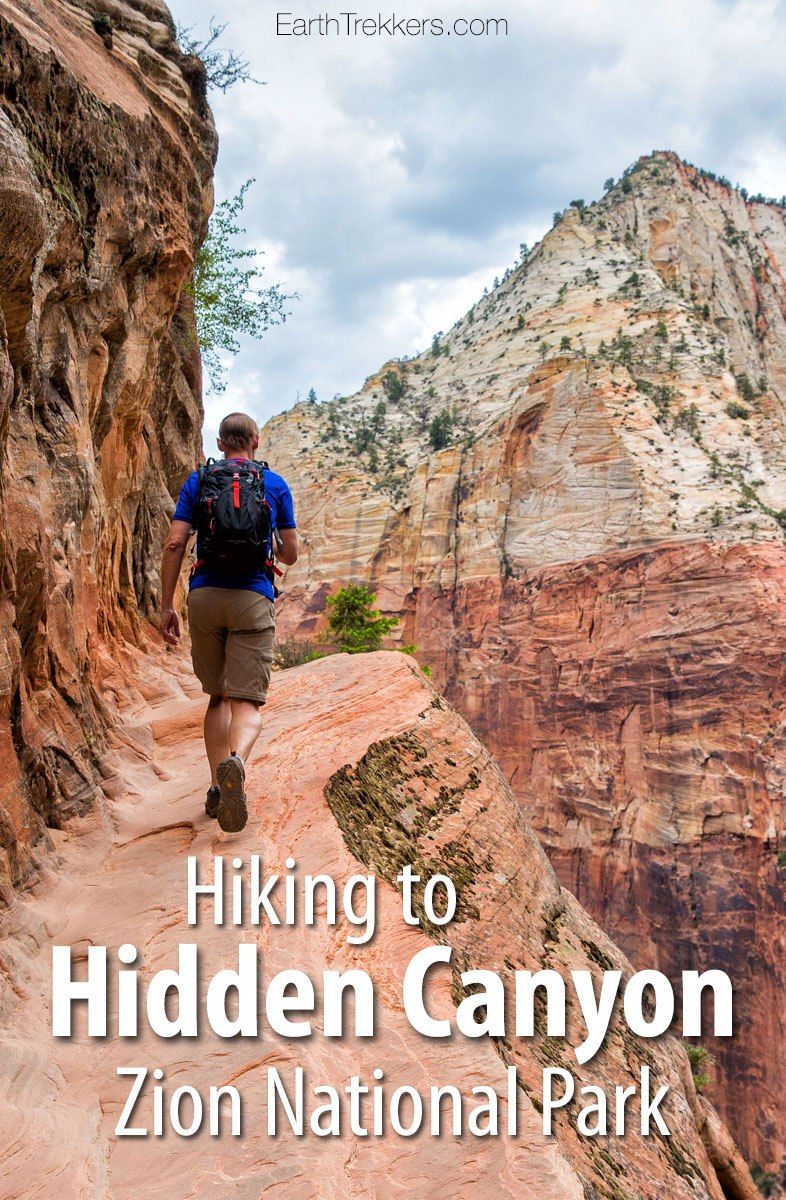 Note: This post contains affiliate links. When you make a purchase using one of these affiliate links, we get paid a small commission at no extra cost to you.
All rights reserved © Earth Trekkers. Republishing this article and/or any of its contents (text, photography, etc.), in whole or in part, is strictly prohibited.