Zion National Park is a hiker's paradise. This relatively small park is packed with some of the most thrilling trails in the United States.
Angels Landing and the Narrows are two hikes that attract most people to Zion National Park. But there are many more trails to choose from…hikes that range from short, easy strolls to full day adventures.
Hiking definitely tops the to-do list in Zion National Park, but you can also go on a very nice scenic drive, go horseback riding, rock climbing and canyoneering, photograph the extraordinary landscapes, and get a history lesson about this park.
Founded: November 19, 1919
Annual Visitors: 4.7 million. This was the 3rd most visited park in the United States in 2022.
Size: 150,000 acres
Location: Utah
Entrance Fee: $35 per vehicle, valid for 7 days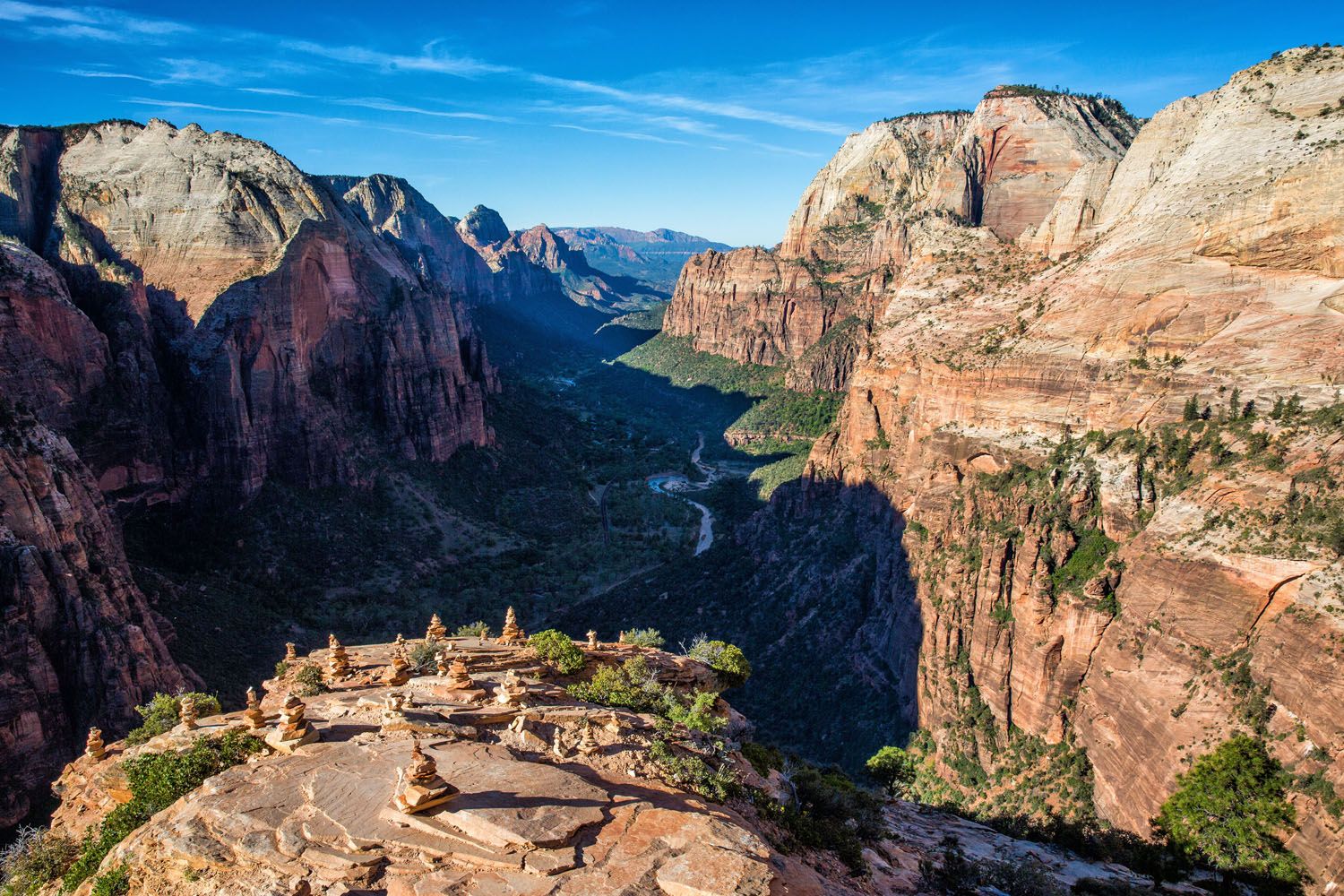 Angels Landing. This is the most popular hike in Zion National Park. The final climb involves scaling a narrow ridge high above the valley floor. With chain-assisted rock scrambling sections and stunning views, this is one of the most exhilarating hikes in the United States.
Observation Point. For one of the best views over Zion National Park, hike to Observation Point. The entire hike is a beauty, but it is challenging. At 8 miles long and with 2300 feet of climbing, it is a steady climb to that final viewpoint.
Hike the Narrows. Hike in the Virgin River through one of the most beautiful slot canyons in the USA. There are two ways to do this hike. Start at the Riverside Walk and hike upstream. You can go as far as Big Springs without a permit. For the ultimate experience, hike the full length of the Zion Narrows on the top-down route.
Drive the Zion-Mount Carmel Highway. This winding scenic drive connects the Visitor Center to the east entrance of the park. Along the switchbacks between Canyon Junction and the tunnel you have great views of Zion National Park.
Watch the Sunset from Canyon Junction Bridge. This is the place to capture the iconic photo of the Virgin River and Watchman Peak.
Explore Kolob Canyons. Kolob Canyons is a smaller section of the park that sits to the north of Zion Canyon Scenic Drive. This area has a few hiking trails and its own visitor center.
Canyon Overlook Trail. For one of the best views in Zion, put this short, fun trail on your list. It is only 1-mile round trip and starts near the Zion-Mount Carmel tunnel.
Emerald Pools. This short, popular hike connects two pools of water, Lower Emerald Pool and Upper Emerald Pool. This hike is 1.5 to 3 miles, depending on how far you hike and where you start.
Hidden Canyon. This is one of the most thrilling hikes in Zion. Sections of this hike are similar to Angels Landing, with vertigo-inducing trails that come with chains to help you keep your balance. This trail does not climb as high or have the panoramic views like Angels Landing, but Hidden Canyon also gets fewer visitors, which makes for pleasant, less crowded experience. Note: This trail is currently closed for a rockfall.
West Rim Trail. The West Rim Trail is a long-distance hike through Zion National Park. With amazing views, very few hikers on the trail, and a chance to walk the length of Zion National Park, this hike rewards you for your efforts. The West Rim Trail can be hiked as a long day hike or as a two-day backpacking trip.
The Subway. Similar to the Narrows, the Subway is a hike in the Left Fork of North Creek. The classic way to hike the Subway is top-down, but this is a technically challenging hike that requires canyoneering skills and exposure to cold water. A permit is required.
When to Visit Zion National Park
You can visit Zion National Park all year.
Spring is a wonderful time to visit Zion. The weather is pleasant, with warm daytime temperatures and cool nights. Just be aware that you may not be able to hike the Narrows. In the spring, flow rates in the Virgin River will be high and the trail most likely will be closed (the Narrows usually reopens in May).
During the summer months, expect big crowds and very high temperatures. Zion is the most crowded from Memorial Day Weekend through Labor Day.
Fall is a spectacular time to visit Zion. The weather will be warm during the day and cool at night. October is the best month to visit Zion, in my opinion. Crowds are thinning, the weather is spectacular, and in October you can see the fall colors.
If you don't mind cold temperatures, winter is a very nice time to visit Zion. Crowds will be low and hiking trails will be empty. The Zion shuttle does not operate in the winter so you can drive through the park in your own vehicle.
Zion National Park appears in our Best US National Parks Month-By-Month series as a great park to visit in January, October, November, and December.
How Many Days Should You Spend in Zion?
Ideally, you need at least two to three days to visit Zion National Park. This gives you enough time to hike the longer, more popular trails, such as Angels Landing and the Narrows, and you can also add in a few of the shorter, easier trails, such as the Riverside Walk and Canyon Overlook.
When deciding how much time you should spend in Zion, pick out the hikes you want to do. For each big hike (a hike 5 miles or longer), add one day to your itinerary.
If you plan to hike Angels Landing, the Narrows, and Observation Point, you will need three days in Zion.
Learn how to plan your perfect itinerary with our Zion National Park Itinerary Planning Guide.
ONE DAY IN ZION
With one day in Zion, you have just enough time to hike one or two trails. Get a very early start, riding one of the first shuttles of the day, to make the most of your time and avoid the crowds, at least for your first few hours in the park.
Where to Stay
Zion Lodge is the only lodge inside of the park. Due to its excellent location, this is a great place to stay. Make your reservations at least 6 months in advance.
Outside of Zion National Park, the town of Springdale is the best place to stay. This town has a wide variety of hotels, lodges, B&B's, and apartments to choose from. We always stay in the Holiday Inn Express, but Flanigan's Inn, Red Rock Inn Cottages, and Cable Mountain Lodge all get great reviews.
For most of the year (typically mid-March through November and over the Christmas holiday season), the Zion Shuttle is in operation. During this time, private vehicles are not permitted to drive on Zion Canyon Scenic Drive.
When the shuttle is not in operation (December, January, and February) you are permitted drive along Zion Canyon Scenic Drive. Just be aware that parking is limited so it still helps to get an early start.
For the best experience in Zion, we recommend being on one of the first shuttles of the day. This saves you valuable time waiting in line and allows you to start your hike before the trails get crowded.
Here's a list of things you can do in Zion if you don't want to ride the shuttle.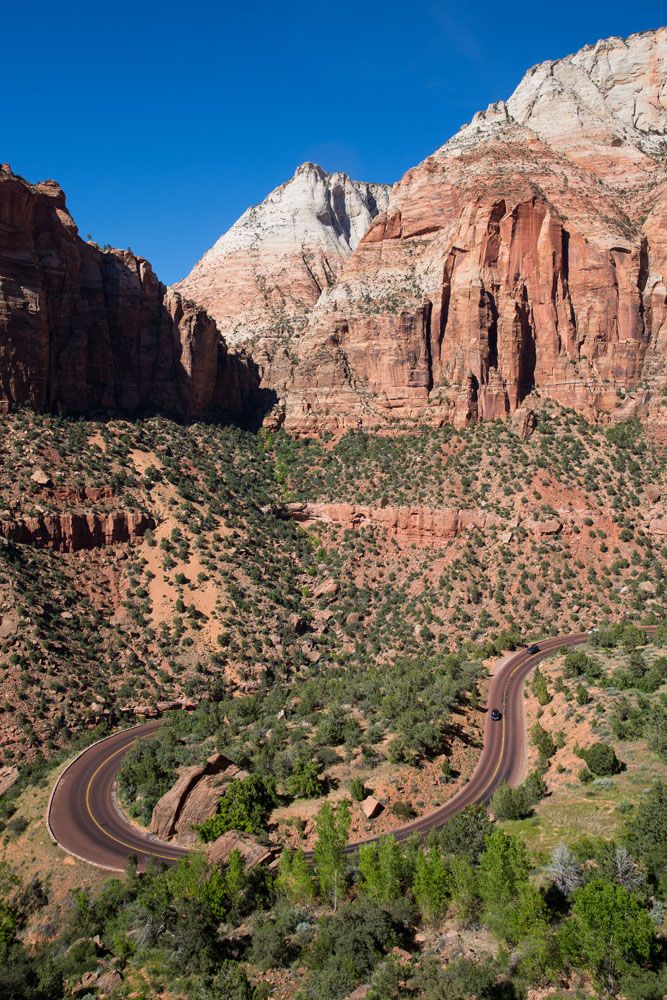 Zion National Park Map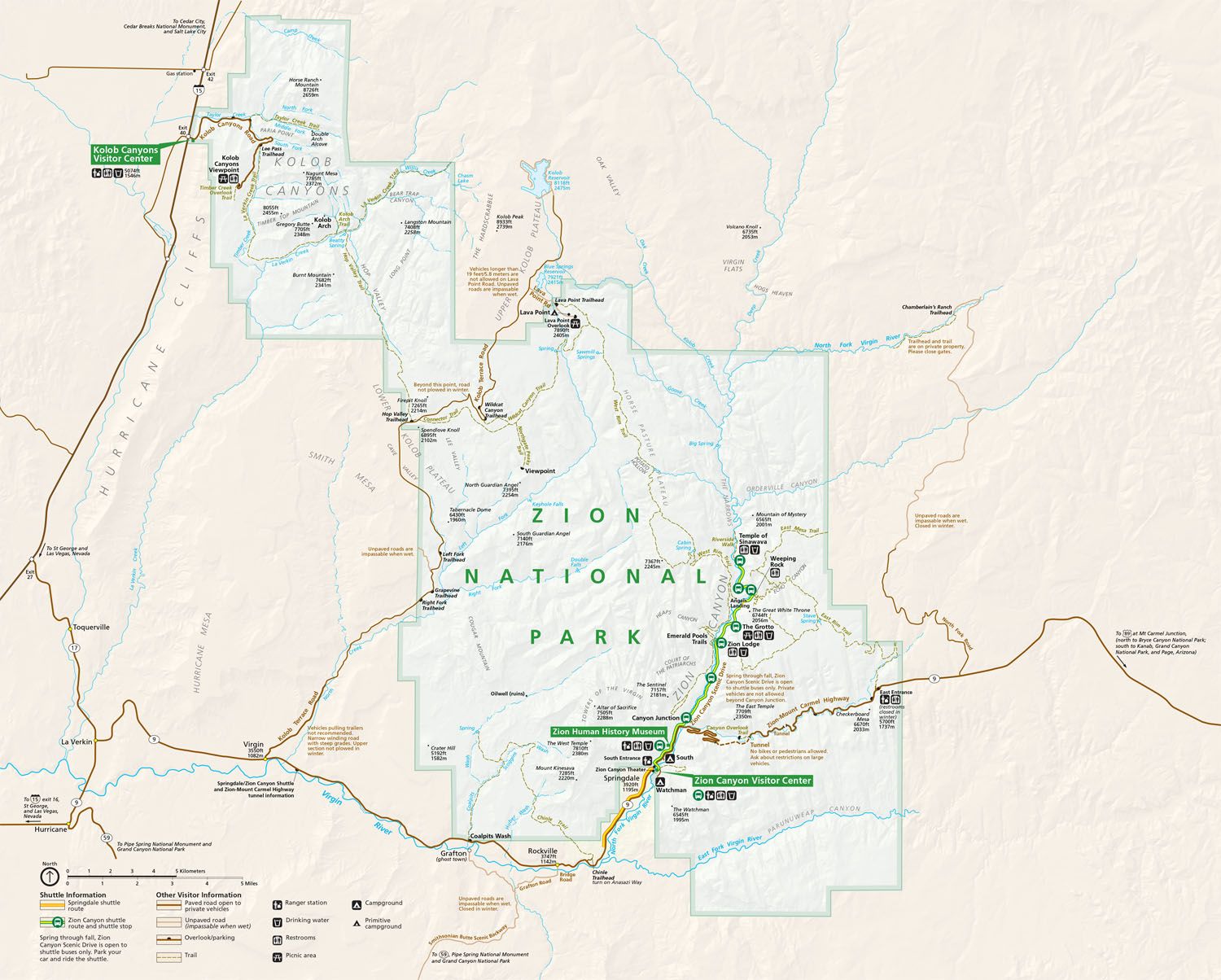 Zion National Park in Photos
In our US National Parks List, get information on all of the US national parks, including interesting facts, the most and least visited national parks, and a FREE printable national parks checklist with map.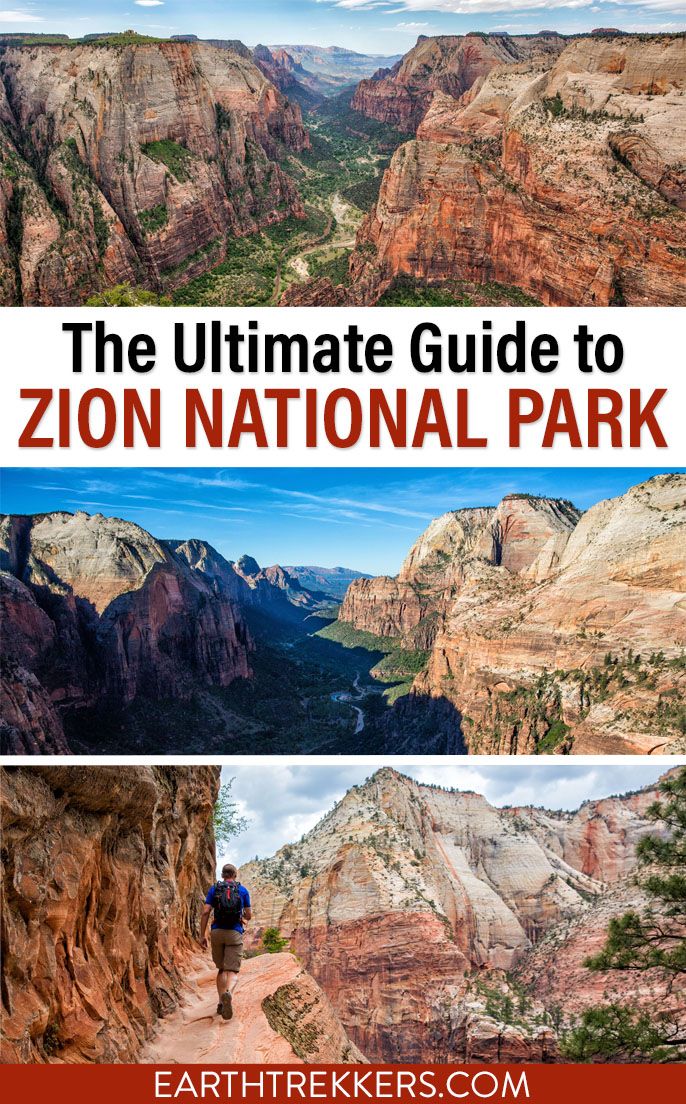 Note: This page contains affiliate links. When you make a purchase using one of these affiliate links, we get paid a small commission at no extra cost to you.
Visit More National Parks