Stretching across southern and central Utah are five stunning National Parks. Called the Mighty 5, these parks contain some of the most thrilling hiking trails and iconic landscapes in the United States.
Stand atop Angels Landing in Zion. Gaze across a wonderland of hoodoos at Bryce Canyon. Explore the Water Pocket Fold at Capitol Reef. Watch the sunrise at Mesa Arch in Canyonlands. And watch the sunset at Delicate Arch in Arches National Park.
If you like rugged, desert landscapes, it is hard to beat the beauty of Utah. If you are a hiker, there are enough trails in these parks to keep you busy for weeks. And if you like a good road trip, Utah is the perfect place to explore from behind the wheel of a car.
We can't get enough of this part of the United States. After four visits to the Mighty 5 in the past few years, here is our guide to the National Parks. I hope you enjoy them just as much as we do.
Utah's Mighty 5
Arches National Park
Arches National Park is a wonderland of strange rock formations, short hiking trails, and you guessed it, arches. Not only will you find over 2,000 arches here, but you will also see hoodoos, fins of sandstone rocks, massive mesas, and balanced rocks.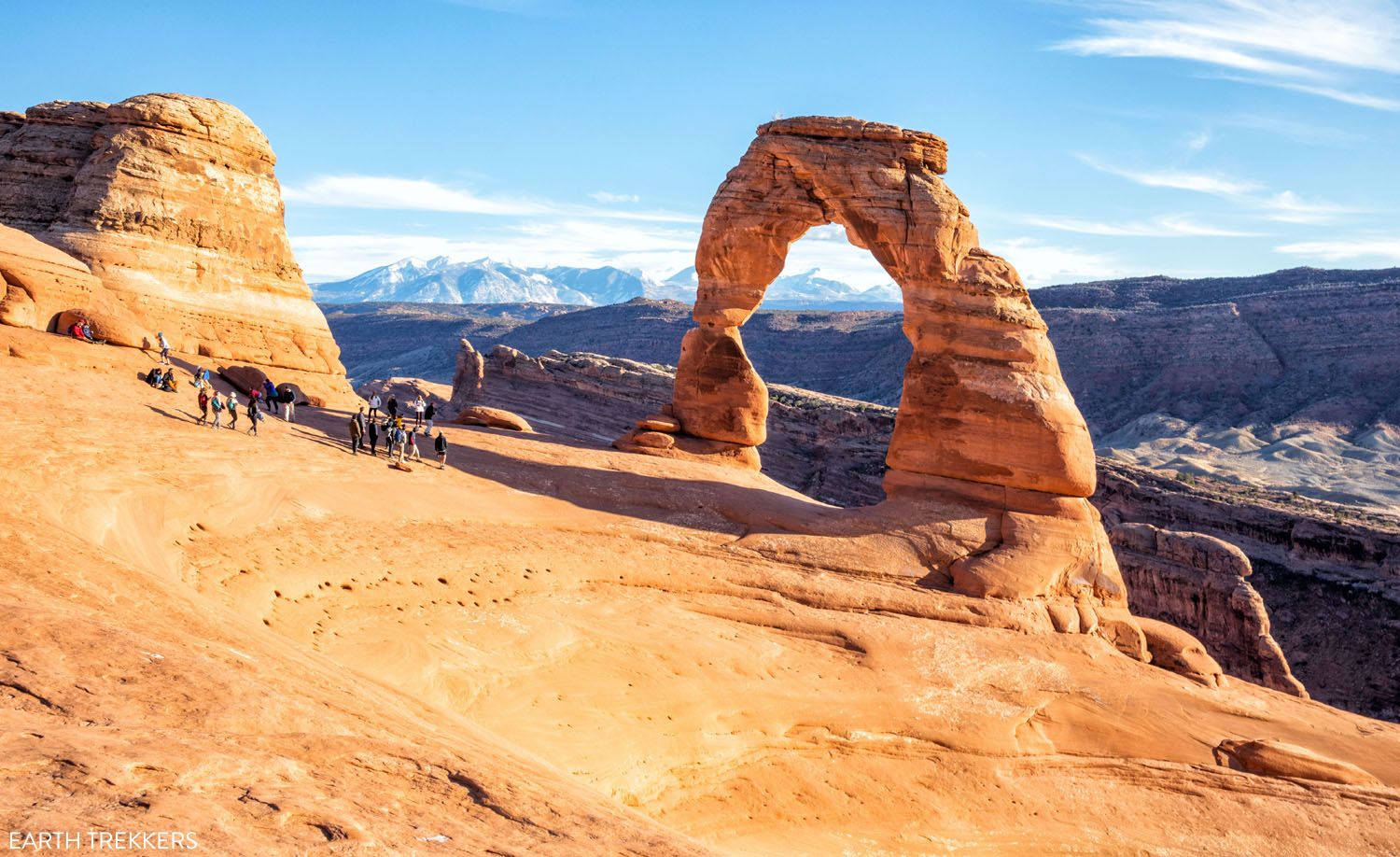 Delicate Arch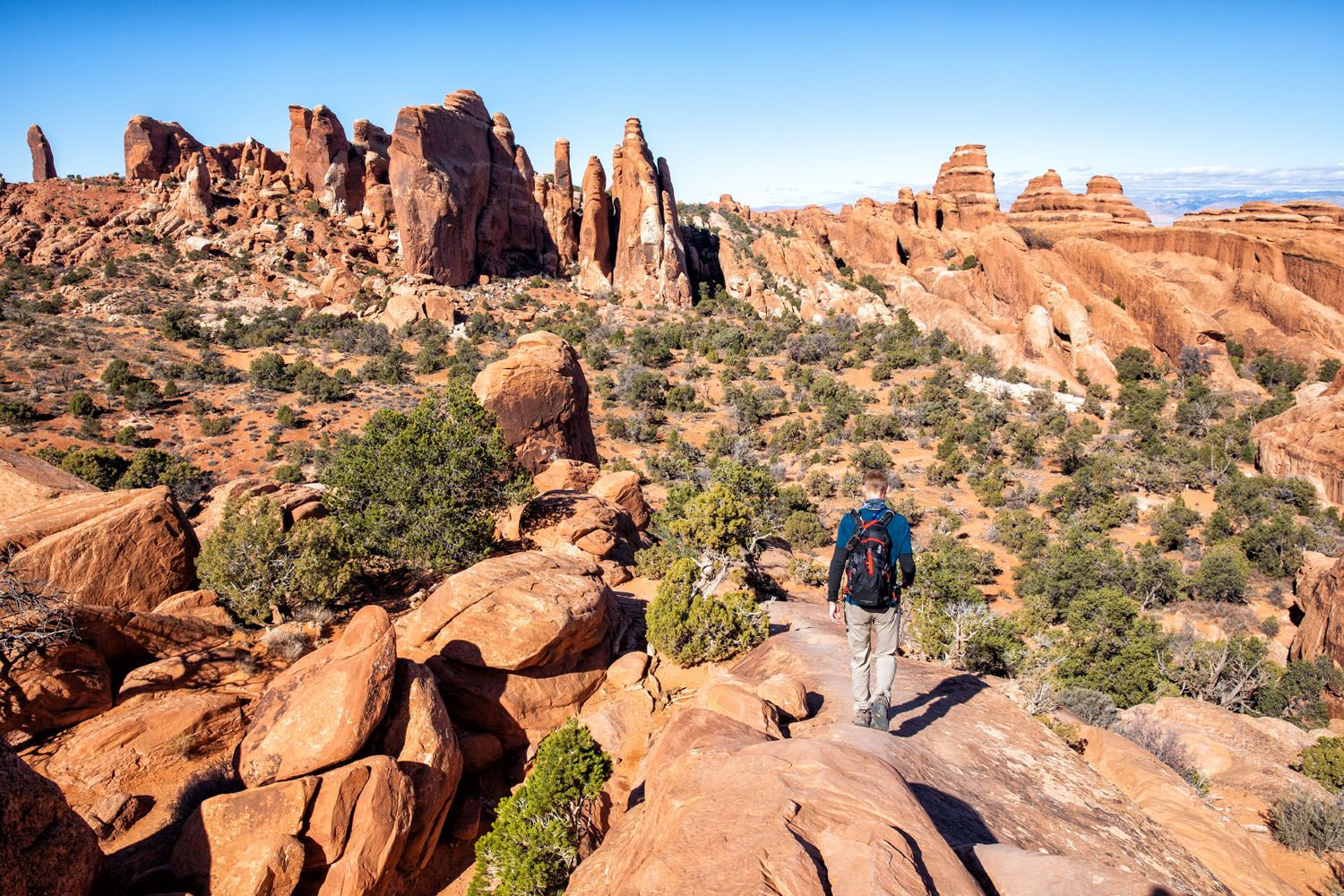 Devils Garden Hike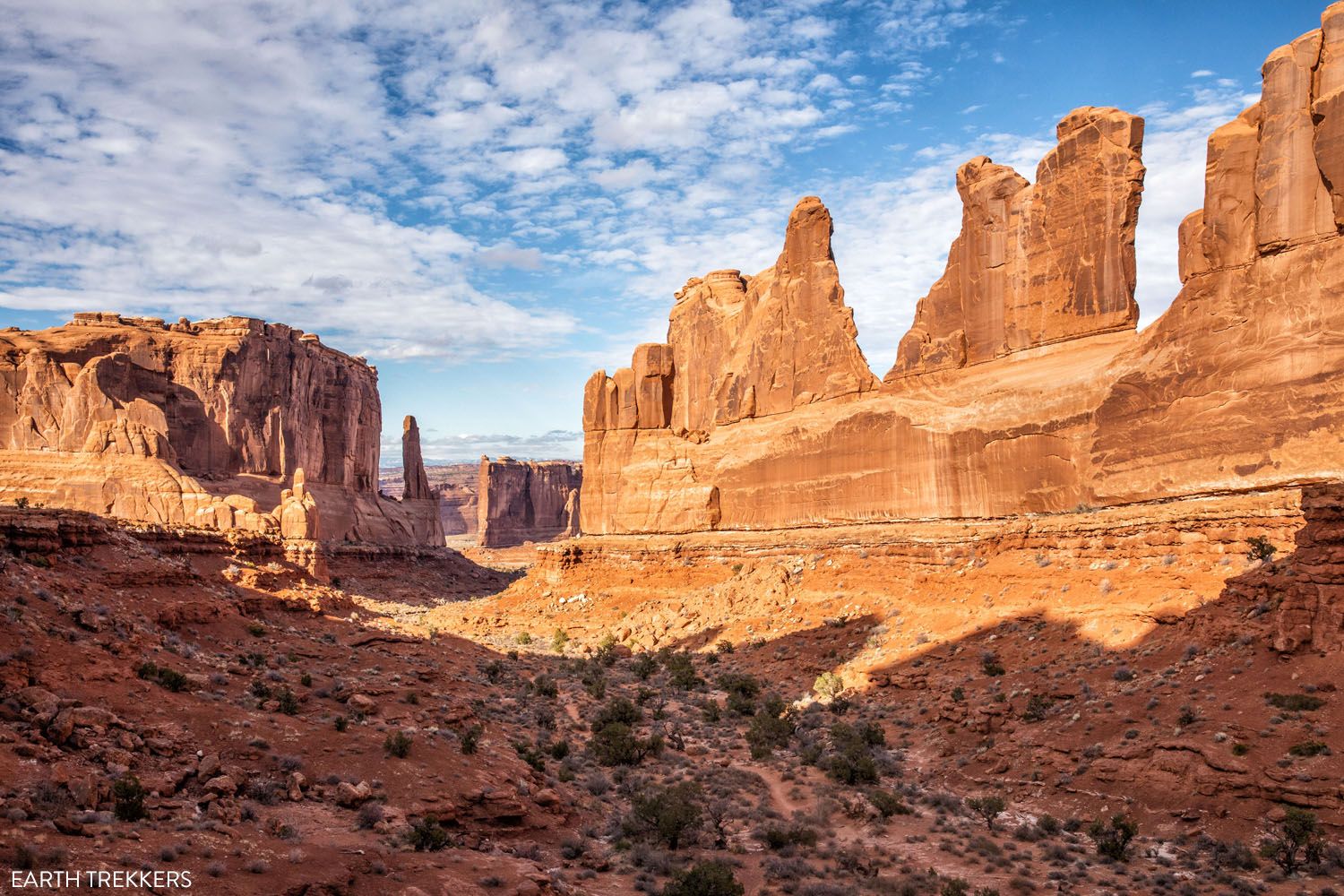 Park Avenue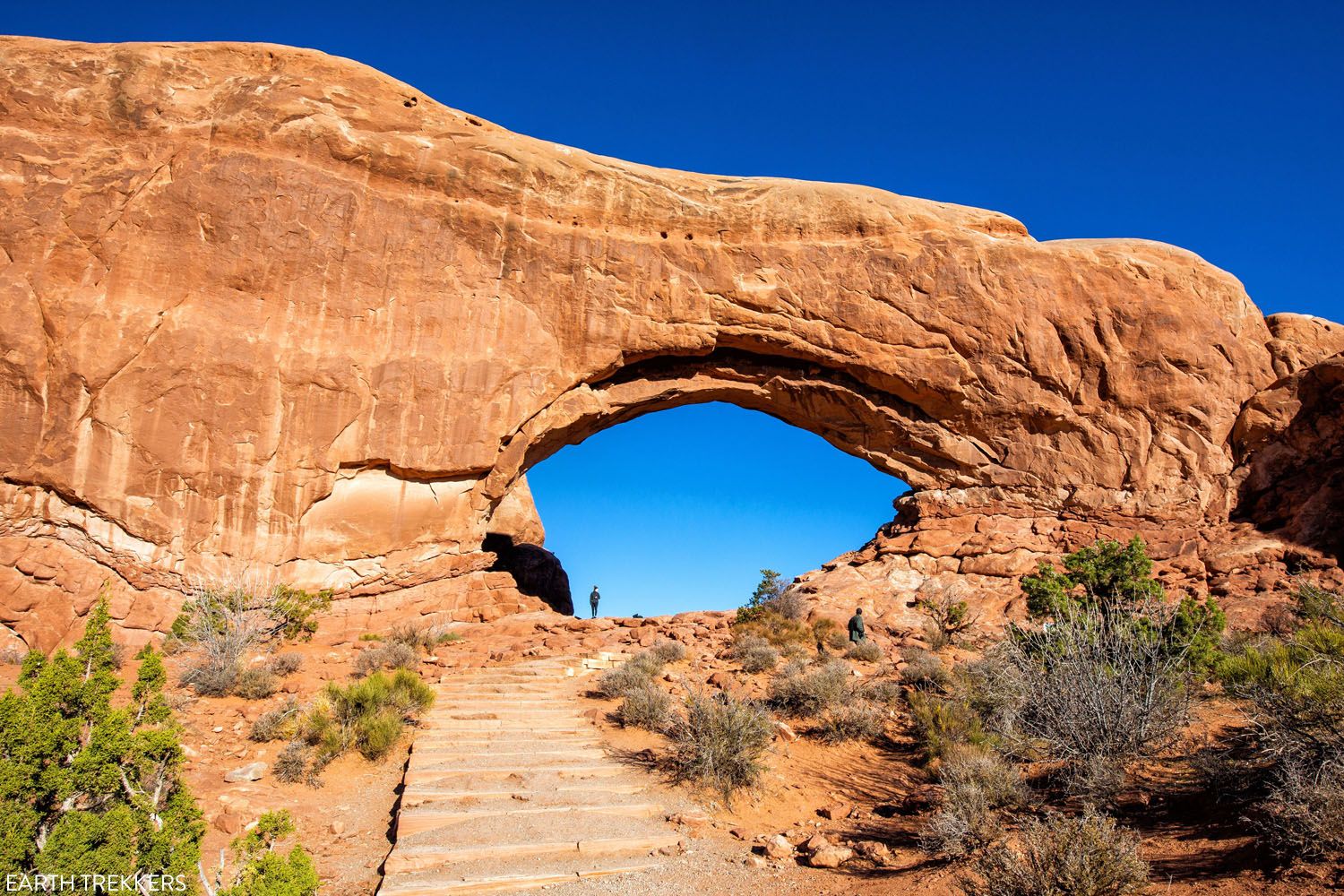 North Window Arch
Plan Your Visit
Cost: $30 per vehicle, valid for 7 days
Top Experiences: Hike to Delicate Arch, see Balanced Rock and the Fiery Furnace, visit Double Arch, Turret Arch, and Windows Arch, hike Park Avenue
Ultimate Adventure: Hike the Devils Garden Trail. To reach Landscape Arch, one of the most iconic arches in the park, it is only 1.6 miles round trip. But for the ultimate adventure, continue past Landscape Arch to Double O Arch and Dark Angel and return on the Primitive Trail.
Arches National Park in One Day: If you like the idea of hiking the Devils Garden Trail, go here first to beat the crowds (and the heat during the summer months). Midday, visit Balanced Rock, Double Arch, The Windows and Turret Arch. End with sunset at Delicate Arch.
Cool Fact: The Olympic Torch was carried under Delicate Arch for the 2002 Winter Olympics.
Where to Stay: Moab is just 10 minutes away by car. We recommend the Red Cliffs Lodge (highly rated hotel with a beautiful setting next to the Colorado River), MainStay Suites (budget hotel that gets great reviews), or the Hoodoo Moab (beautiful, upscale hotel in the heart of Moab).
Canyonlands National Park
Compared to its smaller and more popular neighbor Arches National Park, Canyonlands feels more rugged, more remote, and a whole lot larger.
Canyonlands National Park is enormous in size. Over 330,000 acres are filled with canyons, arches, buttes, mesas, dirt roads, hiking trails, campgrounds, and overlooks.
This immense area of land is divided up into five districts. Island in the Sky, the closest district to Moab, is the most popular section of the park to visit. This is where you will find Mesa Arch, Grand View Point, and a collection of short and long hikes to choose from.
"Around the corner" from Island in the Sky is The Needles, where sandstone pinnacles form unique landscapes. To get here, it is over an hour away by car from Moab.
The Maze is a remote area of Canyonlands that is only accessible by 4×4. The Colorado and Green Rivers make up the fourth district, where you can go canoeing, kayaking, and white water rafting. Horseshoe Canyon is a very small section of the park. It is here that you can see the rock art of the Ancient Puebloan peoples.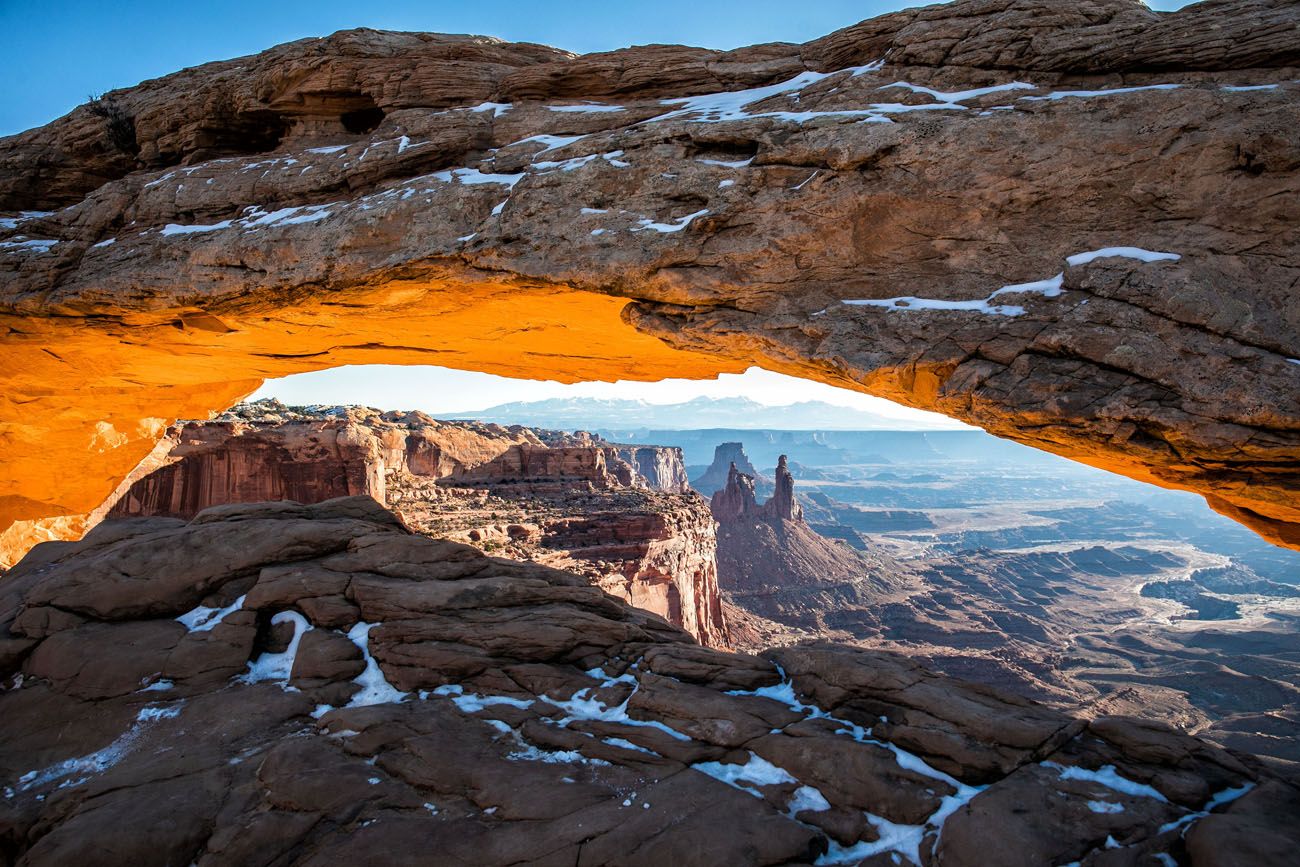 Mesa Arch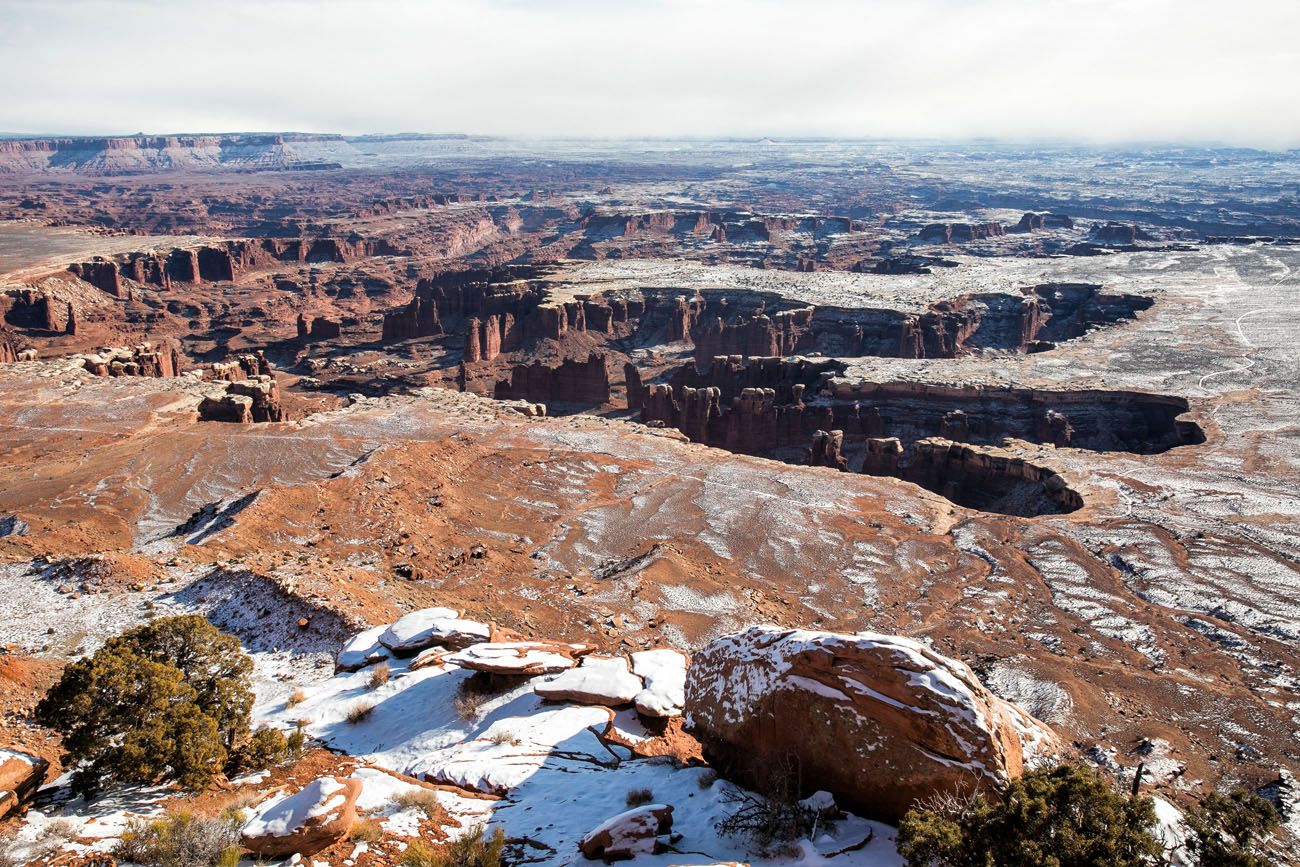 Grand View Point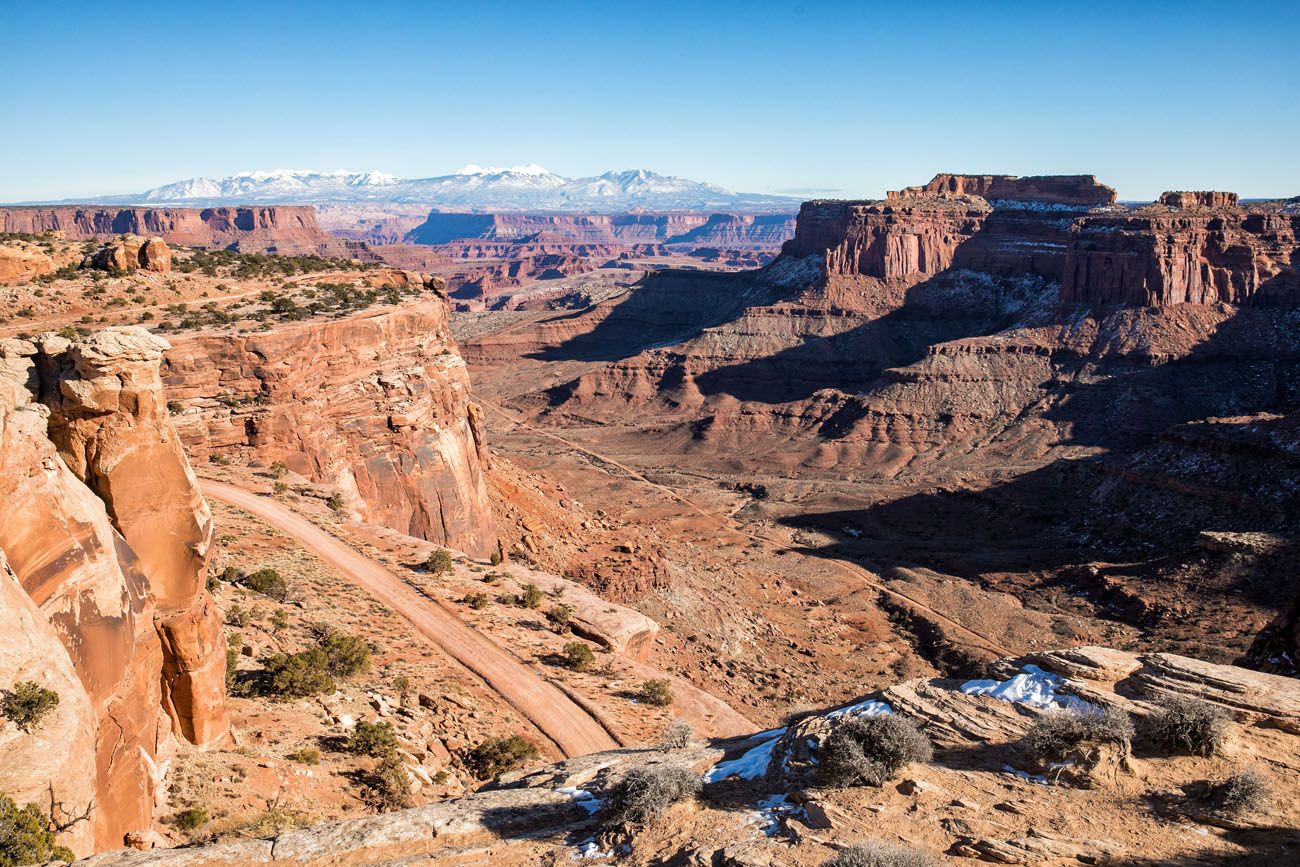 View of the Shafer Canyon and the White Rim Road from the Visitor Center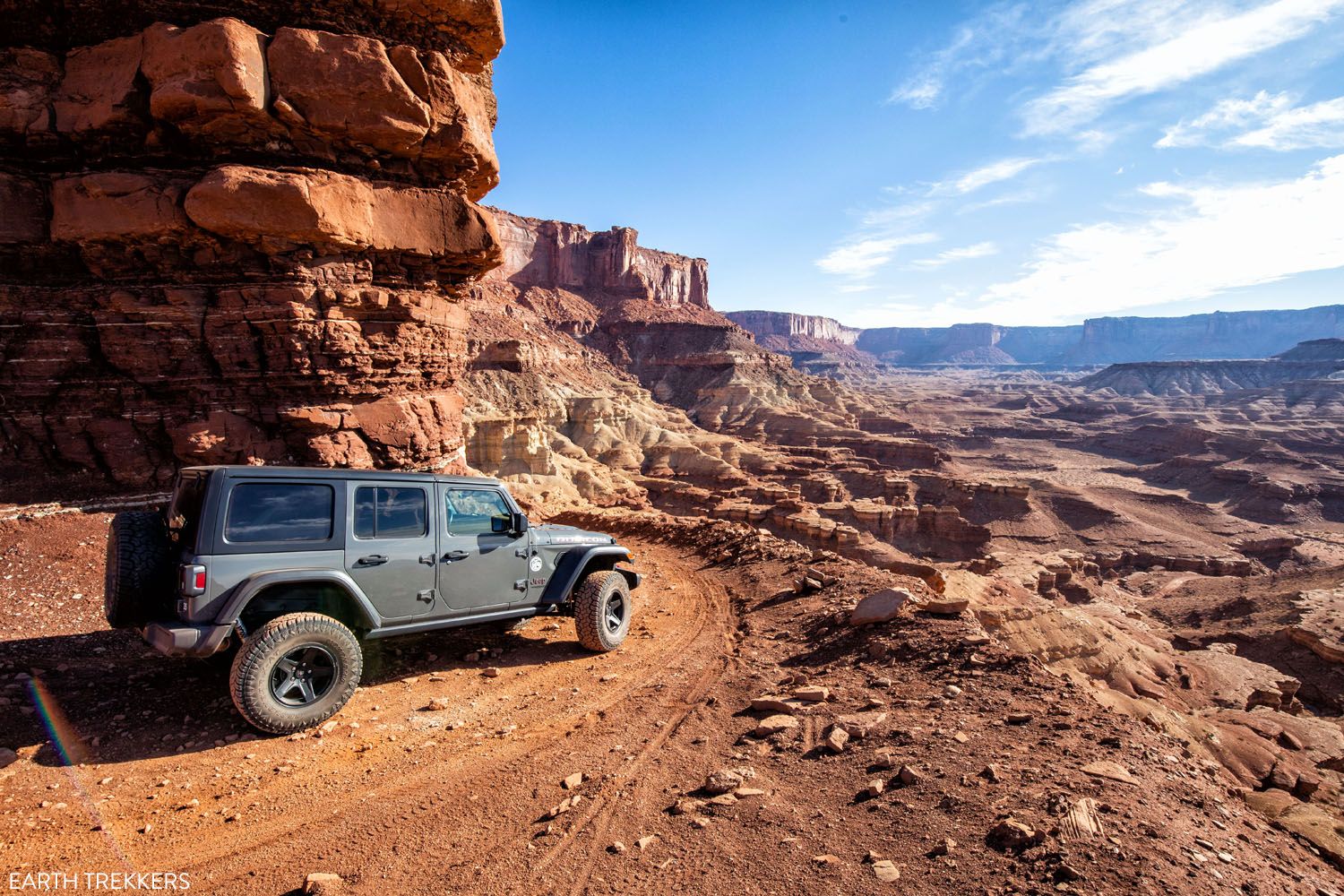 Driving the White Rim Road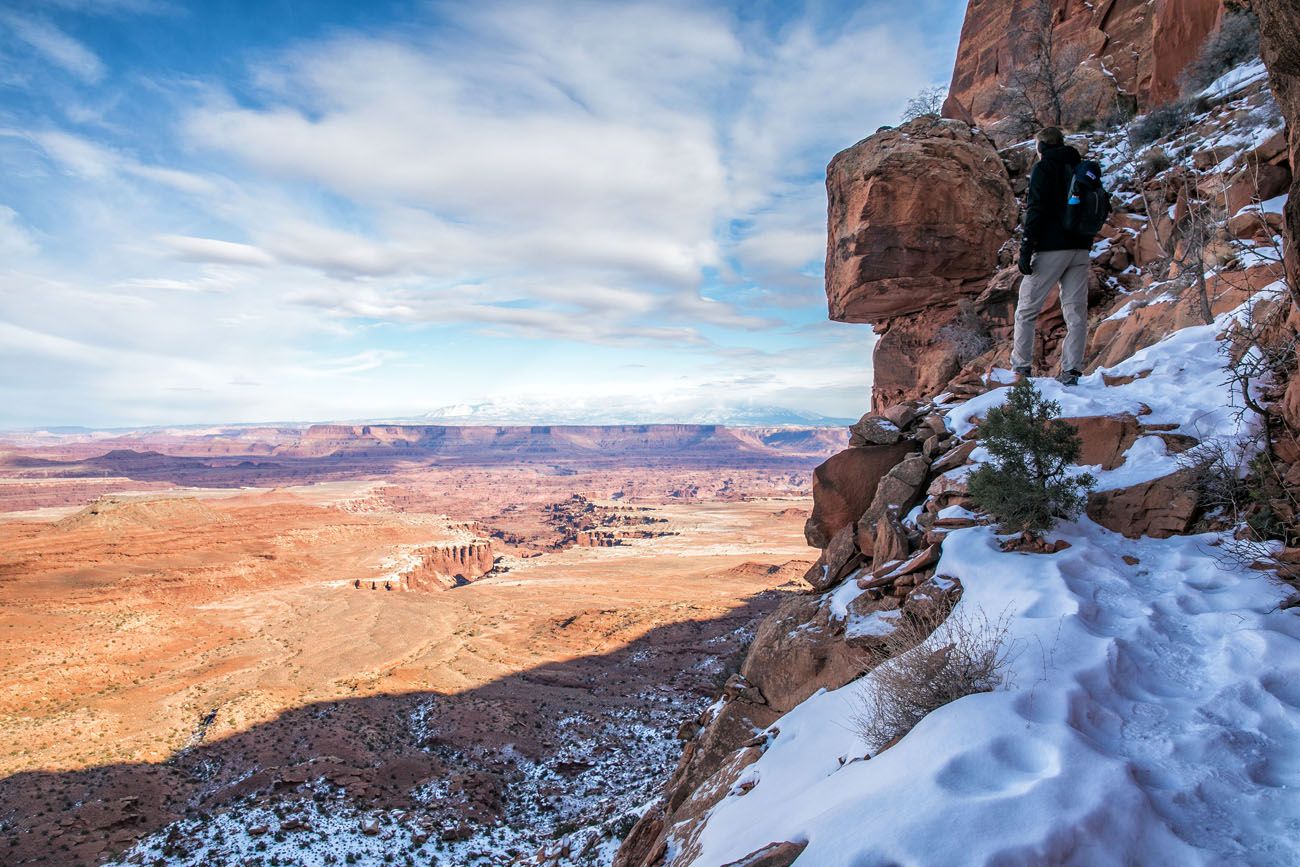 Gooseberry Hike
Plan Your Visit
Cost: $30 per vehicle, valid for 7 days
Top Experiences: See the sunrise at Mesa Arch, visit the overlooks (Grand View Point, Buck Canyon Overlook, Shafer Canyon Viewpoint), hike around Upheaval Dome, and hike the Druid Hill hike in The Needles.
Ultimate Adventure: Rent a 4×4 or bring your mountain bike and go on a multi-day adventure, driving (or cycling) the 100-mile long White Rim Road. This rough, dirt road twists and turns along the White Rim. You will need a permit and camping gear to do this.
Canyonlands in One Day: Visit Island in the Sky district. Start at sunrise at Mesa Arch. Visit Grand View Point and Buck Canyon Overlook, hike to the White Rim Overlook and Upheaval Dome, take in the view from the Green River Overlook, and consider the short hike up Aztec Butte or Whale Rock. Don't miss Shafer Canyon Viewpoint or the view from the Visitor Center as you exit the park.
With More Time: Visit The Needles, take your pick from longer hikes in Island in the Sky, and/or consider spending 2 or more days driving the White Rim Road.
Cool Fact: Two rivers carved out the canyons that you see at Canyonlands National Park, the Green River and the mighty Colorado River, which also worked its magic and carved out the Grand Canyon.
Where to Stay: Moab is 45 minutes away by car. Check out the Castle Valley Inn (highly rated hotel with a variety of room types, including cottages that can accommodate up to five people) or Red Cliffs Lodge (suites can accommodate 4 to 6 people).
Capitol Reef National Park
With sandstone cliffs, white domes, slot canyons, and arches, Capitol Reef National Park is a extraordinary place to explore. This park preserves the Water Pocket Fold, a rippling of the Earth's crust that is 100 miles long.
One of the things that makes Capitol Reef so easy to visit is that you can see quite a bit of it right from your car. With a highway that runs through the center of the park and a scenic drive that tops the list of the best things to do, you can visit some of the most dramatic spots in Capitol Reef without ever stepping out of your car.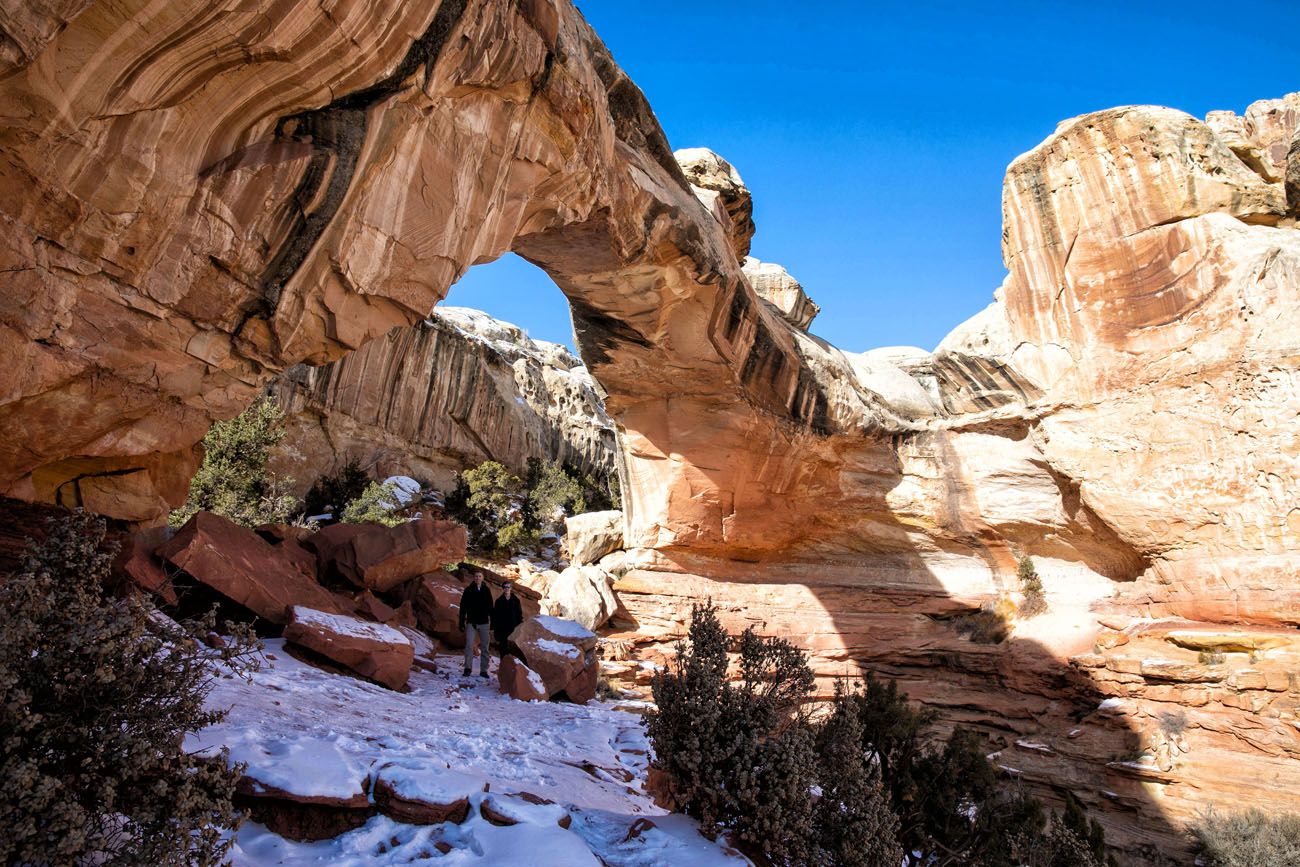 Hickman Bridge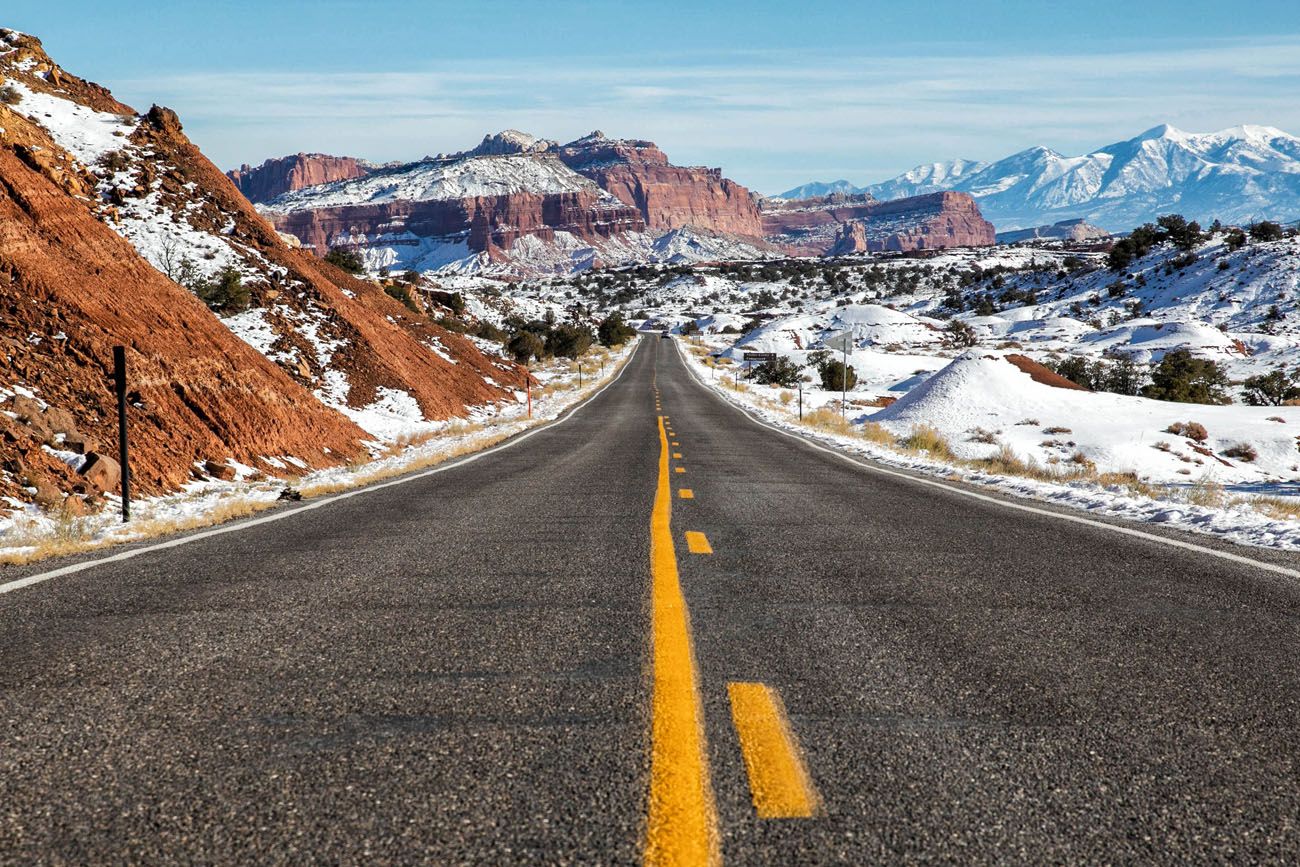 Highway 24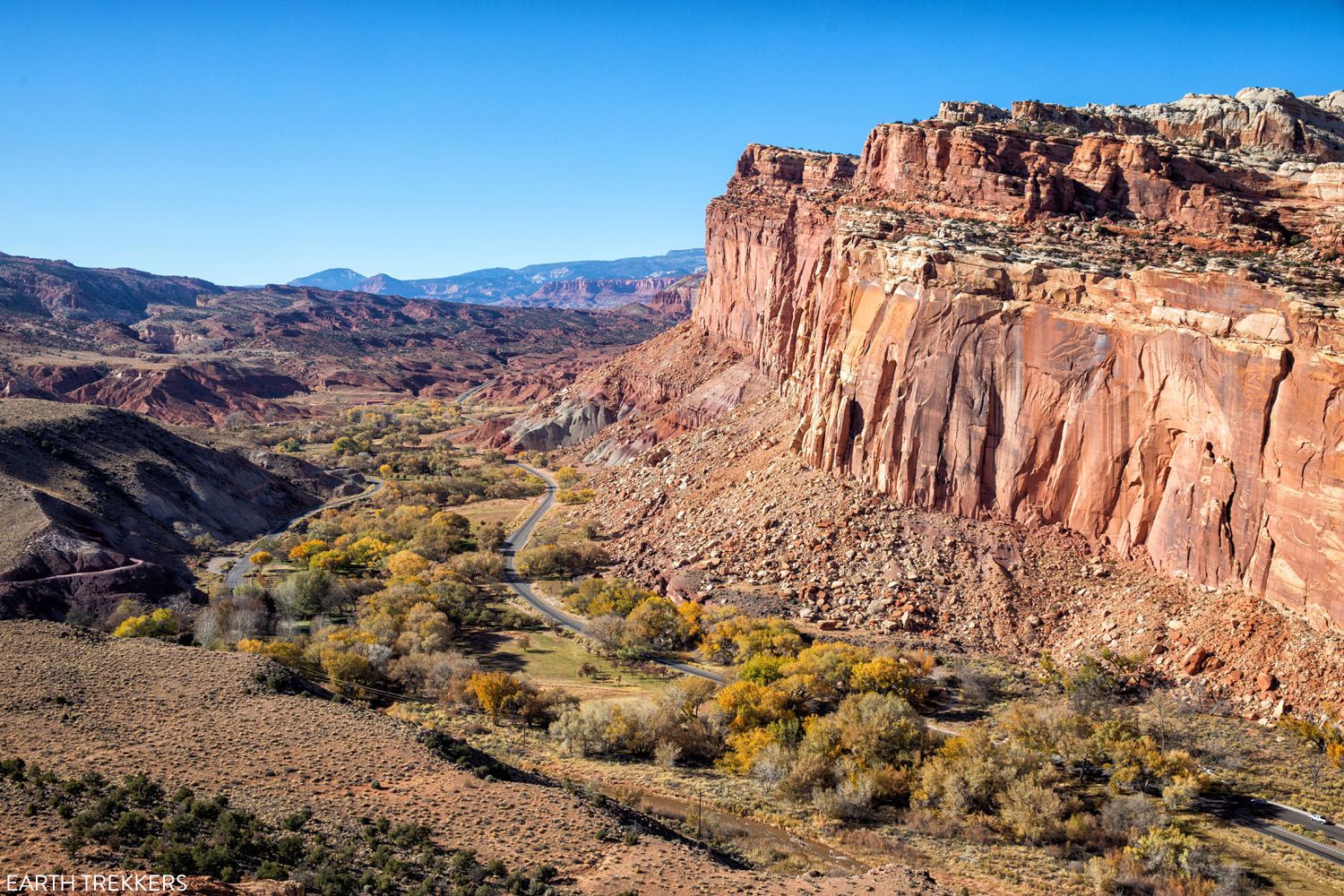 Overlooking Highway 24 from the Cohab Canyon Trail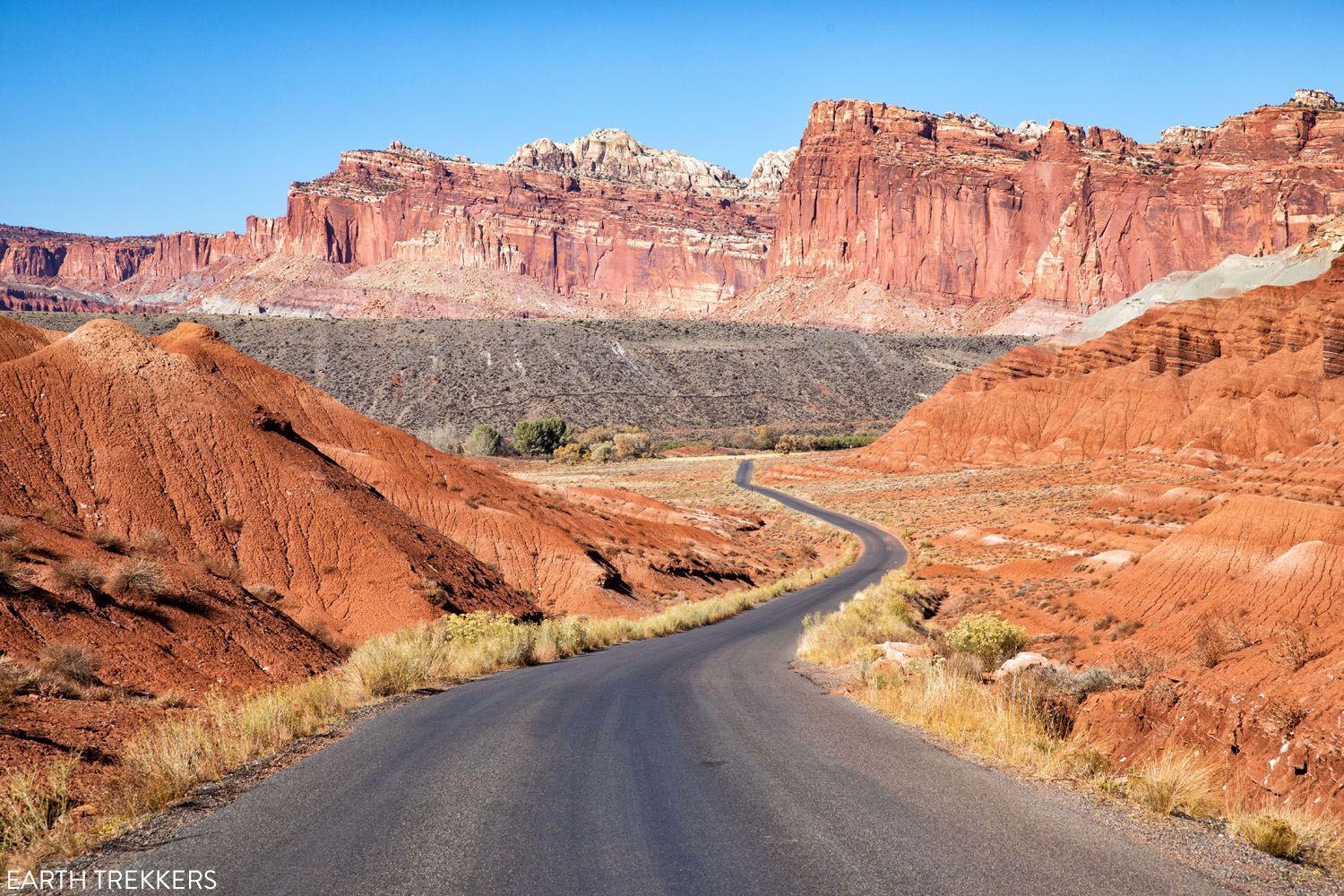 Scenic Drive
Plan Your Visit
Cost: $20 to drive the Scenic Drive, valid for 7 days. It is free to drive through the park on Highway 24.
Top Experiences: Drive the 16-mile round-trip drive along Scenic Drive, drive Capitol Gorge Road, hike to Hickman Bridge, and watch the sunset from Sunset Point. Cassidy Arch is another popular hike to add to the list.
Capitol Reef in One Day: Drive the Scenic Drive and consider taking the optional detours along the way on Capitol Gorge Road and Grand Wash. Hike Hickman Bridge and then visit the Goosenecks, Panorama, and Sunset viewpoints.
With More Time: Explore the backcountry. Drive the 58-mile loop through Cathedral Valley and visit the Temple of the Sun and the Temple of the Moon.
Cool Fact: Capitol Reef is the least visited park of Utah's Mighty 5.
Where to Stay: Torrey is the closest town with the best selection of hotels. Check out the amazing Capitol Reef Resort and the Noor Hotel. If you are driving south from Capitol Reef, the Canyon Country Lodge in Escalante may also be a good option.
Bryce Canyon National Park
Bryce Canyon National Park is a fantasyland of hoodoos, bizarre rock formations, and sandstone pillars.
Hoodoos are tall, thin spires of rock that protrude from the bottom of an arid drainage basin. They are found all over the world but occur in the most abundance in Bryce Canyon. These hoodoos are the main ingredient in creating the unique landscape you see at Bryce Canyon.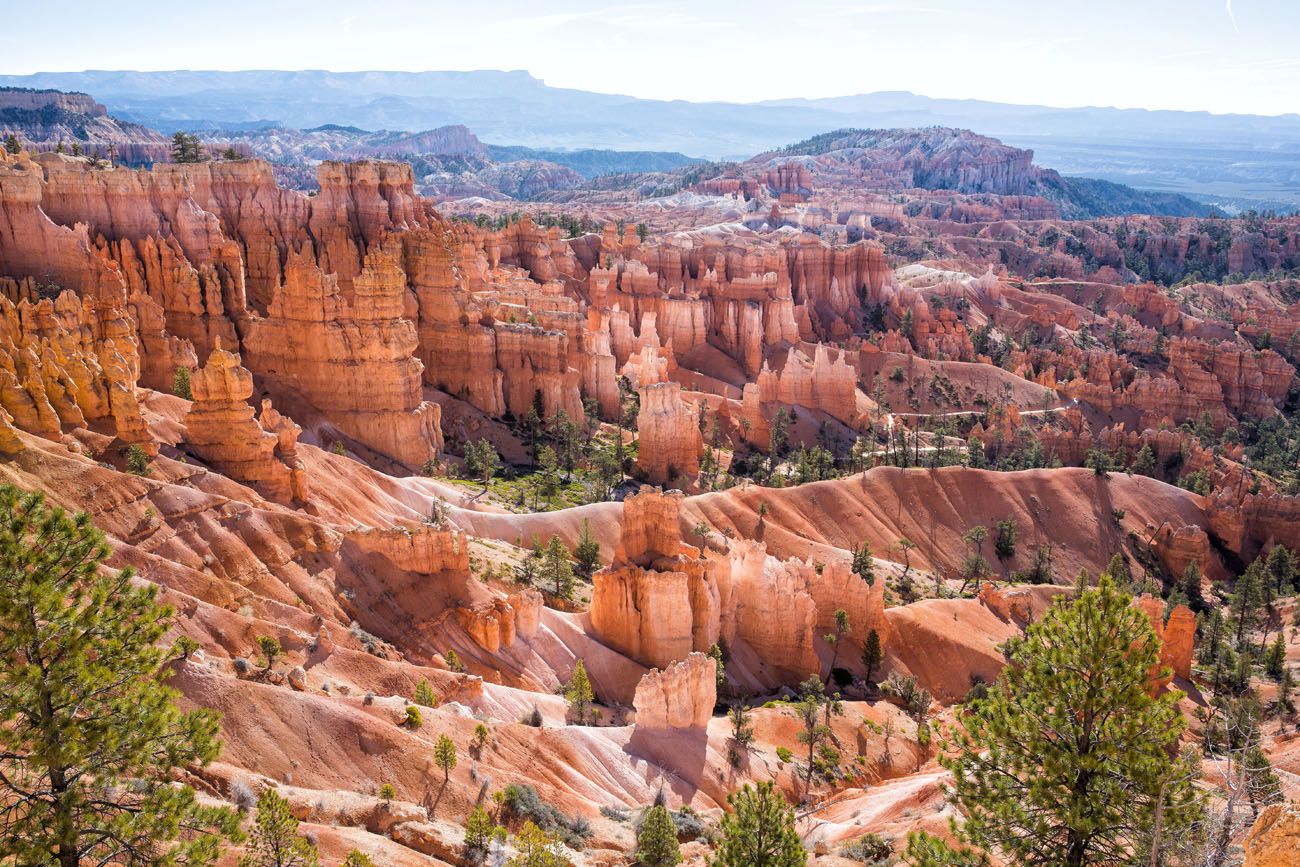 Sunset Point
Hiking the Queen's Garden Trail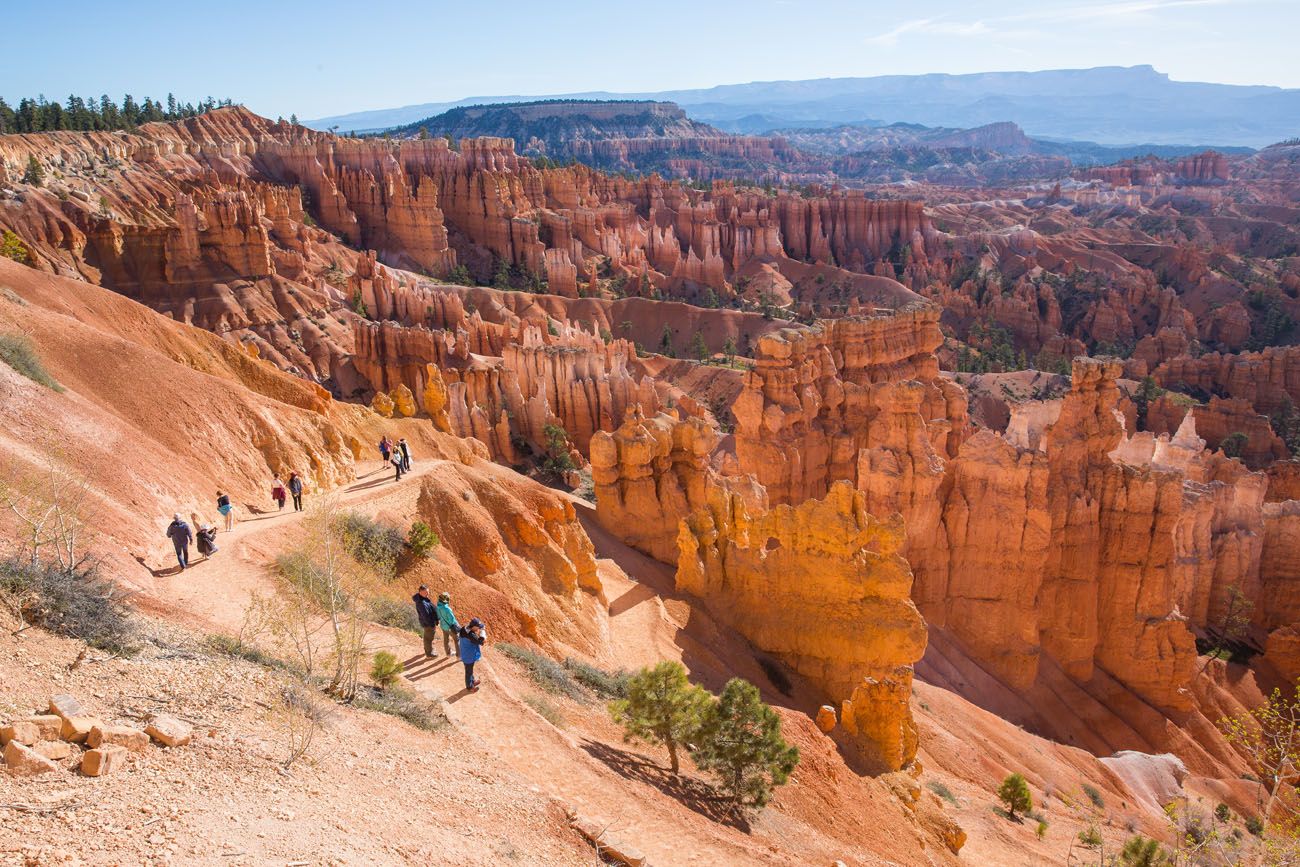 Overlooking the Navajo Trail from Sunset Point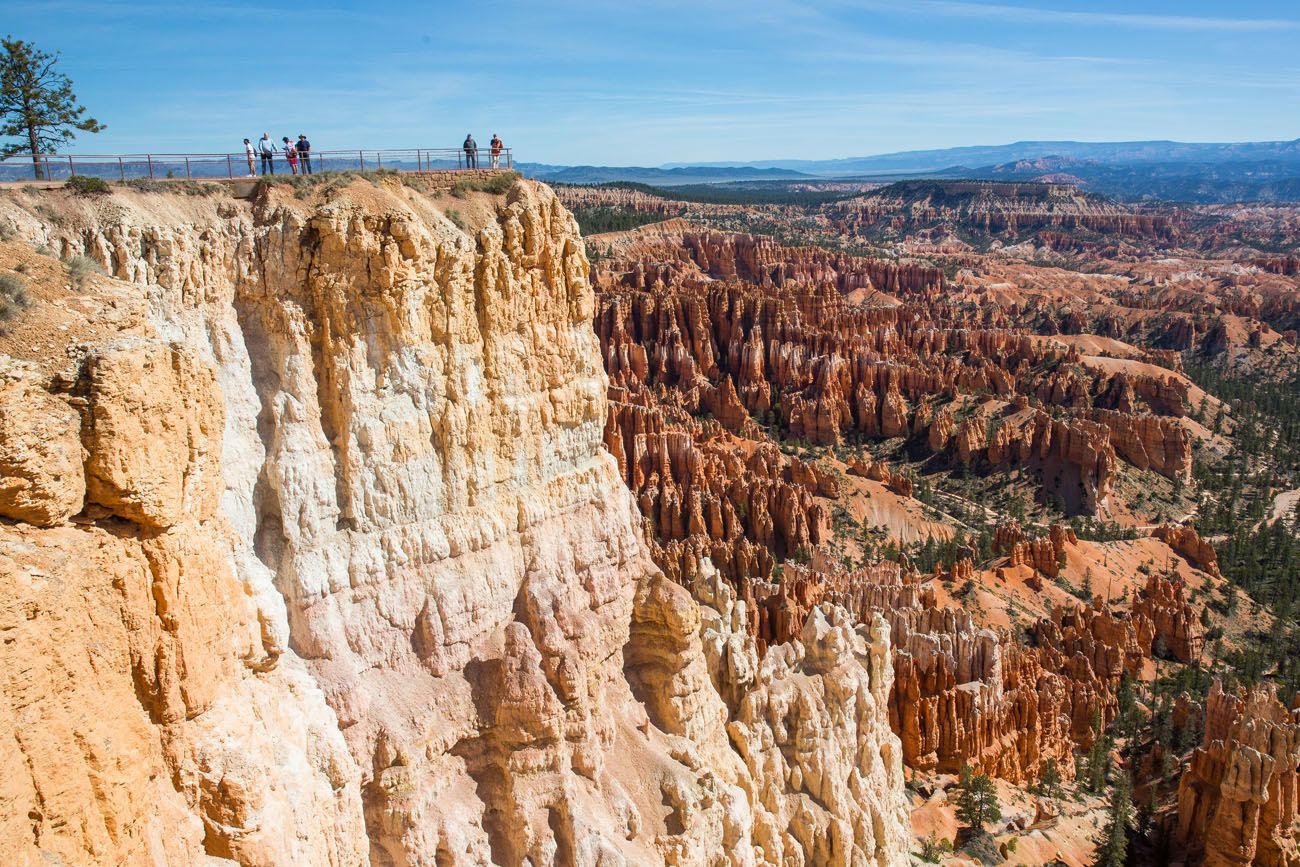 Inspiration Point
Plan Your Visit
Cost: $35 per vehicle, valid for 7 days
Top Experiences: Some of the best viewpoints are right along the rim, which is easily accessible by car or the shuttle: Sunrise Point, Sunset Point, Inspiration Point, and Bryce Point. Hike the Queens Garden and Navajo Loop, a 3-mile hike past some of the best scenery in the park. Rainbow Point and Yovimpa Point are also nice viewpoints.
Ultimate Adventure: Hike the Fairyland Loop Trail, an 8-mile strenuous hike. Leave the crowds behind on this low-traffic hiking trail.
Bryce Canyon in One Day: Watch the sunrise from Sunset Point (we liked the sunrise views better here than from Sunrise Point, ironically). Walk along the rim, hike the Queens Garden and Navajo Loop Trail, and visit Bryce Point, Inspiration Point, Rainbow Point, and Yovimpa Point.
With More Time: Add on the Fairyland Loop or the Peekaboo Loop Trail.
Cool Fact: Bryce Canyon sits at 8,000 to 9,000 feet. It will feel cooler here than in the other Mighty 5 parks. In fact, there are roughly 200 days a year where the park can get below freezing.
Where to Stay: Bryce Canyon Lodge is the only lodging within the park. In the town of Bryce there are several more hotels to choose from. We stayed at the Bryce Canyon Inn, which is located in Tropic, 15-minutes away from the park.
Zion National Park
Finally, it is time for our favorite national park of the Mighty 5.
Zion National Park is one of the best places in the United States to go hiking. Angels Landing and the Zion Narrows are two bucket-list worthy hikes that attract thousands of visitors every year. But there are also short, family-friendly hikes to choose from, as well as multi-day backpacking adventures and hikes that require canyoneering experience.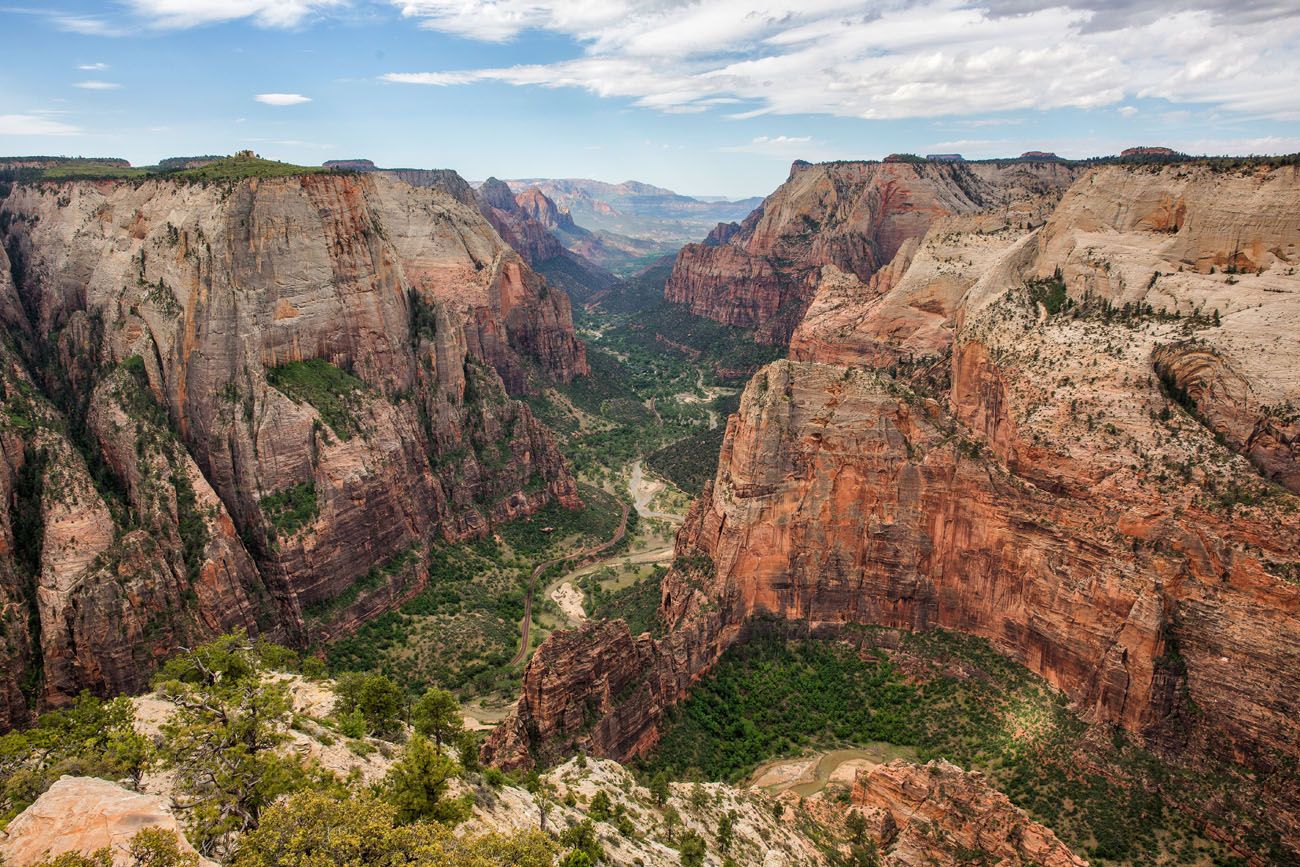 The View from Observation Point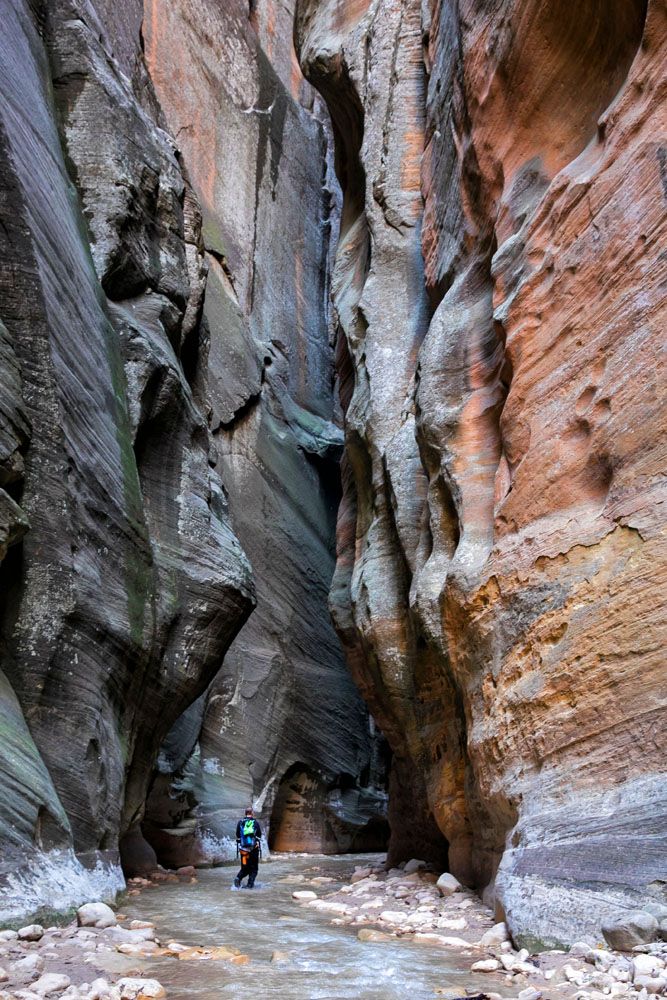 The Narrows
Hidden Canyon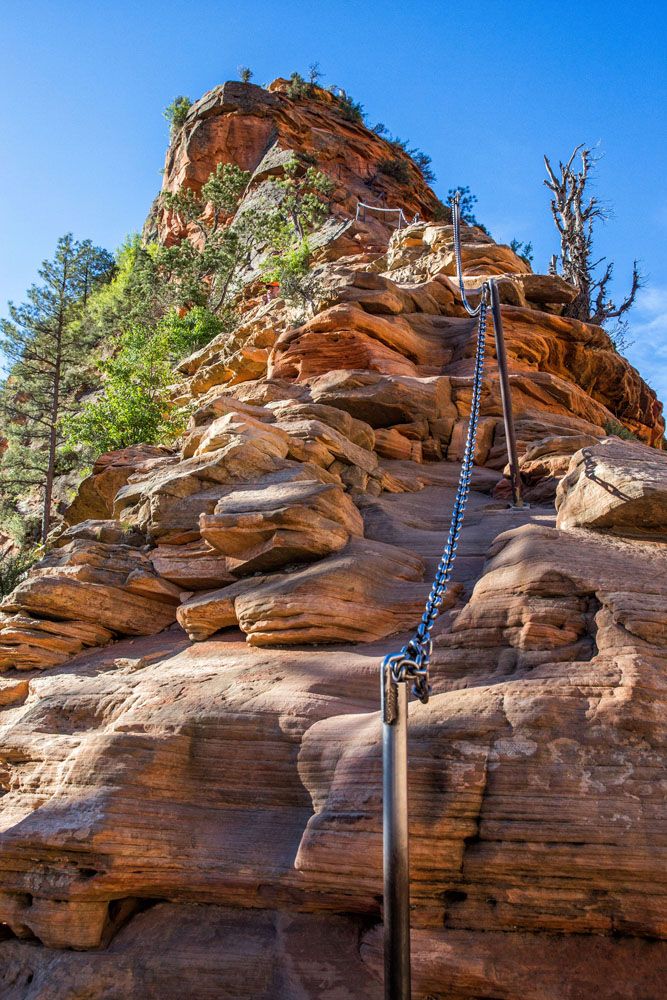 Angels Landing
Plan Your Visit
Cost: $35 per vehicle, valid for 7 days
Top Experiences: Hike Angels Landing, Observation Point, Hidden Canyon, Riverside Trail, Emerald Pools, Weeping Rock, and Canyon Overlook. One of the best experiences in the park is hiking the Zion Narrows. Expect big crowds on Angels Landing and the Zion Narrows, so start first thing in the morning to beat the crowds.
Ultimate Adventure: There are several to choose from. Hike the Zion Narrows from the top-down as a long day hike or a two-day backpacking trip. The Subway is another strenuous but gorgeous hike, and you will need canyoneering experience for this one. The West Rim Trail is a great two-day backpacking trip or a one day mega-hike.
Zion in One Day: If you have plans to hike Angels Landing or the Zion Narrows from the bottom-up, do this first thing (ideally, be on the first shuttle of the day). Pick a shorter hike to do in the afternoon, such as the Canyon Overlook Trail or Emerald Pools. Learn more here.
With More Time: Three days is a nice amount of time to spend in Zion National Park. You can do three big hikes (one each morning) or use two of the days for a multi-day backpacking adventure. This also gives you time to explore Kolob Canyons at the northern section of the park.
Cool Fact: This isn't so cool, but it's important to know before you go. For most of the year, the only way to get around Zion National Park is by shuttle bus. Mid-morning lines can be frustratingly long, so roll out of bed early and try to catch one of the first shuttles of the day.
Where to Stay: Zion Lodge is the only lodging in the park. Springdale is a wonderful little town that sits near the entrance to Zion. It is filled with lots of hotels and some very good restaurants. We always stay at the Holiday Inn Express.
Mighty 5 Road Trip Itinerary
If you only have one week, here is a whirlwind road trip through Utah to visit all five National Parks. To get the full details on how to do this same itinerary, and get suggestions on what to do if you have more time, read our post The Ultimate Utah National Parks Road Trip Itinerary.
Day 1:

Arrive in Salt Lake City, drive to Moab

Day 2:

Arches National Park

Day 3:

Canyonlands National Park

Day 4:

Drive to Capitol Reef, visit Capitol Reef, sleep in Torrey or near Bryce Canyon

Day 5:

Bryce Canyon, drive to Zion, sleep in Springdale

Day 6:

Zion National Park

Day 7:

Drive to Las Vegas, fly home
How to Use This Map: Click the tab in the top left hand corner of the map to view the layers (national parks and the driving route). You can click the check marks to hide or show layers. If you click the icons on the map, you can get more information about each point of interest.

If you click the star, this map will be added to your Google Maps account. To view it on your phone or computer, open Google Maps, click the menu button, go to "Your Places," click Maps, and you will see this map on your list.

This is very, very fast. Plus, you will drive 900 miles in 7 days, not to mention the little bit of driving you will do in each park. If you can, consider adding on a few more days.If you can, add 3 days to this itinerary, making this a 10 day itinerary.
Here are some things you can do with more time: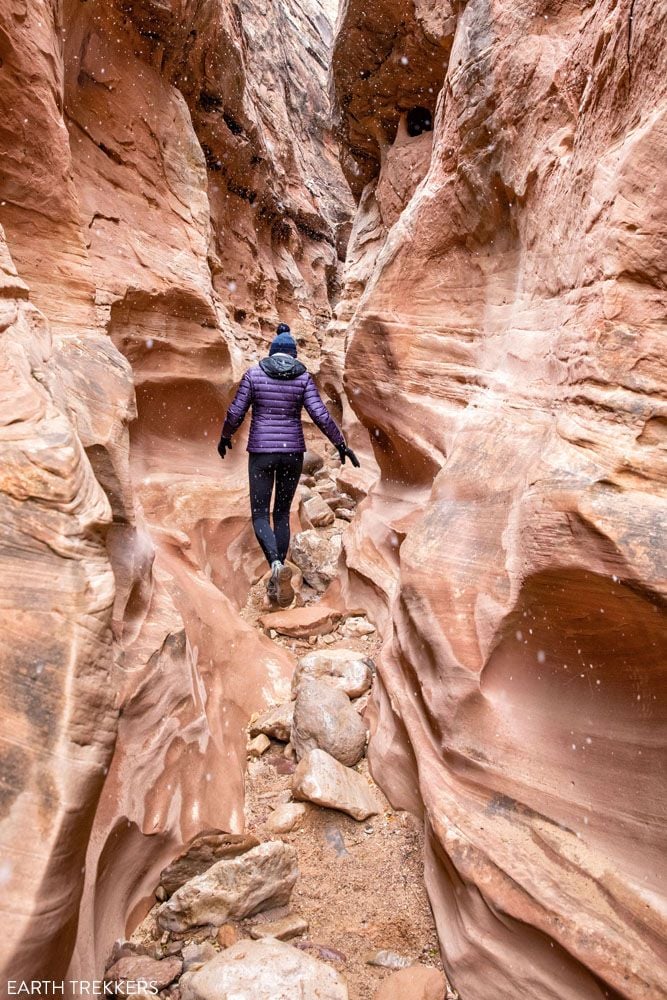 Little Wild Horse Canyon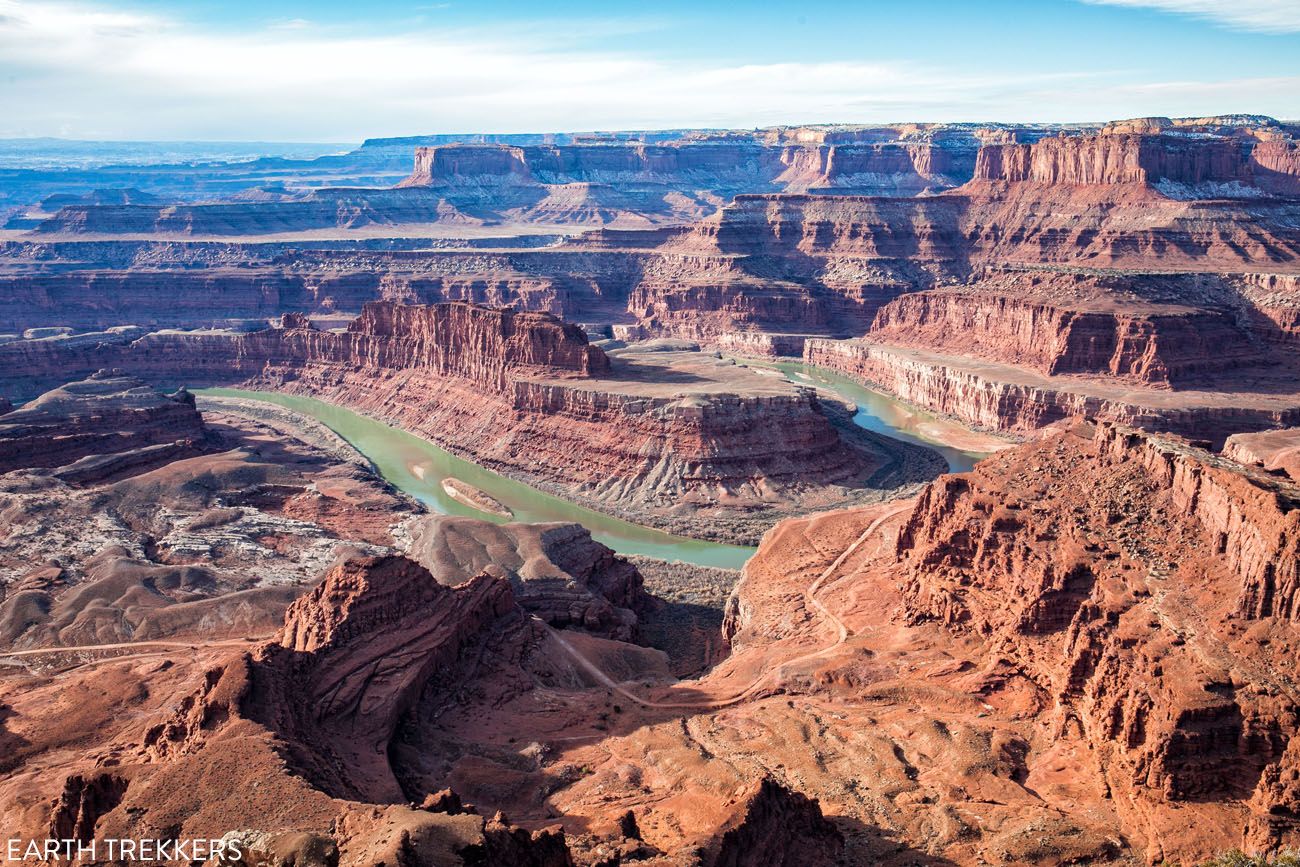 Dead Horse Point State Park
10 Day Mighty 5 Itinerary
Here is a sample Mighty 5 itinerary, with more time in several national parks and the addition of several great state parks and hiking destinations in Utah.
Day 1: Arrive in Moab
Day 2: Arches National Park
Day 3: Canyonlands National Park
Day4: Goblin Valley & Little Wild Horse Canyon
Day 5: Capitol Reef National Park
Day 6: Capitol Reef or Grand Staircase-Escalante
Day 7: Bryce Canyon National Park
Day 8: Zion National Park
Day 9: Zion National Park
Day 10: Fly home
---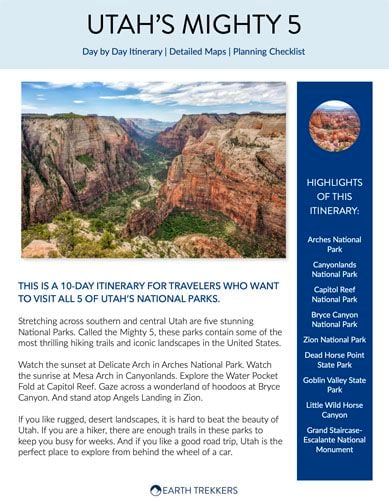 Get a Digital Download of this Itinerary
Do you want a printer friendly version of this itinerary? How about an eBook version of this itinerary that can be downloaded onto your computer or mobile device?
Our 10-day Mighty 5 Itinerary eBook includes all five national parks, plus Goblin Valley, Little Wild Horse Canyon, and the option to visit Grand Staircase-Escalante National Monument. It is a 21-page itinerary with detailed daily schedules, insider tips, and travel planning resources that you can download to take with you or print at home.
Click here to purchase the eBook on Etsy.com.
---
Mighty 5 + the Grand Canyon
If you want to visit Utah's Mighty 5 and the Grand Canyon in one epic road trip, click here to learn more. This 2 week itinerary through the American Southwest is done as a loop from Las Vegas. Not only will you visit 6 national parks but you will also visit Monument Valley, Antelope Canyon, and off-the-beaten-path destinations in Utah.
Things to Know Before You Go
Best Time to Visit the Mighty 5
The spring and fall months are the best times to visit. Weather conditions are pleasant and you can avoid the big crowds that flood the park in the summer.
During the summer months, expect soaring temperatures, large crowds, expensive prices for hotels, and lots of traffic at viewpoints and on hiking trails.
In the winter, the parks are much less crowded, but temperatures can get below freezing and snow is likely (especially in Bryce Canyon).
We have been to Utah in May (midday temperatures of 75 – 95°F with clear skies), late October (midday temperatures of 65°F and gorgeous fall colors and low crowds in Zion), early November (we had a little bit of everything, from high temperatures in the 70's to snow, all in the same week), and late December (freezing temperatures, snow, but somewhat low crowds, even for it being a holiday week).
October was my favorite time to visit. The temperatures were wonderful, crowds were light, and the fall colors in Zion made the park look even more beautiful than it normally does.
Surprisingly, I also really liked our November and December visits. Temperatures were cold, but while hiking we never got hot or needed to bring much water. Plus, like the fall colors in October, the snow was an added bonus.
Arrive Early to the Parks
From our experience, the majority of people arrive between 8:30 am and 10:30 am. This causes long traffic delays at the ticket booths which can add up to many minutes or even an hour waiting in line. And if you are in Zion, you'll wait another hour to board the shuttle.
We usually get into the parks around 7 am (or earlier in the summer). Finding parking spots is easy, hiking trails are empty, and the park feels peaceful and quiet (at least for a little bit). It might be painful getting out of bed early, but it's worth it for a better experience inside the parks.
If you have plans to hike the Zion Narrows or Angels Landing, try to be on the first shuttle bus of the day.
National Parks Pass
If you have plans to visit at least three of the Mighty 5, save yourself some money and purchase the National Park Pass. This pass (also called the America the Beautiful Pass) costs $80 and gets you into more than 2,000 recreational sites in the USA. The pass is valid for one year, so if you have plans to visit more National Parks, you will save even more money.
Learn More About Utah
Visit our Utah Travel Guide to read all of our articles about Utah. Not only does this cover the Mighty 5 but it also includes information about state parks and off-the-beaten-path destinations in Utah.
---
Do you have plans to visit Utah's Mighty 5? Comment below if you have any questions or if you would like to share your experience.
You Might Also Like:


Note: This post contains affiliate links. When you make a purchase using one of these affiliate links, we get paid a small commission at no extra cost to you.
All rights reserved © Earth Trekkers. Republishing this article and/or any of its contents (text, photography, etc.), in whole or in part, is strictly prohibited.