For jaw-dropping views over Zion National Park, it's hard to beat Observation Point. The entire hike is a beauty, but it is challenging. At 8 miles long and with 2300 feet of climbing, it is a steady climb to that final viewpoint. This is a classic Zion trail and well worth your time and effort, especially if you want views out over Angels Landing and the rest of Zion National Park.
Observation Point Hiking Stats
Distance: 8 miles
Elevation Gain: 2300 feet
Difficulty: Strenuous
Length of Time: 4 – 6 hours
When to go: Year round as long as the trail is free of snow and ice. The best seasons are Spring and Fall
Trailhead: Weeping Rock (stop #7 on the Zion Shuttle)

Observation Point elevation profile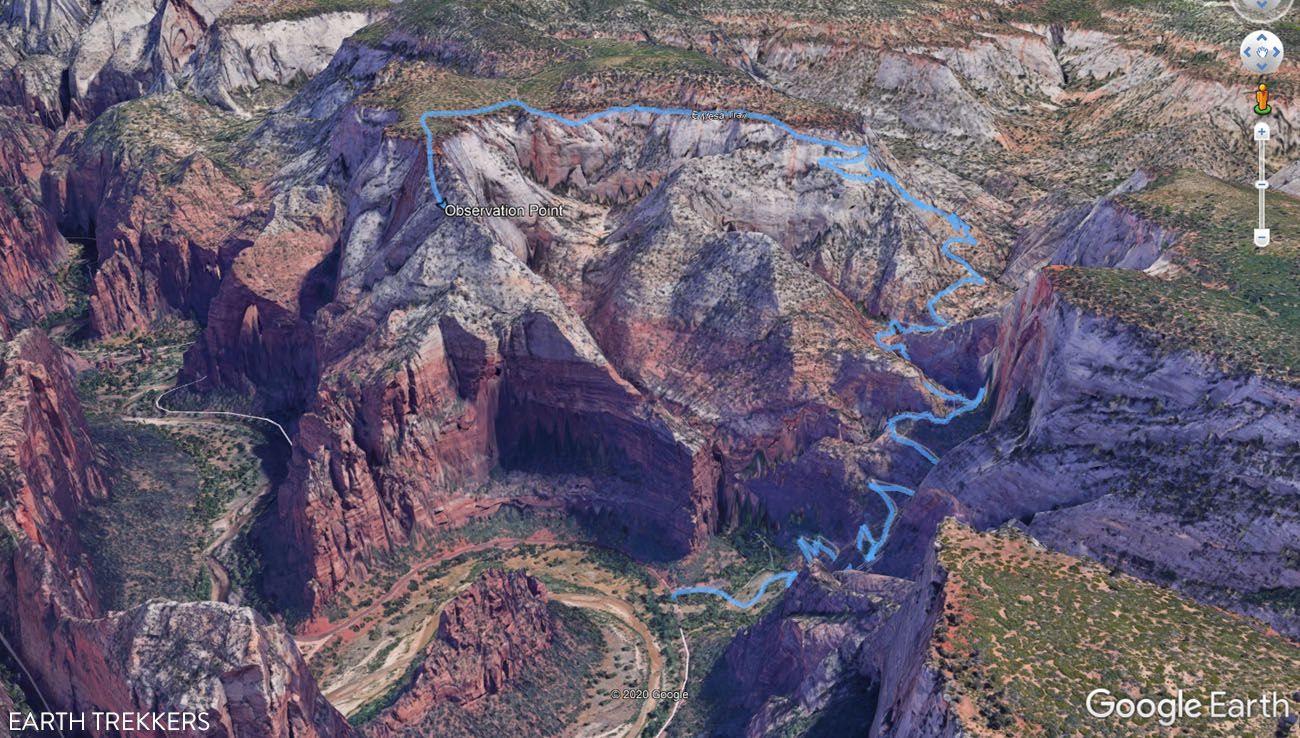 Observation Point Trail
IMPORTANT NOTE: The trail to Observation Point is currently closed due to damage from a rockfall. Get updates on trail status on the Zion National Park website.
Alternate Route: You can reach Observation Point by hiking the East Rim Trail. To do this, start at the East Rim Trailhead that is located near the East Entrance of Zion National Park on Route 9. Round trip, this hike is 20 miles long, so it's a massive day hike and should only be considered if you are an extremely fit and fast hiker. A second option is to hike to Observation Point on the East Mesa Trail. This is much shorter, with a round trip distance of 7 miles. This hike starts on the East Mesa Trailhead which is located outside of Zion National Park.
Hiking to Observation Point
After exiting the shuttle, the hike starts at the Weeping Rock trailhead. Almost immediately the climbing begins. It does not take long until you gain some serious elevation as you switchback up the mountain. This first part of the hike is the most monotonous and the least exciting, but it does get a lot better.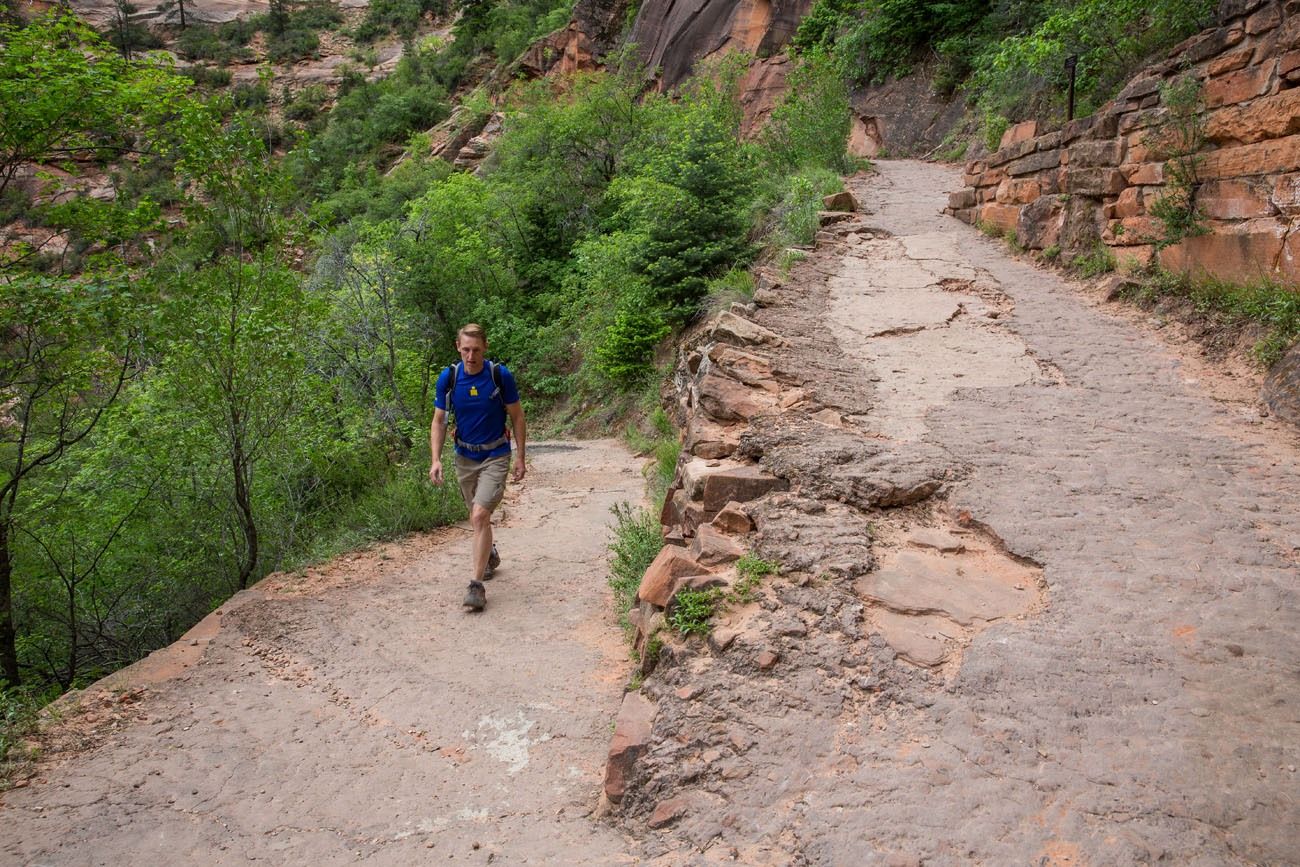 At ¾ of a mile into the hike, you have the option to make a detour to Hidden Canyon (skip ahead to learn how to do this).
Echo Canyon
After more climbing, the trail levels out in an area called Echo Canyon. This spot is amazing. Less climbing, cooler temperatures, and incredible scenery. For us, it was a very nice surprise. Enjoy this brief break…another long, strenuous climb awaits just around the bend.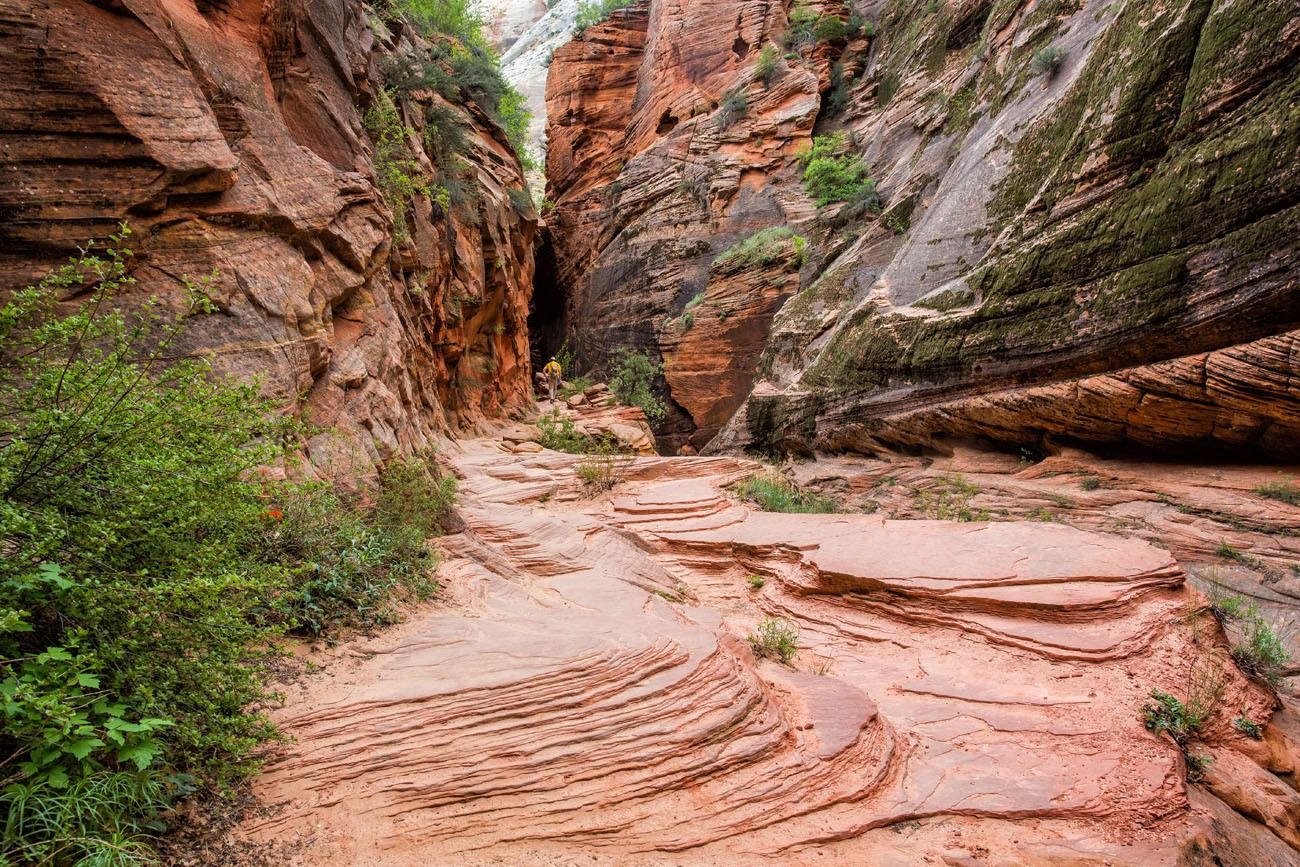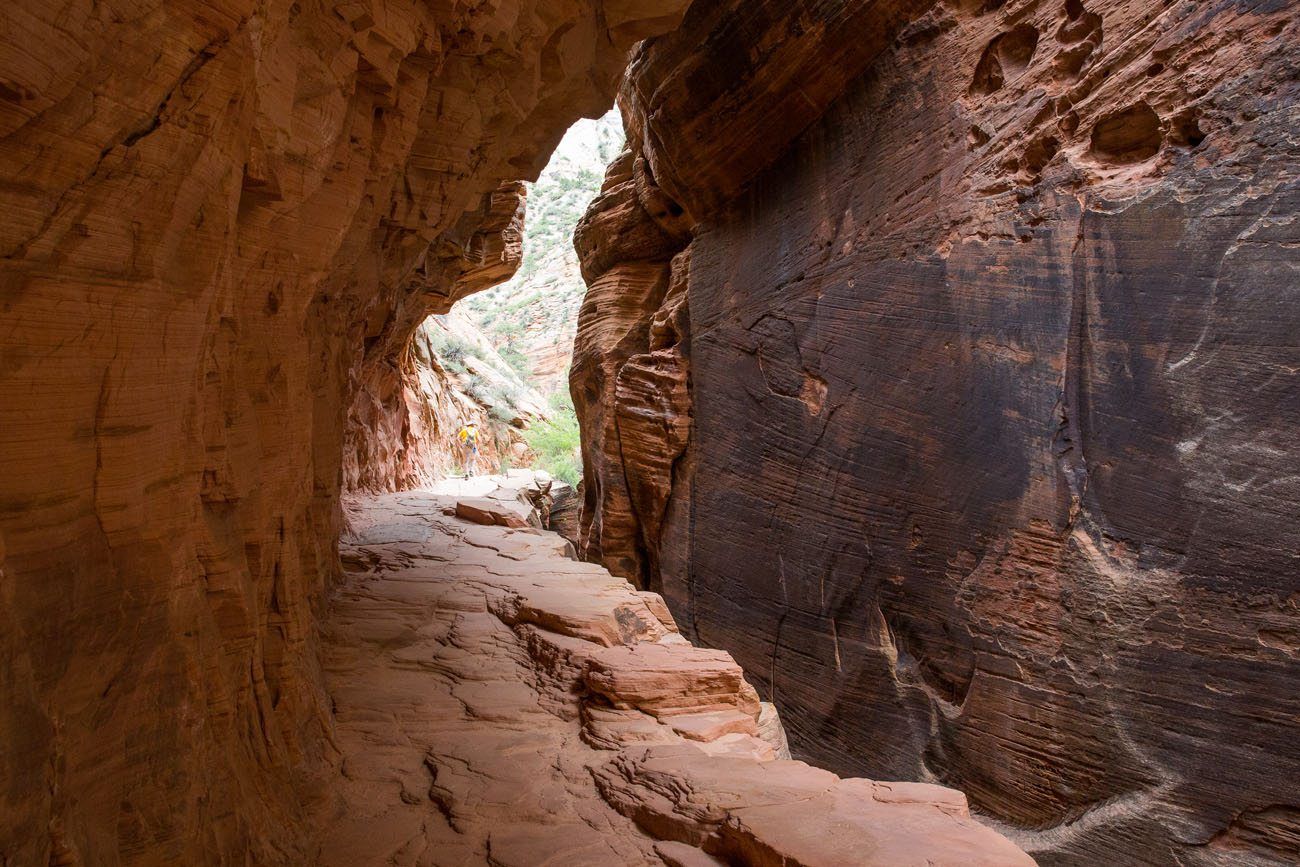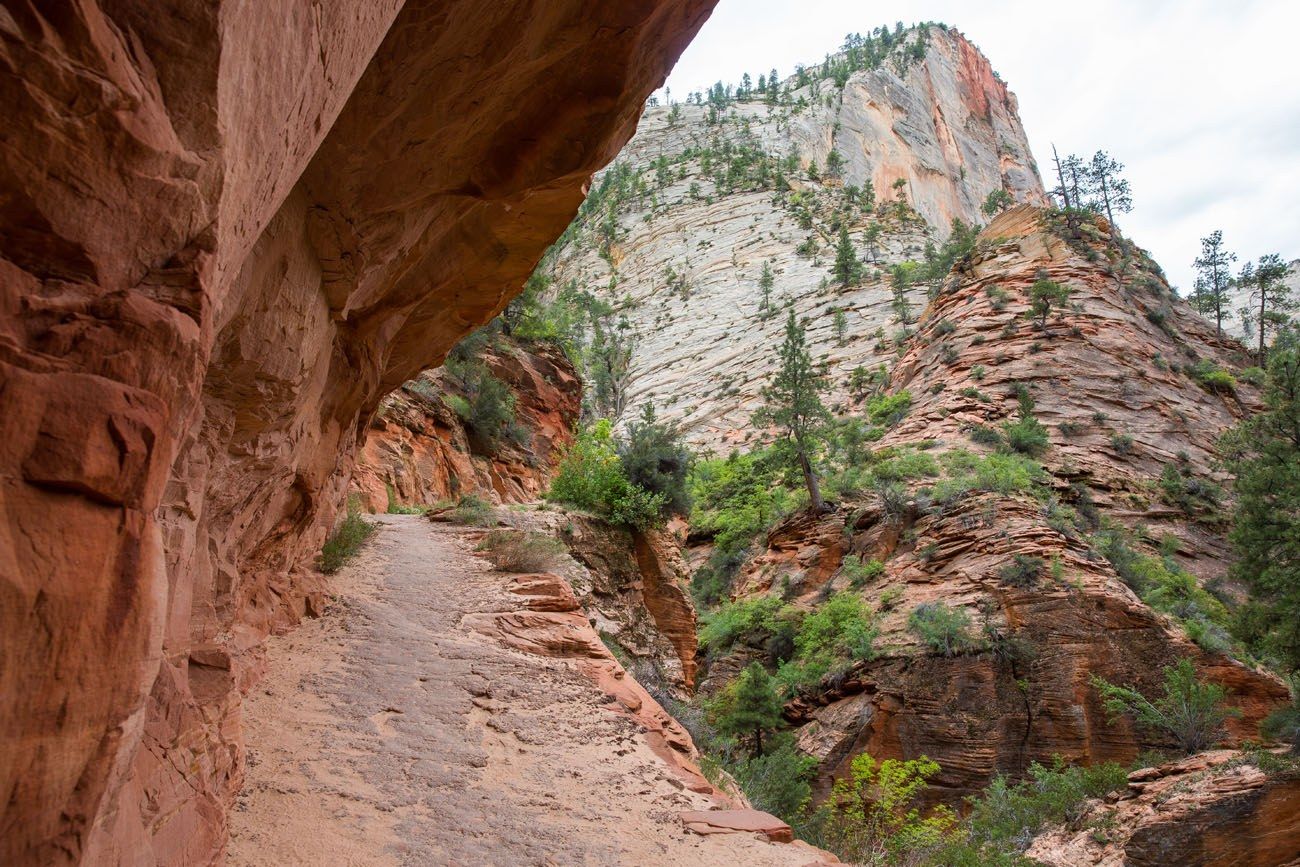 PRO TRAVEL TIP: If you do not have the stamina or the desire to hike all of the way to Observation Point, hiking just to Echo Canyon is a nice option. It's a neat place to explore, with canyon walls looming above you, fun hiking trails, and scenic views. You can explore and climb through the slot canyon, although it is filled with stagnant, chilly water.
After leaving Echo Canyon, the climbing resumes. The East Rim Trail will break off to your right, heading out to the eastern section of Zion National Park.
Once again, you will zig zag up the mountain. The switchbacks are tighter and steeper here than at the first part of the hike. The terrain is much different too, with yellow and white sandstone rocks, patchy vegetation, and the occasional evergreen tree. As you climb higher, the views get better, and you will start to get your first glimpses out over Zion National Park.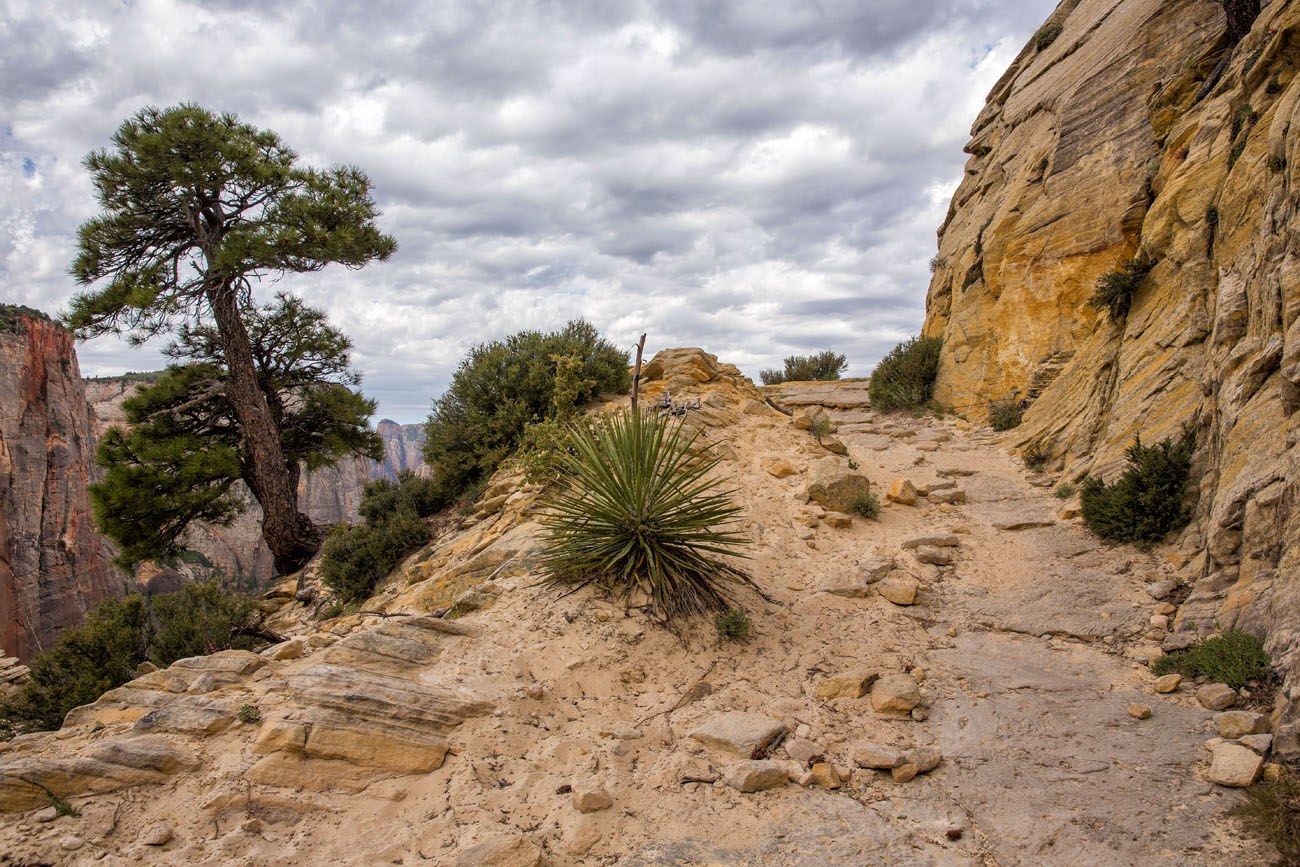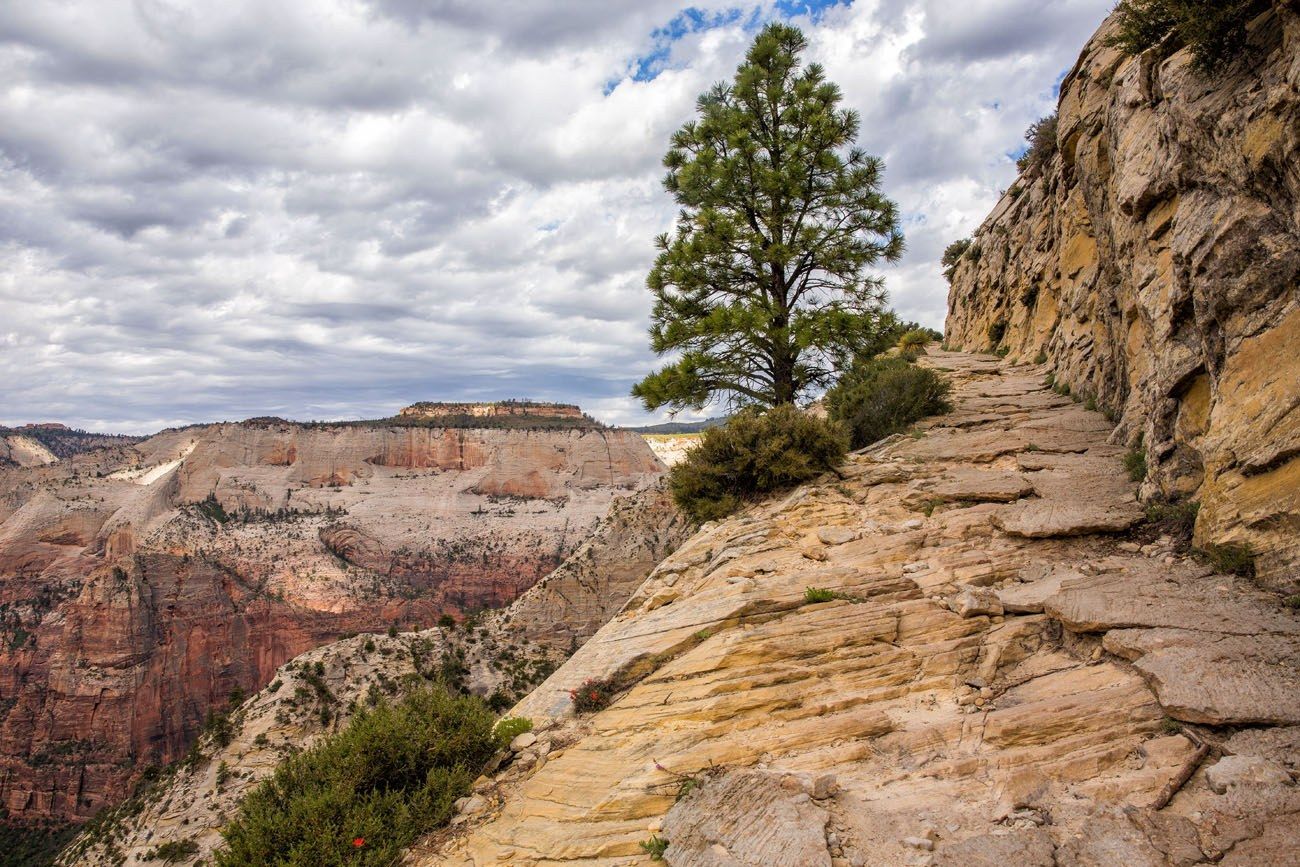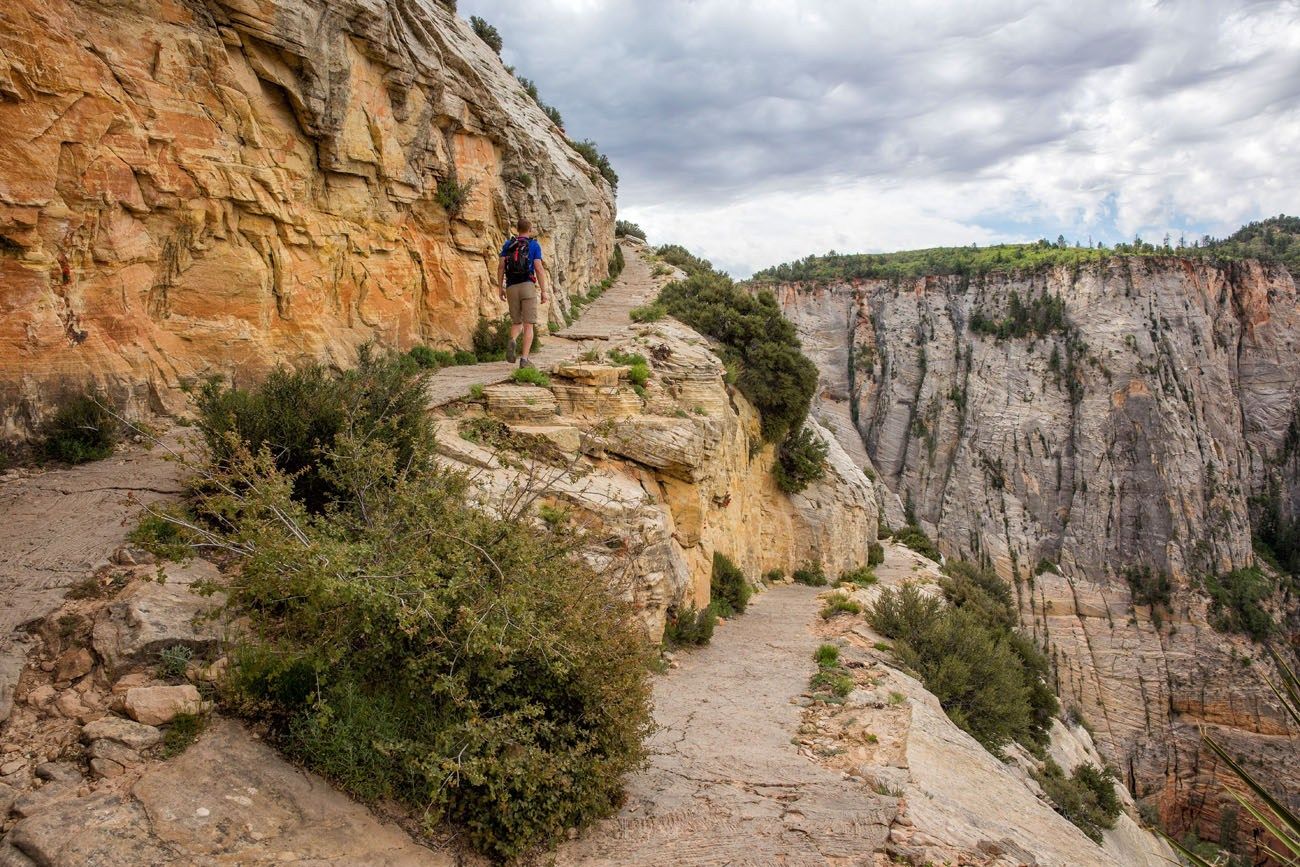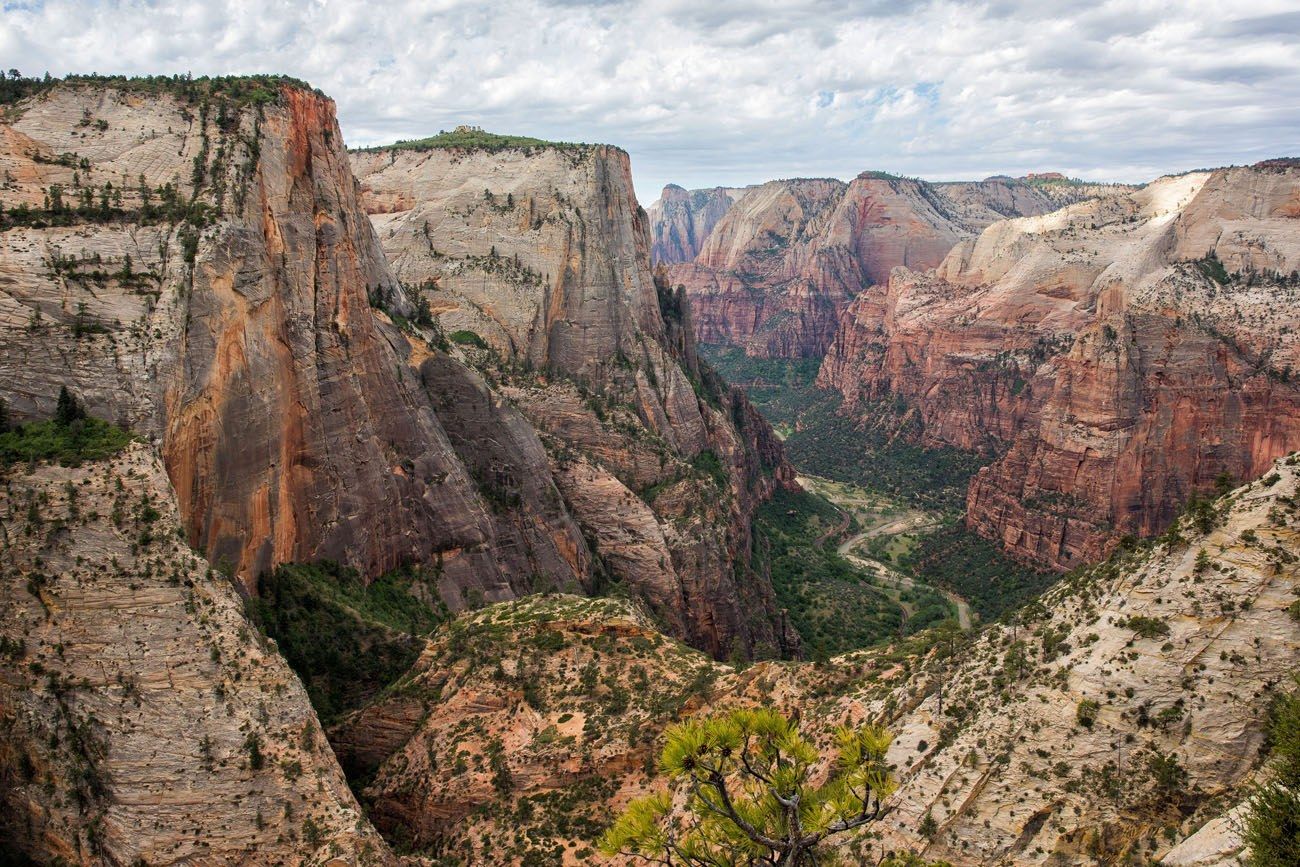 Finally, just when it seems like the climbing will never end, the trail levels out. Now, it is just small ups and downs for the next mile until you reach Observation Point. Off to your left is the river valley of Zion, with teaser views of what is awaiting you at Observation Point.
In this photo, if you follow the tree line on top of the white cliffs, Observation Point is the farthest point to the left.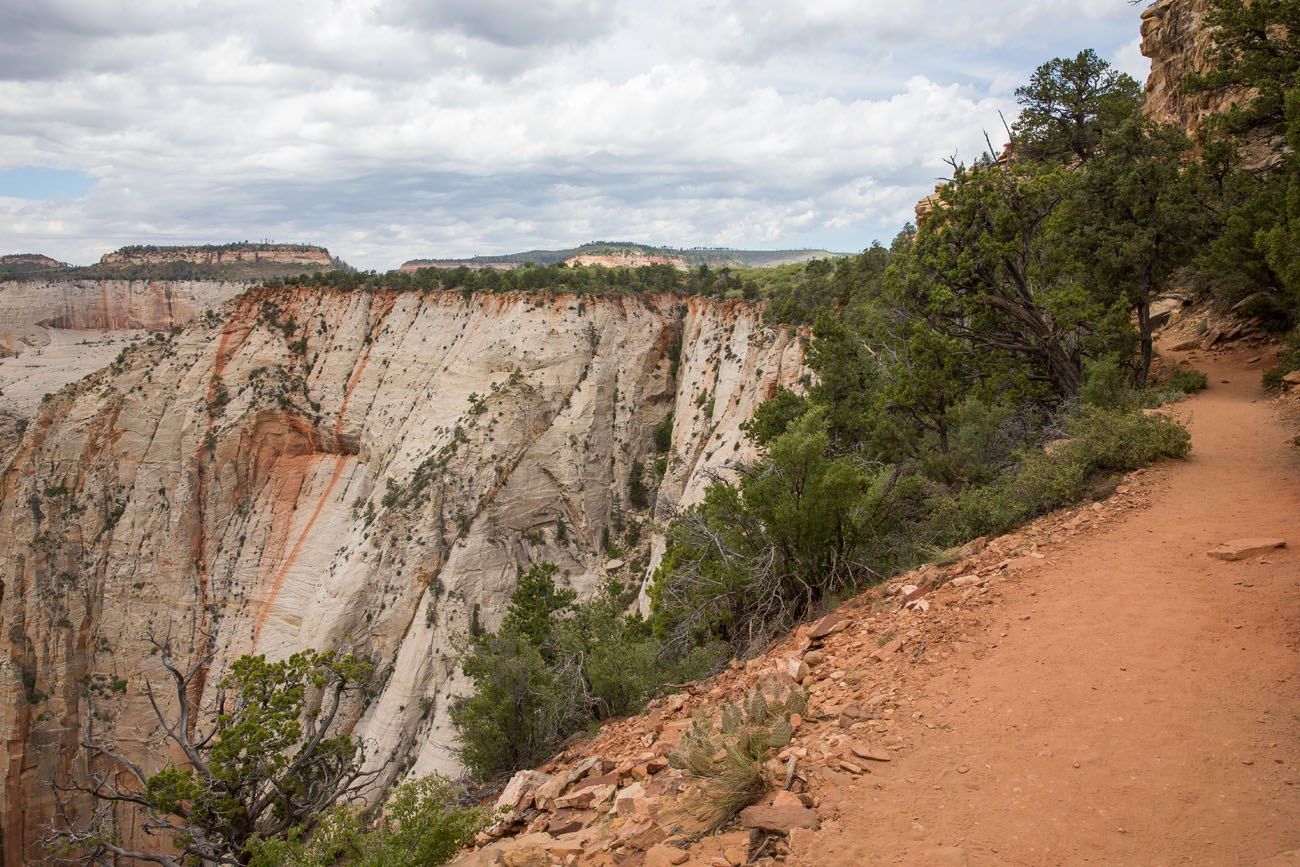 The View from Observation Point
Tim and I loved the views from Observation Point. It seems like all of Zion is stretched out in front of you. From this point, you can look down on Angels Landing and the Virgin River snaking its way through the valley.
Have fun exploring the numerous viewpoints, take your selfies, and enjoy the view.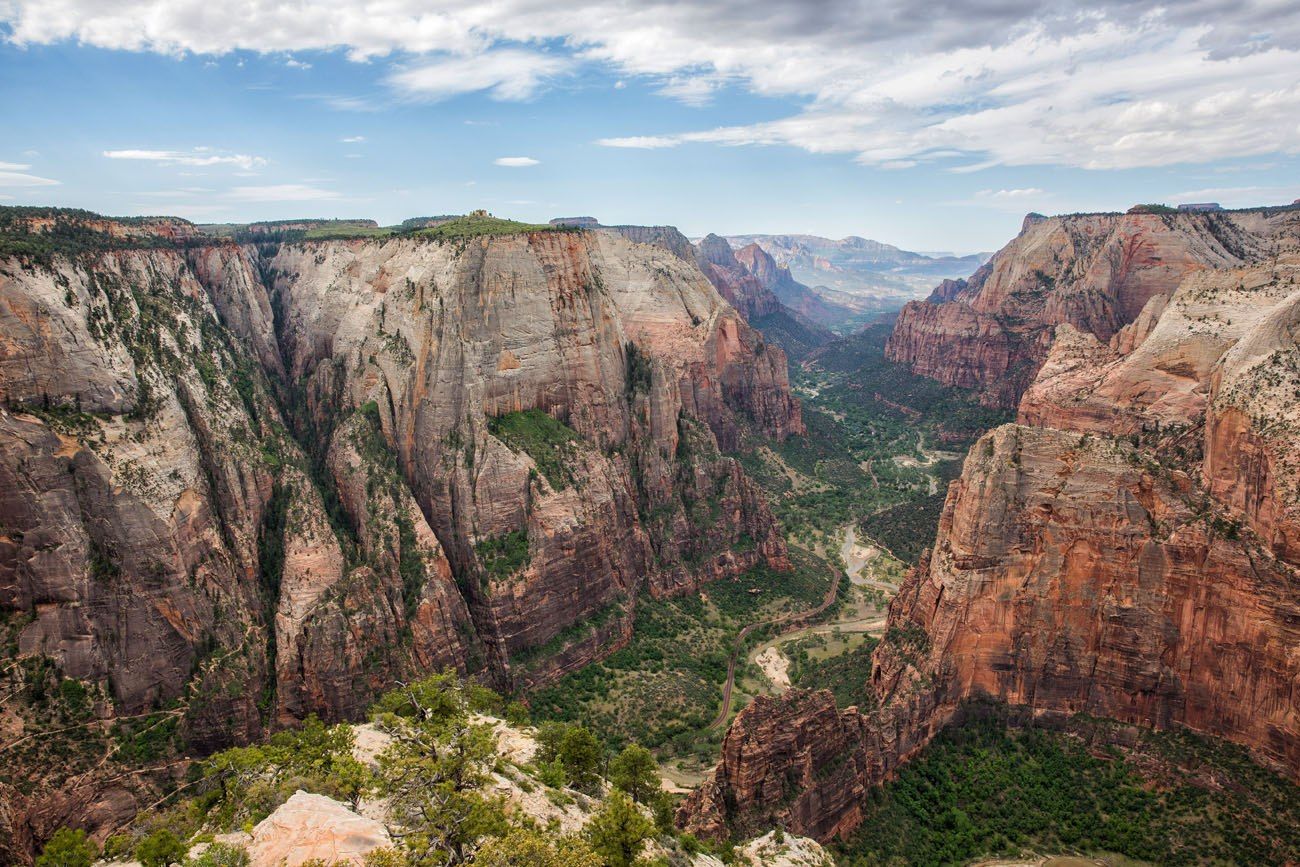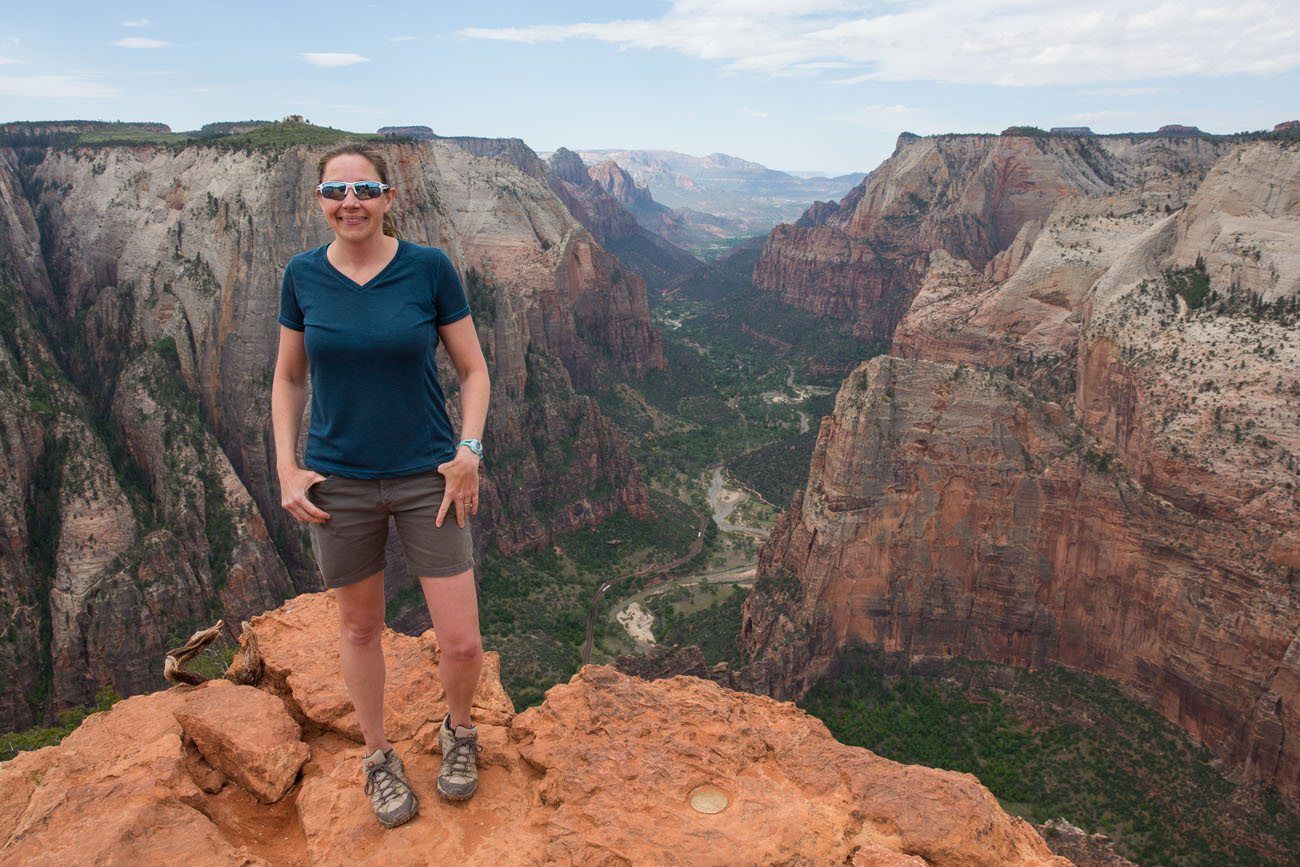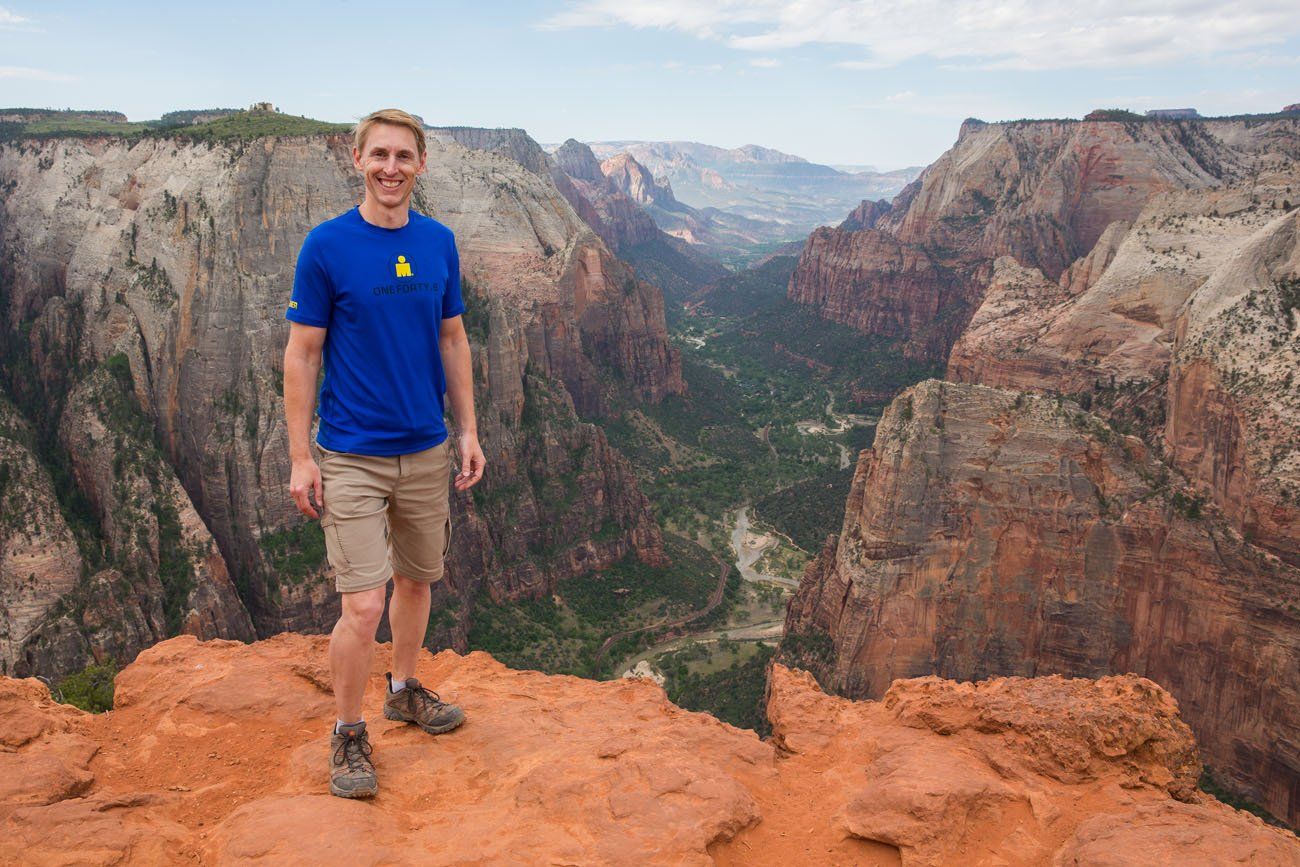 Looking down on Angels Landing, including the entire spine you hike to get out to the final viewpoint.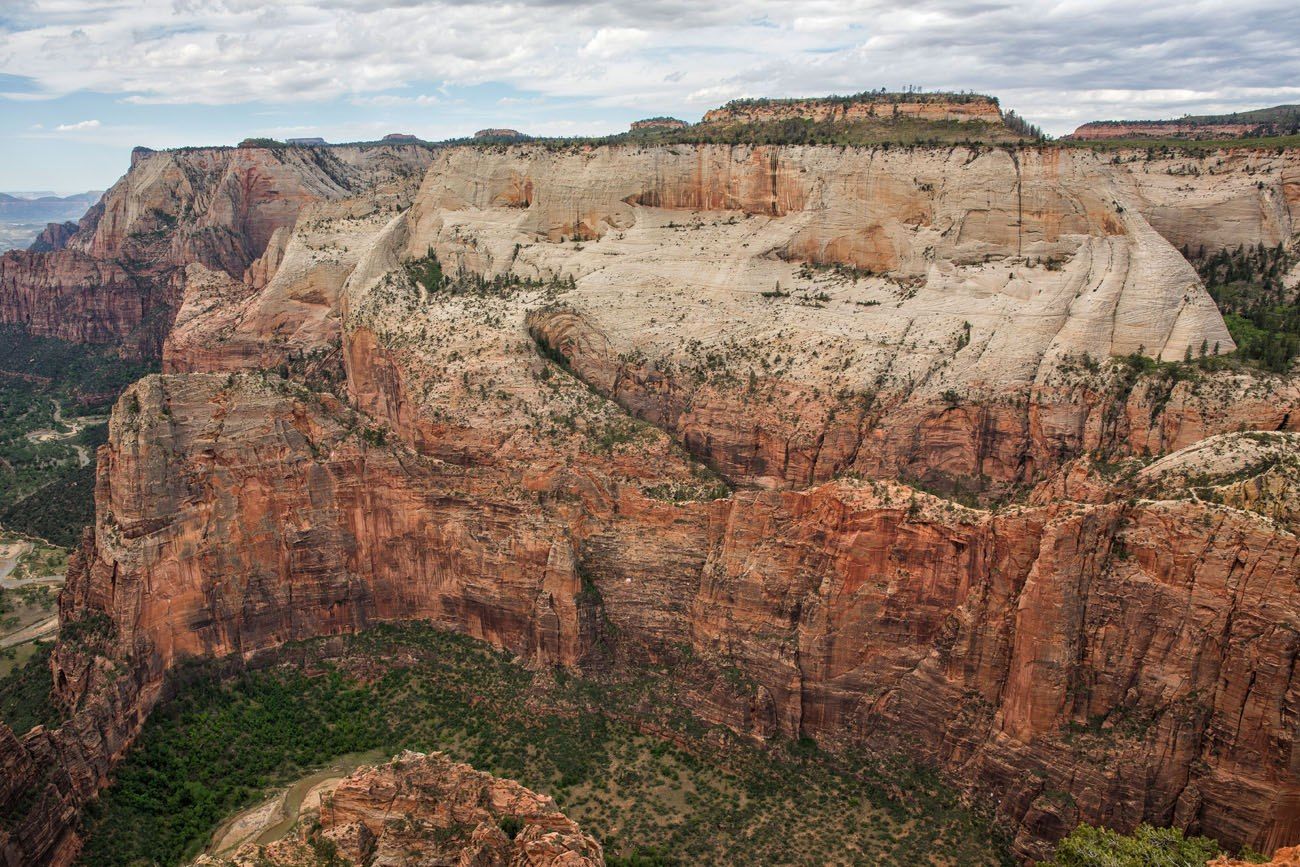 Looking out over the western portion of Zion National Park.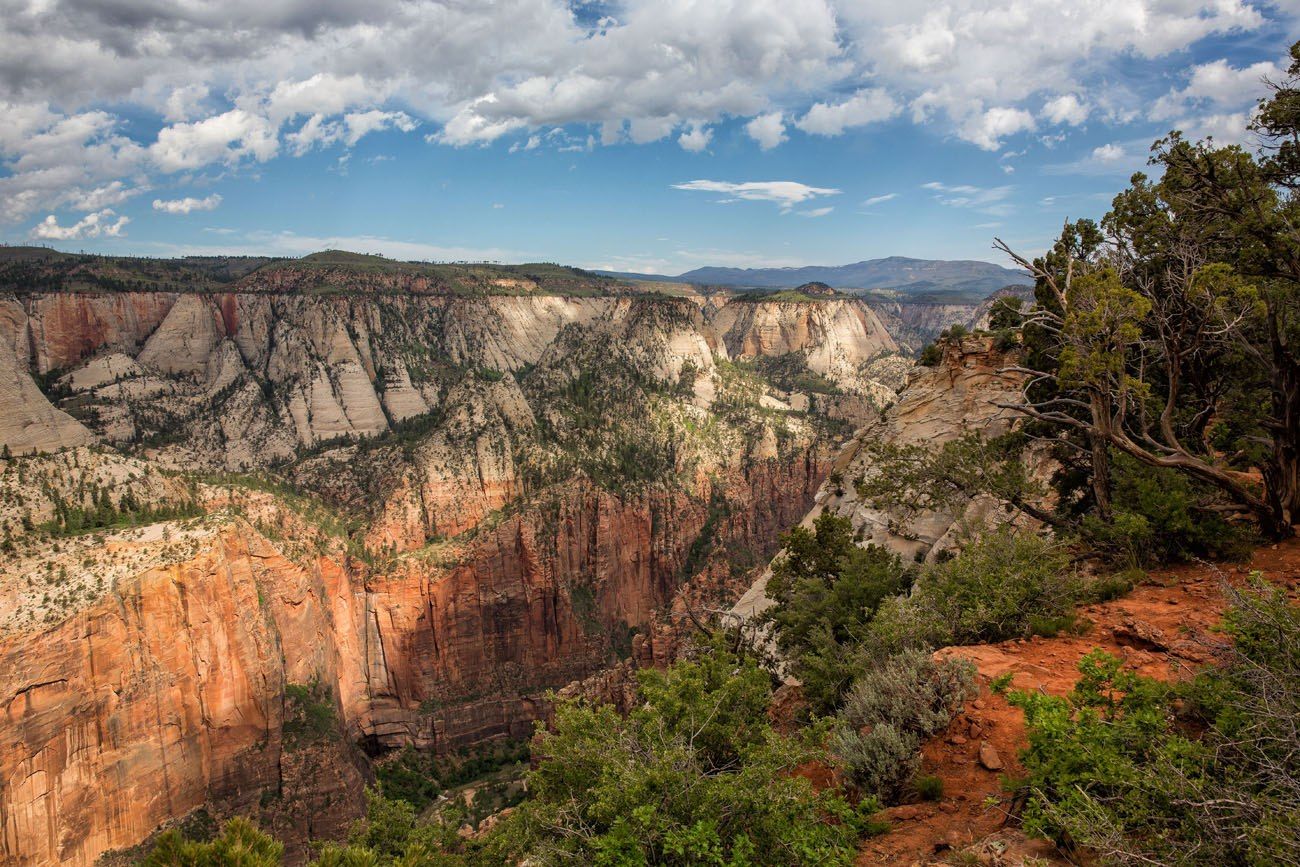 You can even see where you came from. The large zig zags to the left are the trail to Observation Point. The narrow zig zags and the trail on the cliffs to the right take you to Hidden Canyon.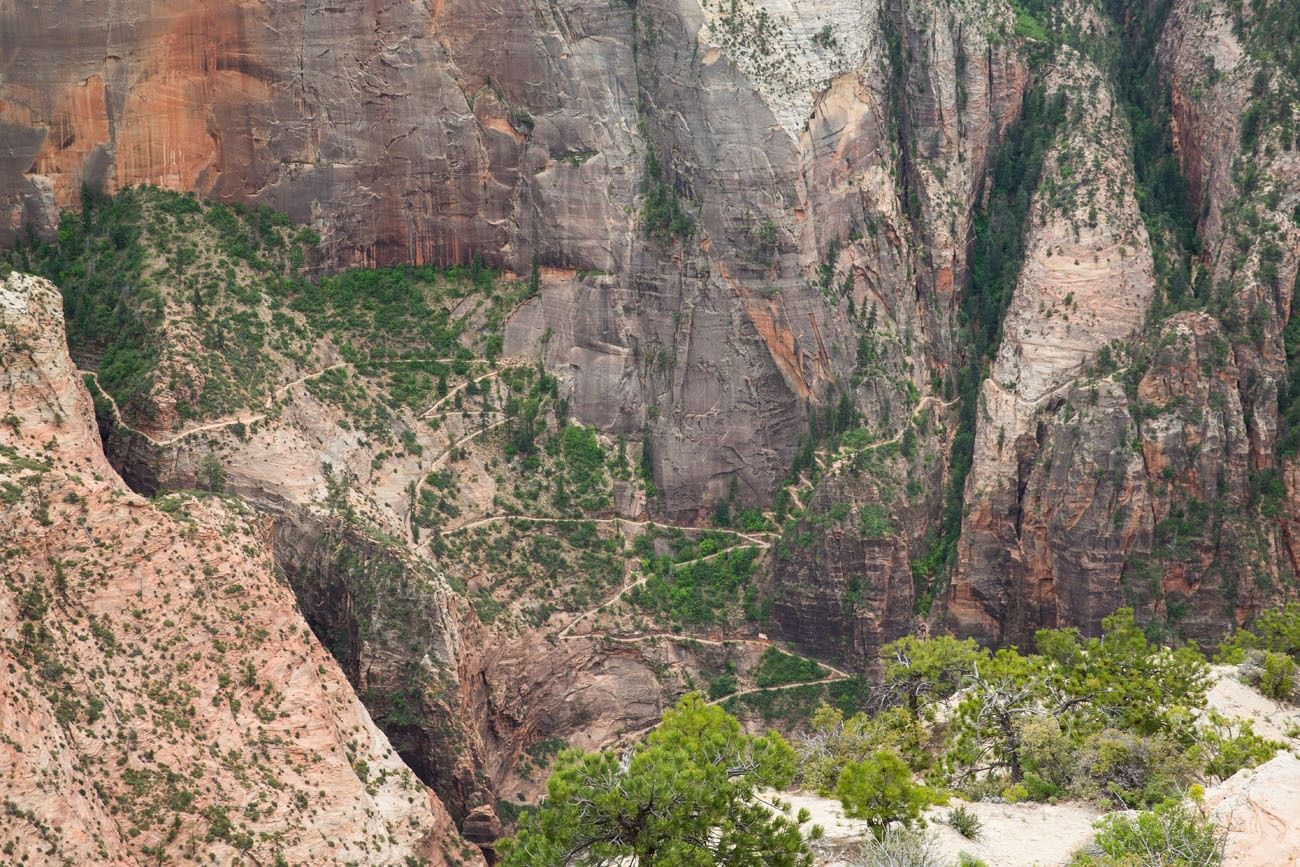 To finish the hike, follow the trail the same way down the mountain. This descent can be hard on the knees and hiking poles are a good idea here to take some of the strain off of your legs.
Please practice the seven principles of Leave No Trace: plan ahead, stay on the trail, pack out what you bring to the hiking trail, properly dispose of waste, leave areas as you found them, minimize campfire impacts, be considerate of other hikers, and do not approach or feed wildlife.
What to Bring on the Hike
Hiking Shoes. Hiking shoes are preferable, however, running shoes with good support and good traction are sufficient.
Water. Bring plenty of water, especially if you will be hiking midday or during the warmer months.
Sunscreen. There is very little shade on the trail.
Hiking poles (optional). Hiking poles are my new favorite hiking gadget and I highly recommend them. They take about 30% of the weight off of your legs as you descend, easing knee pain and other symptoms. I use Black Diamond Distance Z poles and love them. They easily collapse down to fit in your luggage and hiking backpack, plus they are extremely lightweight. The poles come in several sizes, so make sure you pick the right length based on your height.
If you are new to hiking or are curious about what you should bring on a hike, check out our Hiking Gear Guide. Find out what we carry in our day packs and what we wear on the trails.
Where We Stayed
We stayed at the Holiday Inn Express in Springdale, one of the best Holiday Inn properties we have seen. It is located along the Springdale Shuttle route, so you can get around town and into Zion National Park without a car. We stayed here during both of our visits to Zion and it's our go-to hotel in town.
---
Have you been to Zion? What is your favorite hike? Comment below!
More Information about Zion & Utah
ZION ITINERARY: Learn how to plan your perfect Zion itinerary, whether you have a day or a week.
HIKES IN ZION: The Narrows, Angels Landing, Canyon Overlook, and the West Rim Trail are some of the top hiking trails in Zion. For the full list, read our Best Hikes in Zion guide.
ZION TRAVEL INFORMATION: Before you go, here are 5 important things to know about Zion National Park.
AMERICAN SOUTHWEST ITINERARY: On the ultimate road trip through the American Southwest, visit the Grand Canyon, Utah's Mighty 5, and several awesome state parks. Get the full details in our American Southwest Itinerary.
MORE GREAT HIKES IN THE NATIONAL PARKS: From hikes to the tallest peaks to beautiful coast trails, read our Guide to the Best Day Hikes in the US National Parks. If you prefer to keep your hikes short and sweet, read our guide to the Best Short Hikes in the National Parks.
NATIONAL PARKS: In our Guide to the US National Parks, get the full list of national parks with important travel planning information, such as things to do in the parks and sample itineraries.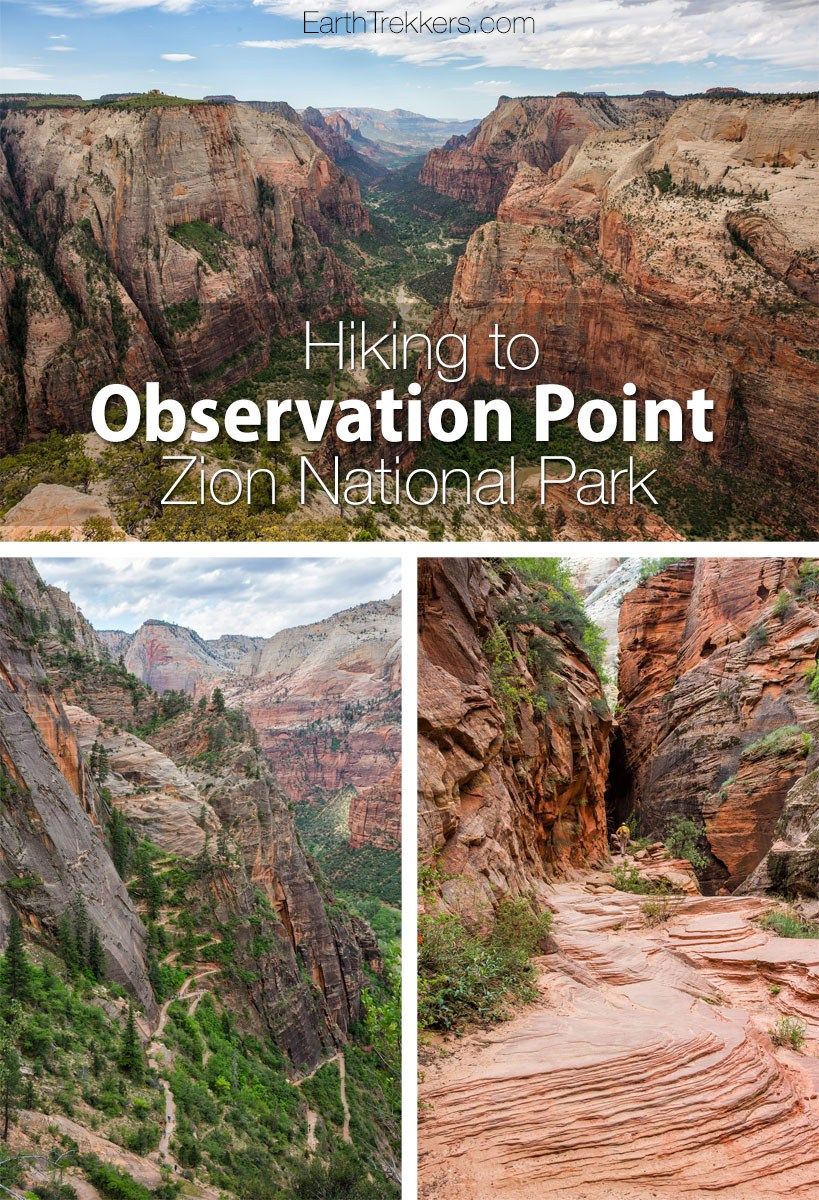 Note: This post contains affiliate links. When you make a purchase using one of these affiliate links, we get paid a small commission at no extra cost to you.
All rights reserved © Earth Trekkers. Republishing this article and/or any of its contents (text, photography, etc.), in whole or in part, is strictly prohibited.