The Zion Narrows is one of Zion's most popular hikes, for good reason. This is the quintessential slot canyon hike. For miles, you hike in the North Fork of the Virgin River, surrounded by sheer rock walls and amazing beauty. It's challenging, it's unique, and it makes for a very memorable experience.
There are several different ways you can hike the Zion Narrows. You can hike it as a quick day hike from the bottom-up or you can hike the entire length of the Narrows from the top-down. From the top-down, it can be done as a two day backpacking trip or as a very long and challenging one-day hike.
We hiked the Narrows from the top-down as a day hike in October 2018. It was an epic day and one of our favorite hiking experiences of all time. To experience the raw beauty of this place, walk for miles in the Virgin River, and watch as the canyon walls steadily grew up around us, was unforgettable.
If you are looking for a hike that will astound you, test your limits, and give you a greater appreciation for the beauty of the American Southwest, the Zion Narrows is perfect for you.
This is not your average hike. There are a lot of things to think about that you don't necessarily deal with on other hikes…water flow rates, permits, flash flood potential, special gear, and the challenge of walking in a river for many miles. We cover all of this in this article so you can have the best experience when your time comes to hike the Zion Narrows.
Important Note: Currently, there is a toxic Cyanobacteria bloom in the Virgin River. Levels of the bacteria are fluctuating and when they get too high, the National Park Service closes the Narrows. Click here to learn more.
What is the Zion Narrows?
The Narrows is a 15-mile stretch where the North Fork of the Virgin River carved its way through rock, creating one long slot canyon. Most of the Narrows is located in Zion National Park, but the first section (if you hike from the top-down) begins on private property just northeast of the park.
The entire hike is 16 miles long. From the top-down, the hike begins at Chamberlain's Ranch and the Narrows ends 15 miles later at the top end of the Riverside Walk. One more mile of walking on the Riverside Walk gets you to the finish line of the hike, the Temple of Sinawava.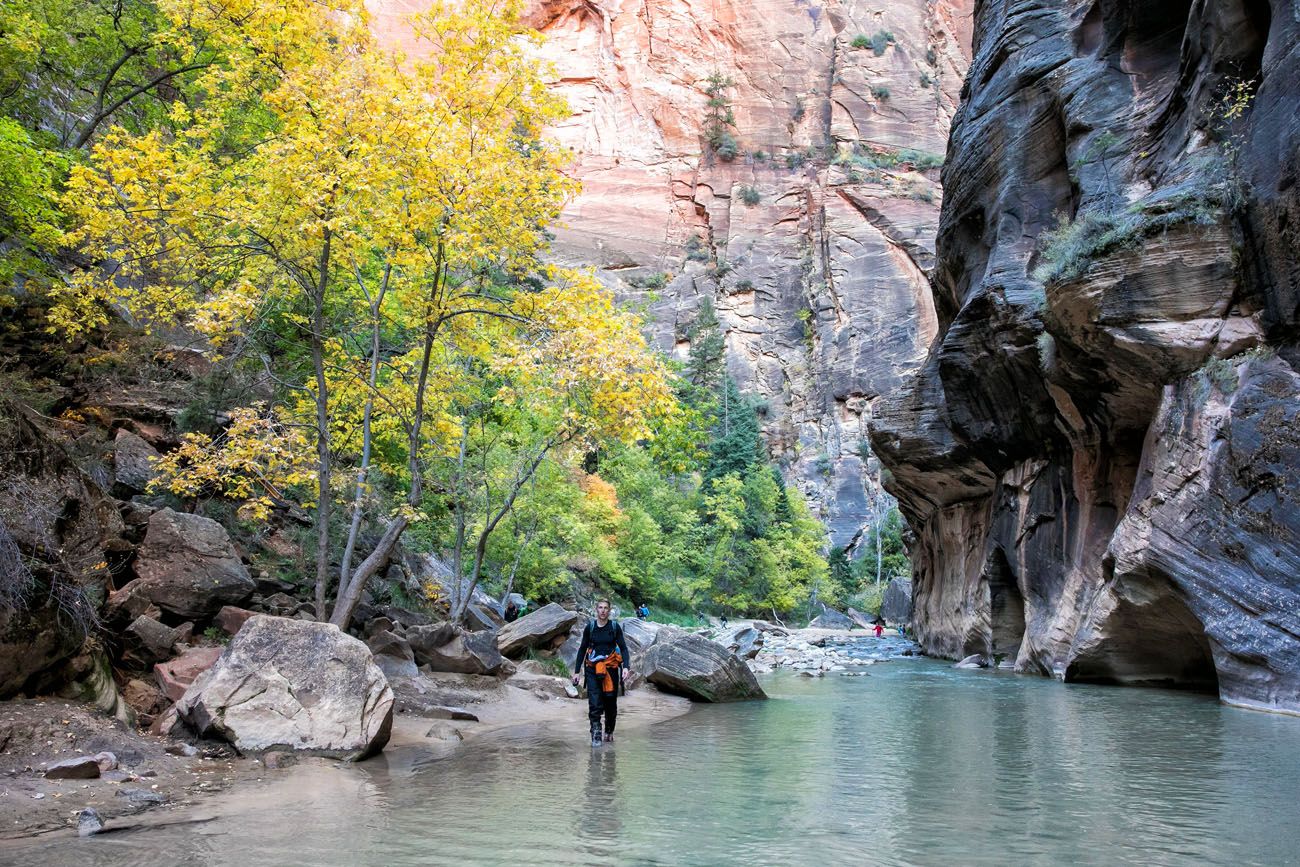 Options for Hiking the Zion Narrows
From the Bottom-Up
This is the most popular option. Starting at the Riverside Walk, you simply hike upriver for several miles, enjoy some of the best scenery of the Narrows, and return the same way you came. If you walk all of the way to Big Springs (the farthest you can go without a permit) your journey will take you 10 miles round trip. No permit is necessary to hike from the bottom-up, which is why it is so popular. Expect big crowds during the summer months.
From the Top-Down
This is a 16-mile point-to-point hike that starts at Chamberlain's Ranch and ends at the Temple of Sinawava.
As a Two-Day Backpacking Trip
This is the most popular option. On day 1, you hike from Chamberlain's Ranch to one of 12 campsites along the river. On day 2, you hike the rest of the way to the Temple of Sinawava. A permit is necessary and you reserve your campsite when you reserve your permit.
As a Day Hike
Hiking the Narrows top-down in one day is no easy feat. You need to be fit and fast in order to do this. The average amount of time to hike the Narrows from the top-down is 10 to 13 hours, but it takes most people 12 hours, once you factor in time for rest breaks, photos, and meals. A permit is necessary.
Hiking the Zion Narrows from the Top-Down
Hiking Stats
Distance: 16 miles
Elevation Loss: 1500 Feet
Difficulty: Strenuous
Length of Time: 10 – 13 hours average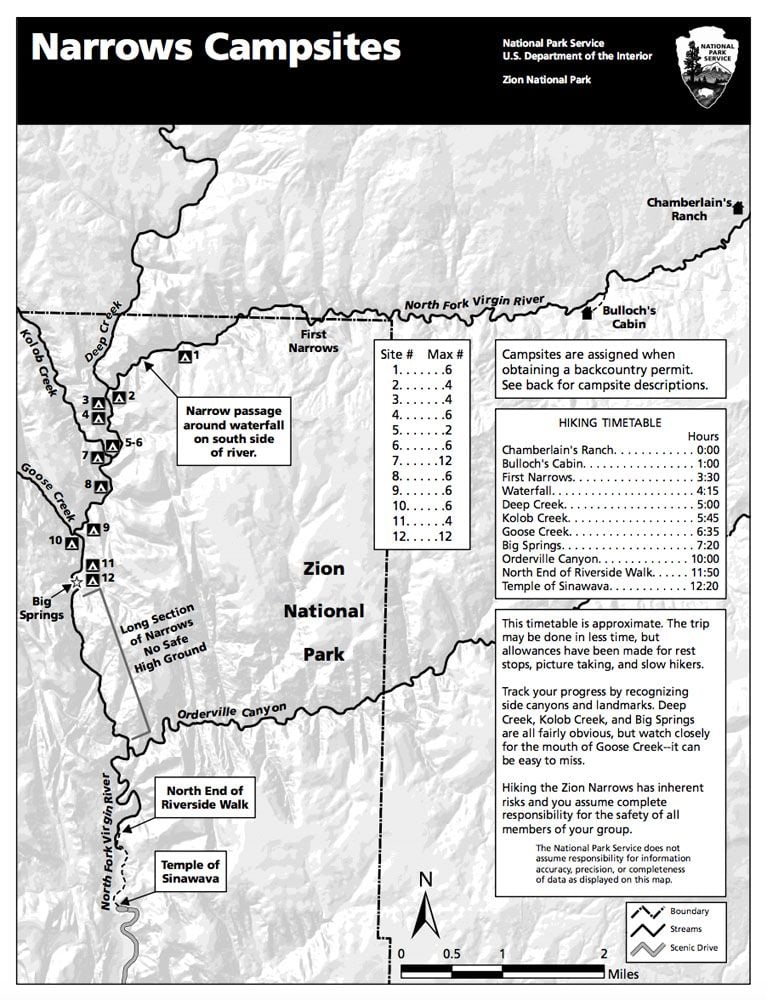 Overview of the Route
Miles 0 – 3. The hike starts at Chamberlain's Ranch. The first 3 miles are fast and easy on a gravel road.
Miles 3 – 9. This is the top section of the hike. You head west from Chamberlain's Ranch until you meet the confluence of Deep Creek. The canyon starts off low and the walls steadily grow in height the farther you go. There are two short sections where the walls really close in on you.
In fact, our favorite part of the entire hike was in last mile of this section. To stand in this narrow canyon, dwarfed by immense height of these walls, was incredible. Plus, we were all on our own, a truly magical experience.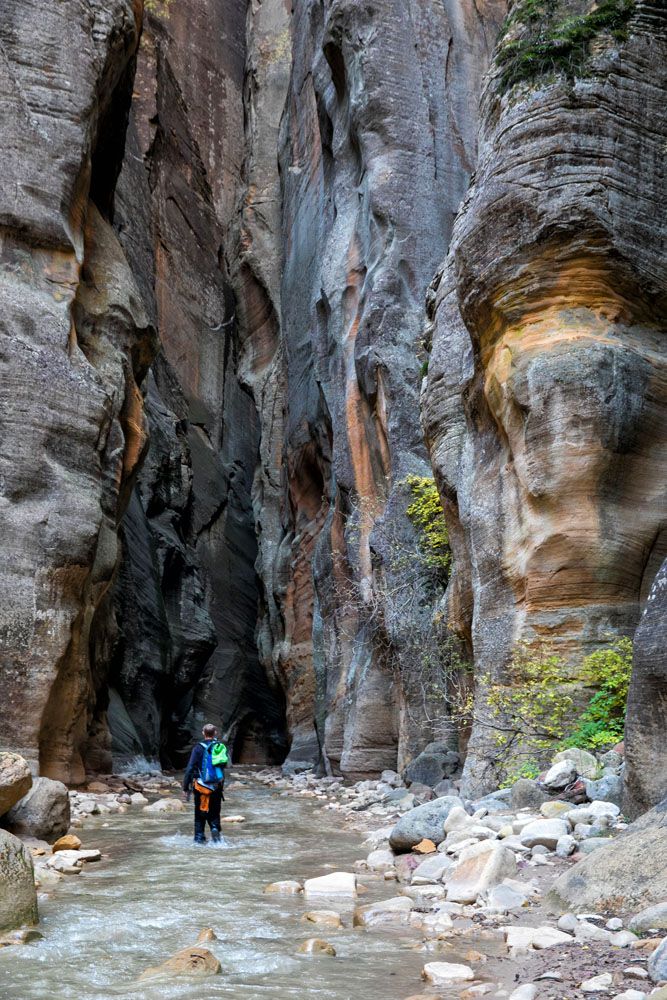 Miles 9 – 11. Now you head south towards the heart of Zion National Park. The campsites are sprinkled along the river's edge in this section of the hike and the scenery is similar to miles 3 through 9, although the canyon walls are higher.
Miles 11 – 13.5. This is a spectacular section of the Narrows. At approximately mile 11, you will pass Big Springs. This is where you will meet bottom-up hikers for the first time.
The water gets deeper, obstacles become more numerous, and hiking speeds tend to slow down here. This is where you will hike through Wall Street, the iconic section featuring tall canyon walls and narrow passageways.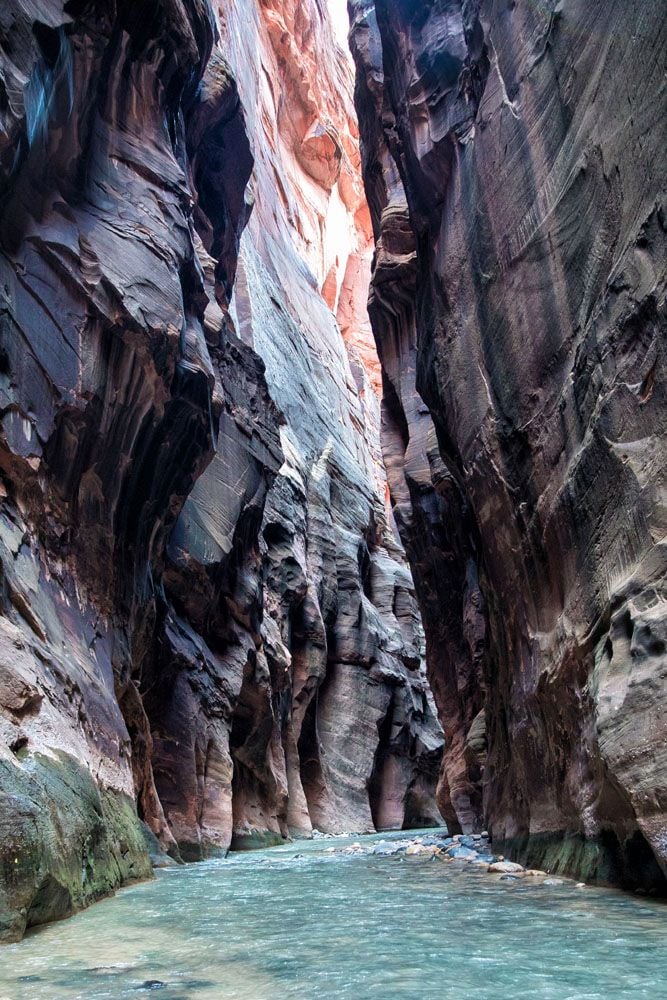 Miles 13.5 – 15. At mile 13.5, Orderville Canyon joins the Narrows and Wall Street ends. The canyon widens a bit and hiking gets easier again. This is another gorgeous section of the hike.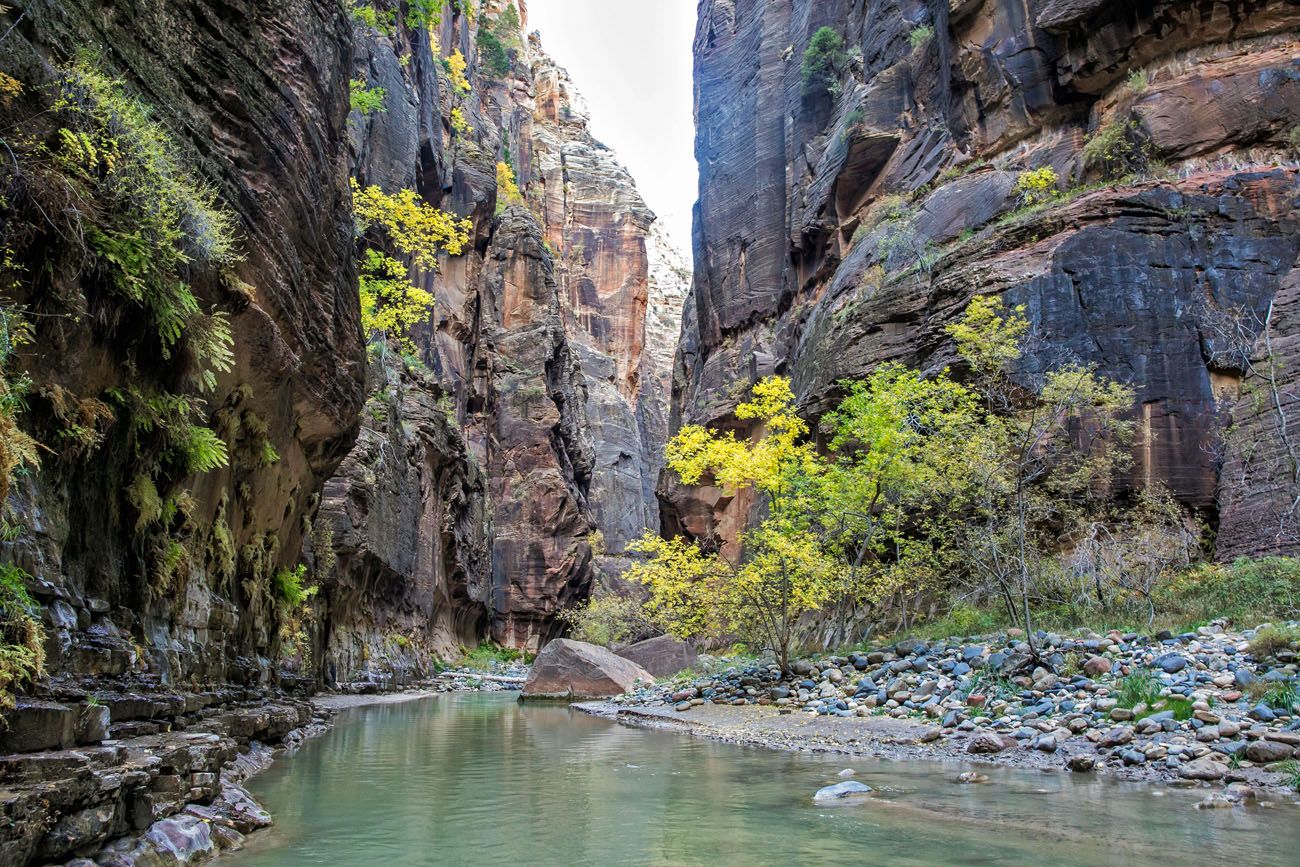 Mile 15 – 16. At mile 15, your feet hit dry ground again. As much as we loved the hike, it really felt good to get out of the river. It's an easy walk on the paved Riverside Walk to get to the Temple of Sinawava and the Zion Shuttle.
PRO TRAVEL TIP: Have a dry set of clothing and shoes in your car. It was wonderful to finally remove our wet neoprene socks and boots.
---
Do you want to see more photos of the hike? Journey through the Zion Narrows in photos to see what it is like to hike from Chamberlain's Ranch to the Riverside Walk.
---
What Is It Like to Hike the Narrows Top-Down as a Day Hike?
It's a big day.
This is not to be underestimated. 16 miles is a long way to go and walking through the river can really slow you down. With factors like flow rates, water temperature, and weather conditions, no two experiences are the same.
We hiked the Zion Narrows on October 29. Here are some stats about the conditions on the day we hiked the Narrows.
Flow Rate: 45 cfs

Water Temperature:

49°F

Springdale High Temperature:

75°F (10°F warmer than average)

Morning Temp at Chamberlain's Ranch:

low 30's

Sunrise:

7:55 am

Sunset:

6:37 pm

Last shuttle pick up at the Temple of Sinawava:

7:15 pm
# of Hours to get to the Temple of Sinawava: 11
We had perfect conditions. For it being so late in the year, we really got lucky and had a warmer than average day. Just two days later, the high temperature was only 59°F in Springdale.
Even though it was in the mid-70's in Springdale, it's much cooler in the Narrows. Temperatures in the Narrows can be 10 to 20 degrees cooler than the temperatures in Springdale.
We started off feeling cold but quickly warmed up once we got moving. We had lots of gear to keep us warm and dry and just as long as we kept moving, we stayed warm.
Since it's an overall downhill walk, it feels easy at first. But towards the end of the hike, once you've been walking for hours, carrying a backpack, and trying to keep your balance on slippery rocks while slogging through the water, it does get to be exhausting.
The hardest part of this hike, at least for us, was walking on the slippery, uneven ground of the river. You will spend a lot of energy trying to keep your balance and pushing through the river. And if you do this when flow rates are higher (over 70 cfs) it will be even more challenging.
If you want to hike the Narrows as a day hike from the top-down, you need to be prepared for a long, tiring day. When choosing your hiking date, you need to consider possible weather conditions, how many hours of daylight you will have, and the hours of operation of the Zion Shuttle. From drop off at Chamberlain's Ranch at 8 am, we only had 11 hours until the last shuttle at the Temple of Sinawava. It felt a little bit like a race, but we thrive on that kind of challenge.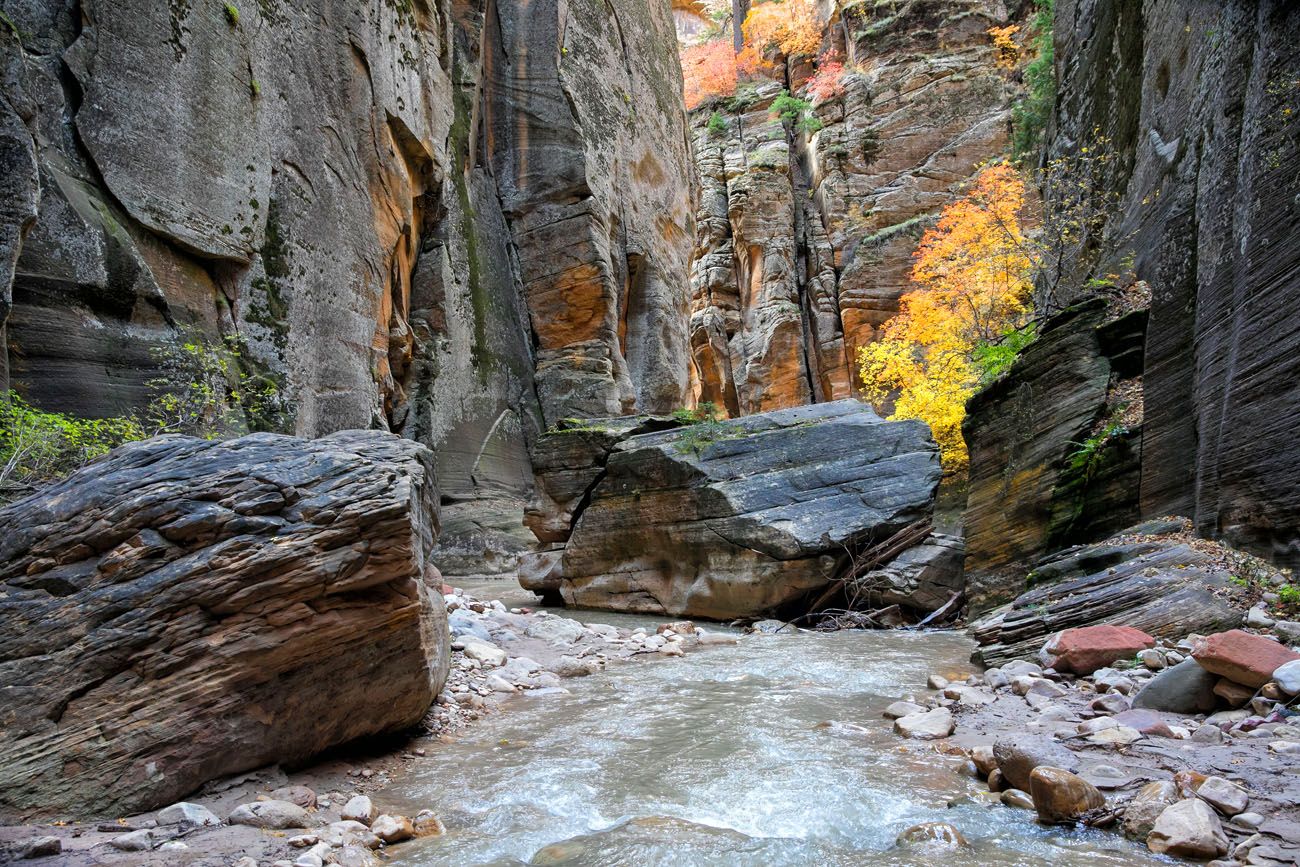 How Fit Do You Need to Be?
If you are hiking from the top-down in one day, you need to be a very fit and fast hiker. It's an overall downhill walk, since you walk downstream the entire way, but walking through water, on slippery boulders and uneven ground, can be exhausting.
This is not a hike to take lightly. This was also the first hike that Tim and I ever "trained" for. We had 11 hours to do a hike that takes most people 12 hours to do. With a shuttle drop-off time of 8:15 am at Chamberlain's Ranch and a final pick-up time of 7:15 pm at the Temple of Sinawava, that gave us just 11 hours to walk 16 miles. Plus, if we were out past 6:30 pm, we would end up hiking in the dark. We had to be fast, or else we risked a long, extra walk to the Zion Lodge or Visitor Center in the dark.
Before doing this hike, we were doing long runs of 10 miles with several shorter runs during the week. We also swim, bike, and weight train several days a week.
Our training paid off and we completed the hike in 9 hours, so we had plenty of time to spare. Even with our training, the last few miles were tiring, but the hardest part was walking on uneven ground for so long.
If you plan to hike the Zion Narrows top-down as a day hike, you need to be in great physical shape. You should be able to walk 10 miles while wearing a backpack without much difficulty.
When to Hike the Narrows
Spring: The Narrows is usually closed from mid-March to mid-May when flow rates are high from snowmelt and spring run-off. This does vary year to year depending on weather conditions. The National Park Service will not issue permits if the flow rate is over 150 cfs.
Summer: This is a great time to hike the Narrows. Air and water temperatures are warm, the days are long, and shuttle service runs until roughly 9 pm at night, giving you plenty of time to hike from the top-down as a day hike. This is the most crowded time of year so expect to share the Narrows with lots of hikers between Big Springs and the Riverside Walk. This is also the hardest time to get a permit. Flash floods are possible this time of year.
Fall: This is a spectacular time to hike the Narrows. Crowds are thinning, the leaves start to change colors, and in early fall the weather is very pleasant. As it gets later into the season, you lose precious hours of daylight and the temperatures can really cool off. The Zion Shuttle schedule can also have a big impact on your experience. September 29, 2019, will be the last day the shuttle makes its 9:15 pm pick-up from the Temple of Sinawava. On September 30, the last pick-up time of the day is 7:15 pm, cutting your hiking time short by a massive 2 hours.
What happens if you miss the last shuttle of the day? You will have to walk an additional 4 miles to the Zion Lodge and try to persuade someone to give you a ride to the Visitor Center.
Winter: It is possible to hike from the bottom-up during the winter months, but you need to be prepared for cold temperatures and limited daylight. The Zion Shuttle does not run during the winter months, except for select days. Snow can close the road to Chamberlain's Ranch.
Best Time to Hike the Narrows
In my opinion, September and October are the best months to hike the Zion Narrows. If you plan to do this as a day hike from the top-down, doing this before September 30 gives you about 13 to 14 hours to hike the route, allowing for drop-off time at Chamberlain's Ranch and the last shuttle of the day at 9:15 pm.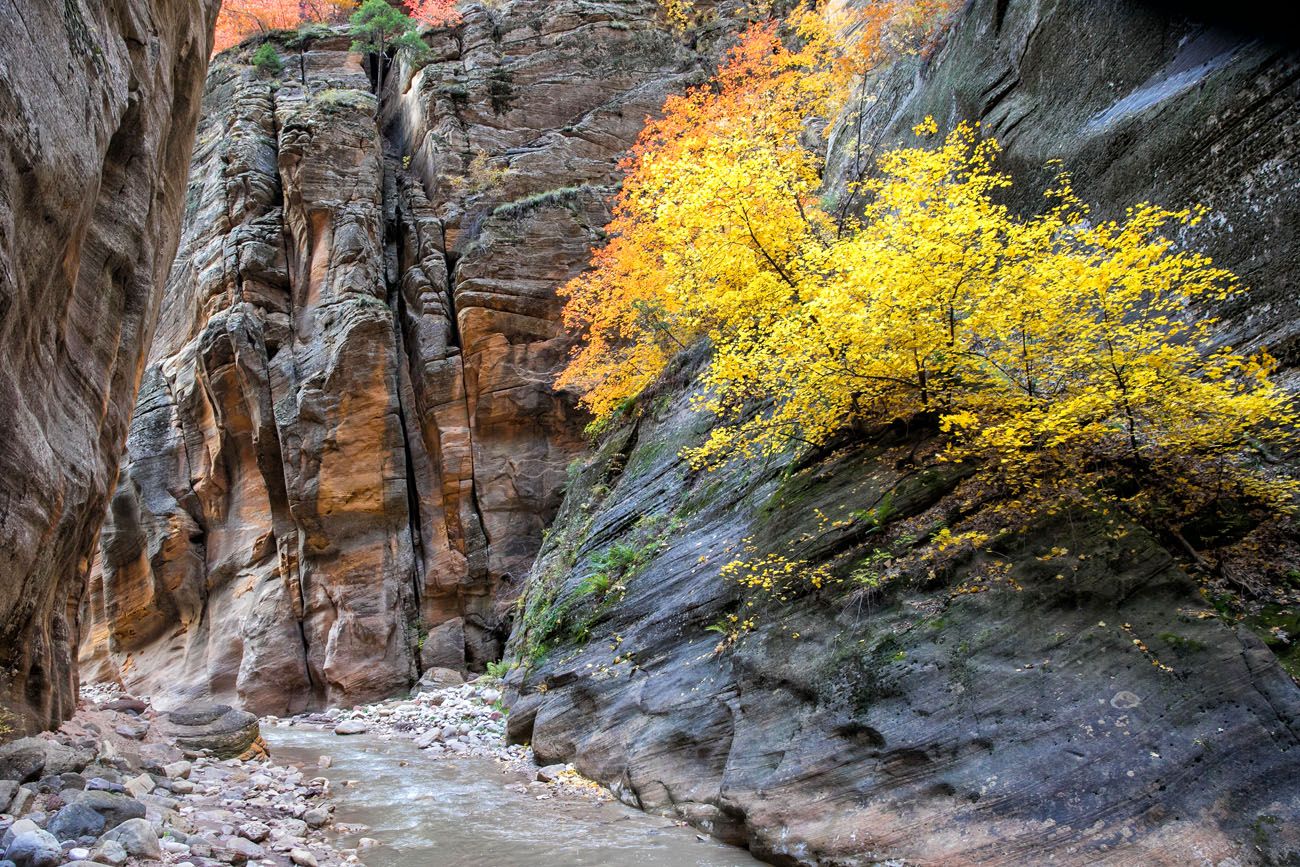 October is a gorgeous time to hike the Narrows. The later you get in the month, the better the fall colors will be and you will share the canyon with just a few other people. But you also have to take into account shorter days, colder temperatures, and the reduced Zion shuttle schedule.
We started the hike with 5 other people at Chamberlain's Ranch and all of them were backpackers doing the hike in two days. We got ahead of them and we did not see another person until Big Springs, 10 miles later.
The Zion Narrows Permit Process
In order to hike from the top-down, you must have a permit. You can make your reservations up to 2 two months in advance on the National Park Service website. Permit reservations become available on the fifth day of the month at 10 am MST.
Here are the dates to make your reservation:
January 5…for a trip in February
February 5…for a trip in March
March 5…for a trip in April
April 5…for a trip in May
May 5…for a trip in June
June 5…for a trip in July
July 5…for a trip in August
August 5…for a trip in September
September 5…for a trip in October
October 5…for a trip in November
November 5…for a trip in December
December 5…for a trip in January
IMPORTANT NOTE: The National Park Service recently changed the time frame for when permits become available. Through 2020, you would reserve your permit up to 3 months in advance. In 2021, that changed to 2 months. I don't know if this is a permanent change but I recommend that you keep checking the official NPS website for updates or changes in the schedule.
We originally reserved permits for September (but medical issues changed our plans which is why we hiked the Narrows in October).
On July 5, when the permits became available for September, Tim and I just happened to be rock climbing Svolvaergeita in Norway. While waiting my turn to climb, I made our Zion permit reservation. Let me tell you, they get snatched up fast! I got on just a few minutes past 10 am MST and was a bit surprised to see that about half of the permits were already reserved.
PRO TRAVEL TIP: Mark the date and the time on your calendar and be ready to make your reservation right at 10 am MST, especially if you plan to hike from May through September.
Getting a permit is easier in October. At the end of October, there were plenty of permits that never got reserved. Even so, if you have a specific date you want to do this, even late in the year, it's a good idea to make that reservation.
This is a hike that is becoming more and more popular and those October dates could start selling out in advance.
How to Reserve Your Permit for the Top-Down Day Hike
To make your reservation, visit the National Park Service website. There will be a drop down tab to select your resource area. Select "Virgins Narrows Dayuse Trail from Top."
This takes you to a screen with calendars for the next 2 months. Days that have a green box still have permits available for reservation. Days that are red have no more online permit reservations available.
Click the day you want and proceed to enter your information and pay your $5 reservation fee.
You now have a permit reserved. The day before your hike, purchase your permit at the Zion Visitor Center. The permit costs $15 for 1 to 2 people, $20 for 3 to 7 people, and $25 for 8 to 12 people.
How to Reserve a Permit for the Top-Down Backpacking Trip
There are 12 campsites along the Zion Narrows so there are only 12 backpacking permits available. Click here to visit the National Park Service website. In the drop-down menu, the campsites that are available for reservation are listed. Select the campsite you prefer and on the next screen you will see a calendar with available dates for that campsite. Days that have green boxes are available for reservation. The day before your trip, you will need to purchase the permit at the Zion Visitor Center.
To learn more about the campsites, click here.

Understanding Flow Rates
The flow rate is how fast the water is flowing in the Virgin River. The higher the flow rate, the more difficult your hike will be. The flow rate fluctuates based on weather and time of year.
Anything 50 cfs and under is considered easy. When it is over 70 cfs, hiking gets to be a lot more difficult. Water levels are higher and the faster current makes hiking more challenging.
When we hiked the Narrows, the flow rate was 45 cfs, which is considered to be easy. For most of the hike, water levels were at ankle and mid-calf height. The current was mild but we could feel it pulling on our legs a little bit. We did have several very short sections where the water was chest deep and even over our heads.
The National Park Service will close the Narrows when the flow rate is over 150 cubic feet per second (cfs).
To see the current flow rates, visit the USGS website.
Here is a graph of the flow rate for September 2022. The blue line indicates the current flow rate and the yellow triangles are the average discharge based on data for the past 33 years.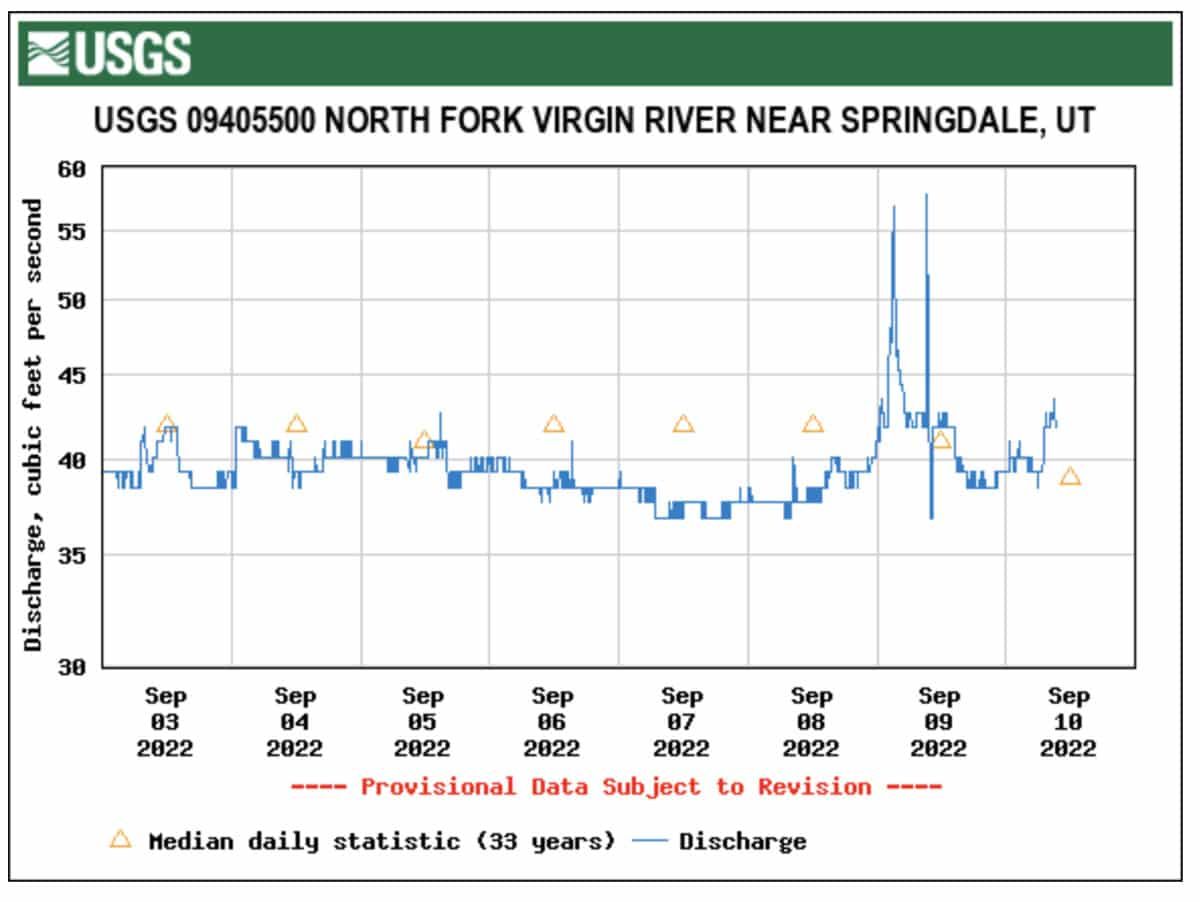 Flash Floods
The Zion Narrows will close if the National Park Service issues a Flash Flood Warning. The skies can be crystal clear around Zion, but if rain is in forecast for a nearby area, the Narrows can still close.
There are sections of the Narrows with no high ground. If a flash flood hits the canyon, water levels can rise very rapidly. Hikers have died when being caught in slot canyons during flash floods. Always check the weather and the flash flood potential before starting your trip.
How to Get to Chamberlain's Ranch
We recommend hiring a shuttle service to drop you off at Chamberlain's Ranch on the morning of your hike. There are several companies that offer this service. We used Zion Adventure Company since we had a great experience using their shuttle service when we day hiked the West Rim Trail.
It takes one hour and 30 minutes to drive from Springdale to Chamberlain's Ranch. On the way, our shuttle dropped off hikers at Mystery Canyon, adding an additional 20 minutes to the drive. We left Springdale at 6:15 am and arrived at Chamberlain's Ranch at 8:05 am.
We parked our car at the Visitor Center in the morning before getting on the shuttle. Once finished the hike, we rode the Zion shuttle from the Temple of Sinawava to the Visitor Center and our car (and warm, dry clothes) were waiting for us.
Important to Know: It is a rough, bumpy, dirt road for the last 13 miles of the drive. If the roads are wet, the shuttle may not be able to get you all of the way to the trailhead.
Shuttle Companies:
It is possible to drive to Chamberlain's Ranch and park your car here, but you will need a way to retrieve it after you finish the hike.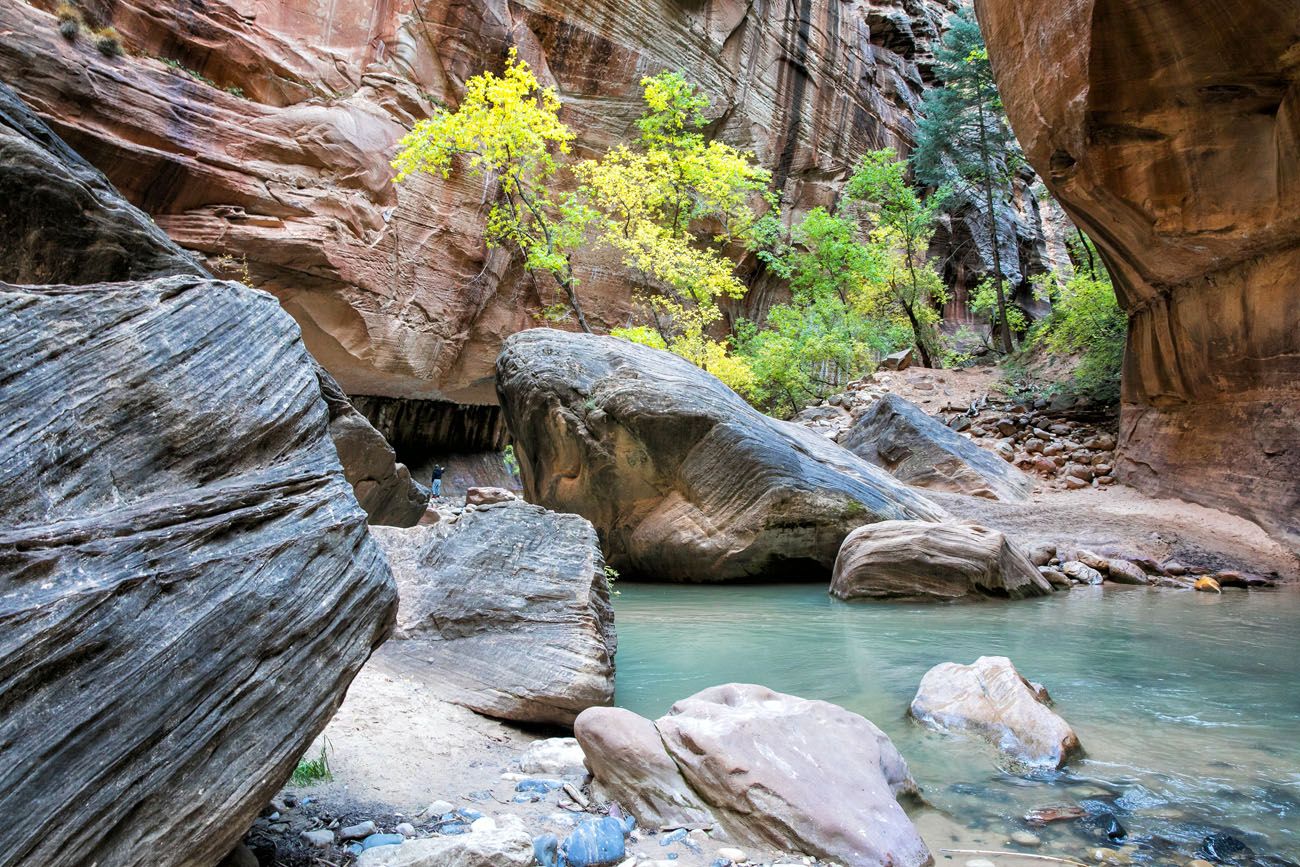 Zion Narrows Packing List
Tim and I each rented a waterproof backpack from Zion Outfitters. Here is what we carried with us:
Food: Sandwiches, energy bars, snacks
Water: 5 liters total (we only drank 3)
8 liter Sea to Summit Big River dry bag (for the camera)
First Aid Kit
Hand Warmers
Cell Phones (there is zero service the entire way)
Permit and map
Here is what we wore:
From Zion Adventure Company, we rented a walking stick, a full body dry suit, neoprene socks, and special boots.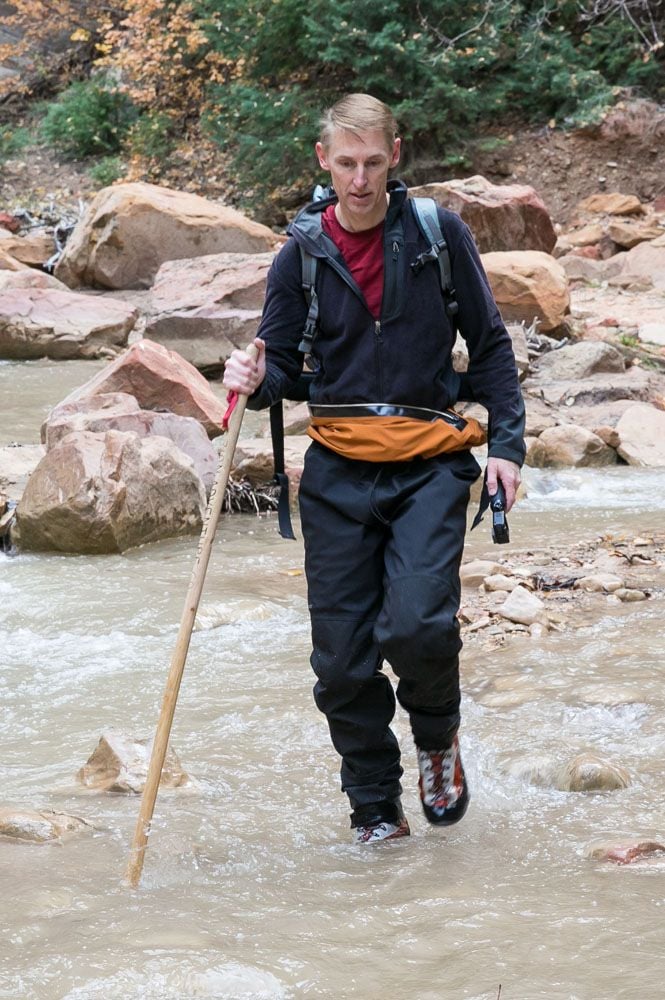 Underneath the dry suit, I wore capri length leggings and a long-sleeved shirt and felt comfortable for most of the hike. I also had a heavy jacket, hat, and gloves that spent most of the time inside my backpack.
Tim wore shorts and T-shirt under the dry suit but he also had a jacket, long-sleeved shirt, hat and gloves.
If you are new to hiking or are curious about what you should bring on a hike, check out our Hiking Gear Guide. Find out what we carry in our day packs and what we wear on the trails.
Special Gear to Rent or Bring With You
Dry Bag or Waterproof Backpack
A dry bag is highly recommended to keep your gear dry. Even if water levels are low, there is still a chance that you will stumble and fall, with your backpack plunging into the water with you. Both Tim and I fell at least once.
We rented waterproof backpacks from Zion Outfitters and they were awesome. All of our belongings stayed dry, even despite falling and navigating the deeper water crossings.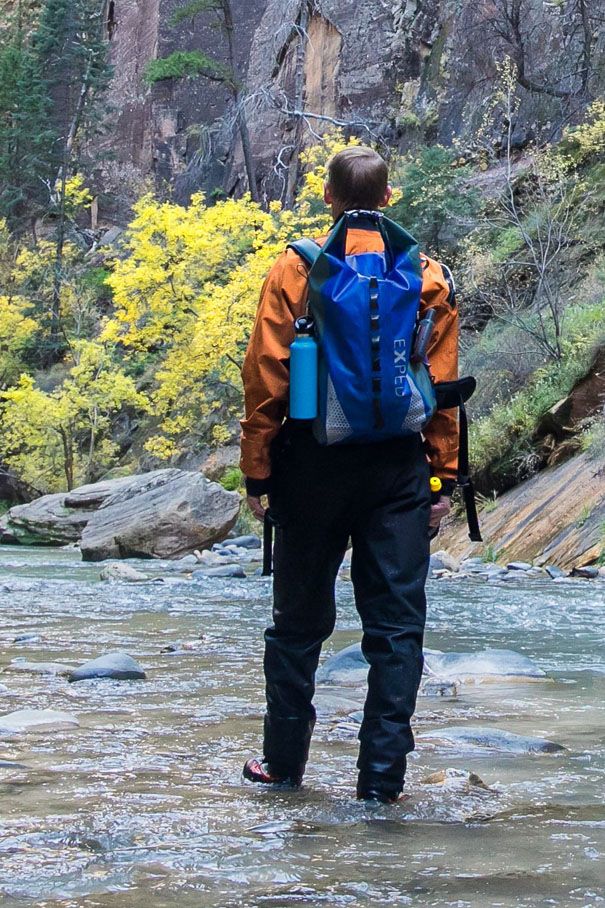 Walking Stick
A walking stick will make your hike so much easier. Take it from two people who used a stick for part of the hike and then lost it. Yup, Tim and I both lost our walking sticks at the same point in the trail. While climbing up and over a huge log jam, the flowing water pulled my stick out of my hand and it got sucked underwater to the bottom of the log jam. Tim tried to free up my stick with his, and in the process, he lost his, also. For the next 8 miles of the hike, we were without a walking stick.
The walking stick really helps you keep your balance, especially while walking over slippery rocks with a current tugging at your legs.
A walking stick is better than hiking poles. The caps on the end of the poles can get stuck between the rocks.
Footwear
A pair of closed-toe, lightweight shoes or boots is ideal. If you wear sandals, even hiking sandals like those made by Keen, your risk having your feet cut up by rocks. Hiking shoes are also a bad idea since they get heavy and waterlogged.
We rented neoprene socks and canyoneering boots from Zion Adventure Company. The neoprene socks kept our feet warm, even in 49°F water, and the boots were sturdy but did not hold much water.
I will say that our biggest problem with hiking the Narrows was foot pain. Tim got quite a few monster blisters over the course of the hike (but he tends to get blisters easily). I experienced a lot of pain in the ball of my left foot, which I assume was from wearing a pair of shoes I was not used to wearing.
However, I don't think we would have done anything differently. Without the neoprene socks, our feet would have been completely numb, making our hike much more difficult.
Dry Suit/Dry Pants
During the summer months, when the air and water temperature is warm, you do not need dry pants.
In fall months, having this gear is a very good idea. Dry pants keep your legs dry from the waist down, which also helps to keep you warm. Towards the middle to the end of October, you may need a full dry suit, which also keeps your upper body and arms dry.
Renting Gear in Springdale
We used two companies for this trip. We planned to get everything from Zion Adventure Company, since we had a great experience with them a year before. However, Zion Outfitters had those awesome waterproof backpacks. These backpacks are a much better option than stuffing your personal backpack into a large dry bag, in my opinion.
Both companies are great. However, the boots at Zion Outfitters looked like they were newer and in better condition than Zion Adventure Company. This, of course, can change from year to year, but I recommend looking at both websites and to see all of the gear they offer.
With Zion Adventure Company, we did the "Dry Suit Package" for $57 per person, which included the dry suit, walking stick, neoprene socks, and boots.
At Zion Outfitters, we each rented a waterproof backpack for $10 per person. It was absolutely worth it.
Useful Links:
How to Keep Camera Gear Dry
One of the challenges of hiking the Narrows is keeping your camera dry and still take photos when you want to.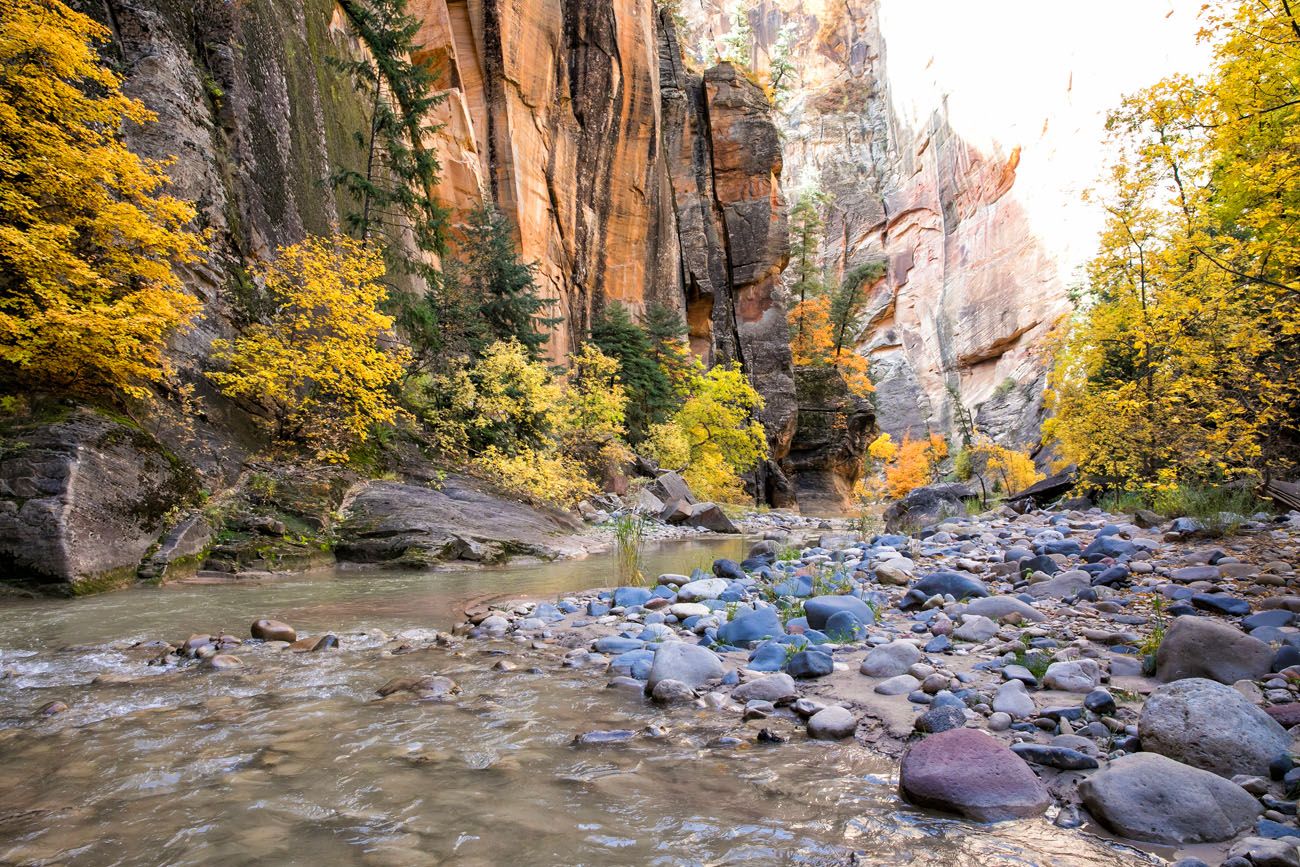 The best option is to use a waterproof camera. But what if you want to bring your nice DSLR? It's risky, but here's what I did.
For the first section of the hike, until we got to Big Springs, I carried my camera in my hand. I had it strapped to me with a Black Rapid cross-body camera strap to prevent me from dropping it. This is typically what I do on most hikes. Of course, if I slipped and fell, I risked getting my camera wet.
Once past Big Springs, when water levels get higher and the obstacles became more challenging, I kept the camera in a dry bag. I used an 8 liter Sea to Summit Big River dry bag. I strapped this to the outside of Tim's backpack and had to take it in and out of this bag in order to take photos. It was kind of pain to do it this way, but it did keep the camera safe. And we safely got it through deep water crossings and several slip and falls along the river.
Tim also carried a tripod, which I used a few times. We did not spend as much time as I would have liked photographing the river because of our time constraints.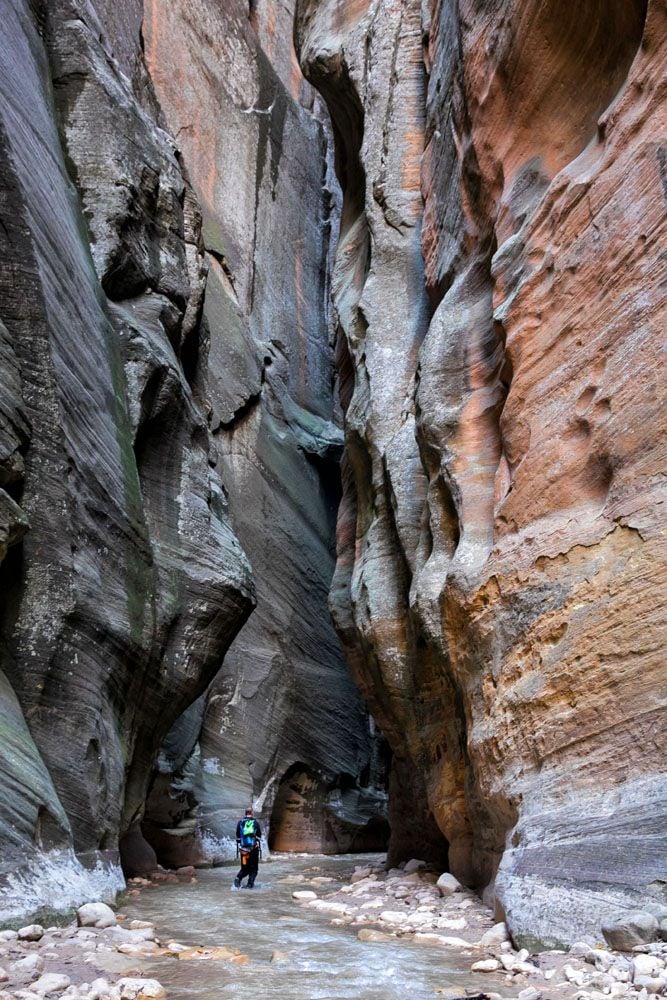 Frequently Asked Questions
Is it Safe to Drink the Water in the Virgin River?
I spoke to a Zion park ranger about this. She told me to avoid drinking the water between Chamberlain's Ranch and Deep Creek (mile 9), even if I filtered it and treated it. Run-off from the farms can make the water in this section unsafe to drink. Once you reach the campsites, just past mile 9, the water is safe to drink if you have a water filter.
What's it like hiking in 50°F water?
Not nearly as bad as I thought it would be. I'm the type of person who gets numb feet and hands even when it's not all that cold outside. So I expected to have cold, numb feet for most of the hike. With the neoprene socks it wasn't like that at all. Our feet actually felt quite toasty.
What if you have to pee or poop?
When you have to pee, it's recommended that you pee right into the river.
If you have to poop, you will have to pack it and bring it with you, which is part of the "Leave no Trace" ethics of hiking. You can purchase special bags for this in Springdale, or bring your own Ziplock bags.
How much of the hike will be in the river?
For about half of the time you will hike in the Virgin River. There is a trail that follows right along the water's edge for sections of the hike. Walking here speeds up your progress and gives you quick breaks from trudging through the water. Be prepared to spend a lot of time criss-crossing the river as you walk on these shoreline trails.
It's important to not stray from the river's edge. By walking farther from the river, you can damage the fragile plant life.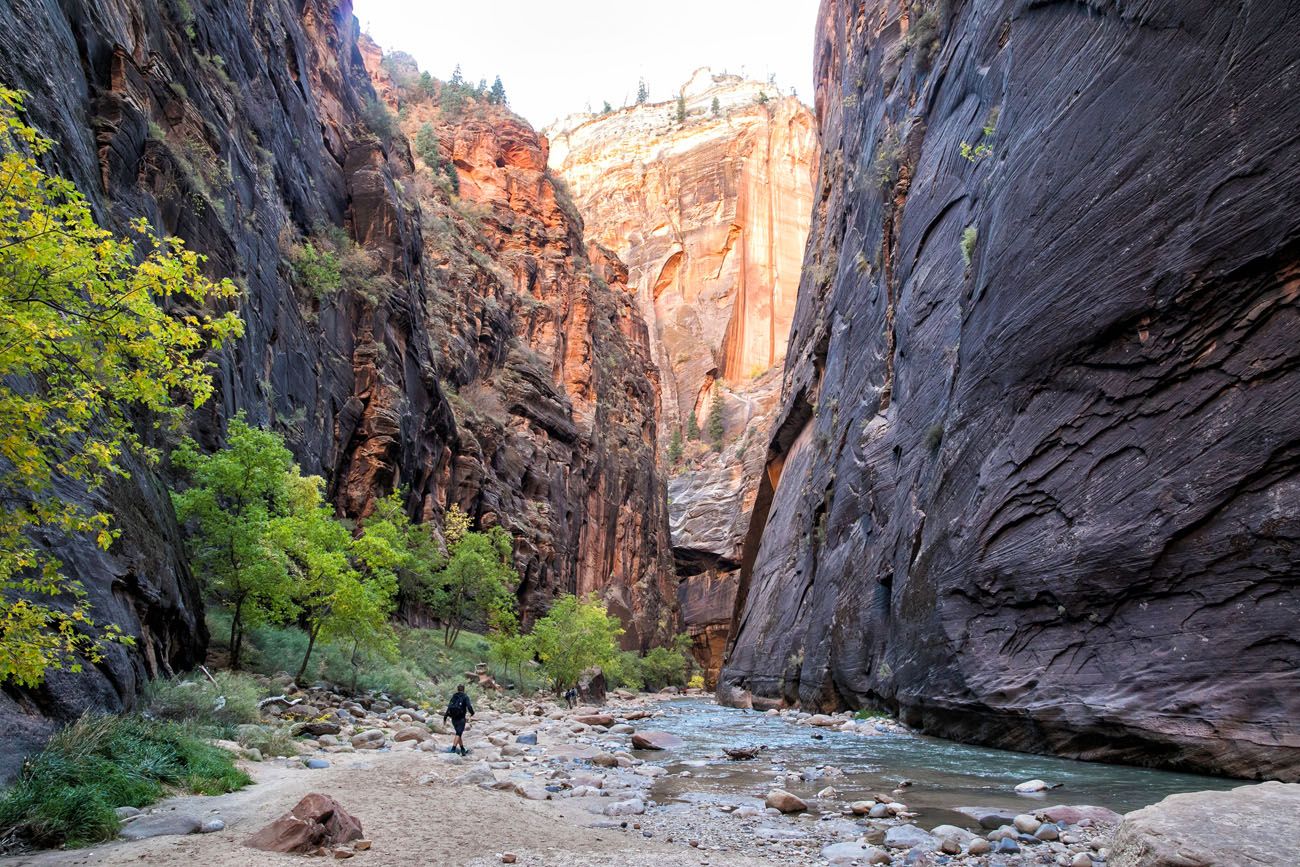 If you hike with a GPS, don't expect it to work well in the Narrows
We always hike with a GPS, but they tend to work poorly in slot canyons. Our Garmin GPS said we hiked 31 miles on the day we did this (towards the end it kind of felt that way). Talk about being way off!
Please practice the seven principles of Leave No Trace: plan ahead, stay on the trail, pack out what you bring to the hiking trail, properly dispose of waste, leave areas as you found them, minimize campfire impacts, be considerate of other hikers, and do not approach or feed wildlife.
Planning Checklist Before You Go
3 – 4 months before: Reserve your permit online. Book your hotel accommodations in Springdale. If you need a hotel recommendation, we stayed at the Holiday Inn Express two times so far and always have a great experience.
3 – 4 weeks before: Reserve your shuttle to Chamberlain's Ranch and reserve any gear that you plan to rent.
2 weeks before: Start checking weather conditions and flow rates in Zion. Visit the Zion National Park website for updates on closures in the park. Begin putting together the gear you will bring with you.
1 day before: Purchase your Narrows permit at the Visitor Office. Pick up rental gear in Springdale. Check the weather. Limit yourself to light and easy hikes in Zion to save your energy for tomorrow.
Day 0: Have fun hiking the Narrows!!
---
Did we miss anything? If you have any questions about hiking the Zion Narrows, or if you want to share your experience, comment below!
More Information about Zion & Utah
ZION NATIONAL PARK: Check out our Zion National Park Travel Guide for important travel planning tips, sample itineraries, advice on when to go, where to stay, and more.
ZION ITINERARY: Learn how to plan your perfect Zion itinerary, whether you have a day or a week.
HIKES IN ZION: Observation Point, Angels Landing, Canyon Overlook, and the West Rim Trail are some of the top hiking trails in Zion. For the full list, read our Best Hikes in Zion guide.
UTAH'S MIGHTY 5: Utah's Mighty 5 is a collection of five national parks in Utah. Learn more about the parks and how to plan your visit in our Guide to Utah's Mighty 5.
AMERICAN SOUTHWEST ITINERARY: On the ultimate road trip through the American Southwest, visit the Grand Canyon, Utah's Mighty 5, and several awesome state parks. Get the full details in our American Southwest Itinerary.
MORE GREAT HIKES IN THE NATIONAL PARKS: From hikes to the tallest peaks to beautiful coast trails, read our Guide to the Best Day Hikes in the US National Parks.
NATIONAL PARKS: In our Guide to the US National Parks, get the full list of national parks with important travel planning information, such as things to do in the parks and sample itineraries. You can also learn more about the national parks and get a FREE printable checklist in our US National Parks Checklist.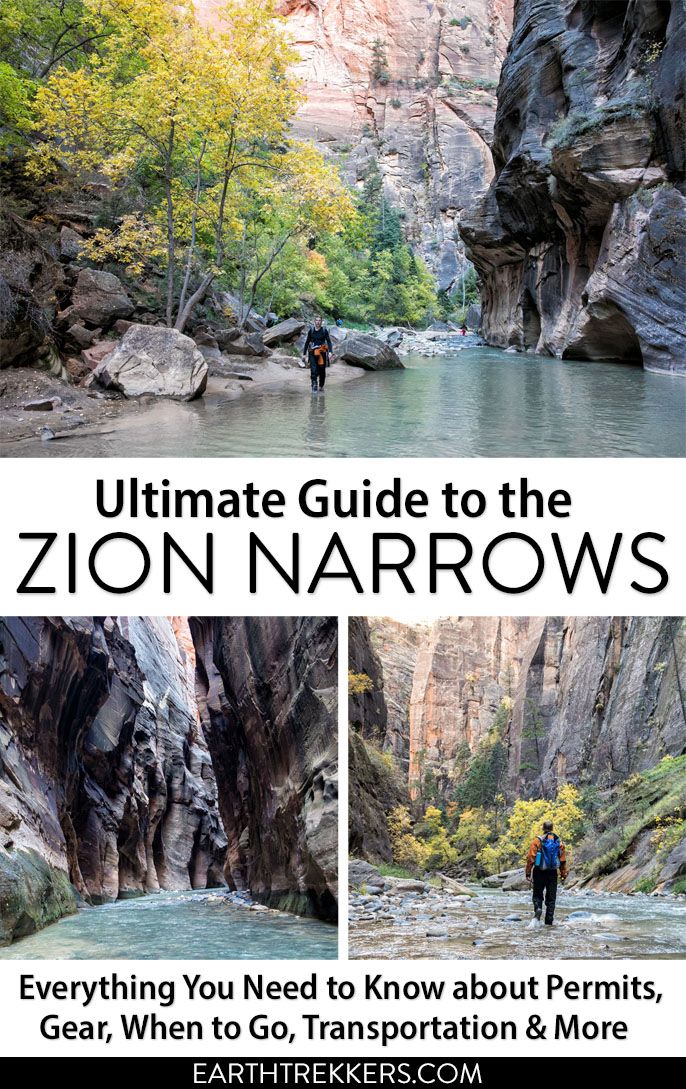 Note: This post contains affiliate links. When you make a purchase using one of these affiliate links, we get paid a small commission at no extra cost to you.
All rights reserved © Earth Trekkers. Republishing this article and/or any of its contents (text, photography, etc.), in whole or in part, is strictly prohibited.