Zion National Park is one of the best spots in the United States to go hiking. From the awe-inspiring hike up Angels Landing to the family friendly Riverside Walk to multi-day backpacking adventures, there is something here for everyone. Here are 10 of the best hikes in Zion National Park. This is not an all-inclusive list, but there is definitely enough here to keep you busy for days.
Over the past few years, we have visited Zion National Park multiple times. This park just keeps calling us back. This relatively small park is literally packed with some of the most thrilling hikes in the United States, if not the entire world.
Get ready to be inspired…and have fun picking out which ones you would like to do!
Best Hikes in Zion
This list starts with the shorter and easier hikes and continues on with the longer and more challenging efforts. All hiking distances are round trip.
1. Weeping Rock
Distance: 0.4 miles/0.6 km
Length of Time: 0.5 hours
Difficulty: It's a steep, uphill walk to Weeping Rock
Zion Shuttle Stop: Weeping Rock, stop #7
The trail to Weeping Rock is one of the shortest hikes in the park and because of this, it can be crowded. The trail ends at Weeping Rock, a large overhang of rock that is dripping with water.
From the shuttle shop, you will walk uphill to Weeping Rock along a mostly paved path. It's a strenuous uphill walk but since it is short, it is manageable for most people.
Important Note: The Weeping Rock trail is currently closed due to damage from a rockfall. Get updates on trail status on the Zion National Park website.
---
2. Canyon Overlook Trail
Distance: 1 mile
Length of Time: 1 hour
Difficulty: easy to moderate
Trailhead: Highway 9, just east of the Mount Carmel Tunnel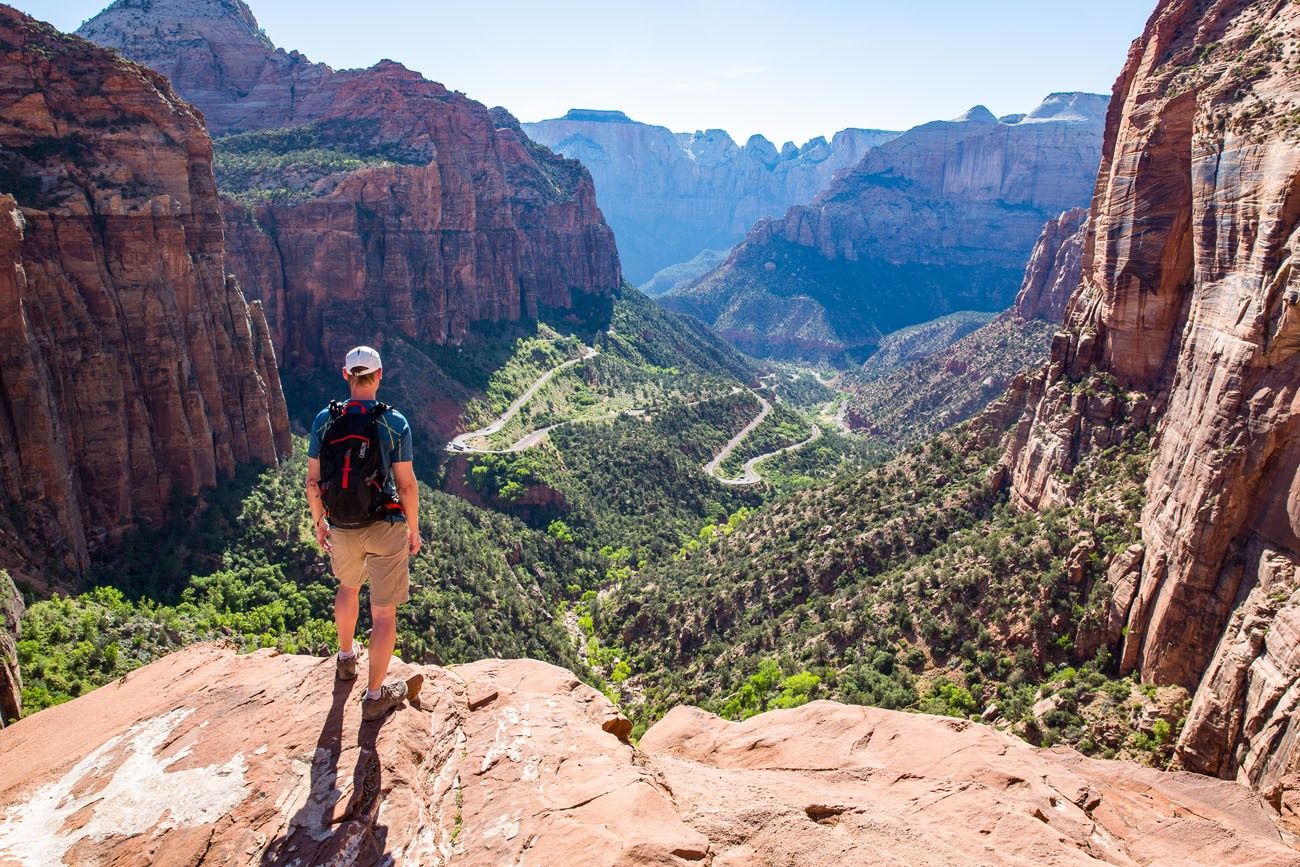 The Canyon Overlook Trail is a gem of a hike in Zion National Park. It's short, it's fun, and it takes you to an awesome viewpoint overlooking Zion Canyon. This is a hike that is perfect for all ages and ability levels. So if this is your first, or even your second time in Zion, put the Canyon Overlook Trail on your list of things to do.
---
3. Emerald Pool Trail
Distance: 1.5 to 3 miles, depending on how far you hike
Length of time: 2 to 4 hours
Difficulty: easy to moderate
Zion Shuttle Stop: Zion Lodge, stop #5 or The Grotto, stop #6
The trail to the Emerald Pools is one of the most popular hikes in Zion. This is a trail that starts off easy and gets more strenuous the farther you go. From Zion Lodge, it's an easy walk to Lower Emerald Pools. Beyond this, the trail starts climbing, but the scenery gets better. The final climb to Upper Emerald Pool is more challenging but it leads you to a large pool surrounded on three sides by tall cliffs.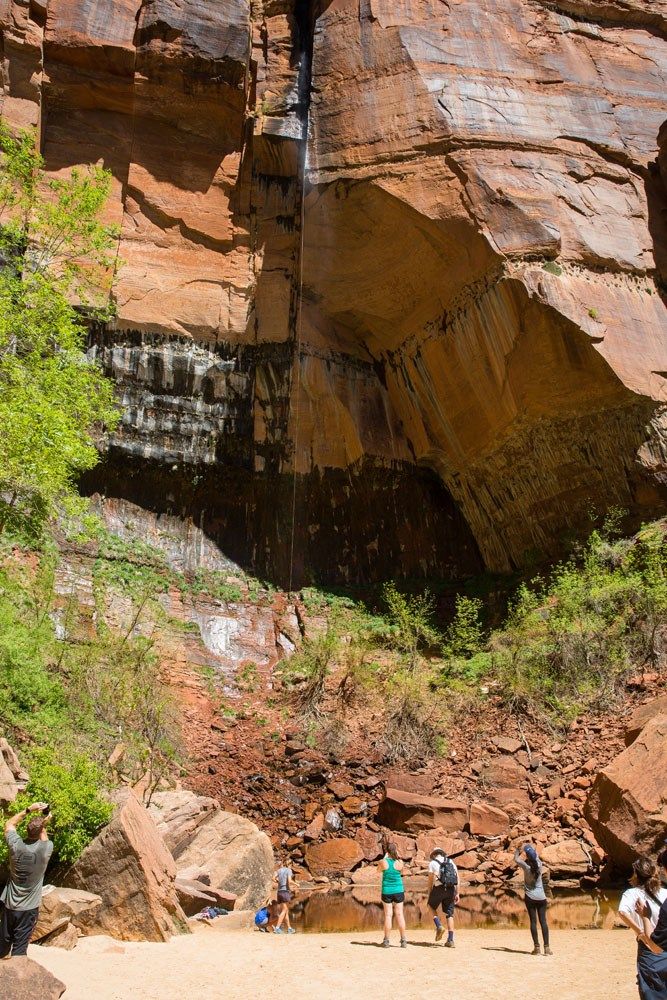 The most common way to hike to the Emerald Pools is via the Zion Lodge. You can also get to the pools via the Kayenta Trail from The Grotto.
Tim and I hiked to the Emerald Pools on the Kayenta Trail and maybe our timing was wrong, but we did not enjoy this hike. It was hot, it was crowded, and we were not impressed with Upper Emerald Pool. If you are looking for a short but scenic hike in Zion, we recommend the Canyon Overlook Trail over Emerald Pools.
---
4. Riverside Walk
Distance: 2.2 miles round trip
Length of Time: 1.5 hours
Difficulty: Easy
Zion Shuttle Stop: Temple of Sinawava, stop #9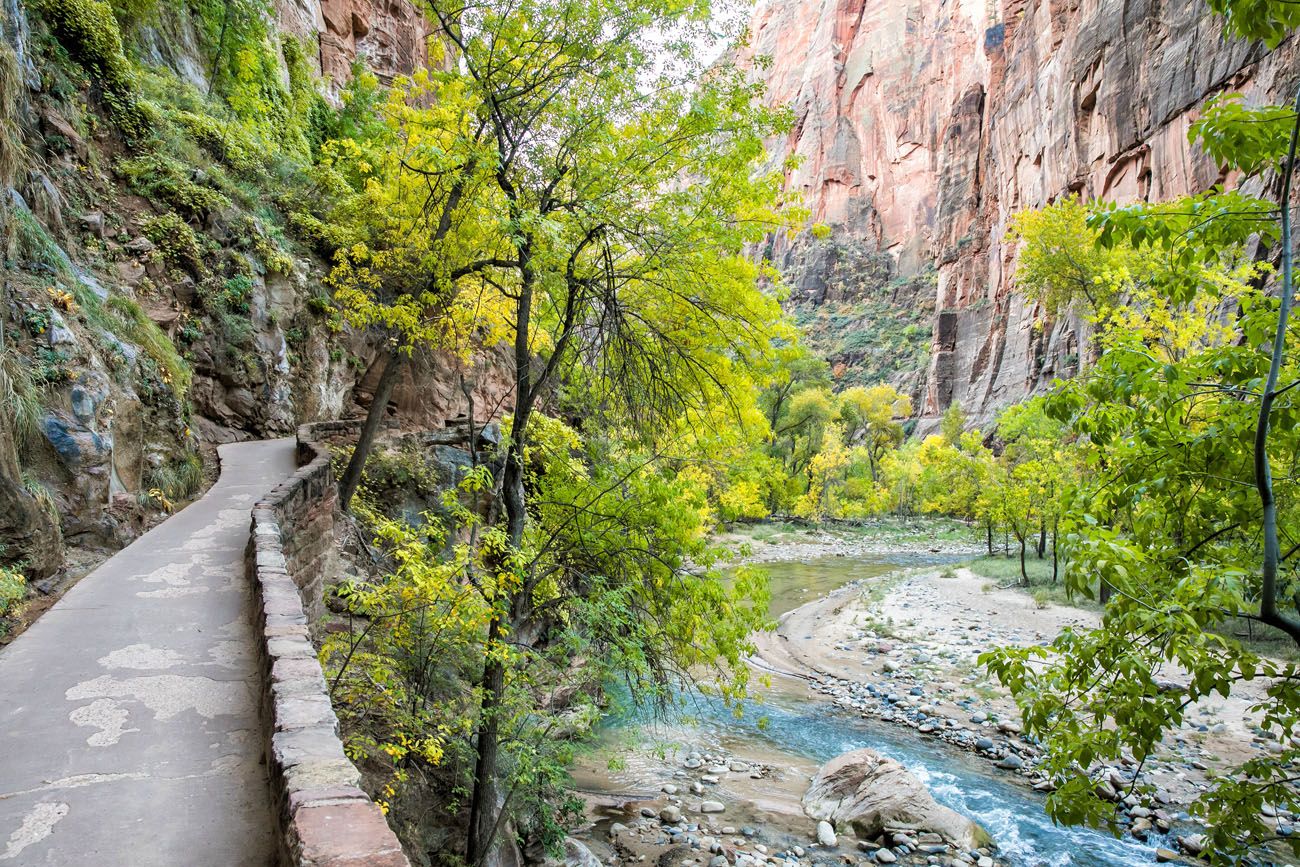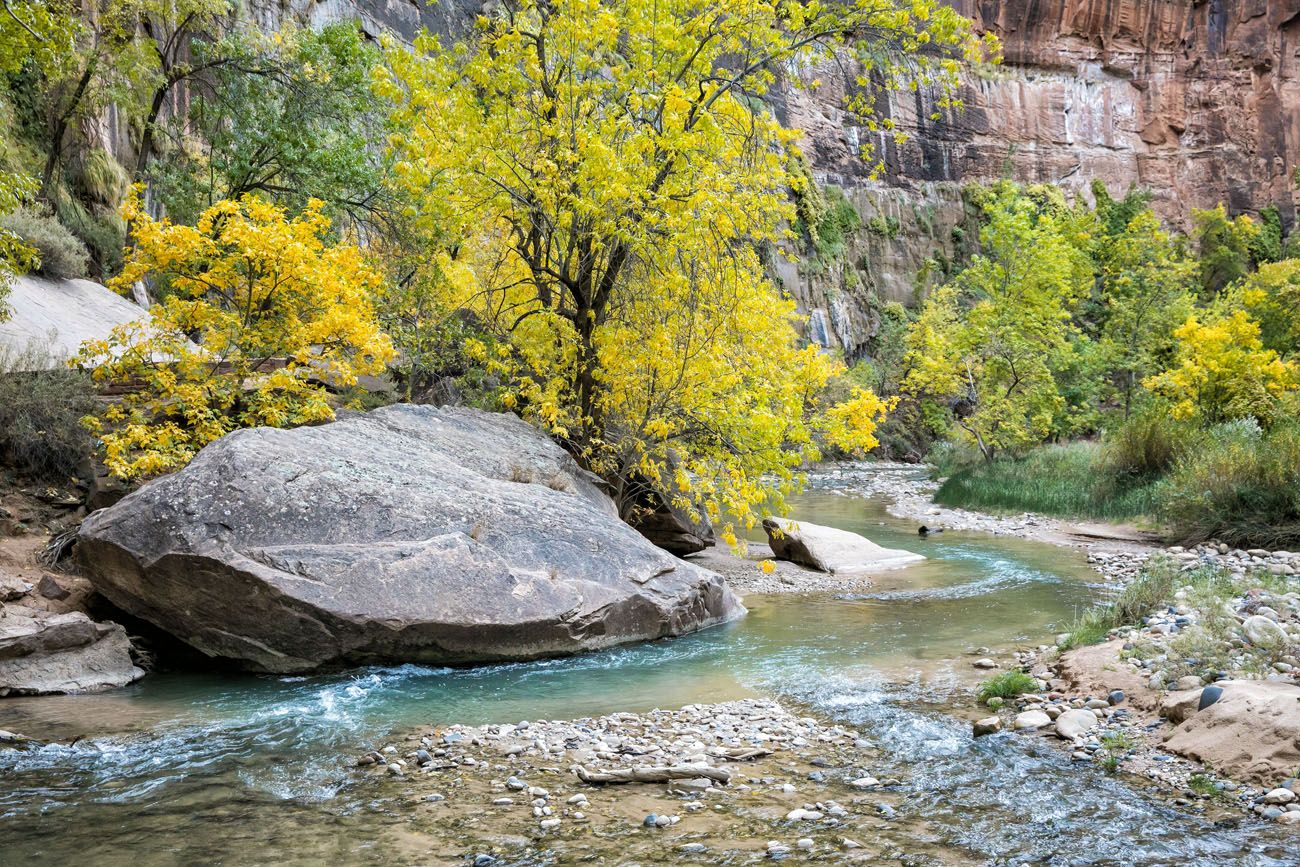 This flat, paved trail follows the Virgin River and ends where the Narrows begins. This easy hike is perfect for all ages and all ability levels.
---
5. Hidden Canyon
Distance: 3 miles
Length of Time: 2 to 3 hours
Difficulty: moderate
Zion Shuttle Stop: Weeping Rock, stop #7
Important Note: The Hidden Canyon trail is currently closed due to damage from a rockfall. Get updates on trail status on the Zion National Park website.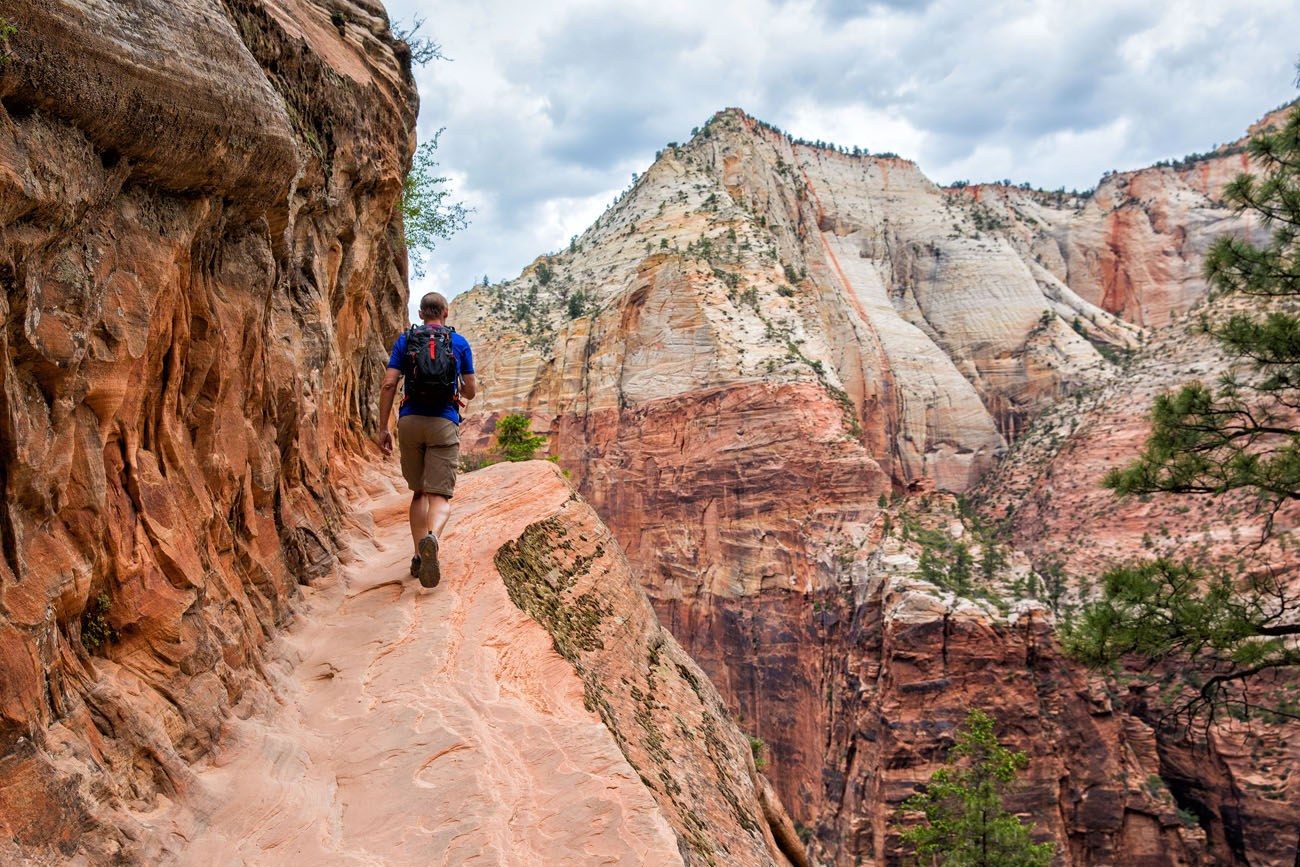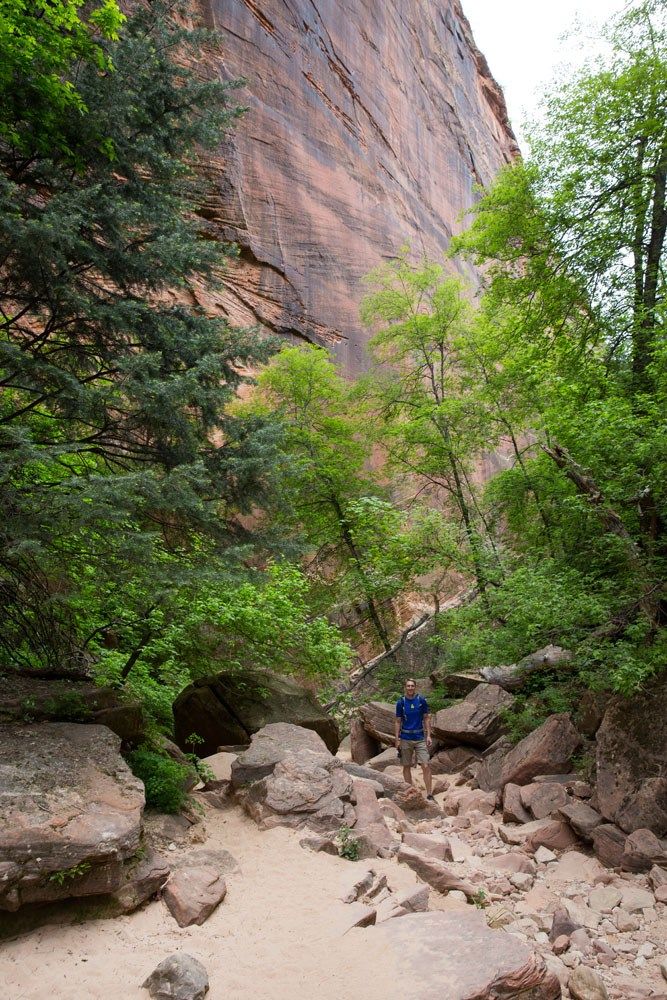 The hike to Hidden Canyon blew away our expectations. This hike is tons of fun, with trails that cling to the side of a cliff and a scenic canyon to explore.
Sections of this hike are similar to Angels Landing, with vertigo-inducing trails that come with chains to help you keep your balance. This trail does not climb as high or have the views like Angels Landing, but Hidden Canyon also gets fewer visitors, which makes for pleasant, less crowded experience.
---
6. Angels Landing
Distance: 5.4 miles
Length of Time: 3 to 5 hours
Difficulty: Strenuous
Zion Shuttle Stop: The Grotto, stop #6
Important Note: Expect huge crowds on the trail to Angels Landing. Observation Point (from Weeping Rock), Hidden Canyon, and Weeping Rock are closed, giving hikers limited options in Zion National Park.
Angels Landing is the most popular hike in Zion National Park. The final climb of the hike involves scaling a narrow ridge high above the valley floor. With chain-assisted rock scrambling sections, stunning views, and vertigo-inducing heights, this really is a thrilling hike.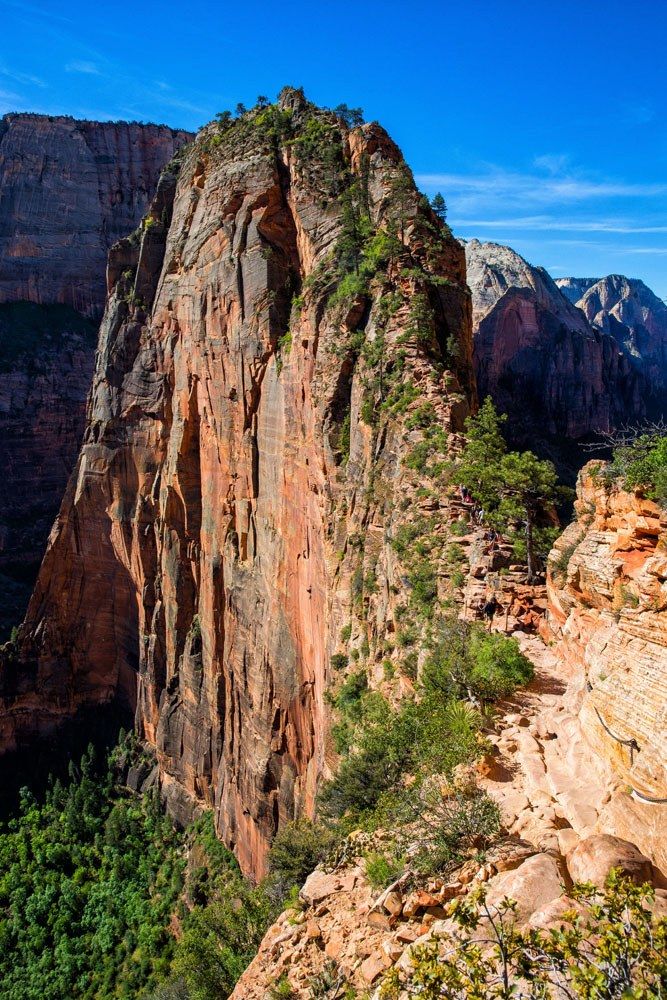 For adventure seekers, this is definitely a great hike to put on your bucket list. We have hiked a lot of places around the world, and this hike is one of our favorites.
---
7. Observation Point
Distance: 8 miles
Length of time: 4 to 6 hours
Difficulty: Strenuous
Zion Shuttle Stop: Weeping Rock, stop #7
Important Note: The trail to Observation Point is currently closed due to damage from a rockfall. Get updates on trail status on the Zion National Park website.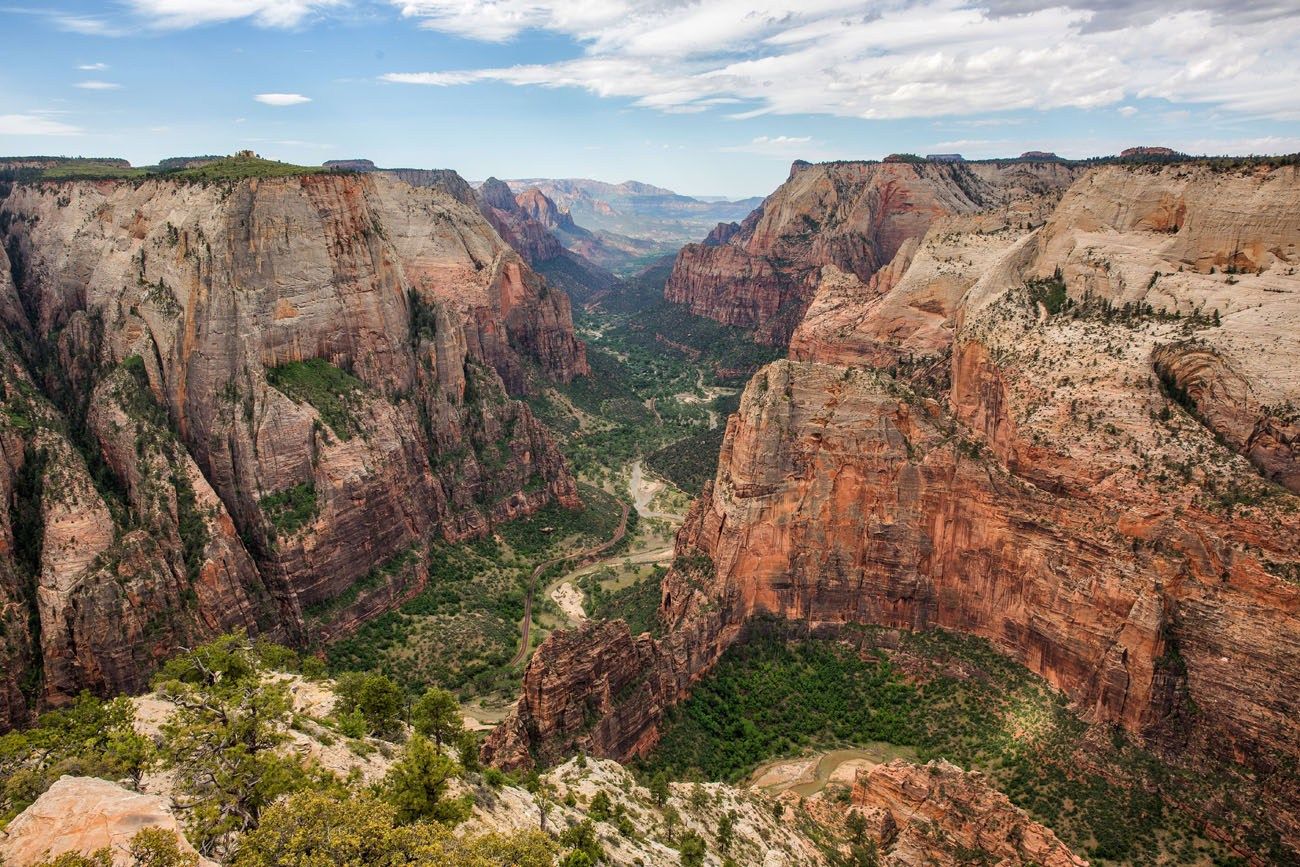 For jaw-dropping views over Zion National Park, it's hard to beat Observation Point. The entire hike is a beauty, but it is challenging. At 8 miles long and with 2300 feet of climbing, it is a steady climb to that final viewpoint. This is a classic Zion trail and well worth your time and effort, especially if you want views out over Angels Landing and the rest of Zion National Park.
Alternative Route: A second option is to hike to Observation Point on the East Mesa Trail. This is much shorter, with a round trip distance of 7 miles. This hike starts on the East Mesa Trailhead which is located outside of Zion National Park.
---
8. The Narrows
For millions of years, the Virgin River has been carving its way through layers of rock, forming the Zion Narrows. This canyon twists and turns for miles, creating one of the most unique hiking trails in the world.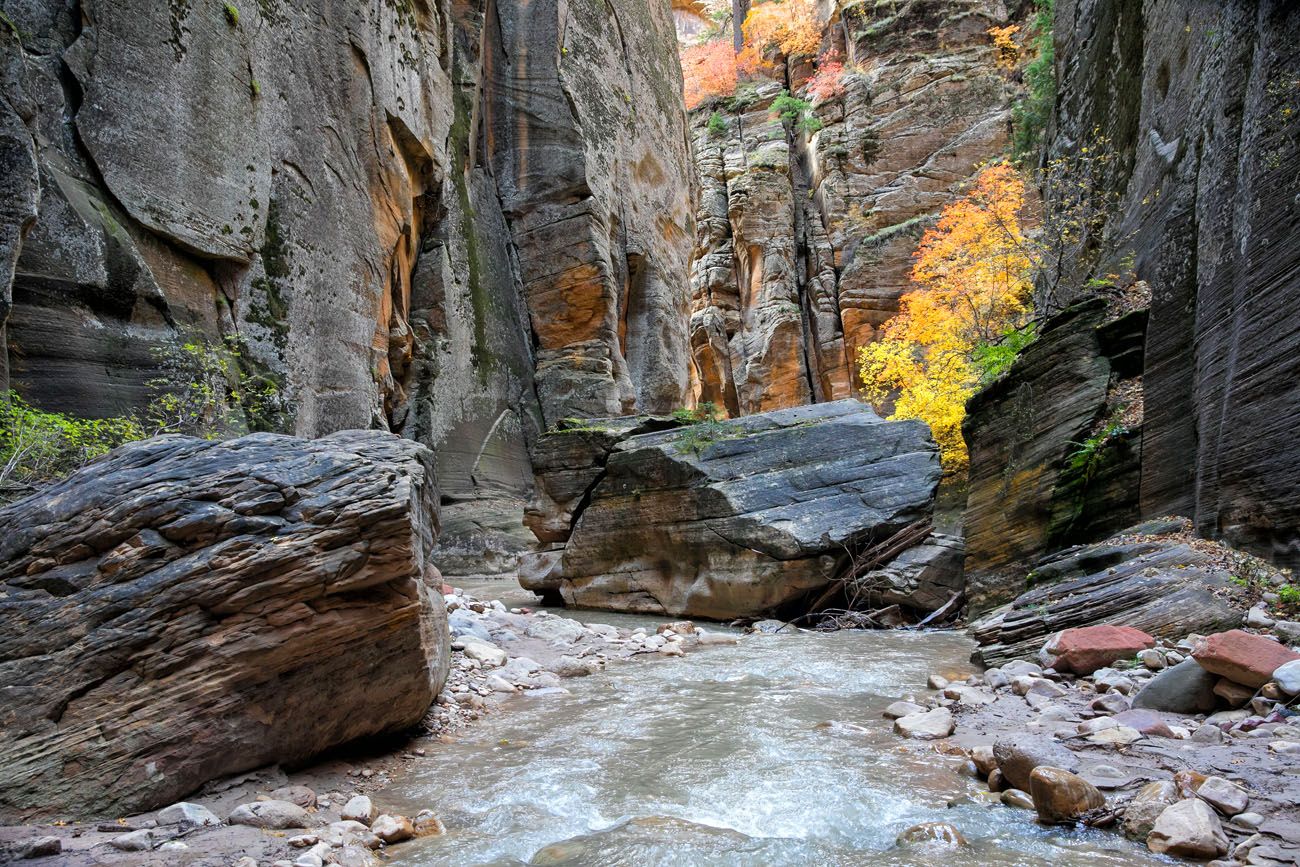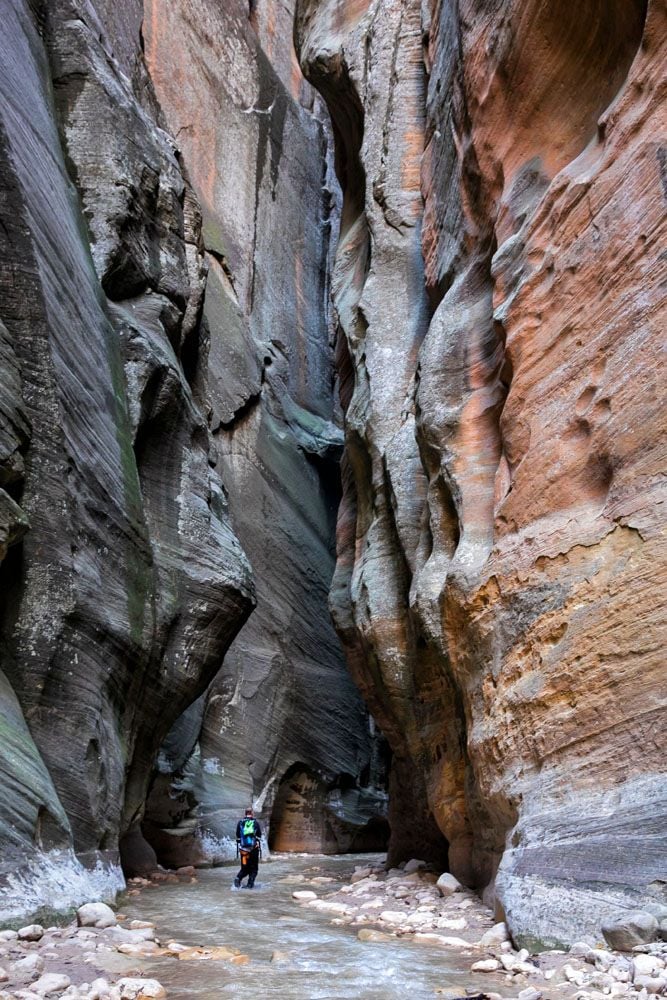 For many hikers, the Narrows is a hike that makes the bucket list. This is the quintessential slot canyon hike. It's challenging, it's breathtaking in its beauty, and it makes for a very memorable experience.
There are two ways to hike the Zion Narrows: from the bottom-up or from the top-down.
The Zion Narrows from the Bottom-Up
This is the most popular way to hike the Narrows. Starting at the Riverside Walk, you hike upriver for several miles and then turn around and hike back the way you came. Along the way, you get to see some of the best scenery in the Narrows, including Wall Street. Wall Street is the iconic section where the canyon gets very narrow and the sheer rock walls close in overhead. It's an awesome sight to see.
From the bottom-up, the farthest you go is Big Springs. Beyond this point, a permit is necessary. If you hike to Big Springs, your entire journey will be 10 miles round trip.
You also have the option to hike one mile into Orderville Canyon, for a total of 2 miles for this detour.
Distance: up to 12 miles (to Big Springs and the detour through Orderville Canyon); you can turn around whenever you want, so some people only hike 2 to 3 miles round trip
Difficulty: varies depending on the Virgin River flow rate, but overall it is easy to moderate. The most challenging section is Wall Street, where there can be sections of chest deep (or higher) water.
No permit necessary.
Zion Shuttle Stop: Temple of Sinawava, stop # 9
Pro Travel Tip: The Narrows is closed during the spring months while the snow is melting, creating high flow rates in the river. A permit is necessary if you want to hike the Narrows top-down.
The Zion Narrows from the Top-Down
This is the ultimate Zion Narrows experience since you hike the entire length of the Narrows.
Hiking the Narrows from the Top-Down is a 16-mile journey that takes you from Chamberlain's Ranch to the Temple of Sinawava. It can be done as an epic day hike or as a two-day backpacking trip. A permit is necessary for both options.
We hiked the Zion Narrows as a day hike and it is one of our favorite hiking experiences of all time. To stand in this narrow canyon, dwarfed by immense height of these walls, was incredible. Our favorite section of the Narrows, where the walls towered over our heads, can only be seen on the top-down route.
Distance: 16 miles
Length of time: several hours to two days (backpacking top down)
Difficulty: Strenuous
Trailhead: Chamberlain's Ranch (outside of Zion National Park)
---
9. The Subway
Distance: 10 miles (top down)
Length of time: all day
Difficulty: Strenuous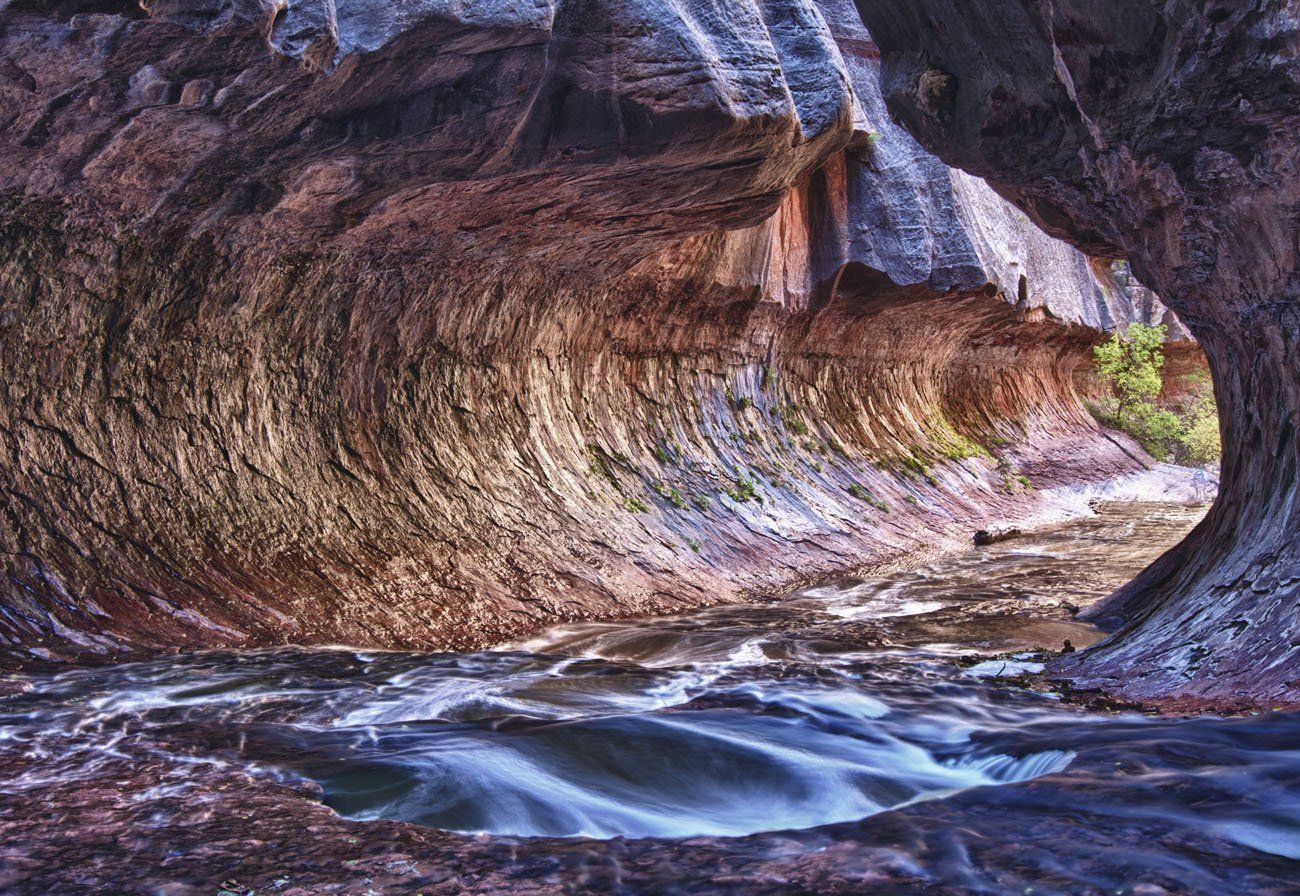 Photo Credit: Sascha Wenninger
Similar to the Narrows, the Subway is a hike in the Left Fork of North Creek. The classic way to hike the Subway is top-down, but this is a technically challenging hike that requires canyoneering skills and exposure to cold water. However, the Subway can be hiked from the bottom, which eliminates rappelling and the cold swims, but you will miss some of the more beautiful parts of the canyon.
A permit is required to hike the Subway.
---
10. The West Rim Trail
Distance: 17 miles
Length of time: 9 to 12 hours
Difficulty: Strenuous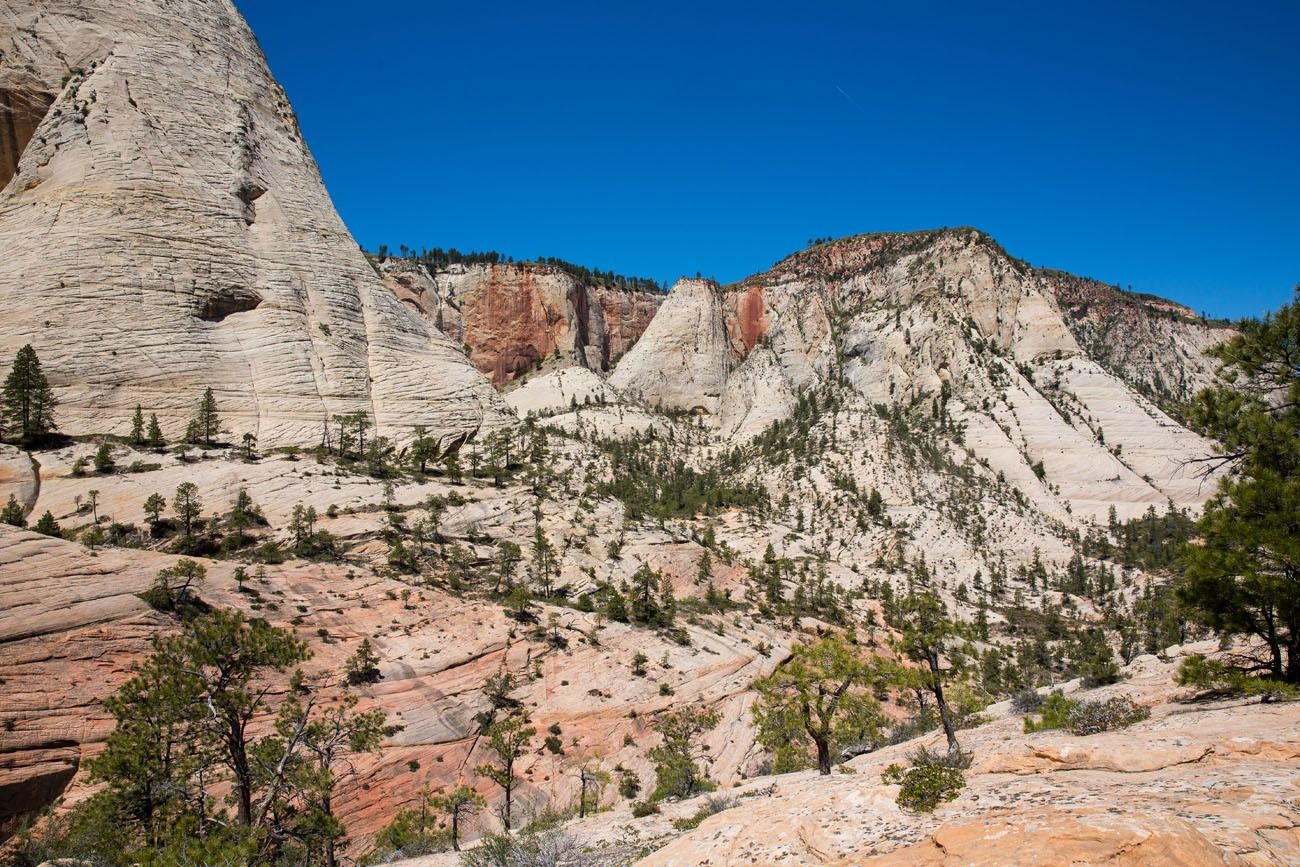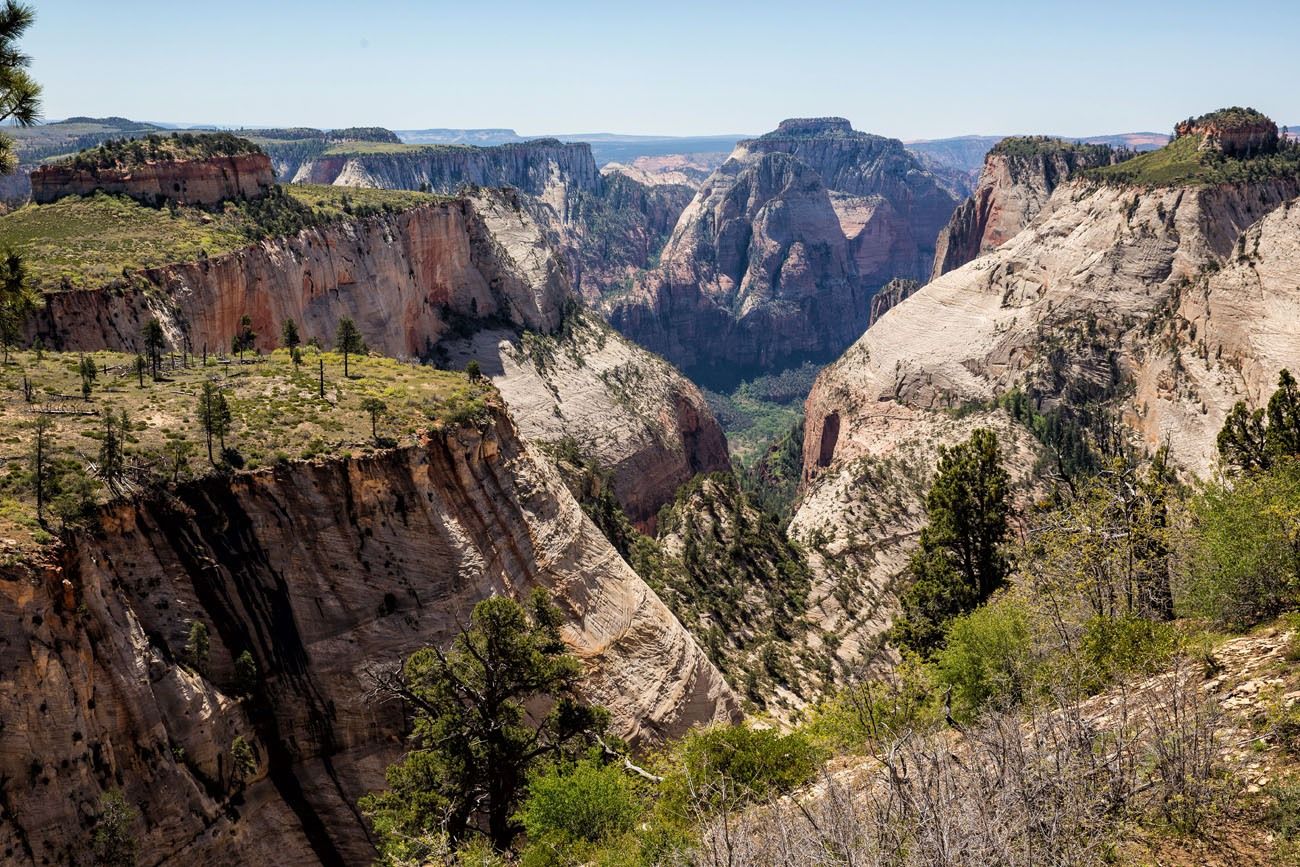 The West Rim Trail is a long distance hike through Zion National Park. With amazing views, very few hikers on the trail, and a chance to walk the length of Zion National Park, this hike rewards your efforts. The West Rim Trail can be hiked as a long day hike or as a two day backpacking trip.
---
Bonus: The Watchman Trail
Distance: 3.3 miles
Length of Time: 2 hours
Difficulty: Easy to moderate
The Watchman Trail is a relatively easy hike that offers nice views over Springdale and the southern end of Zion National Park. This is one of the least exciting and least scenic trails in Zion National Park. In my opinion, it's only worth hiking if you are looking for a short, easy trail, like the convenience of starting right from the visitor center, or are having a hard time getting a shuttle reservation.
Best Hikes in Zion: On a Map
How to Use This Map: Click the tab in the top left hand corner of the map to view the layers. You can click the check marks to hide or show layers. If you click the icons on the map, you can get more information about each point of interest.

If you click the star next to the title of the map, this map will be added to your Google Maps account. To view it on your phone or computer, open Google Maps, click the menu button, go to "Your Places," click Maps, and you will see this map on your list.
Pick Your Perfect Zion Hike
Best Zion Hikes For Families
Riverside Walk
Weeping Rock
Emerald Pools
Canyon Overlook Trail
For the Best Views in Zion
Observation Point
Angels Landing
West Rim Trail
Canyon Overlook Trail
Most Adventurous Hikes in Zion
The Subway
The Narrows
Angels Landing
Hidden Canyon
Multi-Day Backpacking Trips
West Rim Trail
The Narrows
Leave the Crowds Behind
Hidden Canyon
West Rim Trail
Our Favorite Hikes in Zion
The Narrows
Angels Landing
Observation Point
Hidden Canyon
Canyon Overlook
Still on our Bucket List
If You Don't Have a Shuttle Reservation
Watchman Trail
Canyon Overlook Trail
Pa'rus Trail
Observation Point from the East Mesa Trail
How to Get Around Zion National Park
For most of the year (mid-March through November), the Zion Shuttle is in operation. During this time, private vehicles are not permitted to drive on Zion Canyon Scenic Drive.
Park at the Visitor Center or take the Springdale Shuttle to the main entrance. You can hop on the shuttle at the Visitor Center and ride the various shuttle stops along Zion Canyon Scenic Drive. If you are heading into the park to go hiking, make sure you know the correct shuttle stop for your hike.
You are permitted to drive from the Visitor Center to the east entrance all year.
When the shuttle is not in operation (December, January, and February) you are permitted drive along Zion Canyon Scenic Drive. Just be aware that parking is limited so it still helps to get an early start. When parking lots fill, Zion Canyon Scenic Drive may temporarily close.
There is a second shuttle system, the Springdale Shuttle, that connects the hotels in Springdale with the main entrance of Zion.
IMPORTANT!! Zion National Park is now selling timed tickets for the shuttle. This means that the only way you can enter the park is to purchase a shuttle ticket in advance. Tickets are purchased on recreation.gov and are available approximately two weeks in advance (a small portion of tickets are available one day in advance). These tickets sell out fast so as soon as you know your dates of travel, make sure you mark your calendar as to when to reserve your tickets. A shuttle ticket costs $1 per person. Get the full details on the national park service website.
Tips to Have the Best Experience
Start Early!! For the best experience, plan to be on one of the first shuttles of the day. This is very important if you plan to hike the more popular trails, such as Angels Landing and the Zion Narrows from the bottom-up.
To hike the trails with low crowds, we visit the park twice in one day. In the morning, we get on the first shuttle and hike one of the longer, more strenuous and more popular trails (such as Angels Landing or Observation Point). We take a break midday, have lunch in Springdale, and return to the park in the late afternoon, once the crowds start to lessen. This is a nice time to hike an easier trail and maybe even catch sunset in the park.
The best time to visit Zion National Park is during the spring and fall months. The weather will be warm during the day and cool at night. During the summer months, temperatures can soar and there is the risk of flash floods. Winter is a nice time to visit Zion, if you don't mind cold temperatures.
With high crowd levels, trail closures, and changes in operation due to COVID-19, Zion can be a challenging park to visit right now. If you are planning a visit to Zion, make sure you read our post 5 Things to Know Before Visiting Zion to avoid any unfortunate surprises.
More Information about Zion National Park
Our articles about Zion National Park:
For more information about Zion National Park, click here to read our Guide to Zion National Park. Get important travel planning tips, sample itineraries, advice on when to go, where to stay, and more.
Travel Planning and Road Trip Ideas:
Where We Stayed
We stay at the Holiday Inn Express in Springdale, one of the best Holiday Inn properties we have seen. It is located along the Springdale Shuttle route, so you can get around town and into Zion National Park without a car. So far, we have been to Zion twice and both times we stayed at this Holiday Inn and had a great experience. This is our go-to hotel in Springdale.
---
Are you planning a visit to Zion National Park? Which Zion hikes do you want to do? Comment below with any questions or if you want to share your experience!
You Might Also Like: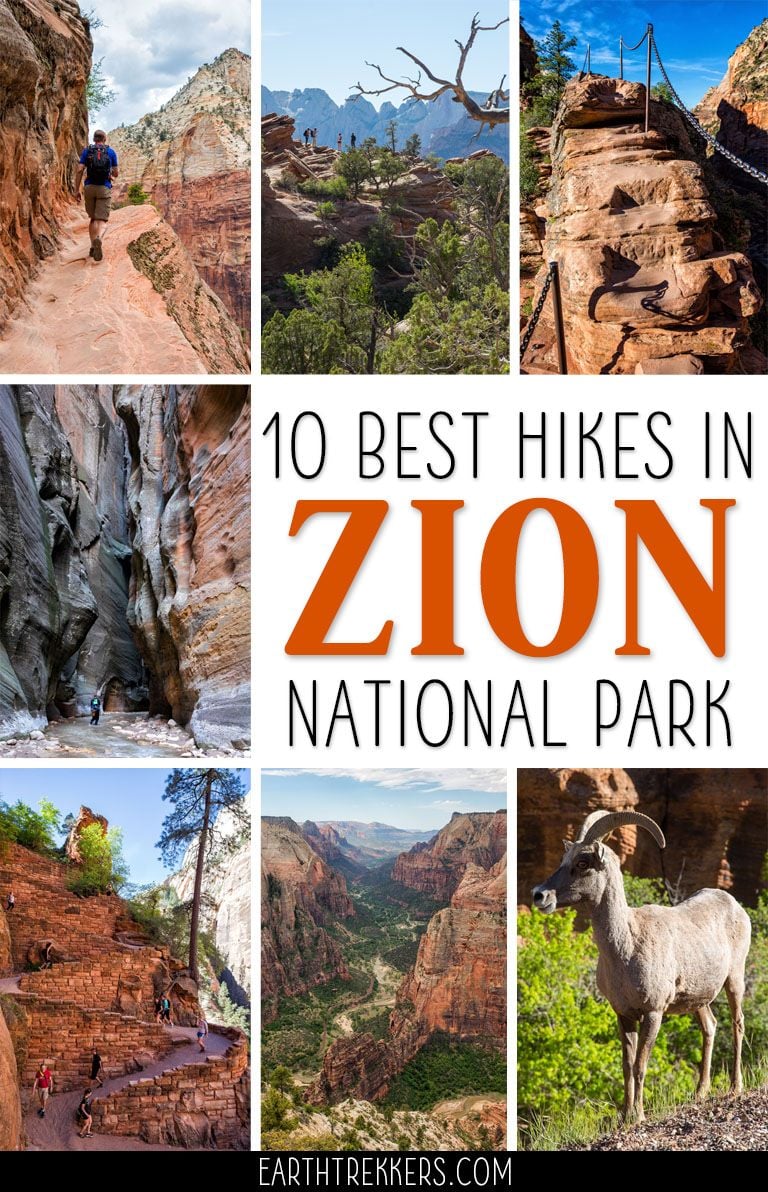 Note: This post contains affiliate links. When you make a purchase using one of these affiliate links, we get paid a small commission at no extra cost to you.
All rights reserved © Earth Trekkers. Republishing this article and/or any of its contents (text, photography, etc.), in whole or in part, is strictly prohibited.