The hike to Odessa Lake and onward to Fern Lake is a relatively low-traffic trail in Rocky Mountain National Park. Its nearby neighbors of Bear Lake, Emerald Lake, and Dream Lake get a lot more visitors, so if you are looking for a relatively uncrowded trail with the chance to visit multiple alpine lakes, this is a nice hike to consider.
There are several ways to hike to Fern Lake. This post covers the out-and-back route from Bear Lake. On this hike, you get to see four lakes, hike through evergreen forests, and enjoy views out over Rocky Mountain National Park.
Here's how to do it.
Three Ways to Hike to Fern Lake
There are three ways to hike to Fern Lake. This post covers the out-and-back hike from Bear Lake. On this hike, you start and end at the Bear Lake Trailhead, with views of Bear Lake. Along the way you will pass two more lakes, Lake Helene and Odessa Lake. Fern Lake will be your turn-around point.
You can also hike to Fern Lake out-and-back from Moraine Park. This hike is shorter and easier, with less elevation gain, but you will not see Lake Helene or Odessa Lake.
Finally, you can also hike to Fern Lake as a point-to-point hike, starting at Bear Lake and ending at Moraine Park (you can also hike this in the opposite direction), taking advantage of the free park shuttle to get you back to Bear Lake. This is a great way to hike to Fern Lake, since you don't have to repeat sections of the trail and you get to see more of Rocky Mountain National Park.
So, why did we choose to hike to Fern Lake round trip from Bear Lake? We didn't mind the idea of an out-and-back hike and it gave us the opportunity to retake photos under different lighting conditions on the way back.
Fern & Odessa Lakes Hiking Stats
Bear Lake to Lake Helene, Odessa Lake, and Fern Lake
Distance: 10.7 miles out-and-back
Total Elevation Gain: 2,760 feet
Difficulty: Moderate to strenuous
Length of Time: 5 to 7 hours
When to Go: The best time to do this hike is from June through September, when the trail is free of snow. Snow can linger on trail into July. Get updates on trail conditions on the National Park Service website.
Timed Entry Permit: Park Access + permit (the permit that includes Bear Lake Road).
Please practice the seven principles of Leave No Trace: plan ahead, stay on the trail, pack out what you bring to the hiking trail, properly dispose of waste, leave areas as you found them, minimize campfire impacts, be considerate of other hikers, and do not approach or feed wildlife.
Bear Lake to Fern Lake
Getting to the Trailhead
The hike starts at the Bear Lake Trailhead. Drive to the parking lot at the end of Bear Lake Road.
We arrived at the parking lot at 6:45 am and there were still parking spots available but they were going fast. This was in 2020, during COVID-19, when the park was limited to 60% capacity with timed entry tickets. To get a parking space, we recommend arriving by 7:30 am.
If the Bear Lake parking lot is filled, you will have to park at the Park and Ride on Bear Lake Road and take the free shuttle to the trailhead. During peak season, this lot can also fill (usually midday) so park rangers turn away visitors from this section of the park once all of the spaces fill. So get here early or late in the day.
At the end of the Bear Lake parking lot, in between the shuttle bus stop and the restrooms, is the trailhead for Bear Lake Trail.
It is a very short walk to reach your first view of Bear Lake. As you approach the lake, Bear Lake Trail will split into two directions as it makes a circle around the lake. We followed Bear Lake trail to the right (counterclockwise direction around the lake) as this was the shortest route to head towards Fern Lake. In this direction it only takes a few minutes before the trail splits off towards Fern Lake. You'll be able to enjoy a couple of viewpoints out across Bear Lake before the split, but just keep your eyes out for the sign to Fern Lake.
Hiking to Lake Helene
This part of the trail starts with a moderate ascent with spaced out steps. At about 0.75 miles into the hike (all distances are measured from the beginning of the hike at the Bear Lake parking lot) you'll need to make a sharp left to continue towards Fern Lake. There is a sign here pointing you in the correct direction. The moderate ascent will continue a bit longer but it will eventually flatten out a bit and become easier the rest of the way up (and without the steps).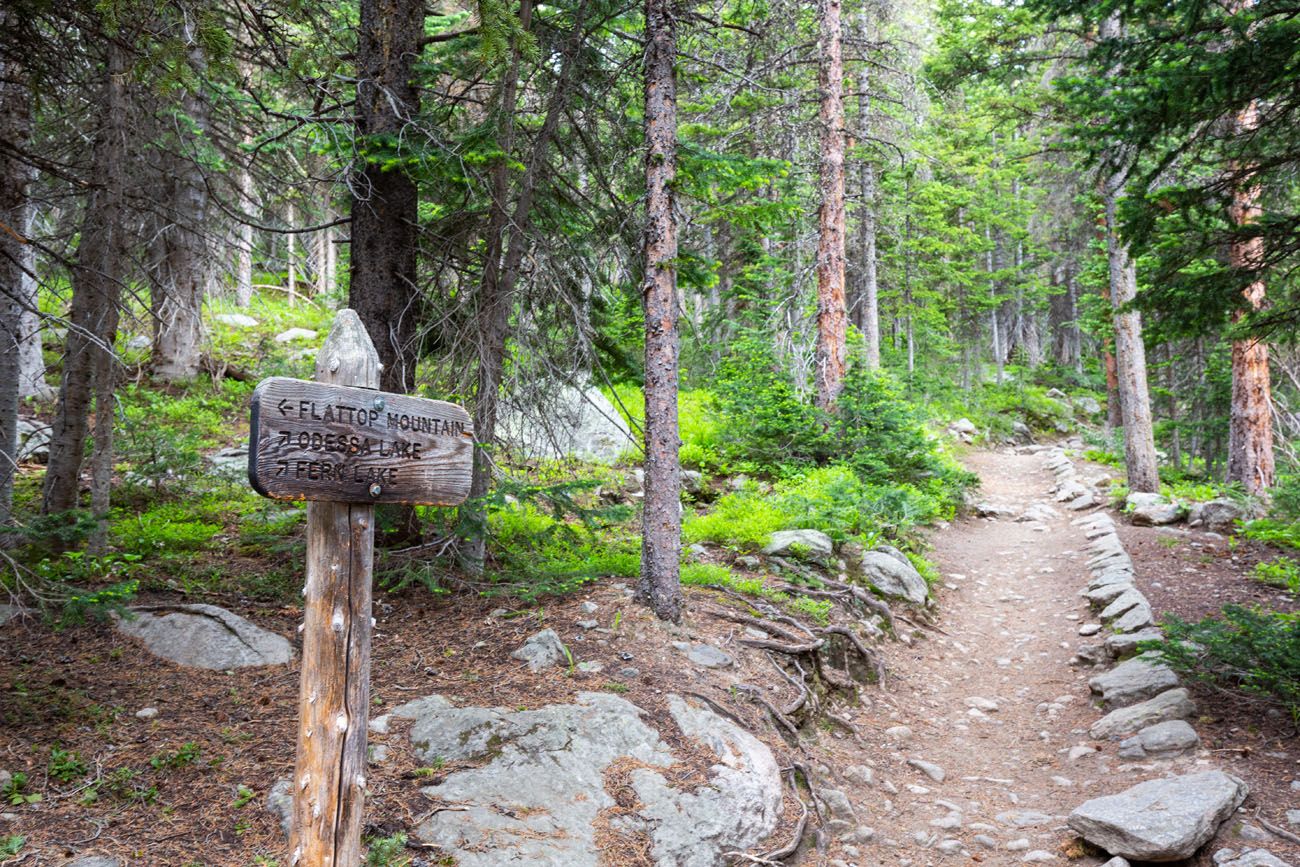 There isn't really anything to see during this portion of the trail, it's all about working your way up the mountain to a ridge line, which is where the trail starts to flatten a bit.
At 1.25 miles into the hike the trees along the right side of the ridge line opened up for our first view out over a valley of evergreen trees. We got a similar view a quarter of a mile later plus we could see a lake in the distance which added to the beauty of the view.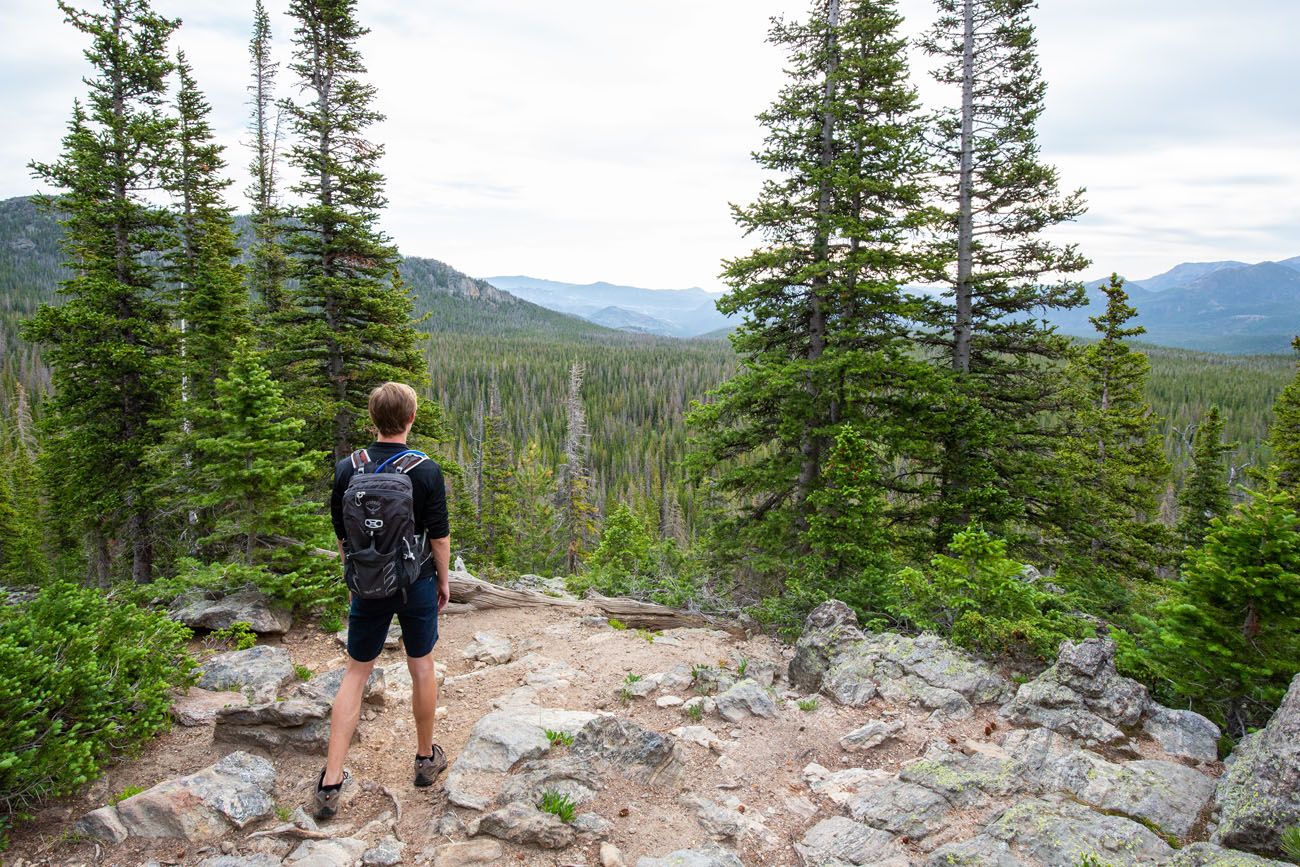 1.75 miles into the hike the trail becomes more fun with small streams along the trail, a pond, and snow covering parts of the trail (we were here at the very end of June). In several spots to the left you could peek out of the trees and see the mountains.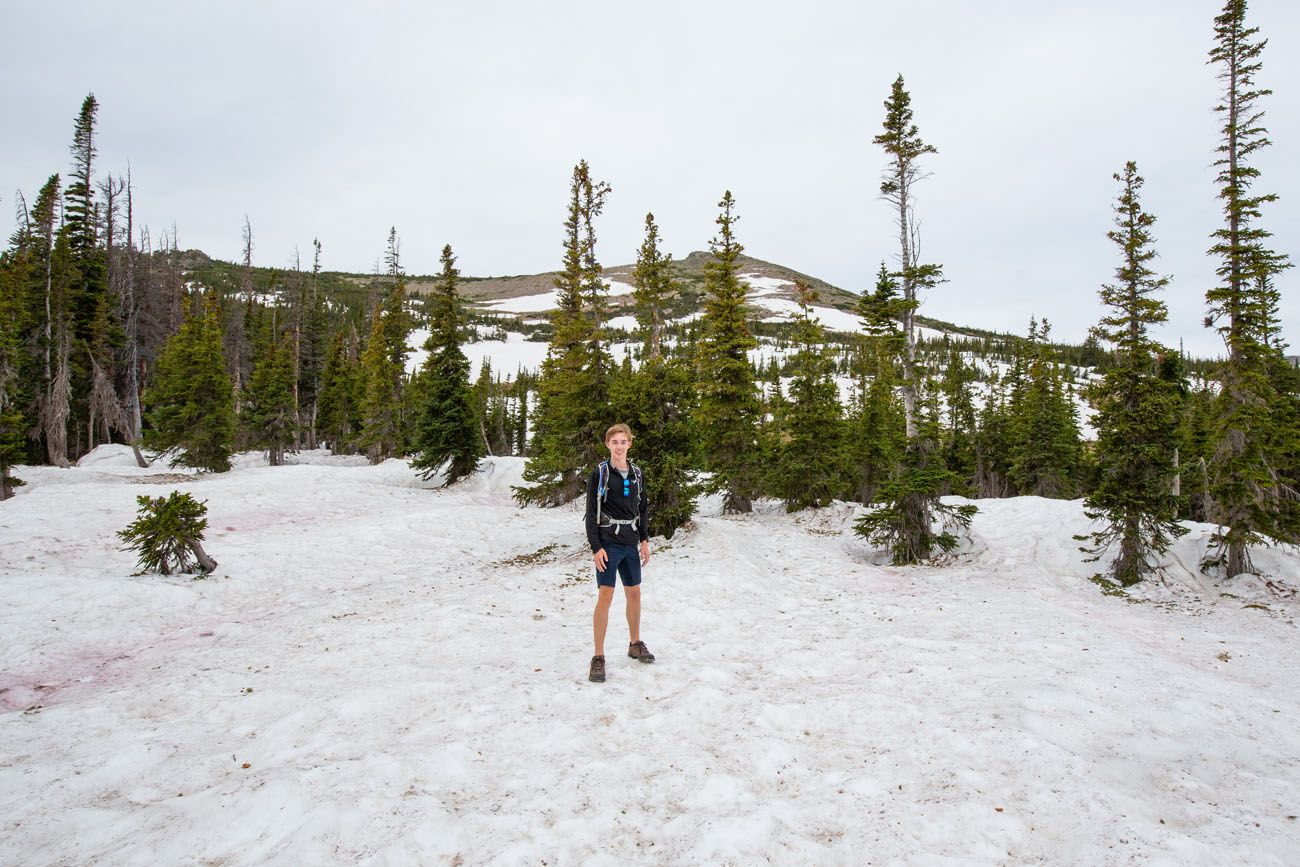 Snow on the trail at the end of June.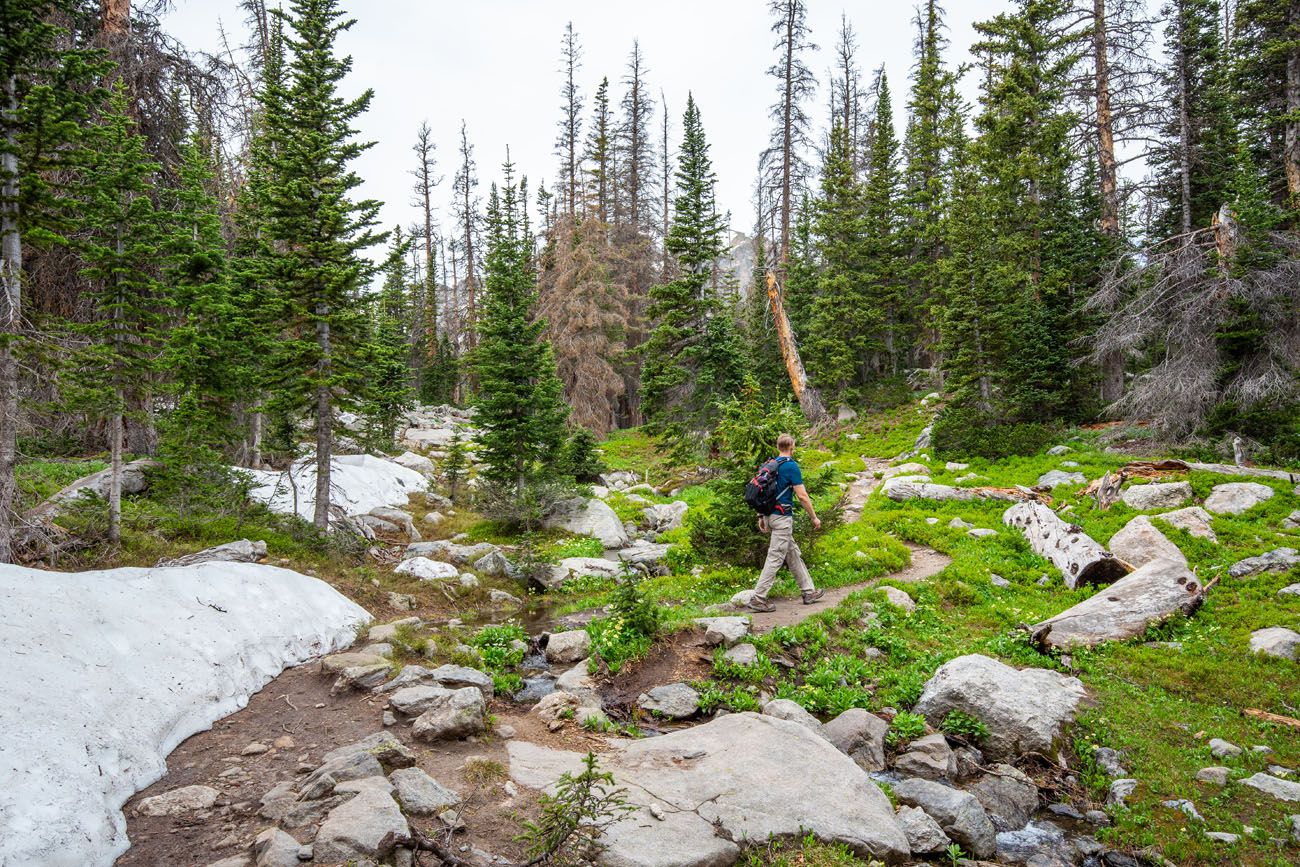 A pond along the trail
At 3.2 miles into the hike, there is a trail that splits off to the left that will take you to a view of Lake Helene. Unfortunately, there isn't any signage so you need to be looking for the split.
You only need to follow this spur trail 0.1 miles to a stream. Look left at the stream and you'll see Lake Helene. We were able to step on rocks in the stream to get a closer look. Once you are done at Lake Helene, backtrack to the trail to Fern Lake.
Lake Helene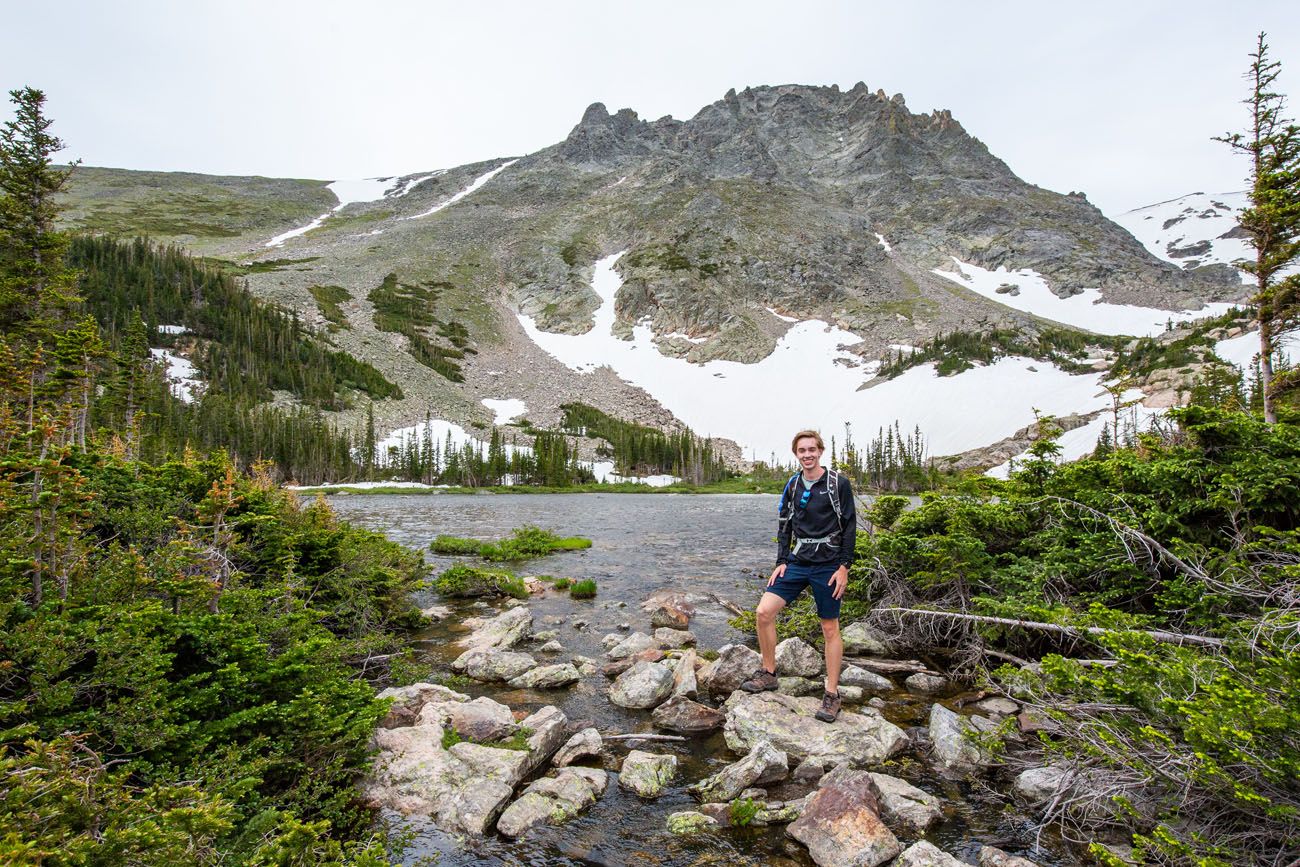 Hiking to Lake Odessa
At 3.5 miles into the hike, you finally come out of the trees and are treated to views of incredible mountain scenery, with mountain peaks, a waterfall, and a view looking down onto Odessa Lake. You'll be happy to know that you reached the peak of the trail at this point and the rest of the hike to Fern Lake is predominantly downhill from here.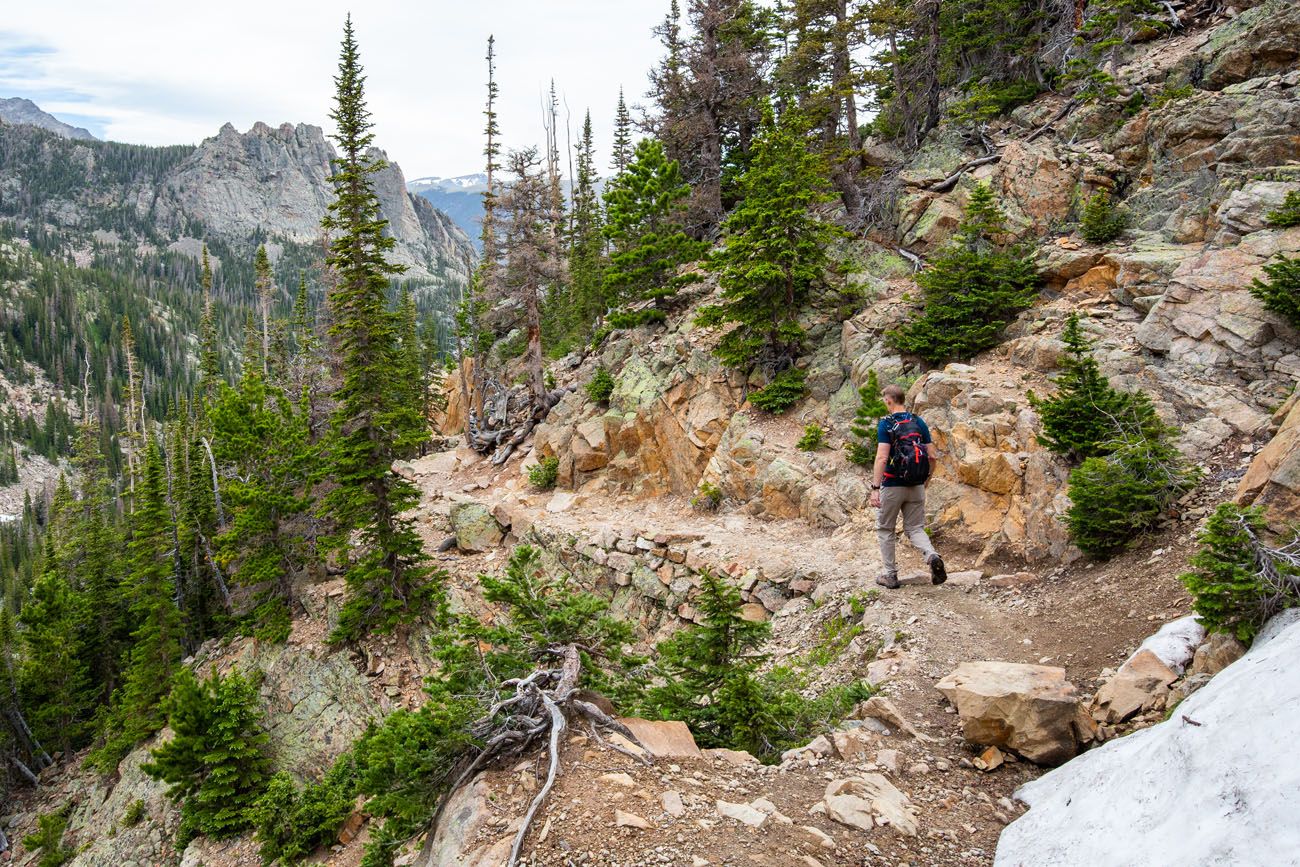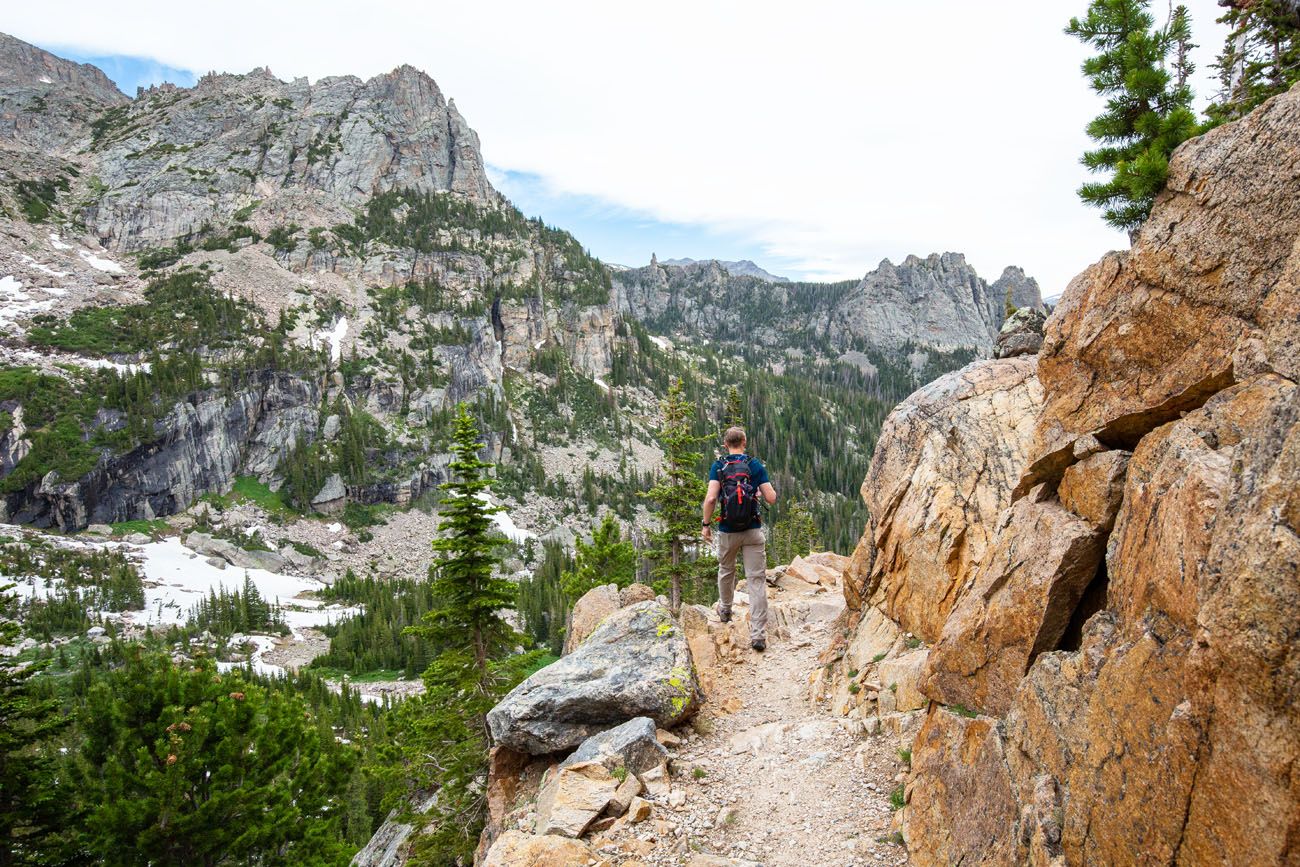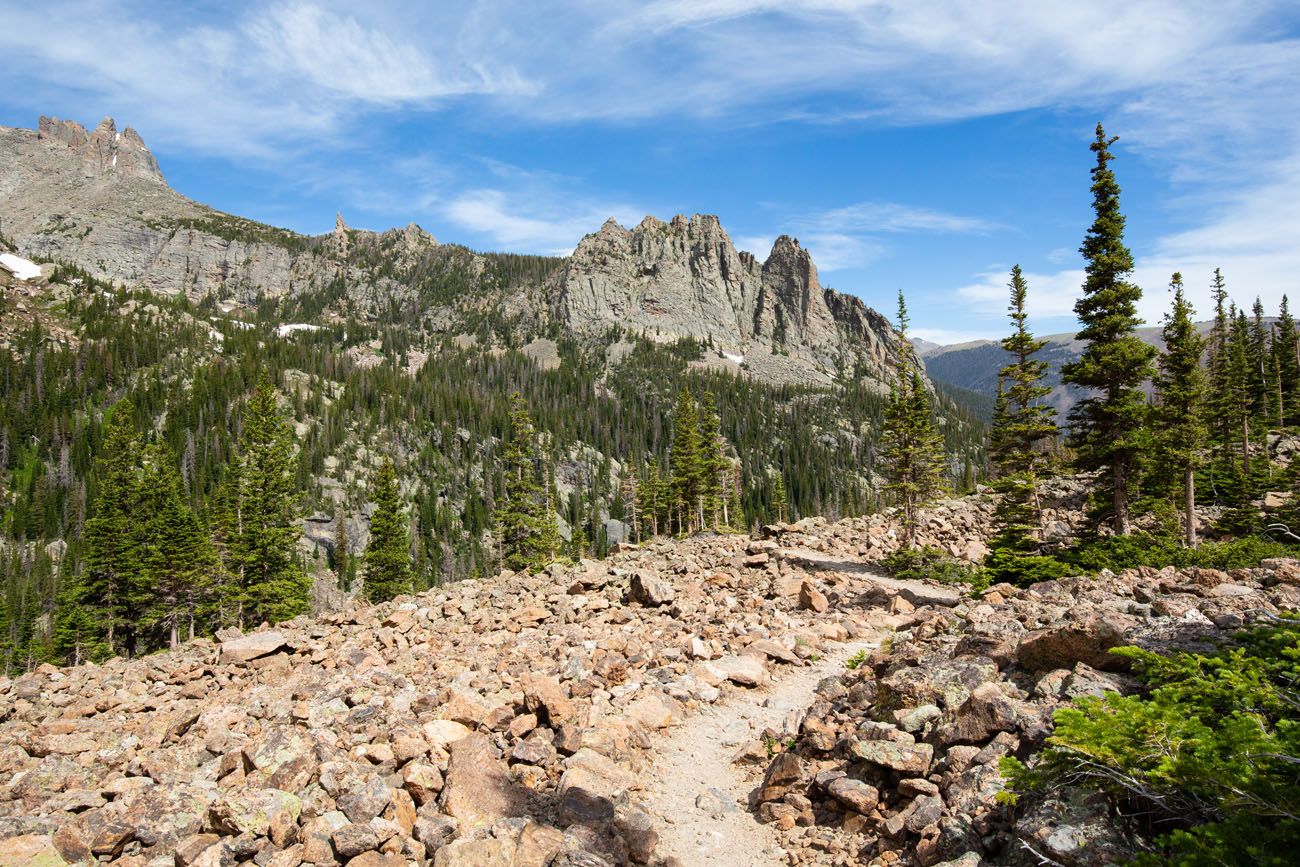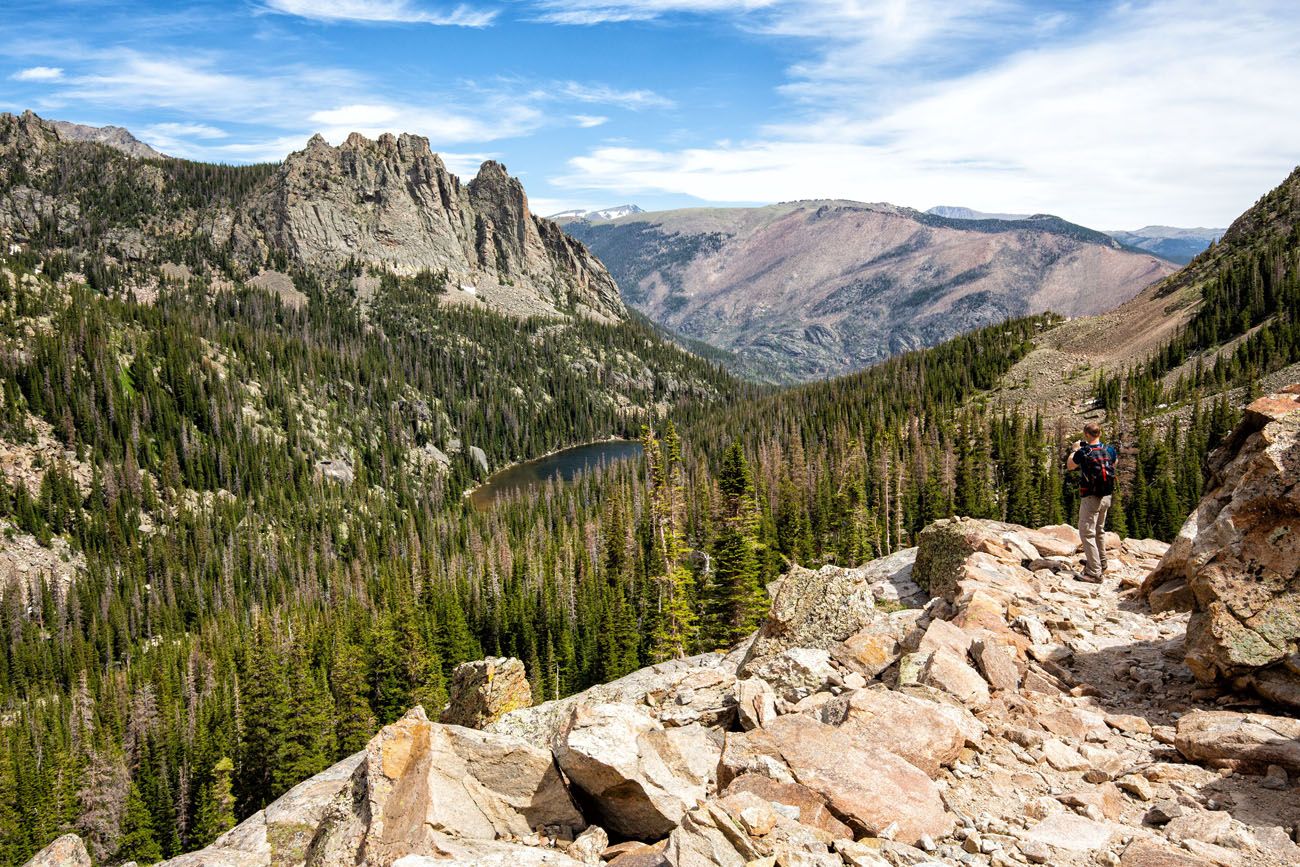 View over Odessa Lake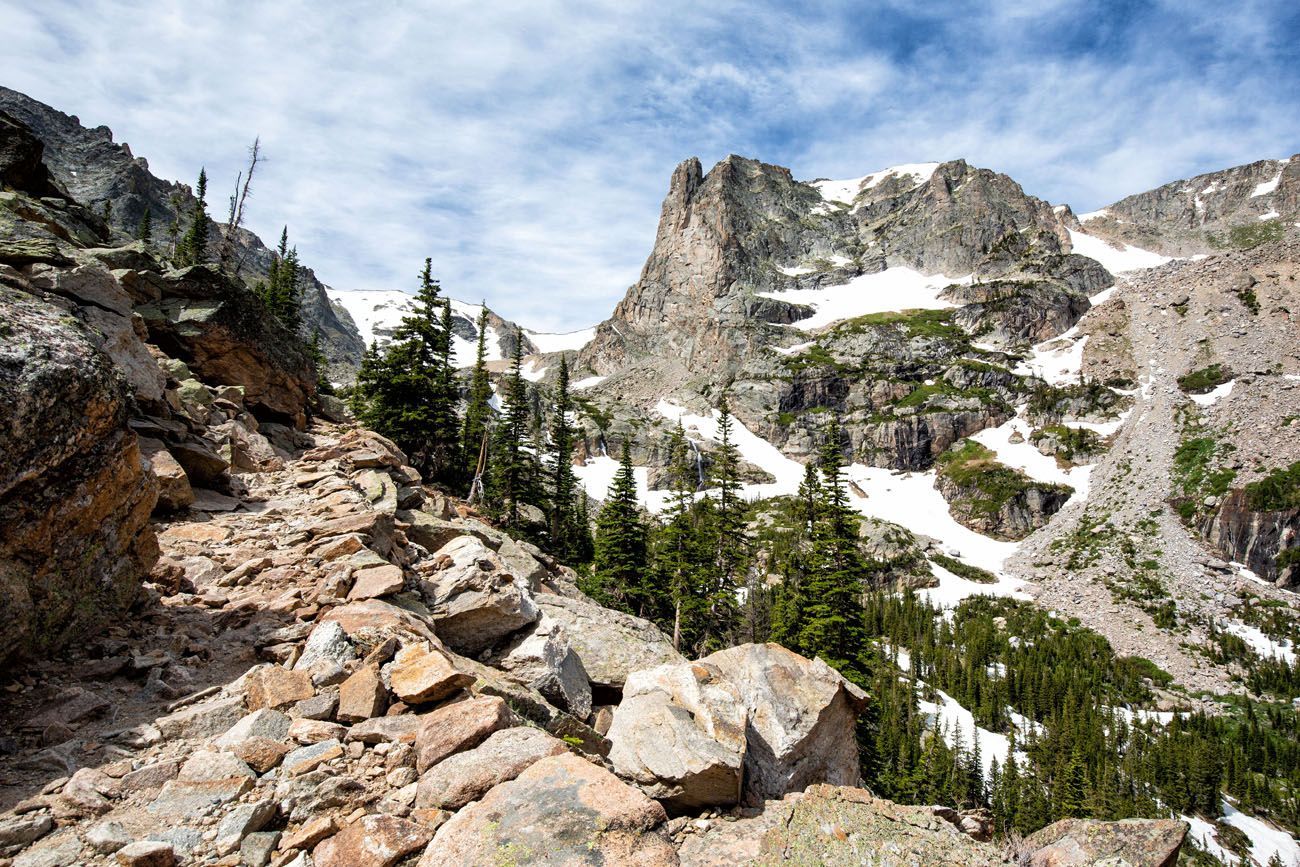 Looking back up at the trail
During this section of the trail we crossed over snow in a few spots that had piled up along the side of the mountain, so the snowbank was inclined with the mountain itself. There was only a narrow path of footprints that provided a flat surface to walk on.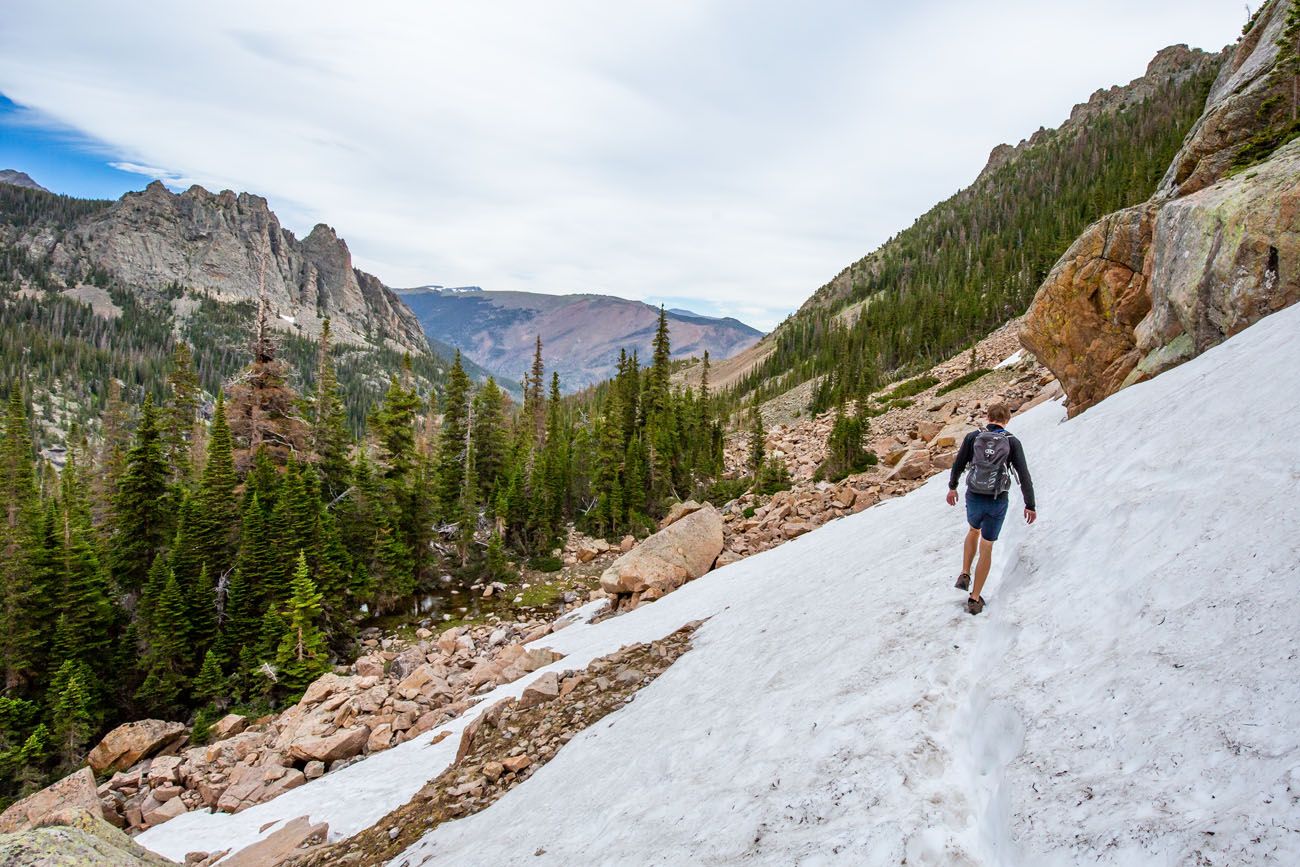 At 4 miles into the hike you re-enter the trees. You'll have a sharper descent in some places but I would still consider it moderate.
If you are looking for it then at mile 4.3 you can catch a glimpse of Odessa Lake through the trees. Even though it looks like you'll be hiking past Odessa Lake, don't leave the trail to try and take a picture here. Go a little further (4.5 miles into the hike) and there will be a split off of the trail that will take you right up to Odessa Lake. There is a sign at the split pointing you in the right direction, but it's basically a switchback trail that you follow up the river. This is a short (about ¼ mile), beautiful trail that follows a rapidly flowing river surrounded by evergreen trees, ending with a great view over Odessa Lake.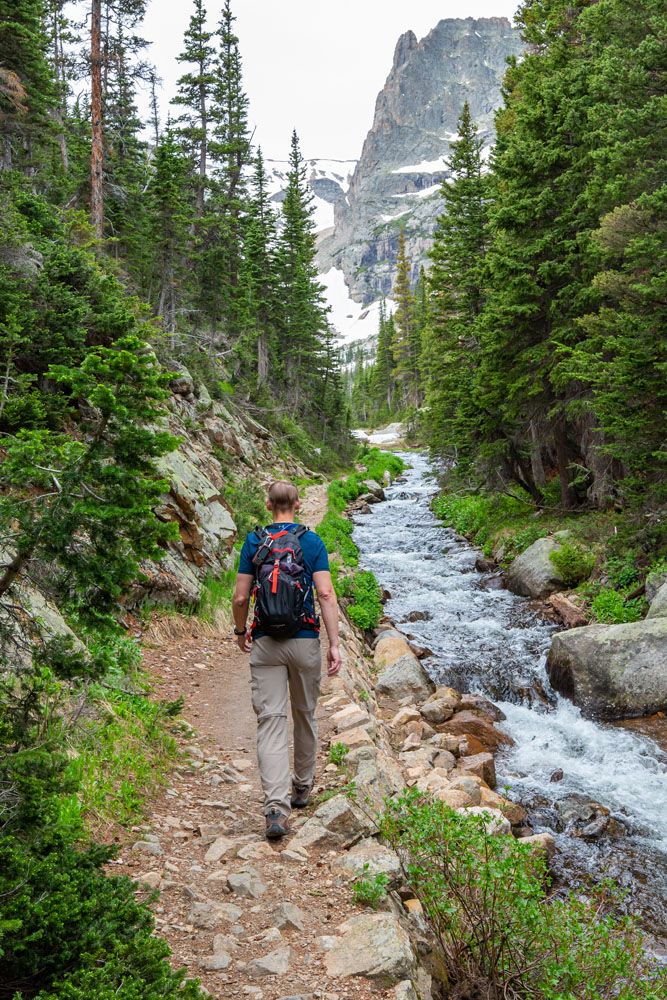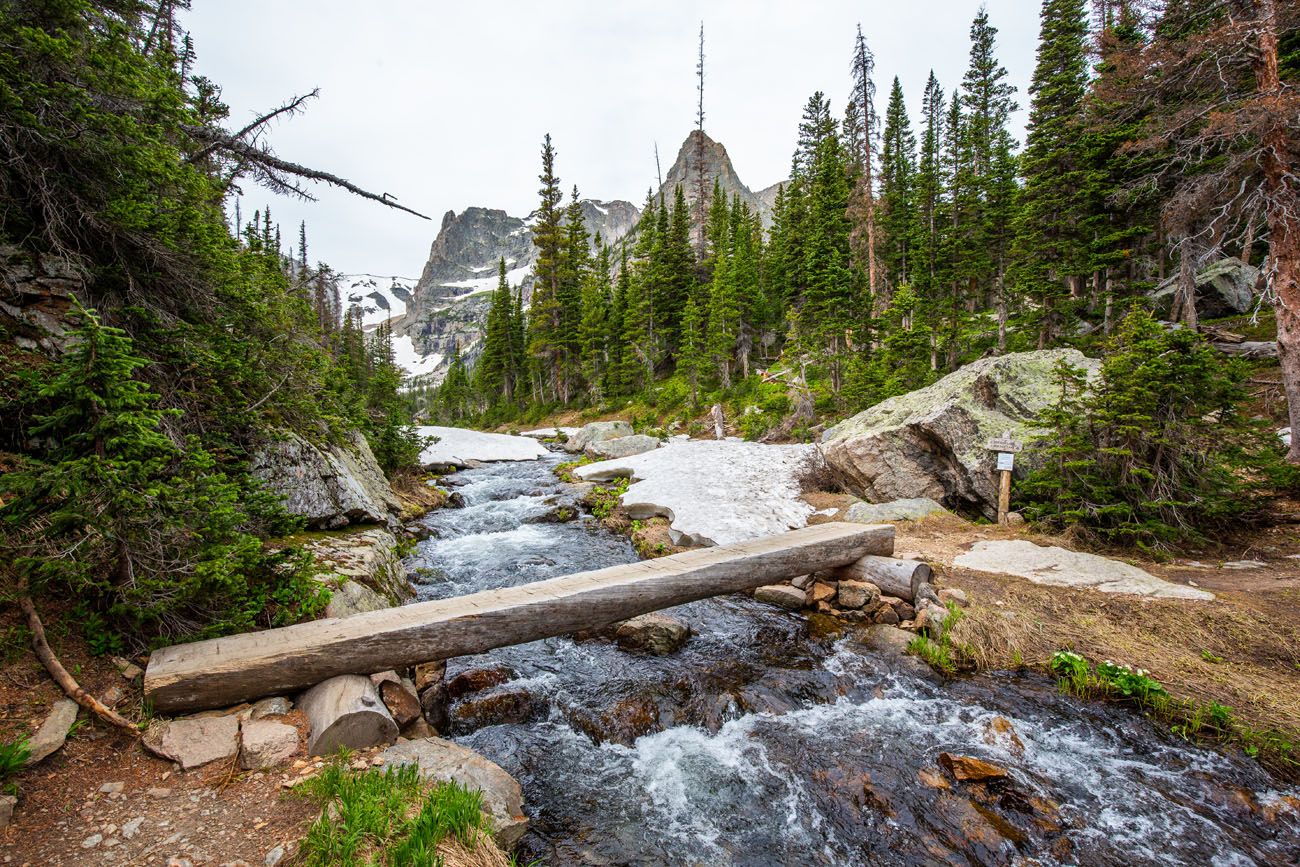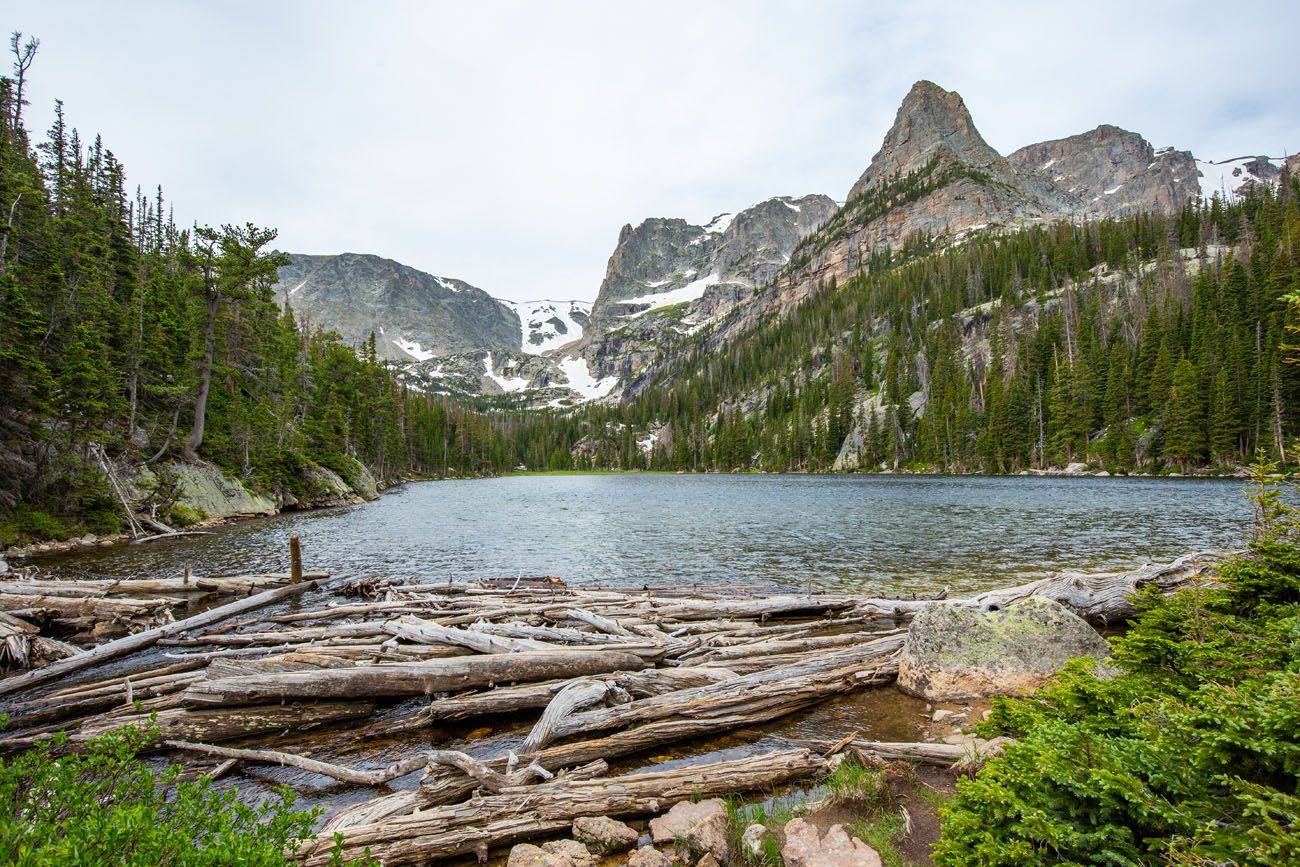 Odessa Lake
Once you are done at Odessa Lake then backtrack the quarter of a mile so you are on the trail to Fern Lake again.
Hiking to Fern Lake
You'll continue descending down to Fern Lake. We reached the water level of Fern Lake at 5.75 miles into the hike. We enjoyed the view for a bit and then turned around and headed back to Bear Lake following the same trail we took to get here.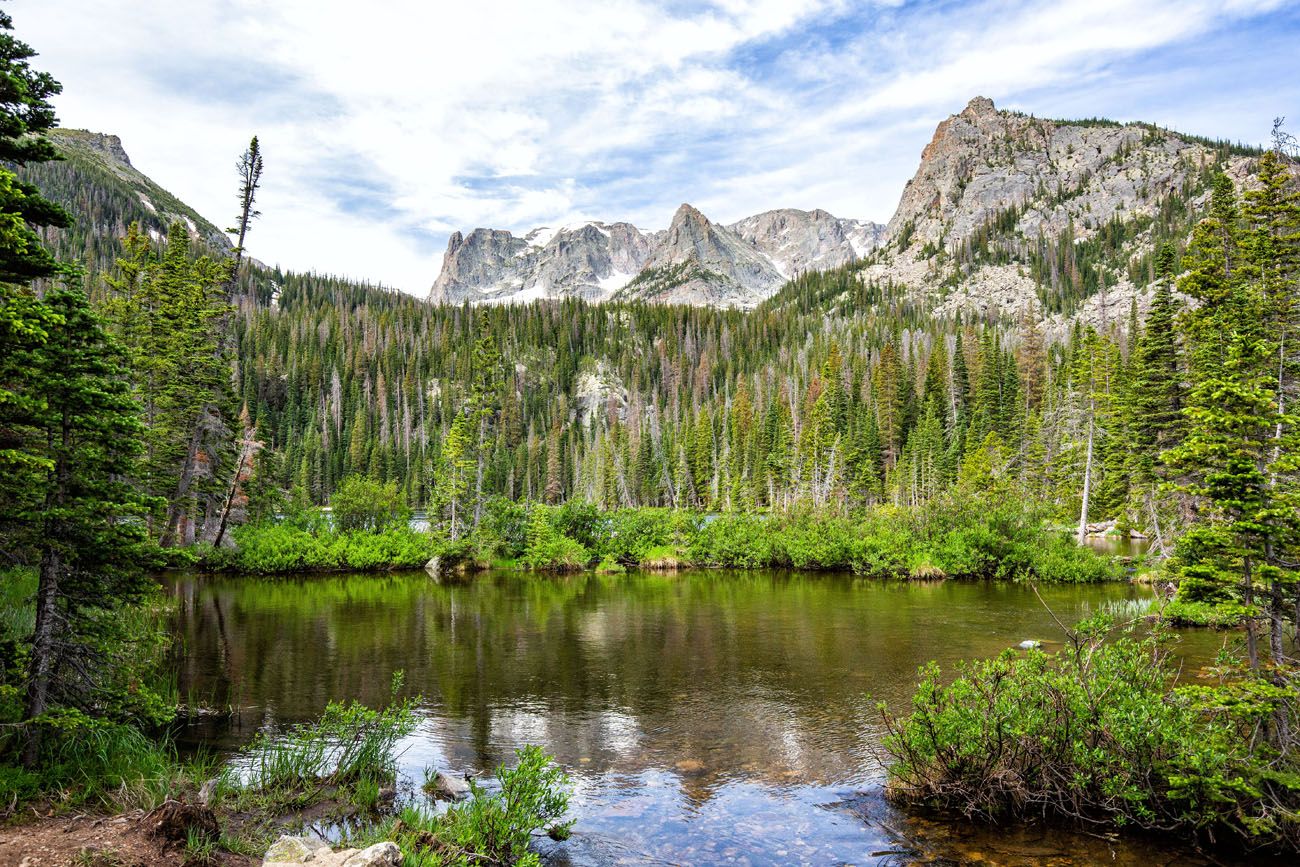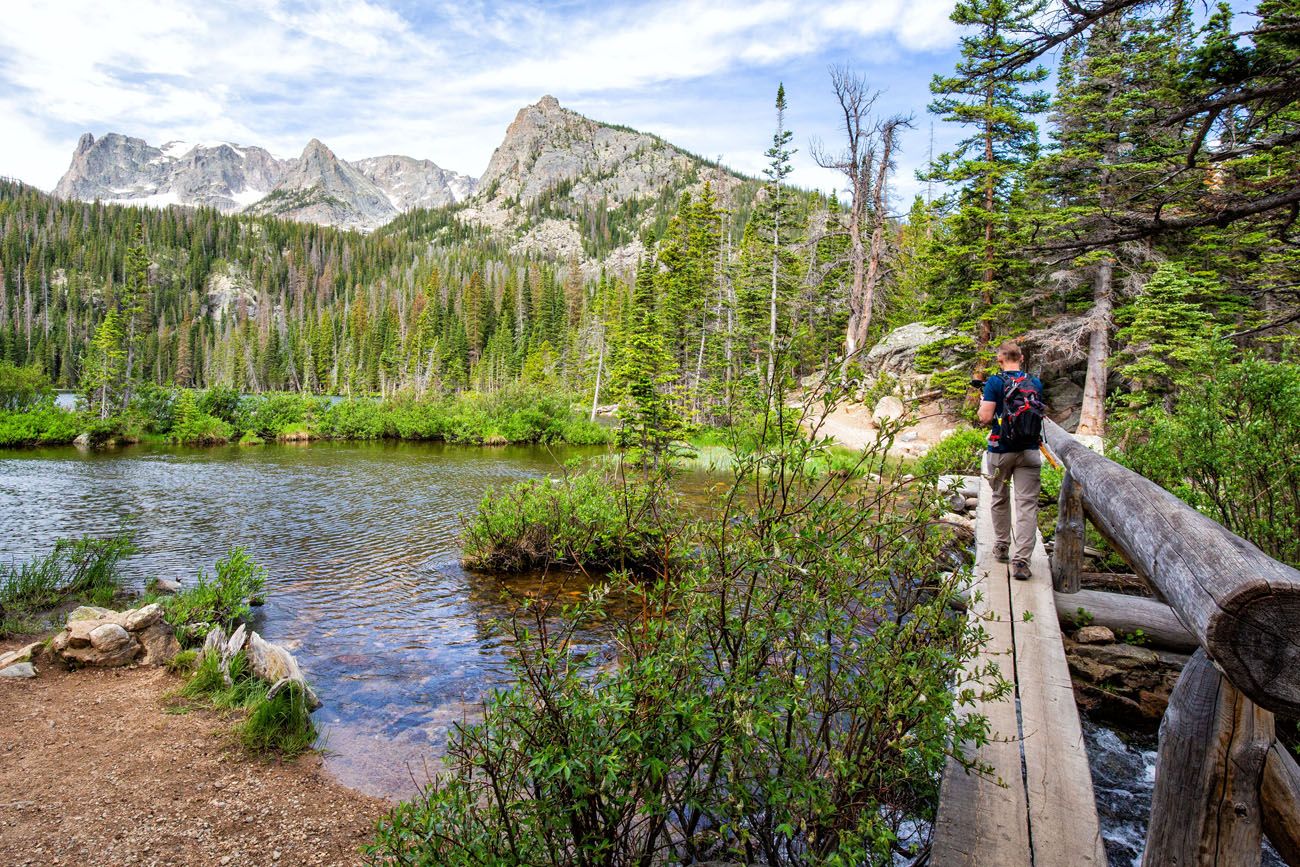 The return back to Bear Lake is slightly harder as you now have to ascend roughly 1,500 feet; whereas the total ascent to Fern Lake was roughly 1,200 feet.
Tips to Have the Best Experience
Start the hike early, ideally by 8 am. During the summer months, afternoon thunderstorms are common, typically occurring by 2 pm. To avoid the storms, return to the parking lot by 2 pm.
If you plan to visit Rocky Mountain National Park from late Spring through early fall, you will need a Timed Entry Permit for some areas of the park. Learn more here.
Cache the hiking trail on Google Maps on your phone before you enter Rocky Mountain National Park. We ran into a spot where a lot of snow was covering the trail and it was difficult to figure out which way to go. You couldn't follow the footprints because they went in every direction due to other people trying to find their way. But it was super easy to follow the trail on Google Maps. Google Maps was also helpful to see our location on the trail relative to the lakes we wanted to see.
Do not expect your cell phone to work. On 95% of the hike we had zero cellular service (this also goes for the entire drive down Bear Lake Road). There were a few spots in clearings or at higher elevations where we got a few bars of LTE or 3G, just enough to send a text message. But don't depend on your phone to call for help, talk to friends, or send photos to friends and family.
Trail closures in RMNP. As you plan your trip and just before your visit, go to the National Park Service website for updates on trail closures and road closures.
More Hikes in RMNP. Hiking to Odessa and Fern Lakes is just one of many hikes you can do in Rocky Mountain National Park. For more ideas and a long list of hiking trails, check out our Rocky Mountain Hiking Guide.


What to Bring on the Hike
Hiking shoes. We encountered snow, mud, and rocky conditions on the trail so we recommend wearing hiking shoes.
Sunscreen, hat, and sunglasses. For portions of the hike you will be in and out of the shade of the trees.
Camera. Even a smartphone will do. For great photos of the lakes, use the panorama feature of your smartphone.
If you are new to hiking or are curious about what you should bring on a hike, check out our Hiking Gear Guide. Find out what we carry in our day packs and what we wear on the trails.
---
If you have any questions about how to hike to Fern Lake, let us know in the comment section below.
More Information about RMNP & Colorado
ROCKY MOUNTAIN NATIONAL PARK: Check out our Rocky Mountain National Park Travel Guide for important travel planning tips, sample itineraries, advice on when to go, where to stay, and more.
ROCKY MOUNTAIN NATIONAL PARK ITINERARY: How many days do you need in RMNP? Get the answer to this question and learn how to plan your itinerary in our Rocky Mountain National Park Itinerary Planner.
MORE HIKES IN RMNP: In our Rocky Mountain National Park Hiking Guide, learn about the top hikes to do in the park. We also have detailed guides on the Continental Divide Trail to Mt. Ida, Deer Mountain, Sky Pond, Gem Lake, and Emerald and Dream Lakes.
NATIONAL PARKS IN COLORADO: In our guide to the National Parks in Colorado, learn about all 4 national parks: Rocky Mountain, Black Canyon of the Gunnison, Great Sand Dunes, and Mesa Verde. Learn how to combine them all together into one epic road trip in our 10 Day Colorado Itinerary.
VISIT THE US NATIONAL PARKS: Looking for your next big adventure? Read our article about the 15 Best National Parks, where we narrow down the long list into 15 must-see parks. You can also learn more about the national parks (and get the full list) in our Guide to the US National Parks. Finally, if you are traveling as a family, here are the best parks to visit with kids.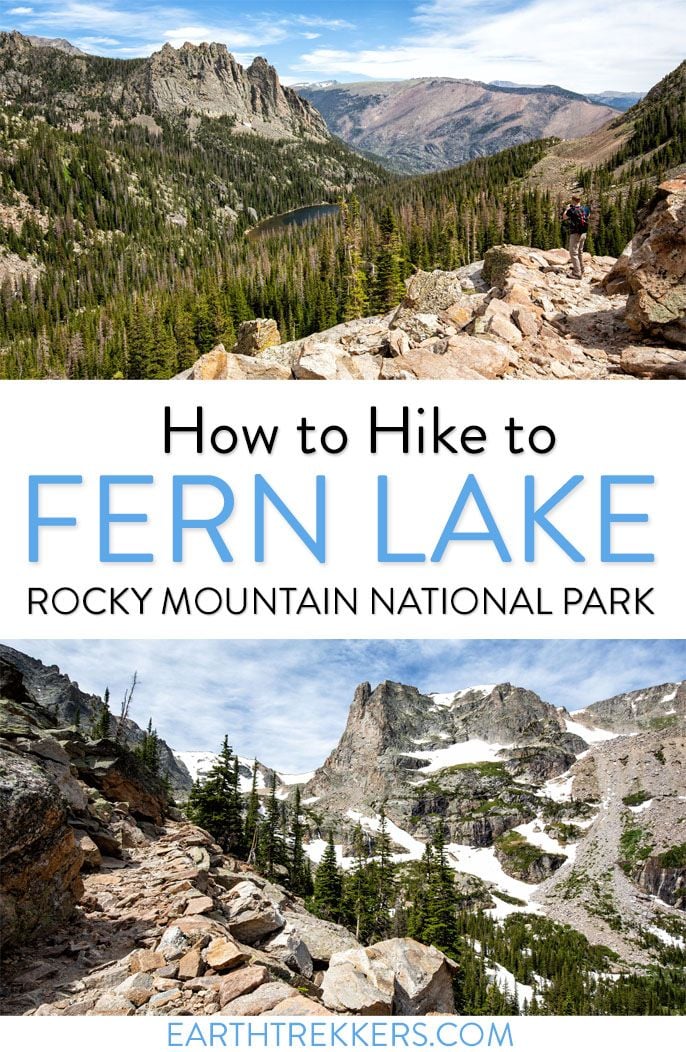 All rights reserved © Earth Trekkers. Republishing this article and/or any of its contents (text, photography, etc.), in whole or in part, is strictly prohibited.