Great Sand Dunes is a much different experience than many other national parks in the United States. Sure, there is hiking and amazing sunsets and ranger programs, but this park has a much different feel to it.
It's a small park and the list of things to do is very short. A few hours are really all you need to experience it and hike out onto the dunes. But you might end up wishing you had more time. Sandboarding and sand sledding are a blast, the sunsets are gorgeous, and this park just feels all around fun.
Never have we heard so much laughter and delight from children than at this park. Playing in the sand is fun for the younger kiddos. Older kids, teenagers, and adults who are kids-at-heart will love sandboarding or sledding.
In this post, learn about the best things to do at Great Sand Dunes National Park, with tips to have the best experience, where to stay, how to rent those sandboards, and more.
While in Great Sand Dunes National Park & Preserve, please practice the seven principles of Leave No Trace: plan ahead, stay on the trail, pack out what you bring to the hiking trail, properly dispose of waste, leave areas as you found them, minimize campfire impacts, be considerate of other hikers, and do not approach or feed wildlife.
Interesting Facts About Great Sand Dunes National Park
Great Sand Dunes National Park and Preserve contains the tallest sand dunes in North America. At 750 feet, Star Dune is the tallest dune in Great Sand Dunes, followed by High Dune at 699 feet. The main dunefield covers an area of 30 square miles.
For reference, the tallest sand dunes in the world are found in Inner Mongolia, China, at a height of 1,600 feet.
During the month of May, the Medano Creek floods the area between the parking lot and the dunes. Late May into June are the best time to ride the surge waves, which are waves of water that come down out of the mountains from the melting snow. Floating on the creek in rafts is an extremely popular thing to do during this time.
Great Sand Dunes officially became a national park on September 13, 2004. With roughly a half million visitors per year, this is one of the lesser visited national parks in the United States.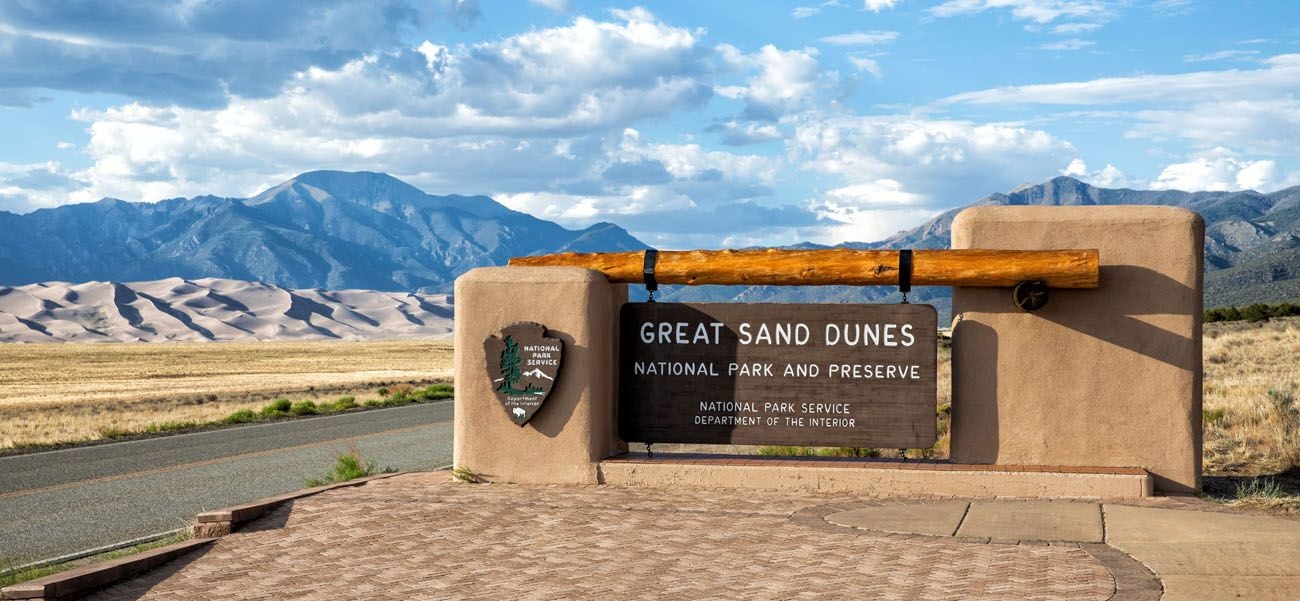 How Were the Sand Dunes Formed?
Two mountain ranges, the Sangre de Cristo Mountains and the San Juan Mountains, sit side-by-side, creating a semicircular rim. Millions of years ago, water from the melting glaciers of these mountain ranges flowed down into this pocket, forming Lake Alamosa. The water washed sediment and sand into this basin.
Over time, the lake receded, leaving behind sand. As the wind blows into this pocket, more sand accumulates, creating the dunes. During storms, the wind blows in the opposite direction, which causes the dunes to grow taller.
These dunes continue to grow, albeit at an extremely slow pace. Two streams, Medano and Sand Creeks, continue to bring sand from the mountains and deposit it at the dunefield.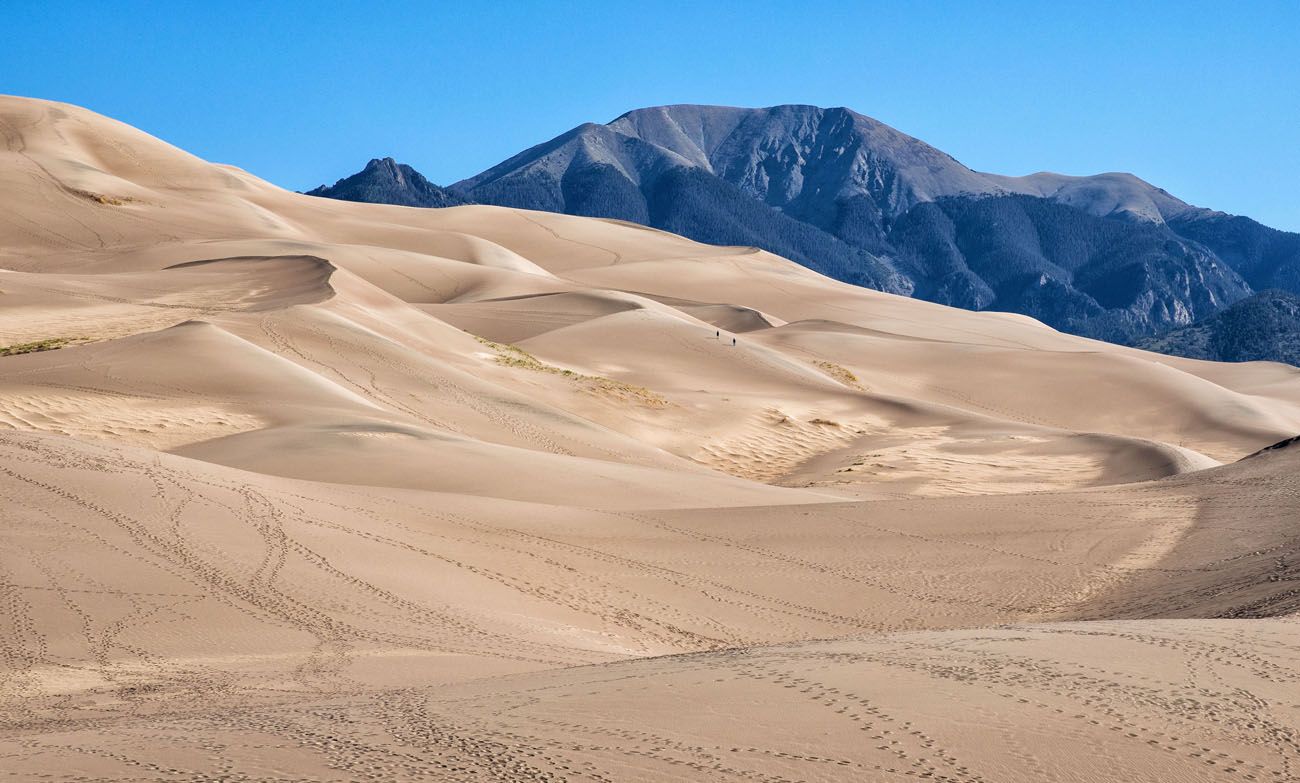 Best Things to do at Great Sand Dunes National Park
1. Walk on the Dunes
One thing you must do while at Great Sand Dunes National Park is walk on the dunes.
One of the many wonderful things about Great Sand Dunes National Park is that it is so easy to visit. Once you enter the park, drive past the visitor center and then turn into the one main parking lot.
From here, you simply walk out to Medano Creek and onto the sand dunes.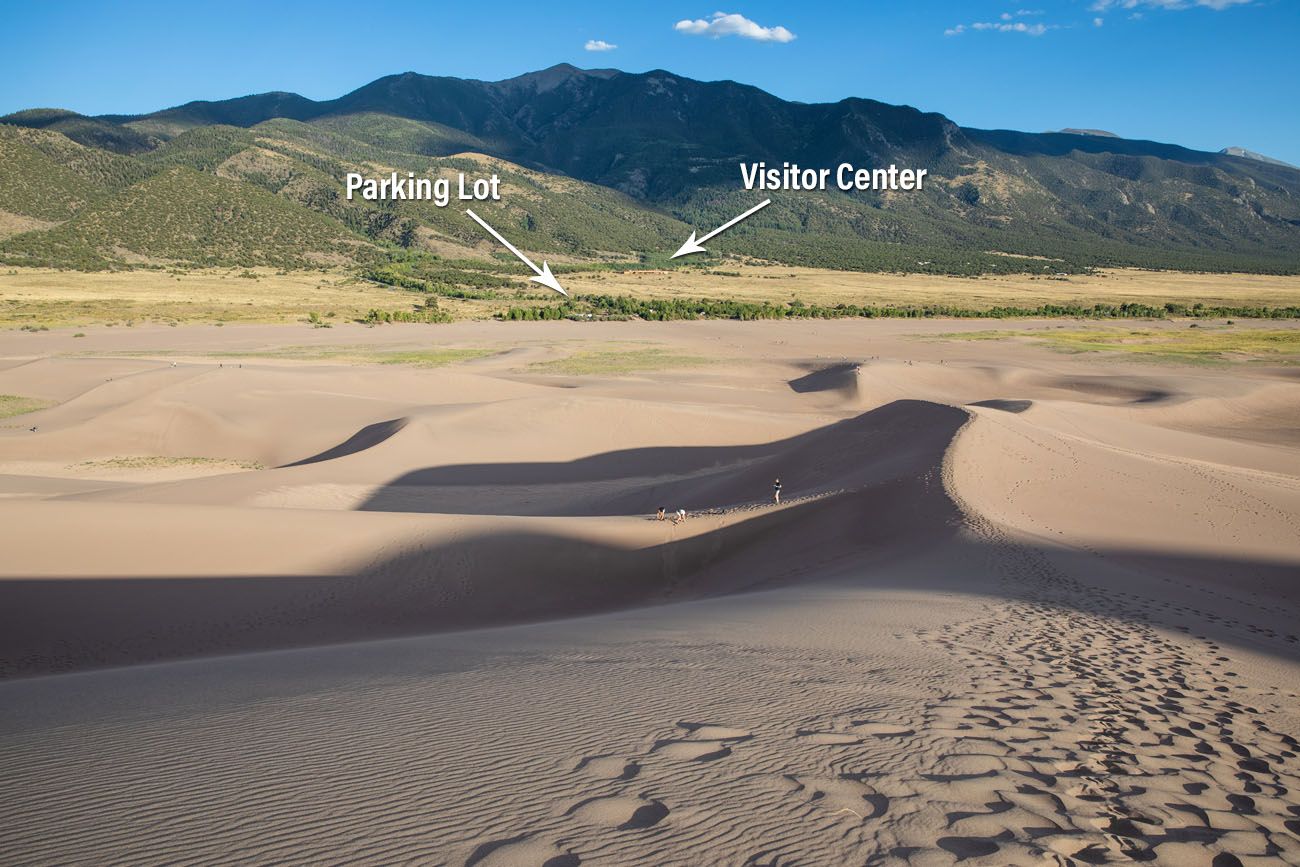 View from the sand dunes of the visitor center and main parking area.
PRO TRAVEL TIP: Medano Creek is a shallow creek that flows in the spring and early summer months. Typically, this creek starts flowing in April, peaks in May, and dries up by late June. During these months, you will cross this creek to get to the dunes. Click here for current conditions. When we did this in mid-July, the creek was dry.
Even though it is flat, it is a slow walk across the loose sand to get to the dunes. It would take us about 10 to 15 minutes just to walk from the parking lot to the base of sand dunes.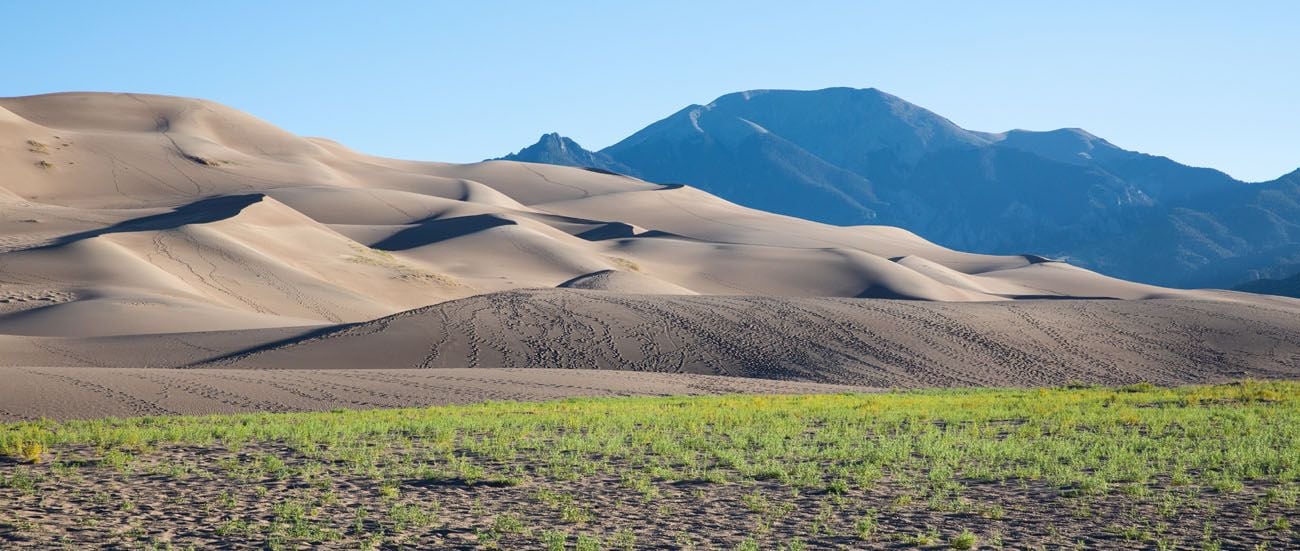 View of the dunes from the parking lot.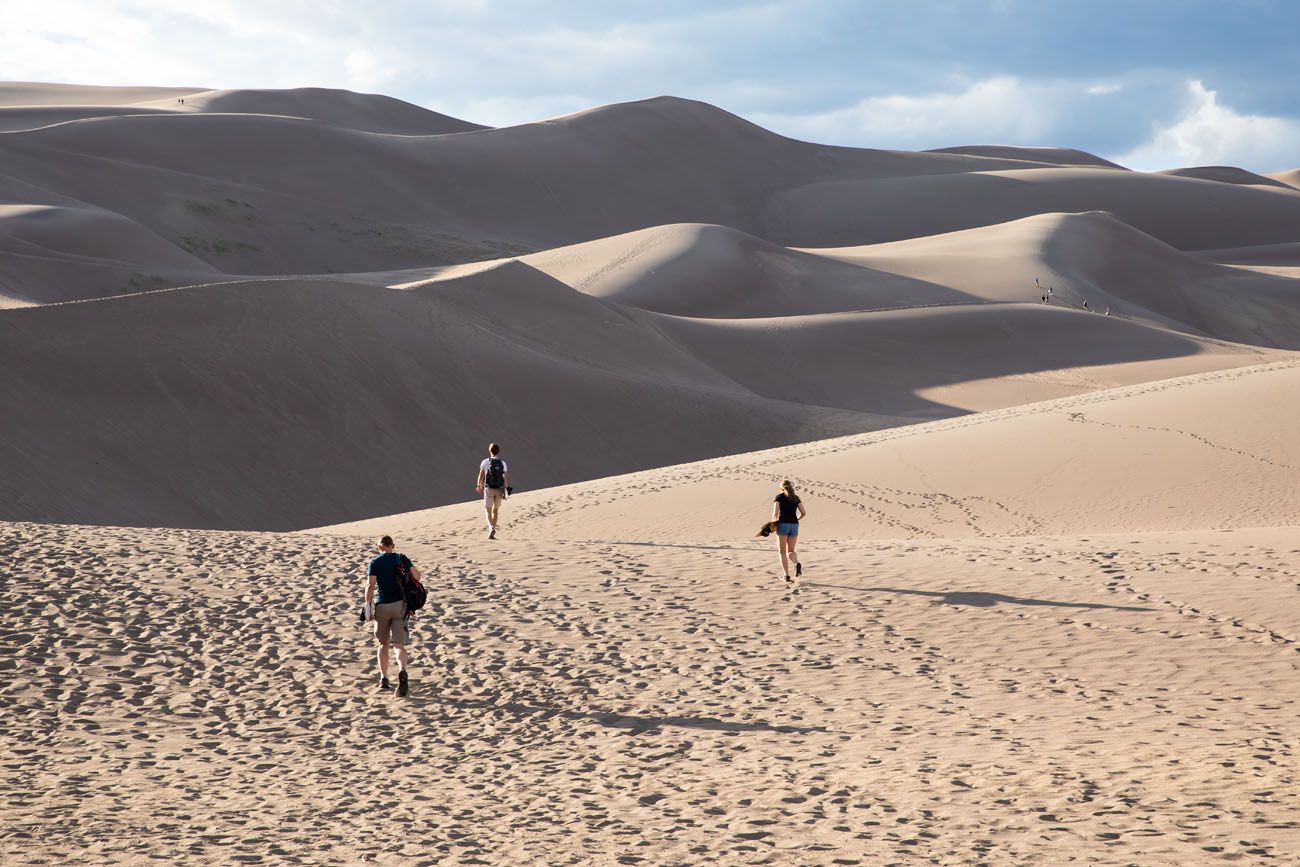 Once at the dunes, you can pick your path up the dunes. This is a big area and it is easy to spread out and distance yourself from other visitors. The farther you hike up into the dunes, the more solitude you will have, with a chance to walk on pristine sand.
You really don't have to go far for stunning views across the dunes and out to the Sangre de Cristo and San Juan Mountains.
2. Hike to the Tallest Dune in North America
High Dune
High Dune is the second tallest dune in the park. It may only be 699 feet tall, but it's a slow, arduous hike to get to the peak. The shifting sands, the inclines, and the elevation (the park sits at about 8,000 feet so you will easily get out of breath if you are not acclimated to the elevation), makes this hike deceptively hard.
It took us about one hour to hike from the parking lot to the top of High Dune.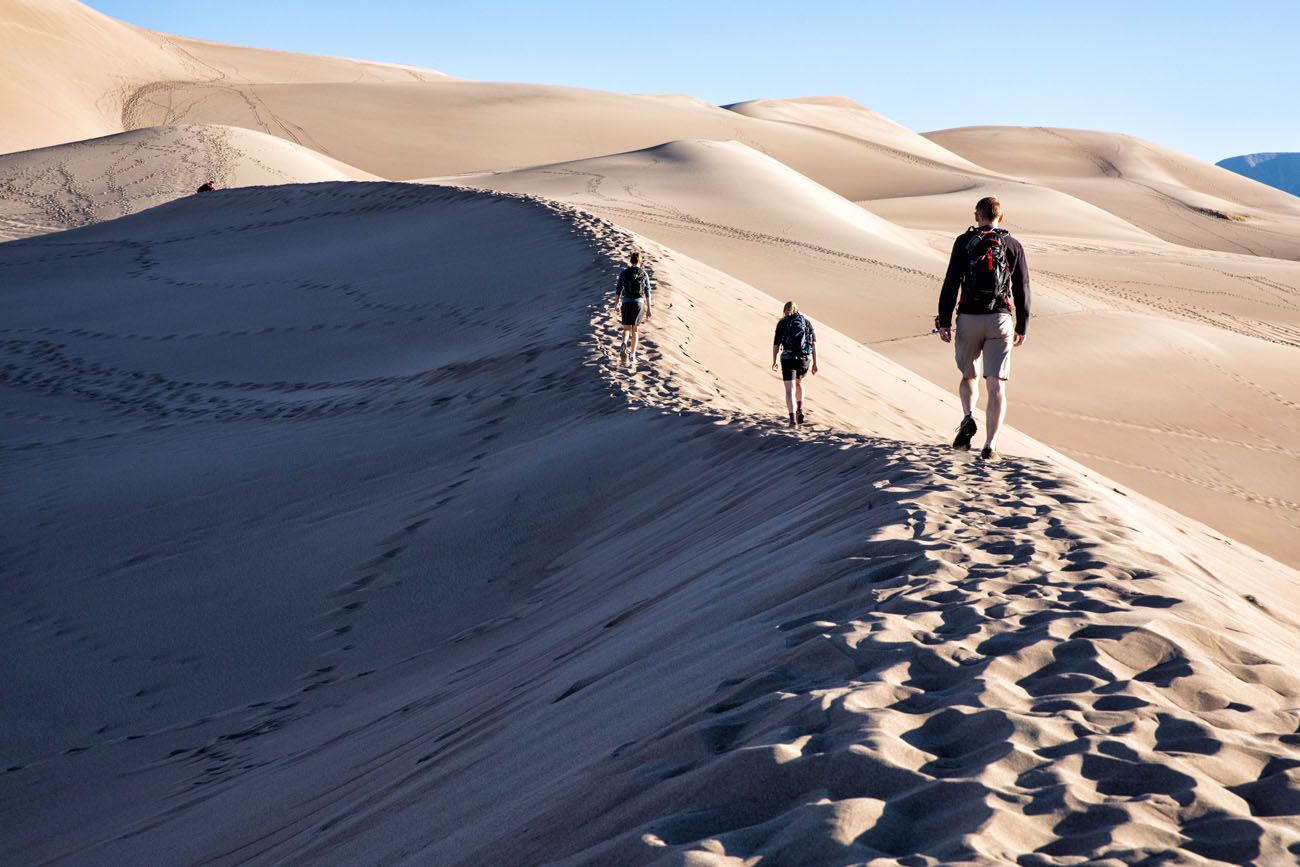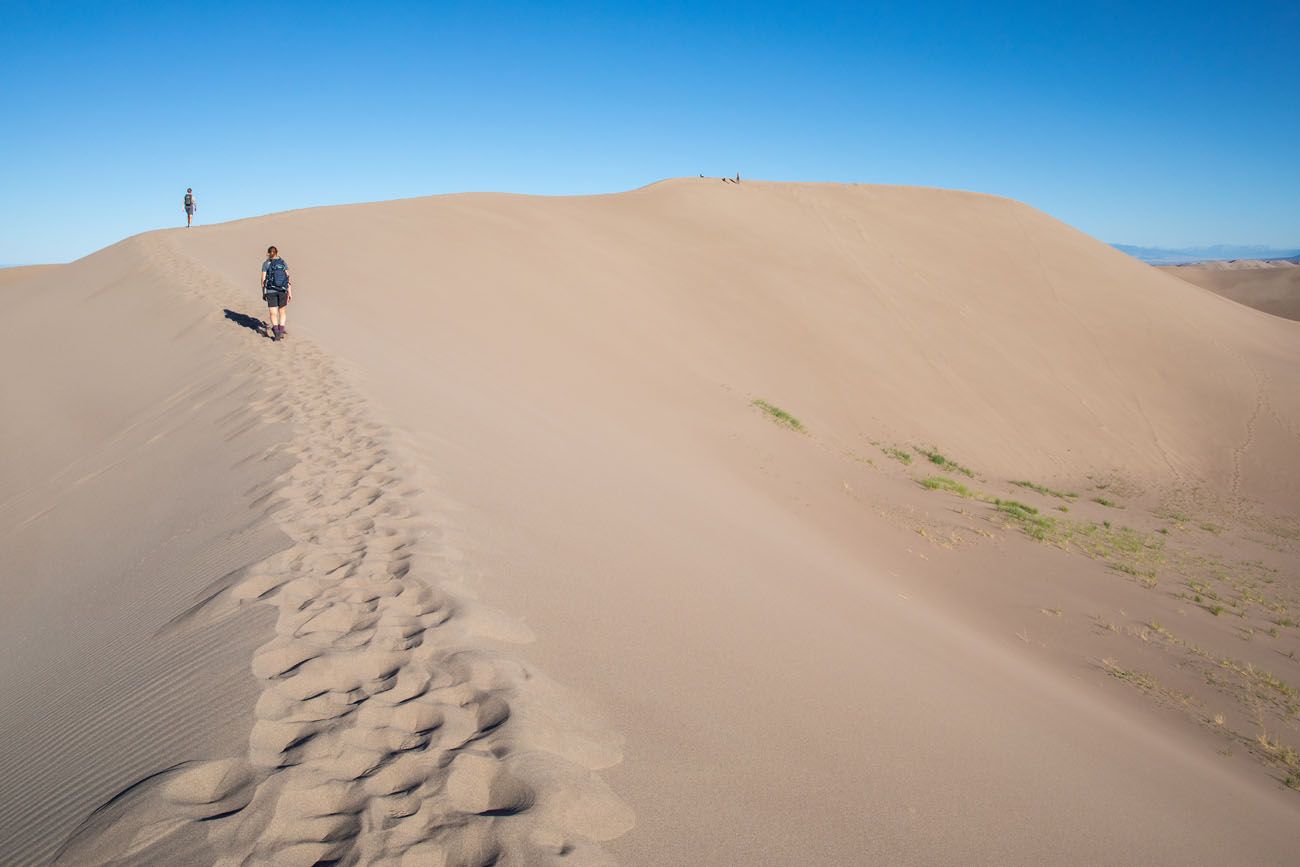 Almost to the top of High Dune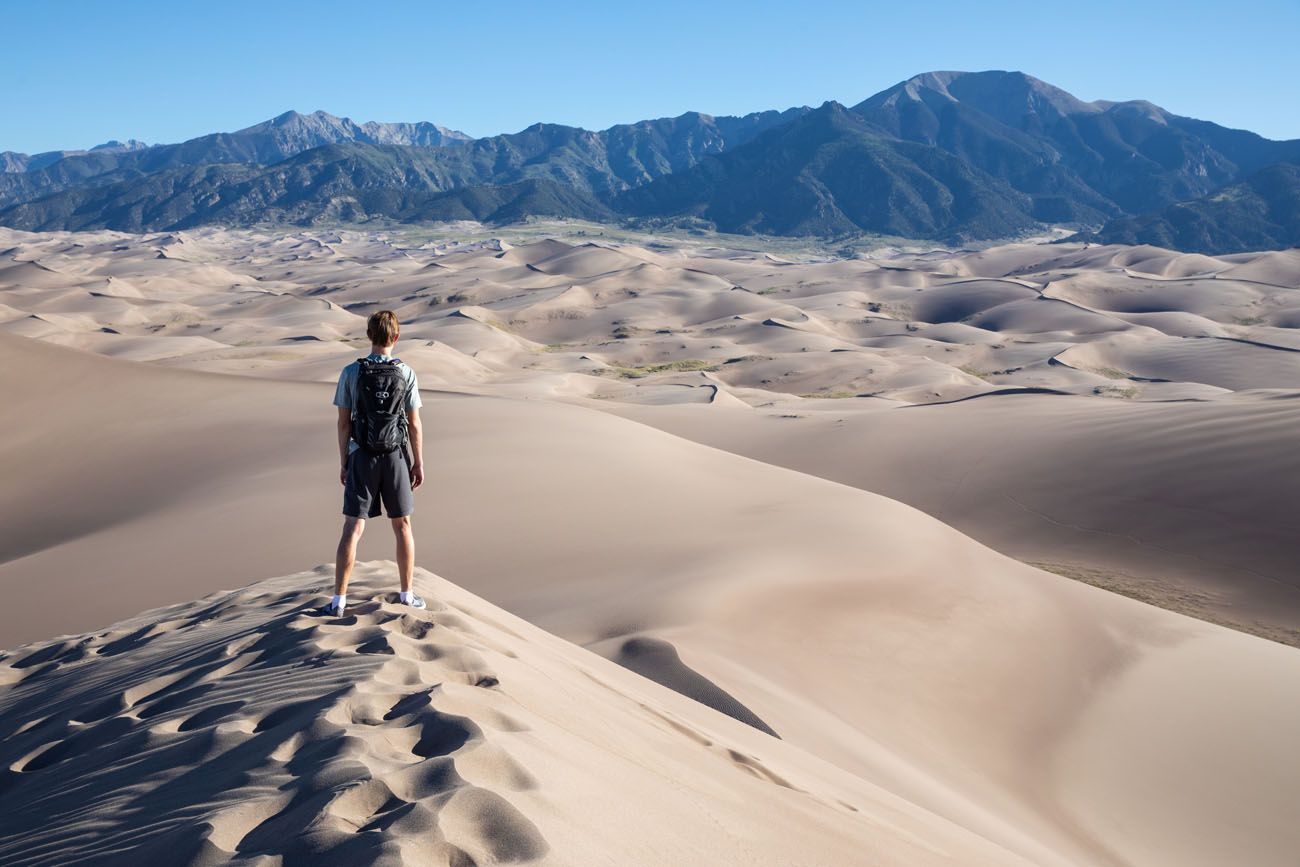 On top of High Dune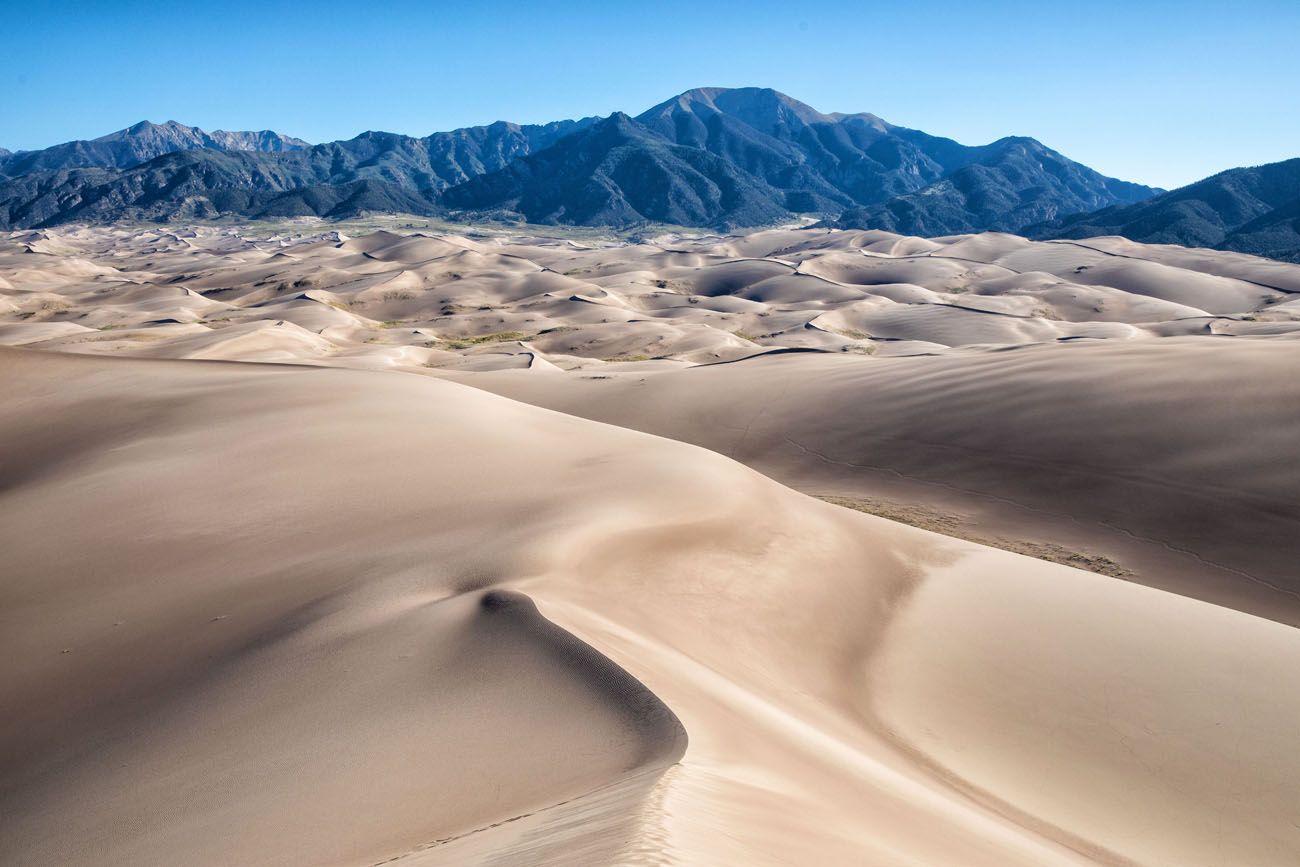 The view from High Dune
Once on top of the tall dunes, the hard work is done and it is a blast running back down the dunes.
Star Dune
From High Dune, you can continue to Star Dune, the tallest dune in the United States. Star Dune is the tallest dune (at 750 feet), but since the base of it sits at a lower elevation than High Dune, it actually looks smaller.
To get to Star Dune, you will hike up and down a series of smaller dunes. From High Dune, plan on it taking several more hours to reach Star Dune. You can do this either as a day hike or an overnight hike, camping on the dunes.
PRO TRAVEL TIP: There are no marked hiking trails on the dunes. You simply pick your own path. Both High Dune and Star Dune are labeled on Google Maps so we used Google to help point us in the right direction.
3. Go Sandboarding or Sand Sledding
This gets our vote for the best thing to do in Great Sand Dunes National Park. It's pure fun and one of favorite memories during our three-week road trip through Colorado.
If you have good balance and are feeling adventurous, rent sandboards. Sandboarding is similar to snowboarding, but it does have a different feel, since it is tougher to turn and change direction in the sand.
If you have younger kids or are not so sure sandboarding is for you, you can rent sleds.
We all tried our hand at sandboarding. Tyler and Kara picked it up almost instantly. Tim needed a little more time but he also quickly got the hang of it. Me, not so much. I was great at entertaining my family with big wipe outs and frequent falls. Even so, it was tons of fun.
My advice is to pick a very small, shallow dune and work your way up from here. You don't have to walk far into the dunefield to find the perfect dune.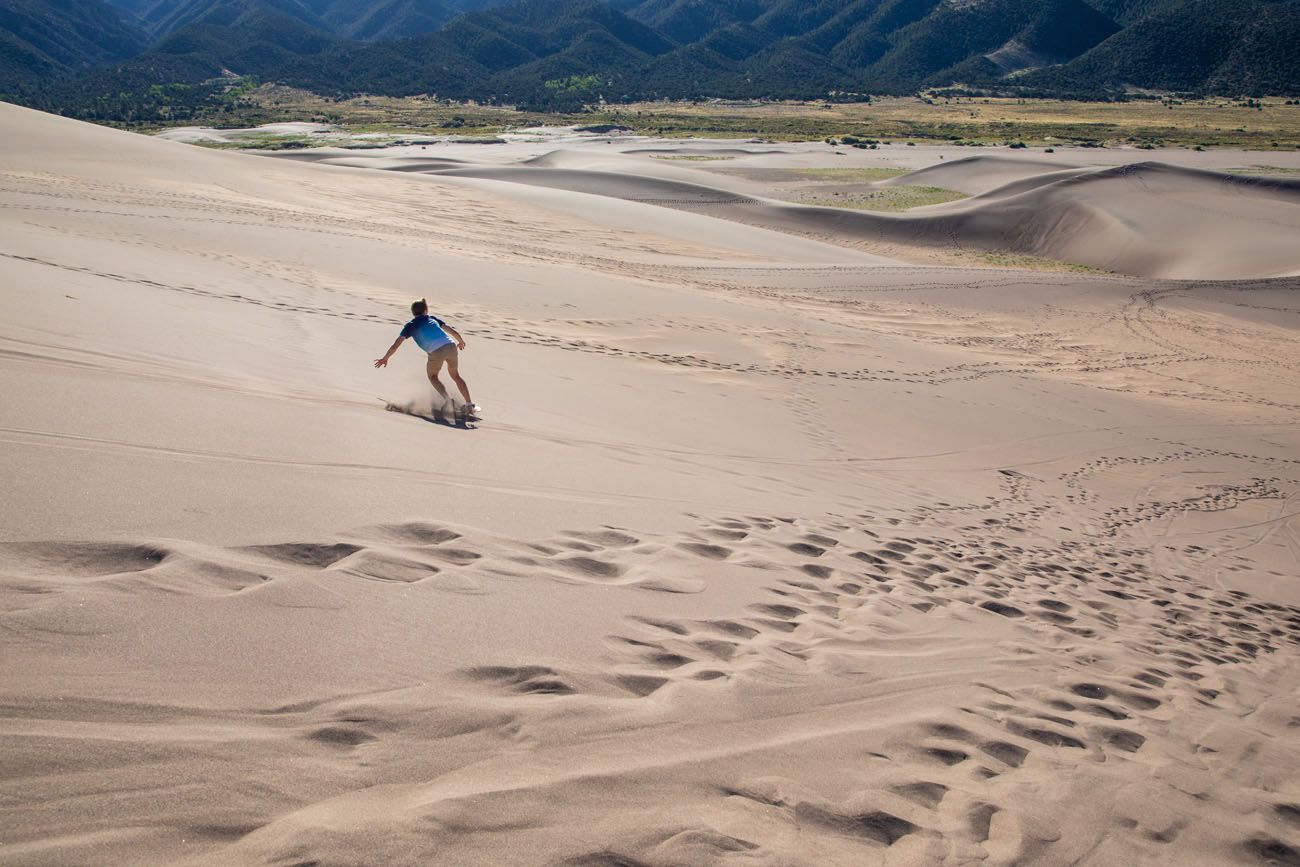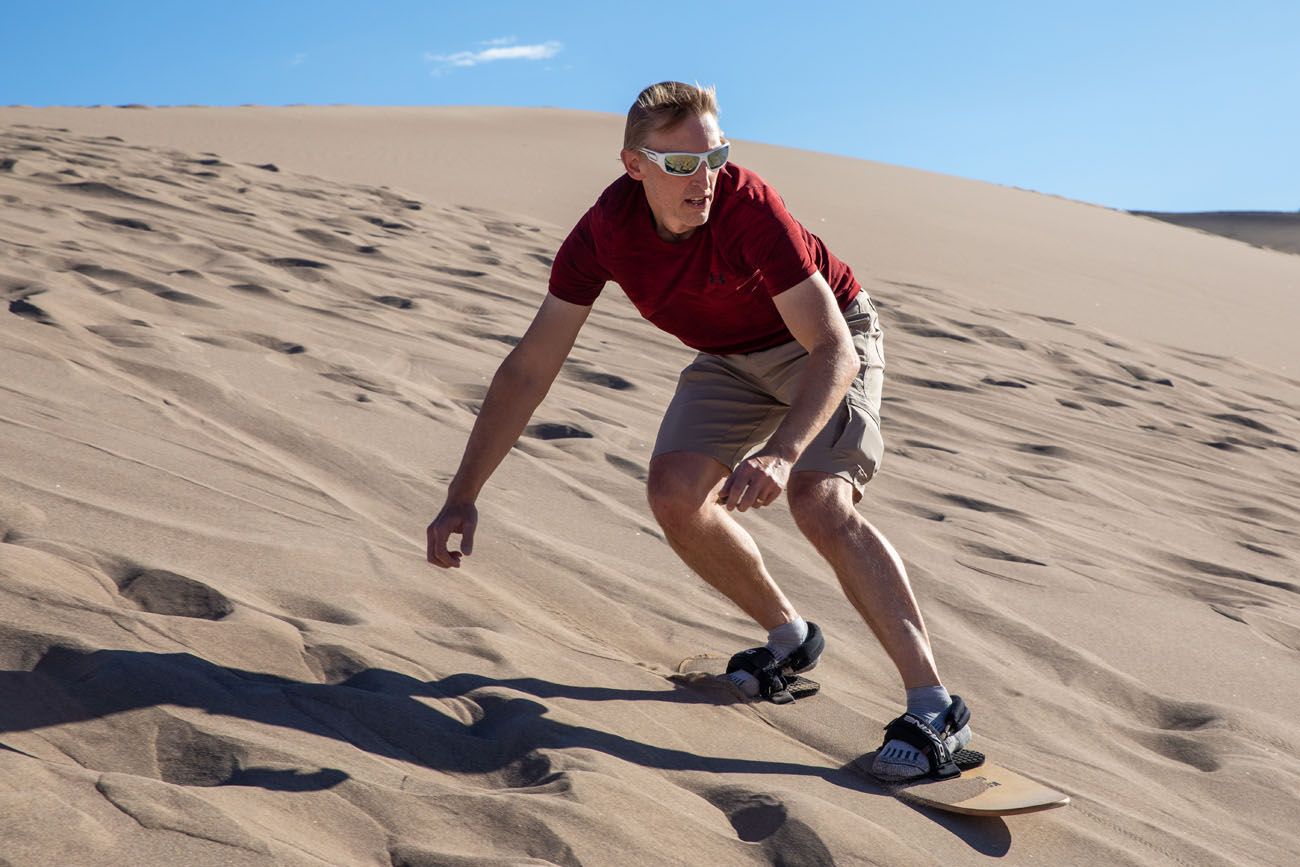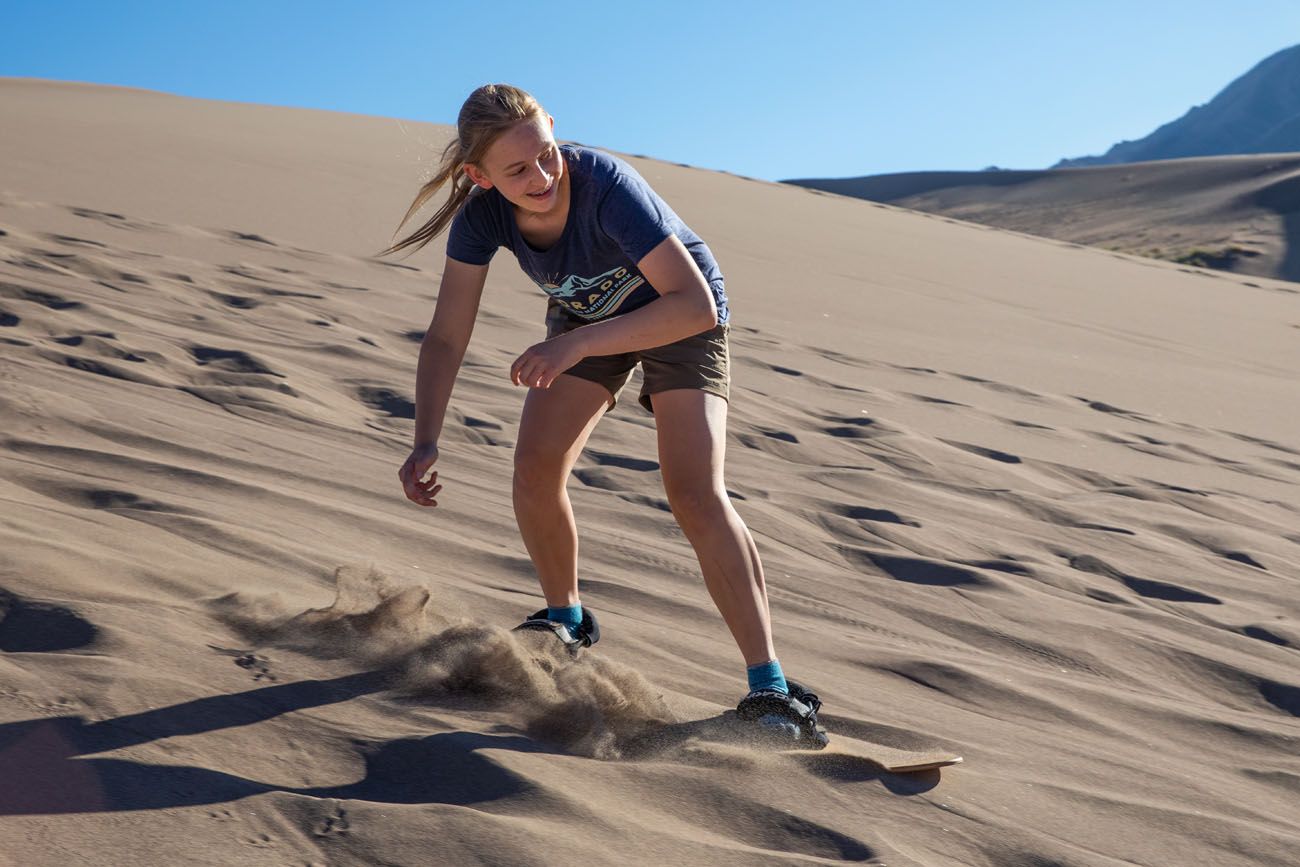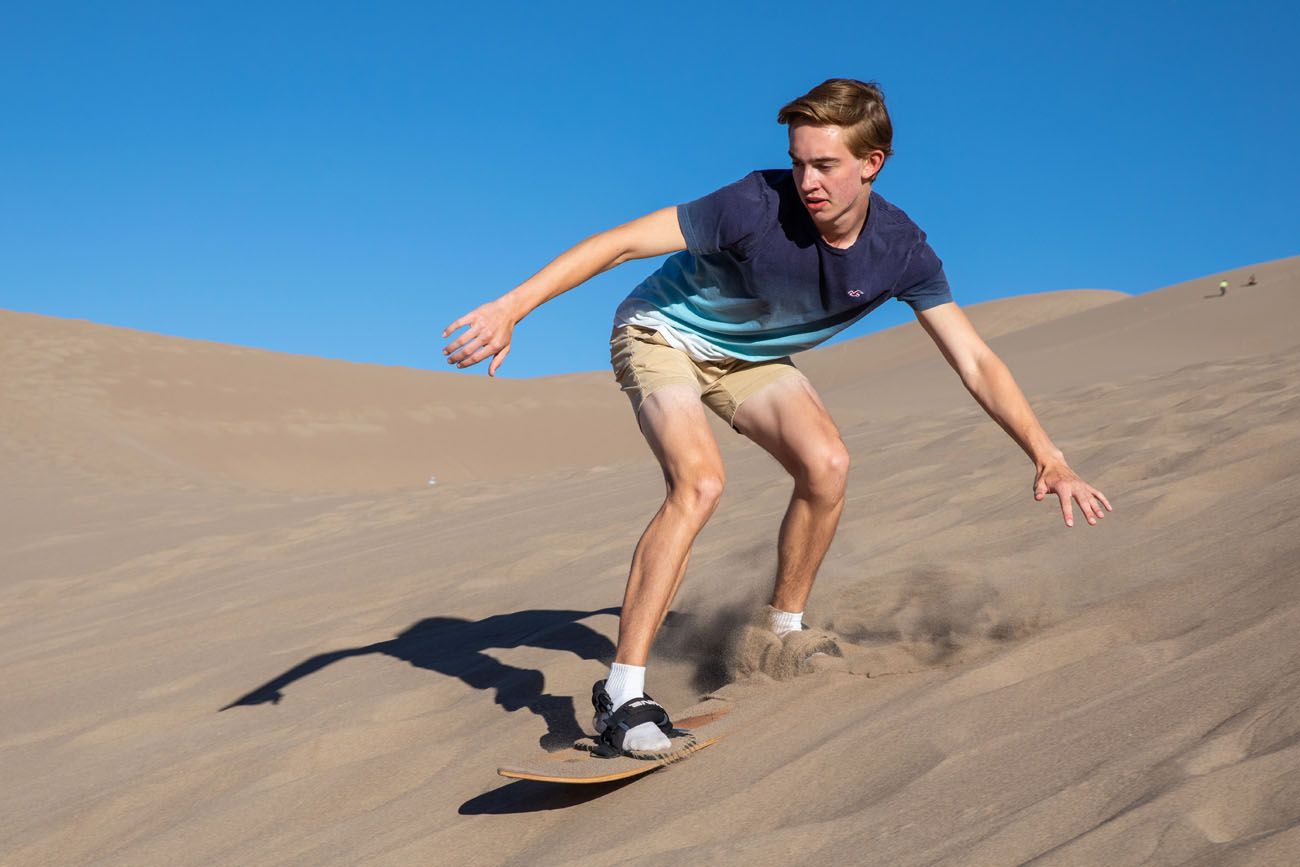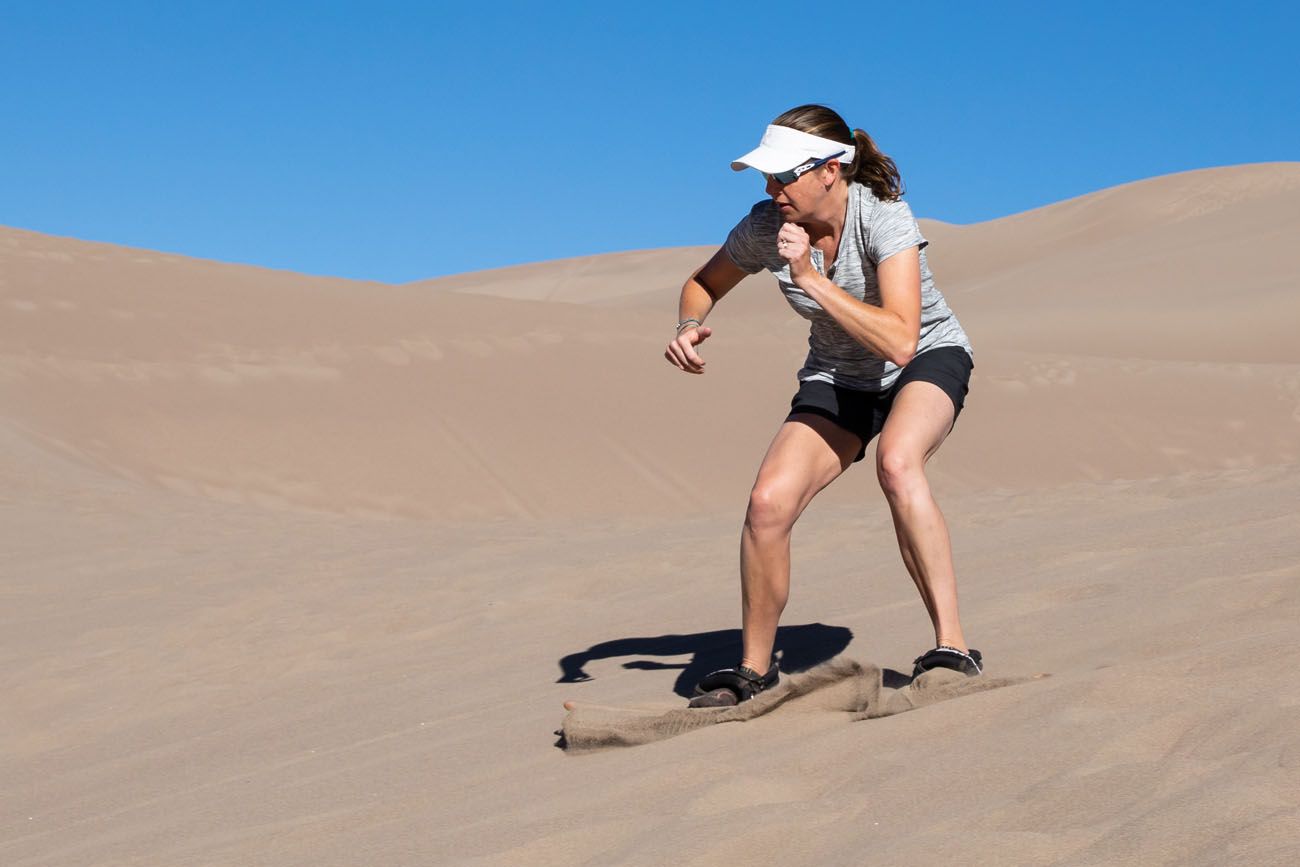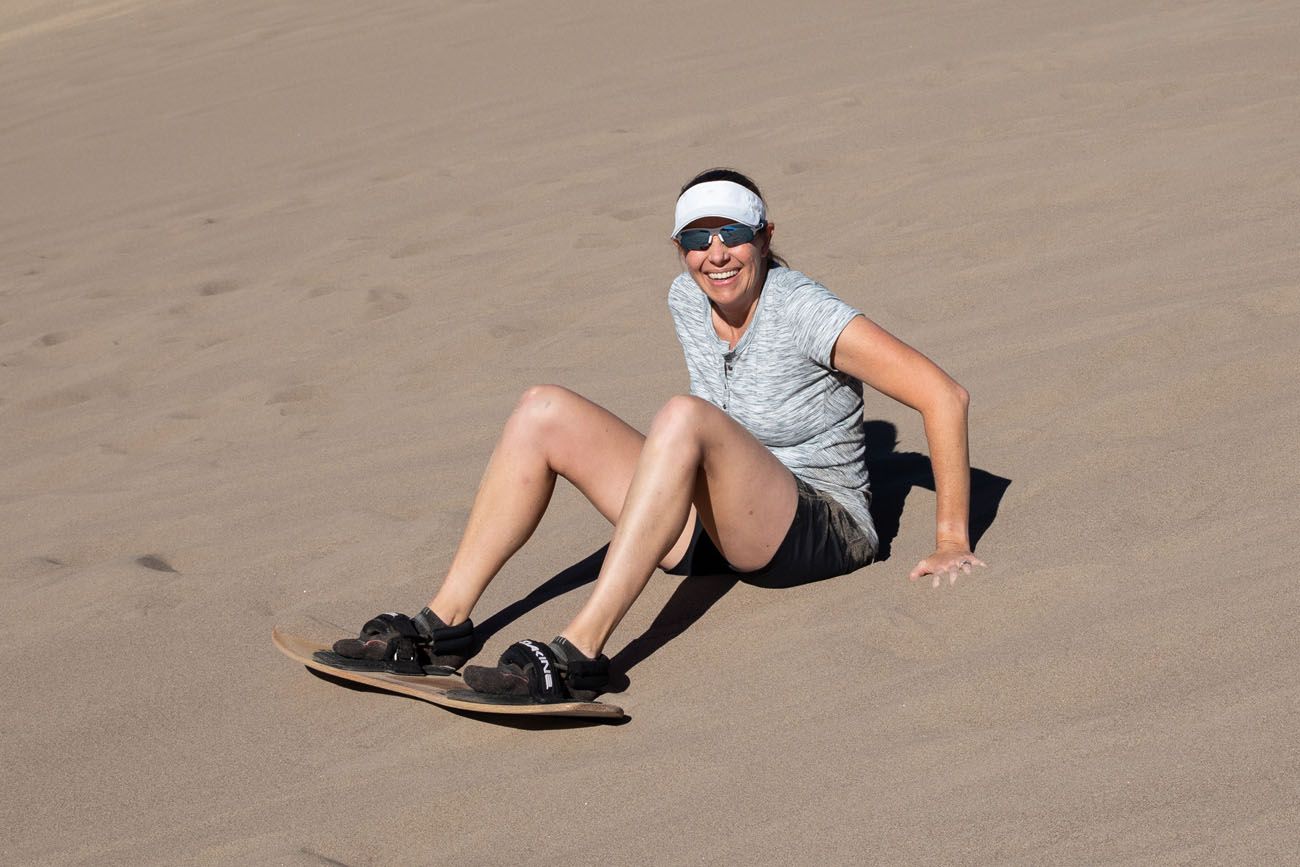 I could do it but more often than not I ended up like this. 😊
PRO TRAVEL TIP: Be prepared to take the sand home with you. It will be in your hair, your clothes, your ears, the bags you carry onto the dunes. Days later Tyler said that he was still cleaning the sand out of his ears.
4. Spend the Night Under the Stars
We did not do this but I wish we had.
For an amazing experience, you can camp in the dunes. With a backcountry camping permit, you can camp anywhere in the dunefield. There is a limit of 20 groups per night with a maximum of six people per group. Permits are first-come first-served and you can get your permit at the Visitor Center. Click here to learn more.
It is also possible to camp at the Piñon Flats Campground, which is located inside the park, near the main parking area and Medano Creek. It's not the same experience as sleeping in the dunes, but you will be in the park. Click here for full details.
5. See the Stars
Great Sand Dunes National Park and Preserve was certified as an International Dark Sky Park in 2019.
If you visit during a full moon, you can hike the dunes at night with no need for a flashlight.
The best time to see the stars is on a moonless night. For the best experience (for you and for other visitors who want to see the night sky), hike with a red light rather than a traditional flashlight.
6. Photograph the Dunes
For photographers, this is a beautiful place to visit. Capture the ripples in the sand, the sunrise and sunset, the layers of dunes, and the mountain ranges that form a stunning backdrop.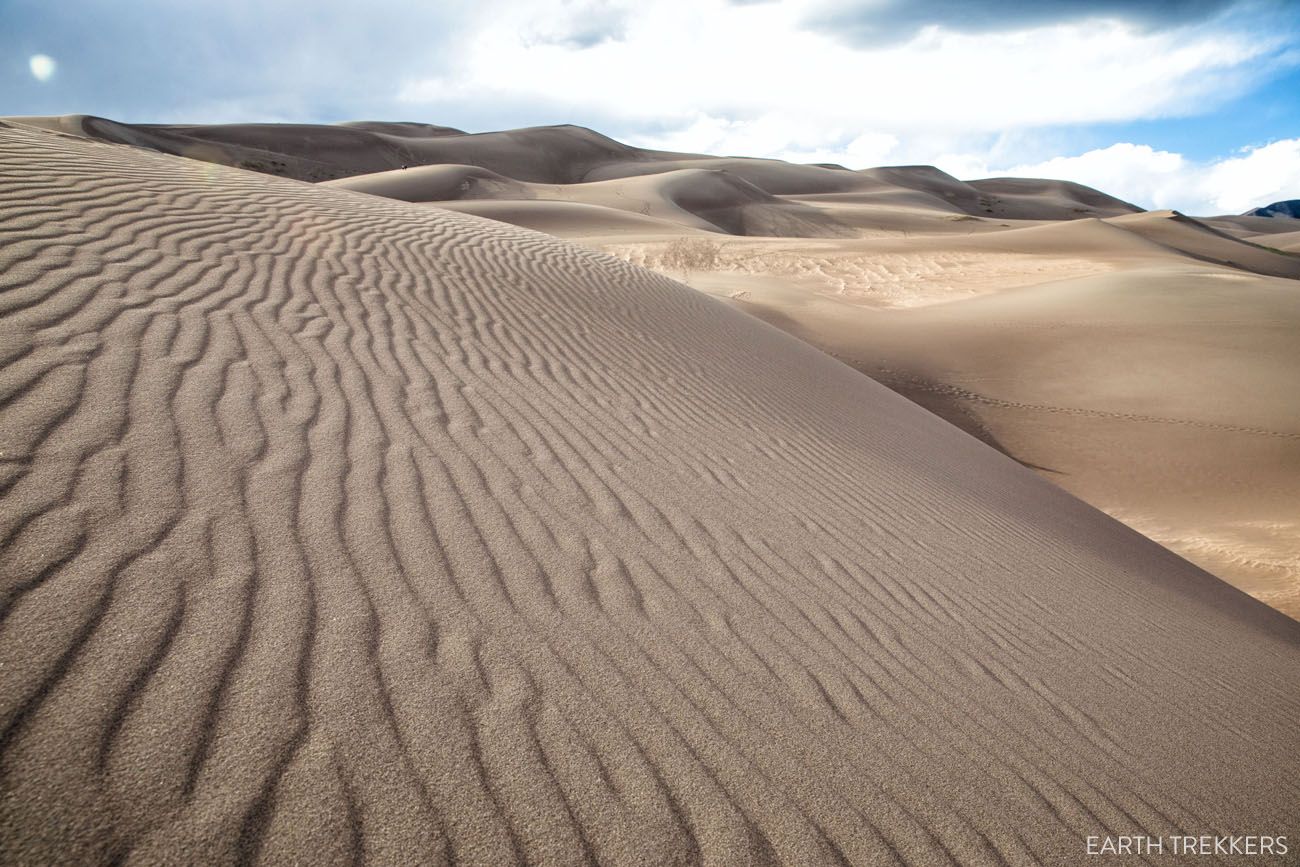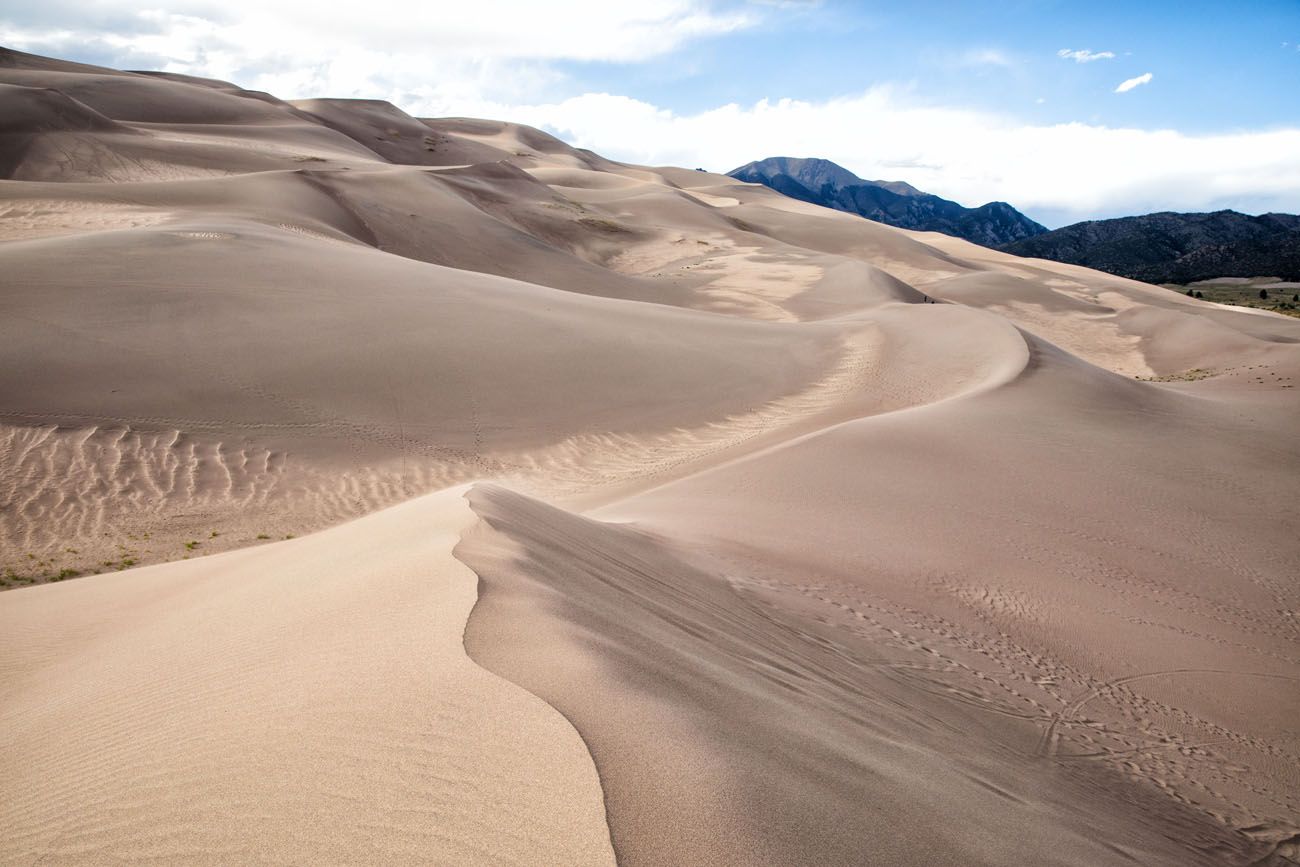 You don't need an expensive camera to take great photos. This panorama was taken with an iPhone.
7. Drive the Medano Pass Primitive Road
This is a 22-mile road that joins Great Sand Dunes National Park with highway 69. To drive this road, you must have 4WD vehicle with high clearance. Small SUV's and AWD vehicles will get stuck in the soft sand.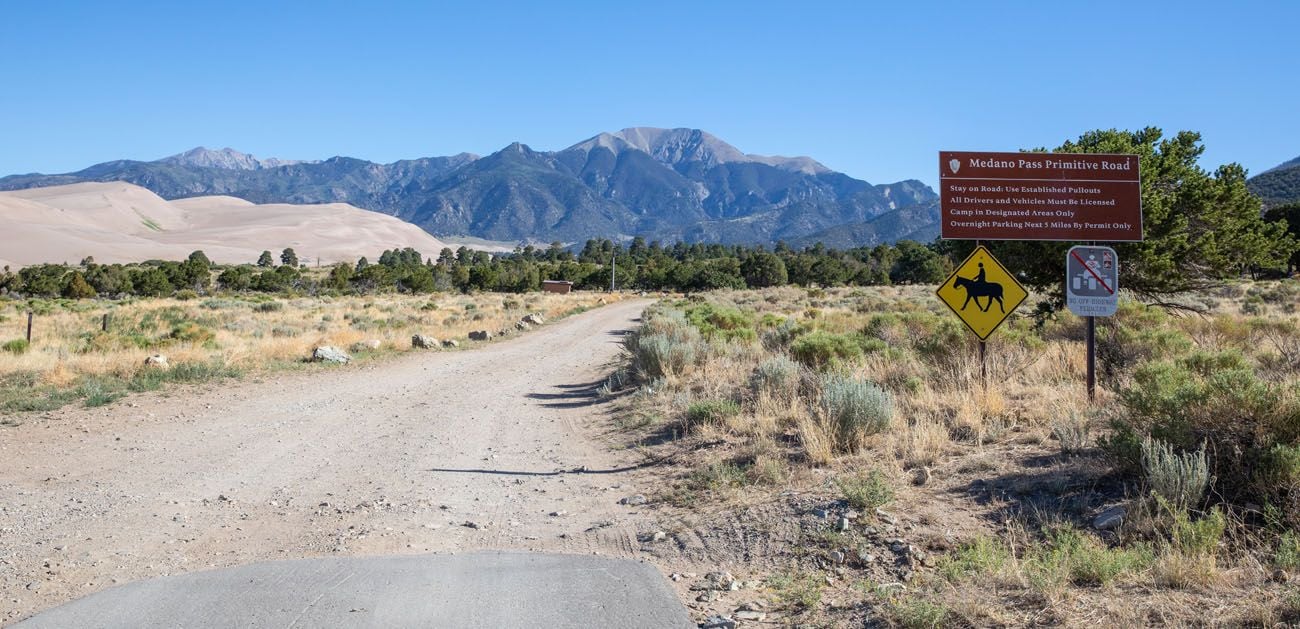 PRO TRAVEL TIP: If you plan to drive Medano Pass Primitive Road and you do not have a 4WD vehicle, you can rent one from Pathfinders 4×4. Just make your reservations far in advance (at least four weeks in the summer months). They also do tours if you don't want to do the drive on your own.
This road crosses the Medano Creek nine times before topping out at the Medano Pass at mile 11, at an elevation of 10,000 feet. Along the road are 21 campsites that are free of charge and first-come, first-served. Get more information on the NPS website.
If you do not have a 4WD, you can also fat tire bike Medano Pass Primitive Road.
8. Zapata Falls
This is not technically located with the national park, but it is located just a few miles away.
Zapata Falls is a beautiful waterfall that is tucked away in a canyon. Getting here is not easy. You will drive a long, rugged gravel road, hike a rocky trail, and then hike within the river to get to the falls.
If you are feeling adventurous, have a SUV or 4WD vehicle, and don't mind a short hike, this will be worth it. However, if you are short on time, hate the idea of hiking, or don't have an SUV, skip the visit to Zapata Falls.
To get here, it is 3.5-mile drive on a rough, gravel road. This drive takes approximately 30 minutes one way.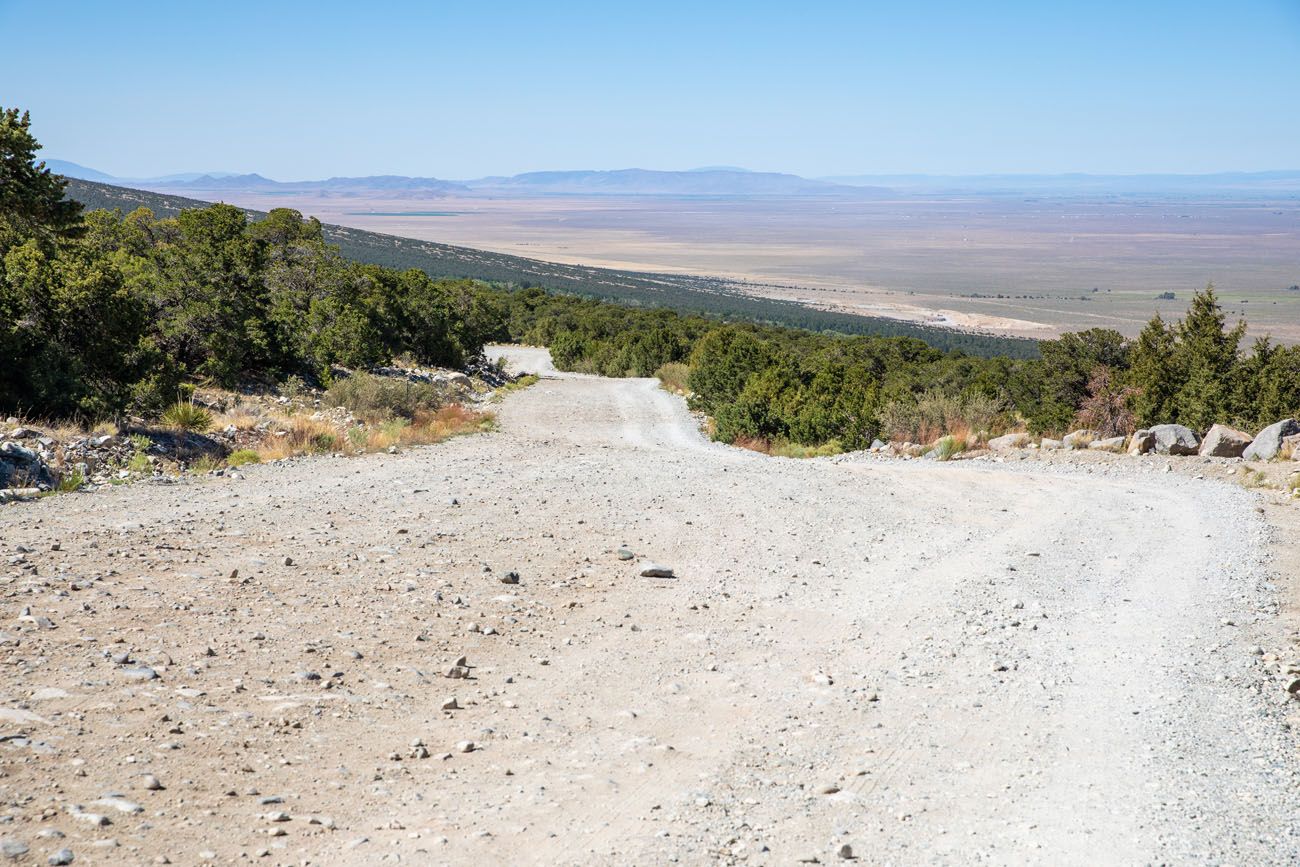 The road to Zapata Falls
Park at the small parking lot at the very end of the road. To get to the falls, it is a 0.5-mile hike on a wide, rugged trail. It's a slightly uphill walk to get to the falls, nothing challenging, but it is a very hot walk in the summer months.
Once at the South Zapata Creek, you can either carefully walk the narrow dirt trail and step across the rocks in the creek, keeping your feet dry, or simply hike up the creek to the falls. It's a very short walk to the waterfall, just a few hundred feet. In the summer months, this is a popular swimming spot and a good place to spend the middle of the day.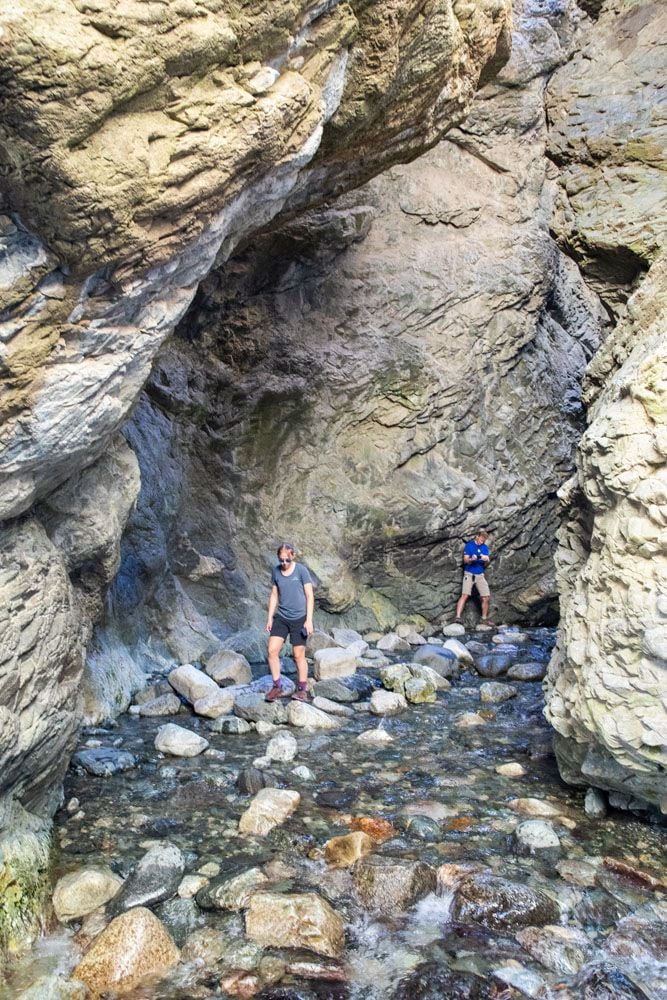 Where to Rent Sandboards and Sand Sleds
To go sandboarding and sand sledding, you need to have a sandboard or sand sled that is made specifically for use on the sand. Snow sleds, skis, and snowboards will not work. Plastic saucers and cardboard will also not slide very well on the sand.
If you do not have a sandboard or sand sled, there are several shops near Great Sand Dunes that will rent these. Note: you cannot rent sandboards at the Visitor Center.
We rented sandboards at Kristi Mountain Sports in Alamosa. They have both sandboards and sand sleds available for rent, and they are rented on a daily basis. We were able to walk right in and rent four sandboards, but the staff recommended calling at least several days in advance to make a reservation.
There are also numerous shops in the area that will rent sandboards. Click here for the full listing.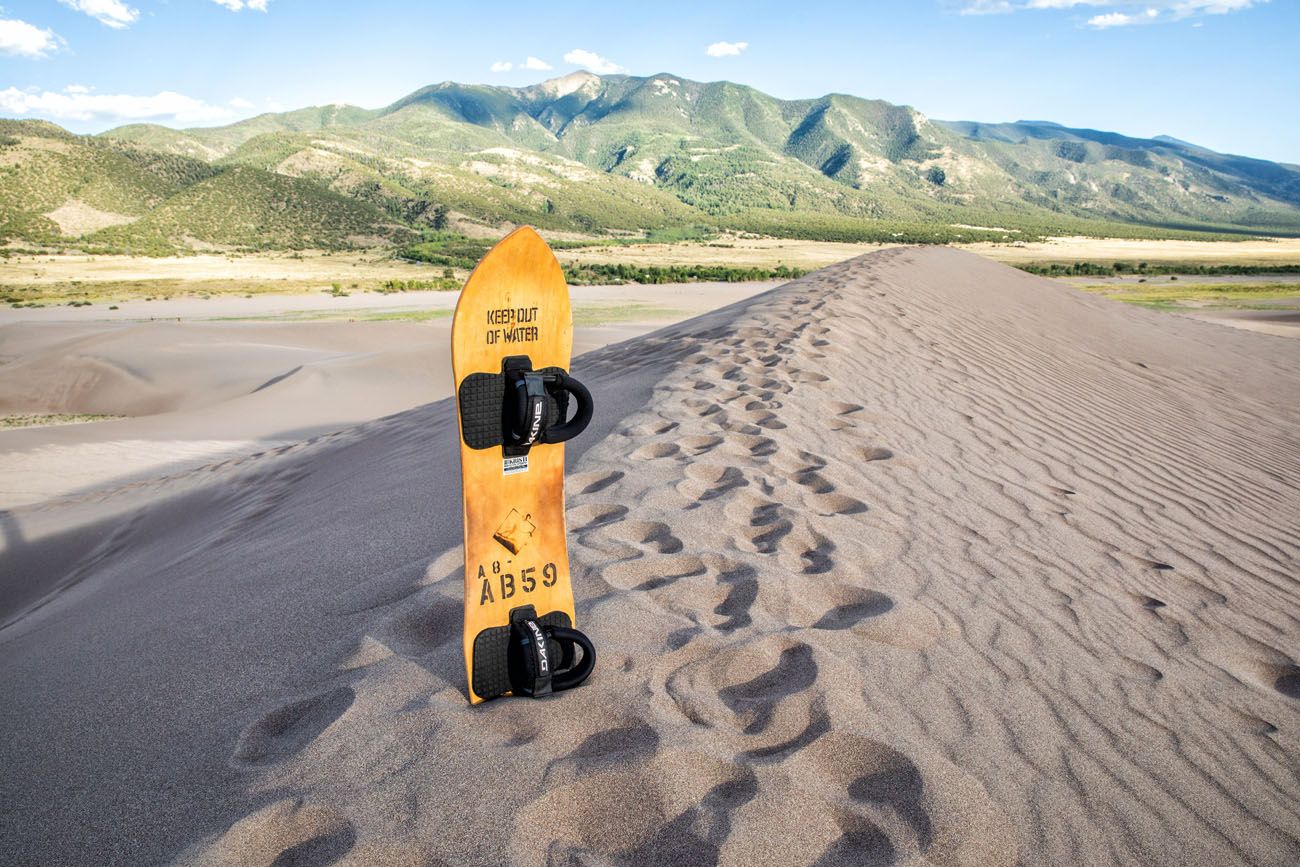 How Many Days Do You Need at Great Sand Dunes?
At the bare minimum, you really just need a few hours. And this should preferably be early or late in the day (midday during the summer the sand can get up to 150°F).
With just a few hours, you can walk on the dunes and go sandboarding or sledding. For many people, this is just enough time.
For the best experience, I recommend spending at least one full day here. Get here early in the morning and hike to High Dune (or a smaller dune) in the morning, when temperatures are low. This is also a nice time to go sandboarding. Midday, make the drive to Zapata Falls and hang out by the creek (or, if you have a 4WD, drive the Medano Pass Primitive Road). Return to the dunefield in the late afternoon, have a picnic dinner, and watch the sunset.
If you want to hike out to Star Dune, plan on spending at least one full day here.
We spent two days at Great Sand Dunes. We stayed in Alamosa and drove out in the morning and evening, returning to Alamosa midday when the sand was scorching hot. Tyler and Kara had lots of time to perfect their sandboarding skills. And to watch the sunset several times was amazing.
Best Time to Visit Great Sand Dunes
Great Sand Dunes National Park and Preserve can be visited year round. The best time to visit is during the spring and fall months, when temperatures are mild.
In the winter, it can be very cold here. If the sand freezes, local shops will not rent sandboards.
During the summer, expect very high temperatures. We visited when the weather was hotter than normal, getting up into the low-90's midday. But due to the climate, the mornings and evenings can be quite chilly. In fact, we stayed in Alamosa when it set a record high and a record low temperature in one day (92°F and 37°F on July 10, 2020).
The sand temperature will reach 150°F midday in the summer, so make sure you take this into account when planning your day. The folks at Kristi Mountain Sports advised us to avoid being on the dunes from noon to 4 pm.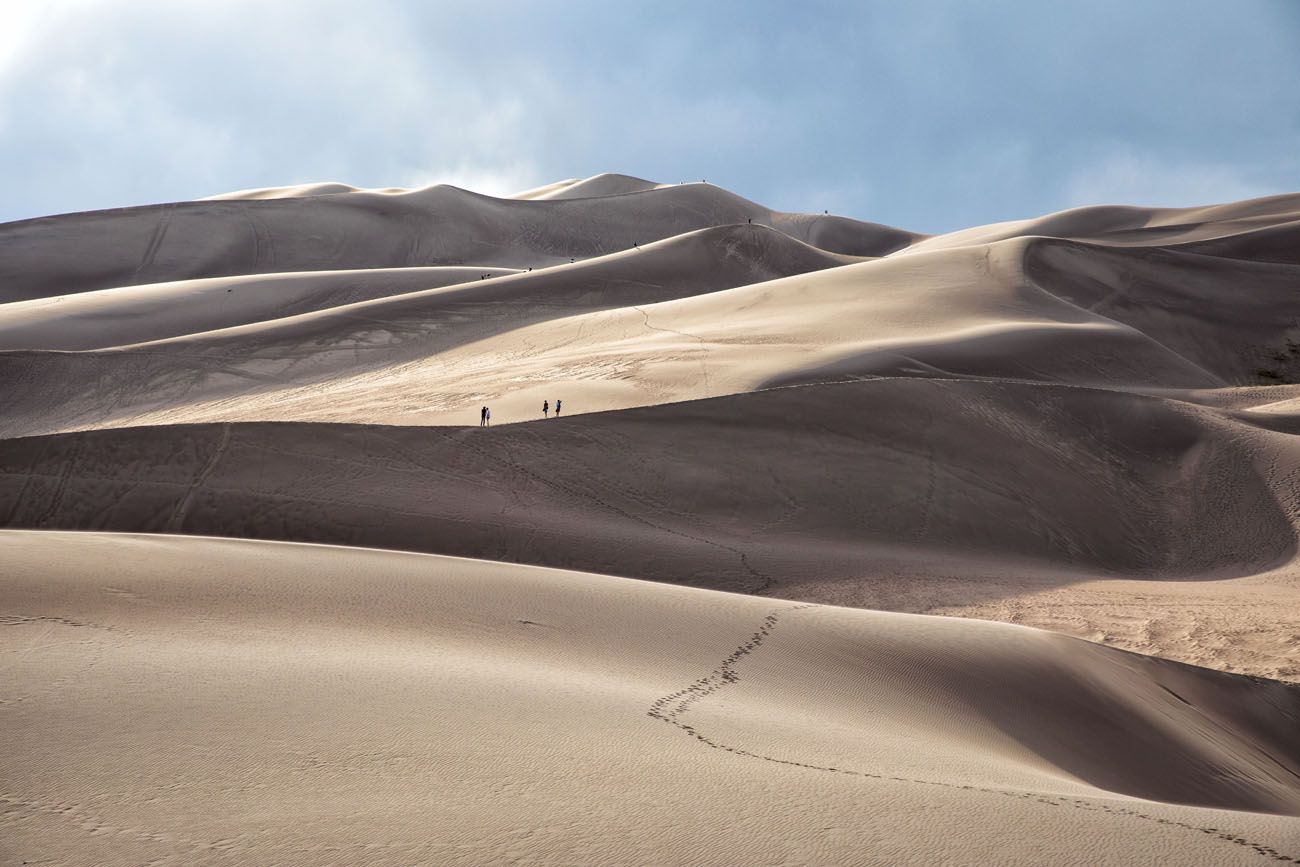 How to Get Here
Here are the driving distances and times from nearby destinations in Colorado:
Denver: 225 miles, 4 hours
Colorado Springs: 165 miles, 2.5 hours
Mesa Verde National Park: 200 miles, 3.75 hours
Black Canyon of the Gunnison National Park: 190 miles, 3.5 hours
Rocky Mountain National Park: 250 miles, 4.5 hours
Where to Stay
There are no lodges in Great Sand Dunes National Park. If you want to stay in the park, you can camp at the Piñon Flats Campground or get a backcountry permit to park on the dunes.
Great Sand Dunes Lodge. This lodge sits just outside of the national park boundary. It's nothing fancy but it gets good reviews and it does have a pool.
Great Sand Dunes Oasis. This property has motel rooms, a campground and 20 RV sites. They also offer sandboard rentals. They are located next to Great Sand Dunes Lodge.
Alamosa
The closest large town is Alamosa, which is 35 miles from the park. It takes 45 minutes to drive to Great Sand Dunes. In Alamosa, there are a bunch of chain hotels and a handful of decent restaurants. It's not the most scenic town but it's a good home base for visiting Great Sand Dunes.
We stayed at the Holiday Inn Express and Suites. It was clean and quiet and the Wi-Fi worked well. Other hotels that get good reviews include the Fairfield Inn and Suites, the Hampton Inn, and the Best Western.
We had a nice dinner at Calvillo's Mexican Restaurant. Several times we picked up subs at Subway for dinner on the dunes and Starbucks in the morning for breakfast.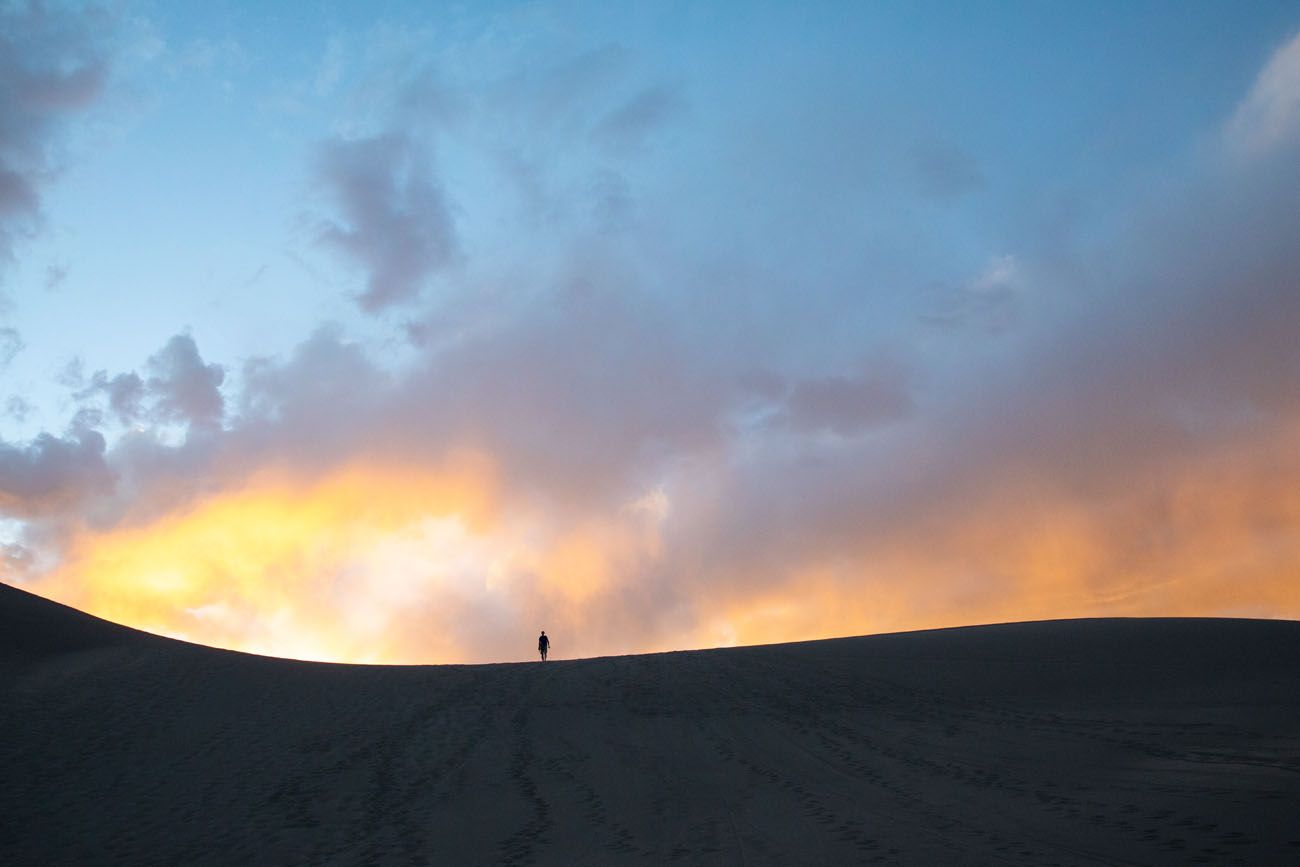 Tips to Have the Best Experience
Avoid visiting the dunes midday during the summer months when sand temperatures can reach 150°F.
Bring mosquito repellent. The mosquitoes can be bad around Medano Creek. Even though the creek was not flowing during our visit, the mosquitoes were vicious at sunset during the walk back to our car.
If you plan to go sandboarding or sledding, make your reservations at least several days in advance.
If you do not have a 4WD and would like to rent one, make your reservation at least one month in advance.
Plan Your Visit
Cost: $25 per vehicle, valid for 7 days
Hours: The park is open 24 hours, 7 days a week, 365 days per year.
Current conditions: Visit the Great Sand Dunes National Park and Preserve website for current conditions.
---
If you have any questions about the best things to do in Great Sand Dunes National Park, let us know in the comment section below.
Visit More National Parks
If this is part of a bigger road trip through the USA, visit our United States Travel Guide for more inspiration and travel planning tips.
Note: This post contains affiliate links. When you make a purchase using one of these affiliate links, we get paid a small commission at no extra cost to you.
All rights reserved © Earth Trekkers. Republishing this article and/or any of its contents (text, photography, etc.), in whole or in part, is strictly prohibited.